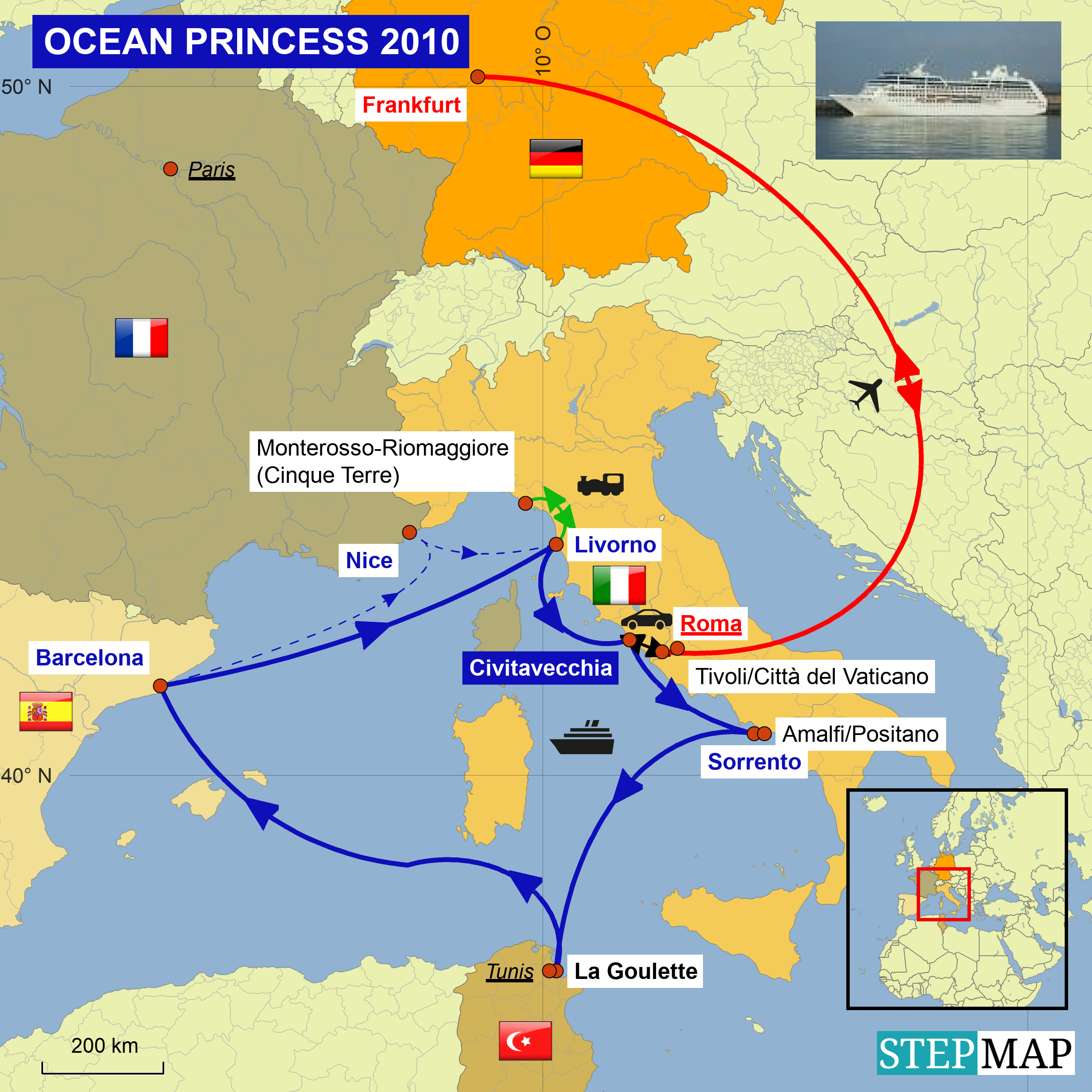 Eigentlich schade: so schönes Wetter, aber draußen werden bis auf die Burgers nichts angeboten. Innen wird sogar mit Eisskulpturen der Lunch im Panorama Buffet präsentiert.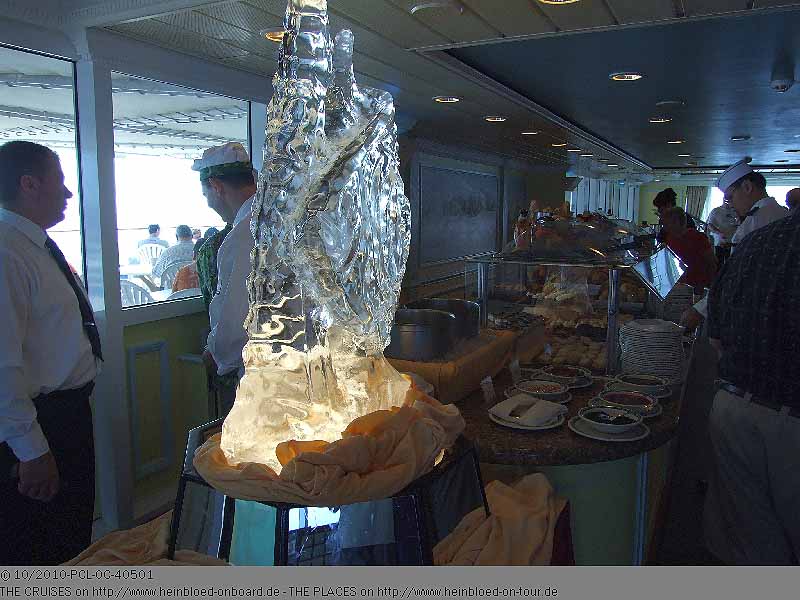 Really bad: such a nice weather and outside they did offer more but their burgers. Inside they presented their buffet with ice sculptures.

This day they had sushi as special offer.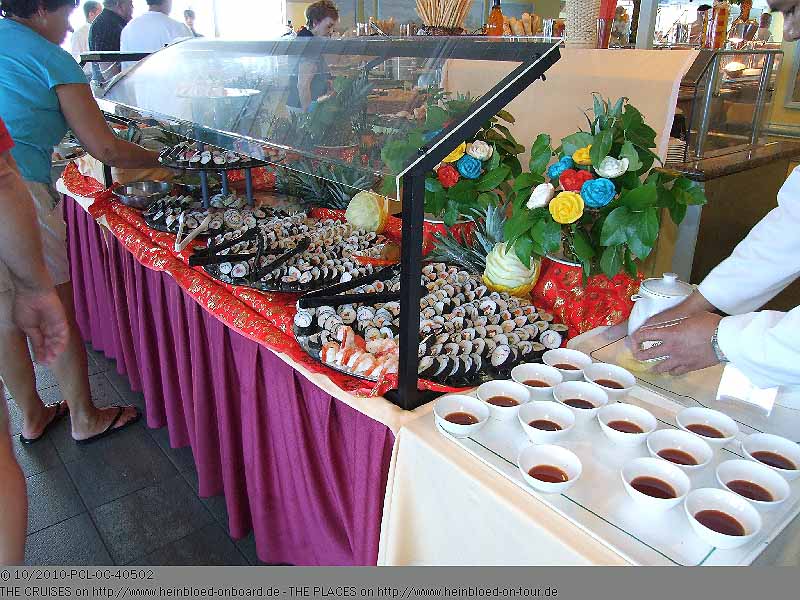 Heute gibt es als Zusatzangebot: Sushi.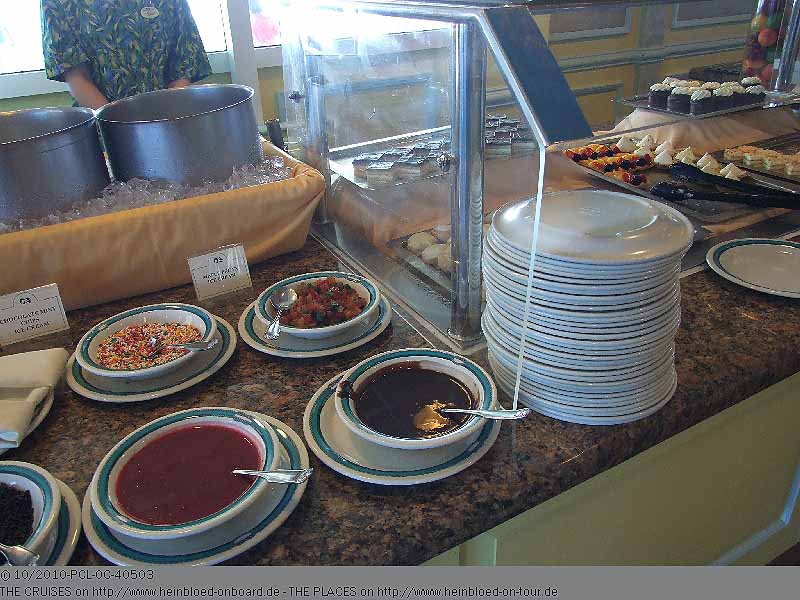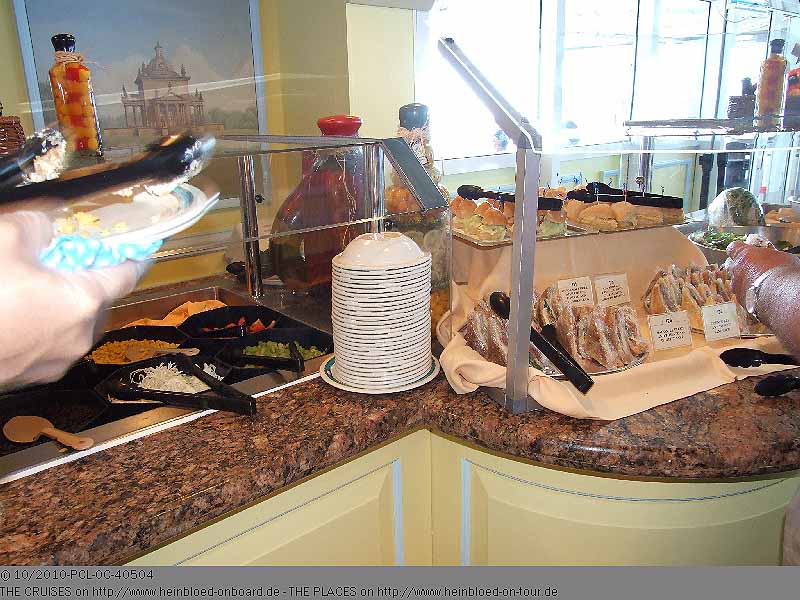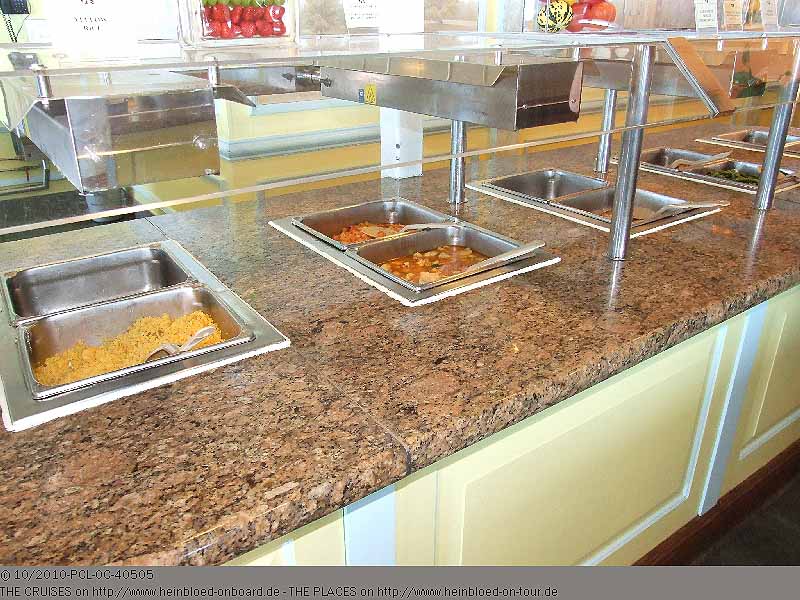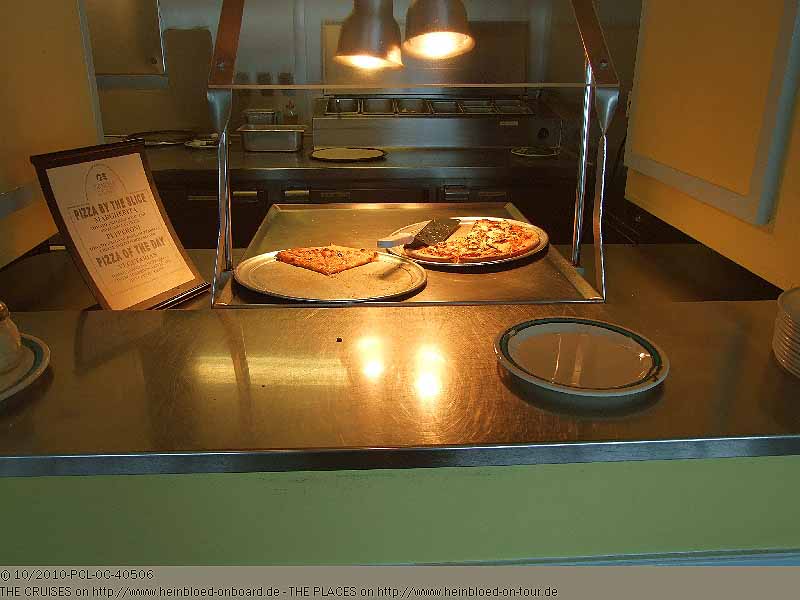 Wir gehen jedoch ins Sterling Steakhouse, da hier ein englisches Pub-Lunch angeboten wird.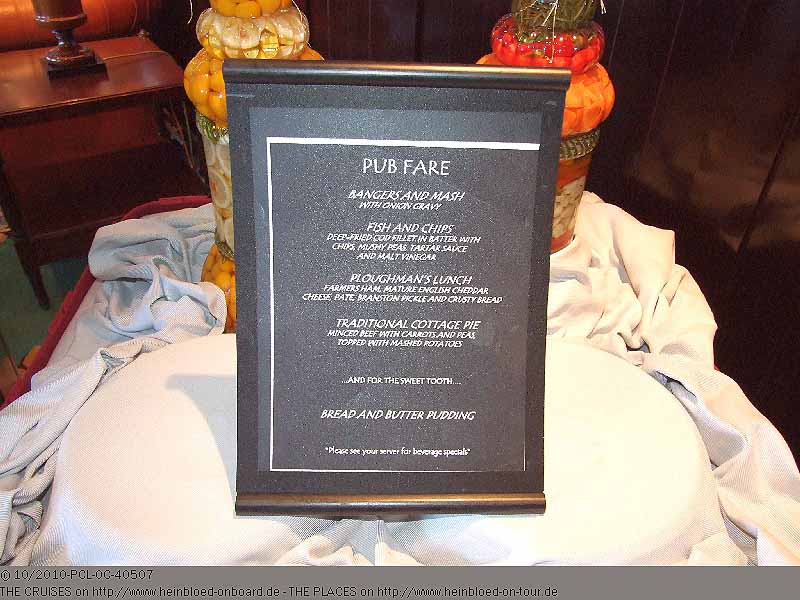 We went to Sterling Steakhouse as they offered here an English pub-lunch.

We knew this from QUEEN VICTORIA (only in German).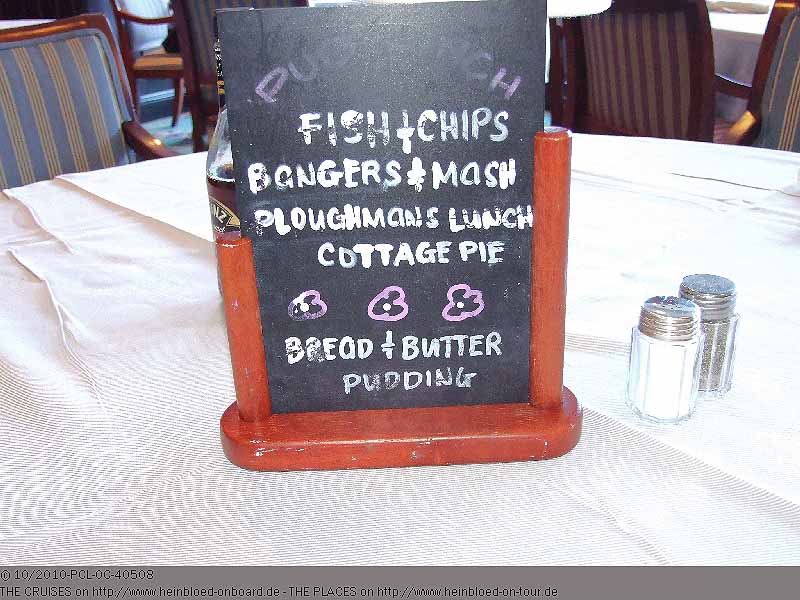 Das kannten wir ja schon von der
QUEEN VICTORIA
her.
Nur das Bier spricht uns nicht an.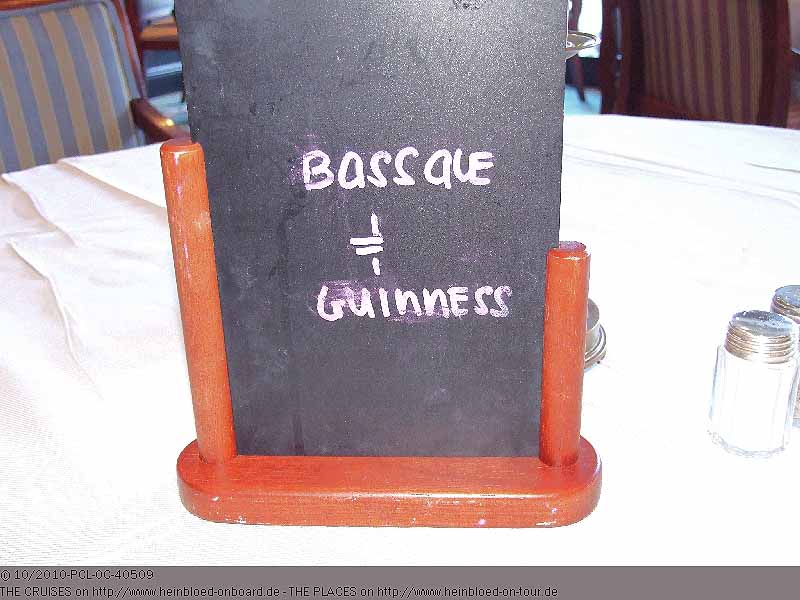 Only the beer was not attractive to us.

I like more shepherd's pie (with lamb) instead of cottage pie. But Johan already offered that I can eat with his mother when I am in Cape Town. She would make the world's best shepherd's pie.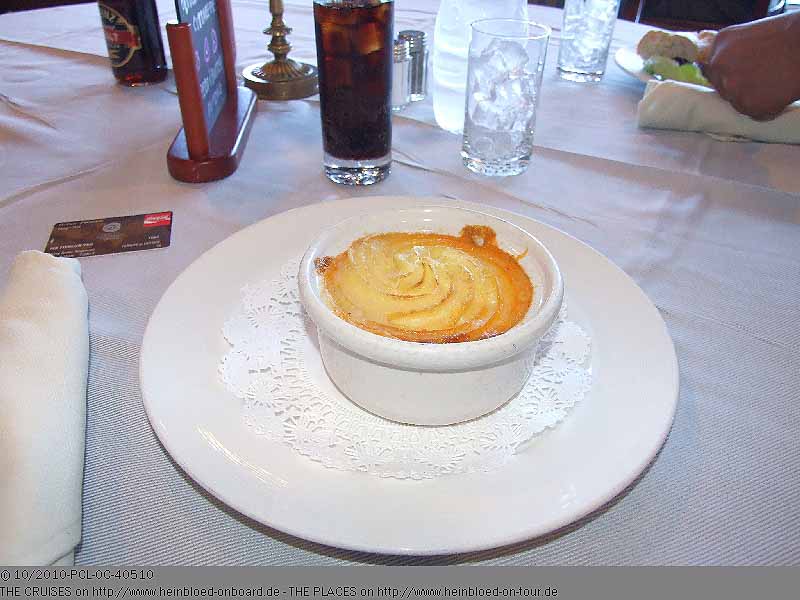 Mein Cottage Pie, noch lieber wäre es mir mit Lammhack als Shepard's Pie gewesen. Aber Johan hat mir schon angeboten, dass ich bei seiner Mutter essen darf, wenn ich mal in Kapstadt bin. Sie würde den weltbesten Shepard's Pie machen.
Bruno nimmt den Ploughman's Lunch und freut sich mal nur über ein selbst-belegtes Brötchen, da es heute ja noch Tea-Time und Gala-Dinner gibt.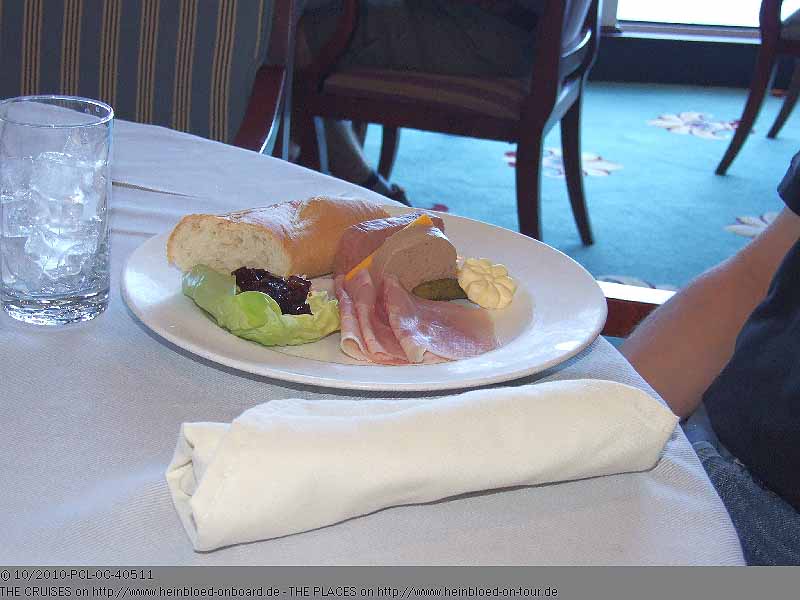 Bruno took a Ploughman's Lunch and was happy to have a self-made roll as we would have tea-time and gala-dinner later the day.

With the bread pudding, we better wait again until we are back on Holland America...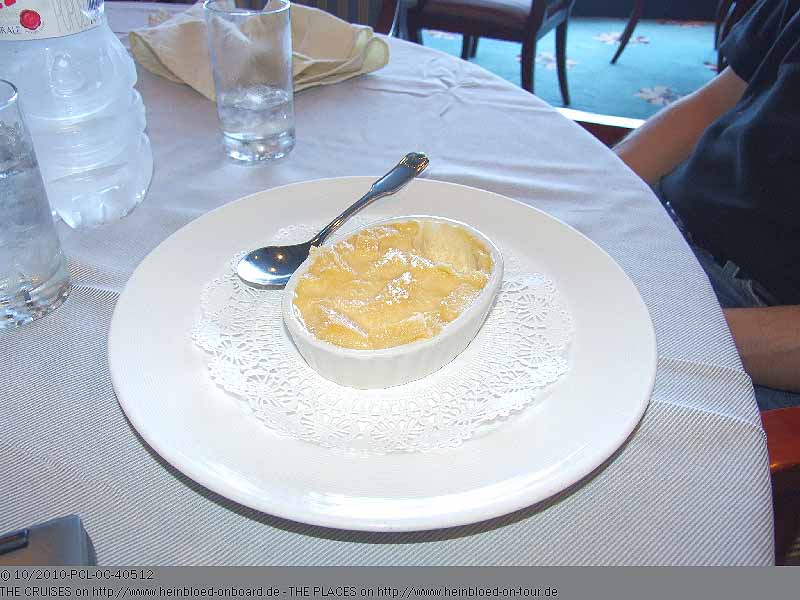 Also mit dem Bread-Pudding werden wir lieber das nächste Mal bei Holland America fortsetzen...
Wir zeigen Natsuda das Bild von ihr, dass uns kajomare geschickt hat und sie hat sich riesig darüber gefreut, dass sie in guter Erinnerung geblieben ist, dass es von einer Reise zur anderen sich rungesprochen hat.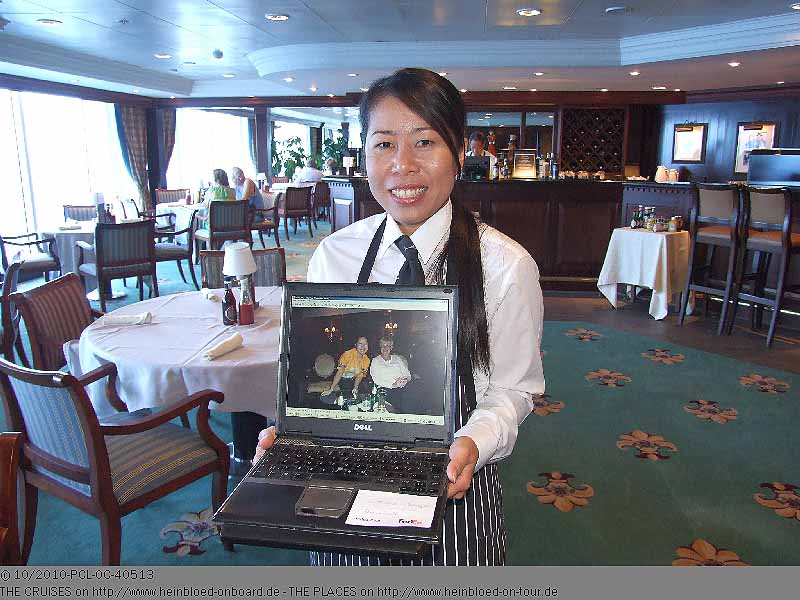 We showed Natsuda her picture kajomare sent to me, and she was thrilled that she was kept in such good memories which were transferred from one voyage to the next.

The afternoon Bruno spent on the balcony.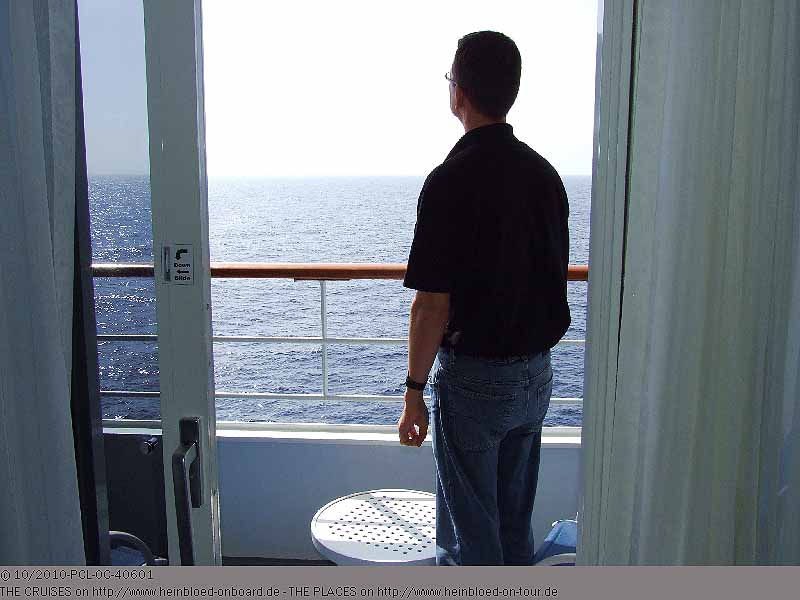 Nachmittags verbringt Bruno auf dem Balkon.
Ich habe morgens mit Gemson gesprochen, der mich gefragt hat, ob ich jetzt mitlerweile schlafen kann. Er ist ganz unglücklich, dass mir immer noch nicht geholfen ist und mitlerweile am verzweifeln. Ich hätte einen Vorschlag, den ich allerdings nicht auspreche: Ich würde in Barcelona gucken, wer Hotel Direktor auf der NORWEGIAN JADE ist. Vielleicht kenne ich ihn ja und er würde mir eine Matratze ausleihen, die er in Civitavecchia wiederbekommt oder spätestens, wenn ich am 02.01.2011 auf die NORWEGIAN JADE gehe. Stattdessen frage ich ihn, ob es auf der OCEAN PRINCESS Kabinen mit 3-er oder 4-er Belegung gibt. Er meint ja. Und ich frage ihn dann, ob das 3. und 4. Bett in der Decke eingelassen ist oder an der Wand fest ist oder ob es als Sofabett bereitsteht. Auf einmal sagt: Ja natürlich: er würde mir bis zum Abend eine Matratze von einem Sofabett besorgen. Es ist schon bezogen, als ich vom Lunch wiederkomme. Ich liege nun ca. 10 cm höher als Bruno. Es ist ein Provisorium, aber ich kann am Nachmittag so gut darauf schlafen, dass ich doch etwas Schlaf nachholen kann.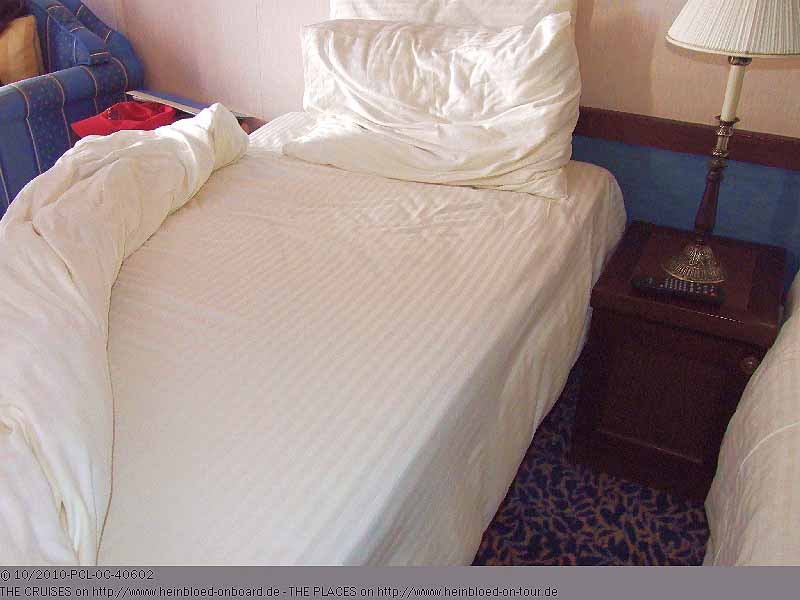 I talked with Gemson who asked if I could sleep meanwhile. He was unhappy that I did not get the support I need and became desperate. I had a suggestion which I did not tell: I would check in Barcelona who is Hotel Director on NORWEGIAN JADE. Maybe I knew him, and I could borrow a mattress which I would return in Civitavecchia or latest when we embarked on NORWEGIAN JADE on January 2, 2011. Instead of this, I asked him if there are cabins with occupations of 3 or 4 guests. He said yes. Then I asked if the beds would be sofas or fixed beds in the ceiling or on the wall. Then he said: of course - he would get me another mattress from a sofa. It was already made when I returned from lunch. I was now about 6 inches higher than Bruno. It was an interim solution, but I could sleep so well on this afternoon that I caught up some sleep which I missed the nights before.

Again mail.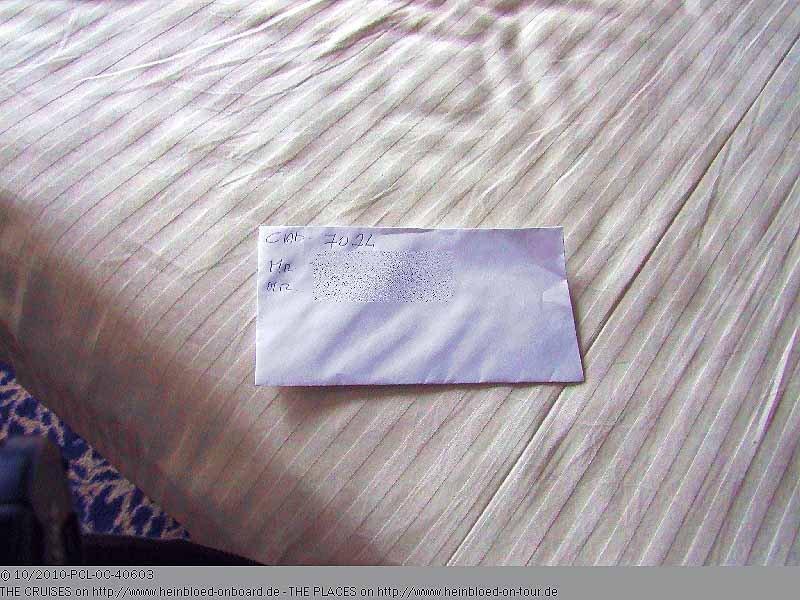 Schon wieder Post.
Man bedankt sich für unseren Besuch im Sterling Steakhouse.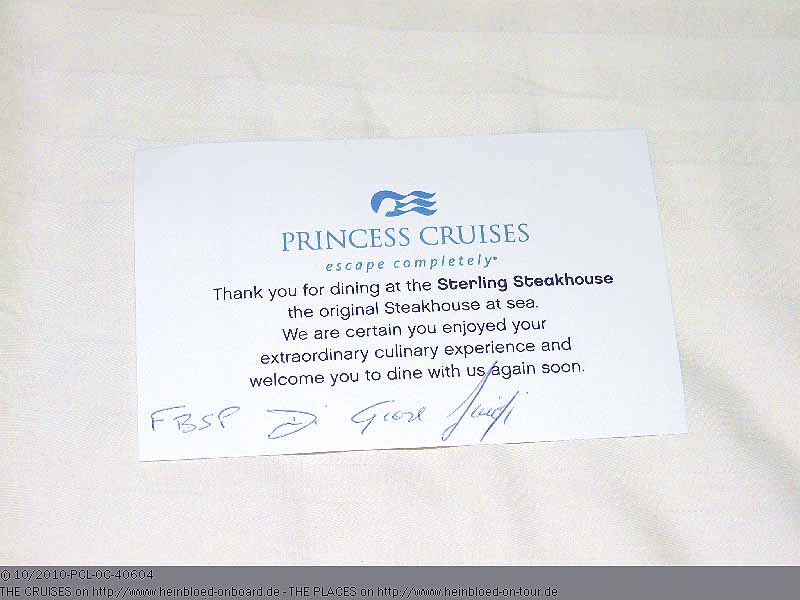 A thank for our visit last night at Sterling Steakhouse.

We went for tea-time at Sabatini. Although we arrived at 15:30 hrs sharp we were the very first guests.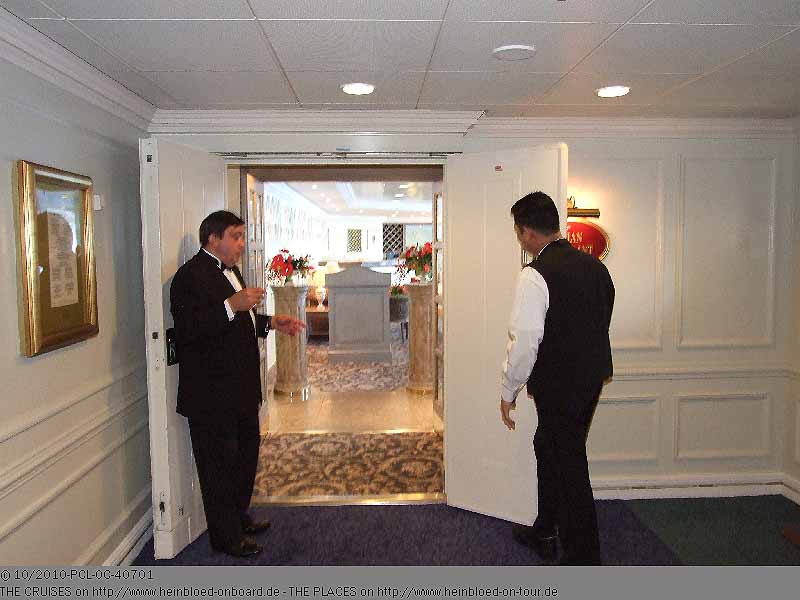 Wir gehen zur Teestunde im Sabatini. Obwohl wir eigentlich Punkt 15:30 Uhr da sind, sind wir die allerersten Gäste.
Da sie mitlerweile unsere Vorlieben für Ecktische kennen, werden wir dorthin platziert.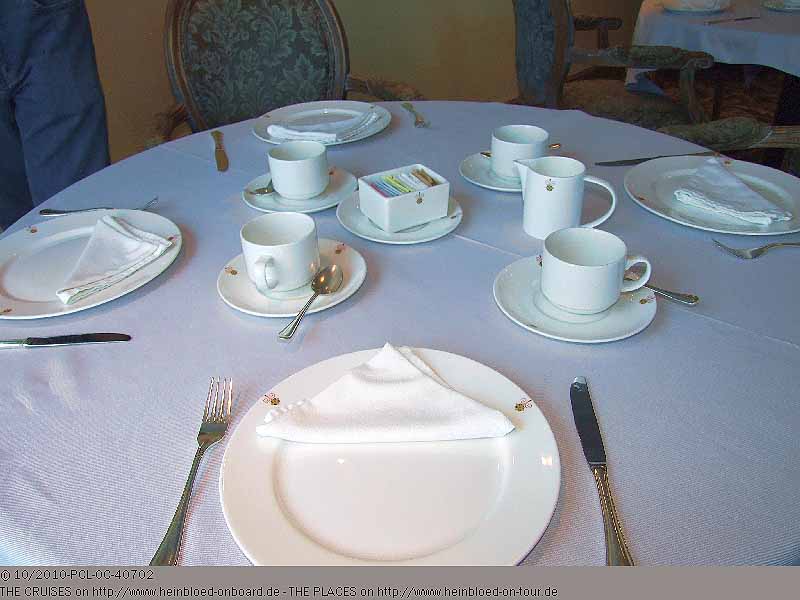 As they knew that we prefer table at the corners they allocated us accordingly.

Finally, china which did not remember me to our canteen.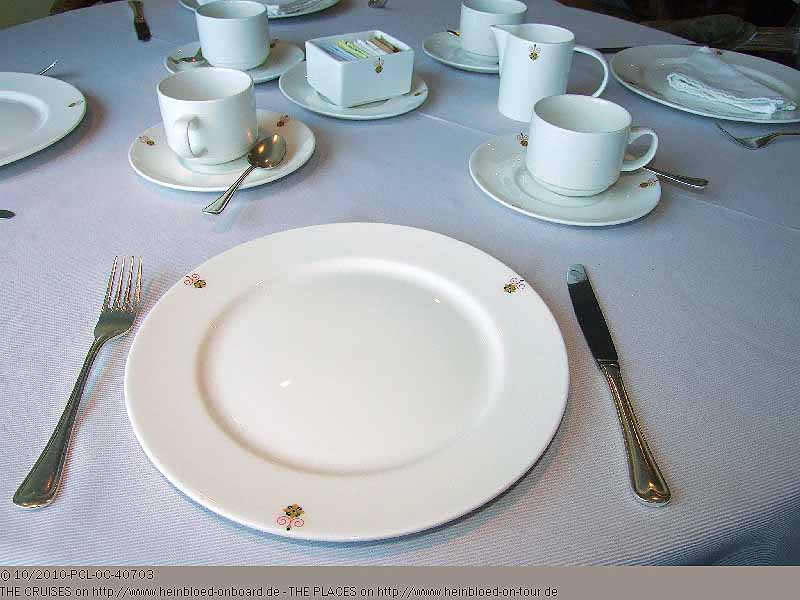 Endlich mal Geschirr, dass mich nicht an unsere Kantine erinnert.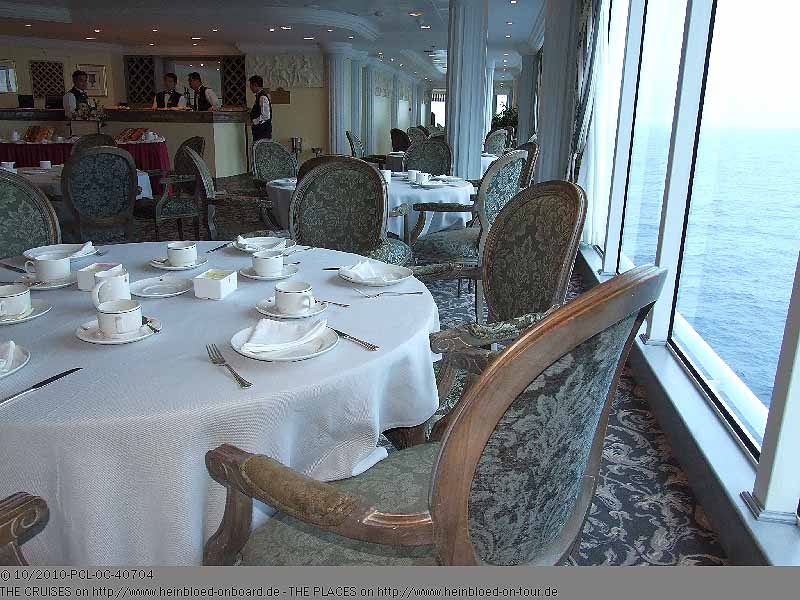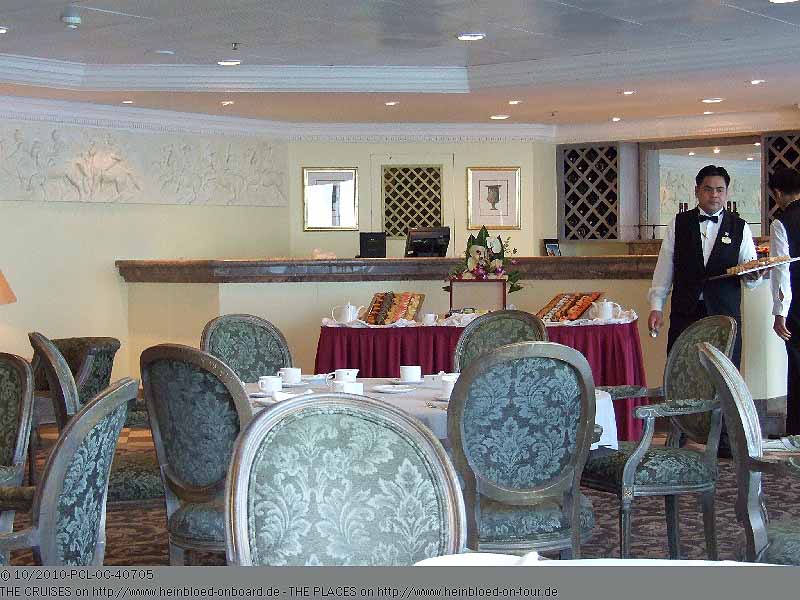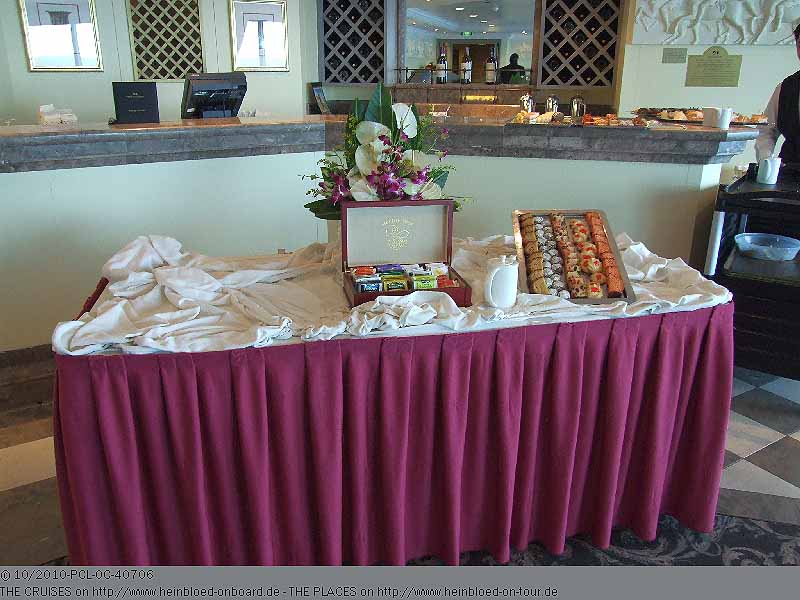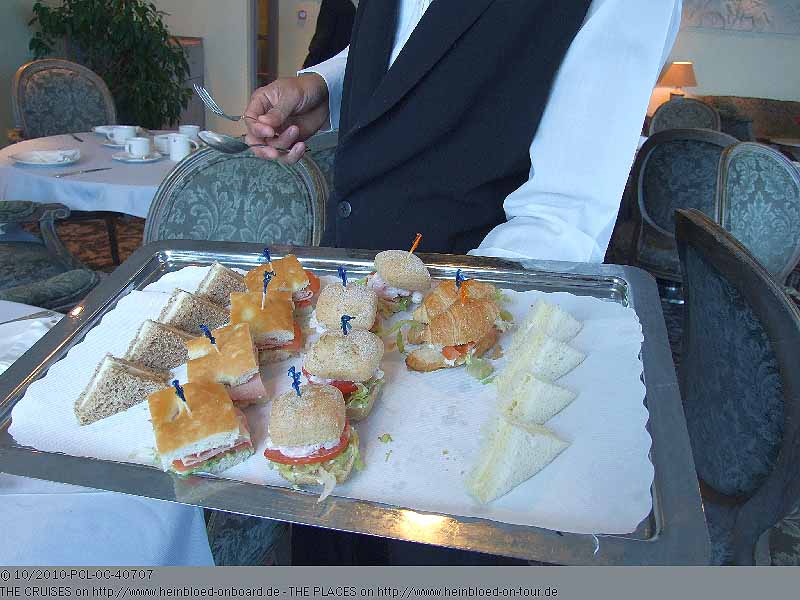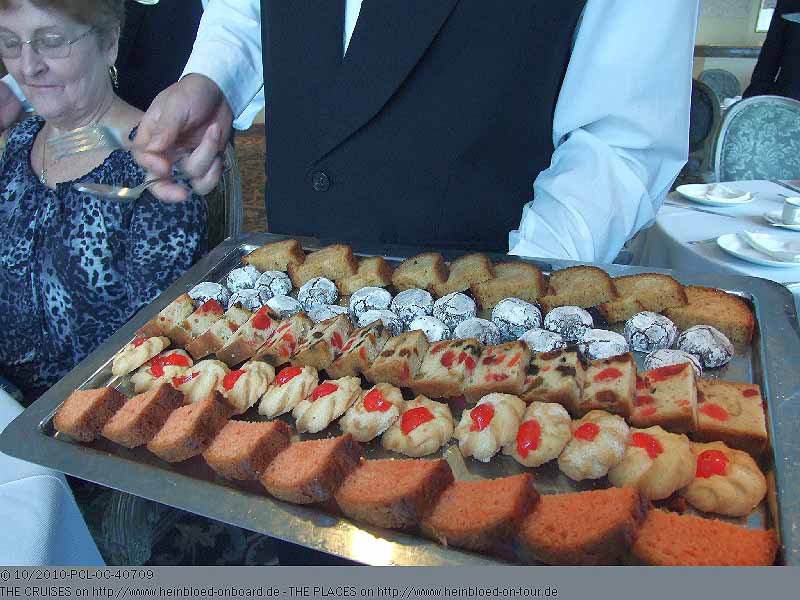 They places our two cruisecritic-friends buddynn (Linda and Barbara) to us.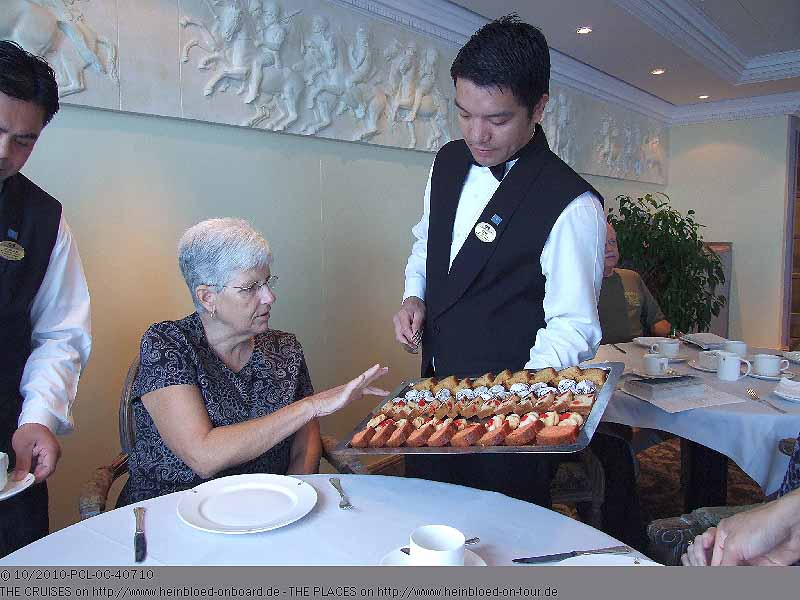 An unserem Tisch werden zwei cruisecritic-Freundinnen buddynn (Linda und Barbara) platziert.
Sie erzählen uns, dass sie hoffen endlich heute Abend mal wieder im Hauptrestaurant essen zu dürfen. Sie haben erste Tischzeit und bislang wegen der späten Rückkünfte in Sorrent und La Goulette nicht wieder im Club Restaurant gegessen. Deswegen buchen wir i. d. R. 2. Tischzeit, wenn wir schon kein flexibles Dining bekommen.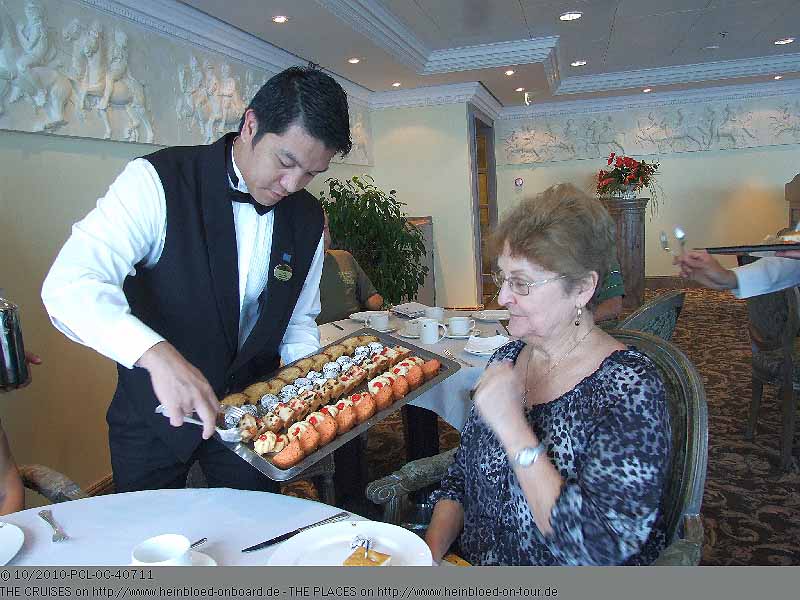 They told us that they hoped to have tonight dinner in the main restaurant. They hast 1st seating but returned all the days too late from their excursions in Sorrento, and La Goulette so had not eaten there in the Club Restaurant. That was why we always booked the 2nd seating if he cannot participate to flexible dining.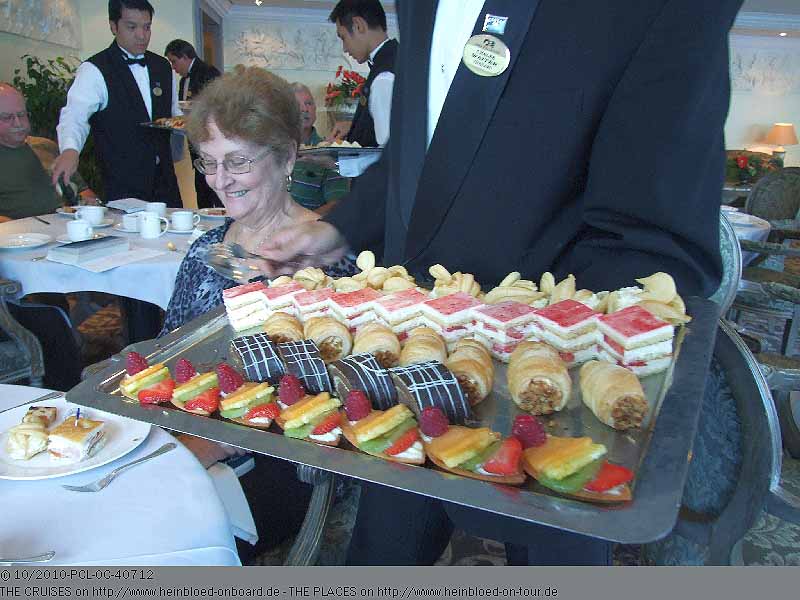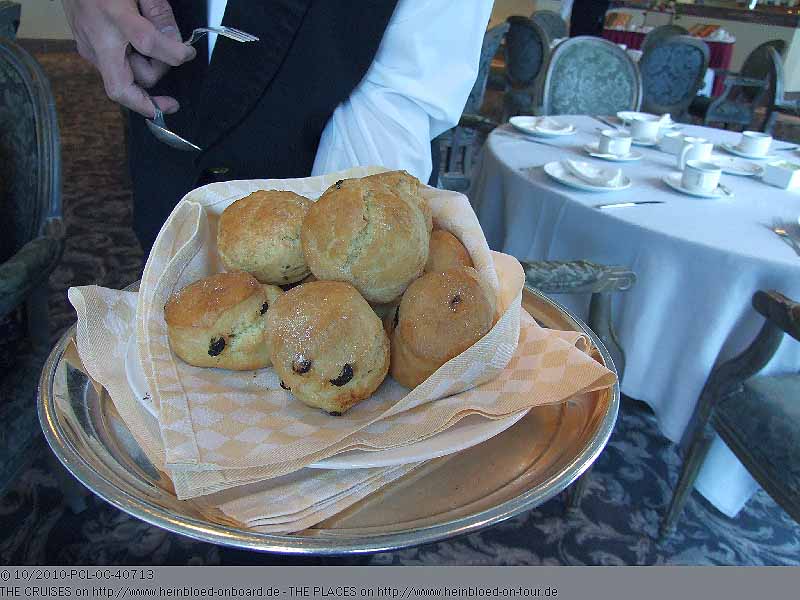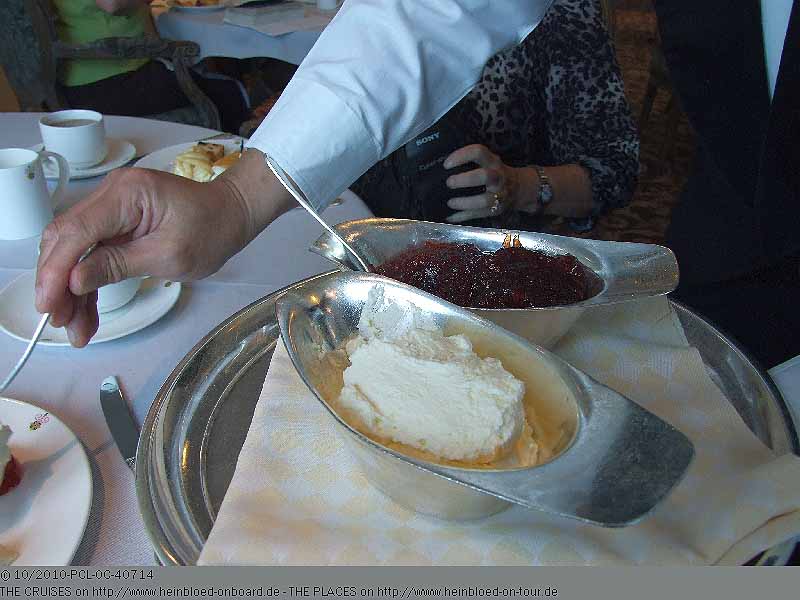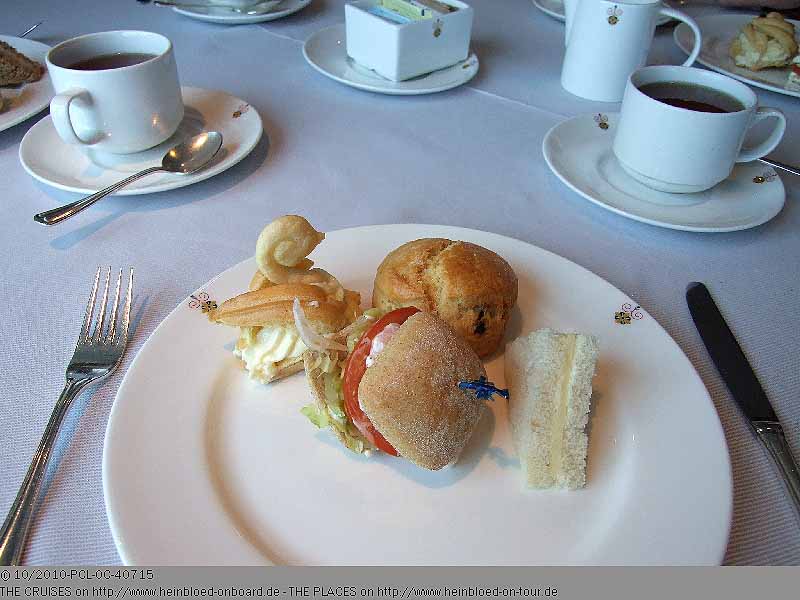 Also this three guys were glad to hear about kajomare's greetings.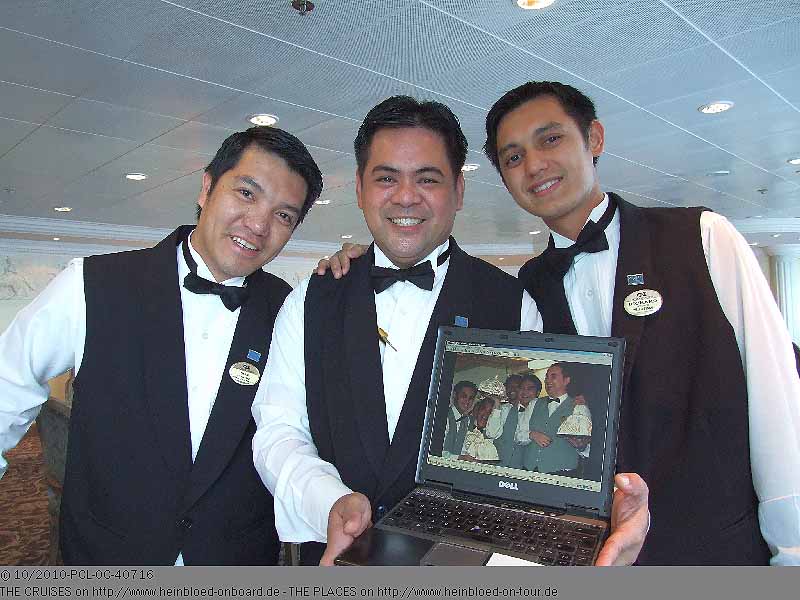 Auch diese drei Jungs haben sich sehr über kajomares Gruß gefreut.
Und wir freuen uns darüber, dass man immer doch dabei ist das Ungeziefer von Civitavecchia endlich einfangen... Ein paar Vögel, die diese Insekten als Delikatesse mögen, wären doch auch ganz hilfreich - oder???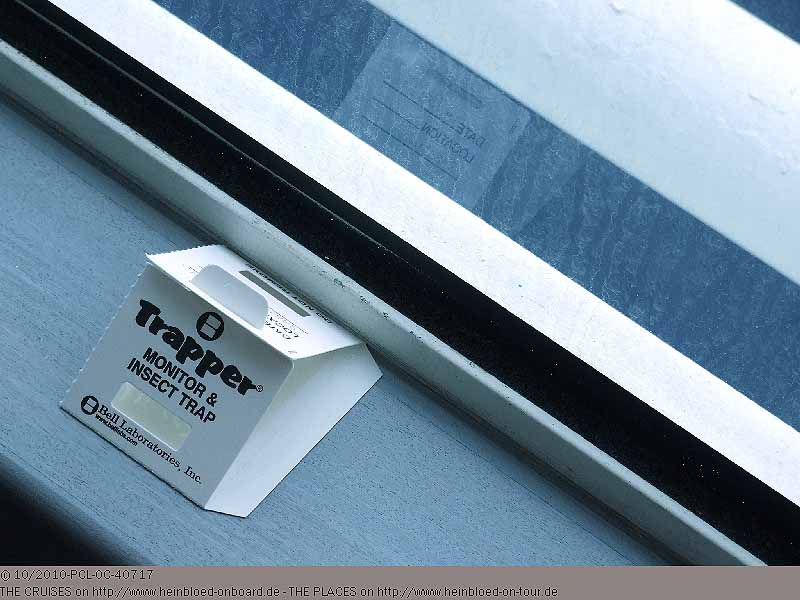 And we were glad to see that they still try to catch all insects which came in Civitavecchia onboard... Maybe some birds who love insects might be helpful - or???
Die anderen Reisen in diesem Blog/
The other voyages in this blog: