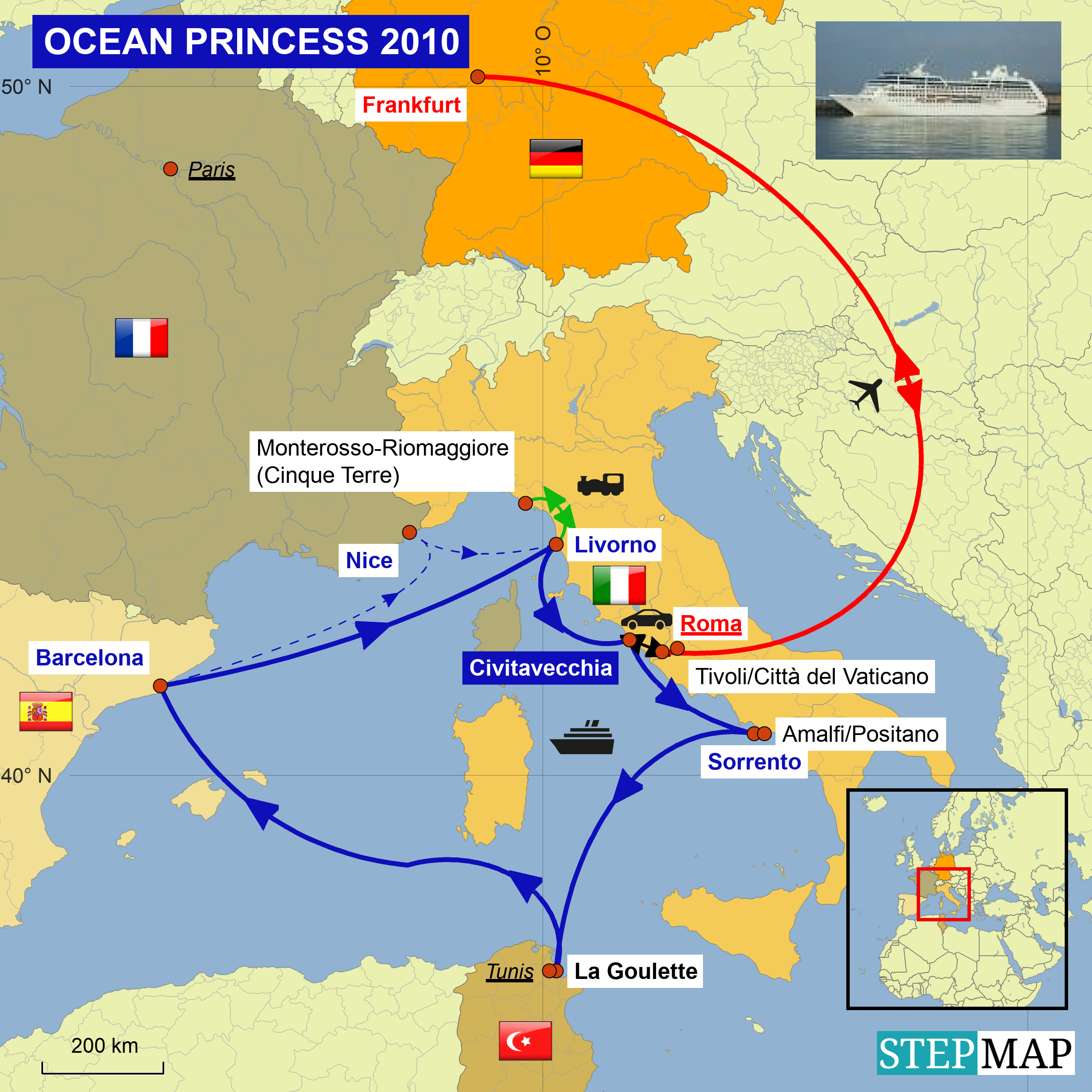 Die Haltestelle haben wir gefunden... endlich. Aber kein Fahrplanaushang. Andere Fahrgäste bestätigen uns jedoch, dass irgendwann auch mal ein Bus nach Rom käme... Jetzt irgendwann...

We found the bus stop finally. But no schedule displayed. Other passengers confirmed that the Rome-bound should leave from here and come... any time...

The moment the bus came it started to rain. The coach used another route back.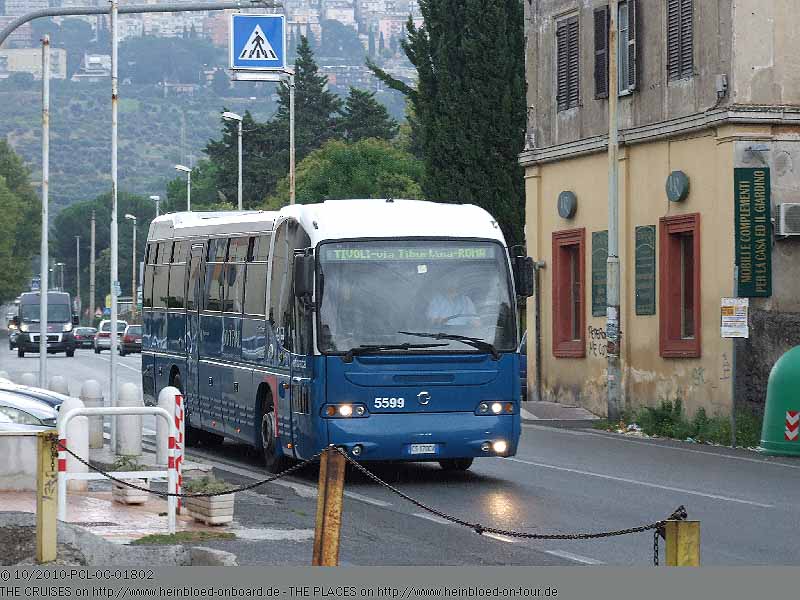 Just als der Bus ankommt, fängt es an zu regnen. Der Bus führt über eine andere Route zurück.
Während wir im Bus sitzen, wird der Regen immer stärker.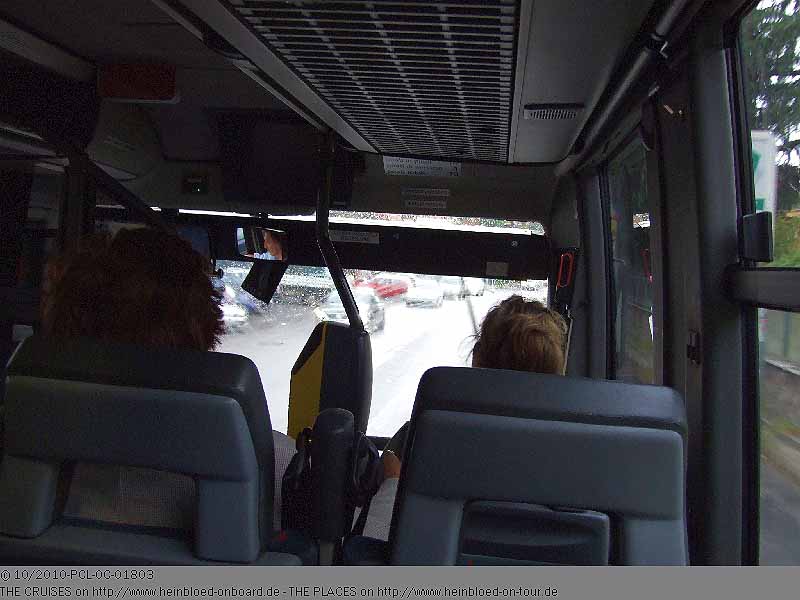 While we sat in the bus it rained more and more.

Somehow we did not arrive the point where we took the bus to Tivoli.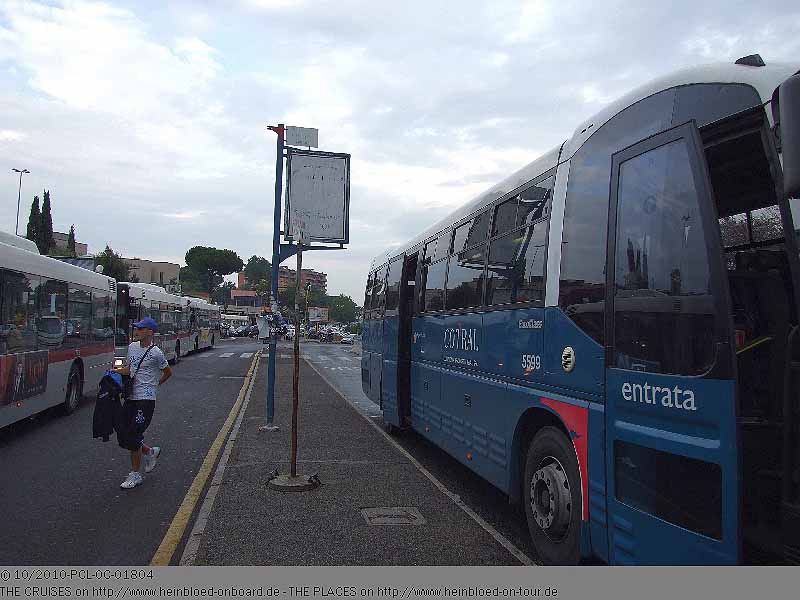 Irgendwie kommen wir nicht an der Stelle an, an der wir den Bus nach Tivoli genommen haben.
Wir kommen an der Endstelle der U-Bahn Linie B an: Rebibbia. Auch hier ist es nicht besonders einladend.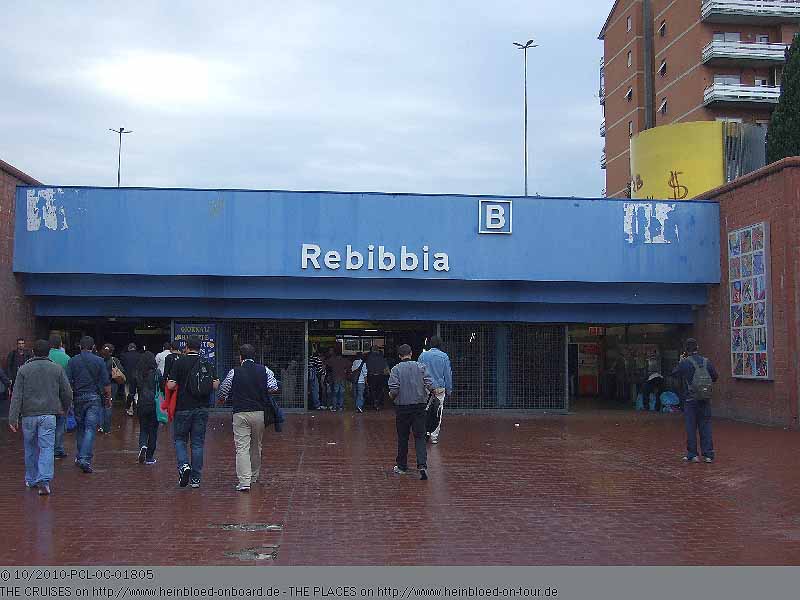 We arrived at the terminal of subway route B: Rebibbia. Here it was not very inviting either.

We could go to Termini in theory and get on a bus to get to the restaurant where we wanted to go. But somehow I wanted to by-pass the city center, and so we transferred in Tiburtina for the commuter train.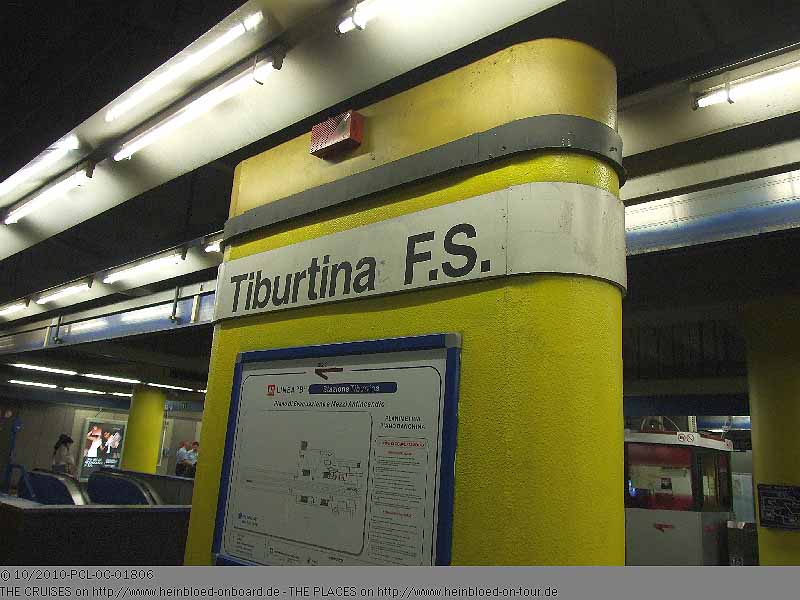 Wir könnten theoretisch bis nach Termini fahren und dort in einen Bus umsteigen, um zu einem Restaurant zu kommen, zu dem wir wollen. Aber irgendwie wollen wir die City umfahren und steigen daher in Tuburtina aus, um in den Zug umzusteigen.
Hier kann man wirklich sehr praktisch in die Züge umsteigen.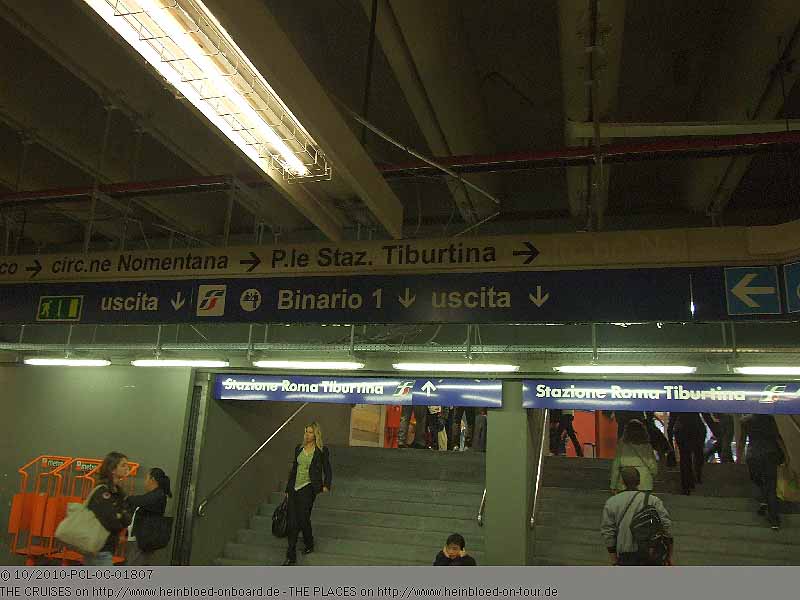 It was easier to transfer here to the trains.

As the queue for the tickets was quite long, we tried our luck at the ticket machines.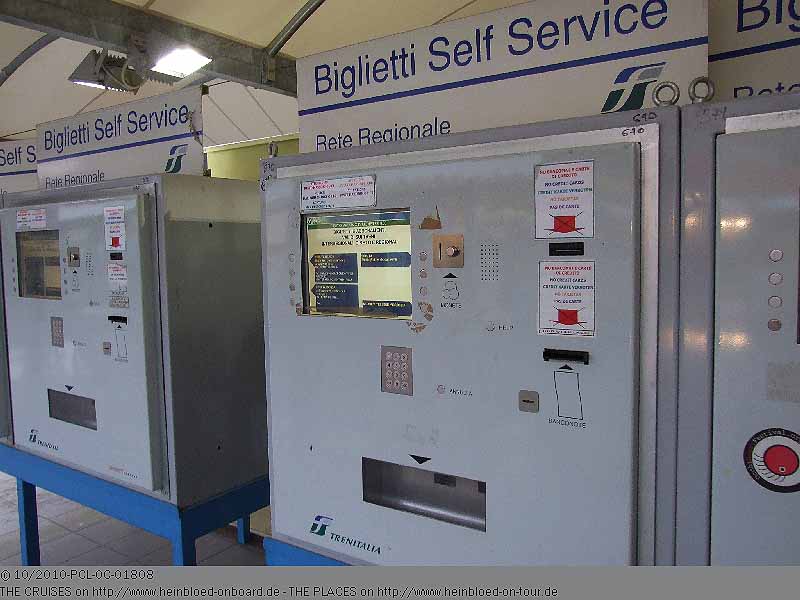 Da die Schlange am Schalter lang ist, versuchen wir uns am Fahrkartenautomaten.
Aber der kann bloß Italienisch... SELECTA Altri biglietti...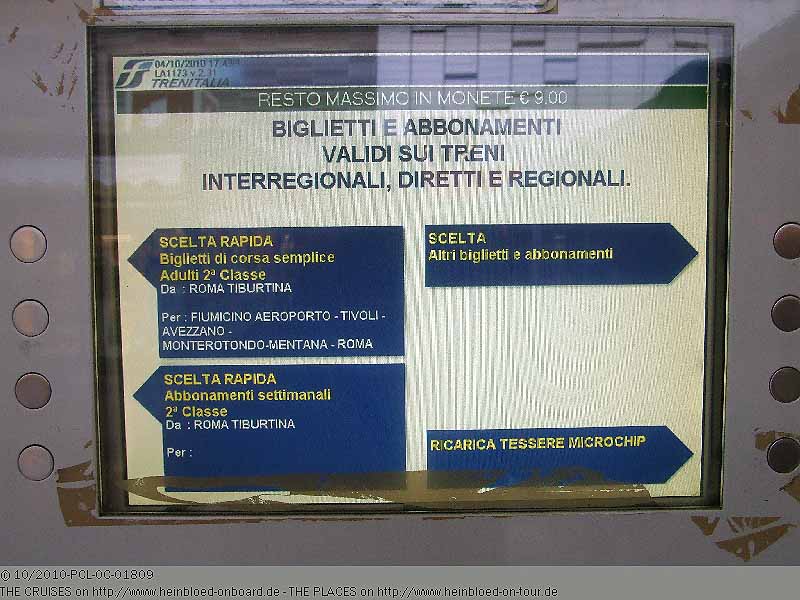 But this one only speaks Italian... SELECTA Altri biglietti... select other ticket...

Departure Point is ROMA TIBURTINA...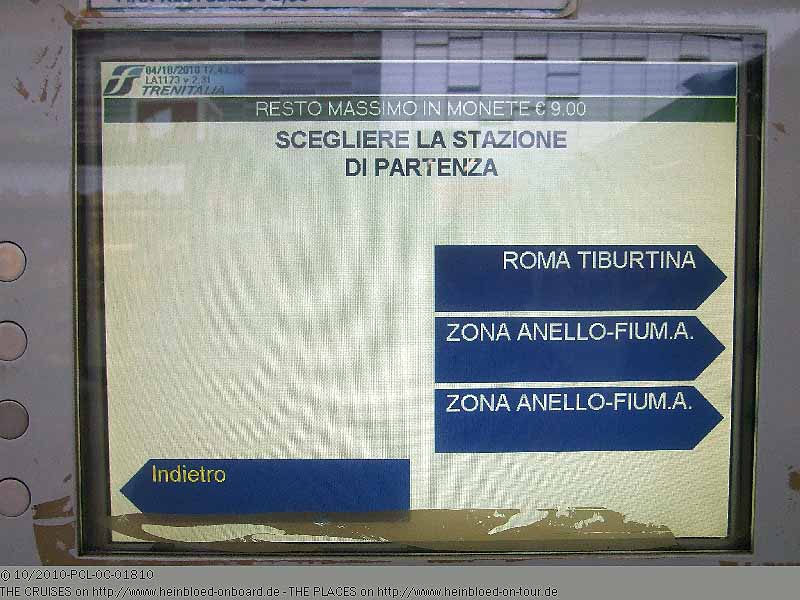 Abfahrt ist ja ROMA TIBURTINA...
ALTRE DESTINAZIONI, da wir nicht zu den vorgeschlagenen Zielen wollen.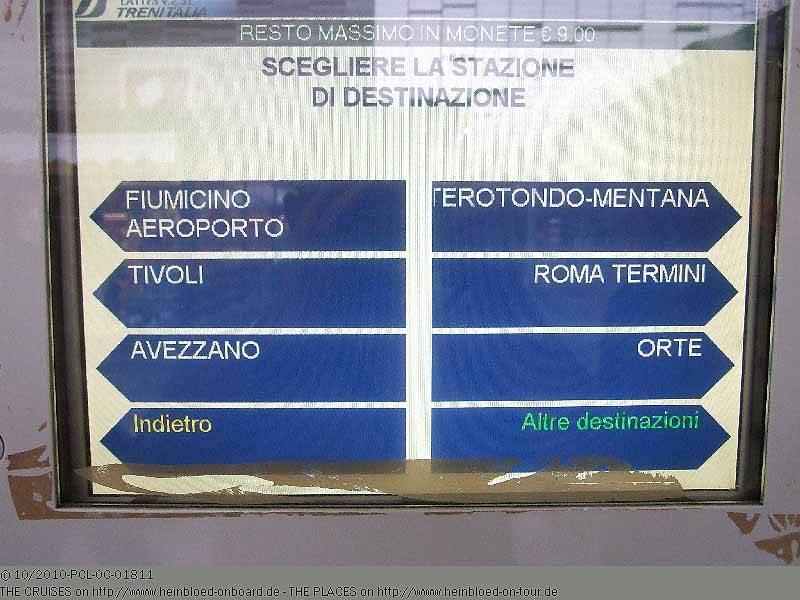 ALTRE DESTINATZIONI as we need to go to one of the suggested destinations.

As our destination was not shown as it shows in alphabetic order: PAGINA SUCCESSIVA for next page.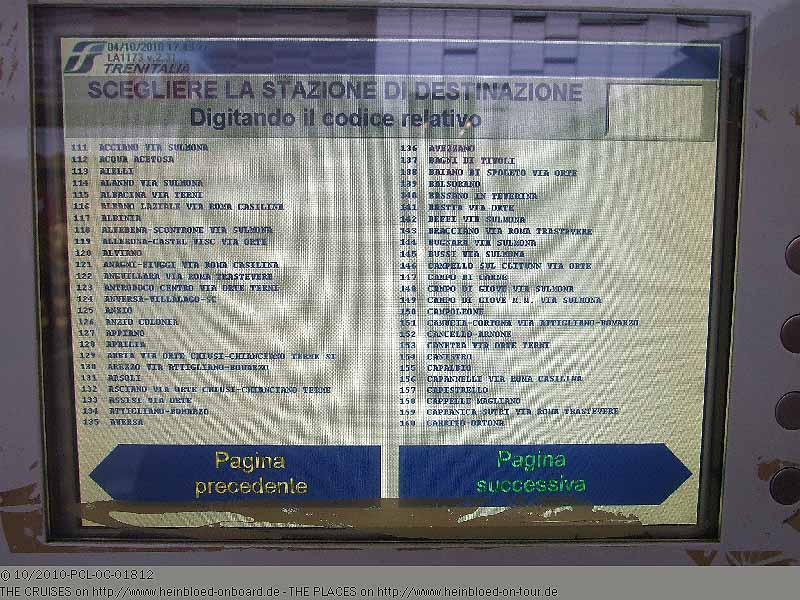 Da es sich nicht auf Anhieb findet, da alphabetisch durchsortiert: PAGINA SUCCESSIVA.
ROMA TRASTEVERE. Die Nummer 321, die davor steht geben wir ein.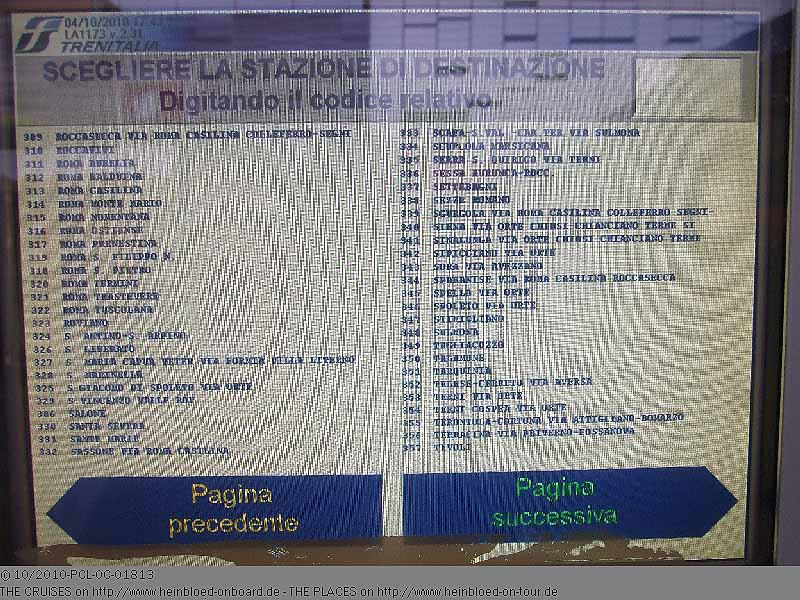 ROMA TRASTEVERE. The number code 321 which appeared in front of the destination was entered for this ticket.

SOLO ANDATA for a single ride.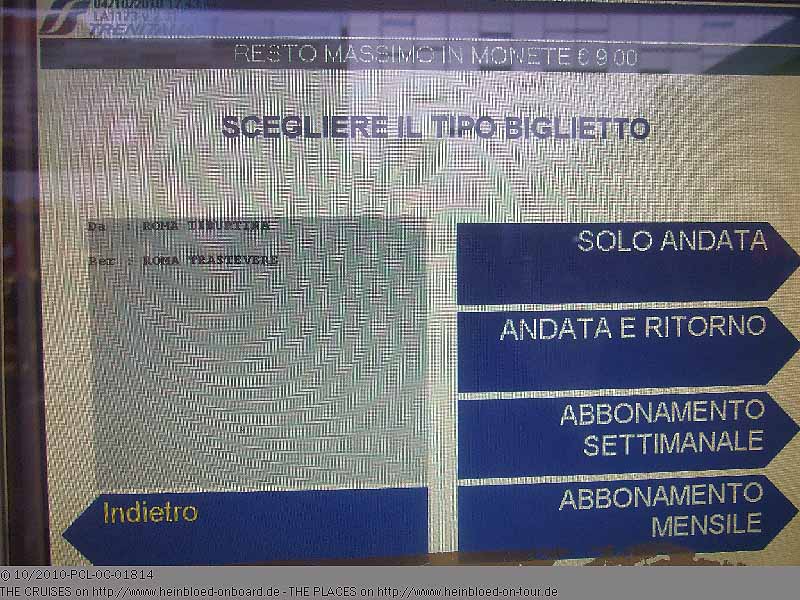 SOLO ANDATA für eine einfache Fahrt.
2A CLASSE für die 2. Klasse.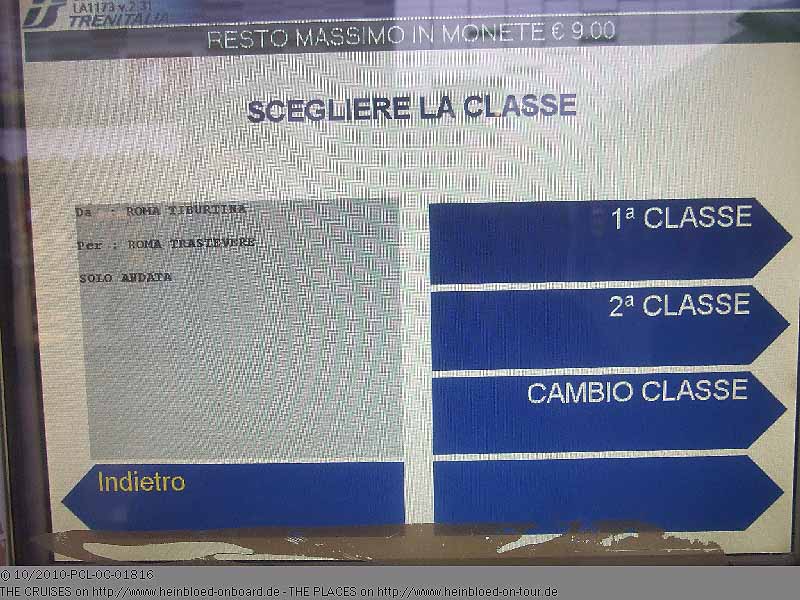 2A CLASSE for the 2nd class.

ADULTI for guess what.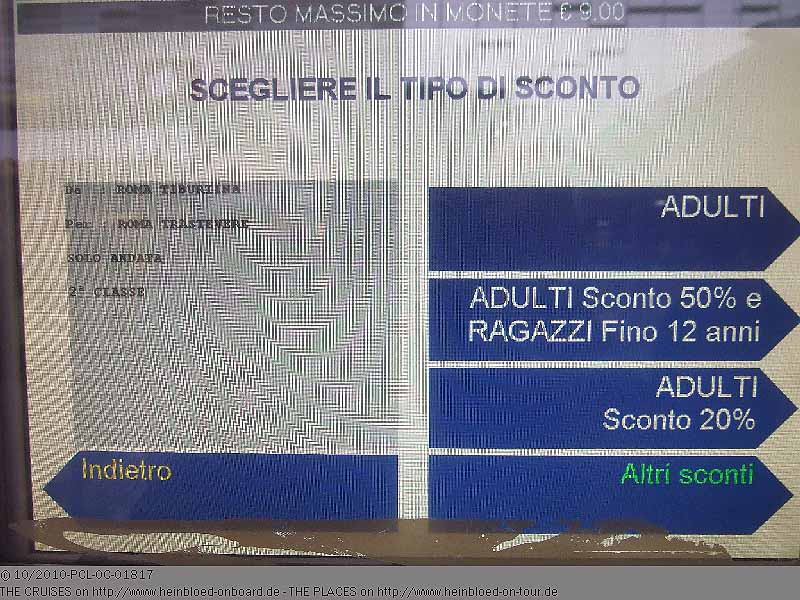 ADULTI für Erwachsene.
NR. 2 BIGLIETTI für 2 Fahrkarten.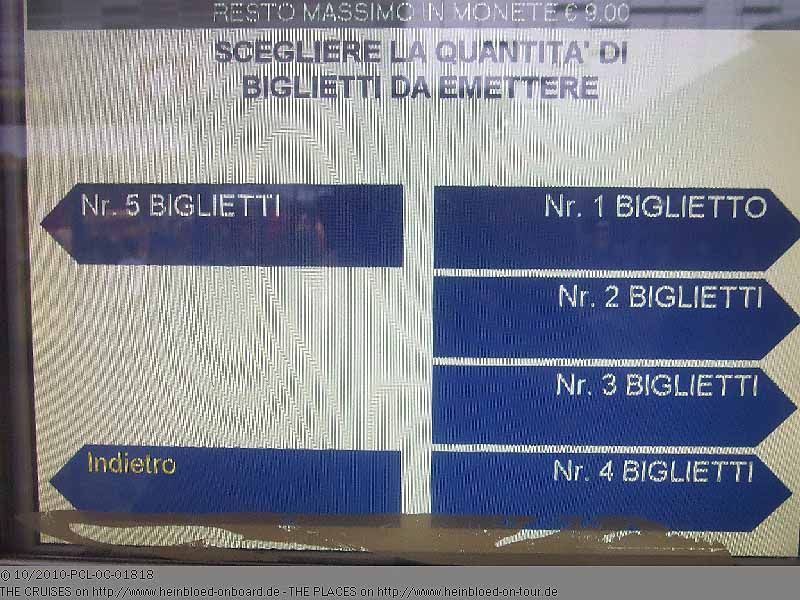 NR. 2 BIGLIETTI for 2 tickets.

Only cash or Italian Bankcards.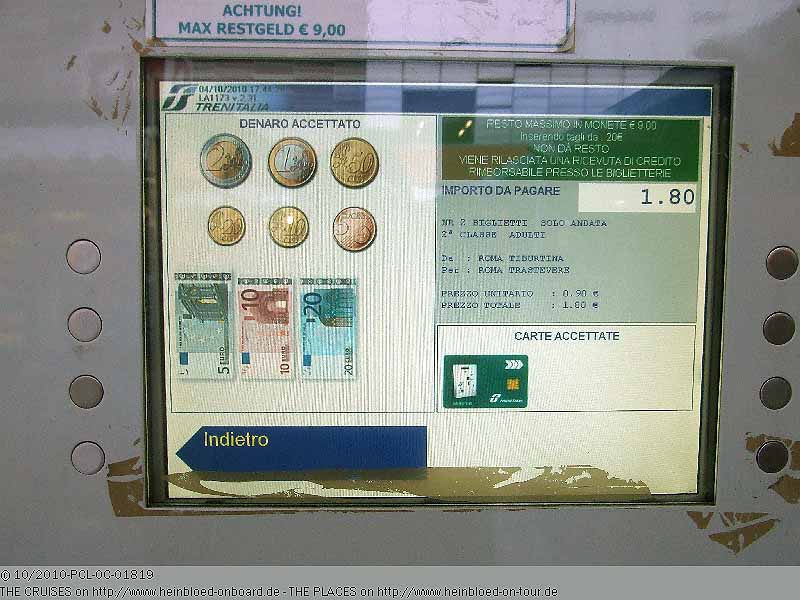 Nur Bar oder italienische Bankkarten.
Der wichtigste Hinweis kommt jedoch auch in Deutsch und Englisch überhalb des Displays. Maximal 9,00 EUR Rückgeld.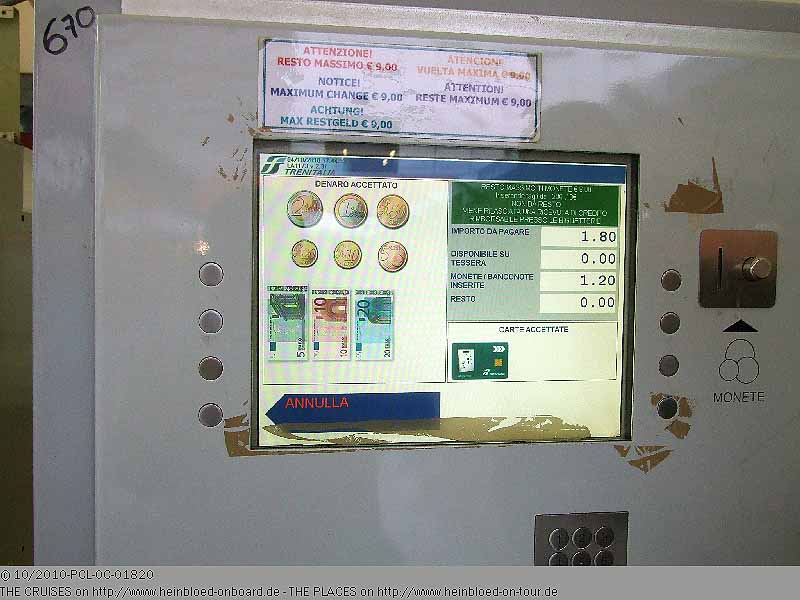 The most important information was available in English as well above of the screen: Maximum 9.00 EUR change.

Do not forget to cancel/punch/validate.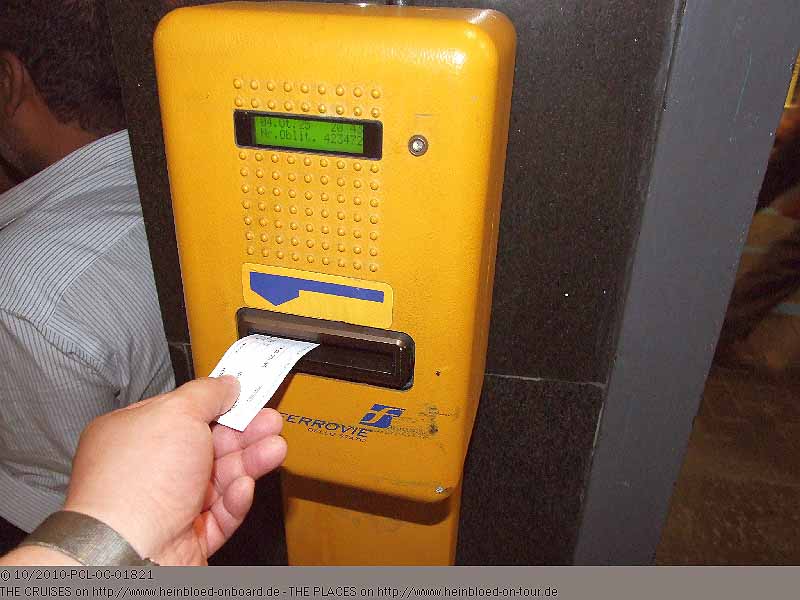 Und nicht vergessen hier zu entwerten.
Nur bei den kleinen Karten muss man aufpassen, dass man links die Karten einsteckt.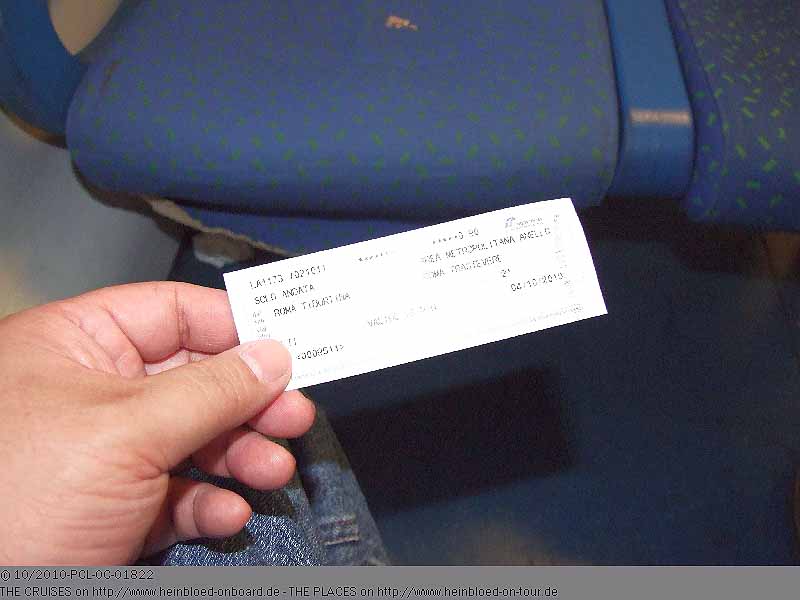 You need to enter the tickets to the left with the small tickets like ours.

We went to one of the FR1-Airport-Commuter-Train which stops at every station. Not very comfortable and clean...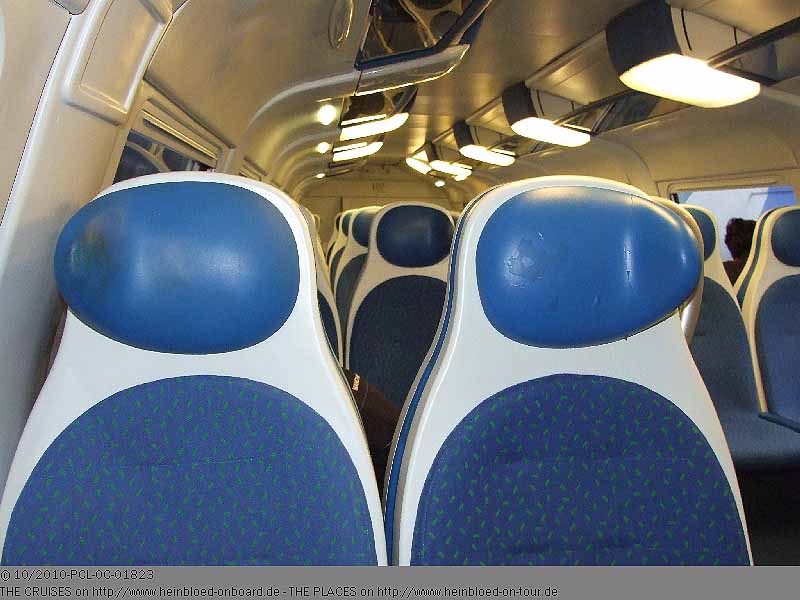 Wir sitzen in einem der FR1-Flughafen-S-Bahn-Züge, die überall halten. Besonders komfortabel und sauber ist es nicht...
In Roma Trastevere steigen wir aus.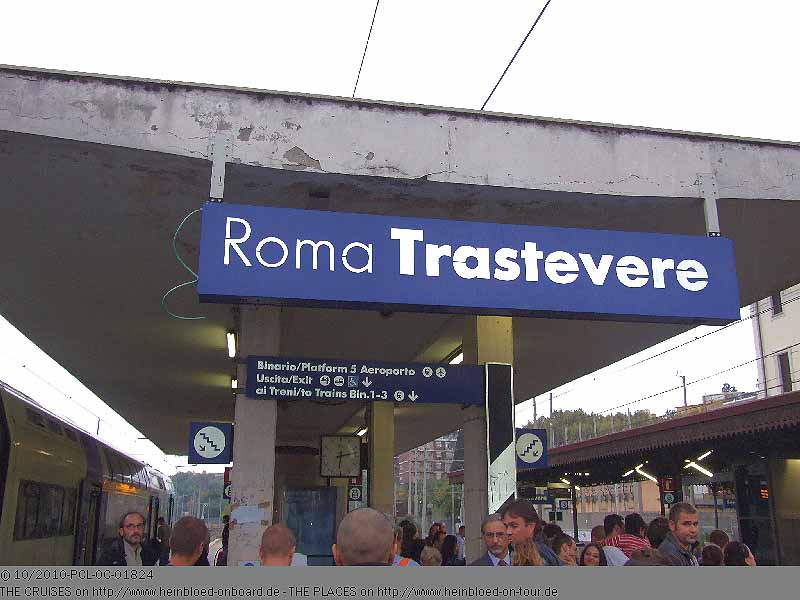 We left at Roma Trastevere.

You change here the train if you take the FR1-Commuter Trains from Fiumicino-Leonardo da Vinci-Airport and change to the FR5-Commuter Trains towards Civitavecchia and do not want to pay for the expensive Leonardo-Express to change at Termini-Station.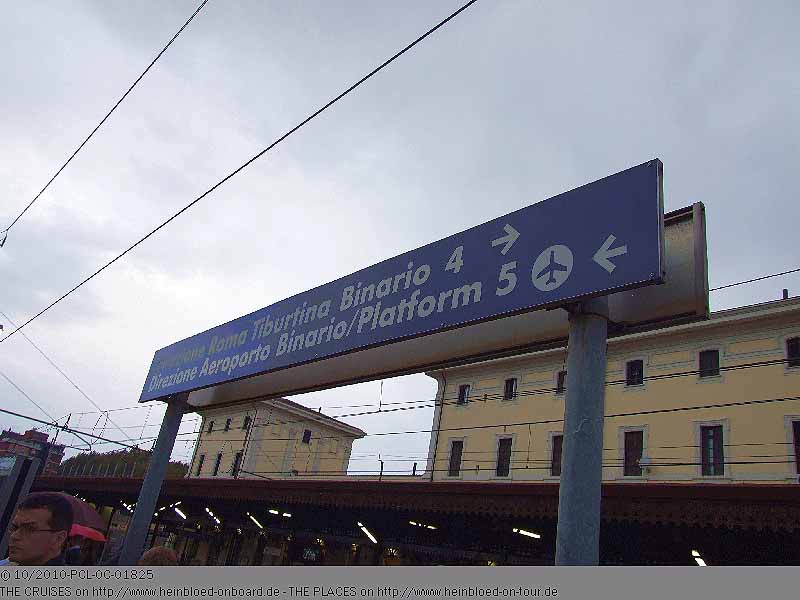 Hier steigt man um, wenn man mit den FR1-S-Bahn-Zügen vom Flughafen Fiumicino Leonardo-da Vinci nach Civitavecchia mit den FR5-S-Bahn-Zügen will und nicht den teuren Leonardo-Express zahlen möchte, um am Bahnhof Termini umzusteigen.
Es gibt auch Fahrstühle, um das Umsteigen zu erleichtern.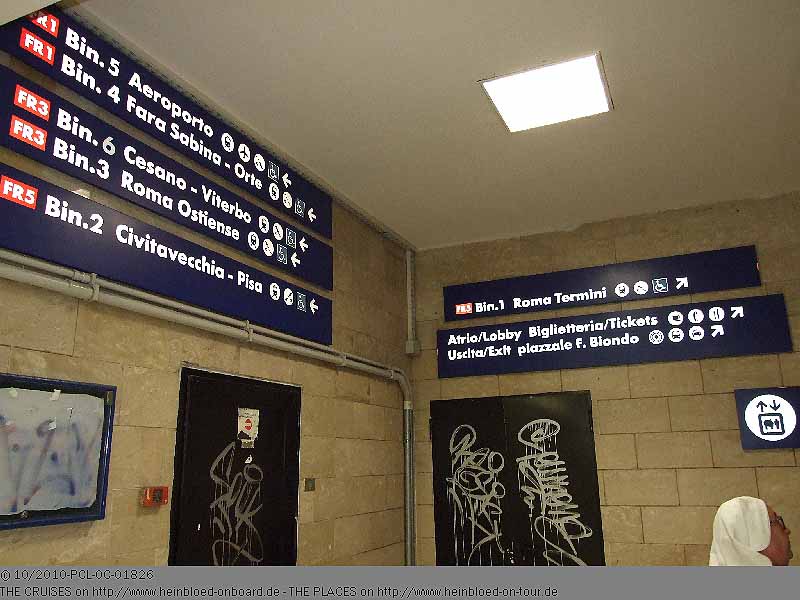 Elevators were available to ease the transfer.

Behind the square, trams were operating.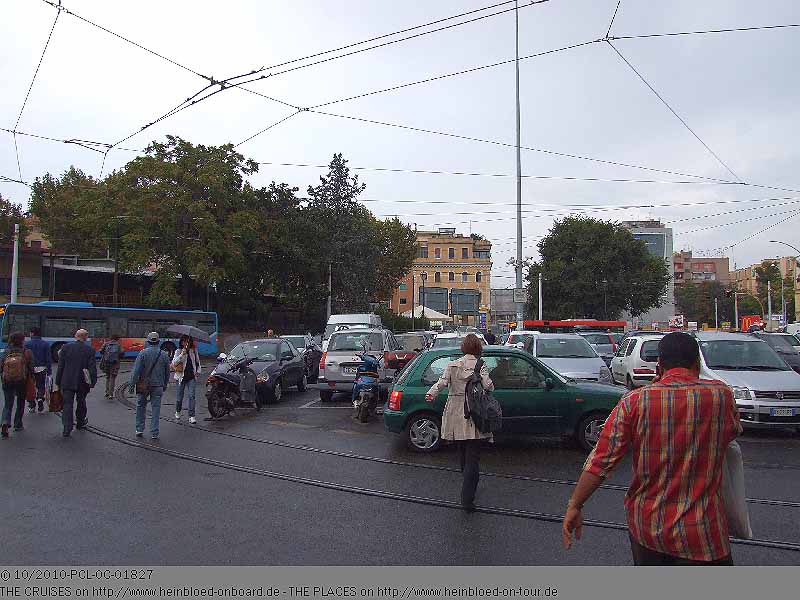 Hinter dem Bahnhofsvorplatz fahren Straßenbahnen.
Die Bahnen der Linie 8 fahren bis Argentina. Das gute: sie haben eigene Spuren, die z. T. weiterhelfen schnell vorwärts zu kommen, wenn nicht der Querverkehr quer davorsteht.

The tram route 8 takes you to Argentina. The good: they have separate lanes which should help to get quickly if no cars were coming from the side and block the lanes.

Due to a report in the German TV, we want to have a Pizza because of the battle between Rome and Naples who is doing the best pizza. As we went to Naples to Da Michele we need to find an equal competitor. In cruisecritic.com-Forum I was told that Baffetto is the only one to try. We went to their branch at Piazza del Teatro di Pompeo 18. It was a little difficult to find as it was a very tiny square. As they were closed on Tuesday, we needed to go tonight.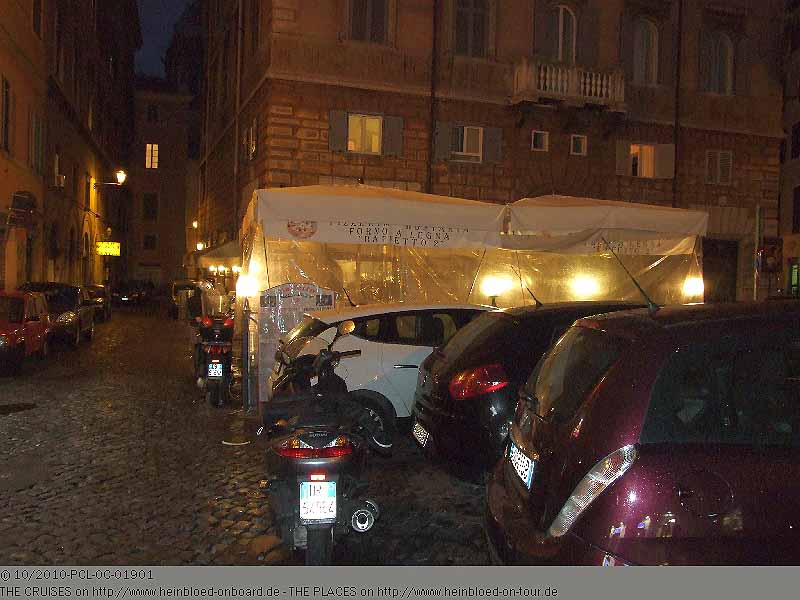 Aufgrund eines
Berichtes in der ARD (Römische Skizzen)
wollen wir Pizza essen, weil es einen Krieg zwischen Rom und Neapel gibt, wer die bessere Pizza macht. Da wir in
Neapel bei Da Michele
waren, mussten wir einen ebenbürtigen Konkurrenten finden. Im
cruisecritic.com-Forum
meinte man, dass wohl dafür nur das
Baffetto
in Frage kommt. Wir gehen zur 2. Filale an der Piazza del teatro di pompeo 18 liegt. Es war allerdings etwas schwierig zu finden, da es sich um einen Mini-Platz handelte. Da sie dienstags Ruhetag hatten, mussten wir es heute ausprobieren.
Nur samstags und sonntags ist auch mittags geöffnet, daher nur bedingt für Kreuzfahrer geeignet, die nur einen Tag hier bleiben.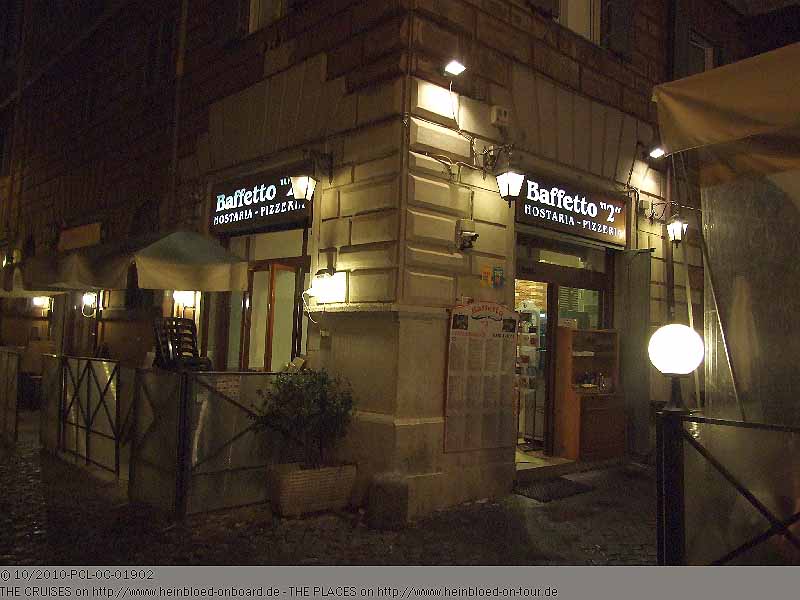 Only on Saturday and Sunday they are open - so limited available for regular cruisers in transit.

They open at 18.30 hrs. Around 19.00 hrs it was quite calm. Only tourists. From 20.00 hrs many Italians came as well.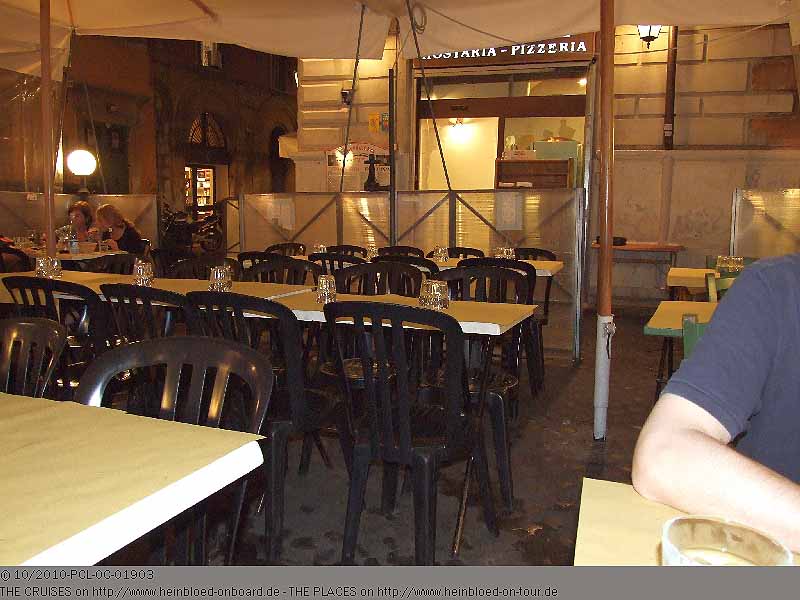 Um 18.30 Uhr öffnen sie. Um 19.00 Uhr war es noch ziemlich leer. Nur Touristen. Ab 20.00 Uhr kamen auch viele Italiener hierher.
Wir hatten den Eindruck, dass wir eigentlich recht preiswert hier essen konnten, im Vergleich zum Vorabend in Fiumicino. Das Bruschetta mista war schon mal lecker. Das mista bezieht sich allerdings nicht auf die Bruschetta sondern auf die gemischte Beilage.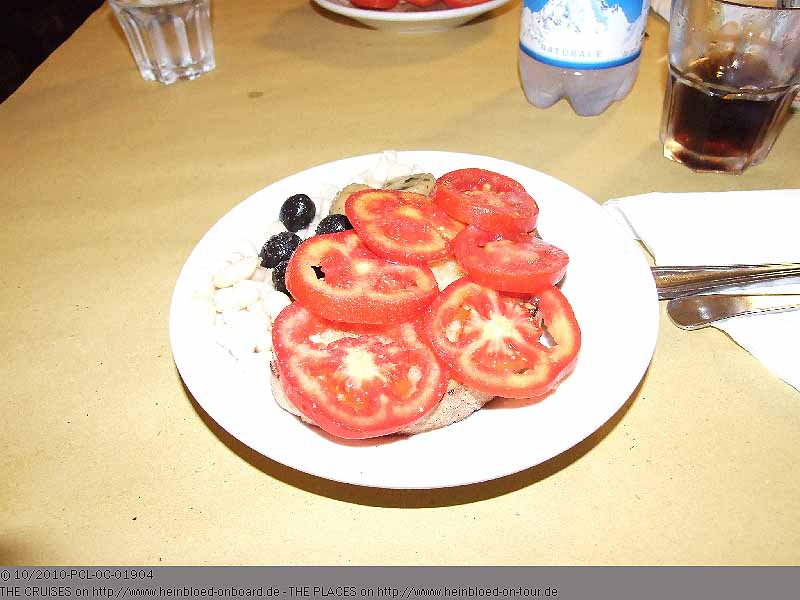 We had the impression that you can have an inexpensive meal here compared to our last night in Fiumicino. Bruschetta Mista was very lovely. Mista (Mixed) was not related to the Bruschetta but the sides.

I had the Pizza Margherita because I had it at Da Michele in Naples too. Scusi Roma, but for my taste, Naples "won". I know that you cannot have a thinner dough without getting burned. For my taste, there was too much "cole" on the pizza. But anyhow it was very yummy.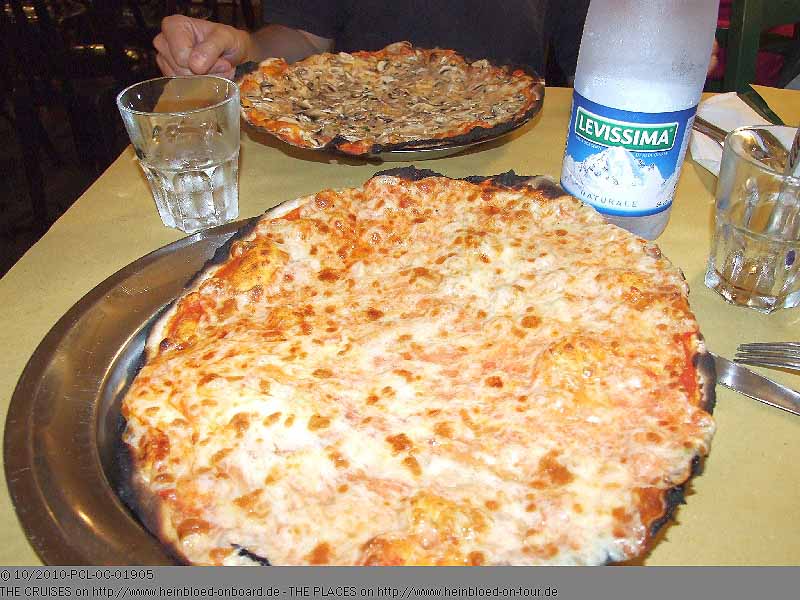 Ich habe dann die Pizza Margherita genommen, weil wir sie auch in Neapel bei Da Michele hatten. Scusi Roma, aber für meinen Geschmack hat Neapel "gewonnen". Ich weiss, dass man kaum einen dünneren Teig hinbekommt, ohne dass er anbrennt. Mir war aber nur ein wenig zu viel "Kohle" auf der Pizza. Trotzdem war sie sehr lecker.
Die anderen Reisen in diesem Blog/
The other voyages in this blog: