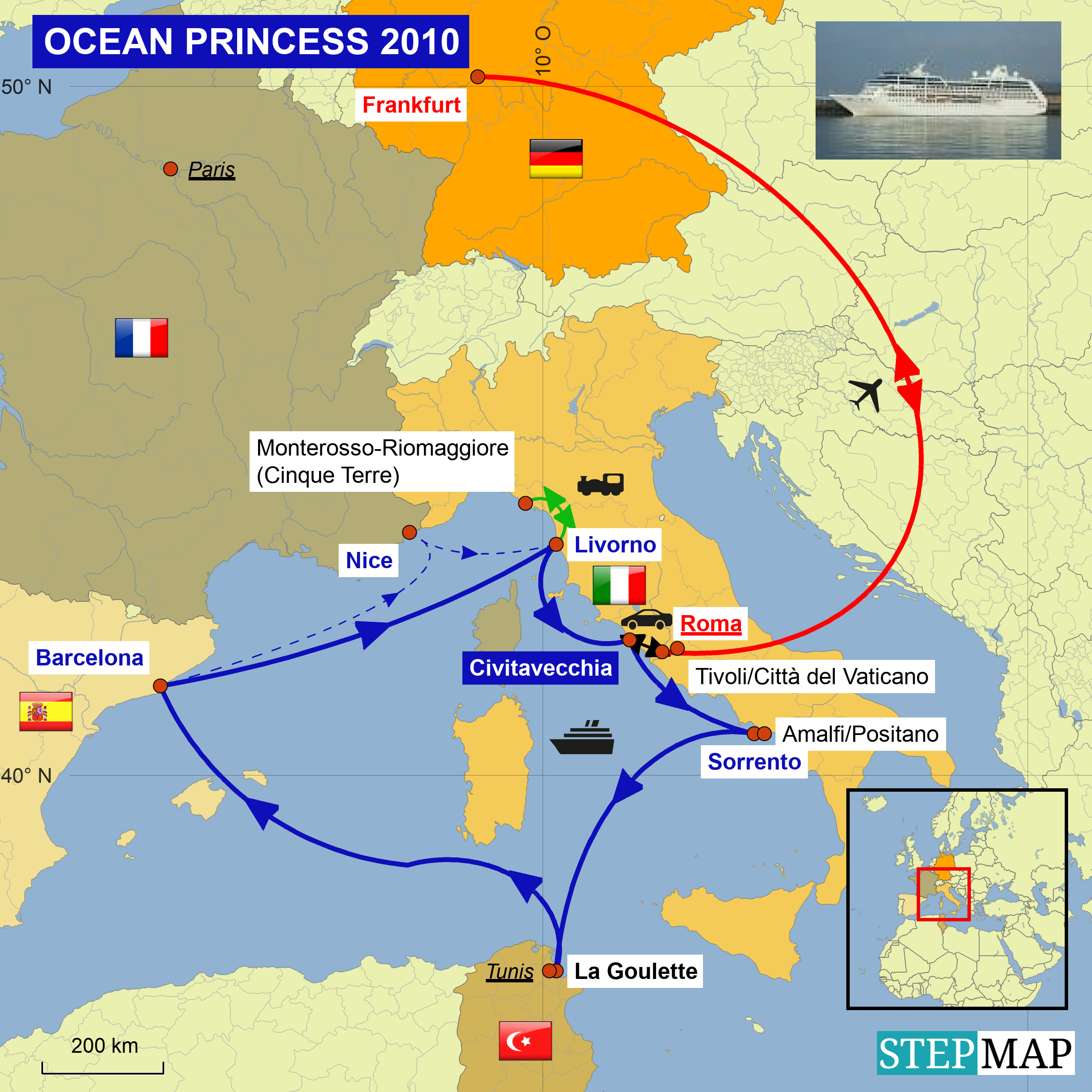 Morgens melde ich mich bei der Rezeption, um einen Termin mit dem Hotel Direktor zu vereinbaren. Man teilt mir mit, dass man mich anrufen würde, sobald ein Termin vorliegt.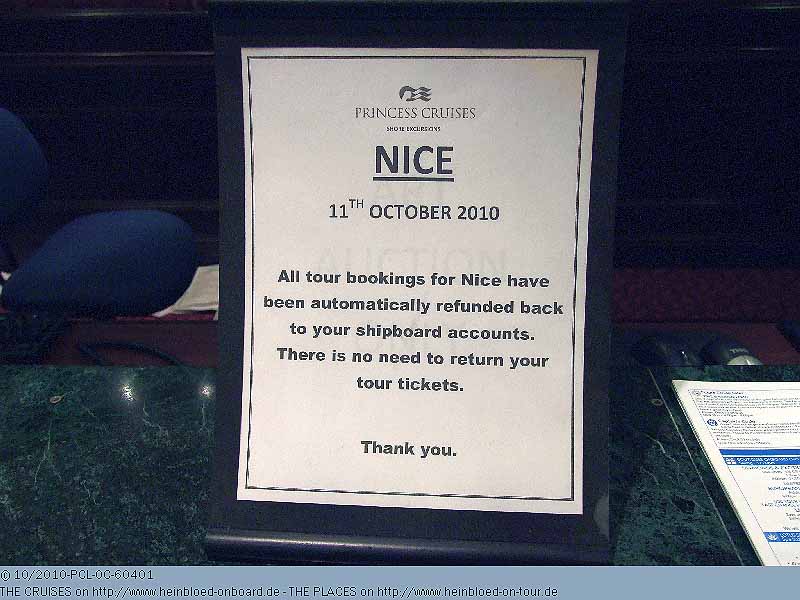 At the morning I went to the reception desk to arrange an appointment with the Hotel Director. They told that they will give me a call as soon as a meeting is possible.

After 1 1/2 hours I called and asked, and they told me that they waited for my call. They connected me to Sue who is the Head of the Front Desk, and she informed me that the First Purser Stefano would take the time for me. When I said that I preferred to talk directly to the Hotel Director, Sue assured that Stefano is the responsible person for the hotel department. The result: three days earlier and I might have the very best cruise of my life because I met finally the two persons who had the authority and knowledge to help and solve problems. Their apology sounded honest to me and their offer to help sounded promising. I got two keycards for 4001 and may use it if I like, and we might not use our cabin due to repair works. Although we had the cards, we did not use it. I expressed again that it was more the reaction of the front desk which made me upset and less the original problems as this could happen on every ship. They agreed: If some of them would have contacted their supervisor at 23.00 hrs to give the other cabin: there would not have been a need to make a riot and to wake up someone for authorization at 02.00 hrs. Shit happened, and they said that they saw the problem and promised some improvements without sending me to my cabin and let me wait there. Mainly there was no need to discuss that the variation of the temperature occurred by the current openings of the balcony door or due to our personal feeling of warmth. That are typical arguments we know already. Due to force 8, the chance of opening the balcony door was minimal and we always have our thermometer with us to see if it because of them or us. We also prefer to solve our problems ourselves - that is why we always travel with the tape.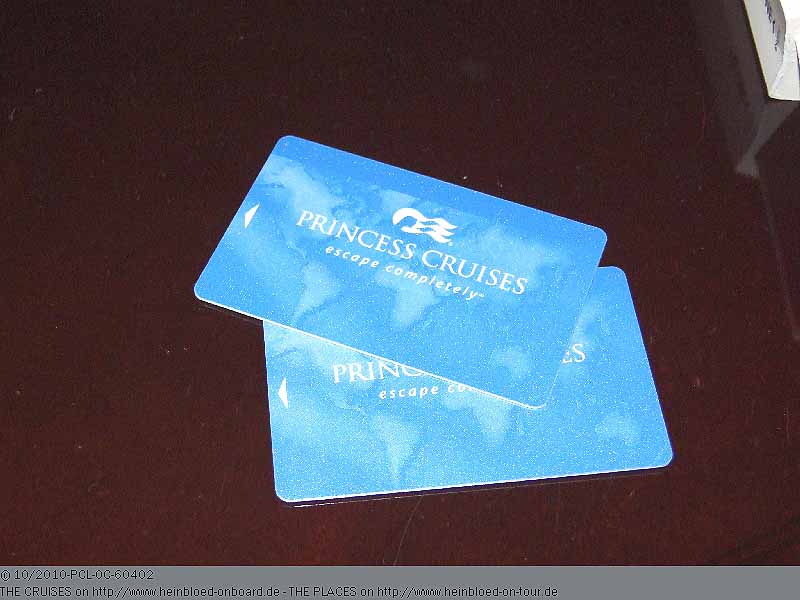 Nach 1 1/2 Stunden frage ich nach und man teilt mir mit, dass man meinen Anruf erwartet hätte. Man verbindet mich weiter an Sue, die Leiterin des Front Desks und sie teilt mir mit, dass mich der Erster Purser Stefano empfangen würde. Als ich anmerke, dass ich eigentlich lieber direkt mit dem Hotel Direktor sprechen möchte, versichert mir Sue, dass Stefano für den Bereich Hotelbetrieb verantwortlich sei. Zum Ergebnis: drei Tage früher und ich hätte vermutlich die allerbeste Kreuzfahrt meines Lebens erlebt, weil ich die zwei an Bord getroffen hätte, die die notwendigen Kompetenzen und Sachverstand gehabt hätten, um meine Probleme zu lösen. Ihre Entschuldigung für die Ereignisse klingt aufrichtig und Ihr Hilfsangebot klingt erfolgversprechend. Ich bekomme zwei Schlüsselkarten für 4001 und darf mich gerne dahin zurückziehen, wenn ich mag und solange unsere Kabine für Arbeiten uns nicht zur Verfügung steht. Wir haben zwar die Karten, aber nutzen das Angebot nicht. Ich habe nochmals zum Ausdruck gebracht, dass mich eher das Verhalten der Rezeption gestört hat und weniger die Ursachen, da sie auf jedem Schiff passieren können. Man stimmt mir zu: hätte man vor 23.00 Uhr sich schon an die Vorgesetzten gewandt, um mir eine Kabine für die Nacht zu geben: Um 02.00 Uhr hätte ich keinen Aufstand betreiben müssen und so hätte niemand zwecks Authorisierung aus dem Schlaf geholt werden müssen. So ist es nun passiert und man hat das Problem erkannt und versprochen Abhilfe zu schaffen, ohne mich einfach wegzuschicken, damit auf der Kabine warten soll. Vor allem mussten wir nicht ausdiskutieren, dass die Temperaturschwankungen durch das ständige Öffnen der Balkontür kommt bzw. aufgrund unserer persönlichen Temperaturempfindichkeiten. Da sind typische Argumente, die wir bereits kennen. Bei Windstärke 8 war die Chance sehr gering, dass wir die Balkontür geöffnet haben und das Thermometer führen wir mit, um zu sehen, ob es an uns oder an denen liegt. Auch neigen wir zur Selbsthilfe und führen daher unser tesakrepp mit.
Wir gehen ins Club Restaurant zum Mittagessen. Ein Käfer an der Wand.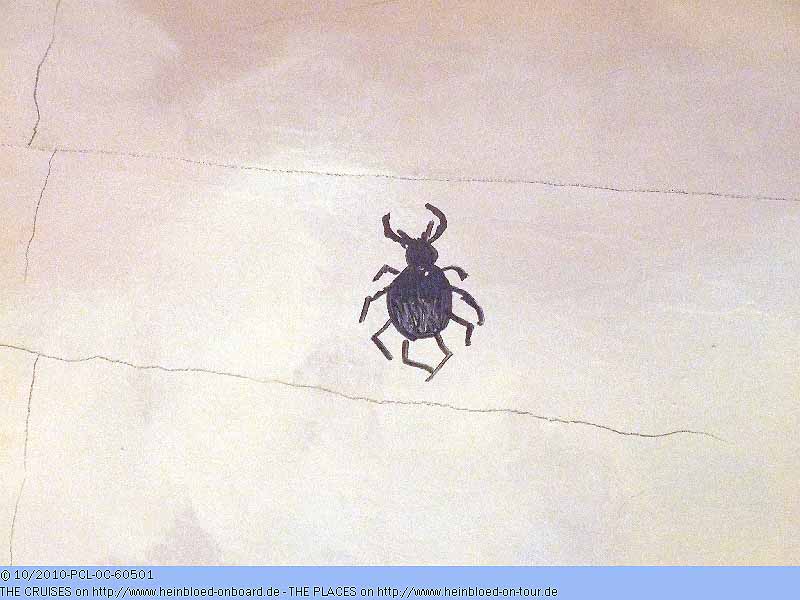 We went to the Club Restaurant to have lunch. A bug at the wall.

But I saw it was only part of the painting on the ceiling.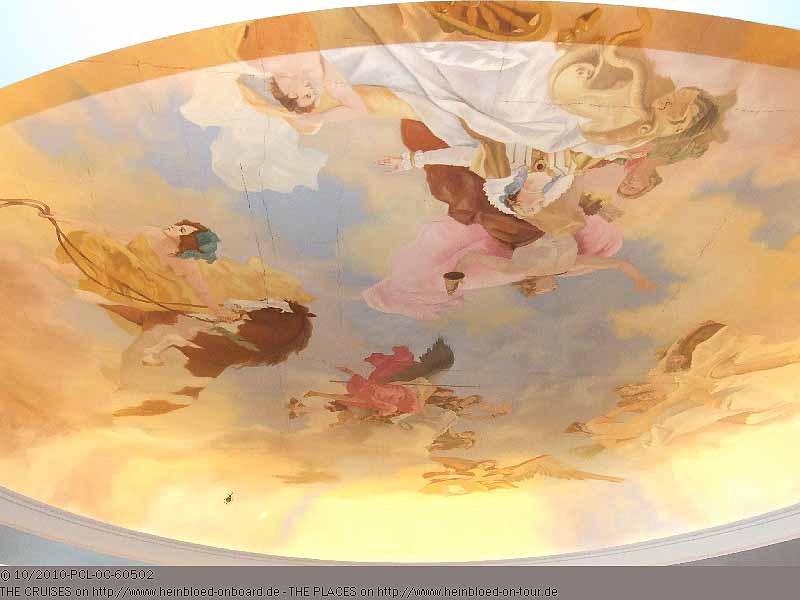 Aber ich sehe, dass Teil des Deckengemäldes ist.
Wir sitzen mal in einem anderen Teil des Restaurants.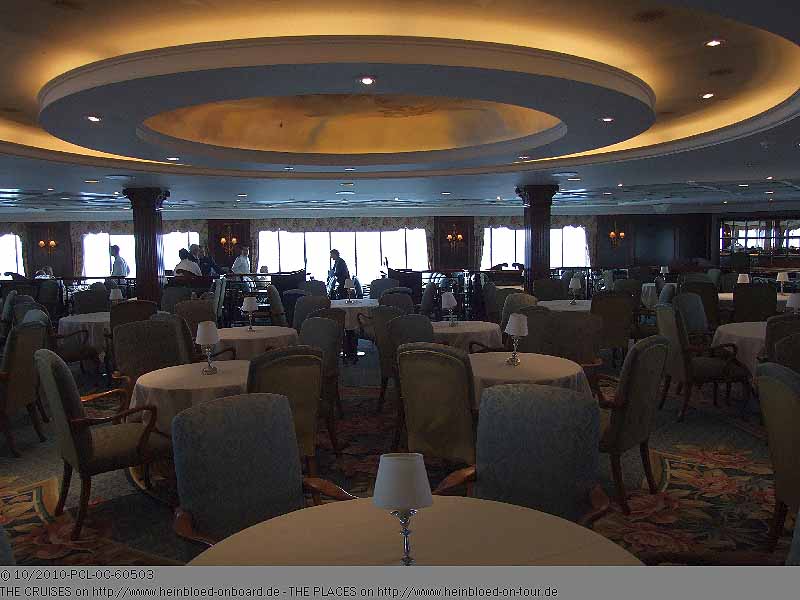 This time we sat in another part of the restaurant.

The broth was a little weak as usual.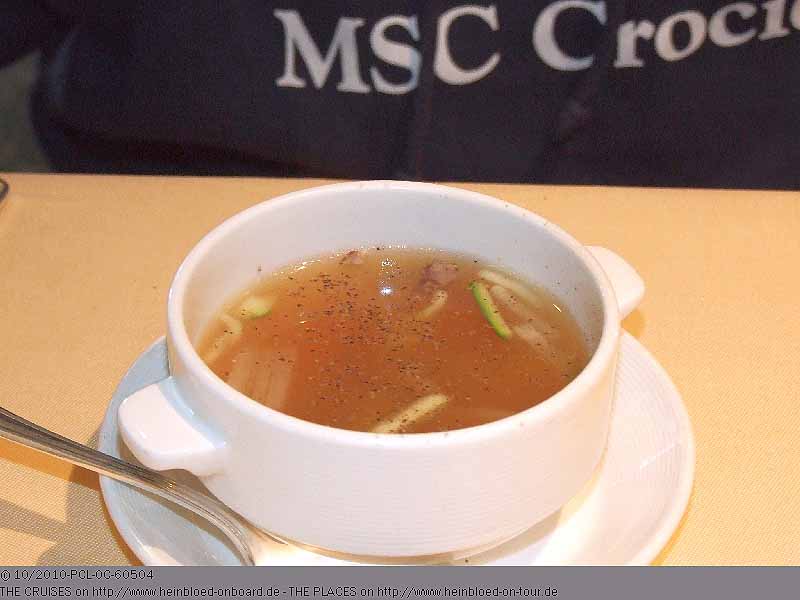 Die Brühe wie üblich etwas fad.
Vitello Tonnato - meine Lieblingsvorspeise beim Italiener... Schade bloß wegen der Ketchup-Garnitur.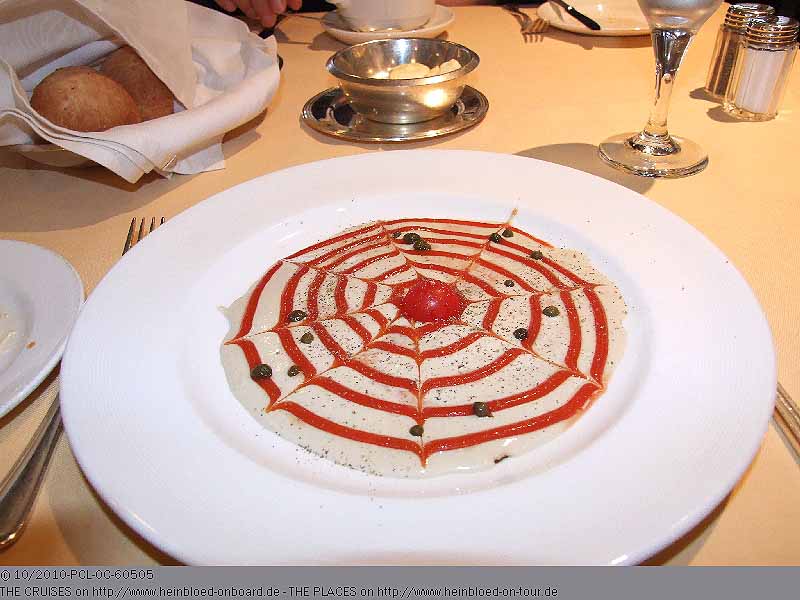 Vitello Tonnato - my most favorite starter with the Italians... Why was there a need for the ketchup decoration?

A thickened Borshtsh I never had before, and somehow meat was missing...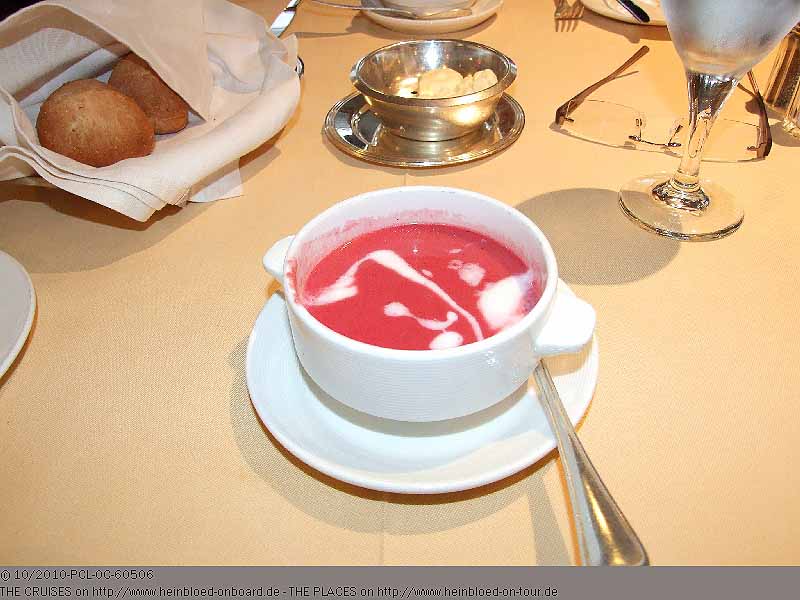 Eine gebundene Borschtsch habe ich zuvor noch nie gegessen und es fehlte auch Fleisch...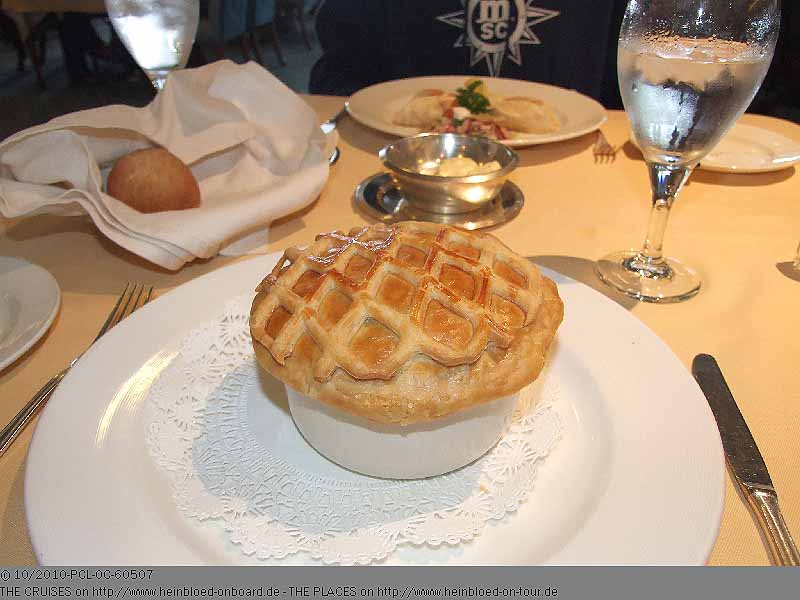 S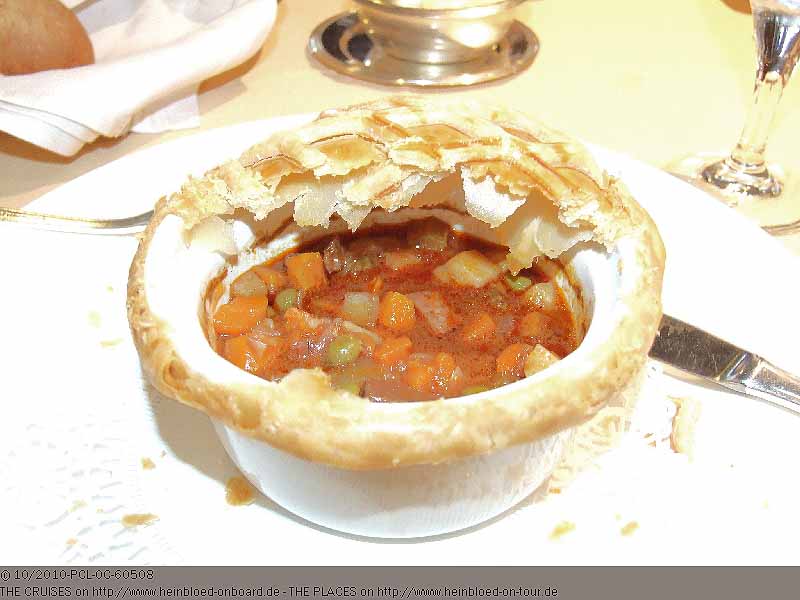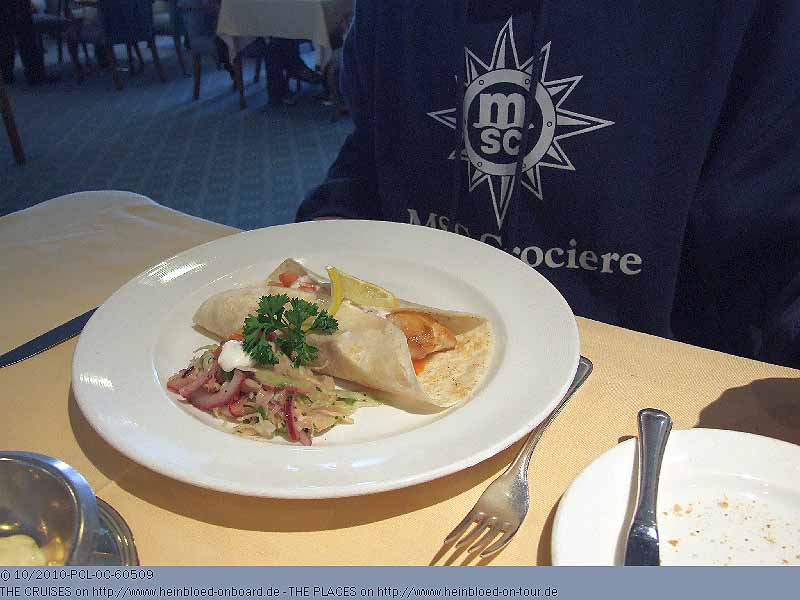 Something was missing... the lamp on the table... not all tables had a light... but the linens do have the gap for the lamps...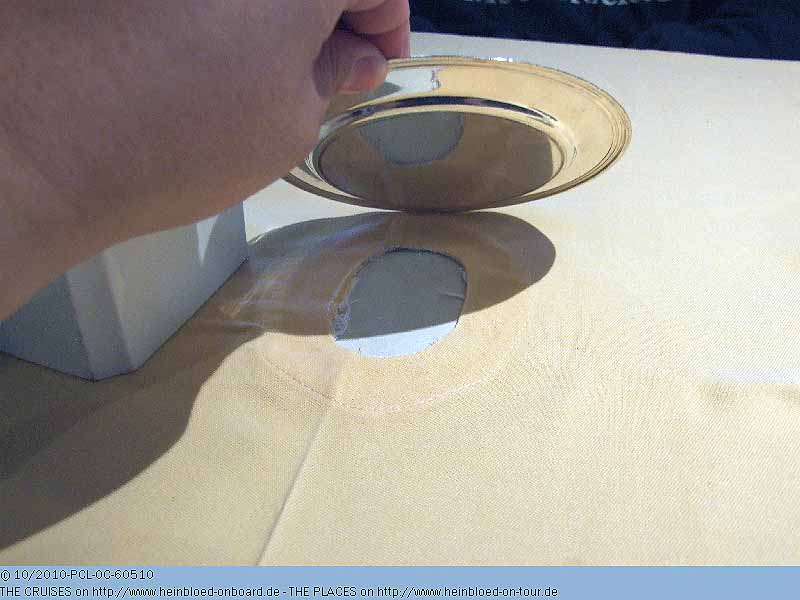 Uns fällt auf, dass uns etwas fehlt... Die Tischlampe... Nicht jeder Tisch hat eine Lampe... aber die Tischdecken das Loch für die Lampe...
Der Espresso wird hier mit der Kaffeekarte zurückserviert und nicht nur zurückgebracht...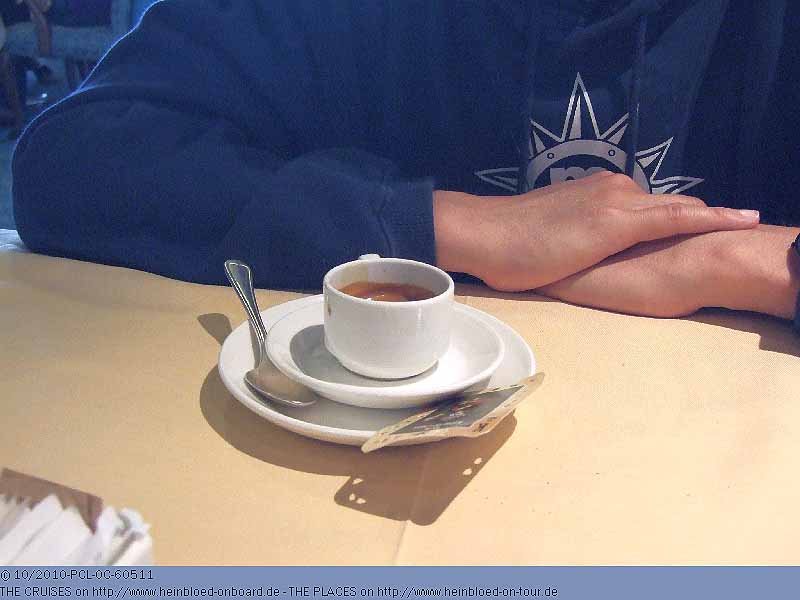 A nice way to return the coffee card with the espresso.

When we returned to our cabin, we had only 68F.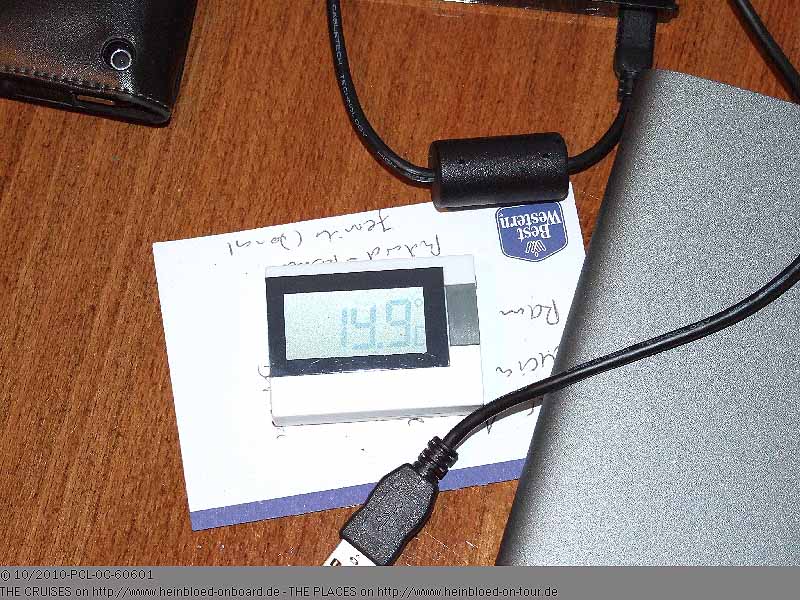 Als wir in die Kabine zurückkommen, ist es nur noch 19,9°C.
Allerdings ist alles wieder frei. So muss jemand daran gearbeitet haben.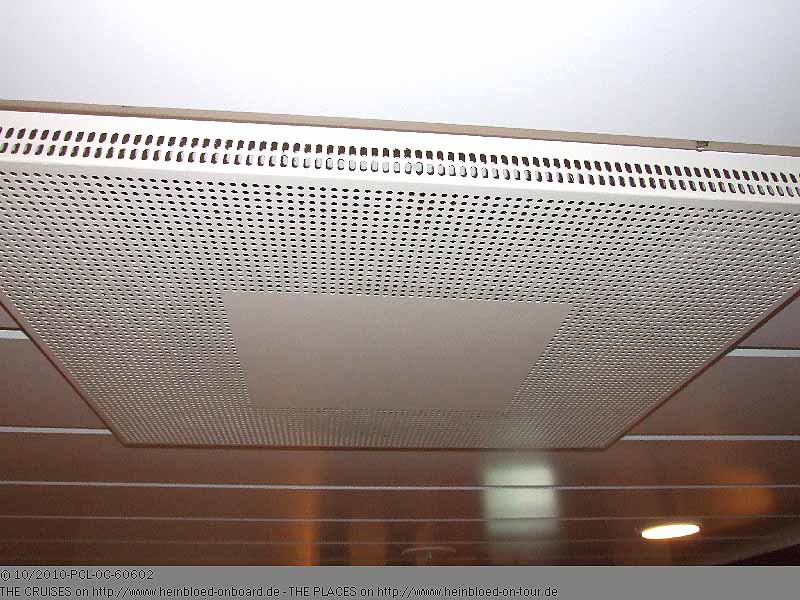 But all tape was removed. So someone must worked there.

We asked if the works were finished. So they sent again the technicians back who explained what they did. Sue doublechecked by phone if they appeared to make sure that we must not wait unnecessarily. I felt finally comfortable because I knew that someone was there who was taking my problems seriously and not just sending me away.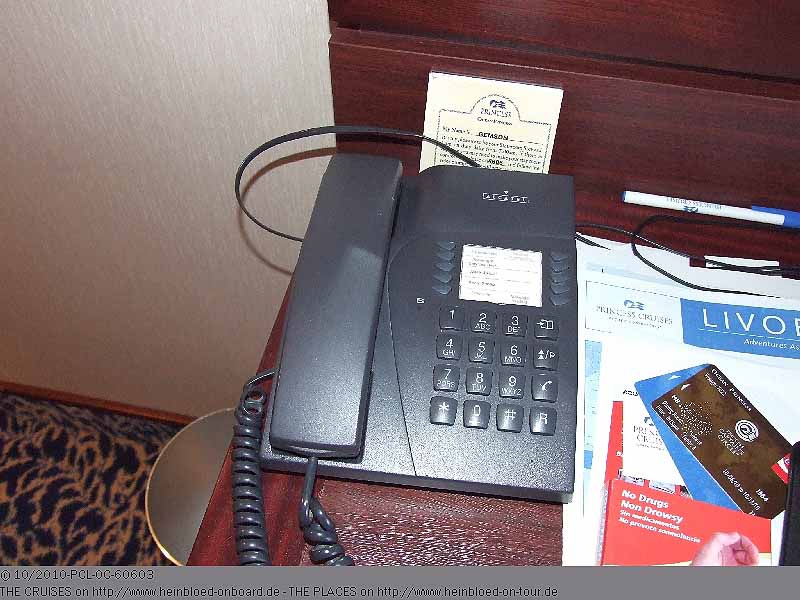 Wir fragen nach, ob die Arbeiten abgeschlossen sind. So schickt man uns die Techniker zurück, die uns erklären, was sie gemacht haben. Es wird aber immer von Anrufen von Sue begleitet, die sicherstellen will, dass wir nicht wieder unnötig warten. Ich fühle mich jetzt endlich wohl, weil ich weiss, dass jemand da ist, der mich nicht nur wegschickt, sondern meine Probleme ernst nimmt.
Nun müssen wir wohl in der Nähe von Nizza sein.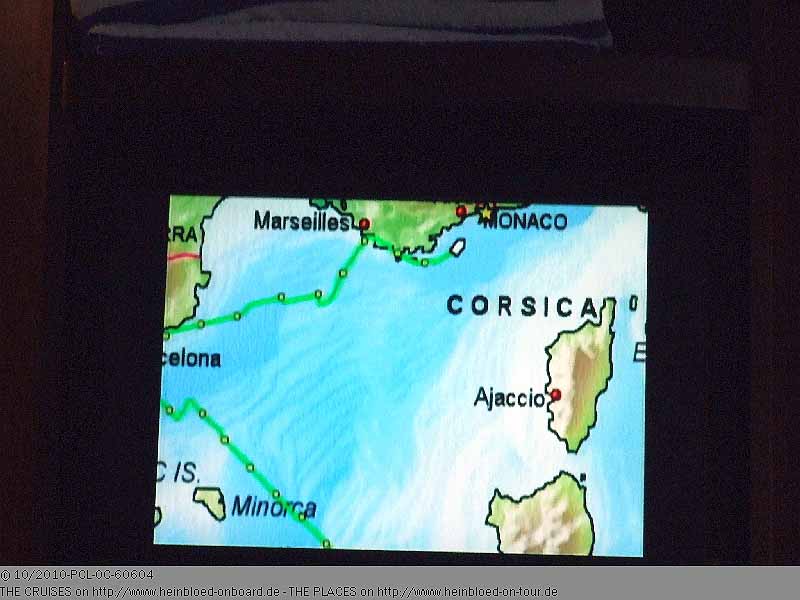 We should be close to Nice.


Even we would have made it to Nice: the weather was not so lovely.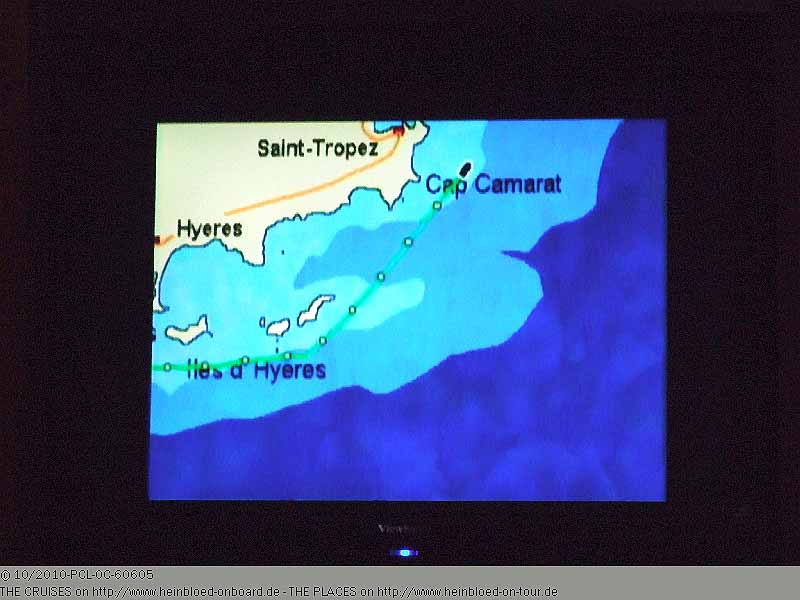 Selbst wenn wir in Nizza angekommen wären, so schön ist das Wetter nicht.
Die Temperatur in unserer Kabine steigt...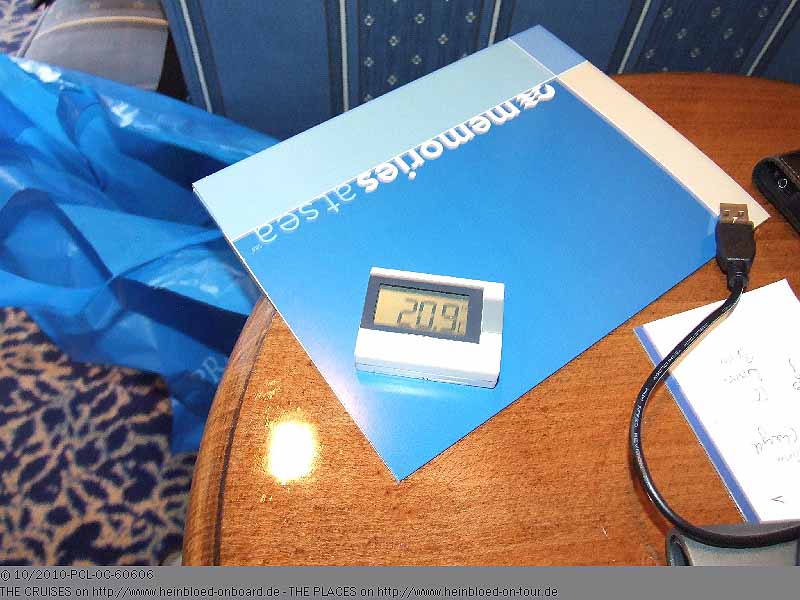 It became warmer in our cabin...


... and warmer...

... und steigt...
So dass wir endlich mal regulieren müssen. Wir hören tatsächlich, dass die Klappen sich bewegen.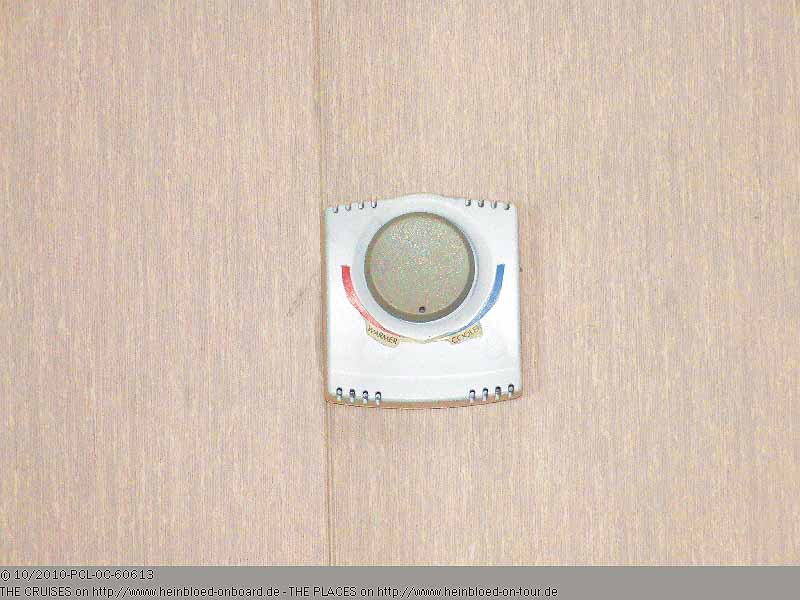 And so we need to regulate. We could hear that the moving of the flaps.

So when it should become warmer, the position of the flaps changed again and we could hear it. That was how the air-condition works on board: one tube with warm air and one tube with cold air, which followed next to each other. The mixture of warm and cold air should give you a constant temperature... And these flaps were all the days before out of order... It was noisier than before, but we let the next guests complaining about the noises. We were just happy that the air-condition ran adequately now.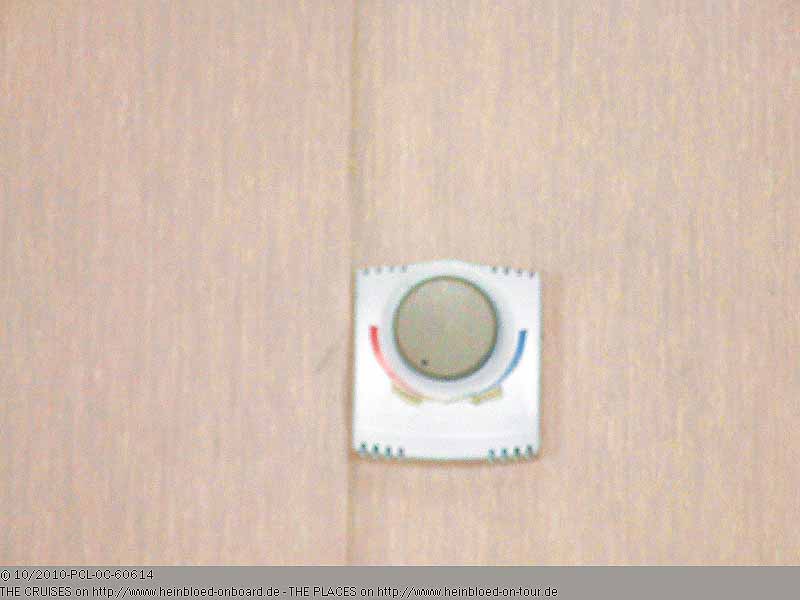 Als wir es wieder auf wärmer stellen, hören wir, dass sich die Stellung der Klappen sich verändert. Das Prinzip der Klimaanlage: Ein Rohr warm und ein Rohr kalt, die nebeneinander verlaufen. Je nach dem, wie wir das Thermostat stellen, öffnen und schließen sich bestimmte Klappen. Aus dem Kalt- und Warmgemisch soll dann eine konstante Temperatur entstehen... Und diese Klappen waren all die Tage zuvor defekt. Es ist zwar jetzt lauter, als zuvor, aber darüber dürfen sich die nächsten Gäste ärgern. Wir sind froh, dass sie jetzt einigermaßen vernünftig läuft.
Draußen ist Frankreich.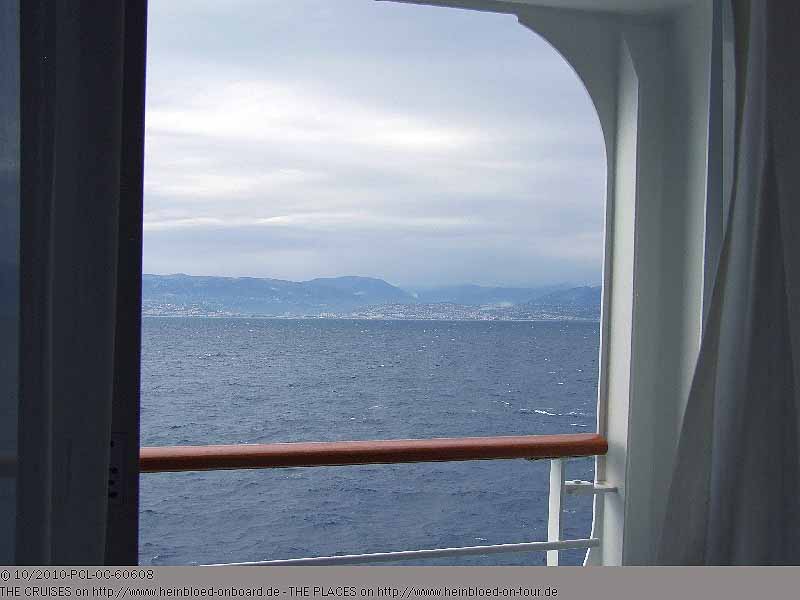 Outside you can see France.

This might be Nice.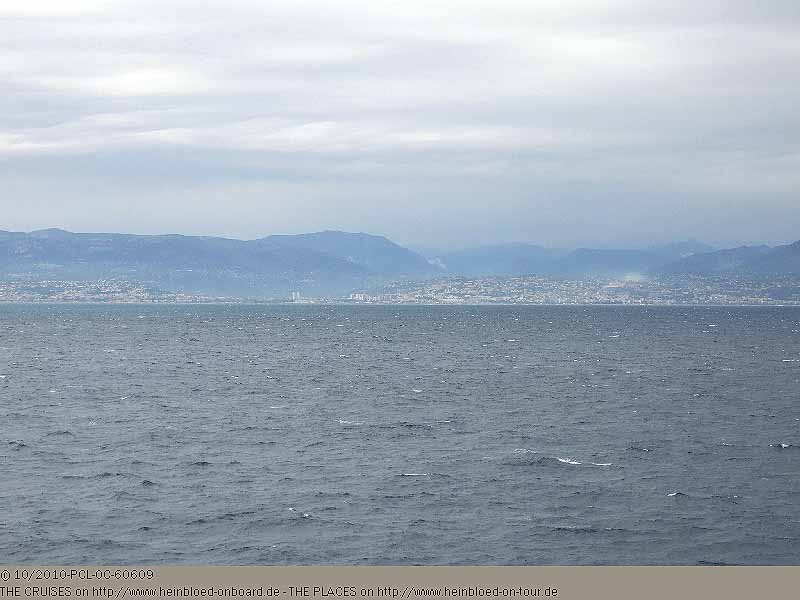 Das dürfte Nizza sein.
Schade, dass wir es nicht geschafft haben.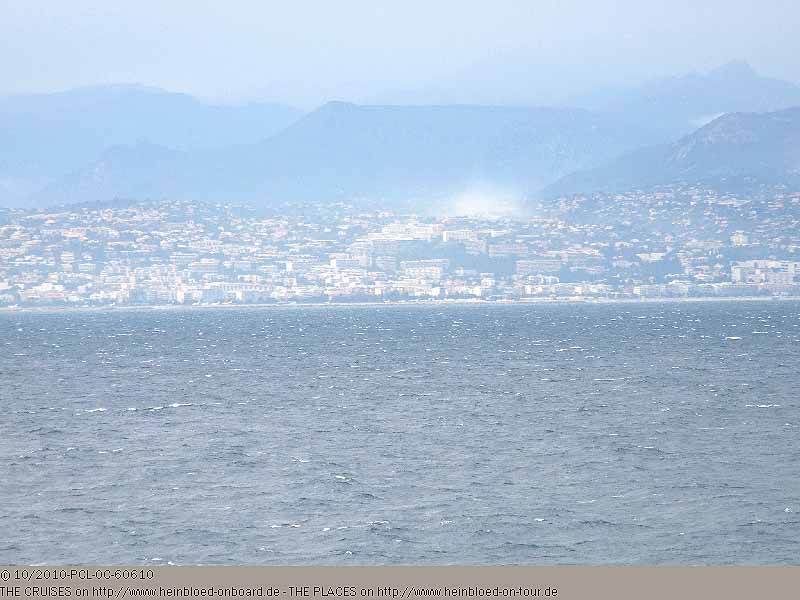 Really a shame that we did not make it.

This should be Villefranche-sur-mer but other ship to see. It would not be possible to tender under this weather condition.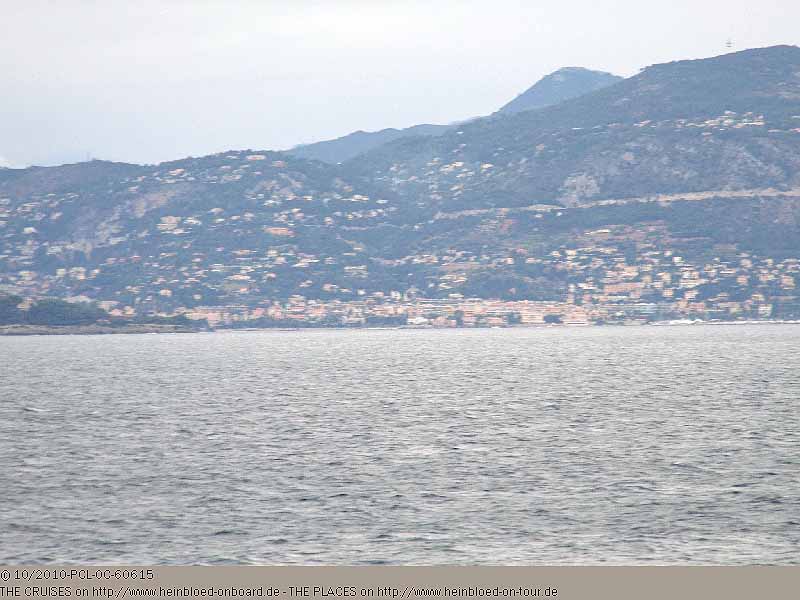 Das dürfte Villefranche-sur-mer sein, aber kein Schiff zu sehen. Ein Tenderbetrieb ist nicht möglich bei den Konditionen.
Und Eze-Village, das wir gerne wieder besucht hätten.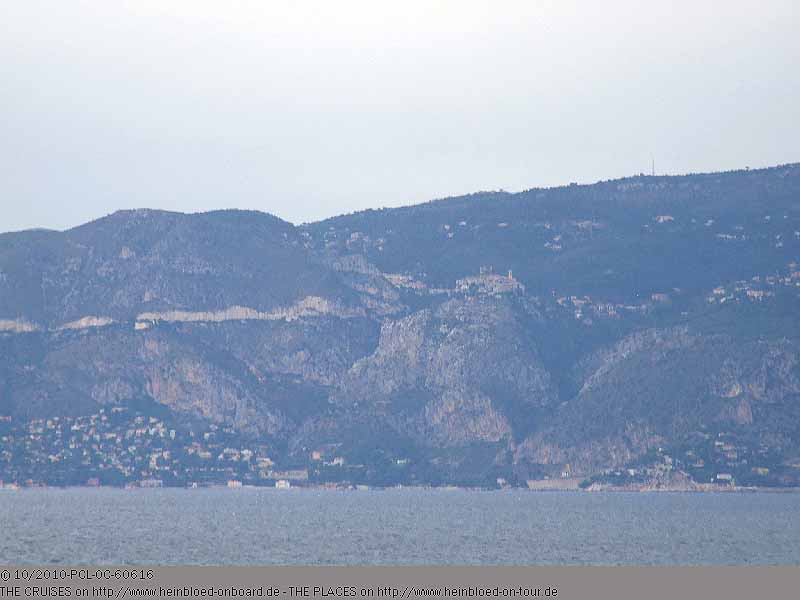 And Eze-Village which we really liked to see again.

But in Monte Carlo, there was NORWEGIAN JADE berthing which left after us Barcelona and now in Monte Carlo... (we learned from a cruiser in the German forum that they made it 30 minutes ahead of the scheduled arrival...)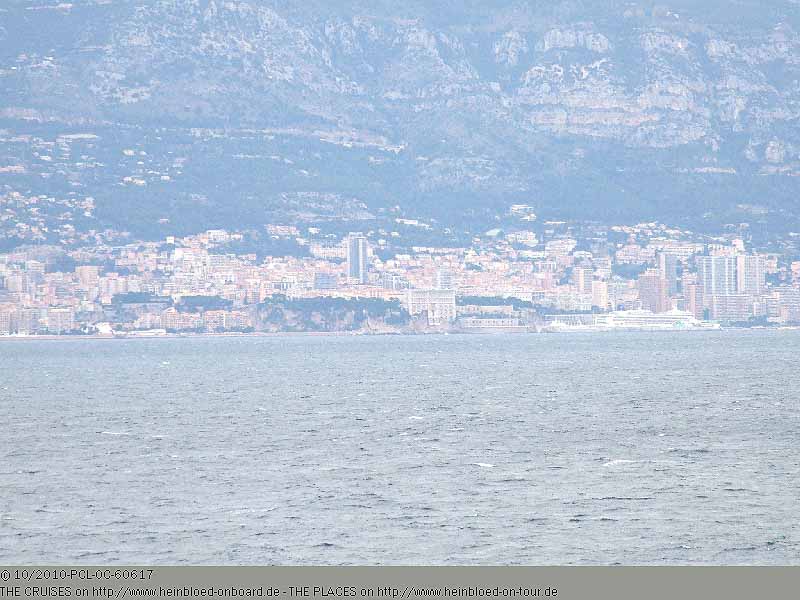 Aber in Monte Carlo liegt die NORWEGIAN JADE, die nach uns in Barcelona losgefahren ist und in Monte Carlo liegt... und hier im
kreuzfahrten-forum.de ein Kommentar von Stella
, die an Bord war: sie sind 30 Minuten vor der geplanten Ankunftszeit angekommen.
Nur die Anzeige im Fernseher stimmt nicht.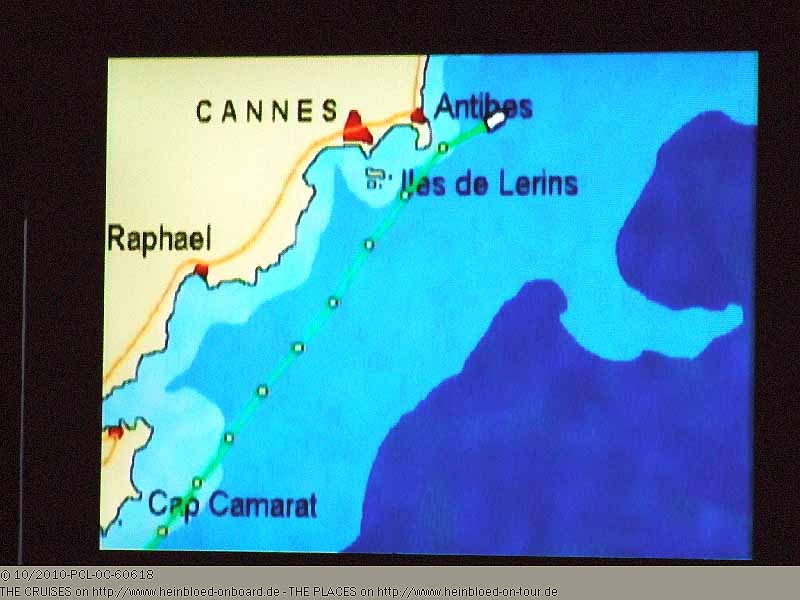 So the display on the TV was not up to date.
Die anderen Reisen in diesem Blog/
The other voyages in this blog: