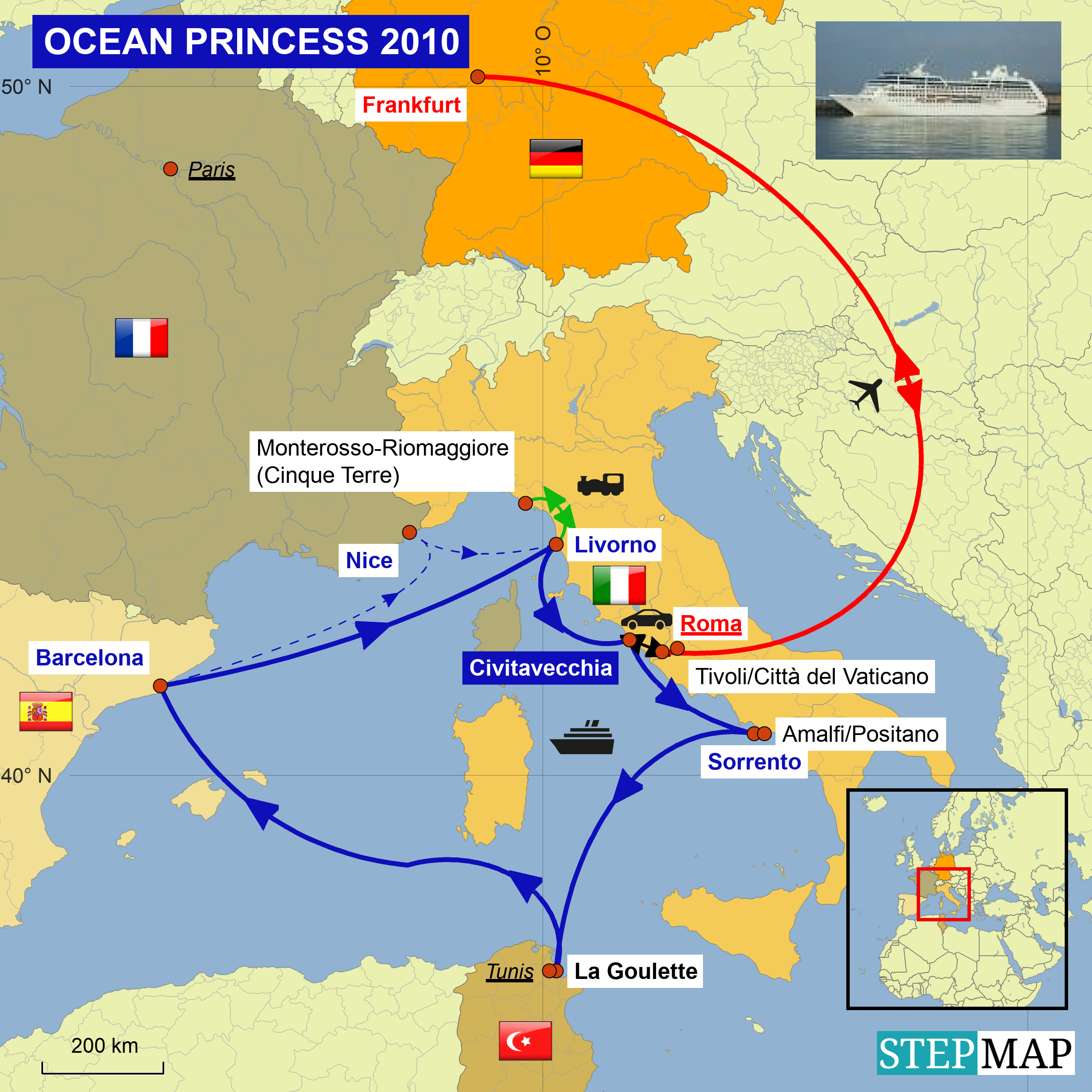 Ein wenig haben wir die Orientierung verloren. Auf der Karte von Princess sollten wir direkt an der alten Festung liegen. LE DIAMANT liegt auch nicht auf dem Liegeplatz, der für uns eingezeichnet ist, allerdings um die Ecke.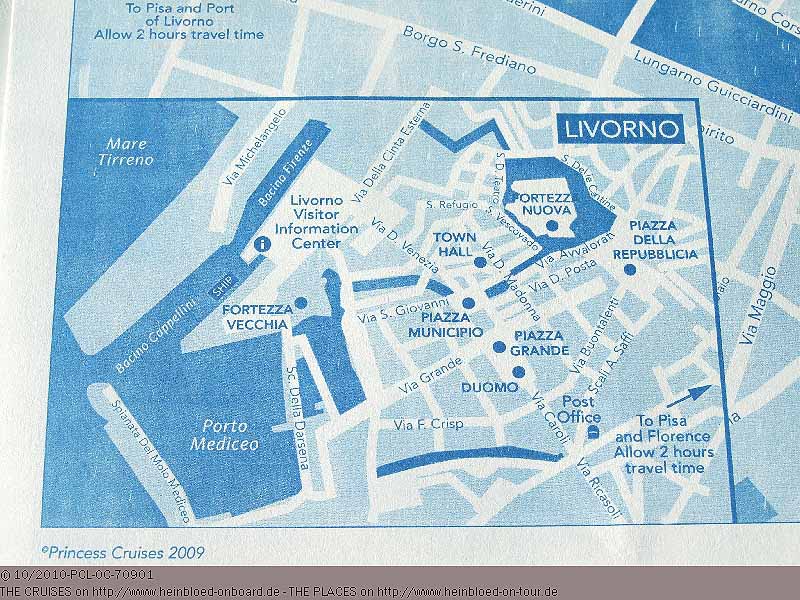 We lost a little our orientation. On Princess' map, we should be directly next to the old fortress. LE DIAMANT was so not on our berth but just around the corner.

Luckily we printed a map from the homepage of the port authorities. So one port worker explained that we were on Point 30. Normally we should look at the upper 29 while LE DIAMANT was on the lower 29. The big ships were all in the area of 24, 27 and 28.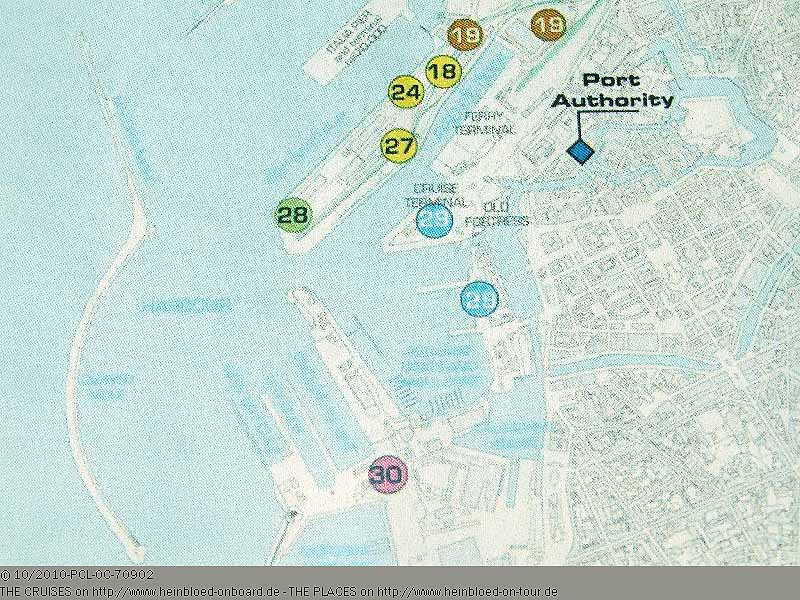 Zum Glück haben wir den
Hafenplan von der Homepage des Hafenbetreibers
ausgedruckt. So erklärt uns ein Hafenmitarbeiter, dass wir am Punkt 30. Normalerweise hätten wir an der oberen 29 sein müssen, während LE DIAMANT an der unteren 29 liegt. Die großen Schiffe liegen im Bereich 24, 27 und 28.
Eigentlich ist das ein blöder Tag. Letzter Tag vor der Ausschiffung und dann ein langer Aufenthalt.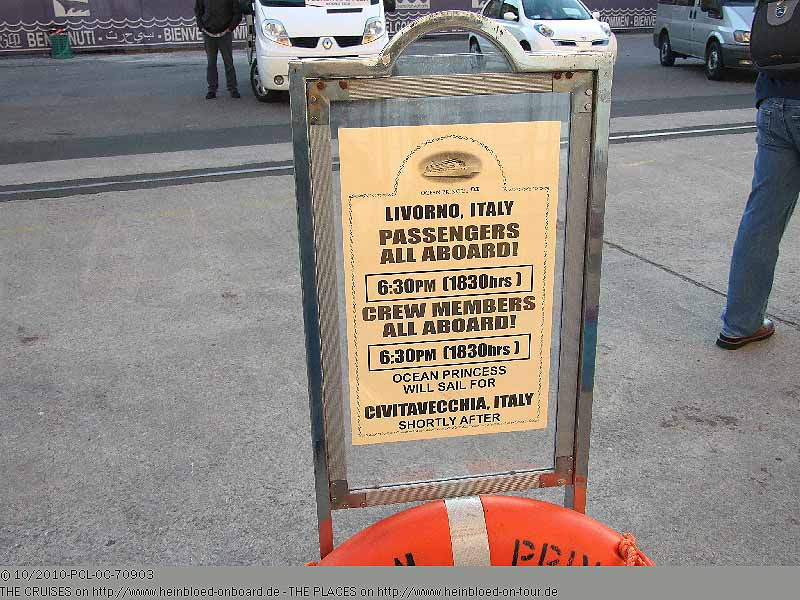 Somehow it was very stupid day. Last day before debarkation and then you have a long stay in the port.

There was a taxi available, but as we wanted only to get to the train station, we walked.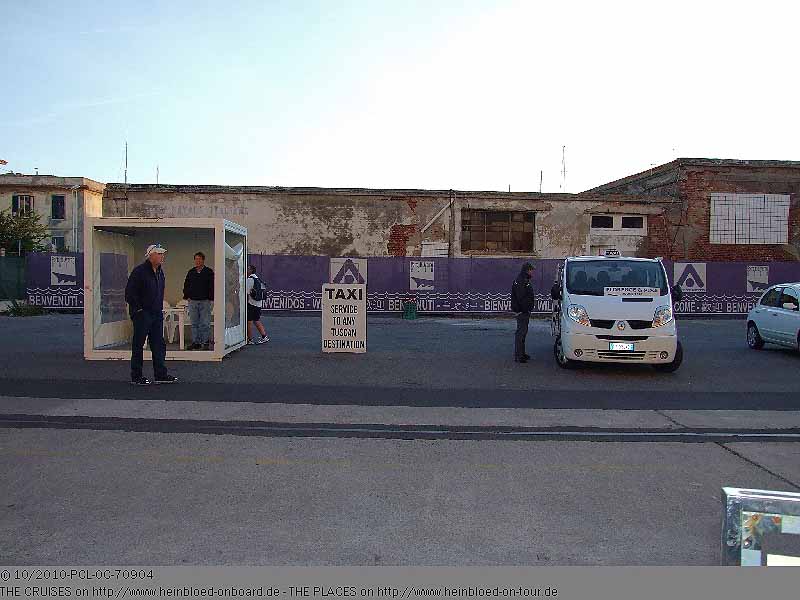 Es steht ein Taxi da, aber da wir nur zum Bahnhof wollen, laufen wir.
Hertz liefert direkt vor das Schiff.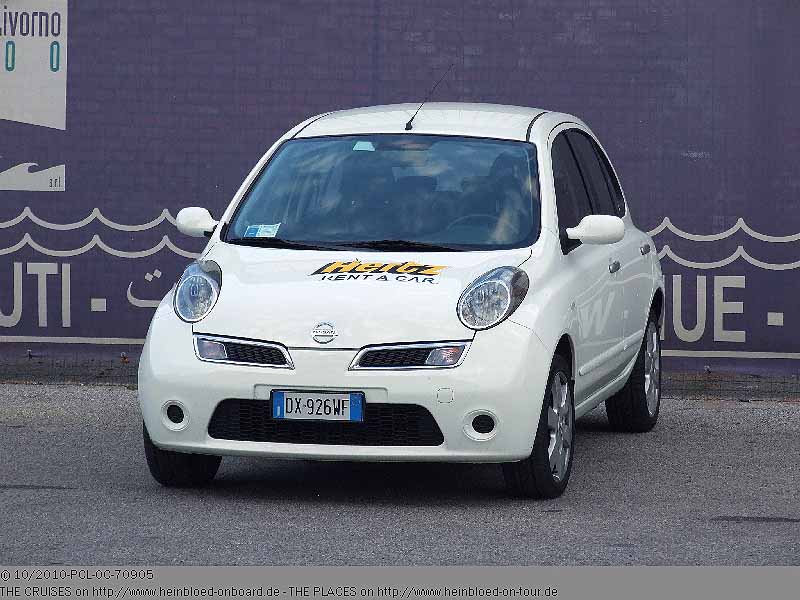 Hertz offered delivery to the ship.

None was stopping us. So we guess that you can move around by yourself.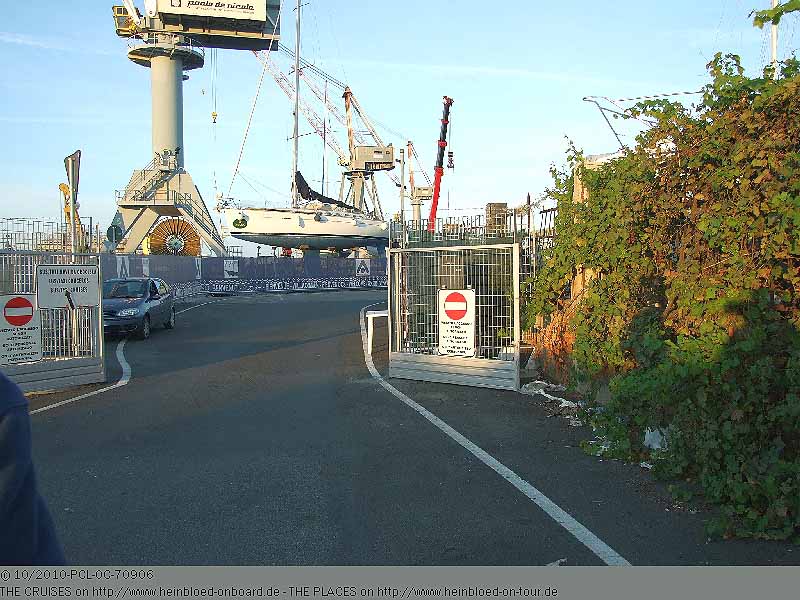 Niemand hält uns auf. Daher nehmen wir mal an, dass man sich frei bewegen darf.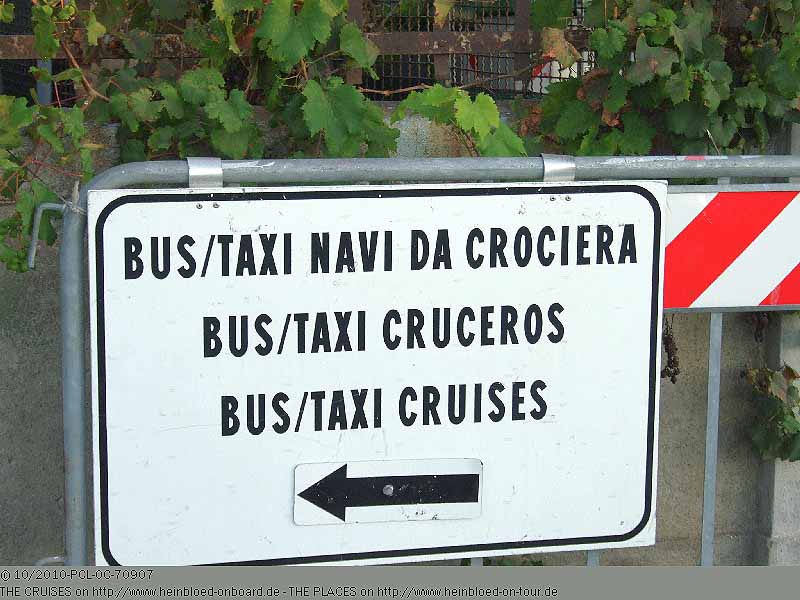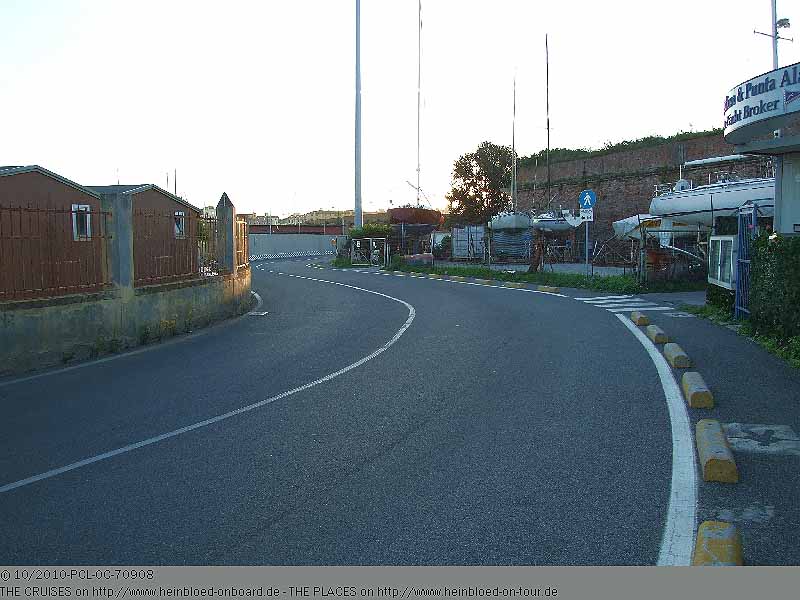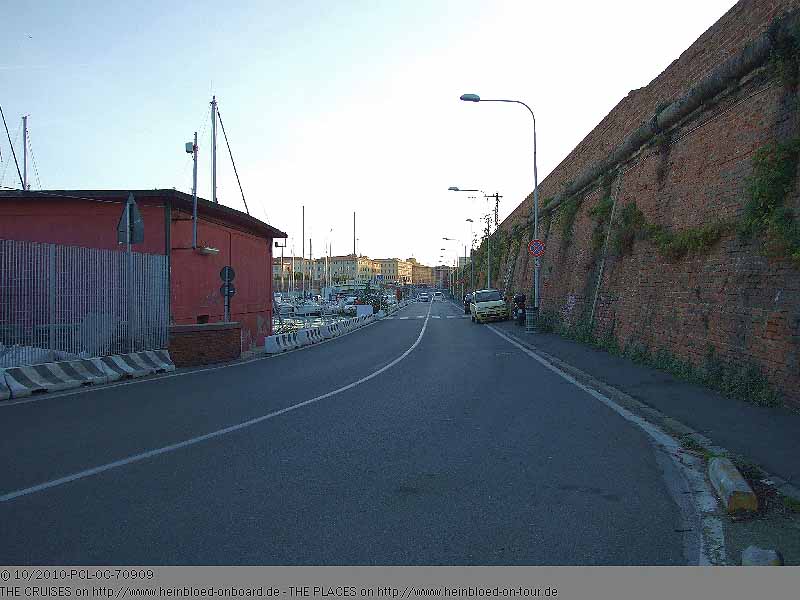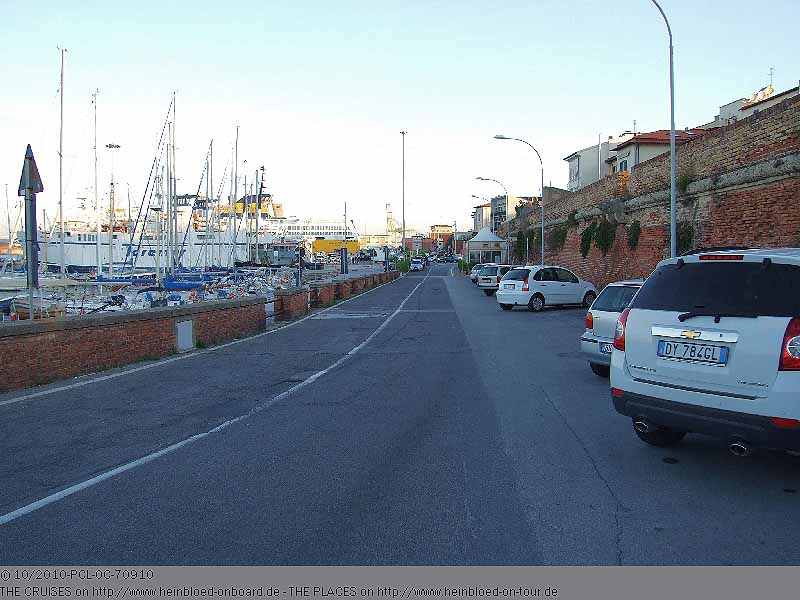 Nur noch über die Brücke, dann ist man in der Stadt.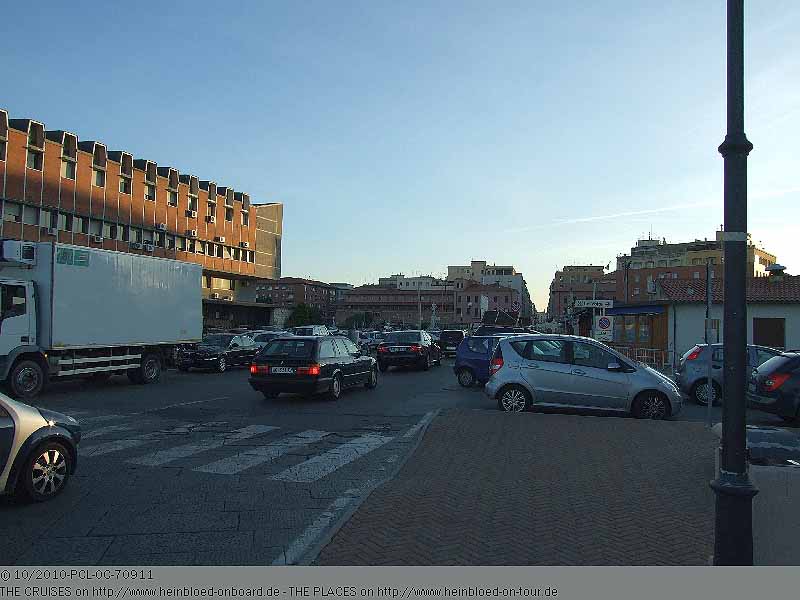 Just across the bridge and then you are in town.

The first tobacco shop we saw was just opening.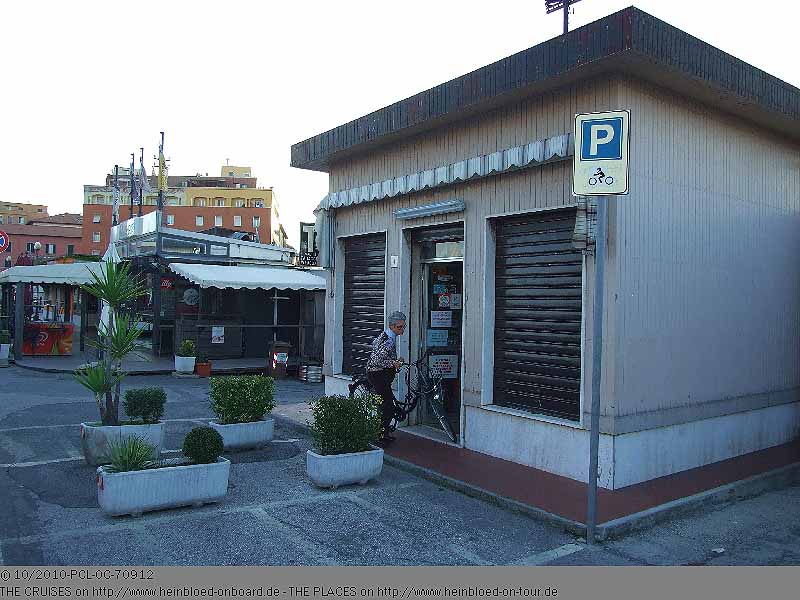 Der erste Tabakladen öffnet gerade.
Wir kaufen die Fahrkarten für den
ATL-Stadtbus
für 1,00 EUR (2010).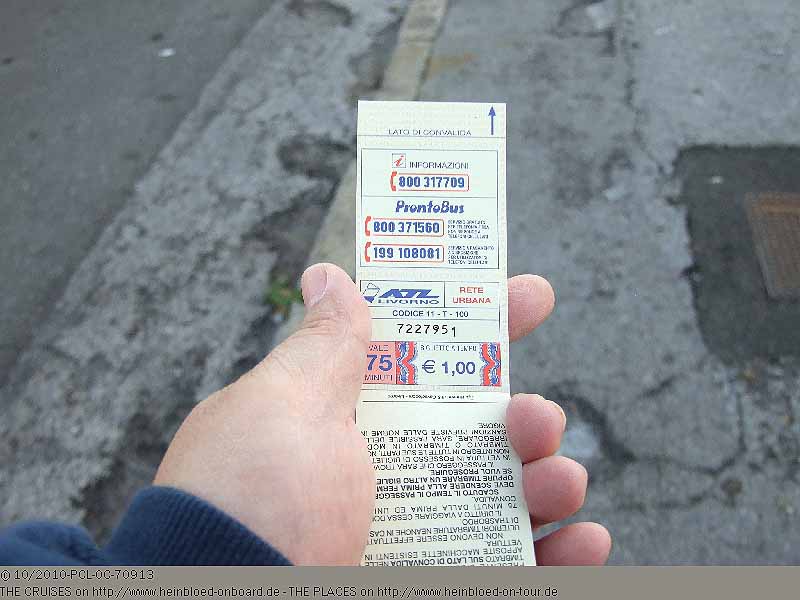 We bought the tickets for the ATL-city bus for 1.00 EUR (2010).

Looked like rush-hour but also might also be an arriving ferry.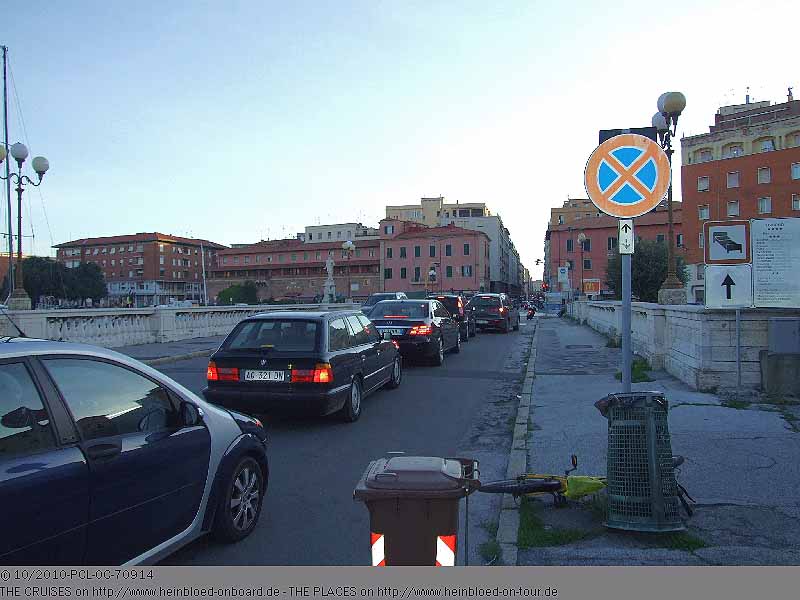 Sieht nach Rush-Hour aus, aber hier kommen auch die Fähren an.
Da drüben ist die alte Festung und im Hintergrund sieht man die Schornsteine der anderen großen Schiffe.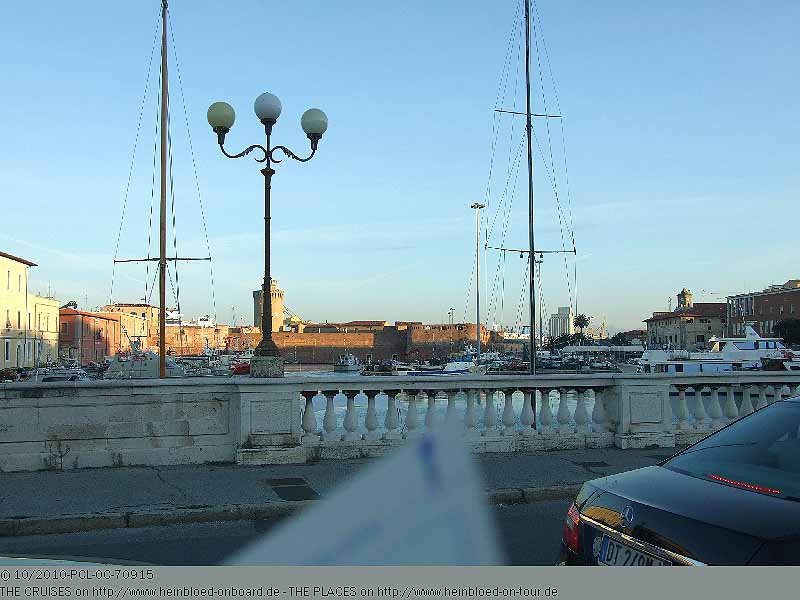 There was the old fortress and in the background you see the funnels of the big ships.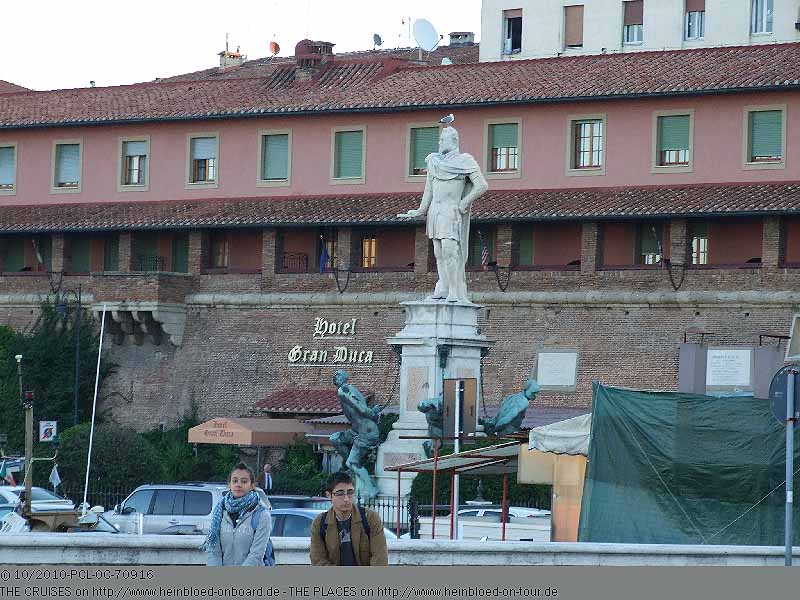 We see the buses passing the street. So we were right there.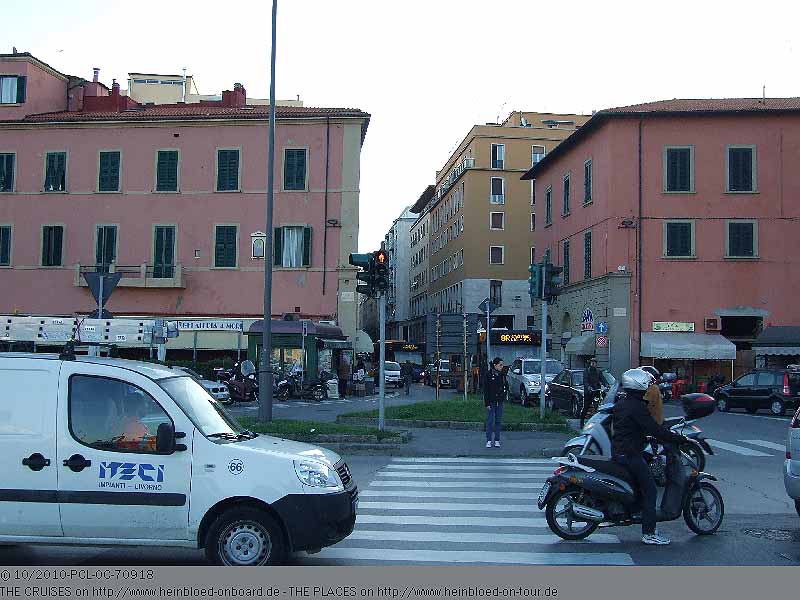 Hinten fahren die Busse. Hier sind wir richtig.
Wir sind also an der Hauptmagistralen von Livorno: via Grande.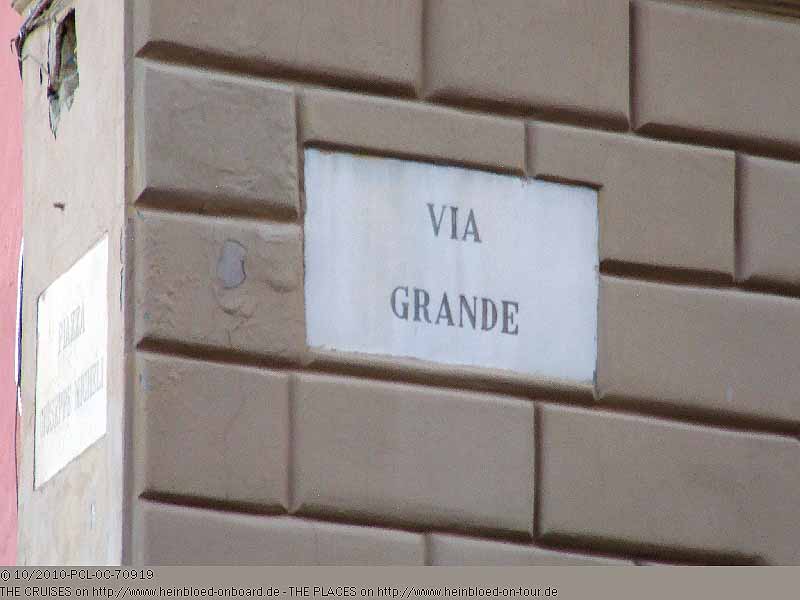 So that must be the main street in Livorno: via Grande.

The bus stop is hidden between the columns.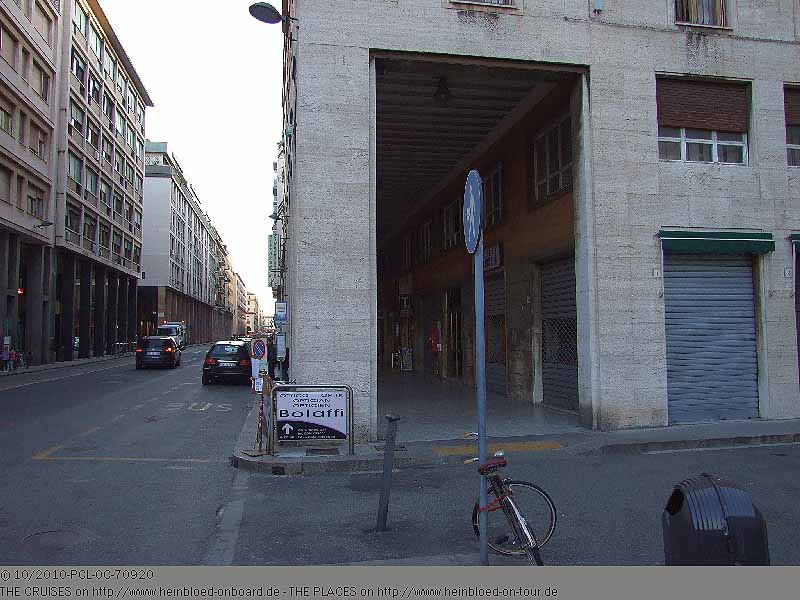 Die Haltestelle ist zwischen den Säulen versteckt.
Für den Rückweg merken wir uns, dass die Haltestelle via Grande/Porto Mediceo heißt, was uns später noch zu Gute kommt.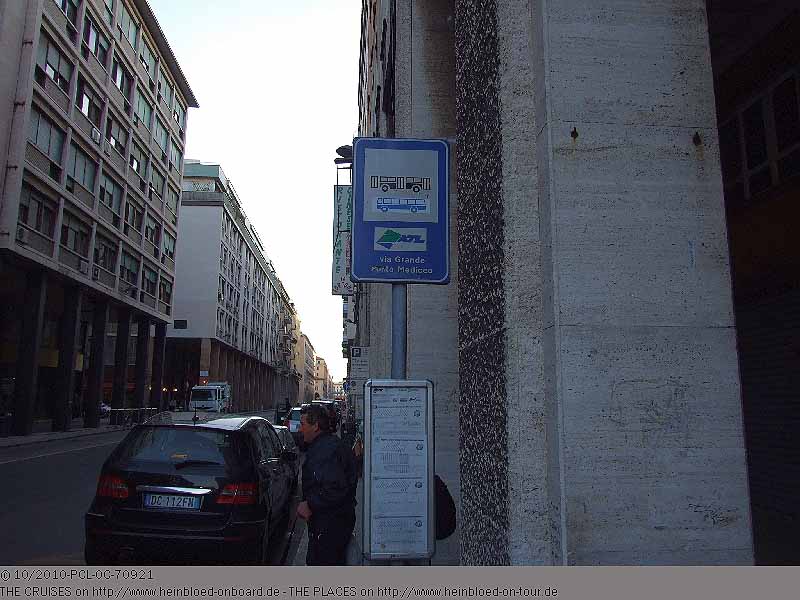 For the return we should remember the name of the bus stop via Grande/Porto Mediceo - which might be very helpful for us for our return way.

Finally an Italian city with schedule information.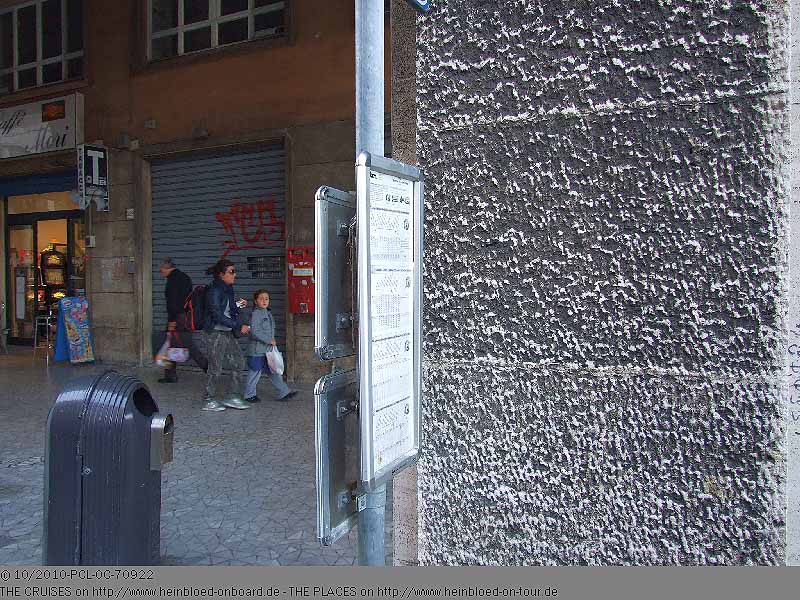 Endlich eine italienische Stadt mit Fahrplanaushängen.
Die Busse selbst wirkt nicht so toll..., aber sie fahren alle
7 1/2 Minuten (wochentags)
bzw.
15 Minuten (Wochenende)
zum Bahnhof Livorno Centrale: Linie 1. Wenige Meter später halten wir am Piazza Grande. Hier steigen die Gäste von den großen Schiffen zu, deren Shuttle aus dem Industriehafen hier um die Ecke endet.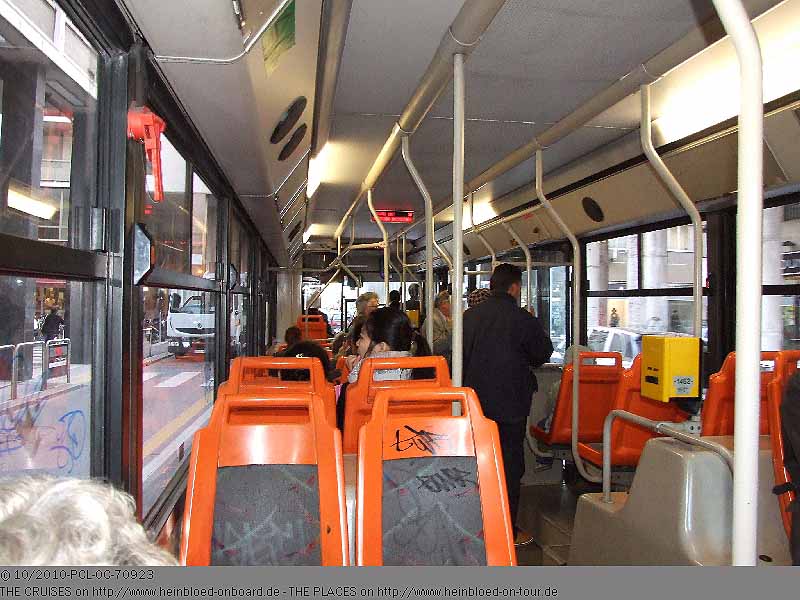 The buses did no make a good impression... but they run every 7 1/2 minutes (weekdays) or 15 minutes (weekends) for Livorno Centrale train station: Line 1. Few yards later we stopped at Piazza Grande. Here the guests from the big ships boarded when they arrived around the corner by shuttle from the industrial port.

At the train station, we found a ticket machine, but we bought already the tickets for the return journey in the tobacco shop.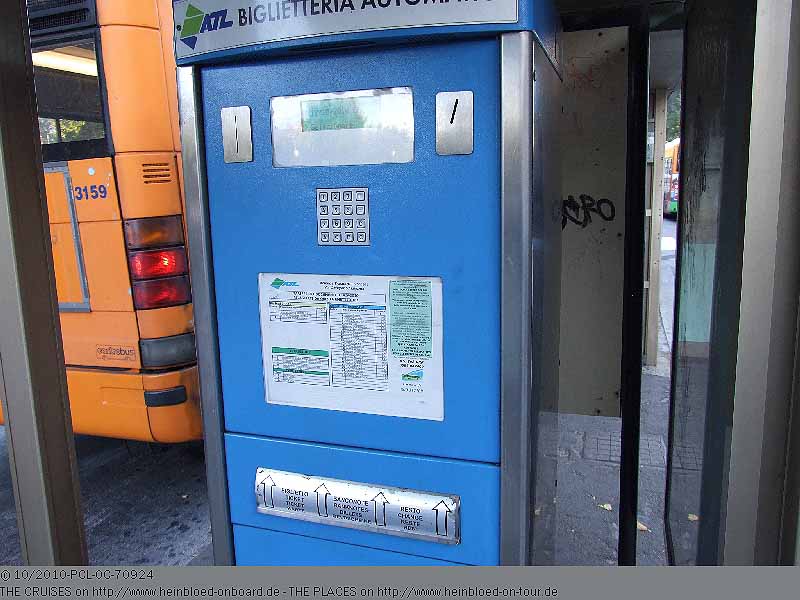 Am Bahnhof finden wir einen Fahrkartenautomaten, aber wir haben uns ja die Rückfahrkarten schon im Tabakladen gesorgt.
Linie 1 führt zurück zum Piazza Grande und zu unserem Hafen. Linie 2 auch, allerdings über eine andere Route. Auch die Linien 8N und 8R, wenn man Zeit mitbringt, weil sie nicht auf direktem Wege dahinfahren.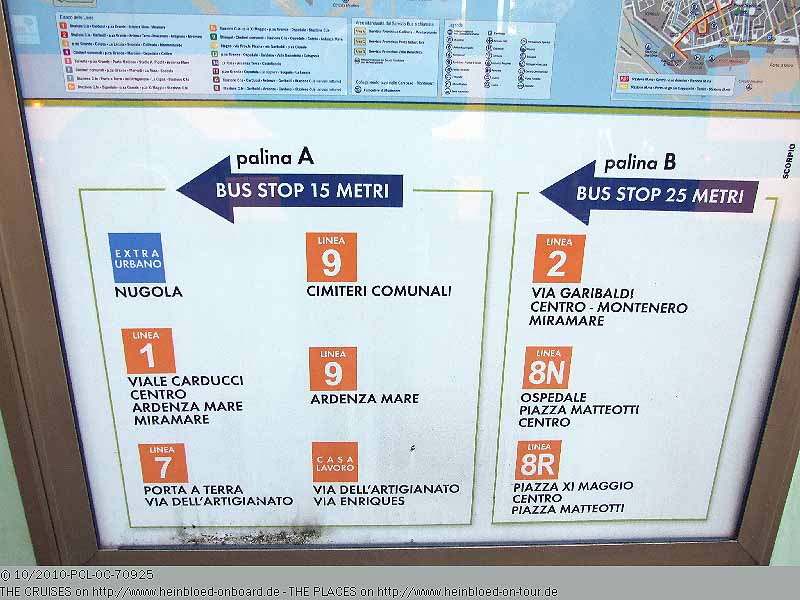 Line 1 takes you directly to Piazza Grande and to our port. Line 2 as well but uses another route. Lines 8N and 8R make a major detour so just in case you want to do some sightseeing and have plenty of time.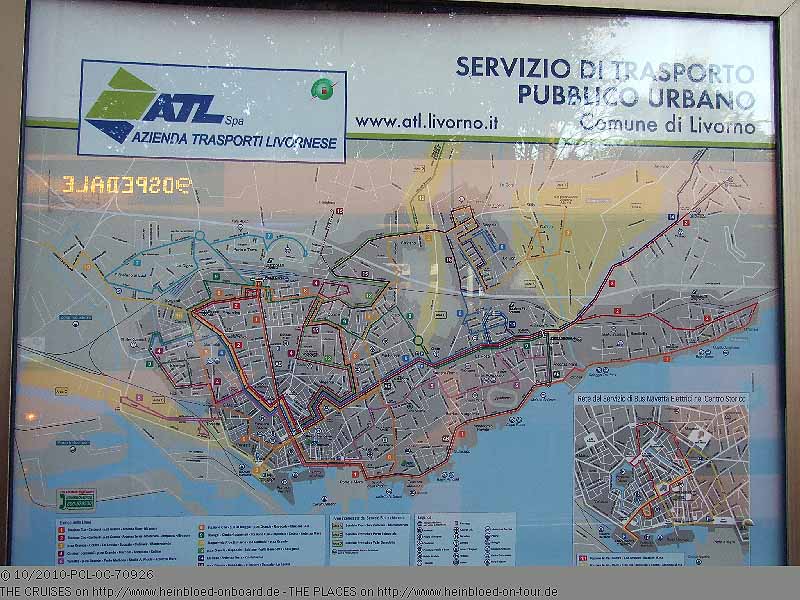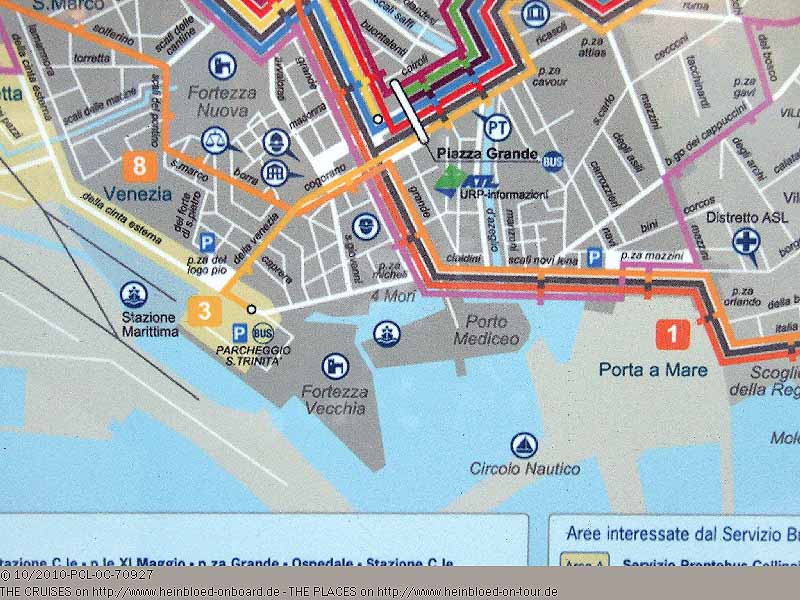 There are also two electric mini-bus-lines in the old town area.

Im Altstadtbereich gibt es wohl noch zwei elektrisch betriebene Mini-Buslinien.
Linie 1 bzw. 1R halten direkt vor dem Bahnhof.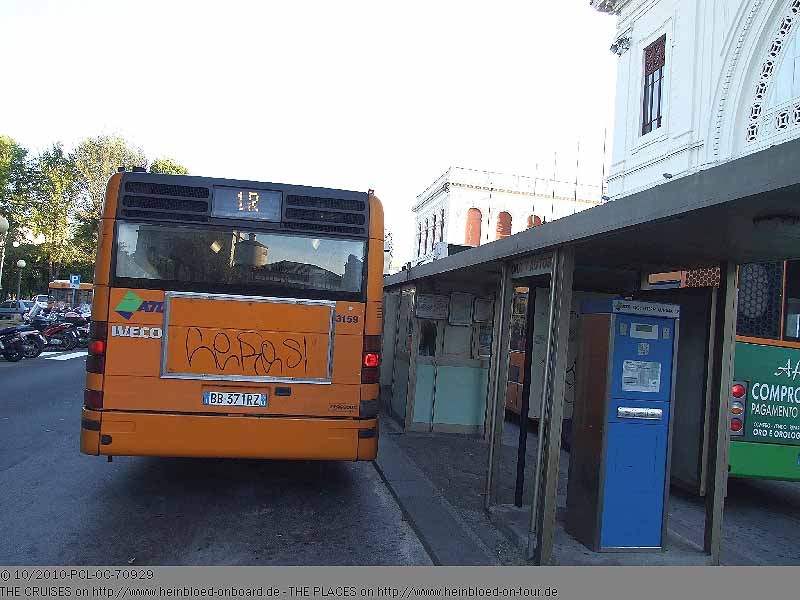 Lines 1 and 1R stop directly in front of the train station building.

Good to know for your return journey.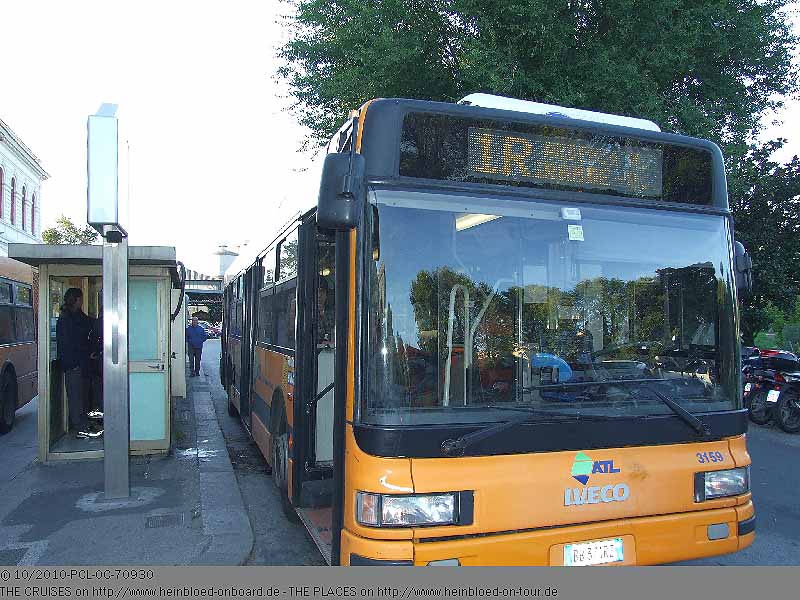 Das merken wir uns schon mal für den Rückweg.
Eigentlich ist es ca. 08.15 Uhr.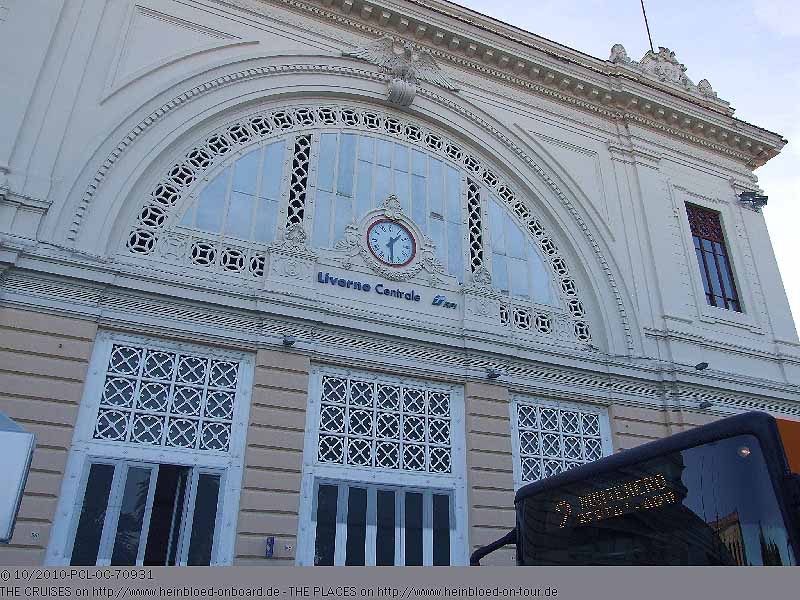 It was in realtime about 08.15 hrs.

But the time did not go by in Livorno.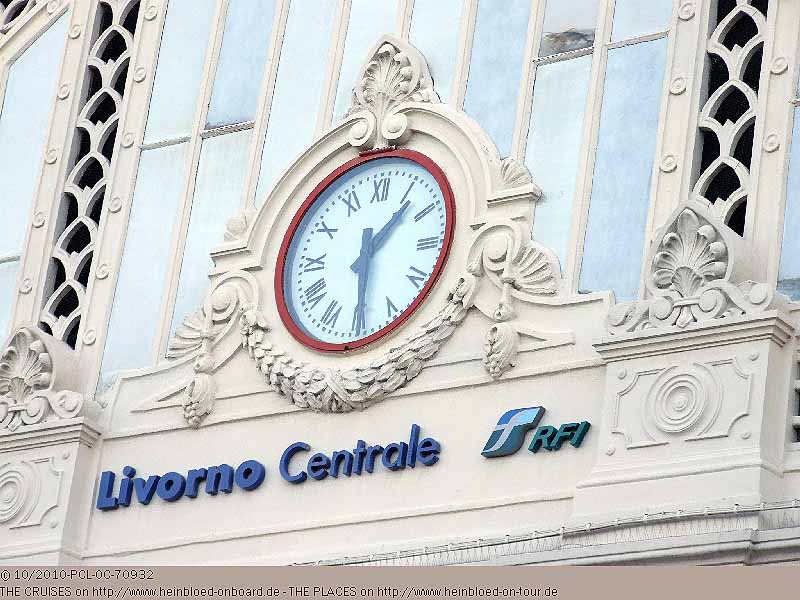 Aber die Zeit in Livorno scheint stehen geblieben zu sein.
Innen erwartet uns noch echte Architektur.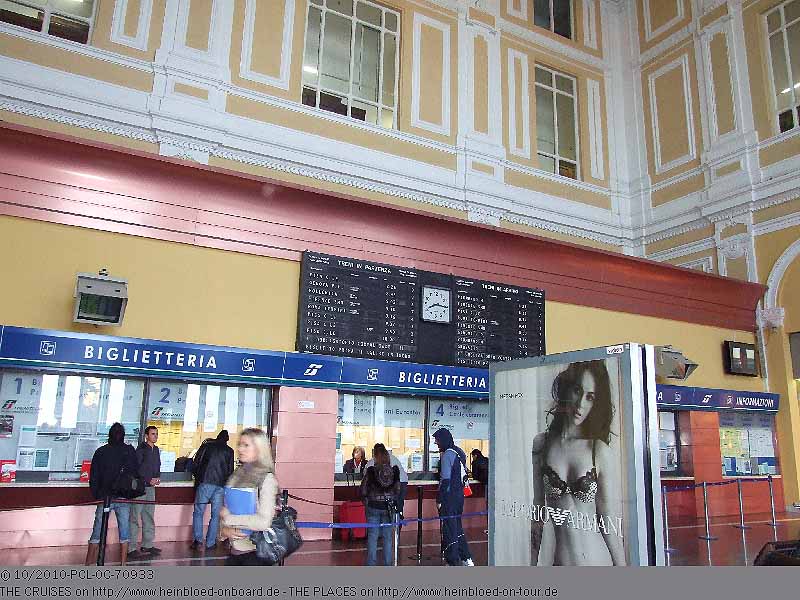 Inside you find true architecture.

We were lucky as no delays were shown. But they reminded you not to forget to cancel/validate/punch your ticket.

Zum Glück werden keine Verspätungen angezeigt. Man wird aber daran erinnert, dass man seine Fahrkarten entwerten muss.
Ein schöner Bau.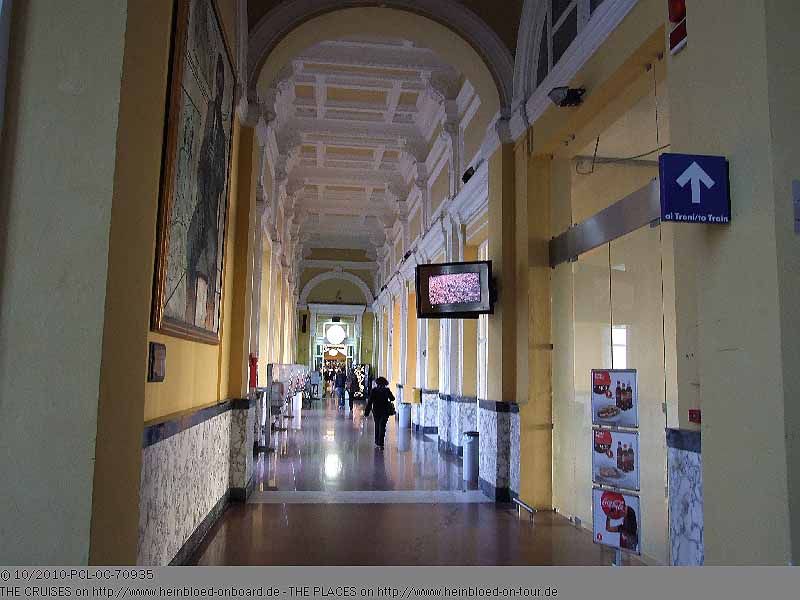 A real nice building.

We went to the café.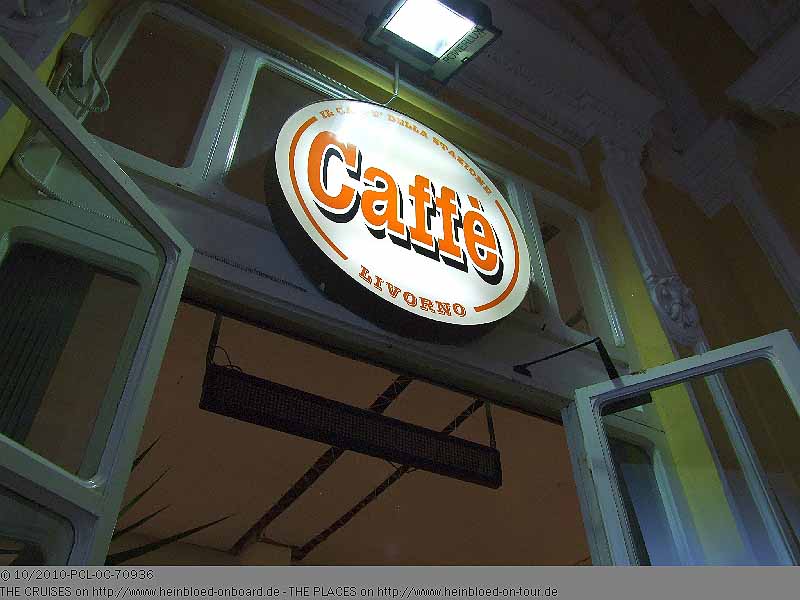 Wir gehen noch ins Café.
Die Preise wie in allen Bahnhofs-Café: sehr moderat.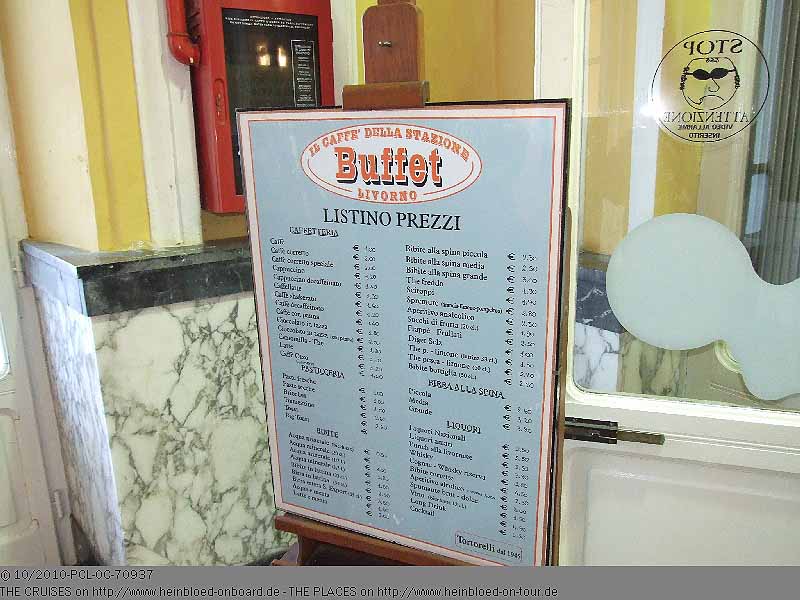 The prices like in all train stations: very moderate.

First, you go to the cashier and order your drink. When you arrived at the coffee bar, the cashier shouted how you looked like and what you supposed to have.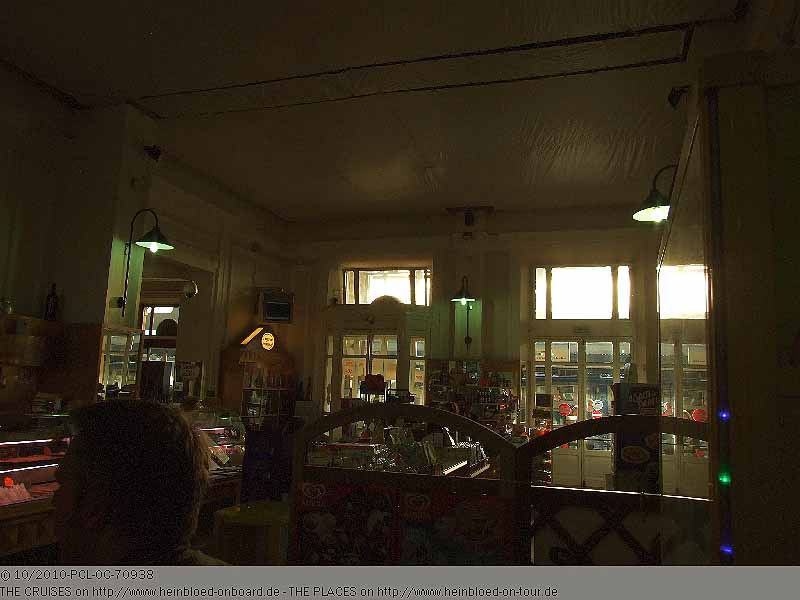 Man geht zunächst hinten zur Kasse und bestellt sich sein Getränk. Wenn man dann an der Kaffeebar ist, schreit die Kassiererin zur Bar, wie du aussiehst und was du bekommst.
Die Brote sehen richtig lecker aus.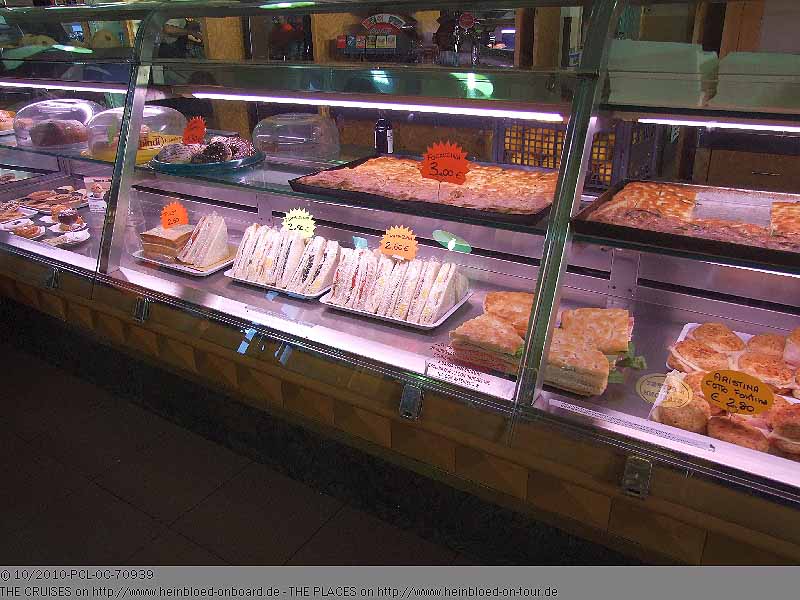 The sandwiches looked really great.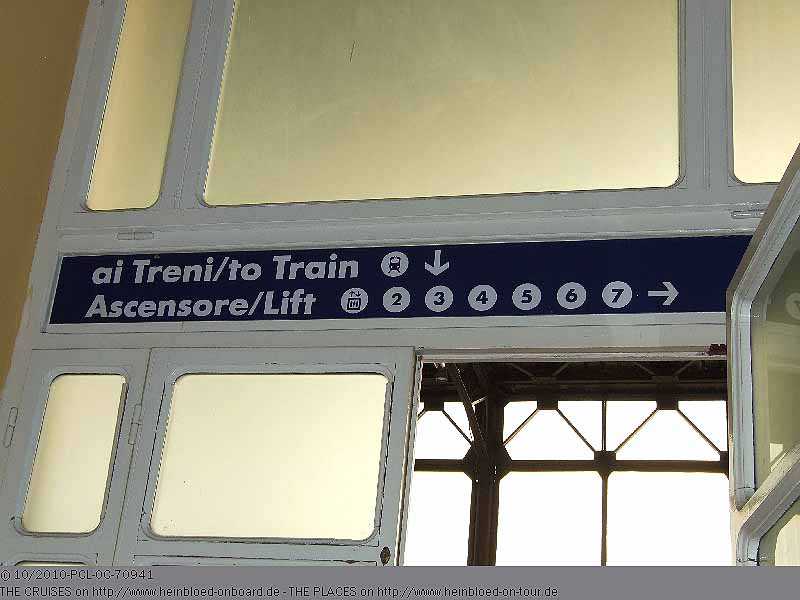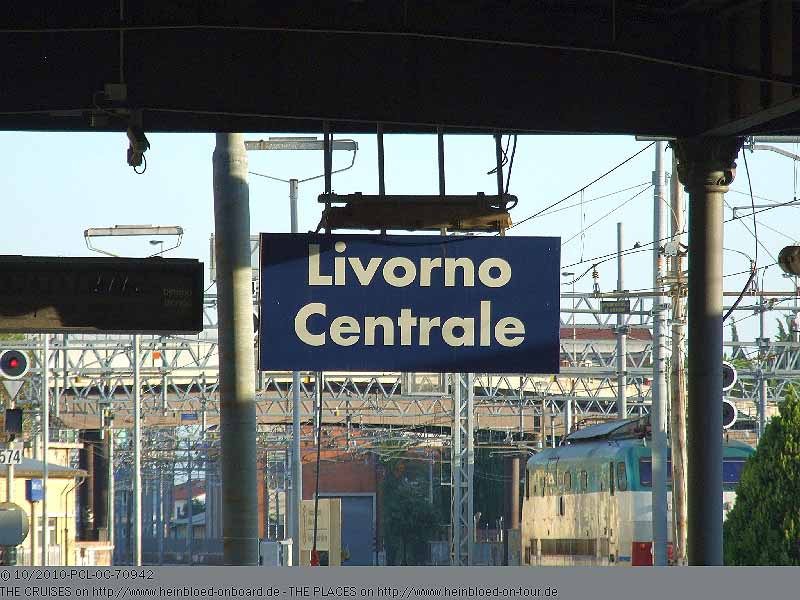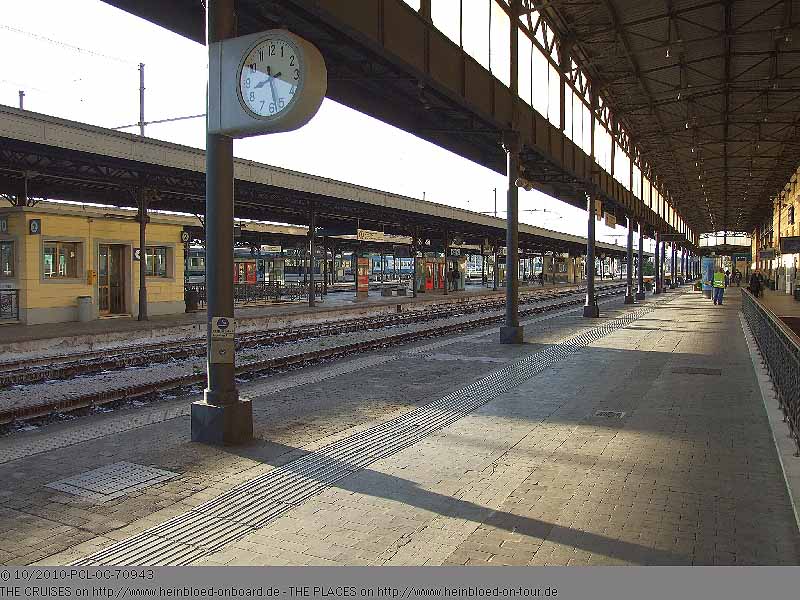 We wanted to go to Portofino and see what we missed. Although the platform was divided into section: there was no display showing the composition of the train.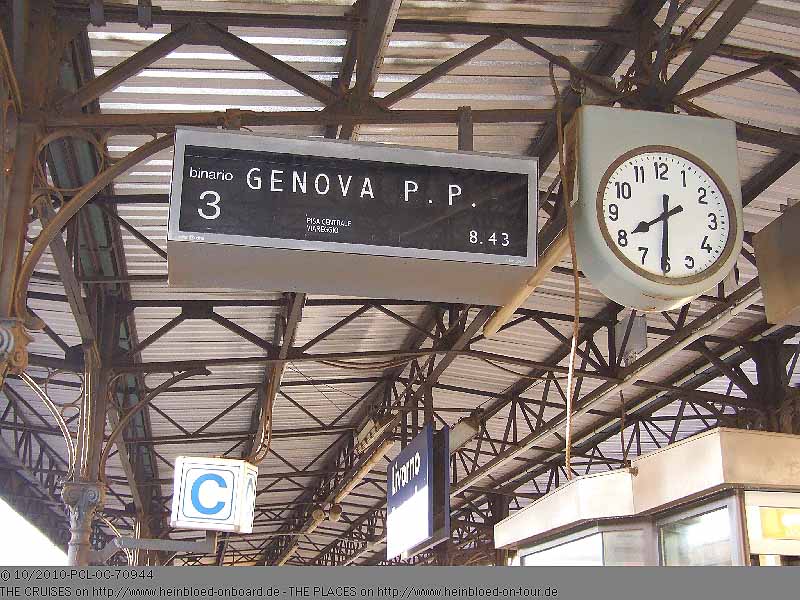 Wir wollen nach Portofino und gucken, was wir verpasst haben. Trotz Abschnittsangaben am Bahnsteig: Einen Wagenstandsanzeiger finden wir nicht am Bahnsteig.
Hier hätte es auch einen Fahrstuhl gegeben und hier wäre auch ein Entwerter.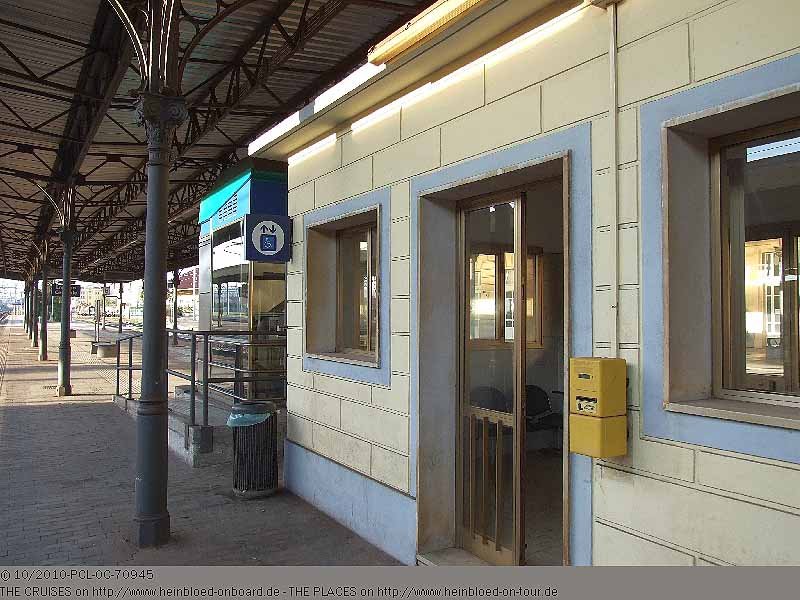 Here we found an elevator and the orange box to validate/cancel/punch your ticket.

As we had online-tickets which printed-out at home, we do not need to validate/cancel/punch them.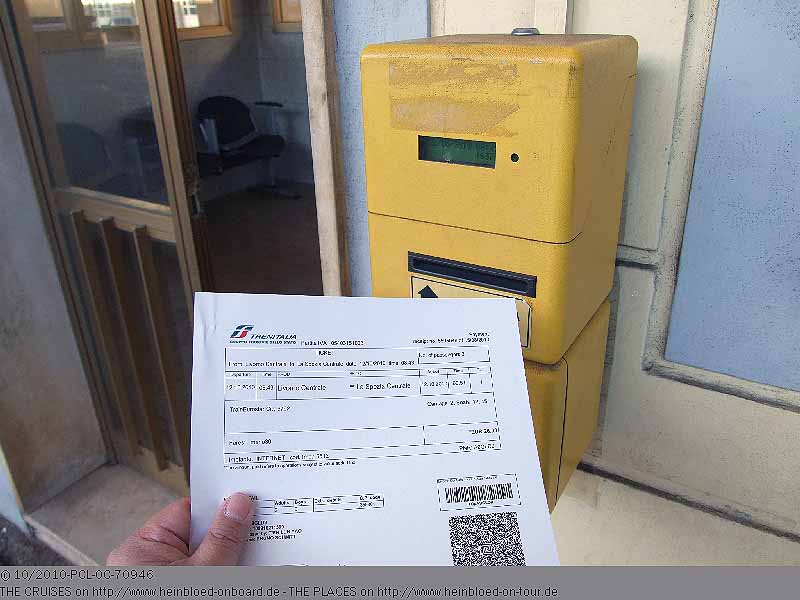 Da wir
Online-Tickets
haben, die wir selbst zu Hause ausgedruckt haben, brauchen wir sie nicht zu entwerten.

Auf dem Fahrplan lesen wir, dass der Zug aufgrund von Bauarbeiten bis zu 10 Minuten Verspätung haben kann.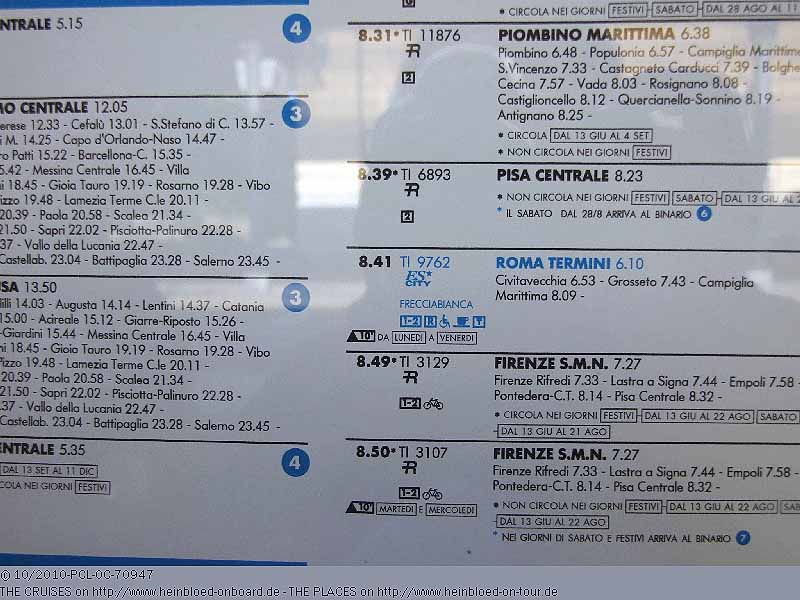 On the scheudle board we could read that the train might have delays upto 10 minutes due to construction works.

There was the train to Florence.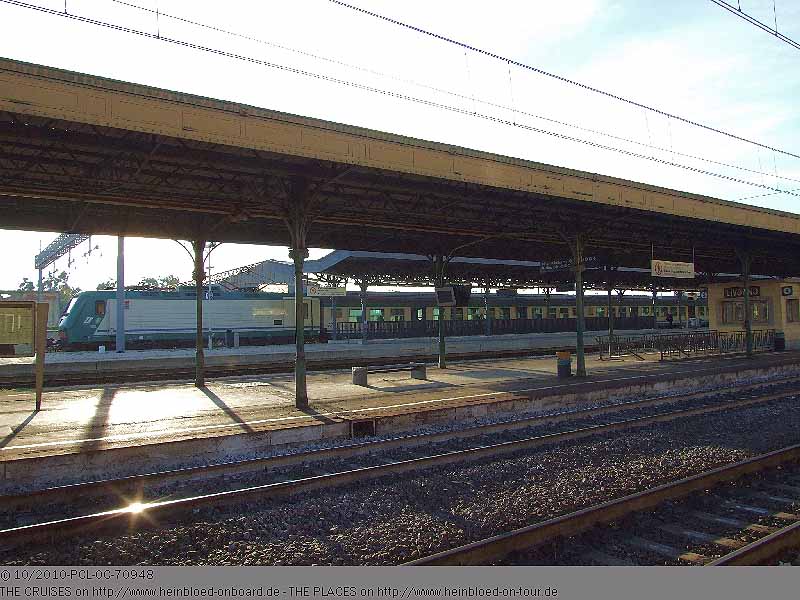 Hinten steht der Zug nach Florenz.
Und hier kommt ein Bummelzug aus Pisa.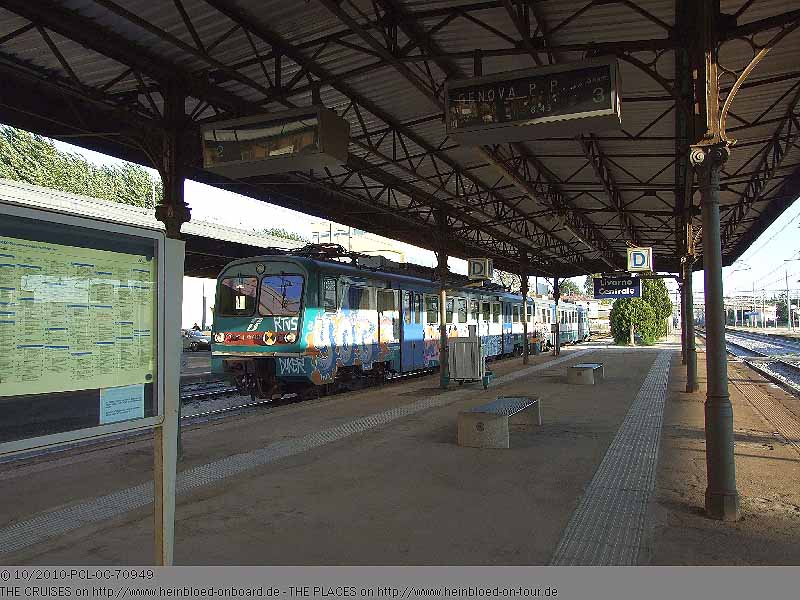 And here a local train from Pisa arrived.
Die anderen Reisen in diesem Blog/
The other voyages in this blog: