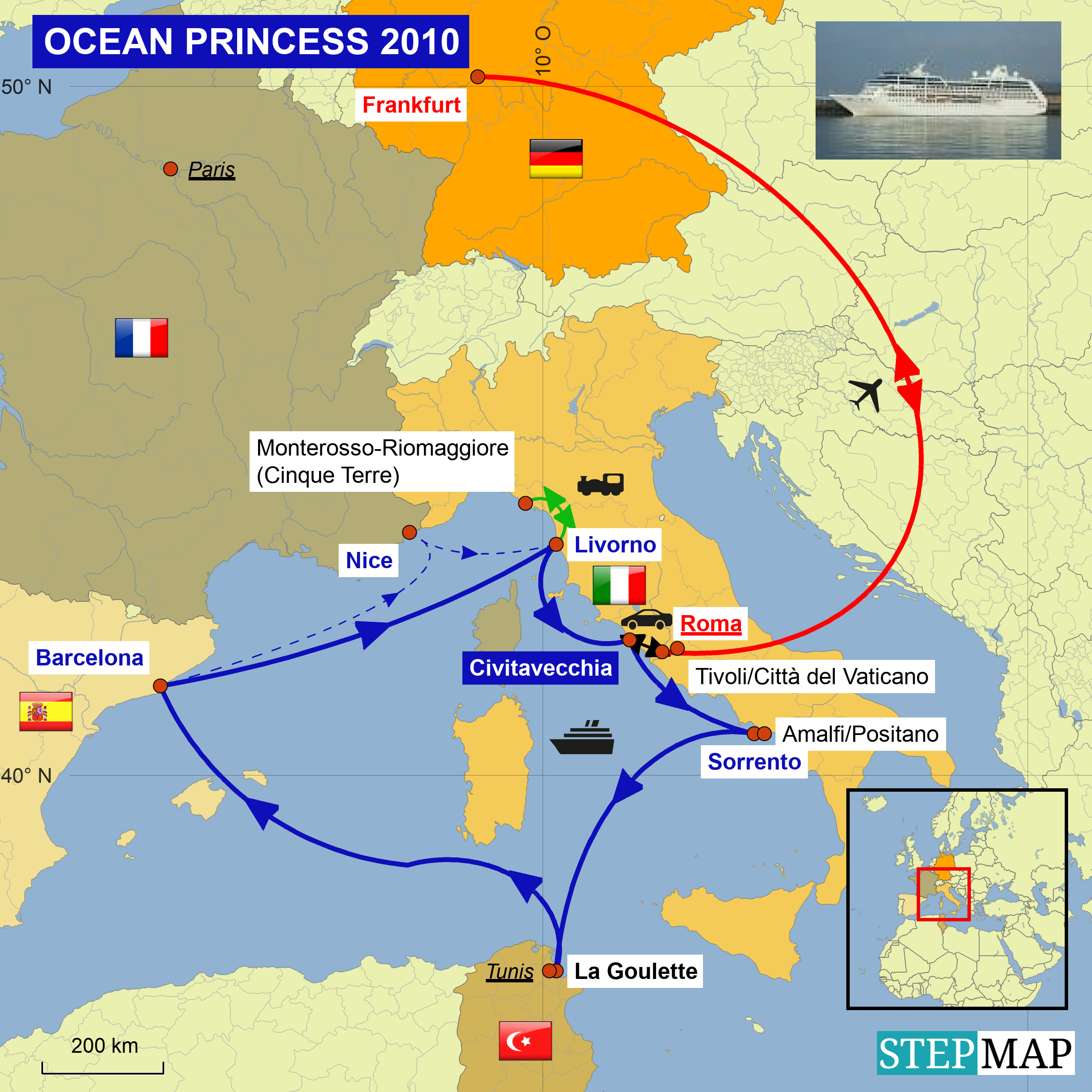 Um 04.00 Uhr morgens fing wieder der Tag an. Unseren Wagen stellen wir wieder im
Platzhirsch-Parkhaus
ab. Seit dem sie immer populärer werden, hinkt der Service. Wenn man ankündigt, dass es in einer Minute zum Terminal geht, sind schon mal zehn Minuten gemeint. Schade. Ein Fall wohl von zu schnellem Wachstum... Wenn man das ganze ansieht: Kaum zu glauben, dass keine Frau dabei ist. Ein Extra-Koffer nur für die Smokings.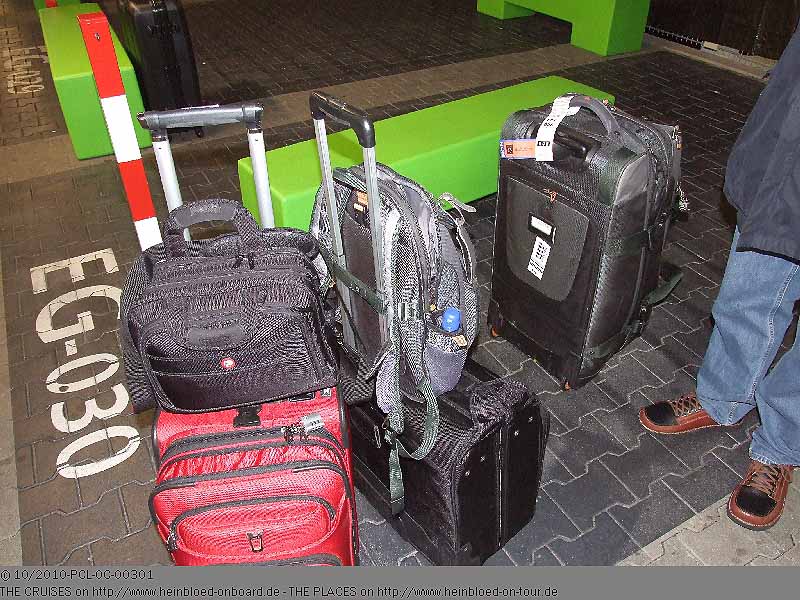 Our day started at 04.00 hrs. We parked again at Platzhirsch-Parkhaus. Since they became more popular, their service went worse. If they announced that you should start in one minute to the terminal, it might become ten. Sorry. But just a case of too fast growth... If you look at all: you cannot believe that there is no woman with us. Just one extra bag for the tuxedos.

Luckily I am still Senator (Star Alliance Gold) until February 2011. So I have 40 kgs additional free allowance. We go by Swiss to Los Angeles, and currently, you are STILL allowed to have 2 x 50 lbs. With you. My tickets are already issued.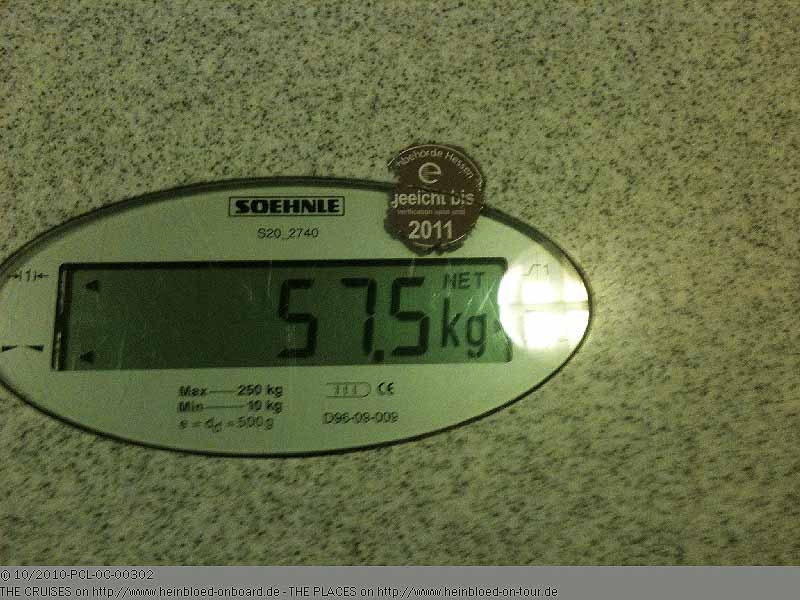 Zum Glück bin ich ja noch bis Februar 2011 Senator. So habe ich 40 kg zusätzliches Freigepäck. Im April geht es mit Swiss nach Los Angeles und dort darf man NOCH 2 x 23 kg mitnehmen. Meine Tickets sind ausgestellt.
Nach dem letzten Fiasko auf dem Weg nach Fort Lauderdale im Januar und der Vulkanasche auf dem Weg nach London sind wir mal froh, dass es mal pünktlich losgeht.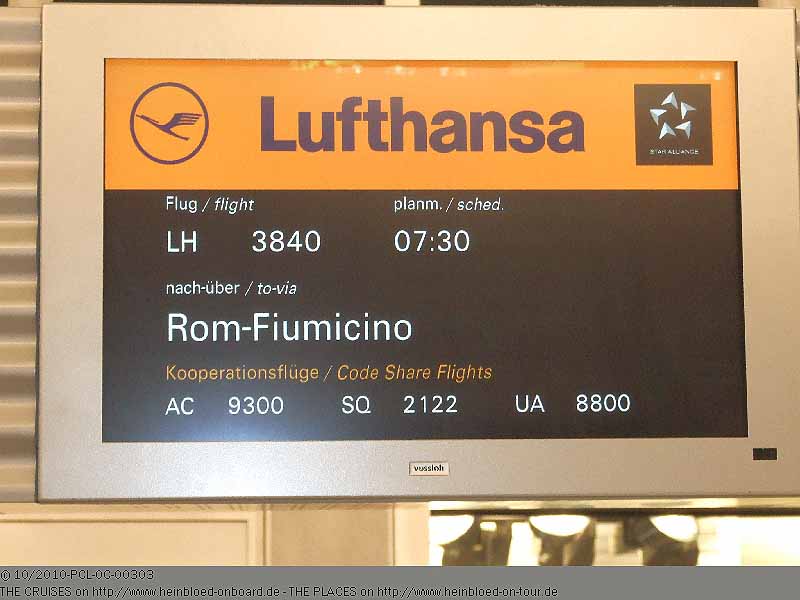 After the last disaster on the way to Fort Lauderdale in January and the volcano ash on the way to London we were quite happy that could leave on time.

While we were passing the automated boarding pass check, we learned that we got an upgrade to Business Class. Joy no. 1.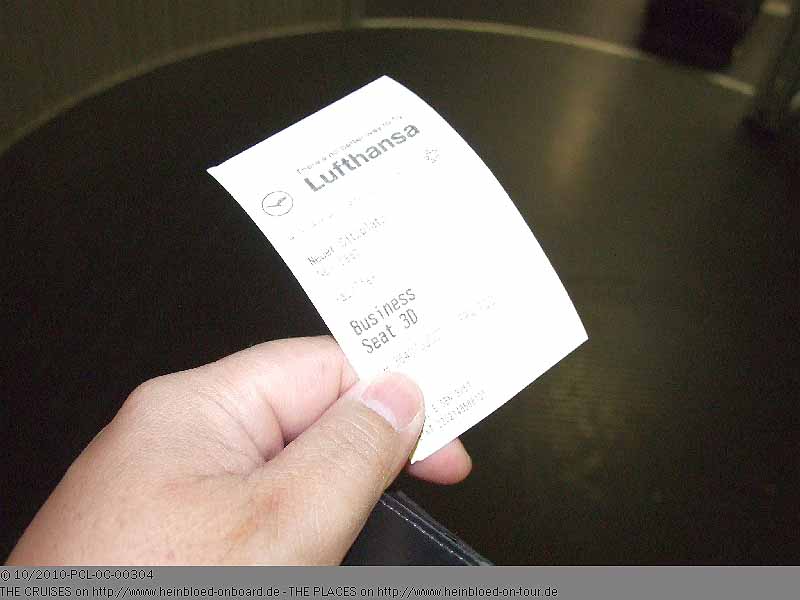 Beim Durchlaufen durch das Drehkreuz beim Einsteigen erfahren wir, dass wir ein Upgrade in die Business Class bekommen haben. Freude Nummer 1.
Und Nummer 2: HeinBloed reist stilgerecht in der Lufthansa-Maschine von der Maus aus der Sendung mit der Maus... Gibt es ein passenderes Flugzeug für HeinBloed???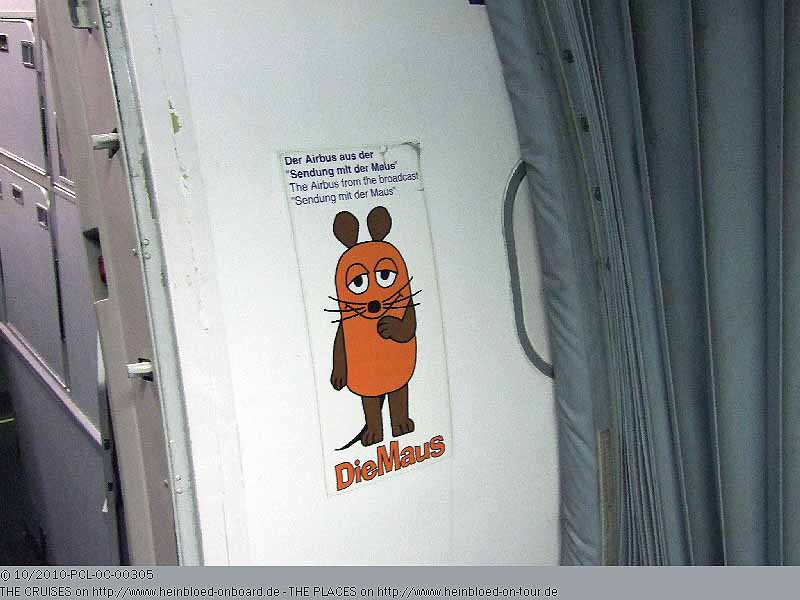 And no. 2: HeinBloed traveled with the appropriate, stylish aircraft: HeinBloed was part of the Children TV-show with the Mouse on German TV... And this was the aircraft the team from the show with the Mouse explained how civil aviation works. No other aircraft from the entire Lufthansa-fleet will fit more for HeinBloed - or???

How sad that I had already breakfast on the way to the airport.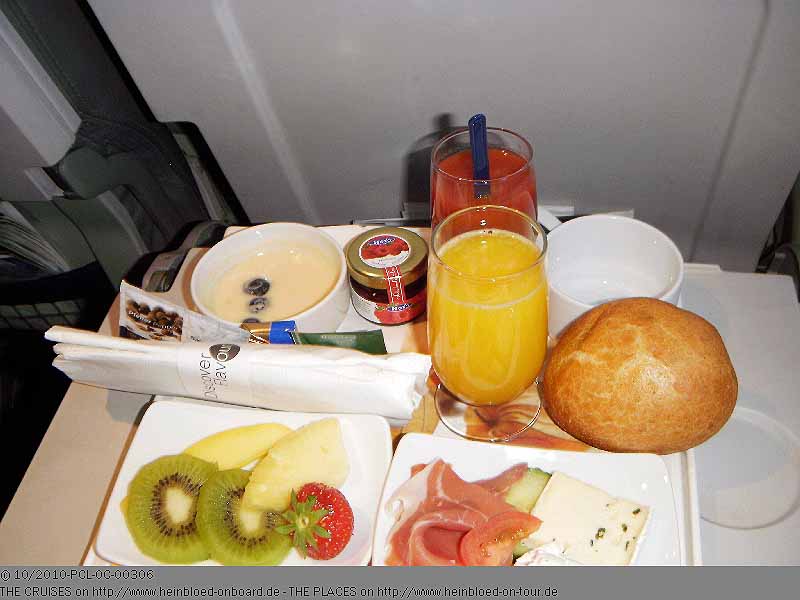 Schade, dass ich unterwegs bereits schon gefrühstückt habe...
Freude Nr. 3: Das schöne Wetter. In Rom soll es heute bis 27°C werden...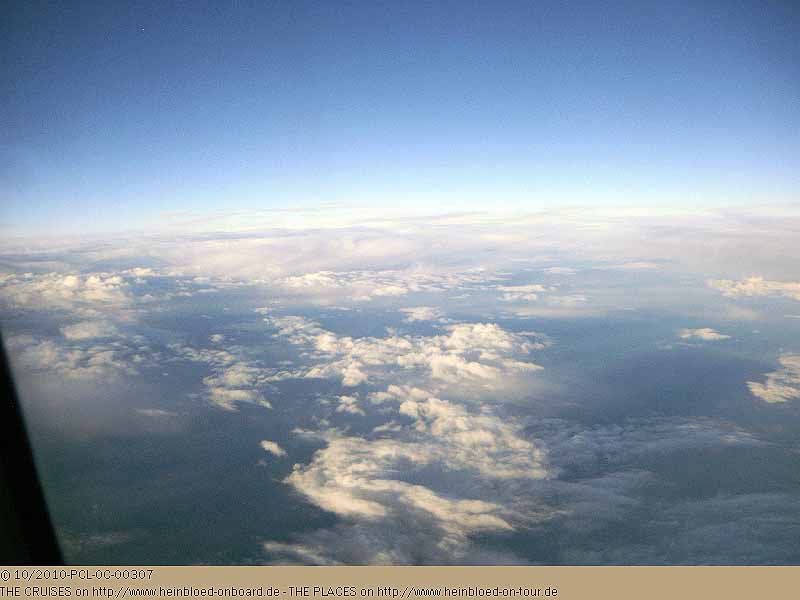 Joy no. 3: The beautiful weather. It should be upto 81 F in Rome.

Even seeing some snow makes you happy if you know that it should become so warm.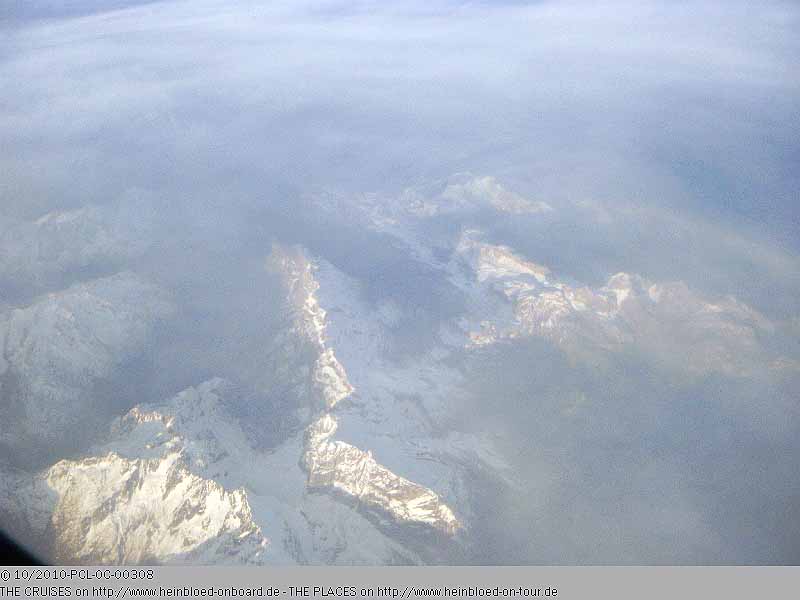 Da freut man sich sogar auf den Anblick von Schnee, wenn es so heiß werden soll.
Leider biegen wir kurz vor Civitavecchia links ab, um den Landeanflug auf Fiumicino einzuleiten. So kann ich leider die COSTA PACIFICA im Hafen von Civitavecchia nicht richtig fotografieren, zumal ich den Zweitapparat nutzen muss, weil die Akkus von unserem Erstapparat leer sind. So sind leider auch ein paar unscharfe Bilder dabei.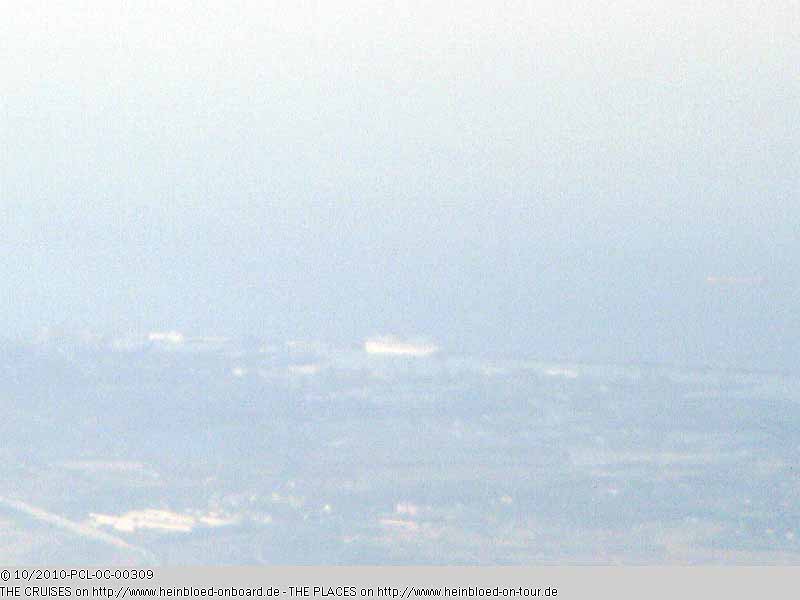 Before we reached Civitavecchia we made a turn to the left for landing on Fiumicino. So I could not take any good pictures of COSTA PACIFICA while she was in the port of Civitavecchia - but I had to use the second camera as we had weak batteries in the main camera. So that is the excuse for some worse pictures.

When we arrived, we asked ourselves which airlines were covered under "others"... like Lufthansa. Four airlines shared the other baggage claim area (Alitalia, Air One, Air France and KLM).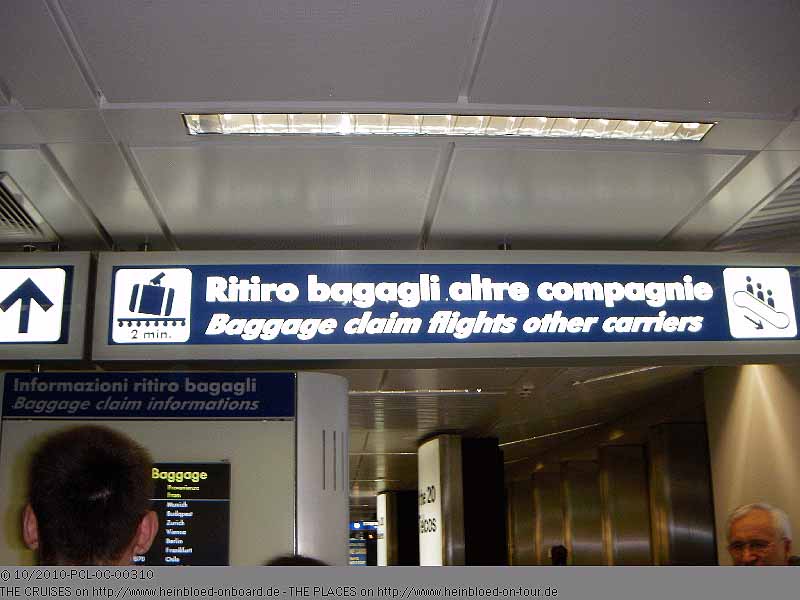 Als wir ankommen, fragen wir uns, was die restlichen bedeuten... Z. B. Lufthansa. Vier Fluggesellschaften (Alitalia, Air One, Air France und KLM) teilen sich eine andere Gepäckausgabe.
In der Gepäckhalle wird uns klar, dass wohl in Civitavecchia ein Costa-Schiff liegen muss. Keine Sorge: so gut ist meine neue Brille nicht, so dass ich Flugzeug vorher erkennen konnte, dass es die COSTA PACIFICA war.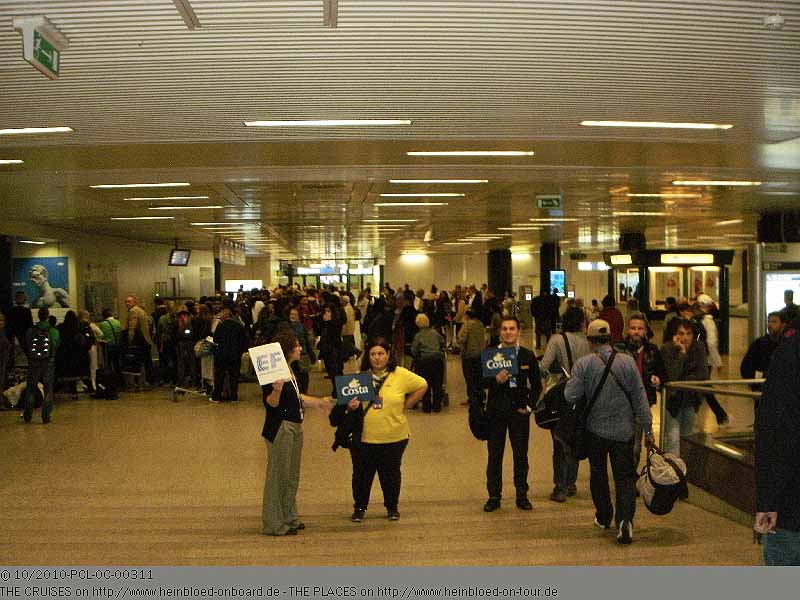 In the baggage hall it was clear that there was a COSTA-ship in Civitavecchia. Do not worry: My new glasses were not so good to see from the plane that it was COSTA PACIFICA.

Some irritations were occured by our HAL-belt bags. The COSTA-agents asked if we would like to go on COSTA PACIFICA. When we said that we would go on Princess, they were perplexed as no Princess-ship was in port.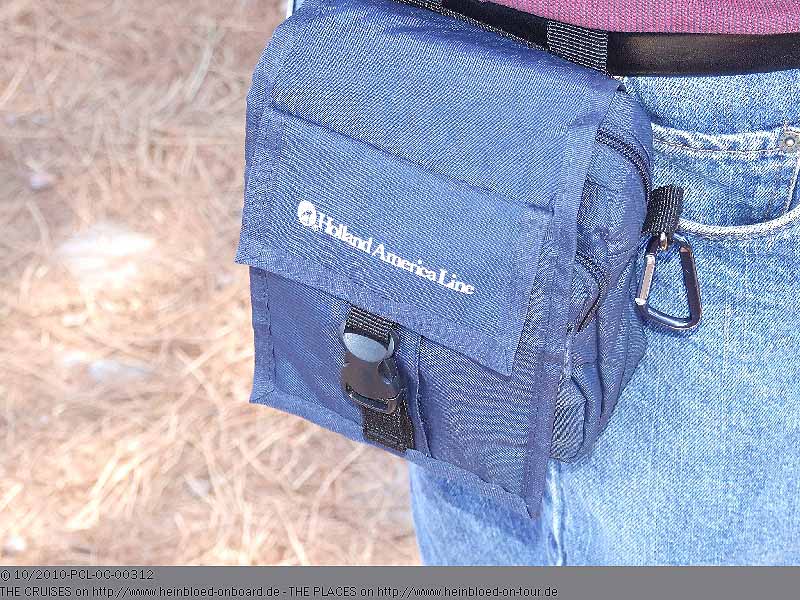 Zu Irritationen führt jedoch unsere HAL-Gürteltaschen. Wir werden auch von den Costa-Mitarbeitern angesprochen, ob wir auf die COSTA PACIFICA wollen. Als wir antworten, dass wir mit Princess fahren, wussten sie gar nicht mehr was los war, weil ja gar kein Princess-Schiff im Hafen lag.
Die Gepäckausgabe zieht sich ziemlich hin. Ich halte 30 Minuten für lang (trotz Priority). Vor allem, weil sich mehrere Flüge immer ein Band teilen und es daher ziemlich voll ist.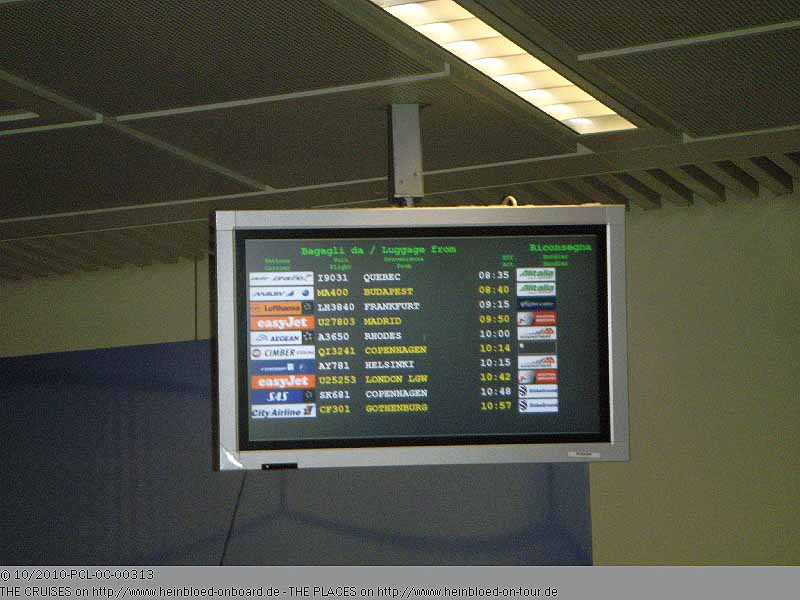 The baggage release took a while. I think 30 minutes was quite long (even I had priority baggage tags). But it was because multiple flights had to share one carousel and so it was quite busy all the time.

While you were waiting, you can get some information about how to get to Rome.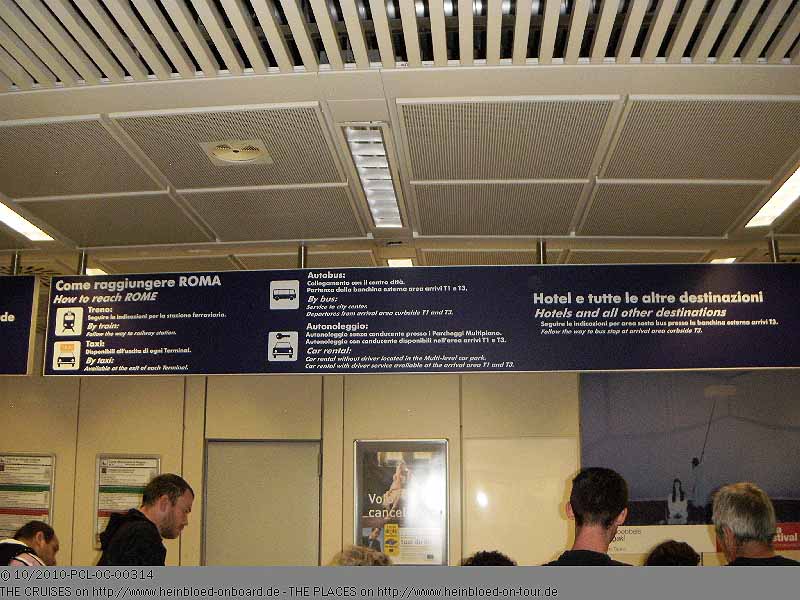 Man kann sich aber während des Wartens darüber informieren, wie wir nach Rom kommen können.
Damit will man verhindern, dass man mit einem Schwarztaxi fährt.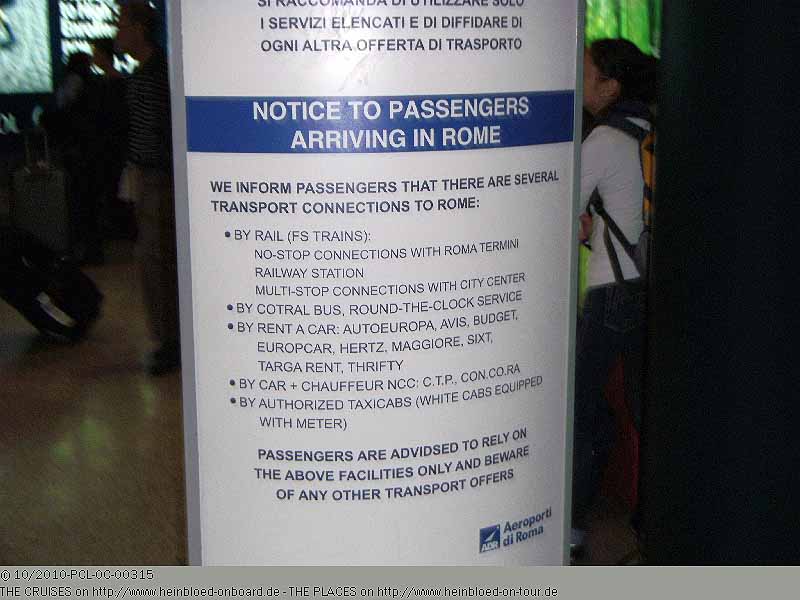 They want to avoid that you get an unlicensed cab.

There ia an alternative to the Leonardo-Express to get to Rome Downtown just for 8.00 EUR (2010): SIT Bus-Shuttle.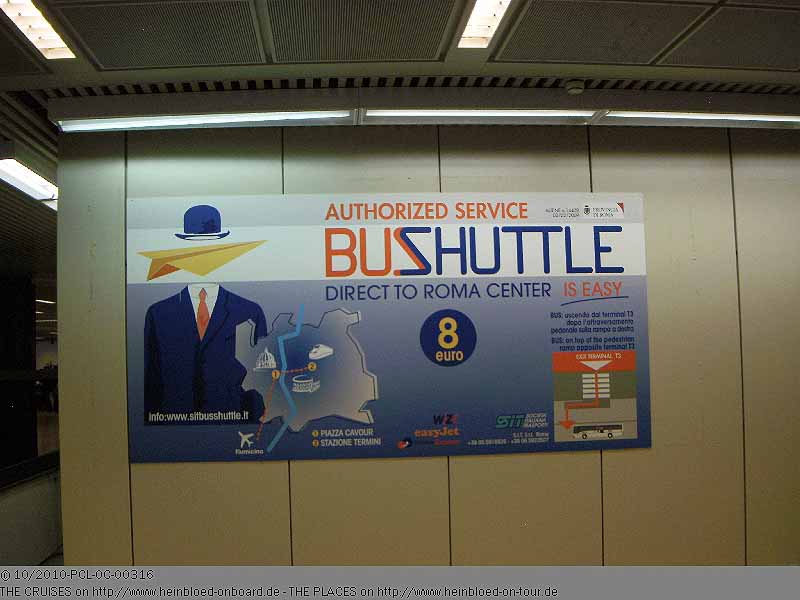 Ein
Bus-Shuttle von SIT
als Alternative zum Leonardo-Express für nur 8 EUR (2010) in die Innenstadt von Rom...
Eigentlich will ich mir für einen USB-Stick noch einen mobilen Internet-Zugang besorgen, aber auf dem Flughafen haben solche Geschäfte geschlossen. Ein braves, katholisches Land, das an die Sonntagsruhe sich hält...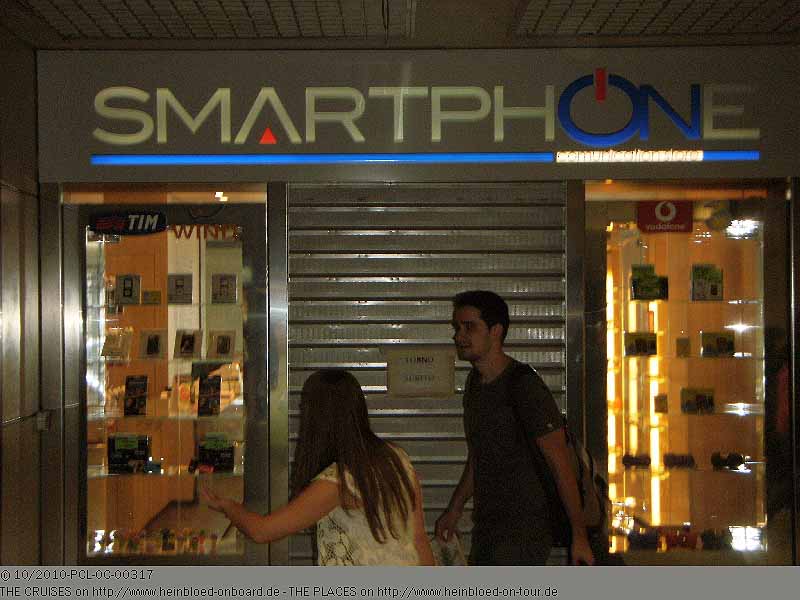 I wanted to buy an internet-access for my mobile USB-stick but such kind of stores were closed on Sunday. A strong, Catholic country which keeps the Sunday rest day.

Here is the way to the Leonardo-Express or FR1-Commuter Trains.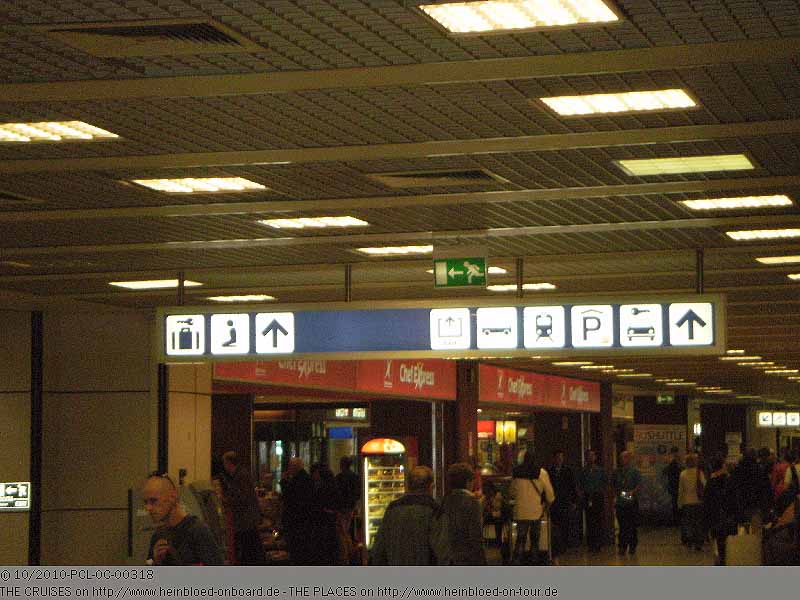 Hier geht es zum
Leonardo-Express bzw. FR1-S-Bahn-Zügen
.
Wir müssen aber irgendwie rüber zum Armani-Gebäude, an dem alle Shuttle-Busse halten. Gegenüber von Terminal 3 stehen ja viele Busse.

Somehow we need to get over to the Armani-Building where all Shuttle-buses should stop. Opposite of Terminal 3 we saw many of them.

We found the Armani-Building.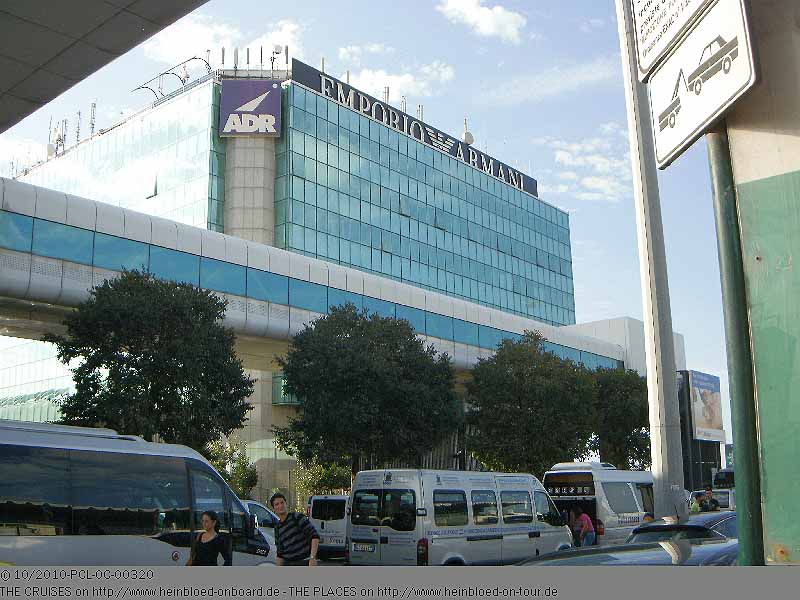 Das Armani-Gebäude hätten wir gefunden.
Von hier aus fährt der Bus zum Bahnhof Termini ab.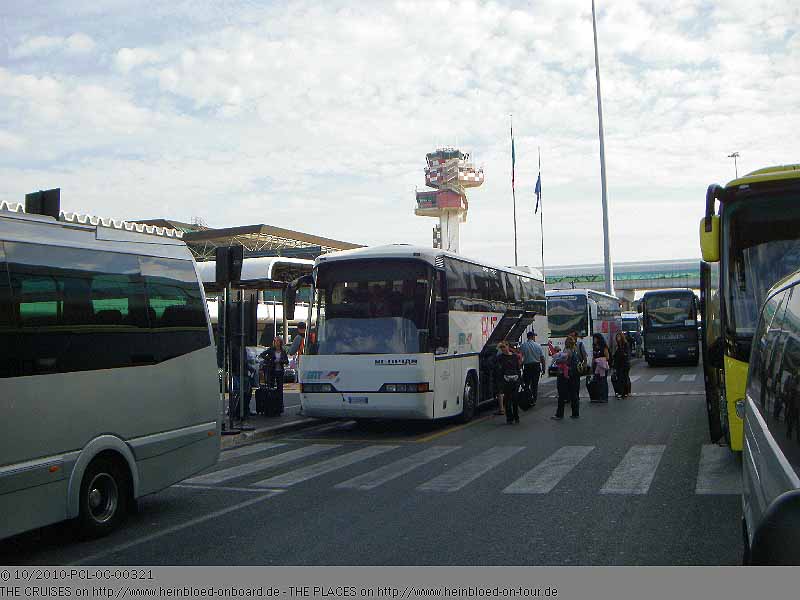 From here the bus to Termini train station started.

This shuttle to Civitavecchia looked very official, but it was just one of many. We did not book with them although their prices do not look bad on their website.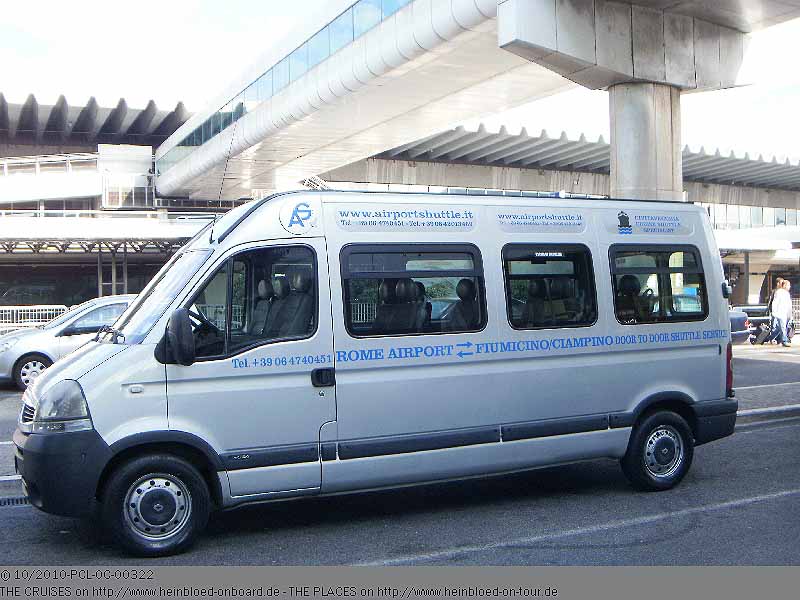 Dieser
Shuttle nach Civitavecchia
sieht ja hochoffiziell aus, aber ist nur einer von vielen... Mit denen haben wir nicht gebucht, obwohl die Preise auf deren Homepage nicht schlecht aussehen.
Dort geht es zu den Hotel-Shuttle-Bussen.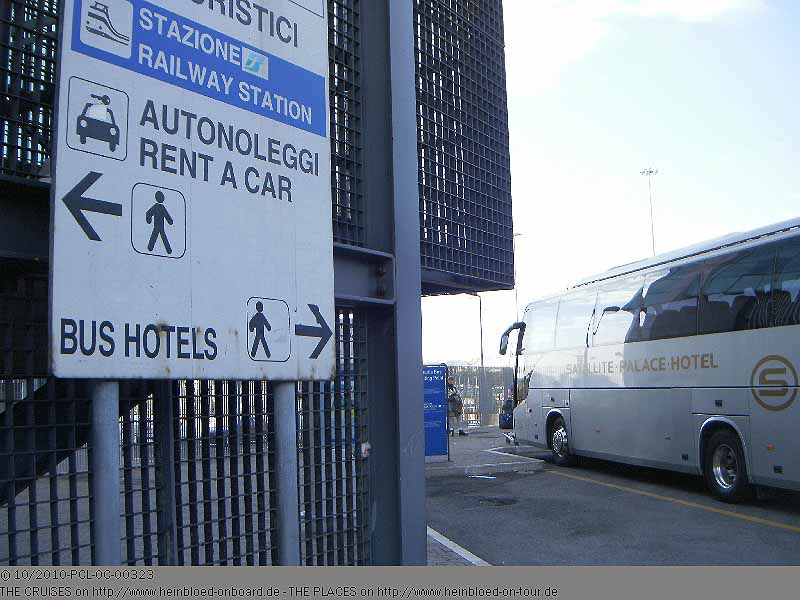 There you find the Hotel Shuttle Buses.

Some of the major hotels like Hilton, Sattelite, Garden Inn, Holiday Inn had their own bus stops for their shuttles.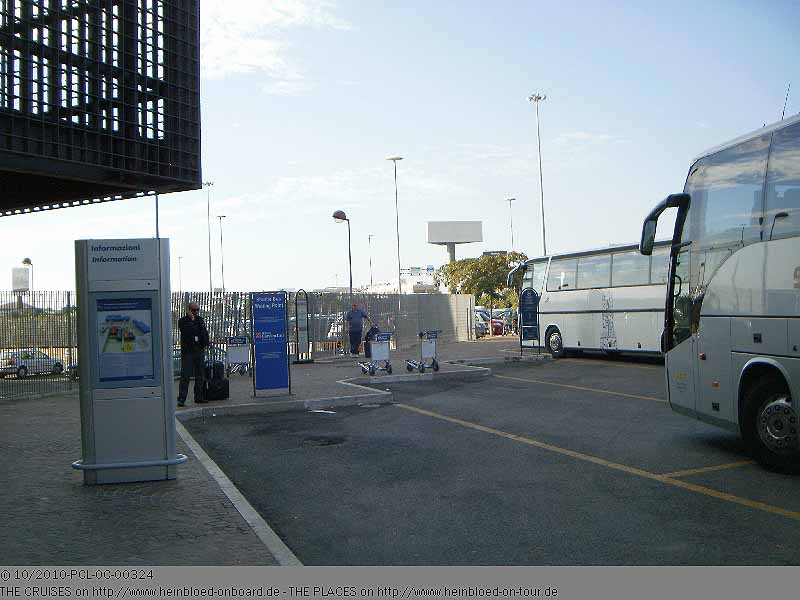 Manche großen Hotels wie das Hilton, Sattelite, Garden Inn, Holiday Inn haben sogar eigene Haltestellen für ihre Busse.
Die Informationstafel erklärt bloß, wie man zu den Terminals kommt, aber leider gibt keine Auskunft, wo konkret ein Shuttle abfährt. Die Fahrer der anderen Shuttle sind immer sehr hilfreich und sagen einem, wo man besten stehen bleiben sollte.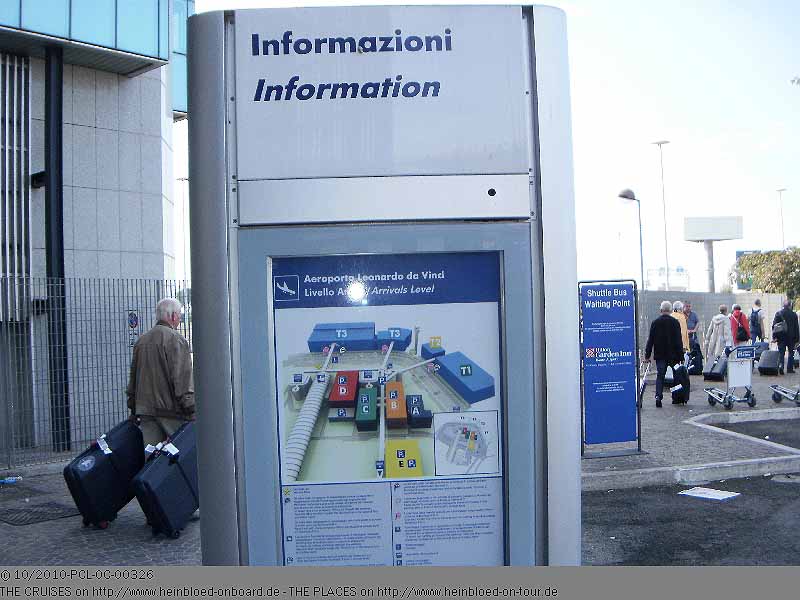 On this board you get only information how to get to the terminals but no information where the shuttle departs. The drivers of other shuttles were quite helpful and always told where the best place was to stay and wait.

The shuttle to our hotel runs on Sunday just to 10:00 hrs. You need to call the hotel in advance. When we called at 09:58 hrs they arranged a car for us. But we need to wait longer because there was a Marathon in Fiumicino which just passed the front of our hotel. The hotel charges 6.00 EUR per person and ride. A cab would be 20.00 EUR.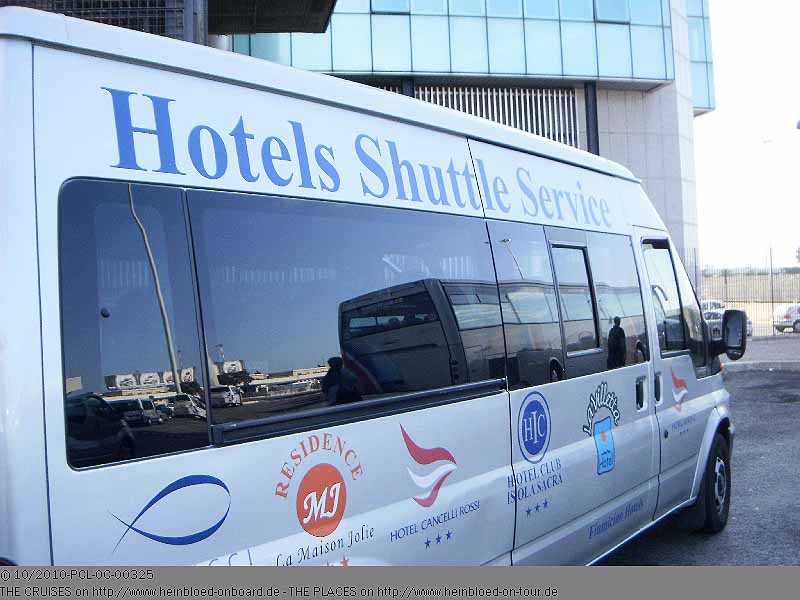 Der Shuttle zu unserem Hotel fährt an Sonntagen nur bis 10:00 Uhr. Man muss vorher im Hotel anrufen. Um 09:58 Uhr rufen wir an und sie arrangieren noch ein Fahrzeug, das kommt. Allerdings müssen wir länger warten, weil in Fiumicino ein Marathon läuft und genau am Hotel vorbeiführt. Für den Service berechnet uns das Hotel 6,00 EUR pro Person und Fahrt. Ein Taxi hätte 20,00 EUR gekostet.
Die anderen Reisen in diesem Blog/
The other voyages in this blog: