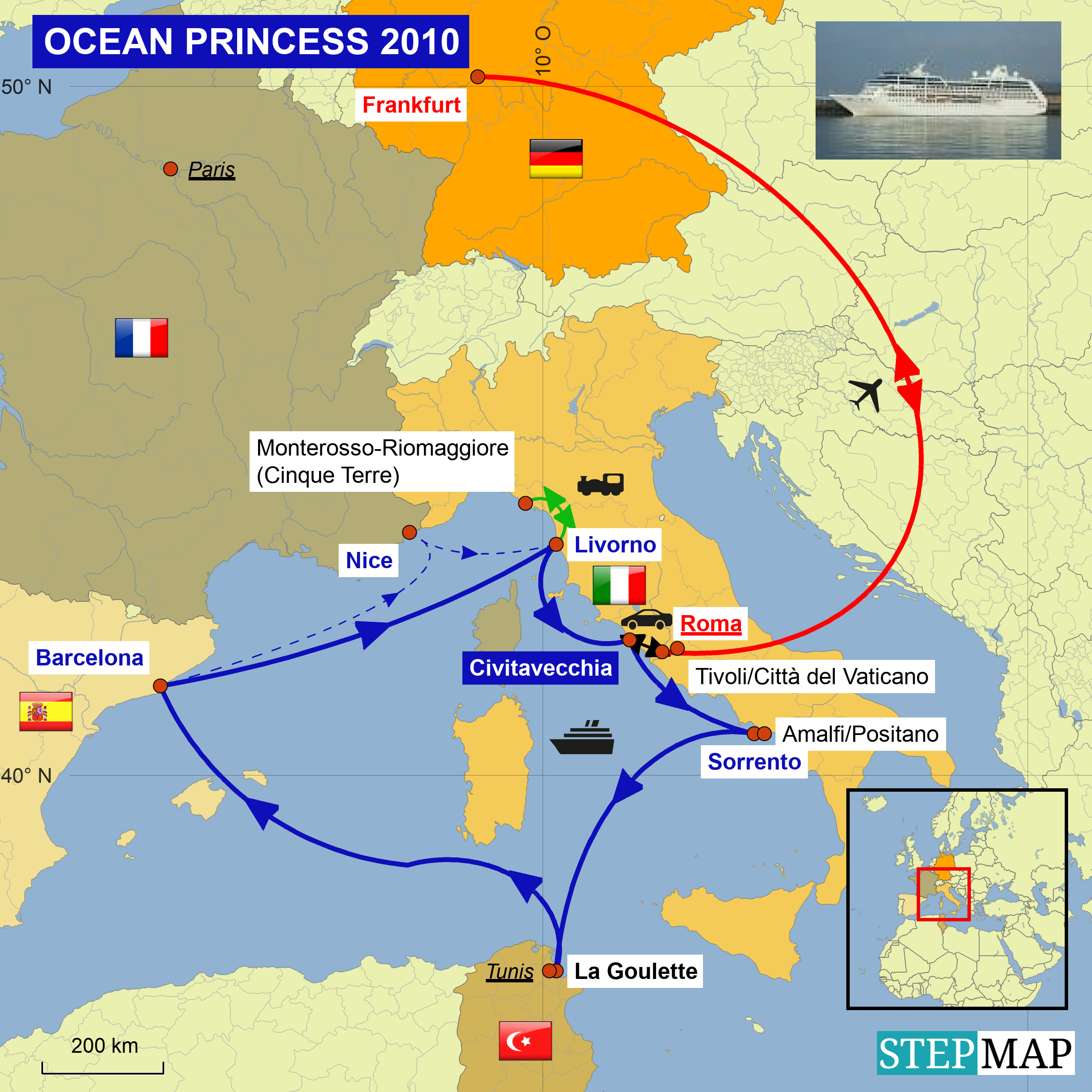 Als ich am nächsten Morgen aufwache stelle ich fest, dass es wirklich im Bad alles gibt, was der Mensch braucht.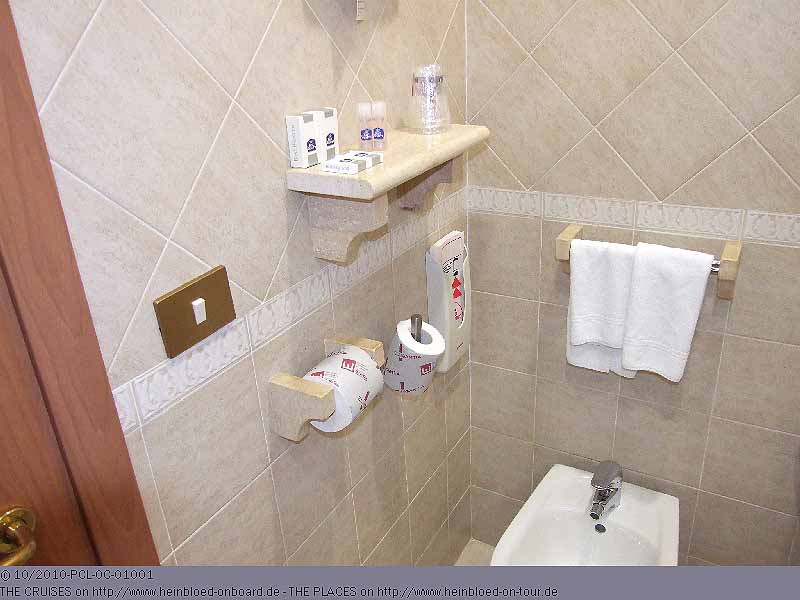 The next morning I found out that there was everything in the bathroom you need.

The breakfast buffet (incl. in room rate) was not a pure Italian one.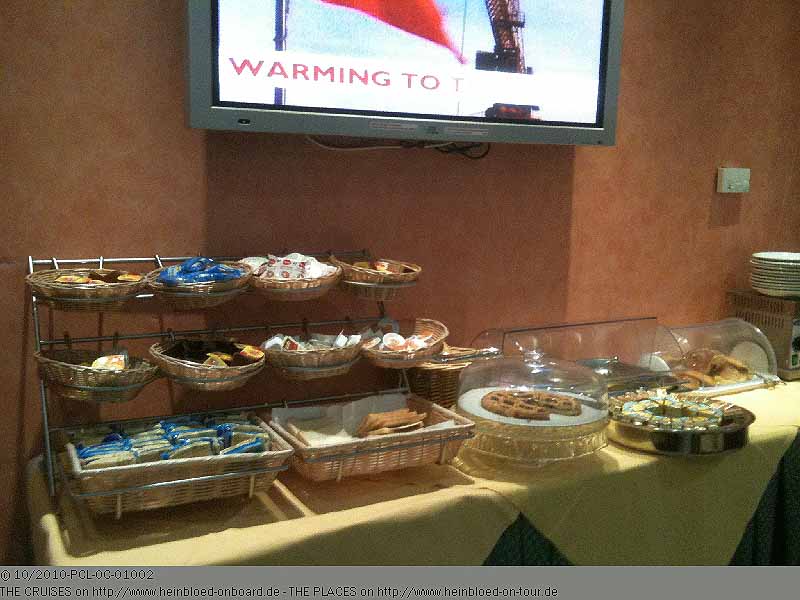 Das Frühstücksbüffet (im Preis inbegriffen) ist nicht rein italienisch.
Auch für den europäischen Geschmack ist etwas bei. Nur für den amerikanisch-englisch-kanadisch Geschmack gibt es nichts... Keine warmen Eierspeisen...

You found also something for the Continental-European taste. Just for the American-English-Canadian taste, there was nothing... no hot egg dishes...

You get coffee and juice from this dispensers. You only need to push once on the button otherwise you occur flooding like me. On request, you could also get a real cappuccino made from the machine at the bar.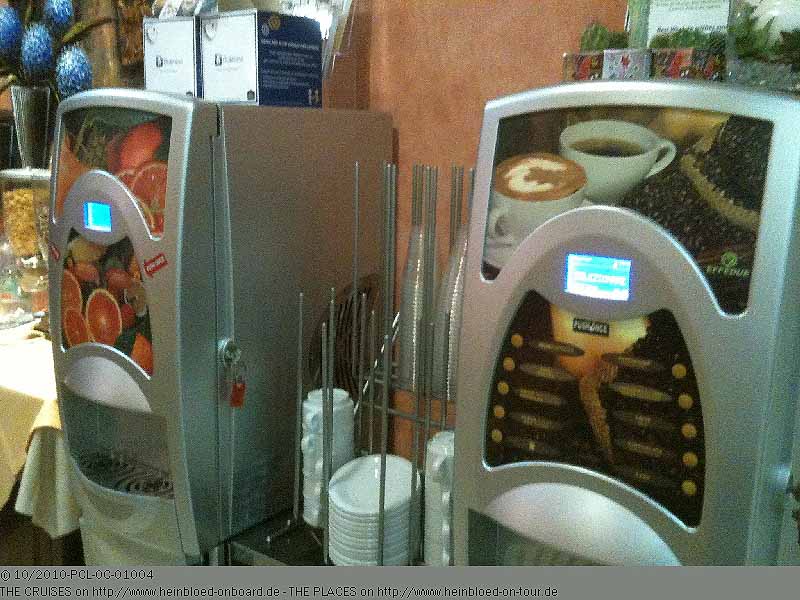 Kaffee und Saft gibt es an diesen Spendern. Beim Saft reicht einmal drücken. Wer den Finger draufhält, wie ich, versucht eine Überschwemmung. Auf Anfrage gab es auch Cappucino aus der richtigen Espressomaschine an der Bar.
Das Hotel arrangiert als Service auch einen Shuttle (gegen Bezahlung) nach Civitavecchia an. Also für Passagiere mit späten Ankünften in Rom, die nicht extra reinfahren wollen, ideal.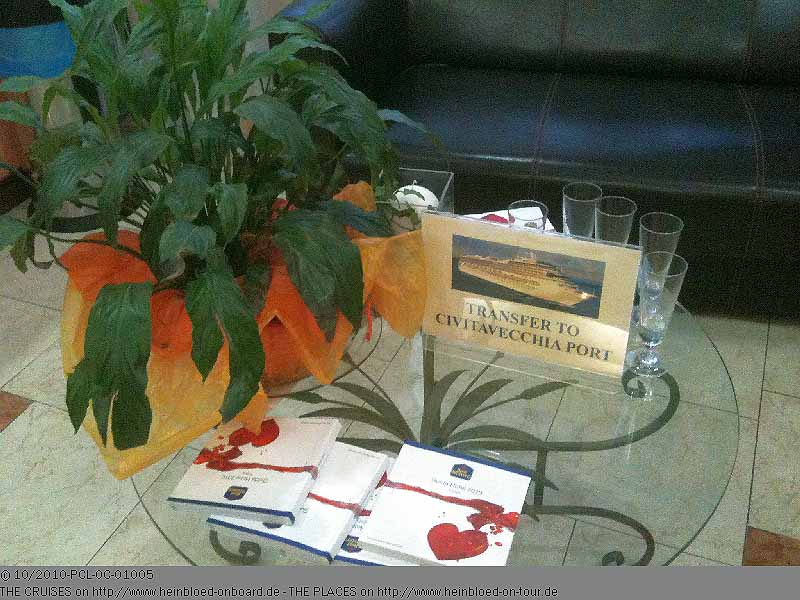 The hotel arrange as paid service a shuttle to Civitavecchia as well. So for late arriving guests in Rome who do not want to go into the city, it's a perfect place to stay.

You could also use the PC for free.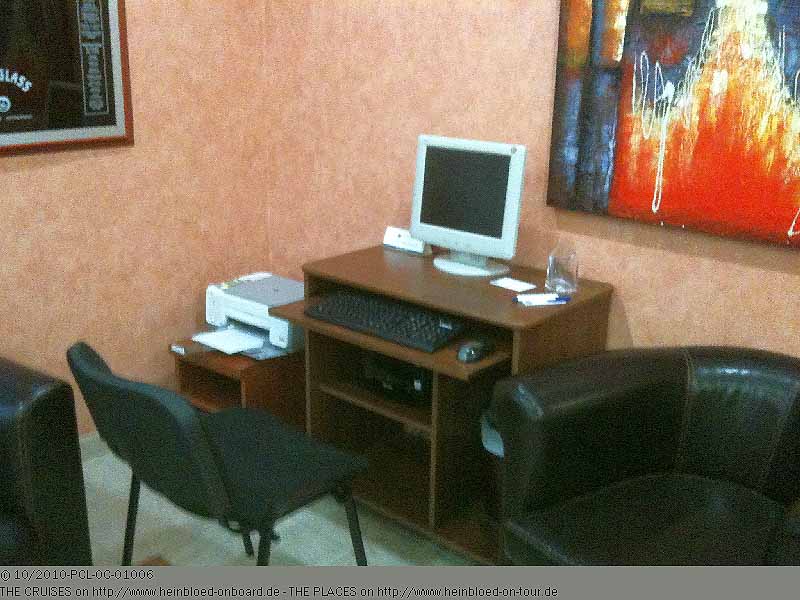 Den PC konnte man auch kostenlos nutzen.
Und auch andere Shuttle werden angeboten, damit man direkt nach Rom und zum Shopping kommt. Für 71,00 EUR inkl. Frühstück und WiFi: was will man mehr. Bei der Abrechnung sind sie sehr großzügig. Uns fällt auf, dass die Cappucinos nicht berechnet wurden und auch die große Flasche Wasser, die wir von der Bar hatten: es hieß nur: machen Sie sich keine Sorgen und seien Sie unser Gast... Italienische Gastfreundschaft...

They also offer another kind of shuttles if you like to go to the city of Rome or just going shopping. For 71.00 EUR incl. breakfast and WiFi: anything else you need for this price??? When we got the final bill, they were very gracious. They did not charge for the Cappucino and for the water we had from the bar: they just say: Do not worry and be our guest... Italian hospitality...

Rome is fully in the hand of the US-Cruise-Industry. It was somehow difficult to arrange an affordable transfer. We looked up at the website of the Airport Authorities. There we found out that there was not just a taxi and limo-services but something in between a car rental with a driver and so we found Autonoleggio MZ. For 90 EUR (2010 - normally excl. taxes - but due to a promo currently included on request) it was about 25% less what all others offered on the internet. So we ordered the car for 08:30 hrs.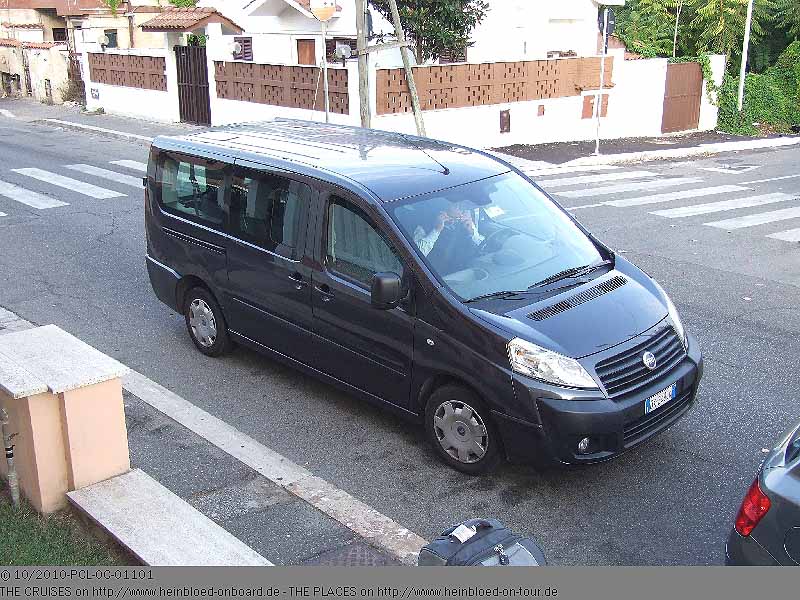 Rom ist Fest in Hand der amerikanischen Cruise-Industry. Es ist schon schwierig einen bezahlbaren Transfer sich zu beschaffen. Wir haben auf der Homepage von der
Flughafengesellschaft
geguckt und festgestellt, dass es neben Taxi, Mietwagen und Limousinenservices auch Mietwagen mit Fahrern gibt: dabei sind wir auf
Autoneleggio MZ
gestoßen. Mit 90 EUR (2010 exkl. Steuer - im Rahmen einer Promo jedoch auf Anfrage inkludiert) ist es um ca. 25% günstiger als die anderen Angebote, die wir so gefunden haben. Für 08:30 Uhr haben wir für 2 Personen bestellt.
Um 08.32 Uhr geht es bereits los. Der Fahrer hat uns gefragt, woher wir eigentlich diese Perle von Hotel gefunden hätten und meinte, dass nur wenige das Flughafen-Hotel kennen und hat uns zum Aufenthalt gratuliert.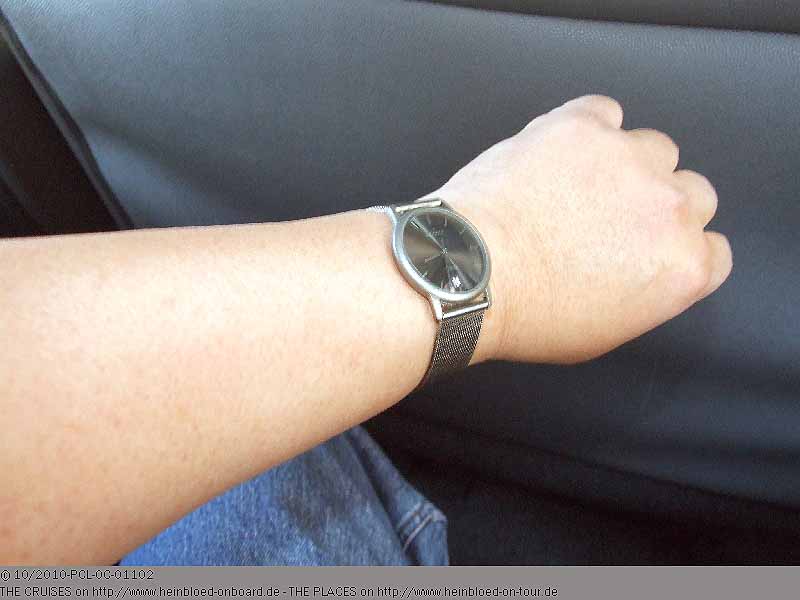 At 08.32 hrs we started already. The driver asked us where we knew about this pearl of the hotel and told us that only very few guests knew this hotel and congratulated us for staying here.

The driver spoke a lot with himself: If I used the record-function of my cell-phone, I would be able to bluster perfectly on Italian on the traffic in Rome and the appearances. By the way, the driver spoke some German as well. Every time it looked like this he was looking for alternatives.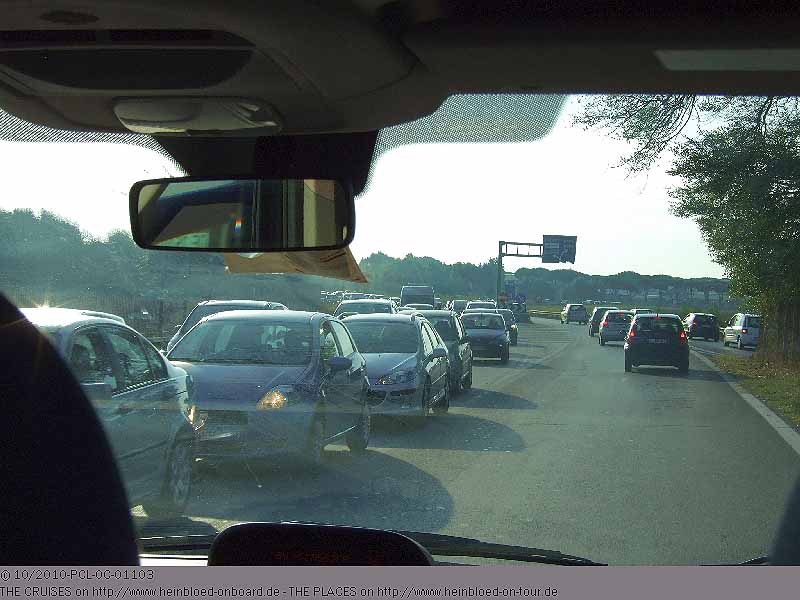 Hätte ich die Selbstgespräche des Fahrers aufgezeichnet: ich könnte heute pefekt italienisch über den Verkehr in Rom und seine Erscheinungen schimpfen. Übrigens sprach er auch Deutsch. Immer wenn es so aussah, suchte er sich Alternativen.
Die Alternativen sahen dann so aus: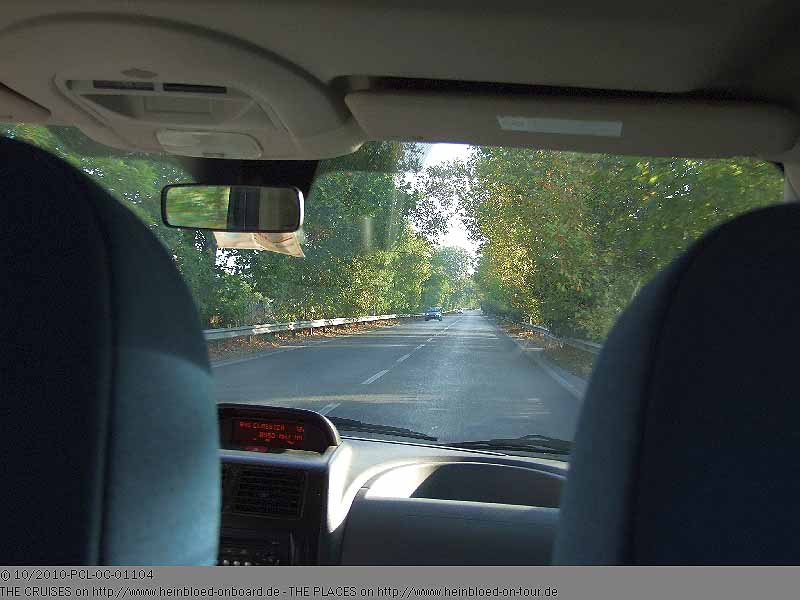 And the alternatives looked like this.

We booked at the Express by Holiday Inn in Roma S. Giovanni. I could redeem my points and breakfast is always included in this hotel. We arrived at 10.00 hrs. Our driver could not make it right to the front of the hotel due to road construction work, and so he could only give us a lift until 20 Italian Meter = 100 ISO-meter (always take all time and distance - multiple by 5 - and 90% of all cases: it works) above the hotel. So we only need to walk down.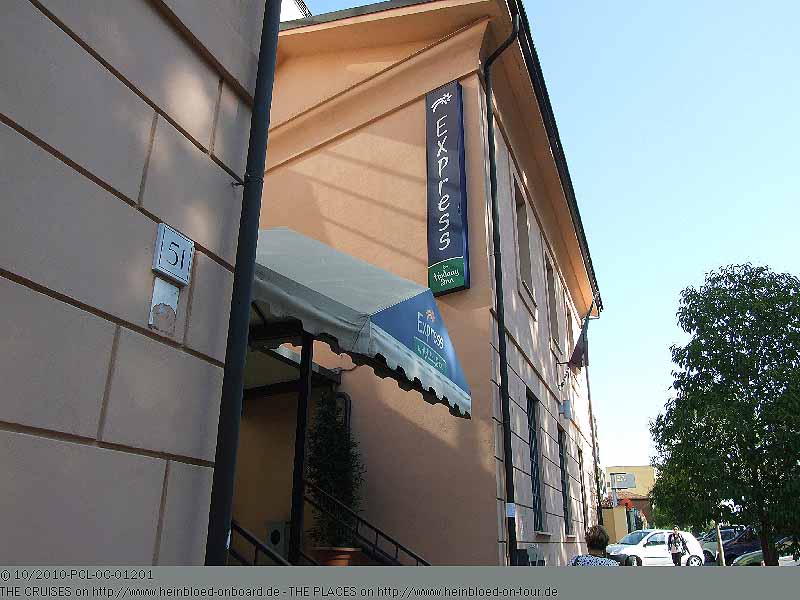 Gebucht haben wir im
Express Holiday Inn im Stadtteil San Giovanni
. Ich habe noch meine Punkte von dem Hotelprogramm und das Frühstück ist zum Glück immer inkludiert. Gegen 10.00 Uhr kommen wir an. Unser Fahrer kann aufgrund einer Baustellenregelung nicht vor das Hotel vorfahren und lässt uns oberhalb des Hotels raus, so dass wir nur noch 20 italienische Meter = 100 ISO-Meter (immer Zeit und Längefaktoren mal 5 nehmen - es kommt in 90% der Fälle hin...) runterlaufen müssen.
Obwohl es erst 10.00 Uhr morgens ist, gibt man uns schon direkt ein Zimmer.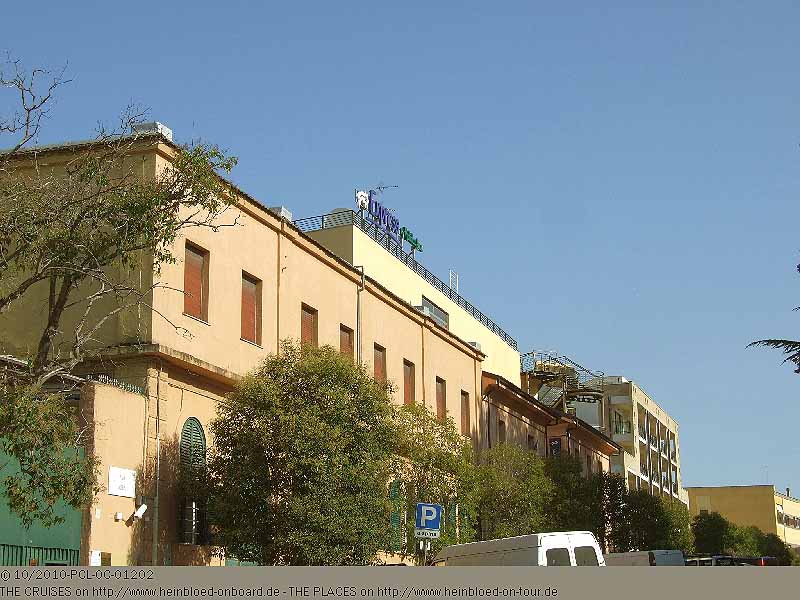 Although it was 10.00 hrs in the morning they gave us a room.

For guests with reduced ability to see: giant keys in the elevator.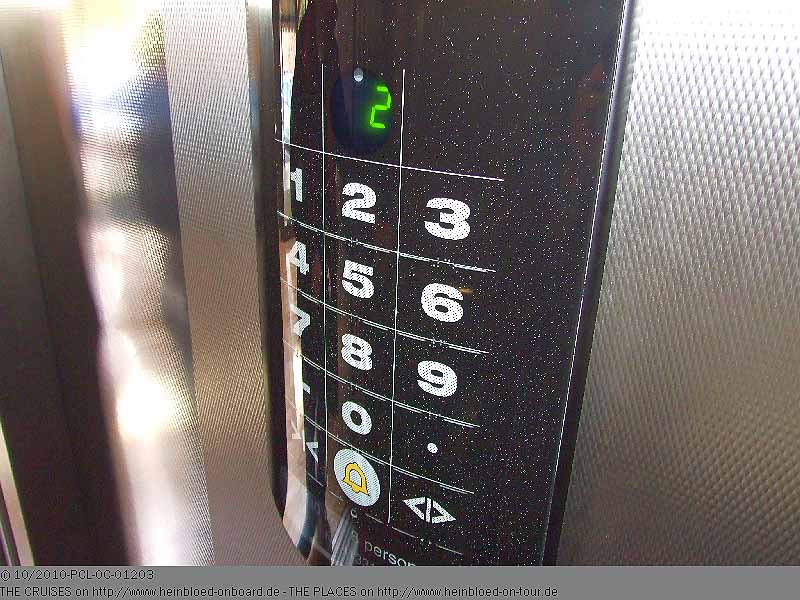 Für Sehbehinderte: ganz große Knöpfe im Fahrstuhl.
Wir bekommen Zimmer 212, die man nur über ein paar Stufen erreichen kann. Alles da, was man braucht. Sogar Wasserkocher.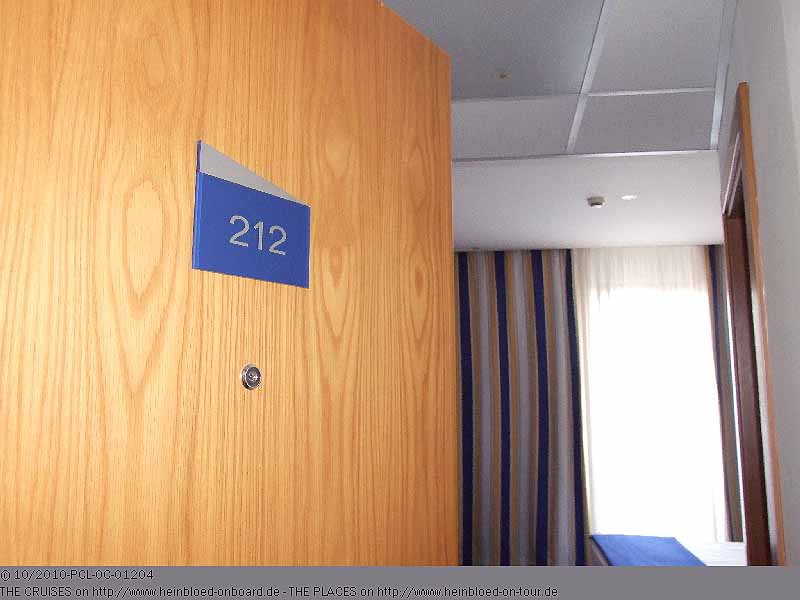 We got room 212 which you can only reach with few steps. But all you need was int he room - even a water boiler.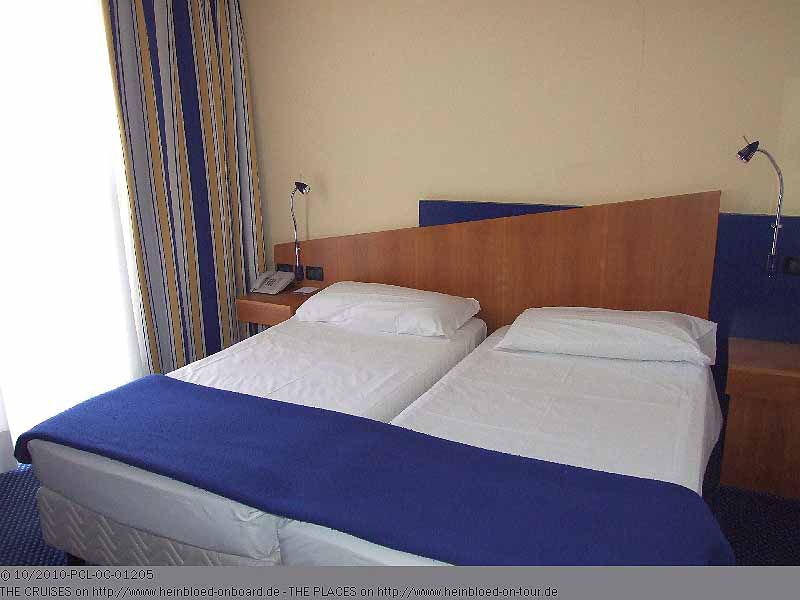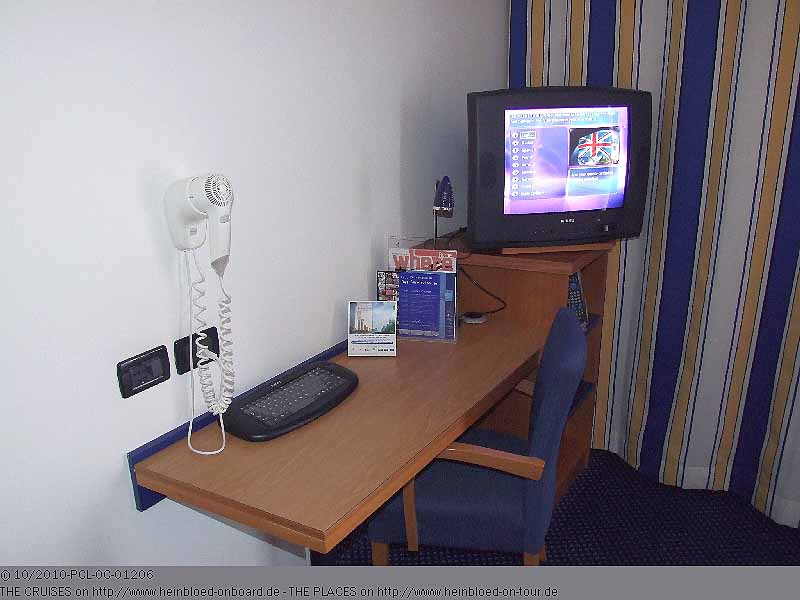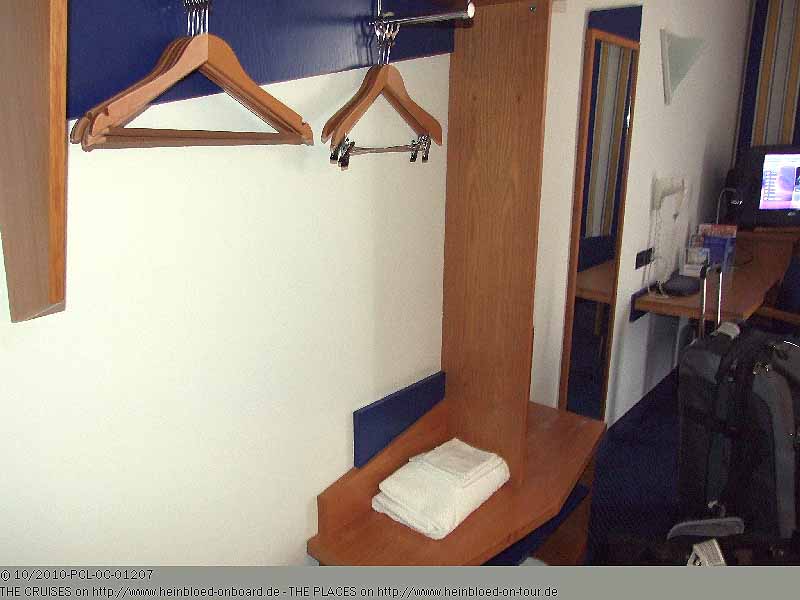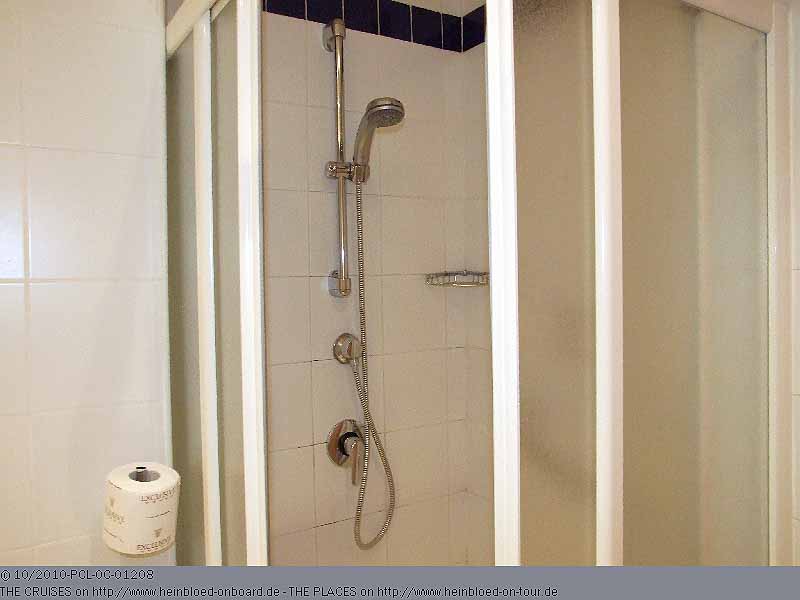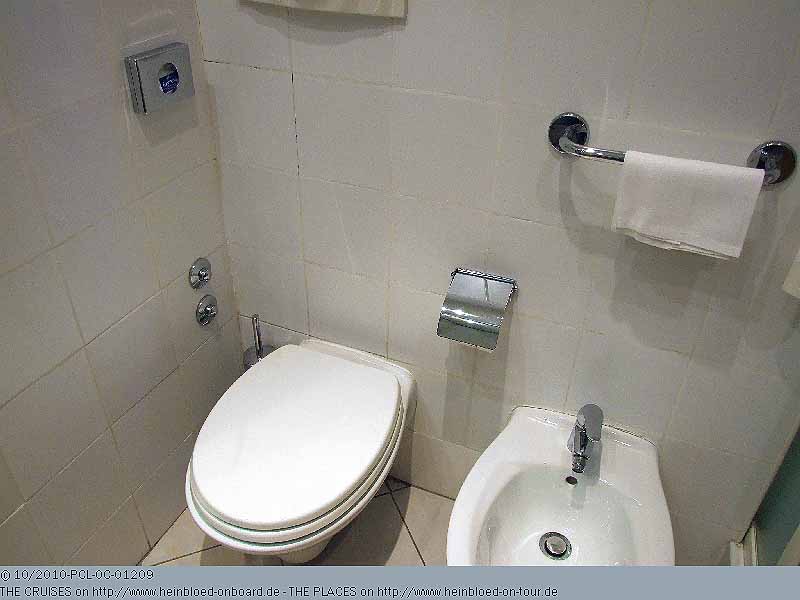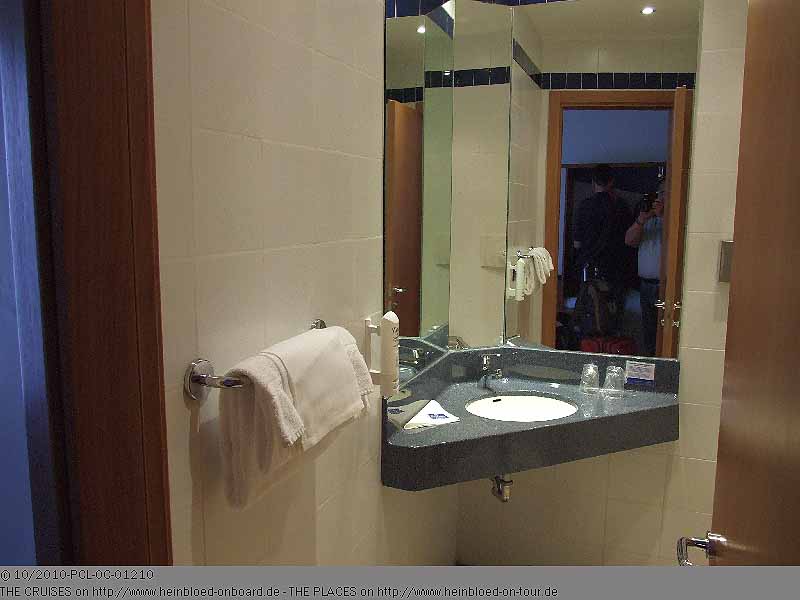 From our balcony we could see the train station of Tuscolana.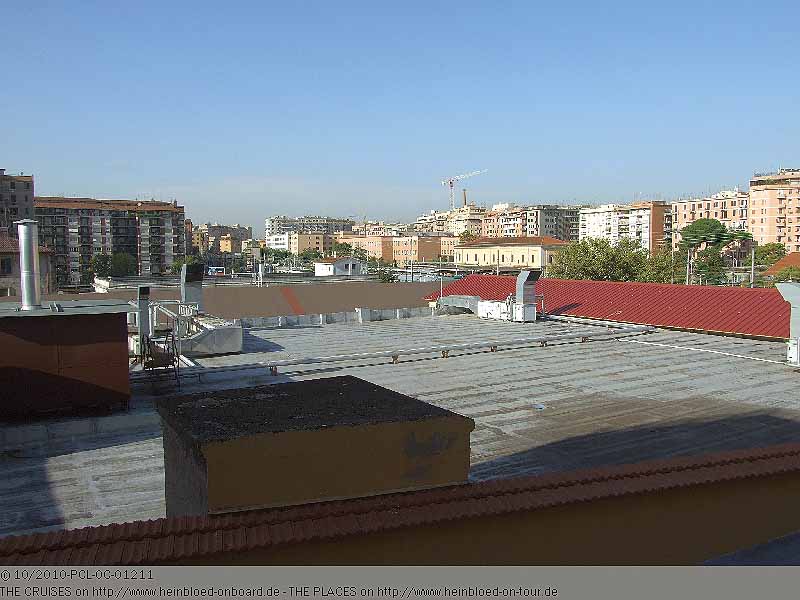 Vom Balkon können wir schon den Bahnhof Tuscolana sehen.
Einfach die Straße ca. 300 m runter.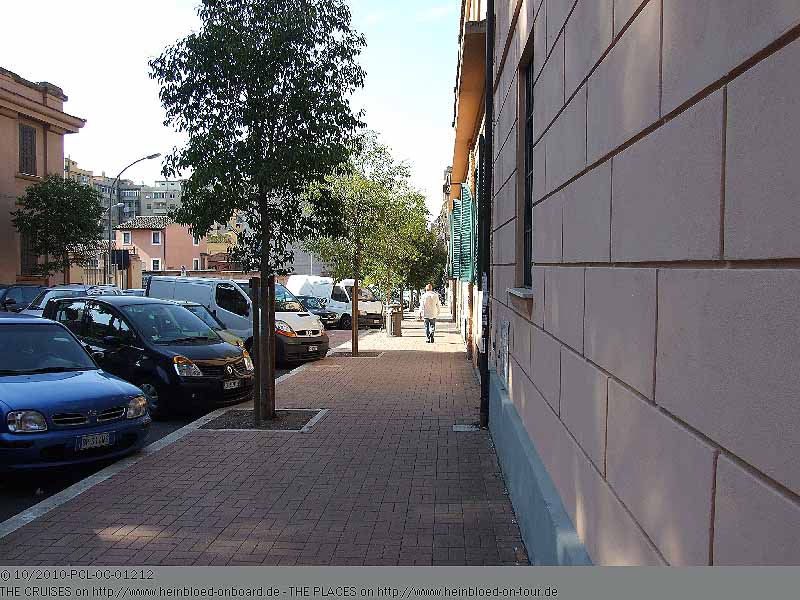 Just down the road about 300 yards.

Or up if you arrive from the train station... Originally it was planned to travel to this place with small bags. We would store our big bags at the Hotel Riviera. Take a 3-hours-rental from Hertz at the airport, collect our bags and go straight to the port. But when he had the plans, there was none interested in sharing a transfer with us.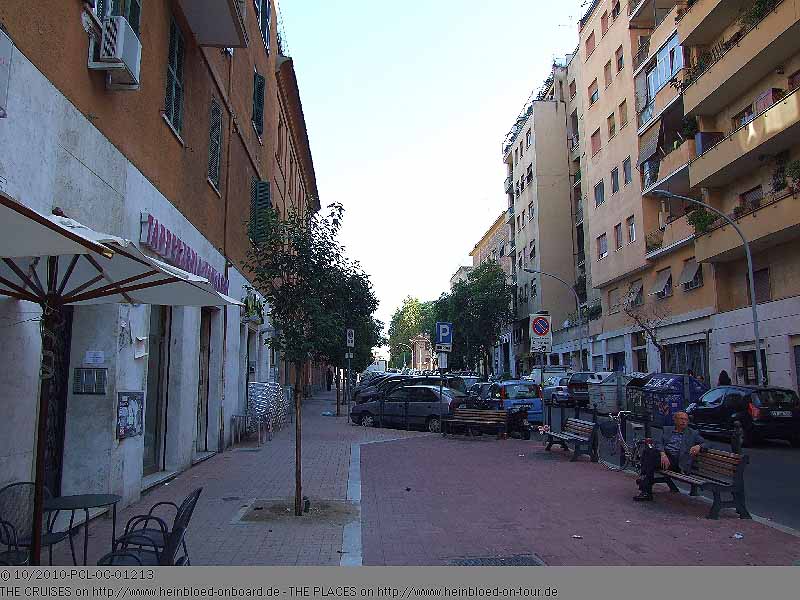 Oder rauf, wenn man vom Bahnhof kommt... Ursprünglich war geplant, dass wir nur mit kleinem Gepäck hier anreisen und die großen Koffer im Hotel Riviera lassen und dann einen 3-Stunden-Mietwagen von Hertz nehmen, um vom Flughafen unser Gepäck abholen und dann zum Hafen fahren. Aber damals gab es noch niemanden, der mit uns die Transfers teilen wollte.
50 Meter weiter Richtung Bahn.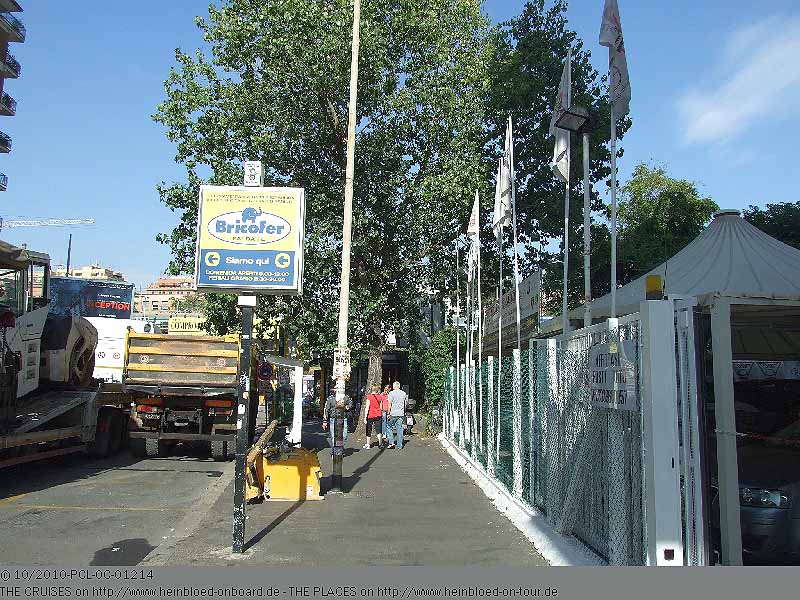 50 yards more to the trains.

The buses could not stop here for the day because there were road constructions under the bridge and you cannot walk to the bus lane.

Die Busse können leider im Moment hier nicht halten, weil unter der Eisenbahnbrücke gebaut wird und daher kommt man nicht an die Fahrbahn ran.
Da wir nicht unter der Brücke im Staub durchwollen, sind wir froh, dass wir die Rampe direkt zum Bahnsteig entdecken.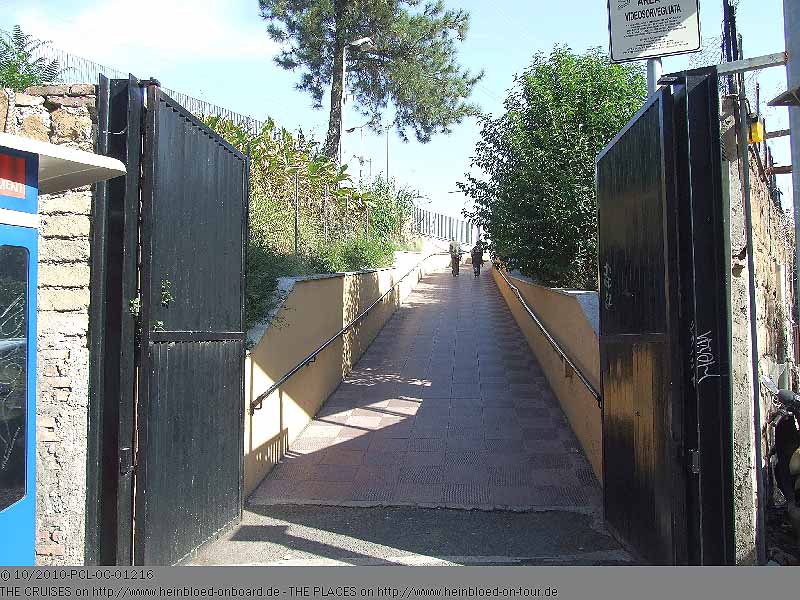 As it looked too dusty for us to walk under the bridge we were happy to find the direct access to the platform.

So we arrived directly at platform 8.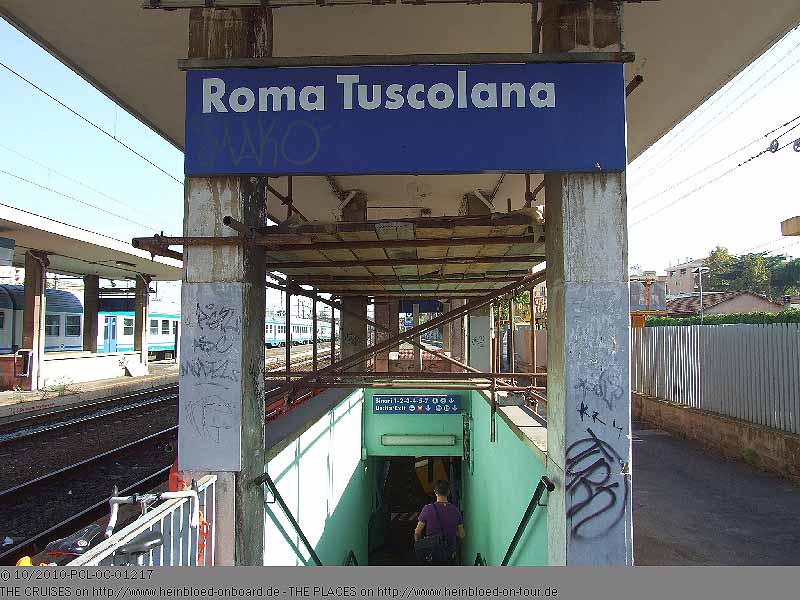 So sind wir direkt am Gleis 8.
Von hier kommt man beispielsweise direkt mit der S-Bahn FR1 (nicht Leonardo Express) zum Flughafen. Die Züge der S-Bahn FR5 nach Civitavecchia halten hier auch...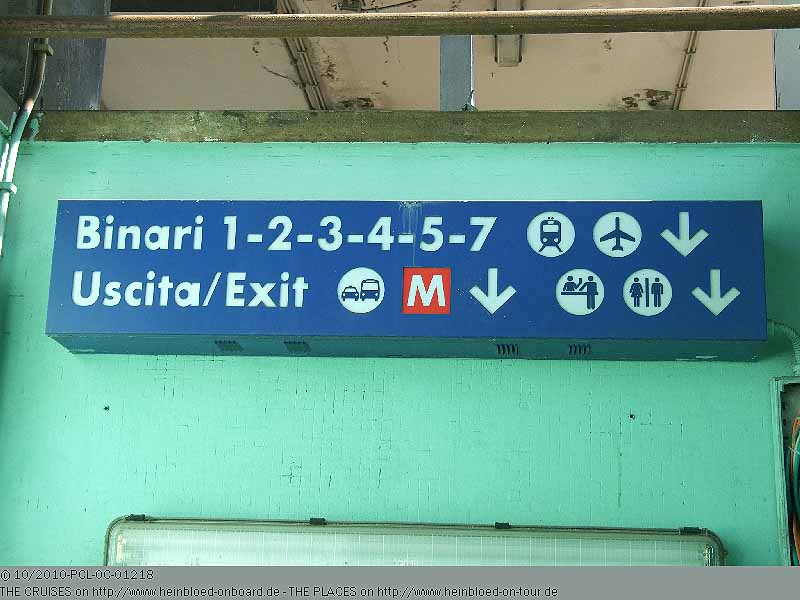 You can get here directly by commuter train FR1 (not Leonardo-Express) to the airport. The Civitavecchia-bound commuter trains FR5 stops here as well...

Just to remember what exit we need to find if we return to the hotel: via Tuscolana.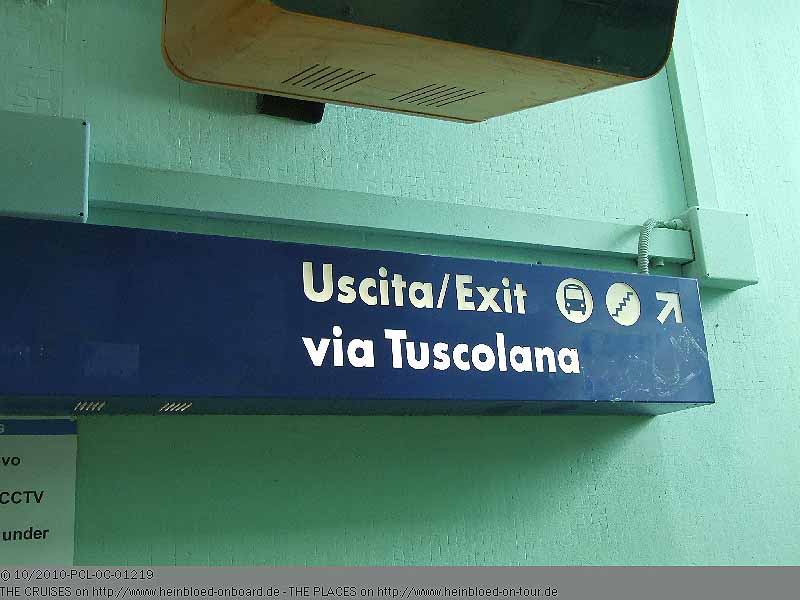 Für den Rückweg zum Hotel merken wir uns schon mal vor, dass wir zur via Tuscolana müssen.
Die anderen Reisen in diesem Blog/
The other voyages in this blog: