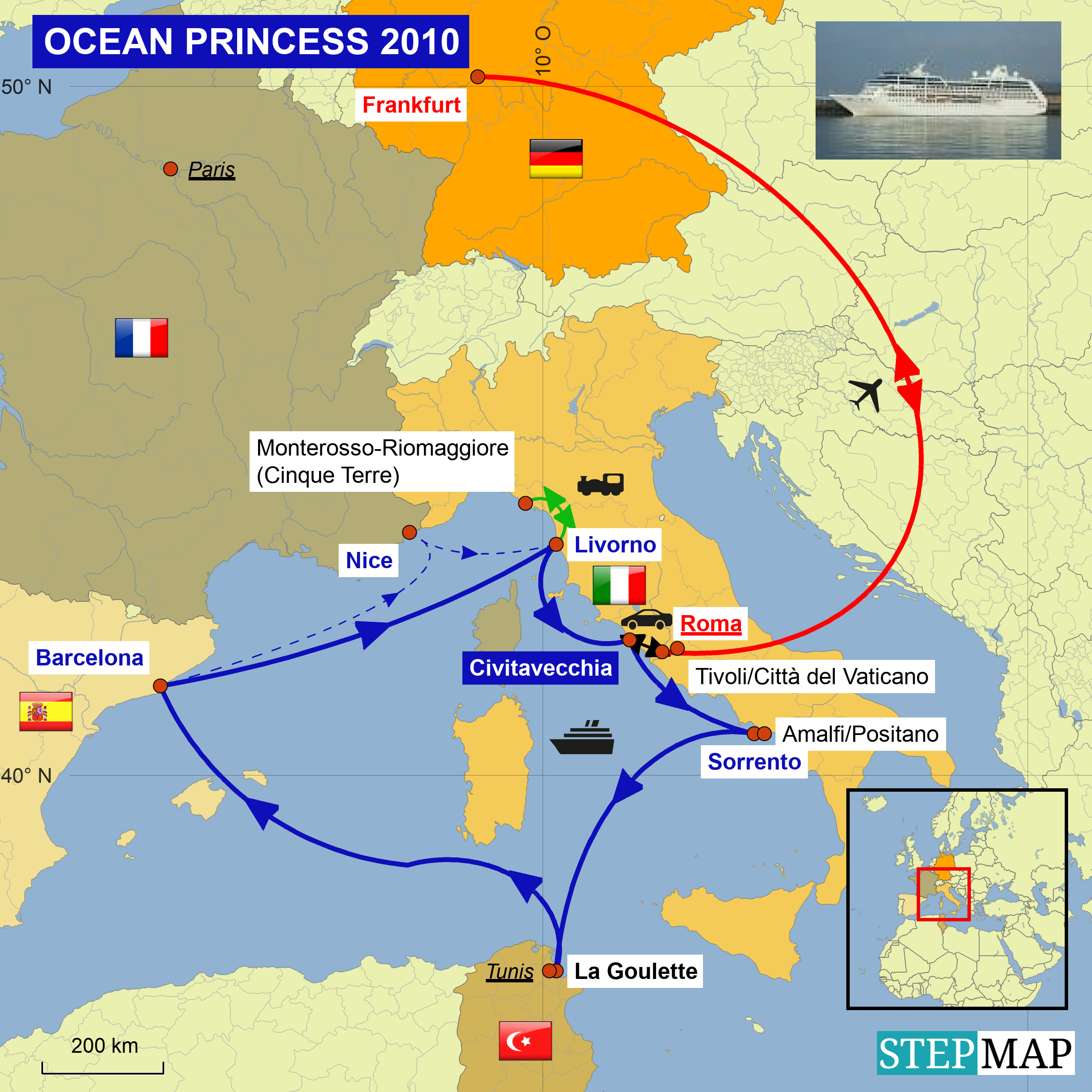 Mit einigen Tagen Abstand möchte ich mal mein Fazit dieser Reise zusammenfassen.
### OCEAN PRINCESS in Dover ###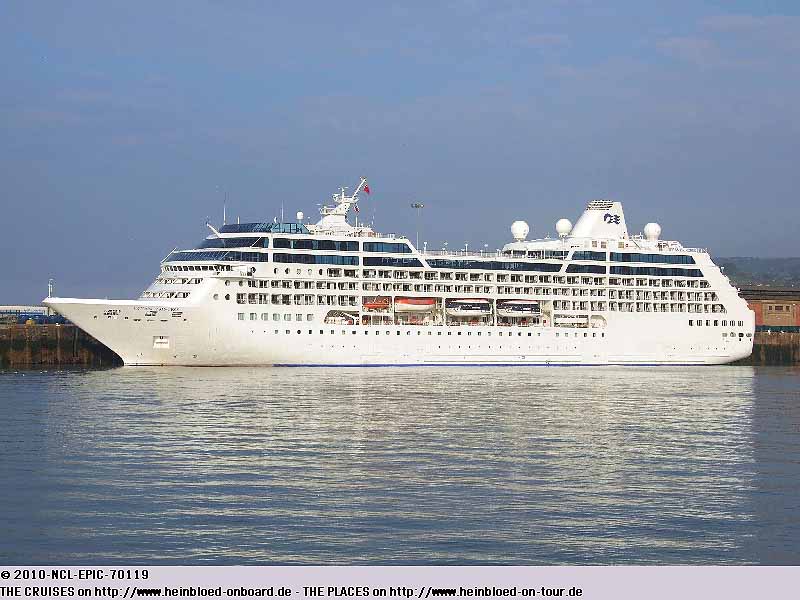 ### OCEAN PRINCESS in Dover ###



Now with a few days distance, I would like to sum up my personal conclusion.

We went already on tiny, old ships with few stars only like BLACK PRINCE 2008 and 2009



### BLACK PRINCE in Funchal ###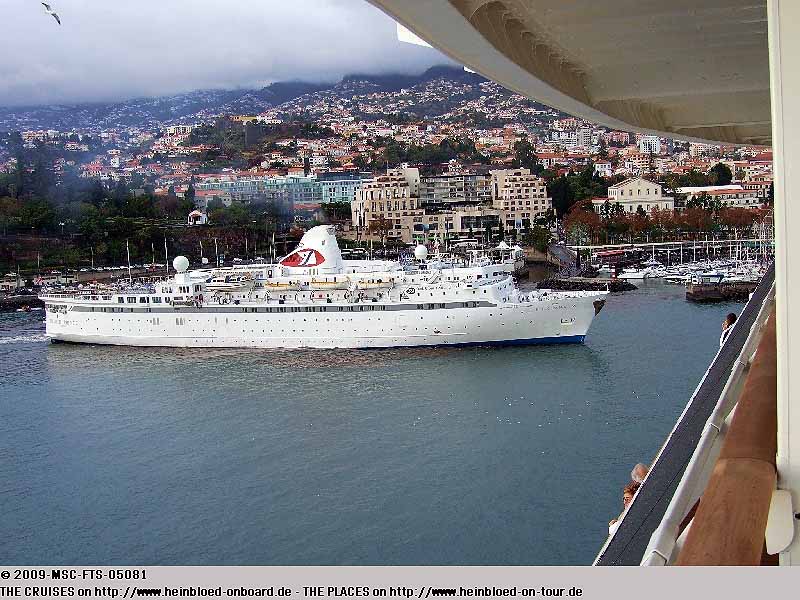 ### BLACK PRINCE in Funchal ###
Wir waren schon auf sehr kleinen, alten Schiffen mit wenigen Sternen wie der
BLACK PRINCE 2008
und
2009
und auch auf Schiffen wie der
NORWEGIAN EPIC 2010
,
### NORWEGIAN EPIC in Rotterdam ###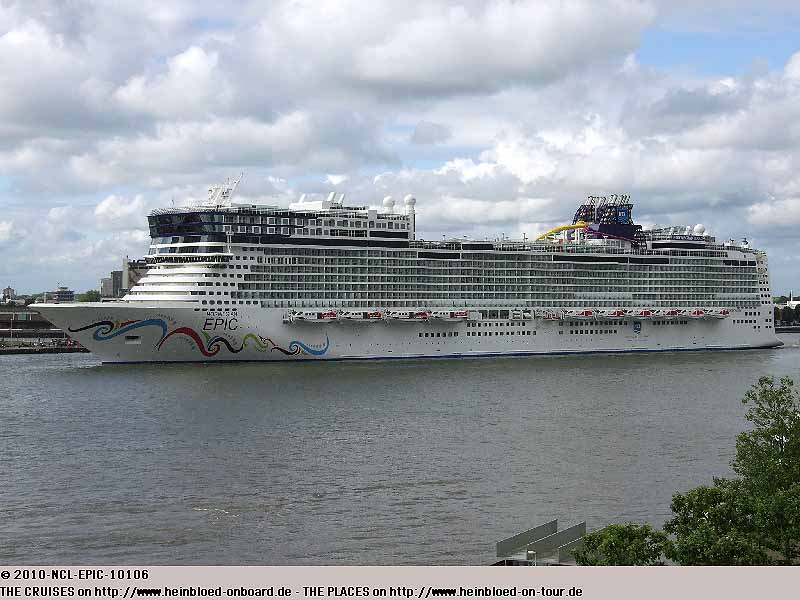 ### NORWEGIAN EPIC in Rotterdam ###



but also on ships like NORWEGIAN EPIC 2010,

MSC FANTASIA 2009, QUEEN MARY 2 2009, CELEBRITY EQUINOX 2010 and my favorite ship EURODAM 2008 and 2009.



### EURODAM in Hamburg ###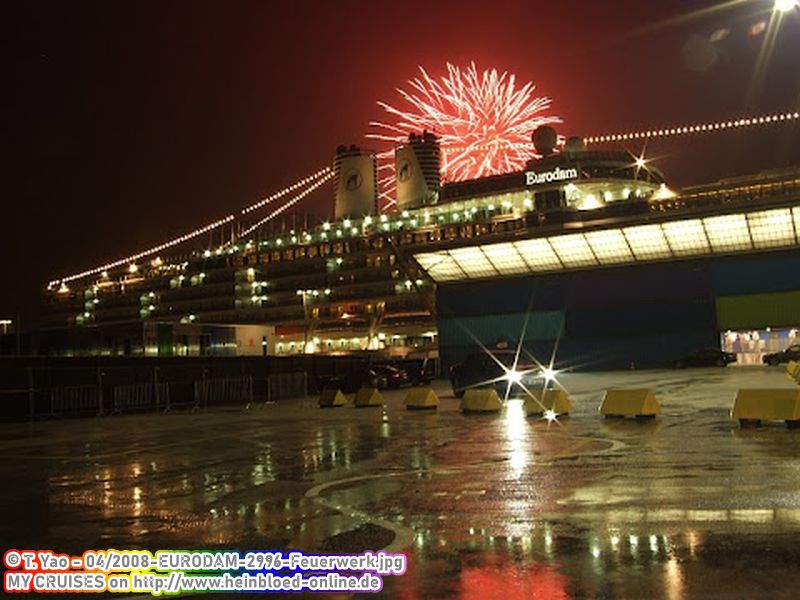 ### EURODAM in Hamburg ###
MSC FANTASIA 2009
,
QUEEN MARY 2 2009
,
CELEBRITY EQUINOX 2010
und mein Lieblingsschiff
EURODAM 2008
und
2009
.
Auch Schiffe dieser Größe wie
BOUDICCA 2009
,
ARTEMIS 2010
, OCEAN COUNTESS (damals
LILI MARLEEN 2006
),
DELPHIN VOYAGER 2010
sind uns nichts unbekanntes.
### DELPHIN VOYAGER in Kiel ###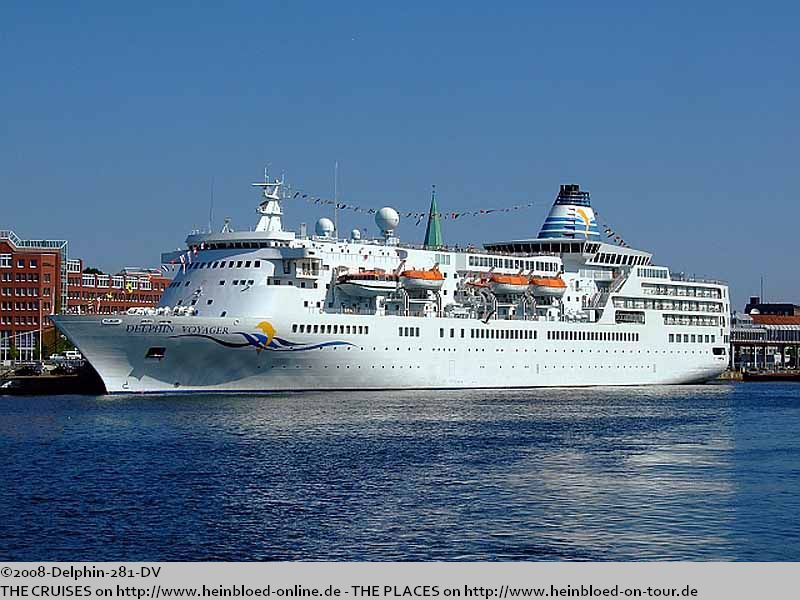 ### DELPHIN VOYAGER in Kiel ###



Also, smaller ships of comparable size like BOUDICCA 2009, ARTEMIS 2010, OCEAN COUNTESS (our very first cruise as LILI MARLEEN 2006), DELPHIN VOYAGER 2010 are nothing strange to us.

But with every new cruise, we made our standards increase, and we cannot rate a ship in an objective way for us but always in comparison to our previous voyages.

So what we like and what we dislike apply only to each of you and us might have your own and different opinion on the ship.

### No need for a big show: Justin Miller on EURODAM on his guitar playing Pachelbel's Canon ###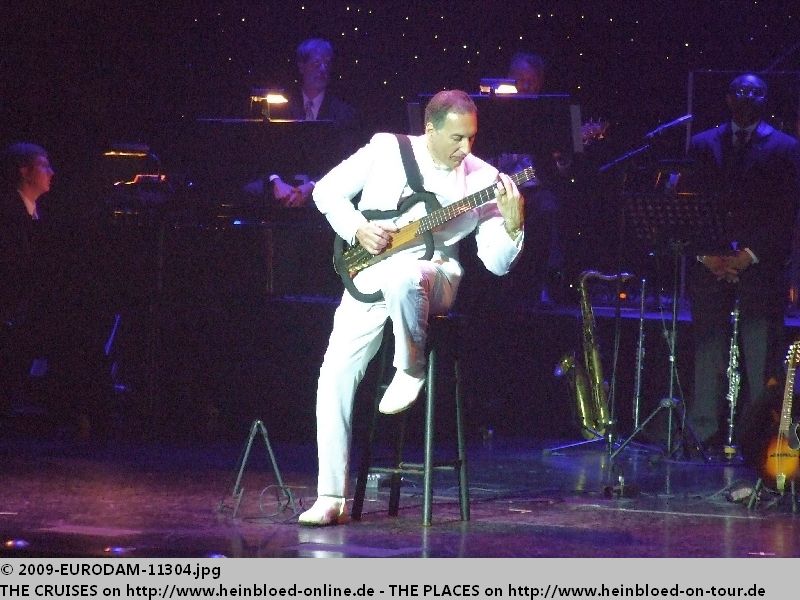 ### Es muss keine große Show sein: Justin Miller auf der EURODAM mit Pachelbels Kanon auf seiner E-Gitarre ###
Mit jeder Kreuzfahrt, die wir machen, steigen allerdings unsere Ansprüche und uns gelingt es nicht mehr objektiv ein Schiff für uns zu bewerten, sondern immer nur im Vergleich zu den bisherigen Reisen.
Daher was uns gefällt oder nicht gefällt, gilt daher nur für uns und jeder andere kann eine andere Meinung von dem Schiff vertreten.
Wir hatten auf dieser Kreuzfahrt absolute Höhepunkte genossen, d. h. das gilt für alle bisherigen Kreuzfahrten:
- Chef's Table
- Dinner auf dem Balkon
- Sabatini's (Italienisches Restaurant)
- Schalentiere
### Teppanyaki auf der NORWEGIAN GEM ###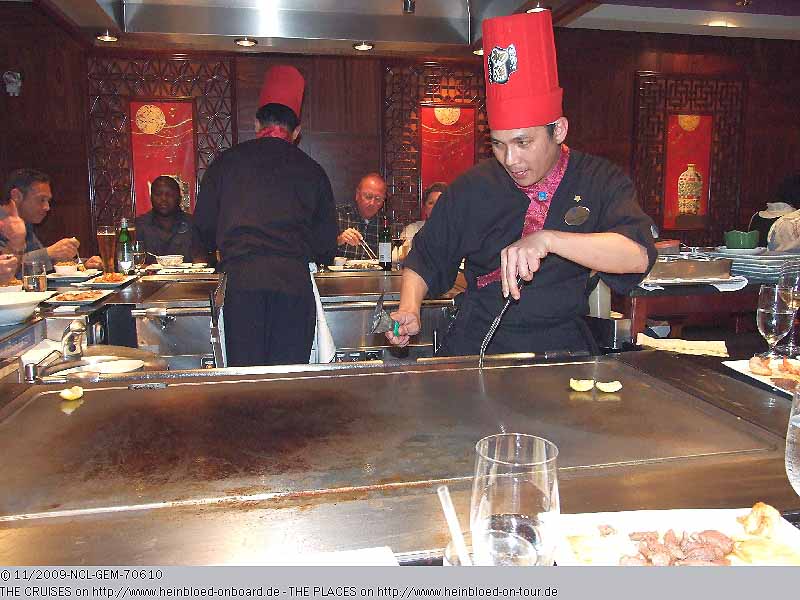 ### Teppanyaki on NORWEGIAN GEM ###



We also enjoyed on this cruise our ultimate highlight, i.e., it applies to all the cruises we had so far:

- Chef's Table
- Ultimate Balcony Dinner
- Sabatini's (Italian Restaurant)
- Shellfish

We liked very much

- the ship - really a lovely country inn style
- the calls in Livorno, Barcelona and in theory in Nice where we berthed or would berth very close to the city centers
- the restaurant service (might sound stupid - but in very few cases there was also too much than too less)
- the friendly welcome in our cabin
- a captain you may touch: Stefano Ravera



### NORWEGIAN GEM in the industrial port of Livorno ###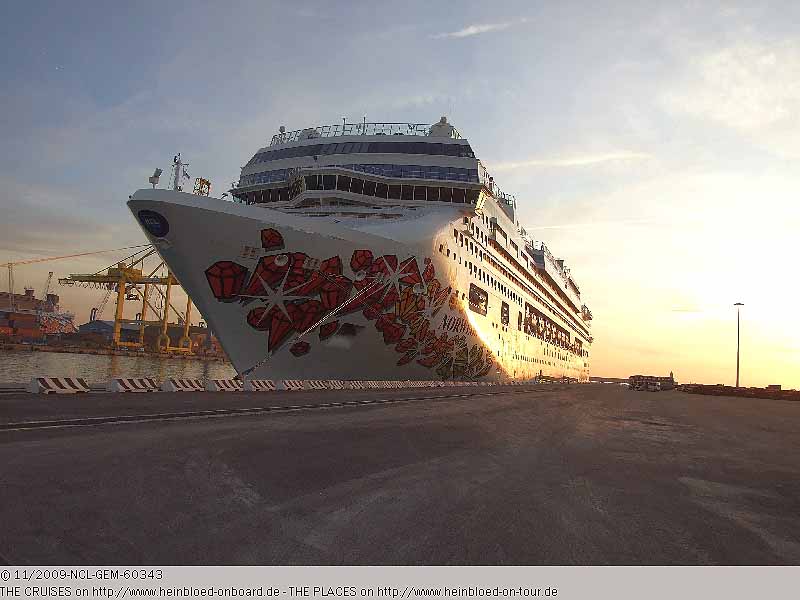 ### NORWEGIAN GEM im Industriehafen in Livorno ###
Sehr gut gefallen hat uns
- das Schiff - wirklich ein schöner Landhaus-Stil
- die Anläufe in Livorno, Barcelona und theoretisch in Nizza, bei denen wir sehr stadtnah angelegt haben bzw. hätten
- der Restaurant Service (in Einzelfällen auch schon mal zu viel als zu wenig - auch wenn es blöd klingt)
- der freundliche Empfang in der Kabine
- ein Kapitän zum Anfassen Stefano Ravera
Nicht ganz so gut gefallen hat uns
- dass es kein anytime dining gibt, obwohl dafür Platz gewesen wäre, weil wohl das Personal dafür fehlte
- dass alle Speisen (außer Chef's Table, Dinner auf dem Balkon, Sabatinis und Meeresfrüchte) immer nachgewürzt werden mussten (Policy)
- die Qualität des Fleisches - das haben wir schon anders erlebt, auch im Zuzahlrestaurant-Bereich!
- die Qualität des Kaffees - es gab entweder das eine extrem: Sirup-Kaffee oder gegen Bezahlung einen extrem stark geröstetem Kaffee
- das Geschirr im Hauptrestaurant: war wie in unserer Kantine
- ein fehlender Kleiderhaken in der Kabine
### Das allerbeste Filet Mignon im L'Étoile auf der MSC FANTASIA ###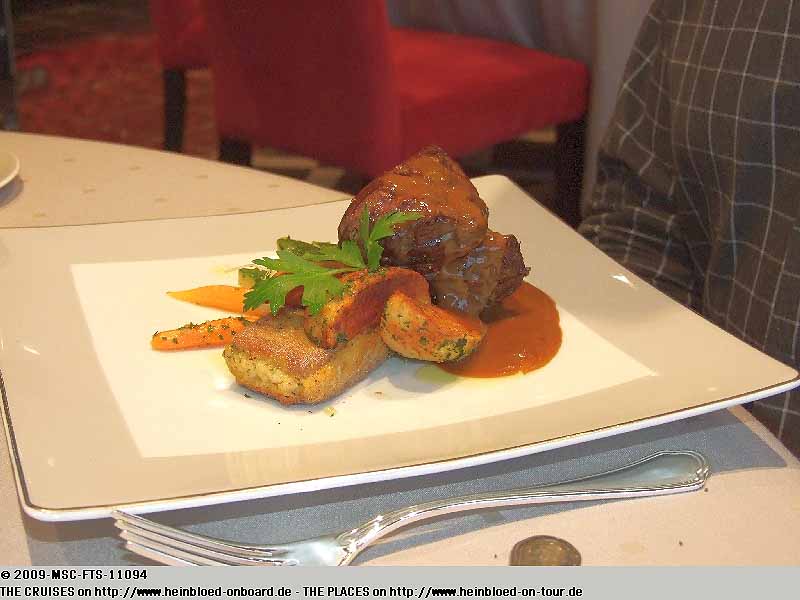 ### The very best Filet Mignon in L'Étoile on MSC FANTASIA ###



We did not like so much:

- the missing anytime dining option although there was space but no crew members available
- that you need to post-season all dishes (except Chef's Table, Ultimate Balcony Dining, Sabatini's and all seafood) due to their policy
- the quality of the meat - that is something we experienced much better especially in restaurants with cover charges!
- the quality of the coffee - you could have the one extreme: syrup-coffee or against payment extreme strong roasted coffee
- the china in the main dining room: looked like in our canteen
- a missing hook to hang wet clothes in your cabin

What made me angry were

- the shows - I dislike the own right composition, and the Motown-Show was very weak, and I was really looking forward to seeing - but that is a question of individual taste
- the last night before debarkation: as no bags will be collected after 22:00 hrs
- the missing reception in the night time incl. missing phone numbers on the public phones



### Better than Gladys Knight and the Pips: Midnight Train to Georgia on QUEEN ELIZABETH 2 ###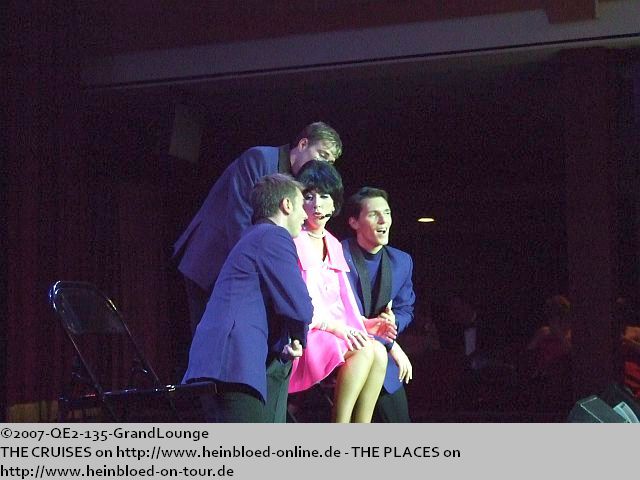 ### Besser als Gladys Knight and the Pips: Midnight Train to Georgia auf der QUEEN ELIZABETH 2 ###
Ärgerlich waren
- die Shows - so diese echten EIgenkompositionen mag ich nicht und die Motown-Show, auf die ich mich sehr gefreut hatte, war irgendwie sehr schwach
- der Ablauf am letzten Abend vor der Ausschiffung: dass nach 22:00 Uhr kein Gepäck mehr eingesammelt wird
- die fehlende Rezeption nachts inkl. fehlende Telefonnummern an den öffentlichen Apparaten
Zu meinen Problemen
Matratze: ich bin nun 40 mal auf Kreuzfahrtschiffen unterwegs gewesen und hatte bislang noch nie Probleme gehabt. Kann passieren, aber irgendwie muss sich ja ein Hotelbetrieb auf so eine Situation einstellen, dass es eben auch Gäste gibt, die eine Alternative brauchen.
### Die allerbeste Matratze auf See gibt es bei Holland America Line: wie hier auf der EURODAM ###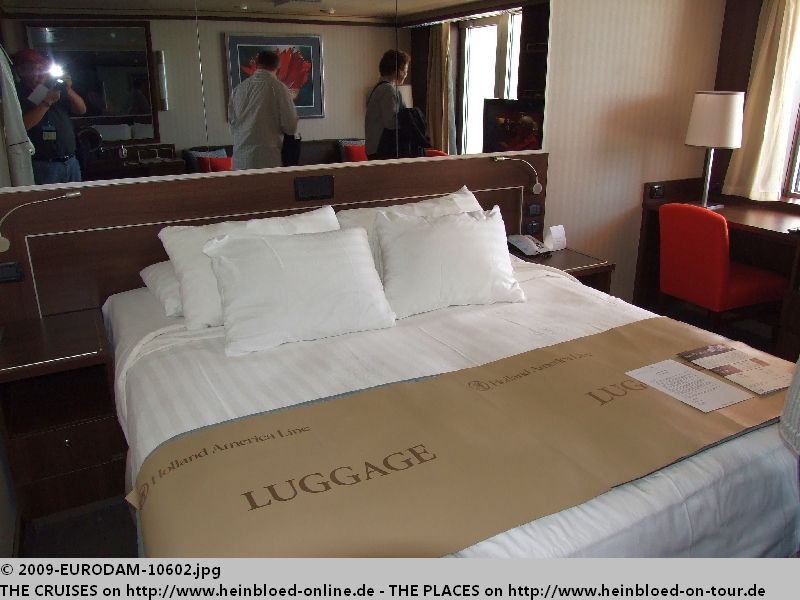 ### The very best mattress on sea you get on Holland America Line: like here on EURODAM ###



Coming back to my problems

Mattress: I had 40 cruises before and never had a problem to sleep. Could happen but a good hotel organization needs to be prepared for such a situation that there are guests who might need alternatives.

Air Condition: This may happen on ships. May also occur in a hotel ashore. But there you might change the hotel. We had the same comparable problems on CENTURY 2008, on EURODAM (and she is still my favorite ship), etc.. We accepted the critic of a Hotel Director that it might be on us. That is why we travel with our thermometer to find out without changing the settings the temperature varies between 68F and 76F. We also have always our own tape with us so that we do not need to ask anyone for help and we still can feel comfortable.



### We become sick on CENTURY due to the problems with the air-condition in our cabin. ###

### Wir sind auf der CENTURY krank geworden wegen der Klimaanlage in der Kabine. ###
Klimaanlage: Das kann auf allen Schiffen passieren. Auch in einem Hotel an Land. Nur da können wir evtl. das Hotel wechseln. Wir hatten vergleichbare Probleme auch auf der
CENTURY 2008
, auf der EURODAM (und es ist trotzdem mein Lieblingsschiff) usw.. Wir haben damals die Kritik eines Hoteldirektors verstanden, dass es an uns liegen könnte. Deswegen führen wir ein Thermometer mit uns, um dann in diesem Fall festzustellen, dass die Temperatur bei unveränderter Einstellung zwischen 19,9°C und 24,8°C variiert. Wir führen auch immer unser eigenes tesakrepp mit, damit wir eben niemanden darum bemühen müssen, damit wir uns wohlfühlen.
Das Problem waren aber nicht die Matratze bzw. die Klimaanlage, sondern der Umgang mit den Problemen durch einige Mitarbeiter der Rezeption, die z. T. dermaßen arrogant waren, dass sie mir die Reise mehr oder minder verdorben haben. Den Gast wegzuschicken, dass er in der Kabine warten möge, ohne dass eigentlich jemand sofort zur Verfügung steht, um vorbeizukommen, ist ärgerlich. Die fehlende Bereitschaft, einen Supervisor zu holen, weil man einfach von sich überzeugt ist und einfach überheblich sein wollte, um keine Blöße dem Kunden zu zeigen, hat mich wirklich angekotzt (Sorry - aber es gibt keinen passenderen Ausdruck).
### Eine süße Entschuldigung auf der WESTERDAM ###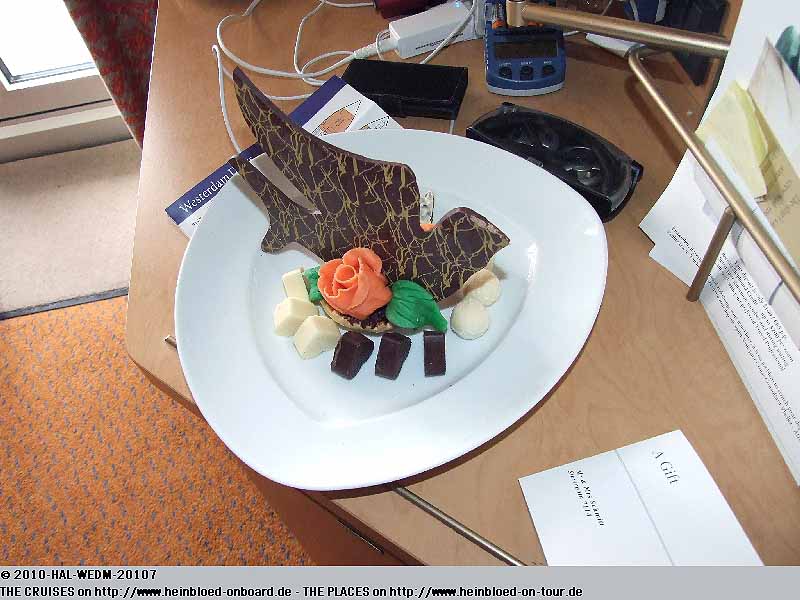 ### A sweet apology on WESTERDAM ###



The problem was not neither the mattress nor the air-condition but the way some staff members of the front desk dealt with my issue, and who were partly so arrogant that I would say that they ruined my vacation. To send away the guest and to let him wait in the cabin although there was none who can come at short-notice was more than angry. The missing willingness to call a supervisor because you have too much self-confidence and you want to be bigheaded just to win against the guest really pissed me off (sorry - but there is no more suitable expression).

Sue (Front Desk Manager) and Stefano (First Purser) learned on the 6th day on my problem and acted accordingly, and not just gave words.

I am not sure if I would act in such a professional way they acted: I might give up the guest because it was already the 6th of totally eight days and they did everything that I can see that it can work and I have reasons to book Princess again. That was totally great what they did in the very last two days.



### White plates which do not look like our canteen on CELEBRITY EQUINOX ###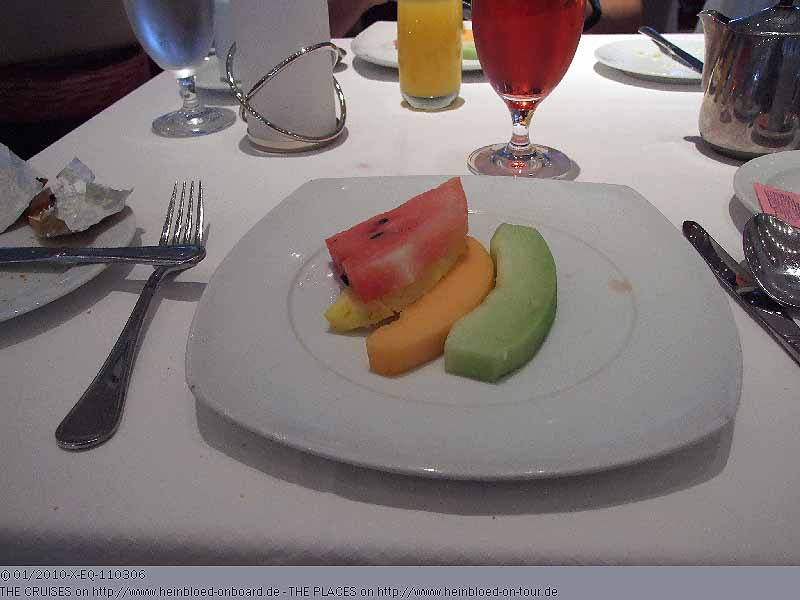 ### Weiße Teller, die nicht so aussehen wie in unserer Kantine auf der CELEBRITY EQUINOX ###
Sue (Front Desk Manager) und Stefano (First Purser) haben am 6. Tag der Reise von den Problemen erfahren und entsprechend gehandelt und nicht nur gesprochen.
Ich weiss nicht, ob ich so prefessionell reagiert hätte wie sie es getan haben: ich hätte vermutlich den Gast aufgegeben, weil es bereits der 6. von acht Tagen war und sie haben aber alles getan, damit ich sehe, dass es auch anders laufen kann und ich mal wieder Princess buche. Das war absolut klasse, was sie in den letzten zwei Tagen geleistet haben.
Würden wir wieder OCEAN PRINCES buchen???
Evtl. - das Problem war einfach der Tag, an dem wegen Seegangs die offenen Bereiche geschlossen waren. Da war es einfach zu klein auf dem Rest, der blieb. Daher müsste die Route stimmen und wir neue Häfen und Plätze entdecken, die wir mit anderen nicht erreichen können. Nichts dagegen, dass wir neue Freundschaften schließen, wie mit Lori, Jim, Nina und Cheryll, aber wir mögen nun mal lieber die flexible Tischzeit. Daher sehr schade, dass jeden Abend ein Restaurant leer stand, in dem man eigentlich ein entsprechendes Angebot machen könnte.
### Elegante Teller im Hauptrestaurant auf der WESTERDAM ###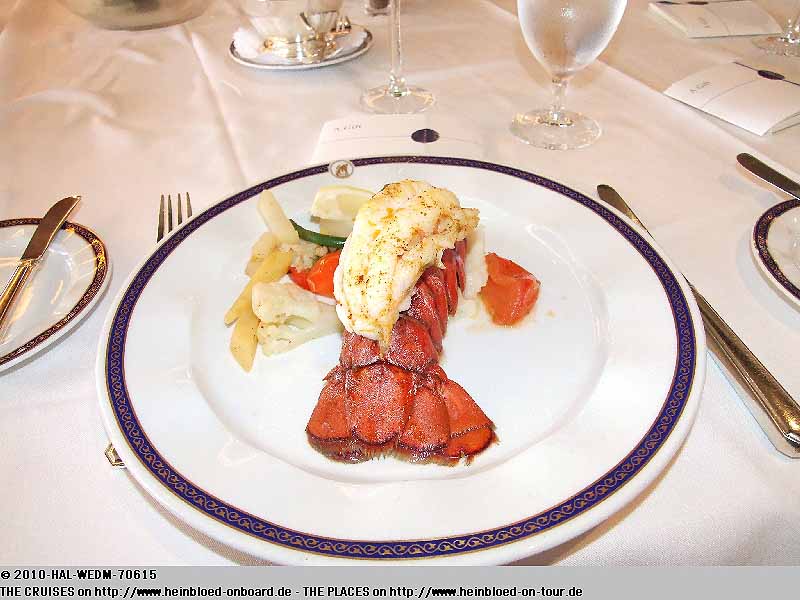 ### Elegant plates in the main dining room on WESTERDAM ###



Would we book OCEAN PRINCESS again???

Maybe - the problem was the day when all open areas were closed due to sea movements. It was too small for the remained area. So the itinerary must be perfect, and we need to discover a new port and places we cannot make it with others. Nothing against new friends like Lori, Jim, Nina and Cheryll but we prefer the flexible dining. So sorry to learn that one restaurant was every night empty which might be set for this offer accordingly.

Would we book Princess again???

Let us make a direct comparison between Princess, Holland America and Celebrity. We went this year on CELEBRITY EQUINOX, WESTERDAM 2010, and OCEAN PRINCESS. We felt most comfortable. So Holland America would be our first choice. But I had problems which were not transferable. And my opinion can change from one moment to the next on ZAANDAM because we will have an oceanview cabin and there will be another crew on board. In total, I like more the food on Holland America, and the entertainment meet more my demand. A Princess-voyage must be much cheaper if itinerary and ship will be comparable. The hardware CELEBRITY EQUINOX was great, but the restaurant-service did not meet my expectations. But honestly, all three are very close together so I guess small details and prices will influence our decision whom we will book again. So we talk about little things and subtle differences in the range of good to very good and not good to bad. But nevertheless: as long as it is a ship - we are easy to care... as long as they do what we want... Why cannot one cruise line pack all single elements which I like from all my various cruises on one unique ship???



### The best on sea: a walkable closet on GOLDEN PRINCESS ###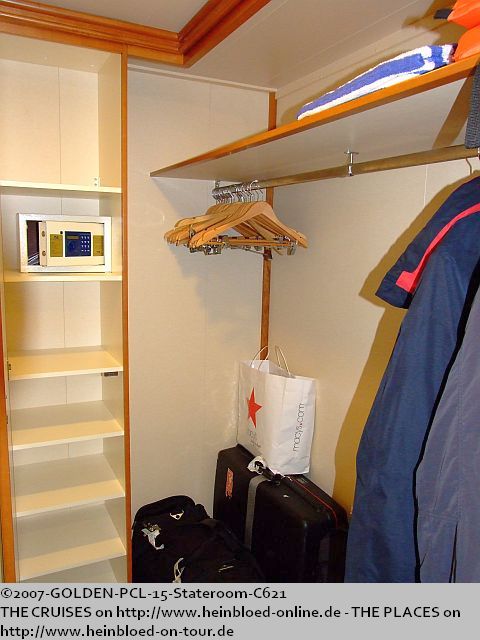 ### Das beste auf dem Meer: ein begehbarer Kleiderschrank auf der GOLDEN PRINCESS ###
Würden wir wieder Princess buchen???
Nehmen wir den direkten Vergleich zwischen Princess, Holland America und Celebrity. Wir waren dieses Jahr auf der CELEBRITY EQUINOX, der
WESTERDAM 2010
und eben OCEAN PRINCESS. Wir haben uns auf der WESTERDAM am wohlsten gefühlt. Deswegen wäre Holland America die 1. Wahl. Auch da hatte ich Probleme, aber die waren wohl kaum übertragbar. Und die Meinung kann sich auf der ZAANDAM schlagartig ändern, weil wir mal dann wieder eine Außenkabine haben und eine andere Crew an Bord ist. Insgesamt fand ich das Essen besser und auch die Unterhaltung ansprechender. Die Princess-Reise müsste schon sehr viel preiswerter sein, wenn die Route und das Schiff vergleichbar wären. Die Hardware CELEBRITY EQUINOX war klasse, aber beim Restaurant-Service lief es nicht immer so rund, wie ich es mir gewünscht hätte. Aber insgesamt liegen eigentlich alle drei sehr eng beieinander, dass vermutlich kleine Nuancen und Preise einfach entscheiden, wen wir wieder buchen. Wir reden also über kleine und feine Differenzen, also eher im Bereich gut und sehr gut statt gut und schlecht. Aber egal eigentlich: Hauptsache Schiff - in der Richtung sind wir ja pflegeleicht... solange sie machen, was wir wollen... Warum kann nicht eine Gesellschaft alle Einzelelemente, die ich von diversen Schiffen mag und auf ein Schiff packen???
Die anderen Reisen in diesem Blog/
The other voyages in this blog: