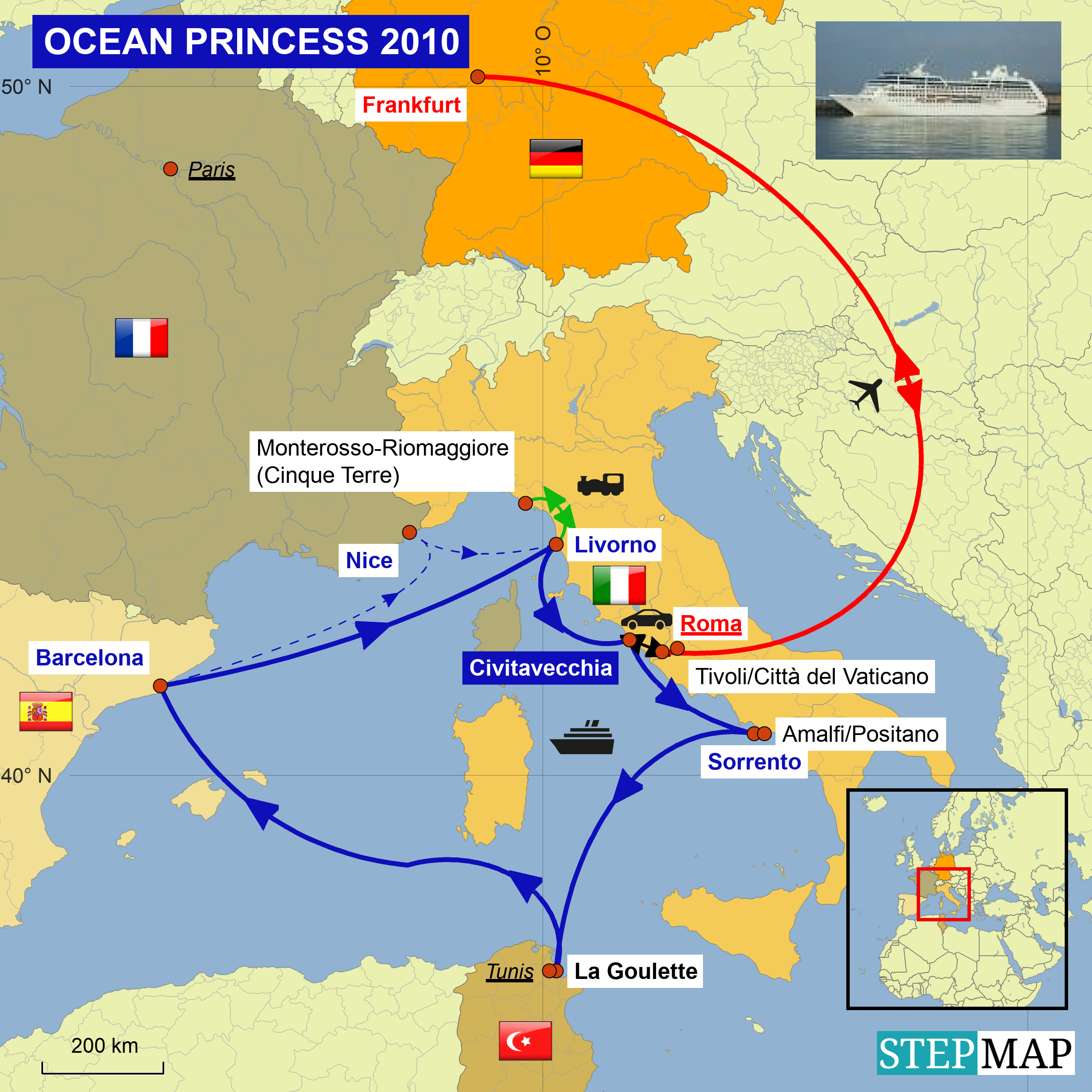 Auf zum letzten Abendessen. Endlich sehen wir mal, was es abends am Büffet gegeben hätte.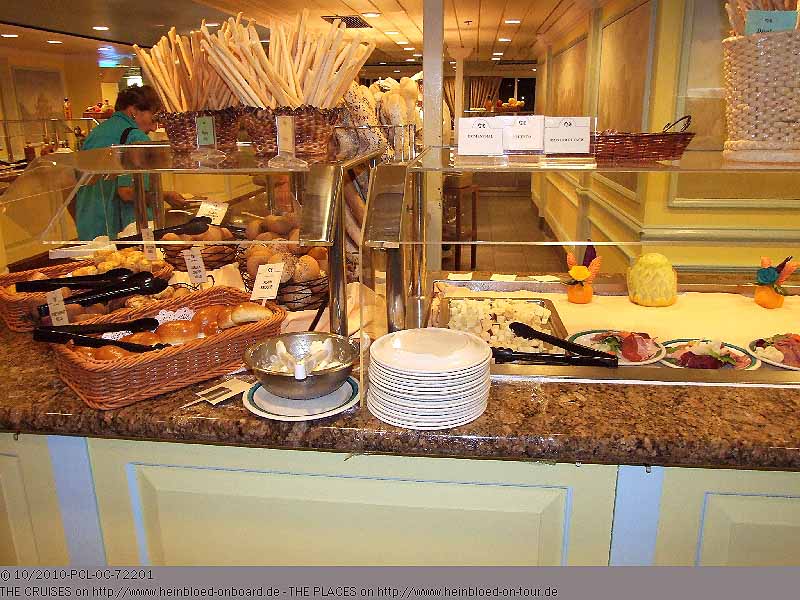 Let us go to the last supper. Finally we found out what would be available at the buffet.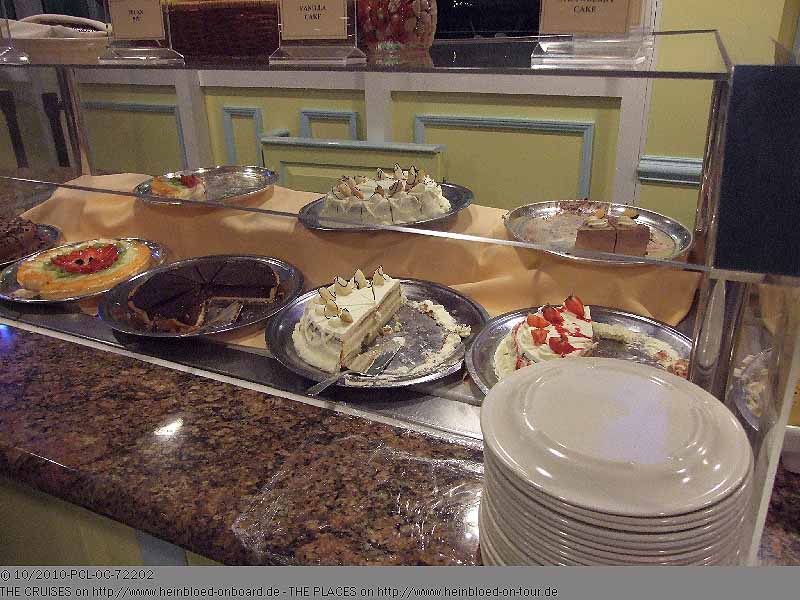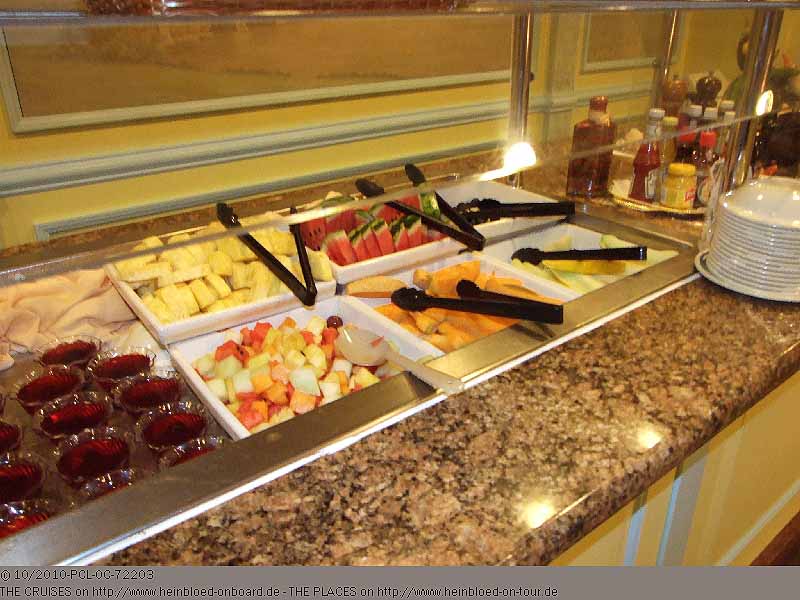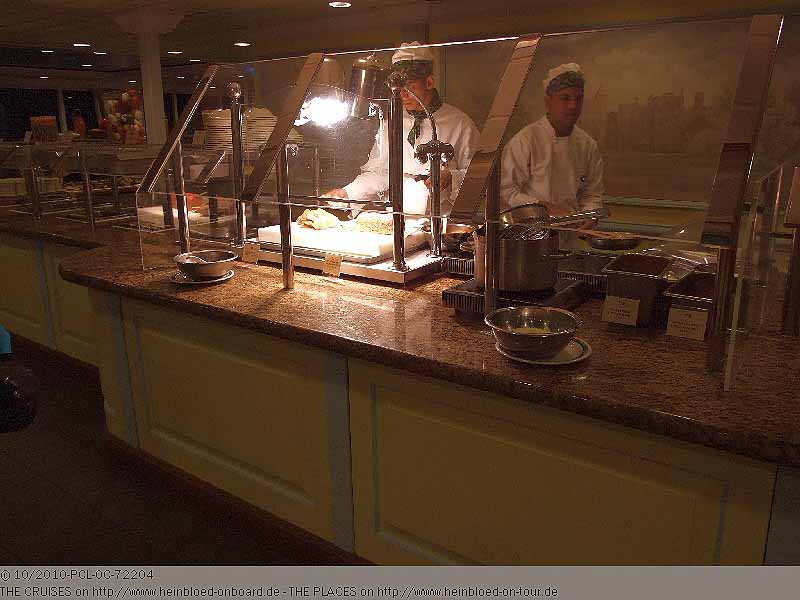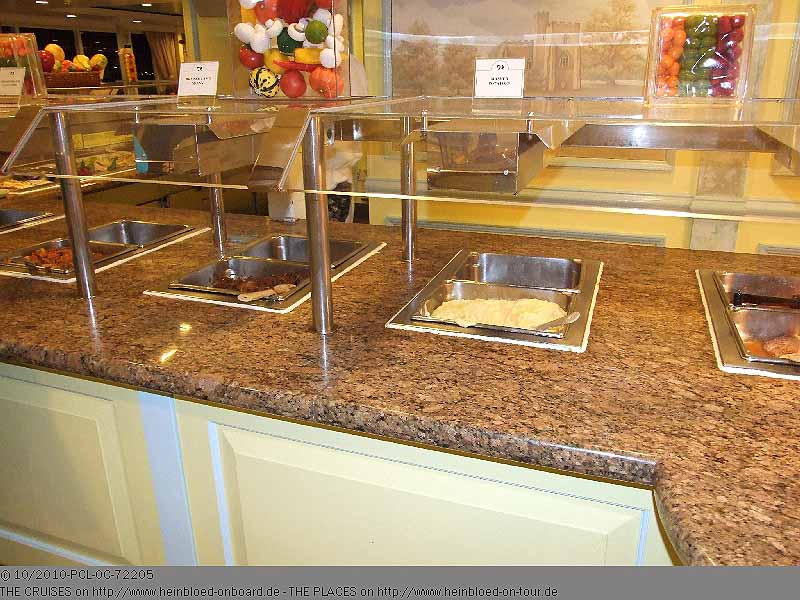 The soups which were available above were the same like on the menu in the Club Restaurant. Maybe you can get here more than downstairs. You do not have all the different salads downstairs. Maybe I should consider for the future and should not have my food downstairs anymore...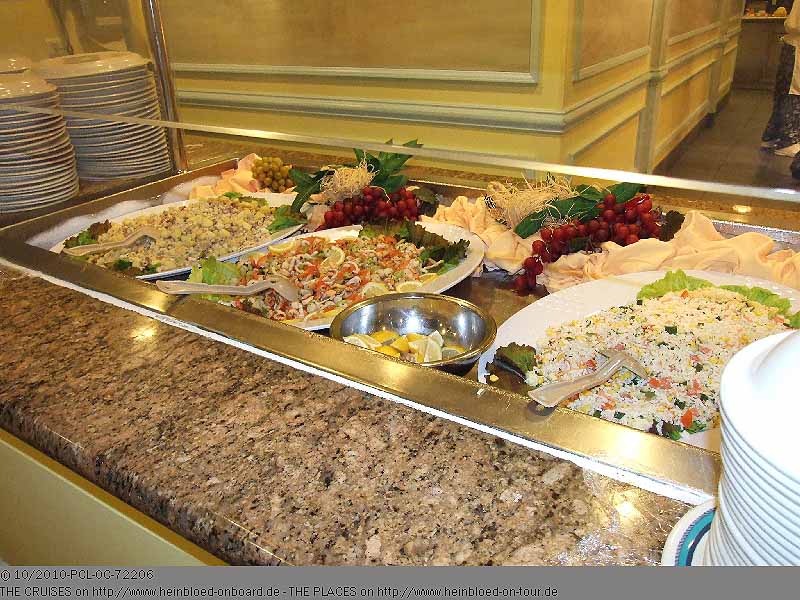 Die Suppen, die oben angeboten wurden, waren identisch mit der Karte im Club Restaurant. Vielleicht gab es ja hier sogar mehr als unten. Die Salate gibt es unten nicht. Vielleicht sollte ich es überdenken und künftig unten nicht mehr essen...
Obwohl wir sieben Tage an Bord waren: Erst jetzt entdecke ich, dass ich hier hätte eine Bratwurst bekommen können.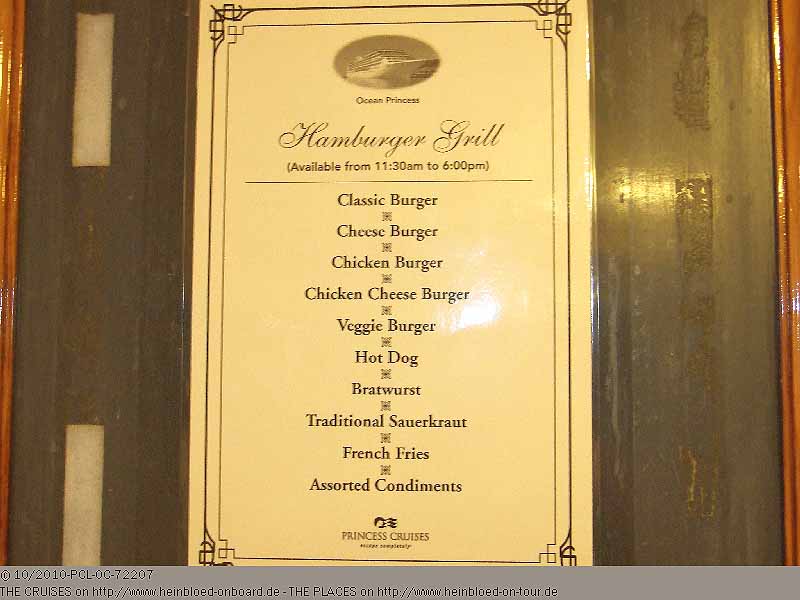 Although we spent seven days on board: now I found out that I could get here a Bratwurst.

Our last round. Finally complete. I could not remember the names of the last two who belonged to our table.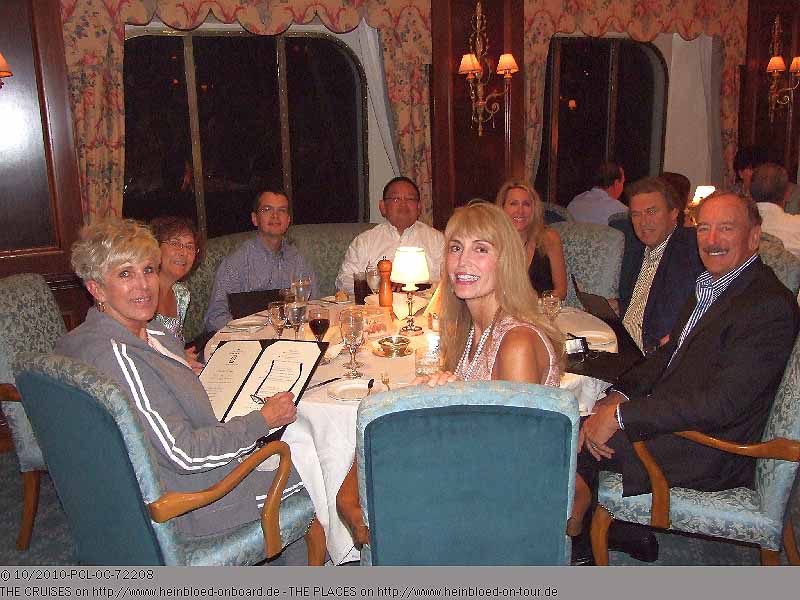 Unsere letzte Runde. Endlich vollzählig. Die Namen der letzten beiden, die zum Tisch gehören, habe ich mir leider nicht gemerkt.
Lori und Jim wollen ihre Erdbeeren, die sie anlässlich ihrer Silberhochzeit bekommen haben, mit uns teilen.

Lori and Jim wanted to share with us their strawberries which they got due to their silver anniversary.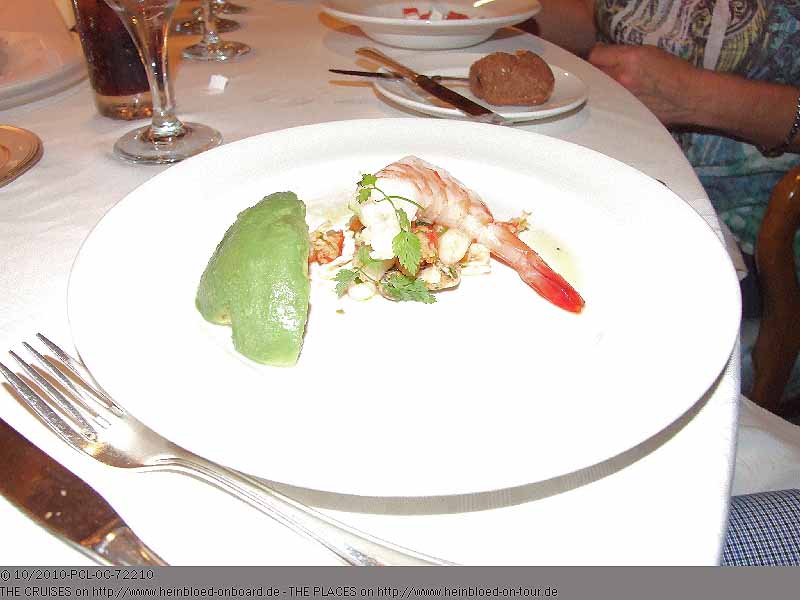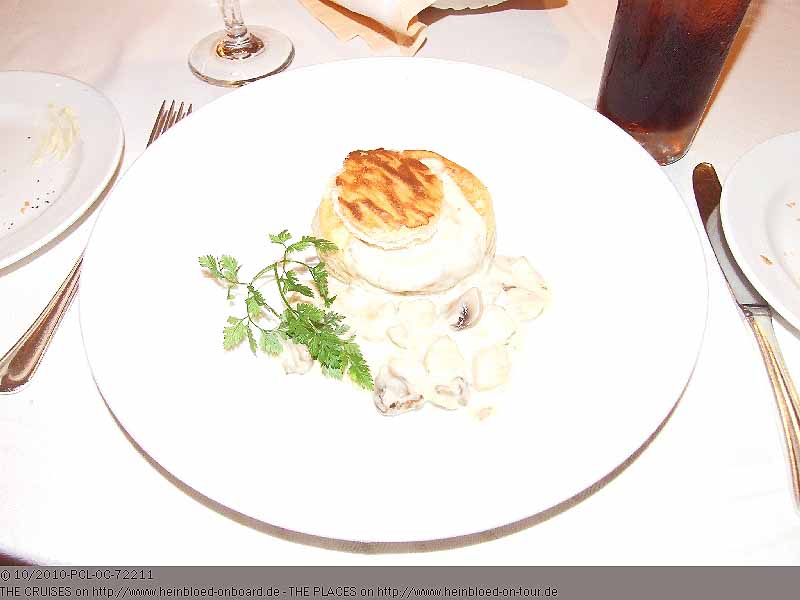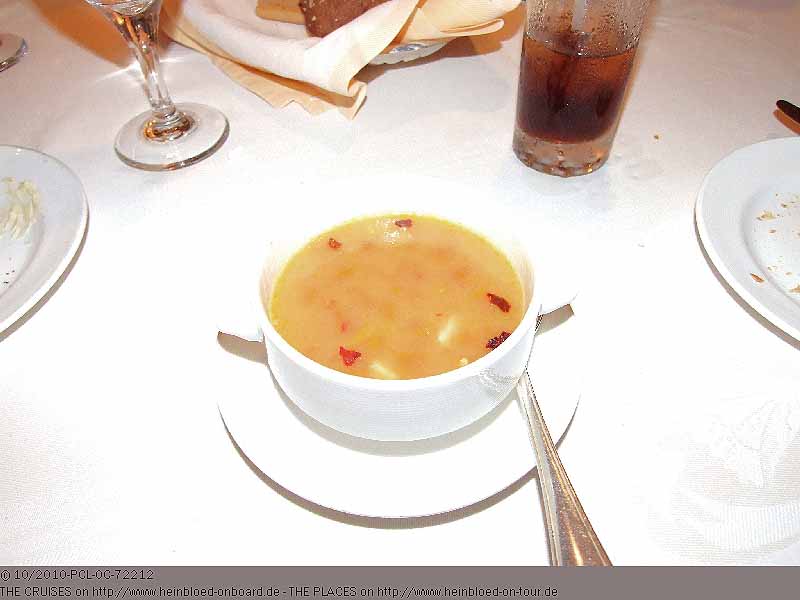 We sat today on the sofa: behind us the waiters can walk around. Very smart.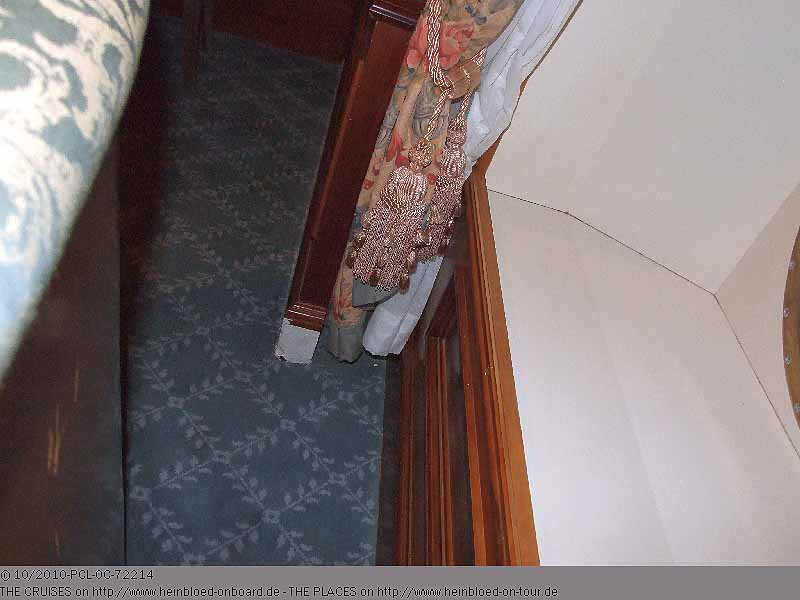 Wir sitzen ja heute auf dem Sofa: hinter uns können die Stewards herumlaufen. Sehr praktisch.
Ich muss mir endlich merken, dass ich bei Princess besser Meeresfrüchte und Fisch essen sollte...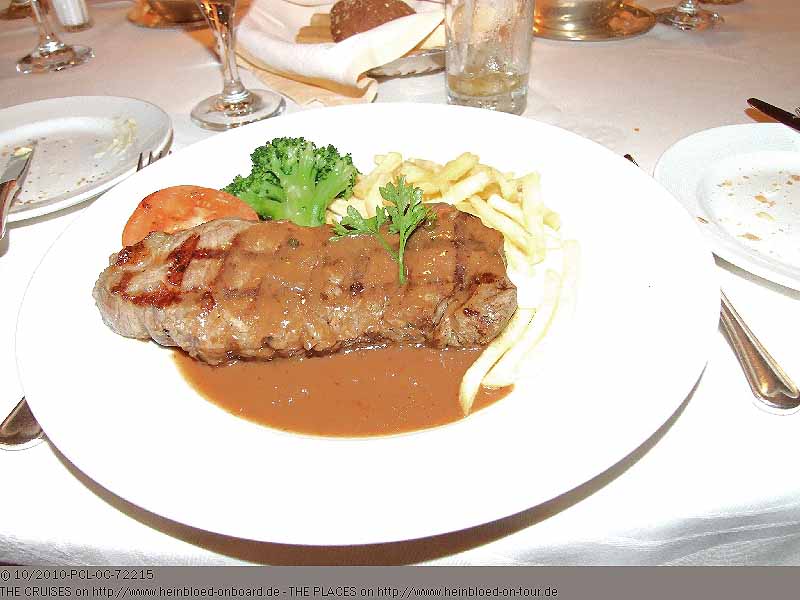 I need to remember that you better should order seafood and fish with Princess...

as "my wife had fish and it was good as usual..."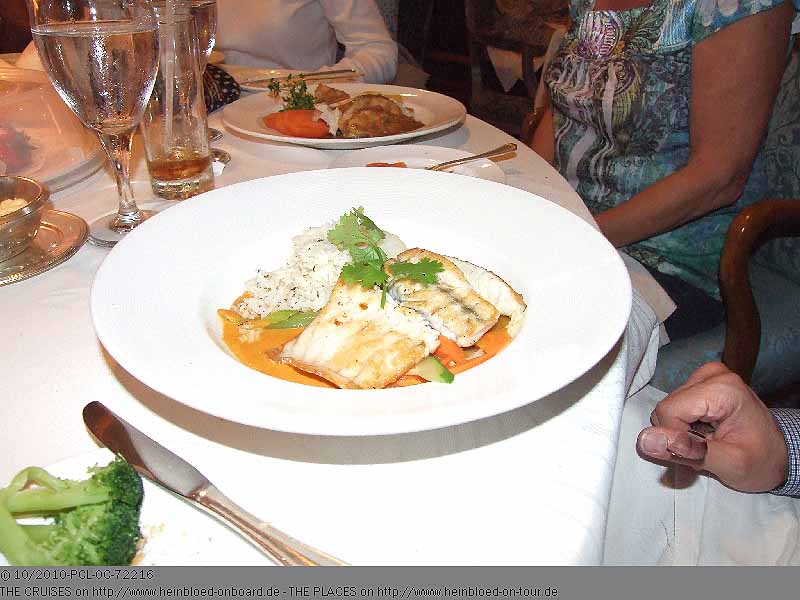 Denn "meine Frau hatte den Fisch und der war gut...".
Es gibt eine Baked-Alaska-Parade.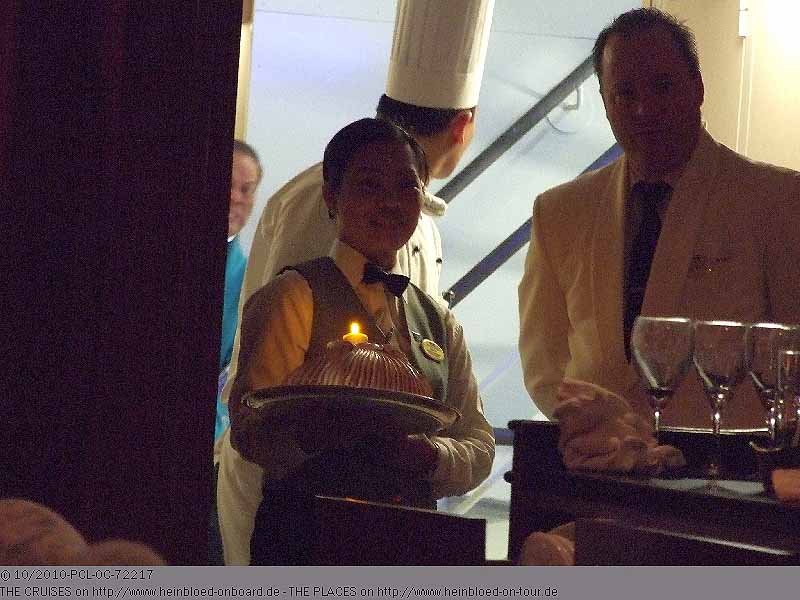 They had a Baked-Alaska-Parade.

We should swing our napkins into the air.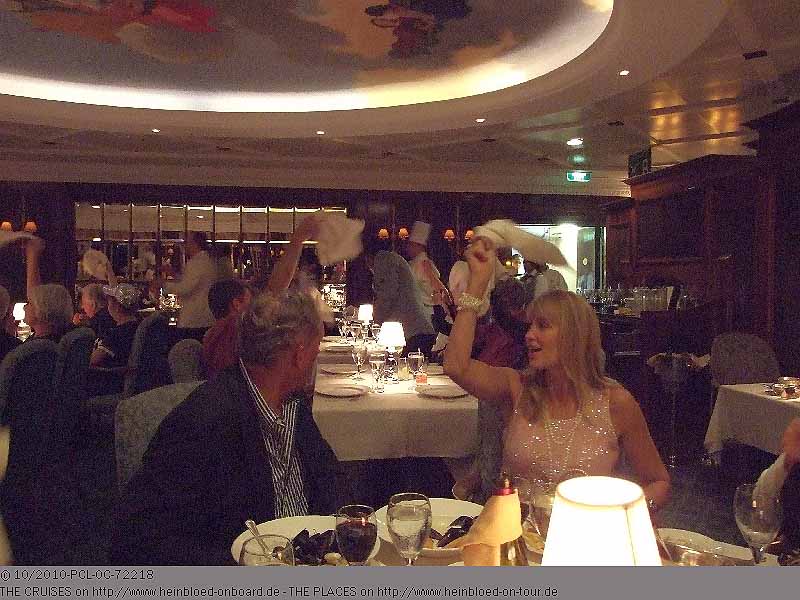 Wir sollen die Servietten in die Luft schwingen.
Es wird romantisch-dunkel...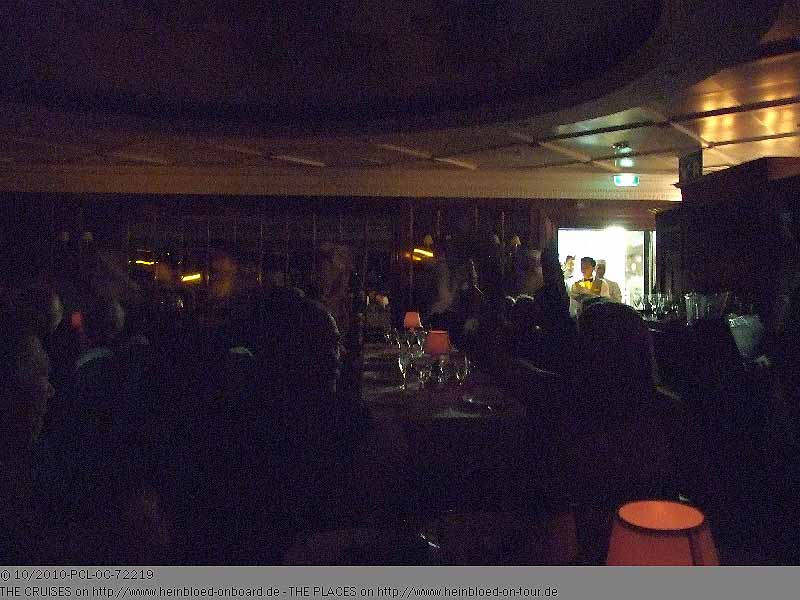 It became romantic and dark...

to the music of the funicular to Mt. Vesuvio which did not operate anymore: "Furniculi, Furnicular"...

zur Musik einer Zahnradbahn zum Vesuv, die schon gar nicht mehr fährt: "Furniculi, Furnicular"...
Davy zeigt uns nochmals die Baked Alaska, damit wir sie fotografieren können.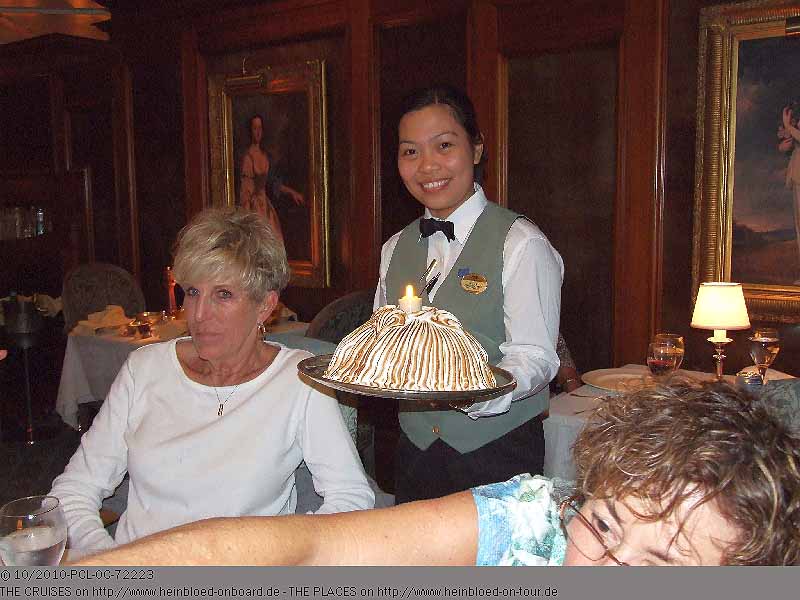 Davy showed us again the Baked Alaska to let us take pictures.

There was no alternative to Baked Alaska. We distributed some extra tips and some chocolate. But that occurred some irritation naturally, so they noted for safety our cabin numbers to double check if we maybe withdraw the hotel service charge. But it was less what we usually add as we were only three times in the Club Restaurant. Because Maître and the two head waiters treated us fantastic, they should also get something extra.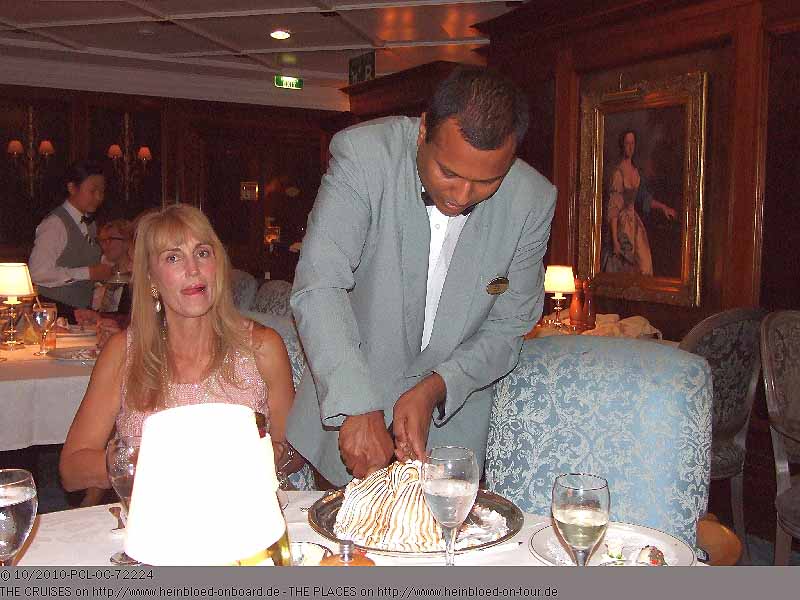 Es gab keine Alternativen zur Baked Alaska. Wir haben etwas Zusatztrinkgeld und Schokolade verteilt. Das führt allerdings zu Irritationen, so dass sicherheitshalber unsere Kabinennummer notiert wird, um zu prüfen, ob wir haben die Hotel Service Charges streichen lassen. Das Zusatztrinkgeld fiel jedoch geringer aus, da wir ja bloß dreimal im Club Restaurant waren. Weil uns aber Maître und unsere zwei Oberkellner toll behandelt haben, bekommen sie auch noch etwas.
Wir gehen weiter packen. Unsere Bilder waren beschädigt, so gehe ich nochmals runter um die Ersatzbilder zu holen. Das darf doch nicht wahr sein: an dem Abend, an dem keiner Zeit hat, bringen sie eine Show nach meinem Geschmack. "All that Jazz" und vieles, was ich gerne höre...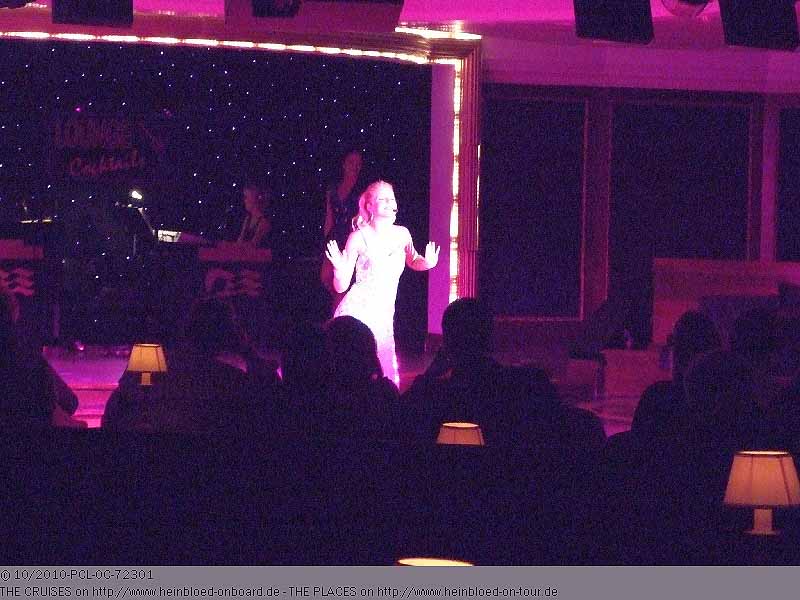 We returned to our cabin to continue to pack. Our pictures were damaged so we had to collect our replacements. I cannot believe it: on the night when nobody had the time they presented a show, I would like. "All that Jazz" and many more what I liked to hear...

There are few things with Princess I will never understand. It could be so perfect from the very first to the very last moment...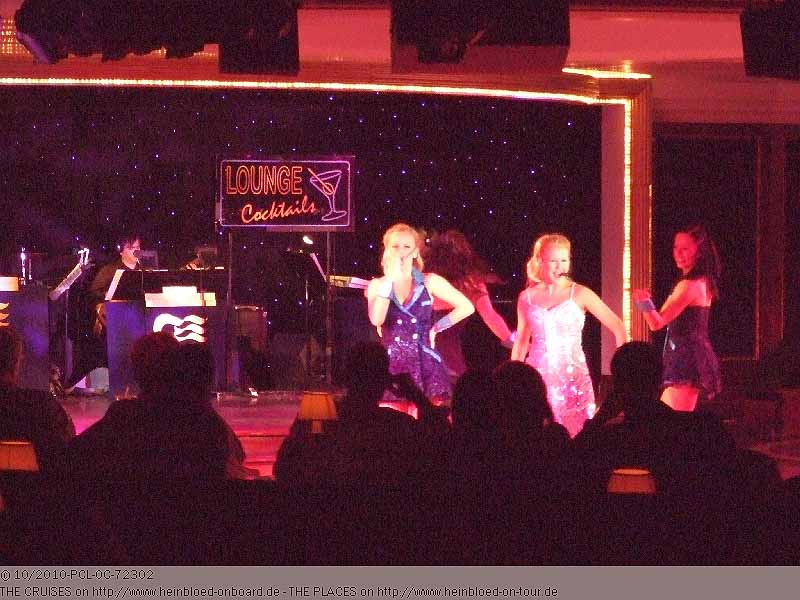 Es gibt Sachen, die werde ich bei Princess nicht verstehen. Es könnte so perfekt sein, vom ersten bis zum letzten Moment an Bord...
Die anderen Reisen in diesem Blog/
The other voyages in this blog: