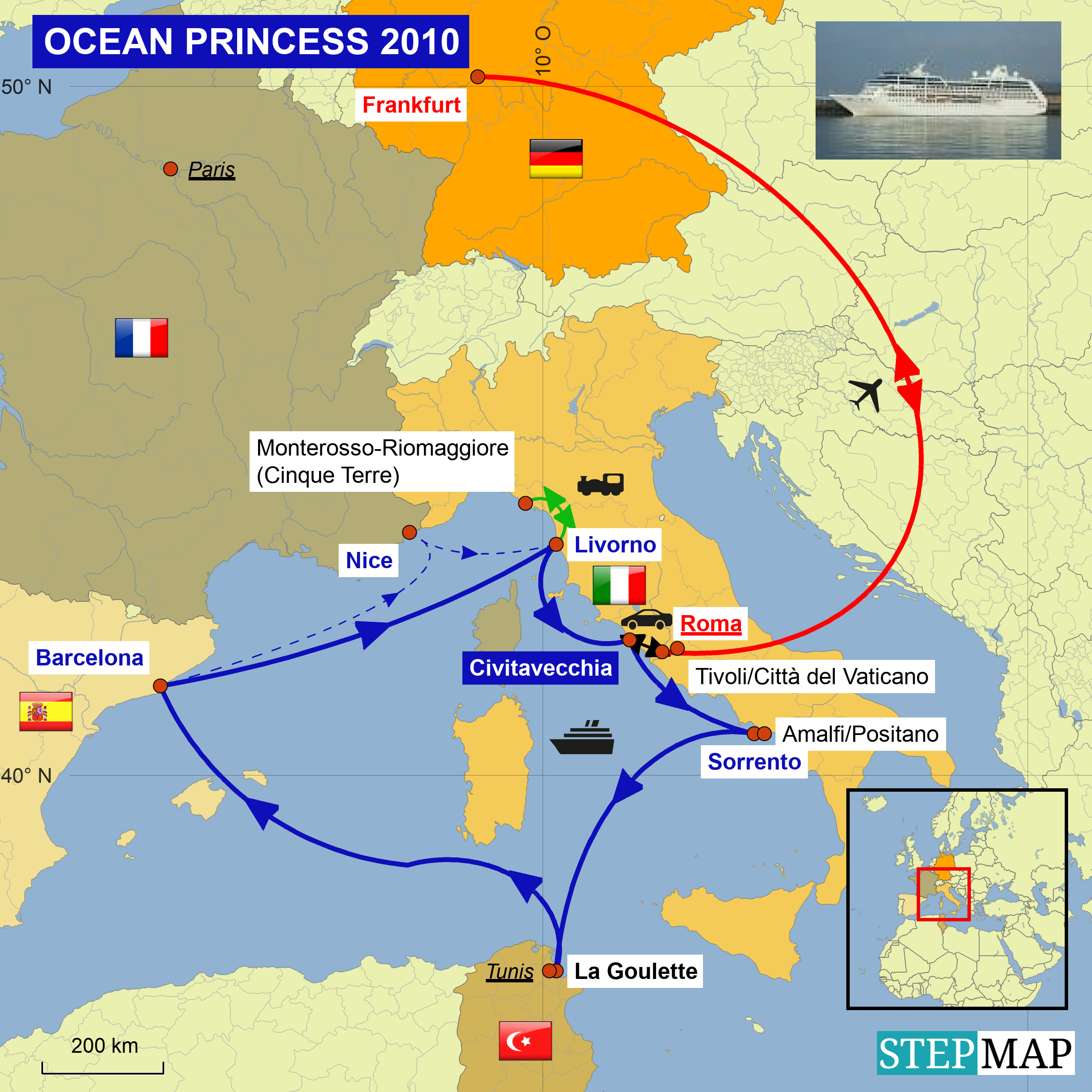 Eigentlich haben wir von Deckengemälden genug... aber das macht sich wirklich gut im Club Restaurant. Um 13:27 Uhr kommen wir und um 13:30 Uhr wird das Restaurant geschlossen: keine Diskussionen - selbstverständlich werden wir reingelassen und wir dürfen uns aussuchen, ob wir alleine essen möchten, oder einen Tisch mit anderen teilen möchten. Empfangen werden wir durch den bayerischen Oberkellner Wolfgang, der eher jedoch wie ein Österreicher spricht. Endlich können wir uns "rächen": endlich mal haben wir das "Privileg" als Deutscher von einem deutschen Oberkellner besser behandelt zu werden, so wie wir es negativ bei Costa und MSC erfahren haben: Dort waren wir nur Gäste 2. Klasse, während die italienischen Gäste von den italienischen Maître sehr gut bedient wurden. Aber zum Glück geht unser Plan nicht auf: 1. Die italienischen Gäste stellen nicht die Mehrheit an Bord und 2. Das "Privileg" gibt es zum Glück nicht nur für uns, sondern wir stellen fest, dass jeder Gast mit der gleichen Aufmerksamkeit bedacht wird, was wir sehr schätzen.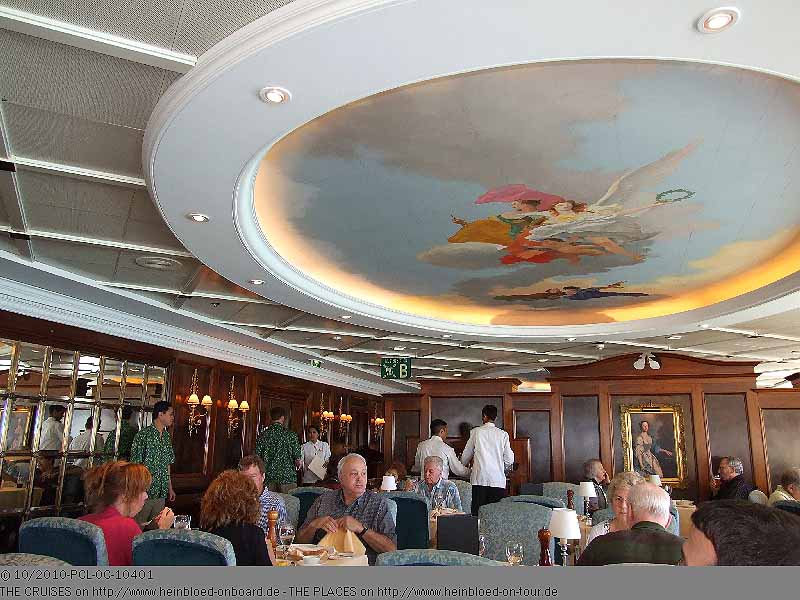 No more paintings on the ceiling please. But here in the Club Restaurant, it looked great. We came at 13:27 hrs and the restaurant closes at 13:30 hrs. But no discussion: we got a table and could choose if we prefer to eat alone or to share. We were welcomed by the Bavarian head waiter Wolfgang who spoke more like an Austrian. That was great as we can take "revenge" and finally can enjoy the "privilege" to get a better treatment like we badly experienced on Casta and MSC: there we were only 2nd class guests. But luckily our plan did not go through 1. The Italian guests are not the majority on board and 2. the "privilege" was not just available for us as we could see: every guest got the same attention what we appreciated very much.

When I ordered a Diet Coke, they offered me immediately a soda-pass. You do not get copies of your receipts and you sign without a price so that I had no idea how much it was exactly: under 40.00 USD for 7 nights incl. service (34.21 USD according to the final statement). For the restaurants, you get a small flyer with all opening times. I feel only sorry that they did not adjust the time to the need of the guests. I like to sleep longer on days at sea, and therefore I go later for breakfast. But the Club Restaurant still closes at 09.00 hrs.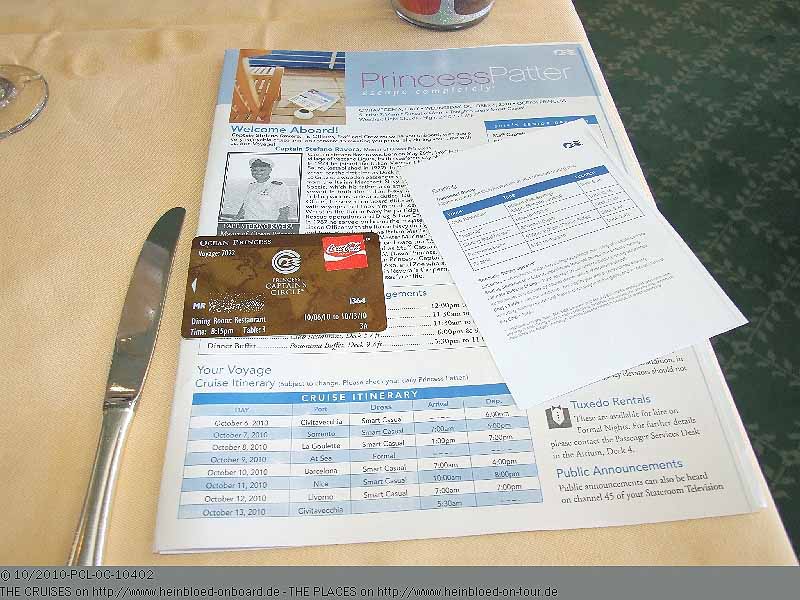 Als ich eine Cola Light bestelle, wird mir sofort der Soda-Pass angeboten. Da man keine Belege mitbekommt und man ohne Preis unterschreibt, weiss ich gar nicht wieviel er genau kostet: unter 40,00 USD für 7 Nächte inkl. Service (34,21 USD lt. Abrechnung). Für die Restaurants gibt es einen kleinen Flyer mit allen Öffnungszeiten. Schade, dass die Zeiten nicht den Bedürfnissen der Gäste angepasst werden. Am Seetag steht man ja doch gerne später auf, und geht dann auch später zum Frühstück. Das Club Restaurant schließt trotzdem um 09.00 Uhr.
Mit den Souvenir-Bechern weiss ich nicht mehr wohin bei uns zu Hause.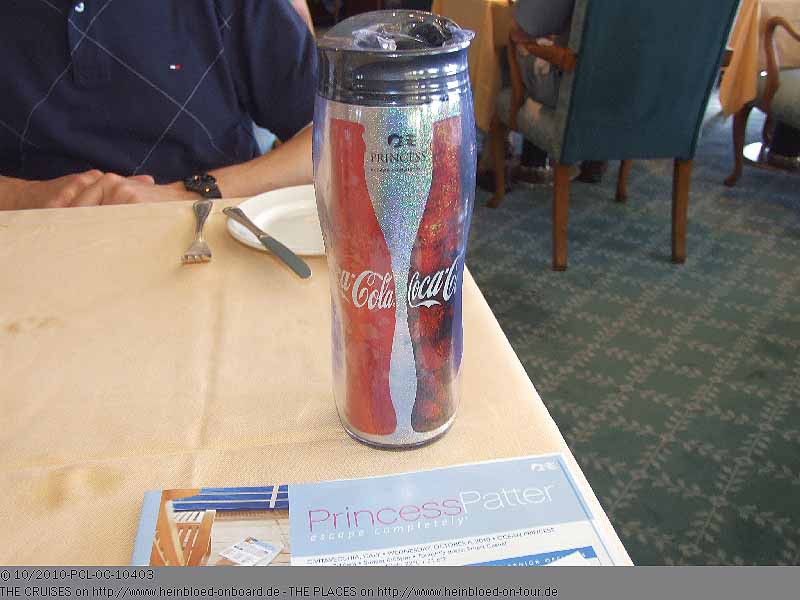 No idea where to stow all the souvenir cups in our house.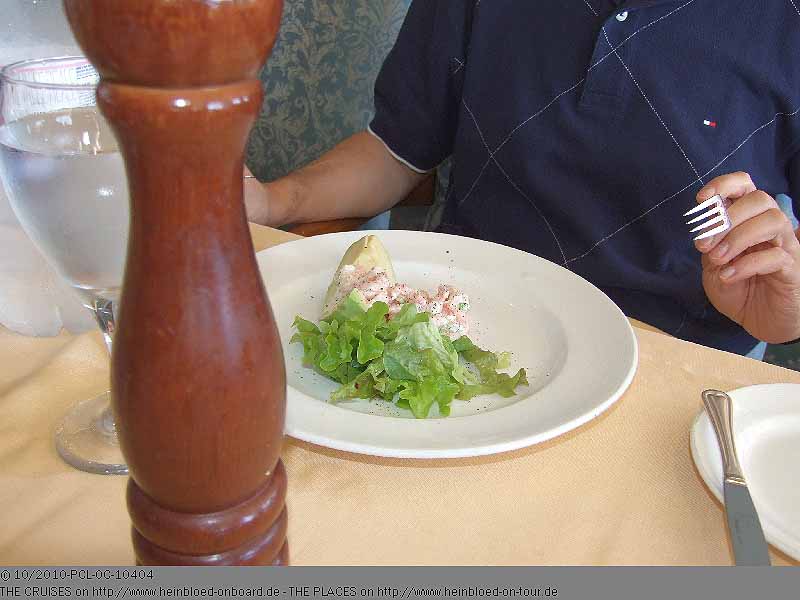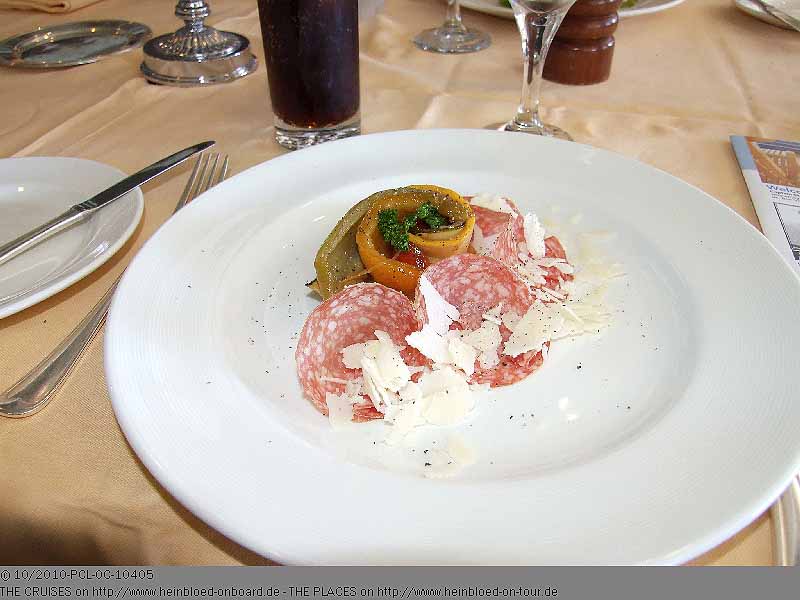 I had the low-fat salad dressing but this was the very last time that I ordered it.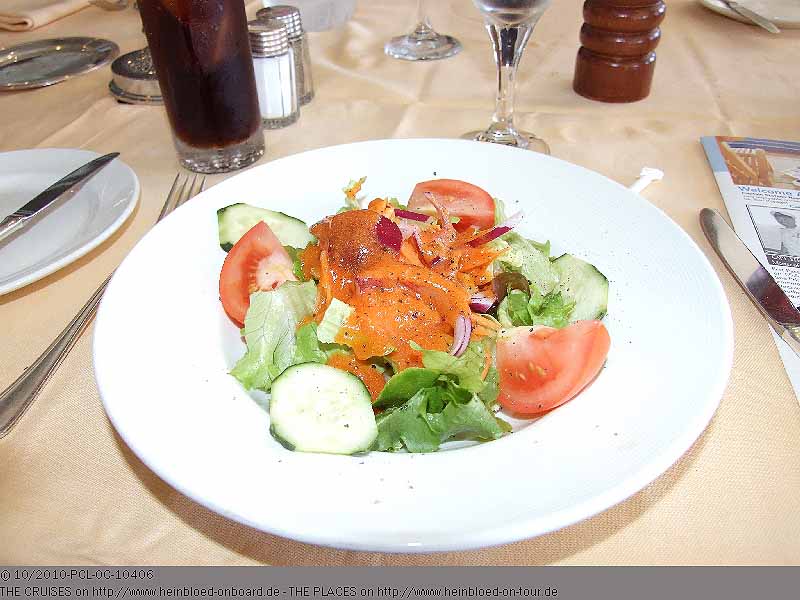 Ich hatte eine fettarme Salatsauce, aber das war das letzte Mal, dass ich sie bestellt habe.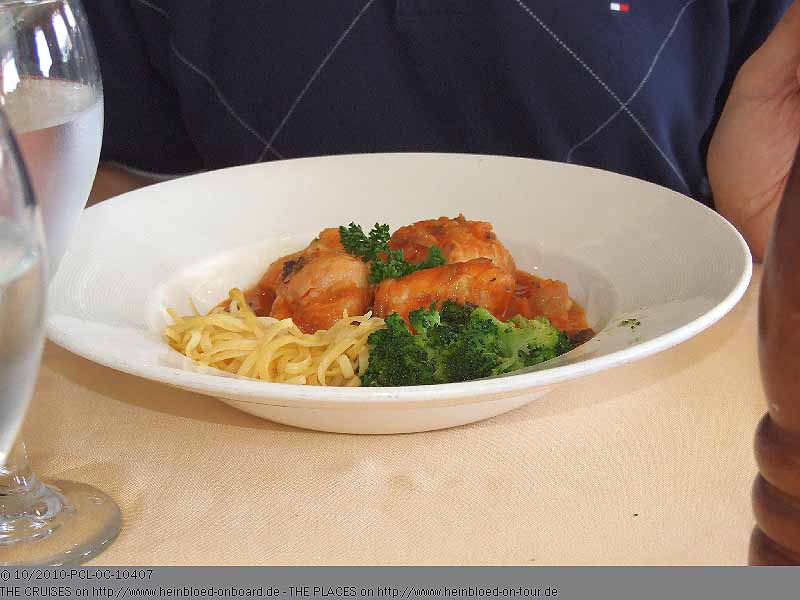 With my beef somehow I was missing the last kick. There were not so many occasions on all my cruises that I need to take the salt- and pepper shaker.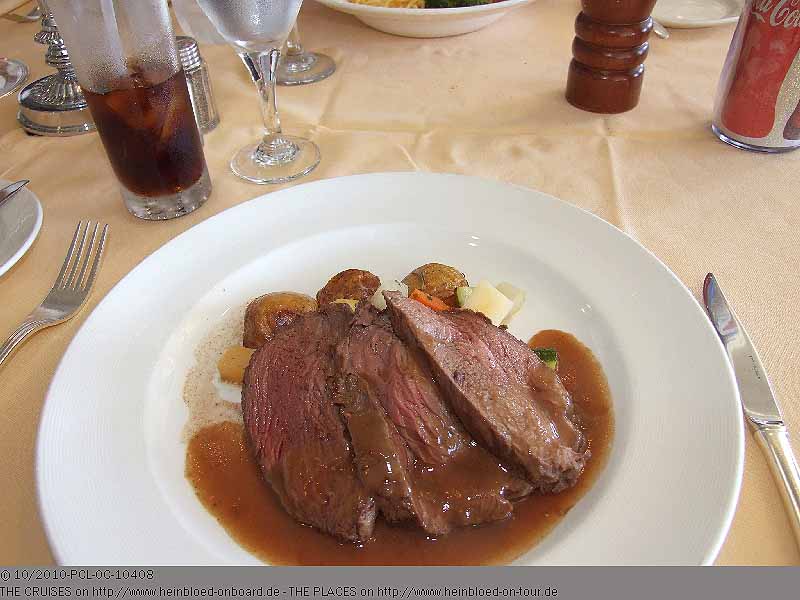 Bei meinem Rind fehlt irgendwie der letzte Kick. Es ist bislang selten vorgekommen, dass ich zum Salzstreuer und Pfeffermühle greife.
Als Bruno sich einen Kaffee bestellt, bekommt er das Angebot der Kaffeekarte: 15 Kaffeespezialitäten für 24,00 USD zzgl. 15% Service Charge. Wir haben aber einen Coupon, so dass wir eine zweite Kaffeekarte bekommen könnten.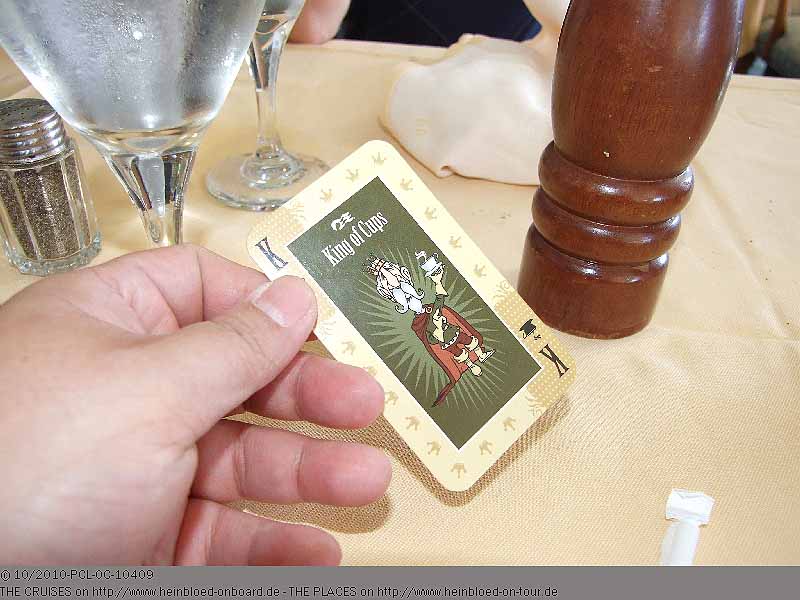 When Bruno ordered a coffee he got the offer to buy a coffee card: 15 coffee specialties for 24.00 USD plus 15% service charge. We had a coupon, so we got a second coffee card for free.

But this was still in our luggage which was not delivered yet at this time. Wolfgang just said that we should have it with us tonight with the dinner and we can get the second card. So we also used the chance to book for the Chef's Table on Sunday in Barcelona and got immediate confirmation as we were the very first guest who requested this.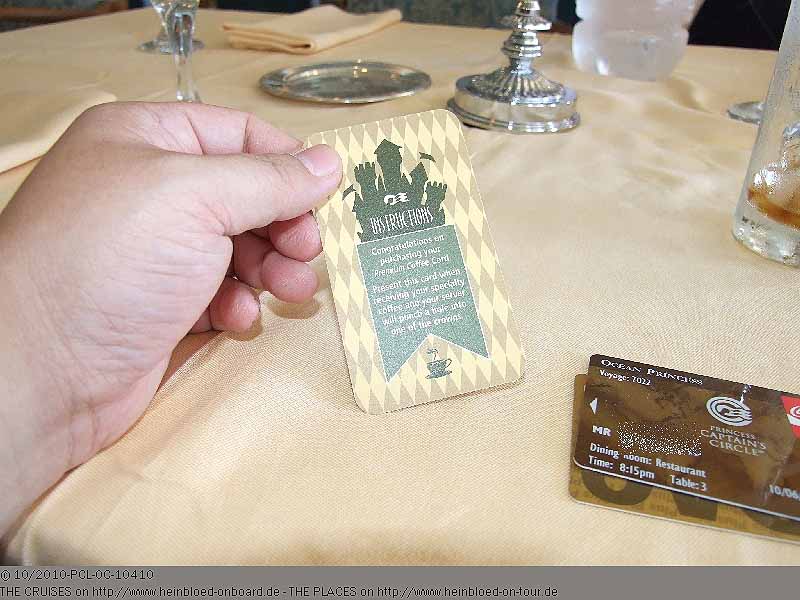 Die befindet sich jedoch im Gepäck, das zu diesem Zeitpunkt noch nicht ausgeliefert war. Wolfgang meinte bloß, dass wir abends den Coupon mitbringen sollten und wir dann die zweite Kaffeekarte ausgehändigt bekommen. Bei der Gelegenheit melden wir uns für den Chef's Table am Sonntag in Barcelona an und bekommen direkt die Zusage, da wir die ersten Gäste sind.
Als das Gepäck da ist, suchen wir sofort den Coupon für später raus. Bruno hat sich schon oben einen großen Cappucino geholt.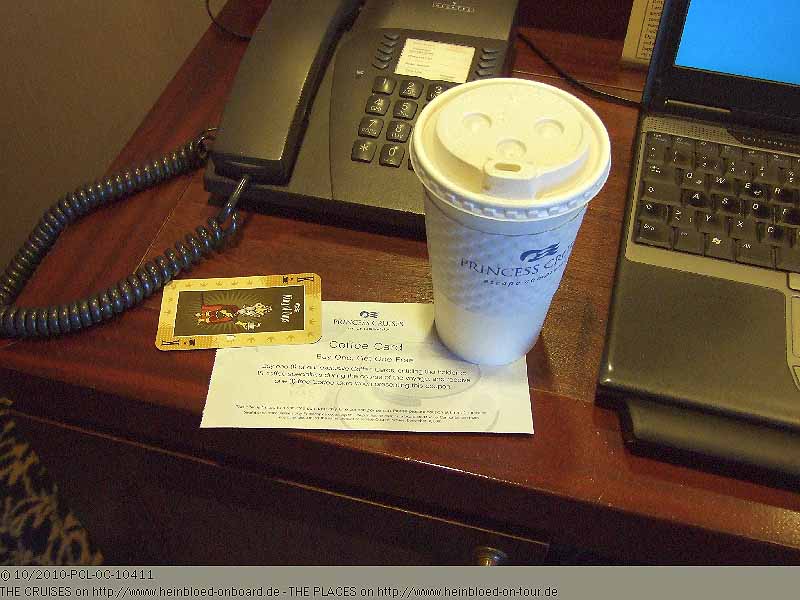 When the bag arrived we looked immediately for the coupon. Bruno got already a large Cappucino.

The two most important persons on board... right after the Captain and a few others...: Maître D'Hotel Francisco Patricio and Executive Chef Antonio Costantino. As we learned now: Francisco is Portuguese - so no reason to be worried.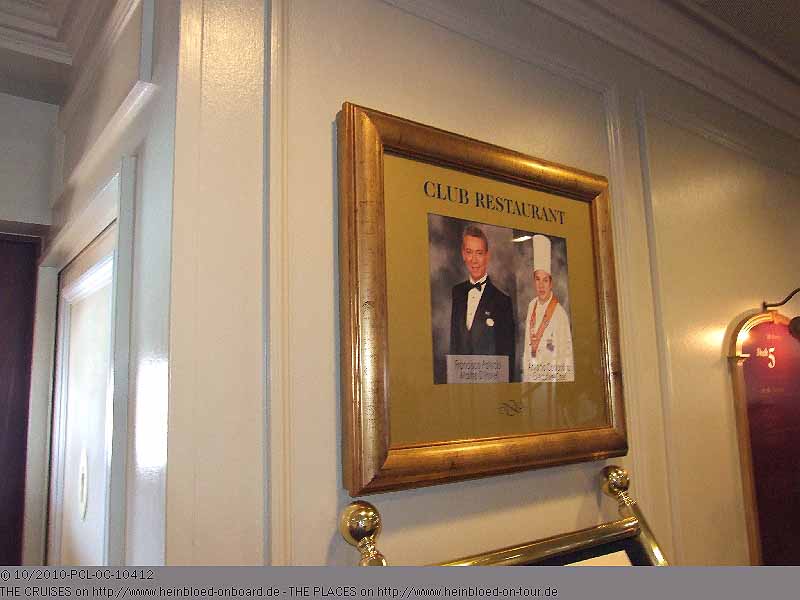 Die zwei wichtigsten Leute an Bord... natürlich nach dem Kapitän und einigen anderen...: Maître D'Hotel Francisco Patricio und Executive Chef Antonio Costantino. Wie sich jetzt herausstellt: Francisco ist Portugiese, aber meine Befürchtungen waren ja eh unbegründet.
Hier finden wir auch alle anderen wichtigen Persönlichkeiten an Bord. Gut merken, falls man mal deren Hilfe braucht.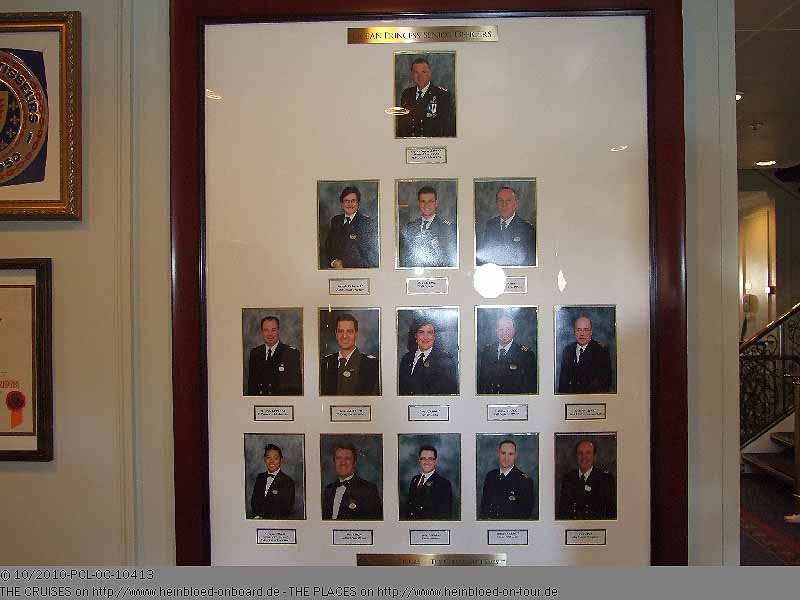 Here you find also all other important persons on board. Just remember carefully - in case you need their assistance.

We had a laundrette on our deck.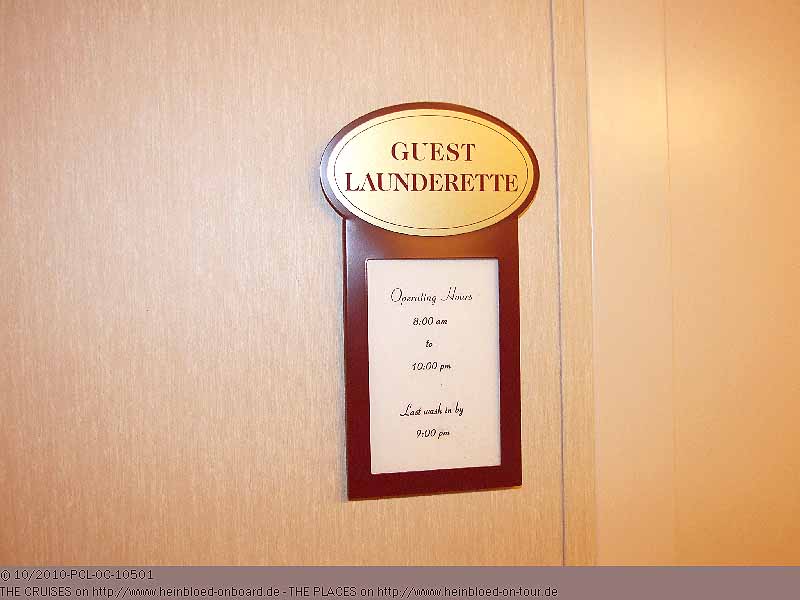 In unserer Etage gibt es einen Münz-Waschsalon.
Waschmaschinen...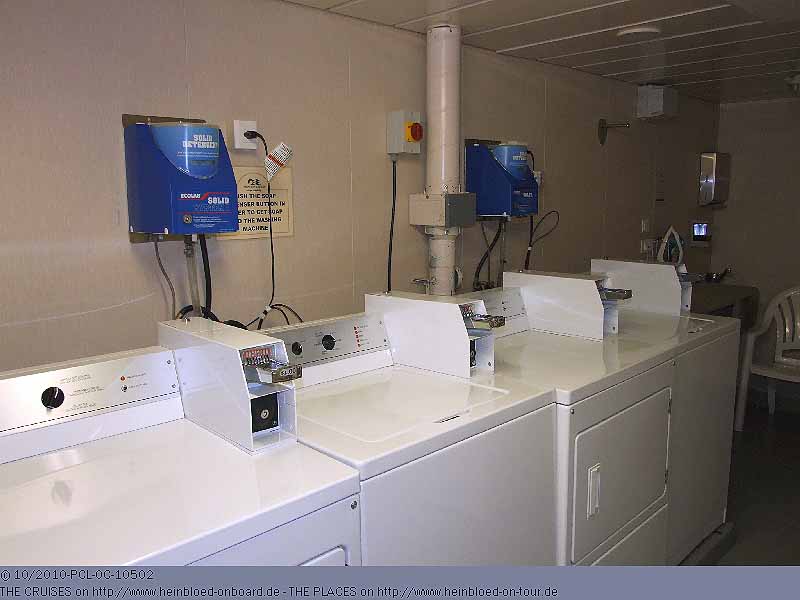 Laundry machines...

Dryers, all for 1.00 USD in Quarters please...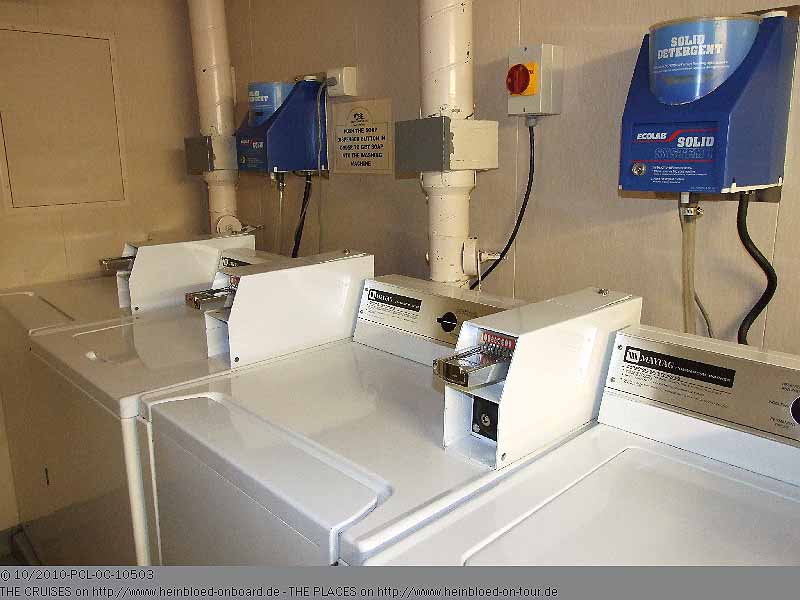 Trockner, alles für 1,00 USD in 25-Cent-Stücke bitte...
Bügeleisen und Bügelbrett... aber heute haben wir keine Lust zu waschen... Vielleicht kommt ja ein Wäschesackangebot... der allerdings bis zum Ende der Kreuzfahrt nicht gekommen ist.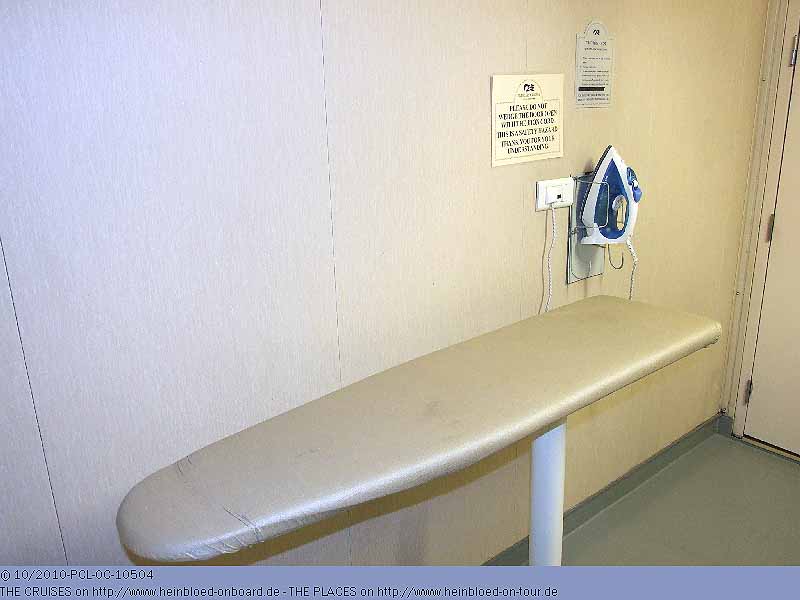 Iron and board... but today we dislike to wash... Maybe there is a laundry bag offer... which we did not have until the end of the cruise.
Die anderen Reisen in diesem Blog/
The other voyages in this blog: