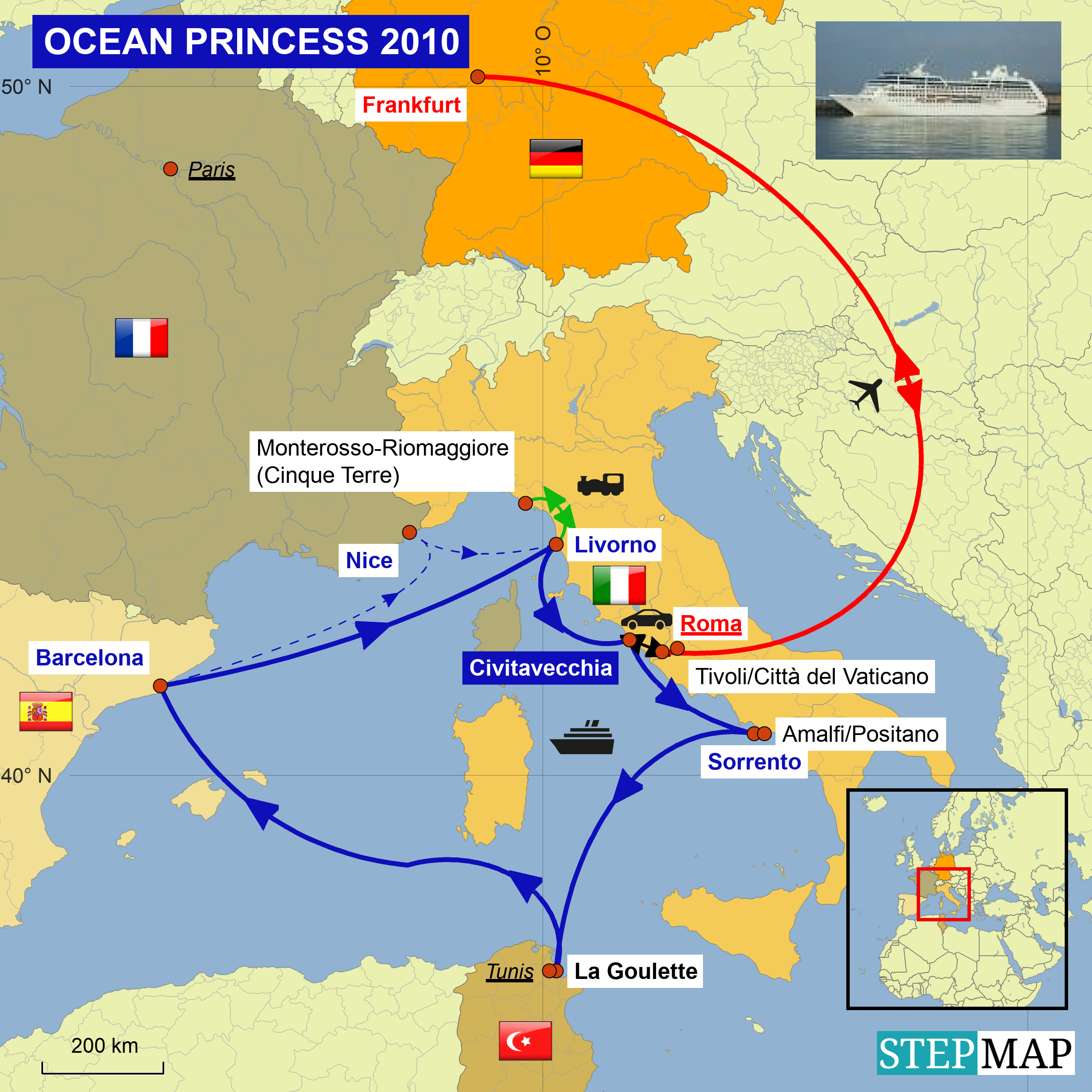 Da die Ausflüge nur 29,00 USD (2010) kosteten, haben wir mal einen Schiffsausflug gebucht. Unsere Recherchen endeten im Nirvana: Es gab keine Homepage von den Hafenbetreibern, Kreuzfahrtterminalbetreibern usw. Auch meine guten Französisch-Kenntnisse halfen mir nicht weiter. Und nach Alexandria war ich eh nicht scharf auf neue Herausforderungen in Nordafrika.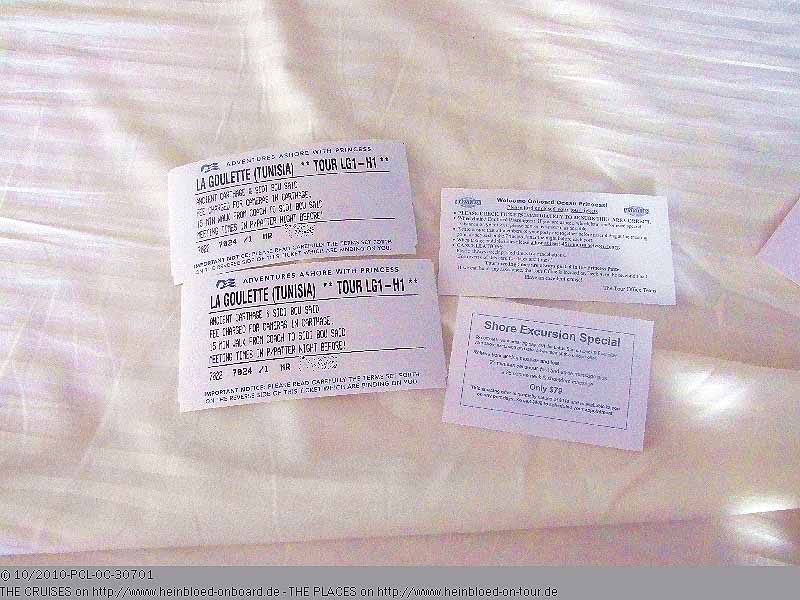 As the tours were only 29.00 USD (2010) we booked a ship's tour. Our investigations ended in nirvana: There was no homepage of the port authorities, cruise terminal operator, etc.. Even with good French language skills I was unable to find anything. And after Alexandria, we dislike any new challenges in Northern Africa.

As bad as the tender ticket release for individual guests was organized the day before, as good the organization was for ship's tour guests.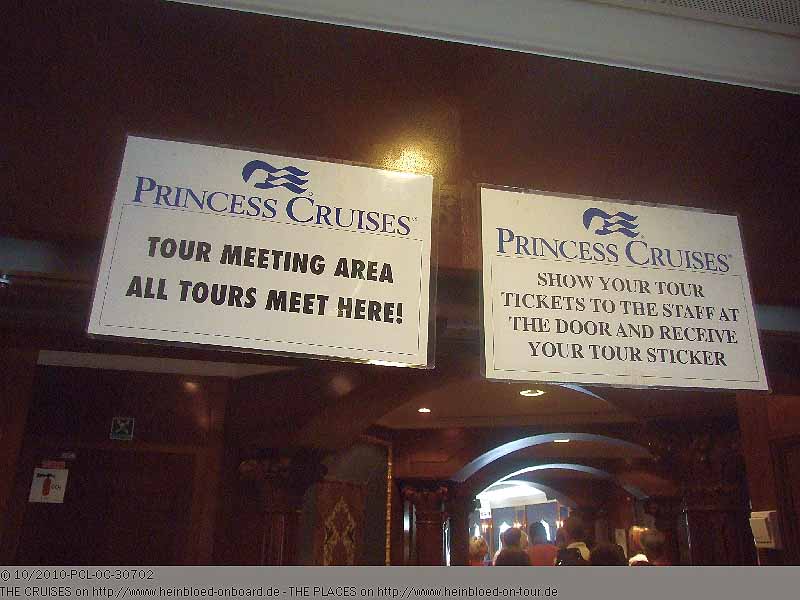 So schlecht, wie ich die Organisation der Tenderticketausgabe am Vortag für Individualgäste empfand, so gut war sie für gebuchte Schiffs-Tourteilnehmer.
Es gab immer jemanden, der sich die Schlange abging und sich allen annahm, die klar wussten, dass sie zu einer bestimmten Tour wollten und alles dabei hatten, so dass sie nicht weiter anstehen mussten.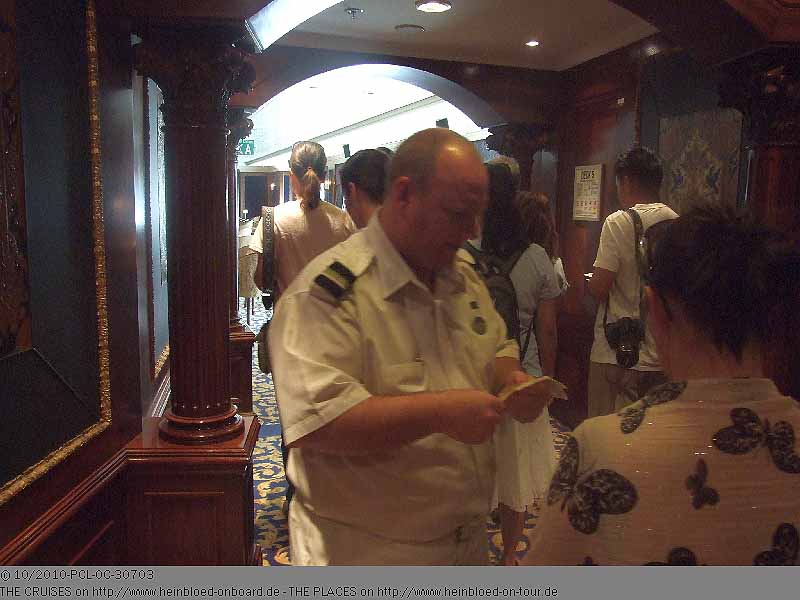 Someone walk down the queue and could take them out for one specific tour and had all documents with them. So for us, there was no real queue.

The lounge was also divided into clear sections with the tour- and bus numbers.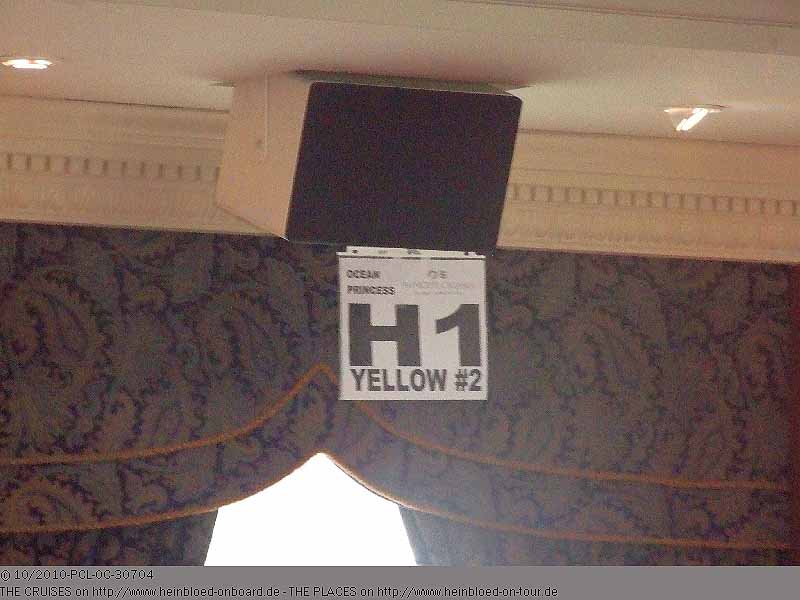 Auch war die Lounge klar unterteilt, mit Tour- und Busnummern.
Wer später in den falschen Bus einstieg, weil er falsch saß und den falschen Leuten hinterher rannte, war selber schuld.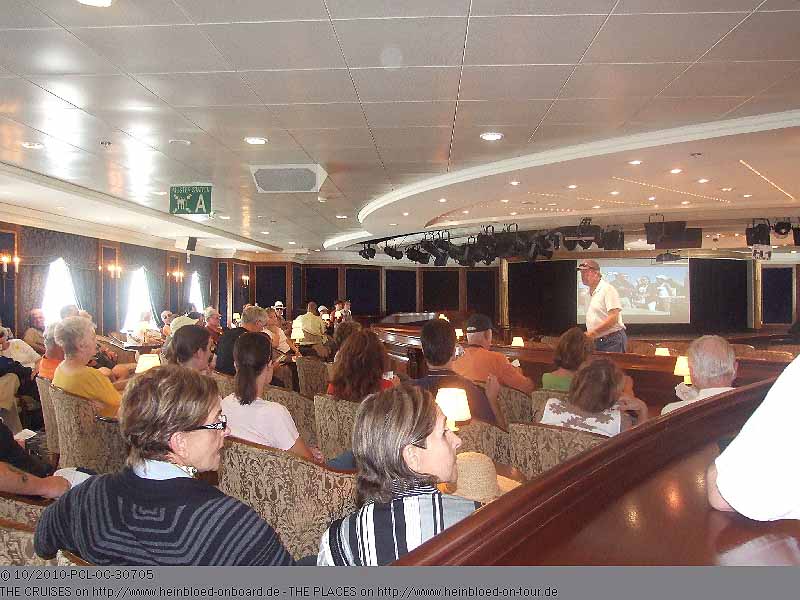 Who later got into the wrong bus because he waited at the wrong place or ran with the wrong group need to punish himself.

18.30 hrs we should be back onboard. I hoped that our return will be not too late that I can see the internet-café. And very unusual: the crew may stay as long as the passengers. I know from other cruise lines that the crew need to back at least 30 minutes earlier.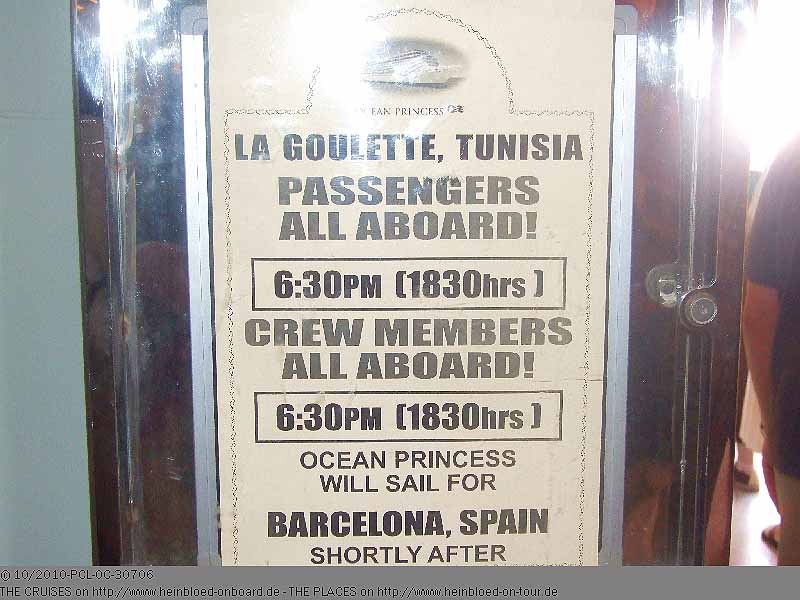 18.30 Uhr sollen wir wieder an Bord sein. Hoffentlich sind wir nicht zu spät zurück, damit ich noch ins Internet-Café kann. Und ungewöhnlich: Die Crew darf genauso lange wegbleiben, wie die Passagiere. Ich kenne von den anderen Gesellschaften, dass die Crew meistens 30 Minuten früher da sein muss.
Hier stehen die Busse.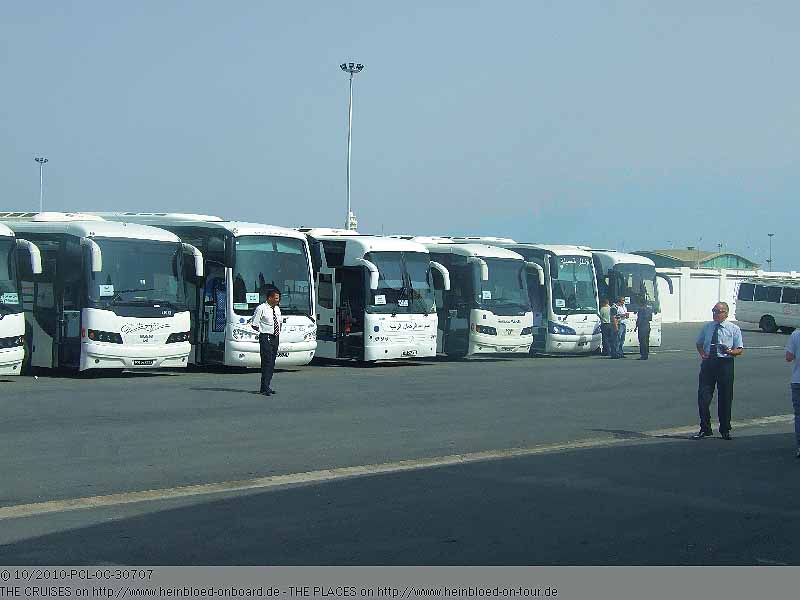 Here the buses waited.

We were in Bus 2. Entirely there were five buses, and the rotations of the single buses were different to avoid that all groups would be in one place at the same time.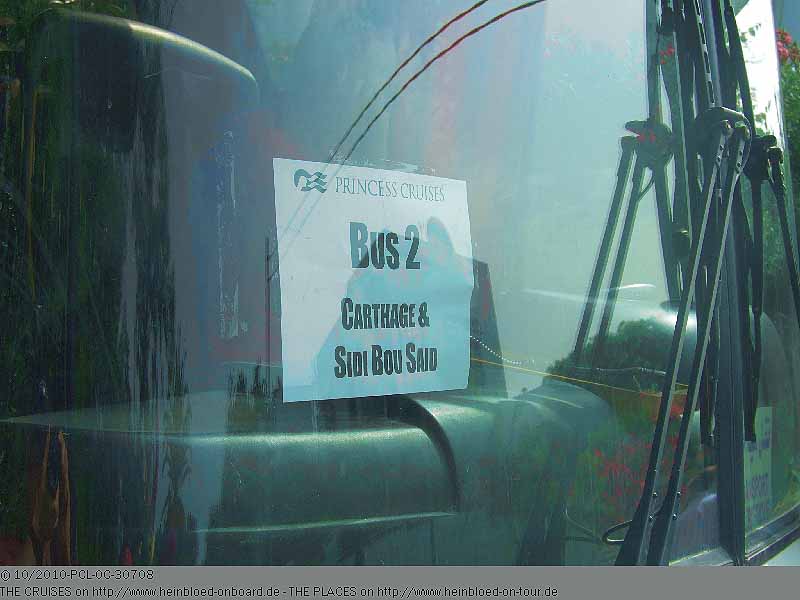 Wir sind in Bus 2. Insgesamt gibt es wohl fünf Busse und die Rotation ist bei jedem Bus anders, damit wir nicht alle gleichzeitig an den Orten sind.
Das hat Princess toll organisiert: Damit ich meinen Bus immer sofort wiederfinde: Tunisian Asian Travel... (Der Eigentümer des Busunternehmers hat eine persönliche Bindung zu Malaysia)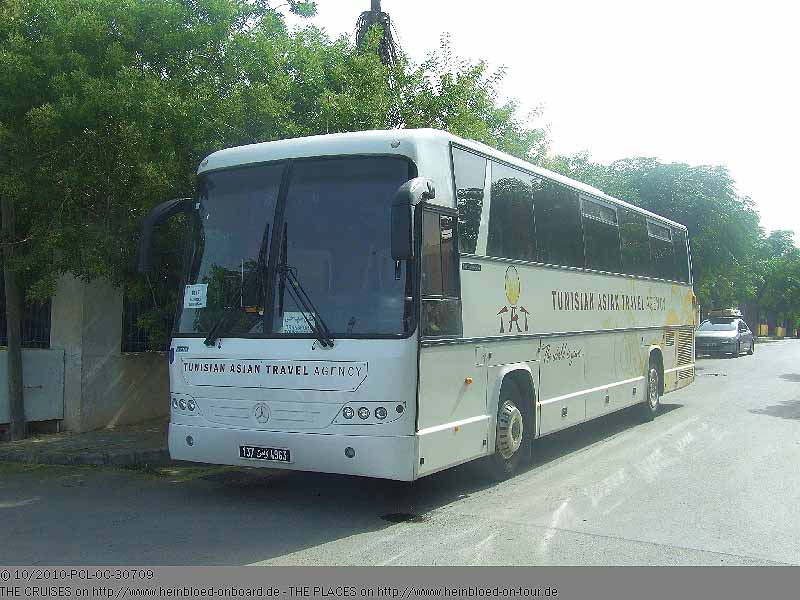 Well done Princess: To make sure that I will find my bus at any time: Tunisian Asian Travel... (The owner of the bus company has a personal connection to Malaysia)

We were told that we were early, so we had an additional photo stop. Later we learned that all others stopped here as well.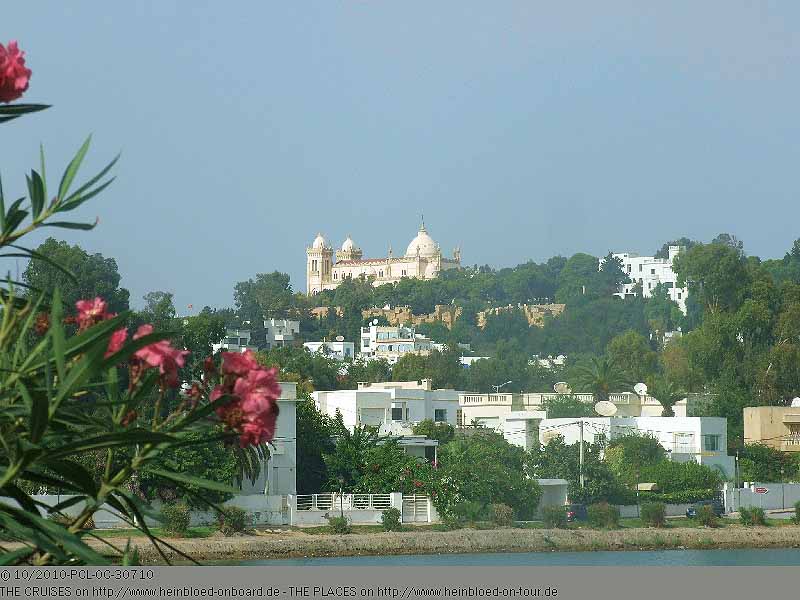 Da wir angeblich früh weggekommen sind, halten wir zusätzlich für ein paar Fotostops. Von den anderen erfahren wir aber, dass hier alle gehalten haben.
Für Kartago werden Fotoerlaubnisse gebraucht. Da sie "angeblich" keine Fremdwährungen annehmen dürfen und wir nicht extra Geld wechseln müssen (Man darf den Tunesichen Dinar weder ein- noch ausführen), sollen wir ihm das Geld für die Fotoerlaubnisse in die Hand geben (1,00 EUR (2010)).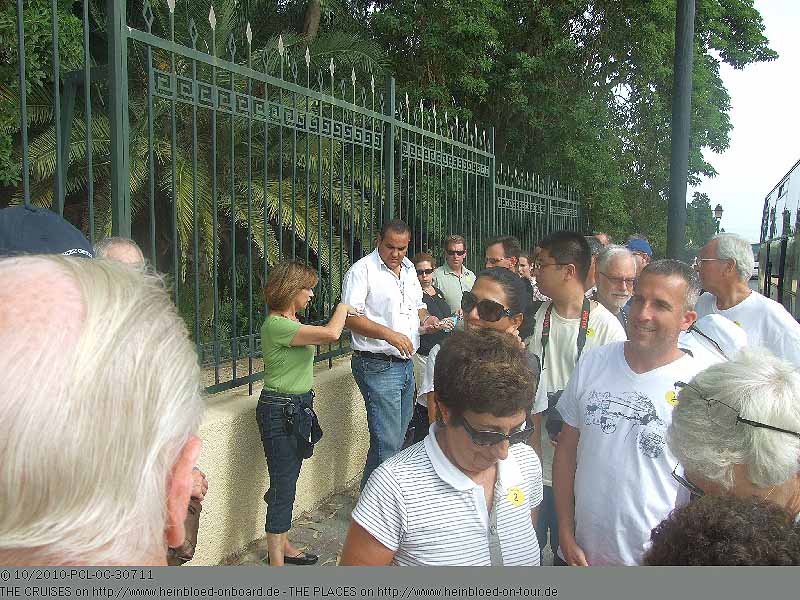 For Carthage you need a foto permission. "Reputely" no foreign currency was accepted there at the site and to avoid that we need to change (You are not allowed to import or export Tunisian Dinar) we should give him the money in his hand (1.00 EUR (2010)).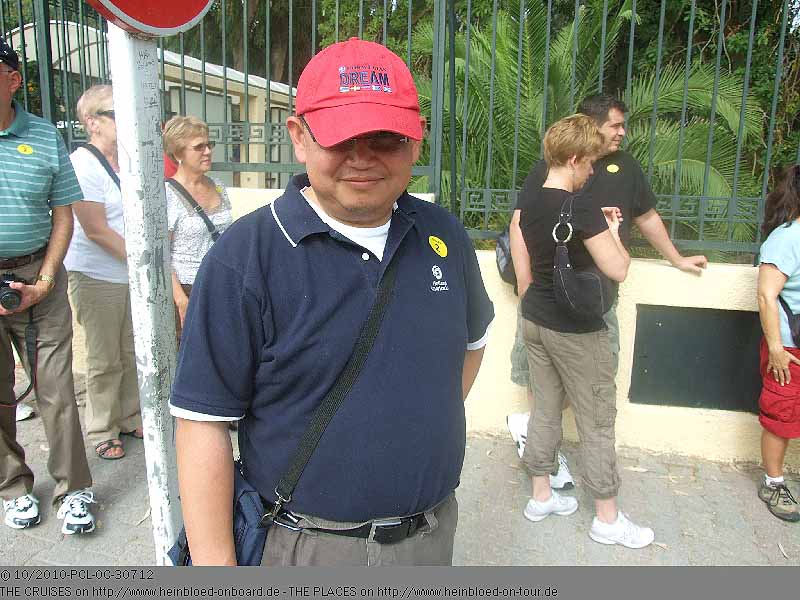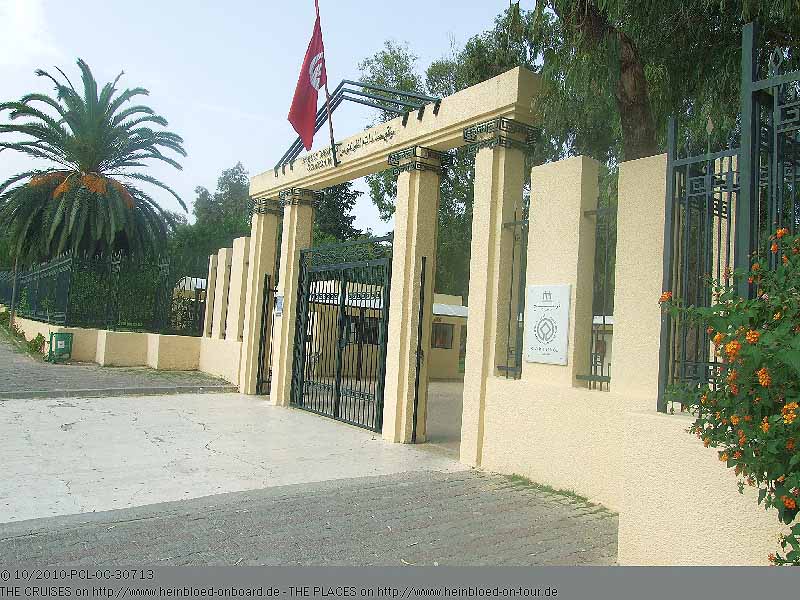 UNESCO World Heritage again.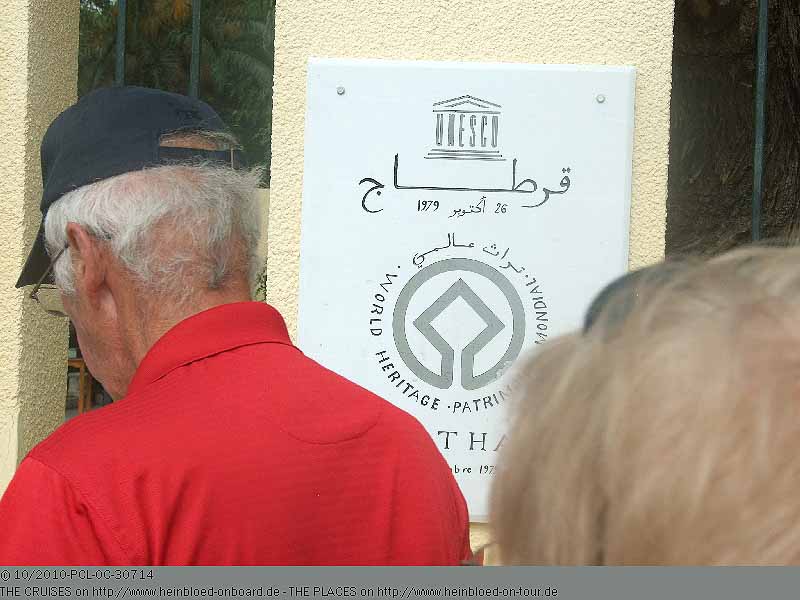 Wieder ein
UNESCO Welterbe
.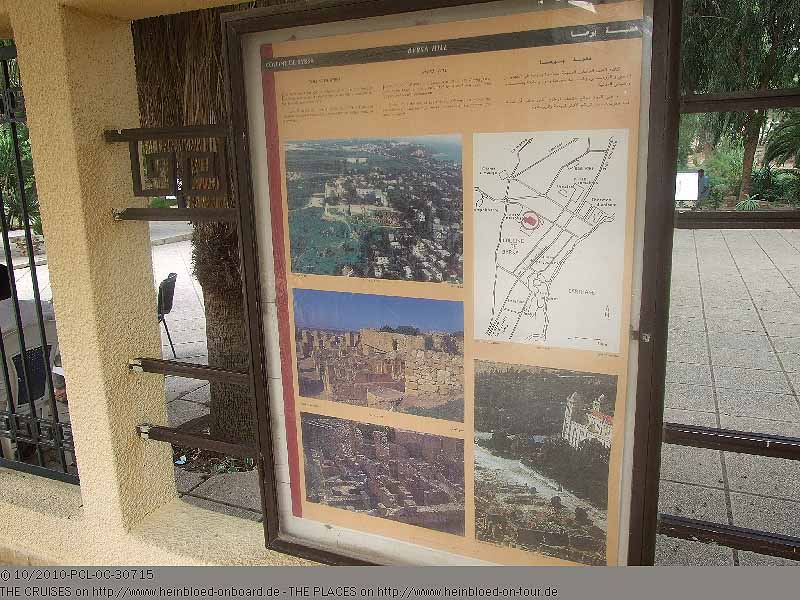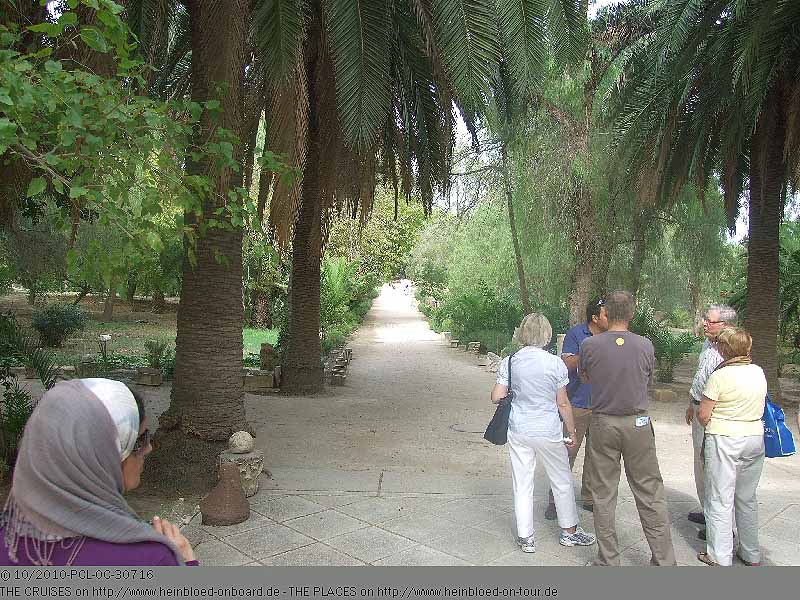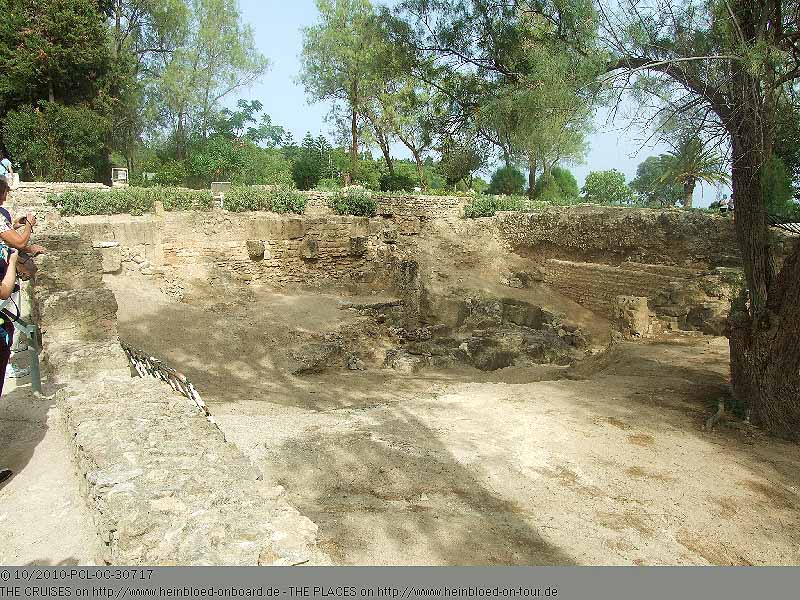 I was nicely surprised: As well maintained as in Leptis Magna in Lybia (only in German). And in a better condition than Ostia Antica. But for me it should be the last old stones. Enough for this voyage.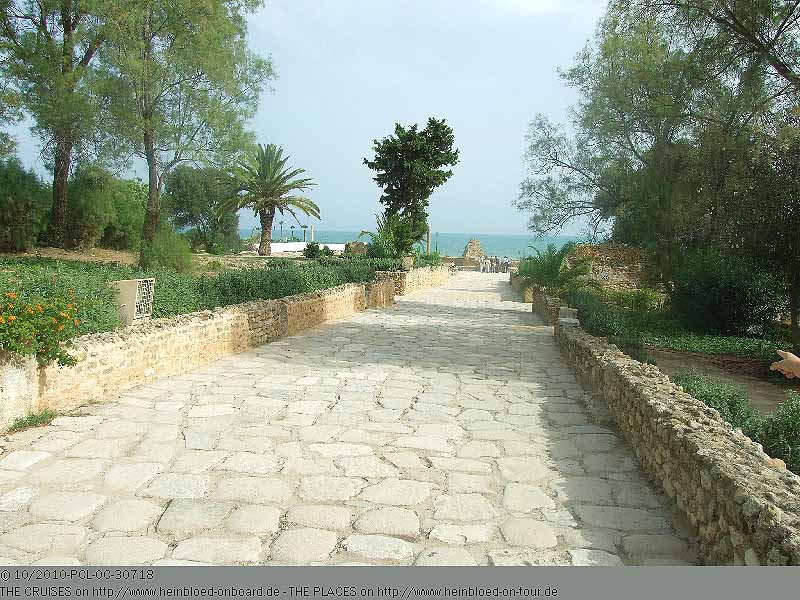 Ich war positiv überrascht: Fast genauso gut gepflegt, wie
Leptis Magna in Libyen
. Besser gepflegt als Ostia Antica. Aber für mich sollten es die letzten alten Steine sein. Irgendwie langte es für diese Reise.
Keine Kamele, keine Kamelhaufen, keine Bettler, keine korrupten Polizisten usw. Ich war positiv überrascht, dass es nicht überall so zugehen muss, wie an den
Pyramiden von Gizeh
.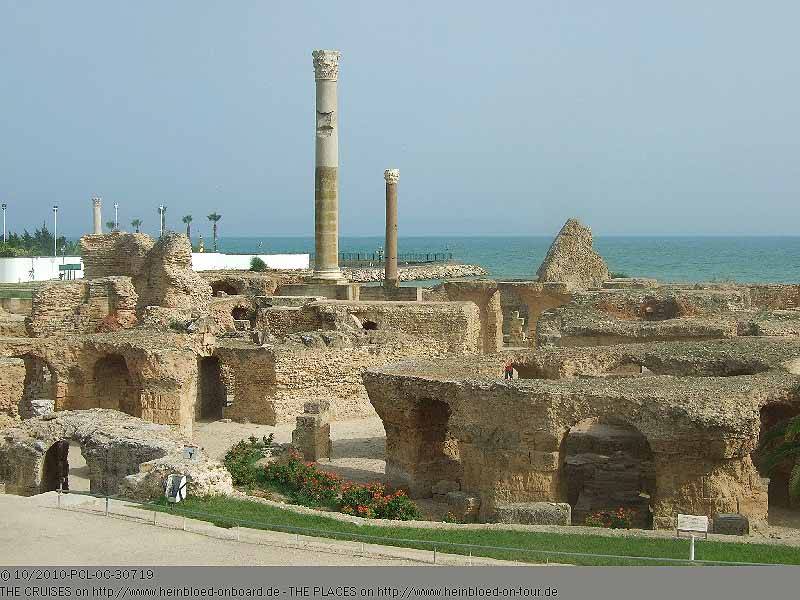 No camels, no camel dirt, no beggars, no corrupt policemen etc. I was really nicely surprised that there is no need that everything need to be like at the Pyramids of Gizeh (only in German).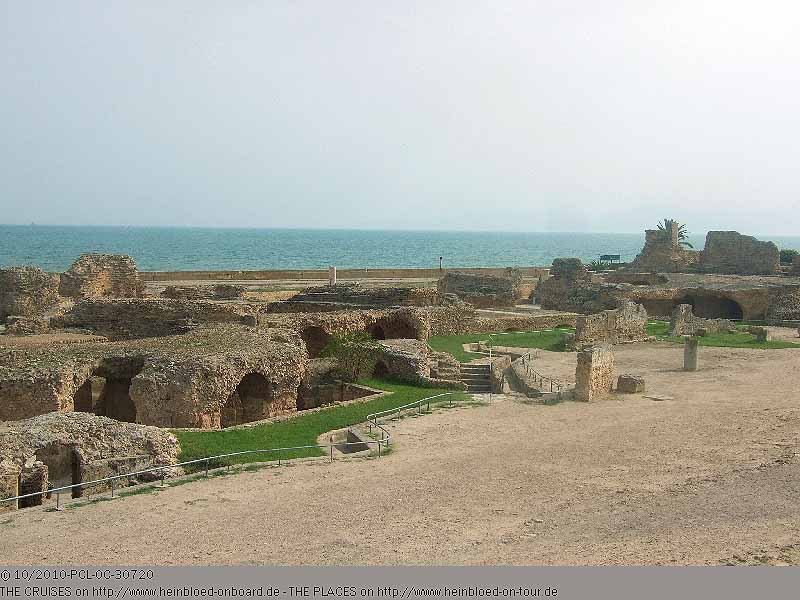 Bus 5 war mit uns vor Ort. Sie hatten freien Auslauf. Unser Führer wollte uns keinen freien Auslauf gewähren. Wir sollten zusammenbleiben und vor allem nicht den Präsidentenpalast fotografieren.
Nach der letzten Nacht, hatte ich eigentlich nur den Wunsch nach einer Tasse Tee und weniger Kultur.

After the last night I had only the wish for a cup of tea and less culture.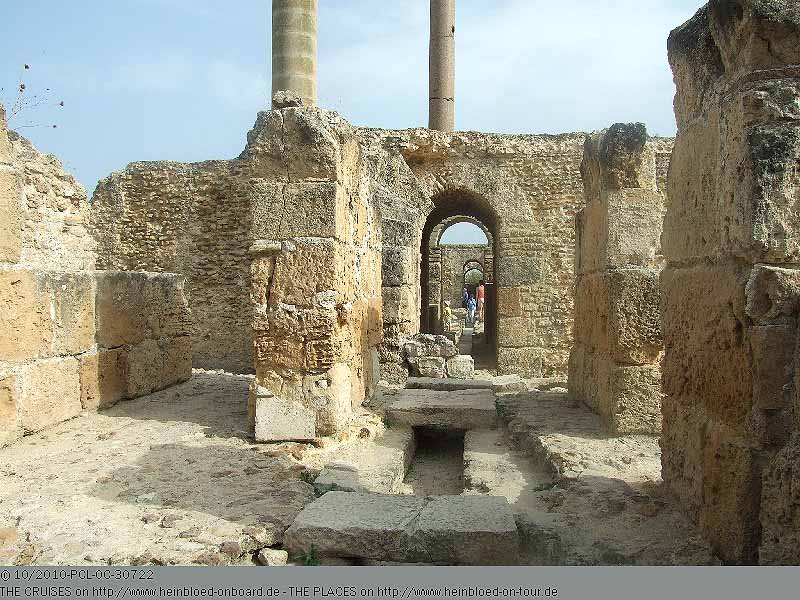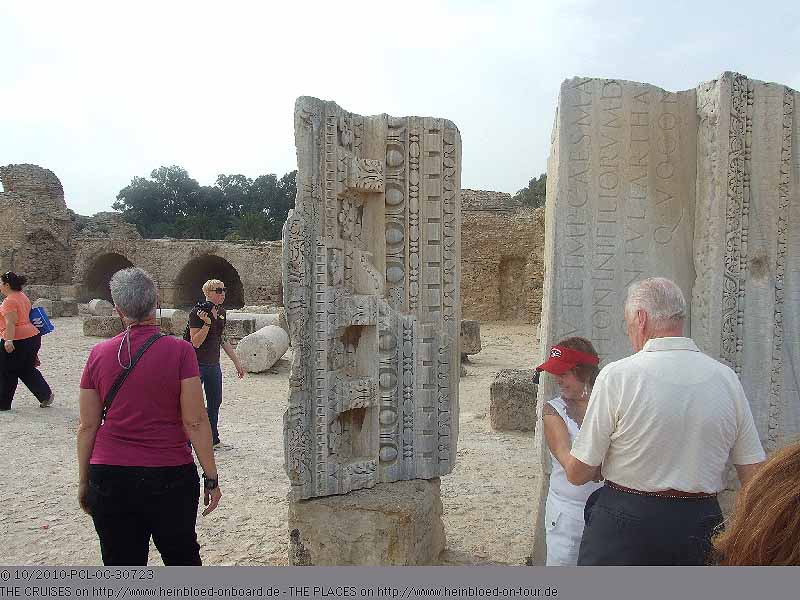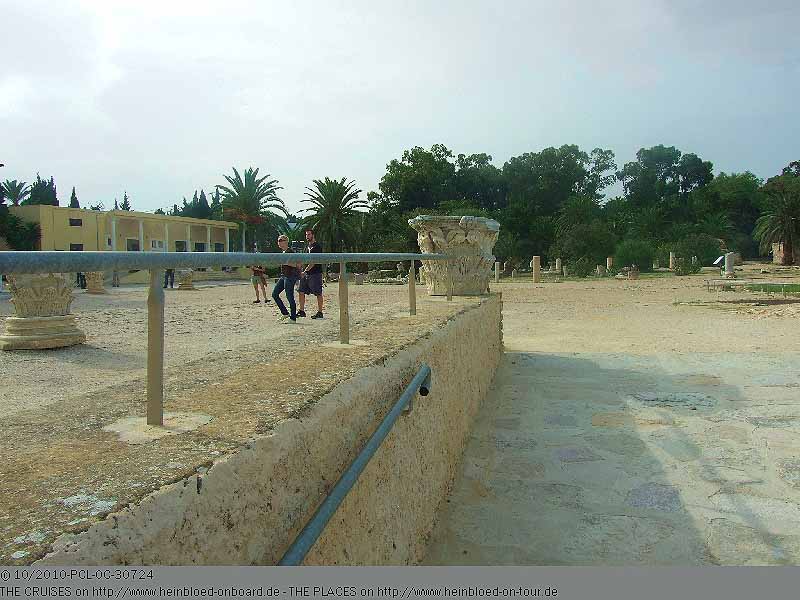 Man achte bitte nicht auf das Paar, sondern auf das, was er in der Hand hat: eine Teleskop-Stange mit Kamara. Weiss jemand, wie das mit dem Auslöser funktioniert??? Selbst wenn ich vorher auf Zeitschaltung gehe, so hat jedoch der Autofokus jedoch das fokusiert, was ich im Fokus hatte als ich auf den Auslöser gedrückt habe und nun mit der Distanz müsste doch neu fokussiert werden??? Oder??? Von der Idee gut, damit man nicht nur zwei übergroße Gesichter mit etwas schwammigen Hintergrund hat...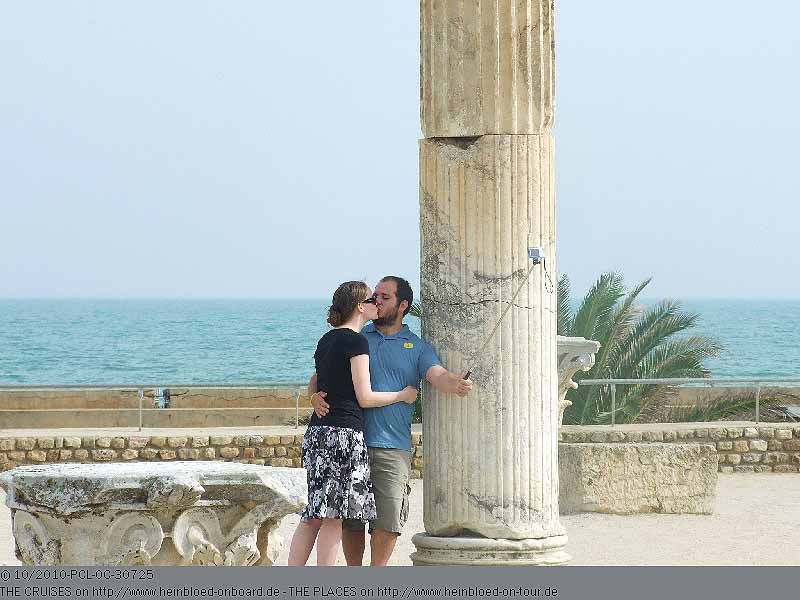 You should not see the couple but what he has in his hand: a telescoping rod with a camera. Someone know how it works to take a picture??? Even I use the timer the autofocus will fix at the time when I press the button, and from the new distance, it needs to be focused on again??? Or??? A good idea if you just do not want to have two oversized faces with a little unclear background...

We were asked if we would like to see the most beautiful mosque in the world and stopped short on parking. We as non-muslim were not allowed to walk in. Without spending too much time to read but I noticed from several cruise reports: Abu Dhabi should be the most beautiful mosque in the world.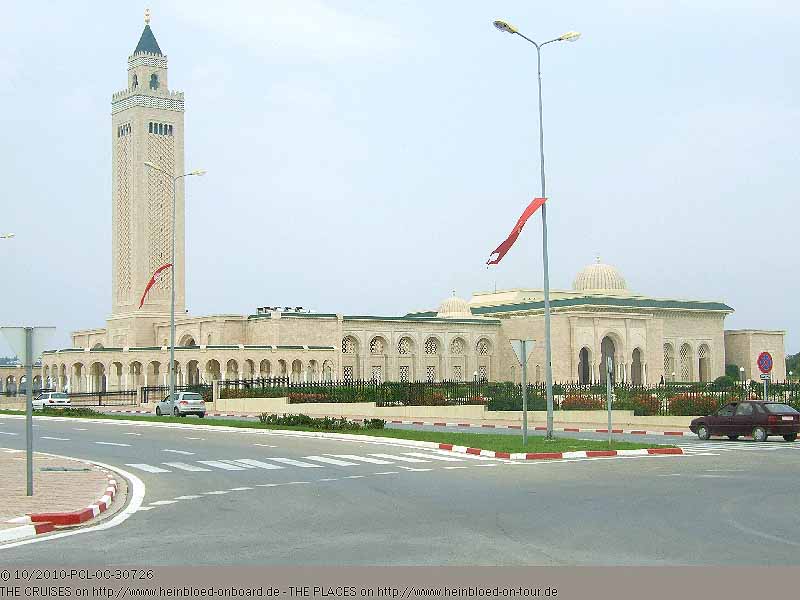 Wir werden gefragt, ob wir die schönste Moschee der Welt sehen wollen und halten kurz auf einem Parkplatz. Rein dürfen wir als Ungläubige nicht. Ohne dass ich mich näher damit befasst habe und nur mal in diversen Reiseberichten gelesen habe: ich dachte immer, dass Abu Dhabi als schönste Moschee der Welt gilt.
Es war so warm und schwül: für zehn Minuten halten, kam doch eine Menge Kondenswasser zusammen.

It was hot and humid: for a stop of ten minutes you got a lot of condensed water.
Die anderen Reisen in diesem Blog/
The other voyages in this blog: