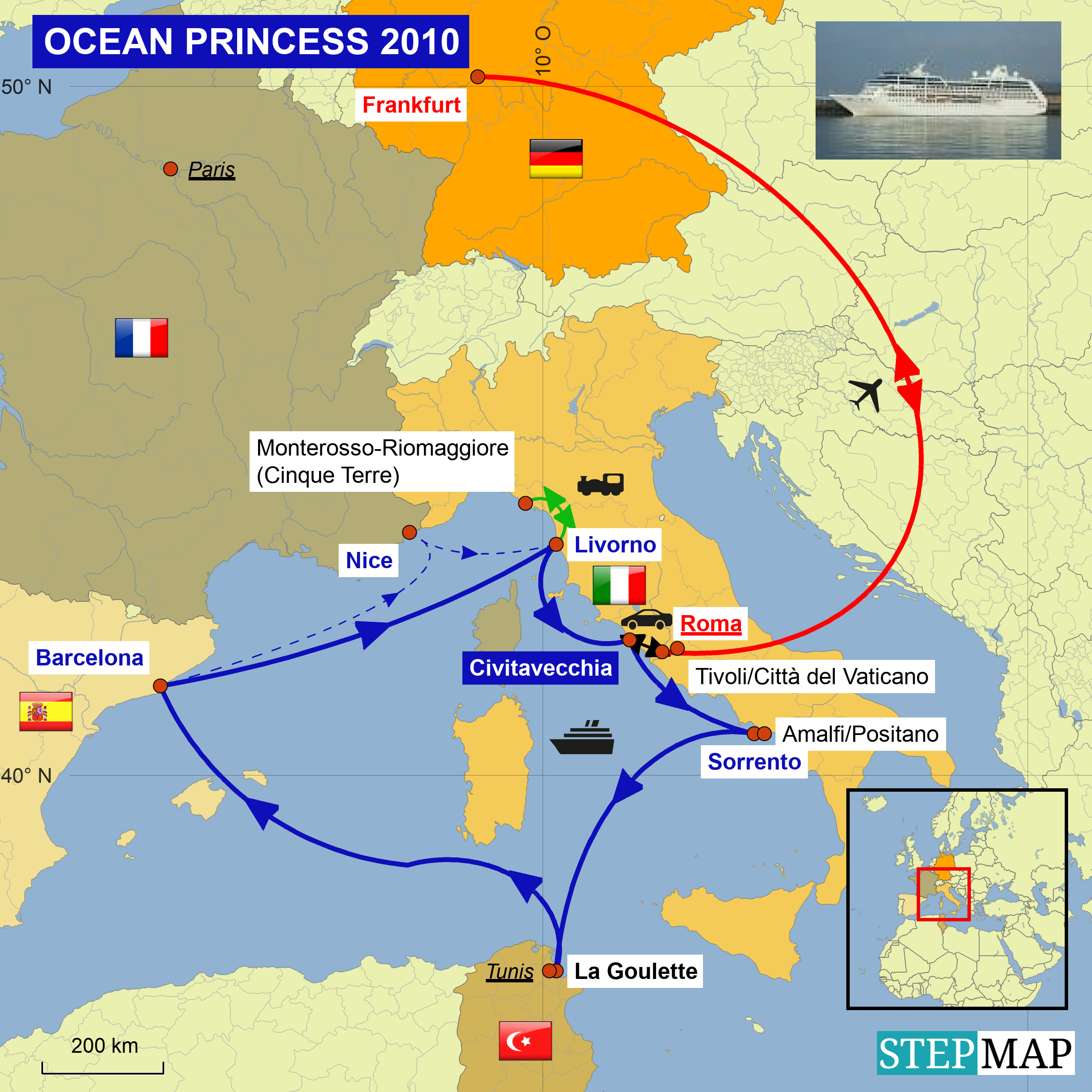 Wir steigen in Diagonal wieder ein. Eigentlich liegen wir vor der 75-Minuten-Grenze. Aber da es nicht logisch ist, dass wir wieder am Diagonal zusteigen, wird dieses als neue Fahrt gewertet und es werden wieder zwei Felder entwertet.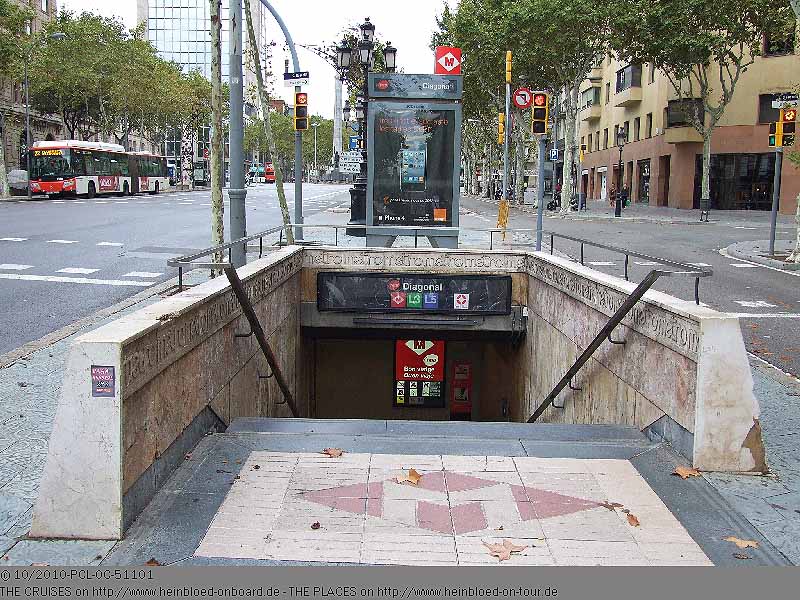 We boarded then at Diagonal. We were ahead of the 75-minutes-limit. But it was not logical that we boarded in Diagonal, so two new journeys were validated.

That would be the exit if you arrive here and want to get out for La Pedrera.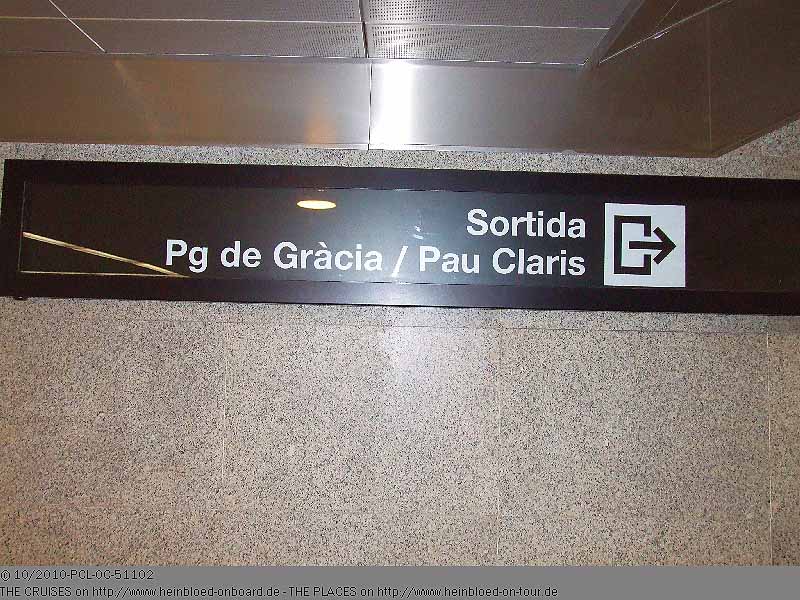 Das wäre übrigens der Ausgang, wenn man hier ankommt und zu La Pradrera will.
Hier fährt auch die Linie 5, die einem zur Sagrada Familia bringt.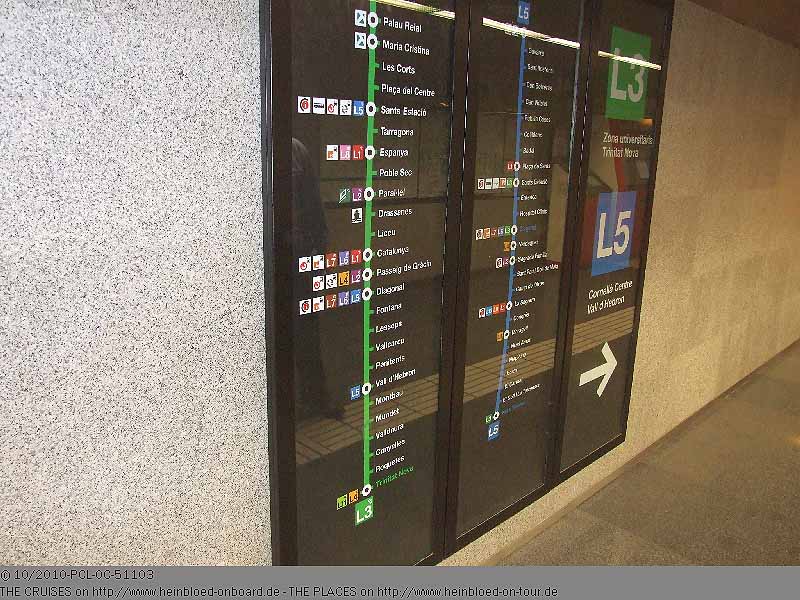 Here you can get also on Line 5 which takes you to Sagrada Familia.

Futurism and pure cleaness.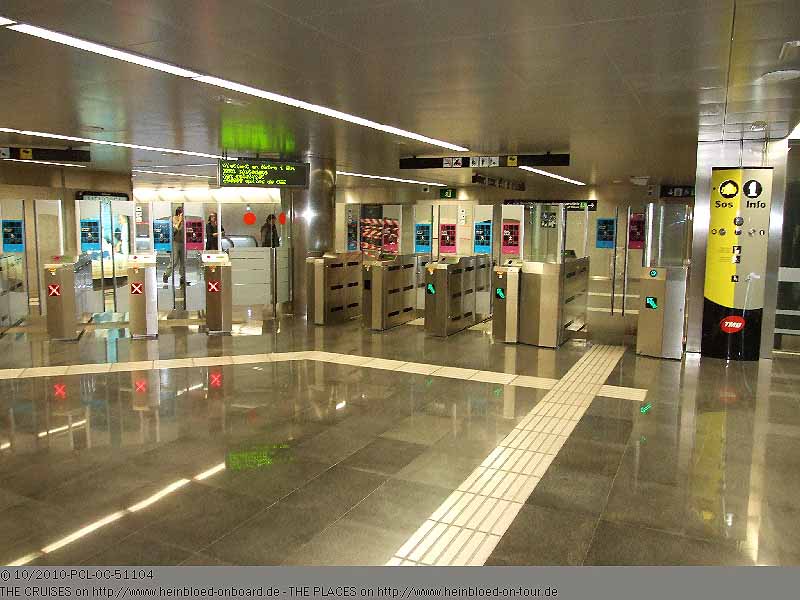 Futurismus und Sauberkeit pur...
Hier fühlt man sicher.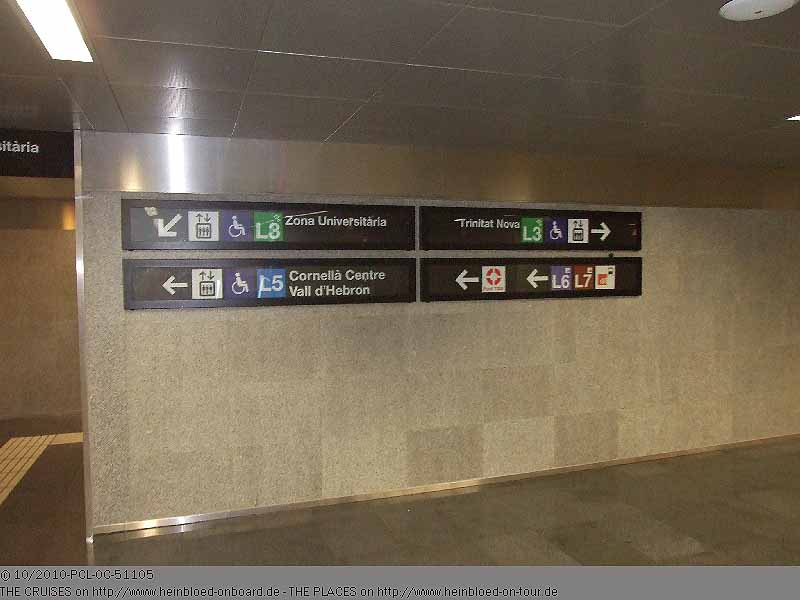 You feel safe here.

Even you are in an older station it must not be shabby.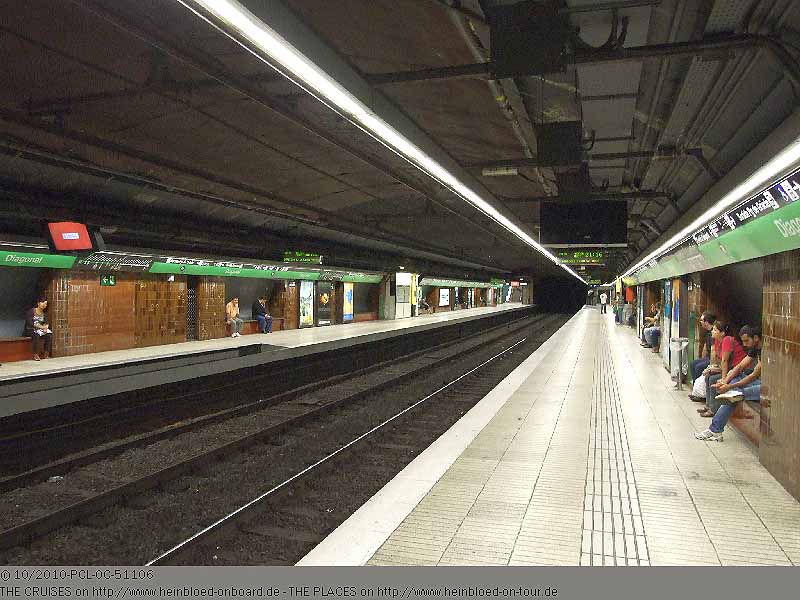 Auch alte Stationen müssen nicht heruntergekommen sein.
Und immer eine gute saubere klare Beschilderung.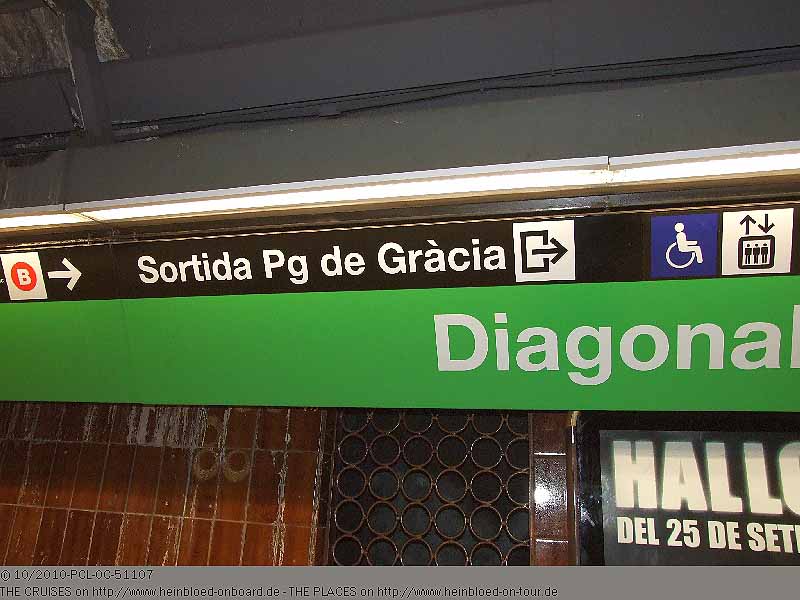 And always as clear clean signpost.

And everywhere maps that you find immediate orientation. The way from Line 3 to Line 5 at Diagonal is shorter than the route from Line 3 to Line 2 at Passeig de Gràcia. Who wants to go for Sagrada Familia and does not want to change at Paral-lel should better transfer here.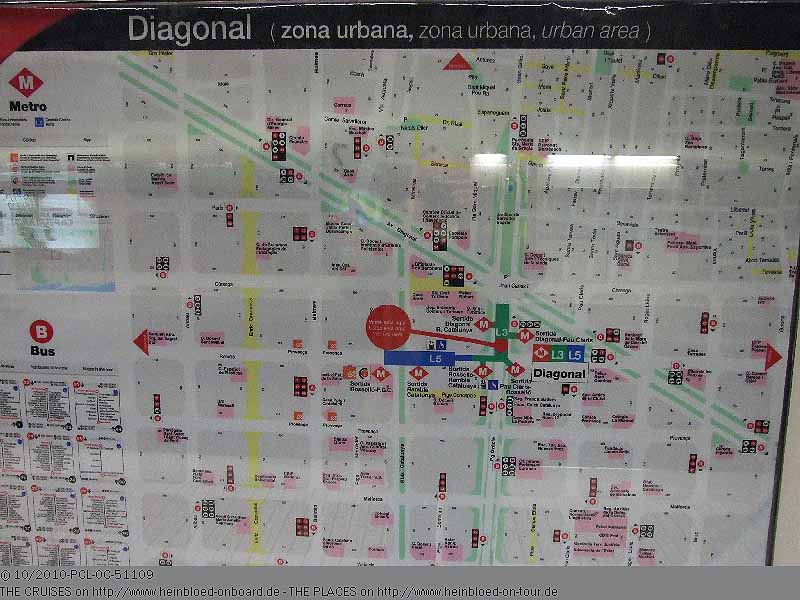 Und überall die Übersichtspläne, damit man sich sofort zurecht findet. Der Weg zwischen Linie 3 und 5 hier am Diagonal ist kürzer als der Weg zwischen Linie 2 und 3 am Passeig de Gràcia. Also wer zur Sagrada Familia will und nicht am Paral-lel umsteigt, sollte es besser hier machen.
Die Züge treffen sekundengenau ein.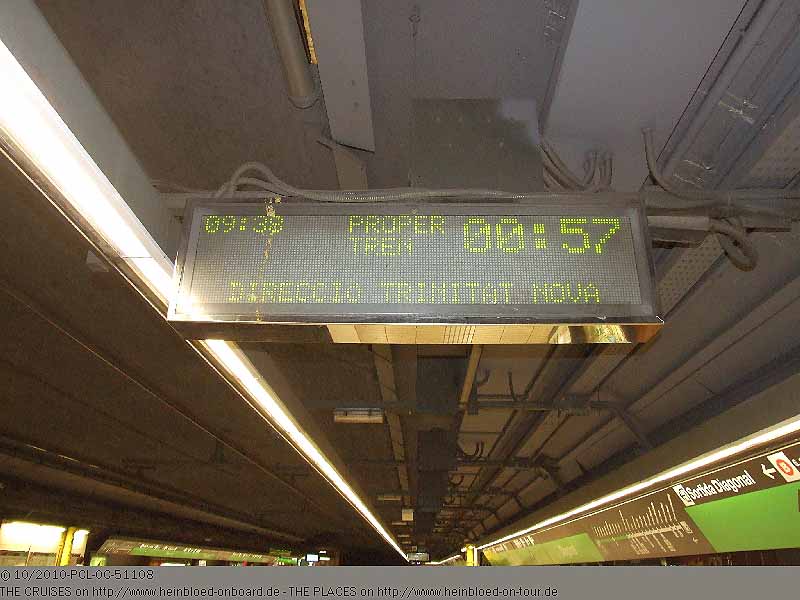 The trains arrived on the second.

We only went two stops to Lesseps.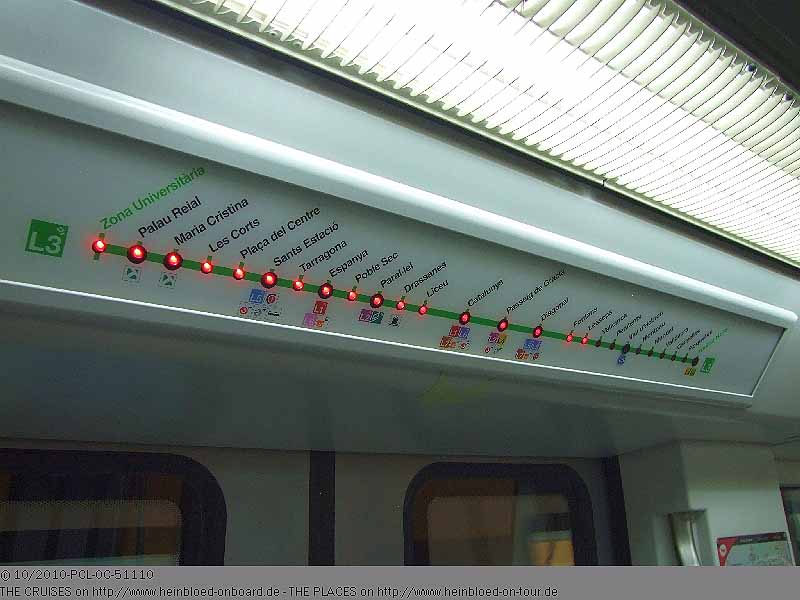 Wir fahren nur zwei Stationen bis Lesseps.
Auch hier informieren wir uns mal über die Ausgänge.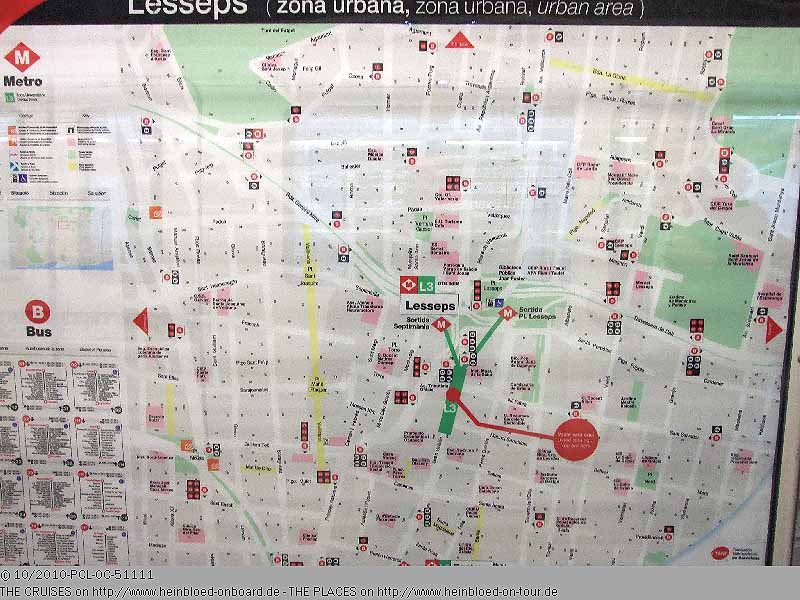 Here we informed ourselves about the right exit.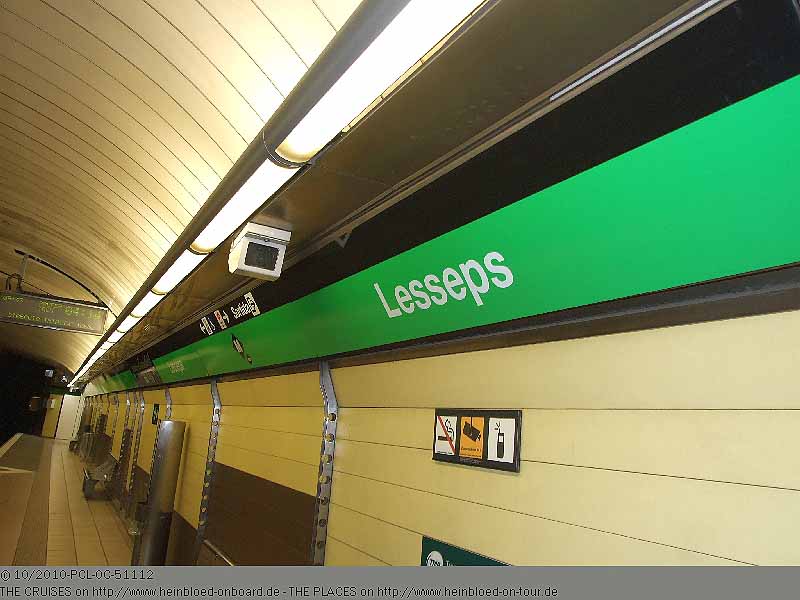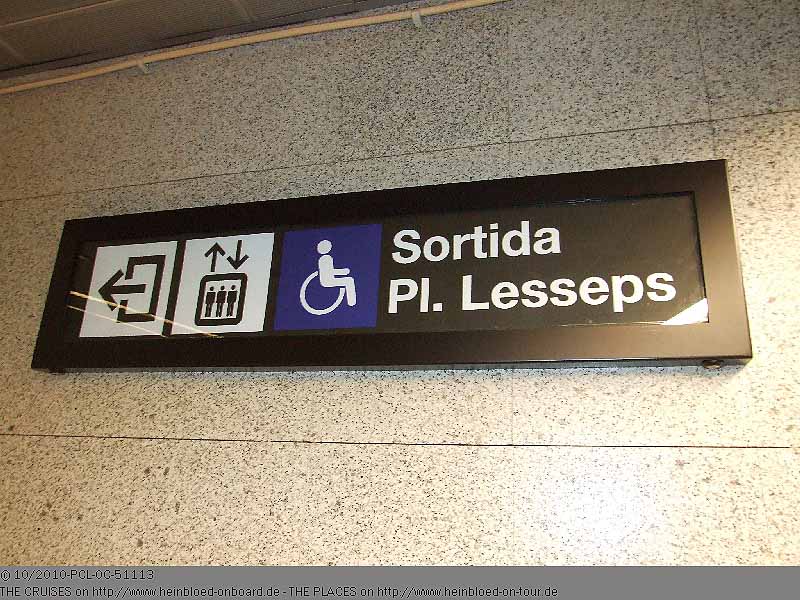 As they had construction works we need to find our orientation.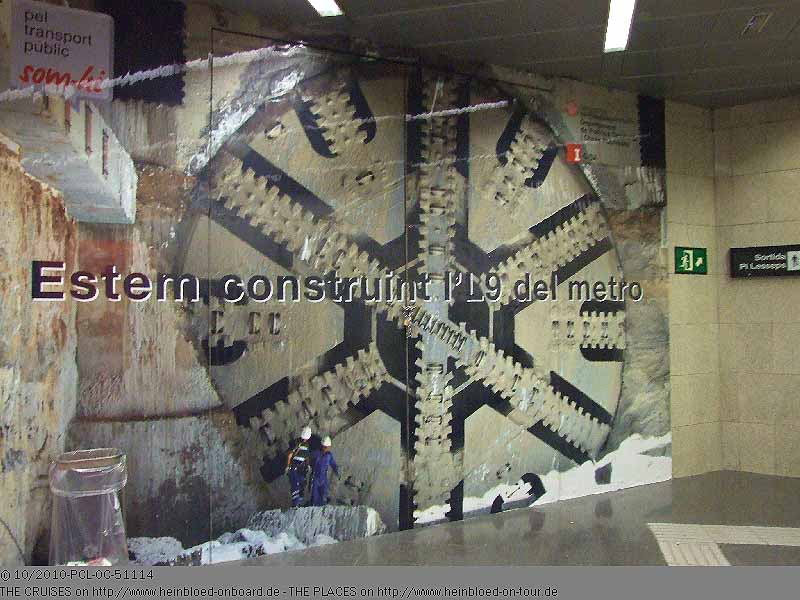 Da hier fleißig gebaut wird, müssen wir uns zunächst einmal orientieren.
Der Bauzaun war natürlich nicht auf den Karten eingezeichnet.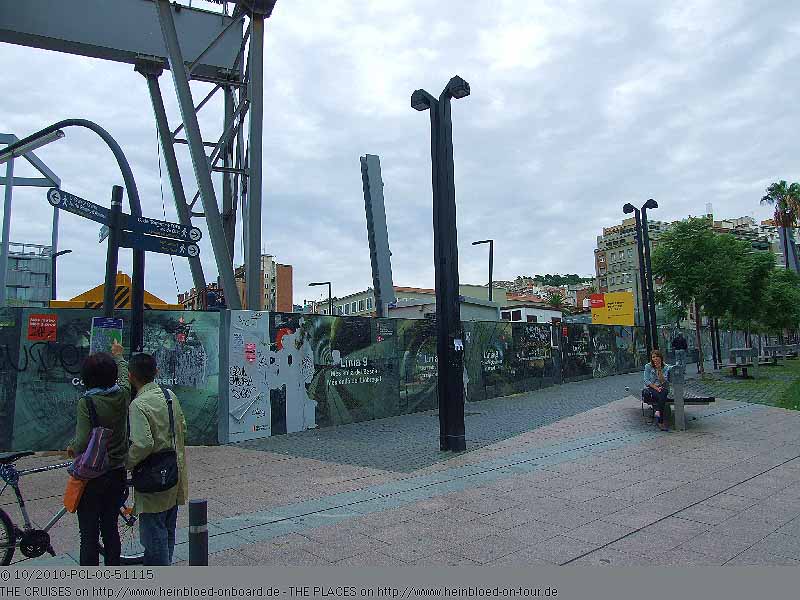 The site fence was of course not on the maps.

Looked nice. Not just like in Rome.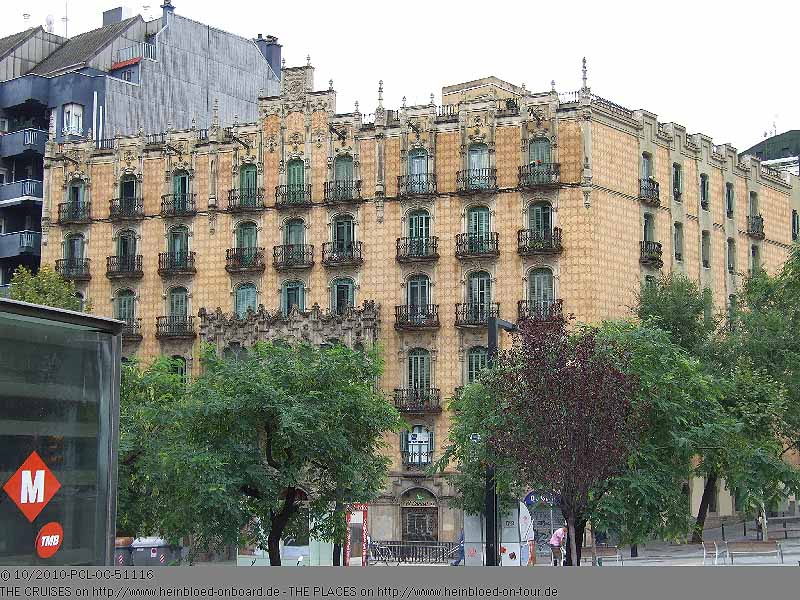 Sieht aber trotzdem ganz nett hier aus. Eben wie nicht in Rom...
Und überall die Pläne zur Orientierung.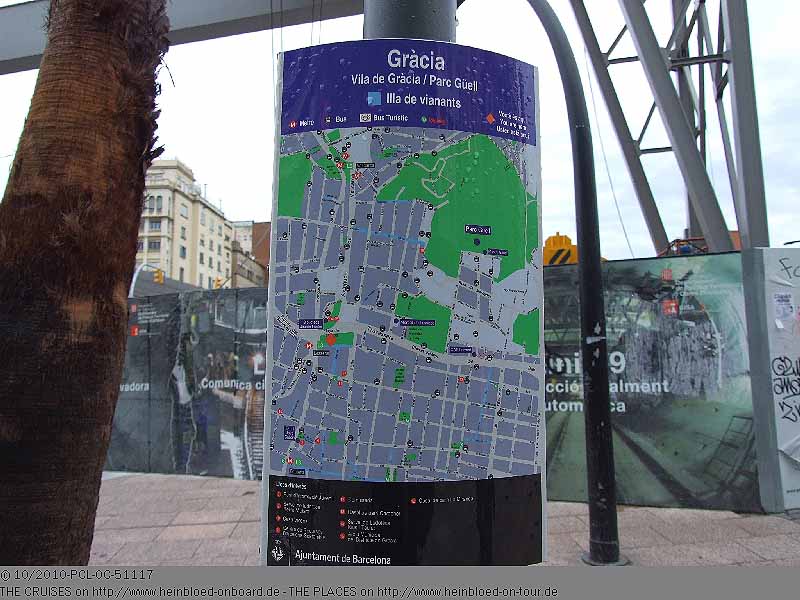 And every where maps to find around.

Park Güell is signposted, but we did not want to get to the main entrance at Olot.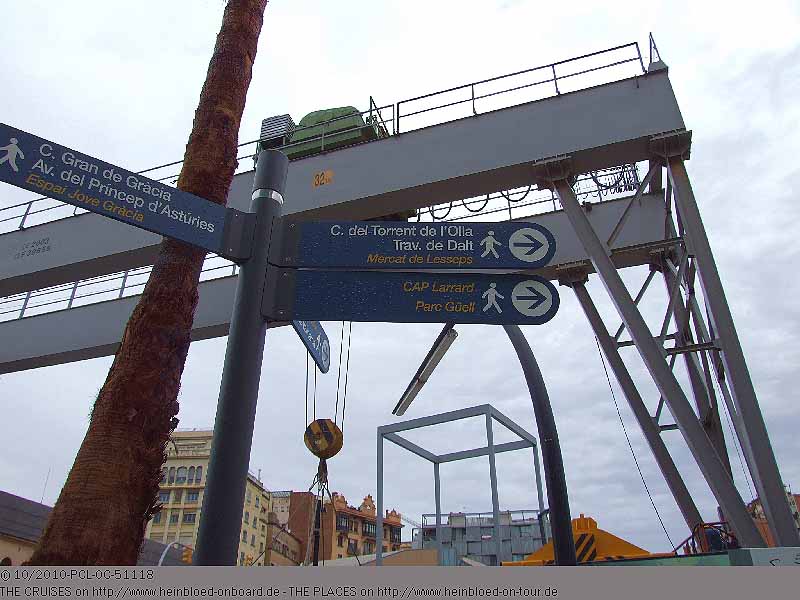 Park Güell ist ausgeschildert, aber wir wollen nicht zum Hauptausgang am Olot.
Da muss man entlang des Bauzauns laufen.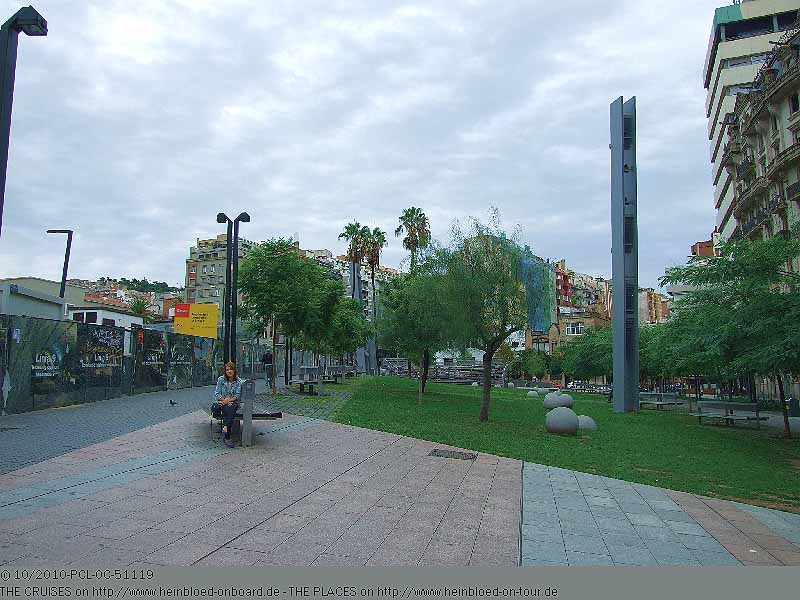 So we had to walk alongside the site fence.

We wanted to get to a side entrance which is on an elevated level of the park, so we only need to just walk down and enjoy the park without tons of busloads from the ships who are all at the main entrance.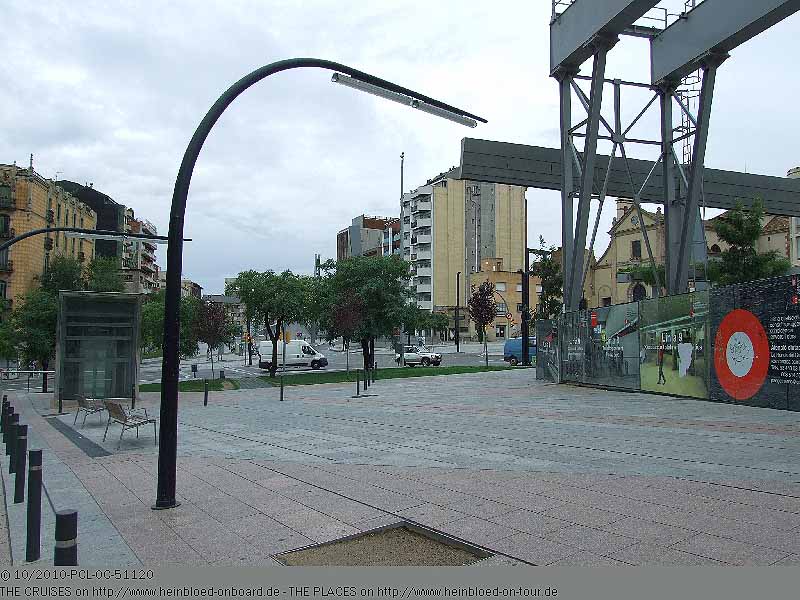 Wir wollen zu einem Seiteneingang der höher liegt und so brauchen wir später nur runterzulaufen und genießen den Park ohne die ganzen Busladungen von den Schiffen, die alle am Haupteingang bloß sind.
Den Bauzaun müssen wir links umlaufen und der Av. de Vallcarca folgen.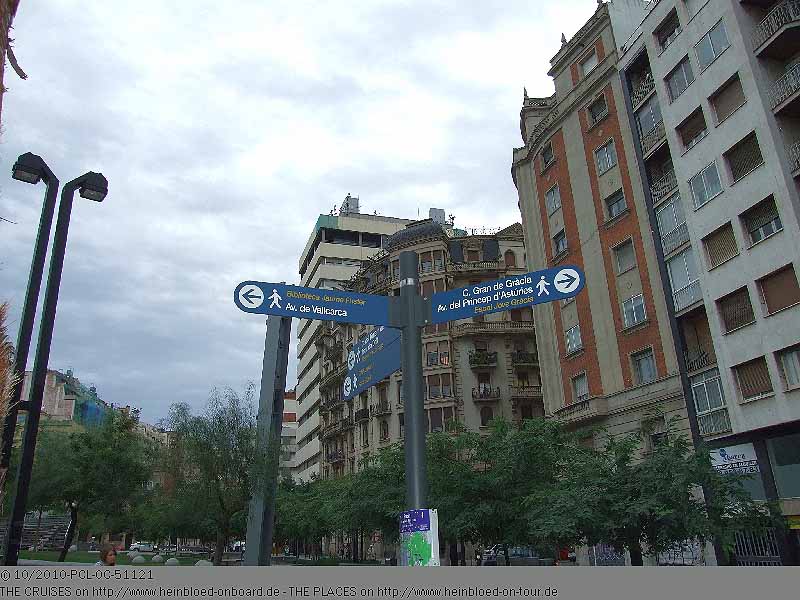 Once around the site fence to follow Av. de Vallcarca.

There is Bus 24 which we could also used.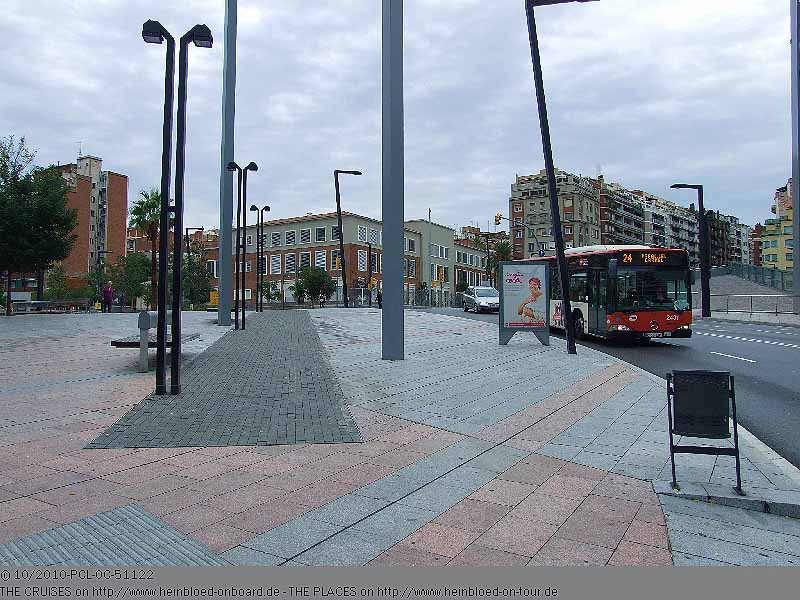 Da kommt auch
Bus 24
, mit dem wir hätten auch fahren können.
Aber wir müssen weiter zur Avinguda de Vallcarca.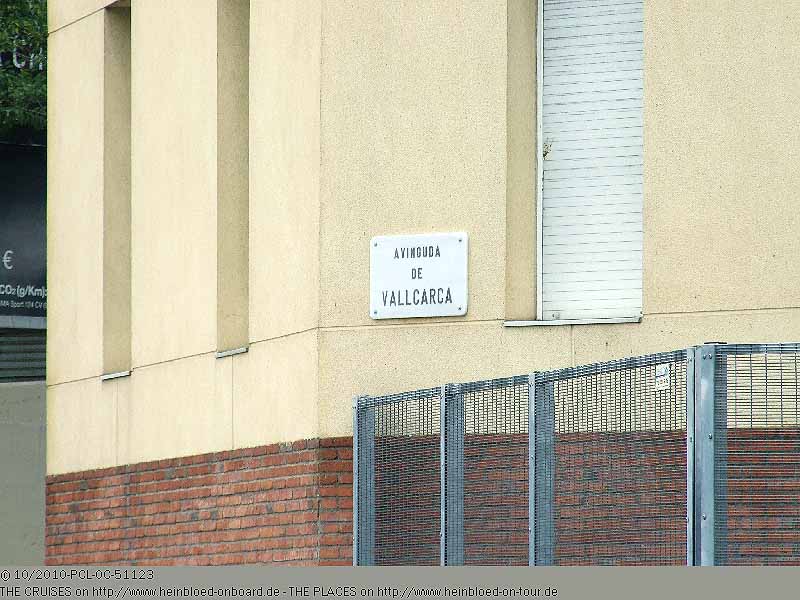 But we need to continue on Avinguda de Vallcarca.

At this time there was a construction site on one side, so we stayed on the left walkway.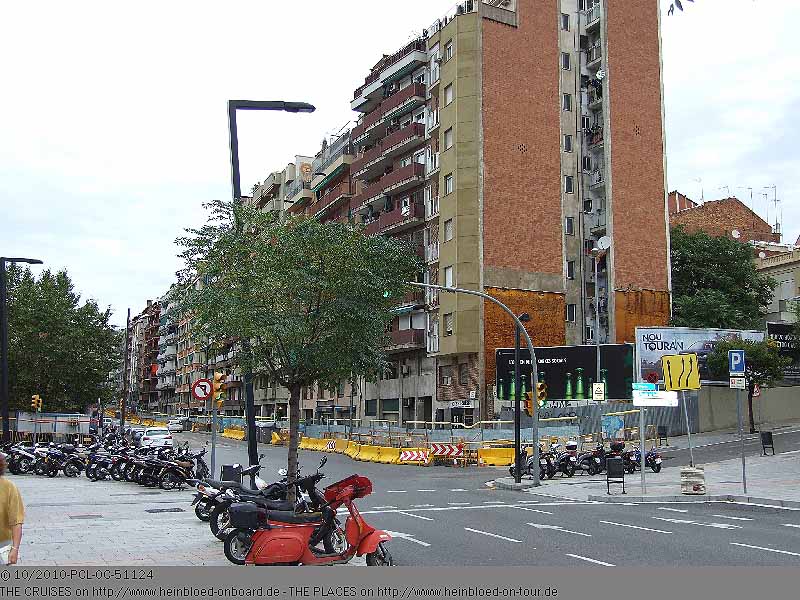 Allerdings ist sie auch derzeit auf einer Seite eine Baustelle, so dass wir links bleiben.
Schätzungsweise 500 m müssen wir zurückgelegt haben vom U-Bahnhof Lesseps.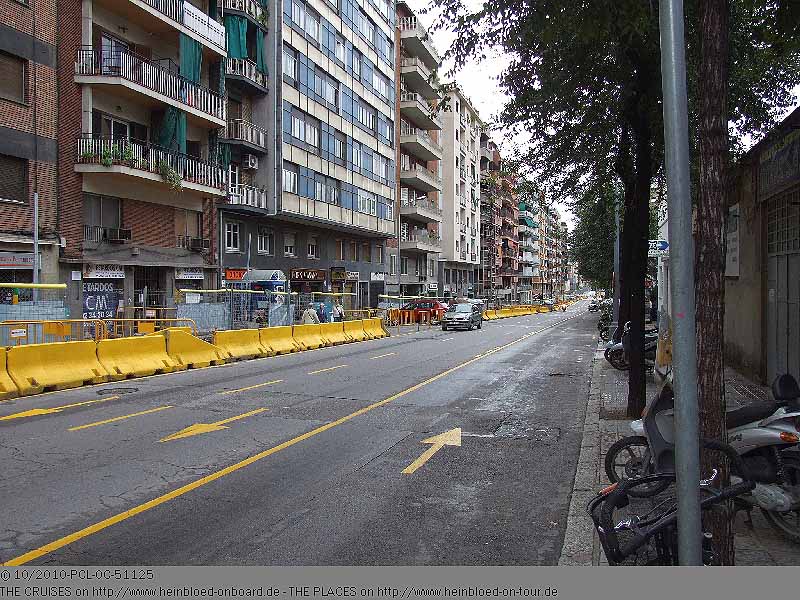 Should be around 500 m which we walked from subway station Lesseps.

At Baixade de la Gloria we need to change to the right side.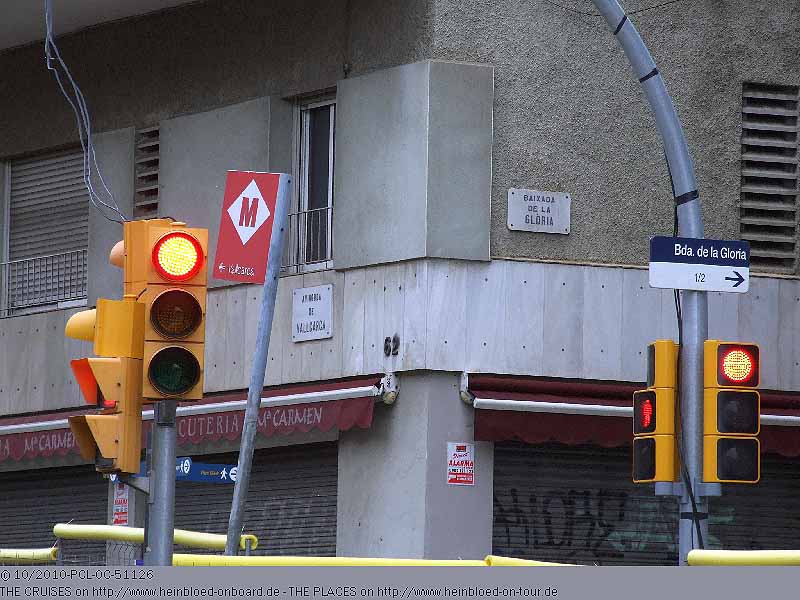 An der Baixade de la Gloria müssen wir dann rechts rüber.
Und hier sieht man auch das Schild, dass die nächste U-Bahn-Station Vallcarca näher gewesen wäre, aber wir wollten uns ja bewusst die Situation am Bahnhof Lesseps angucken.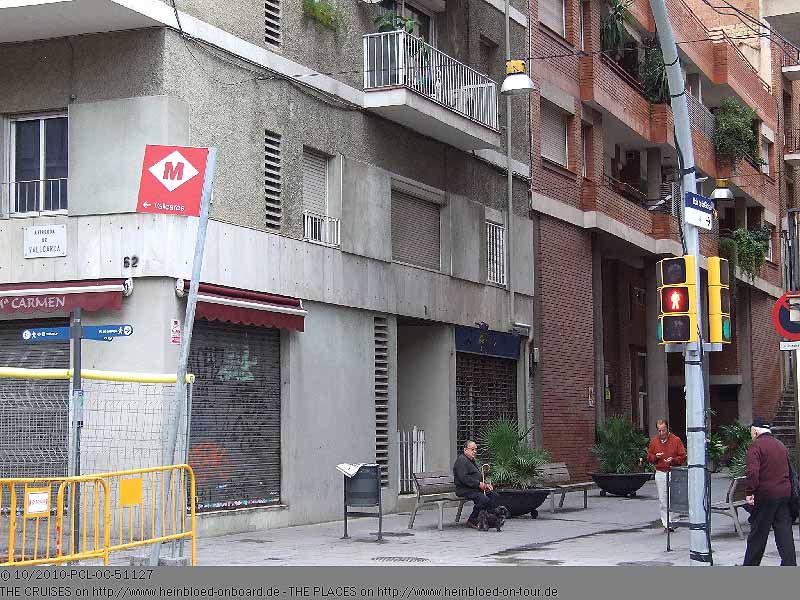 We find here a signpost that subway station Vallcarca would be closer, but we wanted to use the stop Lesseps.

Now you see why we chose this way.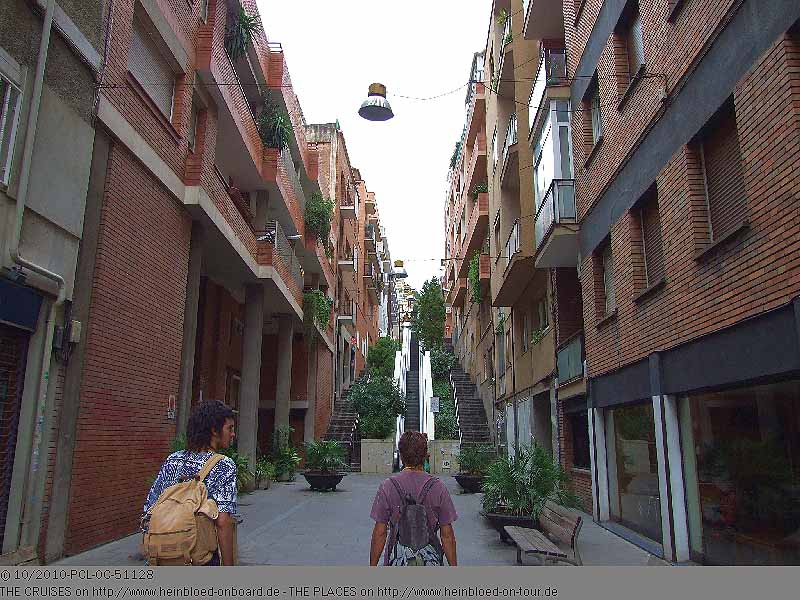 Hier sieht man schon, warum wir diesen Weg gewählt haben.
Wir haben von den Rolltreppen gelesen, die einem nach oben bringen.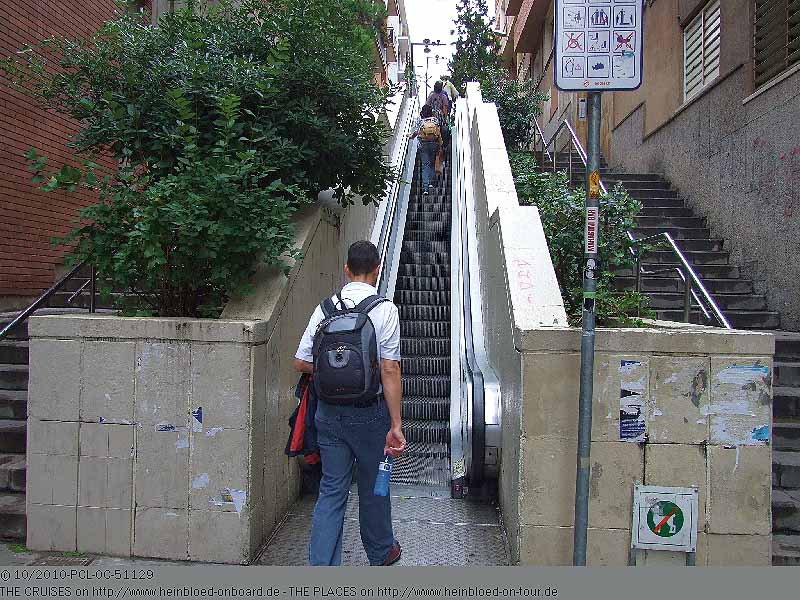 We read about the escelators which takes you upwards.

Unfortunately, our guidebook forgot to mention that there are two blocks without escalator.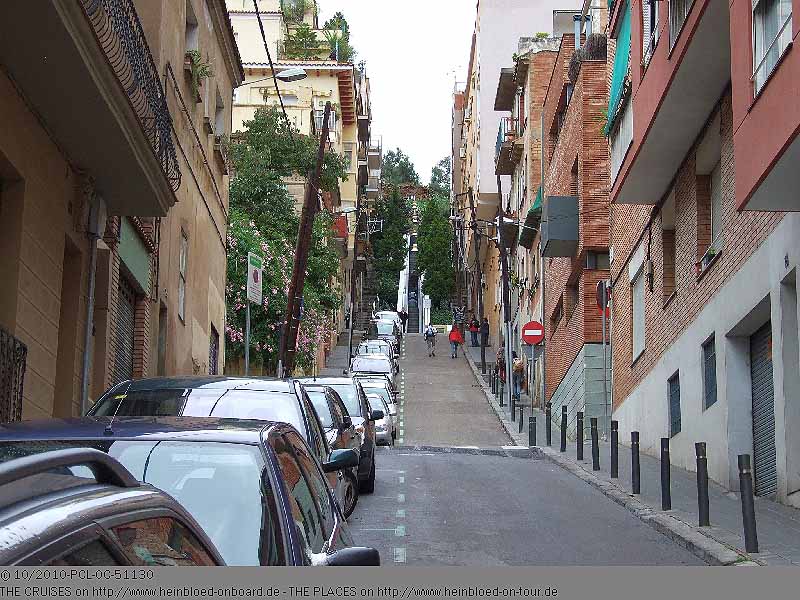 Leider hat unser Reiseführer vergessen zu erwähnen, dass zwei Blocks zwischendurch, keine Rolltreppe fährt.
So müssen wir doch mal zwischendurch steil selbst laufen...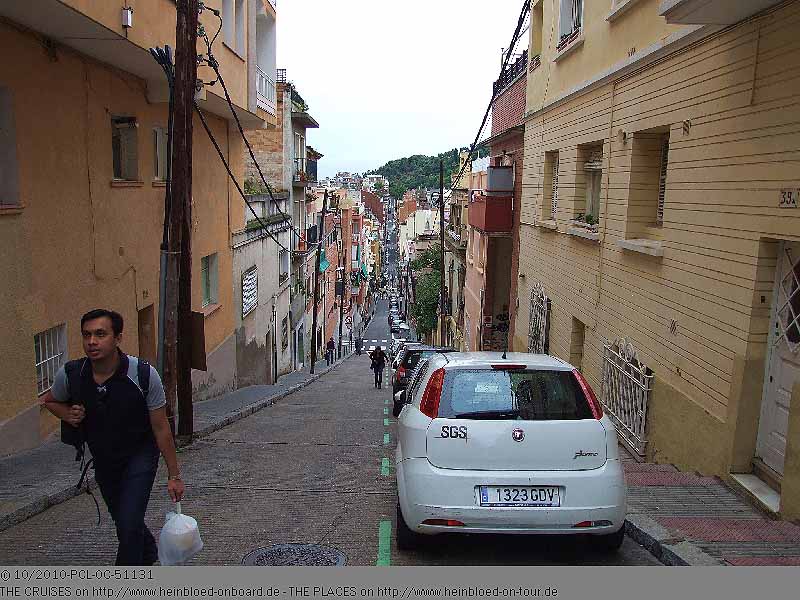 So we need to excersise ourselves on a steep way in between...

And two of the six escalators did not run, so it was four blocks in total to walk. But two of them as stairs which were excellent.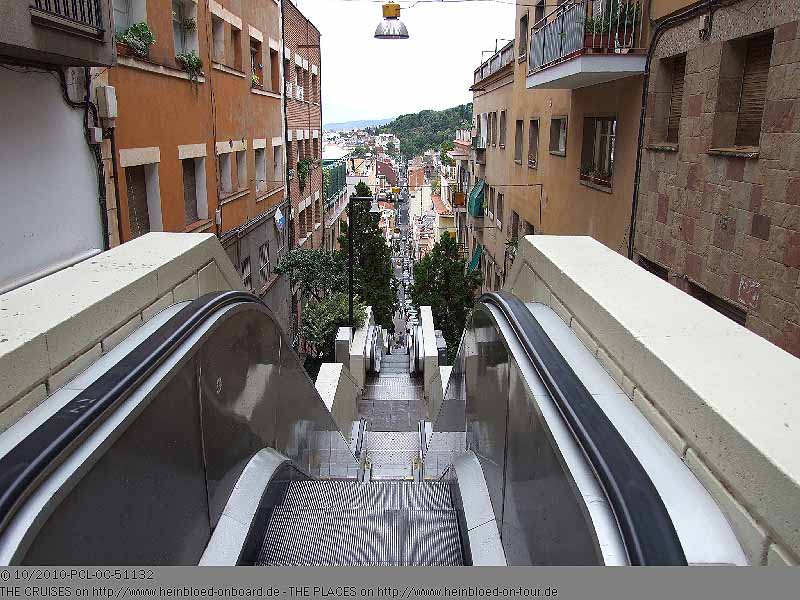 Und zwei der sechs Rolltreppensegmente liefen ebenfalls nicht, so dass es schon vier Blocks waren, die wir selbst rauflaufen mussten. Aber zwei davon als Treppen, was angenehmer war.
Erinnert an San Francisco...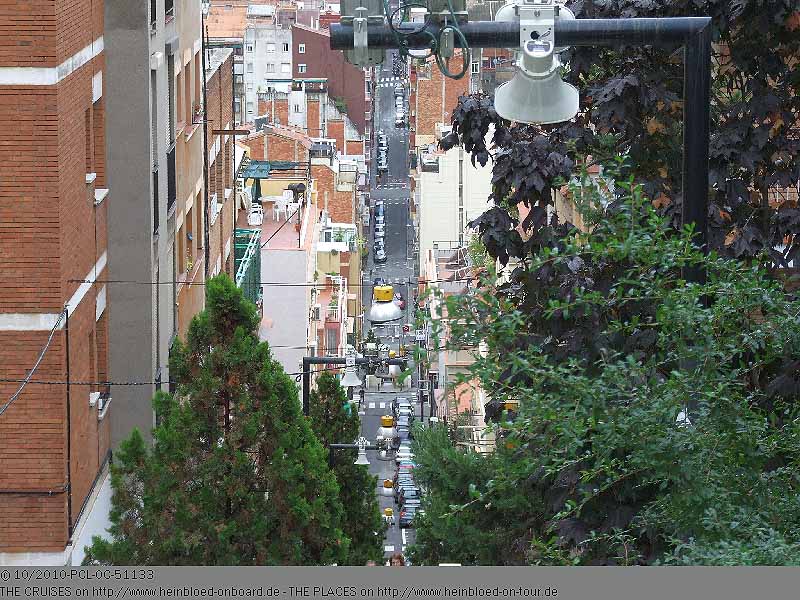 Reminded to San Francisco...

And if you made it from the escalator to the metal-stairways and upwards you made it finally to Park Güell.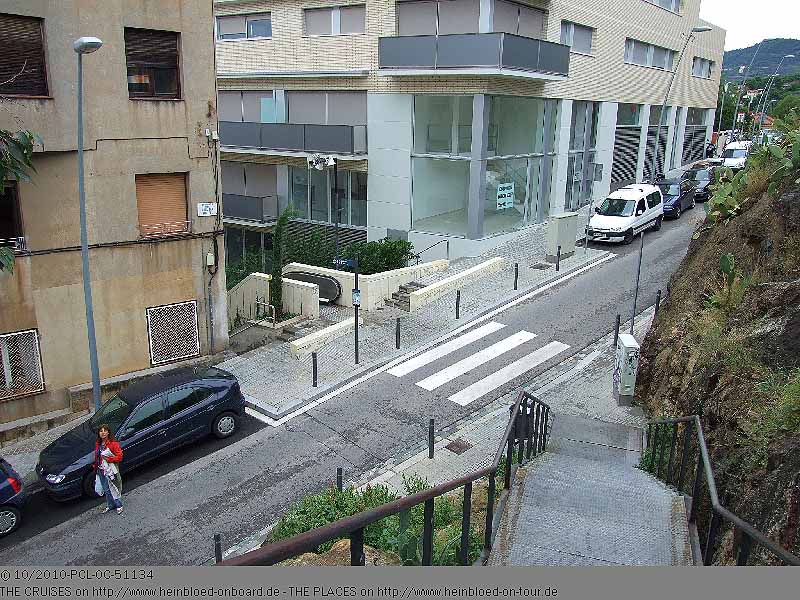 Und wenn man von der Rolltreppe noch diese Metallrost-Stufen hoch geschafft hat, erwartet einen der Park Güell.
Die anderen Reisen in diesem Blog/
The other voyages in this blog: