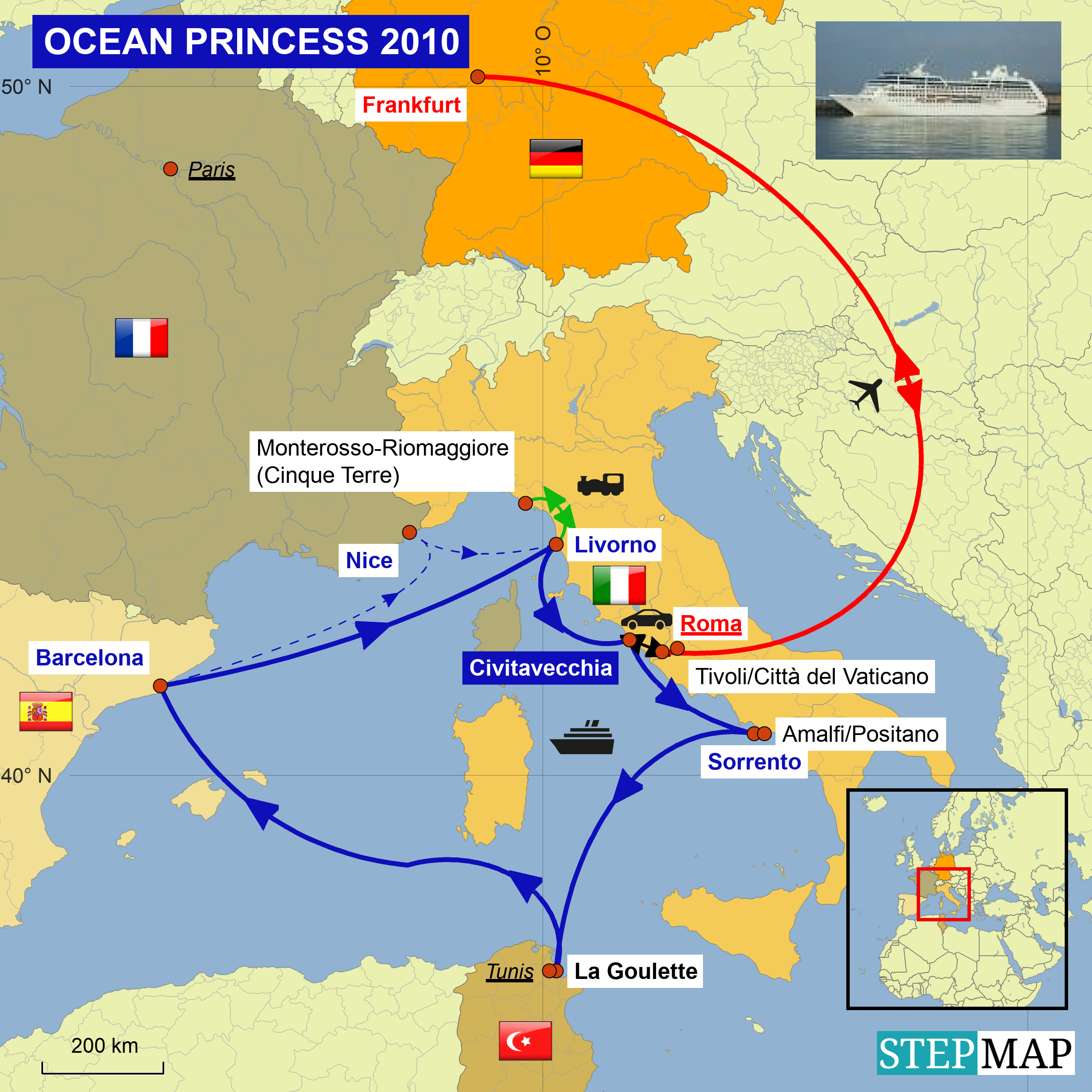 Wir werden aufgefordert unsere Uhren umzustellen, da Tunesien in einer anderen Zeitzone liegt. Anscheinend gibt es jeden Abend eine andere Schokolade.

We were instruction to adjust the time as Tunisia is another time zone. Looked like that you get different chocolate each night.

For those who do not want to have dinner on the balcony like us can order a Champagne-Breakfast for 32.00 USD per person. On the menu, you find Quiche Lorraine. I can tell know in advance: Quiche is a strength on this ship. Even in Lorraine, I did not get a better one like a few days later on OCEAN PRINCESS. But it is nothing for me: 1. I cannot bear Champagne and 2. I prefer dinner but breakfast.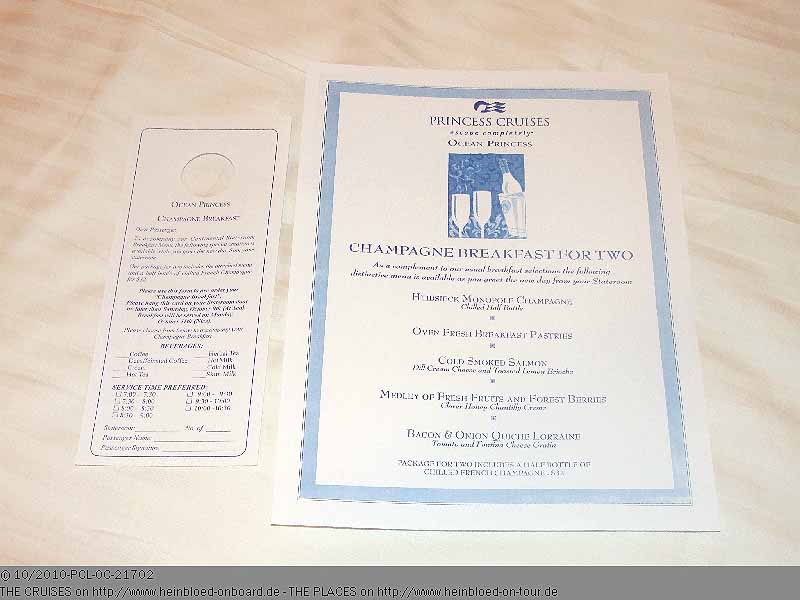 Für diejenigen, die nicht wie wir auf dem Balkon zu Abendessen wollen, gibt es ein Champagner-Frühstück für 32,00 USD pro Person. Auf dem Menü steht Quiche Lorraine. Ich kann schon vorab sagen: Quiche ist wirklich eine Stärke auf diesem Schiff. Selbst in Lothringen habe ich keine bessere bislang gegessen, wie wenige Tage später auf der OCEAN PRINCESS. Aber bei mir wäre es Perlen vor die Säue werfen: 1. Ich trinke und vertrage keinen Champagner und 2. lieber Abendessen als Frühstücken.
Sehr angenehm ist, dass der Princess Pattern (Tagesprogramm) unter der Tür durchgeschoben wird. So braucht man sich nicht morgens anzuziehen, um es am Gang aus dem Postfach zu holen.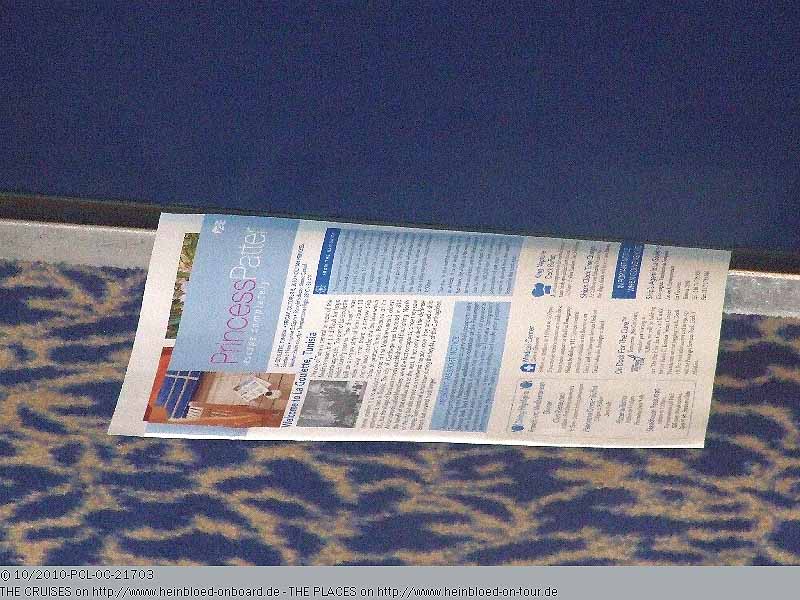 It was great that they pushed the Princess Pattern (Daily programme) under the door so you do not need to dress up in the morning to get it out of the rack in front of your door.

73F sounds a lot. But directly under the air condition outlet, it was not very pleasant.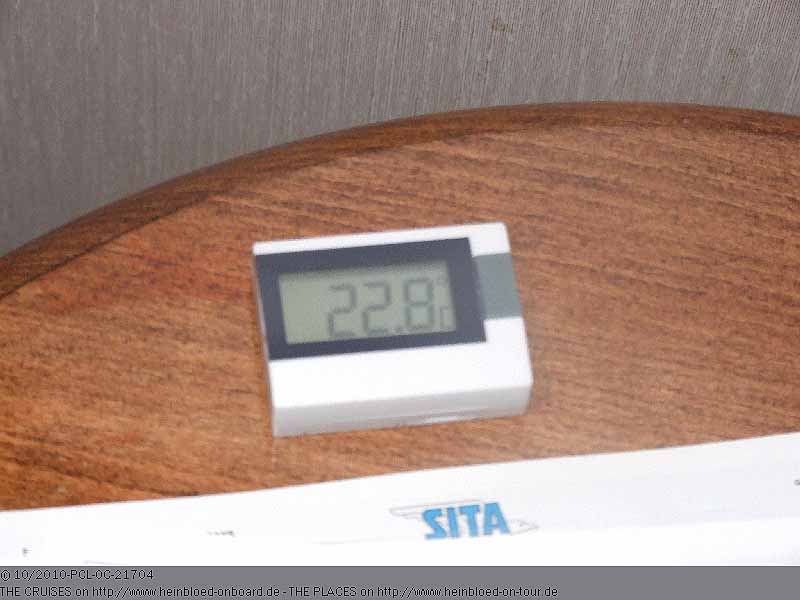 22,8°C - klang warm. Aber direkt unter der Klimaanlage wirkt es anders.
Außerdem fällt uns auf, dass es zwischendurch für wenige Minuten immer unangenehm riecht.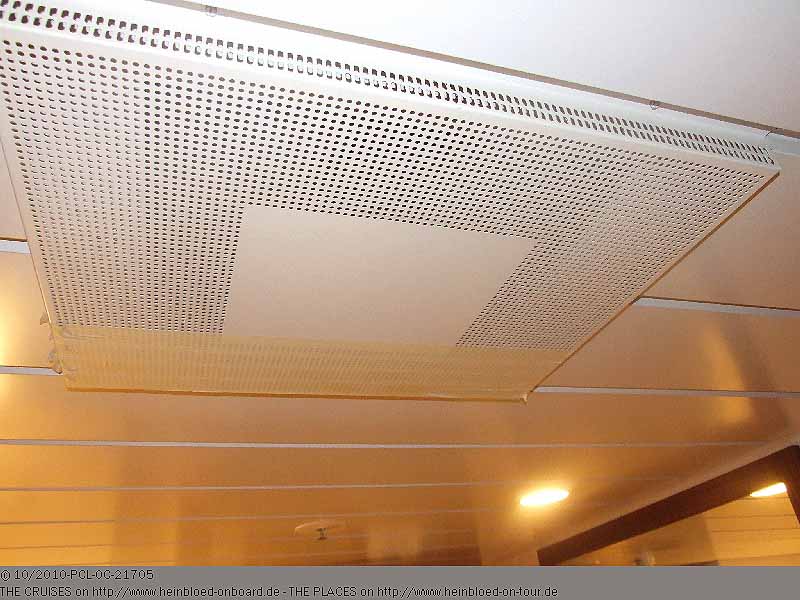 And it smelled bad from time to time for a couple of minutes.

Same in the bathroom. Bruno thought maybe the ventilation was not connected to the right pipe. Sometimes it smelled the same in the hallway.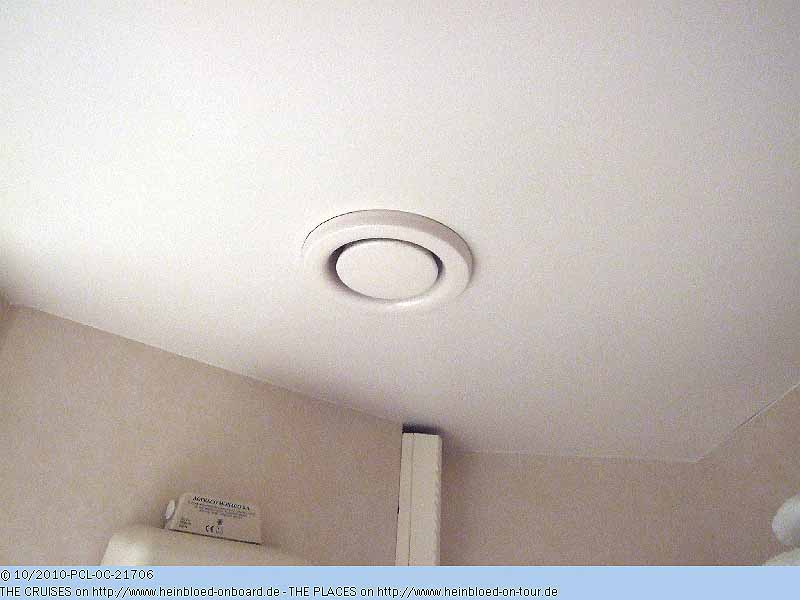 Gleiches im Bad. Bruno meint, dass vielleicht die Luft im Bad irgendwie an ein falsches Rohr angeschlossen wurde. Denn manchmal riecht es auch im Gang so.
Um 02.00 Uhr nachts ist meine Nacht vorerst zu Ende. Ich kann nicht mehr schlafen. Mein Rücken macht das mit der Matratze nicht mehr mit. Unser Steward hatte mir eigentlich versprochen, Abhilfe zu schaffen, und etwas darunter zu legen. Weil Bruno schläft, will ich jetzt in der Kabine nicht telefonieren, um mit der Rezeption zu sprechen und daher gehe ich raus und will zur Rezeption. Irgendjemand hat aber unser Treppenhaus geklaut. Es ist weg!!!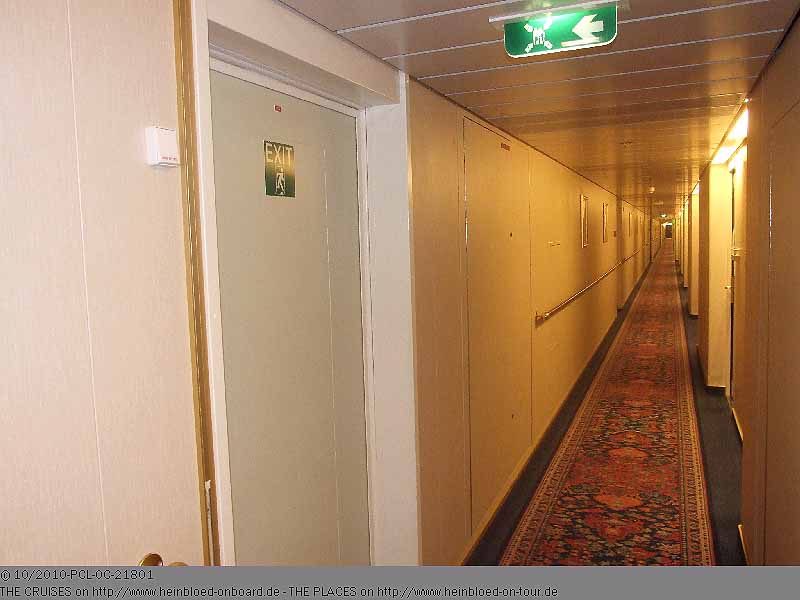 My night was finished at 02.00 hrs. I was unable to sleep anymore. My back was not made for this mattress. Our steward promised to do something under. Because Bruno slept, I did not want to make a phone call with the reception desk in the cabin. So I walked out to go personally to the reception. Someone had stolen the stairway. It was gone!!!

A very attentive steward closed the doors to the hallways to avoid any disturbance because he used the vacuum cleaner in the stairway.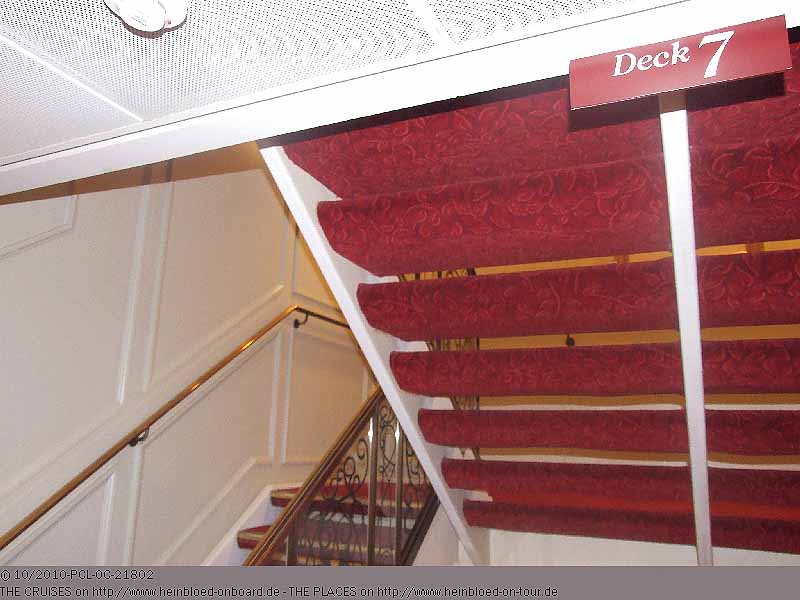 Ein besonders rücksichtsvoller Steward hat die Türen zu den Kabinengängen geschlossen, um die Nachtruhe nicht zu stören, wenn er im Treppenhaus staubsaugt.
Komischerweise stehen auf Deck 4 die Türen offen.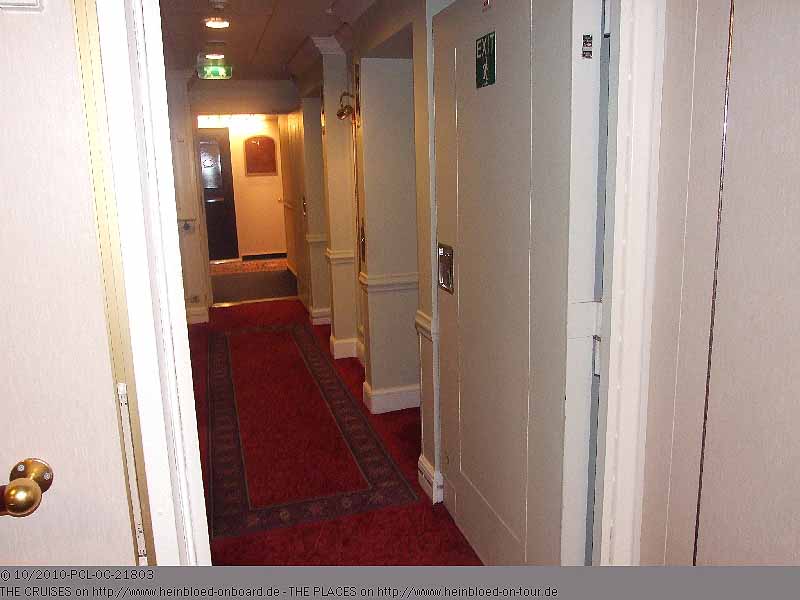 Just strange that the doors to Deck 4 were open.

Silence.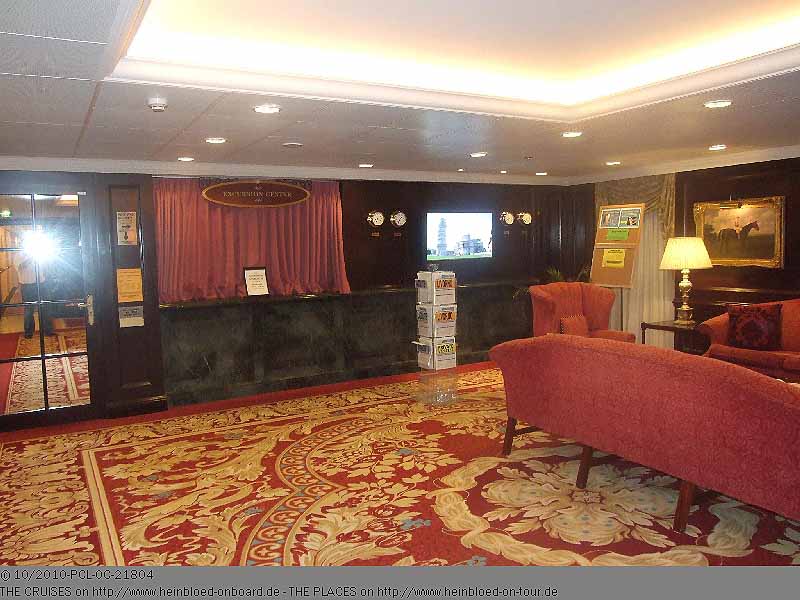 Stille.
Einsamkeit. Sieht richtig einladend aus, um dort zu schlafen.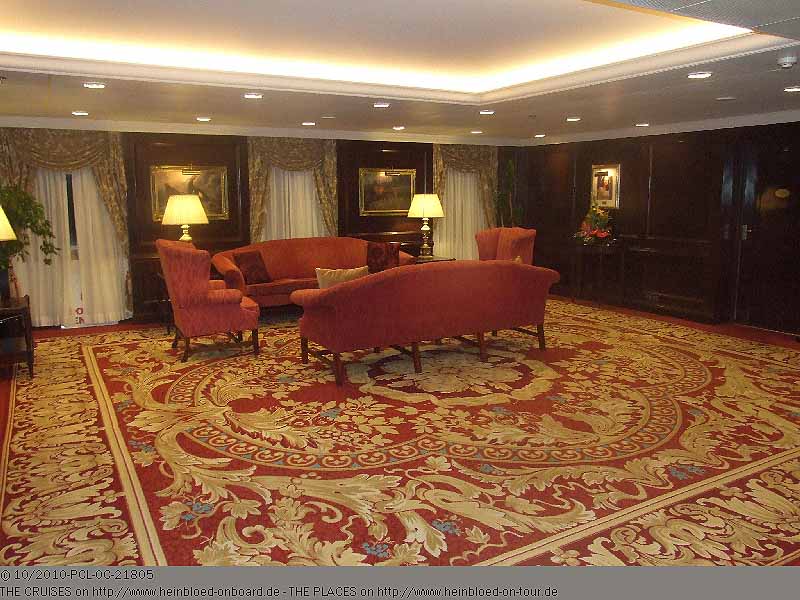 Loneliness. Looked very inviting to sleep there.

Strange that none was there.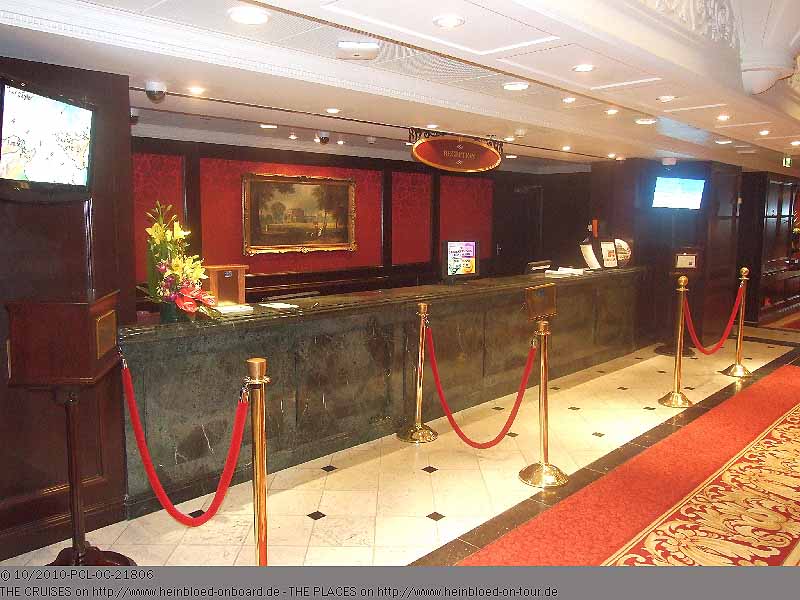 Komisch, dass gar keiner da ist.
Vielleicht ist ja jemand im Backoffice.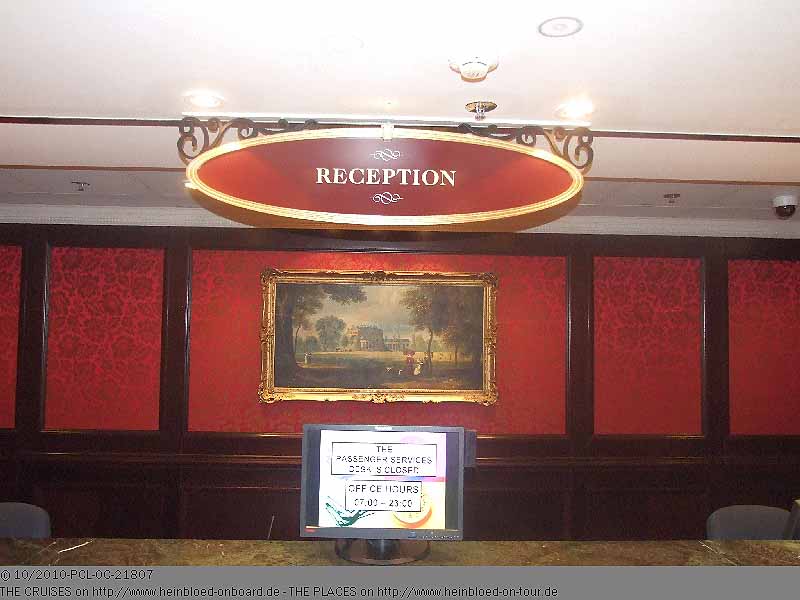 Maybe someone was in the backoffice.

They have closed from 23:00 hrs to 07:00 hrs. No emergency phone, no information about what you should do in case of any problems. With Fred Olsen, you had the same. But there was a phone and advice which number to dial to get immediate assistance.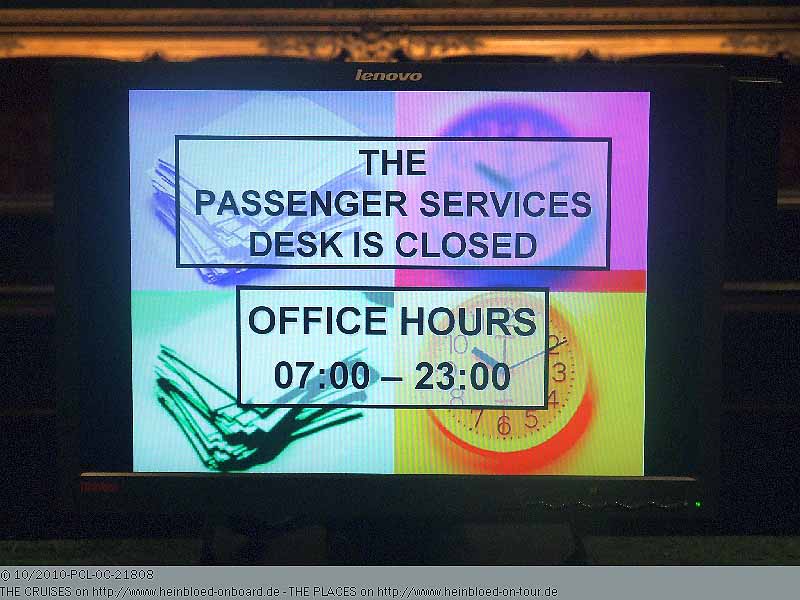 Sie haben von 23:00 Uhr bis 07:00 Uhr geschlossen. Kein Nottelefon, kein Hinweis, was man machen soll, wenn man jetzt ein Problem hat. Bei Fred Olsen gibt es das auch. Aber da steht ein Telefon und ein Hinweis, welche Nummer man anrufen soll, wenn man Unterstützung braucht.
Immerhin kann man sich um diese Zeit über unsere Position informationen...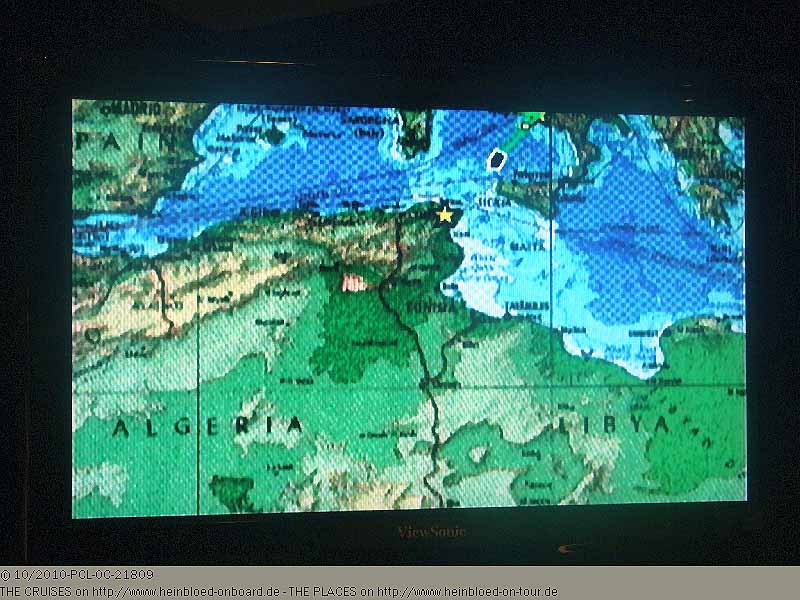 But you can inform yourself on your current position...

I went up to the Panorama Buffet and hoped to find someone sitting there who might help.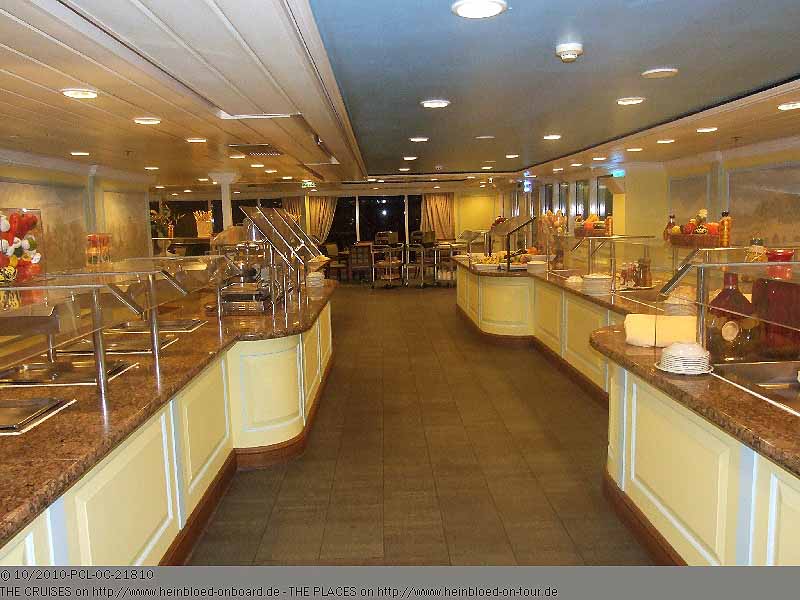 Ich fahre hoch ins Panorama Buffet, in der Hoffnung oben vielleicht jemand sitzt, der weiterhelfen kann.
Aber dort gibt es nur eine Restebüffet vom Vorabend.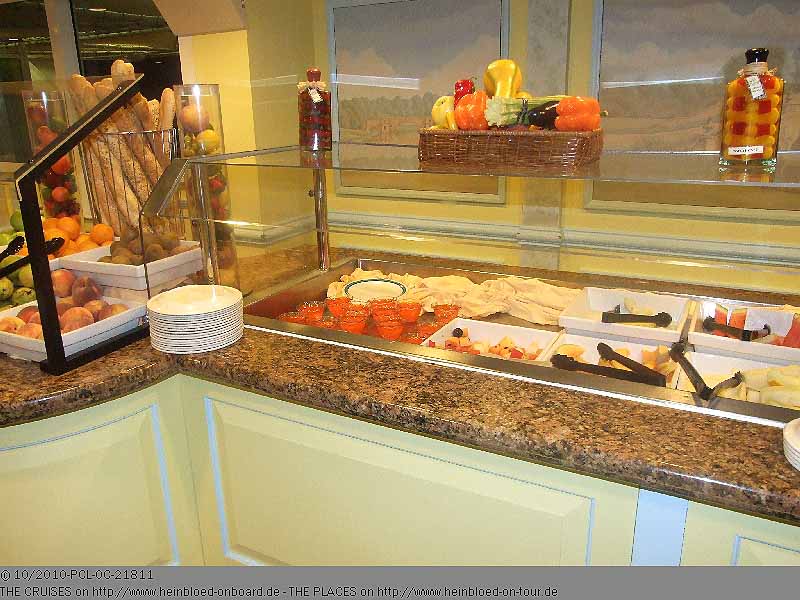 But there you only get the remained buffet from the night before.

Great to find a sanitizer which you did not use onboard so far. Neither when we embarked nor when we returned from ashore and never when we saw a restaurant. I call it just encouraged.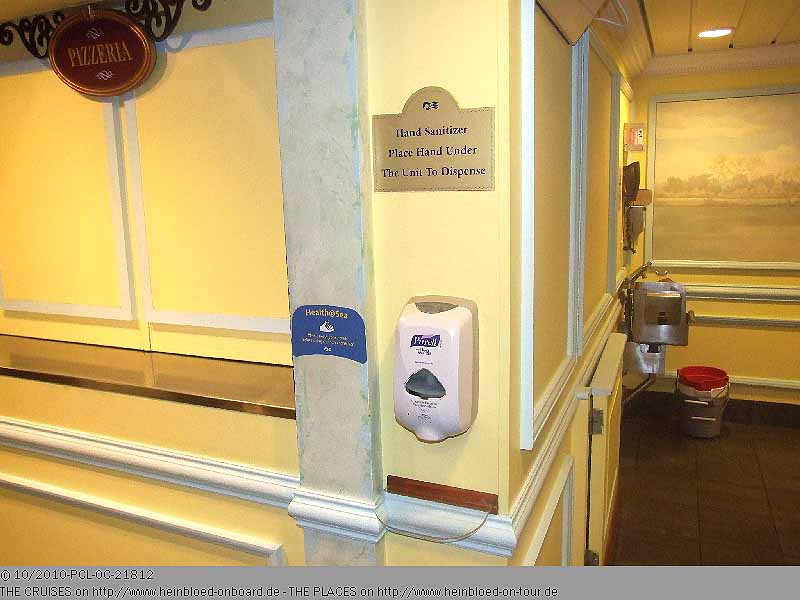 Wenigstens finde ich hier einen Handdesinfizierer, der bislang an Bord gar nicht gebraucht wurde. Weder bei der Einschiffung oder beim Wiederkommen vom Landgang noch bei jedem Besuch eines Restaurants. Das nenne ich mal mutig.
Auf der
Homepage von Princess
finde ich aber den Hinweis, dass auf der OCEAN PRINCESS das Evening Bistro von 23.00 Uhr bis 04.00 Uhr morgens auf sein soll... Auf der NORWEGIAN DREAM war es der Treffpunkt, um Crew-Mitglieder zu treffen, die dort etwas gegessen haben.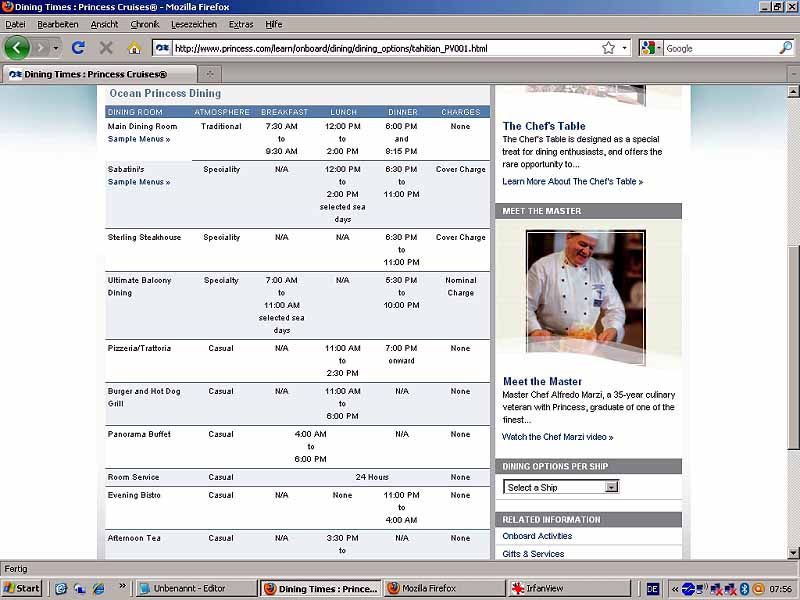 On the homepage of princess you find the information that there should be an Evening Bistro available from 23.00 hrs until 04.00 hrs in the morning... On NORWEGIAN DREAM it was the meeting point to meet some crew-members who ate there something.

Down in the stairway, I found a phone finally. But there was no number to see I could call. Was my back a medical emergency??? Should I dial 911??? There was no number at the front desk. I did not want to return to my cabin as Bruno was sleeping and I do not want to check how to reach the reception desk. In this situation I remember the last words when Dean left us after the dinner: Call us at 9001, even it has nothing to do with food or beverages. I asked for two blankets to be delivered in front of our cabin and that the stewards should not knock the door as Bruno was sleeping and I need a minute to get back to our deck.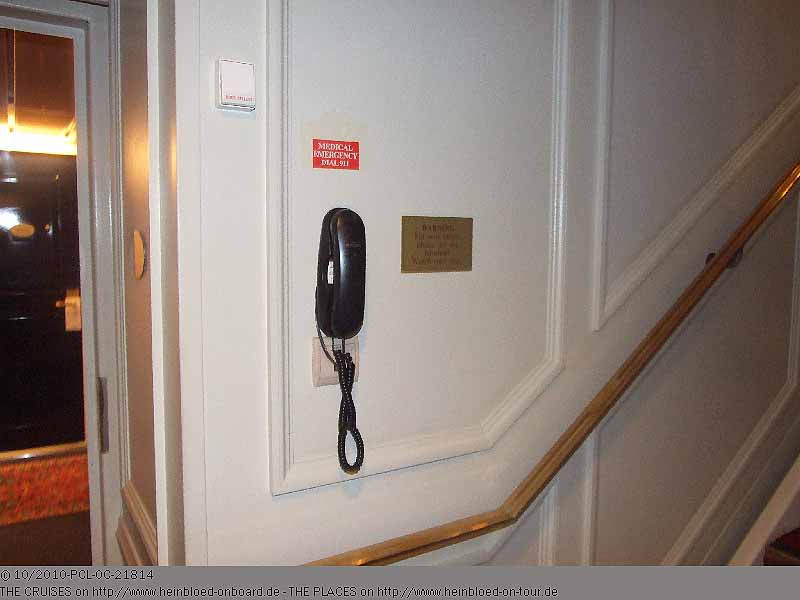 Unten finde ich im Treppenhaus endlich ein Telefon. Nur steht am Telefon keine Nummer. Ist mein Rückenleiden ein medizinischer Notfall??? Soll ich 911 anrufen??? Die Nummer von der Rezeption findet sich nicht am Telefon. In die Kabine will ich nicht zurück, da Bruno schläft und ich nicht nachlesen will, wie man die Rezeption nachts erreicht. In dieser Situation fallen mir Deans letzte Worte beim Abschied ein: Bitte rufen Sie uns unter 9001 an. Wir helfen Ihnen rund um die Uhr gerne weiter, auch wenn es nichts mit Essen zu tun hat. Ich fordere zwei zusätzliche Decken an und bitte darum, dass der Steward nicht klopfen möge, da Bruno schläft und ich Zeit bis nach oben zu unserem Deck brauche.
Ich renne von Deck 4 auf Deck 7 und versuche den Steward zu finden, der bei uns im Treppenhaus staubsaugt, aber anhand der offenen Türe sehe ich schon, dass er fertig ist.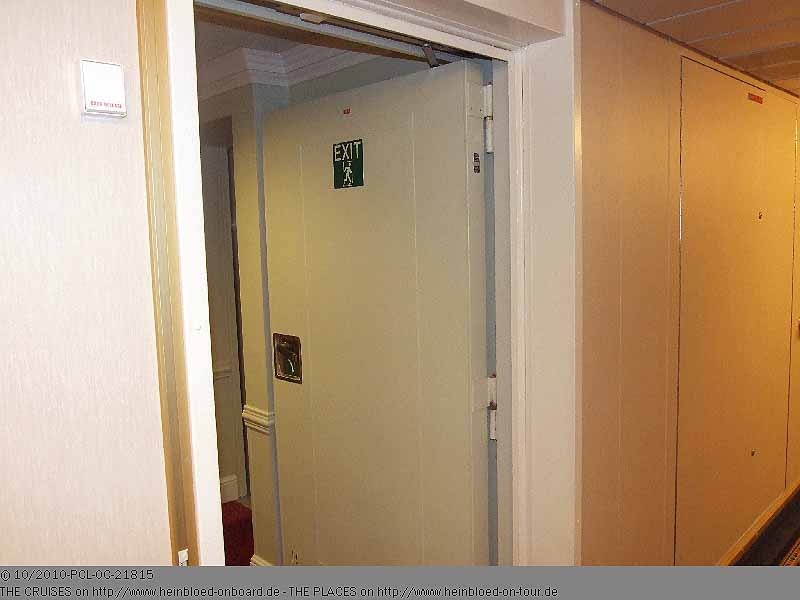 I walked from Deck 4 to 7 and tried to find the steward who vacuums cleaned the stairway but when I saw the open door, I knew that he finished his job.

Our cabin was just next to the corner of the stairway so I would notice everything that happened in the hallway. Because it was freshly cleaned, I sat on the stairs and waited for 20 minutes. But nothing happened. Suddenly a door was opened. A steward came with some towels and asked me if he can help. I told him that I asked for two blankets. He said he was already there but did not find anyone in front of the door...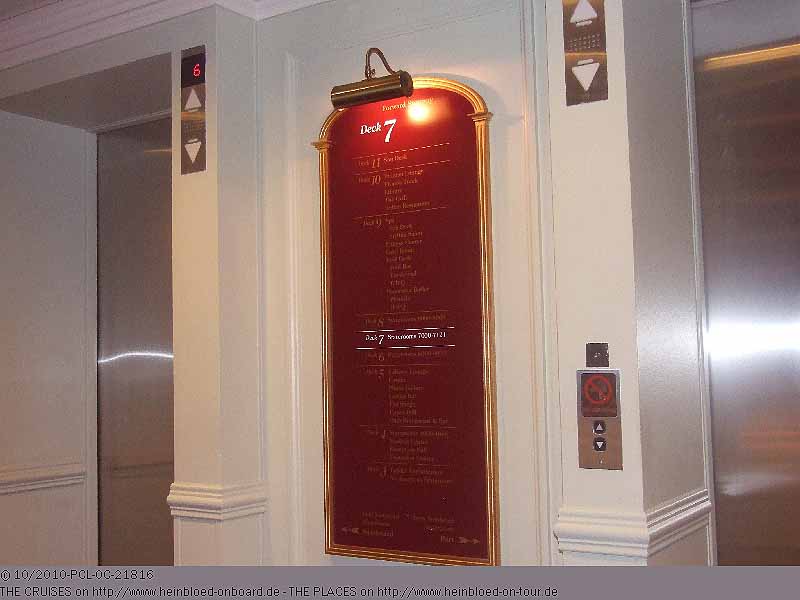 Unsere Kabine liegt um die Ecke von dem Treppenhaus, so dass ich alles mitbekommen würde, was im Gang läuft. Weil ja frisch gesaugt ist, setzte ich mich ins Treppenhaus und warte ca. 20 Minuten. Aber nichts rührt sich. Plötzlich öffnet sich eine Tür. Ein Steward mit Handtüchern kommt in den Gang und fragt mich, ob er mir helfen kann. Ich sage ihm, dass ich zwei Decken angefordert hätte. Er meint, dass er schon da gewesen sei, aber niemanden vor der Tür angetroffen hätte...
Es sind allerdings keine richtigen Steppdecken, sondern zwei sehr dünnen Wolldecken.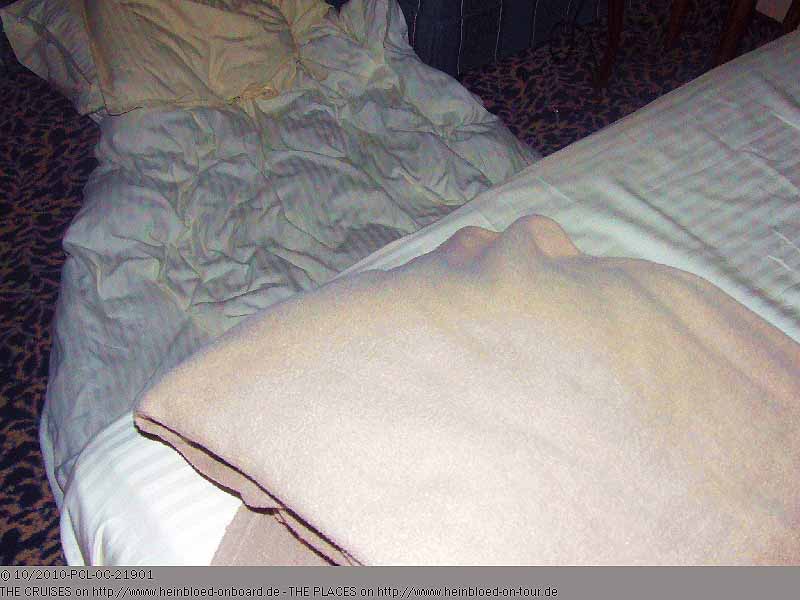 But it was no duvet but two very thin wool blankets.

I built up a night camp and tried to sleep.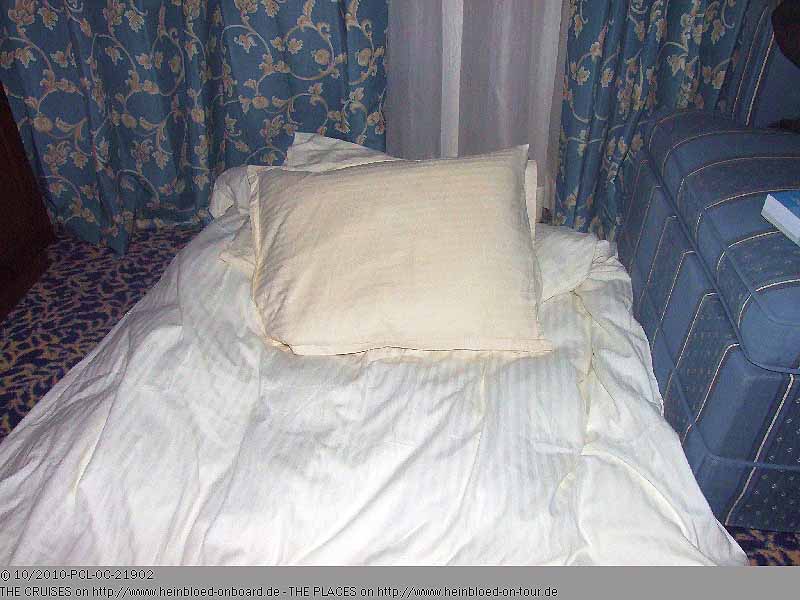 Ich baue mir mein Nachtlager auf und versuche zu schlafen.
Aber irgendwie kann ich auch so nicht schlafen. Aus Langeweile untersuche ich das Bett: Metallgestell.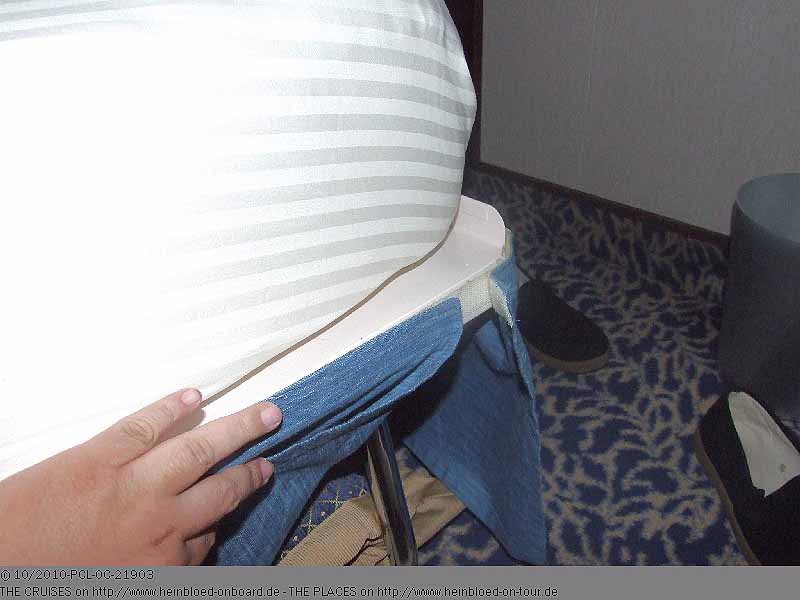 But somehow I was unable to sleep. Because I was bored, I started to investigate the bed: metal rack.

Metal sheet: no slatted frame...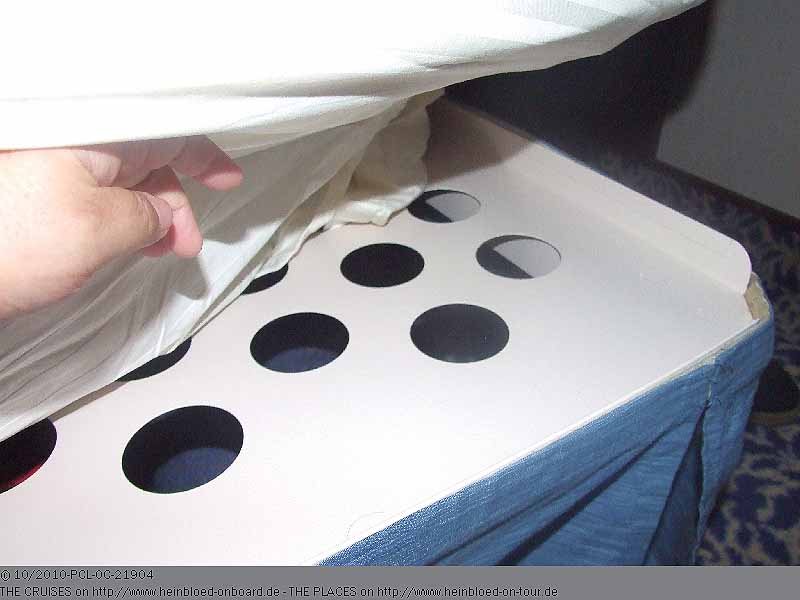 Metallauflage: kein Lattenrost...
Eine dünne Schaumstoffschicht... Die Matratze wirkt nicht aus der Zeit von Renaissance...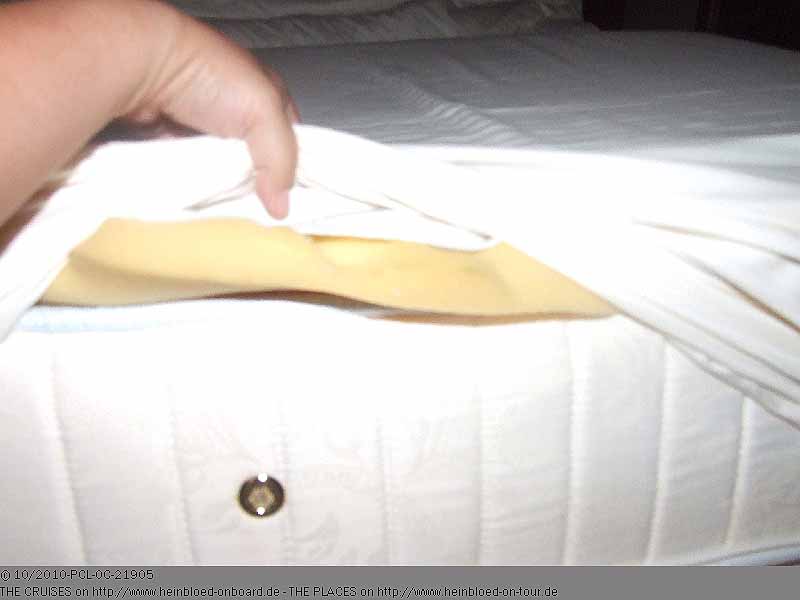 A very thin layer of rubber foam... The mattress did not look like it was from the Renaissance era...

Indeed there was something under my mattress... but under the mattress on the iron flat: So the tray from a restaurant a dining room steward might miss already pressed all the little coils into my back. No wonder that I slept worse than the day before.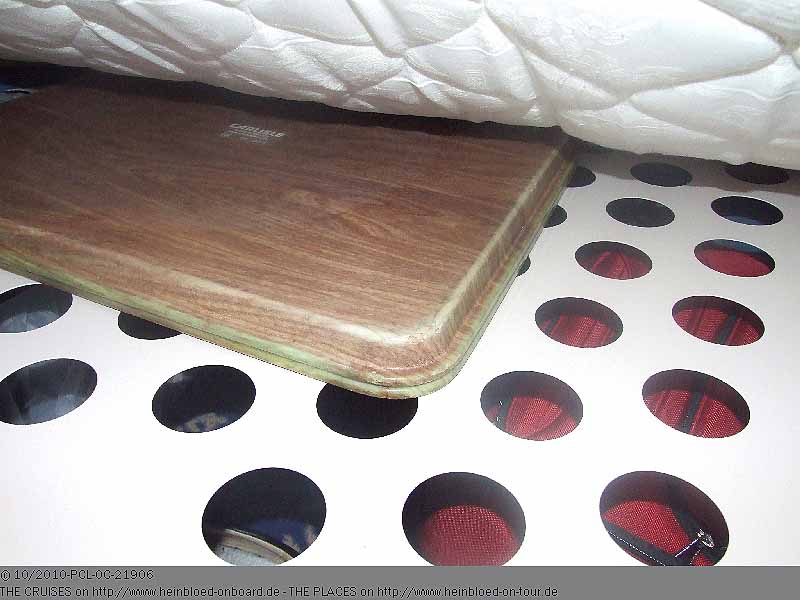 Tatsächlich wurde etwas daruntergelegt... allerdings unter die Matratze auf das Eisengestell: So drückt natürlich das Tablett aus dem Restaurant, das bestimmt irgendein ein Restaurantsteward vermisst, jede Feder aus der Matratze in meinen Rücken. Kein Wunder, dass ich schlechter als am Tag zuvor geschlafen habe...
Die anderen Reisen in diesem Blog/
The other voyages in this blog: