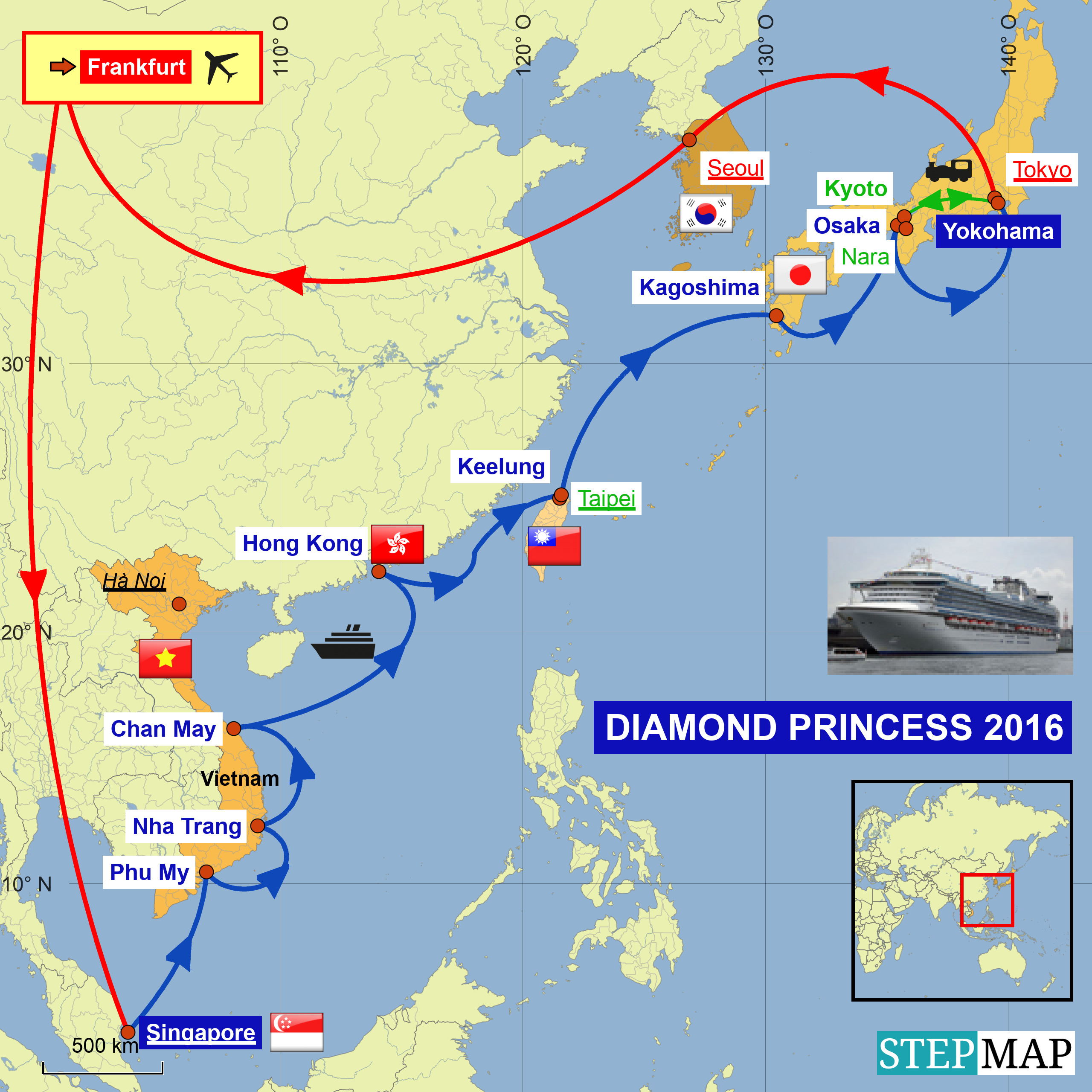 Wieder geht es zum Aqua-Jogging.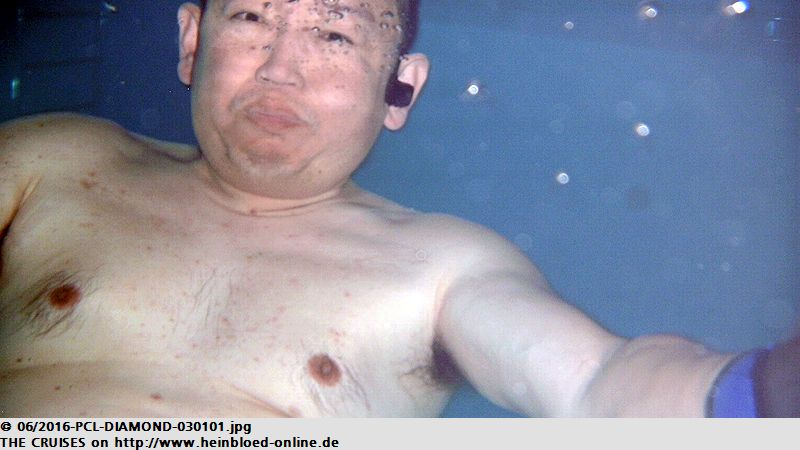 Again, I went for aqua-jogging.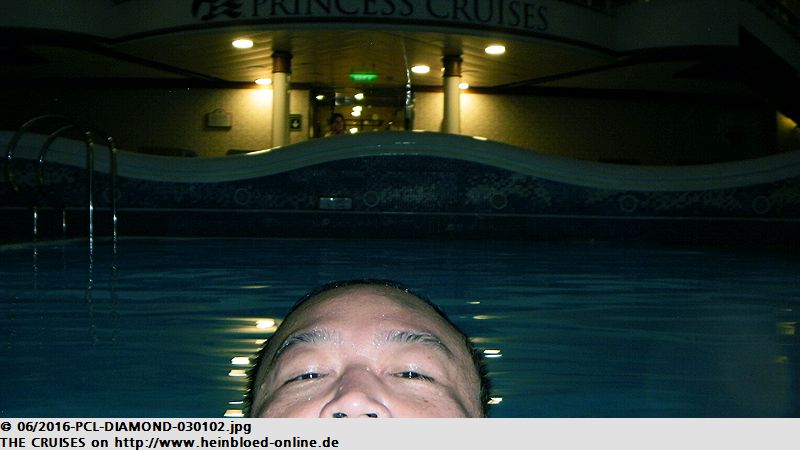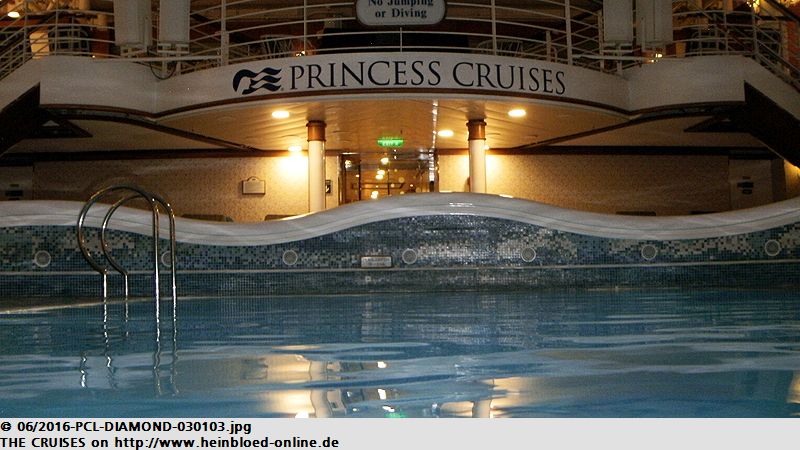 Arriving in Phu My, Vietnam.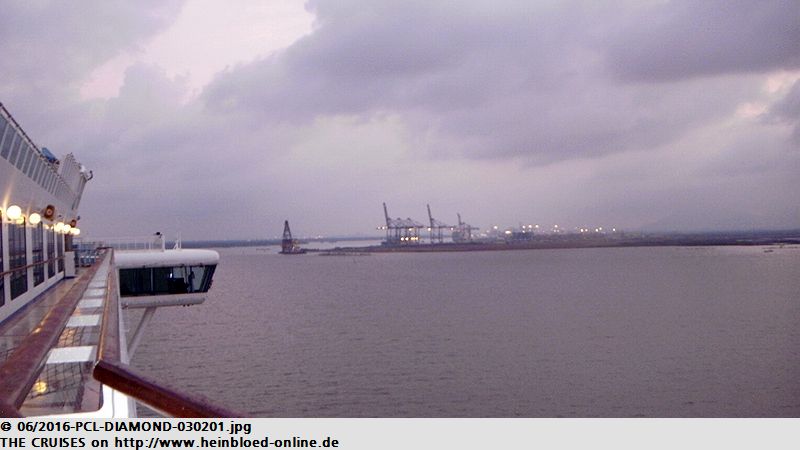 Ankunft in Phu My.
Nicht gerade meine besten Erinnerungen kommen hoch.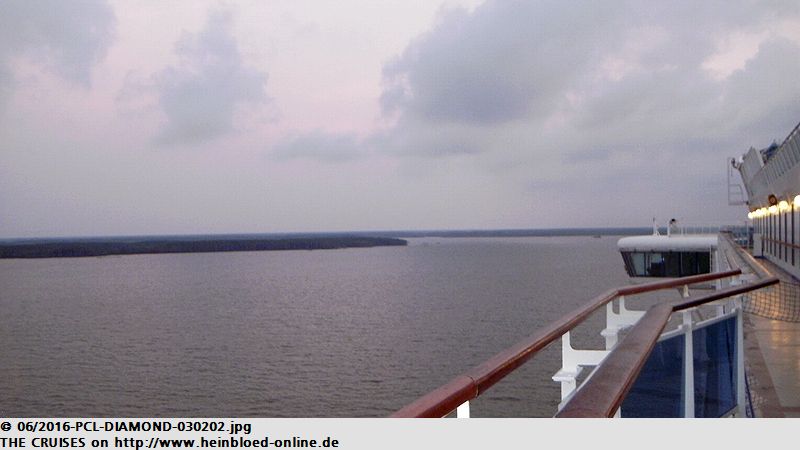 Not very best memories were coming back.

Let us see what the day would bring.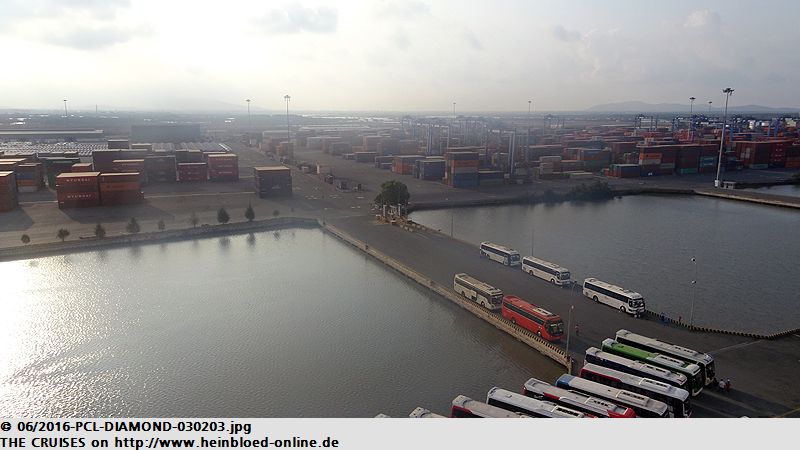 Mal gucken, was der Tag bringt.
Ich nutze auch die Chance mal morgens ins Izumi zu gehen. Das Dampfbad ist einfach fantastisch. Aber eben nur alle zwei Tage möglich. Man braucht keine lästigen Münzen oder Karten für die Schließfächer.

I used the chance to see Izumi in the morning. The steam bath was simply fantastic. But it was only possible to see every second day. You did not need any change or cards for the lockers.

On OCEAN PRINCESS 2015 we had Marielito as a waiter. Somehow, Afid remembered me from his side to him, so that I thought for a moment, it could be Marielito, who was on board.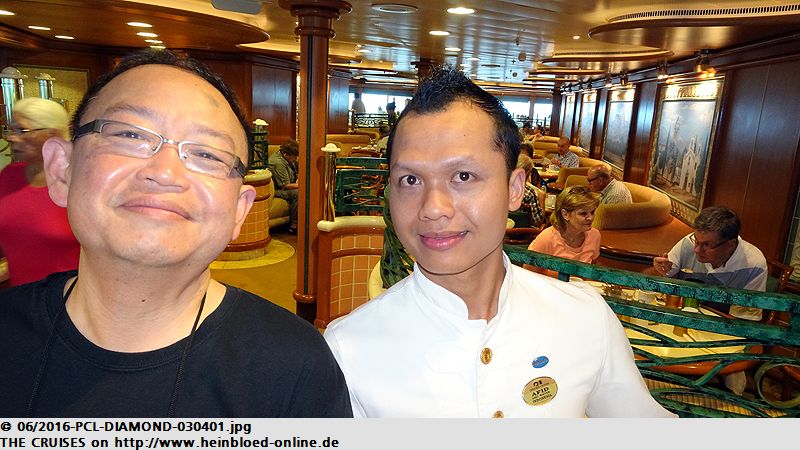 Auf der
OCEAN PRINCESS 2015
hatten wir Marielito als Kellner. Irgendwie hatte mich Afid von der Seite an ihn erinnert, so dass ich für einen Moment dachte, dass es Marielito sei, der an Bord ist.
Raffaele kennen wir bereits von der
OCEAN PRINCESS 2010
. Er war einer der Führungskräfte im Sabatini/Sterling Steakhouse/Chef Table. Er fühlte sich für die Fehler mit verantwortlich, die damals im Housekeeping passiert sind. 2010 hatten wir alles mitgemacht, was man mitmachen konnte und das Balcony Dining. Balcony Dining ging ja nun nicht. Alles andere wollen wir mitmachen. Wäre er auf der
OCEAN PRINCESS 2015
gewesen, hätten wir vermutlich Sabatini und Chef Table nicht storniert.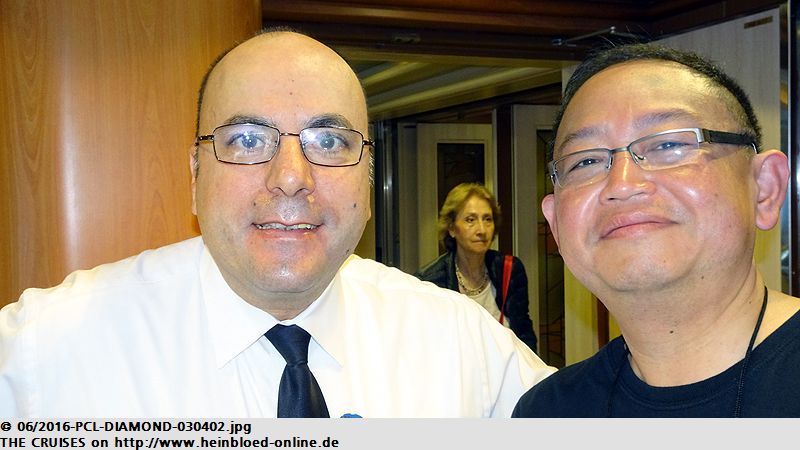 Raffaele, we knew already from OCEAN PRINCESS 2010. He was one of the supervisors in charge for Sabatini/Sterling Steakhouse/Chef Table. He took over the responsibility for the mistakes of the housekeeping. 2010 we did everything that they offered plus the balcony dining. Balcony dining was not possible now. Apart from that, we want to participate in everything they offered. Would he be on OCEAN PRINCESS 2015, we might not cancel Sabatini and Chef Table.

Another good acquaintance from ISLAND PRINCESS 2013: Simion: in the evening the Bayou Café and during the day The Sanctuary in Glacier Bay National Park.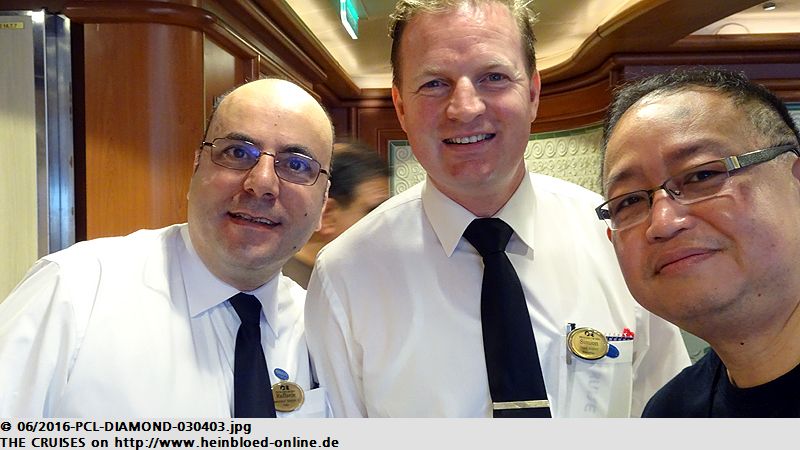 Ein weiterer alter Bekannter von der
ISLAND PRINCESS 2013
: Simion: am Abend das Bayou Café und am Tag in The Sanctuary im Glacier Bay National Park.
Ich trage an diesem Tag ein Keep Calm-T-Shirt. Da ich meinen Holland-America-Brustbeutel trage, kann man nicht lesen, was man machen soll.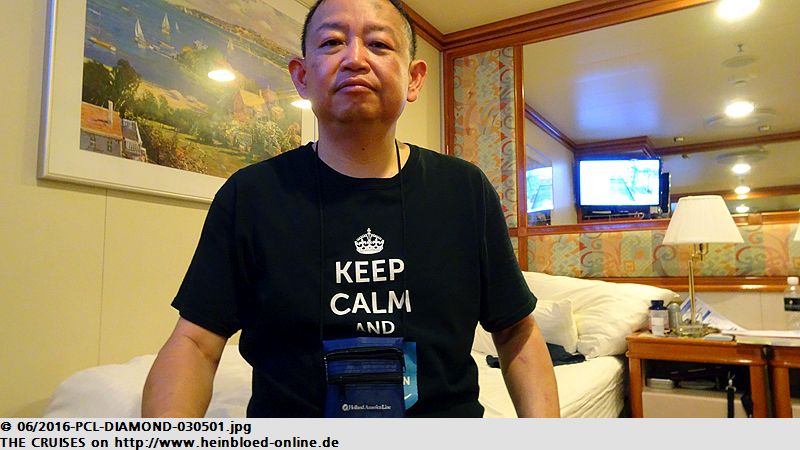 I wore that day a Keep-Calm-T-Shirt. Since I had my Holland-America-chest bag, you were unable to read, what you should do.

So you had fellow-cruisers who stopped me and asked me what was written there under.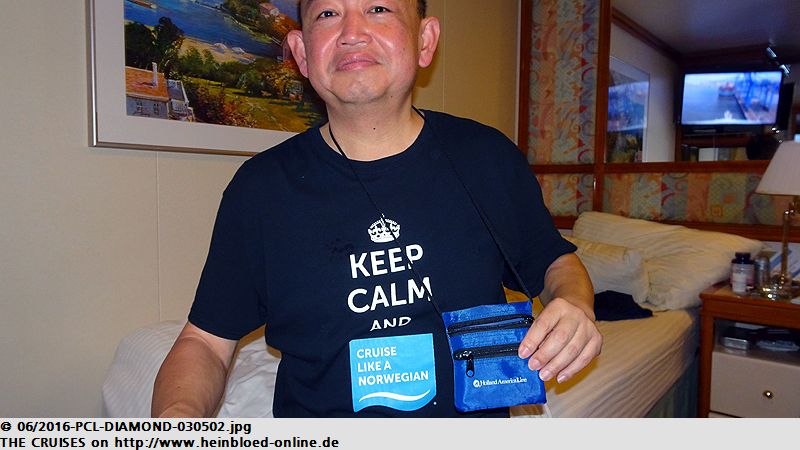 So gibt es tatsächlich Mitreisende, die mich anhalten und wissen wollen, was darunter steht.
Dann geht es zum Frühstück. Wieder keine Butter.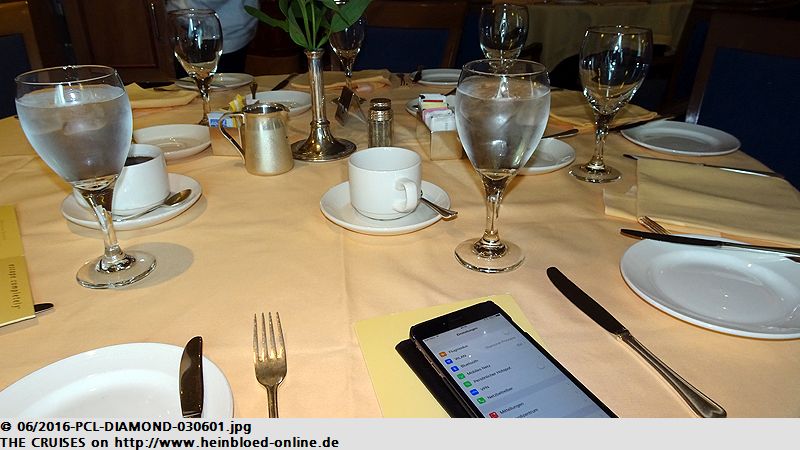 Then we headed for breakfast. Again no butter.

It was quite expensive to use T-Mobile to browse onboard on the internet.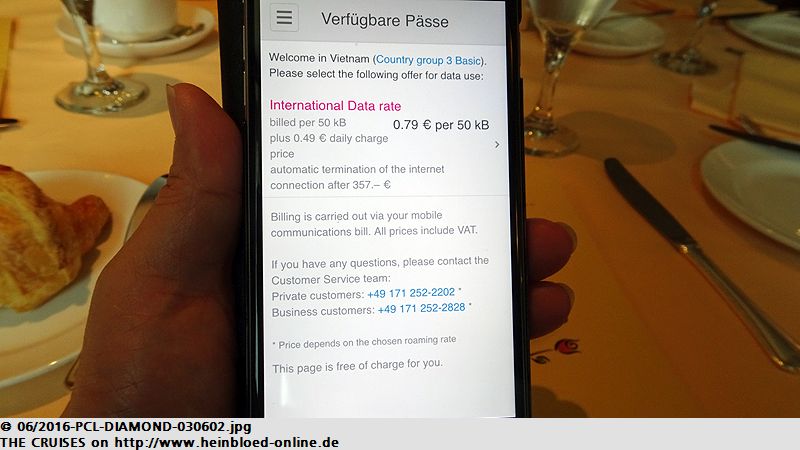 Ganz schön teuer, wenn man über Telekom an Bord surfen will.
Bruno bekommt seine Papaya.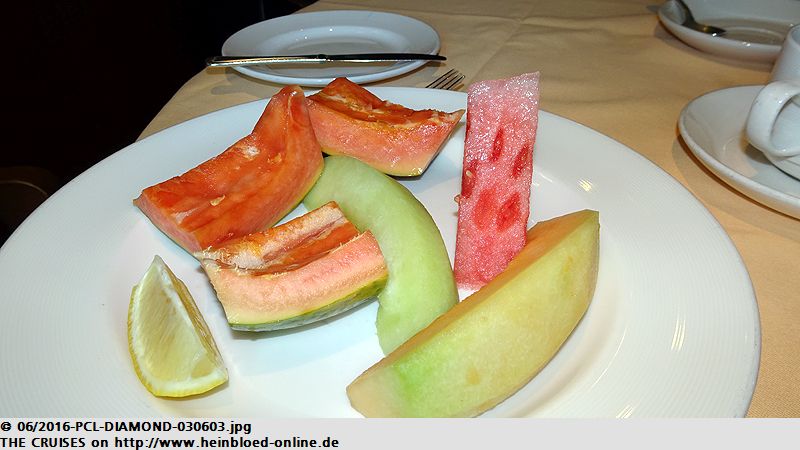 Bruno got his papaya.

I got the daily special breakfast: Spanish-Mexican.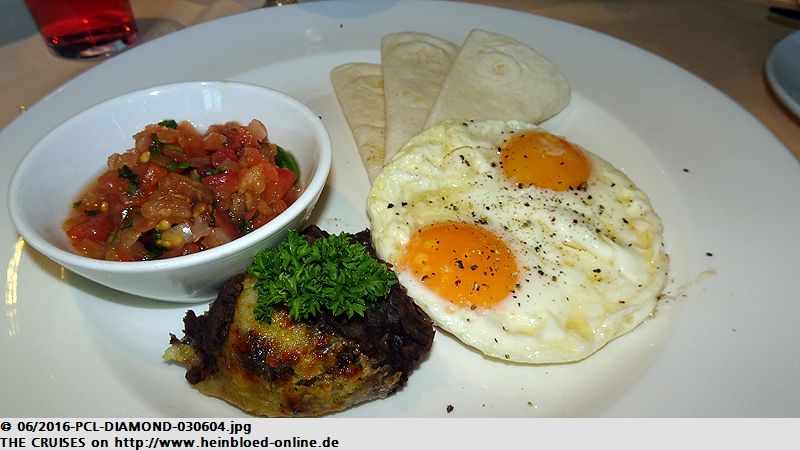 Ich bekomme das besondere Tagesfrühstück: Spanisch-mexikanisch.
Im Atrium wird ein Geldwechsel angeboten. Hier kann man Vietnamesische Dongs kaufen.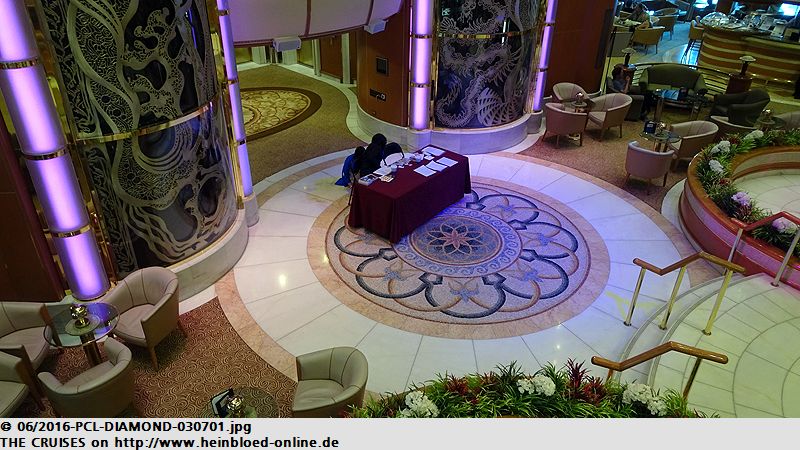 They offered a money-changing service in the atrium. You could buy Vietnamese Dong.

17:30 hrs you need to be back on board.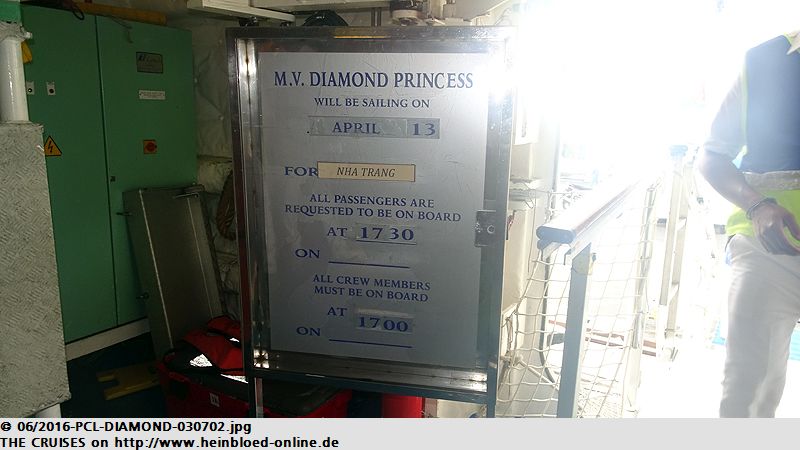 17:30 Uhr soll man wieder an Bord sein.
Für Frances, Eddie, Phylis und Ken besorge ich über
Vietnam Real Travel
ein Taxi. Sie wären der lokale Tour Operator auf der
ZAANDAM 2012
gewesen, wenn wir mit Nha Trang angelaufen hätten. Obwohl wir dann gar nicht Nha Trang gar nicht angelaufen haben, haben sie sich sehr fair verhalten. Damals hätte man in Phu My direkt ein Fahrzeug schnappen können. Damals ist ja so mein iPhone gestohlen worden. Deswegen will ich doch sicherstellen, dass ein mir bekanntes Unternehmen ein Fahrzeug stellt. Dann kann man sich später jemanden schnappen, falls etwas schief geht. Aber 2016 dürfen keine Taxis mehr direkt zum Pier. Ich führe daher den Rest der Gruppe zum Ausgang.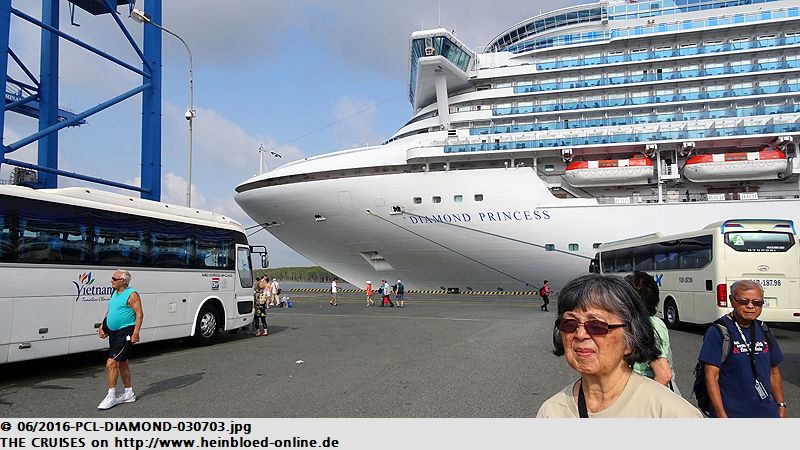 For Frances, Eddie, Phylis, and Ken, I booked a taxi via Vietnam Real Travel. They would be the local tour operator on ZAANDAM 2012 subject, we would have called Nha Trang, Vietnam. Although we did not call Nha Trang, they treated us very fair. Then we could easily just grab a car. That was when my iPhone was stolen. That was, why I wanted to make sure that a company which was familiar to me, would provide a vehicle. So you had someone you can grab if something would go wrong. But 2016 no taxis were allowed anymore to offer their services right at the pier. I took the rest of the group to the exit.

It was about 8-12 minutes walking. They provided a shuttle for workers in the port. Absolutely terrible: a reach-stacker (container-telescope-crane) like with us in the company. I HAD MY VACATION!!! In front of the gate, everyone was waiting. But I did not have in mind to look for our driver in the waiting cabin. Many taxis were waiting for clients. We found the taxi very quickly and right after we also saw the driver. On the way back I could see, that they meanwhile had a pier for the boat transfer, which we originally booked for 2012.

Der Weg dauert etwa 8-12 Minuten zu Fuß. Es gibt einen Shuttle wohl für Mitarbeiter im Hafen. Ganz schrecklich: Ein Reach-Stacker (Container-Teleskop-Kran) wie bei uns in der Firma. ICH HABE URLAUB!!! Vor dem Tor warten alle. Aber ich bin im ersten Moment gar nicht auf die Idee gekommen, an dem Wartehäuschen nach unserem Fahrer zu suchen. Viele Taxis warten auf Kundschaft. Das Taxi finden wir schnell, aber dann finden wir auch schnell den Fahrer. Auf dem Rückweg sehe ich auch, dass mittlerweile ein Pier für den Bootstransfer existiert, den wir 2012 eigentlich gebucht hatten.
Ein paar Außenaufnahmen von der DIAMOND PRINCESS.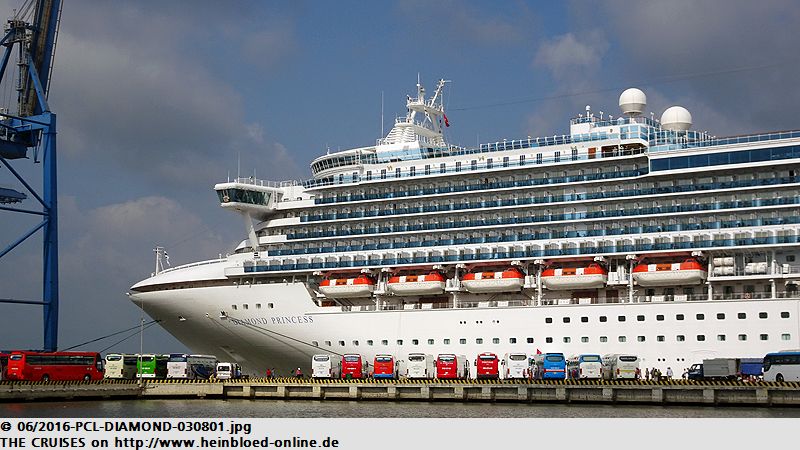 Few external pictures of DIAMOND PRINCESS.

But Phu My was meanwhile so secured that you did not have the same opportunities again to take pictures like then on ZAANDAM 2012.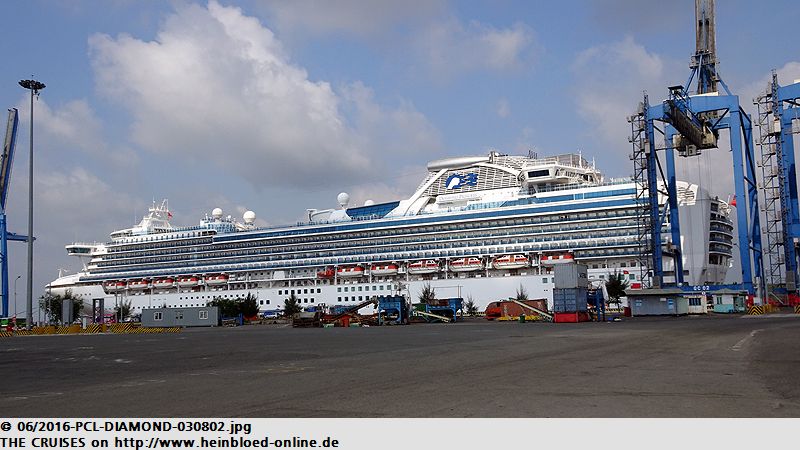 Aber Phu My ist mittlerweile so gesichert, dass man nicht mehr die Möglichkeiten hat, so zu fotografieren, wie damals mit der
ZAANDAM 2012
.
Hier sieht man gut: Der Skywalker ist hier nicht als Griff eines Einkaufswagen angeordnet oder direkt am Heck, sondern vor dem Schornstein. Später lernen wir: Die parallel liegenden Rohre am Schornstein haben keine Funktionen. Es ist ein Markenzeichen geworden. Aber hier wird keine Abluft herausgeleitet.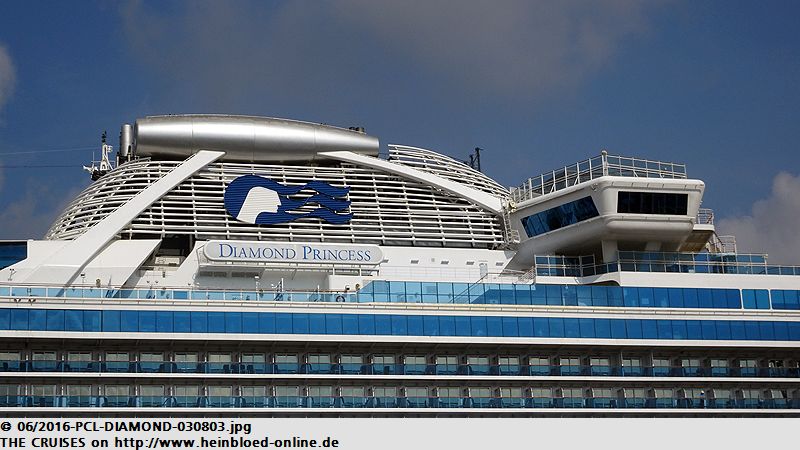 Here you could see perfect: the Skywalker was not set up as a handle of a shopping cart or at the aft but in front of the funnel. Later we learned: The parallel pipes at the funnel had no functions. It became more of a brand. But no pollution was released from here.

Few more selfies in front of MY DIAMOND PRINCESS.

Noch ein paar Selfies vor MEINER DIAMOND PRINCESS.
Am Pier können wir direkt SIM-Karten für die Internet-Nutzung kaufen.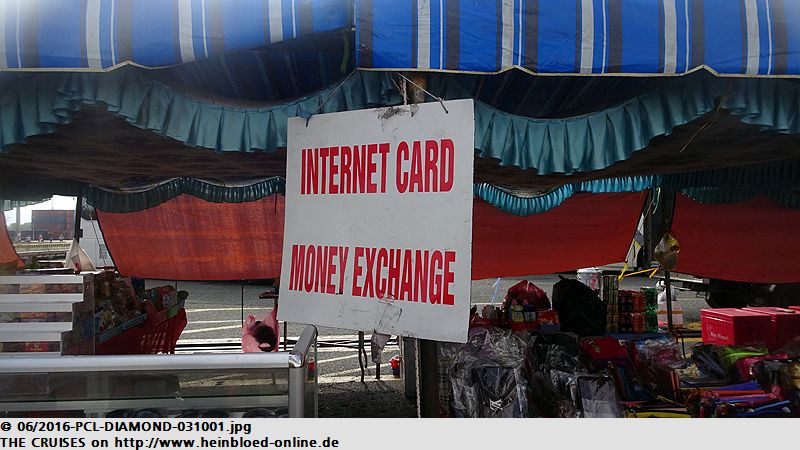 At the pier we could buy directly a SIM-card for the use of internet.

They did the set-up for us immediately that we had a hot spot of our own.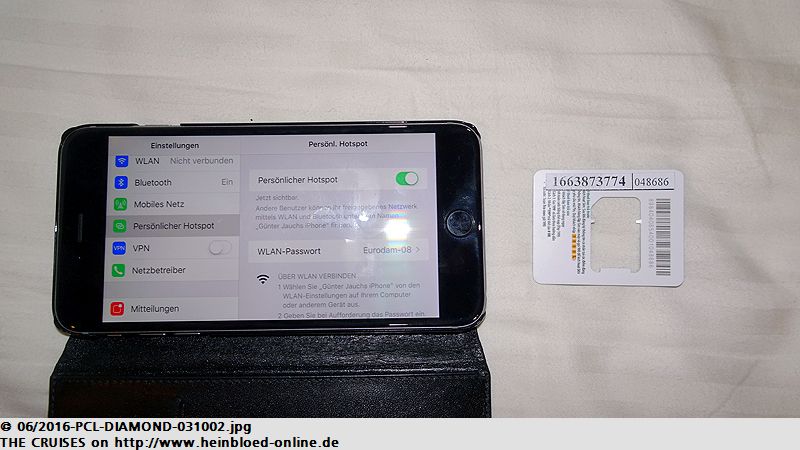 Es wird direkt für uns eingerichtet, so dass wir direkt einen eigenen HotSpot haben.
Wir gehen wieder in The Sanctuary.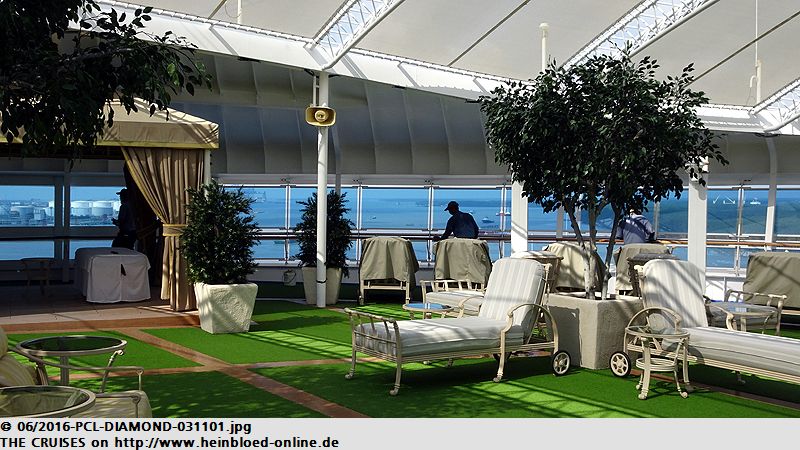 We returned to The Sanctuary.

They kept everything nice: crew-members like Roni, Mohamad, and Soesworo. I really admired them since they held the ship in excellent condition.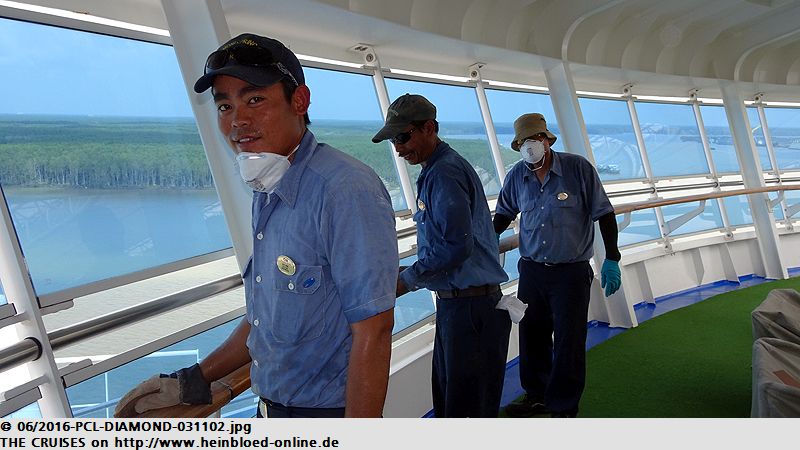 Dort wird alles schön gehalten dank toller Crew-Mitglieder wie Roni, Mohamad und Soesworo. Ich bewundere die Jungs, weil sie das Schiff sehr toll in Schuss halten.
Kalte Handtücher sind bei der Wärme und Schwüle echt geil.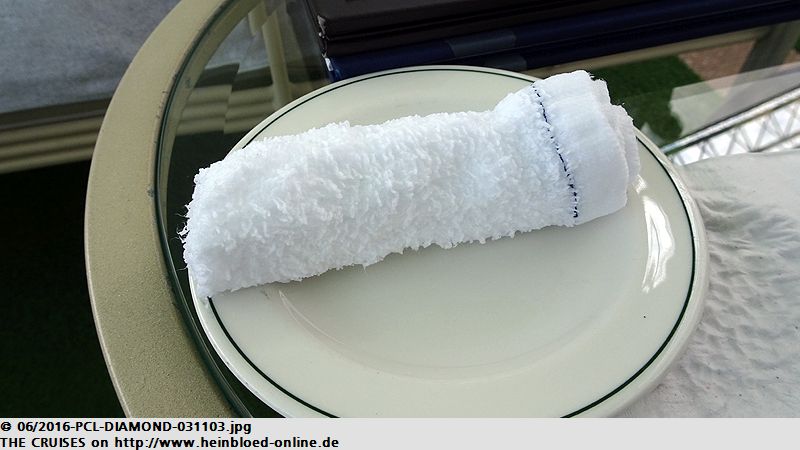 Cold towels were really wonderful, when it was warm and humid.

Emil co-managed The Sanctuary as F&B-Supervisor.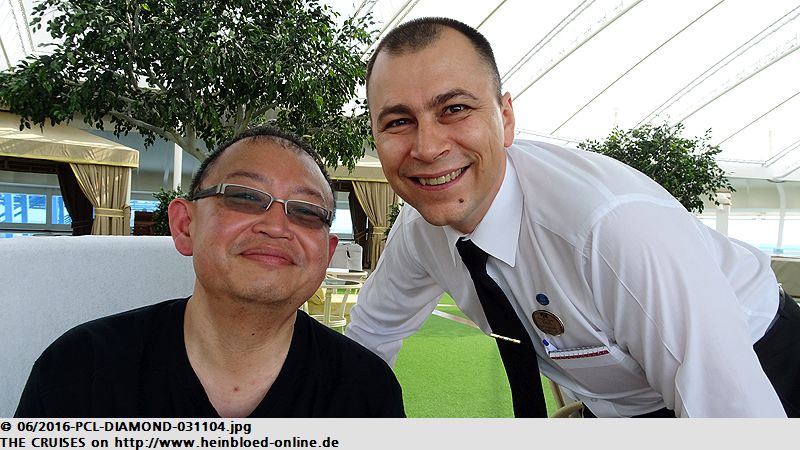 Emil führt als F&B Supervisor The Sanctuary mit.
Wir fahren später mit der Crew zum Shopping. Es wird immer ein kostenloser Shuttle angeboten, der sich in erster Line wohl für die Crew ist, weil er sich an deren Bedürfnisse orientiert. Trotzdem haben Passagiere Vorrang und die Restplätze bekommen dann die Crew-Mitglieder.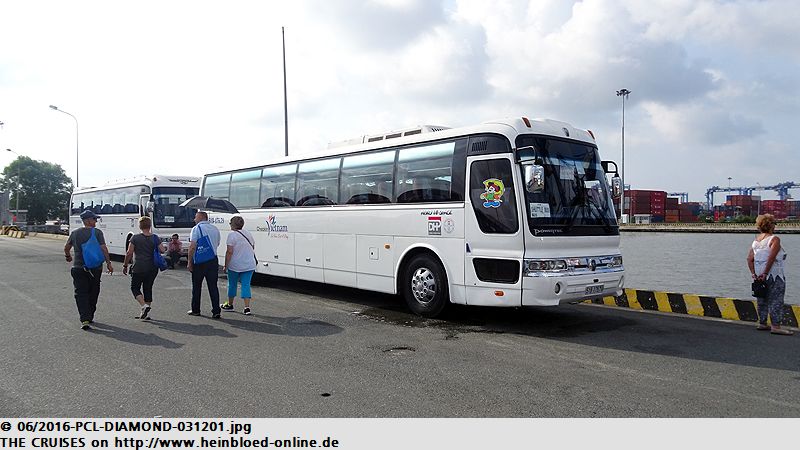 We went together later with the crew for shopping. They offered a complimentary shuttle, which was primarily for the need of the crew as it was orientated for their demand. Even thus, passengers had priority and all seats left, were for the crew.

At 10:30 hrs we started.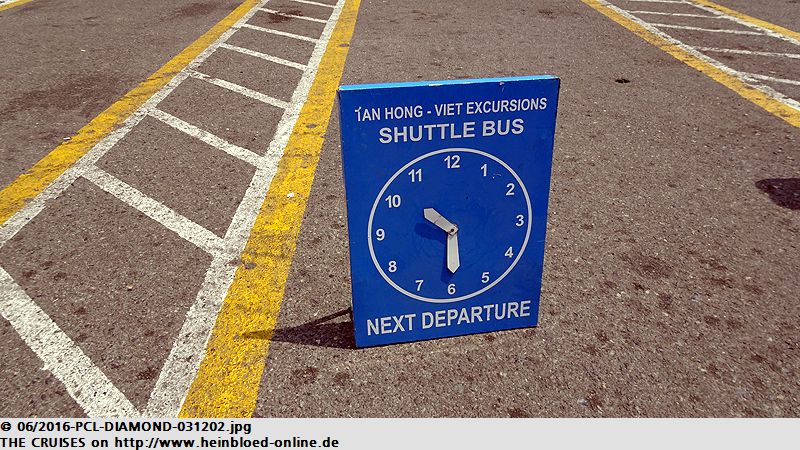 Um 10:30 Uhr geht es los.
Nett dekoriert.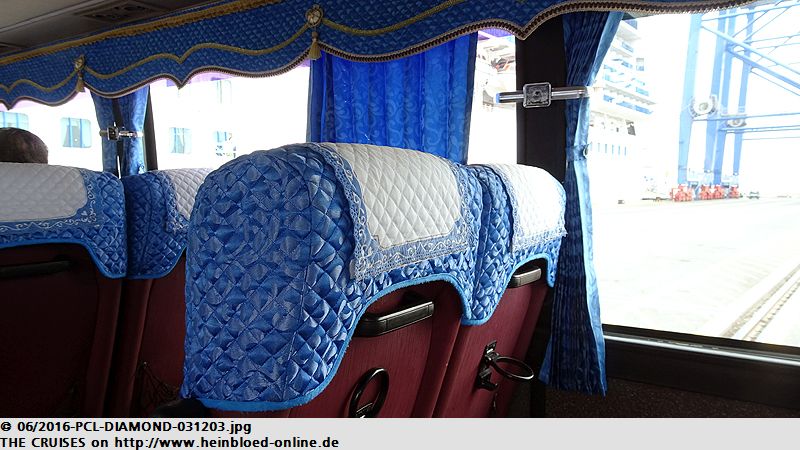 Nicely decorated.

Somehow we did not get any cold towels, although they were collected later.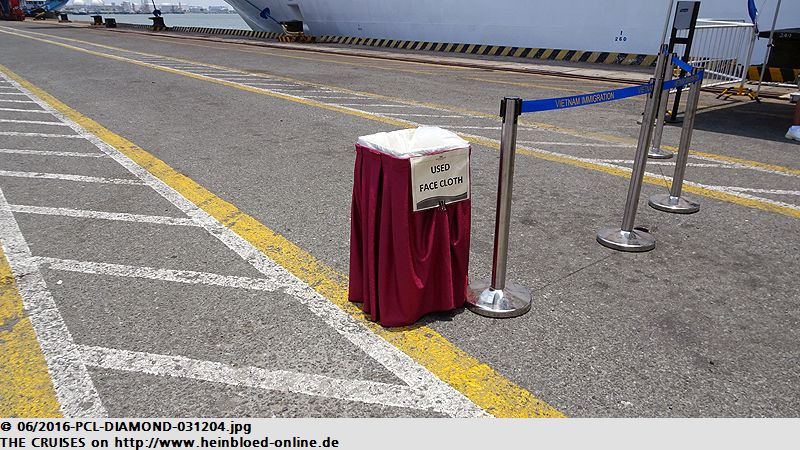 Irgendwie bekommen wir keine kalten Tücher, obwohl sie später hier eingesammelt werden sollen.
Mit dem Bus geht es zum
Coop-Supermarkt in Vung Tau
. Ich werde sofort beim Aussteigen angesprochen und gefragt, ob ich mich für Mädchen interessiere. Ich interessiere mich nicht. Die Mitarbeiter am Informationsschalter von Princess gucken dem Treiben zu. Drinnen gibt es noch ein paar Stände mit Techniksachen, aber es ist nichts dabei, was wir nicht auch in Mitteleuropa bekommen würden. So kaufen wir frische Pittahaya (29.000 VND = 1,15 EUR/kg - In Deutschland kostet eine zwischen 3-5 EUR), Schaumkuchen und Teigtaschen. Ein Bus ist schnell voll. Da ich keine Lust habe, 30 Minuten auf den nächsten zu warten, frage ich nach den Taxikosten. Der Princess Informationsstand möchte 50 USD für die Fahrt zurück zum Schiff haben. Ich wollte gerade selbst einen Taxifahrer fragen, aber es kommt direkt ein 2. Bus hinterher, so dass wir doch schnell wegkommen. Irgendwie ist Phu My einfach nicht mein Hafen.

With bus we were taken to a Coop Super Market in Vung Tau. I was directly asked when I left the bus if I would be interested in girls. I was not interested. The agents at the information booth of Princess were only looking. Inside they had a few stands with electronics, but there was not anything you could not get in Central Europe too. So we bought some fresh dragon fruits (29,000 VND = 0.60 USD/lbs. - In Germany, you pay around 4-6 USD for one), sponge cake and dumplings. The bus was quickly filled. Since I was not much interested in waiting for another 30 minutes for the next, I asked about the taxi prices. The information booth of Princess offered for 50 USD the ride back to the ship. I wanted to ask a taxi driver by myself when a second bus showed up that we could make it quickly back to the ship. Somehow, Phu My was not my port.

We went to Horizon. Here we saw Ni Komang and Widya who set up the right fram for the nice maritime map. Here we went to the noodle soup station.

Wir gehen ins Horizon. Dort sehen wir Ni Komang und Widya, die den richtigen Rahmen für die schöne Seekarte bilden. Hier nutzen wir die Nudelsuppenstation.
Danach geht es einfach wieder in unsere Oase The Sanctuary.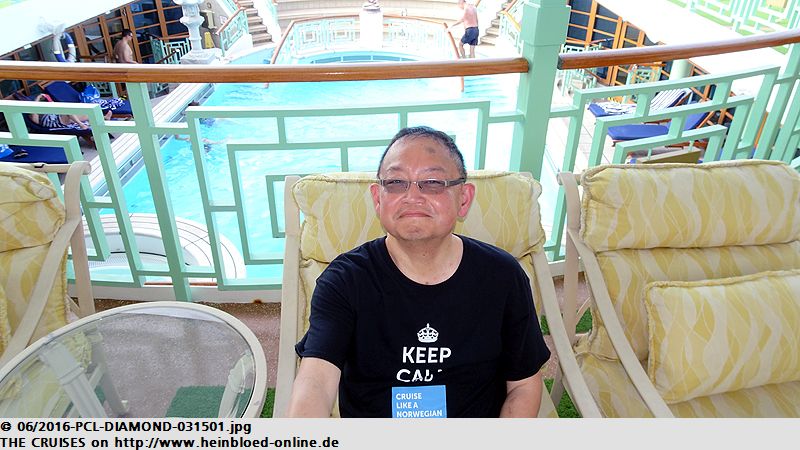 Thereafter we went back to our oasis The Sanctuary.

I was actually about to leave for tea-time when Henry and Jose surprised me and told that they arranged everything for us at the top.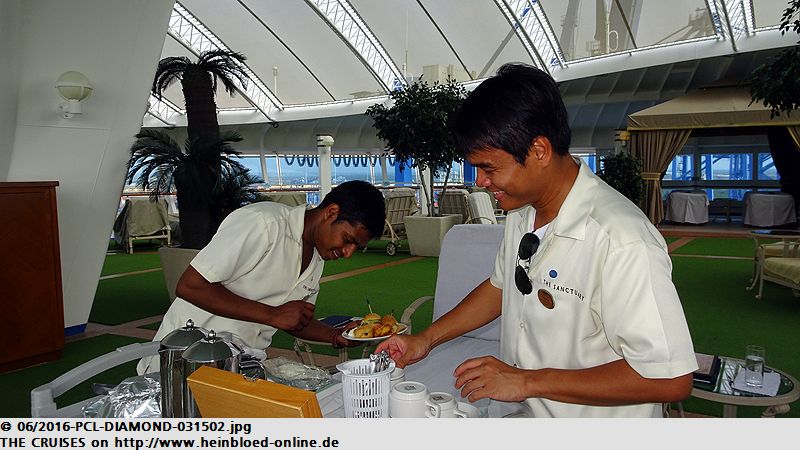 Ich will eigentlich gerade zur Tea-Time gehen, als Henry und Jose mich überraschen und mitteilen, dass sie bereits für uns alles schon hier nach oben geschaffen haben.
Alles da, was es unten auch gibt.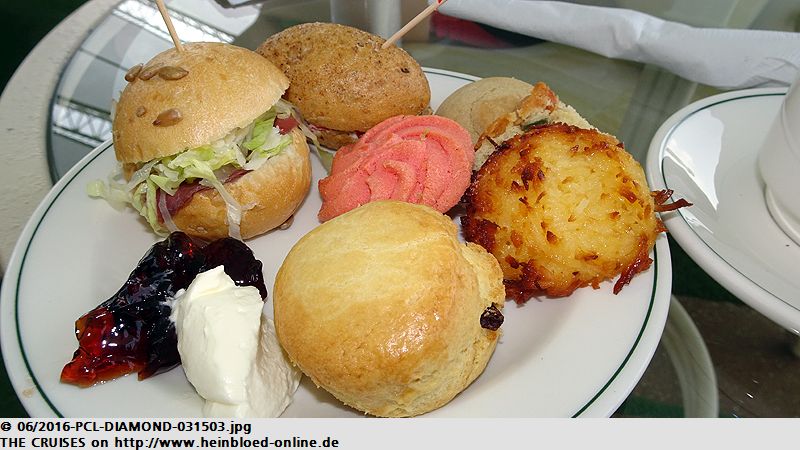 Everything what we could also get down.

That was just perfect.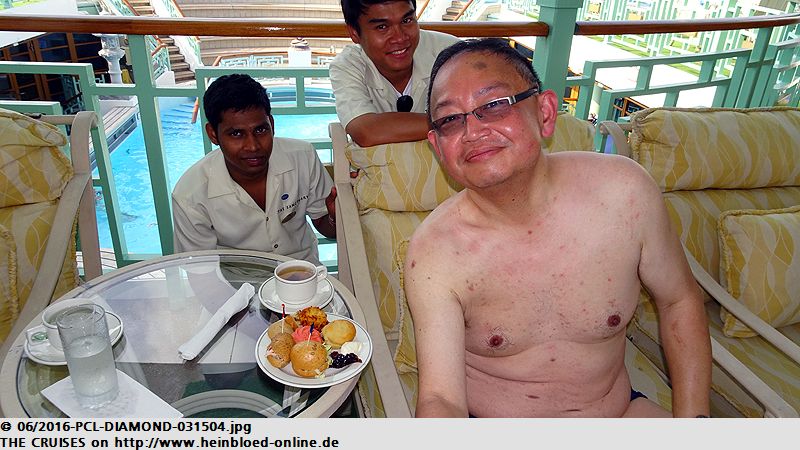 Das ist einfach perfekt.
Bruno nutzt auch den Pool.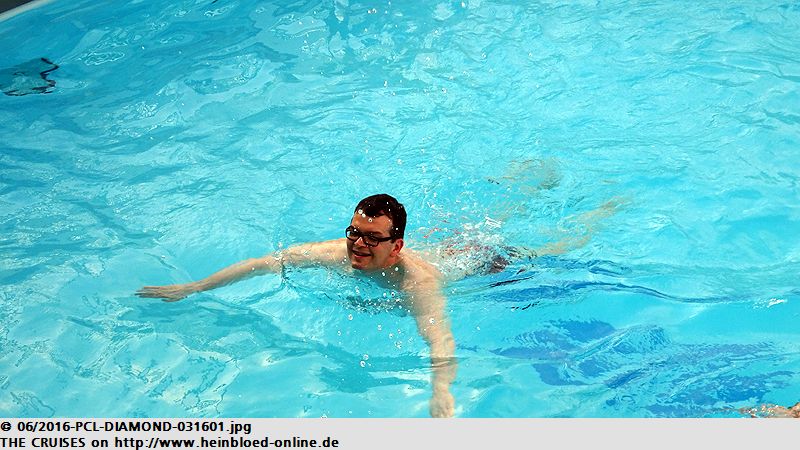 Bruno also used the pool.

It was utterly perfect here in The Sanctuary.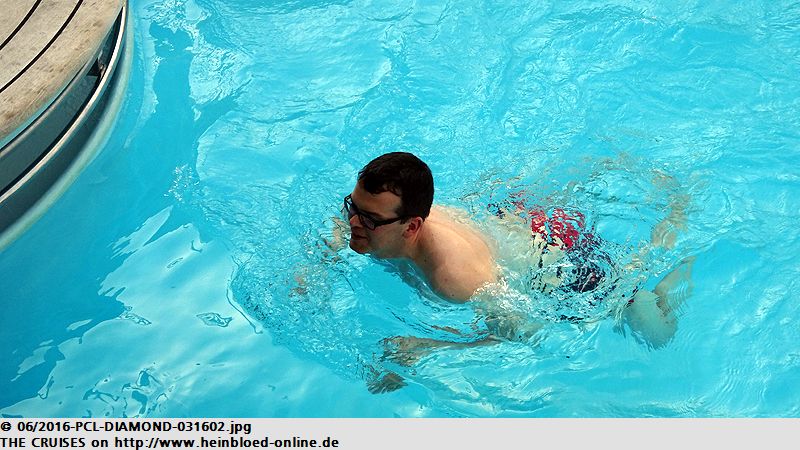 Es ist einfach perfekt hier in The Sanctuary.
Auch er posiert an der Bhudda-Figur.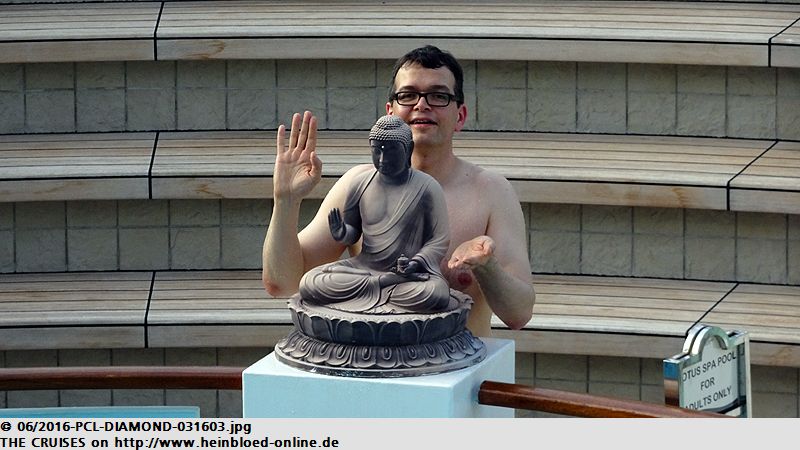 He also posed as a statue of Buddha.

Something happened. We had a small flood disaster in the bathroom. When Bruno cleaned the dragon fruit, the sink flooded over. A draining was leaking.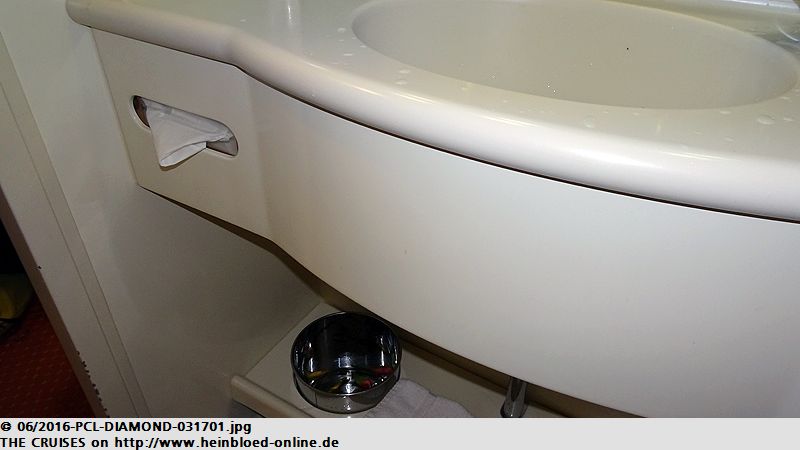 Irgendwas ist passiert. Wir haben eine Überschwemmung im Bad. Als Bruno die Pittahayas reinigt, läuft das Waschbecken über. Ein Abflussrohr ist undicht.
Unser Kabinensteward Nito. Wie lautet eigentlich die männliche Bezeichnung von einer "guten Fee"? Fantastisch!!!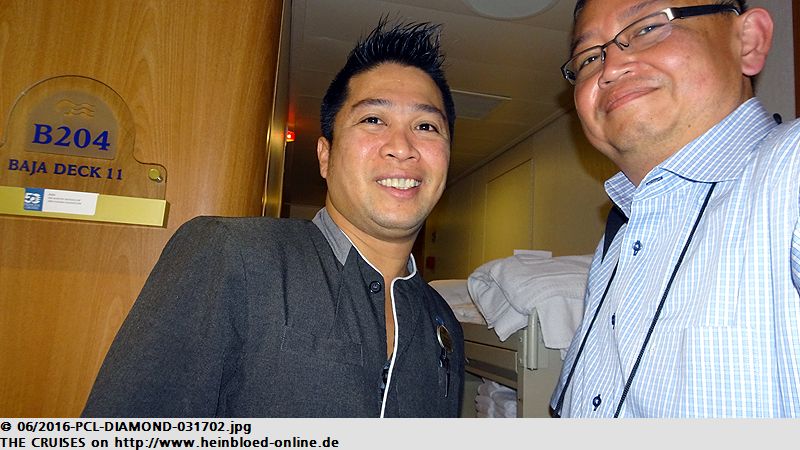 Our cabin steward Nito. What was the expression for a male "good fairy". Fantastic!!!

I obey that I was looking like a rogue on this picture. But I had individual plans.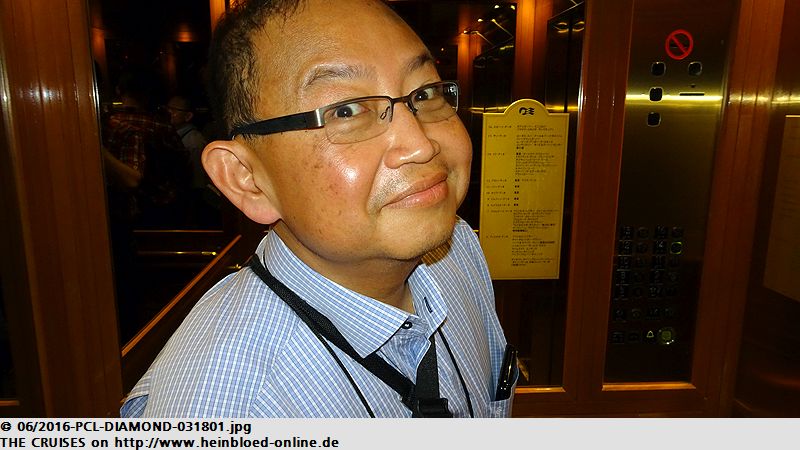 Ich gebe zu, dass ich wie ein Schelm aussehe auf diesem Bild. Ich habe auch etwas vor.
Ich will das Herz von Masha mit einer Pittahaya erobern.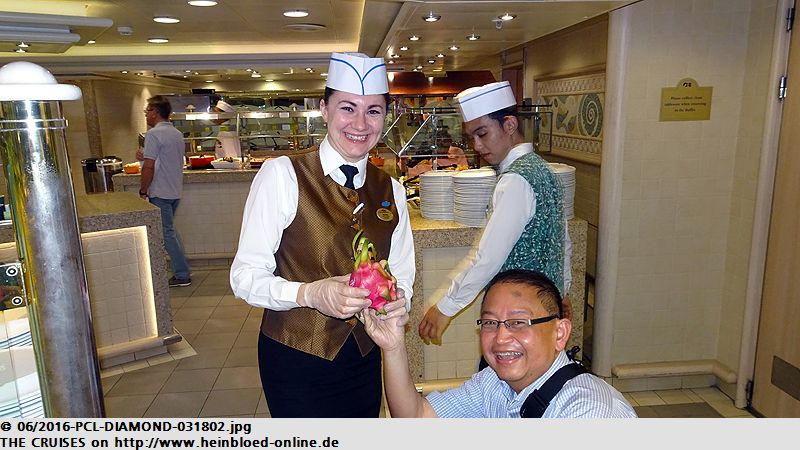 I wanted to conquer the heart of Masha with a dragon fruit.

We always shared our stuff with nice crew-members.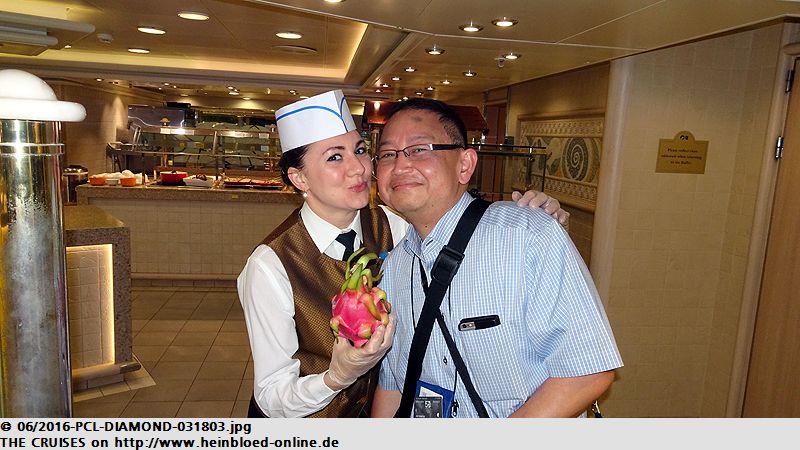 Wir teilen ja gerne unsere Sachen mit den netten Crew-Mitgliedern.
Dank des Internet-Zugangs können wir die alten Bilder von früher heraussuchen: Raffaele damals auf der
OCEAN PRINCESS 2010
.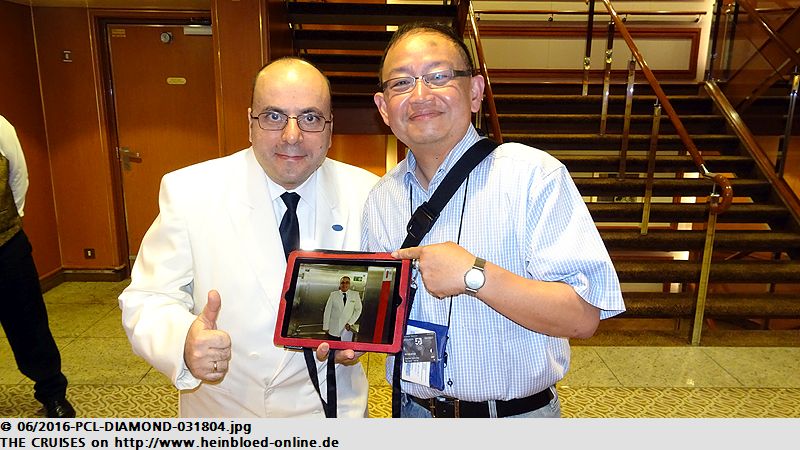 Thanks to the internet-access we could check for the ancient pictures: Raffaele then on OCEAN PRINCESS 2010.

And Simion and Hady on ISLAND PRINCESS 2013 in Alaska... And we found out... Hadi served us already on the day of embarkation together with Priscila... and did not recognize me... I should be fair and say that I did not remember him either without the headband and The Sanctuary jacket.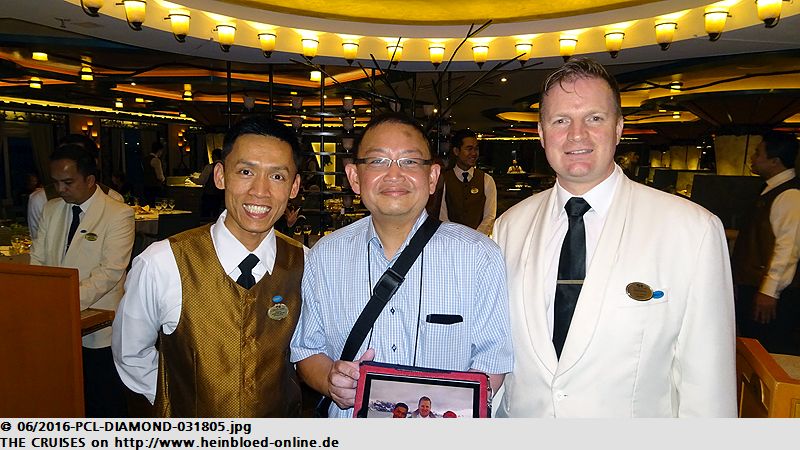 Und Simion und Hadi auf der
ISLAND PRINCESS 2013
in Alaska... Dabei stellen wir dann auch noch fest... Hadi hat uns ja schon am Einschiffungstag mittags mit Priscila bedient... und mich nicht wiedererkannt... Fairerweise muss man sagen, dass ich ihn auch ohne Stirnband und The Sanctuary Jacke nicht erkannt hätte.
Raj hat uns auf der
OCEAN PRINCESS 2010
versprochen, dass wir mal ein tolles indisches Essen erleben müssen. 2016 auf der DIAMOND PRINCES löst er sein Versprechen an. Da Claudia und Lothar auch indisches Essen mögen, haben wir sie direkt mitgenommen. Alle sind begeistert.

Raj promised us on OCEAN PRINCESS 2010 to have an authentic Indian food. 2016 on DIAMOND PRINCESS he redeemed his Promis. As Claudia and Lothar loved Indian food too, we had them with us. Everyone was so excited.

We all took something small from the regular menu. We experienced a charming service from Chris and Aaron.

Eine Kleinigkeit nehmen wir noch aus der normalen Karte. Wir erleben einen sehr schönen Service mit Chris und Aaron.
Ich gehe später noch im Horizon und gucke mich nach dem Angebot hier um. Auch hier sind hier alle sehr nett, wie Edgar, Earl und Klint. Die Wan-Tan-Suppe probiere ich... nun gut: wir sind ja bald in Hongkong...

I went later again to the Horizon and was checking what they offered here. Also here everyone was amicable, like Edgar, Earl, and Klint. I tried the Won-Ton-Soup... well: we would be soon in Hong Kong...
Die anderen Reisen in diesem Blog/
The other voyages in this blog: