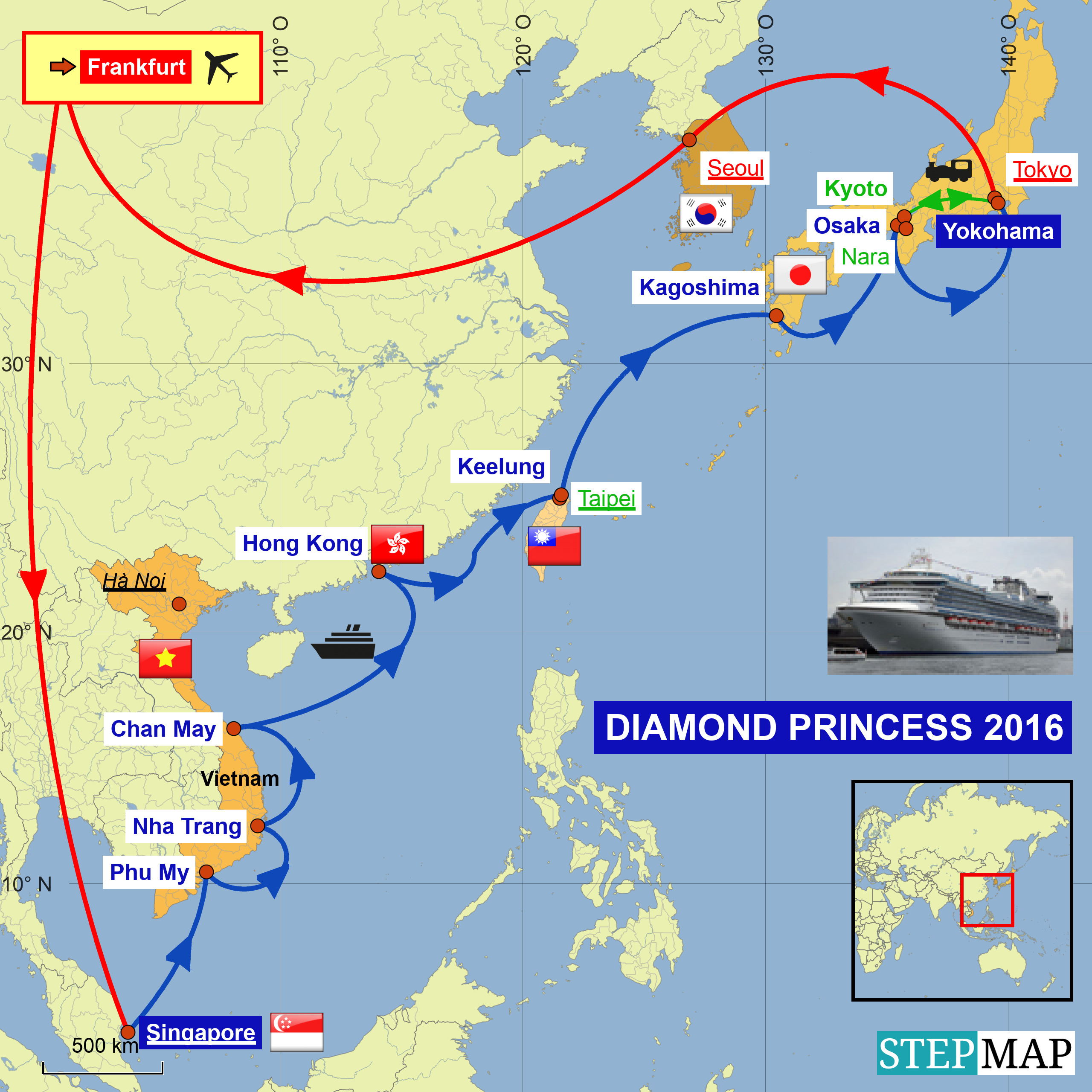 Ich hasse das Hotel. Um von einem Stock in den anderen zu kommen, gibt es keine Treppe, sondern nur zwei Fahrstühle. Aber die Rezeption und das Restaurant und der Ausgang liegen nicht im Erdgeschoss. D. h. man wartet Ewigkeiten, selbst wenn man mal zur Rezeption oder ins Restaurant muss. Die Nottreppe sollte besser durch die Feuerpolizei geschlossen werden. Wir durften sie zwar nutzen, aber ich überlege mir jetzt noch, ob ich nicht noch die Behörden in Kyoto über den Zustand informieren soll. Vermutlich werde ich es später mal im Tripadvisor schreiben und dann kann das Management lesen und reagieren. Wir haben eine Rate mit Frühstück. Das Frühstück war in Ordnung. Wäre bloß nicht das Natto. Die fermentierte Bohnen... Heute kommen Erinnerungen an Mito zurück. Das ist die Hochburg von Natto, so wie Salzwedel vom Baumkuchen oder wie Schwetzingen für Spargel. In Mito hat die Firma bei der ich früher gearbeitet hatte, eine Fabrik. Da haben meine Ex-Kollegen mir Natto bestellt und getestet, wie ich darauf reagiere. Wer solche Freunde hat, braucht keine Feinde mehr...

I hated the hotel. To get from the floor to the other, you had no stairways but only two elevator cars. But the front desk, restaurant, and breakfast were not on the ground floor. I.e., you had to wait an eternity if you want to see the front desk or the restaurant. The fire authorities should better close the emergency staircase. We were allowed to use them, but I was supposed to inform the Kyoto Authorities about the condition. Maybe I would write it later on Tripadvisor, and the management might notice and react. We had a rate incl. breakfast. The breakfast was o.k.. But would not there be Natto? The fermented beans... Memories to Mito, Japan were back. That place a stronghold for Natto, like Salzwedel, Germany for Baumkuchen or Schwetzingen, Germany for asparagus. In Mito, the company I worked before had a plant. My former co-workers ordered Natto to check how I would react. Who had friends like that would not need any enemies anymore...

Unfortunately, everything opened quite late in Kyoto, even at the train station. The pharmacy was still closed too. I caught a cold. But you could not read anything. No advise in English.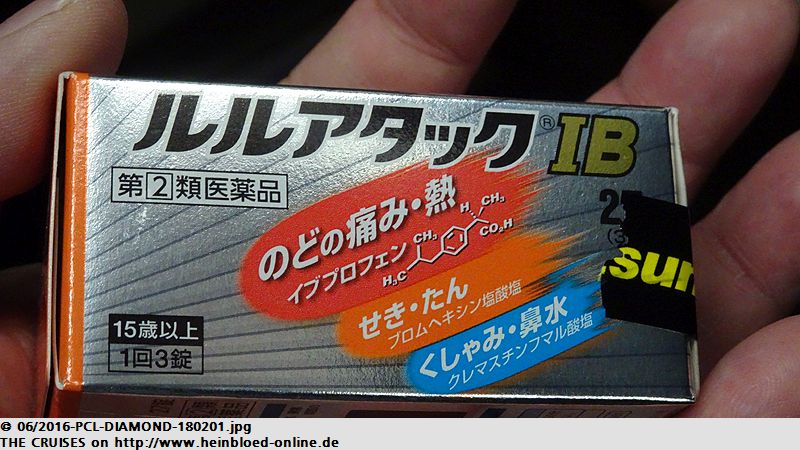 Leider öffnet alles in Kyoto selbst im Bahnhof sehr spät. Sogar die Apotheke. Ich habe mich angesteckt. Aber man kann gar nichts lesen. Kein Hinweis in Englisch.
Ich vertraue der Verkäuferin, dass sie etwas passendes für mich ausgewählt hat.

I trusted a clerk who picked something suitable for me.

Later I went again to buy something with Paracetamol and Guaifenesin. But they did not have it in the US-concentration. Too weak.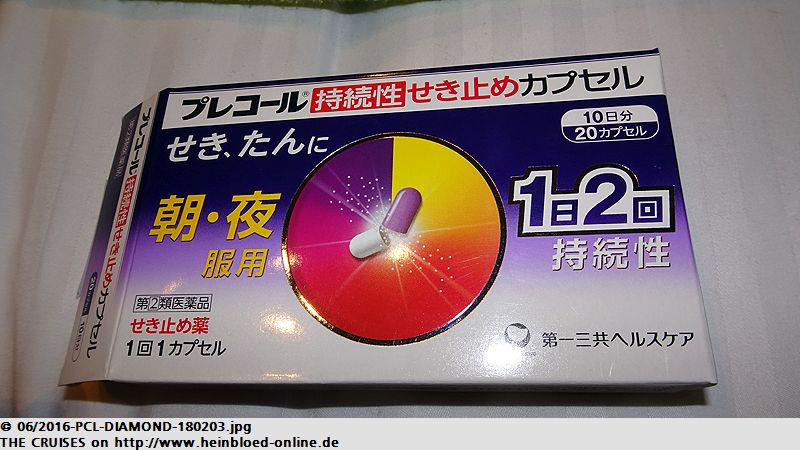 Später gehe ich nochmals hin, weil ich ein Mittel mit Paracetamol und Guaifenesin. Aber die gibt es leider nicht in der US-Dosierung. Viel zu schwach.
Es geht zur U-Bahn (
Kyoto Metropolitan Subway
). Die ist jedoch ein Stück entfernt. Hier versuche ich eine Tageskarte zu kaufen. Sie gibt es, aber nur am Schalter und nicht am Automaten. Das
Netz
besteht nur aus zwei Linien.

We went for the Kyoto Metropolitan Subway. It was quite distant. Here we tried to buy a day pass. But you could only buy them at the counter but not at the machines. The network was set by two routes only.

We headed for the stop K06 Imadegaway and needed to find the exit.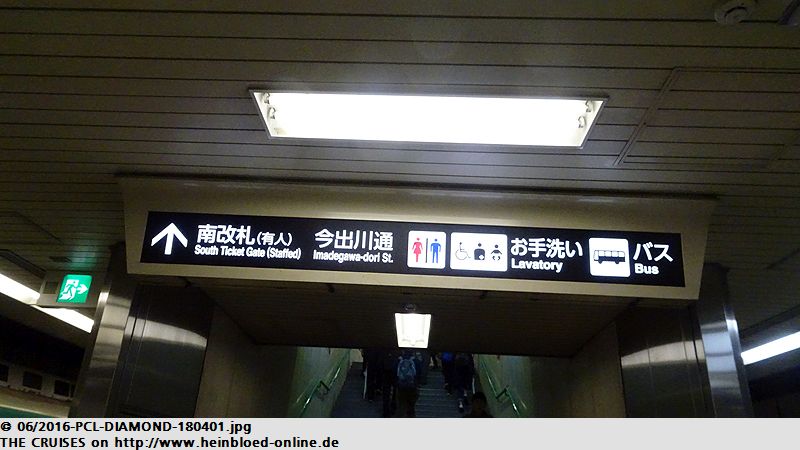 Wir fahren zum Bahnhof K06 Imadegawa und müssen den Ausgang finden.
Hier gibt es Schilder zu unserem Ziel.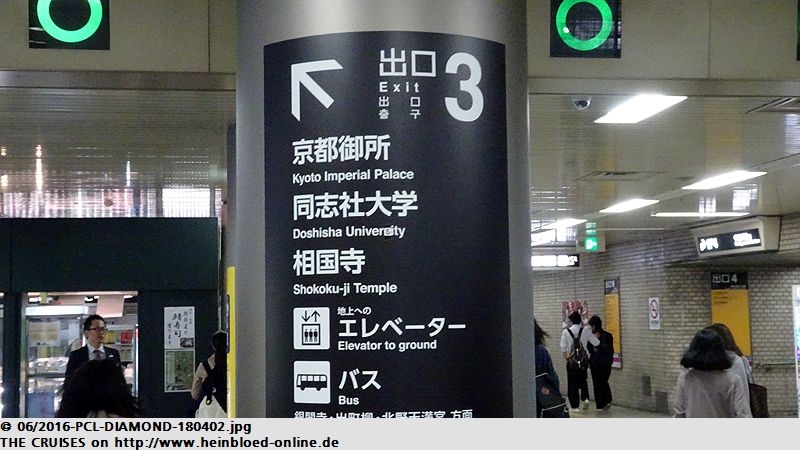 Here there were signs to our destination.

As long as we were underground, it worked well.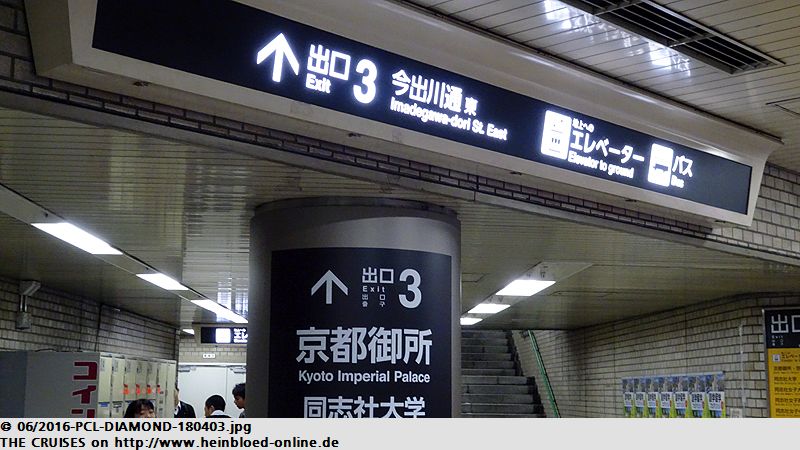 Solange wir unten sind geht es.
Und also wir oben am Ausgang sind, sind wir verloren. Denn auf der Straße finden sich keine Hinweise mehr.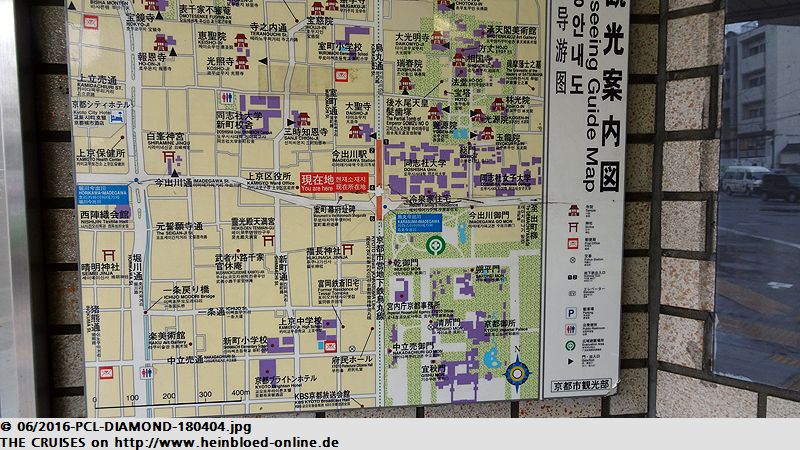 But when we reached the exit at the surface, we were lost. On the streets, we could not find any pieces of advice.

We needed to be at 10:20 hrs at the entrance to our tour in the Imperial Palace. First, you had to find the right direction. Remember this: here we saw the entrance of the subway and we must to walk back on the right side and merely walk through the hidden gate into the park.

Wir müssen um 10:20 Uhr am Eingang zu unserer Tour im
Kaiserpalast
sein. Man muss aber erst mal die richtige Richtung finden. Man merke sich: hier gucken wir auf den Eingang des U-Bahnhofes und müssen daher auf der rechten Seite zurücklaufen und einfach dann durch das etwas versteckte Tor in den Park laufen.
Man kann es kurzfristig hier versuchen Karten zu bekommen. Es gibt aber eben nur drei Führungen am Tag, die in Englisch laufen. Da man sicherheitsüberprüft wird, sollte der Reisepass mitgeführt werden. Ich habe den Besuch jedoch
online
beantragt. Auch hier gibt es nur drei Touren, die man vorab buchen kann. Und ich habe sechs Stück davon bekommen. Alle sechs Führungen hätten nicht in die Anlaufzeiten der DIAMOND PRINCESS in Osaka gepasst. Ganz ehrlich: Es ist UNESCO Welterbe. Man will ja Touristen hinlocken, aber die Ausdrucke sind doch etwas sehr provinziell, als ob man ein Dorfmuseum in Hintertupfingen besuchen würde. Als wir an diesem versteckten Eingang ankommen, fängt es an, so stark zu regnen, dass wir sofort bis zur Unterwäsche nass sind. Es gibt keine Unterstände vor dem Tor. Nach doppelter Kontrolle, darf man in einen Wartesaal. Der ist auf Kühlschranktemperatur runtergekühlt und die Einstellung der Klimaanlage wird auch nicht verändert, wenn es wie jetzt draußen kalt ist. Hier holt man sich dann den Tod, wenn man bisher durch die anderen Klimaanlagen nicht umgebracht wurde. Der Raum ist spartanisch. Die 50 werden nicht geteilt. Für eine Japanerin spricht unsere Führerin nicht so schlecht Englisch. Man schaut sich zunächst ein Video an und erfährt, dass alles draußen stattfindet und kein einziges Gebäude betreten werden darf. Ich überlege mir schon, ob ich überhaupt mitlaufen soll. Ich fühle mich schon tot, aber noch toter geht ja nicht mehr... nur noch nasser. Da hilft die eiskalte Limonade mit Vitamin C auch nicht mehr.

You could try to get tickets short-notice. But you offered only three tours per day in English. You should have your passport with you since you would be security checked. I applied our visit online. And I got six tickets. Also here you had only three tours which you could pre-book. All six tours did not match the time DIAMOND PRINCESS docked in Osaka. Honestly: it was a UNESCO World Heritage. They wanted to attract tourists, but the printout appeared very provincial like would see a little local museum in the smallest village of nowhere. When we arrived at the hidden entrance, it started to rain dogs and cats that our underwear became wet. No shelter was in the front of the gate. After double security check, we were allowed to enter the waiting hall. It was cooled down to the temperature of a fridge, and they did not adjust the settings of the air condition although it was cold outside. Here you would be killed if you were not killed before by other air condition devices. The room was set up very poor. They did not divide the 50. For a Japanese, our tour guide spoke English not very bad. First, you watched a video, and you learned that all sights we would see were outside and we were not allowed to enter any single building. I was considering to join at all. I felt dead, but more dead was not possible... only wetter. An ice-cold lemonade with vitamin C could not be helpful anymore.

Everything was nice but not in a group of 50 if most of them walked with an open umbrella. It was the worst and most boring tour I ever joined in my whole life. And as said before: UNESCO World Heritage. No museum education arrived in Japan. At least not here. Even every unimportant hall which looked like the next, they could not re-dedicate to use it as shelter. Only watching. Just not experiencing.

Alles ganz nett, aber nicht in einer Gruppe mit 50 Leuten, von denen die meisten ihren Regenschirm aufhaben. Es ist die schlechteste langweiligste Tour, die ich im ganzen Leben mitgemacht habe. Und wie gesagt: UNESCO Welterbe. Moderne Museumspädagogik ist wohl in Japan noch nicht eingezogen. Zumindest hier nicht. Selbst jede unwichtige Halle, die eh aussieht, wie die nächste, kann man nicht mal umwidmen, dass man sich mal darunterstellen kann. Nur gucken. Bloß nichts erleben!
Sogar die sehr schönen Gartenanlagen: auch die darf man nur von außen aussehen.

Even the lovely gardens: even them you were only allowed to see from outside.

Since waiting was not allowed in the palace area, we went opposite into the Nakadachiuri Rest House. They did not have a homepage of their own but mentioned frequently in reviews. Here you could get something to eat, to drink and buy souvenirs. We tried the vending machine coffee. It was not so bad at all.

Da wir nicht im Palastbereich warten dürfen, gehen wir gegenüber in das Nakadachiuri Rest House. Sie haben keine eigene Homepage, aber werden oft in Bewertungsportalen erwähnt wird. Hier gibt es etwas zu essen, zu trinken, Souvenirs kaufen. Wir testen den Automaten-Kaffee. So schlecht ist er gar nicht.
Mittags geht es zu
Mos Burger
. Hier bei dieser japanischen Hamburger Kette gibt es eine Besonderheit:
Reisburger
. Die müssen wir sofort probieren. Kyoto ist ja der Sitz des Unternehmens bei dem Bruno arbeitet. Wir treffen hier auf eine Kollegin von Bruno und ihrer Freundin. Da sie keine Freunde von soziale Medien sind, bitten sie darum, nicht namentlich erwähnt zu werden.

For lunch we went to Mos Burger. Here you had a specialty with the Japanese Hamburger chain: Rice Burger. We need to try them immediately. Kyoto was the headquarter of the company Bruno was working for. We met here a co-worker of Bruno and her friend. As both of them were no friends of social media, they kindly asked not to mention their names.

We headed on with the subway. The access to the metro was nicely decorated with flowers.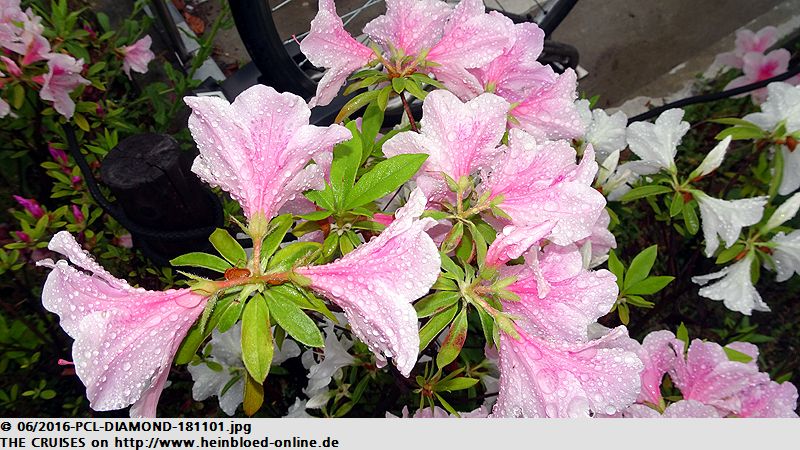 Mit der U-Bahn geht es weiter. Der Zugang der U-Bahn ist schön mit Blumen geschmückt.
Wir müssen weiter Richtung Kyoto zurück.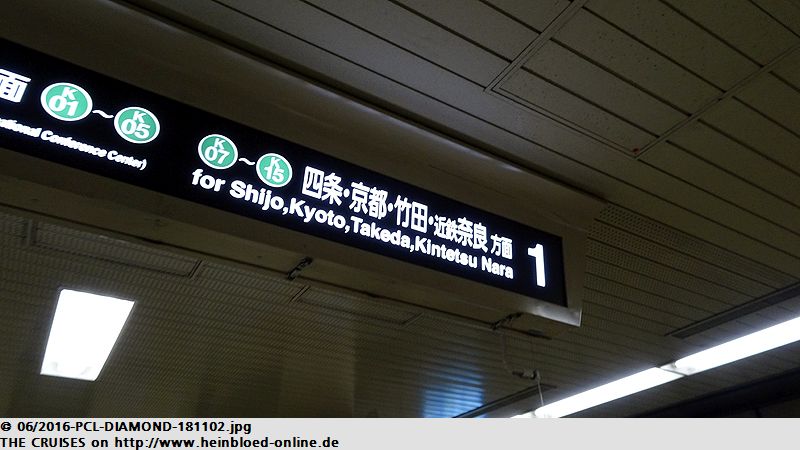 We needed to return towards Kyoto.

Our train arrived already.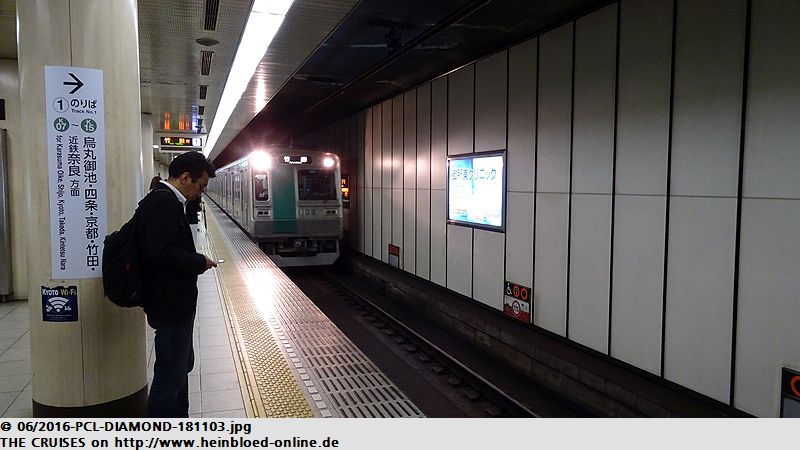 Da kommt unsere Bahn schon.
Im Bahnhof Shijo steigen wir aus.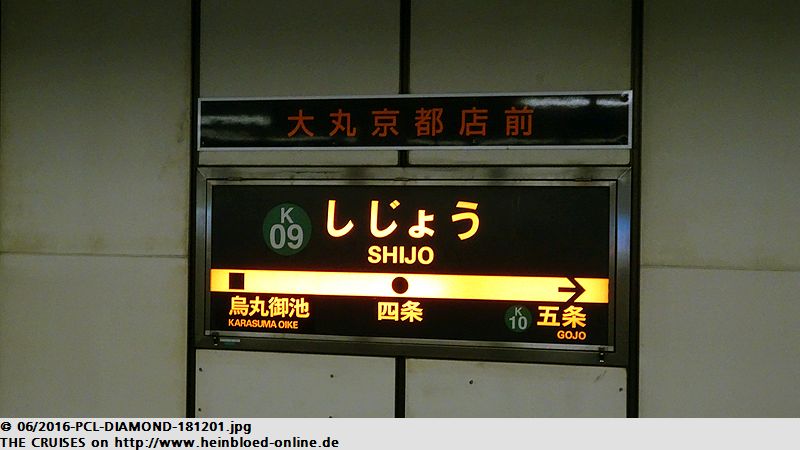 We allighted at the Shijo Station.

No need for us to find our ways. We had our own tour guides with us.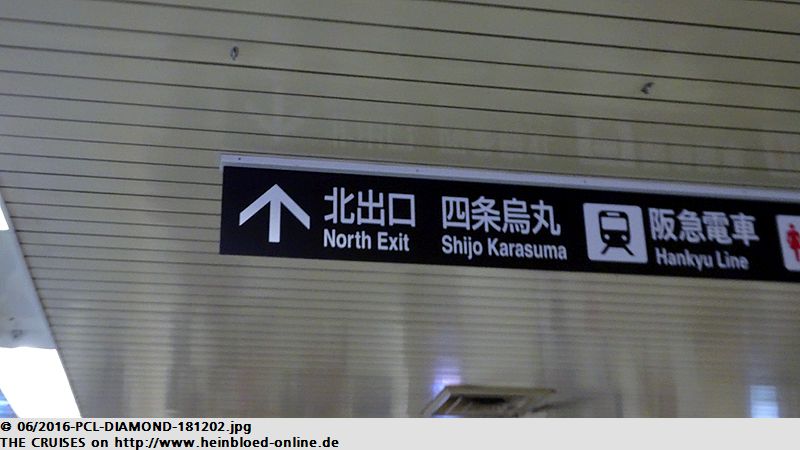 Wir müssen uns nicht zurechtfinden. Wir haben ja unsere Fremdenführerinnen dabei.
Rechts geht es in das Untergrund-Labyrinth.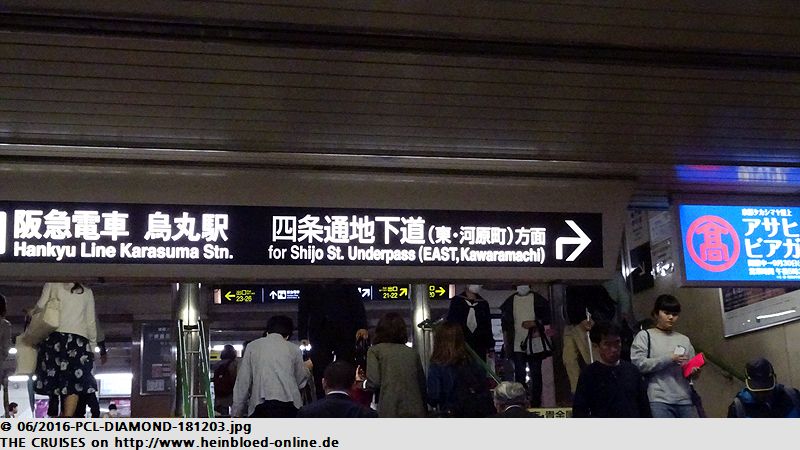 To the right you had an underground-labyrith.

The best would be to ask before where you needed to exit... 22 exits off the subway.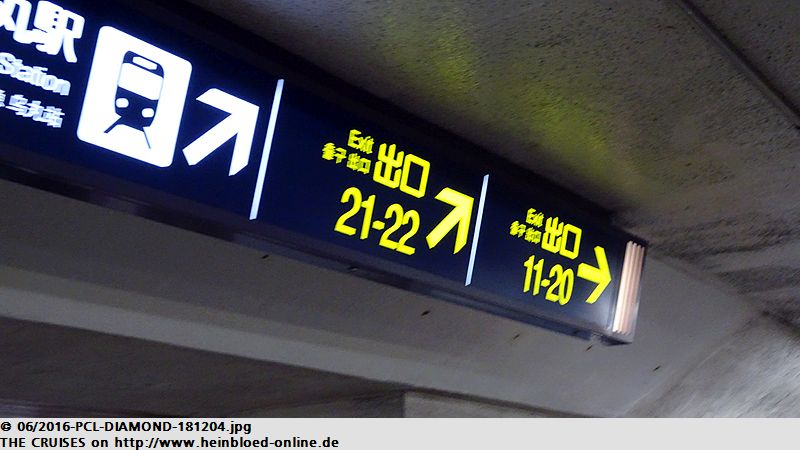 Man fragt am Besten vorher, wo man raus muss... 22 Ausgänge aus der U-Bahn.
Dagegen ist ja Tokio schon richtig einfach. Aber hier sehen wir schon unser nächster Ziel.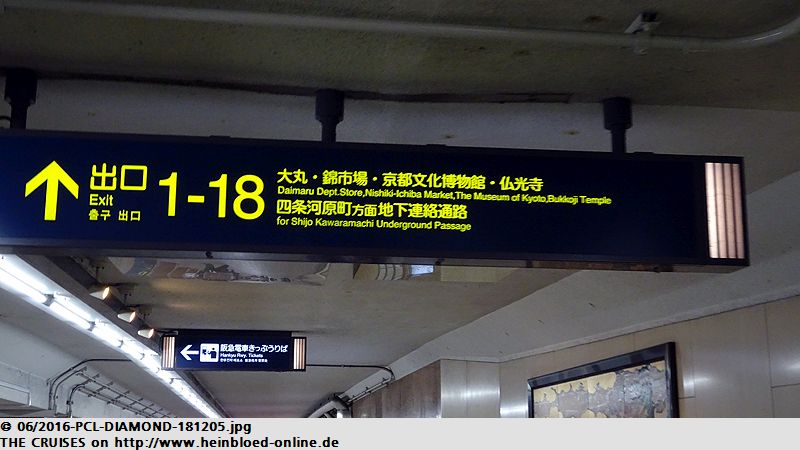 Compared to this, Tokyo was easily to handle. But here we could see our next destination.

The short-cut took us through the Daimaru Department Store.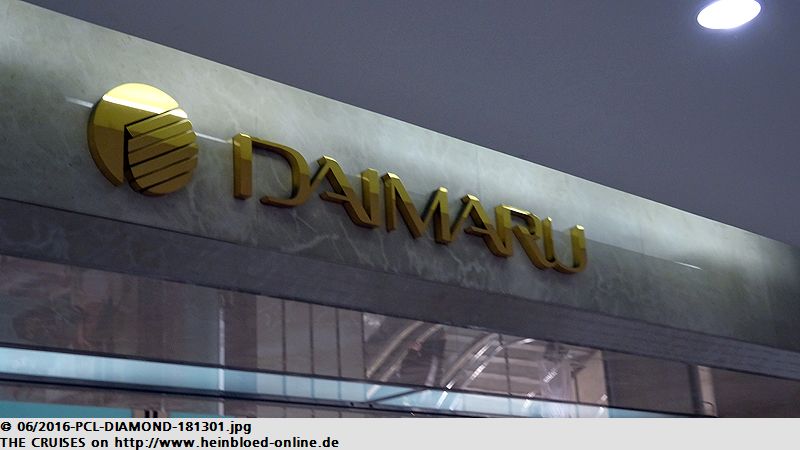 Die Abkürzung führt durch das
Daimaru Kaufhaus
.
Es ist echt schwierig, einem Japaner ein Geschenk aus Europa mitzubringen.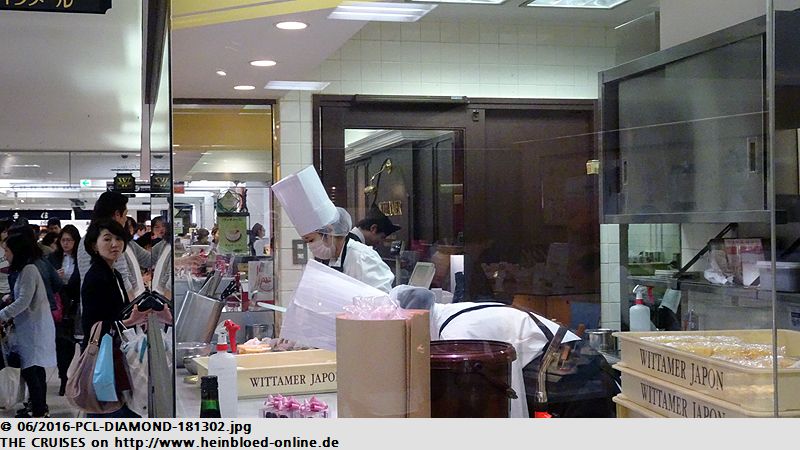 It was very difficult to buy a gift from Europe for a Japanese.

They had anyway all the best from Europe: Wittamer. Frances did not remember it: But we went to the birthplace of Wittamer in Brussels, Belgium - then after GRAND PRINCESS 2011 (The blogs are primarily for myself that I would not forget my beautiful (and less beautiful) experiences). We collected Frances and Eddie off NORWEGIAN SUN in Amsterdam, Netherlands and took them via Delft, the Netherlands to Brussels. There we went to dine in the Atomium and stayed overnight. Since we booked a rate intentionally without breakfast, we went to Wittamer to have breakfast. Later we took them via Ghent, Belgium to Zeebrugge, Belgium back to NORWEGIAN SUN. It was not the cheapest place to have breakfast but a very lovely and tasty one!!! They were on a cruise from Copenhagen, Denmark to Miami, FL and we went before on GRAND PRINCESS with a detour from Dusseldorf, Germany to Frankfurt, Germany via Ijmuiden, Netherlands - Amsterdam - Delft - Brussels - Ghent - Zeebrugge.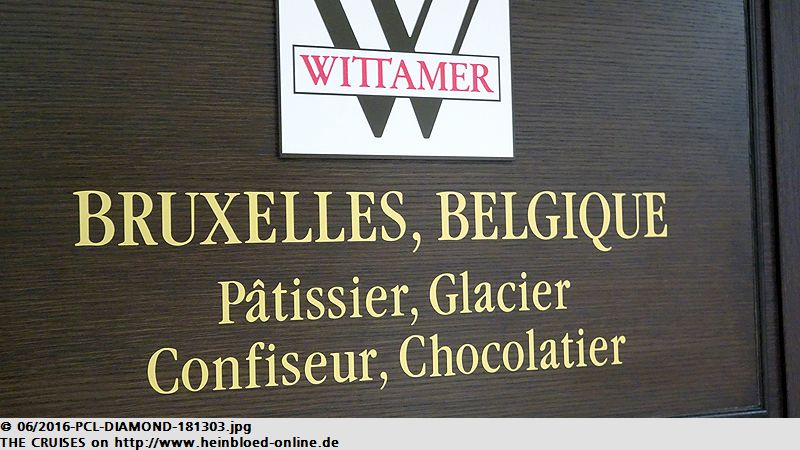 Das beste aus Europa haben sie ja eh schon da:
Wittamer
. Frances hat es anscheinend nicht wiedererkannt: Aber wir waren mit Frances und Eddie schon in Brüssel im Stammhaus von Wittamer - damals nach der
GRAND PRINCESS 2011
(Die Blogs sind in erster Linie für mich selbst, damit ich meine schönen (und weniger schönen) Erlebnisse nicht vergesse). Wir haben damals Frances und Eddie von der NORWEGIAN SUN in Amsterdam abgeholt und sind mit ihr über Delft nach Brüssel gefahren. Dort waren wir im
Atomium
zu Abend essen und haben dort übernachtet. Da ich aber bewusst wieder eine Rate ohne Frühstück gebucht haben, haben wir bei Wittamer damals gefrühstückt. Später haben wir sie über Gent nach Zeebrügge zurück an Bord der NORWEGIAN SUN gebracht. Das war bestimmt nicht der billigste Platz zum Frühstücken, aber es war sehr schön und lecker!!! Sie waren auf ihrer Kreuzfahrt von Kopenhagen nach Miami unterwegs und wir haben zuvor auf der GRAND PRINCESS unterwegs und einen Umweg von Düsseldorf nach Frankfurt über Ijmuiden - Amsterdam - Delft - Brüssel - Gent - Zeebrugge gemacht.
Weiter geht es auf einen tollen Markt:
Nichiki Markt
. Nichts für hungrige Gemüter und Menschen, wie mich, die nicht nein sagen können. Hier gibt es schöne Teeläden. Alles lecker. Bei Fumiya wird vor meinen Augen Baumkuchen hergestellt. Hier muss ich probieren. Die Fisch"kuchen" sind richtig lecker. Diese Reisdesserts, die in den Blättern eingewickelt sind, muss ich auch probieren. Der frische Saft ist auch sehr gut.

Our tour continued on a wonderful market: Nichiki Market. Nothing for someone who was hungry and could not say no. Here they had nice tea shops. Everything was yummy. I became witness to how they prepared Baumkuchen with Fumiya. I had to try it. The fish"cake" was outstanding. I had to test the rice desserts which were wrapped in leaves. The fresh juice was delicious too.

By cab we went towards Kiyomizu-Dera (Water)-Temple. In front of the temple, there was a lot of crowd.

Mit dem Taxi geht es weiter in Richtung
Kiyomizu-Dera (Wasser)-Tempel
. Vor dem Tempel ist ein ziemlicher Rummel.
Vor einigen Jahren war ich hier schon mal. Damals hatte mir mein japanischer Kollege erklärt, wie man sich reinigt und was man in welcher Reihenfolge trinken muss, damit man reich, schön, gesund usw. wird. Erinnert daher ein wenig an Kusadasi... Jungfrau Marias Haus... dort gab es doch auch die unterschiedlichen Wasserhähne mit dem unterschiedlichen Wasser und den unterschiedlichen Zwecken...

I was here already a few years ago. My Japanese co-worker explained how to clean yourself, and in which order you needed to drink what, to become rich, beautiful, healthy, etc. Reminded very much to Kusadasi... Virgin Maria's House... there we had different taps for different waters for different purposes...

Because it was raining so extremely, we suspended the tour and had a cup of tea in the tea-house on the temple yard.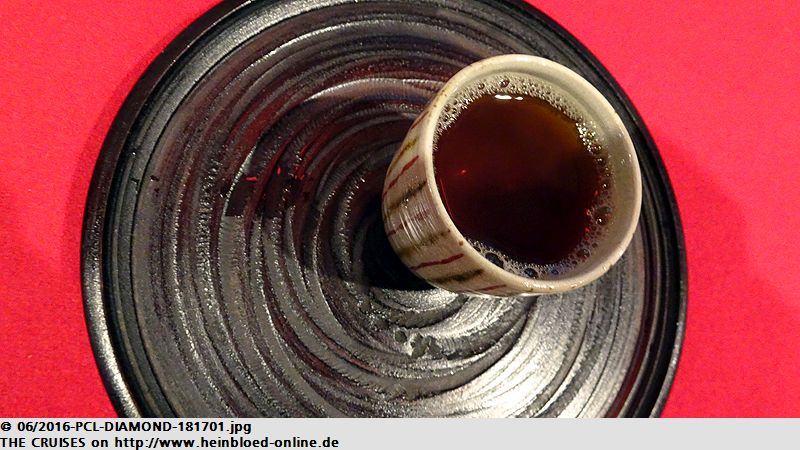 Weil es draußen so stark regnet, unterbrechen wir die Tour und trinken einen Tee in dem Teehaus auf dem Tempelgelände.
Da in Japan ja nur sehr wenige Urlaubstage gewährt werden, kann sich Bruno sehr glücklich schätzen, dass sie extra einen davon für ein Treffen mit uns geopfert haben.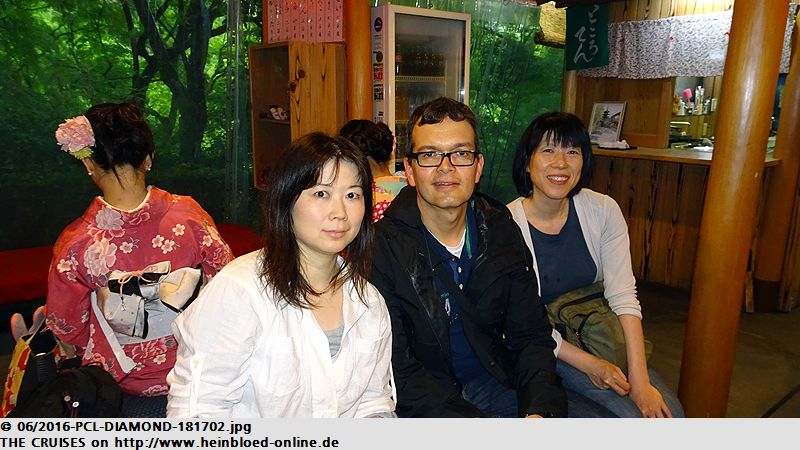 Since in Japan they only granted a very few vacation days, Bruno appreciated very much the victim of his co-worker to give one those days to meet us.

So we tried to become dry here and warm up a little.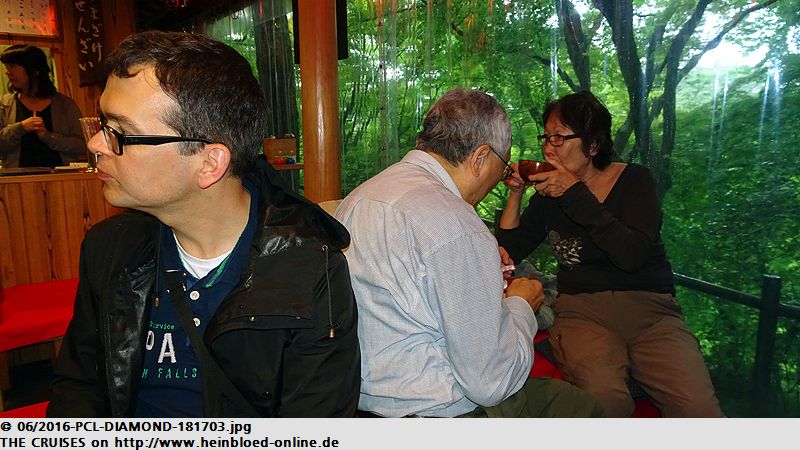 So versuchen wir hier trocken zu werden und uns aufzuwärmen.
Es werden Bilder von der Reise gezeigt.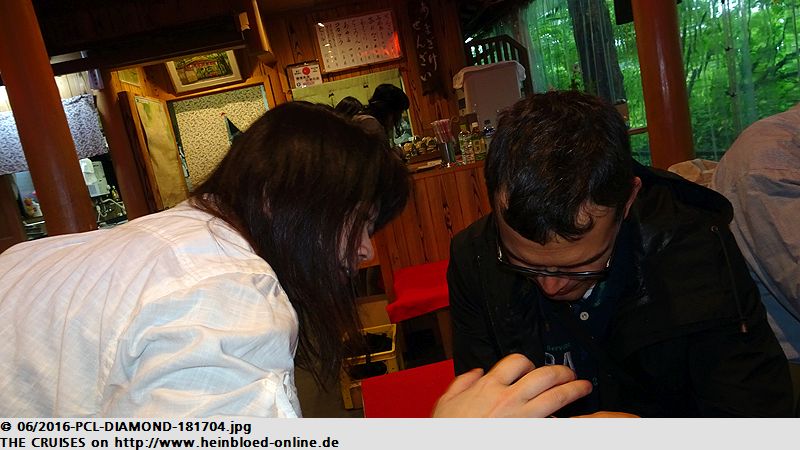 Pictures of our voyage were shown around.

We got a beverage box to place our umbrellas.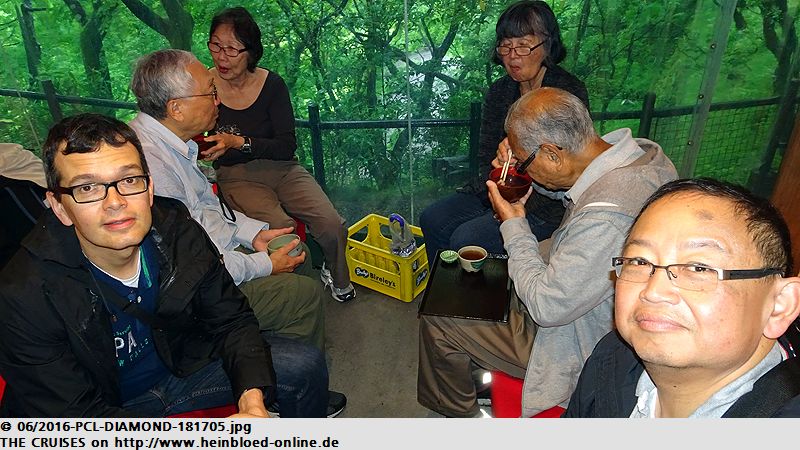 Wir bekommen unsere Getränkekiste, um unsere Schirme einstellen können.
Als der Schauer wieder vorbei ist, laufen wir durch kleinere Gassen weiter. Viele kleine Händler mit den schärfsten Rice-Crackern. Nach dem Probieren, brauchte ich einen Feuerlöscher. Viele mieten sich einen Kimono und lassen sich hier mit typisch japanischem Hintergrund fotografieren.

When the shower was gone, we walked through the small lanes. Many of small dealers with the spiciest rice-crackers. After I tried, I needed a fire-distinguisher. Many just rented a kimono to have some pictures taken of them here with a typical Japanese background.

Again a heavy rain shower. Another tea-time came again. An old warehouse: Nikenchaya.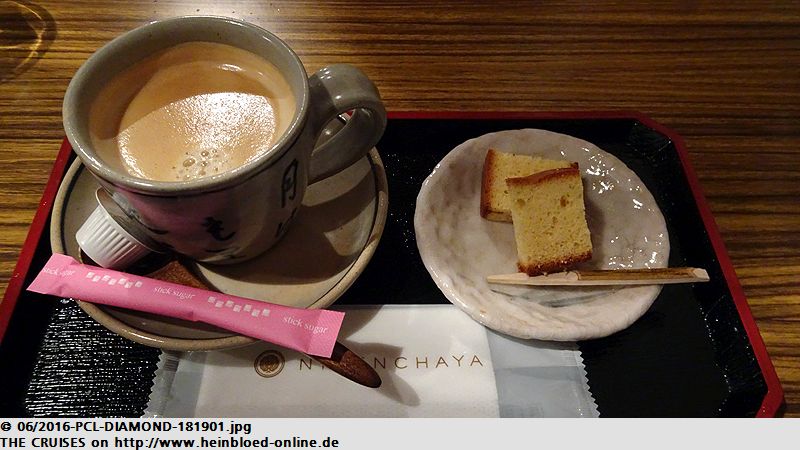 Wieder ein starker Regenschauer. Wie der eine Tea-Time. Ein altes Lagerhaus:
Nikenchaya
.
Wir genießen hier den Kaffee oder auch Tee.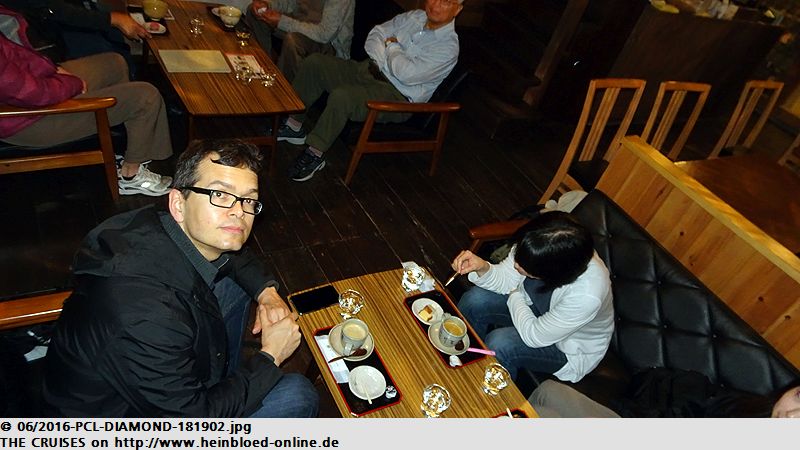 We enjoyed here coffee or tea.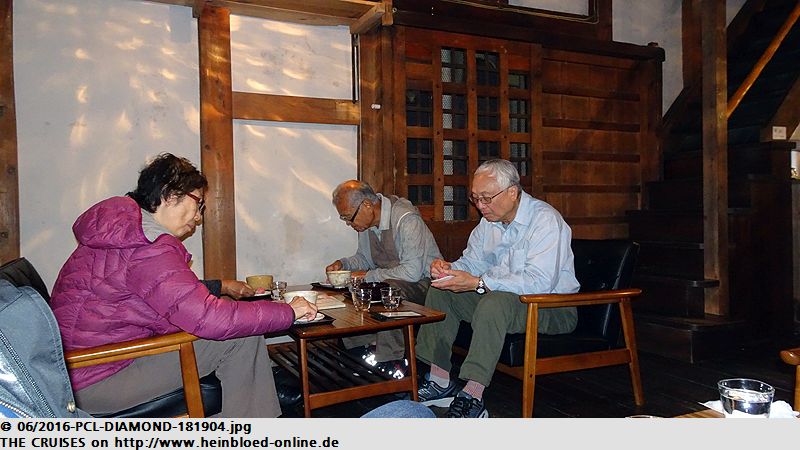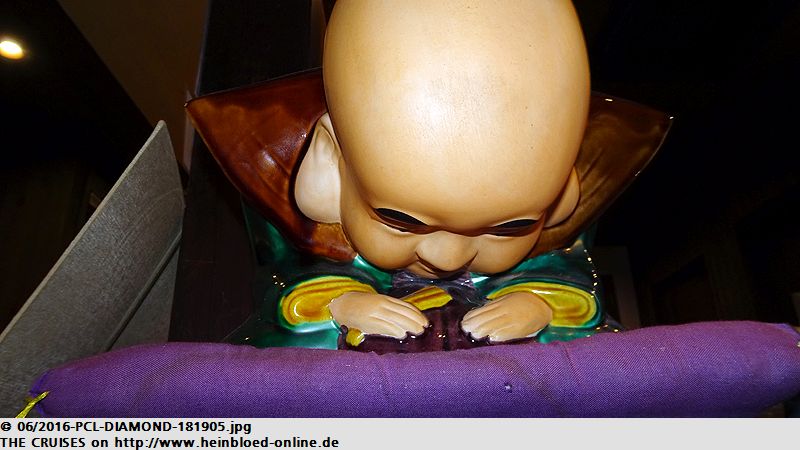 Weiter geht es zum Yasaka Schrein. Rein gehen wir nicht mehr, da wir immer noch patschnass sind, und gerne im Hotel uns mal umziehen wollen. Ich bin sehr froh, dass ich mal nichts machen musste und mich einfach auf die Kolleginnen von Bruno verlassen konnte.

We continued to the Yasaka Shrine. We did not walk in since we were still sopping wet and wanted to see the hotel to change our dresses. I was happy that I must not take care of anything and could just follow Bruno's co-workers and count on them.

By walking, we passed the labyrinth of the train station to the North side of the station. Here they had an electronics store.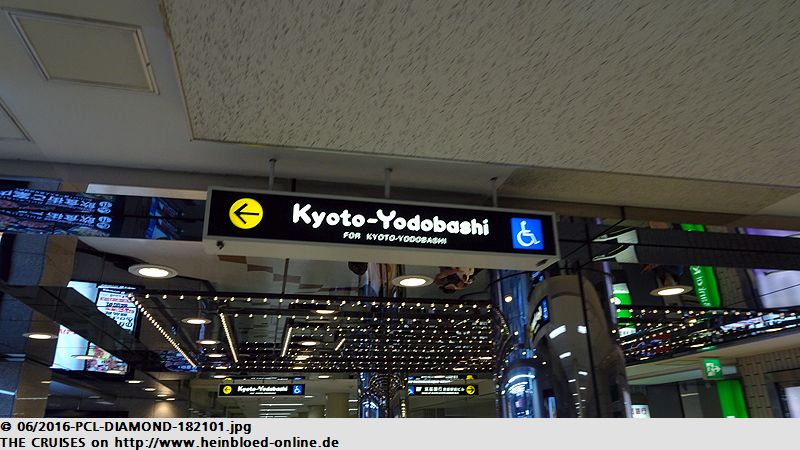 Zu Fuß geht es durch das Labyrith des Bahnhofes auf die Nordseite des Bahnhofs. Hier gibt es ein Technik-Kaufhaus.
Für morgen früh nehme ich mir vor, hier mal zu gucken:
Yodobashi
.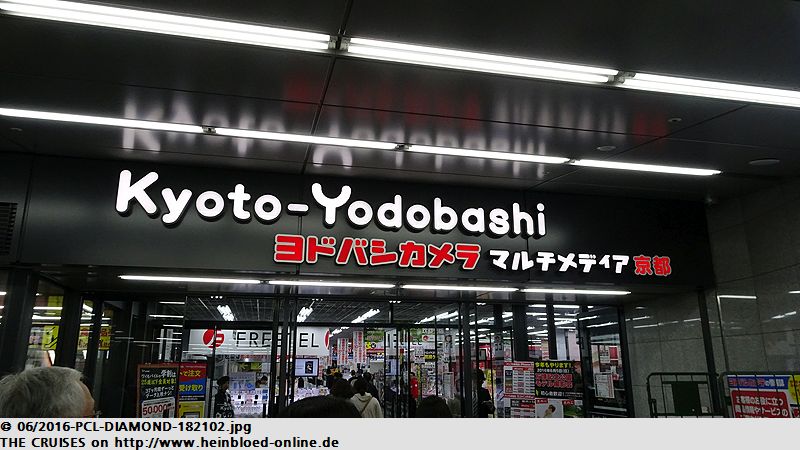 For the next morning I had the intention to come back again to check: Yodobashi.

For dinner, we had a booking at the Donguri Restaurant. Since we had a private room, we needed to be there on time. You were necessary to remove your shoes when you entered the restaurant and to place them into lockers. That time we had a teppanyaki grill board with space for our bags and legs. It was only somehow freezing and it was breezy. With our feet, we disconnected a line, and so we need to go under the table and to reconnect. While we were waiting for service and food, we watched the Origami (Paper folding)-abilities. We learned about the variety of Japanese kitchen. I made acquaintance with a new Japanese rice-egg-omelet-dish: Omuraisu. A few years ago, I got such one from my Japanese co-worker. Now I learned for what this was for. Of course, we would ask them to order everything we should try and invite our charming company for dinner.

Für den Abend haben wir einen Tisch im Restaurant
Donguri
. Da wir ein Separée haben, müssen wir pünktlich sein. Bereits am Eingang muss man die Schuhe ausziehen und einschließen. Dieses Mal haben wir eine Grillplatte mit Platz für unsere Taschen und Beine. Es ist nur leider sehr kalt und es zieht. Mit unseren Füßen haben wir wohl eine Leitung getrennt und müssen schnell unter dem Tisch wieder alles verbinden. Während wir auf die Bedienung und Essen warten, gucken wir uns Origami-Fertigkeiten an. Wir lernen die Vielfalt der japanischen Küche kennen. Neu für mich sind die japanischen Reis-Eieromelettes: Omuraisu. Ich habe vor Jahren eine Pfanne von meinem japanischen Kollegen bekommen. Nun weiß ich endlich wofür sie ist. Für mich ist es selbstverständlich, dass wir unsere zauberhaften Begleiterinnen zum Essen einladen und sie für uns alles bestellen sollen, was wir probieren sollten.
Nach zwei Stunden müssen wir raus. Und da es nicht mehr regnet, gehen wir nicht mehr durch den Untergrund. So sehen wir den beleuchteten
Kyoto Tower
. Leider ist es zu spät, um noch rein zu gehen, um das beleuchtete Kyoto zu sehen. Dann gucken wir uns den halt morgen früh an.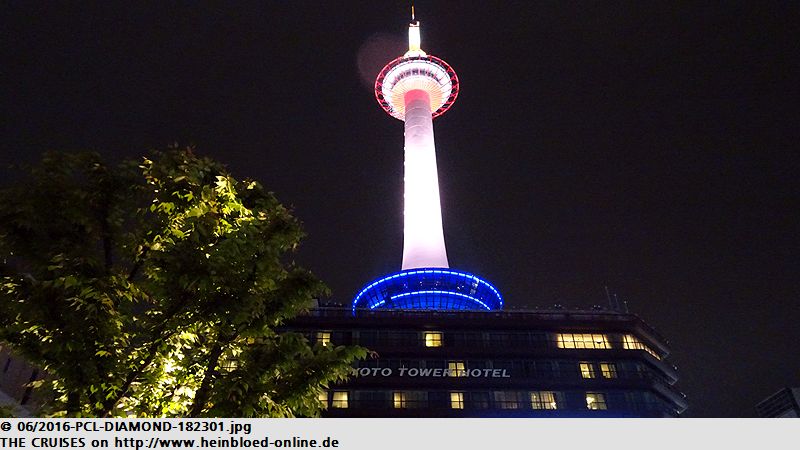 After two hours we needed to leave. Since it was not raining anymore, we did not walk again through the underground. So we could see the Kyoto Tower. Unfortunately, it was too late, to go in to see the illuminated Kyoto. So we had to come back again the next morning.

We were watching together the AquaFantasy: a play of water, light, and music. You had to see it. So wonderful.

Wir gucken noch zusammen die
AquaFantasy
: Wasser-Licht-Musik-Spiele. Das muss man einfach erlebt haben. Sehr schön.
Zufällig findet die AquaFantasy genau vor dem Busbahnhof statt. So verabschieden wir uns für den tollen Tag bei unseren Begleiterinnen.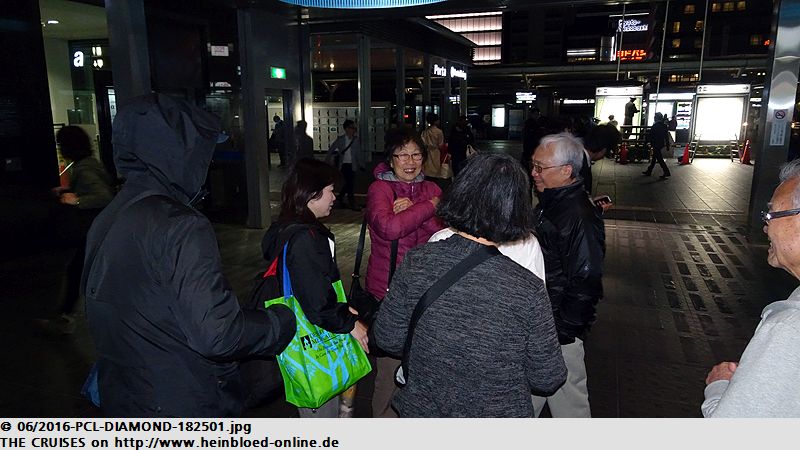 By coincidence, the AquaFantasy was right in the front of the Bus Terminal. So we said goodbye from our wonderful company and thanked them for the gorgeous day.

We honestly hoped that they would come to Germany one day.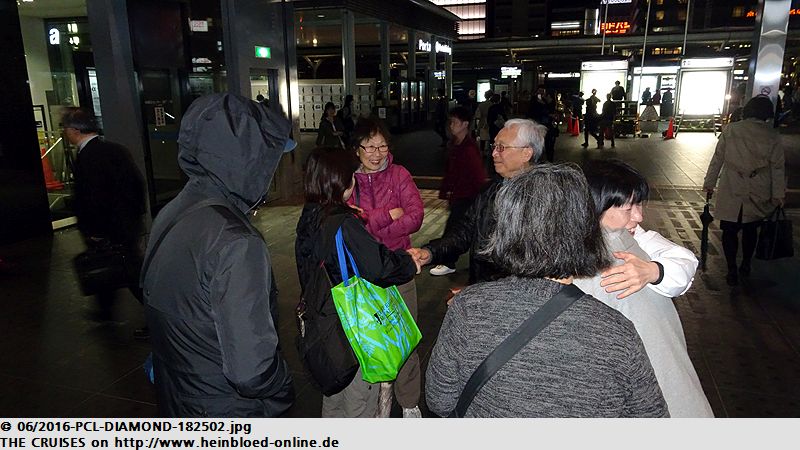 Wir hoffen ja, das sie mal irgendwann in Deutschland sind.
Und dann haben wir hoffentlich Gelegenheit sie herumzuführen.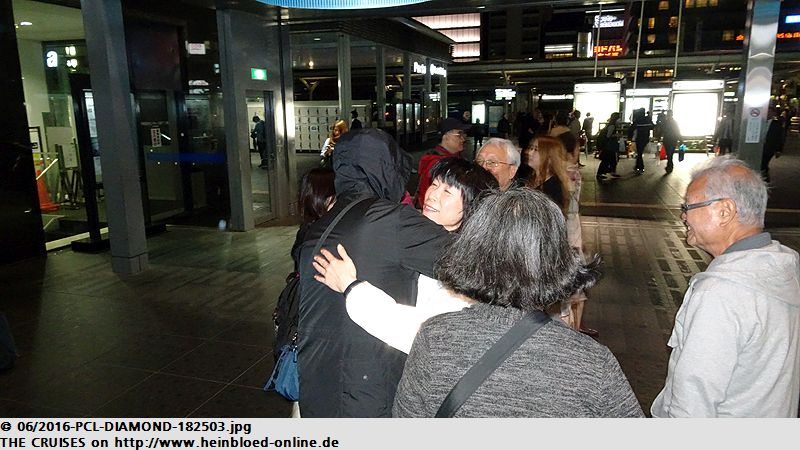 And hopefully, we would have a chance to take them around.

We walked back to the train station to the hotel.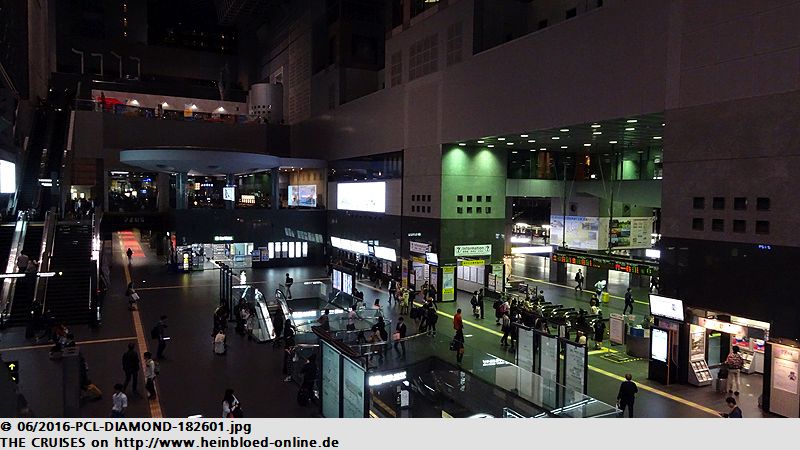 Wir gehen durch den Bahnhof wieder zurück ins Hotel.
Wir kommen an einer Filiale von
Burdigala Express
vorbei. Immer wird alles so präsentiert, dass man nicht nein sagen kann...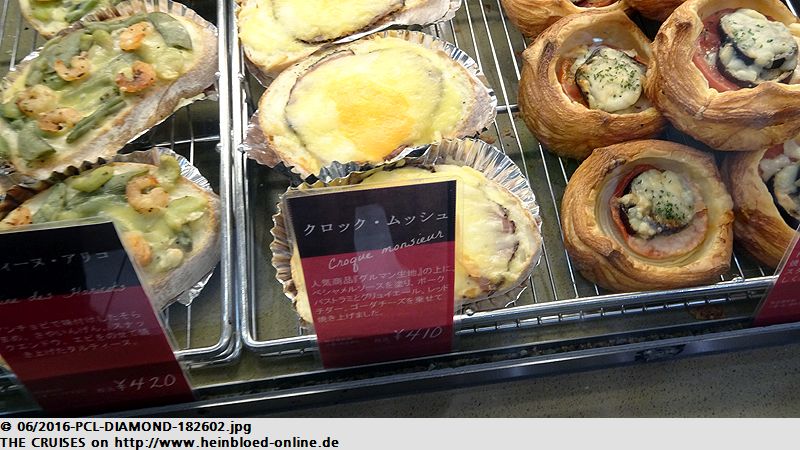 We passed a branch of Burdigala Express. They always presented everything in a way, that I could not say no...

On our way, Bruno found an illy Bar yet. A place he could not say no.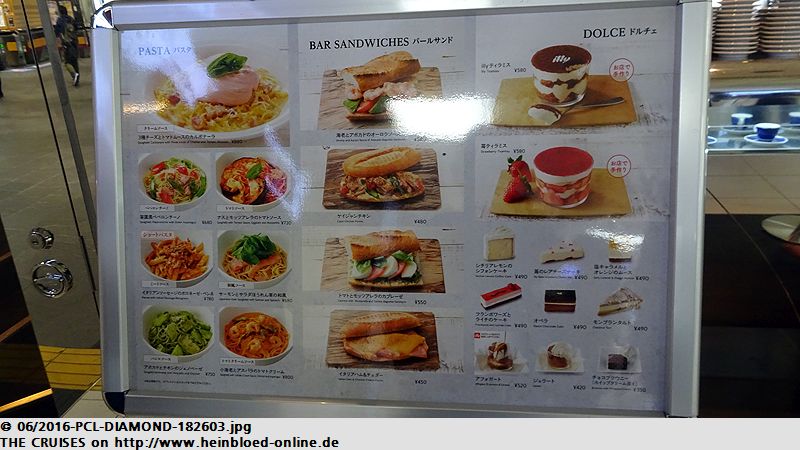 Bruno findet unterwegs noch eine
illy Bar
. Da kann er wiederum nicht nein sagen.
Nur etwas gesundes mit Beeren... haben sie nicht mehr da...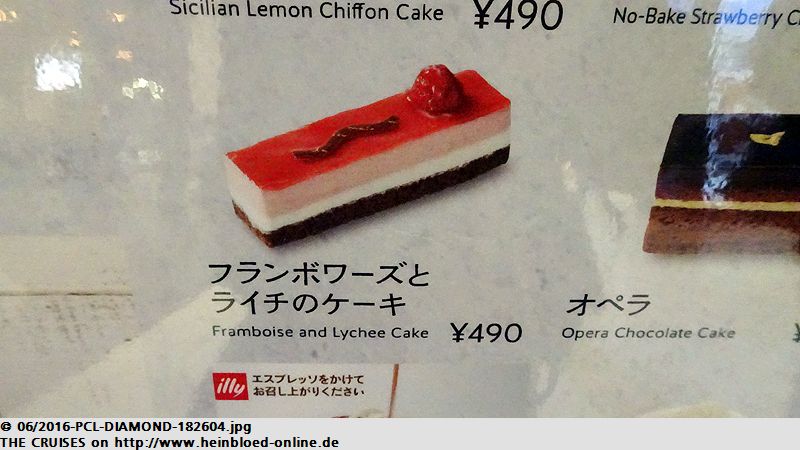 Only something healthy with berries... they did not ahve more...
Die anderen Reisen in diesem Blog/
The other voyages in this blog: