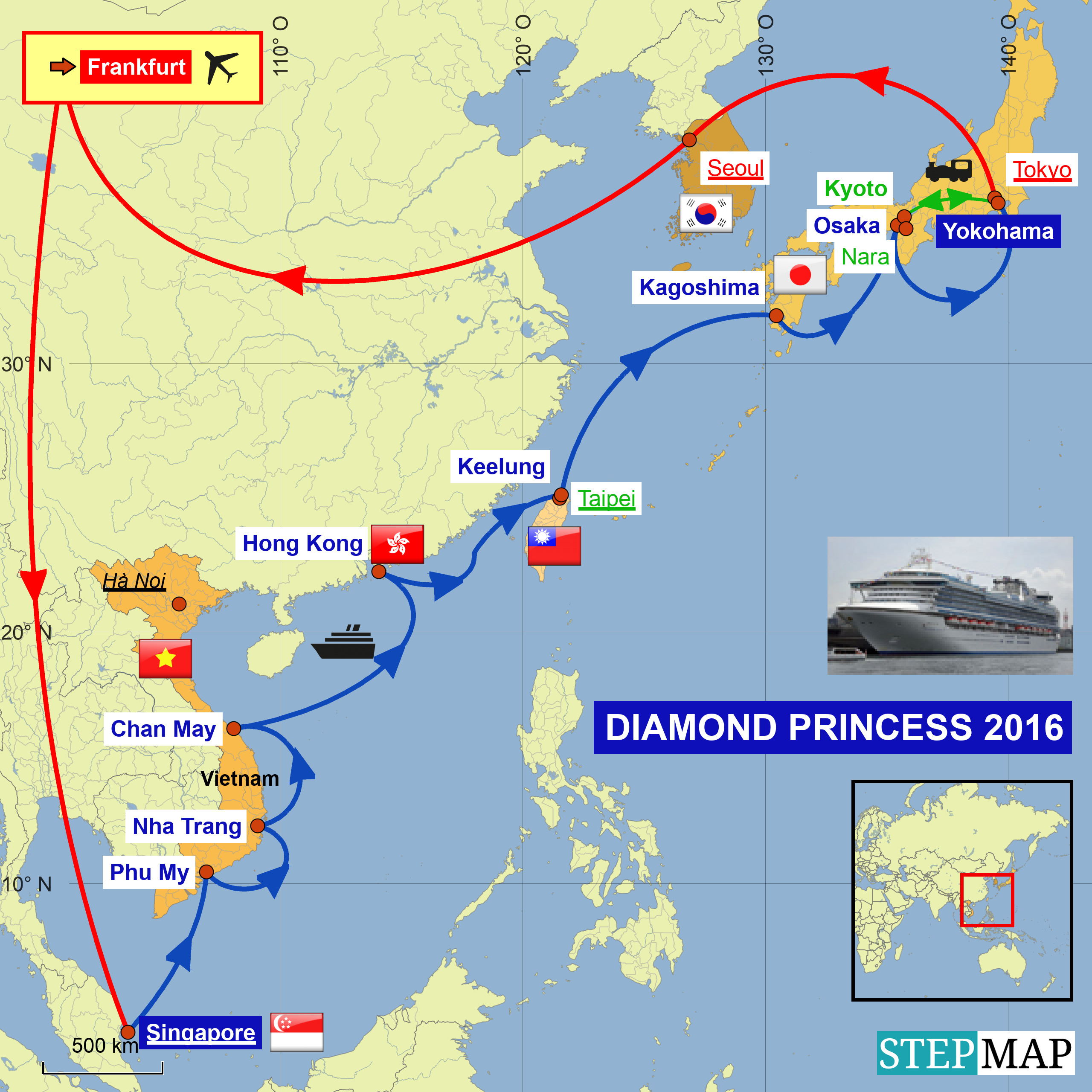 Es geht zu einem
7 Eleven
zum Geld abheben.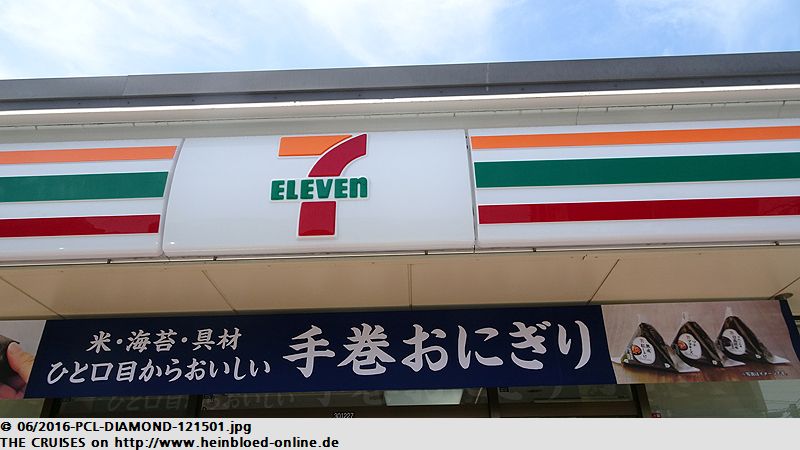 We went to a 7 Eleven to withdraw cash.

There were only two major chains, which accepted international payment cards for cash withdraw.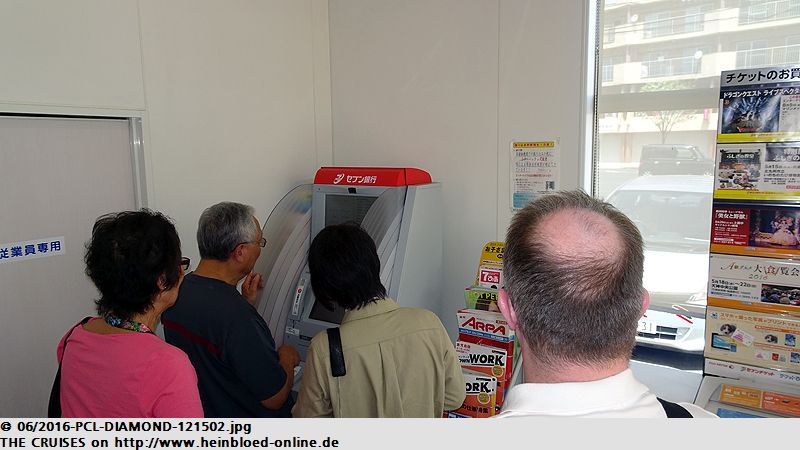 Es gibt nur zwei große Ketten, die internationale Zahlungskarten für Barhebungen akzeptieren.
Das eine ist die
japanische Postbank
und das andere hier die
Seven Bank
, die überwiegend ihre Geldautomaten im 7 Eleven platziert hat.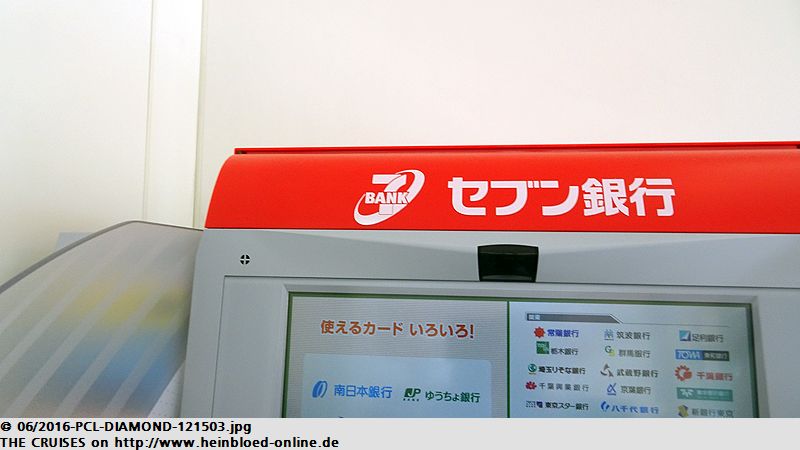 One was the Japanese Post Bank and the other was Seven Bank, which ran mostly their ATMs in 7 Eleven stores.

Those cards were accepted here.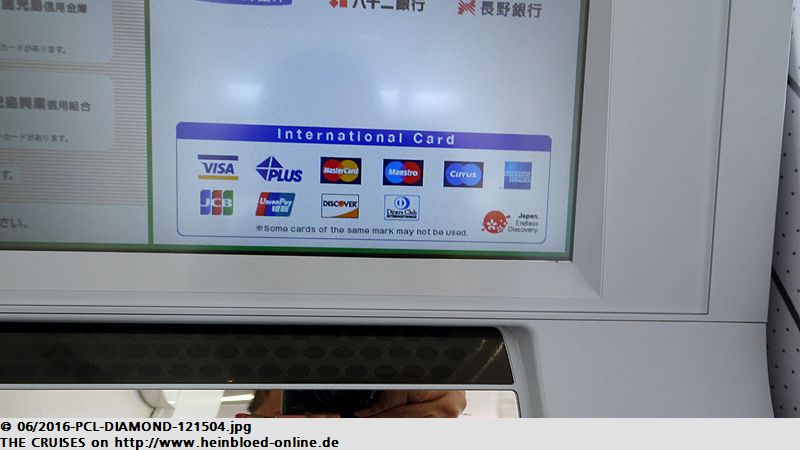 Diese Karten werden hier akzeptiert.
Hier bekommt man hoffentlich Informationen in Englisch.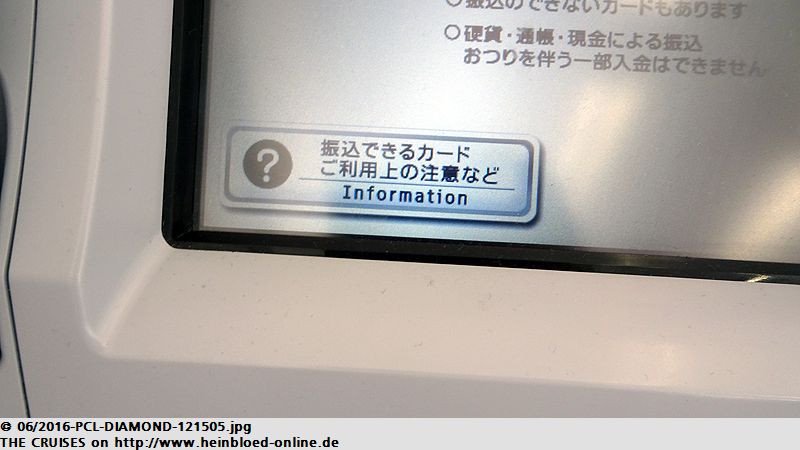 Hopefully, you got here information in English.

We were heading for Kagoshima Railways Station. Here wanted to exchange our vouchers for Japan Rail Pass. You should assume that Japan was a high-technology developed country. Maybe it was the entire country of Japan but Japan Railways JR. You got vouchers in ancient booklet and paper style. You needed to show up during the opening hours of the ticket office (in Kagoshima after 10:00 hrs) and exchanged them against other papers which were necessary to fill out manually. That took much longer than expected. I was very happy to have very patient fellow-cruisers, which had no benefit of the fact, that we had now already our passes, which were valid after tomorrow.

Weiter geht es zum Bahnhof Kagoshima. Hier wollen unsere Gutscheine für
Japan Rail Pass
eintauschen. Man sollte ja meinen, dass Japan ein hochtechnologisch-entwickeltes Land ist. Vermutlich ist es auch ganz Japan: außer die japanische Eisenbahn JR. Man bekommt Voucher noch in alten Heft- bzw. Papierformen. Die muss man dann während der Schalteröffnungszeiten (in Kagoshima ab 10:00 Uhr) gegen andere Papiere tauschen, die man auch noch alle per Hand ausfüllen muss. Das ganze dauert daher sehr viel länger als erwartet. Ich bin sehr froh, dass ich geduldige Mitreisende habe, die auch nicht davon profitieren, dass wir jetzt schon die Pässe haben, und die ab morgen gelten.
Weiter geht es zum UNESCO Welterbe
Sengan-en
. Im Teil Shoko Shuseikan erlebt man die Geschichte der Industrialisierung Japans. Hier ist der Eintritt kostenlos, allerdings darf man hier nicht fotografieren. Kostenpflichtig ist der Teil im Park, der wiederum sowohl die Architektur- und Geschichte der japanischen Gartenkunst konzentriert darstellt. In dem Park werden auch Freiwillige gesucht, die nach jedem Vulkanausbruch, die Asche zusammenkehren und in den gelben Beuteln sammeln. Am Schluss gibt es noch eine Chinesin, die hier in japanischer Tracht für Fotomotive zur Verfügung steht. Ganz kostenlos. Nicht wie in Cartagena de Indias, Kolumbien gegen Geld auf der
CELEBRITY EQUINOX 2010
.

We continued for the UNESCO World Heritage Sengan-en. In the part of Shoko Shuseikan, you could experience the history of industrialization in Japan. Here, the admission was free of charge, but you were not allowed to take any pictures. The part with the park was payable which presented, in a nutshell, the history of architecture and art of Japanese gardening. They were looking for volunteers who helped to clear the park off the volcanic ash and collected them in the yellow bags. Finally, there was a Chinese girl, who was showing herself up in Japanese dresses for having pictures with her. Complimentary. Not like in Cartagena de Indias, Columbia against money like we knew from CELEBRITY EQUINOX 2010.

In this area were a lot of souvenir shops. We bought some tea from this region. Furthermore, we tried some mochi. Usually, a sweet dessert made of rice. Here, the sauce was dominating so strongly. You could have it with soy-sauce or miso-soup-flavor... As I needed to order more of the mango-stuffed mochis in Hong Kong, there was no need to do it. The Macha-Kit-Kat you could only get in Japan.

Auf dem Areal sind viele Souvenir-Geschäfte. Wir kaufen dort Tee aus der Region. Außerdem probieren wir Mochi aus. Normalerweise eine Süßspeise aus Reis. Hier aber dominiert so stark die Sauce, die es wahlweise mit Sojasauce oder Miso-Suppengeschmack gibt... Während ich ja in Hongkong noch die mit Mango gefüllten Mochis nachordern musste, musste ich es hier nicht tun. Die Macha Kit-Kat gibt es nur in Japan.
Die Rückfahrt zum Schiff ist auch ein Höhepunkt der Reise, diese Tour ganz persönlich macht. June sorgt immer dafür, dass man nicht mit den tollen Eindrücken dieser Tour nach Hause fährt, sondern auch man etwas zu Hause hat, um sich an diese Tour zu erinnern.

The return ride to the ship was also a highlight of the trip, which made it extremely personal. June always made sure that you did not only return home with fond memories of the tour but also had something to carry with you to remember the tour.

So bidding farewell later at the quay was hard again, since the excursion was excellent and worth the price.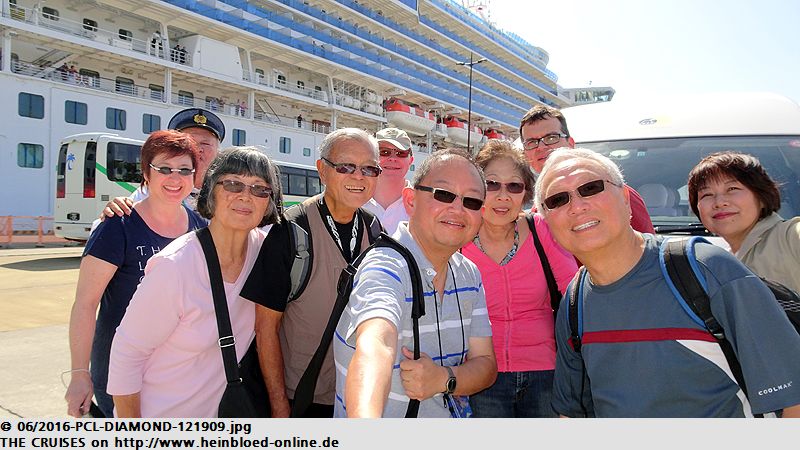 Deswegen fällt auch der Abschied später am Kai etwas schwer, weil die Tour wirklich gut war und auch den Preis wert.
Sollten wir wieder mit dem Schiff Kagoshima anlaufen, wären Hiroshi und June wieder unsere 1. Wahl. Ich könnte mir beim nächsten vorstellen: über japanische Märkte laufen und alles durchprobieren.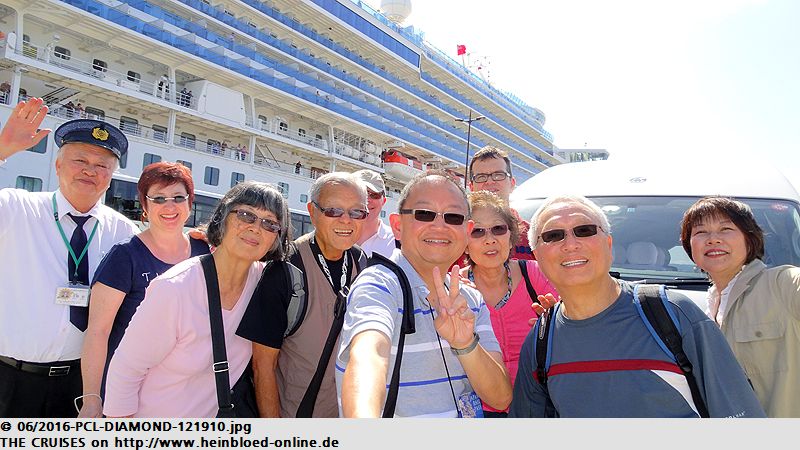 Should we ever would return to Kagoshima by ship, Hiroshi and June would be our first choice. I could imagine for the next time: browsing through a Japanese market and trying everything.

Bidding farewell in Japan, always meant, that the railing was fully occupied and every inch was taken. The cordiality, the people were showing when they waved us, and the band was playing, I knew only from Lübeck-Travemünde, Germany, and Scotland. But the band was just playing pieces of music to excite other people. It was fun. Sad, that the cruise terminal was not located more central that more people could join.

In Japan Abschied zu nehmen, heißt auch immer, dass die Railing voll ist und jeder Zentimeter belegt ist. Die Herzlichkeit, dass Leute uns zu winken und eine Band spielt, kenne ich sonst nur aus Lübeck-Travemünde und Schottland. Aber die Band spielt nur Sachen, um Leute mitzureißen. Es macht Spaß. Schade, dass das Kreuzfahrtterminal nicht noch zentraler liegt und daher noch mehr Menschen da sind.
Wir stehen ja in unserem abgeschotteten Bereich The Sanctuary. Hier ist es ja ruhiger, so dass wir auch ein Selfie noch mit Ni Komang und dem Sakurajima machen können, ohne dass wir Leute beiseite schieben müssen.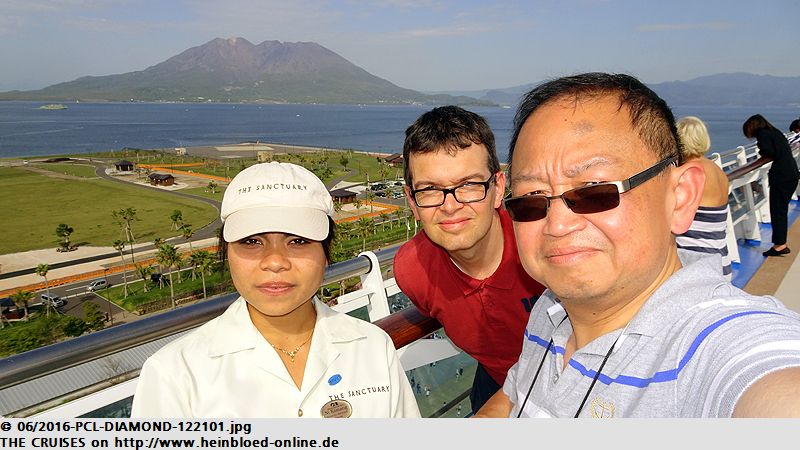 We stood in the shielded area of The Sanctuary. Here it was much calmer that we could take the time to have a selfie with Ni Komang and Mt. Sakurajima without the need to push other guests away.

So we enjoyed right after set-sail the tea-time again in The Sanctuary.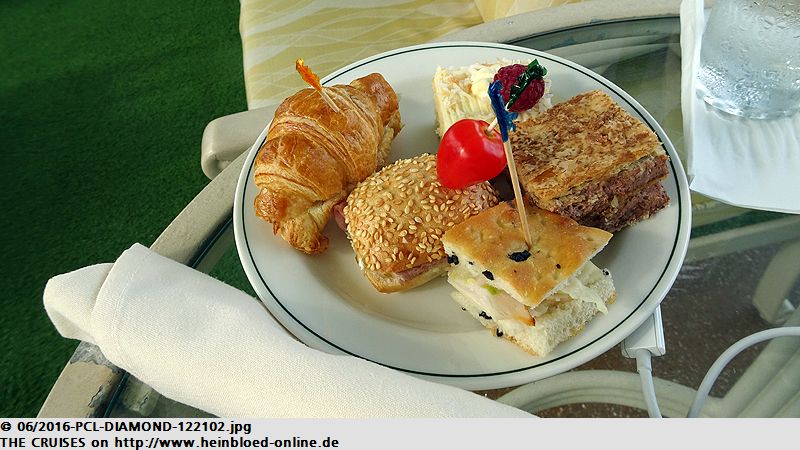 So genießen wir noch kurz nach der Ausfahrt unsere Tea-Time in The Sanctuary.
Es gibt aber auch Kaffee.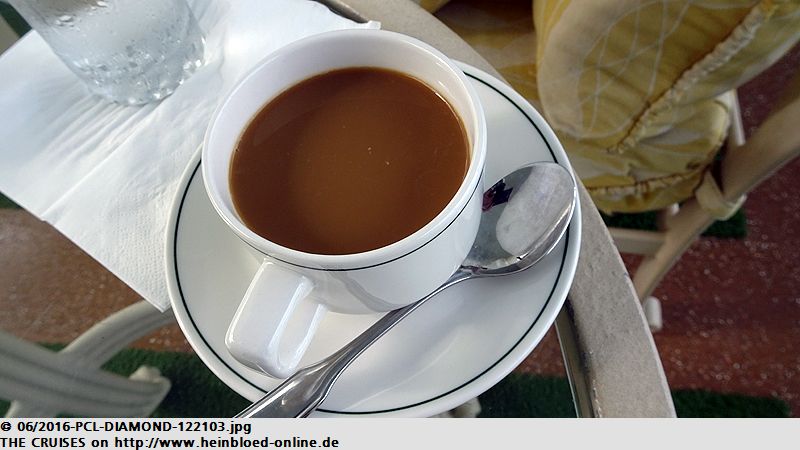 But they also had some coffee.

It was somehow stupid to bring goods of a Swiss company into Switzerland from abroad. The Macha Kit-Kat was not for me. But we tried them at spontaneously. Honestly: I preferred to have some lovely Macha Tea and a piece of good chocolate.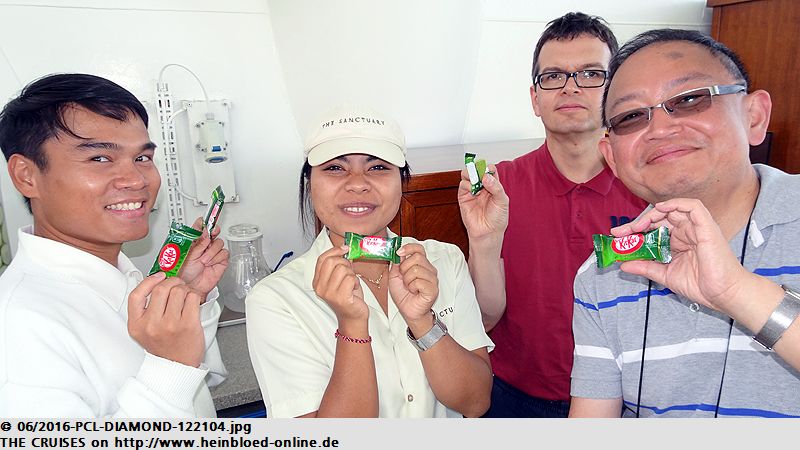 Ich finde es albern, dass man Produkte eines Schweizer Konzerns im Ausland kauft und sie in die Schweiz einführt. Die
Macha Kit-Kat
sind ja eigentlich nicht für mich. Also probieren wir sie kurzerhand. Ganz ehrlich: lieber einen schönen Macha Tee und dazu ein Stück gute Schokolade.
Noch ein paar Ansichten vom Sakurajima bei der Ausfahrt. Man sieht, dass er leicht wieder etwas abgibt.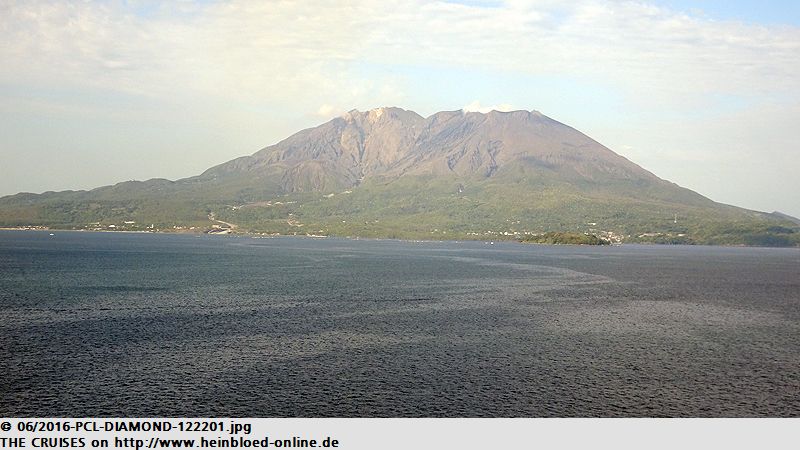 A few more views of the Sakurajima when we were sailing. You could see that there was a minor outbreak of something.

From single spots, you had some pollution.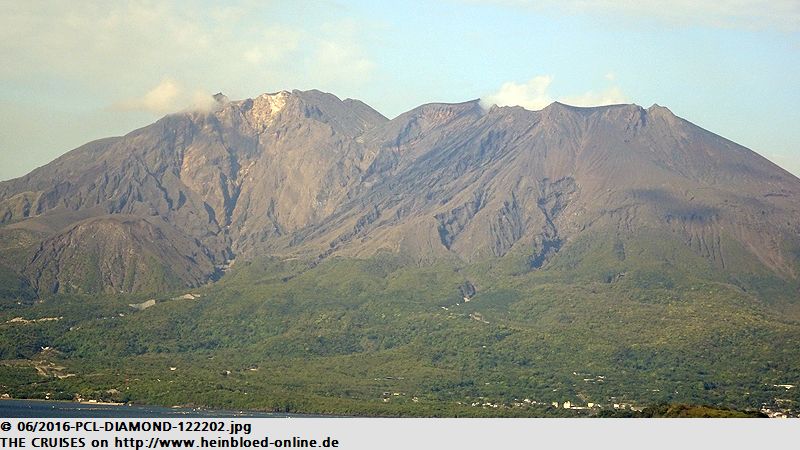 Aus einzelnen Stellen tritt etwas aus.
Bloß schnell weg hier, bevor der Vulkan wieder explodiert. Aber dann müsste man vermutlich ganz von Japan fortbleiben.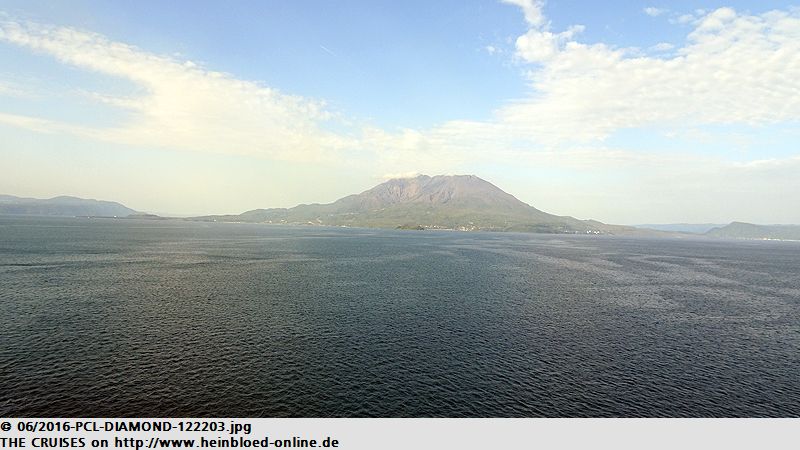 We should quickly get away before the volcano would explode again. But in that case, you would need to stay completely away from Japan.

That night only us two were going for dinner. We would like to have a table with Chiradet and Katarina, but apparently, it made the round that the table was not taken so far. But it was occupied. There was nothing Pio could do for us. We exchanged a few words and made a mutual selfie for farewell. When Limoncello was presented outside it was Italian night. We went to Santa Fe and got a table with Victor and Francis.

Heute Abend essen wir wieder nur zweit. Wir wollen gerne wieder bei Chiradet und Katarina essen, aber es hat sich wohl rumgesprochen, dass dieser Tisch bislang nicht besetzt war. Nun ist er leider besetzt. Pio kann leider nichts für uns tun. Wir tauschen uns noch ein bisschen aus und machen noch ein gemeinsames Selfie zum Abschied. Wenn der Limoncello draußen steht, ist immer italienischer Abend. Wir gehen ins Santa Fe und bekommen einen Tisch bei Victor und Francis.
In der Kabine erwarten uns wieder die Kirschblüten. Hiroshi und June mussten uns in diesem Punkt enttäuschen. So weit im Süden ist die Kirschblüte schon lange vorbei. Wir müssten schon hoch in den Norden fahren, damit wir noch welche sehen könnten. So sehen wir zumindest welche an unserer Kabinentür.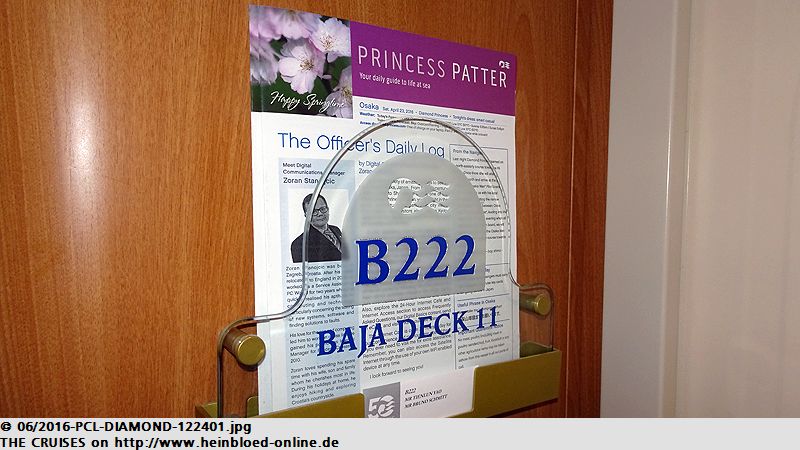 In the cabin, again some cherry blossoms were waiting for us. Hiroshi and June needed to disappoint us for that matter. So far in the South, the cherry blossom season was already over for a while. We needed to head more to the North to find some. At least we could see some on our cabin door.

In the theater, it was "kids birthday party" again.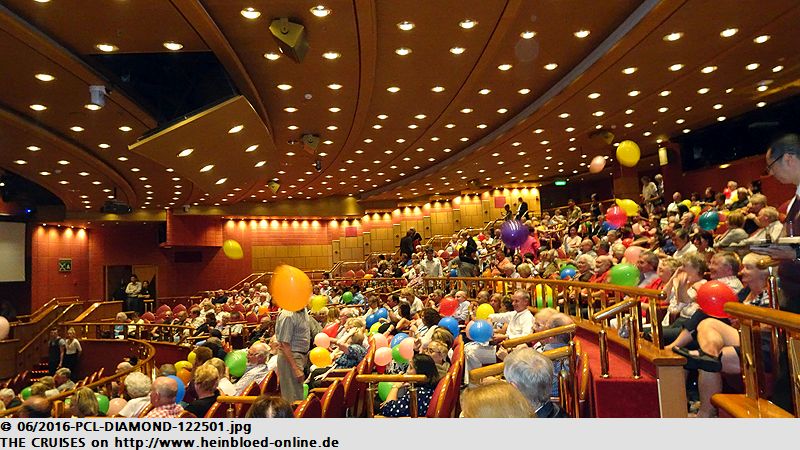 Im Theater ist wieder "Kindergeburtstag".
Komisch, wie viele Erwachsene Spaß am "Kindergeburtstag" haben und wirklich für wenig Geld so viel Spaß mit Luftballons haben.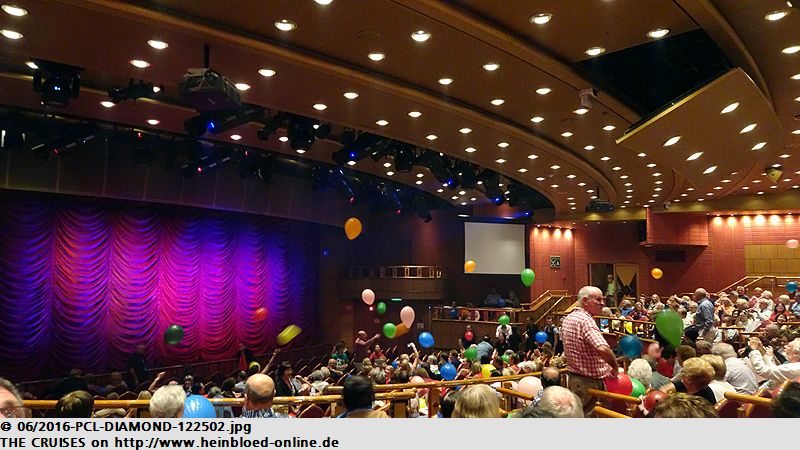 Funny to see how many adults had fun to join the "kids birthday party" and had so much fun for such little money for the balloons.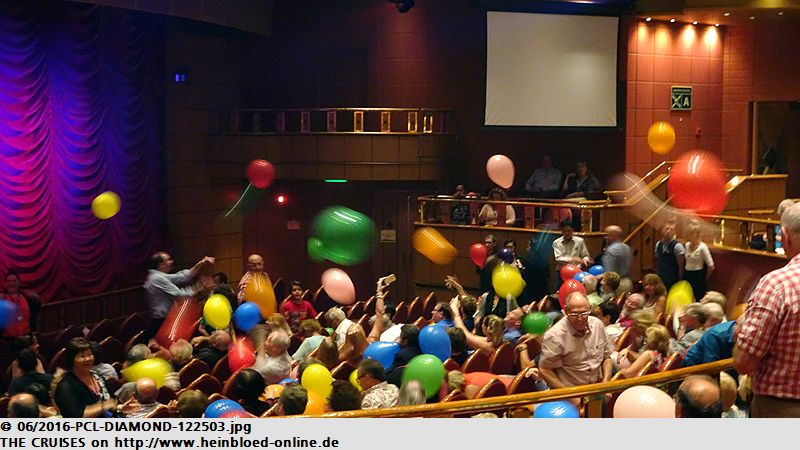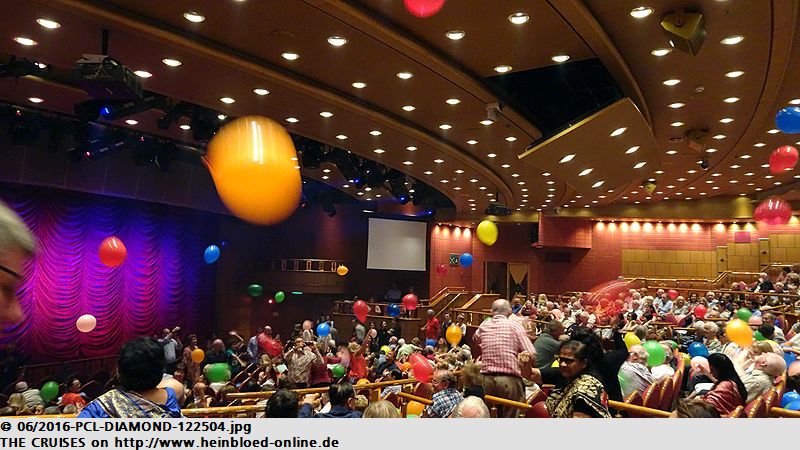 And then the Entertainment-team came on the stage and started to heat up the audience. When they danced "YMCA" from Village People, the craziness here began.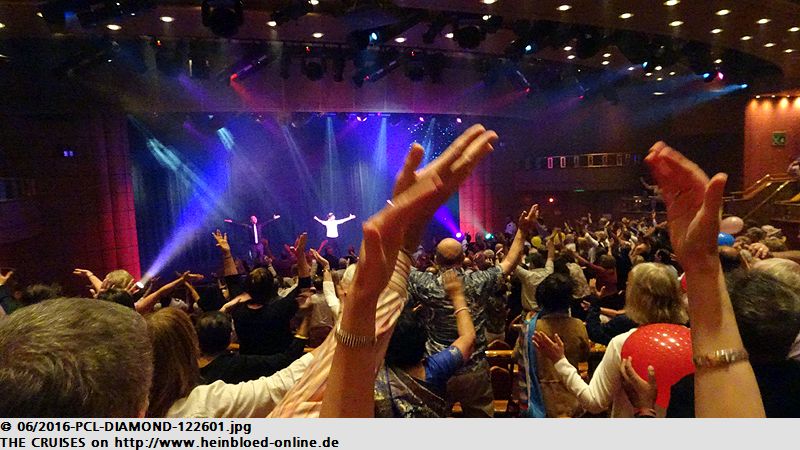 Und dann kommt das Entertainment-Team auf die Bühne und heizt das Publikum ein. Zu "YMCA" von Village People bricht hier der Wahnsinn aus.
Vorne wird es vorgetanzt.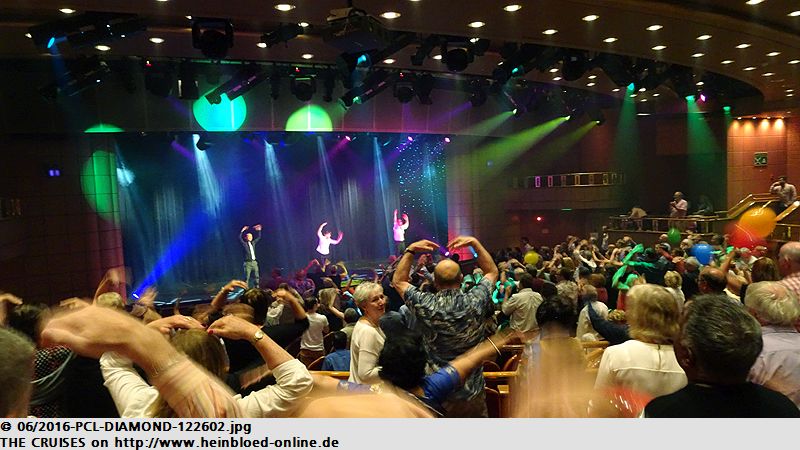 In the front they showed how to dance.

Everyone stood up and joined.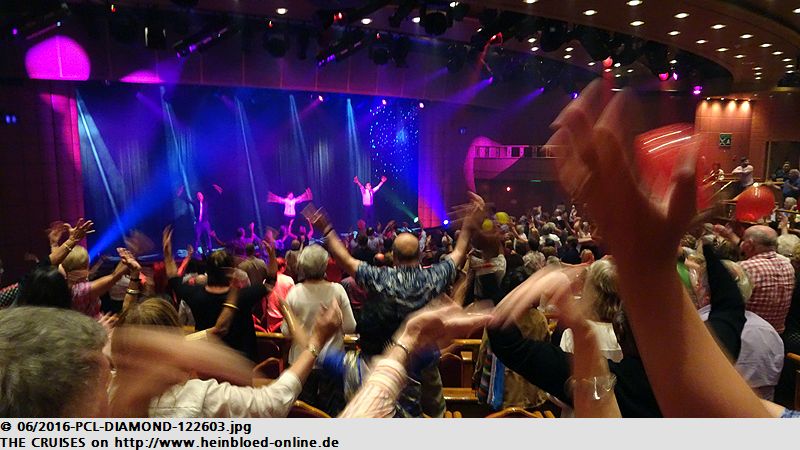 Und alles steht und macht mit.
Sind wir hier etwa auf einem Fun Ship???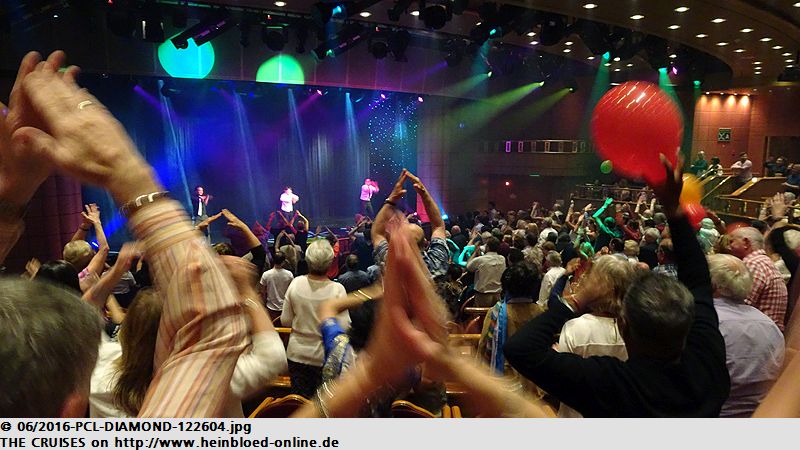 Did we enter by mistake a Fun Ship???

I hate crew-shows. Here it was a Crew-Talent-Show. They always were presented close to the end of the cruise, and that meant that you need to bid farewell soon. And they were bringing you back to the reality that you would arrive in three days in Yokohama, Japan and need to leave the ship. That was, why I hated crew-shows. I enjoyed the night, which lasted a little longer than a "regular" show so I could not stay until the end of the show. Many crew-members which were for us "invisible" had the chance to show their potentials. The Entertainment-Team around Chris, who was leading my pop-choir, was presenting some nonsense which made one laughing: utterly non-verbal that everyone would understand. Part of the team was Ryoto whom I would be closer in contact on day 14.

Ich hasse Crew-Shows! Hier Crew-Talent-Show. Sie kommen immer kurz vor dem Ende einer Reise und das heißt oft, dass man bald Abschied nehmen muss. Und leider auch hier werde ich in die Realität geholt, dass wir in drei Tagen in Yokohama anlegen und ausschiffen müssen. Deswegen hasse ich die Crew-Shows. Ich genieße doch den Abend, der etwas länger dauert, als eine "normale" Show, so dass ich nicht ganz bis zum Ende bleiben kann. Viele Crew-Mitglieder, die für uns sonst "unsichtbar sind" haben Gelegenheit hier ihre Talente zu zeigen. Das Entertainment-Team rund um Chris, der ja auch meinen Pop-Chor leitet, bietet auch einen Blödsinn an, der einen zum Lachen bringt: Ganz non-verbal, so dass jeder es verstehen konnte. Mit dabei Ryoto, mit dem ich allerdings erst am Tag 14 intensiver zu tun haben werde.
Jeden Abend wurde ich am Büffet immer von Mina begrüßt, so machen wir heute auch mal ein Selfie. Es gibt englisches Büffet. Wobei Miso-Suppe ja nicht wirklich englisch ist. Nur bis zu Beginn der Japan-Saison möchte man auch von der Büffet-Auswahl her immer mehr sich dem japanischen Geschmack anpassen. Draußen könnte man auch bei Vollmond essen.

Every night was greeted by Mina at the buffet, and so we need to make a selfie tonight. They had an English buffet actually. But a Miso-Soup was not initially English at all. But with the start of the Japanese season, they wanted to adjust the flavor more Japanese. Outside you could eat under the full moon.
Die anderen Reisen in diesem Blog/
The other voyages in this blog: