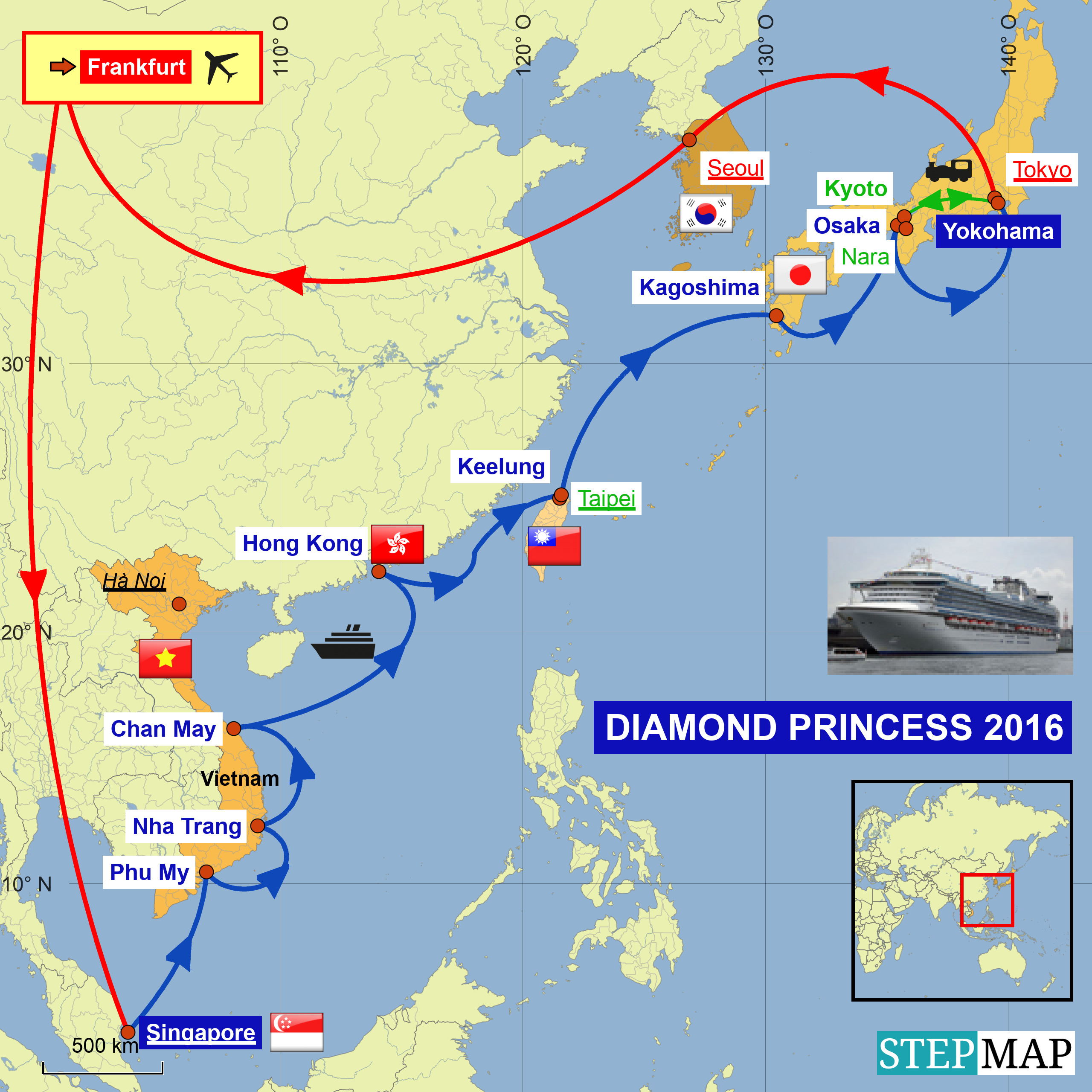 Die Reise wurde 677 Tage vorher gebucht. Dadurch konnten wir jede Preisanpassung nach unten über einen langen Zeitraum mitnehmen. Ein neuer Kofffer muss für die Reise her. Dieses Mal bei einem kleinen Laden in Schwetzingen, der auch Koffer selbst noch repariert:
Bellstedt
. Er kann uns sagen, welche Koffer selten zur Reperatur gebracht werden. Außerdem habe ich jede Menge Basler Läckerli aus dem
Läckerli-Huus
besorgt. Es wird noch Mücken- und Sonnenschutz gebraucht. Und aufgrund der letzten Erfahrungen auf der
OCEAN PRINCESS 2015
auch wieder die bodum-Kaffeekanne. Sicherheitshalber packen wir die Malaria-Mittel ein. Wir lassen uns nochmals von Sophia im Struwwwelpeter in Schwetzingen schön machen. Wegen der Sonne in Asien rechnen wir mit einem schnellen Haarwuchs. Mal gucken, ob ich es wieder schaffe unter das Gewicht beim Anfang der Kreuzfahrt zu kommen. Bevor wir überhaupt abfliegen, erfahren wir schon, was es an Bord zu essen gibt.

The voyage was booked 677 days ahead. So we could take all price adjustments over a long period. A new suitcase was needed for this voyage. That time in a small store in Schwetzingen, Germany, who was repairing himself too: Bellstedt. He could tell us, which suitcases were rarely taken for repairs. Apart from that, I had a lot of so-called Basler Läckerli from Switzerland of Läckerli-Huus ("House of Goodies"). We also need protection against mosquitos and sun. After the last experiences on OCEAN PRINCESS 2015, we also had a French Press from Bodum with us. For safety reason, we also had some medication for Malaria with us. We let Sophia from Struwwwelpeter, Schwetzingen, make us nice again. Due to the sun in Asia, we counted with faster growth of hair. I was curious, I could make it be again, under the weight of the beginning of the cruise, when I would be back at the end. Before we were leaving, we learned already, what we would have to eat.

Not just me need a beauty treatment, but my car too.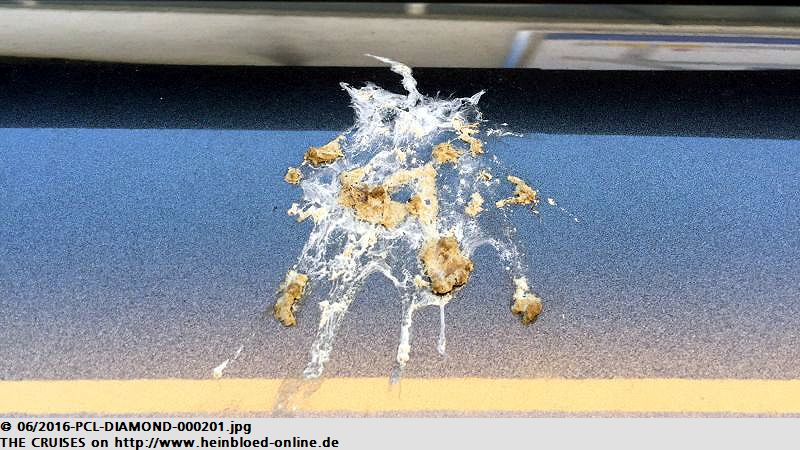 Nicht nur ich muss schön gemacht werden, sondern auch mein Auto.
Da schönes Wetter ist, kommen natürlich noch mehr Leute auf die Idee, das Auto waschen zu lassen. Drei Wochen den Dreck drauf und evtl. einbrennen lassen, oder riskieren den Flug zu verpassen.

As we had good weather, more had the idea, to see the car-wash. Three weeks dirt on the car and have it burned in, or to risk missing the flight.

As usual, we pre-booked the parking with Frankfurt Airport. For three weeks it was around 90.00 EUR. No vouchers anymore, but you get a barcode to print out at home.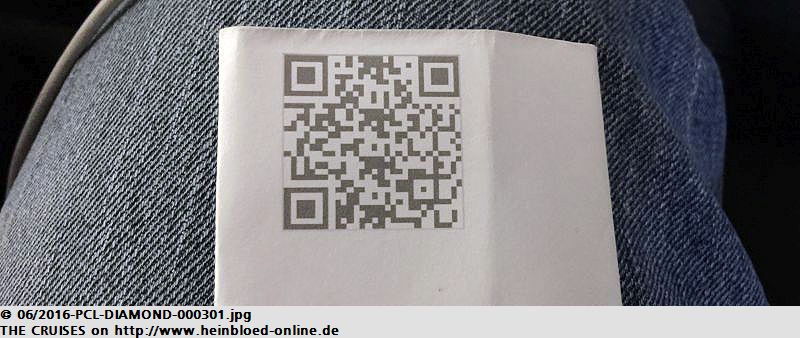 Wie üblich haben wir bei vorab den Parkplatz beim
Flughafen Frankfurt
gebucht. Das waren für etwa drei Wochen ca. 90,00 EUR. Es gibt kein Gutschein mehr, sondern einen Barcode zum Ausdrucken zu Hause.
Der Schacht mit dem Scanner ist jedoch so klein, dass wir zunächst schon mit Origami beginnen müssen, bevor Japan überhaupt erreicht ist. Später als wir ausfahren, zeigt man mir anhand eines flachen Scanners ohne Schacht, dass wir wohl zu blöd dafür sind.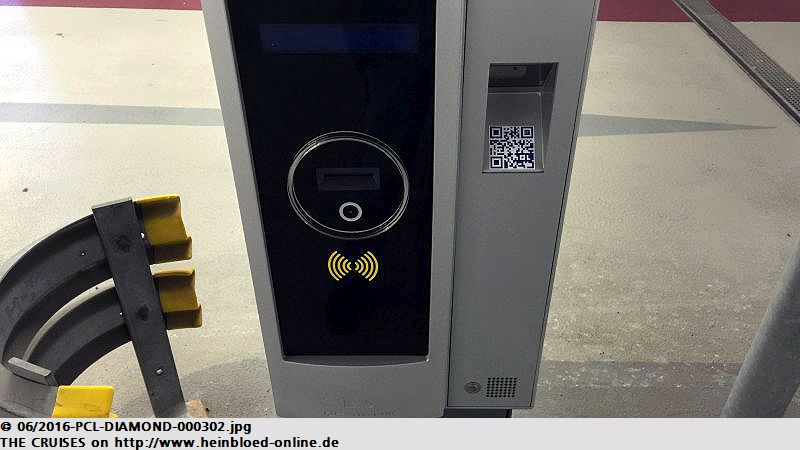 The slot with the scanner was so small that we need to exercise Origami before we almost arrived in Japan. Later when we exited, they showed us at a flat scanner, that we were too stupid for that.

I need to remember for the next time: when you park on parking deck 8, you could walk straight over.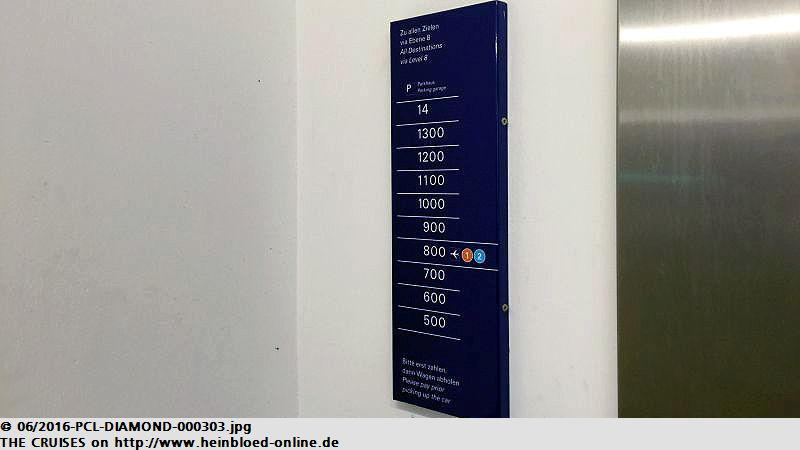 Ich muss mir für das nächste Mal merken: auf Parkdeck 8 parken, damit man direkt rüberlaufen kann.
Drei Wochen ohne Vorbuchung sind glatt 100,00 EUR mehr.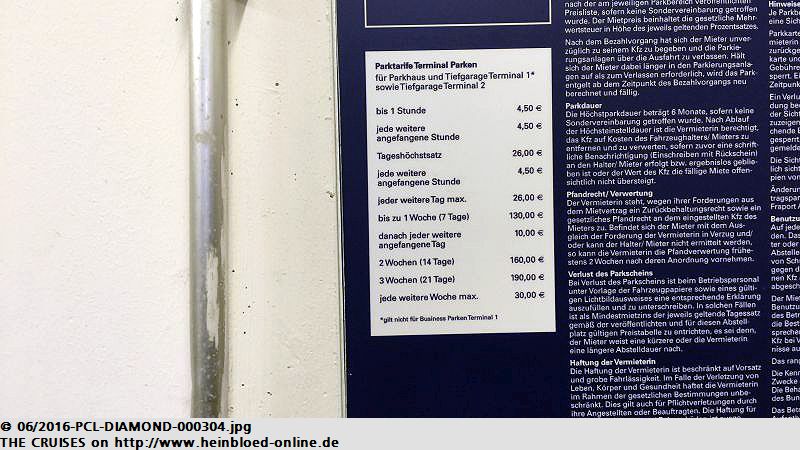 Three weeks without pre-booking were just 100.00 EUR more.

Later in the terminal: I must and needed a Frankfurt sausage before we were heading for Asia.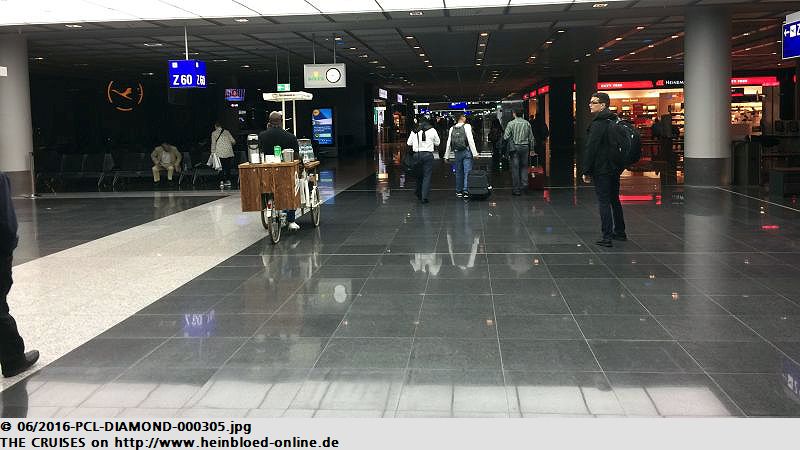 Im Terminal später: muss ich noch und brauche ich noch ein Frankfurter Würstchen bevor es nach Asien geht.
Irgendwie ticken Kreuzfahrer anders: so wie beim Business Class Check-In bei
Lufthansa
. Dann tauscht man sich schnell aus. Man versteht sich auf Anhieb und sofort beginnt ein perfekter Urlaub. Dank Ioana wird mein Schalter auf Urlaubsmodus sehr viel schneller umgestellt, als normal. Zum letzten Mal in die Lufthansa Business Lounge: meine letzten Meilen werden für den Flug nach Asien aufgebraucht. Bei Sicherheitskontrolle hakt etwas an meiner Tasche und mein Fingernagel bricht dabei. In der Lounge gibt man mir aber sofort ein paar Nagelfeilen. Mir gefällt das Chtipiti - das muss ich mal das nächste Mal in Katakolo oder in Athen probieren, wie es vor Ort schmeckt. Da wir schnell durch die Sicherheitskontrolle gekommen sind, haben wir noch viel Zeit bis zum Abflug. In meiner Kindheit habe ich mal in einem Lufthansa Bordmagazin gelesen, was die unterschiedlichen Arten Beine übereinander schlagen zu bedeuten hat. Komisch, was einem so einfällt, wenn man älter wird.

Cruisers' mind worked different: like with the Business Class Check-In with Lufthansa. Here we exchanged a few words. We understood each other and immediately the perfect vacation started. Thanks to Ioana my switch was turned to vacation mode much more faster than normal. When we were passing the security check something at my bag blocked, and my fingernail broke. In the lounge, I got some nail blades immediately. I liked the Chtipiti - I need to try this when I am next time in Katakolon, Greece or Athens, Greece, how it would taste locally. As we made it very quickly through the security check, we had plenty of time until departure. When I was a child, I read in the Lufthansa Board Magazine, in how many ways you could beat legs over each other, and what it would mean. Crazy, that you remembered such details when you get older.

The take-off was pretty good. We were flying near our homeplace above our house. The last time, four years ago on Airbus A 380 it was the old Business Class. But I could not become a friend nowadays. It was quite narrow around the legs.

Der Start geht schon mal sehr gut. Fast fliegen wir über unser Haus vorbei. Das letzte Mal vor vier Jahren auf dem Airbus A 380 war es ja noch die alte Business Class. Aber so richtig anfreunden kann ich mich nicht. Im Beinbereich finde ich es ganz schön eng.
Im Flieger wird Internet angeboten. Unser Heimtarif gilt auf dem Flug nicht.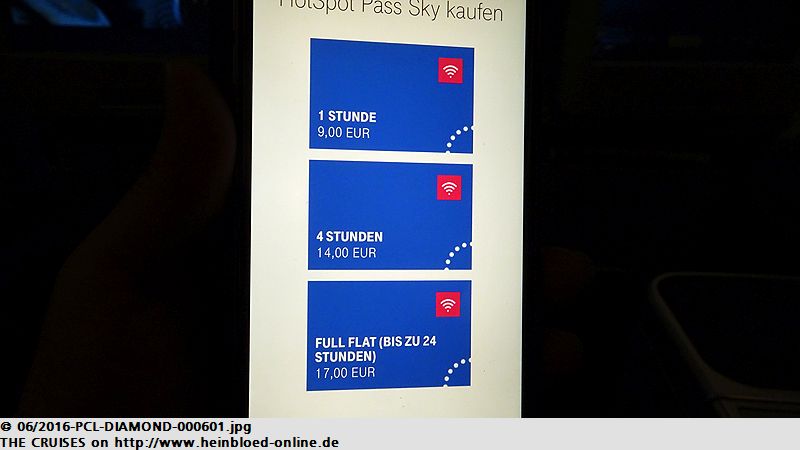 They offered internet on the flight. Our home tariff was not valid on this flight.

For a flight, the transmission rate was not so bad at all.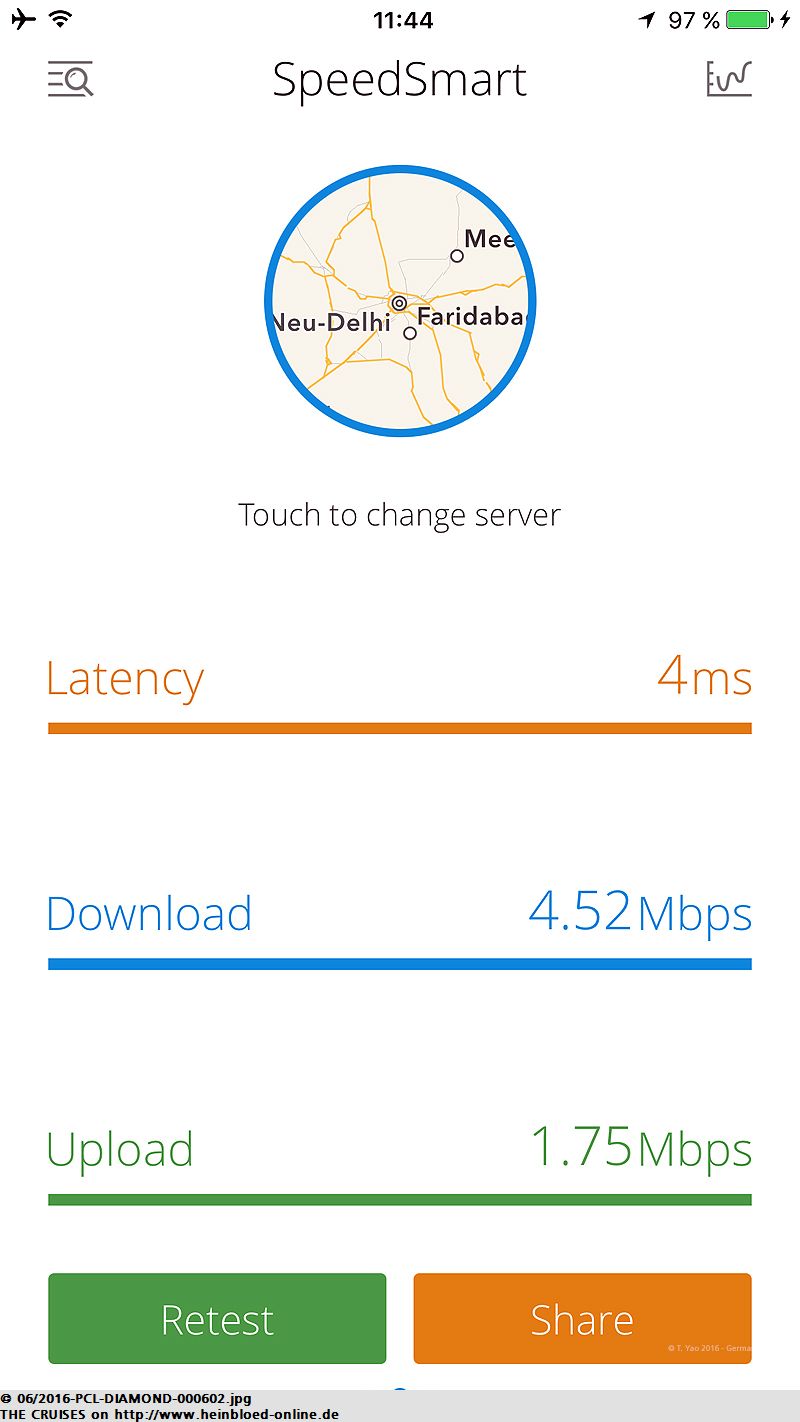 Für den Flieger sind die Übertragungsgeschwindigkeiten gar nicht mal so übel.
Das neue Essenskonzept in der Business Class finde ich gut. Man bietet nur noch Mainstream an und hat daher mehr Optionen. Wer eh vegetarisch essen will, kann es ja vorher bestellen. Einziges Mini-Problem: die Flugbegleiterin ist genervt, als ich mir einen Kaffee bestelle. Da er ohne Milch und Zucker serviert wird, laufe ich kurzerhand selbst in die Galley. Da werde ich gefragt, warum ich nicht einfach wieder geklingelt hätte. Darauf antworte, dass ich es als normal in Deutschland und bei Lufthansa empfinde, dass es mit Milch und Zucker serviert wird oder zumindest angeboten wird. Mir wird als Entschuldigung für das Malheur die Blumen aus der First Class angeboten. Ich möchte aber nicht mit frischen Blumen nach Singapur einreisen. Aber ansonsten ist alles sehr gut.

The new food concept for the Business Class, I liked. They only offered mainstream, and you had more options. Who liked to eat vegetarian might pre-order it. The only mini-problem: the flight attendant was annoyed when I ordered a coffee. As it was served without milk and sugar, I walked by myself to the galley. There I was asked why I did not just use the call button. Well, I answered that in Germany and with Lufthansa, it should be standard, to serve milk and sugar aside or to offer it. A small apology for the little mistake, they offered me the flower from the First Class. But I did not want to enter Singapore with fresh flowers. But apart from that, it was perfectly good.

During the flight, I watched the movie "Hector and the Search for Happiness".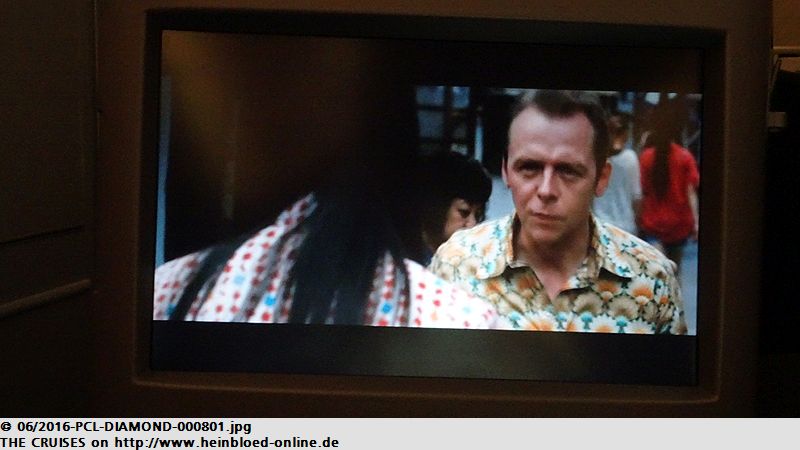 Im Flugzeug sehe ich mir den Film "
Hectors Reise oder die Suche nach dem Glück
" an.
Ein echt schöner Film zum Wohlfühlen.

A very nice movie to feel well.

The second feel-well-movie was "The Peanuts Movie". I was nicely surprised: because Schroeder already played the intro of the 20th Century Fox and it was much better than I ever had expected.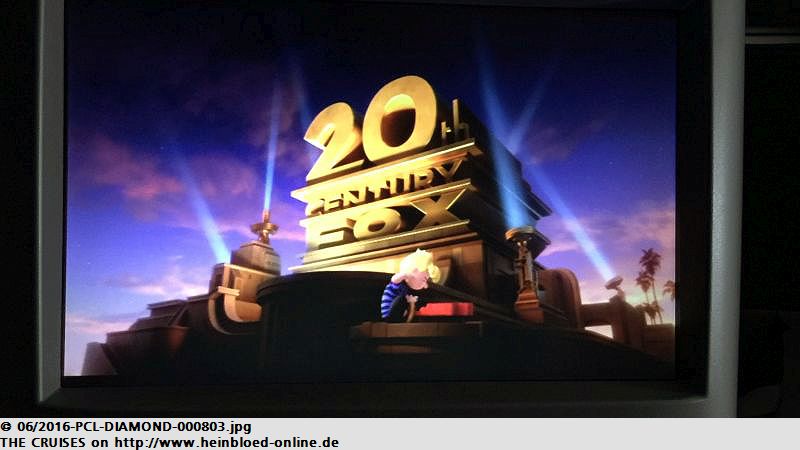 Als zweiten Wohlfühlfilm gibt es "
Die Peanuts - der Film
". Ich in positiv überrascht: weil Schroeder bereits im Vorspann der 20th Century Fox mitspielt und weil er um einiges besser ist, als ich es erwartet hättet.
Ein wirklich schöner Flug.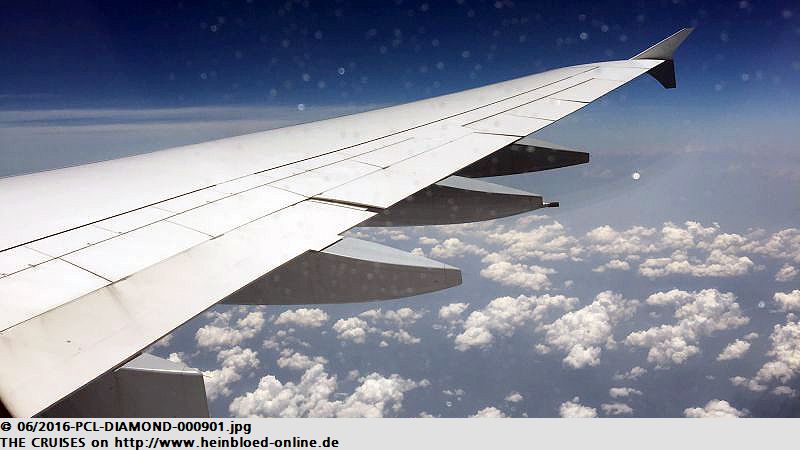 A very pleasant flight.

Before arriving in Singapore, we needed to turn some extra loops.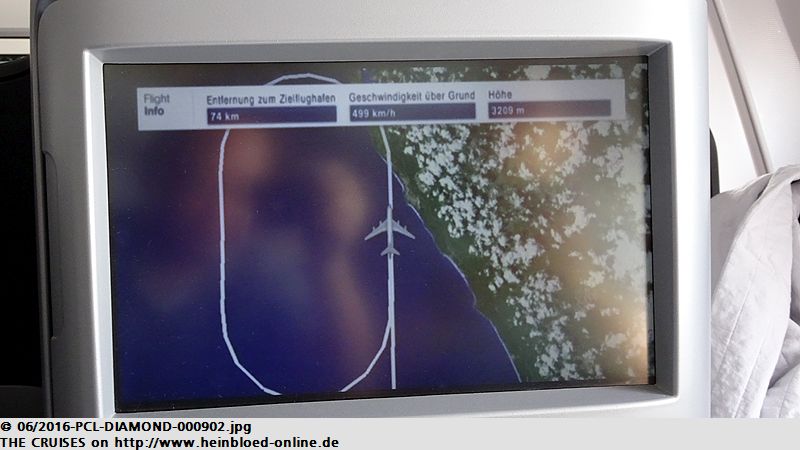 Und kurz vor Ankunft in Singapur müssen wir ein paar Extra Runden drehen.
2. Runde.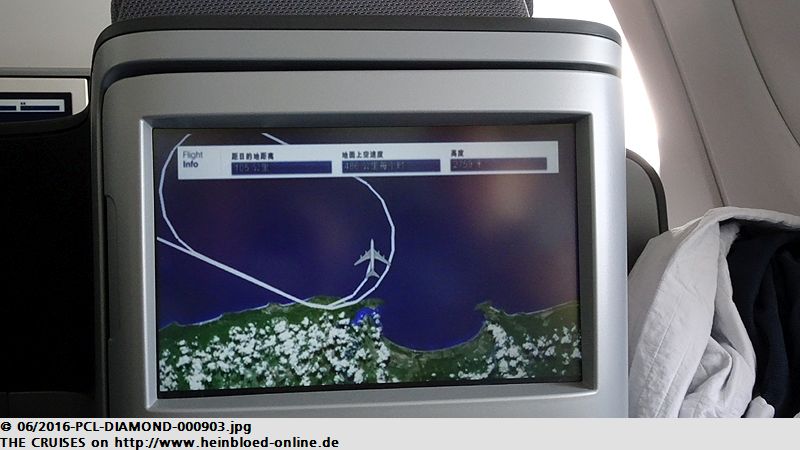 2nd loop.

And a 3rd round.

Und noch eine 3. Runde.
Am Flughafen geht alles sehr schnell. Wir werden schon unserem Fahrer
Harry
erwartet. Wir kennen ihn von unserer
ZAANDAM 2012
-Riese. Er hat sich sehr gefreut, dass wir noch die Kontaktdaten haben und ihn vorbestellt haben.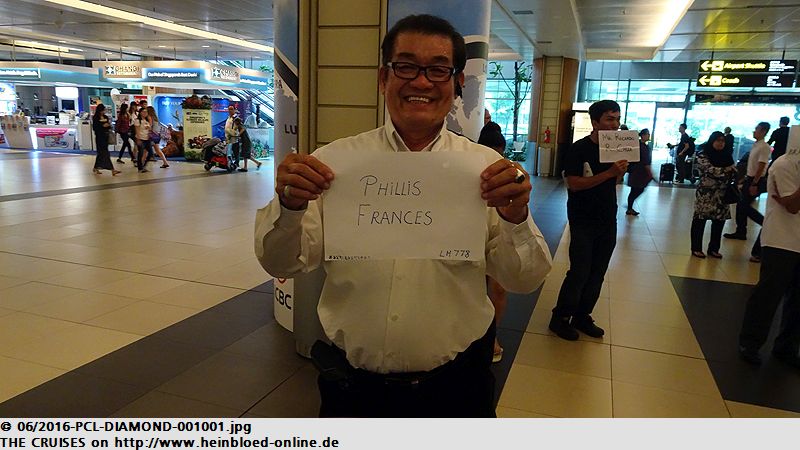 At the airport, everything went very fast. Our driver was Harry already waiting for us. We knew him from our voyage on ZAANDAM 2012. He was pleased that we still kept his contact information and pre-booked him.

He came with his Mercedes van just for us two.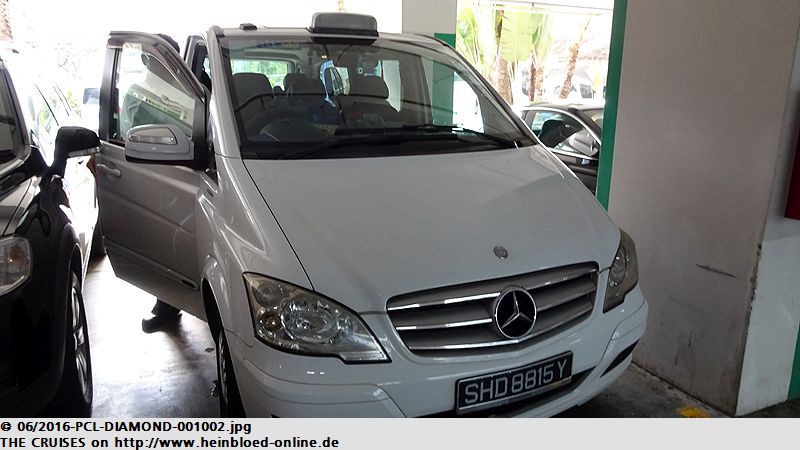 Er kommt mit einem Mercedes-Bus für uns beide.

Aber wir brauchen ihn später für den Transfer zum Schiff.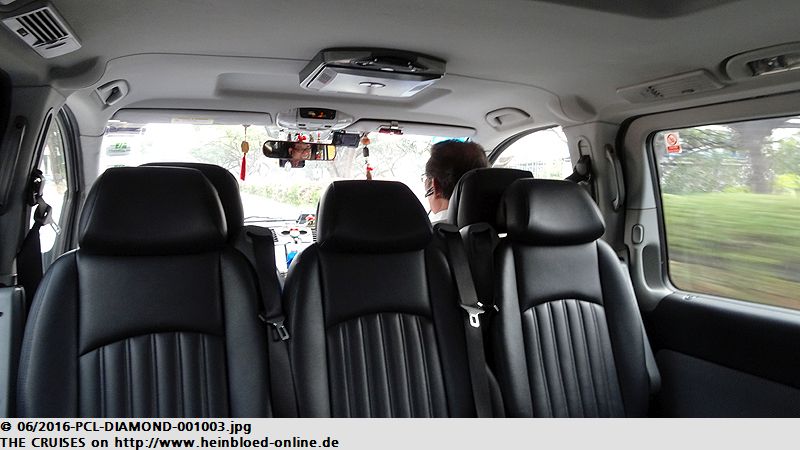 Later, we would need this for the transfer to the ship.

After the long flight, I was not really interested in using the subway or to have a collective taxi. So I was only glad, that we had no rush-hour, and we arrived very speedily at our destination area.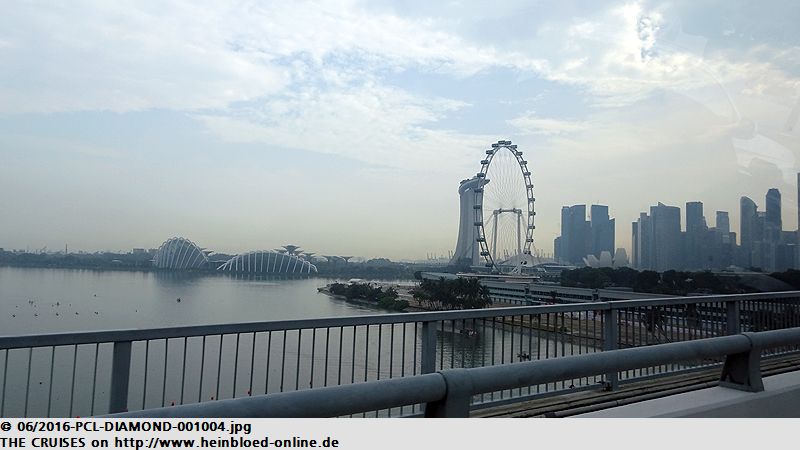 Ich hatte nach dem langen Flug keine Lust auf U-Bahn oder Sammeltaxi. So freue ich mich, dass keine Rush-Hour ist, und wir schon bald im Zielgebiet sind.

Ein Blick rüber zum Singapore Flyer, Marina Sands und Garden by the Bay.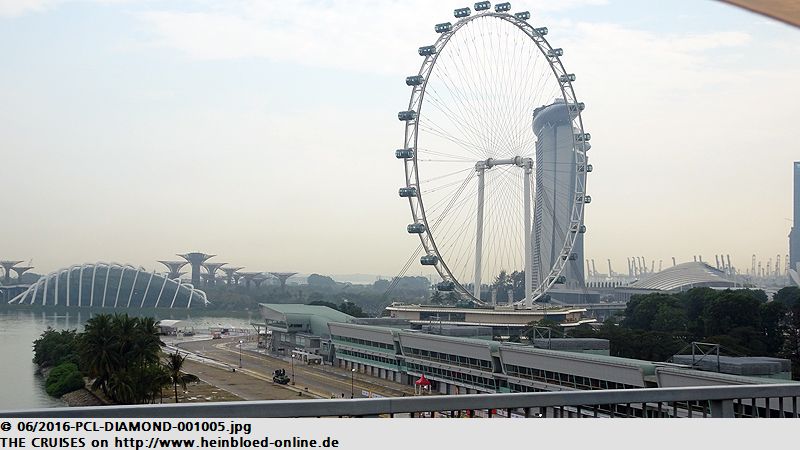 Just a view over to the Singapore Flyer, Marina Sands, and Garden by the Bay.

We stayed again with InterContinental Singapore. Due to my Ambassador membership, I received a very nice upgrade and one night was complimentary. That was cheaper for me but to stay at the Marina Sands. This time we were allocated to the Heritage-wing.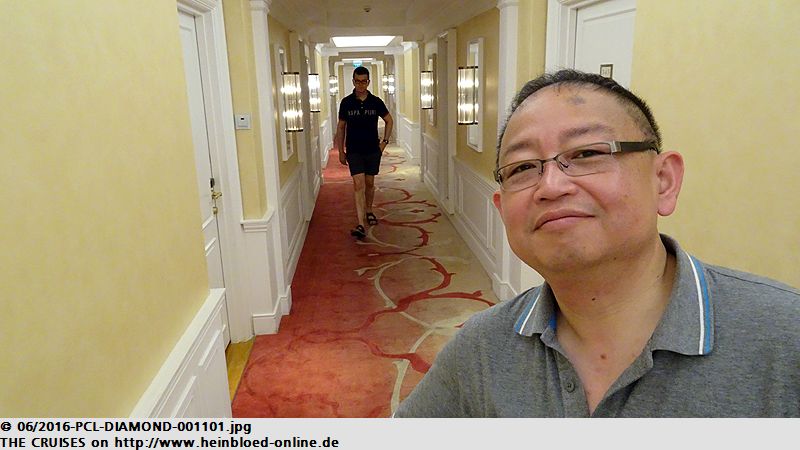 Wir wohnen wieder im InterContinental Singapur. Durch meine Ambassador-Mitgliedschaft bekomme ich immer ein schönes Upgrade und eine Nacht am Wochenende frei. Das ist für mich günstiger als im Marina Sands zu übernachten. Dieses Mal werden wir im Heritage-Flügel untergebracht.

Das bedeutet immer, dass wir immer etwas weitere Wege haben und über eine Brücke das Haus wechseln müssen und dann immer voll auf der Brücke merken, wie warm und schwül es eigentlich gerade ist.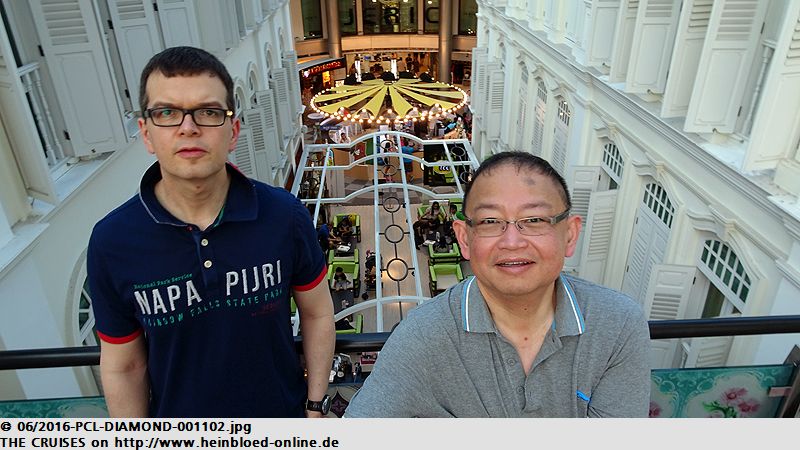 That always meant, that we had longer ways and needed to cross a bridge to get into the other part of the hotel. Every time on the bridge you noticed how warm and humid it was actually.

For the first meeting of the day, Bruno was preparing him nicely in the elevator.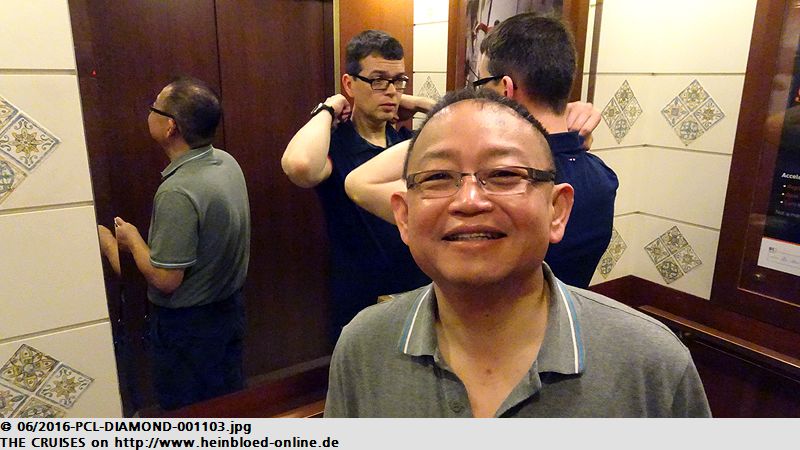 Im Fahrstuhl macht sich Bruno nochmals für die erste Begegnung des Tages schön.

Im Atrium wird Tea-Time zelebriert.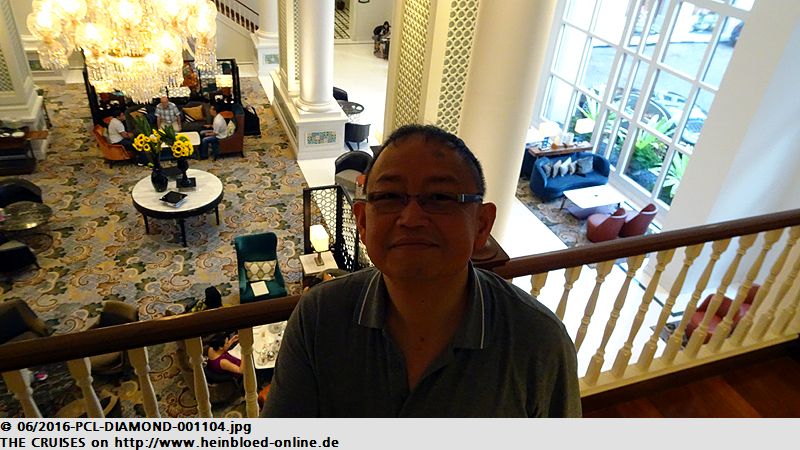 In the Atrium they celebrated the Tea-Time.

They had live music.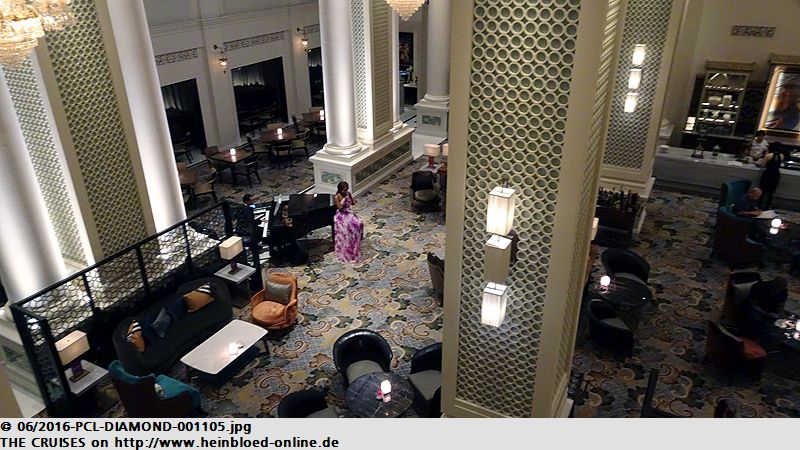 Es gibt Live-Musik.

Wir haben Zimmer 0335. Sehr schön. Mit vielen Details, die einem den Aufenthalt schöner machen.





We had room 0335. Very nice. With a lot of details, which made our stay more enjoyable.

First of all, I needed a shower.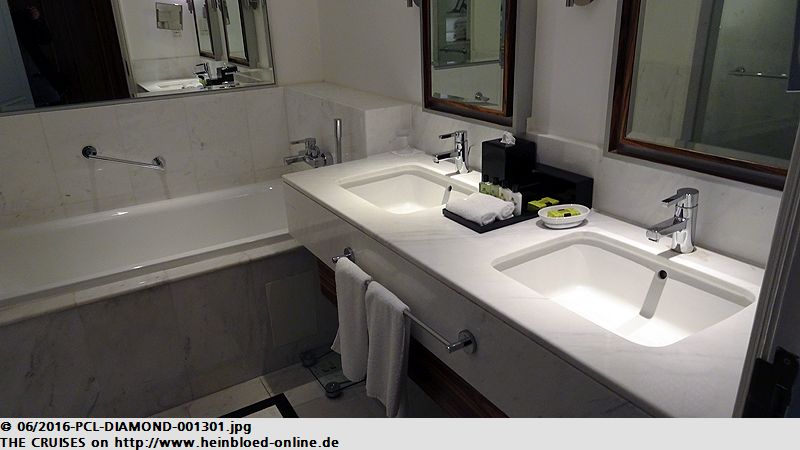 Zunächst brauche ich jedoch eine Dusche.

Auch sehr schönes Bad mit separater Dusche.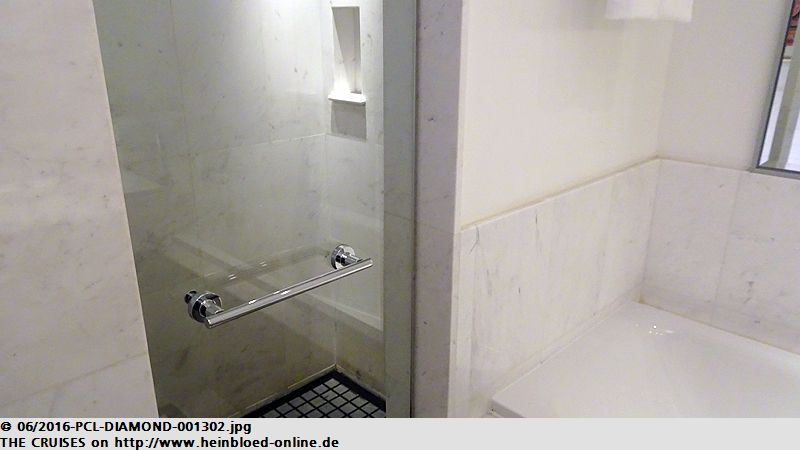 It was also a very nice bathroom, with a separate shower.

Something, I did not see for a long while: a phone in the toilet.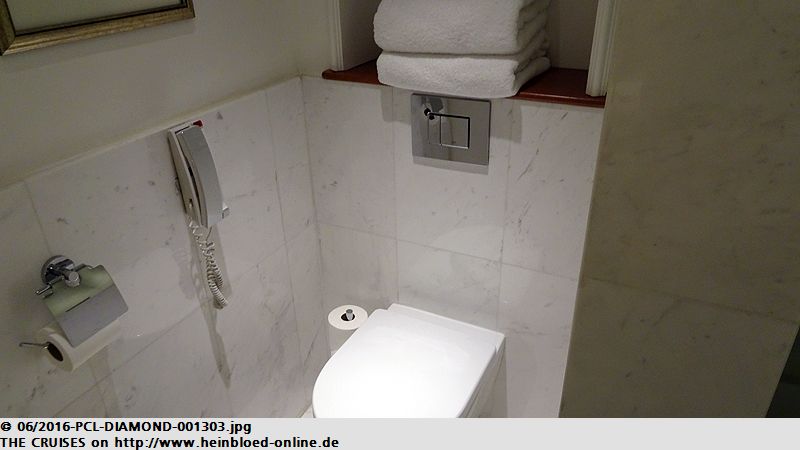 Das habe ich lange nicht mehr gesehen: ein Telefon an der Toilette.

Wir haben wieder den Club gebucht. So bekommen wir den ganzen Tag über kostenlos alkoholfreie Getränke und Kleinigkeiten zum Mittag- bzw. Abendessen bzw. Tea-Time. Hier treffen wir auch wieder Frances und Eddie, die uns auf der Reise begleiten. Zuletzt haben wir sie in England getroffen, als wir auf der OCEAN PRINCESS 2015 unterwegs waren.





We booked again the Club. So we could get the whole day complimentary non-alcohol beverages and some small bites and dinner and tea-time. Here we met again Frances and Eddie who would join us for this voyage. Last time we met them in England when we were on tour on OCEAN PRINCESS 2015.

As it was so warm, we used the roof pool of the hotel. Of course, it was not as spectacular, as the Marina Sands, but it was almost beautiful to refresh and to relax.

Da es noch so warm ist, nutzen wir den Dachpool des Hotels. Sicherlich nicht so spektakulär wie im Marina Sands, aber trotzdem sehr schön, zum Erfrischen und Entspannen.

Auch hier hat man einen schönen Ausblick auf die anderen beleuchteten Bauten.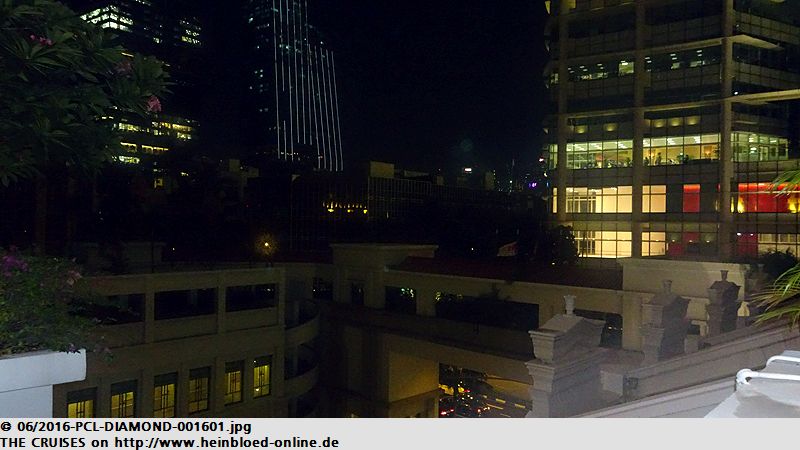 From here you had also a nice view on the illuminated buildings.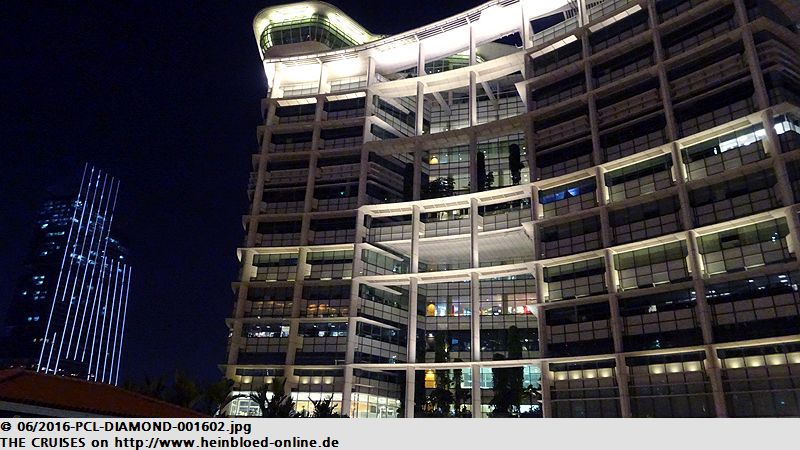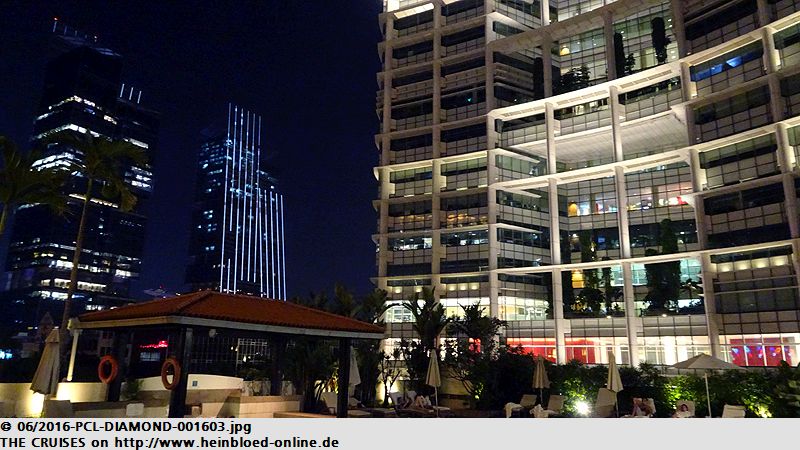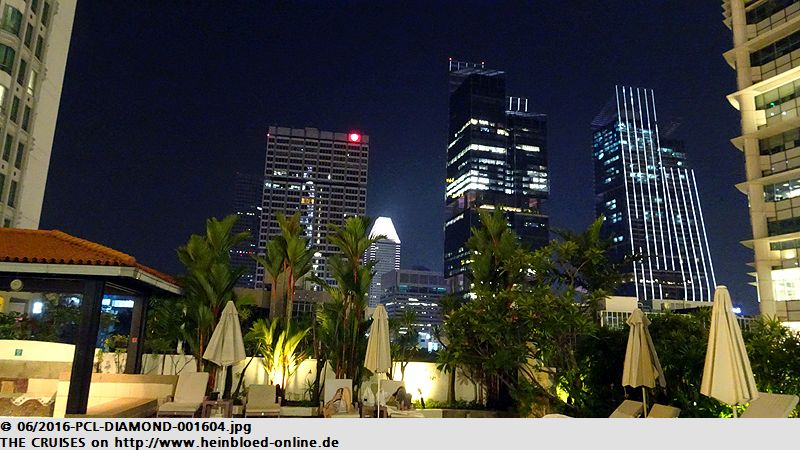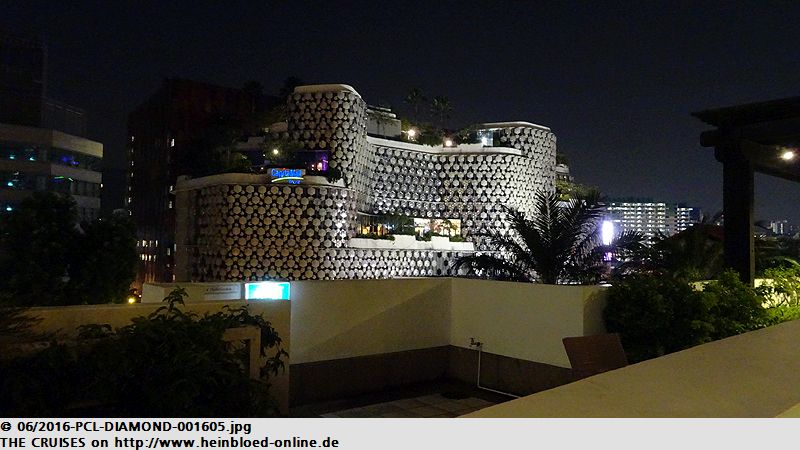 In our quarter, you had a lot of smaller street restaurants offering cheap food. For about 5.00 USD we could get a Hainan-Chicken.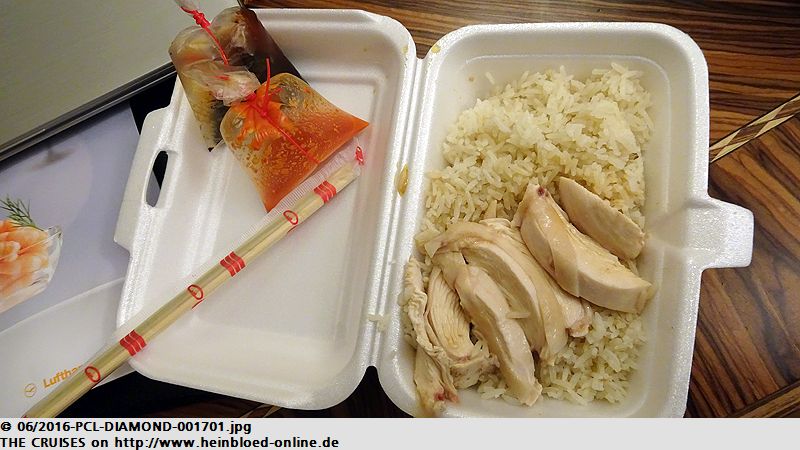 In unserem Viertel gibt es sehr viele kleine Straßenlokale mit preiswertem Essen. Für umgerechnet 4,00 EUR bekommen wir so ein Hainan-Hühchen.

Im 7 Eleven finden wir Vitamin-Water.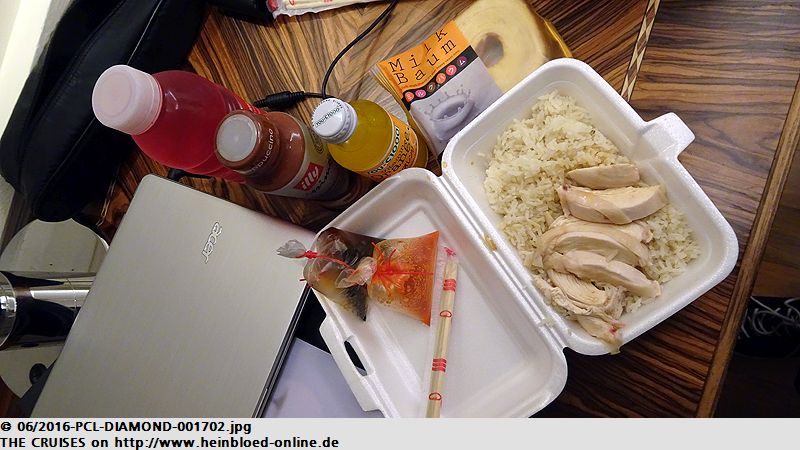 In a 7 Eleven, we could find Vitamin Water.

There we were preparing ourselves for the taste of Japan: Baumkuchen.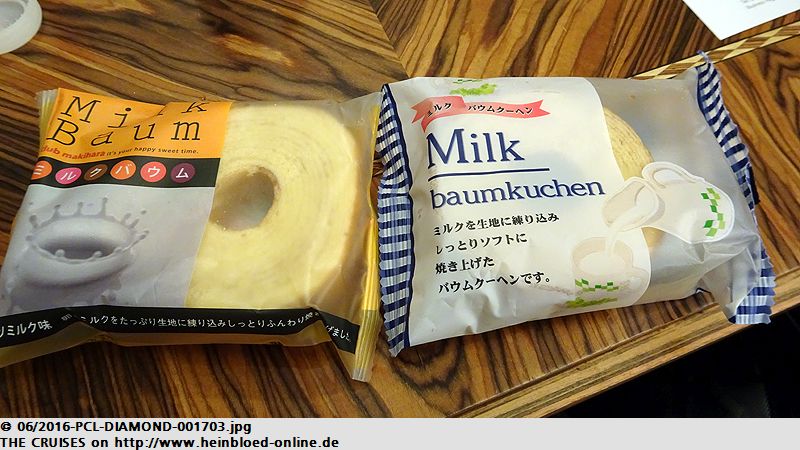 Dort bereiten wir uns auch schon gemacklich auf Japan vor: Baumkuchen.


Die anderen Reisen in diesem Blog/
The other voyages in this blog: