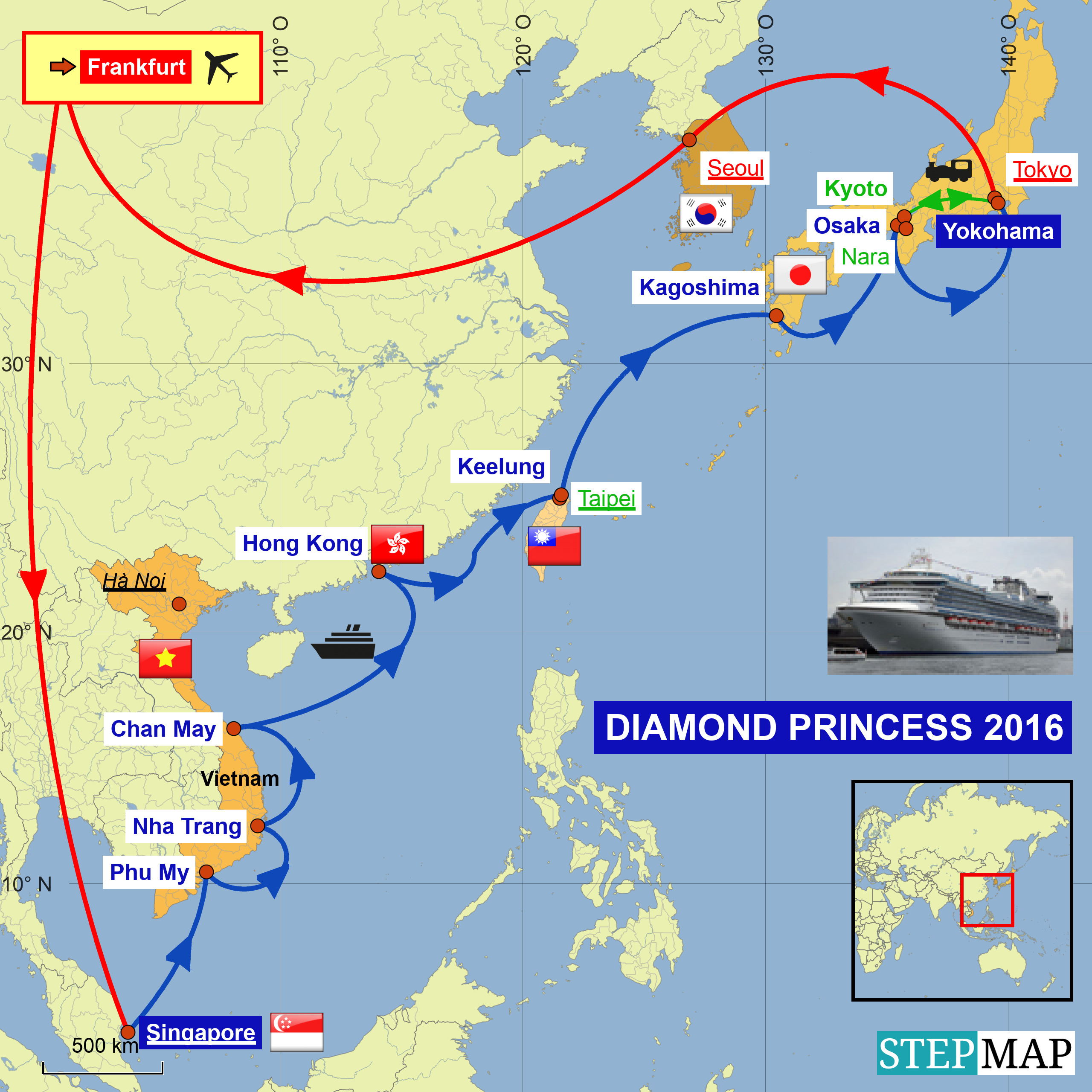 Es geht wieder in die U-Bahn. Dieses Mal Ginza-Linie.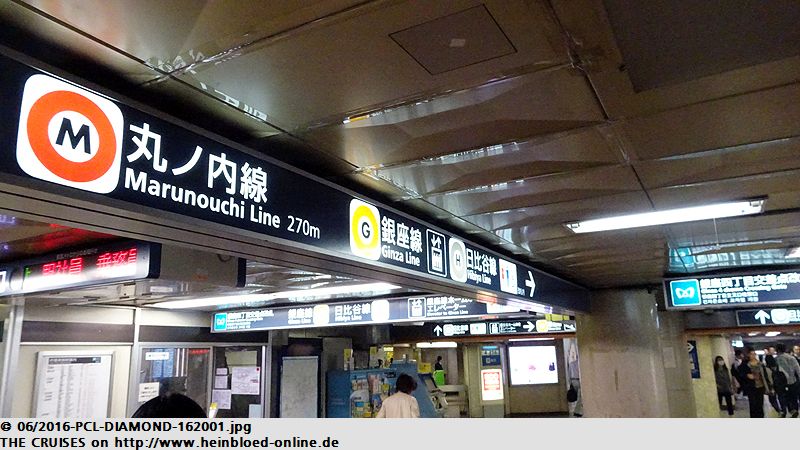 We went again into the subway. That we took the Ginza-Line.

We boarded Ginza for Asakusa.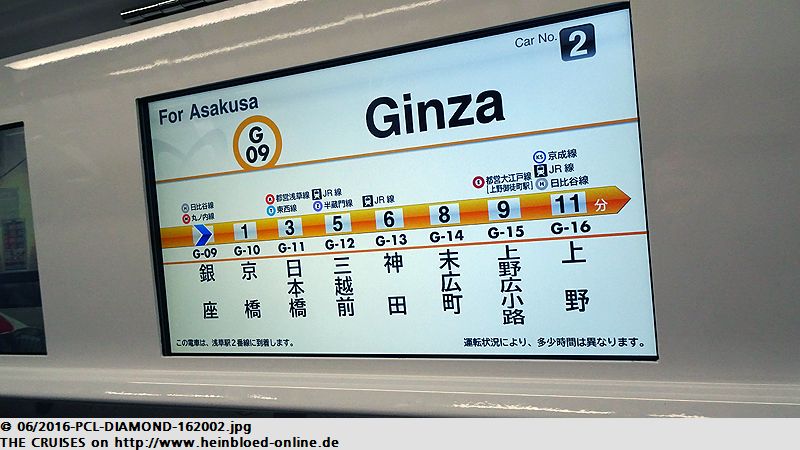 Wir steigen in Ginza in Richung Asakusa ein.
Endlich mal Platz zum Sitzen.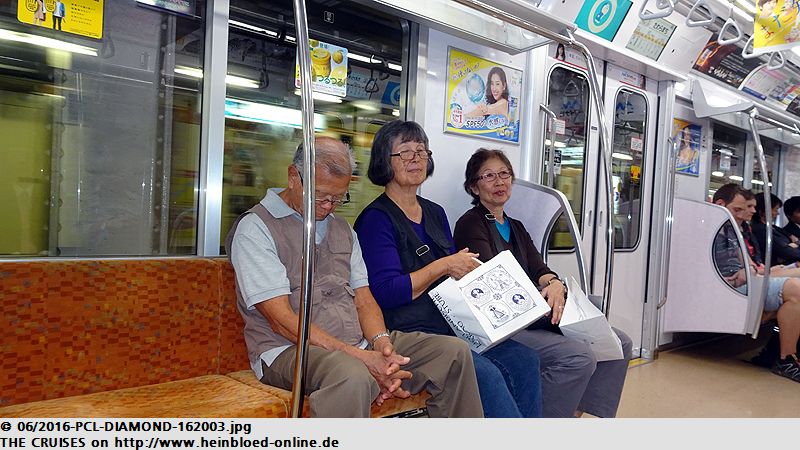 Finally seats to sit down.

In Tawaramachi we had to get off.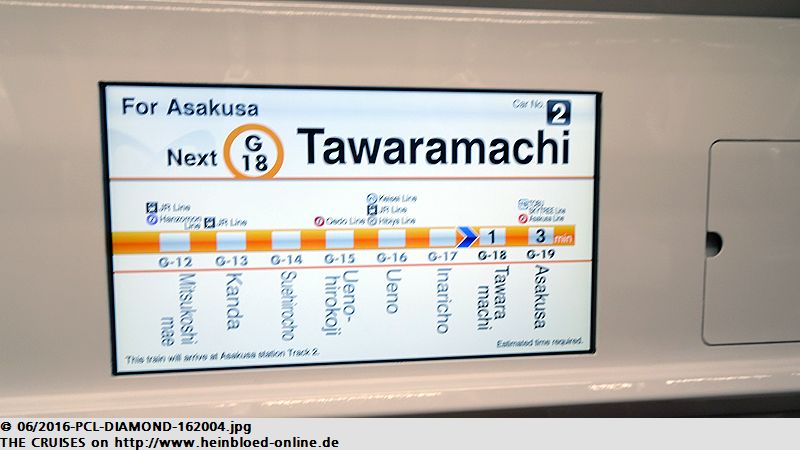 In Tawaramachi geht es bereits raus.
Ich will mal wieder nach Kikuyabashi. Das ist die Straße mit den ganzen Haushaltswarenhändlern. Ein Muss für jeden, der japanische Küche liebt und zu Hause nachkochen möchte. Vor vielen Jahren hat mich ein japanischer Arbeitskollege hierher geführt. Ich habe hier ein Sushi-Messer gekauft, das so scharf war, dass ich nicht mal gemerkt habe, dass ich mich geschnitten hatte. Wenn man damit ein Toastbrot schneidet: es gibt nicht nach. Unsere Freunde nutzen die Gelegenheit, als sie einen Händler finden, der jahrelang in den USA gelebt hat, und daher sie gut beraten kann. Die Straße der Messermacher ist allerdings um die Ecke. Unterwegs bemerkt Frances, dass ein paar Schülerinnen toll polierte Schuhe haben. Sie bedanken sich für die Bemerkung. Da muss ein gemeinsames Foto machen.

I wanted to see again Kikuyabashi. That was the road with all the dealers with household appliances. A must for everyone who loved Japanese kitchen and interested to prepare some dishes later at home. Many years ago a Japanese co-worker took me here. I bought a sushi-knife which was so sharp that I did not notice that I cut myself. If you cut with this knife a loaf of toast, it did not budge. Our friends used the occasion when they found a dealer who lived for a while in the US and could give them good consultancy. The road with the knife-makers was around the corner. On our way, Frances noticed that some students wore nicely polished shoes. They thanked her for the remark. We had to make a mutual photo.

We walked to the Asakusa district.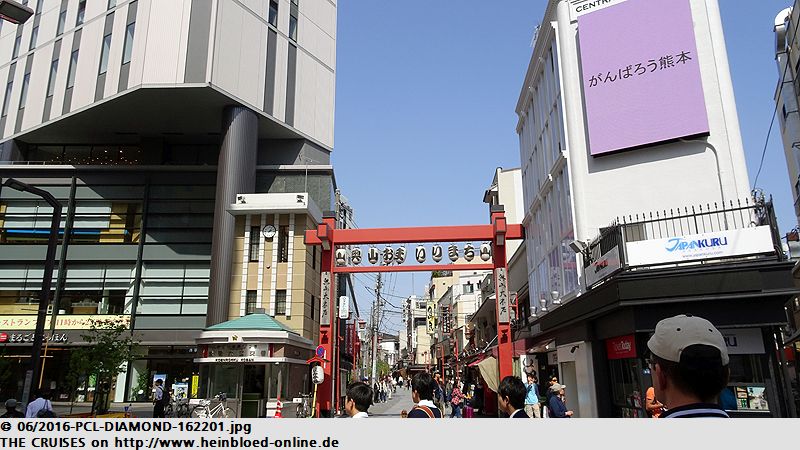 Wir laufen in das Viertel Asakusa.
Es gibt diesen sehr "bunten" Teil, der sehr touristisch-kommerziell ist.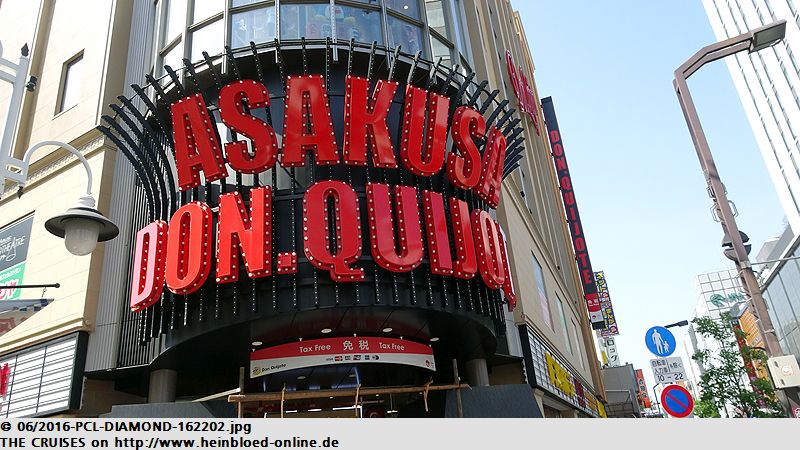 There was a very "colorful" district which was very touristic and commercial.

It was beautiful nevertheless.

Ist aber trotzdem schön.
Japanisches Essen ist immer faszinierend. Also musste ich in den Markt von
Marugoto Nippon
. Das ist echt schön hier: viel für das Auge, viel für die Nase und viel für den Gaumen. Im Café M/N im 3. Stock machen wir eine kurze Kaffeepause. Es gibt alles von lokalen Erzeugern. Damit wir unsere Sachen nicht auf die Sitze legen, bekommen wir Kisten für die Aufbewahrung unserer Einkäufe. Einen Macha-Kuchen muss ich natürlich sofort probieren. Bei der Gelegenheit müssen wir Mitreisenden, die japanischen Wurzeln haben, erklären, wie man diese Teefilter benutzt...

Japanese food was always fascinating. So I had to see the market for Marugoto Nippon. It was charming here: a lot to see for your eyes, a lot to smell for your nose and a lot to test for your pallet. In the Café M/N in the 3rd floor, we did a short coffee break. They had all from local suppliers. To avoid that we placed our bags on the seats we got a box to store. We need to try a Macha-Cake immediately. It was time to explain some fellow-cruisers with Japanese roots, how to use a tea-filter.

After a few more step we reached Senso-Ji. I was here before but in the middle of the night. It was the disadvantage of business travels. That time I enjoyed the view during the day but also with all the crowds of tourists.

Weiter geht es: Nach ein paar Schritten erreichen wir
Senso-Ji
. Hier war ich schon mal, aber mitten in der Nacht. Das ist der Nachteil an Geschäftsreisen. Dieses Mal genieße ich den Anblick bei Tage, allerdings auch mit den ganzen Touristenmassen.
Durch die kleinen Einkaufsstraßen gehen wir zum U-Bahnhof Asakusa. Dort gehen wir bummeln. Ich werde in meine Kindheit zurück katapultiert:
Moncchichi
. Zuletzt vor 30-35 Jahren waren sie bei uns zu Hause - aber mehr bei meinen Schwestern, als bei mir. Wahrscheinlich sind die es schuld, dass ich heute so bin, wie ich bin. Es gibt hier aber auch tolle Teehändler.

Through the little shopping streets we went to the subway station Asakusa. There were strolling. I was just sent back to childhood: Moncchichi. About 30-35 years ago we still had them at home - more with my sisters but with me. Maybe it was of them that I was today as I was. They had wonderful tea dealers.

Heading forward by Ginza Line.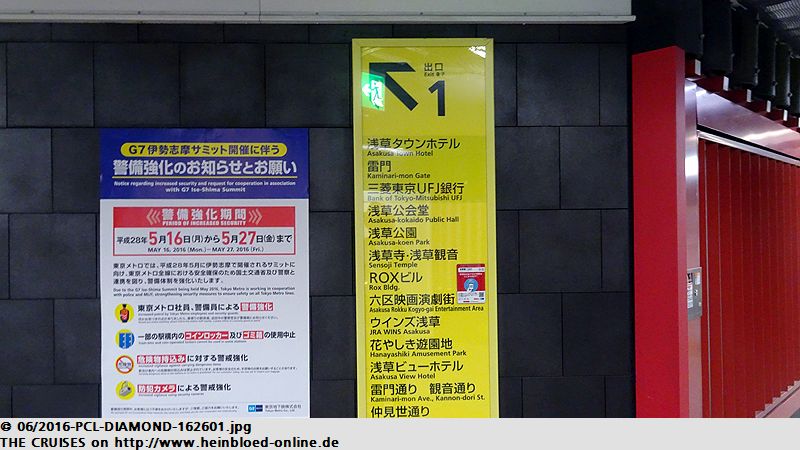 Ab wieder in die U-Bahn Ginza-Linie.
Und ab nach Ueno.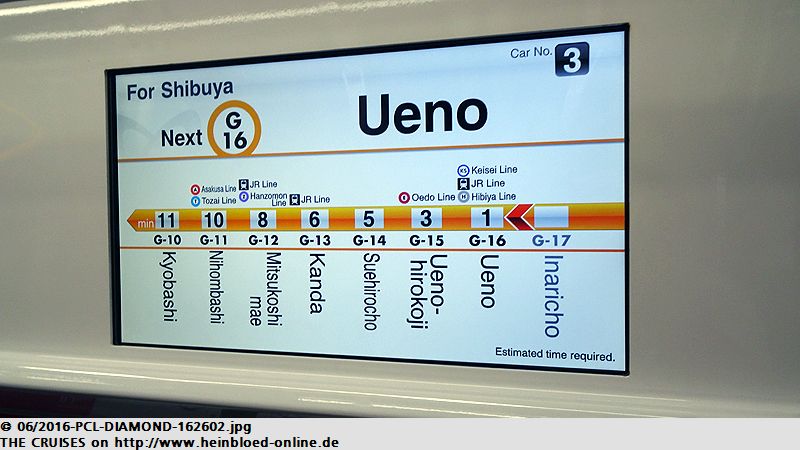 We continued for Ueno.

Ueno was also more of the "regular" shopping districts in Tokyo.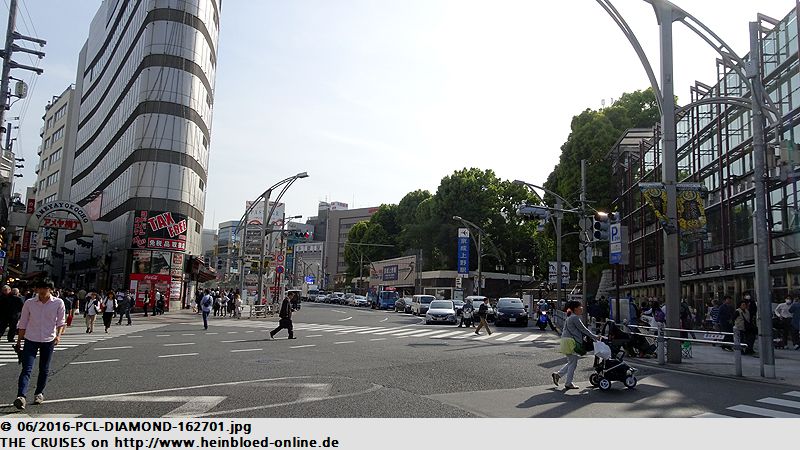 Ueno ist auch einer der mehr "normalen" Einkaufsviertel in Tokio.
So wie Shibuya oder Shinjuku heute Morgen.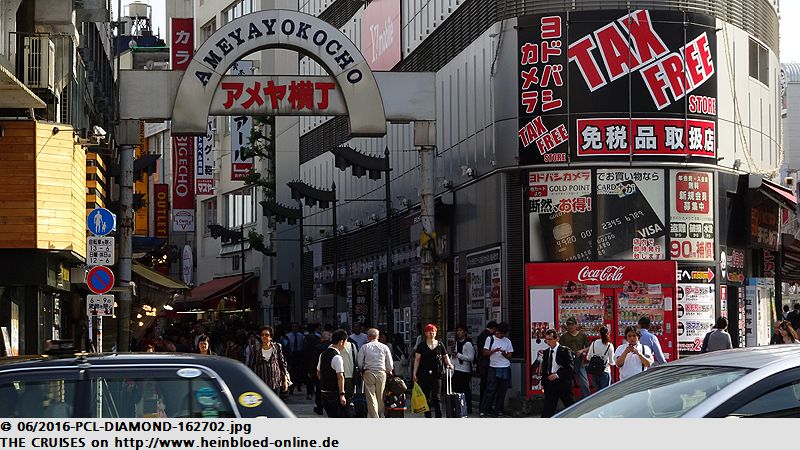 Like Shibuya or Shinjuku this morning.

We walked through the Ueno Park. A great park like Central Park in New York, NY. Since the rush-hour would approach soon, we did not wander too far inside. I really would love to stay longer. So we turned around at Gojoten Shrine. Two weeks ago I would just the let the others stand by themselves and would enjoy the two lanes full of cherry blossoms.
Wir laufen durch den
Ueno Park
. Ein toller Park so ähnlich, wie der Central Park in New York. Da bald wieder die Rush-Hour einsetzt laufen wir nicht sehr tief rein. Ich wäre eigentlich sehr gerne sehr viel länger geblieben. So drehen wir beim
Gojoten Schrein
bereits wieder ab. Vor wenigen Wochen hätte ich allerdings die anderen stehen lassen, weil hier zwei Alleen voller Kirschblüten angelegt sind.

So laufen wir zurück zum Bahnhof Ueno.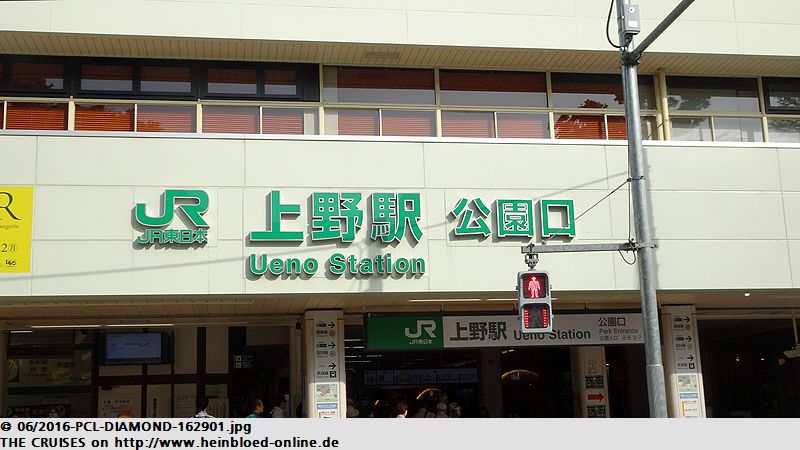 So we walked back to the Ueno Station.

Until the Station Tokyo, we took a long-distance-train. You could merely identify vacant seats.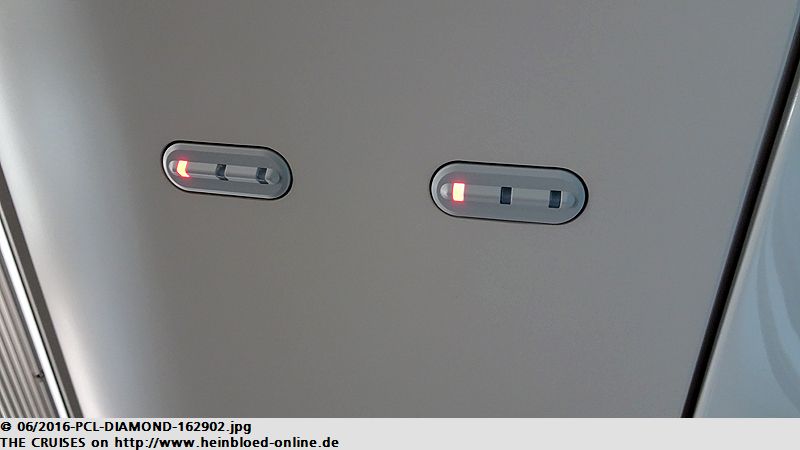 Bis zum Bahnhof Tokio nehmen wir einen Fernzug. Man erkennt ganz einfach, ob der Platz frei ist.
Rot heißt frei.

Red was the meaning for vacant.

And green was occupied. With us and our intuition, it would be vice versa. Yellow meant that the seat was assigned from the forthcoming stop.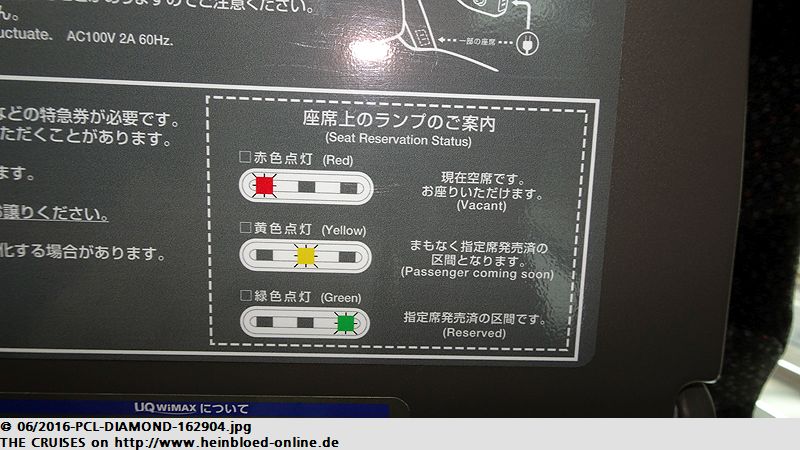 Und grün ist besetzt. Bei uns wäre es intuitiv umgekehrt. Gelb bedeutet, dass der Platz vom nächsten Bahnhof reserviert ist.
Im
Bahnhof Tokio
müssen wir umsteigen. Kurz gehen wir raus. Sieht das nicht aus wie Amsterdam Centraal Station?

At Tokyo Station we need to transfer. For a moment we stepped out. Did it look like Amsterdam Central Station, Netherlands?

To avoid that we need to stand again all the way we took a Shinkansen back. Here we could reserve seats. The train arrived. The passengers left the train. An army of cleaners joined the train. They cleaned the train in a rush and turned around the seats towards the direction of travel. And then all stood at the door and welcomed the passengers. On the floor, you could find marks to board the train and to avoid congestions with boarding and leaving. Everyone followed the rule.

Damit nicht wieder der ganze Weg zurück gestanden werden muss, nehmen wir den Shinkansen zurück. Da können wir Plätze reservieren. Der Zug kommt rein. Die Fahrgäste steigen aus. Eine Armee von Reinigungskräften steigt in den Zug ein. Macht in Windeseile den Zug sauber und dreht die Sitze in Fahrtrichtung. Und dann stehen alle an der Tür und heißen die Fahrgäste willkommen. Auf dem Boden sind Markierungen für das Einsteigen aufgemalt, so dass zu keinen Staus beim Aus- und Einsteigen kommt. Alle halten sich daran.
Leider kommen die Züge nicht in Yokohama an, sondern Shin-Yokohama. Das liegt etwas weiter von unserem Hotel.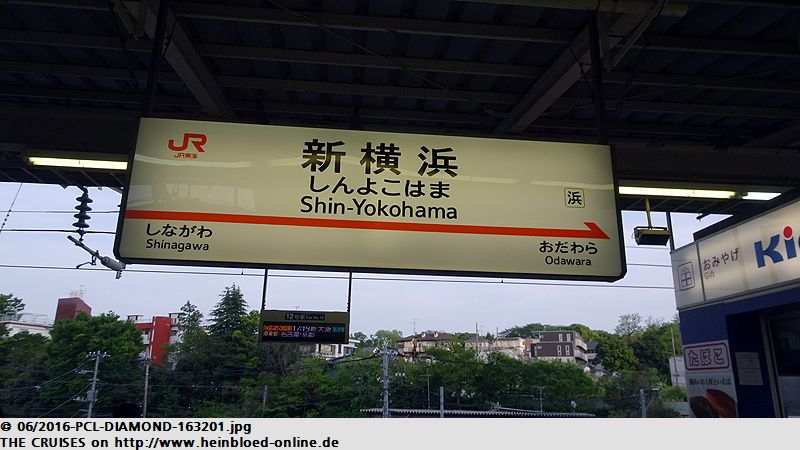 Unfortunately, the train did not stop at Yokohama Station but Yokohama-Shin Station. That was more distant from our hotel.

So we needed to use the Yokohama Line to get closer to Yokohama Station.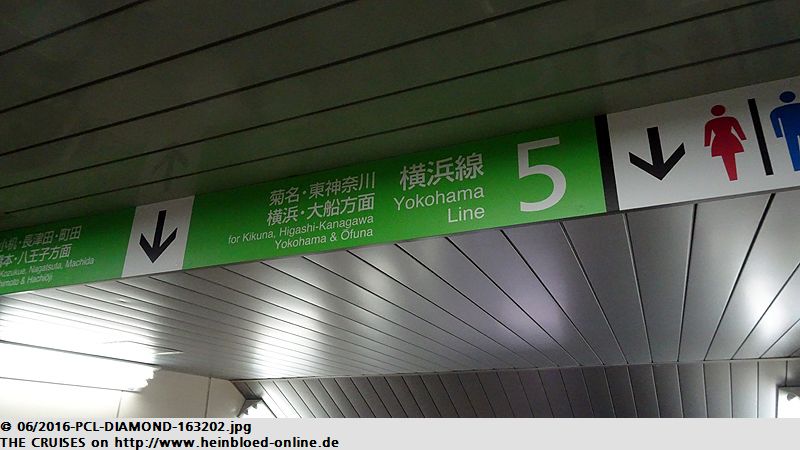 So müssen wir noch mit der Yokohama Line weiter Richtung Yokohama fahren.
Oktoberfest im April? Muss doch nicht sein.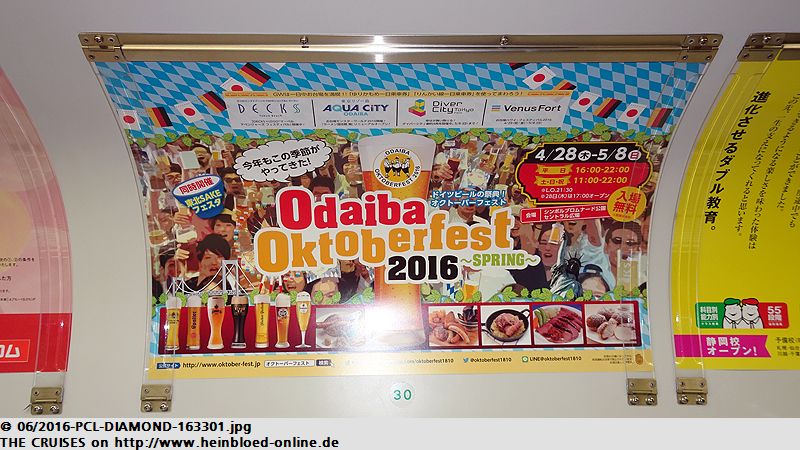 Oktoberfest in April? Was there a need for this?

As we caught the wrong train when we transferred we had one more change.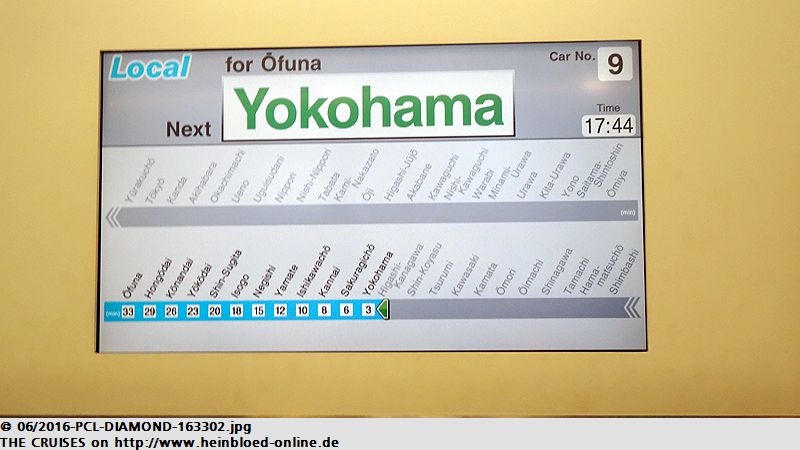 Da wir beim Umsteigen, den falschen Zug erwischt haben, müssen wir nochmals umsteigen.
Dann kommen wir wieder am Bahnhof Yokohama an.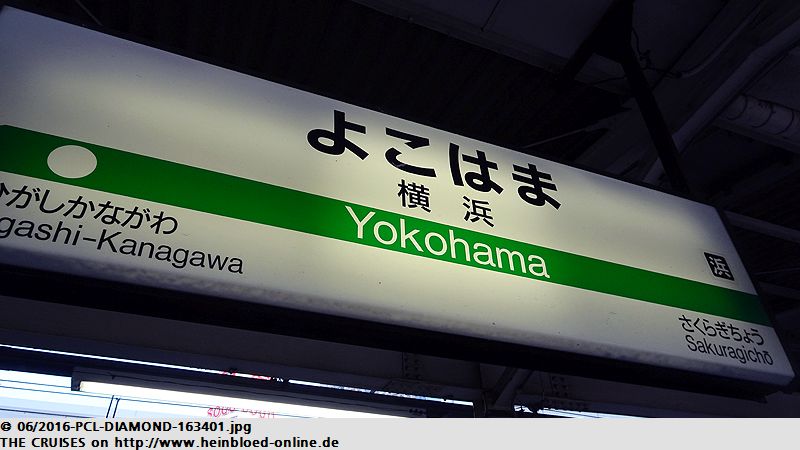 Then we arrived at Yokohama Station.

As nobody was interested anymore in using the subway and walking, we were looking for a taxi rank.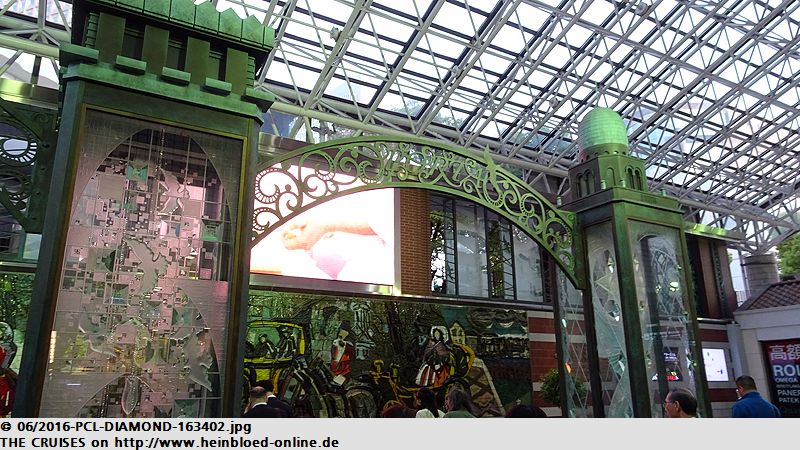 Da keiner mehr Lust hat, mit der U-Bahn zu fahren und zu laufen, suchen wir einen Taxi-Stand.
Wir müssen aber durch das Einkaufszentrum laufen.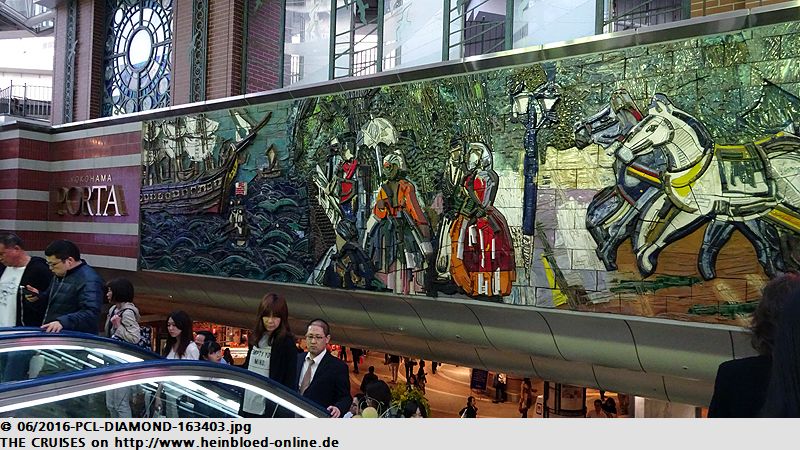 We had to pass the shopping center.

It was decorated very lovely.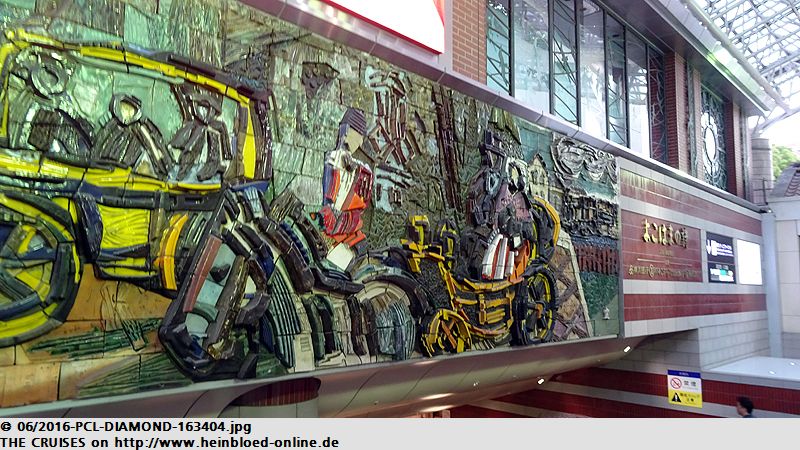 Ist aber sehr schön dekoriert.
Wir sind wieder zurück im Hotel. Da wir noch zwei Gutscheine für einen Willkommensdrink als Ambassador-Mitlglied haben, gehen wir zunächst in die Hotel Bar.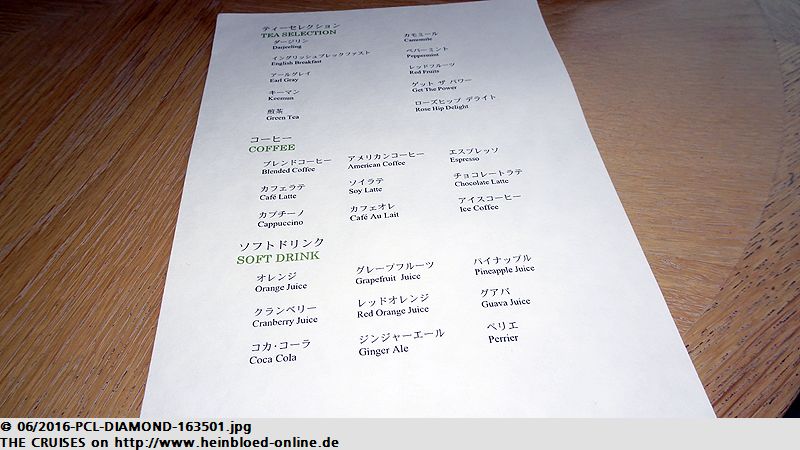 We were back at the hotel. Since I still had two vouchers for a welcome drink as Ambassador member, we went first to the hotel bar.

We got a lovely table with a view of Tokyo.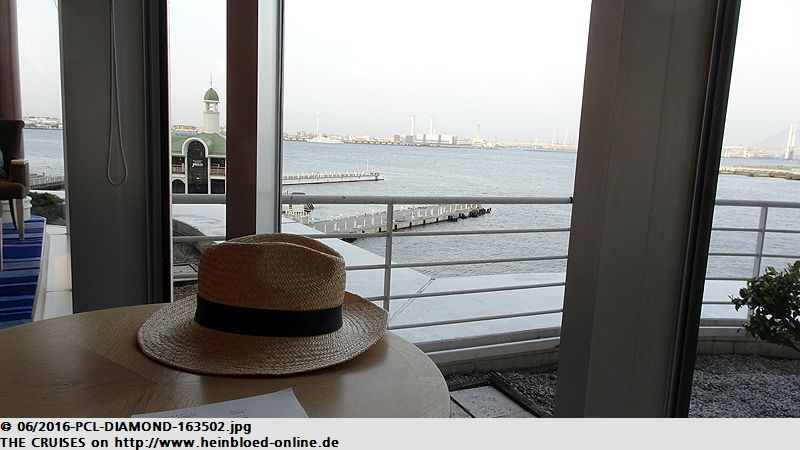 Sehr schöner Tisch mit einem Blick nach Tokio.
Eine Cola und ein grüner Tee müssen jetzt sein.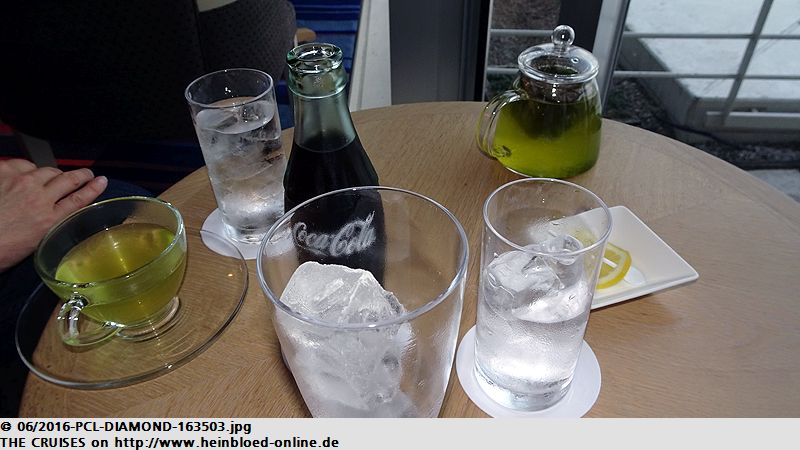 A coke and a green tea were a must now.

In the evening we went again to the shopping center Queen's Square.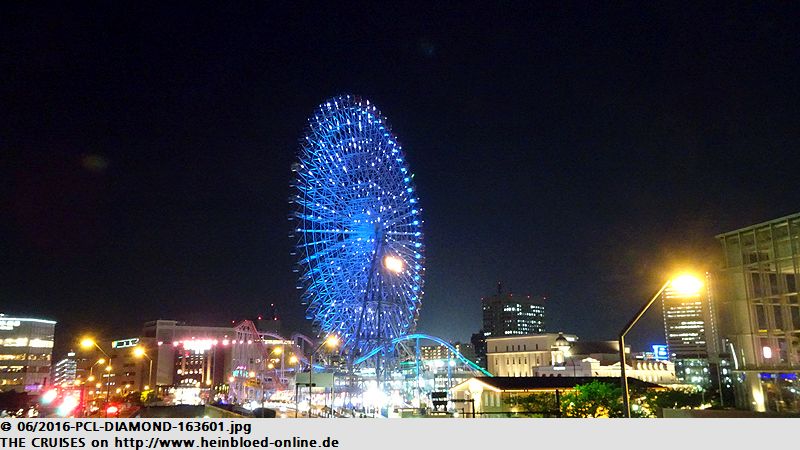 Abends geht es wieder ins Einkaufszentrum Queen's Square.
Schön ist das Riesenrad beleuchtet.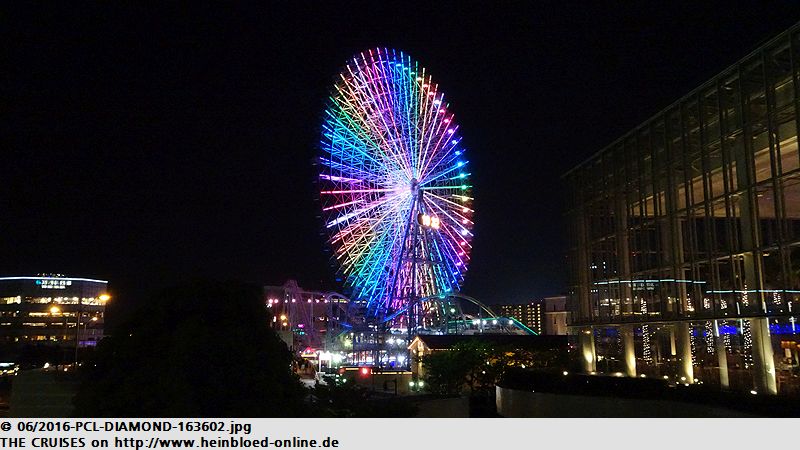 The giant wheel was nicely illuminated.

I wanted to experience the variety of Japanese kitchen, but some wanted to eat the same place as we went last night.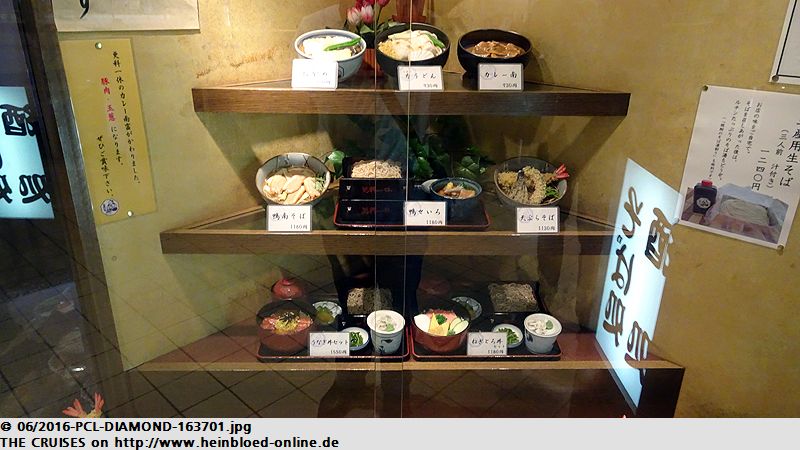 Ich möchte die Vielfalt der japanischen Küche erleben, aber einige wollen unbedingt wieder dort essen, wo wir gestern Abend essen waren.
Also gibt es schon wieder Soba-Nudeln.

So we had again Soba Noodles.

This time I took a dish with cold Soba-Noodles.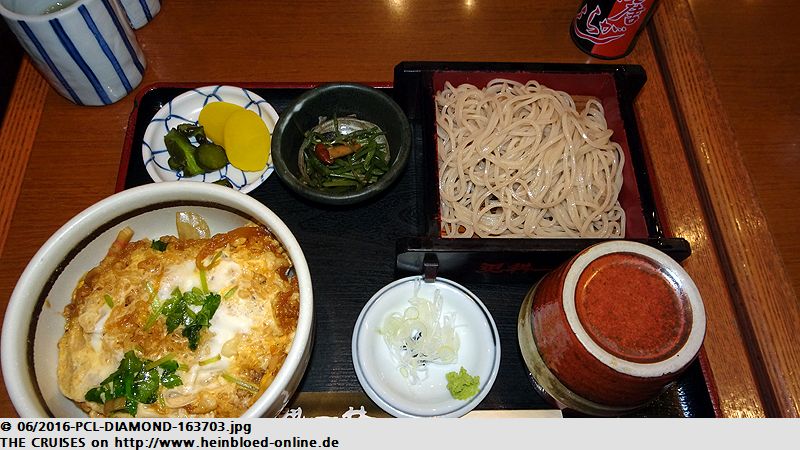 Dieses Mal nehme ich ein Gericht mit kalten Soba-Nudeln.
Auch die Reisgerichte sind in Ordnung, wenn man keine Soba-Nudeln mag.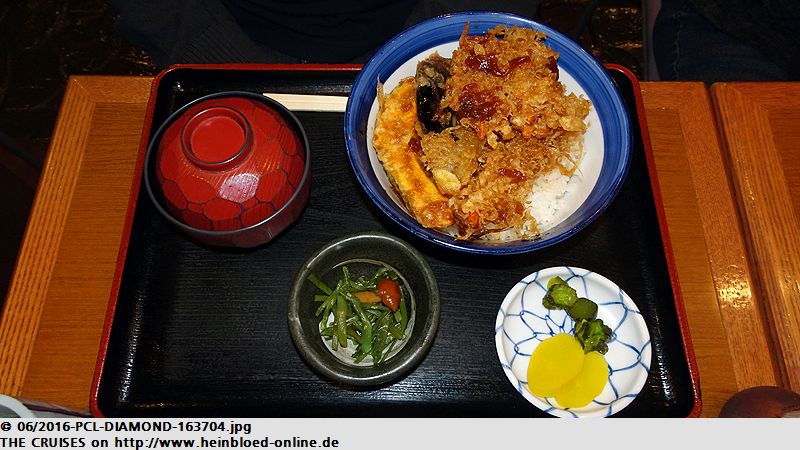 The rice dishes were also delicious if you did not like Soba-Noodles.

In the course of it, you could make the acquaintance of new dishes in the direct neighborhood. Next time I would just drop off the others at the noodle bar and make my own way. I did not eat every night with the others. Why did I do it that night actually?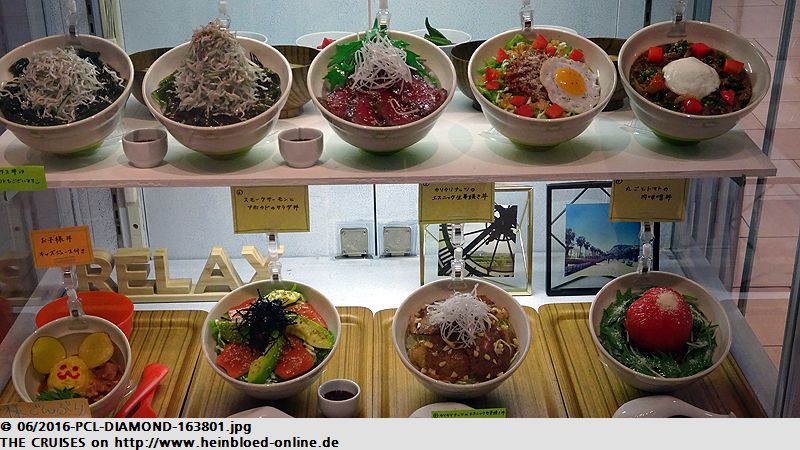 Dabei hätte man in der direkten Nachbarschaft auch neue Sachen kennenlernen können. Das nächste Mal setze ich kurzerhand die anderen an der Soba-Nudelbar ab und ziehe alleine weiter. Ich bin ja auf dem Schiff auch nicht jeden Abend mit allen anderen essen gegangen. Warum mache ich es hier eigentlich?
Überrascht bin ich jedoch über den deutschen Text, der hier an der Betonwand hängt und leuchtet: Es ist aus
Friedrich von Schiller: Die schmelzende Schönheit. Fortsetzung der Briefe über die ästhetische Erziehung des Menschen
. Morgen früh geht es zeitig wieder raus. Daher war Schiller der letzte Gedanke des Tages, bevor es ins Bett geht.

I was surprised of the German text on the concrete wall and it was illuminated. It was by the German author Friedrich Schiller, who also wrote the "Ode to Joy". But here it was a different text I did not know either. The next morning we had to leave early. So Schiller's thought was my last thought before going to bed.
Die anderen Reisen in diesem Blog/
The other voyages in this blog: