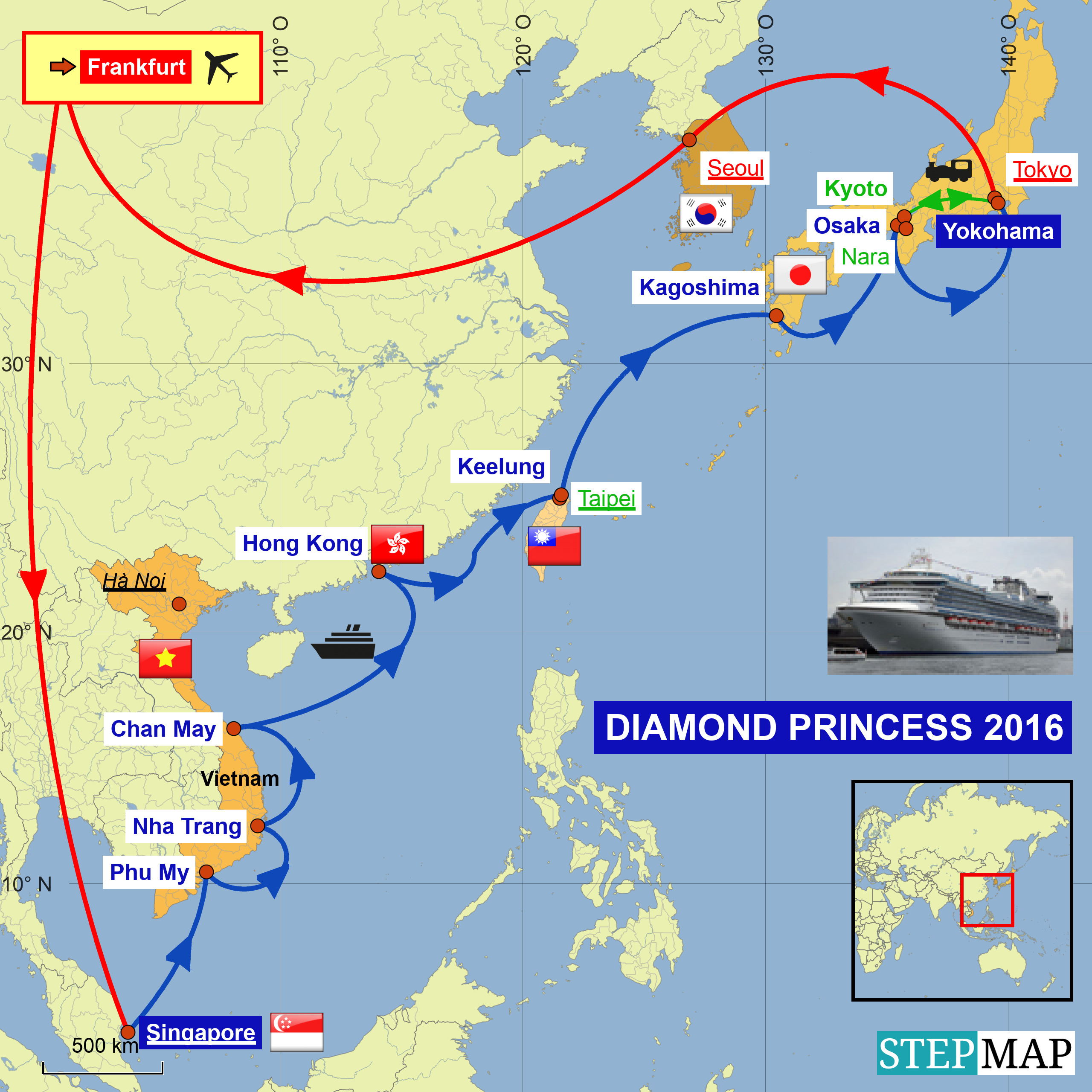 Es geht zum Frühstück. Damit wir die French Press nicht vergeblich mitgeschleppt haben, nimmt Bruno seine
Bodum
-Kanne mit. Im Restaurant ist der Kaffee in seinen Augen immer noch ungenießbar. Zum ersten Mal erhalte ich zum Croissant auch Butter dazu.

We were heading for breakfast. To avoid that Bruno carried his Bodum French press for nothing, he took it with him. In the restaurant, the coffee was still unenjoyable in his eyes. The very first time I got some butter with my croissant.

Arriving in Chan May, Vietnam.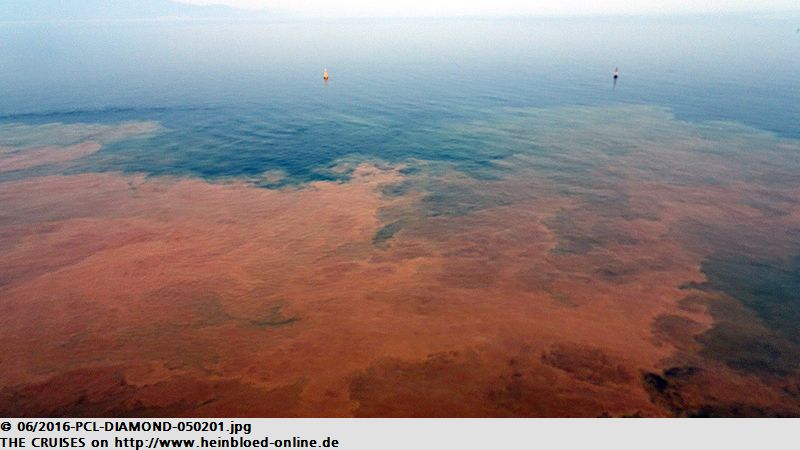 Einfahrt in Chan May.
Der Hafen wirkt ein wenig trostlos.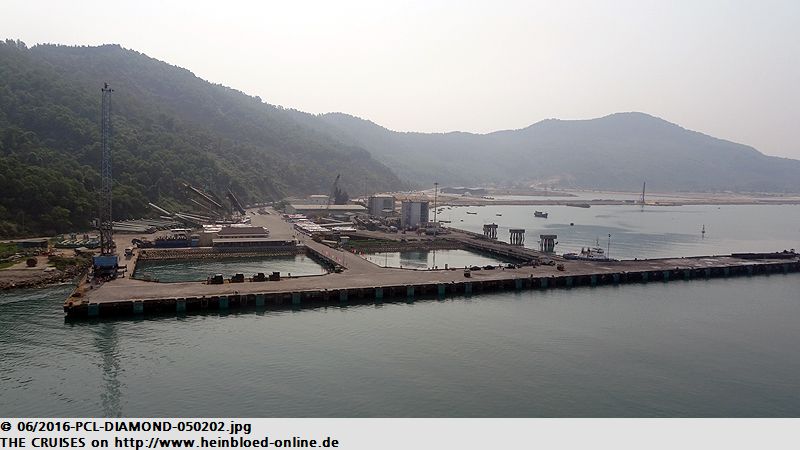 The port appeared quite dreary.

We really would need some more Vietnamese Dong, but the money dealer was not onboard anymore.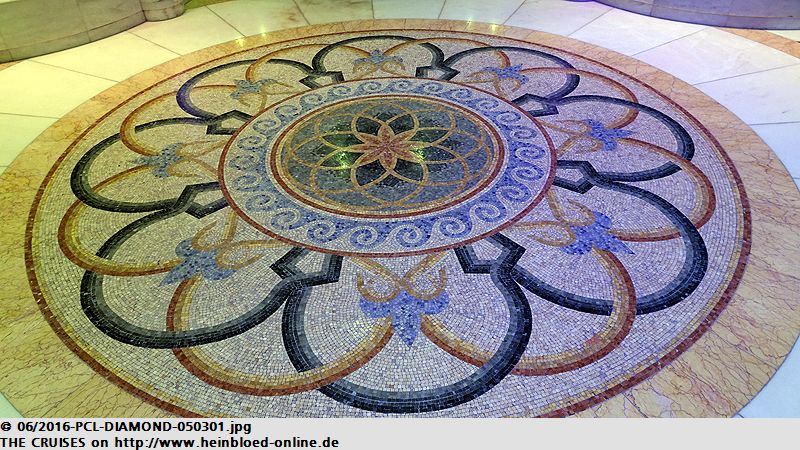 Wir hätten noch mehr Vietnamesiche Dong gebraucht, aber leider sind heute die Geldhändler nicht mehr an Bord.
Im Hafen selbst gibt es ein paar Stände. Bruno kauft hier wieder eine neue Mütze. Hier erfahren wir auch, warum die Geldhändler hier nicht gebraucht werden: Es gibt hier einen Geldautomaten. Wir hatten versucht noch kurzfristig eine private Tour zu buchen, aber angeblich dürfen hier wohl keine privaten Fahrzeuge auf das Hafengelände. Das Tor ist allerdings auch nur 500 m entfernt. Nachmittags sehe ich auch kein Taxi. Ich hätte gerne noch ein paar Bilder von den Reisfeldern gemacht, die unterwegs waren. So tröste ich mich mit frischer Kokosmilch.

In the port they had some stands. Bruno rebought a new hat. Now we also learned why you did not need the money-traders: they had an ATM. We tried to book a private tour at short notice, but we were told that no private vehicle would be allowed in the port area. But the gate was only about 500 yards away. In the afternoon I could not see any taxi either. I really would love to take some pictures of the fields of rice which I saw on our way. So I treated myself instead with some coconut milk.

A view to MY ship.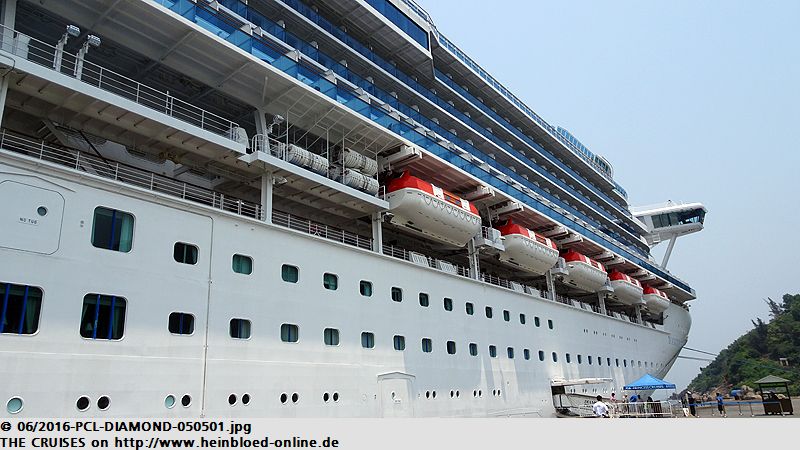 Ein Blick auf MEIN Schiff.
Wir nehmen den kostenlosen Shuttle. Die Fahrt dauert ca. 20 Minuten. Die Fahrt ist abwechslungsreich. Auf der Rückfahrt müssen ein paar Crew-Mitglieder zurückbleiben. Ich frage bei ein paar Crew-Mitgliedern an Bord nach, ob sie Probleme bekommen, wenn sie jetzt nicht mitkommen. Man konnte es mir nicht sagen. Aber ich hätte im Notfall den nächsten Bus genommen, wenn sie Ärger bekommen hätten.

We took the complimentary shuttle. The ride took about 20 minutes. The passage was quite diversified. On the way back some crew-members had to stay back. I asked some other crew-members if they would get trouble if they could not join. They could not tell. In case of emergency and they ran into problems I would let them my seat and wait for the next bus.

The shuttle to us to Lang Co Beach Resort">Lang Co Beach Resort. Here the private tours were waiting for their guests. I need to confirm a trip until last night 21:00 hrs. But it did not work because I could get the address of the meeting point. The front-desk could tell me that we would be taken to a resort, but they were unable to give me the address in a written form. Instead of that, they called housekeeping that they should run to the print-shop to get it. That I would get it anyway, they did not notice, and they ignored that I would need it immediately and could not wait for the turn-down-service. So I could not confirm the tour. But after we saw the offer here, we had no reason to be sad. I was not really willing to be taken for several hours to Hue or Hoi An at the moment. We enjoyed the resort. At the beach, I bought something from a street dealer, who spoke a few words of German. A beautiful green pool and we had some pleasant conversation with some Australian and English fellow-cruisers. Furthermore, I could buy more credit for my Vietnamese SIM-card, and they helped to recharge the amount on my phone account.

Der Shuttle bringt uns zum
Lang Co Beach Resort
. Hier erwarten die privaten Touren ihre Gäste. Ich hätte bis gestern Abend bis 21:00 Uhr eine Tour bestätigen müssen. Leider hat es nicht geklappt, weil ich bis dahin die Anschrift für einen Treffpunkt nicht rausbekommen konnte. Man konnte mir zwar an der Rezeption sagen, zu welchem Resort wir gebracht werden. Aber meine Bitte mir die Anschrift auf einem Blatt Papier zu schreiben, wurde mit nein beantwortet. Man hatte stattdessen das Housekeeping angerufen, das sie mir aus der Druckerei eins holen sollten. Da ich es aber sowieso bekommen hätte, hatte man nicht herausgehört, dass ich es sofort gebraucht hätte und daher gedacht, dass ich es sowieso mit dem Turn-Down-Service bekommen hätte. Also konnte ich die Tour nicht bestätigen. Aber nach dem wir das Angebot vor Ort sehen, besteht keine Notwendigkeit traurig zu sein. So richtig Lust mehrere Stunden nach Hue oder Hoi An zu fahren, hatte ich eh im Moment nicht. Wir genießen die Anlagen. Am Strand kaufe ich sogar etwas von einem Straßenhändler, der etwas deutsch sprach. Ein wunderschöner grüner Pool und wir unterhalten uns nett mit einigen australischen und englischen Mitreisenden. Außerdem kann ich hier noch Guthaben für meine vietnamesische SIM-Karte kaufen und sie helfen mir das Guthaben zu laden.
Wir hätten auch noch direkt Touren vor Ort buchen können, die auch hier an die Hotelgäste verkauft werden.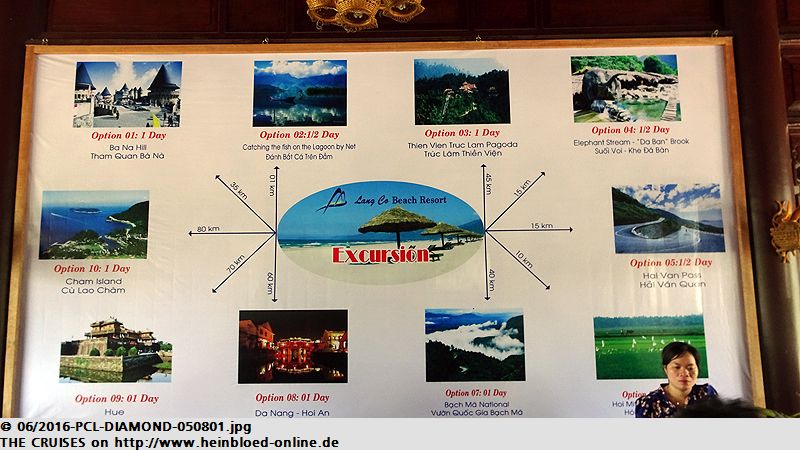 We could also book some tours right here at short-notice since they offered them for their hotel guests too.

When we discovered the sign for the massages and the price, 5 of 6 used the chance to have one right at the beach. For only 10 USD (2016). We enjoyed the massage and accepted the waiting time. But it was worth to wait as we had no further plans. We enjoyed an excellent treatment.

Als wir das Schild mit den Massagen und den Preis gesehen haben, nutzen 5 von 6 von uns die Chance, uns direkt am Strand massieren zu lassen. Für nur 10 USD (2016). Wir genießen die Massagen und akzeptieren die Wartezeiten. Aber es ist die Wartezeit Wert, zumal wir ja nichts weiter vor haben. Wir genießen die tolle Massage.
3 von 6 wollten lieber an Bord essen. Ich wollte Vietnam jedoch nicht verlassen, bevor ich nicht auch eine Nudelsuppe gegessen habe. Der frisch-gegrillte Fisch duftete toll, aber mich konnte nichts davon abbringen eine Nudelsuppe zu bestellen. Außerdem wollte ich einen vietnamischen Kaffee auf Eis und frische Früchte. Die sind richtig aromatisch. Obwohl die Preise wohl touristisch sind: allemal billiger als in Basel, Frankfurt oder Los Angeles und bestimmt auch leckerer.

3 of 6 preferred to eat on board. I did not want to leave Vietnam without having a real noodle soup. The freshly-grilled fish smelled wonderful, but it could not stop me to order a noodle soup. Furthermore, I wanted to have a Vietnamese coffee on the rocks and fresh fruits. They were really aromatic. Although the prices here were very touristic: it was still much cheaper than in Basle, Switzerland, Frankfurt, Germany or Los Angeles, CA and much more yummy.

Back on board, we went again to The Sanctuary. There our tea-time was waiting for us.

Zurück an Bord geht es in The Sanctuary. Dort wurden wir schon zur Tea-Time erwartet.
Von hier genieße ich den Sonnenuntergang. Ein schöner Abschied von Vietnam.

From here we enjoyed the sunset. A gorgeous farewell from Vietnam.

Bruno used the chance and saw the laundromat. A few items he wanted to laundry under his own control but to hand it over to the laundry service. You did not need any US-change, but you got with your ship's card tokens for the laundry machine, dryer, and detergent, and softener. There were no German instructions available.

Bruno nutzt die Chance und besucht den Waschsalon. Ein paar Sachen möchte er lieber kontrolliert waschen, als es der Wäscherei zu übergeben. Man braucht keine US-Münzen, sondern bekommt mit der Bordkarte Münzen an für die Waschmaschinen, Trockner und Waschmittel und Weichspüler. Es gibt keine deutsche Menüführung.
Abends essen wir alleine. Da heute offene Sitzung in The International Dining Room ist und wir sonst nie eine Chance haben, hier zu Abend zu essen, gehen wir dahin und bekommen nicht nur einen tollen Tisch, sondern auch ganz tolle Kellner: Chiradet und Inna. Die hätten gestern Abend im Sterling Steakhaus bedienen müssen, und wir hätten jeden Abend dort gegessen. Es stimmte alles. Es erinnerte an den Princess Grill auf der
QUEEN ELIZABETH 2012 (2)
. Es gibt Borschtsch, aber Inna hatte abgeraten. Das hat mich neugierig gemacht. Stimmt: das nächste Mal nicht mehr. Sie sagen uns, dass dieser Tisch nicht belegt ist und sagen uns, dass wir durchaus mal wiederkommen können. Als wir einige Tage später wiederkommen, haben es andere Gäste wohl auch schon entdeckt, wie toll die beiden ihre Gäste bedienen und haben den Tisch belegt.

In the evening we dined by ourselves. As tonight was open seating in The International Dining Room, and normally never had a chance to come here, we went there and got not only a great table but also great waiters: Chiradet and Inna. They should serve in the Sterling Steakhouse last night, and we would dine there every night. It reminded us back on QUEEN ELIZABETH 2012 (2) in the Princess Grill. They had Borschtsch (Ukrainian Beetroot Soup), but Inna did not recommend. That made me curious. She was right: next time not again. They told that this table was not taken and so we were welcome to come and see them again. When we did it a few days later, we need to find out that other guests discovered their wonderful service too and occupied the table.

Well... they corrected indeed the advise: the arrow showed forward when you had to set the clock ahead.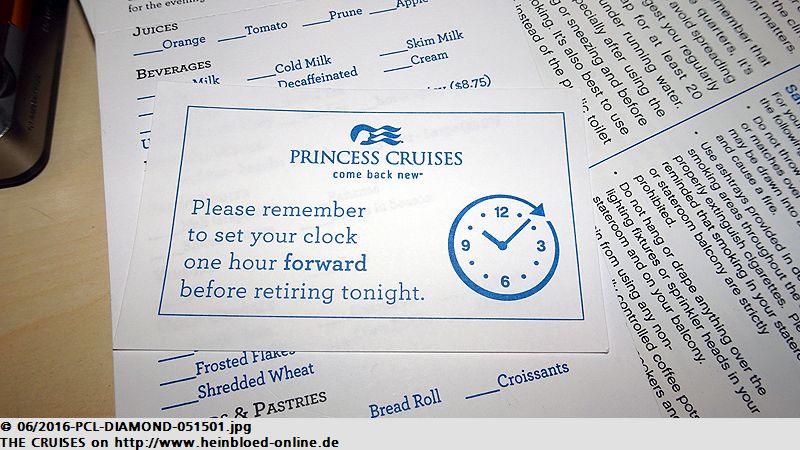 Aha... sie haben tatsächlich die Hinweise korrigiert: Der Pfeil zeigt vorwärts, wenn die Uhr vorwärts umgestellt werden soll.
Ein weiterer Negativpunkt ist die Wäscherei...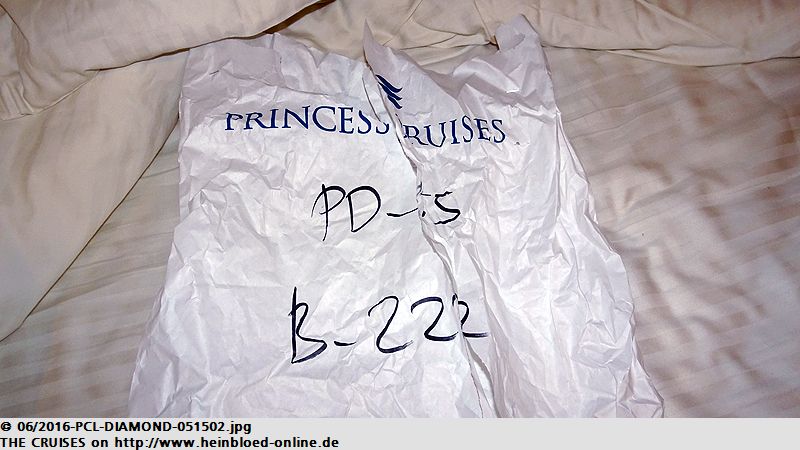 Another bad point was the laundry service...

It might happen that the guest miscounted the number of pieces. But they started with their work when you definitely confirm the correct amount. All others just noted on the form that they counted differently, and you read it when the laundry was returned. What else should you do? Walking down to the laundry and count it again under the witness of a crew-member of the laundry service? Or let them bring everything back that you could count still?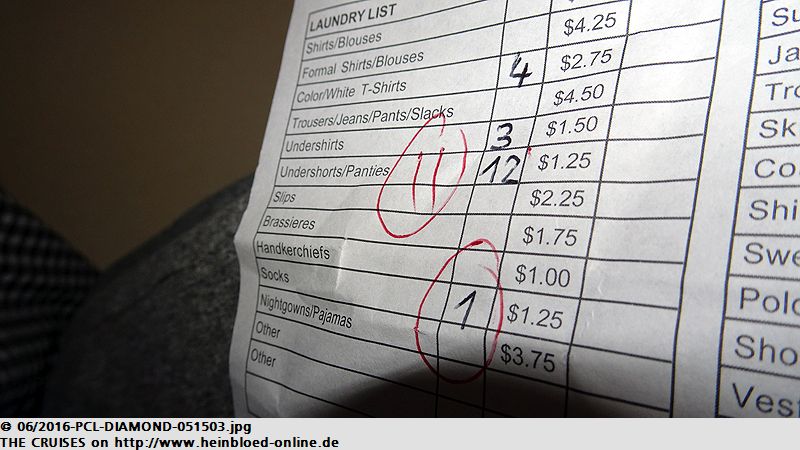 Es passiert dem Gast ja schon ab und zu, dass er sich verzählt. Aber sie fangen erst an zu waschen, wenn man ausdrücklich bestätigt, dass die Zahl erst korrekt ist. Die anderen schreiben einfach bei Rückgabe: Abweichung beim Zählen. Was soll man auch machen? Runter in die Wäscherei und vor den Augen der Wäscherei-Mitarbeiter nachzählen? Oder sich alles zurückkommen lassen, um nochmals zu zählen?
Außerdem waschen sie alles so heiß, dass es irgendwie einläuft. Und sie interessieren sich nicht für die Hinweise der Gäste, wie z. B. alles gefaltet bitte.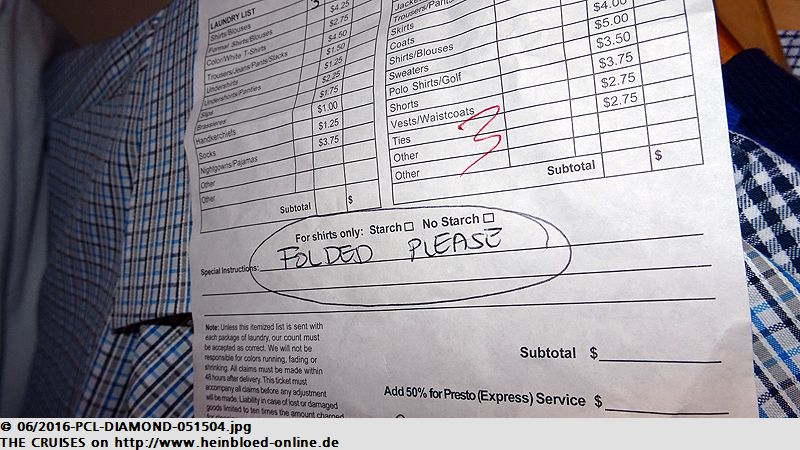 Furthermore they washed everything so hot that everything was shrieked. And they were not very much interested in the remarks of the guests like all folded, please.

Everything arrived on hangers.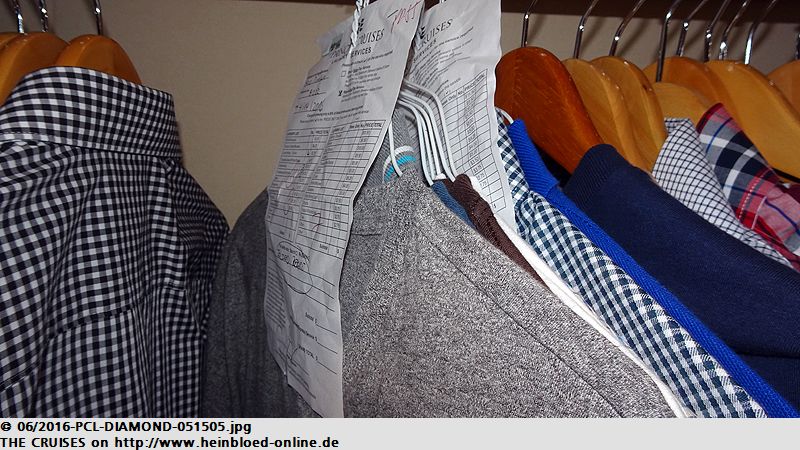 Es kommt alles auf Bügel.
Ich gehe ins Izumi, um mich zu entspannen. Man beruhigt sich dort so sehr, dass man nur Blödsinn im Kopf hat... So versuche ich zu telefonieren: "Kein Anschluss unter dieser Nummer".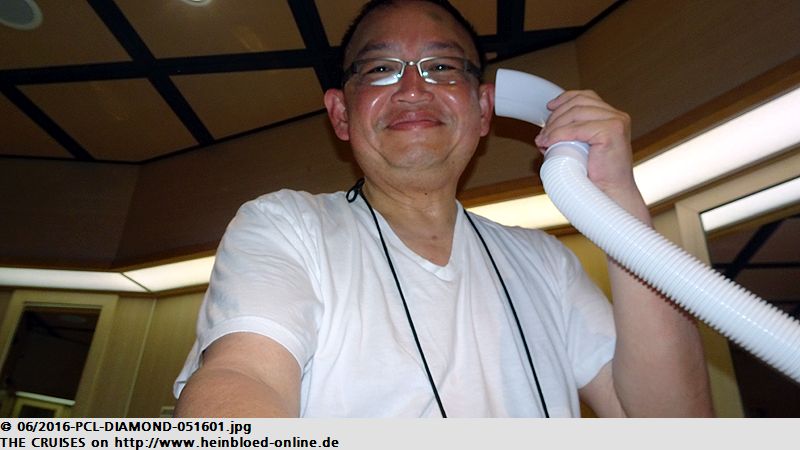 I went for relaxation to Izumi. You really could calm down well that you start to have nonsense in your mind... So I tried to make a phone call: "No connection".

It did not work with this either. Later I explained to Chisato that the "phone" was not working and it was quite loud and windy. I showed there the set. She was laughing out loud.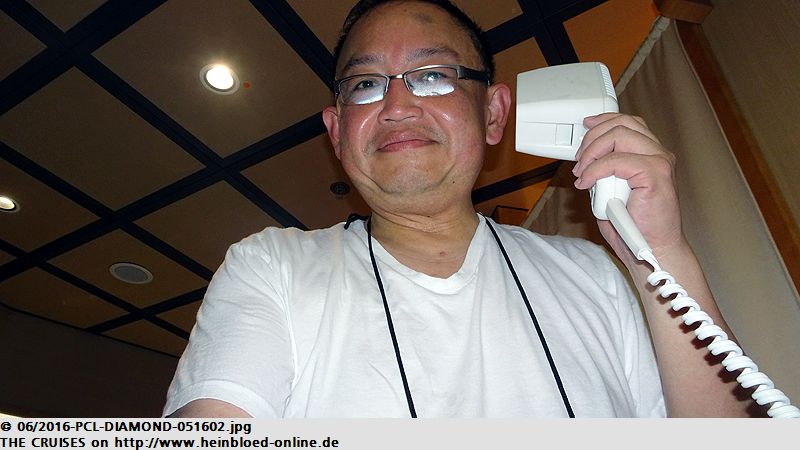 Hiermit geht es auch nicht. Später erkläre ich Chisato, dass das "Telefon" kaputt sei und irgendwie besonders laut und windig sei. Ich zeige ihr den Apparat. Sie lacht sich kaputt.
Aber hiermit.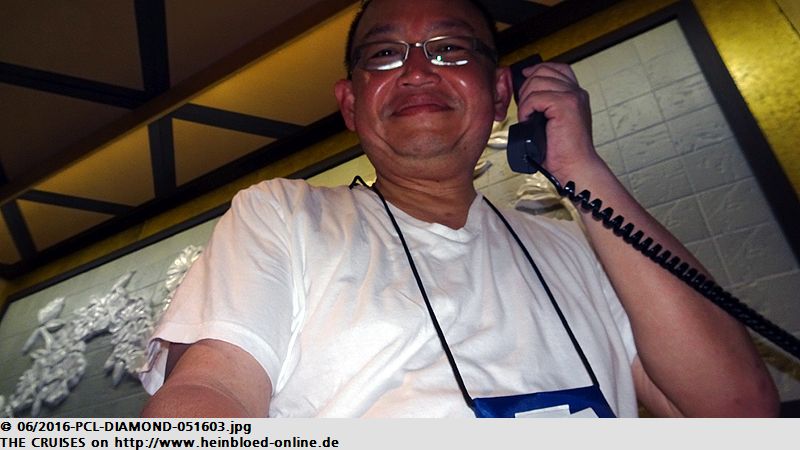 But with this.

In Izumi, I met most evenings Sachin. We did some small talk, and he loved to see the German spas. Since women and men need to take a bath separately, I made today the acquaintance of his wife.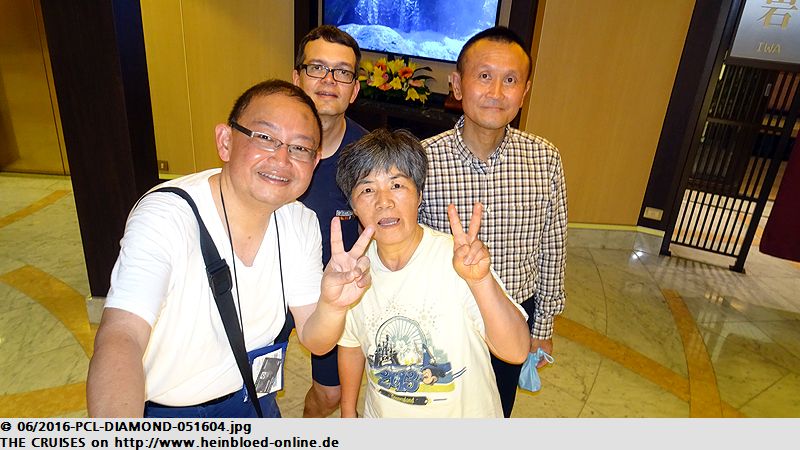 Im Izumi treffe ich fast jeden Abend Sachin. Wir unterhalten uns nett und er möchte mal die deutschen Heilbäder besuchen. Da ja Frauen und Männer getrennt baden, lerne ich seine Frau erst heute kennen.
Ich gehe später nochmals im Horizon und sehe mich um. Hier werde ich freundlich von Edmon begrüßt. Es passt in meinen Augen nicht immer regional... aber das ist jetzt so weit weg und wir haben ja keinen Geographieunterricht hier am Büffet. So probiere ich noch Köfte und ein wenig Mezze. Die Suppen sind auch hier grauenhaft.

I went later again to Horizon to check what they had. I was friendly welcomed by Edmon. It did not always fit by the regions... but that was so far away, and it was no geography lesson at the buffet. So I tried some Köfte and a few other Mezze. But the soups here were again terrible.

Bruno forgot his head during the breakfast in the restaurant. Luckily, it was found and could be collected at the front desk.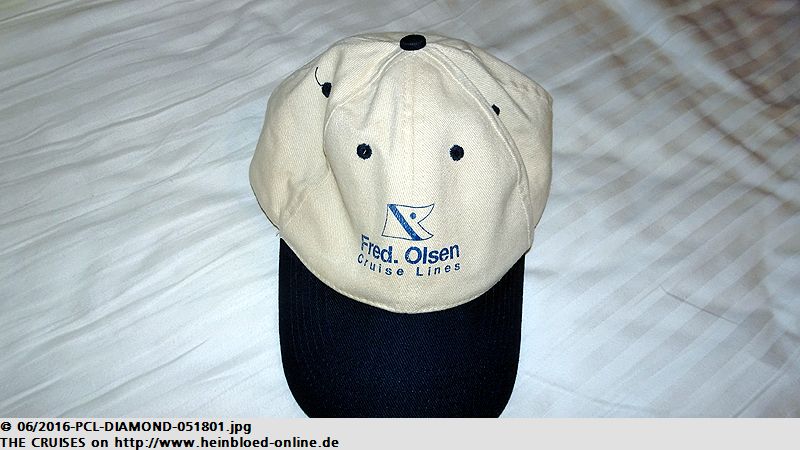 Bruno hatte morgens im Restaurant die Mütze liegen lassen. Zum Glück wurde sie gefunden und konnte an der Rezeption abgeholt werden.
Morgen folgt ein Seetag. Es sollte wieder eine Probe folgen. Es fehlt. Der Hinweis sollte so aussehen. Ich zeige es an der Rezeption und frage nach: Man erklärt, dass ich es bestimmt falsch verstanden habe. Ich frage nach: ob sie dabei war oder ich und woher sie wisse, dass ich es falsch verstanden haben muss. Meine Geduld hier an der Rezeption ist langsam am Ende.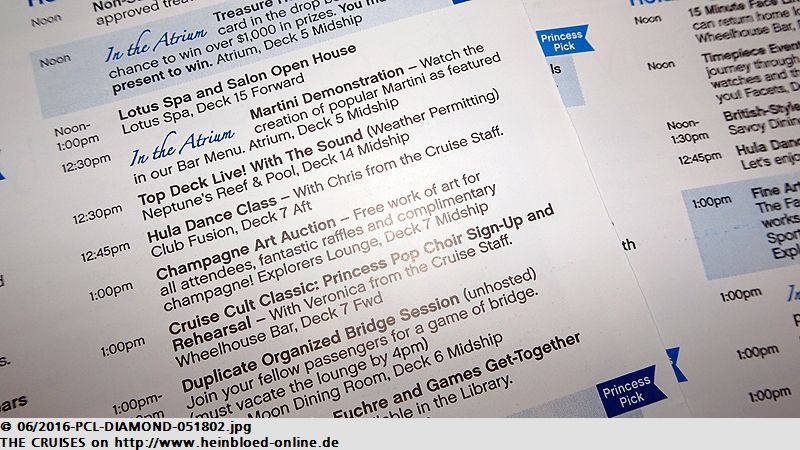 The next day, another day at sea would follow. We should have a rehearsal again. It was missing. It should look this way. I showed it at the front desk and asked: they explained that I must have understood everything wrong. My patience with the front desk came slowly to the end.

I need to fill out a form by myself to post a question. Other companies the receptionist would send an e-mail to the Cruise Director and ask for me. I need to write everything by myself. I asked for a meeting with the Guest Service Manager. They declined. Somehow my memories on OCEAN PRINCESS 2010 returned. Then the Hotel General Manager and Guest Service Manager said to me: we wished that our agents have the sensitivity to see, in which cases, specific questions should be forwarded to us Guest Service Manager or Hotel General Manager. And apparently, I need to show up again with blanket and pillow in front of the front desk. There were two philosophies: with Norwegian: tell me immediately what might be wrong and we take care of that everything will become perfect that you feel comfortable until the end of the voyage and you should tell everybody, how great Norwegian is. With Princess: keep your opinion with you, go off the ship and tell us in the questionnaire what you did not like.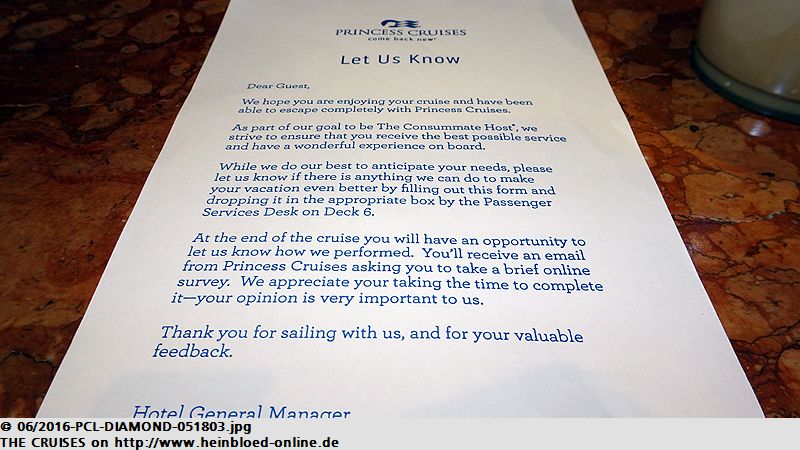 Ich muss selbst ein Formular ausfüllen, um meine Frage zu stellen. Bei anderen Gesellschaften hätte die Rezeption eine E-Mail an den Cruise Director nachgefragt. Ich muss selbst alles aufschreiben. Ich bitte um ein Gespräch mit dem Guest Service Manager. Es wird abgelehnt. Irgendwie kommt mir die Situation auf der OCEAN PRINCESS 2010 erinnert. Damals sagte mir der stellvertretende Hotel General Manager und die Guest Service Managerin noch: wir wünschten, dass unser Personal die Sensibilität hat, zu erkennen, in welchen Fällen, bestimmte Fragestellungen an uns Guest Service Manager bzw. Hotel General Manager weitergeleitet werden sollten. Und anscheinend muss ich wohl wieder mit Bettdecke und Kissen vor die Rezeption kommen. Es gibt zwei Philosphien: bei Norwegian: erzähl mir sofort, was nicht stimmt, und wir sorgen dafür, dass alles perfekt wird, so dass du dich bis zur Ende der Reise wohlfühlst und du glücklich und zufrieden von Bord gehst und jedem erzählst, wie toll es bei Norwegian ist. Bei Princess: behalt deine Meinung für dich, geh dann frustriert von Bord und erzähle uns davon im Fragebogen, was dir alles nicht gefallen hat.
Die anderen Reisen in diesem Blog/
The other voyages in this blog: