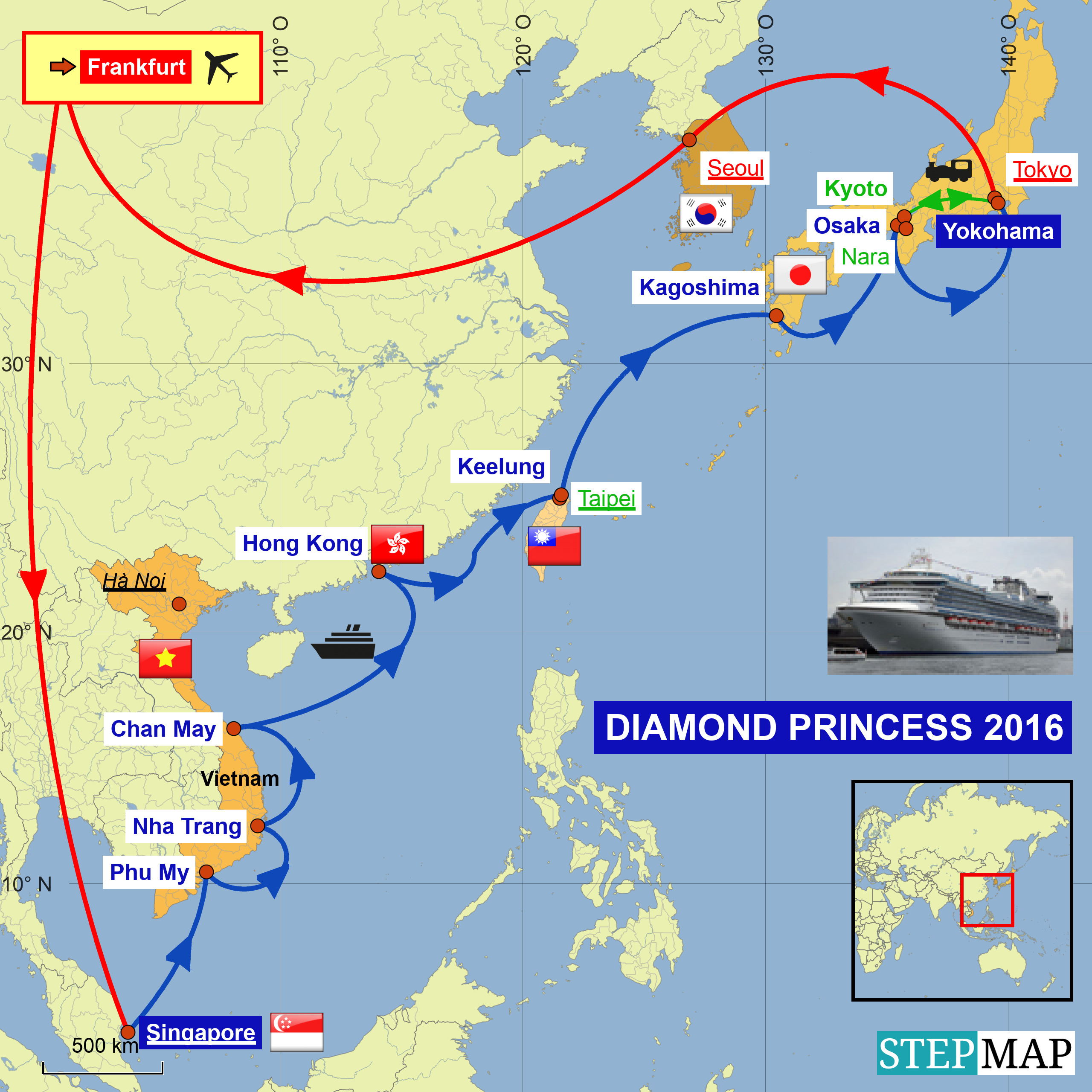 Mit der U-Bahn geht es zurück. Und dieses Mal laufen wir durch den Food-Bereich des Shopping Centers an unserem Hotel.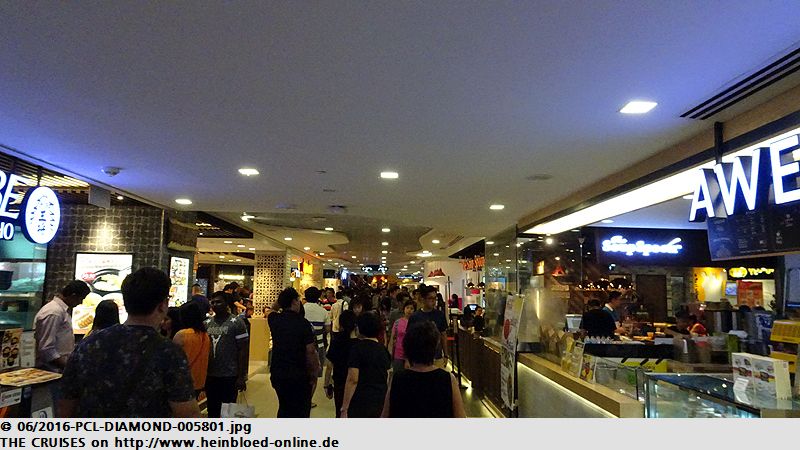 Heading back by subway. And that time we returned through the food-area of the shopping center of our hotel.

When would Yoshinoya open a branch finally in Germany? I would eat there every day. But hopefully with the Japanese selection and not with the Californian variety.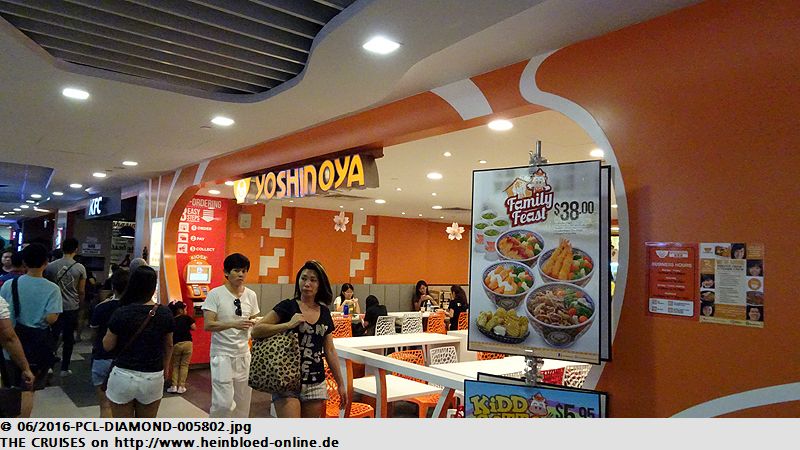 Wann macht
Yoshinoya
endlich mal in Deutschland Filialen auf. Da wäre ich Stammgast. Allerdings hoffentlich mit dem japanischen und nicht kalifornischen Angebot.
Wir machen mal wieder Tea-Time. Bei uns im Hotel wird öffentlich Tea-Time angeboten. Als Club-Gäste dürfen wir pro Zimmer einen Gast mitbringen. Wir genießen nicht nur das tolle Essen, sondern wir erleben einen tollen Service: Nana und Fiona verwöhnen uns so, dass wir am liebsten unsere Decken und Kissen mitbringen würden, und hier einfach im Club übernachten würden. Außerdem werden wir wieder ganz toll durch Concierge Craig betreut.

We had to do again tea-time. Our hotel offered public offered tea-time. As Club-guests you were allowed to have one guest per room with you. So we did not only had great food but experience an outstanding service: Nana and Fiona indulged us so much, that we would collect our blankets and pillows and stayed here overnight in the Club. Furthermore, our Concierge Craig was taking care of us in a great way.

After a short nap, we went to the cocktail hour in the lounge.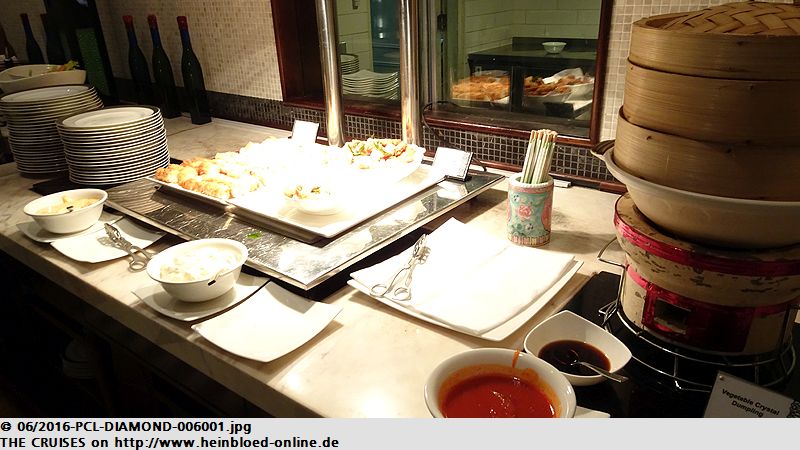 Nach ein wenig Ruhe geht es wieder zur Cocktail-Stunde in die Lounge.
Es ist jetzt kein 5-Gang-Menü, sondern viele kleine Leckereien.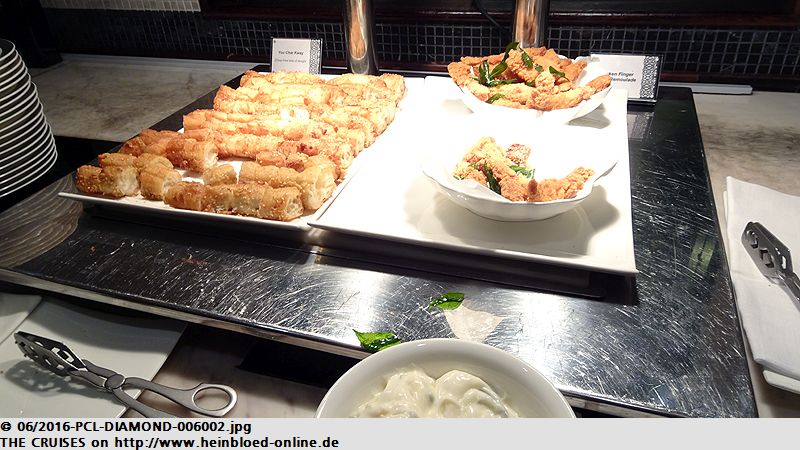 It was no 5-course-menu but a lot of nice small bites.

Someone from the Inter-Continental Miami, FL should show up here and just to see what they offered here.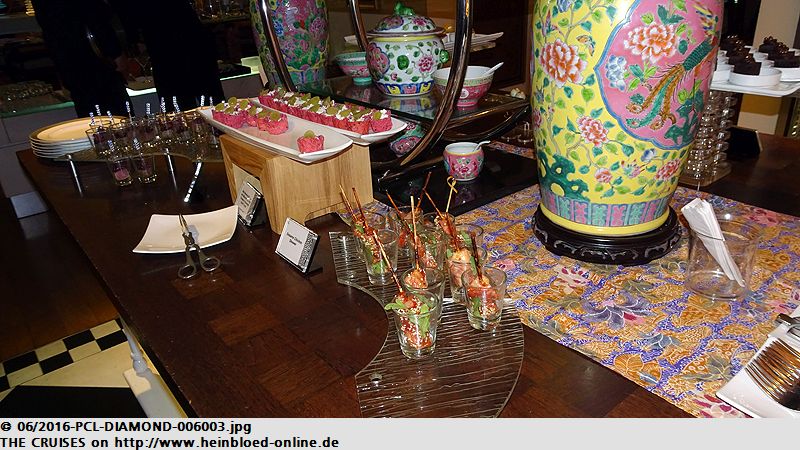 Es müsste jemand mal vom Inter-Continental Miami vorbeikommen und sich das Angebot ansehen.
Lecker.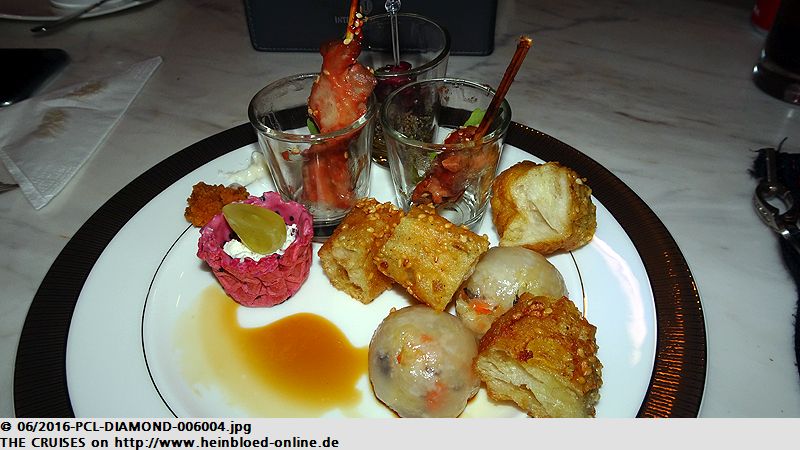 Yummy.

Bruno was before in the gym and said that he had the tastiest banana ever. I asked for a banana, and they got me one from the storage since there was none available in the little galley.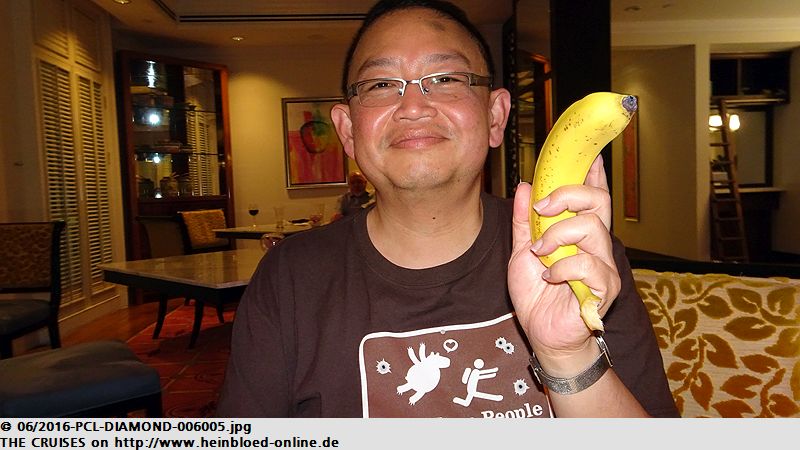 Bruno war zuvor im Fitnessstudio und meint, dass er hier die leckerste Banane gegessen hätte. Ich bitte um eine Banane und sie besorgen sie mir extra aus dem Lager, weil keine hier oben in der kleinen Küche verfügbar ist.
Das abendliche Unterhaltungsprogramm bestreiten Bruno und Frances. Es wurde so laut gelacht, dass die Nachbartische schon sich immer umgedreht haben... Nur Dummheiten im Kopf...

The nightly entertainment programme of Bruno and Frances. They laughed out so loud that other tables were turning around to check what happened... Only stupidity in their minds...

We wanted to see illuminated Singapore. At short notice, we went again to Marina Bay Sands. We wanted to see the Flight Bar. But we were not dressed "smart casual". I just asked the admission control. They gave us an "invisible" stamp on the arm, which was only could be identified by a UV-light.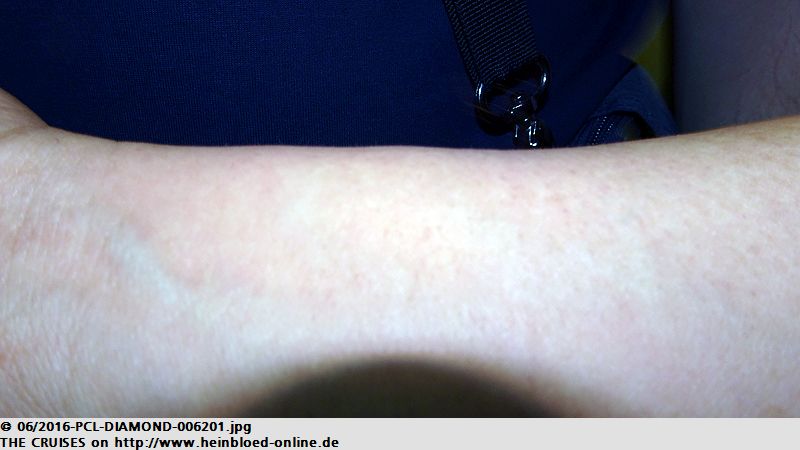 Wir wollen das beleuchtete Singapore erleben. Kurzerhand fahren wir nochmals zur Marina Bay Sands. Wir wollten an die
Flight Bar
. Allerdings sind wir nicht "smart casual" angezogen. Kurzerhand frage ich beim Einlass. Wir bekommen einen "unsichtbaren" Stempel auf den Arm, der nur mit UV-Licht sichtbar ist.
Die Bar ist sehr laut. Man hat nur einen Blick in eine Richtung. Deswegen entstehen nur einige wenige Bilder.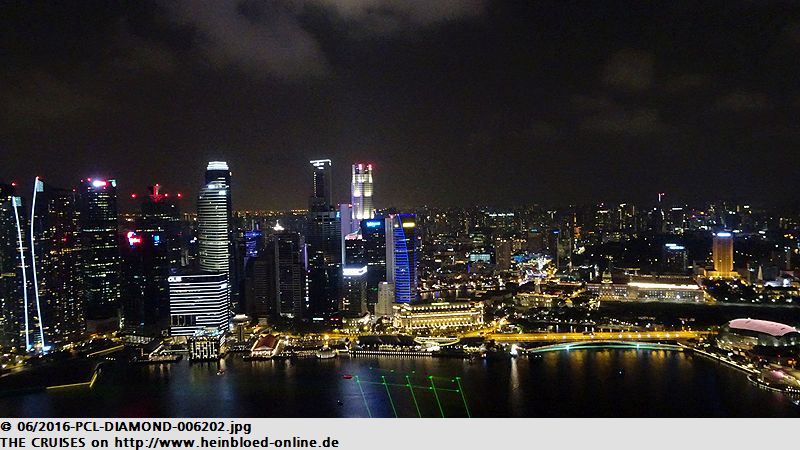 The bar was extremely loud. You had only view towards one direction. So we had only a few pictures.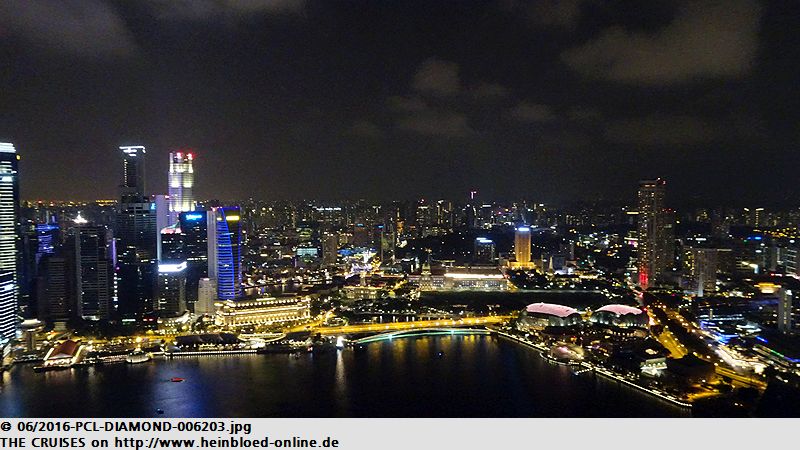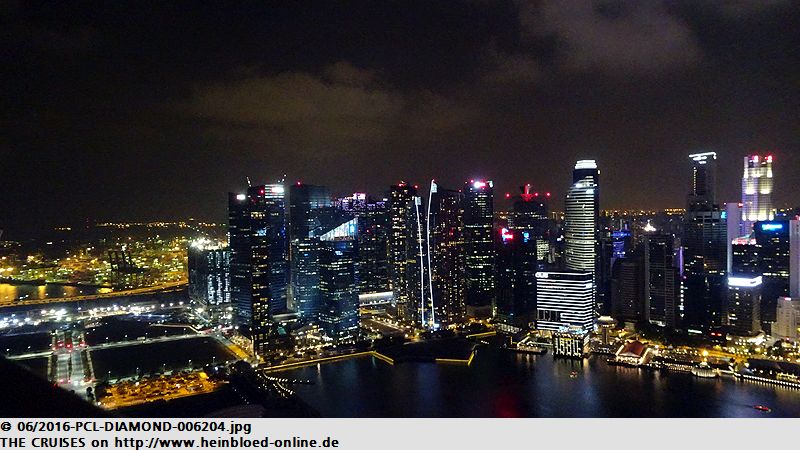 Quickly we decided to return downwards and bought again tickets for the Skypark. But the illumination of the Gardens by the Bay was somehow disappointing.

Kurzerhand fahren wir wieder runter und kaufen nochmals Tickets für den Skypark. Nur die Beleuchtung im Gardens by the Bay ist doch etwas enttäuschend.
Hier oben entstehen noch ein paar Selfies überhalb der nächtlichen Skyline von Singapur.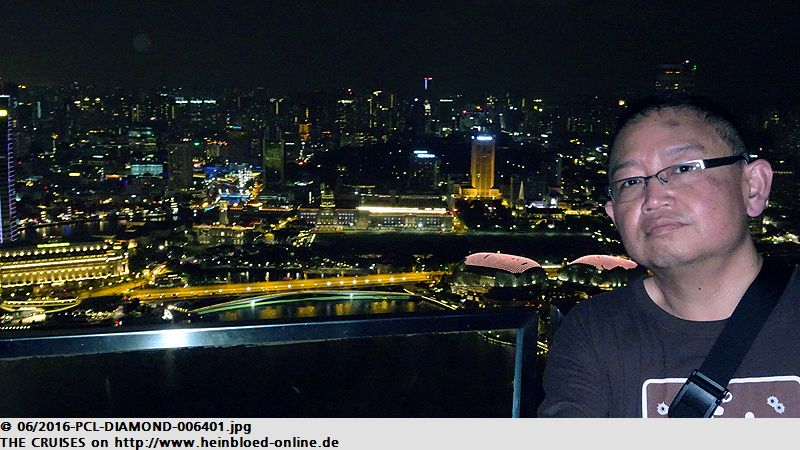 Here we mad a few more selfies above the nighty skyline of Singapore.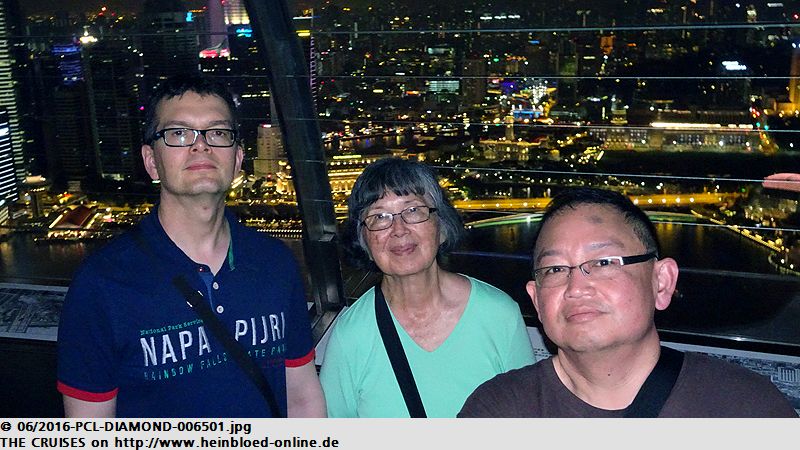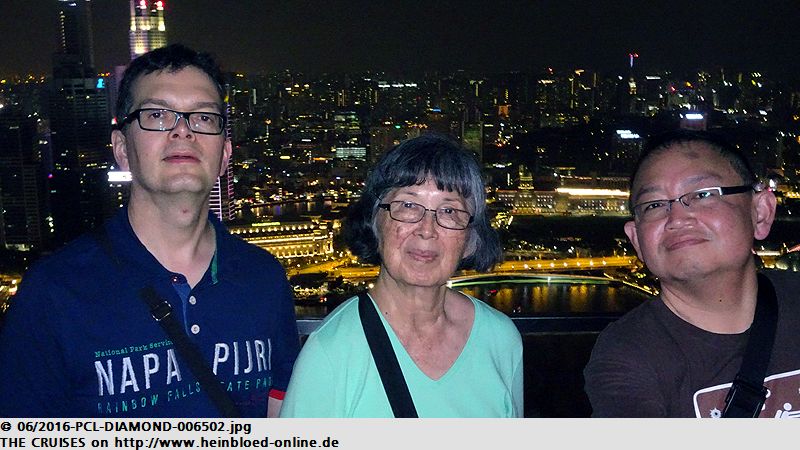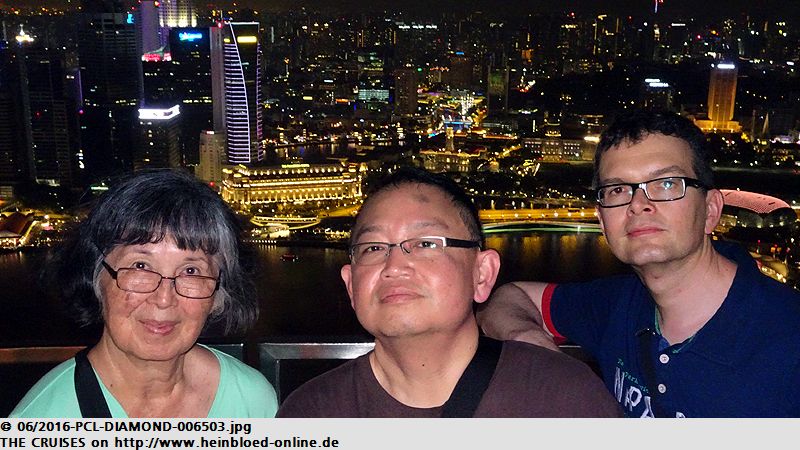 By taxi we drove by at the Cruise Terminal and the taxi driver found me a good place to take pictures.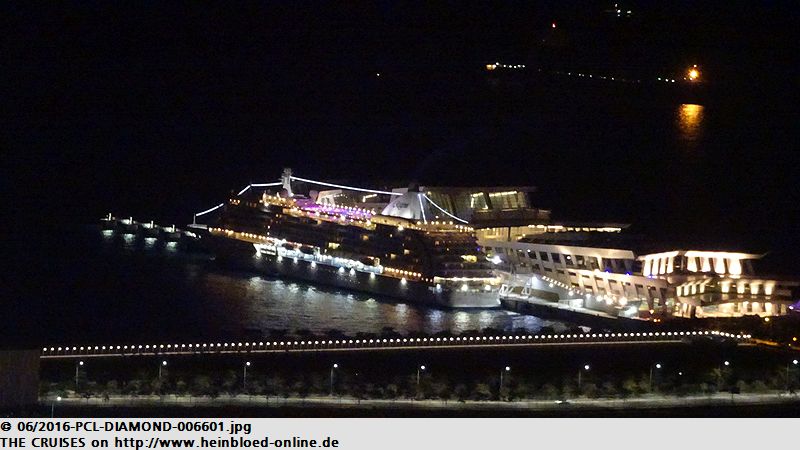 Mit einem Taxi fahren wir noch schnell am Cruise Terminal vorbei und der Taxifahrer findet für mich noch einen guten Ort zum Fotografieren.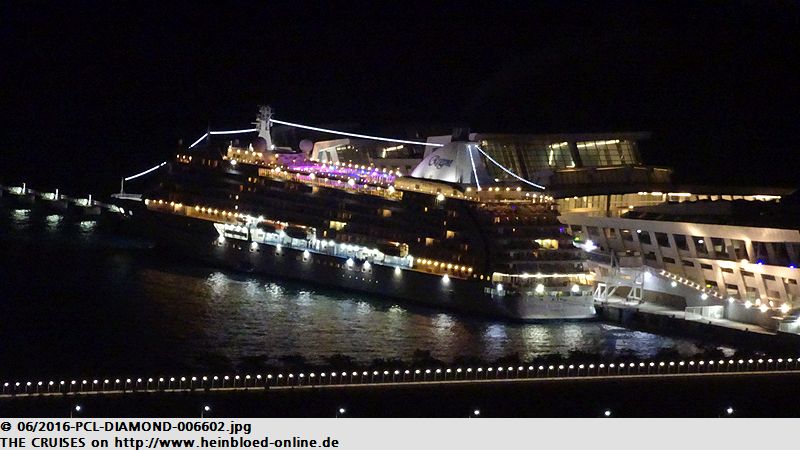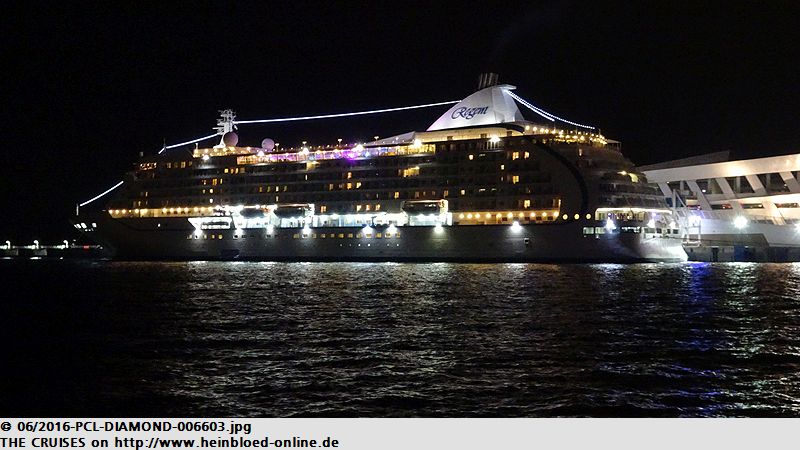 We need a small bite. At the intersection of North Bridge Road/Lang Seah Street, they had a lot of street food outlets where you could buy yummy dishes like Hainan-Chicken or Noodle Soups. Quickly we went at the end again to 7 Eleven for some snacks which we might need in the night. For really little money we could get delicious food on this road. I totally appreciate the location of the Inter-Continental.

Noch eine Kleinigkeit brauchen wir zu essen. An der North Bridge Road Ecke Lang Seah Street gibt es viele kleine Straßenessstände, bei denen man leckere Sachen wie Hainan-Hühnchen oder Nudelsuppen bekommt. Schnell geht es am Schluss nochmals zu 7 Eleven für ein paar Snacks, die wir in der Nacht brauchen. Für wenig Geld kann man hier in der Straße richtig lecker essen. Das schätze ich sehr an der Lage zum Inter-Continental.
Die anderen Reisen in diesem Blog/
The other voyages in this blog: