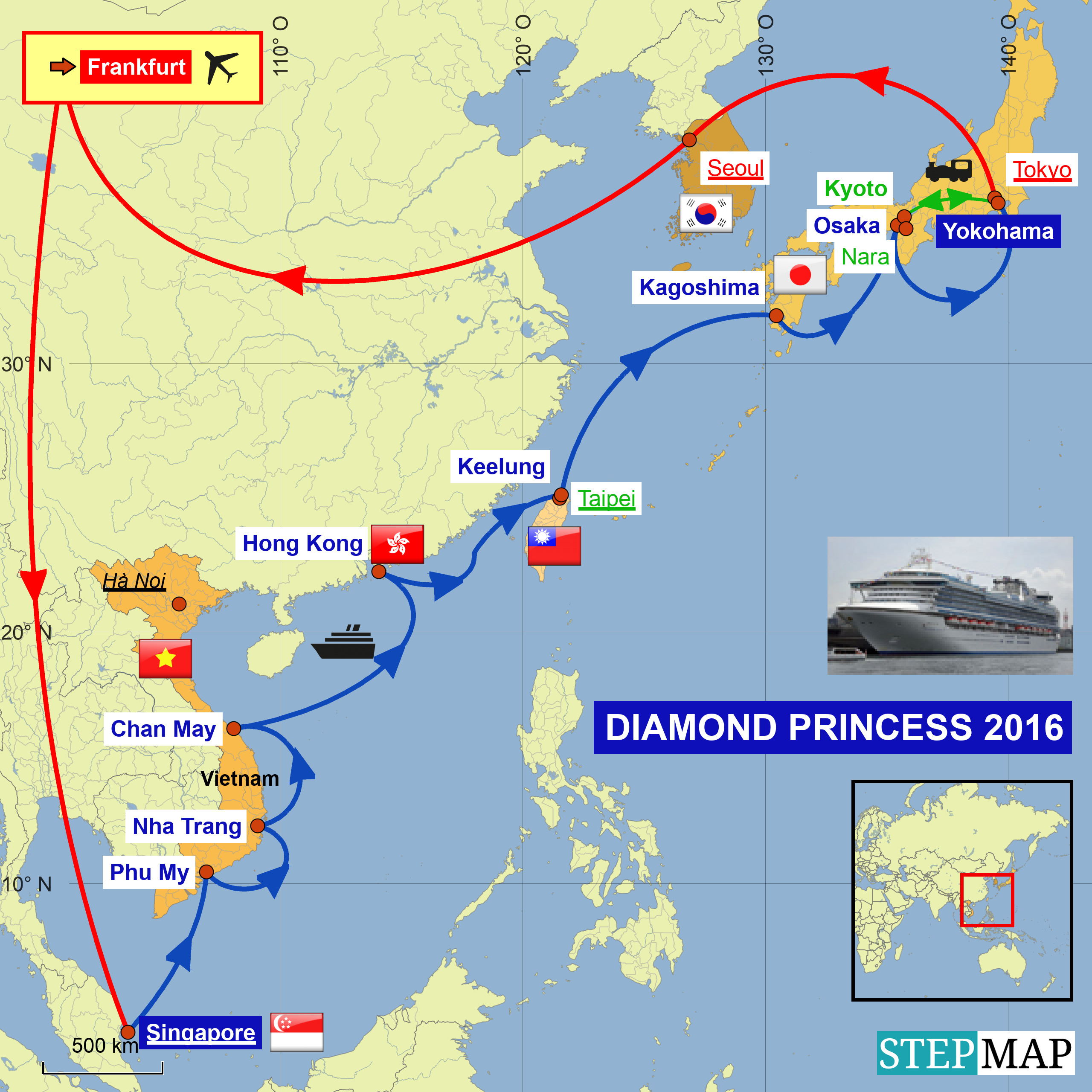 Ich stehe ganz früh auf. Ich will die spektakuläre Einfahrt in Hongkong nicht verpassen. Dabei will ich noch meine Bilder raufladen. Deswegen habe ich extra meine alte
österreichische 3
-SIM-Karte aufgeladen, um jetzt in Hongkong sie nutzen zu können. Auf dem Deck erwartet mich eine komische Stimmung: es ist alles feucht und nass, so dass ich in The Sanctuary flüchte und dort mich aufhalte. Später setze ich mich in den Raucherbereich.

I woke up very early. I did not want to miss the spectacular arrival in Hong Kong. And I wanted to upload my pictures. So I charged my old Austrian 3-SIM-card to use it in Hong Kong. On the deck, a strange atmosphere was waiting for me: everything was humid and wet, so I had to escape to The Sanctuary and stayed there. Later I found myself in the smoking area.

Actually, I expected the same gorgeous view I had before on ZAANDAM 2012">ZAANDAM 2012. We had the luck to dock at the Ocean Terminal.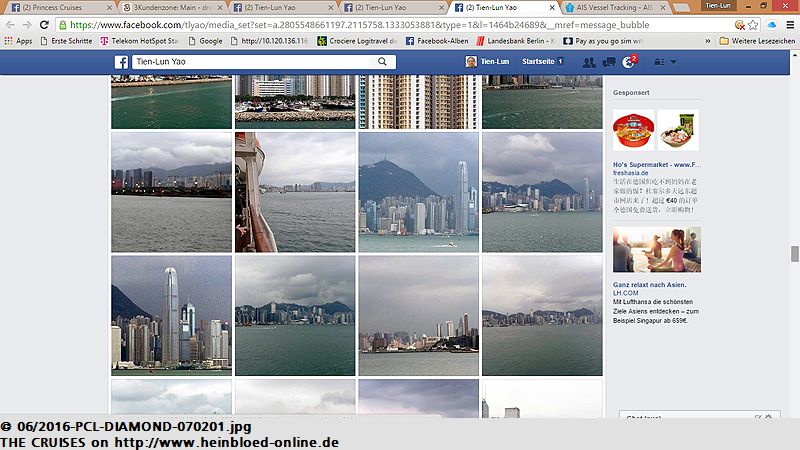 Eigentlich hatte ich den Anblick von damals beim Einlaufen auf der
ZAANDAM 2012
erwartet. Wir hatten damals Glück, dass wir am
Ocean Terminal
angelegt hatten.
Erst auf dem AIS-Bild sehe ich, dass wir schon vor dem
Kai-Tak-Terminal
sind.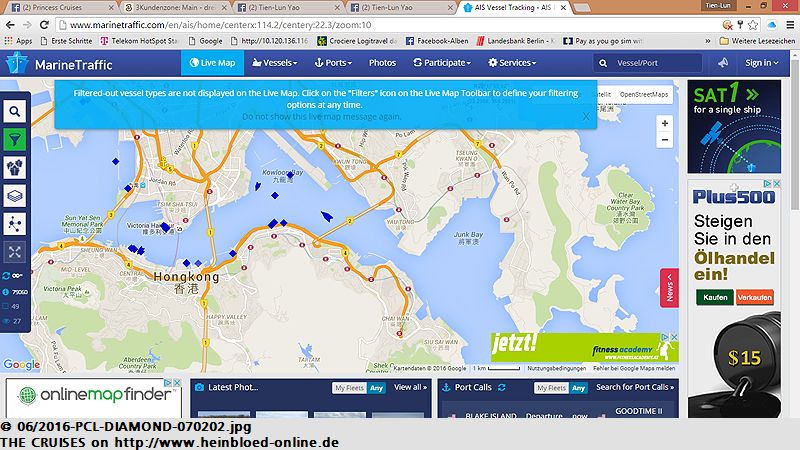 Only on the AIS-signal I could see that we already arrived in front of the Kai-Tak-Terminal.

As you could see: you could not see anything. Our tycoon you could hear without interruption.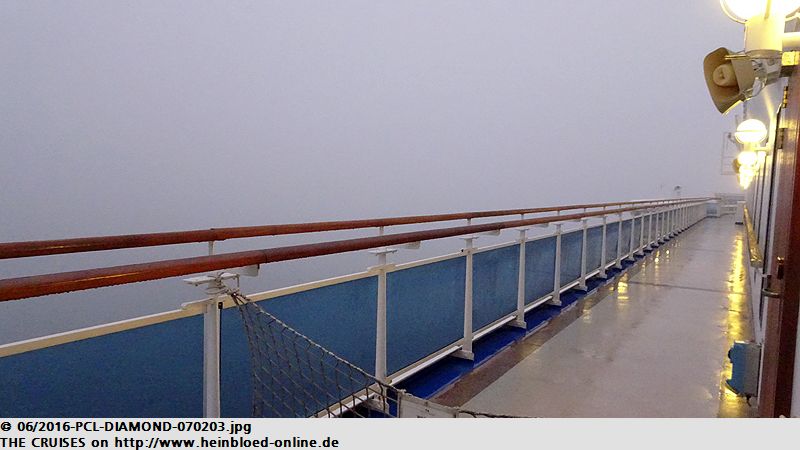 Wie man sieht: man sieht nichts. Unser Schiffshorn hört man ununterbrochen.
Und erst als wir so dicht vor dem Kai Tak Cruise Terminal sind, kann ich erkennen, dass wir bereits beim Anlegen sind.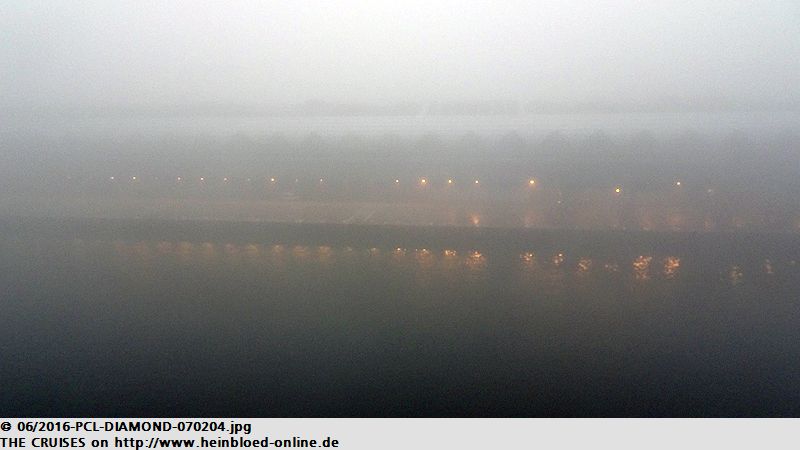 Once we arrived so close to the Kai-Tak-Terminal, I could see that we were already berthing.

Bruno and Frances too could not believe that we could not see anything of Hong Kong right now.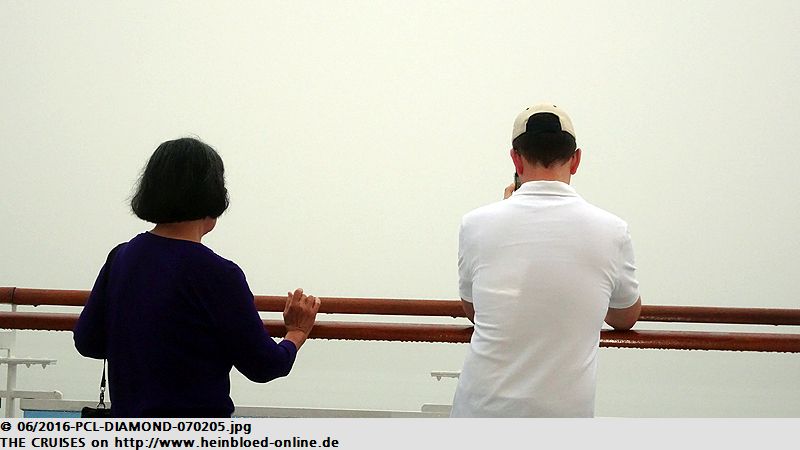 Auch Bruno und Frances können nicht glauben, dass man im Moment gar nichts von Hongkong erkennen kann.
Im Atrium Café werden wir jeden Morgen durch William bedient.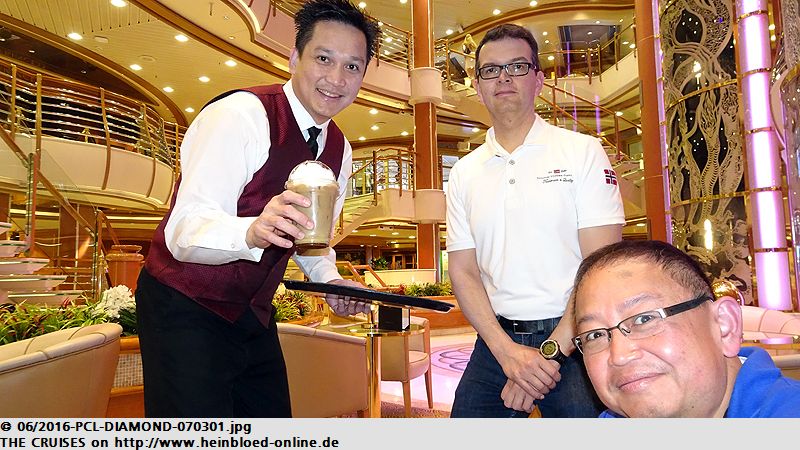 In the Atrium Café William was serving us.

Here they luckily had the stuff to wake me up.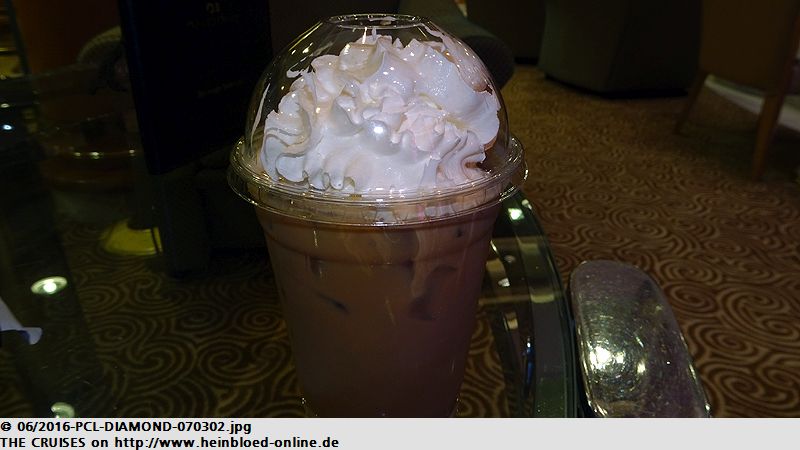 Hier gibt es zum Glück auch meine Muntermacher.
Ich bin übel gelaunt, als mir Frances erzählt, dass es an Bord Pitahaya (Drachenfrüchte) gibt. Gestern wurden sie wohl auf dem offenen Deck gereicht. Ich muss mir meine eigenen Früchte an Bord bringen. Und daher liebe ich Holland America: da konnte ich immer fragen und wenn sie eine an Bord hatten, habe ich sie auch bekommen. Hier frage ich und ich bekomme nichts. Außerdem bin ich immer noch sauer auf die Rezeption. Victor und Jorge sind diejenigen, die meinen Ärger abbekommen. Victor spricht mich an, warum ich eigentlich so unglücklich wirke. Ich erzähle ihm, dass ich sauer bin, weil sie wohl Drachenfrüchte an Bord haben und ich keine bekomme. Er sagt mir: "Warum haben Sie mir nicht gesagt, dass sie welche möchten? Ich bringe Ihnen soviele Sie wollen? Andere Gäste habe ich auch schon welche serviert!". Irgendwie komme ich mir schon leicht verarscht vor. Ich denke, dass es eben doch eher an der Schiffsleitung ist, wie man eben sauber kommuniziert, was an Bord verfügbar ist und was nicht. Und eben ganz allgemein der Umgang mit Gästen. Ich habe eh Schwierigkeiten mit der Schiffsführung. Wenn ich vom Bug zum Heck laufe: bei Norwegian oder Holland America: zu 99,9% werde ich nicht der erste sein, der grüßt. Hier ist es so: 1/3 grüßt zu erst, 1/3 grüßt mich zurück, wenn ich als erster grüße und 1/3 grüßt nicht zurück, selbst wenn ich als erster grüße. Das letzte 1/3 sind übrigens überwiegend Crew-Mitglieder mit Streifen auf den Hemden. Also warum sollte mich ein "unteres" Crew-Mitglied mich freundlich behandeln, wenn es die "oberes" schon nicht tut. Deswegen ist es gut, dass es auch Crew-Mitglieder wie Victor gibt, die eben positiv auffallen, weil merken, dass etwas nicht stimmt und etwas anbieten.

I was very upset when Frances told me that they had onboard dragon fruits. They offered them the day before on the open deck. I had to buy myself my own fruits and took them onboard. That was why I loved Holland America for: you could always ask if they had any on board and I got it. Here I asked, and I got nothing. And I was still upset on the front desk. Victor and Jorge were those who got all my anger. Victor was the one who was asking what was wrong that I was so unhappy. I told them that obviously, they had dragon fruits onboard and when I asked for I would not get any. He told me: "Why did not you just tell me that you liked to have some? I also served other guests some!". I felt mucked around somehow. I thought it was due to the ship's management how they communicate properly, what was available onboard and what was not. And especially the treatment of guest anyway. I had problems with the style of the ship's management. When I walked from the bow to the aft: with Norwegian or Holland America: 99.9% I would not be the first who would greet. Here it was: 1/3 was greeting first, 1/3 was greeting back if I was greeting them first, 1/3 did not reply to your greeting, even I was the first who was greeting. The last 1/3 was mostly from the crew-members with stripes on their shirts. So why should a "lower" tier crew-member treat me friendly if the "upper" tier crew-members would not do it? So it was good to have crew-members like Victor who could feel that something was wrong and offered something good.

Again back on the place of my nightmares: Kai Tak Cruise Terminal. I did not have the floor in my best memories... Then on CELEBRITY MILLENNIUM 2014 when we had to sit on the floor to fill out all immigration forms while the crew was sitting on chairs at tables. One issue both companies shared: pre-phoning the onboard time. On April 17, they still showed 17:30 hrs and one day later it was 17:00 hrs. Apart from that it was very professionally organized and signposted in Hong Kong. And so I was learning the Chinese name of DIAMOND PRINCESS too: 鑽石公主 Zuànshí Gōngzhǔ.

Mal wieder an meinem Albtraumort: Kai Tak Cruise Terminal. Ich habe diesen Boden nicht in bester Erinnerung... Damals mit der
CELEBRITY MILLENIUM 2014
, als wir hier auf dem Boden saßen, um die ganzen Zollformulare auszufüllen und die Crew auf Stühlen an Tischen saßen. In einem nehmen sich allerdings beide nichts: Vorverlegen der an-Bord-Zeit. Am 17.04. wird noch 17:30 Uhr angezeigt und ein Tag später ist es 17:00 Uhr. Ansonsten ist wie in Hongkong üblich alles sehr professionell organisiert und beschriftet. Und so lerne ich sogar den chinesischen Namen der DIAMOND PRINCESS kennen: 鑽石公主 Zuànshí Gōngzhǔ.
Wir werden nach Kwun Tong gebracht. Es ist eigentlich nicht der nächste U-Bahnhof, aber es hat ein Shopping Center im Haus (
APM Mall
) für die wir auch Coupons bekommen, wenn wir dort essen. Sie gelten nur am 1. Tag. Nach wenigen Minuten kommen wir unter dem Einkaufscenter an.

We were taken to Kwun Tong. Actually, it was the closest subway station, but it had a shopping-center in the building (APM Mall), for which we also got some coupons to dine there. But you could use them only the first day. After a few minutes, we arrived below the shopping center.

We wanted quickly to see the subway or better called MTR in Hong Kong.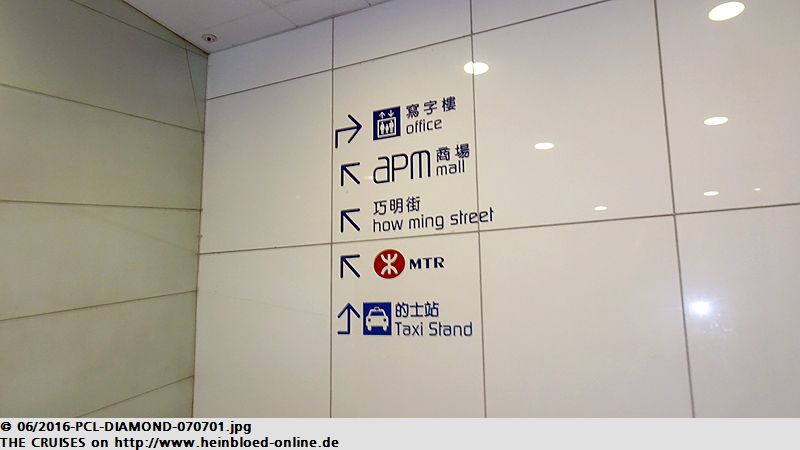 Wir wollen schnell zur U-Bahn, die in Hongkong
MTR
genannt wird.
Man muss natürlich einmal quer durch die Mall.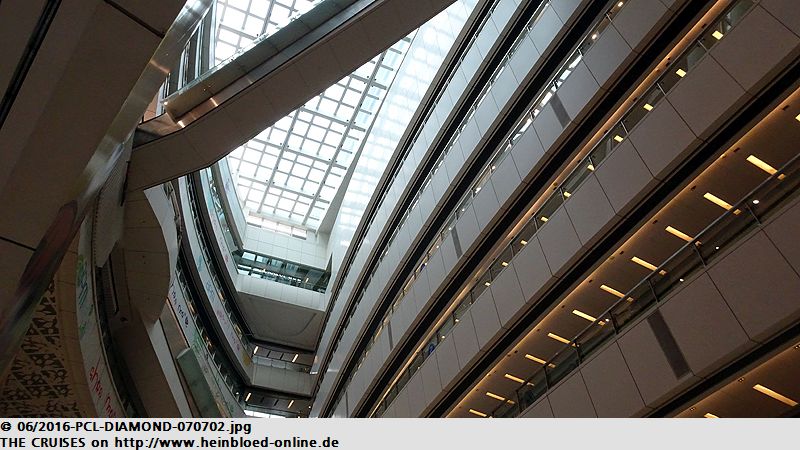 Certainly, you needed to trespass the entire mall.

And many temptations in the market stands.

Und viele verführerische Stände.
Mit vielen leckeren Sachen.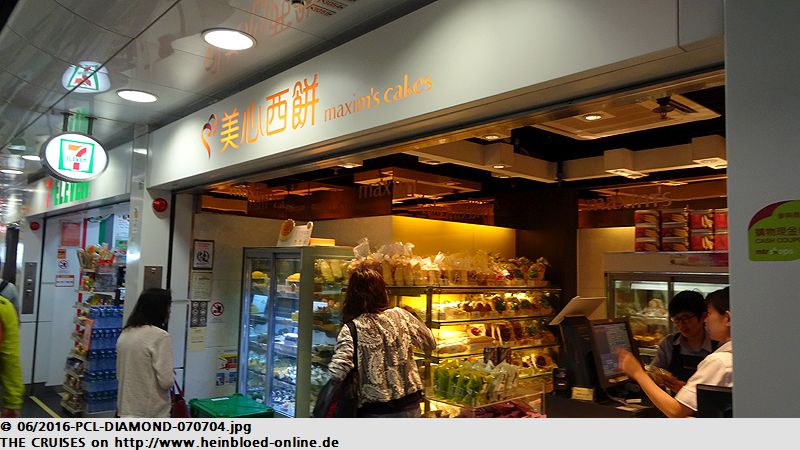 With a lot of yummy food.

First, we need to get the Octopus-Cards which were valid for all means of public transport and partly also for purchases. 50 HKD deposit plus 100 HKD credit for a standard for which they deduct the regular fare and 20 HKG credit for seniors (65+). When you returned the card, you could get the remained credit and the deposit back. So we saved all the time to buy single-ride tickets and could just tap on the RFID reader. We need to fill up a small amount for the seniors before we could start the rides.

Zunächst besorgen wir uns
Octopus-Karten
, die für alle öffentlichen Verkehrsmittel und z. T. für Einkäufe genutzt werden können. 50 HKD Pfand und 100 UKD Erstguthaben für normale, für die dann die normalen Fahrpreise abgezogen werden und 20 HKD Erstguthaben für Senioren (65+). Bei Rückgabe bekommt man das Restguthaben und das Pfand zurück. So sparen wir jedes Mal, dass wir immer erst Einzeltickets lösen müssen und können direkt unsere Karte an den RFID-Leser halten. Einen kleinen Betrag müssen wir noch für die Senioren auffüllen, bevor wir fahren können.
Weiter geht es Richtung Fährhafen.

We were heading to the ferry pier.

The smell of Hong Kong... the well-smelling port = the meaning of Hong Kong.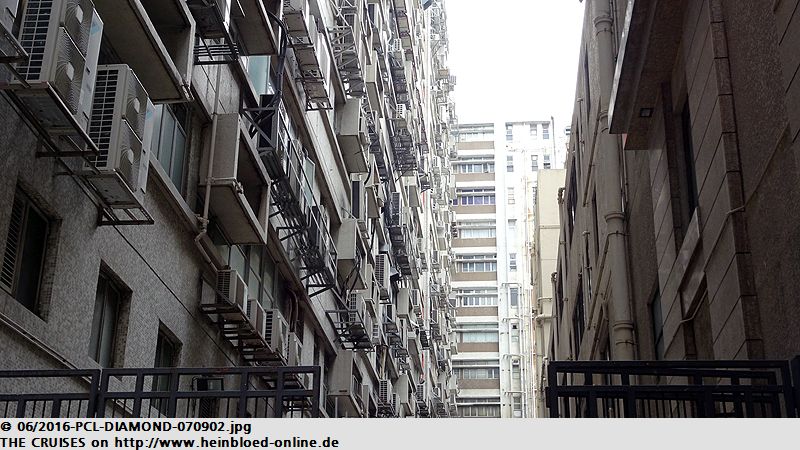 Der Duft von Hongkong... der duftende Hafen = die Bedeutung von Hongkong.
Wir nutzen die Chance uns noch mit HKD aus dem Geldautomaten zu versorgen. Man bekommt also auch mittlerweile über all CNY (Chinesische Yuan = RMB = Renmenbi) an den Geldautomaten.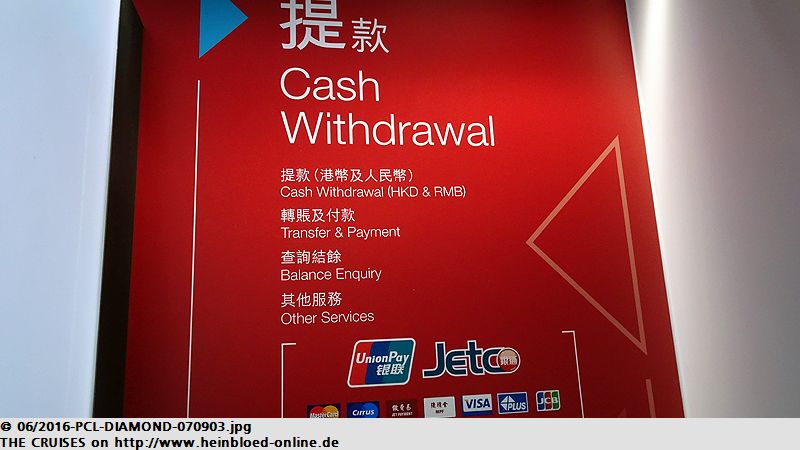 We used the chance to get some HKD from an ATM. You could also get everywhere CNY (Chinese Yuen = RMB = Renmenbi) at the ATMs.

Just before arriving at the ferry pier there was a small fish market hall. There they had some interesting restaurants. But they were not open yet, and I still was not hungry so far.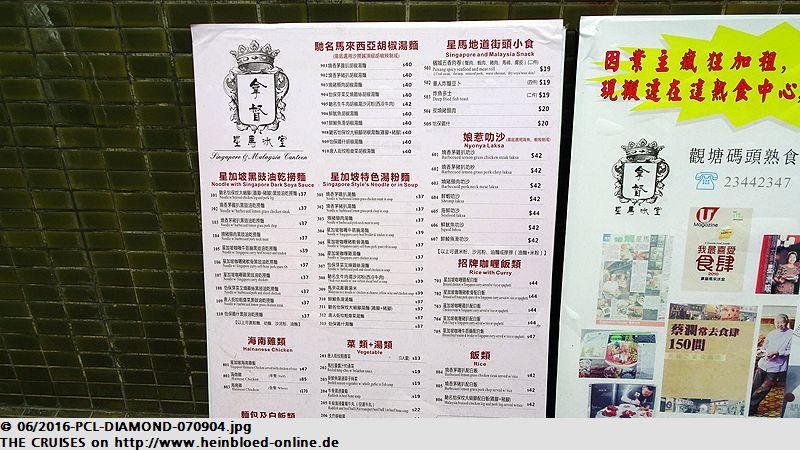 Kurz vor dem Fähranleger ist eine kleine Fischmarkthalle. Dort gibt es wohl einige sehr interessante Restaurants. Aber sie haben noch nicht geöffnet und ich habe noch keinen Hunger.
Mit
Fortune Ferry
geht es rüber nach North Point.

We took Fortune Ferry over to North Point.

So we were passing alongside the Kai Tak Cruise Terminal.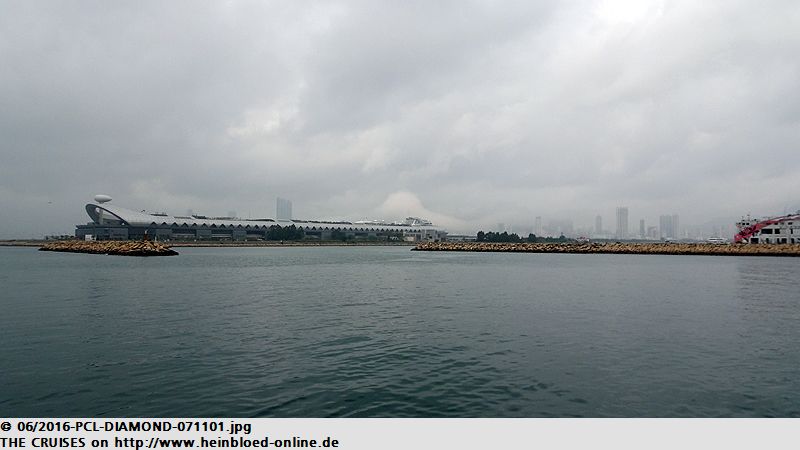 Hier fahren wir schön am Kai Tak Cruise Terminal entlang.
Und kaum zu sehen: MEINE DIAMOND PRINCESS.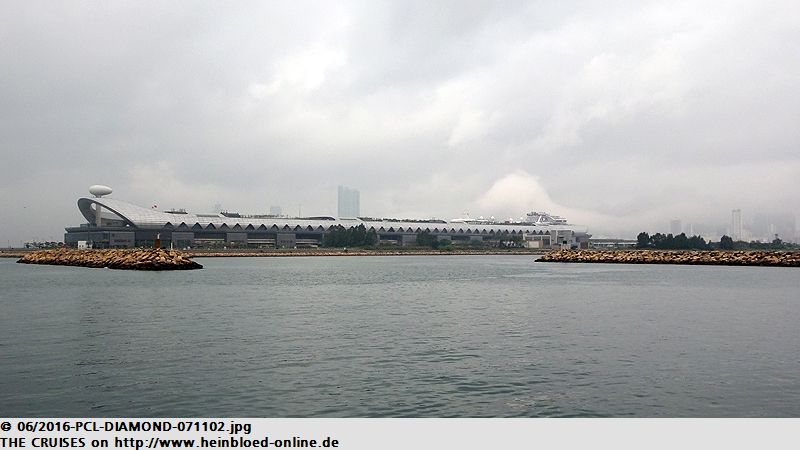 And barely to identify: MY DIAMOND PRINCESS.

So far, I never made it on the roof garden to watch.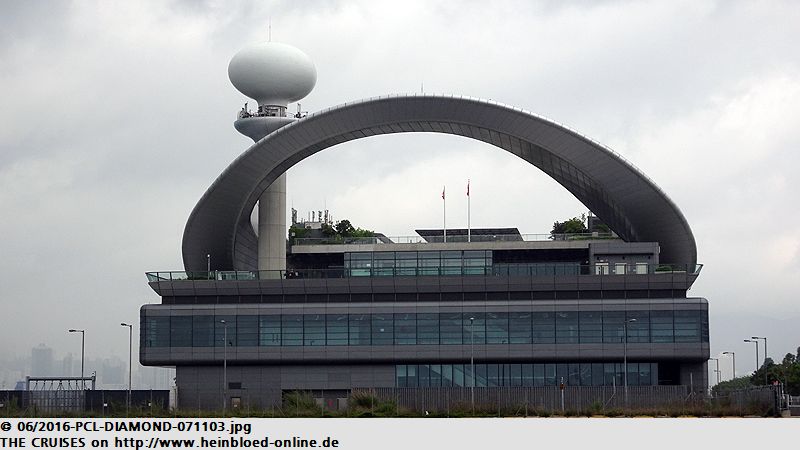 Ich habe bislang immer noch nicht geschafft, hoch zum Dachgarten zu gehen und gucken.
Von Victoria (die Hauptinsel Hongkongs) sehen wir nicht viel.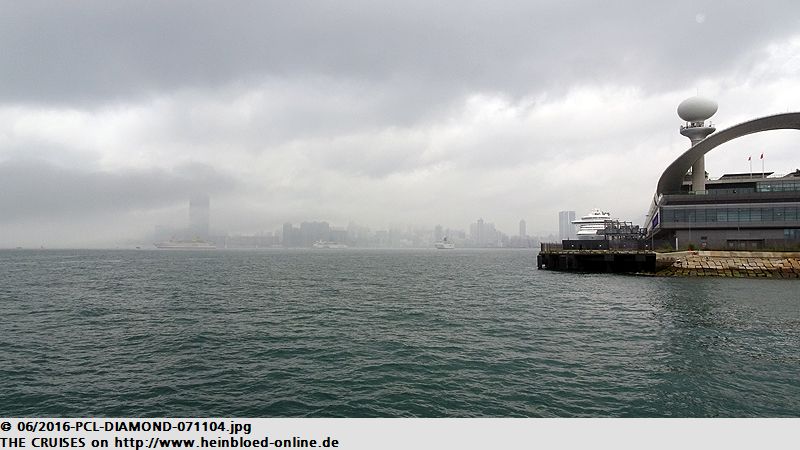 There was no much of the main island of Hong Kong: Vitoria to see.

Unfortunately, it was still so foggy that none clear pictures of MY DIAMOND PRINCESS could be taken.

Leider ist der Nebel immer noch so dicht, dass es keine gescheiten Bilder von MEINER DIAMOND PRINCESS gibt.
Die Casino-Schiffe, die hier ihr Gnadenbrot verdienen. Wer erkennt hier sofort die PALOMA I... heute NEW IMPERIAL STAR... ganz früher DMITRIY SHOSTAKOVICH...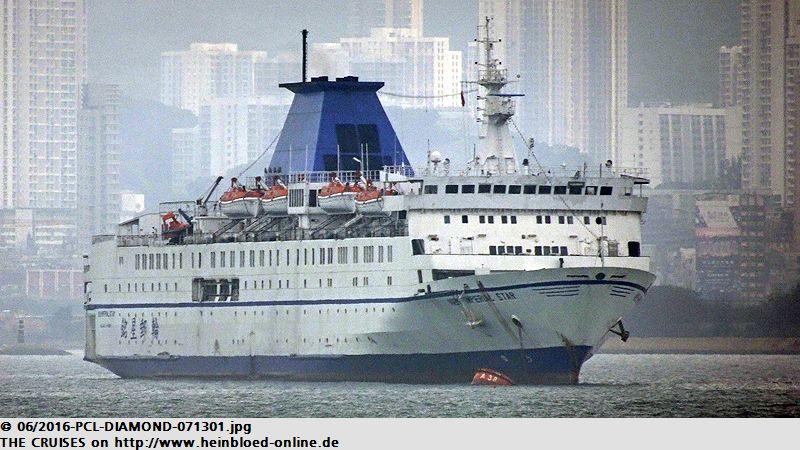 The casino-ships who were earning their mercy bread. Who might remember PALOMA I, today's NEW IMPERIAL STAR... in her very beginning DMITRIY SHOSTAKOVICH...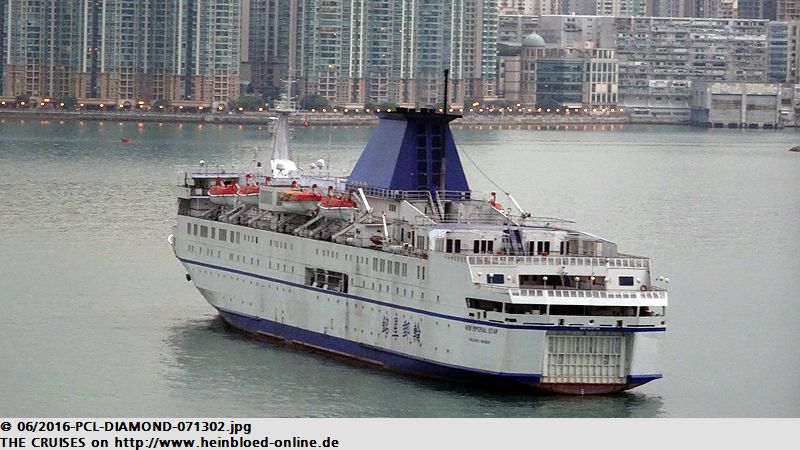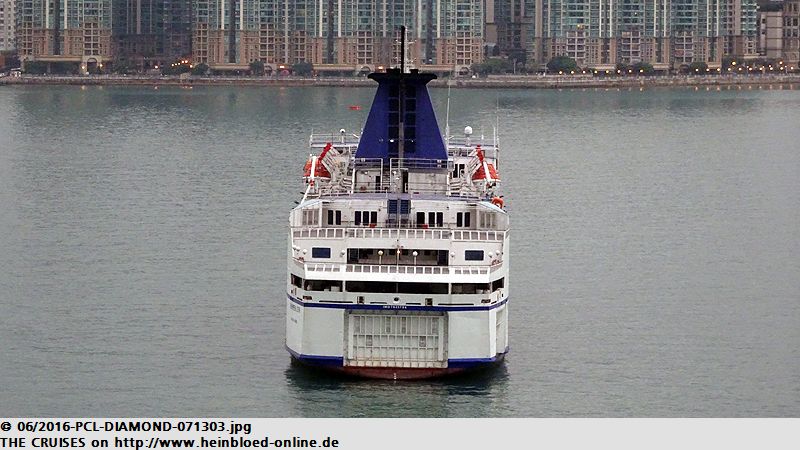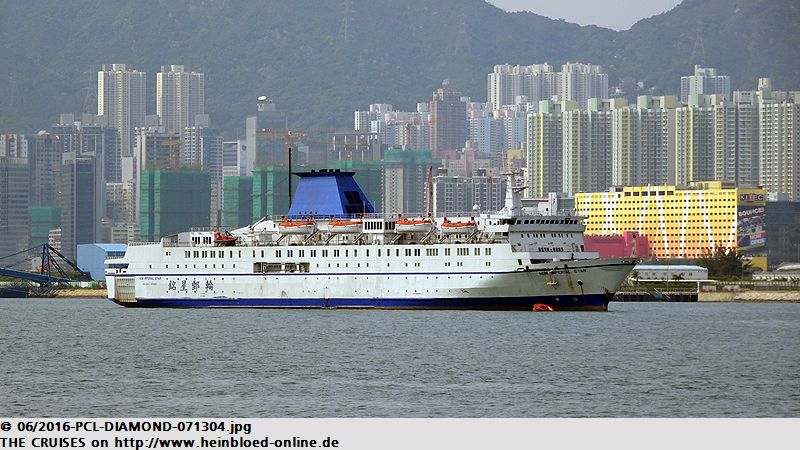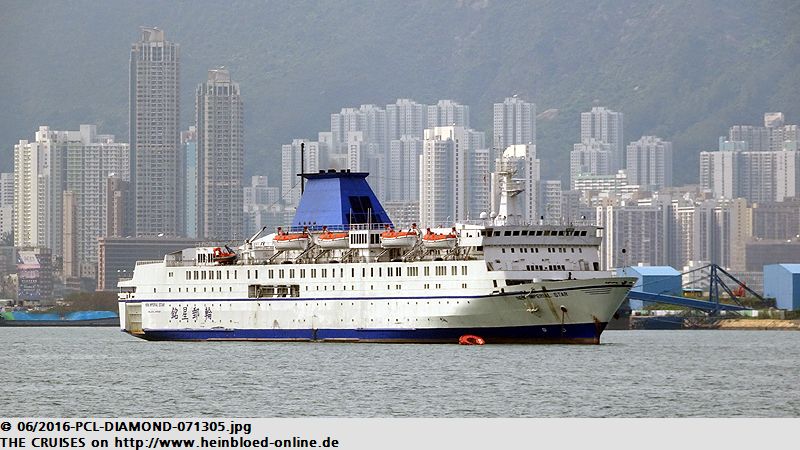 CHINA STAR... built as RADISSON DIAMOND and later active as OMAR STAR and ASIA STAR.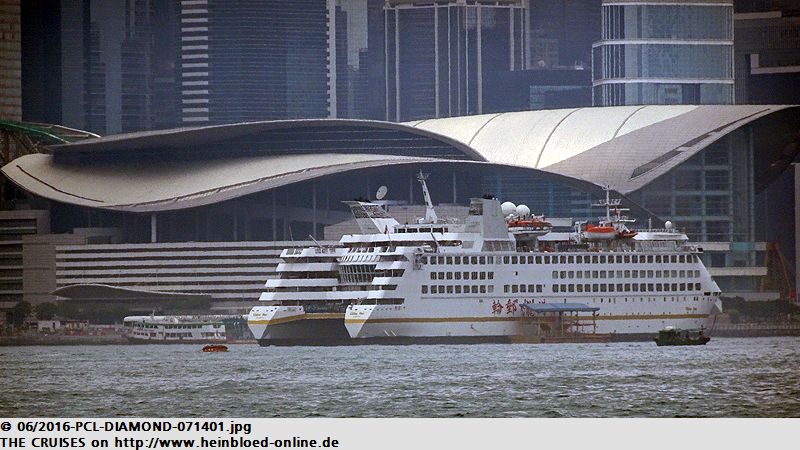 Die CHINA STAR... gebaut als RADISSON DIAMOND und später noch als OMAR STAR und ASIA STAR unterwegs.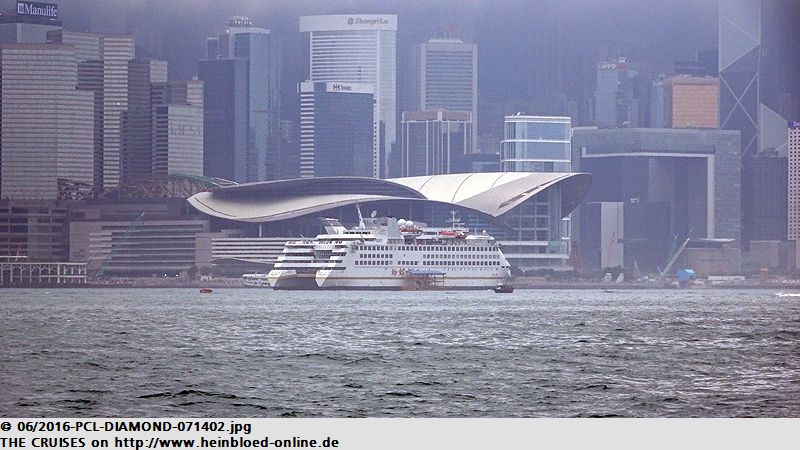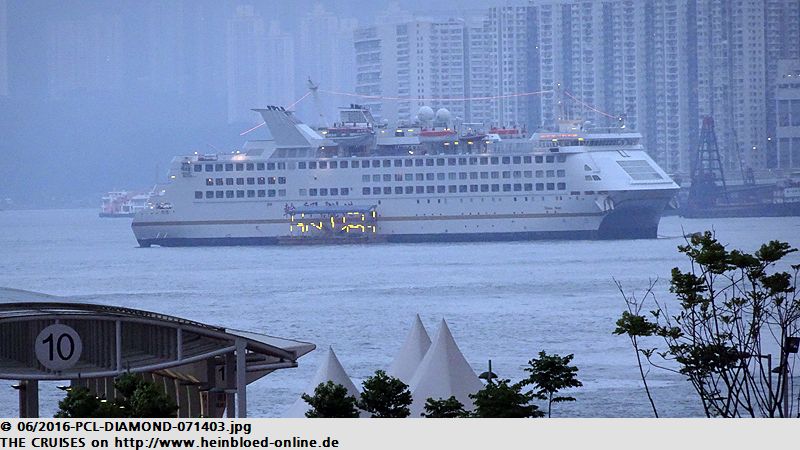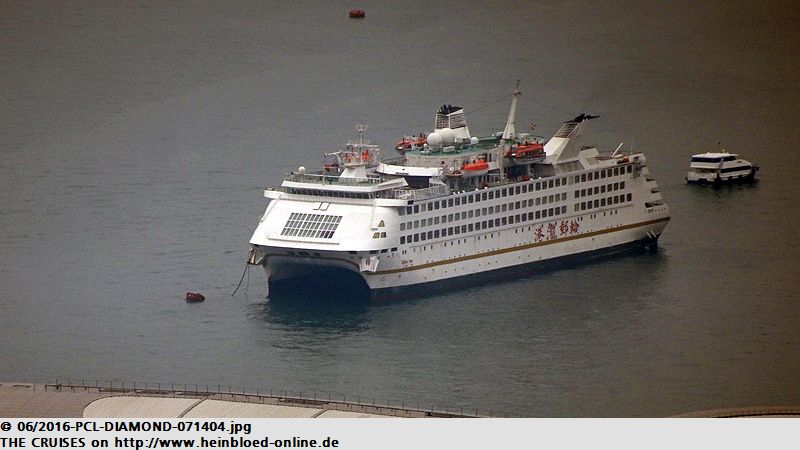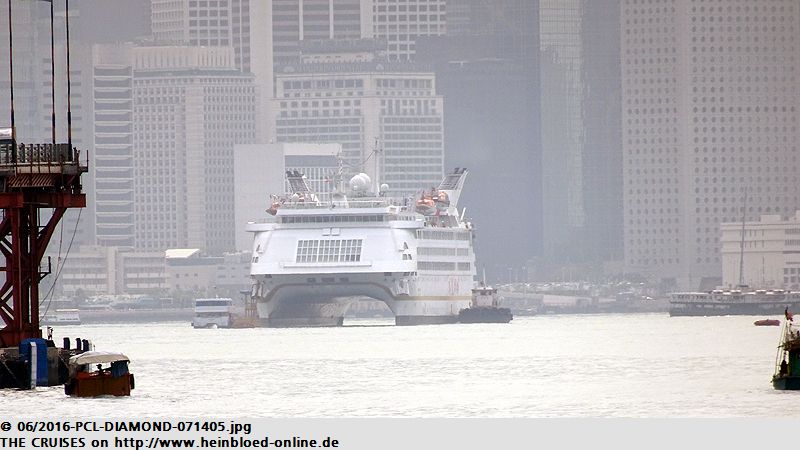 REX FORTUNE. Bei uns besser bekannt als ASTRA II oder GOLDEN ODYSSEY oder OMAR II oder MACAO SUCCESS.

REX FORTUNE. Better known with us as ASTRA II or GOLDEN ODYSSEY or OMAR II or MACAO SUCCESS.

STARRY METROPOLIS... constructed then as KARELIYA and sister of BELORUSSIYA (better known with us as DELPHIN). In between on the seas as LEONID BREZHNEV, OLVIA, NEPTUNE or CT NEPTUNE.

STARRY METROPOLIS... als KARELIYA gebaut und Schwester der BELORUSSIYA (besser bei uns als DELPHIN bekannt). Zwischendurch auch als LEONID BREZHNEV, OLVIA, NEPTUNE bzw. CT NEPTUNE unterwegs.
Last not least: ORIENTAL DRAGON. Gebaut als SUN VIKING und später unterwegs als SUPERSTAR SAGITTARIUS, HYUNDAI PONGNAE, PONGNAE, OMAR III, LONG JIE.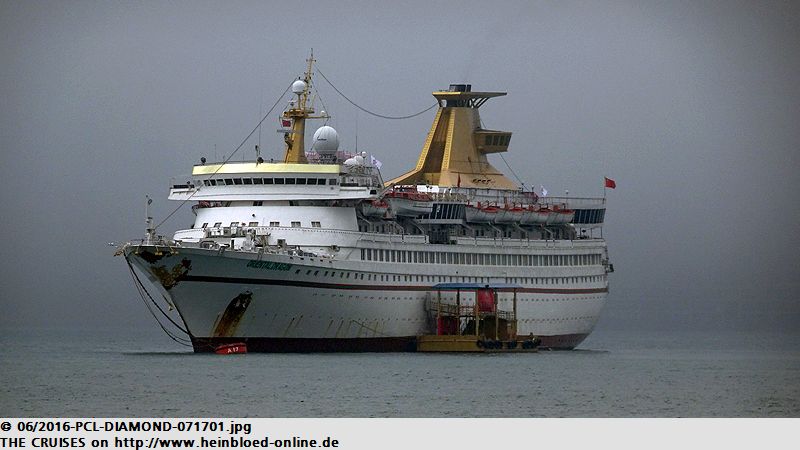 Last not least: ORIENTAL DRAGON. Built as SUN VIKING and later on tour as SUPERSTAR SAGITTARIUS, HYUNDAI PONGNAE, PONGNAE, OMAR III, LONG JIE.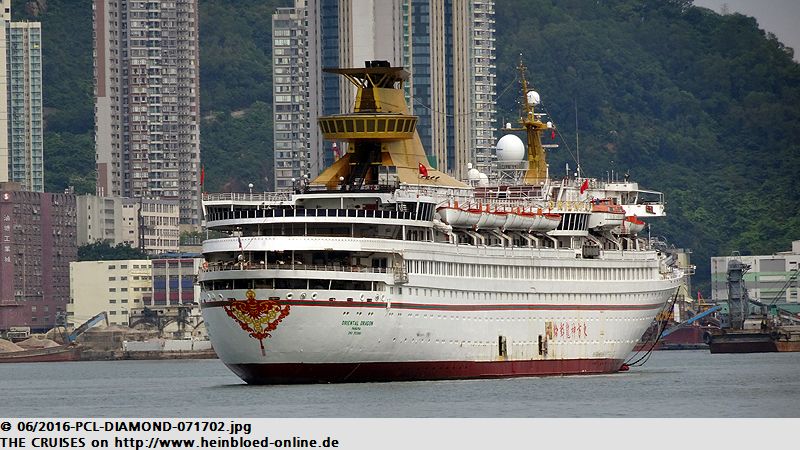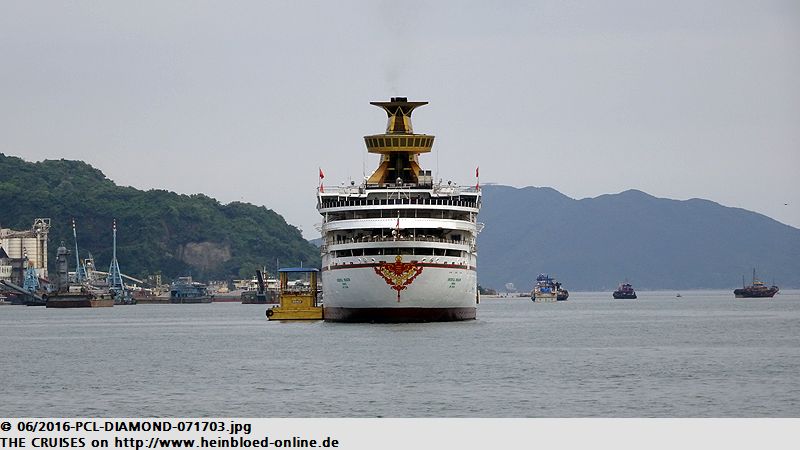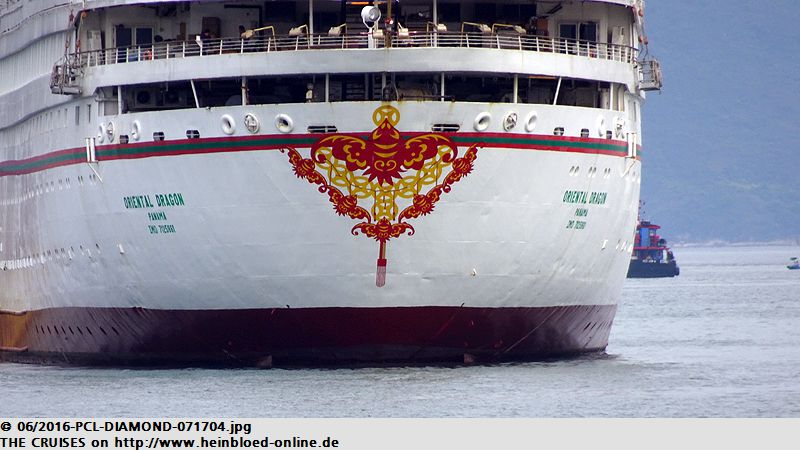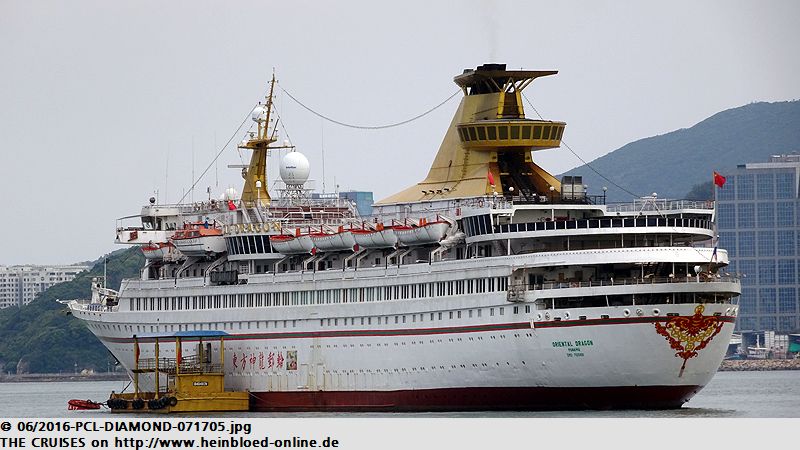 Somehow the fog made Hong Kong to a special experience in the camera.

Irgendwie machte der Nebel Hongkong schon zu einem besonderen Erlebnis vor der Kamera.
Am North Point geht es direkt mit der nächsten
Fähre von First Ferry nach Hunghom
weiter. Hier kaufe ich eine leckere Süßigkeit bei 7 Eleven: ein gesüßter frittierter Teig mit Cashew: Lecker. Heute ist Sonntag: da haben viele philippinische Hausmädchen frei und treffen sich hier in der Stadt. Außerdem gucken wir das reichhaltige Angebot von Meeresfrüchten an den Verkaufsständen an.

At North Point we continued with the next ferry of First Ferry to Hunghoma. Here I bought some sweet treats with 7 Eleven: a sweet deep-fried dough with cashew: yummy. Today was Sunday: so many of the Philippines housemaids had their day off and met here in the city. Furthermore, we checked the rich variety of seafood at the market stands.

When we arrived, we checked for an option to head on towards Nathan Road. But there was only a mini-bus available. On the way to the bus station, we passed a ship.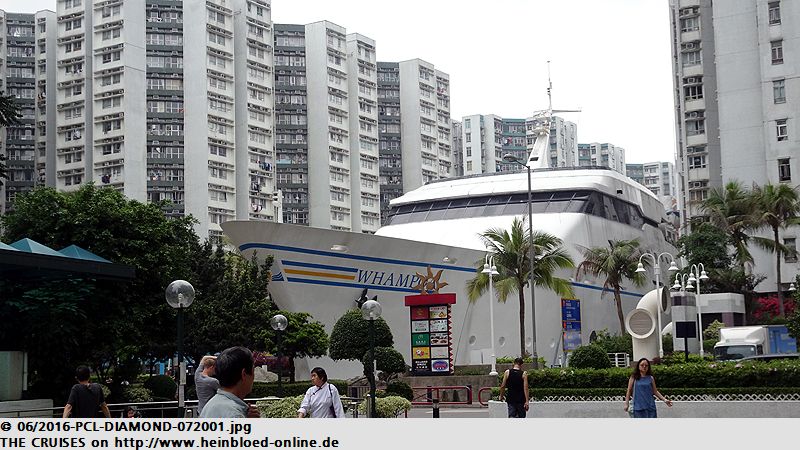 Als wir ankommen, suchen wir eine Möglichkeit weiter Richtung Nathan Road zu kommen. Hier fährt aber nur ein Mini-Bus. Auf dem Weg zum Busbahnhof kommen wir an einem Schiff vorbei.
WHAMPOA
. Teil eines Einkaufszentrums.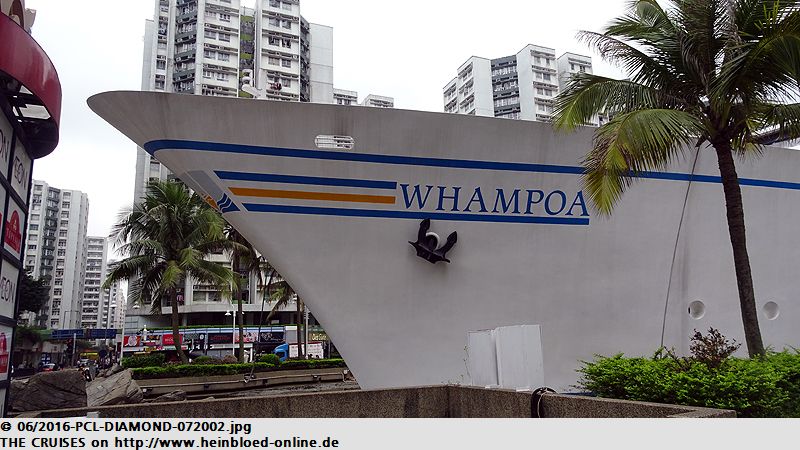 WHAMPOA. Part of a shopping center.

The two girls were very friendly. When we asked for the way, they were so kind and showed us the way to the bus station.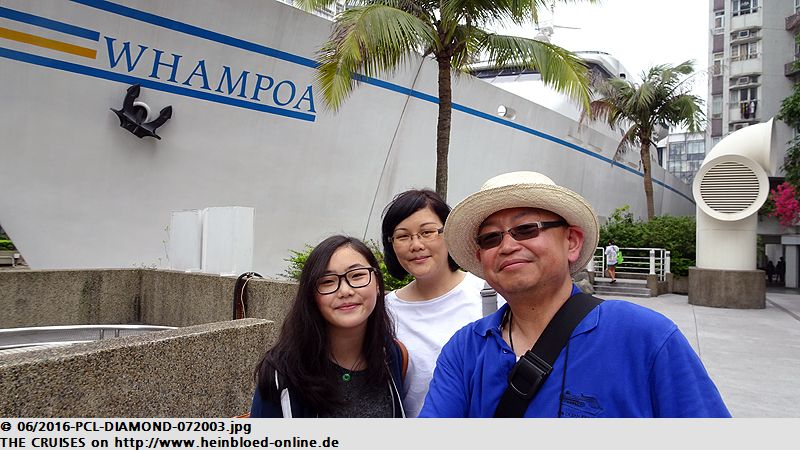 Die zwei Mädels waren sehr nett. Wir haben sie nach dem Weg gefragt und sie haben uns den Weg zum Busbahnhof gezeigt.
Und da wollen wir natürlich alle ein Foto haben.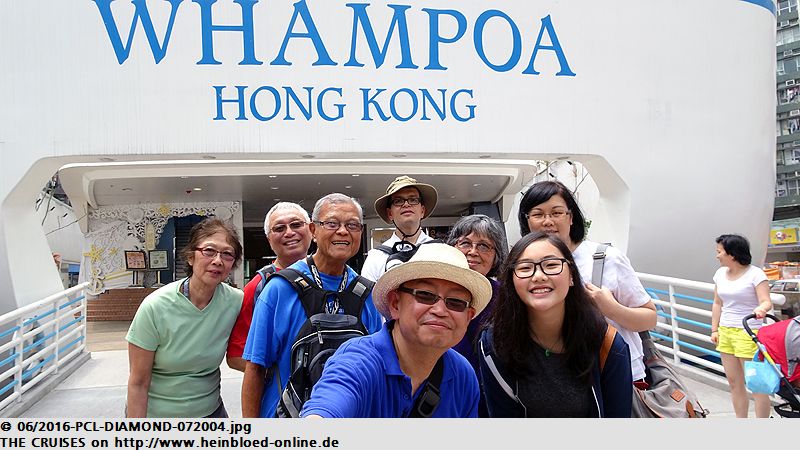 And of course, we wanted to have a photo with them.

We should take Express bus 30X which would move us extremely fast to the section of Nathan Road, I wanted to go.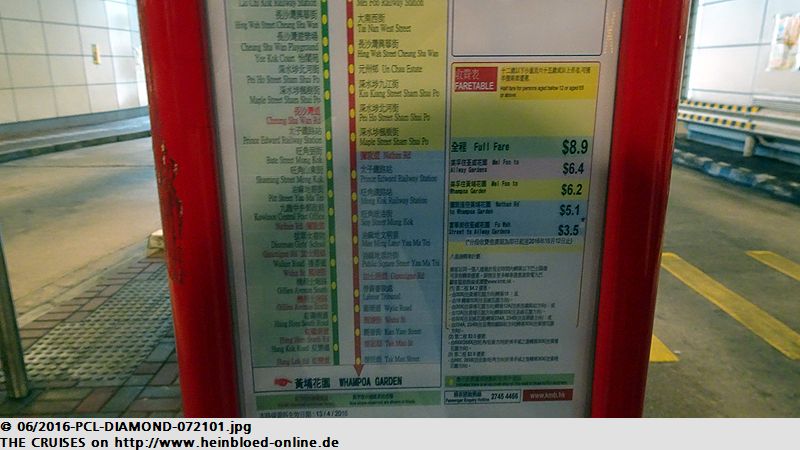 Mit dem Expressbus 30X soll es besonders schnell zu dem Abschnitt der Nathan Road gehen, zu dem ich hin will.
Für die Fahrt werden 8,90 HKD pro normalem Fahrgast von der Octopus-Karte abgezogen.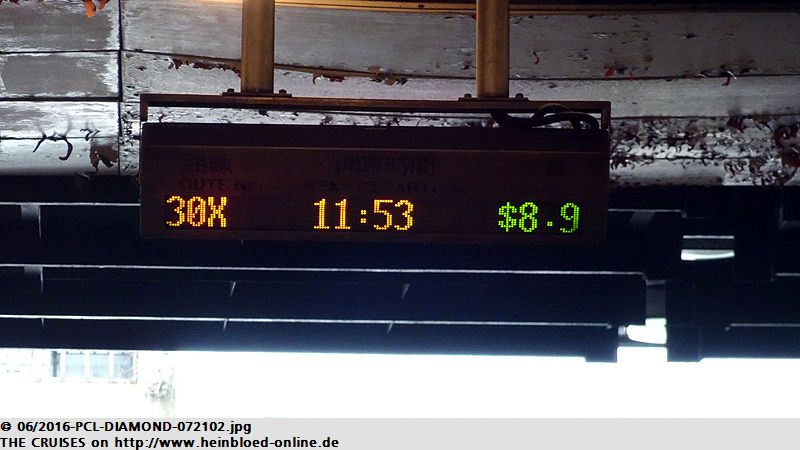 For the journey 8.90 HKD were deducted from the Octopus-Card per regular passenger.

Here you were queuing bravely when you waited for the bus. Heritage of the Britons.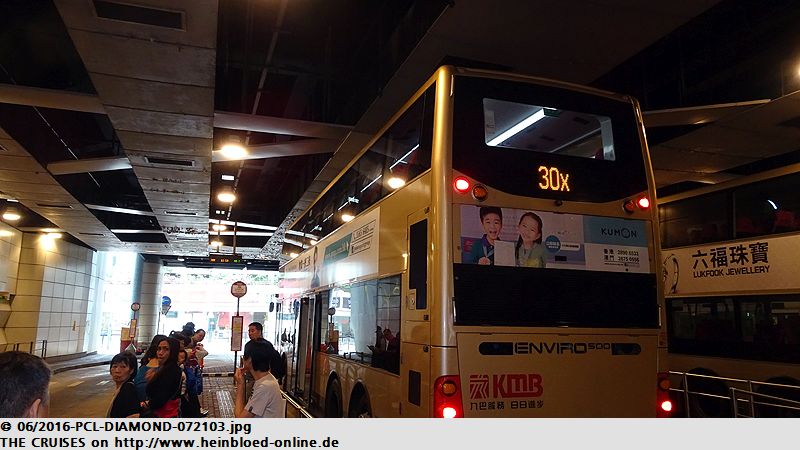 Hier stellt man sich brav in einer Reihe auf, wenn man auf den Bus wartet. Überlieferungen von den Briten.
Es ist ein wenig kalt wegen der Klimaanlage.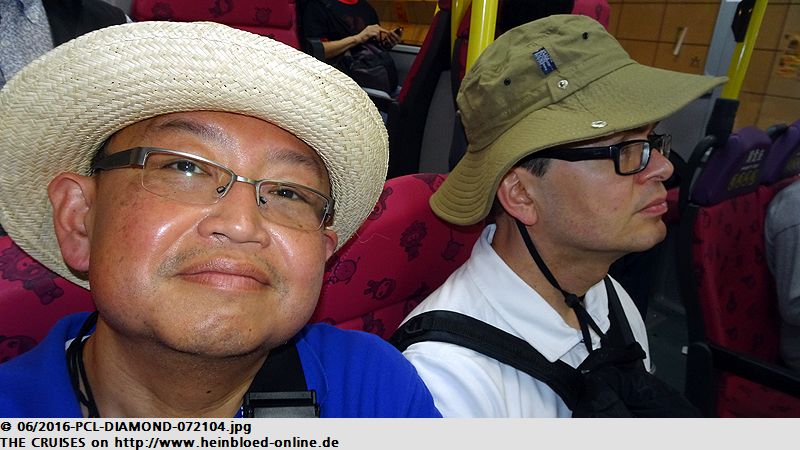 It was a little cold because of the air-condition.

All men onboard.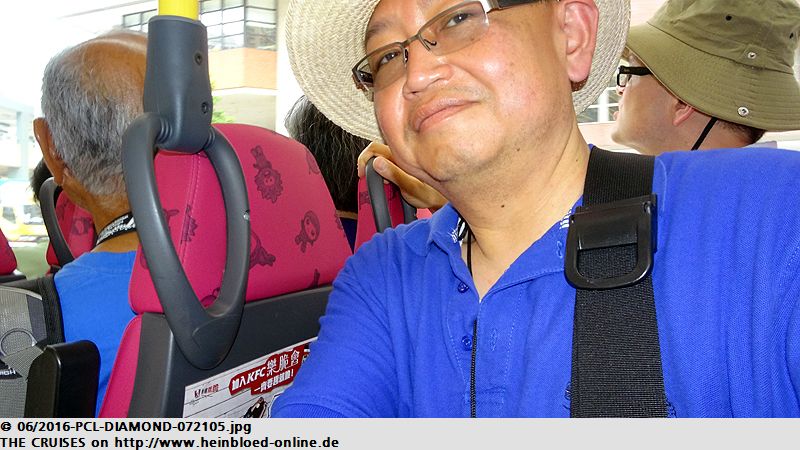 Alle Mann an Bord.
Ankunft Nathan Road.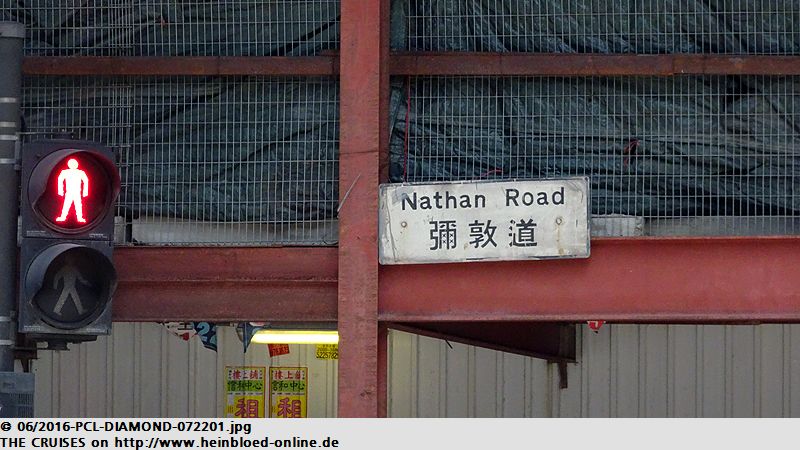 Arriving on Nathan Road.

Somehow that was for me pure Hong Kong.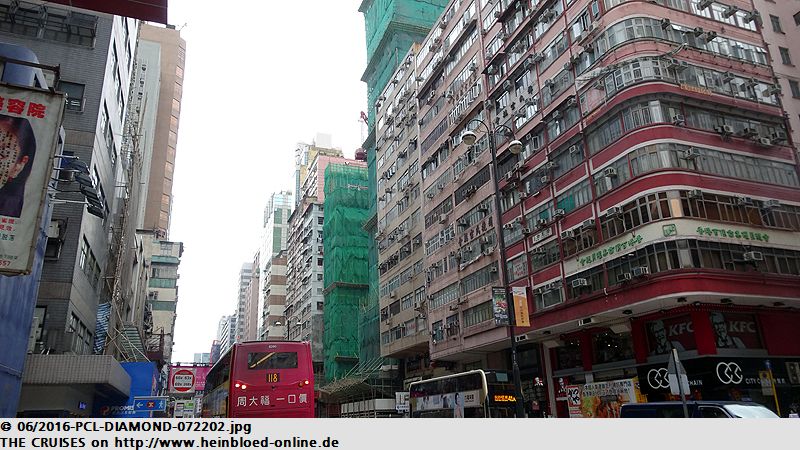 Irgendwie ist das für mich Hongkong pur.
Ich suche das Restaurant, in das ich möchte.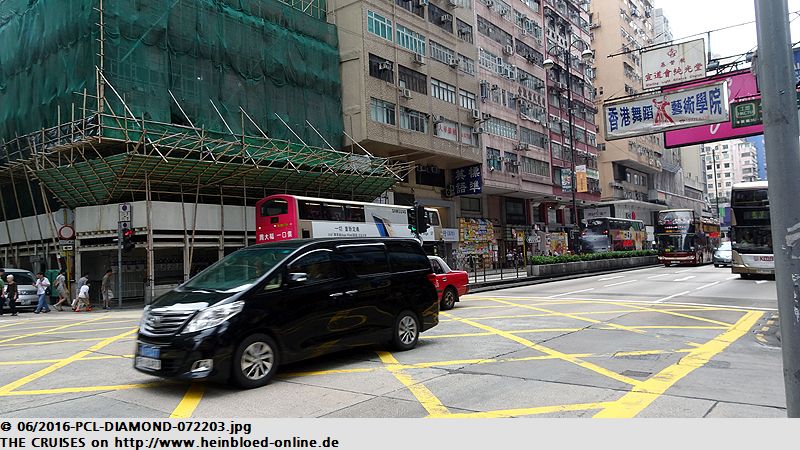 I was looking for a restaurant I wanted to go to.

Even here you could find everywhere the marks on the sidewalk to queue up if you want to board a specific bus.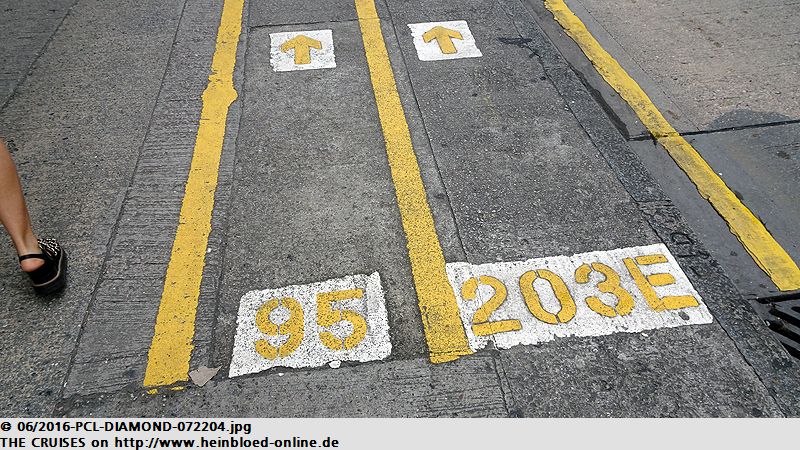 Sogar hier sind überall die Markierungen auf dem Bürgersteig eingezeichnet, wie man sich anstellen muss, wenn in einen bestimmten Bus will.
Es geht wieder in das
Restaurant London
. Hier waren wir schon mal während unserer Reise auf der
ZAANDAM 2012
. Damals war es gut. So freue ich mich darauf hier wieder essen zu können. Ich liebe die Atmosphäre: unverändert. Drei Möglichkeiten zu Speisen zu bekommen: entweder von der Karte bestellen - oder an der Theke holen gehen und das Zählblatt mitführen oder vom Wagen, die vorbeikommen sich etwas geben lassen.

We were heading again to Restaurant London. Here we went already on our voyage on ZAANDAM 2012. Then it was excellent. So I was looking forward to eating here again. I loved the atmosphere: unchanged. Three options to get the dishes: you could order from the menu - or you could collect at the counter and taking your registration sheet with you, or you could pick from the trolleys which were passing by.

We did not make a reservation. We got a table immediately. Within seconds they cleared the table and adjust the board of the table to the size of our party and re-set the table.

Wir haben nicht reserviert. Wir bekommen sofort einen Tisch. Innerhalb weniger Sekunden ist alles abgetragen, die Tischplatte an unsere Gruppengröße angepasst und neu für uns eingedeckt.
Die ersten Sachen kommen, die wir aus den vorbeifahrenden Wagen erhalten. Der Verzehr wird auf dem Zählzettel vermerkt.

The first dishes came which we got from the passing trolleys. The consumption was recorded on the registration sheet.

A few small goodies we could get from the buffet. Everything was prepared freshly here.

Ein paar Kleinigkeiten holt man sich hier am Büffet. Dort wird alles frisch zubereitet.
Ein paar Kleinigkeiten bestelle ich auch à la carte. Hier muss man gebratenen Reis essen.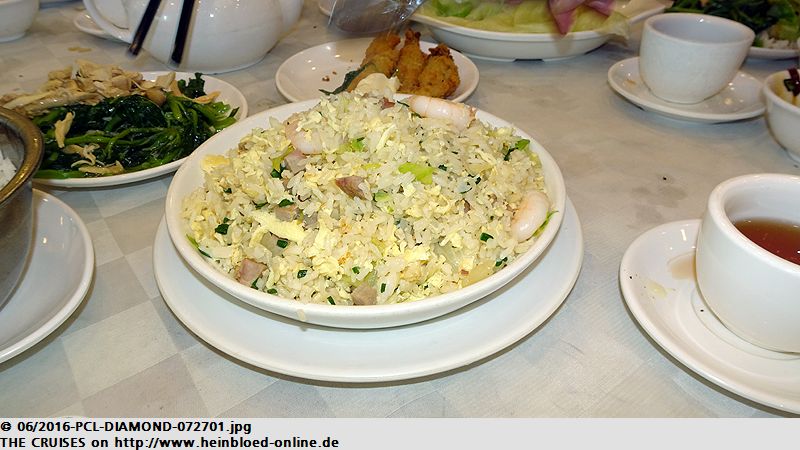 A few small goodies I ordered à la carte too. Here you had to eat fried rice.

Vegetables with shrimps were always good.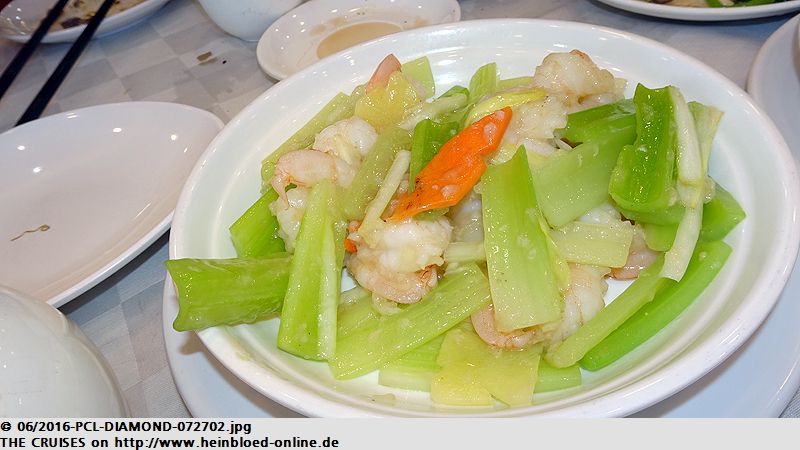 Gemüse mit Shrimps ist immer gut.
Ich mag sehr den Mini-Pak-Choi.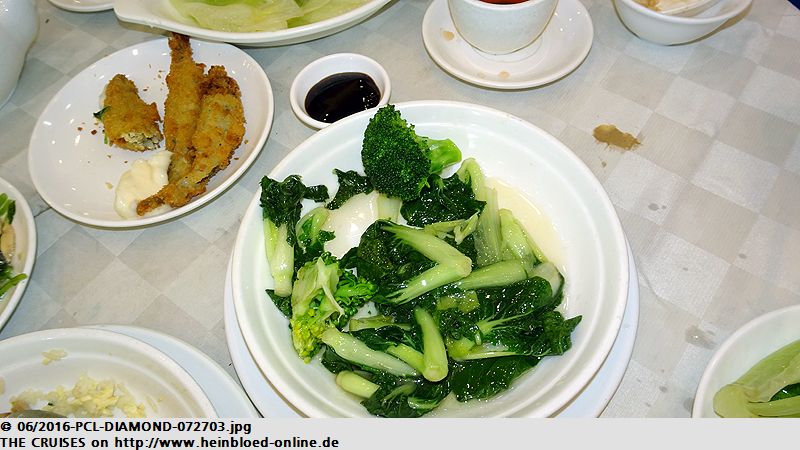 I liked very much the mini pak-choi.

And some suckling pig was a must.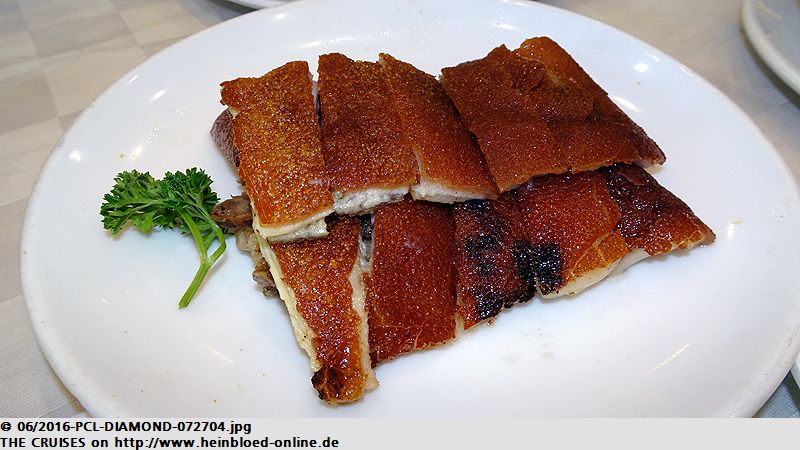 Und ein wenig Spanferkel muss sein.
Ich bin kein Dessert Fan. So bestelle ich nur etwas für die anderen. Die sind aber von den Mango-gefüllten Reiskugeln so begeistert, dass wir noch welche für Bruno und mich und für die anderen noch ein paar Portionen zum Mitnehmen. Frances meint, dass es die besten japanischen Reiskugeln sind, die sie je im Leben gegessen hat.

I was no fan of desserts. So ordered only some for the others. They liked so much the mango-stuffed rice dumplings that we ordered some for Bruno and me too and for the others few portions to go. Frances said that the Japanese rice dumplings were the best she ever had in her life.

At the exit, we saw that we could order any kind of possible and impossible dishes like shark fin and many more which I did not like.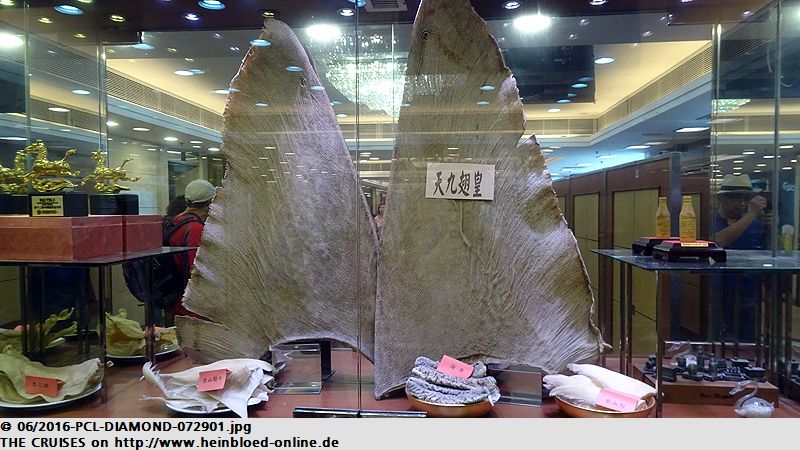 Am Ausgang sehen wir dann, dass wir alle möglichen bzw. unmöglichen Sachen noch hätten bestellen können, wie Haifischflossen und vieles andere, was ich nicht so mag.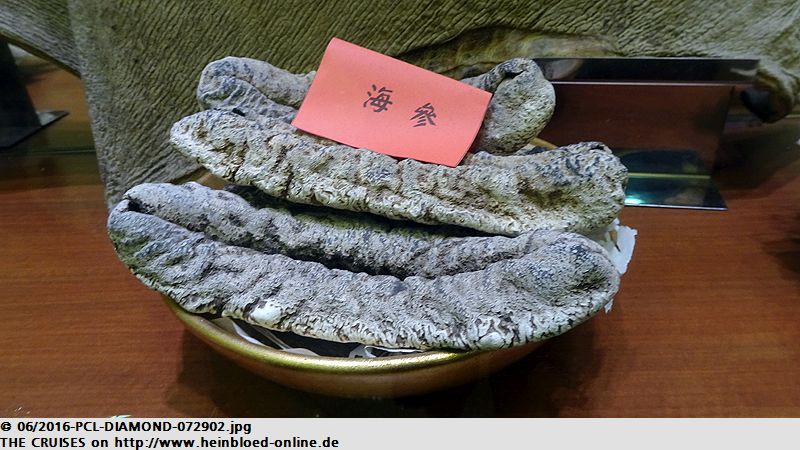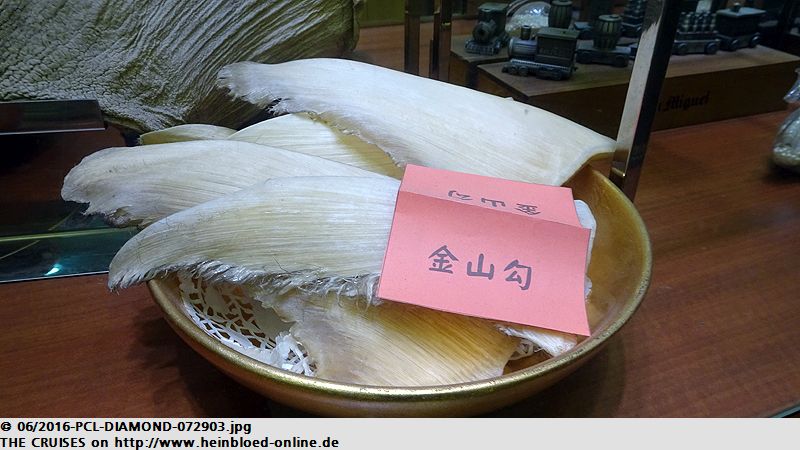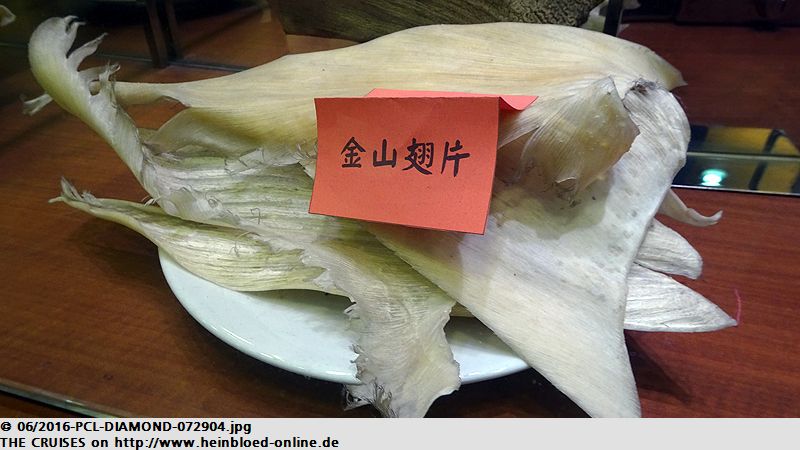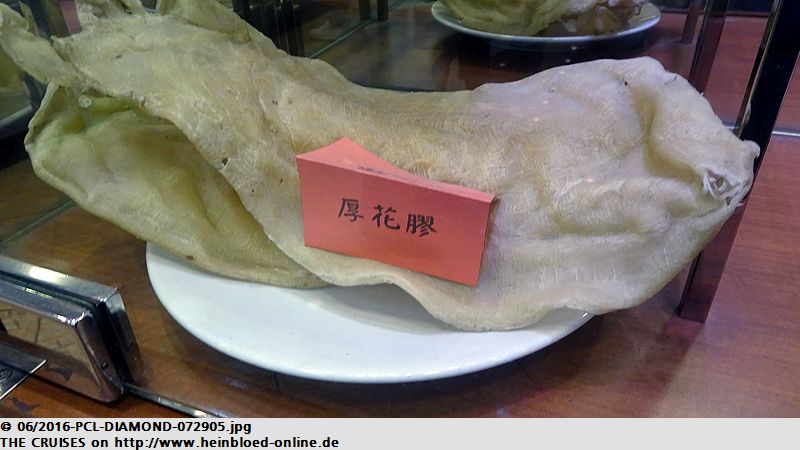 Die anderen Reisen in diesem Blog/
The other voyages in this blog: