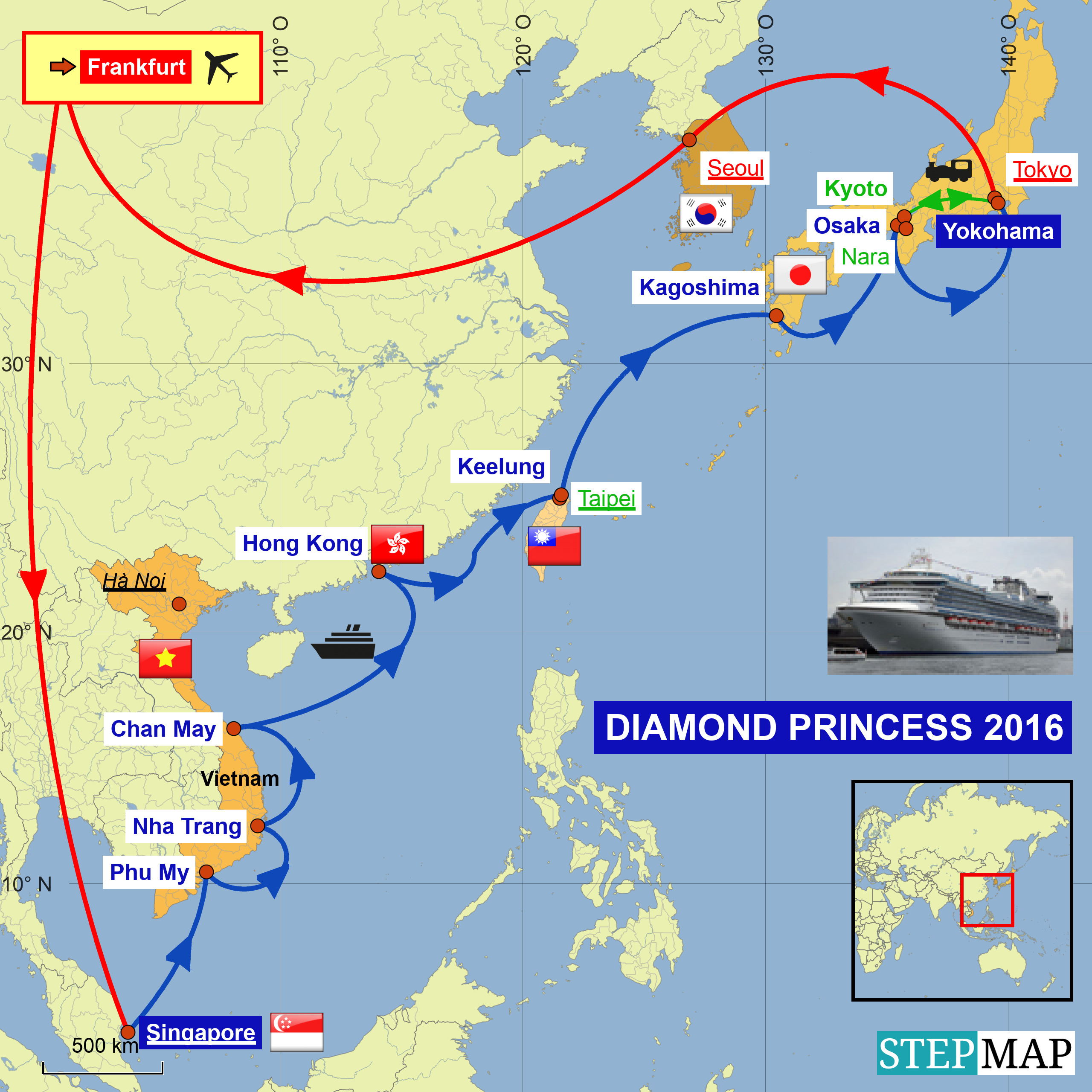 Es geht zum Frühstück. Irgendwie kommt mir diese Tageskarte schon bekannt vor.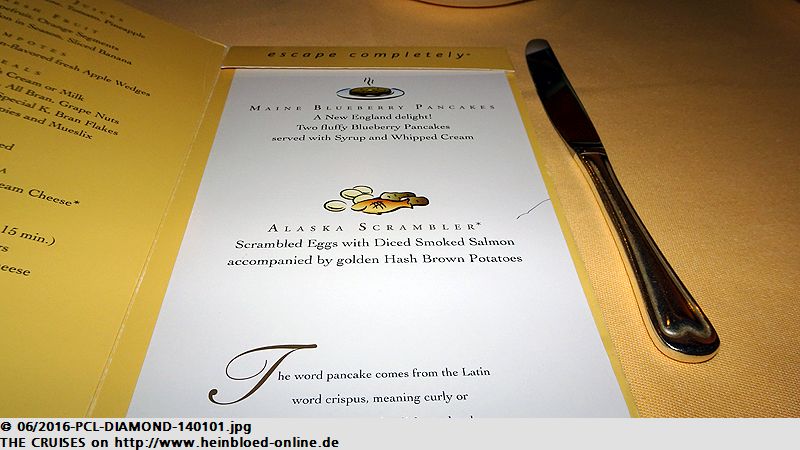 We headed for breakfast. The menu of the day looked familiar to me.

I tried to order an omelet made of one single fresh egg. But that did not work as usual. 2-3 eggs were normal.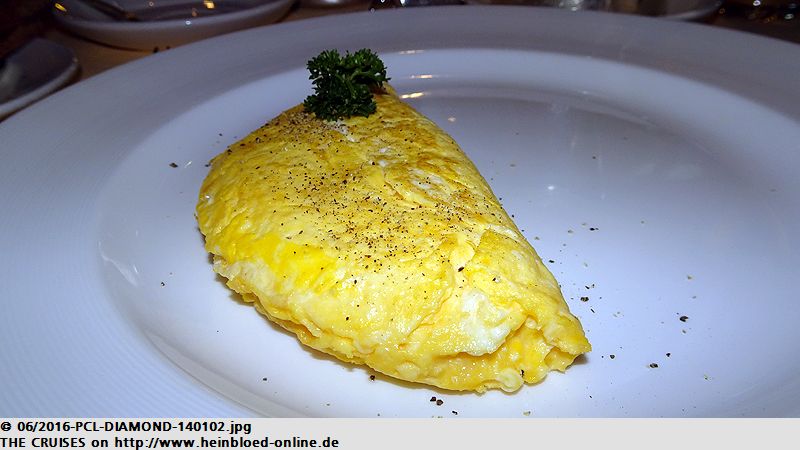 Ich bemühe mich einfach ein Omelette aus einem frischen Ei zu bestellen. Das gelingt mir wie üblich nicht. So 2-3 Eier sind hier die Regel.
Wir haben uns für die Ship's Ultimate Tour angemeldet. Ein straffes Programm. Stress pur am letzten Erholungstag. Wir dürfen erst mitlaufen, als wir die unterschriebenen Haftungsauschlusserklärungen unterschrieben haben. Fotografieren und zwischendurch die Toilette aufsuchen dürfen wir nicht.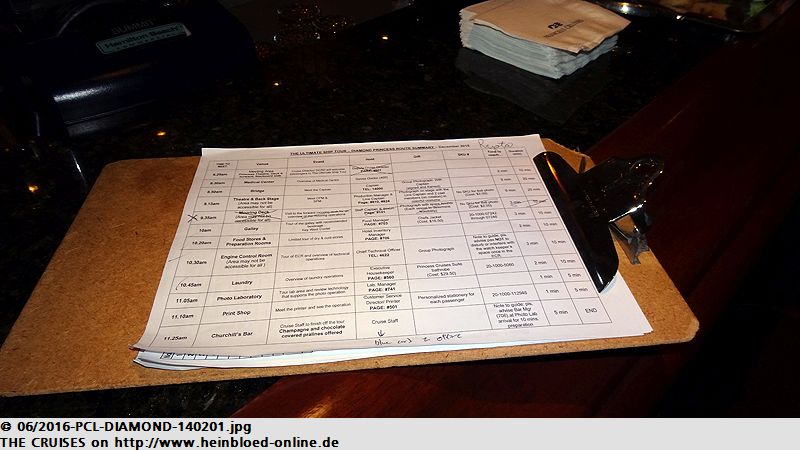 We were registered for the Ship's Ultimate Tour. A strong programme. We had a day full of stress on the last day of relaxation. We were allowed to join the tour after we signed the waiver. We were not allowed to take pictures and to see the toilets during the tour.

One photographer and one member of the security were joining us. After the tour, we got an apron, a bathrobe, a photo, a frame and a personal note block as souvenirs. For 150.00 USD a lot was offered.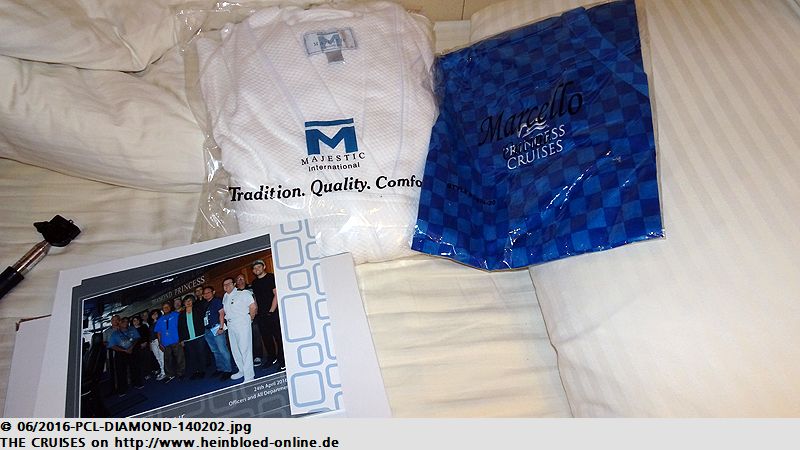 Es läuft jedoch eine Fotografin und eine Mitglied der Security mit. Wir bekommen jedoch jeder eine Küchenschürze, einen Bademantel, die Fotos, einen Rahmen und einen persönlichen Schreibblock als Souvenirs mit. Für 150,00 USD wird schon etwas geboten.
Im Rahmen der Tour bekommen vier Fotos mit. Kurz nach unserer Tour hätte eine öffentliche Galley-Tour stattgefunden. Wir sind die Vorkoster für die Sachen, die für die Galley-Tour später gemacht wird. Das sehen wir zufällig im Maschinen-Kontrollraum. Die Maschinen selbst sehen wir nicht. Die meisten Punkte kennen wir von den Touren von Norwegian, als sie noch umfangreich waren. Statt der Müllstation von Norwegian sehen wir noch zusätzlich die Krankenstation, das Fotolabor und die Druckerei.

From our tour we got four pictures. Right after our tour, they had the public Galley-Tour, and we were the tasters for those goodies they prepared for the galley-tour. We accidentially saw this in the engine-room. The engines themselves, we did not see. Most spots we knew already from Norwegian when they were more extensive. Instead of the waste station with Norwegian, we saw the medical station, the photo laboratory and the print-shop additionally.

We were told that we would have a champagne reception with the Captain on the bridge. But we need to find out: the Captain had the night watch and so we had no reception. I was really disappointed since I had my Douglas Ward with me but no Captain was around to sign. But Staff Captain Giovanni promised that he would take care that I would get the signature. Apart from that everything was well prepared on the bridge. They kept an information sheet ready for us. Here I found also the ports, which were missing downstairs: the most original memories of the ports were stored here on the bridge. From here we had the view on our orignal cabin B 100. They explained to us that we had to close the curtain every night to avoid reflexions on the bridge. That would not be anything for us since I loved to sleep with an open curtain to see the sea.

Uns hatte man gesagt, dass es oben auf der Brücke einen Sektempfang mit dem Kapitän gibt. Enttäuscht müssen wir feststellen: der Kapitän hatte die Nachtwache und kann uns daher nicht empfangen. Ich bin richtig enttäuscht, weil ich meinen Douglas Ward mithabe und jetzt kein Kapitän zum Unterschreiben da ist. Aber Staff Captain Giovanni ist da und verspricht mir dafür zu sorgen, dass ich meine Unterschrift noch bekomme. Ansonsten ist auf der Brücke alles gut vorbereitet. Informationsblätter liegen für uns aus. Hier finde ich auch die Häfen, die unten fehlen: Die originellsten Erinnerungen an die Häfen werden nämlich hier oben auf der Brücke aufbewahrt. Hier haben wir auch einen Blick in unsere ursprüngliche Kabine B 100. Man erklärt uns, dass man abends noch die Vorhänge zuziehen muss, um Reflexionen auf der Brücke zu vermeiden. Das wäre dann nichts für uns, weil ich immer sehr gerne bei offenem Vorhang schlafe und auf das Meer gucken will.
Die Tour endet ausgerechnet in der Raucherbar, die sehr originell ist, aber eben auch sehr verraucht.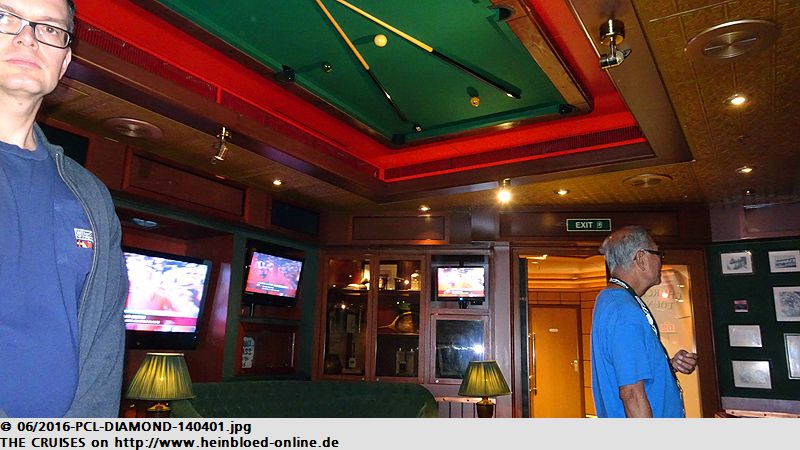 Of all the tour was ending in the smokers' bar.

On the ceiling, they had a billiard table.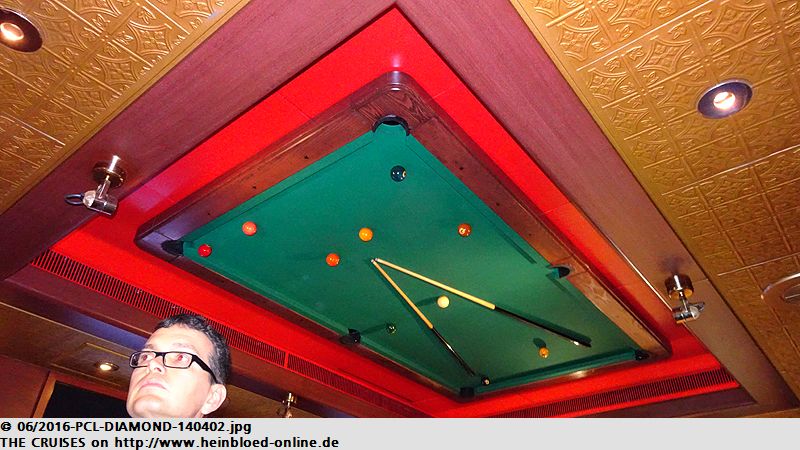 Auf der Decke hängt ein Billiardtisch.
Hier bekommen wir noch ein paar Leckereien aus der Galley und etwas Champagner. Da wir aber alle keinen Alkohol trinken, rennt sofort jemand los, um uns noch Wasser und Saft zu besorgen.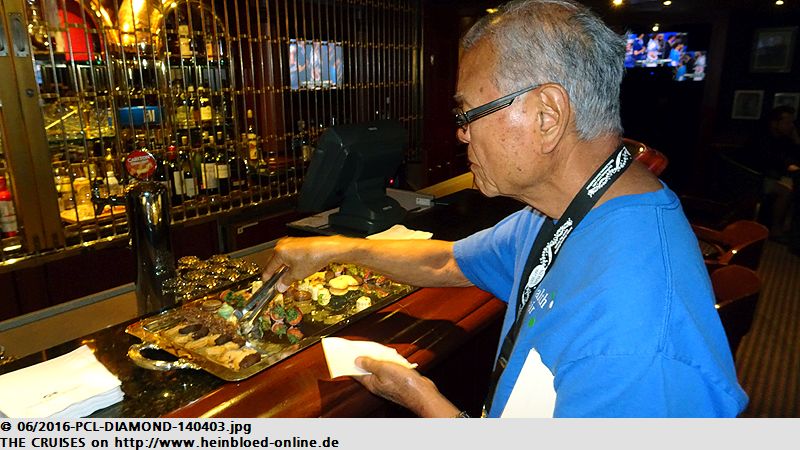 Here we got some small goodies from the galley and some champagne. Since we were not drinking any alcohol, someone was running to get us aome water and juice.

It was a good investment of 150.00 USD.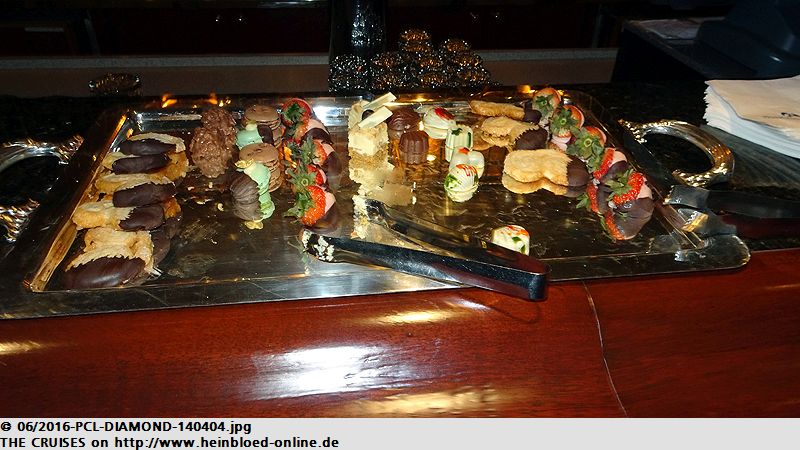 Insgesamt sind die 150,00 USD gut angelegt.
Für unsere Fragen ist Ryota bei uns mitgelaufen, der uns sehr gut um uns gekümmert hat.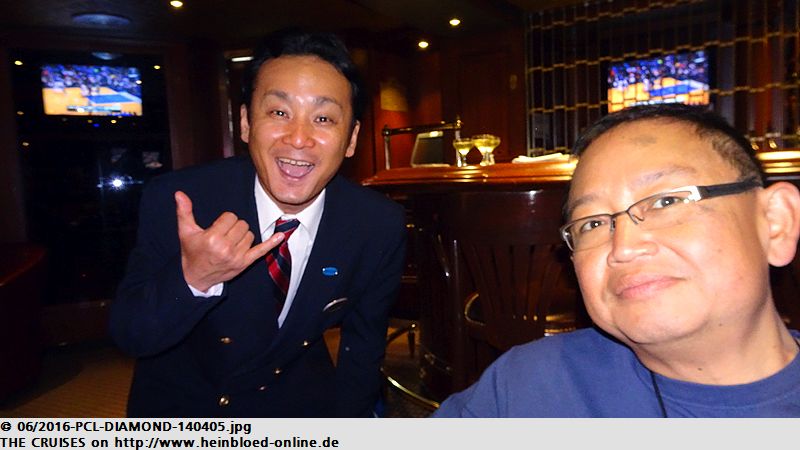 For our questions Ryota was joining us who took very well good care of us.

We were heading for lunch. For a couple of days, we had the intention to eat again with Chiradet. We had luck. That day we got a table with him and Katarina. It was time to introduced the man who was allocating the tables to us: Thai (together with Jay who already was familiar with all preferences and told the waiters how we would like it without the need for us to explain). Somehow I would miss this jelly.

Es geht zum Mittagessen. Wir wollten ja schon seit Tagen mal wieder bei Chiradet essen. Heute haben wir Glück. Wir bekommen einen Tisch mit ihm und Katarina. Wird auch mal Zeit den Mann vorzustellen, der uns die Tische zugeteilt hat: Thai (hier zusammen mit Jay, der immer unsere Vorlieben wusste, und dann immer dafür sorgte, dass wir richtig aufgegleist wurden, ohne dass wir jedes Mal erklären mussten, wie wir es am liebsten hätten). Irgendwie werde ich diese Götterspeise vermissen.
Nach dem Essen geht es zur Generalprobe.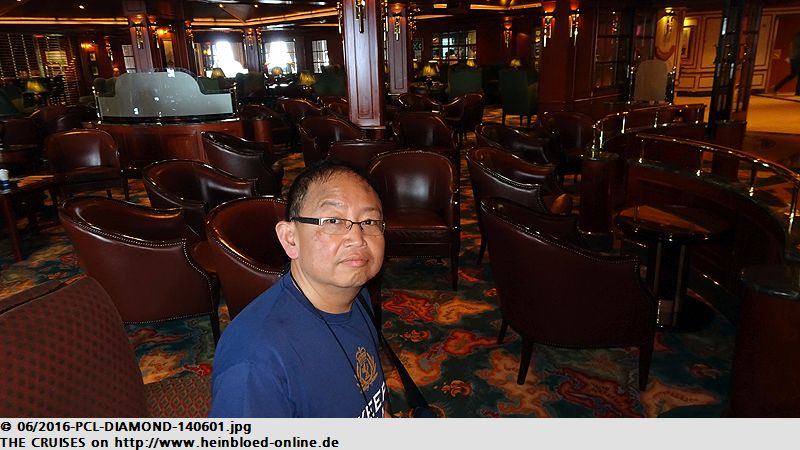 After lunch I had to go to the final rehearsal.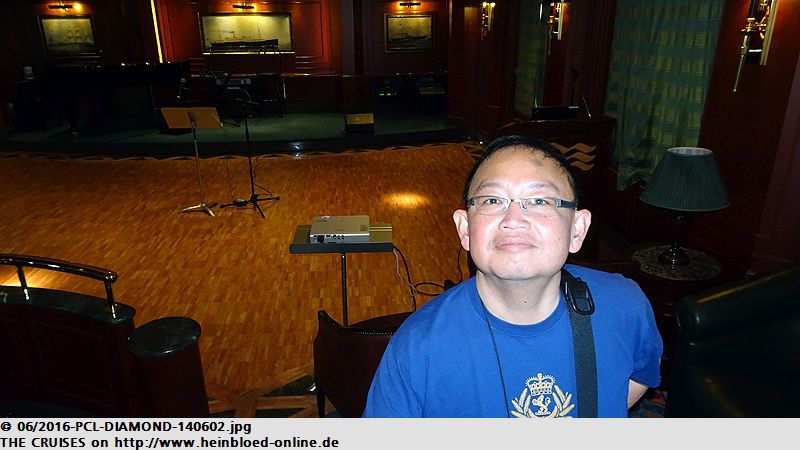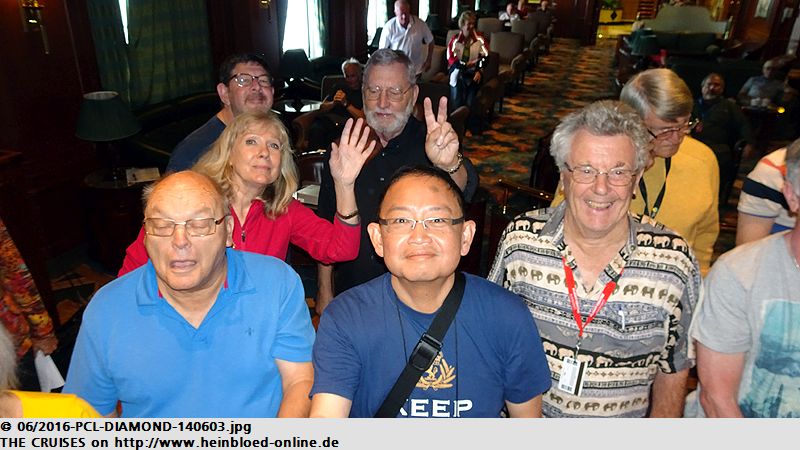 Deputy Cruise Director Chris was leading our choir.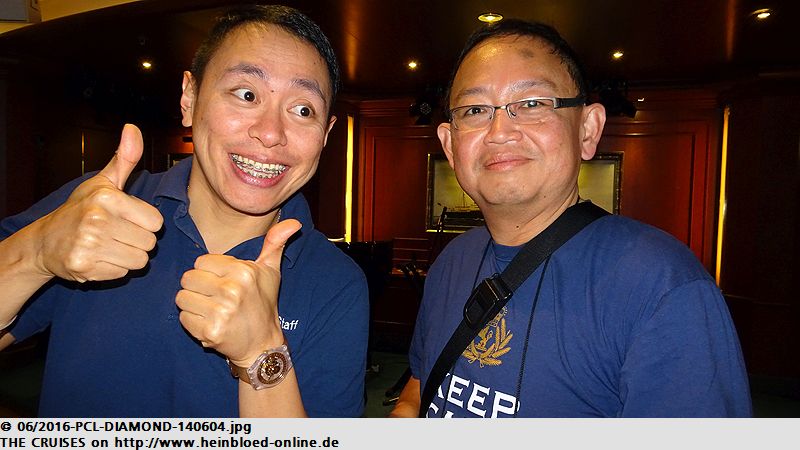 Stellvertretender Cruise Director Chris leitet unseren Chor.
Unsere Zeit in The Sanctuary ist auch vorbei. Zeit sich von einem tollen Team zu verabschieden: Ni Komang, Henry, Jose und Emil. Mit Ankunft in Yokohama wird auch der Service in The Sanctuary vorübergehend eingestellt. Es ist einfach zu kalt.

Our time in The Sandtuary was also gone. Time to say good-bye from a wonderful team: Ni Komang, Henry, Jose, and Emil. After our arrival in Yokohama, the service in The Sanctuary will be suspended temporarily. It was simply too cold.

I kept like a famous singer in Germany and Austria Udo Jürgens who had chamomile tea before his performances.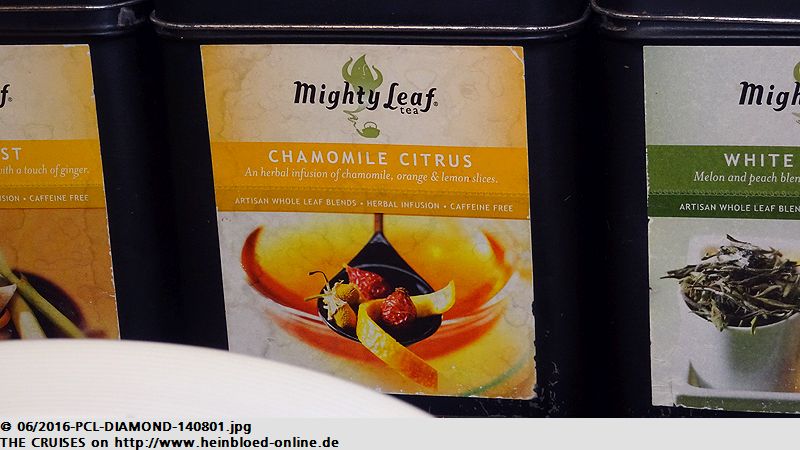 Ich halte es wie Udo Jürgens es immer gehalten hat: Kamillentee zum Auftritt.
Leider auch dann Zeit Abschied von Cathryn zu nehmen.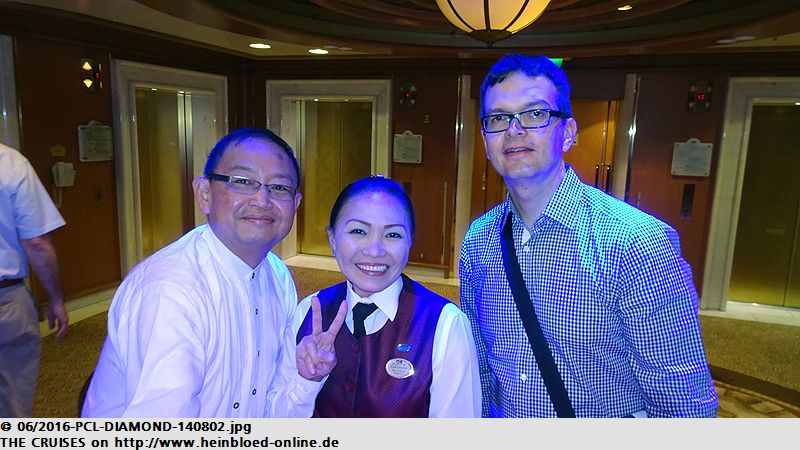 It was also time again to bid farewell to Cathryn.

With the arrival in Japan, Izumi would become more Japanese. Skin care products which were standard in Japan, you could also get in Izumi. The Assistant Guest Relation Manager asked if they could make me happy by delivering a bottle of wine. But I explained that I would not drink any, they wondered what else they could do to make me happy. Well, you could not count me to the people who would exploit it shamelessly so I asked if I could get one of the Izumi-towels. When I came to Izumi, I got one of them. Later the manager came again to our cabin and handed me over a second. And that was good: every time, when I was using the towel when I was doing sports at home, the lovely memories of the voyage on DIAMOND PRINCESS came back.

Mit Ankunft in Japan wird sogar Izumi noch japanischer. Pflegeartikel, die in Japan selbstverständlich sind, sind jetzt auch im Izumi erhältlich. Der Assistant Guest Relation Manager fragt an, ob er mir noch eine Freude mit einer Flasche Wein machen könnte, aber als ich ihm erkläre, dass ich keinen trinke, werde ich gefragt, womit man mir sonst noch eine Freude machen könnte. Nun gehöre ich nicht zu den Leuten, die sofort das schamlos ausnutzen, sondern frage an, dass ich gerne einer dieser Izumi-Handtücher möchte. Als ich dann Izumi komme, bekomme ich eins überreicht. Später kommt aber die Managerin nochmals in meine Kabine und übergibt mir noch ein zweites. Und das ist gut so: jedes Mal, wenn ich Handtuch beim Sport zu Hause nutze, kommen die schönen Erinnerungen an die Reise mit der DIAMOND PRINCESS zurück.
Heute Abend ist am SB-Büffet ein italienischer Abend. Sagen wir mal italienisch-japanischer Abend. Es gibt Pannacotta aber eben mit Macha-Geschmack.

That night was Italian night at the self-service buffet. Maybe Italian-Japanese night would fit better. They had Pannacotta but with Macha-flavor.

As I need something in my stomach before the performance, I took a freshly grilled burger.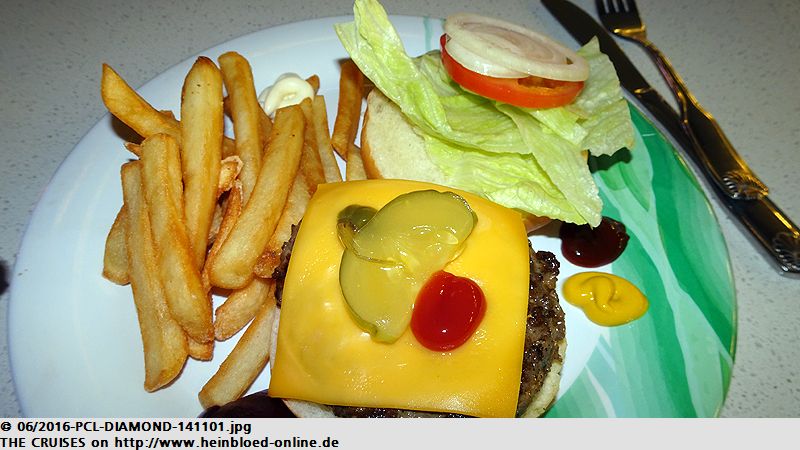 Da ich vor dem Auftritt etwas im Magen haben muss, nehme ich einen frischgegrillten Burger.
Trident-Grill ist auch immer gut.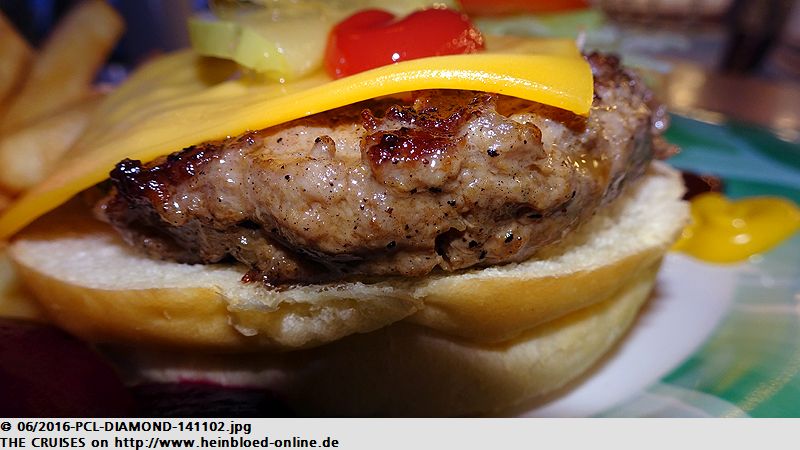 Trident-Grill was always good.

Due to the 50th anniversary of Princess in the last year and Sound of Music they had songs from Sound of Music. I loved the movie. I loved the music. And I loved Julie Andrews. So my participation was pleasing to me very much. Chris said that most everyone would join to sing with us, but the high number of Asians and Australians did not allow an authentic atmosphere. So only a few guests were making the gestures of the encore Do Re Mi (My favorite song). Unfortunately, the spot had such a strange light, that we could not get any better photos.

Anlässlich des 50-jährigen Jubiläums im vergangenen Jahr von Princess und
Sound of Music
, gibt es Stücke aus Sound of Music. Ich liebe den Film. Ich liebe die Musik. Und ich liebe Julie Andrews. Deswegen macht mir die Teilnahme sehr viel Spaß. Es ist die US-Musical-Version der Geschichte der Trapp-Familie, die man in Deutschland mehr in der Verfilmung mit Ruth Leuwerick mehr kennt und daher sind die Stücke in Deutschland weniger bekannt, zumal der Film in Deutschland "Meine Lieder - meine Träume" hieß. Chris meinte, dass alle Leute mitsingen würden, aber die hohe Anzahl Asiaten und Australier lassen nicht so richtig die Stimmung steigen. Es machen nur sehr wenige bei den Gesten von der Zugabe "
Do Re Mi
" (Mein Lieblingsstück). Leider werden wir so komisch angeleuchtet, dass es keine besseren Aufnahmen gibt.
Wir erleben am letzten Abend an Bord nochmals tolles indisches Essen, das uns Raj zubereitet hat und vor allem nochmals einen tollen Service. Nun auch mal am Schluss mit schönen Erinnerungen zurück an
OCEAN PRINCESS 2015
mit Frances und Marielito bzw. Afid. Es gibt sehr viele von Princess, die wir gerne wiedersehen würden. Eine vorausbezahlte Anzahlung haben wir ja noch von der
OCEAN PRINCESS 2015
. Wer weiss? Auf jeden Fall: am Schluss ist wieder alles gut. Egal wer nicht gegrüßt, egal wann wir in Osaka angelegt haben, egal wer mich an der Rezeption geärgert hat: die wenigen, bei denen ich negative Erinnerungen haben, stehen so vielen Erinnerungen mit denen gegenüber, die dafür gesorgt haben, dass ich insgesamt doch eine tolle Zeit hatte und die ich nicht so schnell vergessen möchte.

We experienced one more delicious Indian food on our last night onboard, which was prepared by Raj and one more time we enjoyed an outstanding service. Now at the end with sweet memories on OCEAN PRINCESS 2015 with Frances and Marielito or Afid. There were many of the Princess crew we would like to see again. We still had a pre-paid deposit of OCEAN PRINCESS 2015. Who would know? Anyhow: in the end, everything was right back. No matter who did not greet, when we docked in Osaka, who treated me wrong at the front desk: there were a few, I had some bad memories of, but there were so many, who spent their efforts that I had a wonderful time onboard which I would not forget so soon.

We still needed to pack a little. So we did not get a baggage mat anymore, but only a towel since the mats need to be collected for disinfection.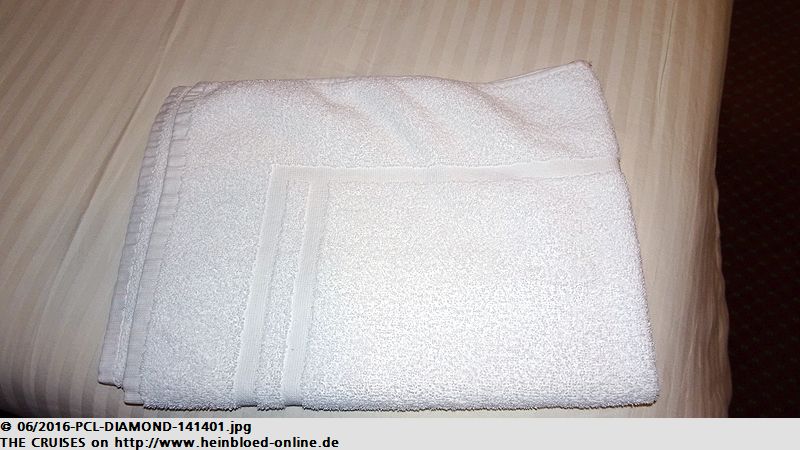 Ein bisschen müssen wir ja noch packen. So bekommen wir keine Gepäckmatte mehr, sondern nur noch ein Handtuch zum Auslegen, weil die Matten in der Desinfektion sind.
Nochmals müssen wir ein Zollformular ausfüllen, weil ja Seetag ist und wir nochmals an Bord zollfrei einkaufen konnten.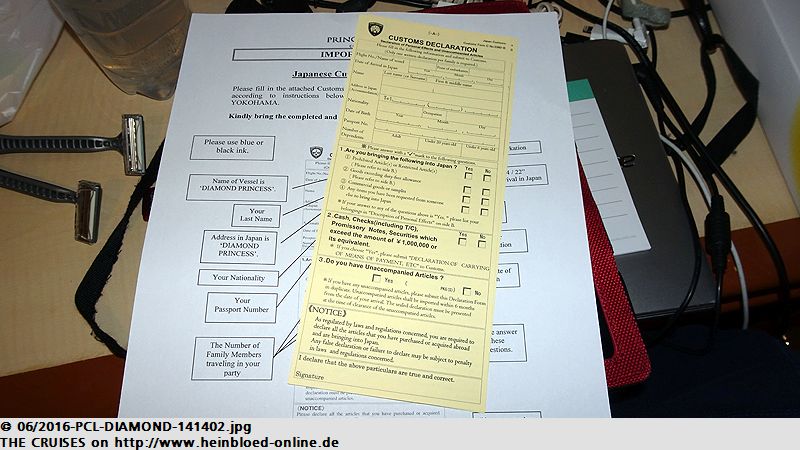 One more time we needed to fill out a customs form because we had a day at sea and could buy duty-free.

We got summery of the voyage.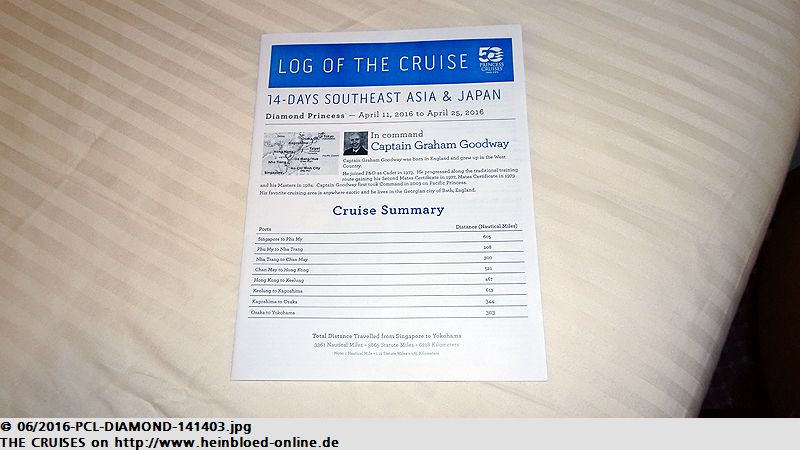 Wir bekommen die Zusammenfassung der Reise.
Und nochmals ein Dankeschön, dass wir mitfahren durften. Wir haben zu danken, denn schließlich sind wir ja "kostenlos" mitgefahren. Bevor jetzt alle denken, dass das ständig passiert: das ist das 7. Mal, dass wir Princess unterwegs sind. Aber das jetzt auch voraus, dass man ein gutes Reisebüro hat, so wie wir und eine Betreuerin, wie
Dorothy
haben, die weiss, wie wir ticken und so etwas mitmachen, wenn solche Angebote bestehen und entsprechend schnell reagiert. Außerdem muss man schon einen gewissen Umsatz als Reisebüro bei der Kreuzfahrtgesellschaft und wir als Kunden beim Reisebüro haben, bevor man so etwas bekommt.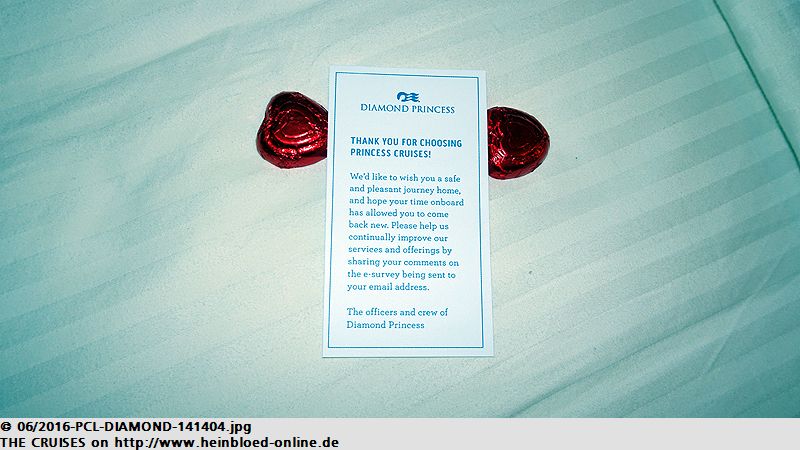 One more time a big thank you that we could join the voyage. We need to thank since we were going "free of charge". Before someone had the wrong impression: it was the cruise no. 7 with Princess. But we need to mention in advance that we had a wonderful travel agent with a great agent like Dorothy who knew exactly how we liked it and would accept such offer immediately and would react appropriately. Furthermore, you need to have a certain revenue with a cruise line and us with the travel agent, before you would get such offers.
Die anderen Reisen in diesem Blog/
The other voyages in this blog: