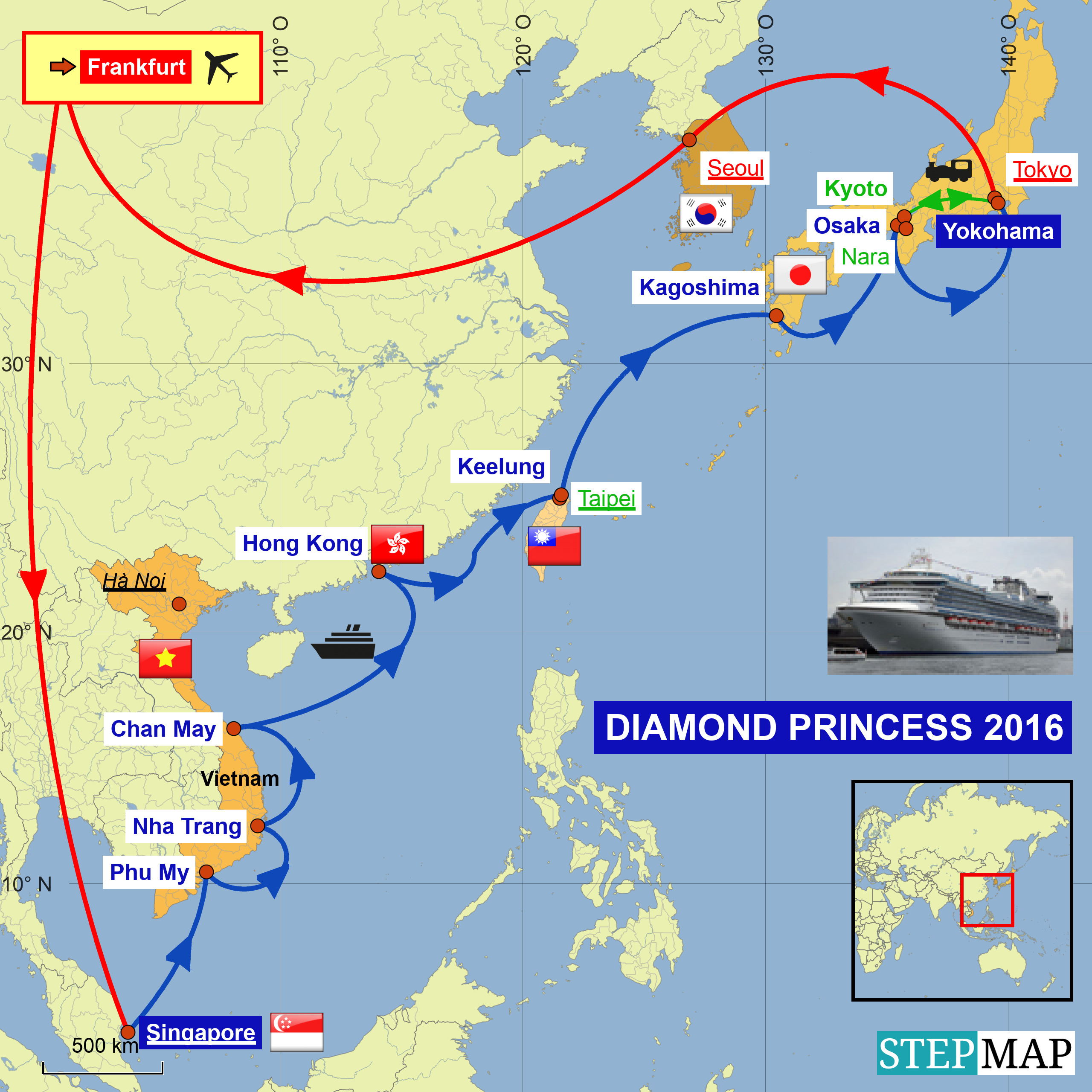 Ankunft in Keelung.

Arriving in Keelung, Taiwan.

I experienced a beautiful sunrise.

Ich erlebe einen wunderschönen Sonnenaufgang.
Es geht zum Frühstück. Pittahaya machen keine Probleme mehr.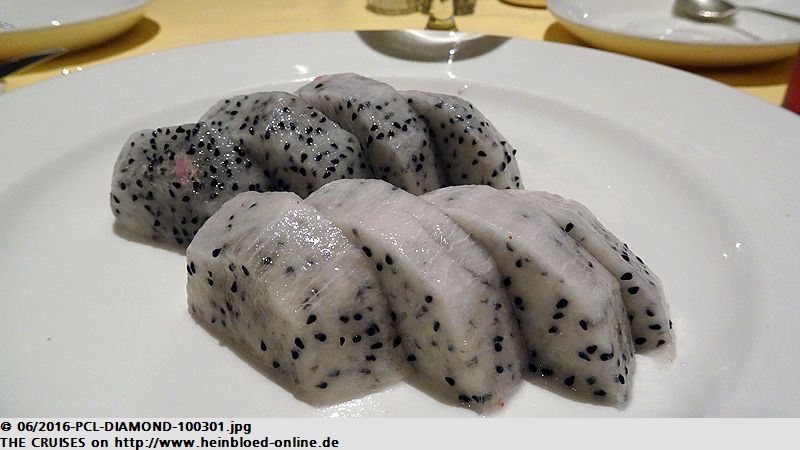 We headed for breakfast. Dragon fruits did not occur any problems anymore.

I ordered again a scrambled egg made of a fresh egg.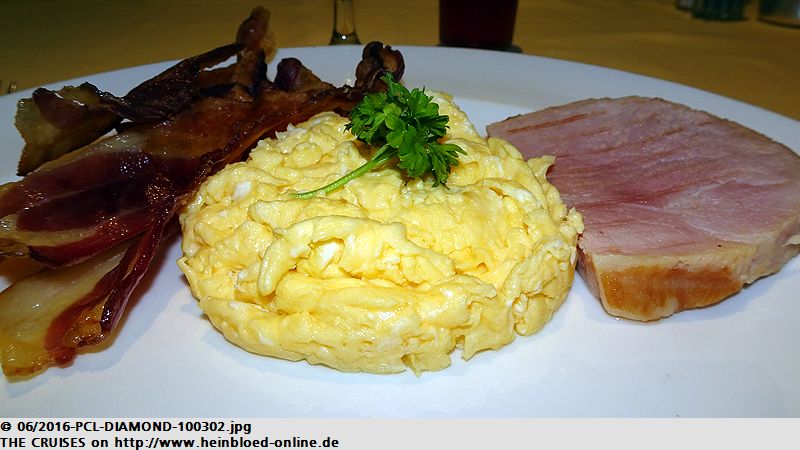 Ich bestelle wieder ein Rührei aus frischem Ei.
Und Bruno bekommt dieses Mal ein Ei als Single. Und sogar schon abgeschreckt, so dass er es sofort pellen kann.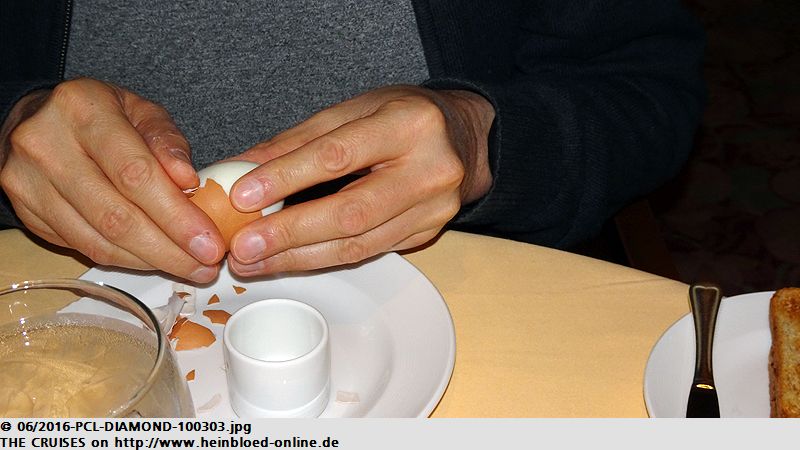 And Bruno got this time a single egg. And they rinsed it under cold water that he could start peeling it immediately.

We went off the ship. They inspected the copies of the passports at the gangway. Apart from that, it was unchanged as years ago.

Wir gehen von Bord. Die Kopien des Reisepasses werden am Ausgang kontrolliert. Aber ansonsten alles unverändert wie vor zwei Jahren.
Keelung ist ein Super
hafen
, um Bilder vom Schiff zu machen. Leider wird gerade auf der Promenade gebaut, so dass es nicht möglich ist, tolle Bilder zu machen. Ein paar gelingen am Morgen und ein paar am Nachmittag.

Keelung was a superb port to take pictures of the ship. Unfortunately, they had construction works at the promenade, so it was not possible to make some great photos. I could make a few in the morning and a few in the afternoon.

The station was located more or less at the corner of the port bay. Meanwhile, they moved it a little. Currently (2016) you accessed the station through the old terminal entrance hall. So for now, you need to walk slightly longer for a minor detour.

Der Bahnhof lag quasi an der Ecke des Hafenbeckens. Er ist zwischenzeitlich etwas verschoben worden. Derzeit (2016) erfolgt der Zugang durch die alte Empfangshalle. Daher braucht man im Moment ein paar Minuten mehr für den kleinen Umweg.
Den Fahrplan der
TRA
hatte ich vorher schon rausgesucht. Eine einfache Fahrt kostet 41 TWD (2016). Mit uns kommen noch Lothar und Claudia mit, sowie Brian and Lorelle aus Australien, die wir über das
cruisecritic.com-Meet & Greet
kennen.

I checked the schedule of TRA a lot of while before. A single journey was 41 TWD (2016). Lothar and Claudia were joining us, as well as Brian and Lorelle from Australia whom we knew from the cruisecritic.com Meet & Greet.

In the Taipei Central Station, we needed to find the subway.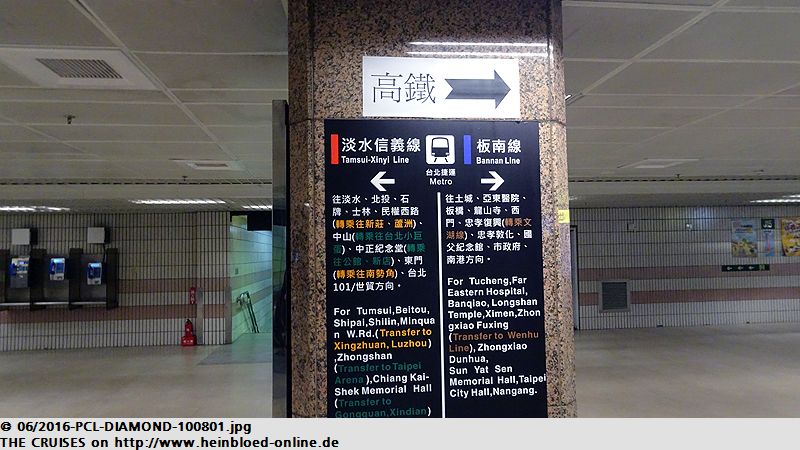 Im Hauptbahnhof von Taipei müssen wir zur
U-Bahn
.
Alles ist gut ausgeschildert.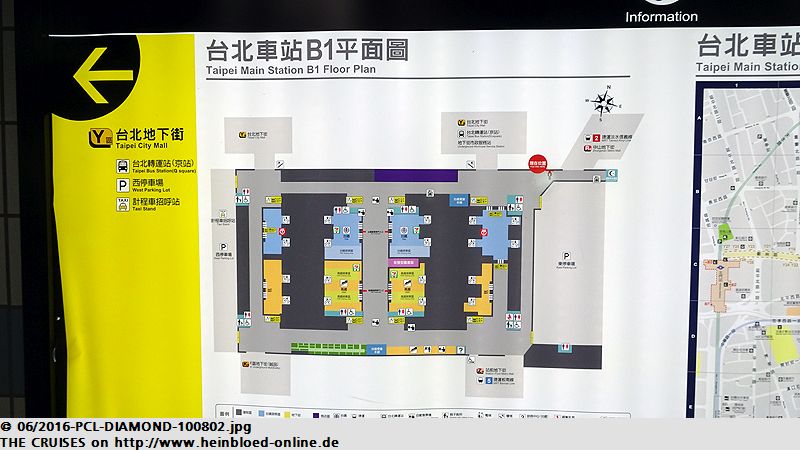 Everything was well signposted.

We need to find the red subway line (Line 2).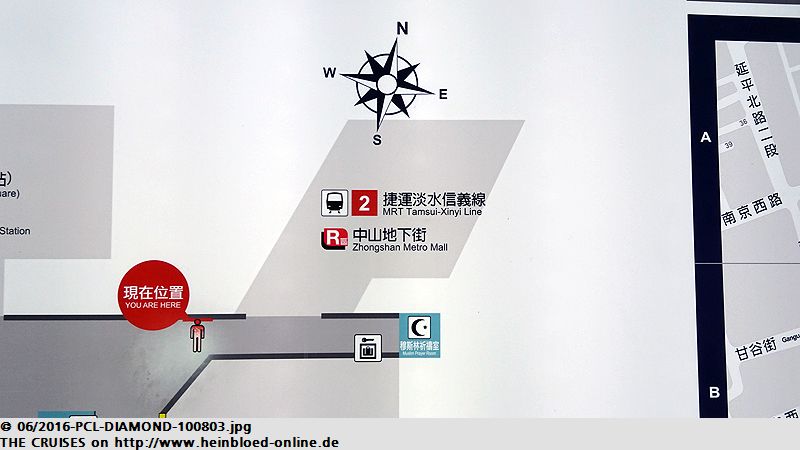 Wir müssen zur roten U-Bahn Linie (Linie 2).
Bestimmt war ich schon rund 40 Jahre nicht mehr hier. Ich erinnere mich noch an einen Ausflug mit meinem Großvater im Alter von 10. Aber damals lag der Bahnhof noch woanders.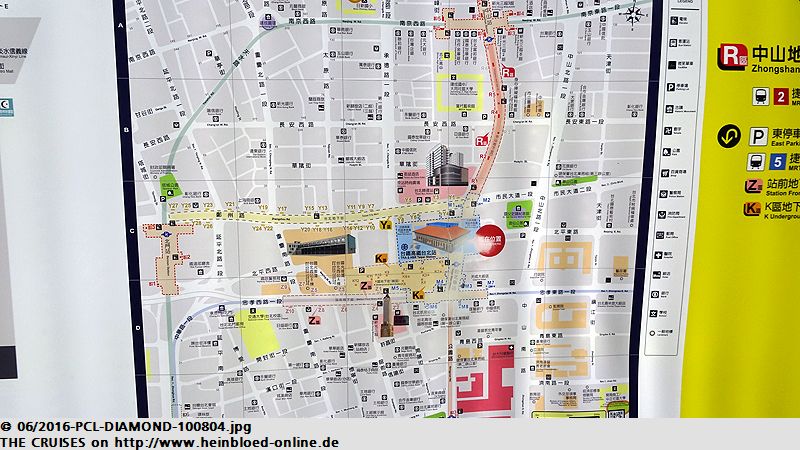 I was not here for about 40 years. I could remember that my grandfather took me here for an excursion when I was ten years old. But at that time the location of the station was somewhere else.

Still heading for line 2.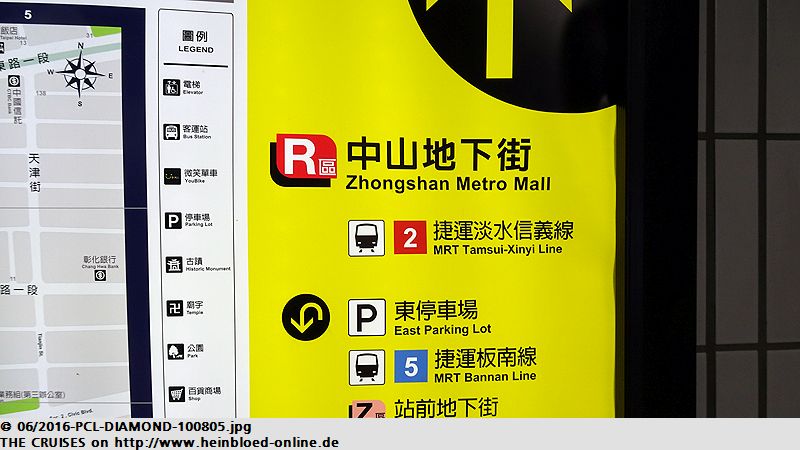 Immer weiter zur Linie 2.
Da wir dieses Mal nicht zum
Nationalen Palastmuseum
wollen, können wir uns ein paar Informationen in der Bahnsteighalle holen.

That time we did not visit the National Palace Museum. Therefore we could get some information in the concourse.

A few objects were exhibited here.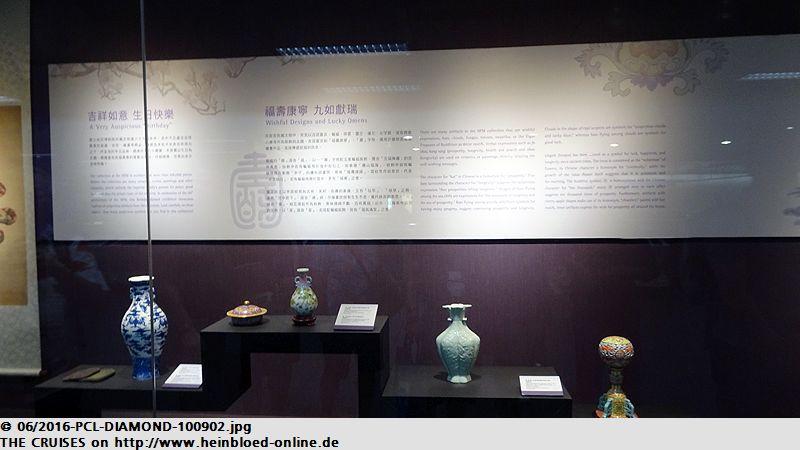 Ein paar Objekte sind hier ausgestellt.
Und eine Kopie eines der Gemälde.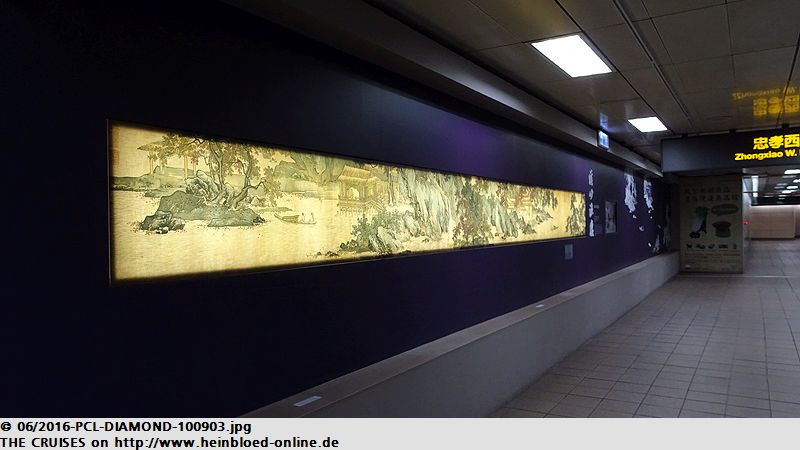 And a copy of one of the paintings.

At least we made a micro-visit.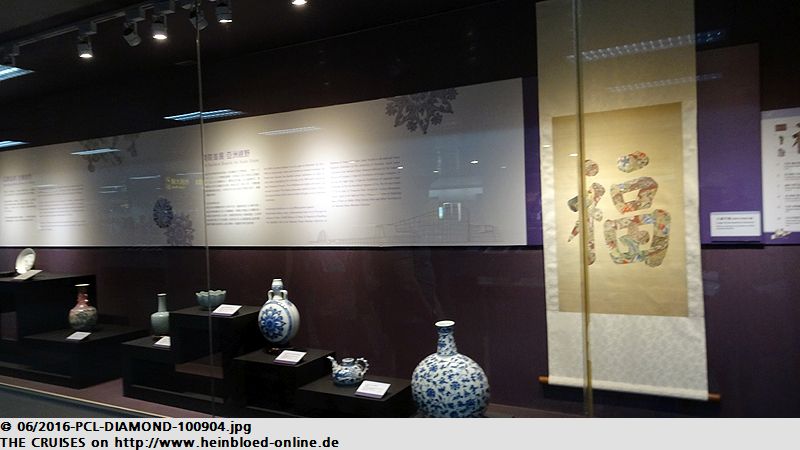 Wenigstens haben wir so einen Mikro-Besuch gemacht.
Für 150 TWD (2016) kaufen wir uns eine Tageskarte für die Metro. Es wären zwar nur als Einzelfahrten 25 TWD (Senioren 10 TWD) gewesen, aber dafür hätten wir uns jedes Mal neu anstellen müssen und das mit 10 Personen. Darauf kann ich bequem verzichten.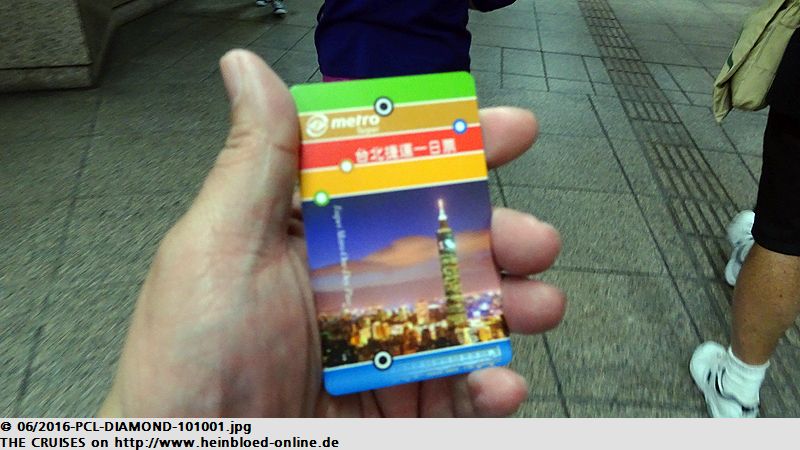 For 150 TWD (2016) we bought a day pass for the metro. It would be only 25 TWD (seniors 10 TWD) per ride that you needed to queue up again with ten persons. Something there was no need to do so.

Here we boarded.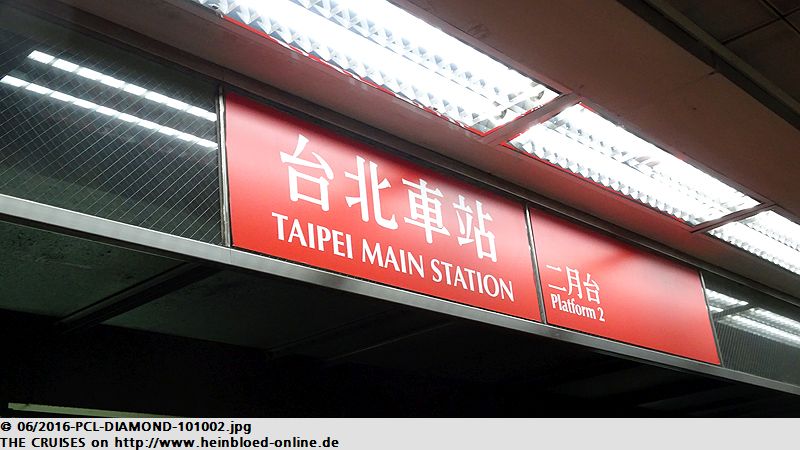 Hier steigen wir ein.
Man braucht eigentlich keine Angst zu haben. Ist alles sehr gut auch in Englisch ausgeschildert.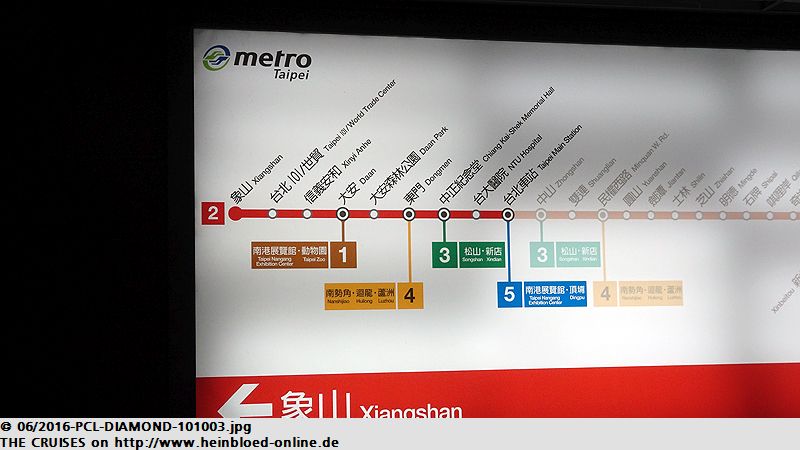 No need to be fier of. Everything was well singposted in English too.

The next stop was well displayed and announced.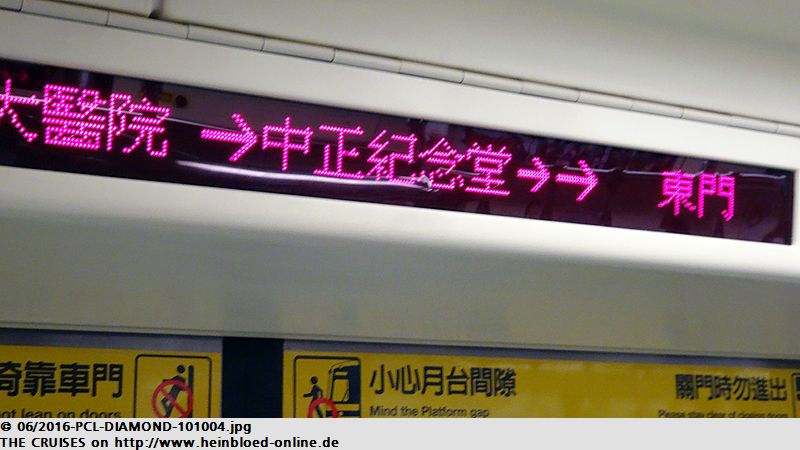 Die nächste Station wird gut anzeigt und angesagt.
Und auch immer auch auf Englisch.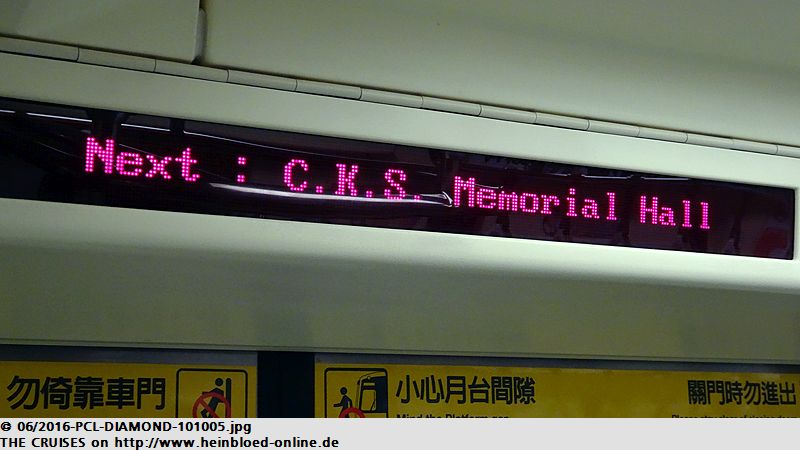 And in English too.

Our first stop was at the National Chiang Kai-Shek Memorial Hall. There was no need to go in since I was inside when I was a little boy. So walked a little through the beautiful park with the fishponds and fed the fishes. For Frances, I bought a guava-juice which she liked more than the one she got at Inter-Continental in Singapore. The square was edged by the National Theater and the National Concert Hall. There was a little café which invited for a short break. It was too hot for me. So I gave the others time to browse around and to take some pictures.

Unser erster Halt im an der
Nationalen Chiang Kai-Shek Gedenkhalle
. Rein will ich nicht unbedingt, weil ich schon als Kind hier war. So laufen wir ein wenig durch den
schönen Park mit den Fischteichen
und gehen dort Fische füttern. Für Frances kaufe ich einen Guave-Saft, den sich noch besser findet als in Singapur im Inter-Continental. Der Platz wird durch das
Nationaltheater und die Nationalkonzerthalle
flankiert. Dort gibt es ein kleines Café, das zum Verweilen einlud. Es war mir zu heiß. Den anderen gebe ich Zeit zum Selbstherumlaufen und Fotografieren.
Weiter geht es wieder zu
Taipei 101
. Zu meinem Erstaunen: Es gibt keinen einzigen Ausflug, der die Besichtigung des Taipei 101 beinhaltet. Ich führe meine Gruppe durch einen Seitenausgang aus der U-Bahn heraus, damit die Möglichkeit besteht den Taipei 101 in der ganzen Länge zu fotografieren.

We headed gain for Taipei 101. To my surprise: no single tour was offered by the ship which included an inside visit of Taipei 101. I took my group through a side exit to allow having pictures of the full length of Taipei 101.

We went there as recently as on our voyage on CELEBRITY MILLENNIUM 2014. Then we paid 1,000 TWD (2016) for the priority pass and we could up with the next elevator. The others had luck and could buy the regular tickets: 500 TWD (2016). You could also buy your tickets online. But depending on the actual weather, I would decide to go up. Later my cousin explained they suffered an unofficial travel ban of China since they had some trouble with the current government on Taiwan. Officially, Chineses were allowed to travel to Taiwan, when they got travel permission ahead. For now, the Chinese travel agents could not get any forms to apply for the travel permission: no forms = no permission = no travel groups from China = no queues in Taipei 101 and the Palace Museum. We also need to take some pictures of ourselves. And we needed to honor that it was the Year of Monkeys and Bruno was a Monkey.

Wir waren zur Reise auf der
CELEBRITY MILLENNIUM 2014
erst oben. Damals haben wir für 1.000 TWD (2016) den Priority Pass genommen und konnten mit den nächsten Fahrstuhl hoch. Die anderen haben Glück und können die normalen
Karten kaufen
: 500 TWD (2016). Man kann auch Karten online bestellen. Aber ich würde es vom Wetter abhängig machen, da hoch zu fahren. Später erklärt mir mein Cousin, dass es wohl einen inoffiziellen Reiseboykott seitens China gibt, die gerade mal wieder Streit mit der aktuellen Regierung in Taiwan haben. Offiziell dürfen Chinesen nach Taiwan reisen, wenn sie sich vorher eine Reiseerlaubnis beschafft haben. Die chinesischen Reisebüros bekommen keine Antragsformulare im Moment dafür: Kein Antrag = keine Genehmigung = keine Reisegruppen aus China = keine Schlangen im Taipei 101 und auch nicht im Nationalen Palastmuseum. Ein paar Bilder müssen wir noch für uns machen. Und da Bruno Affe ist und wir dieses das Jahr des Affen haben, müssen wir es auch entsprechend würdigen.
Den anderen habe ich einen Zeitpunkt zum Treffen genannt: bis dahin sollen sie sich selbst abgefüttert haben. Treffpunkt Mc Donald's: Das kennt man in den USA, Kanada, Australien und Deutschland. Bis dahin treffe ich mich mit meiner Tante und meinem Cousin Ting Ruei zum Mittagessen. Ich möchte einfach wieder nur eine Wan-Tan-Suppe, die wir bei
Xu Cheng
im Keller bekommen. Nach dem Mittagessen nehmen wir noch ein Macha-Eis bei
Happy Inn
, so wie es auf Taiwan üblich ist. Auf jeden Fall habe ich mich nach zwei Jahren sehr gefreut, meine Verwandten mal wieder zu sehen. Facebook ermöglicht uns gegenseitig im Auge zu behalten. Wir müssen ja nicht täglich besuchen, aber bei bestimmten Ereignissen dabei sein, zur Kenntnis und evtl. Anteil nehmen.

I told the others to meet again at a particular time: until then they should feed up themselves. The meeting point was Mc Donald's. A place which was commonly known in the US, Canada, Australia and Germany. Meanwhile, I met my aunt and my cousin Ting Ruei for lunch. I preferred to have again Won-Ton-Soup which we could get with Xu Cheng in the basement. After the lunch, we had another mocha-ice-cream with Happy Inn like it was used on Taiwan. Anyhow, I was happy to meet my relatives again after two years. Facebook allowed keeping an eye on each other. No need to visit each other every day but to know, to join and to take part in special events.

Heading back to central station and there we need to change to the blue subway line (5). The destination was Lungshan Temple (There were multiple phonetic translations. A real correct one was not existing. Mostly pinyin was commonly used which made Peking nowadays Beijing. Taipei should be accordingly Taibei, and today Keelung would be Qilong. That was explaining the different spelling of Longsheng and Lungshan).

Zurück geht es zum Hauptbahnhof und dort müssen wir in die blaue U-Bahn-Linie (5) umsteigen. Ziel der
Lungshan Tempel
(Es gibt mehrere phonetische Übersetzungen. Eine echte einheitlich gibt es nicht. Die meisten nehmen pinyin, die dazu führte, dass man heute Peking Beijing nennt. Taipei müsste korrekt Taibei sein und Keelung heute Qilong. Daher erklären sich auch die Schreibweisen Longsheng und Lungshan).
Wir sehen uns zunächst in der Tempelanlage um. Der Eintritt ist kostenlos, allerdings ist eine kleine Spende erbeten. Dafür steht auch ein Geldautomat bereit, so dass man sich nicht herausreden kann, dass man kein Kleingeld hat.

First, we looked around in the temples. The admission was free, but they asked for a small donation. No excuse for having no change: they kept an ATM ready.

We walked around the block and was browsing around. A lot of cute smaller shops and restaurants.

Wir laufen einmal um den Block und sehen uns einfach ein wenig um. Viele schöne kleine Geschäfte und Lokale.
Und eine schöne Bäckerei, in der ich unbedingt etwas für mich und die anderen kaufen muss.

And a nice bakery where we needed to buy something for me and the others.

A few yards away there was another bakery which had special steamed bread in pink.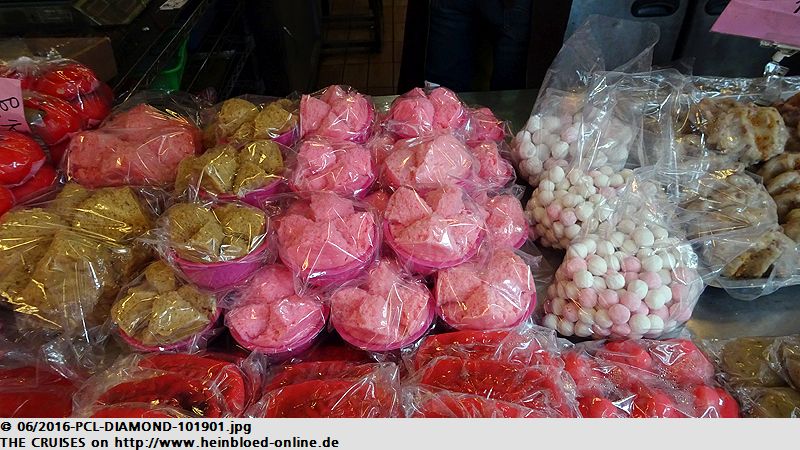 Ein paar Meter weiter gab es eine Bäckerei, die spezielle gedämpfte Hefebrötchen in rosa eingefärbt hatte.
Und hier gibt es auch alles Mögliche in interessanten Formen.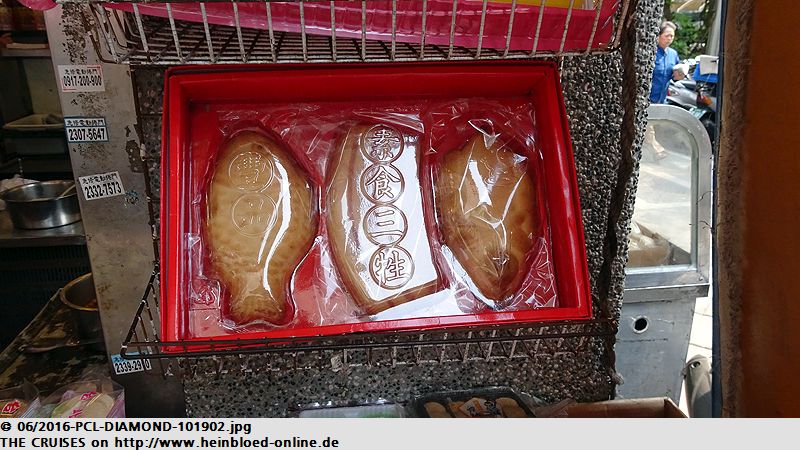 And other staff in different interesting shapes.

Even jelly.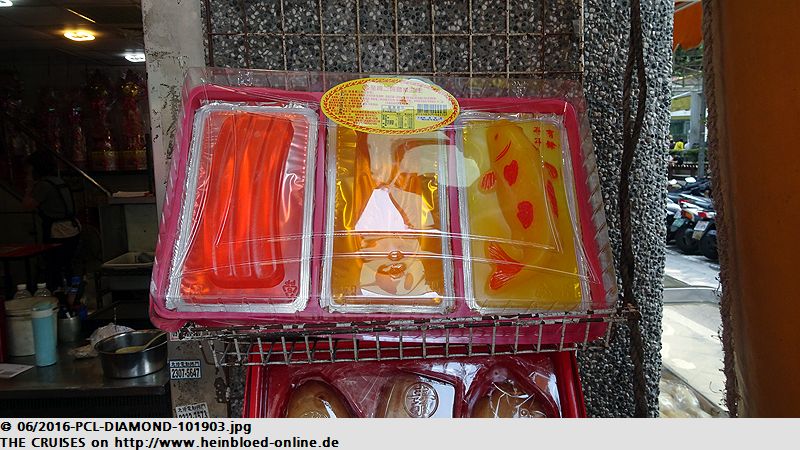 Sogar Gelee.
Zwischen dem Tempel und der U-Bahn gibt es auch einen Untergrund-Einkaufsbereich, mit interessanten Tee- und Souvenirgeschäften. Dort macht der taiwanesiche Michael Jackson seine Übungen und hier gibt es Masseure und chinesische Ärzte.

Between the temple and the subway there was also an underground-shopping area with some interesting tea- and souvenirshops. The Taiwanese Micheal Jackson was exercising, and you had here massage therapists and Chinese doctors.

Heading back by subway towards central station.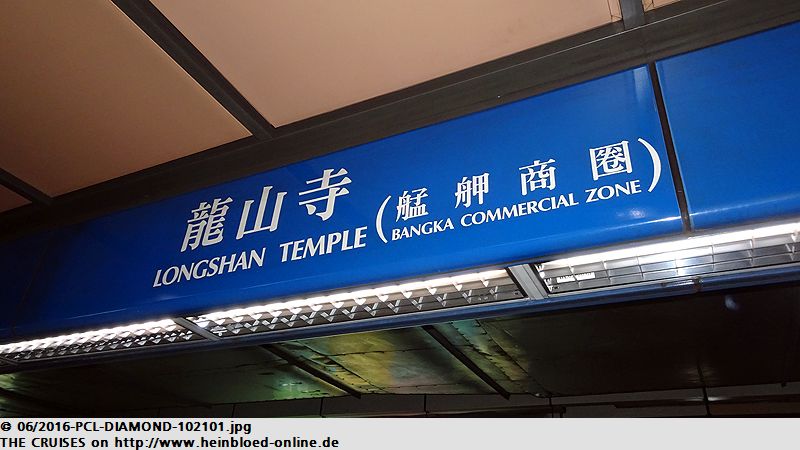 Mit der U-Bahn geht es wieder zurück zum Hauptbahnhof.
Man sieht immer die Zeit, die man bis zum Eintreffen der nächsten Bahn warten muss.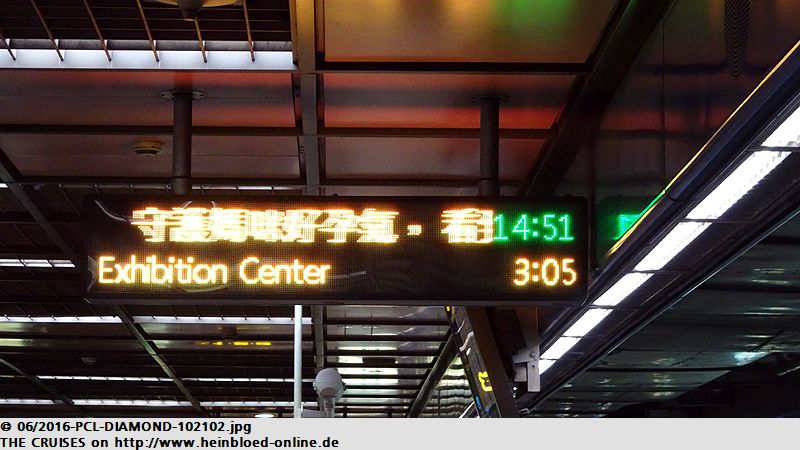 You could always see the time until the next train would come.

They made sure that none could jump into a train which was supposed to depart.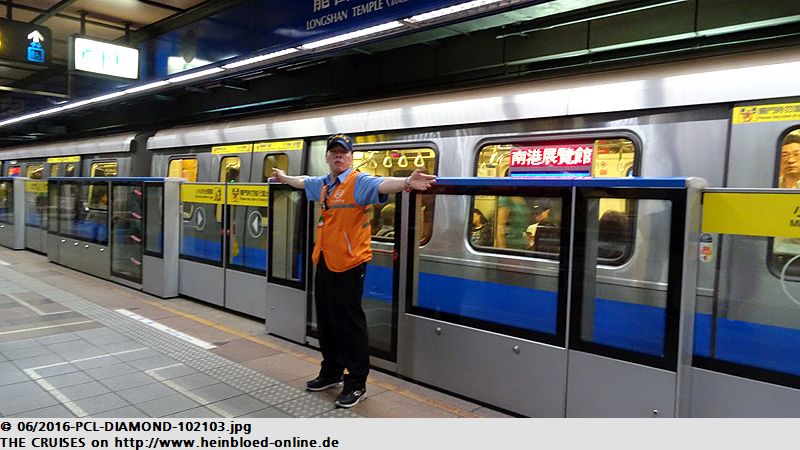 Es wird sichergestellt, dass niemand mehr in eine Bahn springen kann, die kurz vor der Abfahrt ist.
Am Hauptbahnhof müssen wir den richtigen Zugang finden: TRA betreibt die Züge nach Keelung. Nicht vergessen: Tickets müssen hier entwertet werden und werden am Ausgang wieder benötigt. Am Bahnsteig habe ich nicht so richtig herausbekommen, in welchem Abschnitt unser Zug nun hält. Es sieht aber danach aus, dass wir den 8-teiligen Triebwagen aus der 2. Reihe haben und wir daher wohl besser weiter nach vorne gehen sollten.

At central station we needed to find the right access: TRA was running the trains towards Keeling. Do not forget: Tickets need to be canceled here and you need them again when you exit. I could find out about which section our train would stop. It looked like we should have an 8-cars-train from the 2nd row and we could better wait more in the forward part of the platform.

Soon we were back in Keelung again.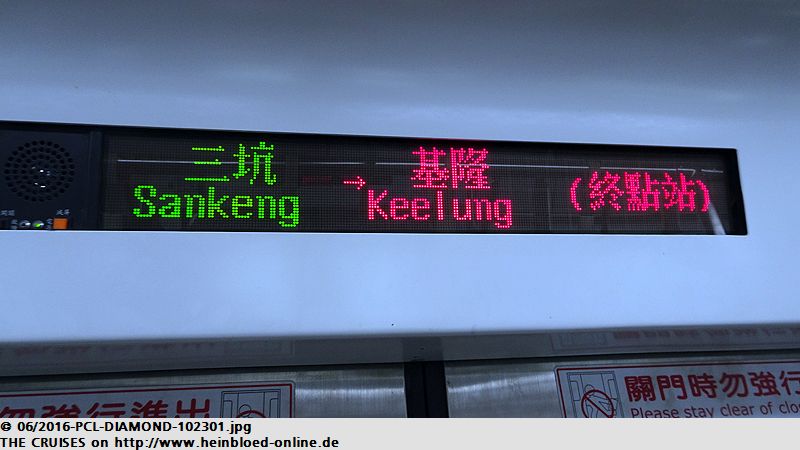 Bald sind wir auch wieder in Keelung.
Nun den richtigen Ausgang finden: Immer den Südausgang nehmen.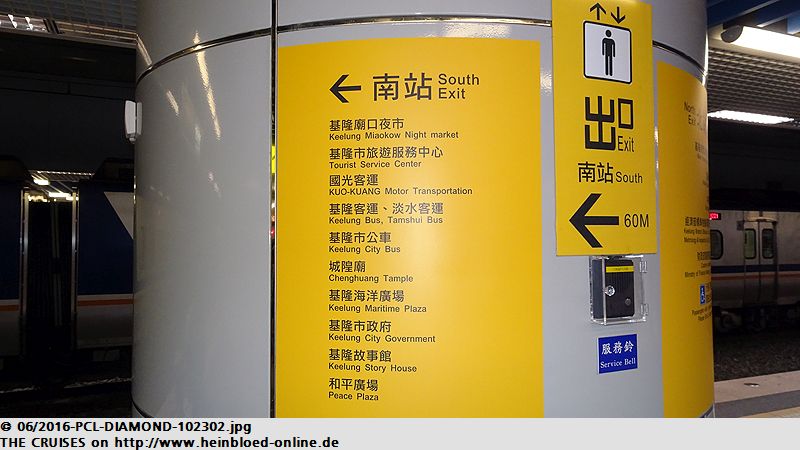 We need to find the right exit: you should always take the Southbound exit.

The perfect timing for our return journey.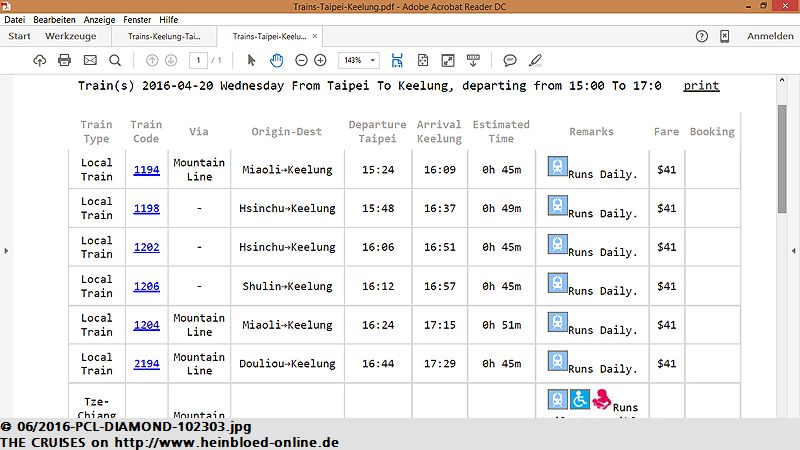 Die passenden Zeiten für unsere Rückfahrt.
Im Hafen liegt jetzt auch die STAR AQUARIUS, die einen Passagierwechsel hat. Daher ist es am Hafen voll und etwas chaotisch.

So in the port there was also STAR AQUARIUS who had a passenger exchange. So it was quite crowded and busy in the port.

The night market of Keelung was famous for its specialties far beyond the city limits. It was not a touristic night market like you had in Taipei. And we walked over and enjoyed what we saw and smelled and the crowd. Those were one of the moments that I wished still having a larger stomach.

Der
Nachtmarkt von Keelung
ist für seine Spezialitäten weit über seine Grenzen hinaus bekannt. Es ist kein touristischer Nachtmarkt wie es viele davon in Taipei gibt. Er liegt nur etwa 7-10 Minuten vom Hafenzugang entfernt. Und wir laufen darüber und genießen den Anblick und den Duft und vor allem das Treiben. Das ist so einer der Momente, in dem ich mir wünschte, dass ich noch einen größeren Magen hätte.
Für Philys bringe ich noch eine Portion vom gegrillten Schwein mit... und für mich ein frisch gebackenes Wrap.

For Philys I bought some of the grilled pork... and for myself a freshly baked wrap.

For the next day at sea, we bought on our way some green ice-tea.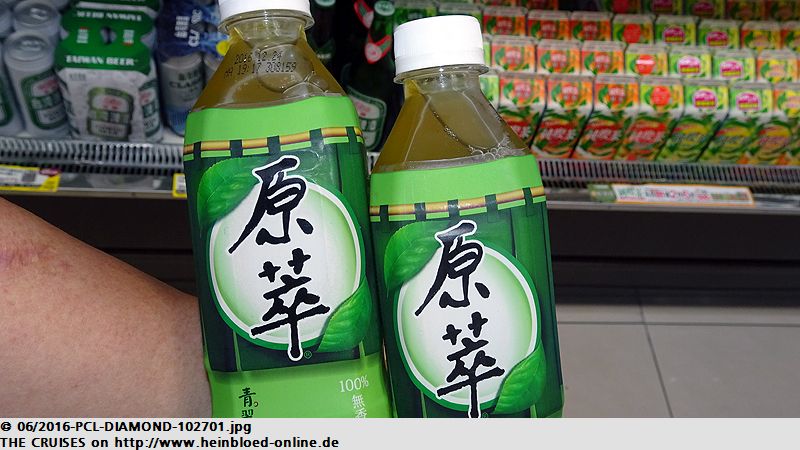 Unterwegs kaufen wir noch etwas für den nächsten Seetag: Grüner Eistee.
Trockenfleisch (eben kein Beef-Jerkey) nach taiwanesicher Art.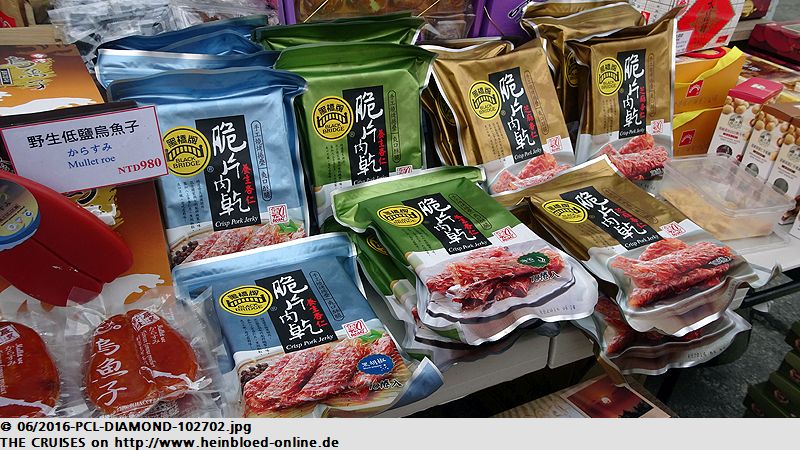 Dried meat (no beef-jerky) Taiwanese style.

Pineapple-cake and tea from Ali Shan (Famous mountain for excellent tea from Taiwan)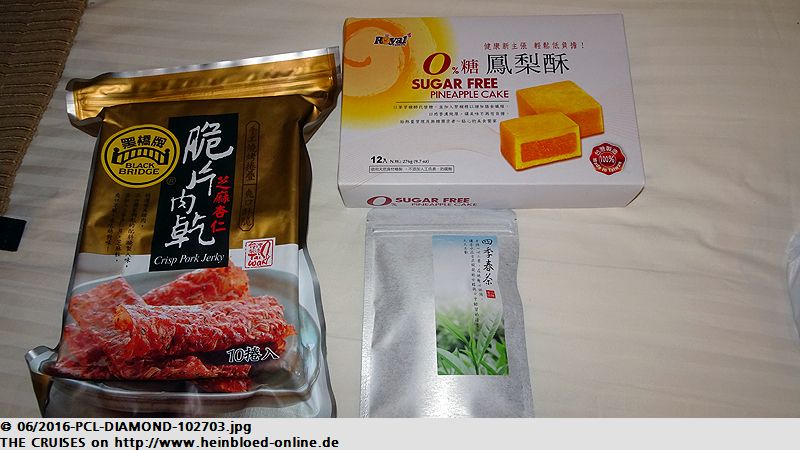 Ananas-Gebäck und Tee aus
Ali Shan
(Berühmter Berg für erstklassigen Tee aus Taiwan).
Yakult (schmeckt anders als in Deutschland) und ein chinesisches Sandwich mussten auch sein.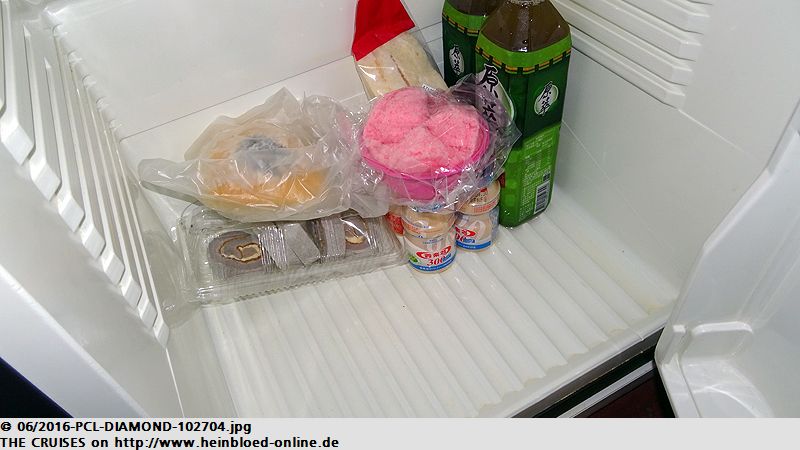 Yakult (tasted different than in Germany) and Chinese sandwich were a must.

I had a shock when I returned to the ship: they had a German buffet in the Horizon Court. Better said: it was more like Americans thought a German meal should be for Japanese. Ni Luh, Ajay, and Jose were willing to be my models... the aprons... HELP!!! There was no German beer available with the German buffet...

An Bord erwartet mich ein großer Schock: es gibt ein deutsches Büffet im Horizon Court. Sagen wir mal so: so wie sich ein Amerikaner eben ein deutsches Büffet für Japaner vorstellen. Ni Luh, Ajay und Jose stehen für mich Modell... die Schürzen... HILFE!!! Irgendwie gibt es auch kein deutsches Bier zum deutschen Büffet...
Der nächste Hafen ist bereits ein japanischer. Deswegen bekommen wir bereits unsere Pässe wieder, weil wir selbst durch die Einreisekontrolle müssen.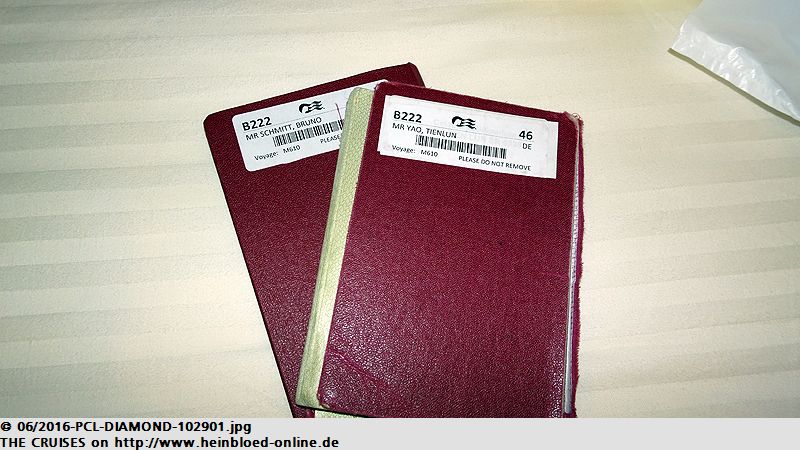 The next port should be a Japanese one. For that reason, we got back our passports since we had to have immigration inspection personally.

Our laundry was back, and that time, everything was nicely folded.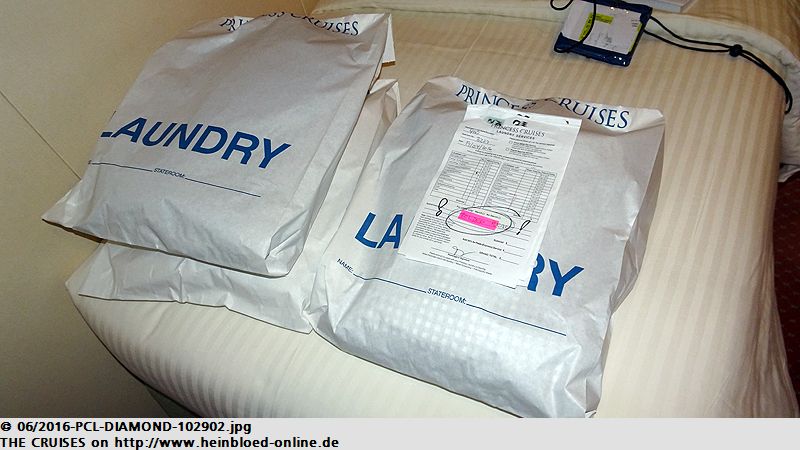 Unsere Wäsche ist zurück und dieses Mal: alles schön gefaltet.
Es geht für uns zum zweiten Mal zum Chef's Table bei Princess. Gerne hätten wir vor wenigen Monaten auf der
OCEAN PRINCESS 2015
das mitgemacht, aber es haben sich keine anderen Gäste außer uns gefunden, die daran Interesse gehabt hätten. Wie üblich werden wir mit weißen Jacken ausgestattet und hinterher bekommen wir Fotos, Kochbuch und Menükarte. Die Kochbücher verschenken wir weiter. Wir haben ohne passende Weine den Chef's Table bestellt.

For the second time with Princess we went to the Chef's Table. We really would love to have it on OCEAN PRINCESS 2015 a few months ago, but except us, no other guests were interested in joining. As usual, we were supplied with white jackets and at the end of the event, we got photos, cooking books and menu cards. The cooking books we were giving to friends. We booked the Chef's Table without pairing wines.

We had the aperetif in the galley. But before we need to sign that would follow the codex of behavior and dresses. Furthermore, they asked us for our food allergies and intolerances. We experienced an outstanding service: Richard, Oksana, Kateryna, Ruby Ann, Adriana, Dennis and Executive Chef Nilo and Maître D' Giorgio. To my sadness, I learned later: the other guests did not see a need to honor the excellent service by tipping.

Der Aperetif findet in der Galley statt. Wir mussten vorher wieder unterzeichnen, dass wir den Verhaltens- und Bekleidungsregeln folgen. Ferner wurden wir schon nach Lebensmittelunverträglichkeiten gefragt. Wir hatten einen tollen Service erlebt: Richard, Oksana, Kateryna, Ruby Ann, Adriana, Dennis und Küchenchef Nilo sowie Maître D' Giorgio. Wie ich später erfahren habe: die anderen Gäste sahen keine Notwendigkeit dieses tolle Team auch entsprechend für einen exzellenten Service etwas zu geben. Schade!
Damals auf der
OCEAN PRINCESS 2010
wurden einige Arbeitsschritte vor unseren Augen gemacht. Hier bekommen alles schon fertig zubereitet serviert.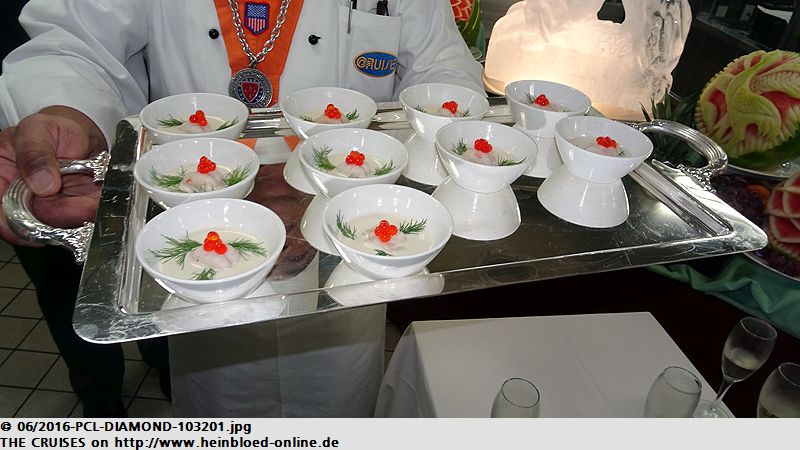 Then on OCEAN PRINCES 2010 some working steps were made in front of us. Here everything was already prepared.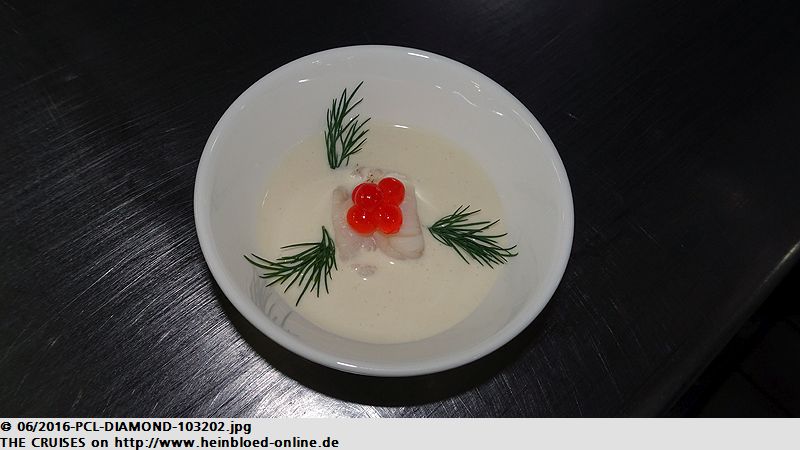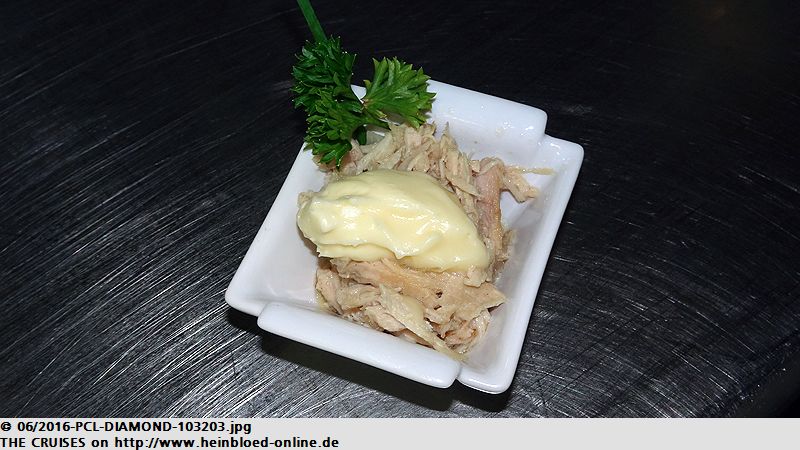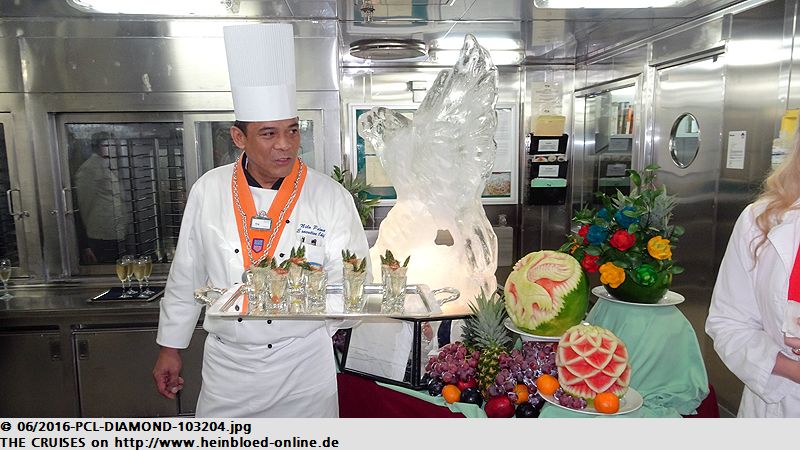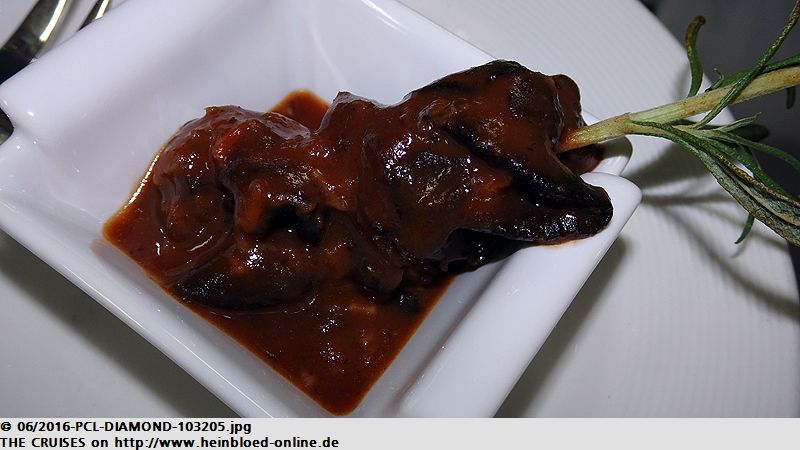 After that we went to the Savoy. Very nice set up.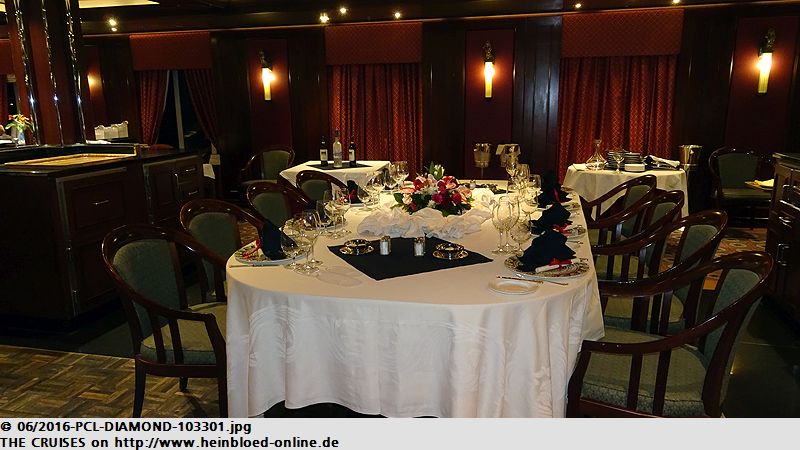 Nach den Vorspeisen geht es hoch in das Savoy. Sehr schön eingedeckt.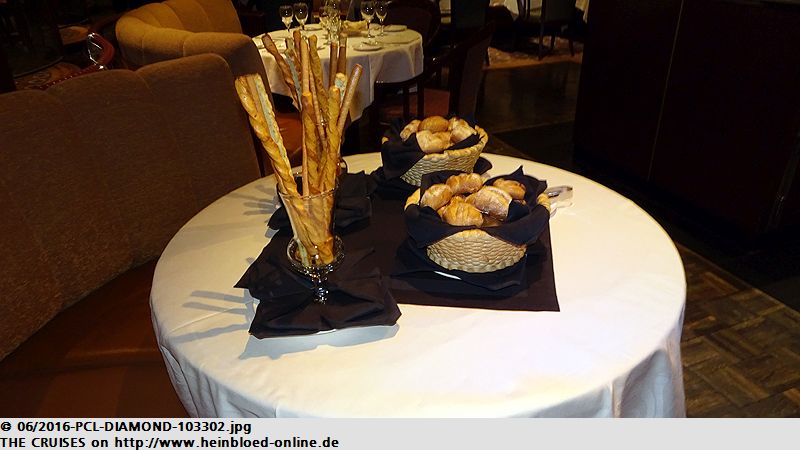 Everything was well prepared.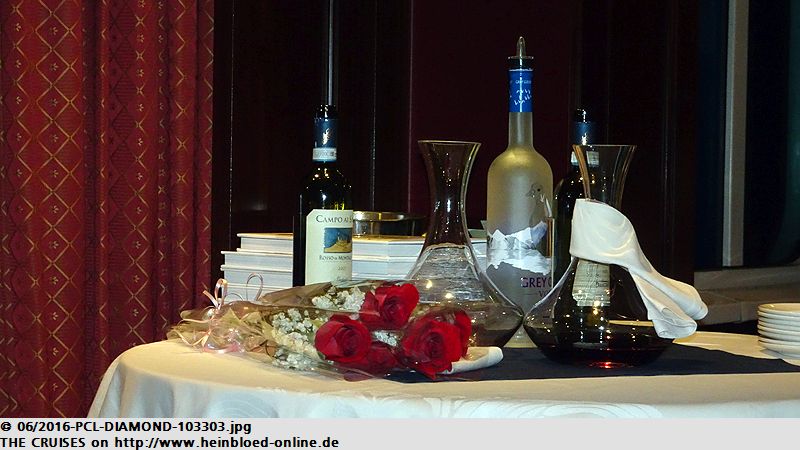 Alles schön vorbereitet.
Der Wein wird entsprechend von Giorgio vorgestellt.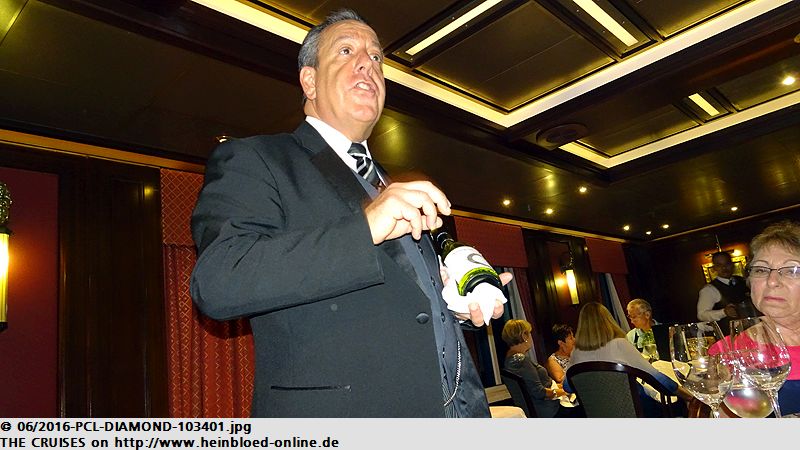 Giorgio was introduing the appropriate wine.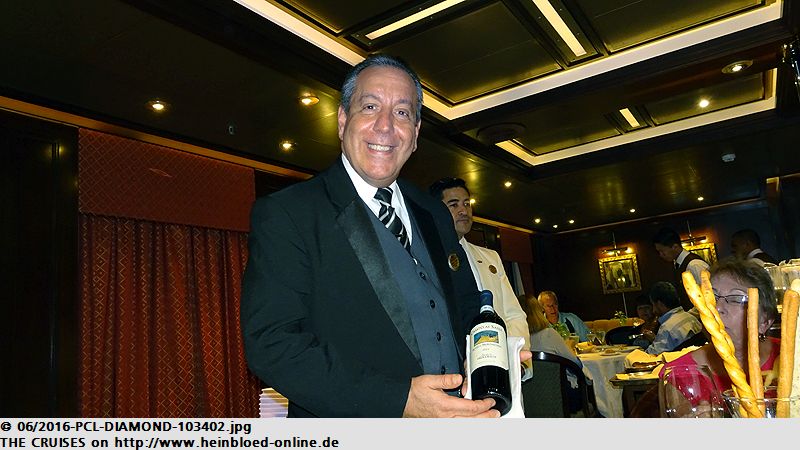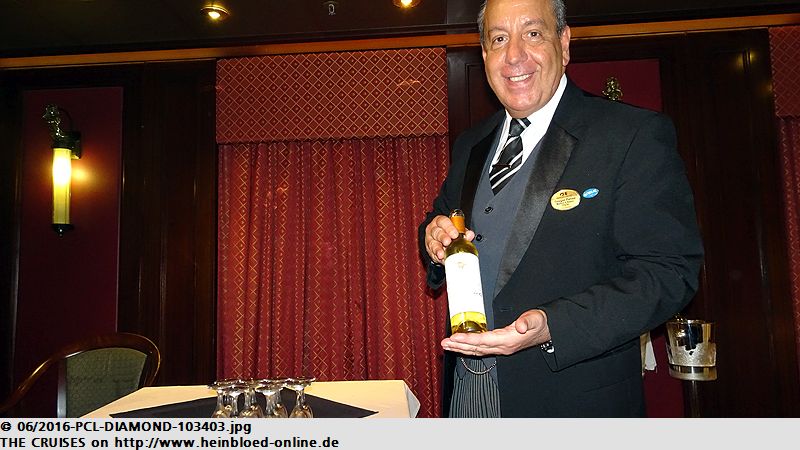 A big difference to OCEAN PRINCESS 2010 then: nothing was prepared in the presence of the guests with explanations. Sad too: they packed all main courses on one plate and not course by course. It was a little like with a speed dining. But it was the opposite of our Norwegian experience like recently on NORWEGIAN SPIRIT 2013 since we get there for years always the same row of prodecures. But it took longer to serve course by course. Obviously, with Princess, the Executive Chefs had an individual influence on each different ship.

Auch der große Unterschied zur
OCEAN PRINCESS 2010
damals: es wurde nichts in Anwesenheit der Gäste mit vielen Erläuterungen zubereitet. Schade auch: es wurden alle Hauptgänge zusammen auf einen Teller gepackt und nicht Gang für Gang. Es war für mich ein wenig wie beim Speed-Dining. Also genau das Gegenteil von Norwegian, wie zuletzt auf der
NORWEGIAN SPIRIT 2013
, bei dem wir seit Jahren das gleiche Menü in der gleichen Abfolge haben. Allerdings dauert es sehr viel länger immer ein Gang nach dem anderen. Hier bei Princess hat eben jeder Chefkoch auf jedem Schiff die Möglichkeit einer individuellen Handschrift.
Am Schluss noch ein paar Bilder vom Team. Giorgio versucht mir einzureden, dass das Bild vom Felsenspringer ein Jugendbild von ihm sei...

Last not least a few pictures from the Team. Giorgio was trying to explain that the picture of the rockdivers was a picture of him when he was young...
Die anderen Reisen in diesem Blog/
The other voyages in this blog: