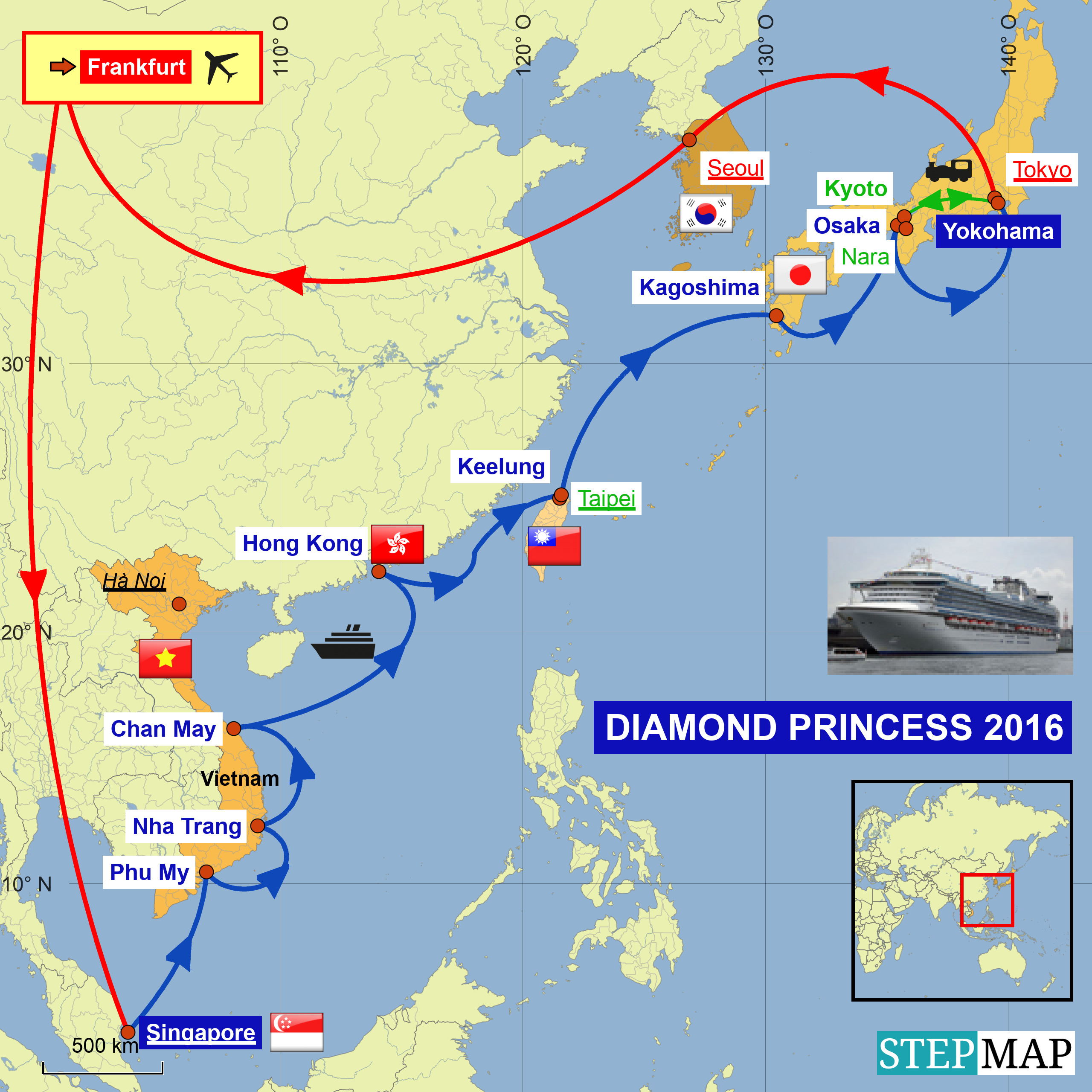 Ich müsste Trauerflor tragen: wir sind in Yokohama ausgekommen. Wir müssen wohl tatsächlich ausschiffen. Leider. Schade. Ich sehe aber schon unser Hotel für die nächsten zwei Nächte. Ich verabschiede mich auch von Joshua, der fast jeden Morgen immer hier für Sauberkeit und Ordnung gesorgt hat, während ich oft ihm im Wege stand, wenn ich Daten übertragen habe.

I needed to wear a crape: we arrived in Yokohama, Japan. We indeed needed to disembark. Unfortunately. Sadly. I saw our hotel for the next two nights. I said goodbye to Joshua who was taking care of tidiness and order almost every morning here around, and I was standing in his ways when I transmitted my data.

Also the very last day, I still discovered nice corner on board MY DIAMOND PRINCESS.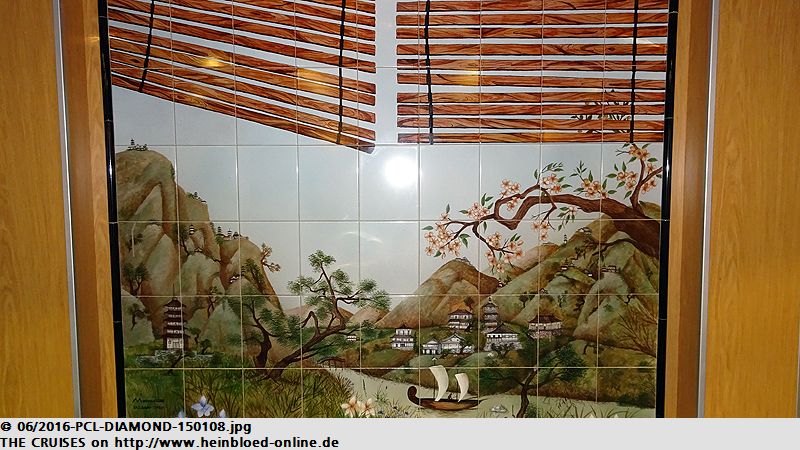 Auch am letzten Tag entdecke ich immer schöne Ecken an Bord MEINER DIAMOND PRINCESS.
Unsere Rechnung kommt.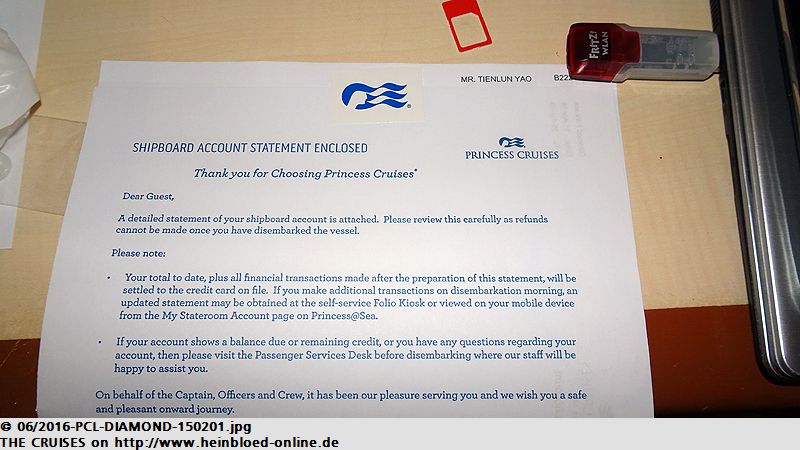 Our invoice came.

We left the ship with a credit of 3,330.01 USD. We supposed to have a check.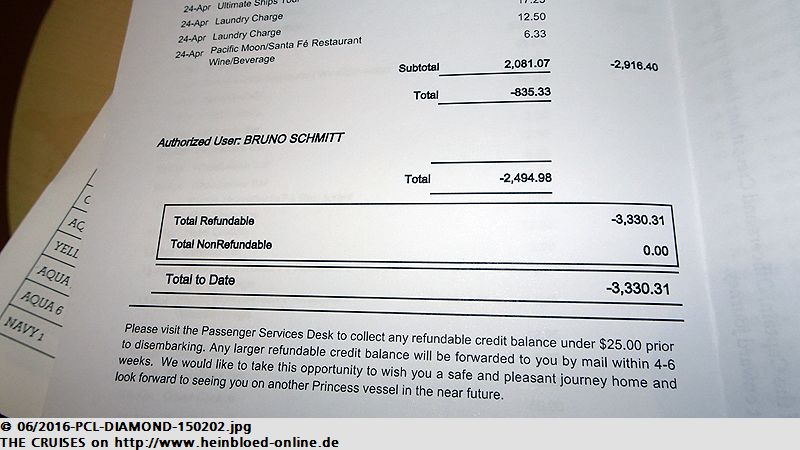 Wir verlassen das Schiff mit einem Guthaben von 3.330,31 USD. Es soll ein Scheck kommen.
Man merkt, dass jetzt die Japan-Saison beginnt. In den Kategorien, die einen Wasserkocher in der Kabine haben, gibt es Grüntee.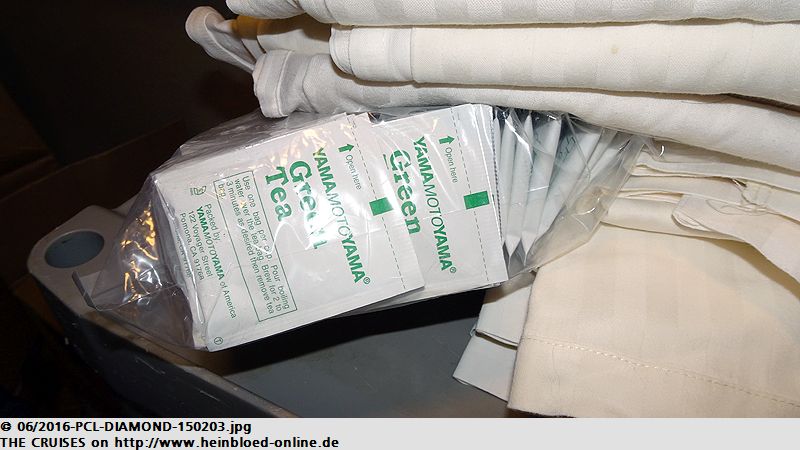 You could notice that the Japan-season was starting. They had now Green Tea in the categories with a water boiler in the cabin.

They had slippers.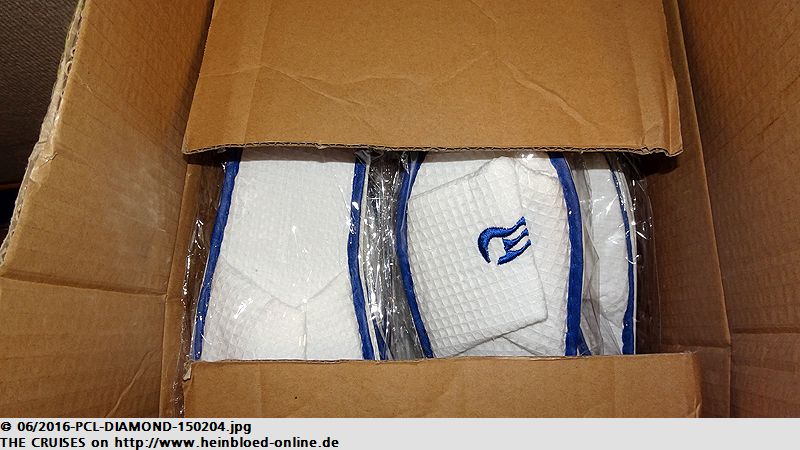 Es gibt Schlappen.
Zum letzten Frühstück. Alles auf den Anfang. Es gibt keine Pitahaya mehr an Bord. In Yokohama wird nur wenig hinzukauft, weil es zu teuer ist. Deswegen wird mit der nächsten Reise Busan angefahren. Mir wird schon mal der Ahornsirup gebracht, der ein heißes Wasserbad hinter sich hat, damit es schon flüssig bleibt. Bruno wird seine Pärchen hartgekochter Eier vermissen. Sie brauchen ein kaltes Wasserbad. Dann kommt auch schon mein J. B.'s French Toast. Den gab es auch an dem Morgen, an dem ausgerechnet die Kamera keine Aufnahmen gemacht hat. Ich laufe nochmals durch, um mich nochmals zu verabschieden, aber es sind nur wenige da: Ausschiffung heißt immer Stress. Insgesamt war das doch eine tolle Leistung, die Princess an Bord erbracht hat.

Heading for the last breakfast. We had to reset for the begin. No more dragon fruits were available on board. They had only a little supply in Yokohama because it was so expensive. So they would call Busan, Korea for the next voyage. They got me already the maple syrup which was kept in warm water to have it always liquid. Bruno would miss his couples of hard-boiled eggs. They would need some ice-water to be put in. Then my J. B.'s French Toast came. I had it the same morning when the camera had problems to store the pictures we took. I walked one more round to bid farewell, but there were only a few around: Disembarkation was stress for everyone. In total it was a great performance which Princess was offering on board.

After the breakfast, I was checking if B100 was accessible and when I discovered that everything was vacant, I took some pictures to record what I missed.

Nach dem Frühstück gucke ich nochmals, ob B100 zugänglich ist und als schon alles frei ist, mache ich ein paar Bilder, um zu sehen, was wir verpasst haben.
Zu den kleineren Missgeschicken, die auf der Reise passiert sind: Die Platinum Disembakation Lounge muss in einen kleineren Ort umziehen. Am ursprünglichen Ort wird die Einreise nach Korea vorbereitet. Es passen nicht alle Gäste hinein, so dass wir einen Platz draußen suchen müssen, und die Ansagen nicht mitbekommen. Wir sitzen an einer Bar, die aber auch für die neuen Gäste vorbereitet wird.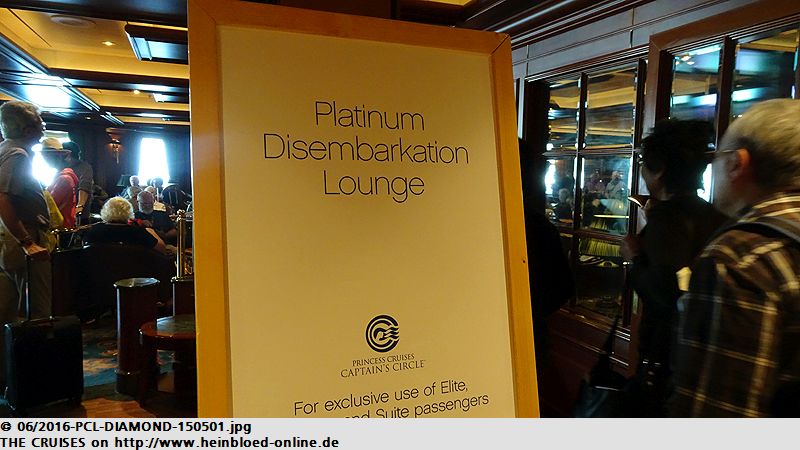 To the minor mishaps of the cruise: The Platinum Disembarkation Lounge needed to be moved to a smaller venue. At the original venue, they needed to prepare for the Korea immigration. Not all guests fit inside, so we need to find some seats outside and could not follow the announcements. We sat at a bar which was prepared for the new guests already.

Here they offered a small buffet.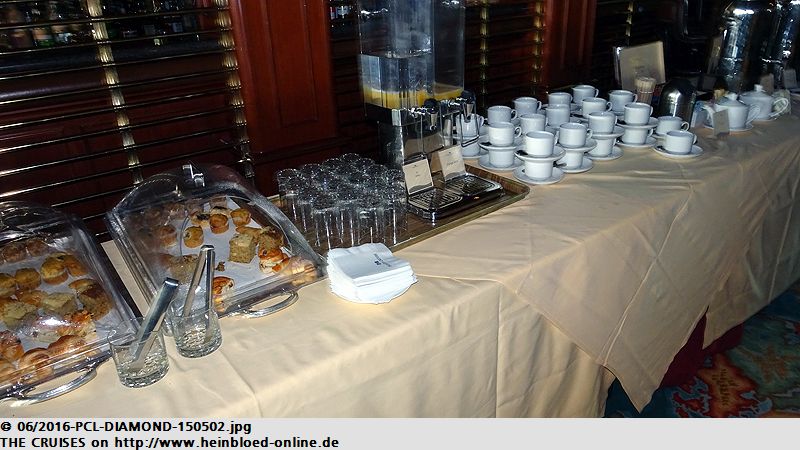 Hier ist ein kleines Büffet aufgebaut.
Da wir etwa 20 Minuten hinter dem Ausschiffungsplan liegen, gönne ich mir ein Stück Kuchen.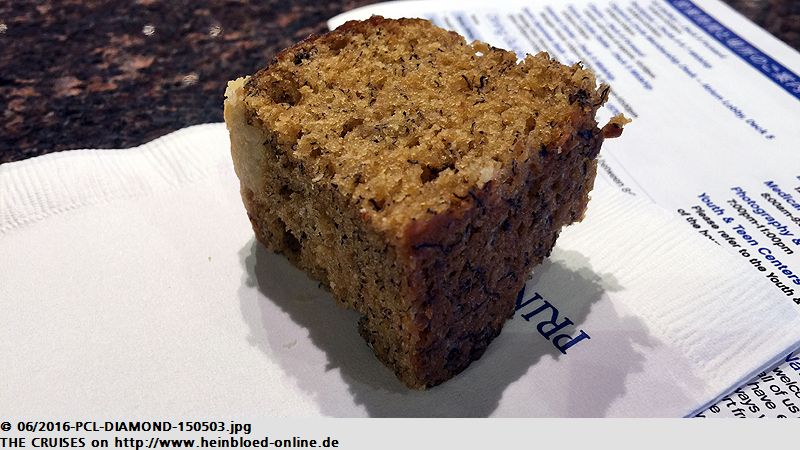 Since we were about 20 minutes behind the disembarkation scheme, I allowed myself to have a piece of cake.

Everything was perfectly well organized. Here you could find your way quickly.

Hier ist alles perfekt vorbereitet. Man findet sofort seinen Weg.
Noch einen Blick auf MEINE DIAMOND PRINCESS.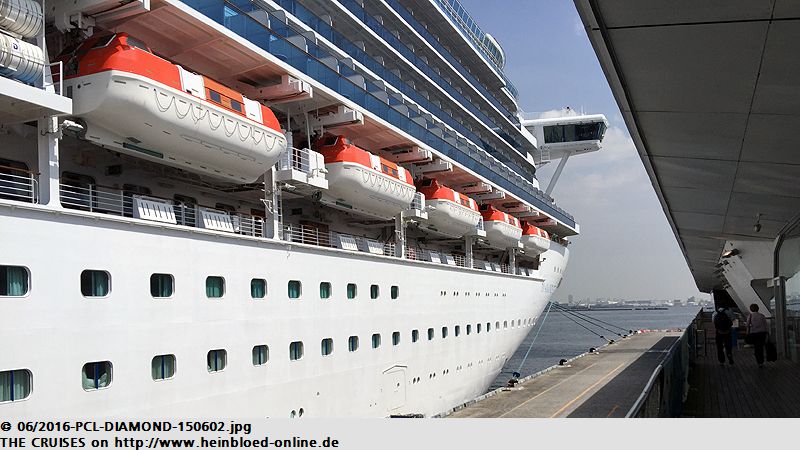 Watching one more time on MY DIAMOND PRINCESS.

One more trial to make a selfie.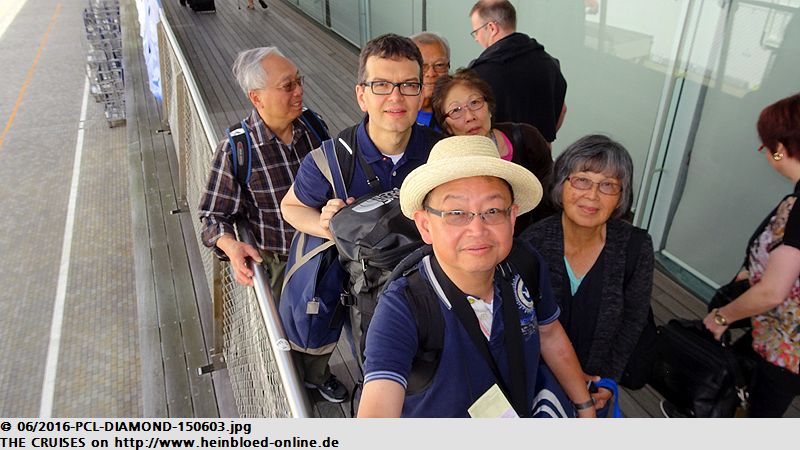 Noch ein letzter Versuch, Selfies zu machen.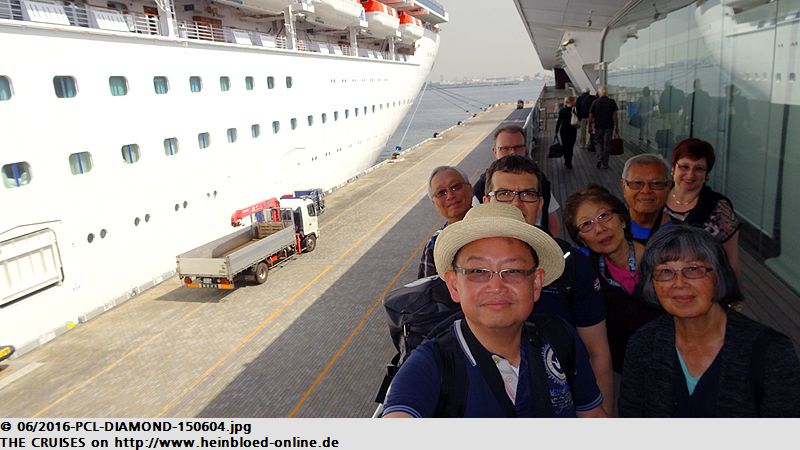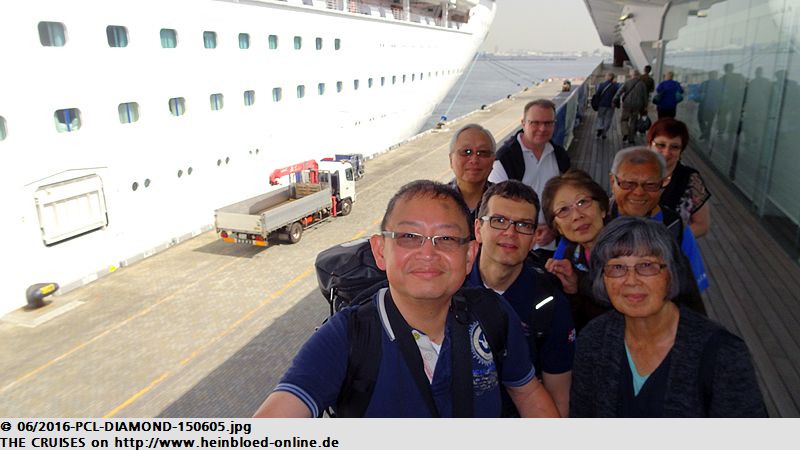 Irgendwie macht mich das Banner ganz traurig.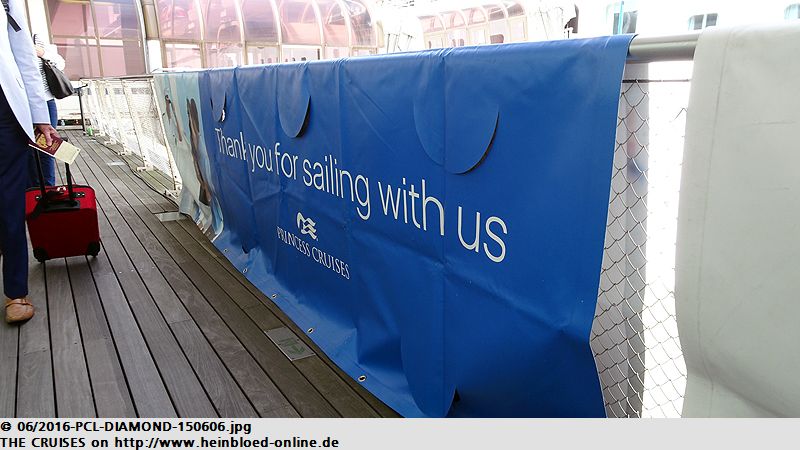 The banner made me very sad.

Here in the Osanbashi Cruise Terminal, everything was taken care of very well. Losing the orientation was difficult. Everywhere they had agents who addressed to us and offered their assistance. They provided a complimentary shuttle service to the Yokohama Station (NOT Yokohama-SHIN). With the cabs, you could see everything that someone would understand under modern Japanese methods of production: Kanban and 5S: the taxis were set up in an optimized way that it was easy to load the bags and none had to wait a long time. Our driver was upset that it was a short tour. We still needed for the ride 20 minutes since the access was the bottleneck. Our hotel's concierge was right when he told us it would not be a short ride of some minutes only. For Japanese habit unusual we tipped generously. So the world of our driver was satisfied again.

Hier im
Osanbashi Cruise Terminal
ist alles gut organisiert. Sich nicht zurecht zu finden, ist schwer. Überall sind Mitarbeiter da, die auf einen zugehen und fragen, ob sie weiterhelfen können. So wird uns die kostenlose Mitfahrt im Bus zum Bahnhof Yokohama (NICHT Yokohama-SHIN) angeboten. Beim Taxi sehe ich so ziemlich alles, was ich so unter moderne japanische Produktionsmethoden gelernt habe: Kanban und 5S: Die Taxis werden so optimiert aufgestellt, dass man einfach das Gepäck einladen kann und so bereit gestellt, dass man nicht lange warten muss. Unser Fahrer ärgert sich über die kurze Tour. Trotzdem brauchen wir doch 20 Minuten, weil die Zufahrt der Flaschenhals ist. Unser Concierge vom Hotel hatte Recht, als sie meinte, dass es keine Fahrt von wenigen Minuten sei, obwohl es nur eine kurze Strecke ist. Wir geben ungewohnt für Japan kurzerhand ein großzügiges Trinkgeld. Und damit war die Welt unseres Taxifahrers wieder in Ordnung.
Für relativ wenig Geld können wir im
Inter-Continental Yokohama Grand
. Deswegen lohnt es sich für mich nicht, meine Punkte einzusetzen.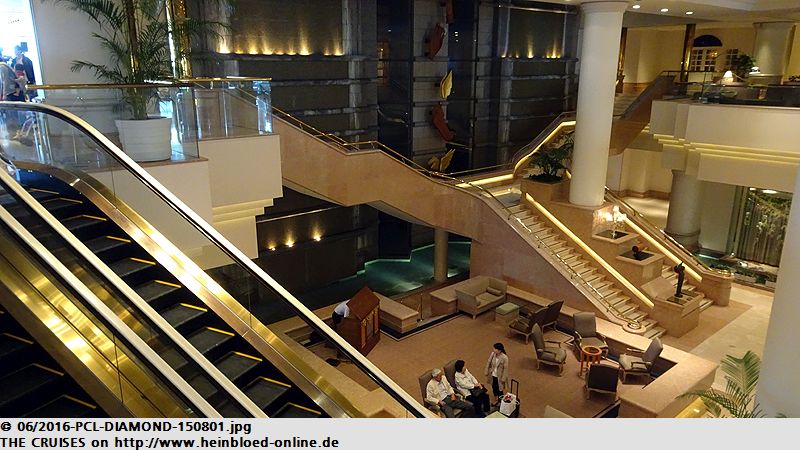 For only a little money relatively we could stay in the Inter-Continental Yokohama Grand. So it was not worth to spend my points.

A lovely lobby.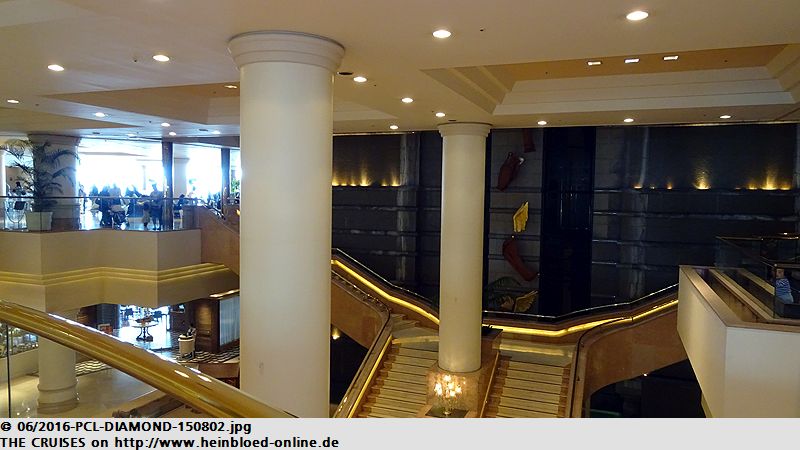 Eine schöne Lobby.
Im Hotel gibt es auch einen Laden mit Gebäck und Souvenirs.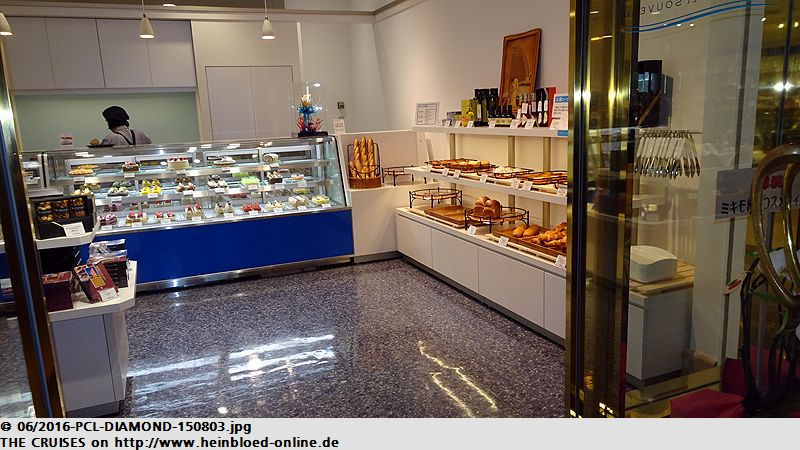 They had also a store with pastries and souvenirs.

In the hotel, they had a stand of Yamato. They offered a baggage transfer service to the airport. So we could easier use the public transport with hand luggage. They had even a direct connection with Narita Airport with the Limousine Bus Service. But at the time we need to me at the airport there was no service available.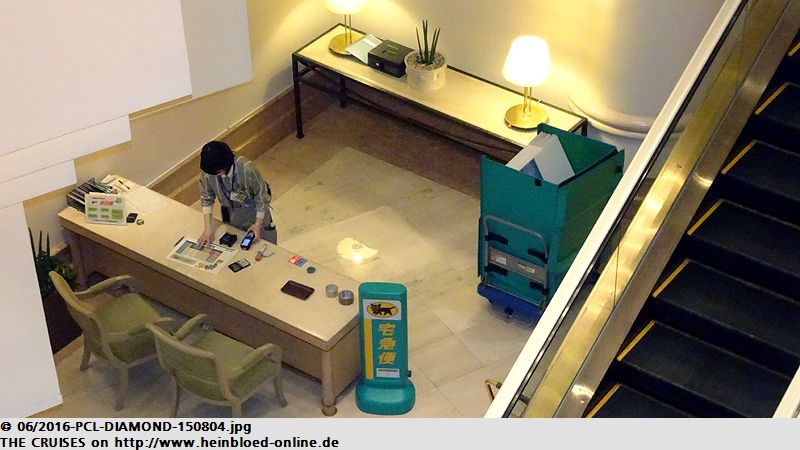 Im Hotel gibt es einen Stand von
Yamato
. Sie bieten einen Gepäckservice zum Flughafen an. So können wir etwas einfacher mit Handgepäck die öffentlichen Verkehrsmittel nutzen. Es gibt zwar sogar eine direkte Verbindung zum Narita Flughafen mit dem
Airport Limousine Bus Service
. Allerdings fährt er nicht zu den Zeiten, zu denen wir am Flughafen sein müssen.
Vom Zimmer aus können wir bis zum Cruise Terminal und zu MEINER DIAMOND PRINCESS sehen.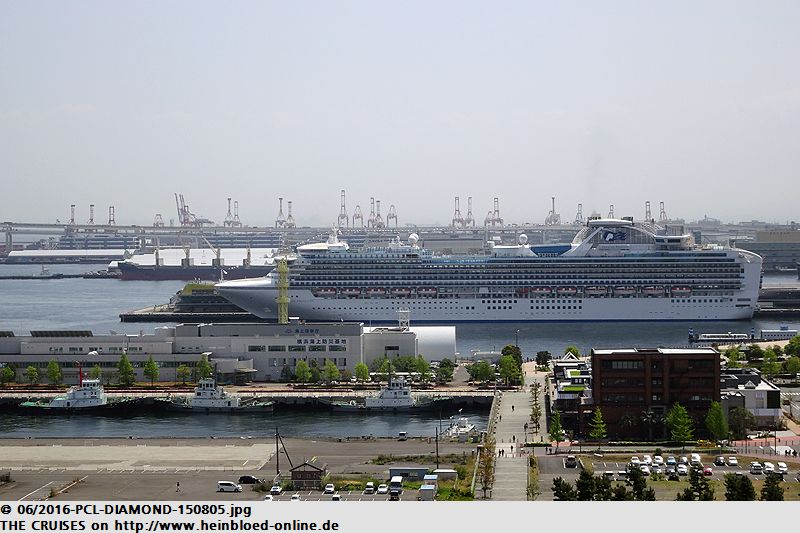 From the room we could see to the cruise terminal and to MY DIAMOND PRINCESS.

Opposite of the hotel was a shopping center Queen's Square. You could watch over to the Cosmo Clock 21-amusement park with the giant wheel. We
were heading to Yokohama Port Museum. Here they the sailing training ship NIPPON MARU (you had also an actual cruise ship - we here it was NIPPON MARU of 1930). Here around it looked more like in London or a dock of a shipyard. Actually we were checking for the pier of the water bus but it was not operating yet. It was so hot that we need something to drink and we bought from one of the numerous singing, talking, annoying vending machines. Somehow I could not get rid off the bottle. No waste bin was around.

Gegenüber vom Hotel ist das Einkaufszentrum
Queen's Square
. Man sieht schön rüber zum Cosmo Clock 21-Freizeitpark mit dem Riesenrad. Wir laufen weiter zum
Yokohama Port Museum
. Hier liegt auch das Segelschulschiff NIPPON MARU (gibt es auch als aktuelles Kreuzfahrtschiff - aber es ist die NIPPON MARU aus 1930 gemeint). Rundum erinnert es an die Tower Bridge in London oder an eine Bauwerft. Eigentlich suchen wir die Anlegestelle vom Wasserbus, aber irgendwie fährt hier nichts ab. Es ist so heiß, dass wir wieder etwas zu trinken brauchen und nehmen etwas von einem der zahlreichen singenden, sprechenden, nervenden Verkaufsautomaten. Nur die Flasche werde ich nicht los. Irgendwie gibt es kaum Mülleimer hier herum.
Da wir ja nun nicht den Wasserbus gefunden haben gehen wir zurück in den Queen's Square. Ein Teil ist
Landmark Plaza
. Wir wollen essen, bevor der große Sturm kommt.
Tetsu Tsukemen
sieht attraktiv und sehr typisch japanisch aus. Es findet sich ein Hinweis, dass das Restaurant bestes Tsukemen Restaurant des Jahres war. Hier bei
Tokyo Times
findet sich die Gebrauchsanleitung, wie man die Nudelsuppe essen muss und der Hinweis, dass sie es sogar zwei Jahre hintereinander waren (2008 und 2009).

Since we could not find the Water Bus we returned to the Queen's Square. It was part of the Landmark Plaza. We wanted to have lunch before it would become crowded. Tetsu Tsukemen looked attractive and typical Japanese to us. We noted that the restaurant was awarded as Best Tsukemen Restaurant of the Year. Here in the Tokyo Times, you could find a manual how to eat noodle soups and the notice that they were awarded two consecutive years (2008 and 2009).

In our building, we had the subway station Minatormirai of the Minatormirai Line. You could easily buy the tickets at the ticket machines, and everything was signposted bilingually.

In unserem Gebäudekomplex befindet sich der U-Bahnhof Minatormirai der
Minatormirai Linie
. Die Tickets sind einfach an den Automaten erhältlich und alles ist zweisprachig ausgeschildert.
Wir fahren bis zur Endstelle Motomachi-Chukaga.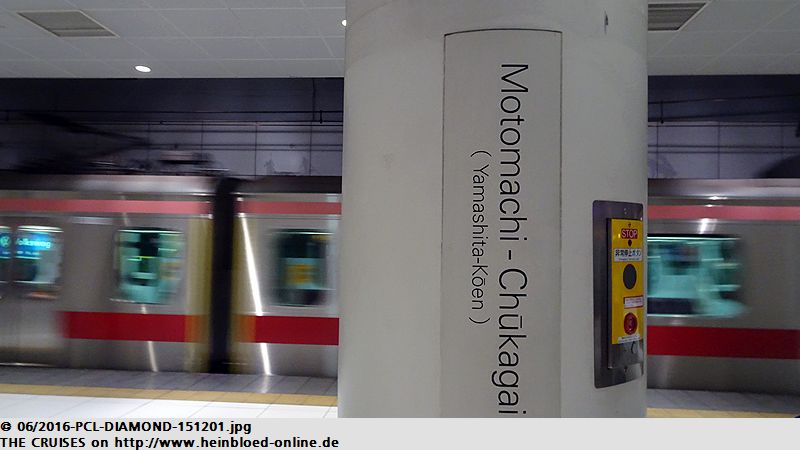 We were going to the terminal station Motomachi-Chukaga.

Here we were directly at China-Town.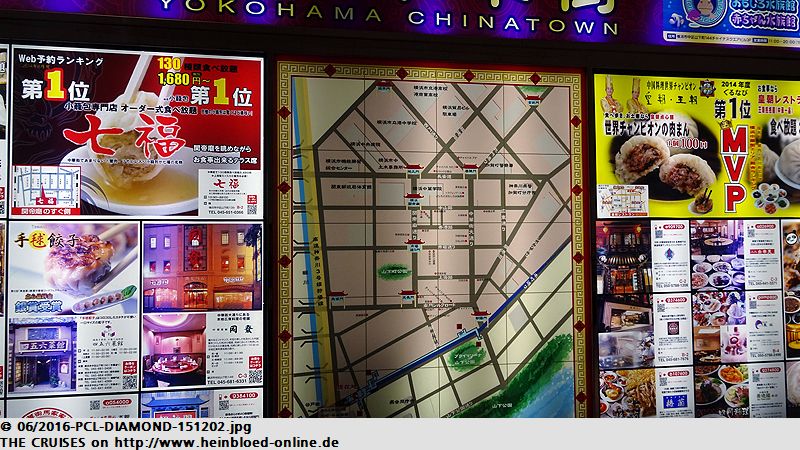 Hier sind wir direkt am China-Town.
Aber wir wollen Richtung Yamashita Park raus: Ausgang 4.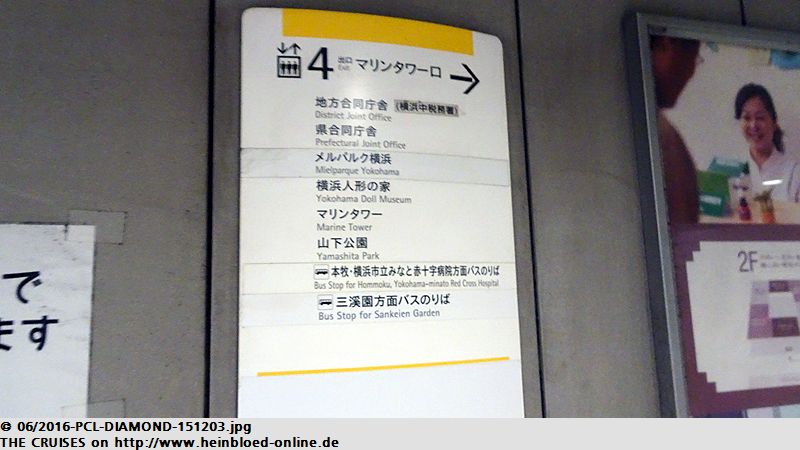 But we needed to get towards the Yamashita Park: Exit 4.

Everything was well signposted.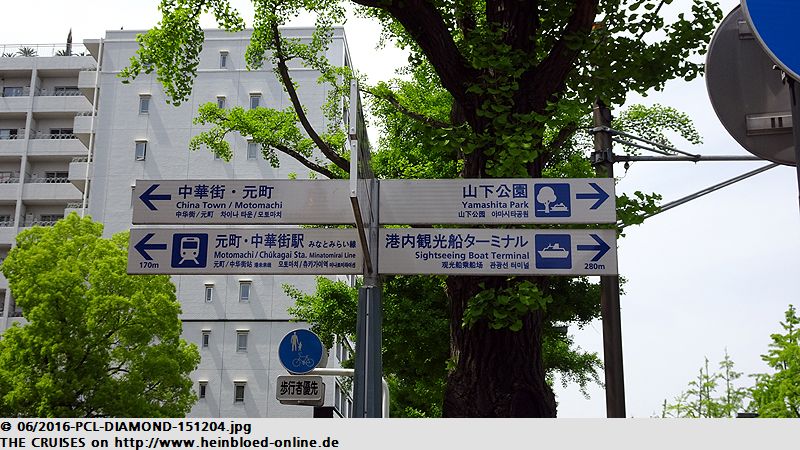 Alles ist gut ausgeschildert.
Bald sind wir schon am Pier des
Sea-Bass
-Liniendienstes.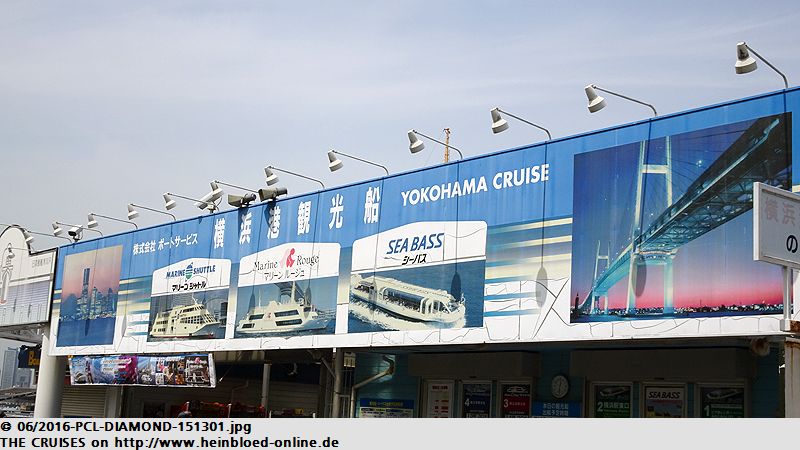 Soon we arrived at the pier of the Sea-Bass-Linerservice.

For 340 JPY (2016) we went for one stop to the Aka-Renga-Pier.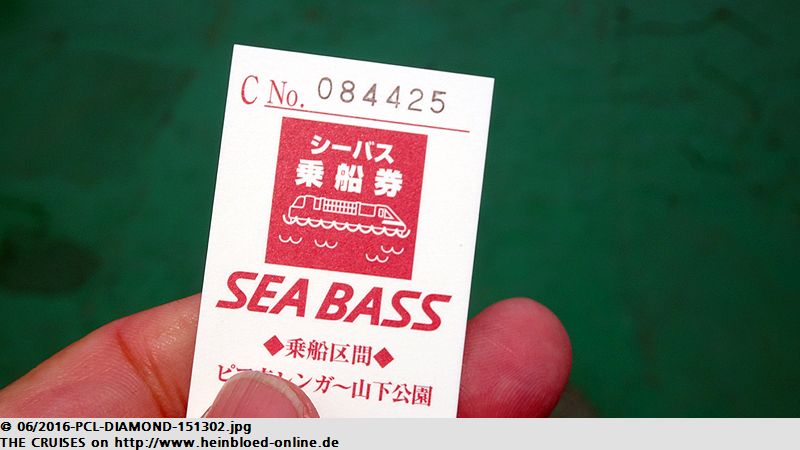 Für 340 JPY (2016) fahren wir eine Station weiter bis nach Pier Aka-Renga.
Oh weia... da wird wohl am Unterhalt gespart.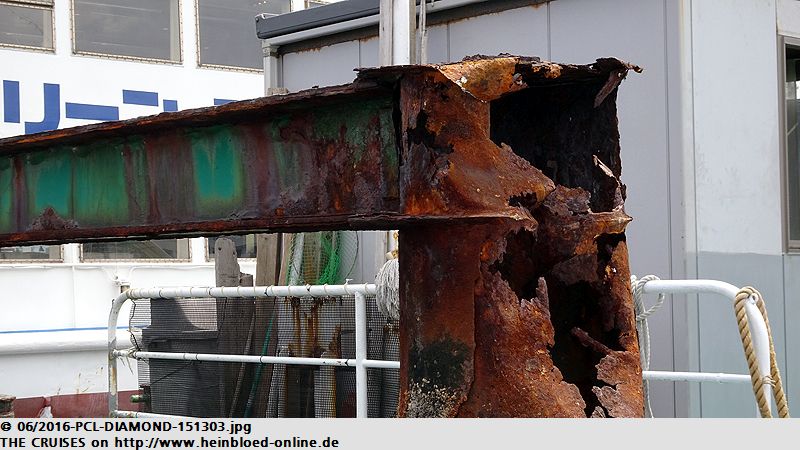 Ooops... saving the money for maintenance.

So we could get knowledge of the handling activities in the port.

So bekommen wir etwas von den Umschlagstätigkeiten im Hafen mit.
Ich liebe diese Hafentouren.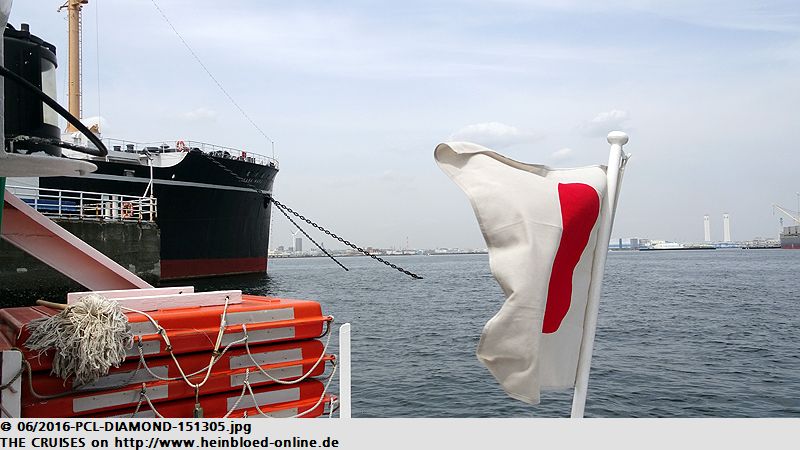 I loved such port tours.

One more selfie from MY DIAMOND PRINCESS.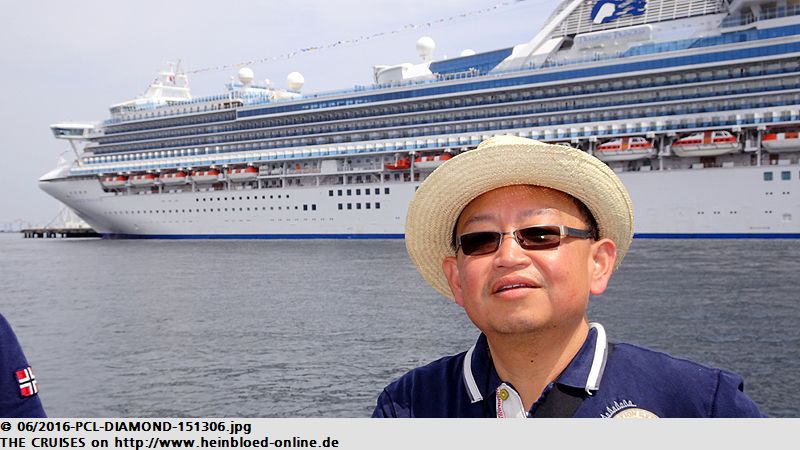 Noch ein Selfie vor MEINER DIAMOND PRINCESS.
Und noch einige Versuche die Gruppe nochmals zum Abschiedsbild auf ein Selfie zu bekommen.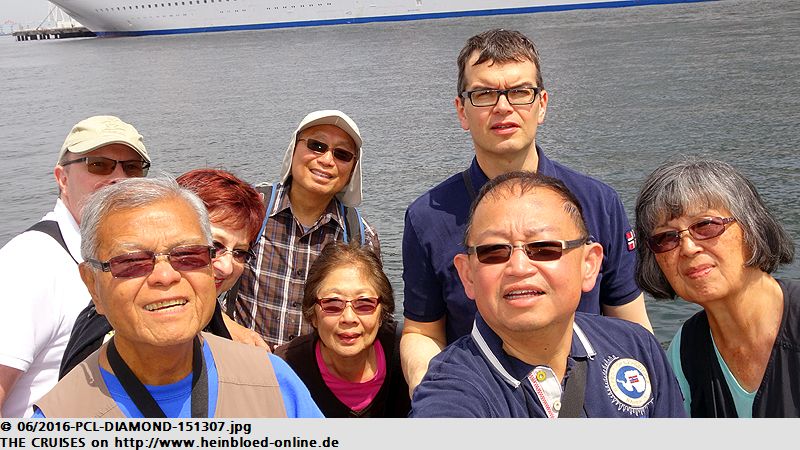 And few more attempts to the get the group on a farewell-selfie again.

Now finally a little part of the ship.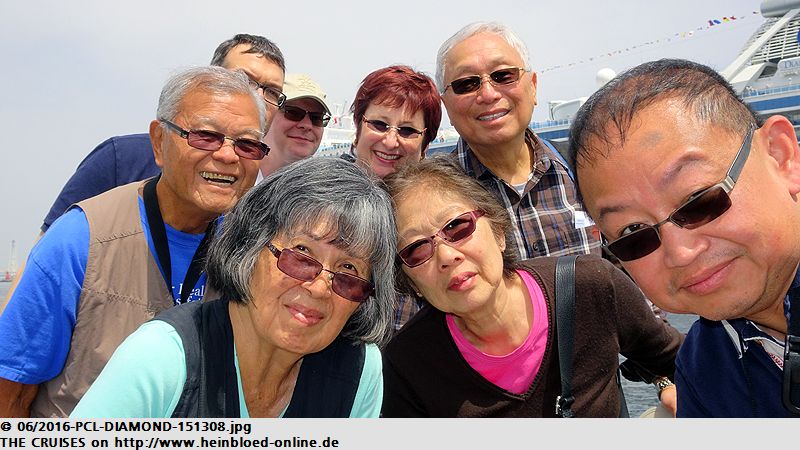 Nun endlich auch wenig vom Schiff.
Ja schade, wie schnell die Kreuzfahrt auf einmal zu Ende gegangen ist.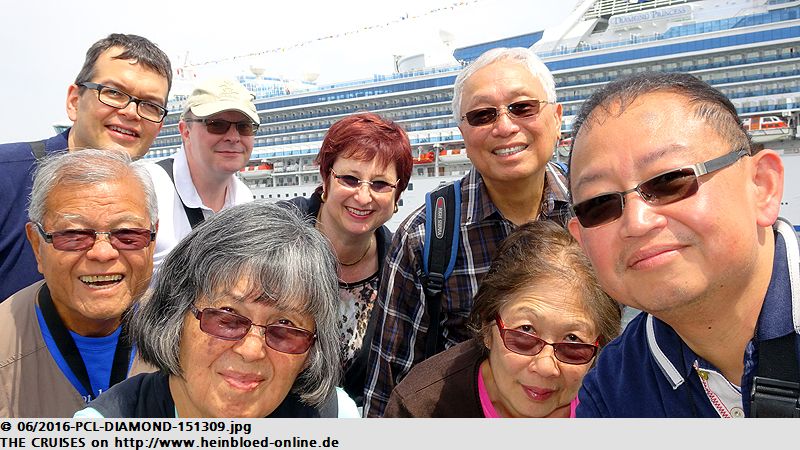 It was extremely sad, how fast the cruise came again to the end.

We also passed the HIKAWA MARU.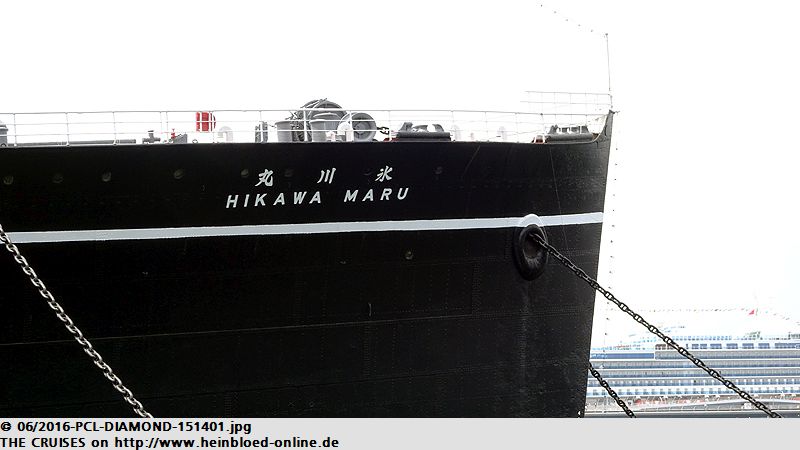 Wir fahren auch an der
HIKAWA MARU
vorbei.
Sie ist Teil des NYK Ausstellungswelt, die in Yokohama ist.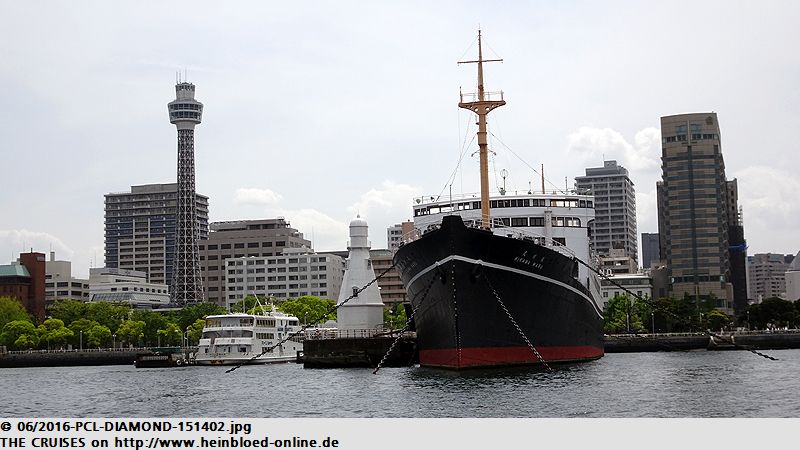 It was part of the NYK exhibition world which was in Yokohama.

Unfortunately, we could not make it here in again.

Leider schaffen wir es dieses Mal wieder nicht, hier reinzugehen.
Sie war ja im Liniendienst zwischen Japan und Seattle im Einsatz.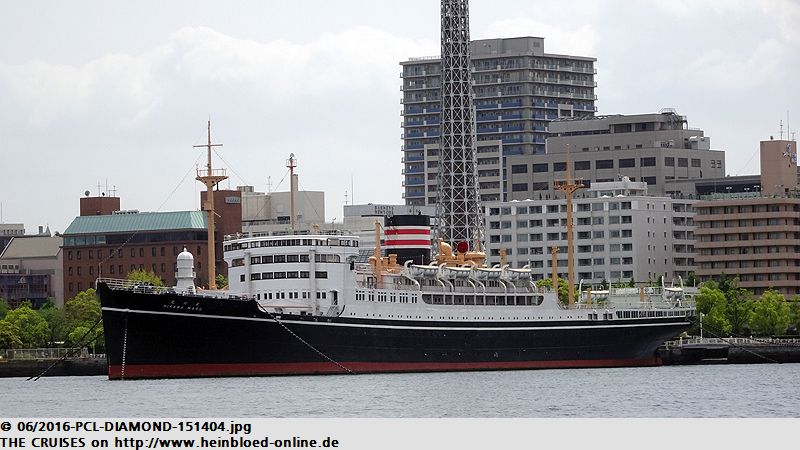 She was in the liner service between Japan and Seattle, WA.

Maybe we could handle it the next time.

Aber vielleicht das nächste Mal.
Noch einmal von außen
MEINE
DIAMOND PRINCESS entdecken. Sie ist wirklich eine Schönheit.

One more time discovering MY DIAMOND PRINCESS from outside. She was really a beauty.

We were walking alongside the promenade. It was very friendly and green, and no bike-rider was about to run over all the time.

Wir spazieren entlang der Promenade. Ist sehr schön grün und man wird nicht ständig von Radfahrern umgefahren.
Auf der Promenade ist eine schöne Blumenausstellung aufgebaut.

In the promenade they had a gorgeous flower exhibition.

Here we got some freshly squeezed-lemonade as refreshments before we started with the second part of the day.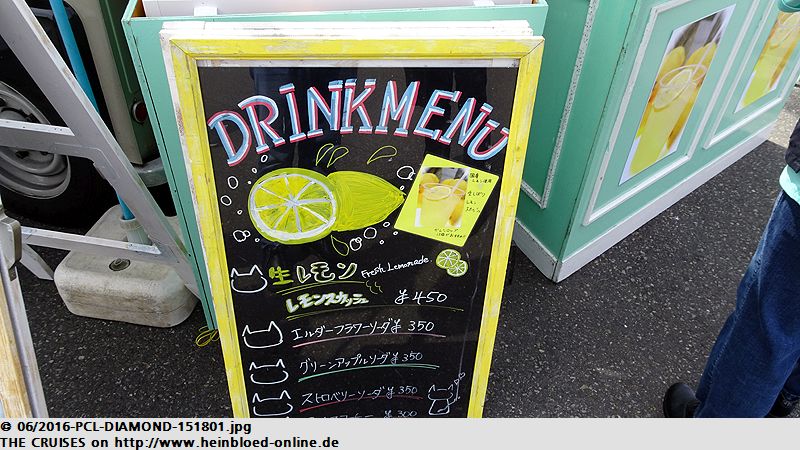 Hier gibt es frischgepressste Limonade als Erfrischung bevor der 2. Teil des Tages weitergeht.
Lecker.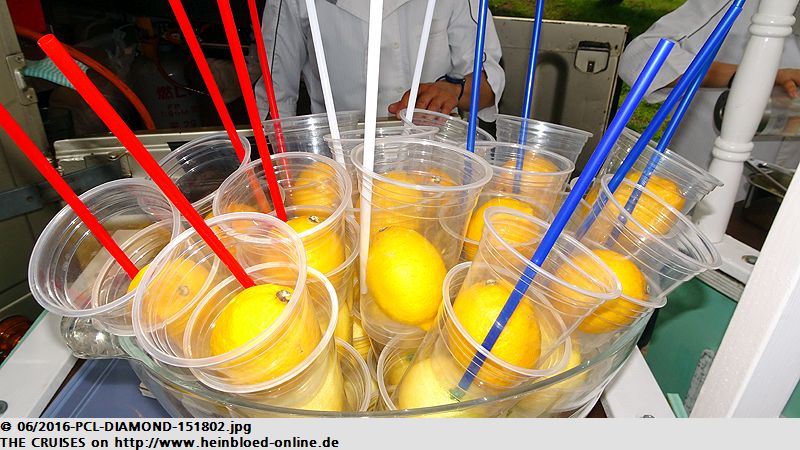 Yummy.

Kampai.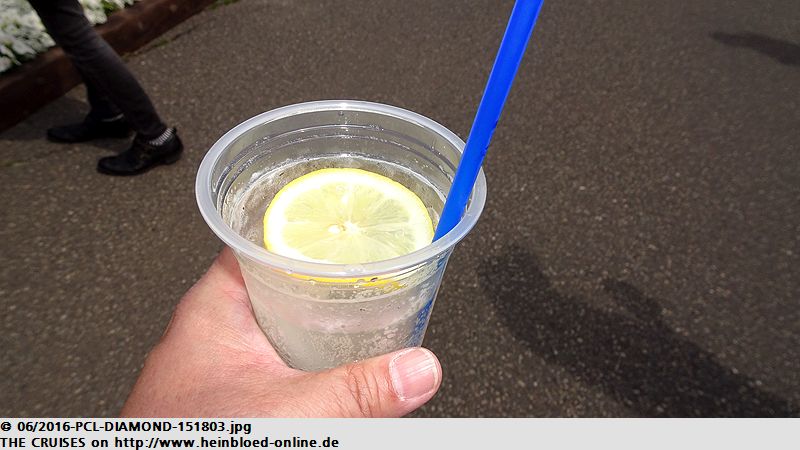 Kampai.
Die anderen Reisen in diesem Blog/
The other voyages in this blog: