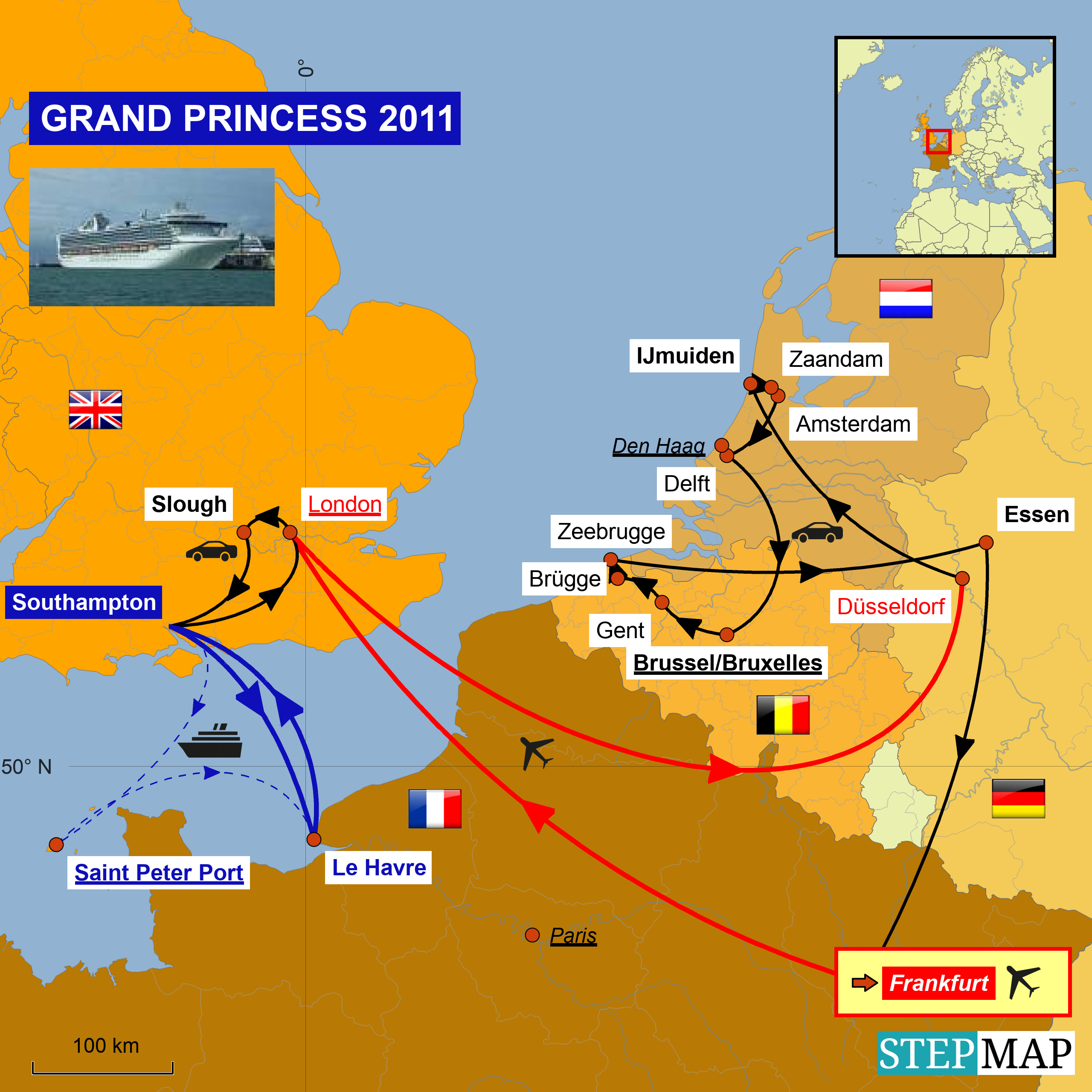 Gegen 15.15 Uhr sind wir zurück. Für 16.00 Uhr haben wir uns mit Aad und Nicoline auf einen Kaffee verabredet. Den gibt es allerdings nur bei Subway. Wir wollen evtl. bei dem Segway-Geschäft nachfragen, ob wir für 30 Minuten uns ein Segway leihen können.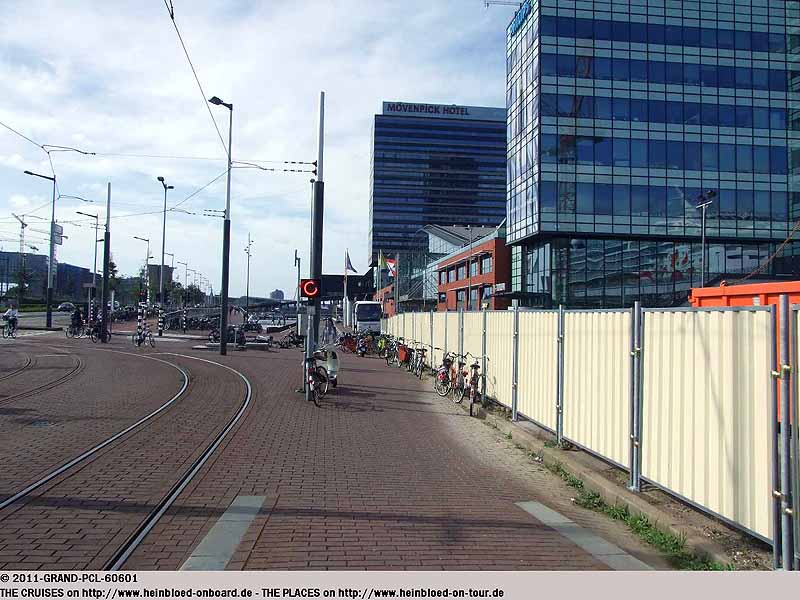 Around 15.15 hrs we were back. For 16.00 hrs we should have a coffee with Aad and Nicoline. This you could only get with Subway. We planned to ask the Segway-store if we could rent for 30 minutes a Segway.

Everything was well signposted.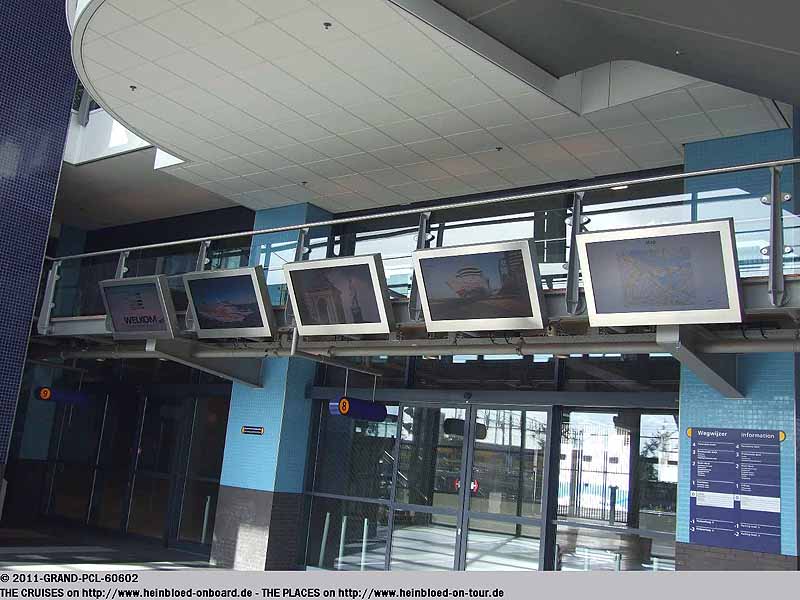 Ist alles ziemlich gut ausgeschildert.
Nur das Parkhaus ist ziemlich teuer: 4,00 EUR pro Stunde. 40,00 EUR am Tag (2011). Mitlerweile gibt es wohl noch einen Valet-Service, der günstiger ist, aber immer noch um einiges teuerer als der P+R-Parkplatz in Zeeburg.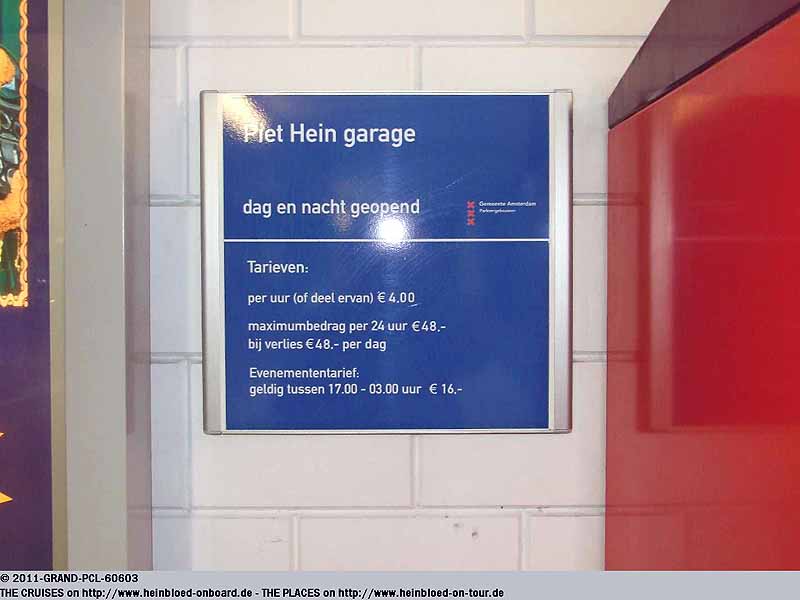 Parking is quite expensive: 4.00 EUR per hour. 40.00 EUR per day (2011). Meanwhile, they also offer a valet service which is cheaper but still more expensive than the P+R-parking in Zeeburg.

At the information desk, we met paiagirl.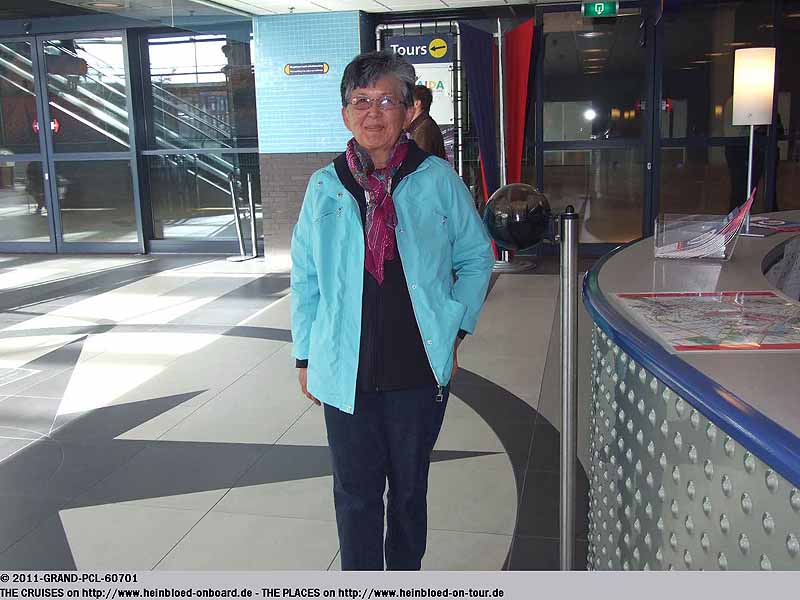 Am Informationsstand treffen wir schon paiagirl.
Wir gehen zusammen auf die Terrasse, um Bilder von ihr und ihrem Mann Eddie vor der NORWEGIAN SUN zu machen.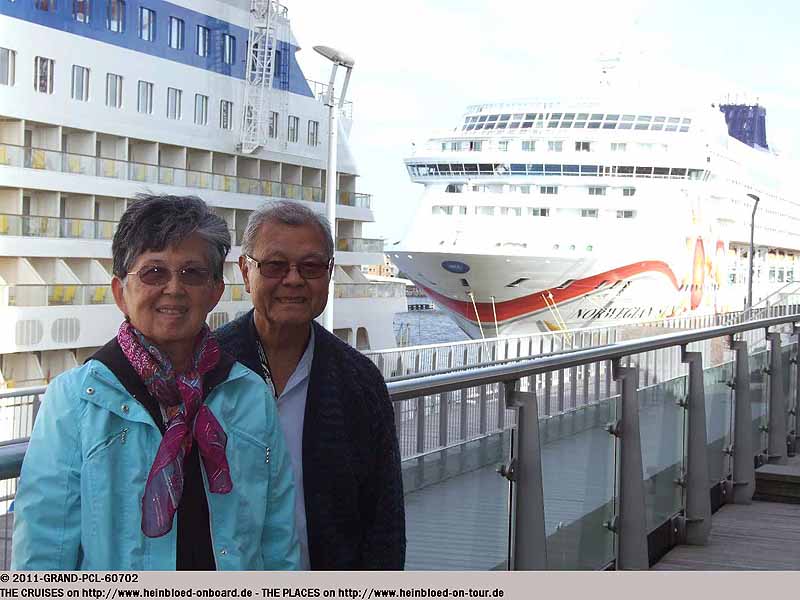 We went together on the terrace to make some pictures of her and her husband Eddie in front of NORWEGIAN SUN.

It was so bad that she was so far away in the back.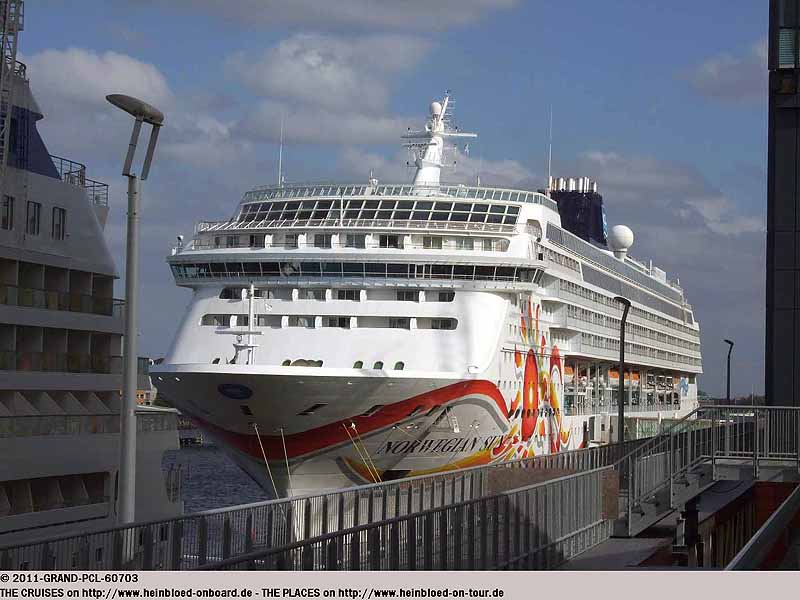 Schade, dass sie so weit hinten liegt.
paiagirl hat es sehr bedauert, dass es von mir keine Bilder aus Hawai'i gab, als sie uns unsere Leis überreicht hat. So hat sie mir extra nochmals eines gemacht, um es mir überreichen zu können.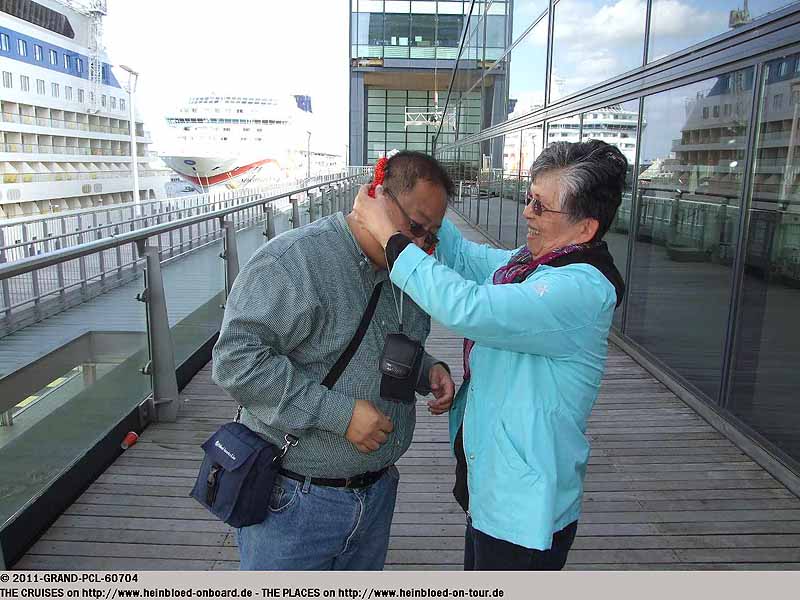 paiagirl deeply regretted that there were no pictures of me from Hawai'i when she handed over the Leis. So she made another one to hand it again to me.

How sweet and lovely she was.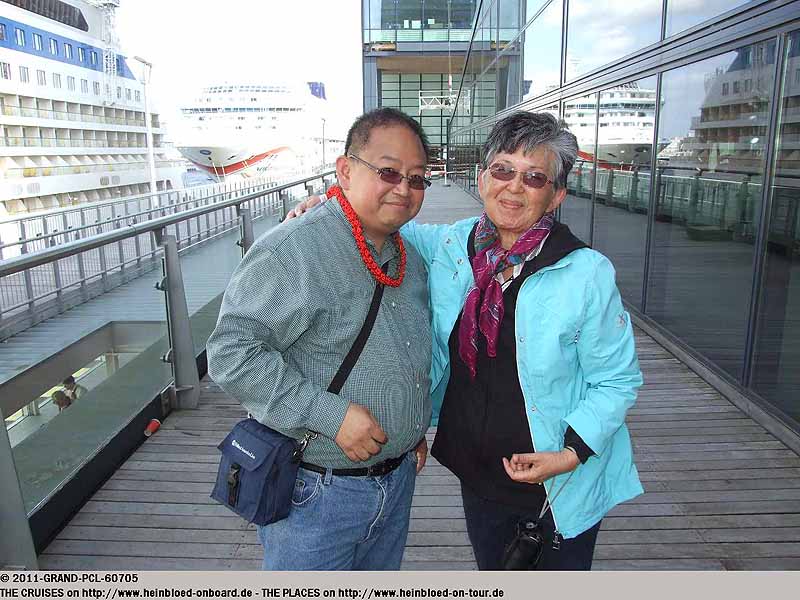 Das ist doch richtig lieb von ihr.
Aber von Bruno gibt es doch BIlder... wieso bekommt er jetzt ein weiteres?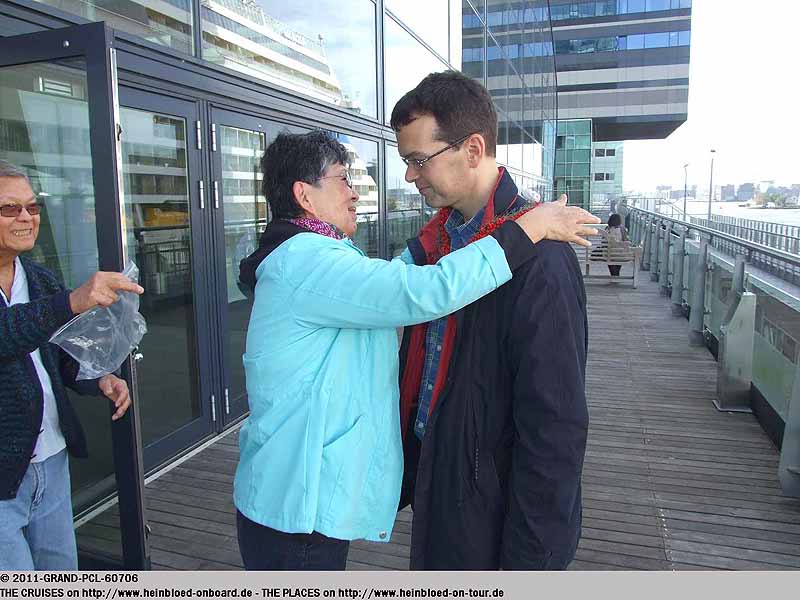 But there were pictures from Bruno... so why did he get another one again?

But anyhow we were glad to see them again.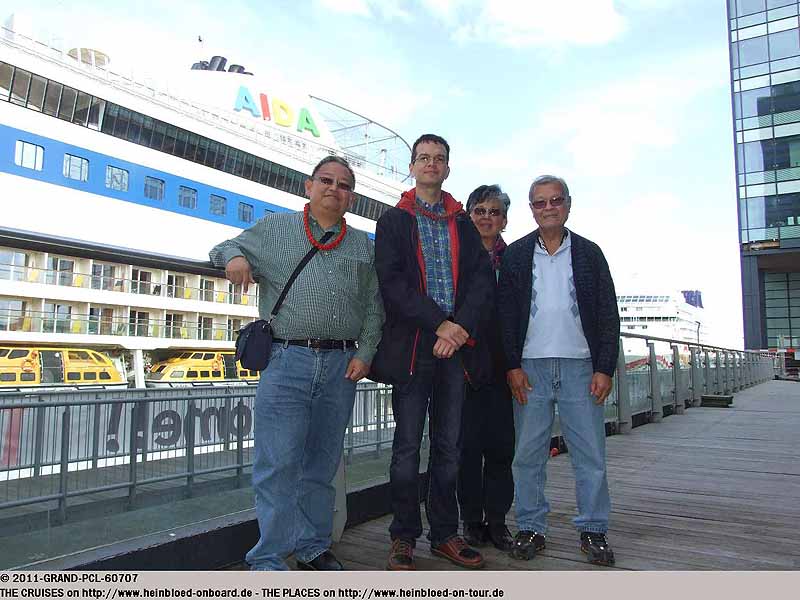 Auf jeden Fall freuen wir uns sehr, dass wir sie wiedertreffen.
Nur auf Aad und Nicoline warten wir vergeblich. Sie stecken leider im Verkehr fest. Wir haben dann uns im Cruise Terminal unterhalten und irgendwie durch die Warterei ist uns vollkommen entgangen, dass die Crew Mitglieder, die noch herumsaßen und im Internet surften gar nicht von der NORWEGIAN JADE waren, sondern von der AIDAblu (2). Blöderweise konnten paiagirl gar nicht mehr an Bord so dass wir BLÖDERweise gezwungen waren, sie in Zeebrugge im nächsten Hafen abzusetzen... Und wie es der Zufall will: paiagirl hatte wohl beim Packen sich verzählt und bemerkt, dass sie einen Satz Wäsche zu wenig eingepackt hatten, so dass sie wohl in Amsterdam in einem Waschsalon waren und zufällig frische Wäsche für eine Nacht dabei hatten....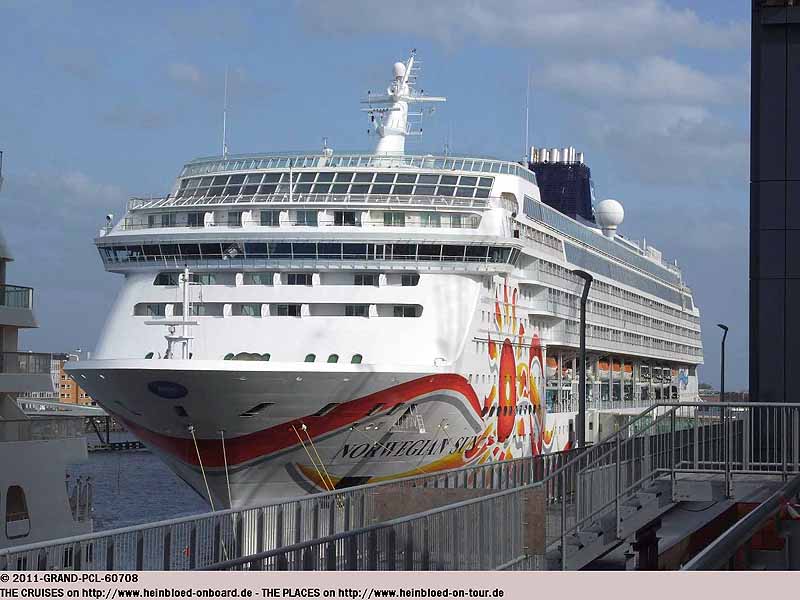 We waited for Aad and Nicoline to no avail. They were stuck in the traffic. We chatted in the cruise terminal, and somehow we missed that the crew members around with their computers were from NORWEGIAN SUN but AIDAblu (2). Somehow it was stupid that we were forced now to get paiagirl to the next port in Zeebrugge... By coincidence, she found out that she packed by mistake one set of underwear less than needed and that was why she packed one set to see a laundrette in Amsterdam and so she had an overnight pack with her...

As they would not let them anyway on board as we could not find anyone anymore in the cruise terminal, we can change the bank of the North-Sea-Canal to take few pictures.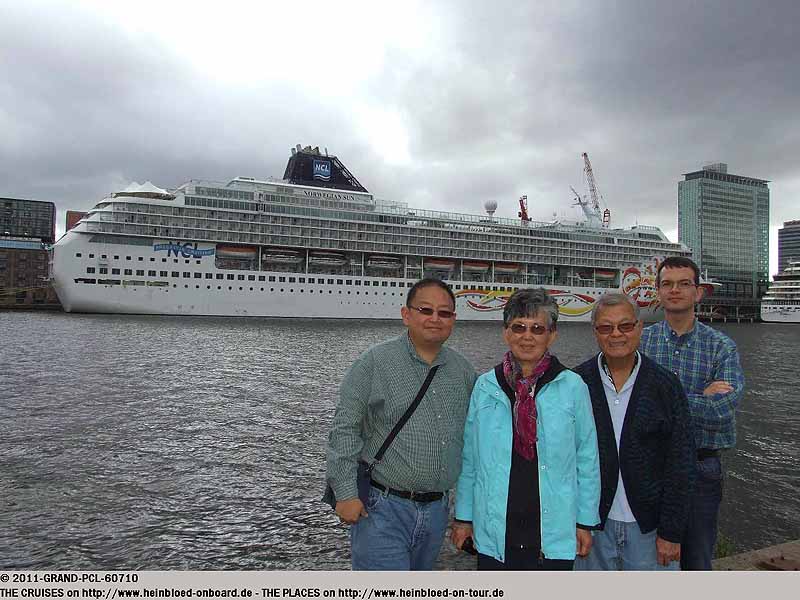 Da sie eh nicht mehr an Bord gelassen wurden, weil wir gar keinen mehr gefunden hatten, den wir hätten im Cruise Terminal fragen können, fahren wir dann ruhigen Gewissens auf die andere Seite des Nordseekanals, um noch ein paar Bilder zu machen.
Drüben hören wir wie eine Ansage nach der anderen kommt, aber paiagirl war nicht dabei, als wir hier standen.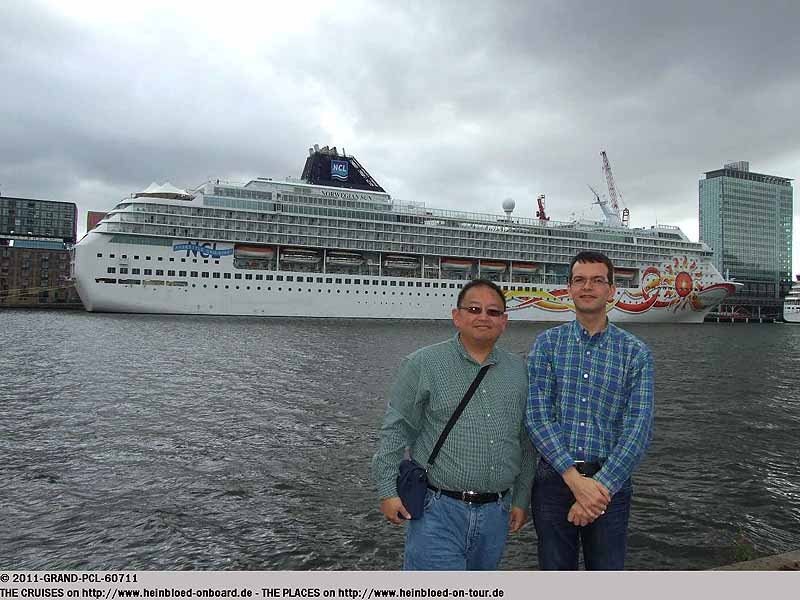 There over we heared one announcement after the other but not for paiagirl as long as we stayed there.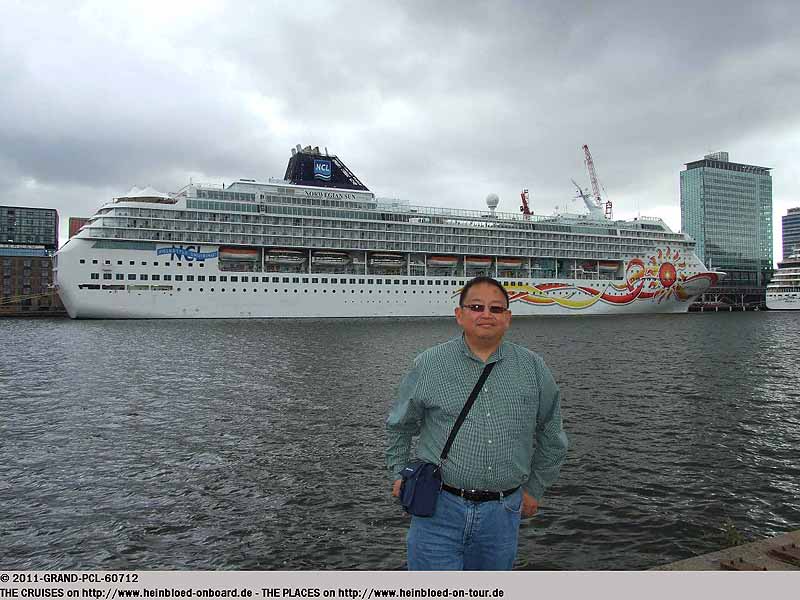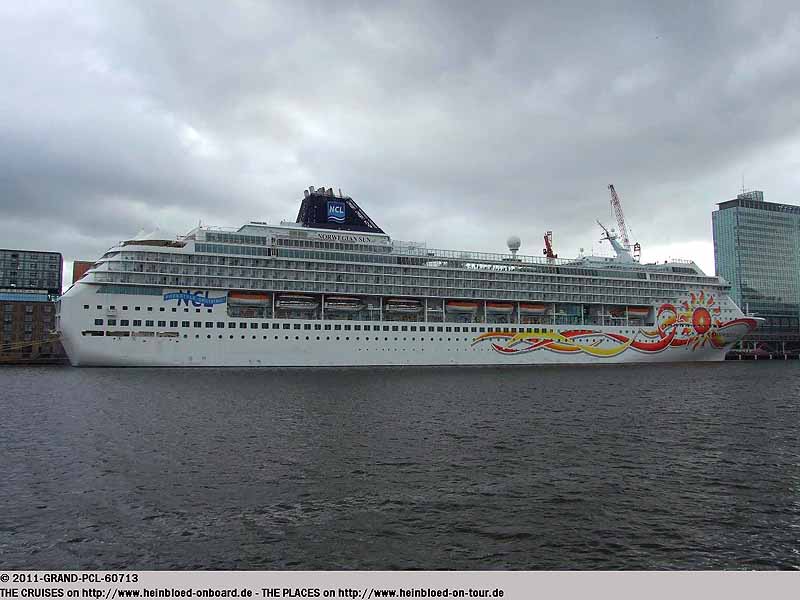 Next year we are in September 2012 on NORWEGIAN SUN too.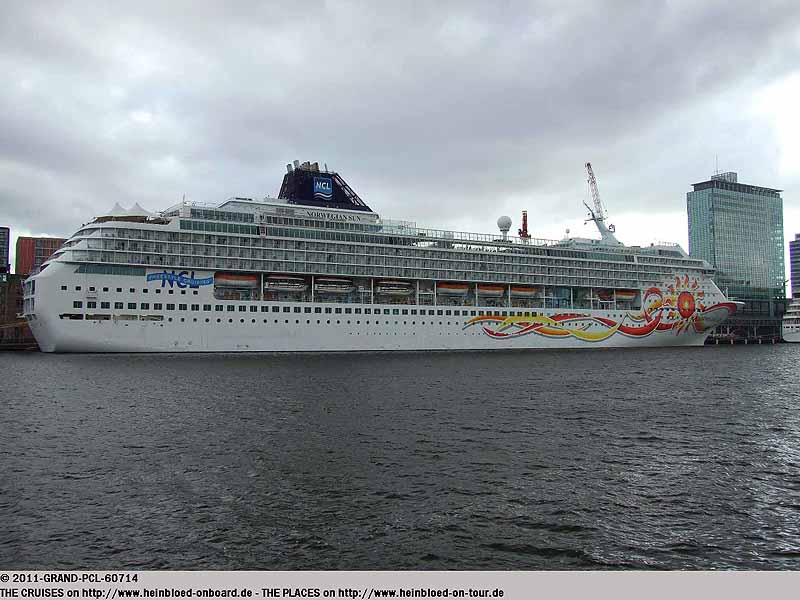 Nächstes Jahr im September 2012 sind wir ja dann auf der NORWEGIAN SUN.
Auf dem Weg nach Norwegen, Shetland, Farör, Island, Schottland, Irland.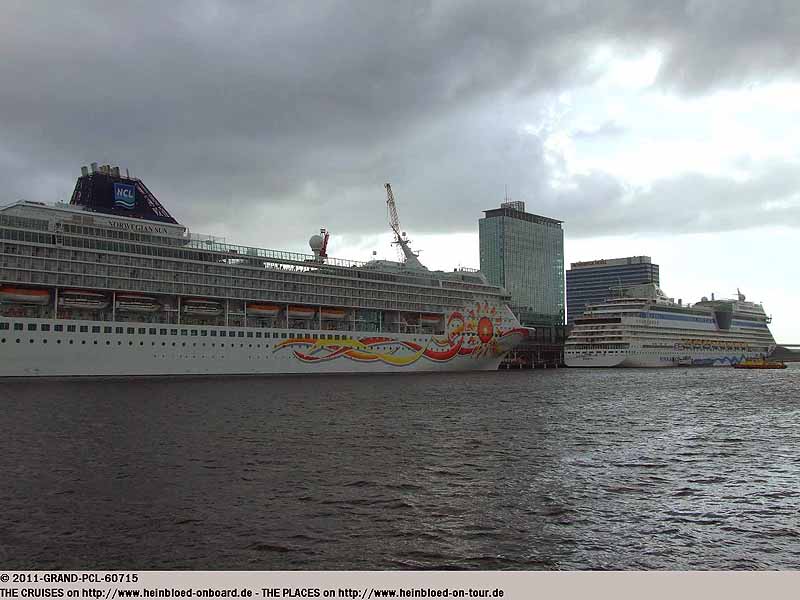 On the way to Norway, Shetland, Faroer, Iceland, Scotland and Ireland.

Furthermore, AIDAblu (2) was also in town.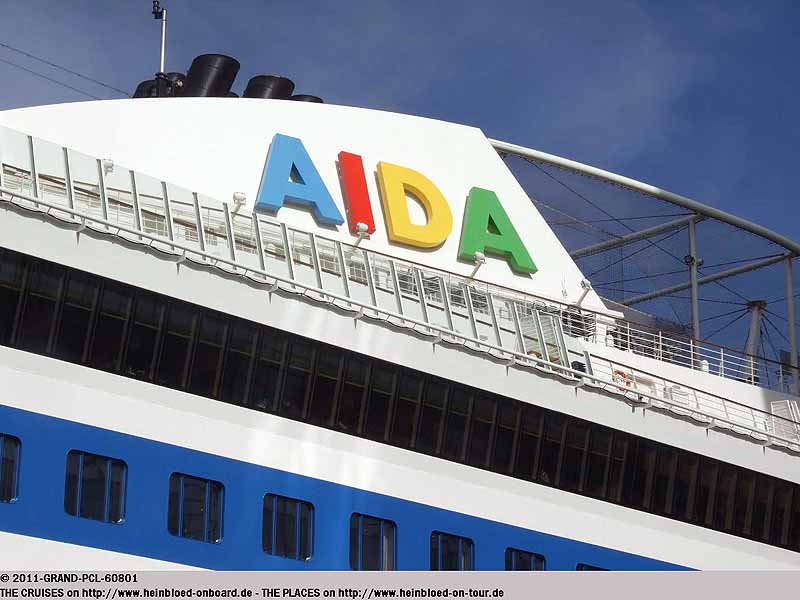 Außerdem war ja noch AIDAblu (2) in der Stadt.
Aber sie kam erst verhältnismäßig spät rein, so dass ich keine Bilder mehr vom Hotelzimmer aus machen konnte.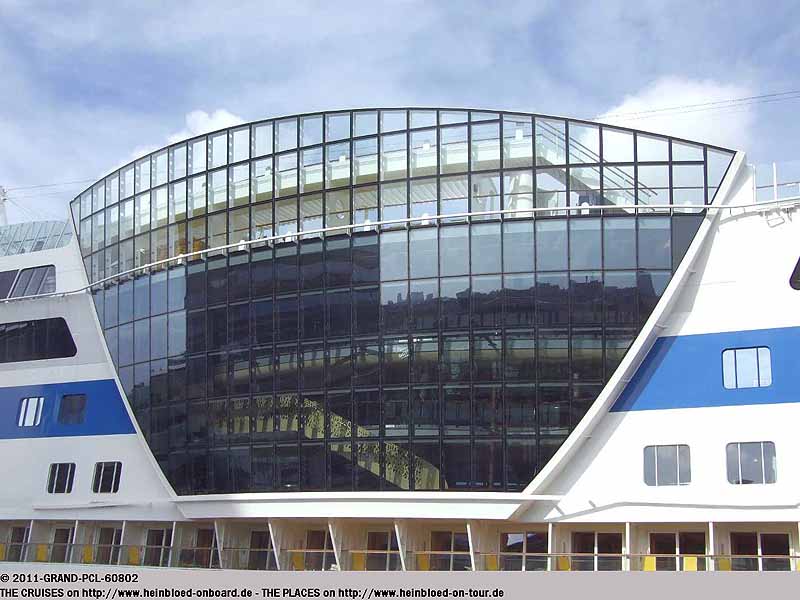 But she came in somehow very late so we had no pictures of her out of our hotel room.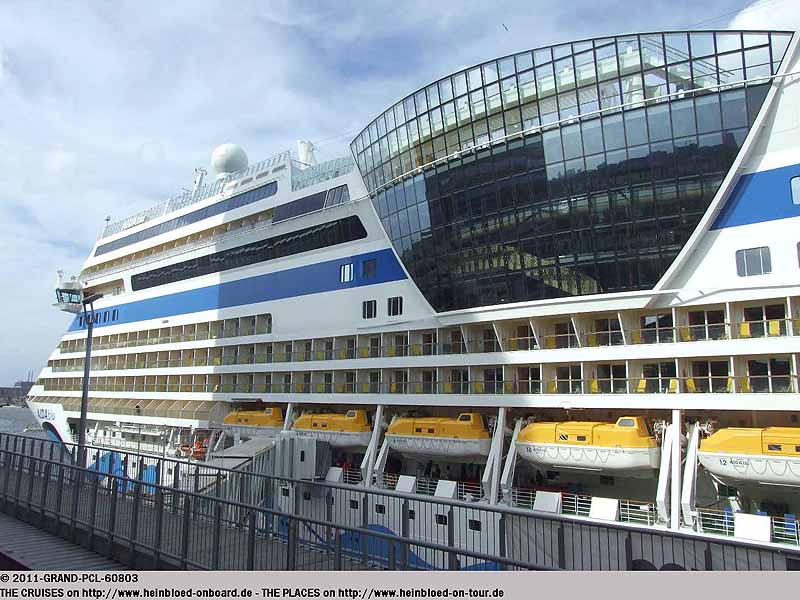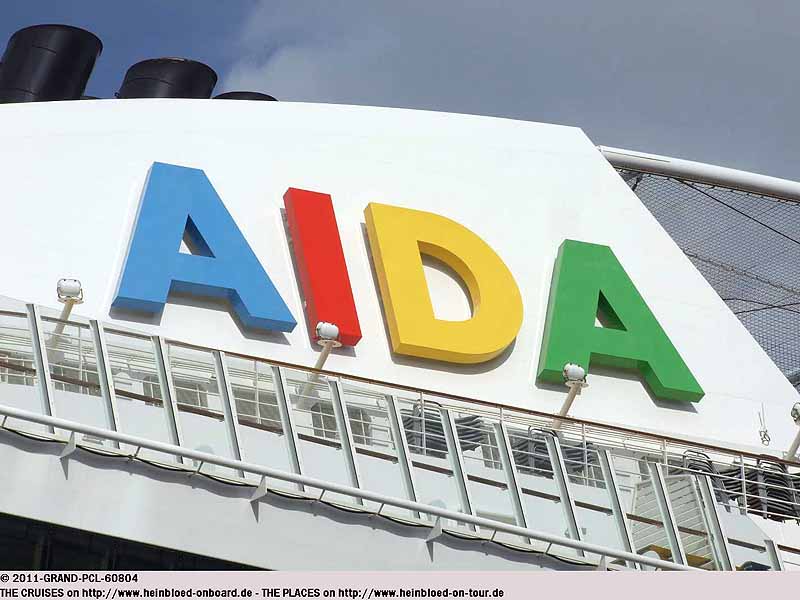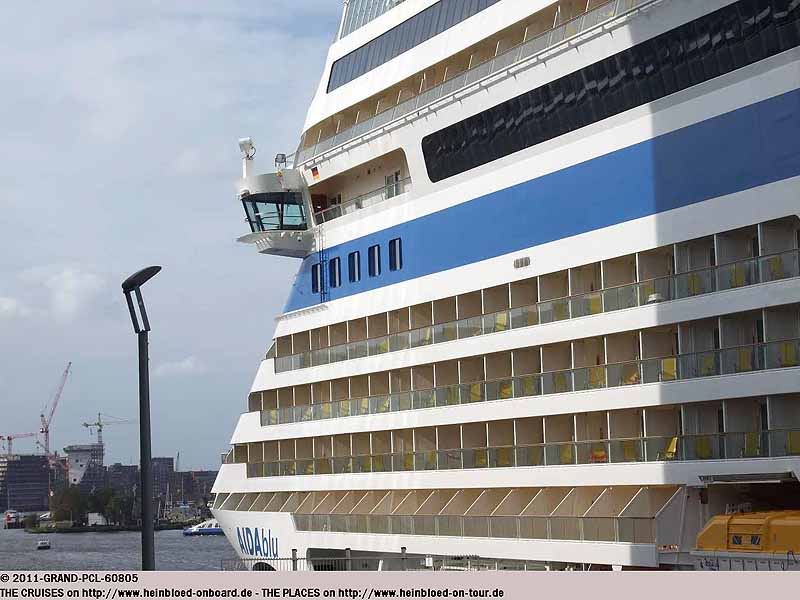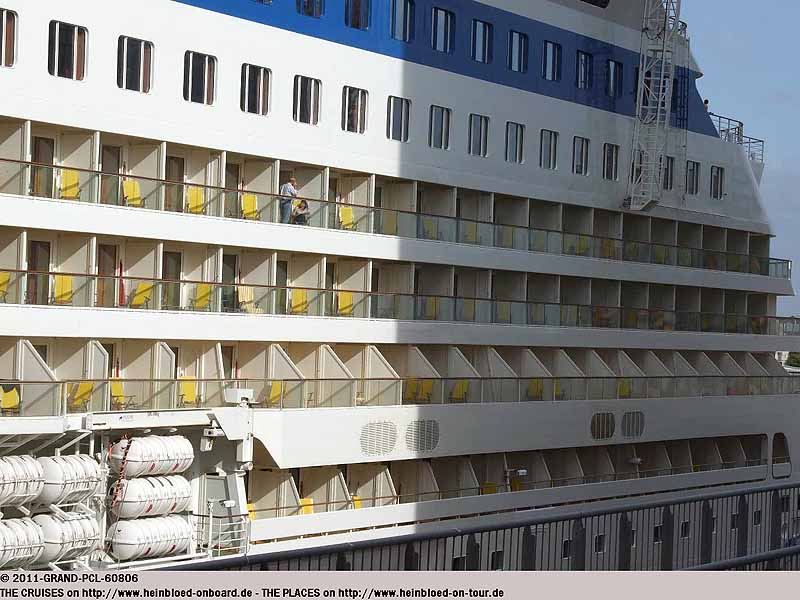 That is the final for shipspotters and AIDAblu (2)...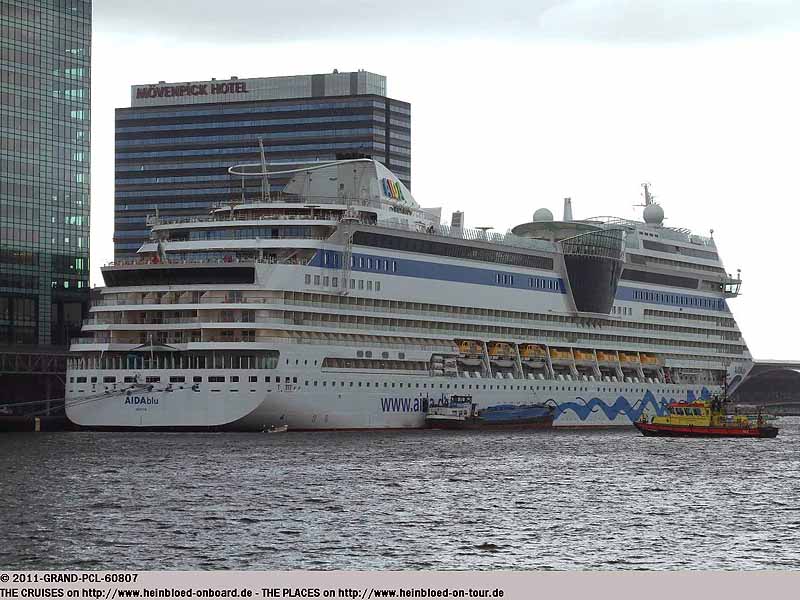 Das war es endgültig für Shipspotter und für die AIDAblu (2)...
Delft liegt auf dem Weg nach Zeebrugge. Dort standen wohl Aad und Nicoline und wir kollektiv im Stau. Bloß jeweils in der Gegenrichtung. Sie waren unterwegs, um noch die NORWEGIAN SUN zu fotografieren und wir mussten ja paiagirl nach Zeebrugge kriegen und irgendwie die Zeit bis dahin totschlagen. Wo kann man es besser als in einem holländischem Kaffeehaus, wie hier dem
Kleyweg's Stads Koffijhuis
in Delft.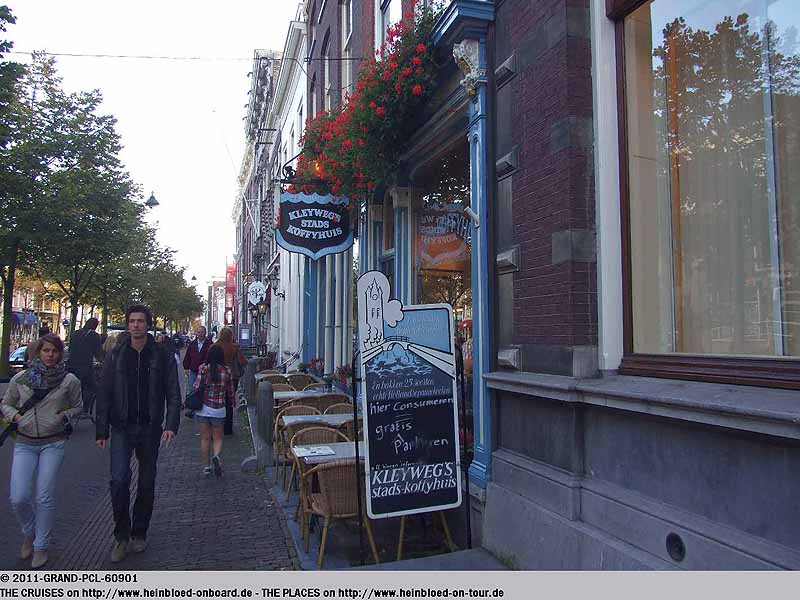 Delft is on the way to Zeebrugge. Aad and Nicoline were standing with us in the same traffic congestion. But in the opposite direction. They were on the way to take pictures of NORWEGIAN SUN, and we need to get paiagirl to Zeebrugge and need to kill time somehow. Where can you do it better but in a true Dutch coffee house like Kleyweg's Stads Koffijhuis in Delft?

And there it means that even everything in the coffee store was decorated in Delft Blue style.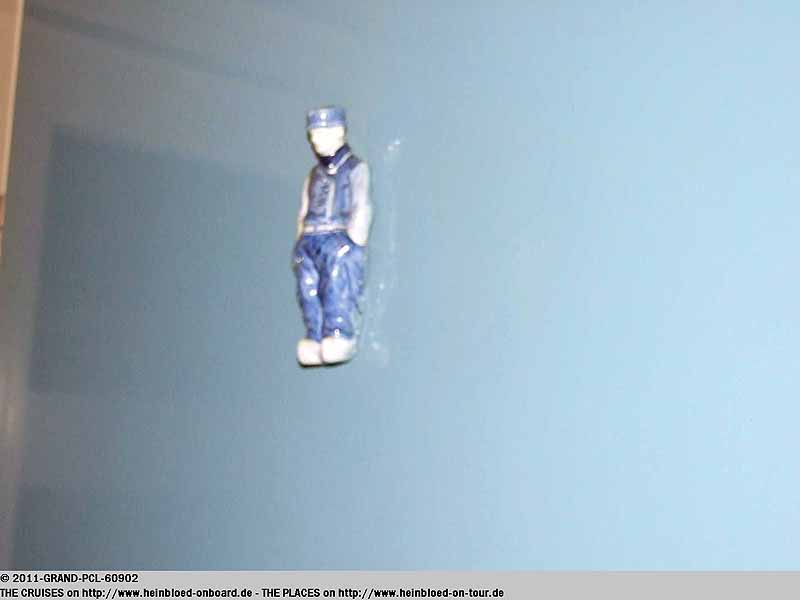 Und in Delft bedeutet das, dass sogar im Kaffeehaus alles im Stile von Delfter Porzellan gehalten ist.
Auch wenn man nicht auf die Toilette muss: unbedingt mal reingehen und gucken.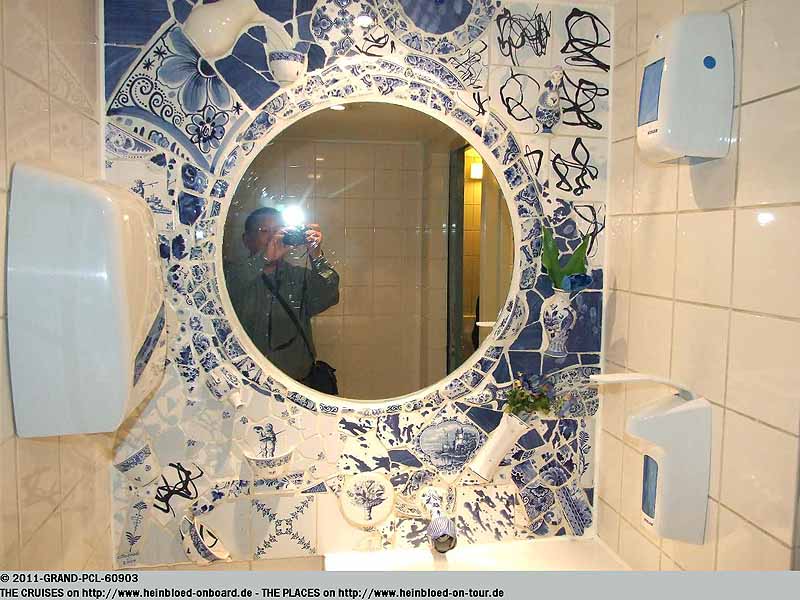 Even you do not need to see the restroom: go in and see.

Everything was nicely decorated with a lot of passion for details and love.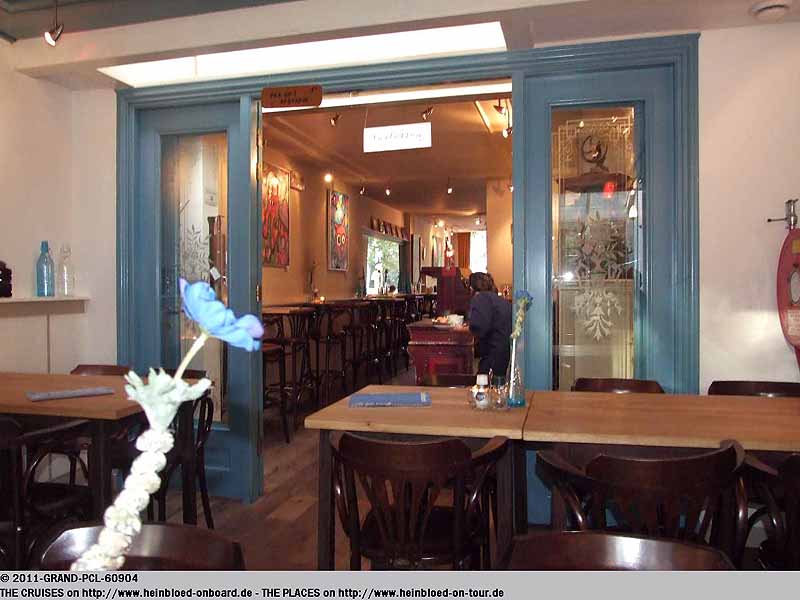 Alles ist mit sehr viel Liebe zum Detail dekoriert.
Wenn man in den Niederlanden ist, gehört ein Stück Apfelkuchen dazu.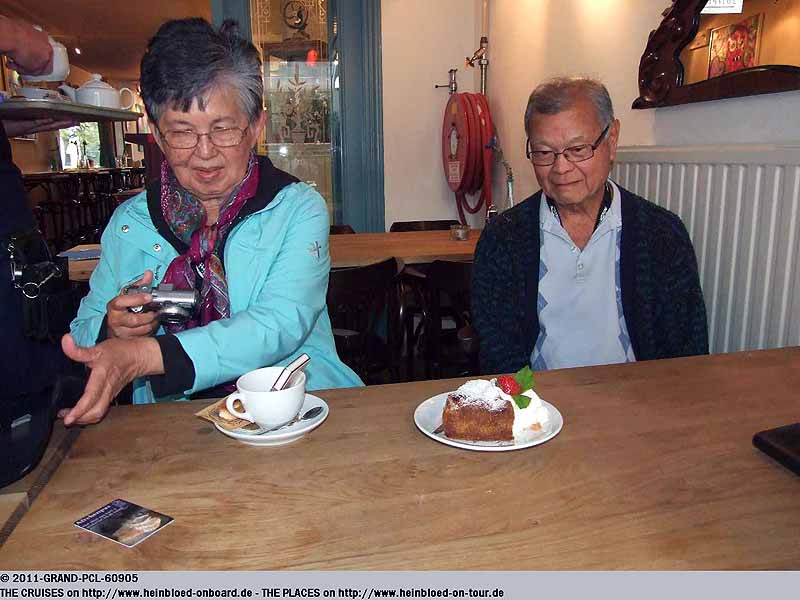 It is part of a visit in the Netherlands to have piece of apple cake.

To make sure that they were not full before we had dinner we let them share one piece only.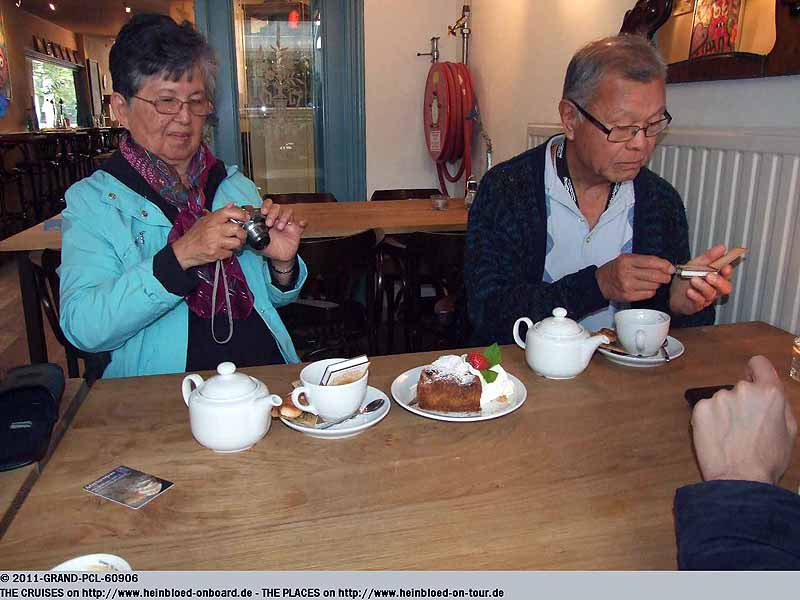 Damit sie nicht schon satt sind, bevor wir zu Abendessen, lassen wir es bei einem Stück, das sie sich teilen.
Es machte einfach Spaß sich überall umzusehen.

It was fun to look around everywhere.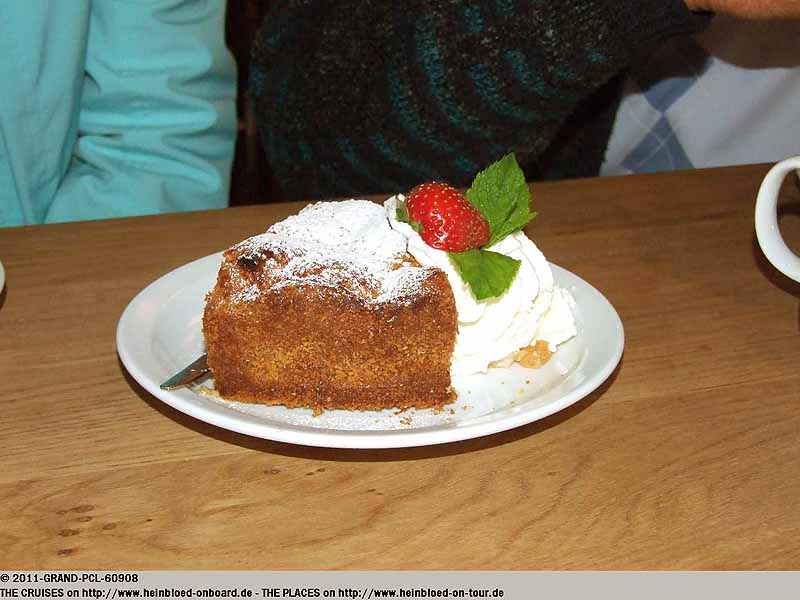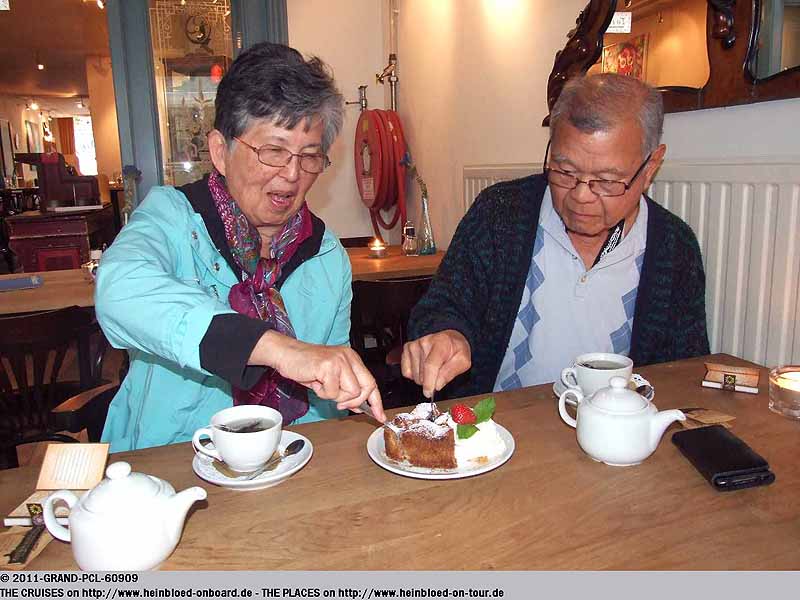 Last time we were there we had unluck as they were closed.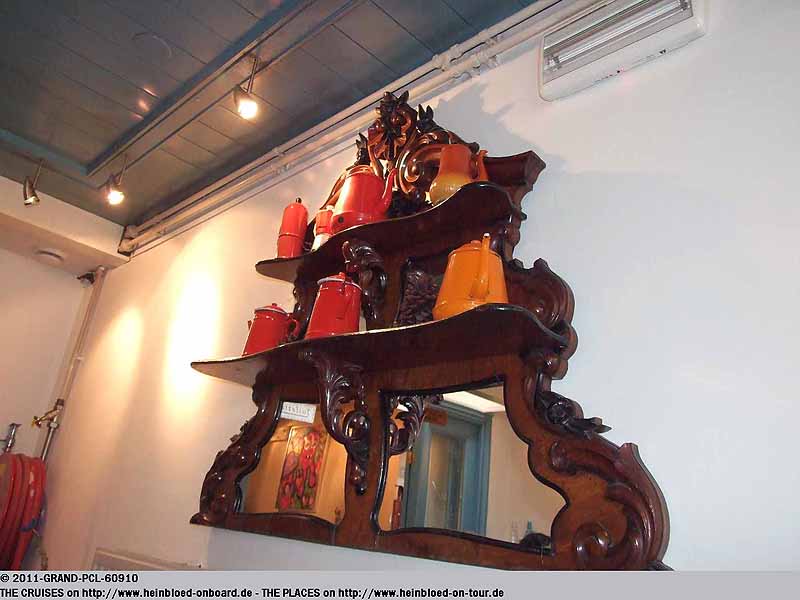 Beim letzten Mal hatten wir das Pech, dass es geschlossen war.
Und hier sieht man (und riecht man - aber nicht hier im Blog), dass alles hier frisch selbstgebacken wurde.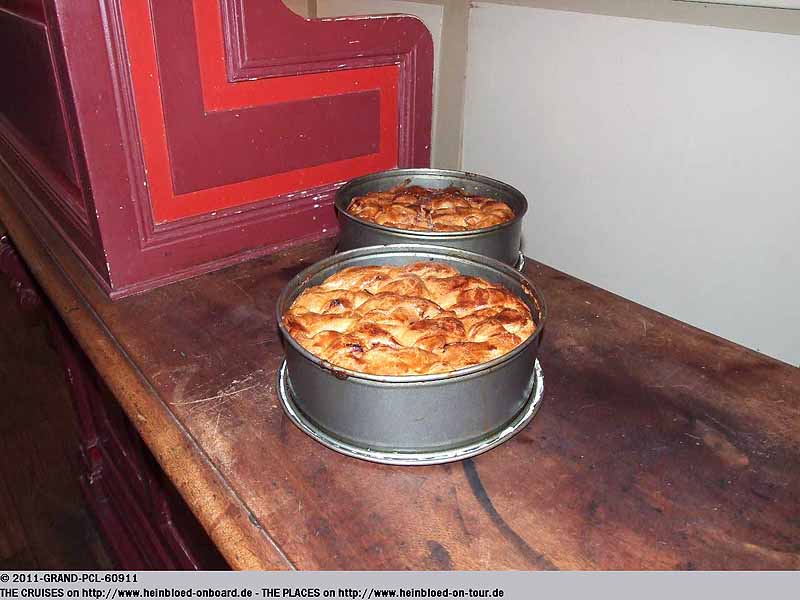 And here you see (and smell - but not in the blog) that all was baked freshly by themselves.

Also, paiagirl wanted to take pictures of the place she was.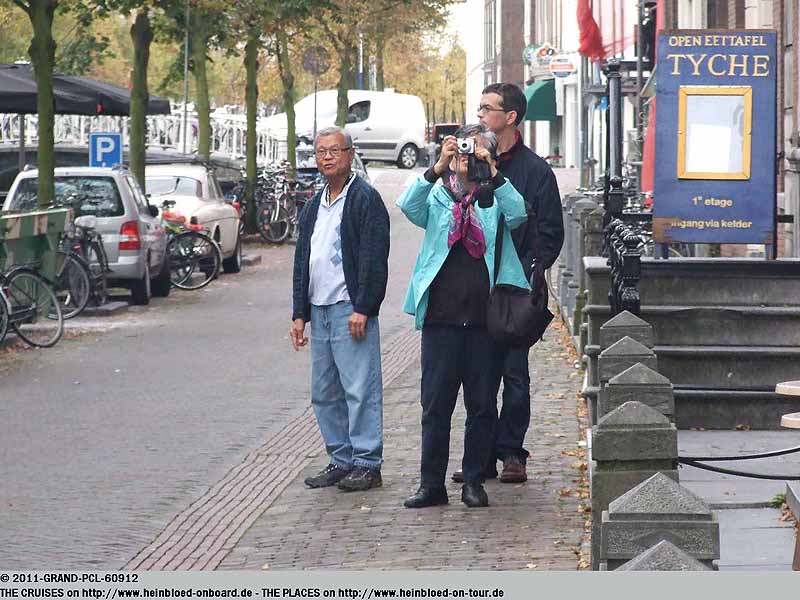 Auch paiagirl möchte unbedingt festhalten, wo sie war.
Ich besorge mir von ihnen noch ein Parkticket. Gäste können im Phoenix-Parkhaus gratis bzw. günstiger parken, wenn man hier etwas verzehrt hat.
ftp://hosting.telekom.de/home/www/public_html/Places-Northern-Europe/Belgium-Netherlands-2011/2011-GRAND-PCL-60913-60920-Delft/2011-GRAND-PCL-60913-60920-Delft-iframe.html

I got a parking ticket. Guests can park in Phoenix-Garage free or for less if you had a consumption there.
Die anderen Reisen in diesem Blog/
The other voyages in this blog: