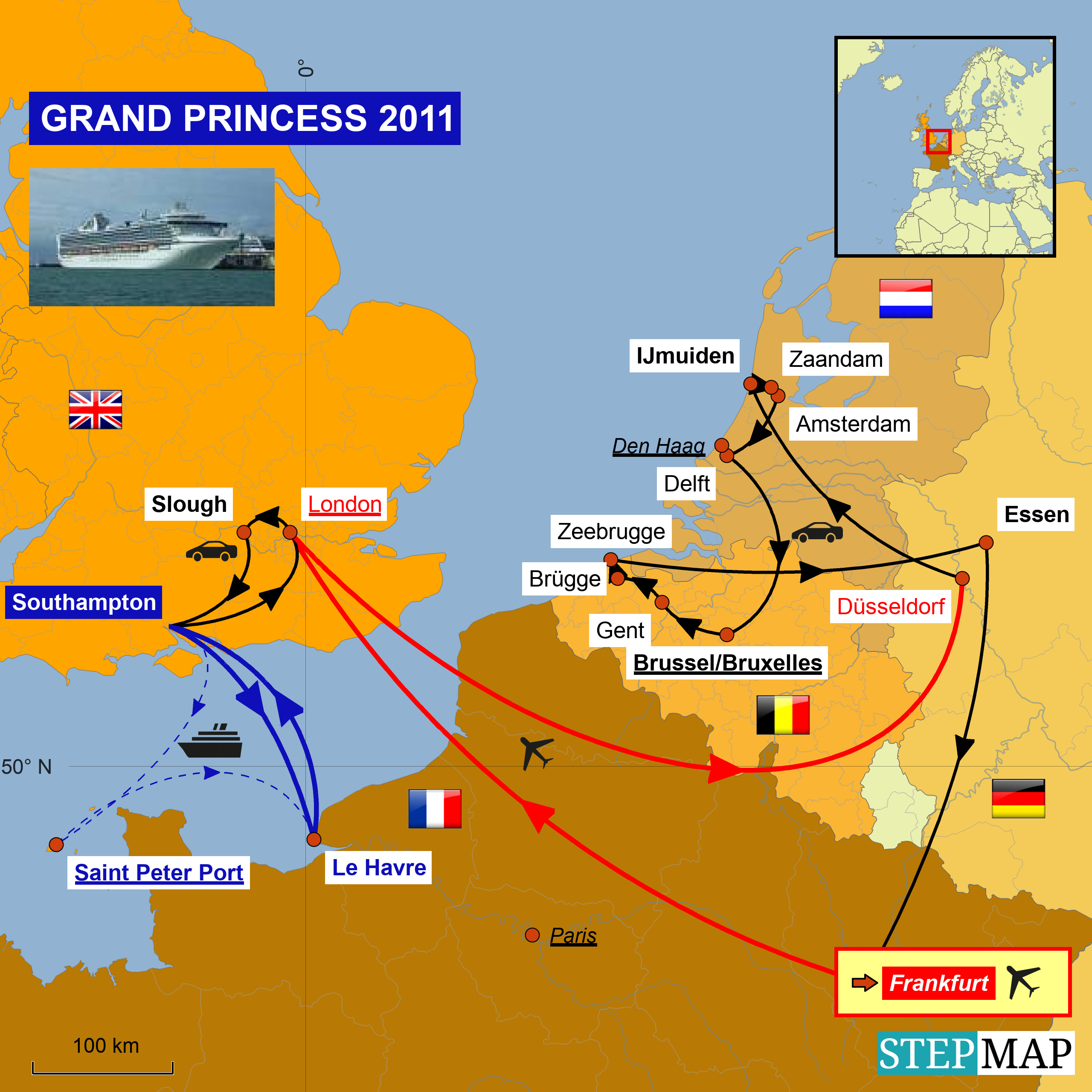 Dann war auch schon so gut, wie das Ende der Cruise nahe, wenn der Cruise-Log mit der Zusammenfassung der Fahrt kommt.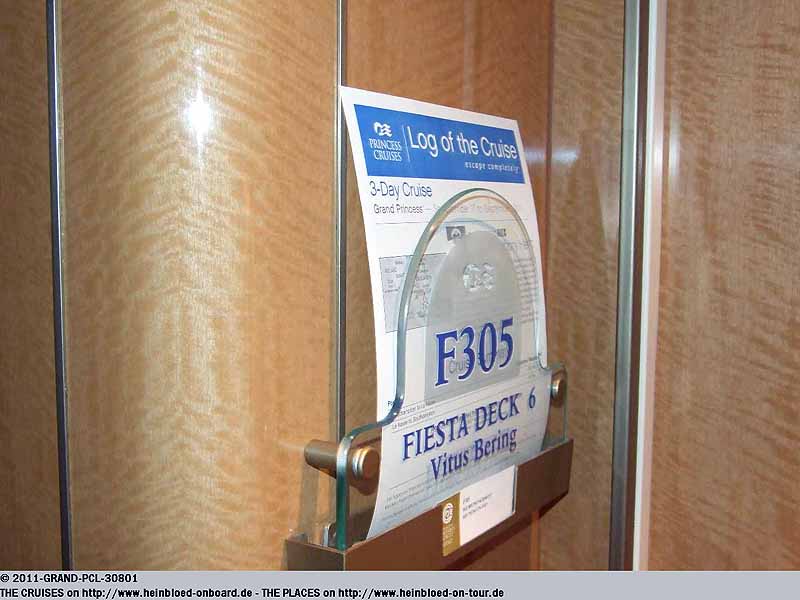 When the cruise-log came with a summary of the voyage you know that your cruise approached the end.

We just grabbed a soup and a sandwich from the International Café quickly.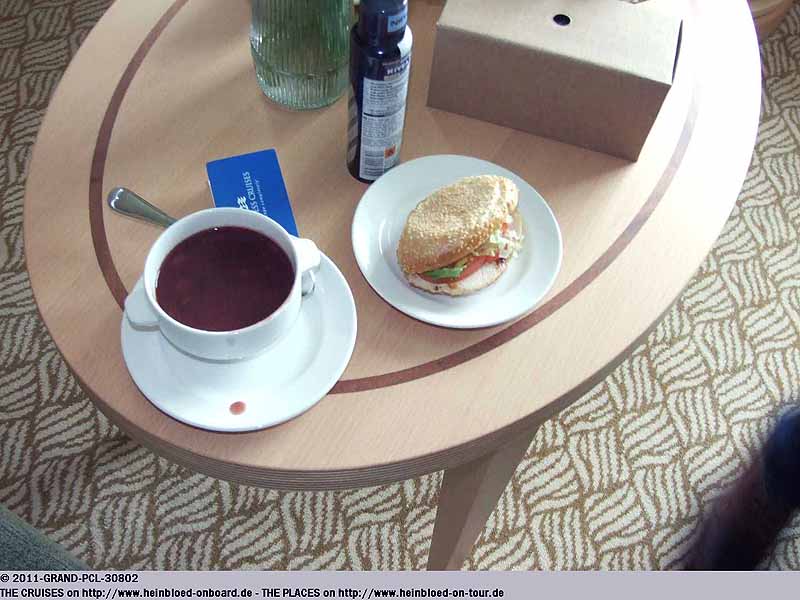 Wir haben uns nur schnell ein Süppchen und ein Schnittchen vom International Café mit hochgebracht.
Und da wir sicherlich wieder Princess fahren werden, haben wir eine Anzahlung auf die nächste Kreuzfahrt geleistet. Sie gilt innerhalb der nächsten vier Jahre und bringt dann je nach Länge und Kategorie ein Bordguthaben.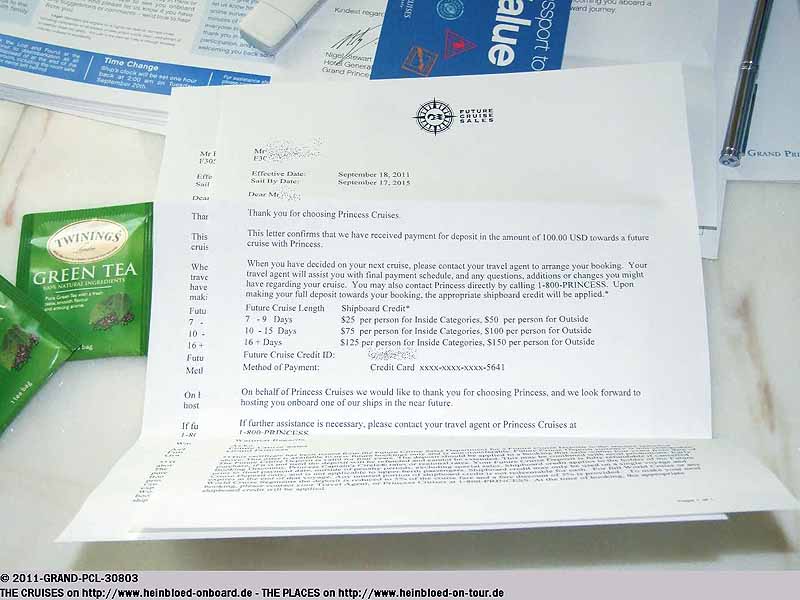 As we will go for sure Princess again we made a deposit to the next cruise. It is valid for four years, and you get an on-board-credit which varies depending on your length and booked category.

I could let the chance go by and wanted to try our whirlpool bathtub.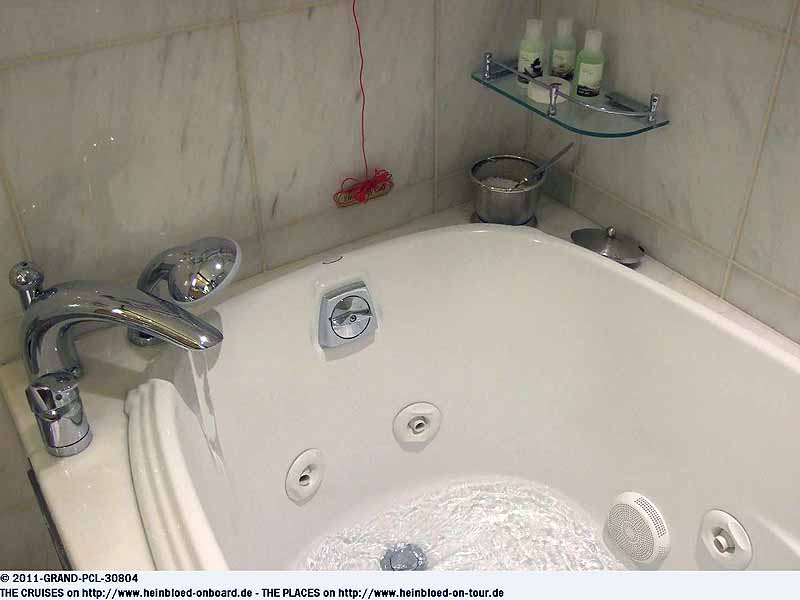 Ich konnte es nicht lassen und wollte natürlich unsere Whirlpool-Badewanne nutzen.
Mit Produkten von American Standard oder Villeroy und Boch wäre das nicht passiert: es ging gar nicht genug Wasser in die Wanne um die Luftstrahlen in Betrieb zu nehmen.

I guess with products from American Standard or Villeroy & Boch something like that could not happen: you could not get enough water into the bathtub to get the airstream working correctly.

After 40 minutes I gave up and left the bathtub without bubbles. Then you heard why: It was a leak, so more water flow out than water flowing in.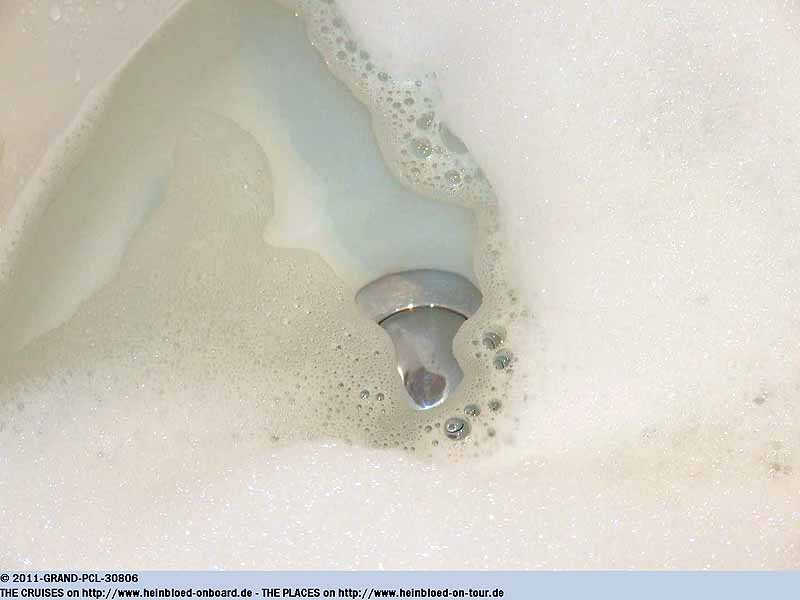 Nach 40 Minuten gebe ich auf und verlasse die Wanne ohne Blubber. Dann hörte man auch warum: Es war leider nicht dicht, so dass mehr abfloß als ein einlief.
Und nach ein paar Minuten, war dann die Wanne auch leer, ohne dass ich das Abflussventil öffnen musste. Da hat aber jemand bei der Abnahme der Kabinen bei Princess geschlafen. Das kann man auch nur testen, wenn man auch einmal die Badewanne mal volllaufen lässt und dann sieht ob auch die Whirlpoolfunktion überhaupt möglich ist.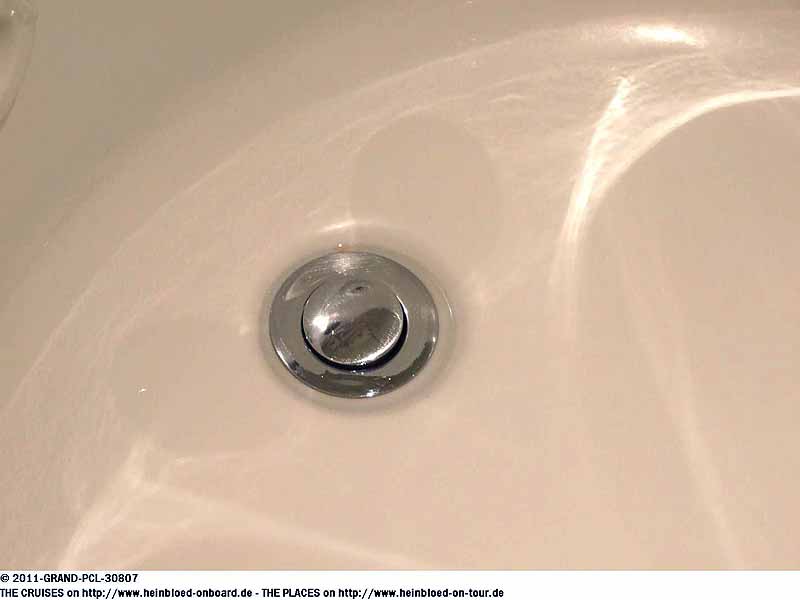 After few minutes more the tub was empty without opening of the stopper. So when they did the final inspection, someone was unattentive. You can only test the function if you let a full load of water into the bathtub and check if the whirlpool function works.

I had the impression that I was in the kingdom of King of Silicon.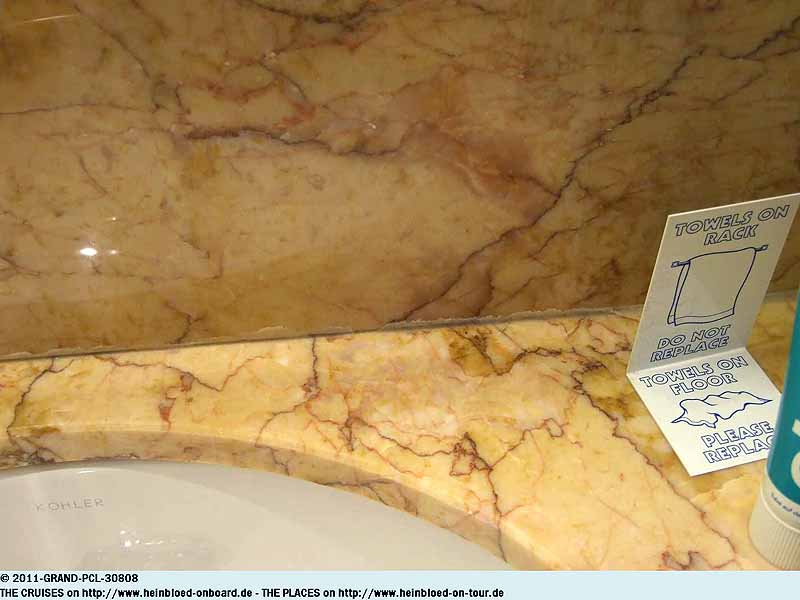 Überhaupt scheint hier König Silikon wieder gewütet zu haben.
Gelegentlich finden wir auch Fugenteile auf dem Fußboden, die von der Wand abplatzen. Leider nicht spitz genug, als wir drauftreten: so bekommen wir keine lebenslange Kreuzfahrt bei Princess, wenn wir auf eine entsprechende Klage verzichten...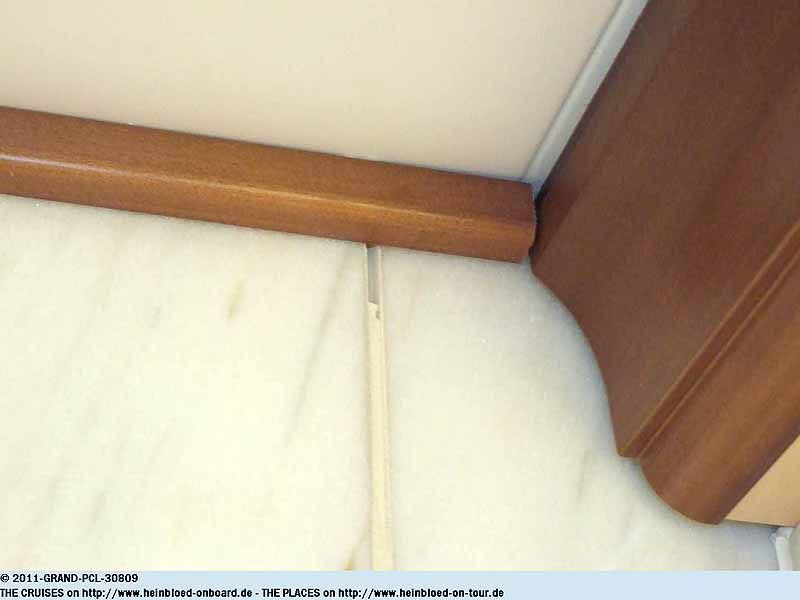 Occassionally you find also little parts of the joint on the ground. Unfortunately not sharp enough when we stepped on it: so no chance to lifetime cruising on Princess if we do not sue them.

Every night you get a different Good-Night-Greeting from Princess. Very sorry that many other cruise lines suspended this excellent treatment.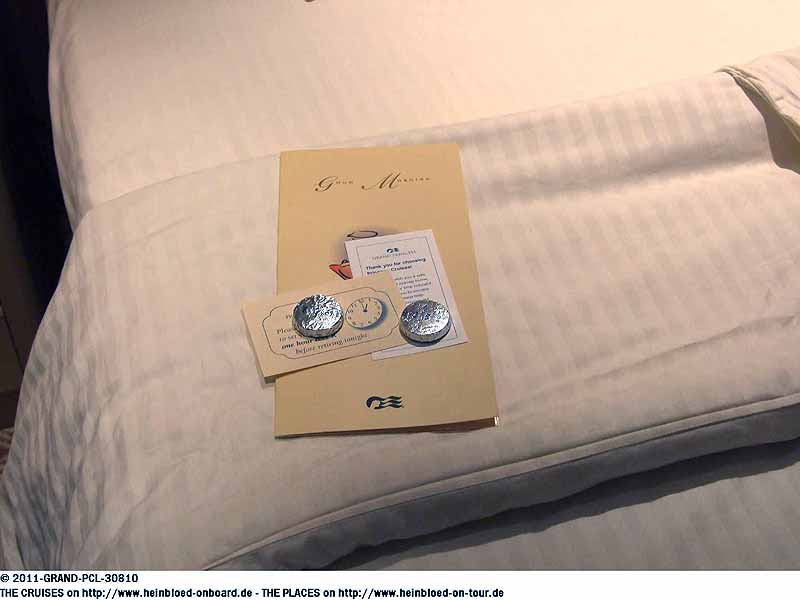 Es gibt jeden Abend etwas anderes als Gute-Nacht-Gruß bei Princess. Schade, dass viele andere diese nette Geste eingestellt haben.
Der Service an Bord ist besser als erwartet: meine Dollar gehen zu Ende. So muss ich am Geldautomaten neue abheben. Das bedeutet 6 USD Gebühren.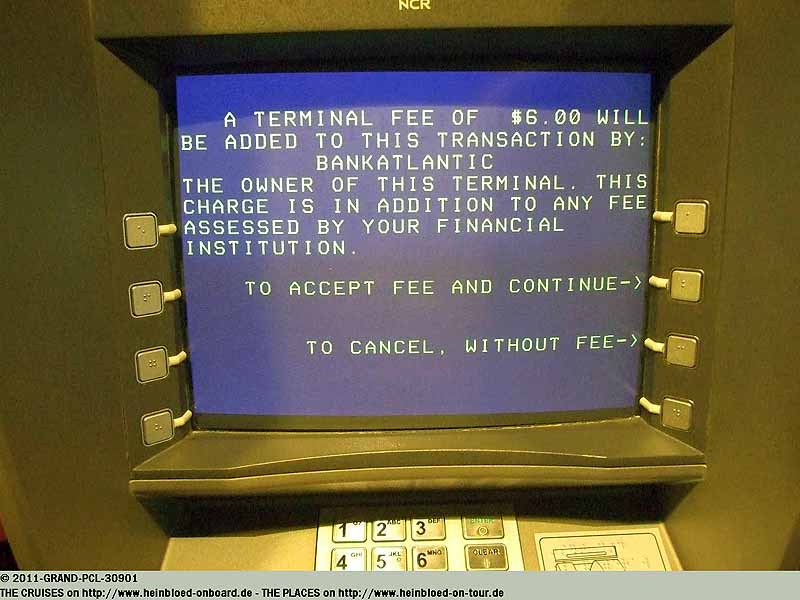 The service on board exceeded my expectations, so my Dollars ran out. So I need to withdraw some more. That meant 6 USD charge.

I did the last walk around and looked at the artist.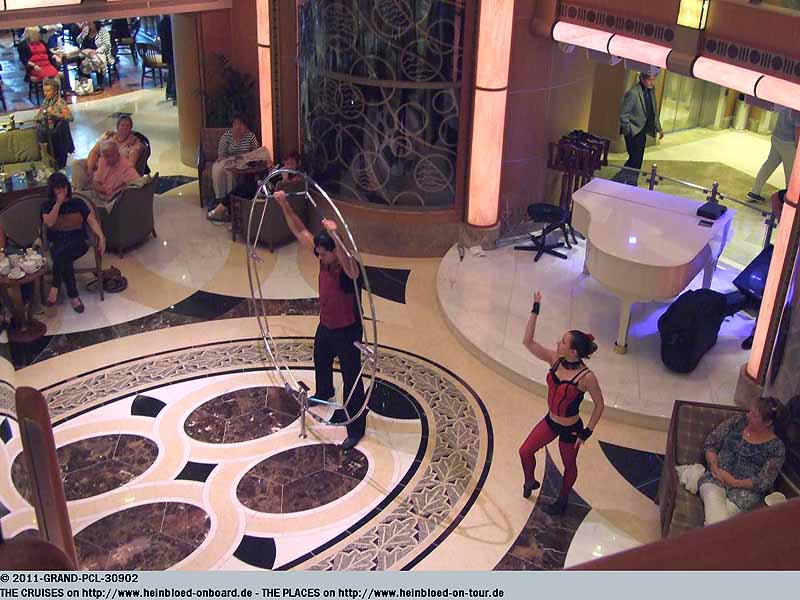 Ich mache wieder einen letzten Rundgang und sehe den Artisten ein wenig zu.
Ein letzter Haps im One5 in "unserer" Lounge.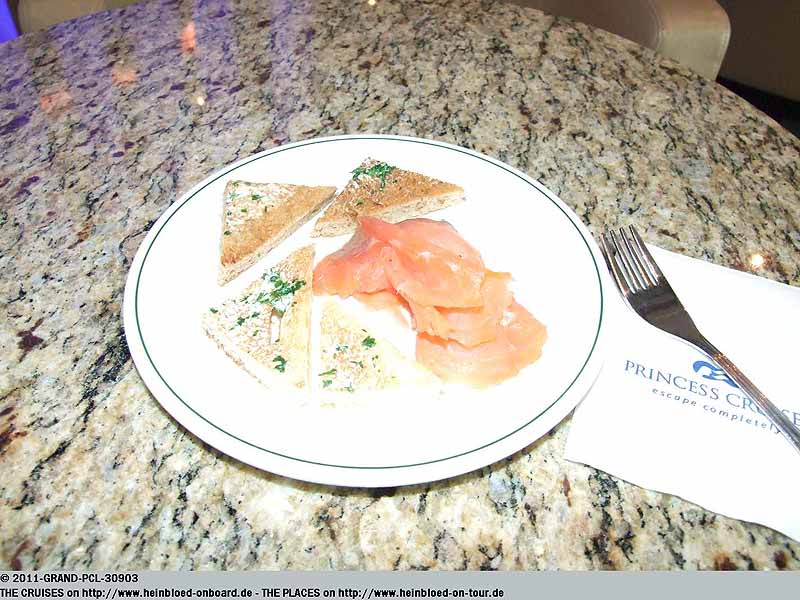 A last bite in "our" One5 Lounge.

And then there was Brian from the Philippines. He saw yesterday that we went out very quickly and asked if something was wrong. When I explained to him that Bruno felt it was too cold there he was fine. With crew-members like him, Princess has the best potential to become one of my favorite cruise lines.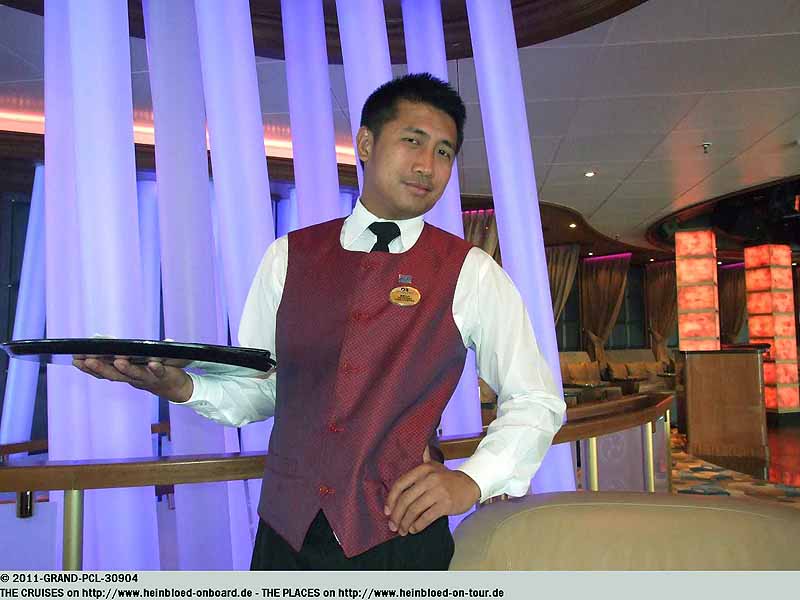 Und dann wäre noch Brian von den Philippinen, dem gestern auffiel, dass wir so schnell verschwunden waren, und ob etwas nicht in Ordnung gewesen sei. Als ich ihm erkläre, dass es gestern nur Bruno zu kalt war, war er beruhigt. Mit solchen Crew-Mitgliedern hat Princess doch noch das Potential sich zu einer meiner bevorzugten Marken zu steigern.
Wir verabschieden uns von Le Havre. Bis Januar 2012 mit der QUEEN ELIZABETH.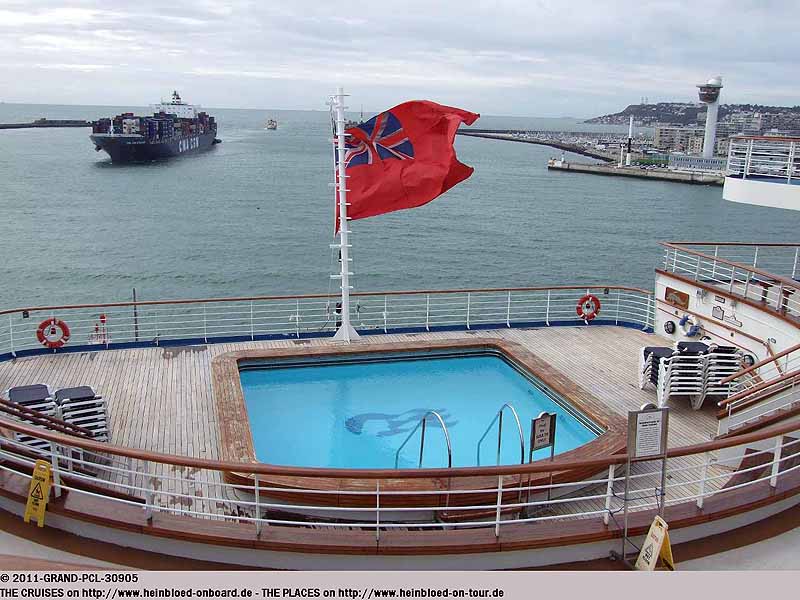 We say bye-bye to Le Havre. See you in January 2012 again on QUEEN ELIZABETH.

Behind the One5 there was the favorite space for the smokers who can stay here very comfortable.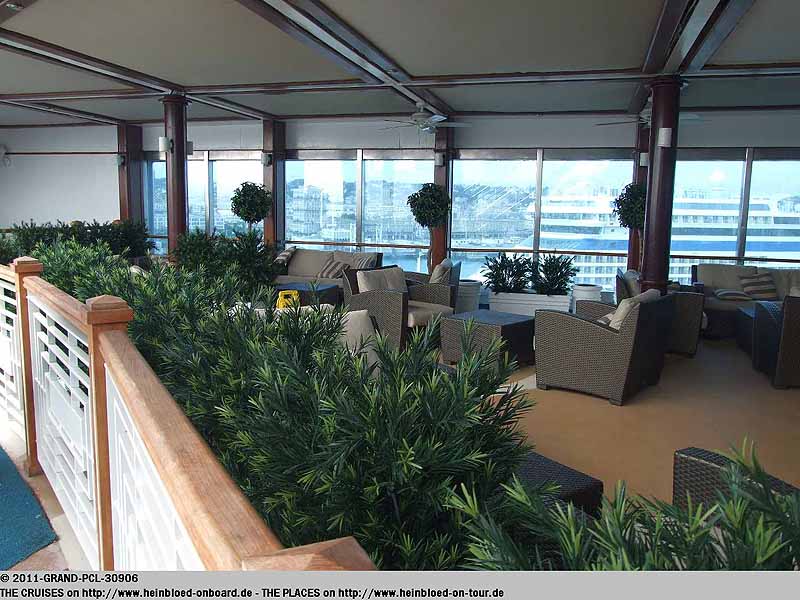 Hinter dem One5 ist das Domizil der Raucher im Freien, die hier gemütlich sitzen können.
Erst jetzt nach Verlassen von Le Havre dürfen Trinker und Raucher zuschlagen.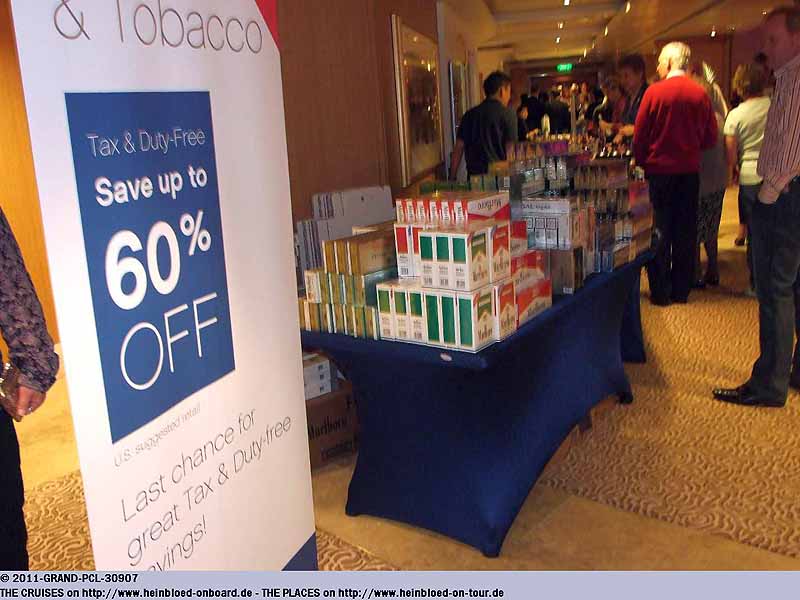 After leaving Le Havre all drinkers and smokers could do their bargains.

Again Ciao AIDAblu (2).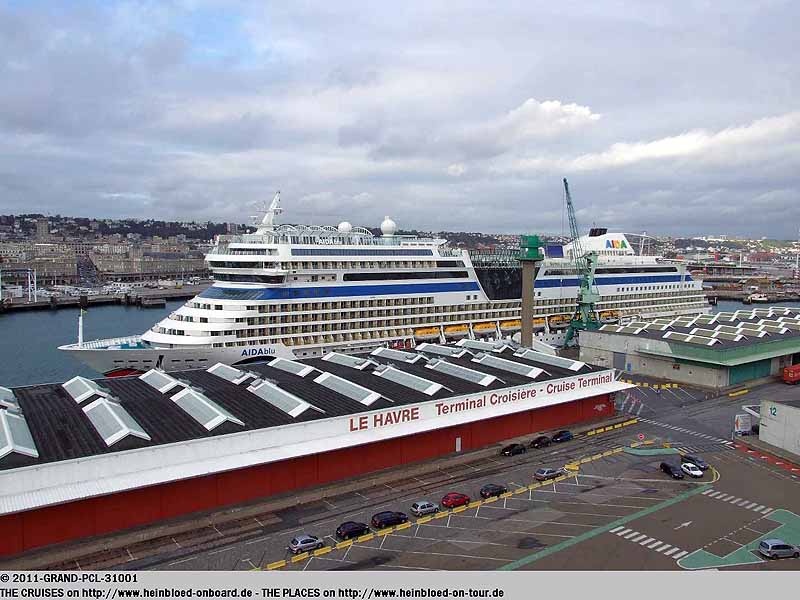 Nochmals Ciao AIDAblu (2).
Bis dann in Amsterdam in drei Tagen.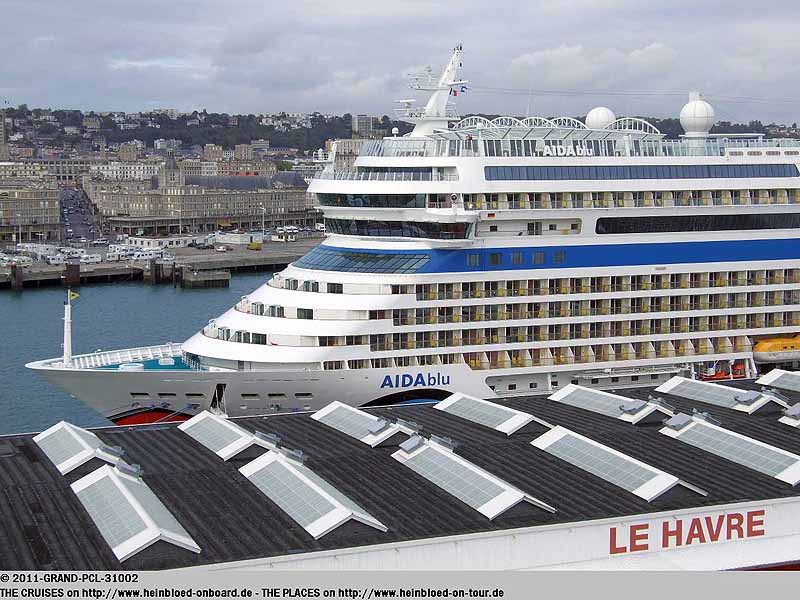 See you in Amsterdam in three days.

The night we went to the Crown Grill. Maître Fabio put us on the waiting list and wanted to notify us if someone canceled. Sometimes it is very irritating if they do not accept your request but there are empty tables. But if there no more waiters it does not make too much sense to sell more tables. So we got for 20.00 hrs a table.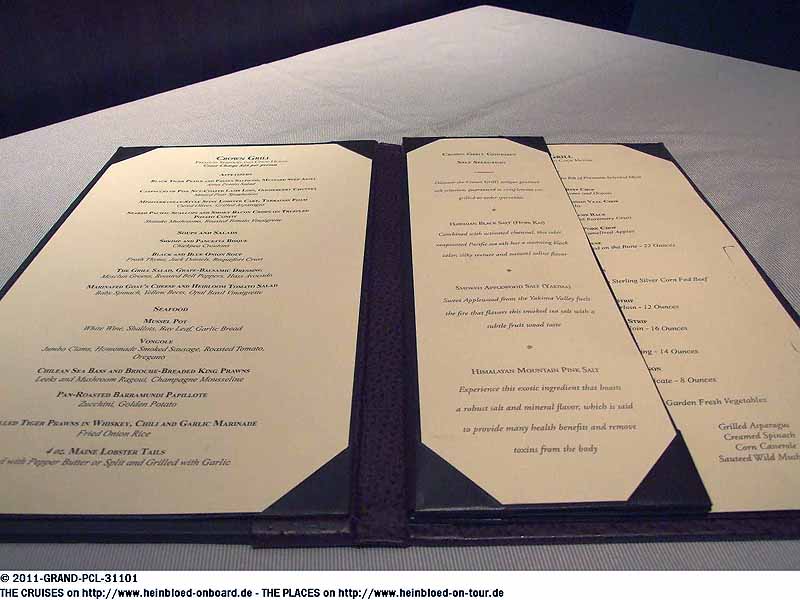 Abends geht es zum Crown Grill. Maître Fabio hatte uns ja auf die Warteliste gesetzt und wollte uns Bescheid geben, falls jemand storniert. Manchmal ist man ja immer doch verwundert, wenn man abgewiesen wird, und es sind Tische frei. Aber wenn nicht mehr Kellner da sind, macht es keinen Sinn mehr Tische zu verkaufen. Und so haben wir heute Abend um 20.00 Uhr einen Tisch bekommen.
Zu unserer Freude bedient uns Richard, den wir vom Frühstück aus dem Sabatinis kennen. Das Fleisch braucht er uns gar nicht vorzustellen, weil wir ja eh wissen, was wir wollen: Bruno will sein Filet Mignon und ich mein Rib-Eye-Steak. Es ist die erste Kreuzfahrt seit langem, die wir hummerlos beenden.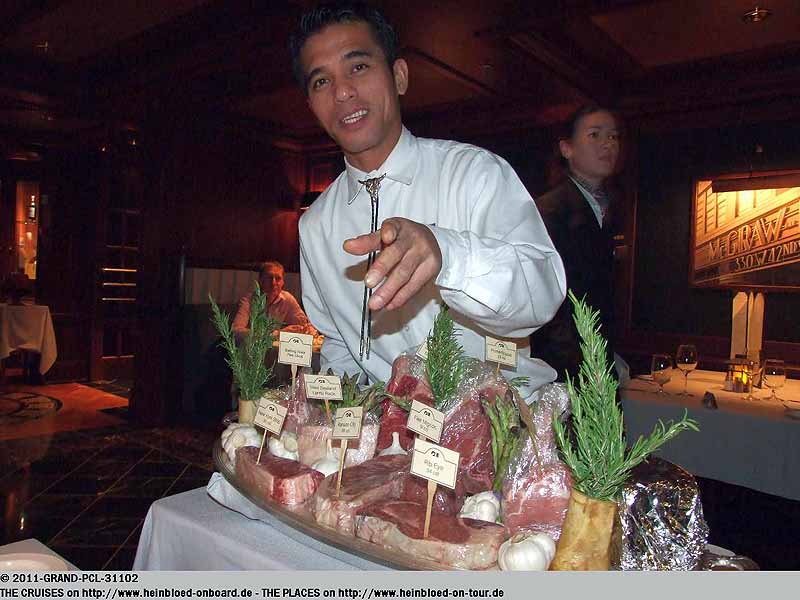 It was a great pleasure to have Richard as our waiter as we knew him already from our breakfast in Sabatini's. There was no need to introduce us the meat as we exactly knew what we wanted: Bruno, as usual, his Filet Mignon and I wanted my Rib-Eye-Steak. It was the very first cruise for a long time which ended without lobster.

The choice of bread was, of course, better than in the main dining rooms. For 25.00 USD cover charge and it was worth every Cent.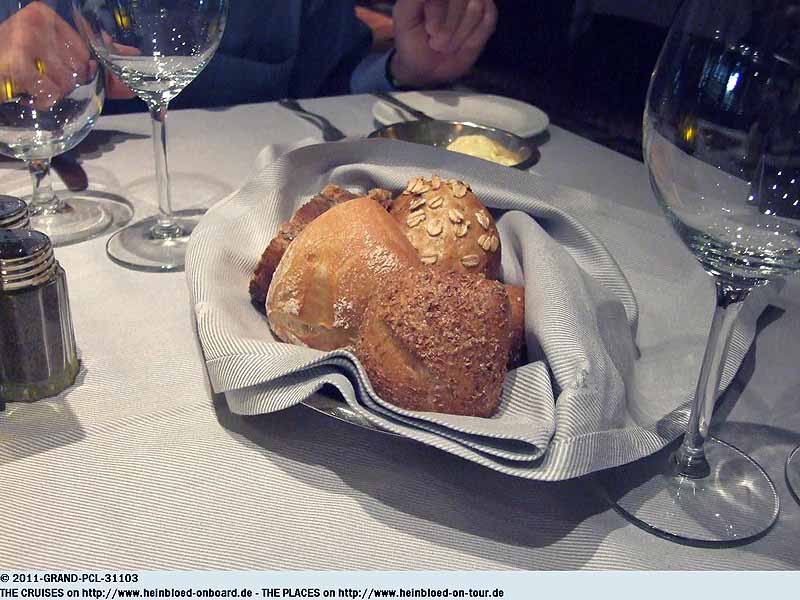 Die Brötchenauswahl ist natürlich besser als im Hauptrestaurant. Für 25,00 USD Zuzahlung, die jeden Cent Wert waren.
Bei Bruno war es ein Lamm-Carpaccio.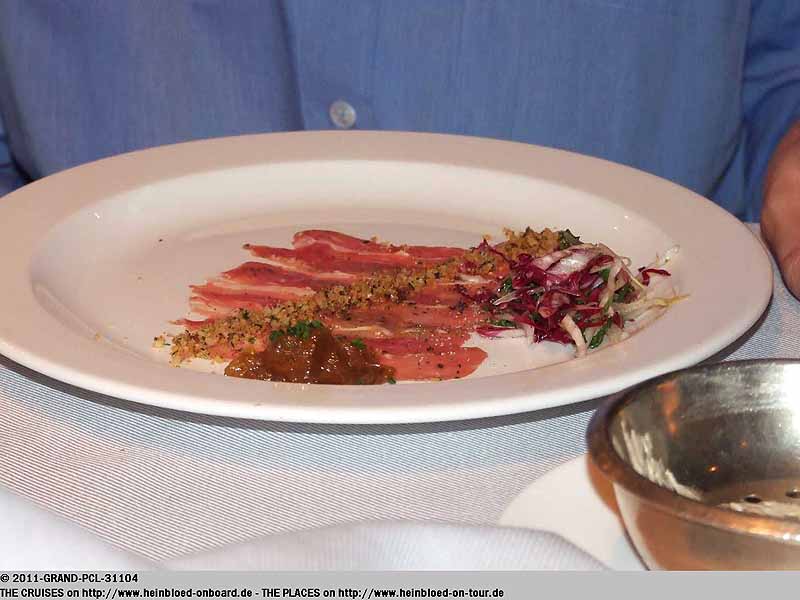 Bruno had a Carpaccio of lamb.

I had something with seafood. But we always changed after having half of the dish.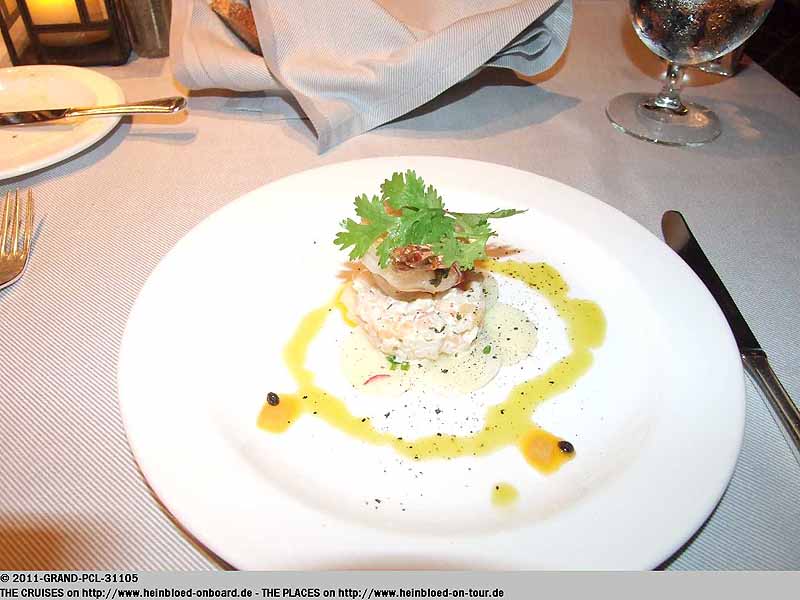 Bei mir etwas mit Meeresfrüchten. Aber wir tauschen immer in der Mitte.
Er nimmt die Bisque.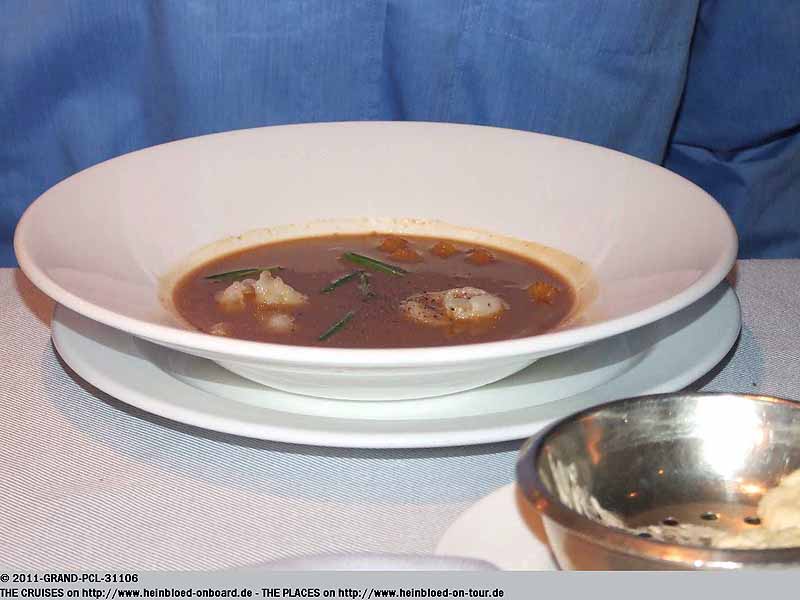 He took the Bisque.

I had an onion soup which was so large that I could only eat the half.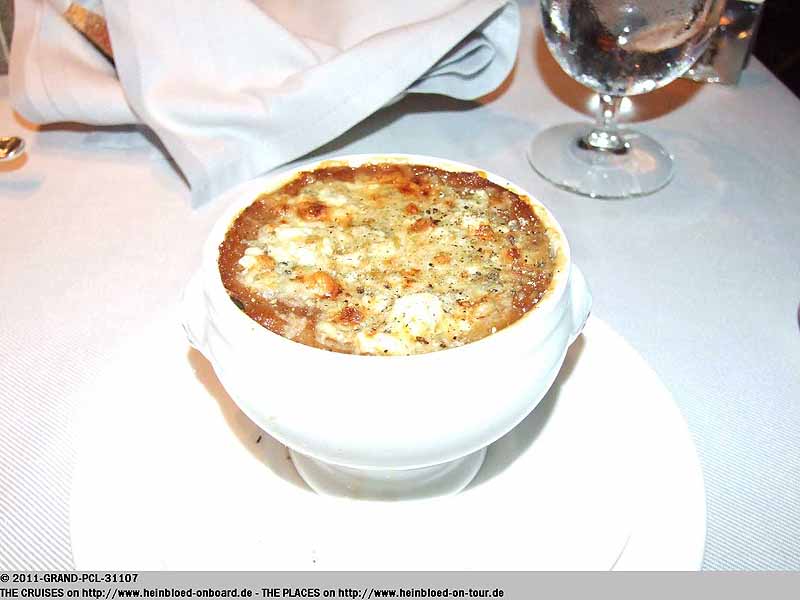 Und ich eine Zwiebelsuppe, die so groß war, dass ich nur die Hälfte nehme.
Dann kommen die Salate.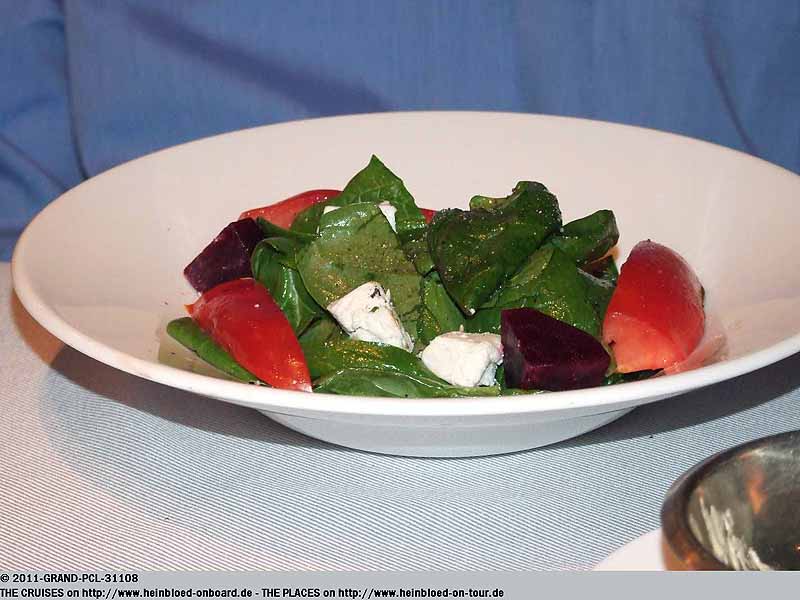 Then the salads came.


Really good.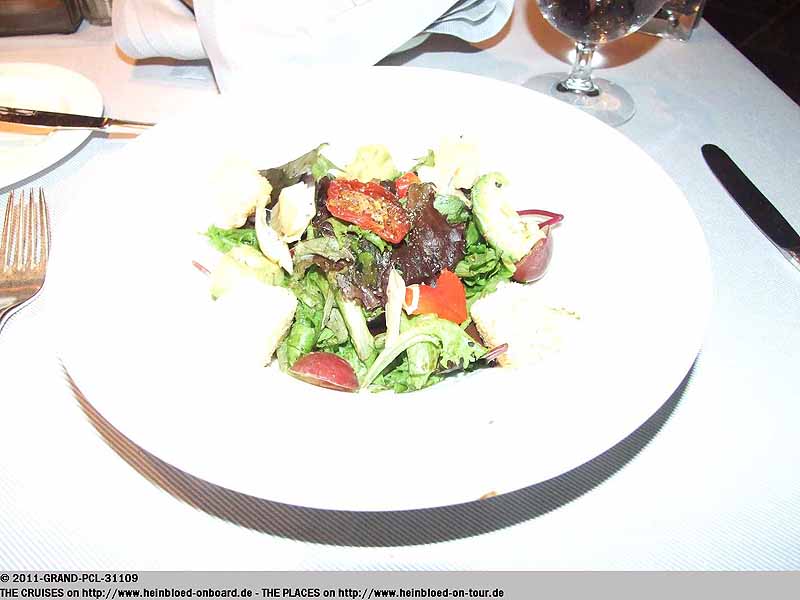 Echt gut.
Wir dürfen uns aussuchen, ob wir ein großes oder kleines Steakmesser wollen.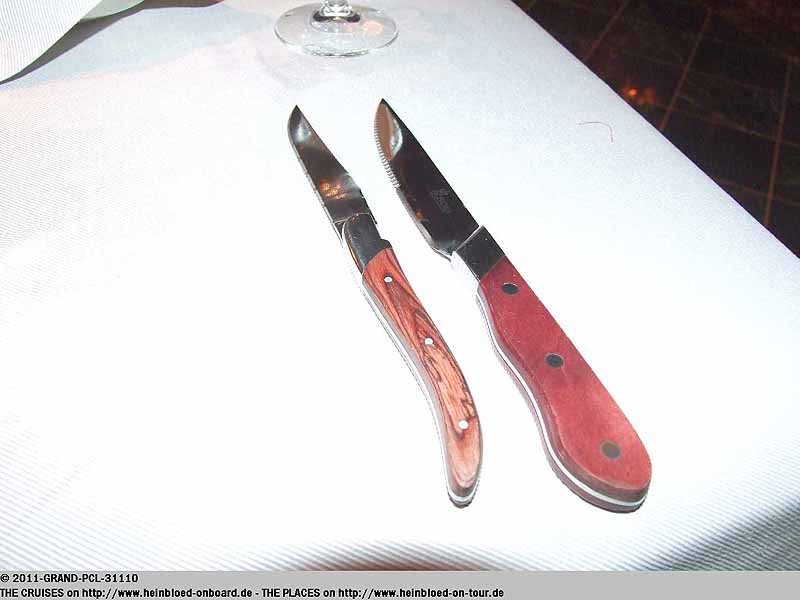 We can choose if we prefer to have a small or a large steak knife.

His Filet Mignon.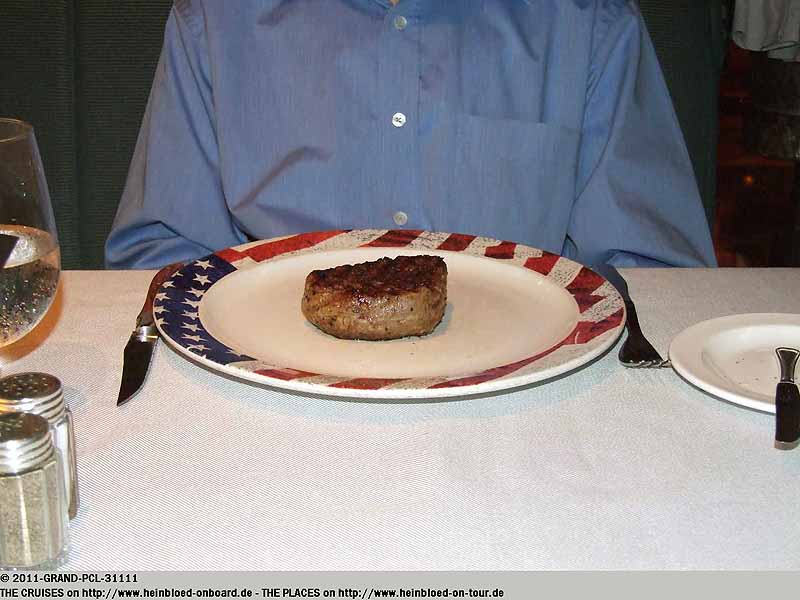 Sein Filet Mignon.
Mein Rib-Eye-Steak.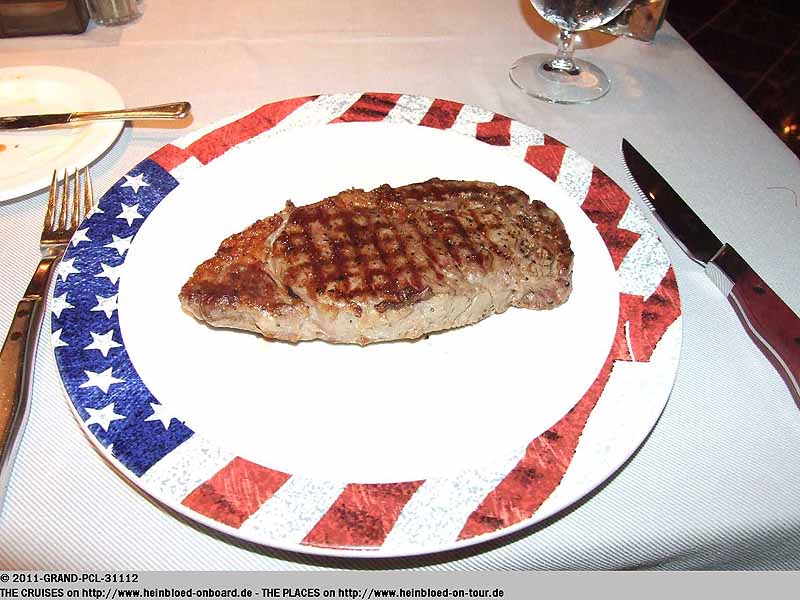 My Rib-Eye-Steak.

I can choose at my table if I prefer peppercorn-, Sauce bearnaise or herbal butter.

Ich kann mir direkt am Platz zwischen Pfeffer-, Bearnaisesauce und Kräuterbutter aussuchen.
Und gerne hat man mir meinen Sonderwunsch erfüllt und die Zwiebel in die Friteuse geworfen. Einfach nur lecker....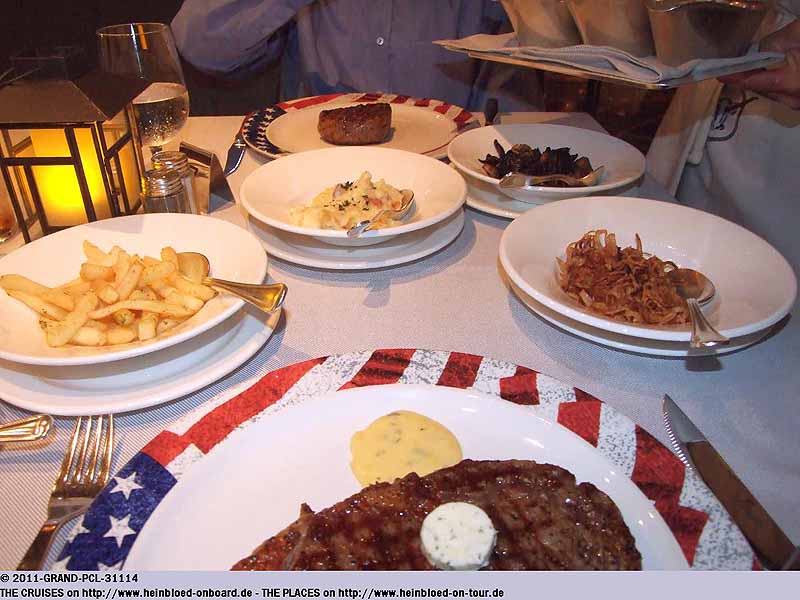 And they had no problem to fulfill a special request by deep-frying a fresh onion. It was just yummy...

We were too full for a dessert. So we shared one sampler-plate to have a bite to test. No show for us. It was a Comedian (with musical background). We need to pack and place our bags before 22.30 hrs. And we were very very tired.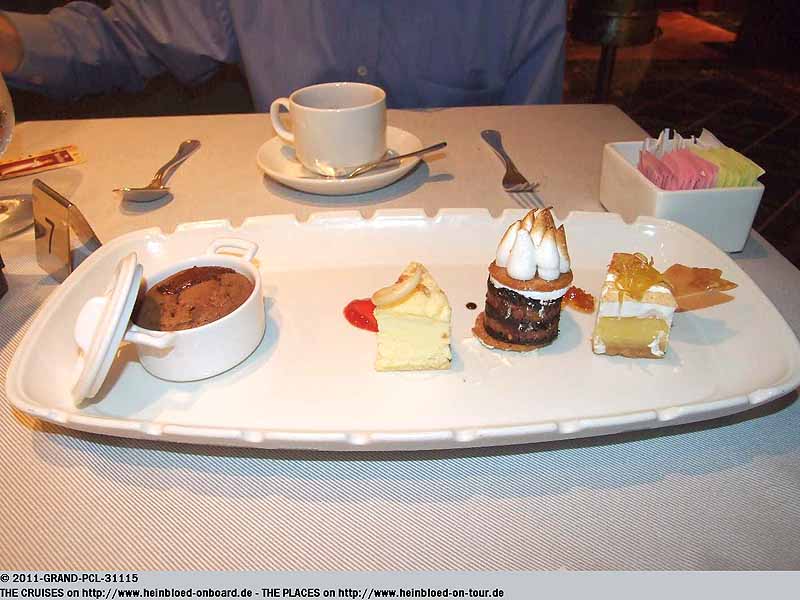 Einen Nachtisch konnten wir nicht essen. So haben wir einen Sampler-Teller geteilt, um mal zumindest einen Bissen zu probieren. Auf die Show verzichten wir. War ein Comedian (mit musikalischem Hintergrund). Wir müssen packen und bis 22.30 Uhr die Koffer rausstellen und wir sind hundemüde.
Die anderen Reisen in diesem Blog/
The other voyages in this blog: