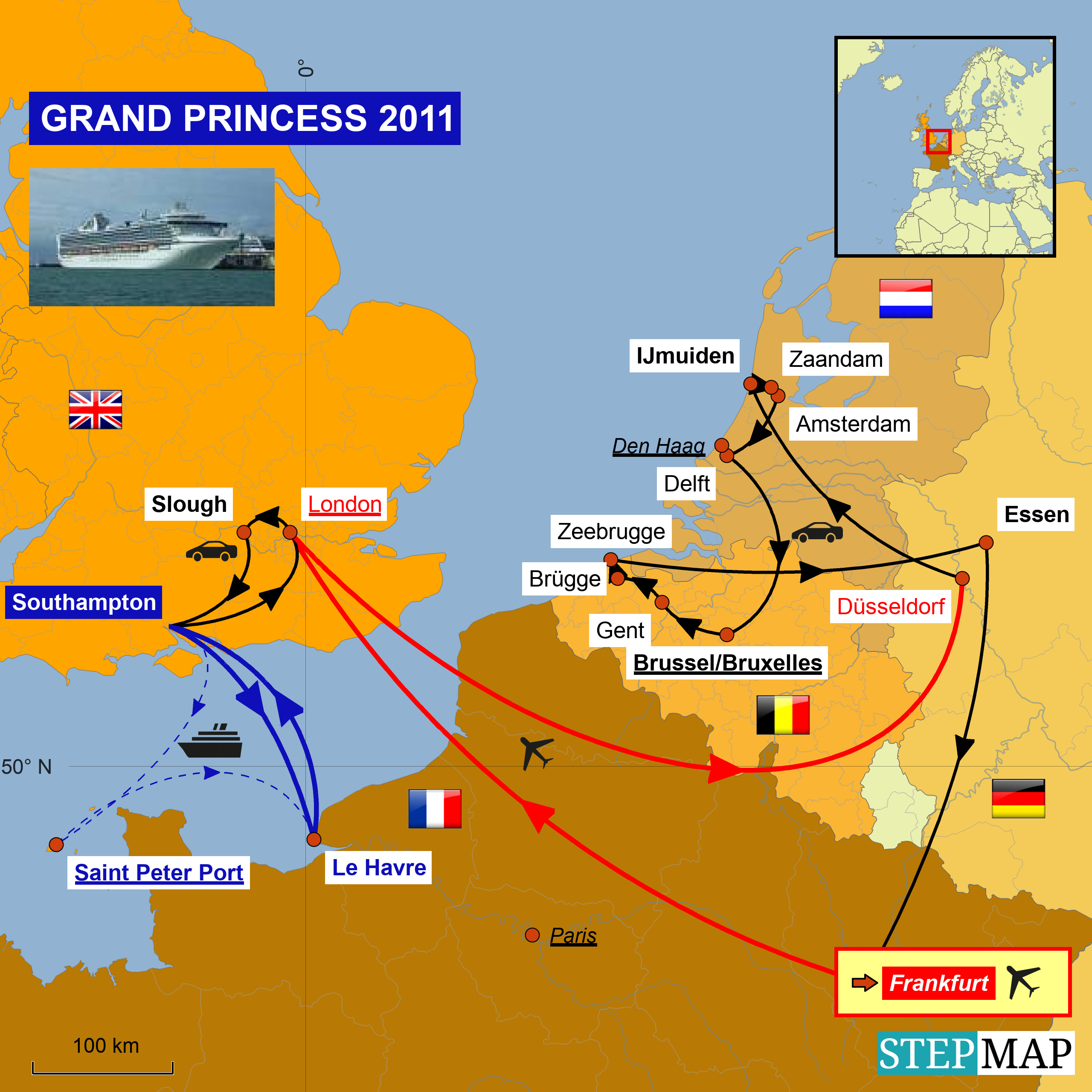 Das sieht schon mal nicht gut aus. Irgendwie wäre jetzt so die Zeit, dass die ersten Tenderboote draußen zu sehen sein müssten, aber nichts.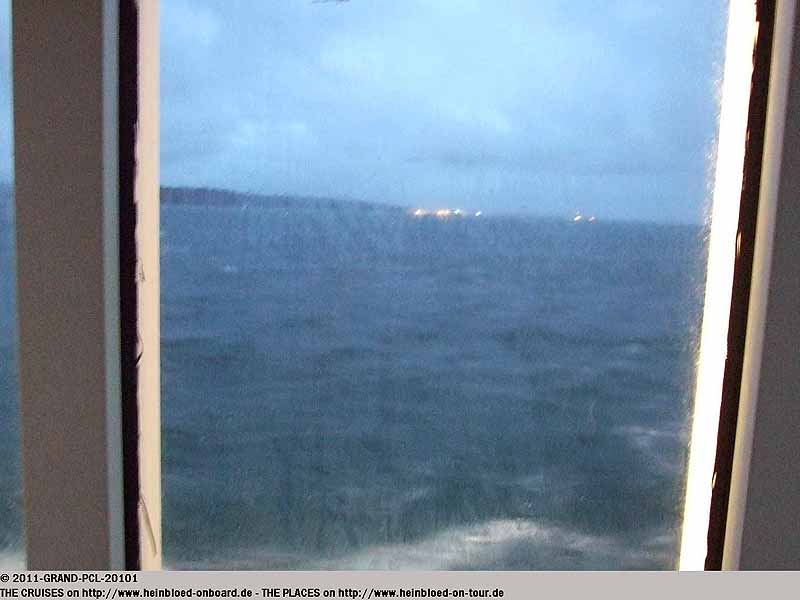 This did not look so well. At that time the first tender boats should be released, and you should see them, but there was not anything.

Then the announcement came that nothing can be done. But you can hear only in the public area. We tried to find a channel on TV which broadcast the announcements, but we could not understand any.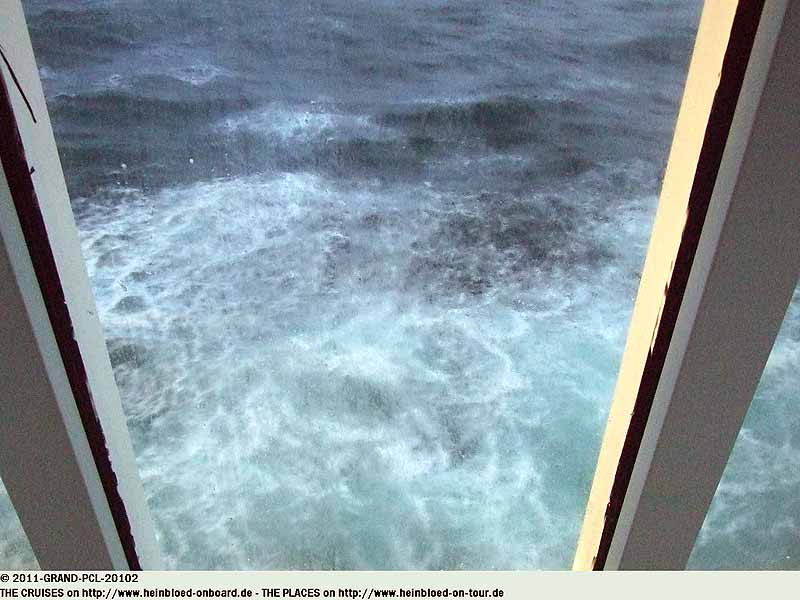 Dann kommt auch schon die Ansage, dass es nicht geht. Die Ansage war nur im öffentlichen Bereich zu hören. Wir versuchten einen Fernsehkanal zu finden, der die Ansagen überträgt, aber fanden keinen.
Und dann noch schwarz auf weiß, damit niemand klagen kann.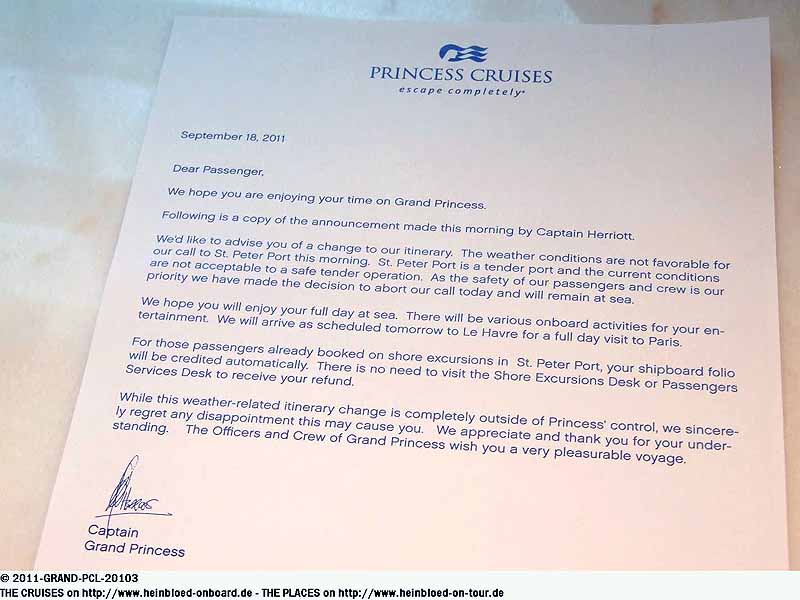 And then in writing so none can sue.

Soon we got the new daily programs.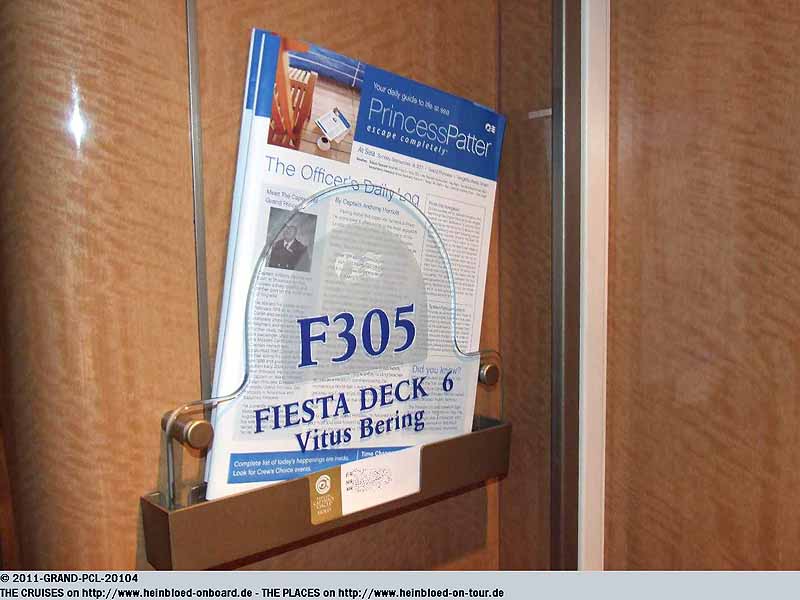 Bald kommen auch schon die neuen Tagesprogramme.
Über
Marinetraffic
verfolgen wir im Internet, wie wir fahren.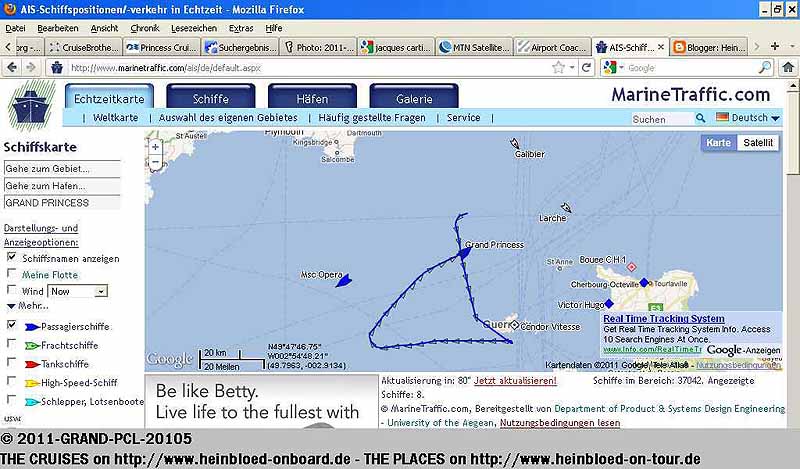 On Marinetraffic in internet we checked where we sailed.

In the afternoon it was calmer and sunnier but it would not have made too much sense to start with tendering.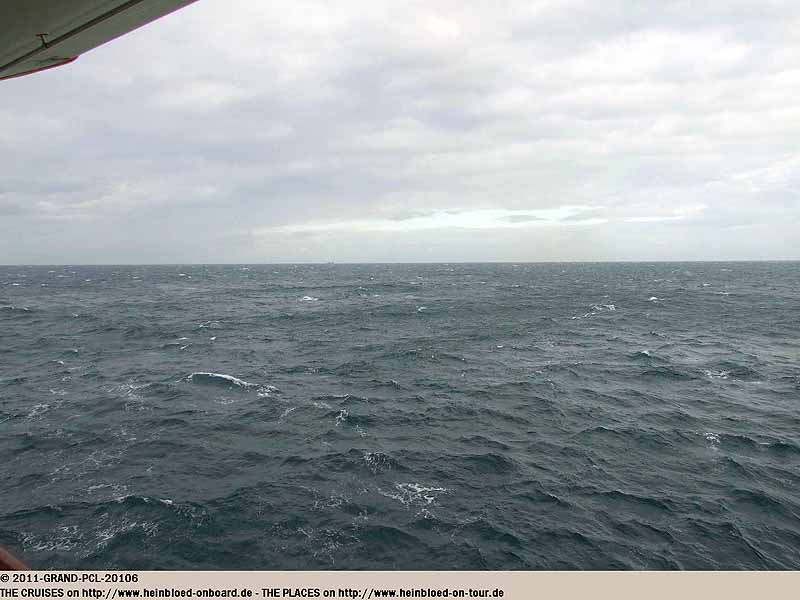 Nachmittags war es ruhiger und sonniger, aber es hätte sich vermutlich nicht gelohnt, mittags nochmals mit dem Tendern anzufangen.
Für uns war der Seetag vollkommen o.k..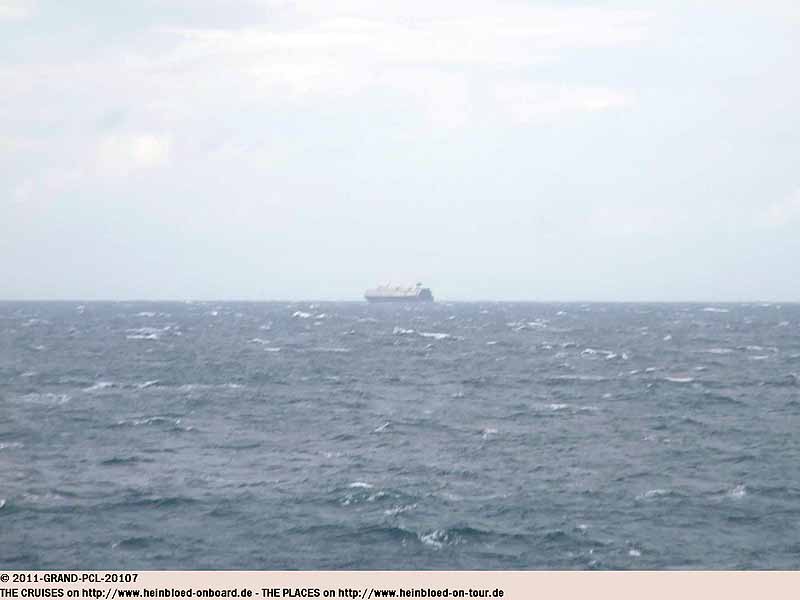 For us the day at sea was fine.

You need to be honest and say that the location of the Window Suites is not very best. As the Promenade is just above us, there is always light in the night. We usually do have the curtains open to see the stars and the moon, but that was impossible.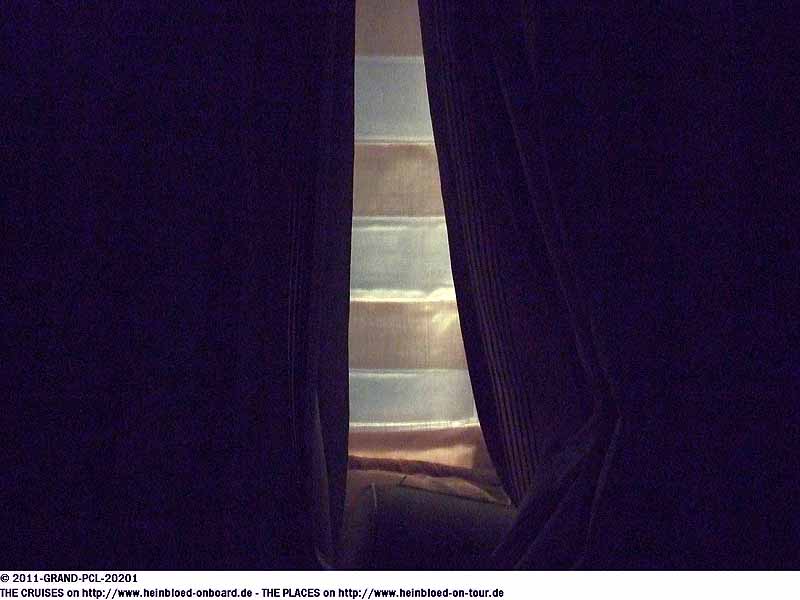 Man muss ja ehrlicherweise sagen, dass so ganz vorteilhaft die Lage der Window Suiten nicht ist. Da die Promenade direkt über uns ist, ist es immer die ganze Nacht hell. Wir haben i. d. R. die Vorhänge auf, um den Sternenhimmel zu sehen, aber das geht in diesem Fall nicht.
Ich habe Martyn doch mal auf unserem Briefpapier ein paar Zeilen wegen der Lautstärke geschrieben. Provozierend habe ich gefragt, ob die Show von Holland America gesponsored wurde.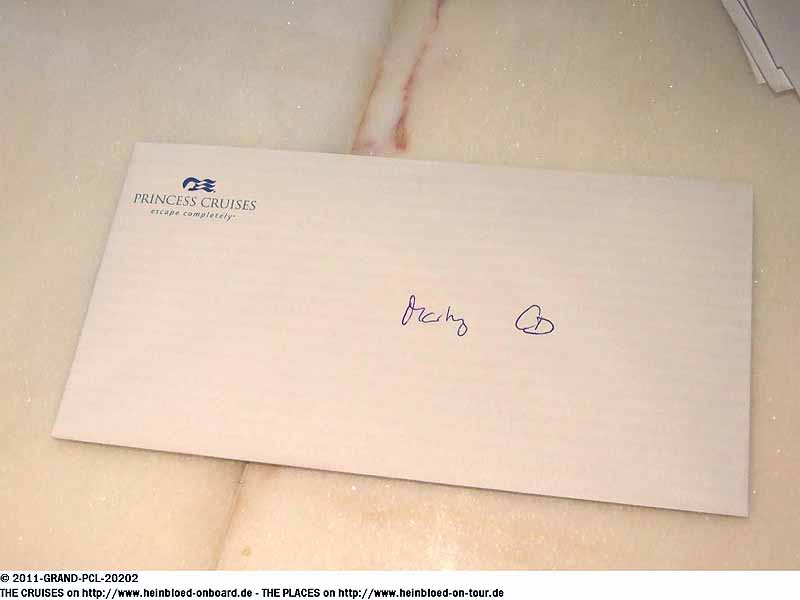 I made Martyn a note on our stationary regarding the volume. Just to provoke, I asked if the show was sponsored by Holland America.

We just arrived, and now they wanted to have us from the ship. They explained that we need to collect the baggage tags by ourselves if we like to use the service.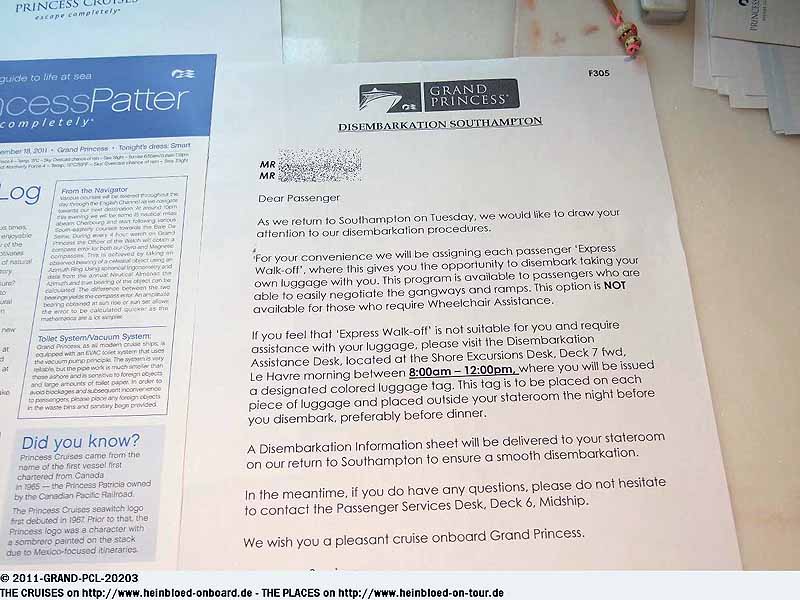 Kaum sind wir auf dem Schiff, so wollen sie uns auch schon wieder loswerden. Es wird erklärt, dass wir morgen die Gepäckanhänger selbst holen müssen, wenn wir Service wollen.
An der Rezeption melden wir UNSER Problem, das wir mit der Klimaanlage haben. Andere mögen das als unproblematisch empfinden. Die Meldung wird sofort an der Rezeption eingegeben. Es gibt einen Extra Bereich für Elite- und Suitengäste, aber keinen Concierge, der sich um die Anliegen der Gäste kümmert. Nachmittags kommt auch ein Techniker vorbei, die ihr bestes versuchen, um eine Verbesserung der Situation für uns zu erreichen.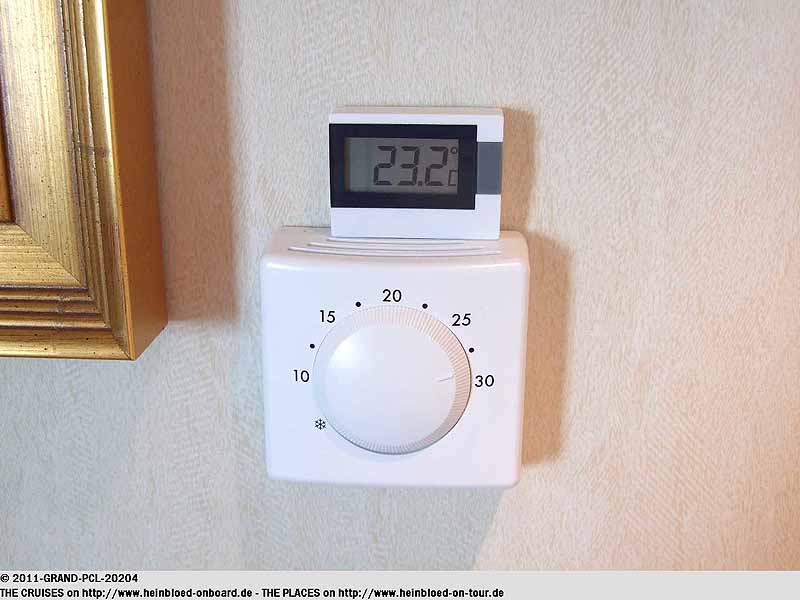 We reported OUR problem with the air-condition. Other might accept this problem. They entered the information immediately. There is an extra queue for Elite- and Suite-Guests but no concierge who takes care of the guests' requirements. In the afternoon a technician showed up who tried to find the best solution for us.

As it was formal night (or maybe not - no one knows precisely), Bruno and I got for each of us a flower for our smoking.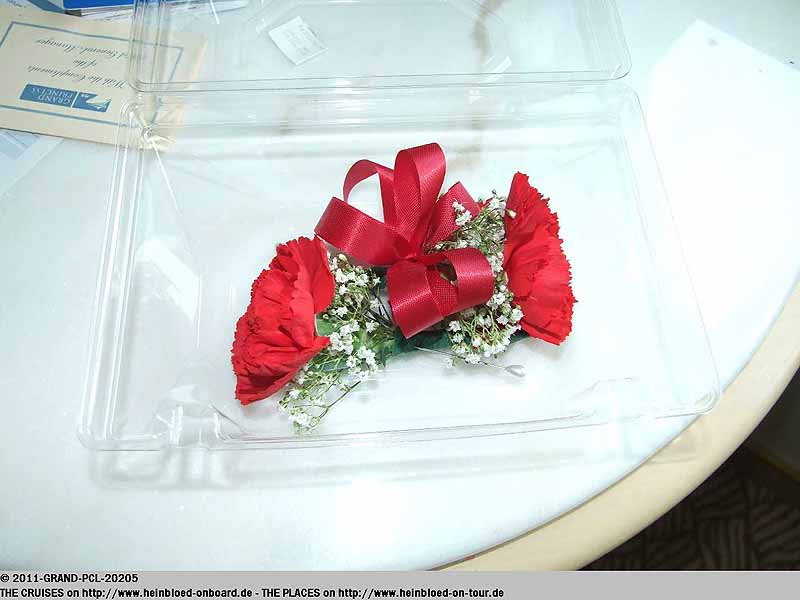 Da formelle Nacht ist (oder auch nicht... so genau weiss es keiner), bekommen Bruno und ich jeweils eine Blume für unseren Smoking.
Aber zunächst gehen wir frühstücken. Die Elite- und Suiten-Gäste dürfen im Sabatinis frühstücken. Es geht hier aber hierbei um die persönlichere und ruhigere Atmosphäre. So eine toll-erweiterte Karte like with NCL, wie im Cagney's für die Gäste des The Haven gibt es nicht. Also keine Steak und Eier oder Meeresfrüchte-Brioche...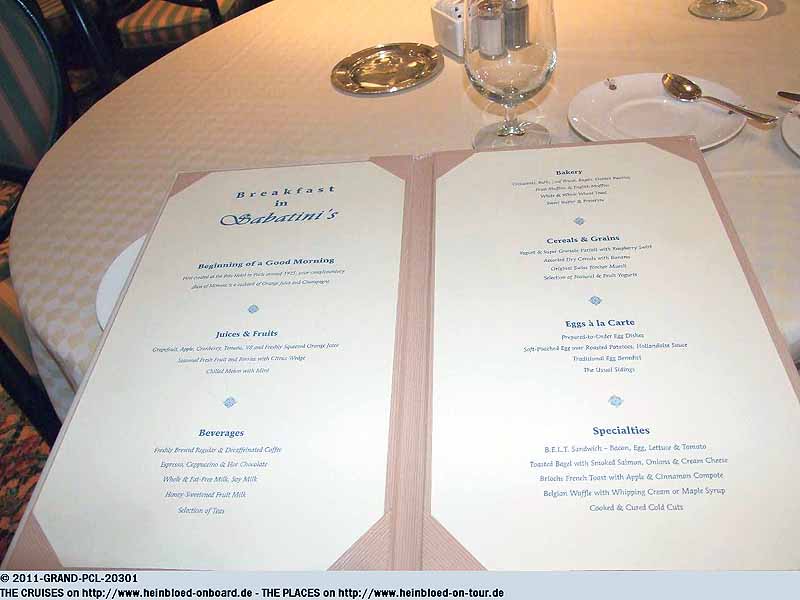 But let's have first our breakfast. Elite- and Suite-guests are allowed to have their breakfast in Sabatini's. You find here a more personal and calm atmosphere. It's not like NCL that you have a right extended fancy menu like they offer for their The Haven's guests in Cagney's. So no Steak and Eggs or Seafood-Brioche...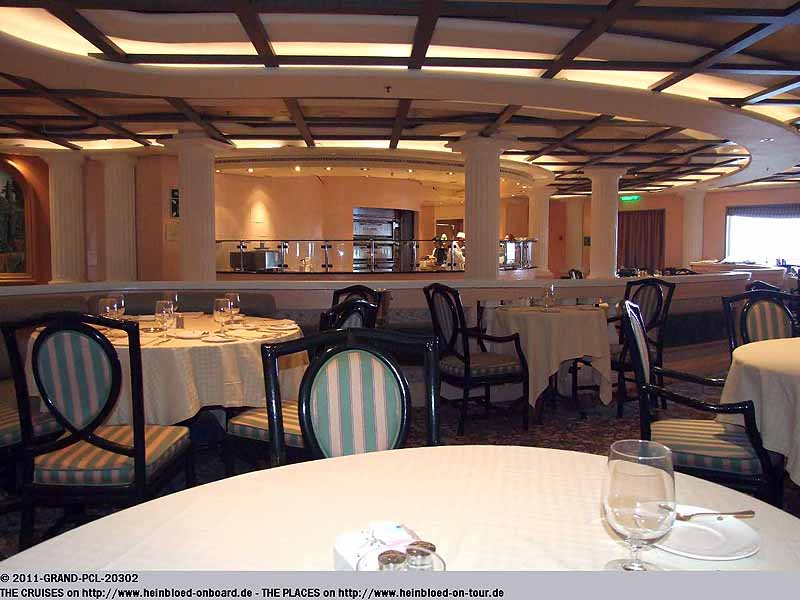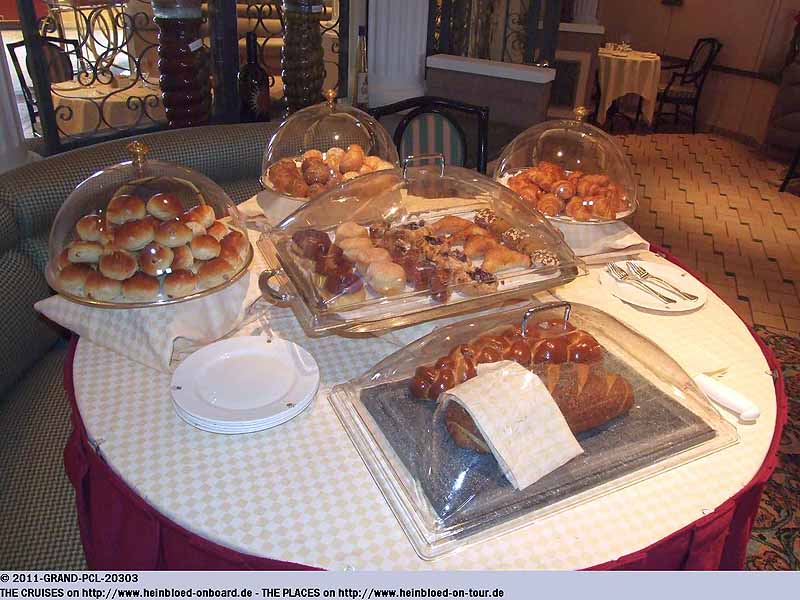 I wanted to ask how the pastries second from the right are called in English (we call them in German Berlin Balls) but I forgot it. Begin of dementia.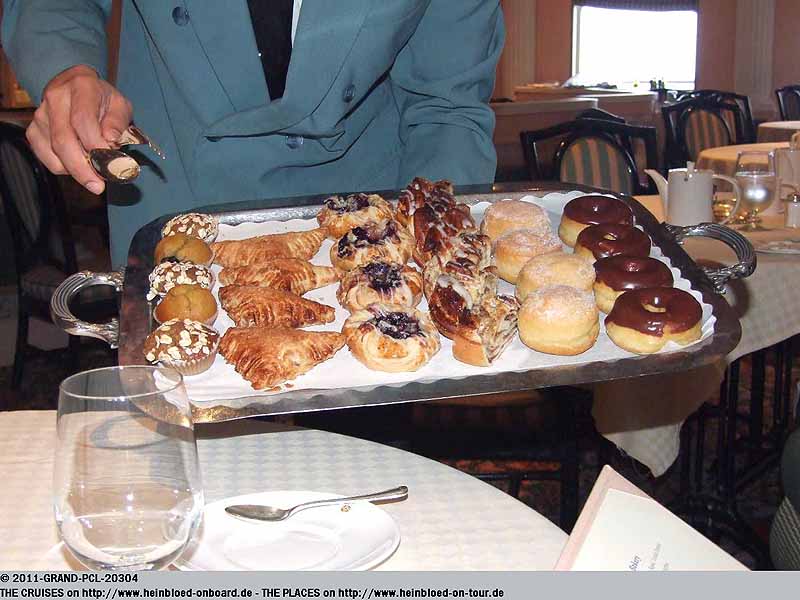 Ich wollte eigentlich nachfragen, wie Berliner Ballen auf Englisch heißen, aber das habe ich natürlich prompt vergessen. Einsetzende Demenz.
Zum Glück fahren wir nicht mit Royal Caribbean, so dass grüner Tee und Cranberry-Saft kein Problem darstellt. Hier gibt es auch frisch-gepressten Orangensaft. Auf den Sekt dazu, der uns angeboten wird, verzichten wir.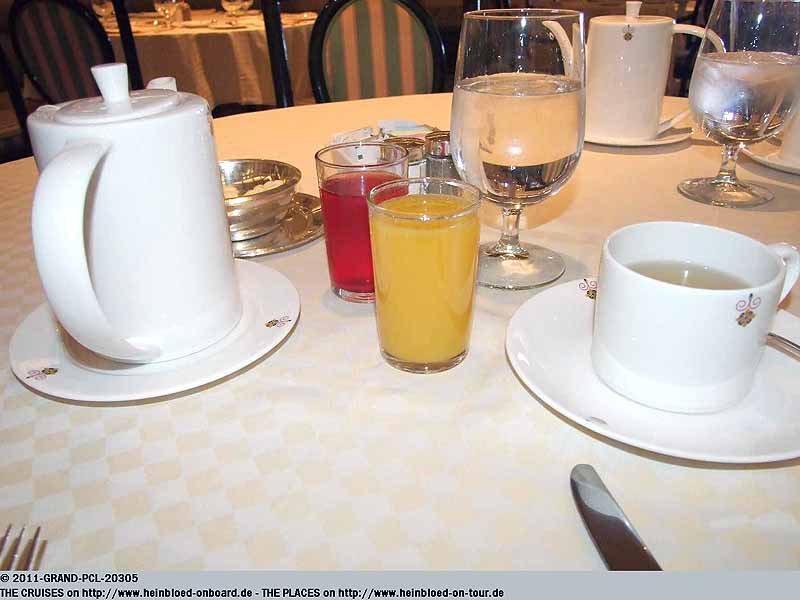 We are lucky not going on Royal Caribbean, so there was no problem to get Cranberry-Juice or Green Tea. Here you get freshly squeezed orange juice. But we did not have the champagne they offered us.

This was a stunning fruit plate.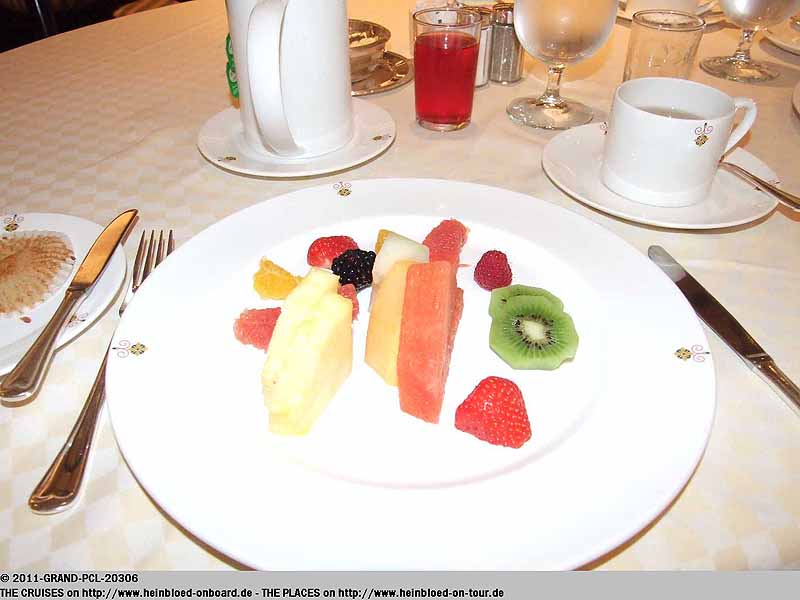 Das war auch ein sehr schöner Früchteteller.
Bruno hatte das Granola-Parfait und war ganz begeistert. Aber das hätte jeder auch am International Café auch bekommen können. So werden alle Gäste damit verwöhnt, nur nicht unbedingt im Sabatinis.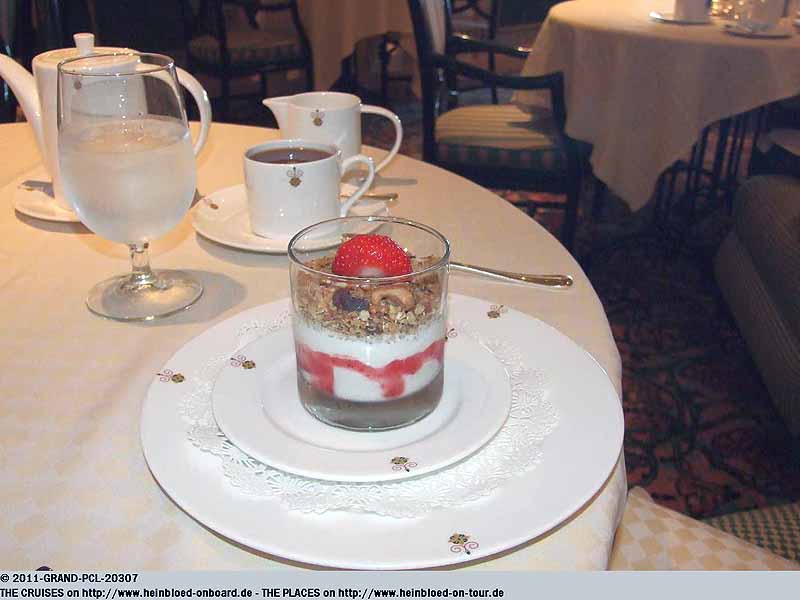 Bruno had the Granola-Parfait and he was very thrilled. But anybody else could have got it in the International Café. So every guest was well pampered but not everyone in the Sabatinis.

I got my Egg Benedicts but not on salmon. I did not ask for as I like it anyway only with NCL. I am sure that they would do it for me. The choice of bread was limited to toast in two colors. But I need to learn it's an English-American company.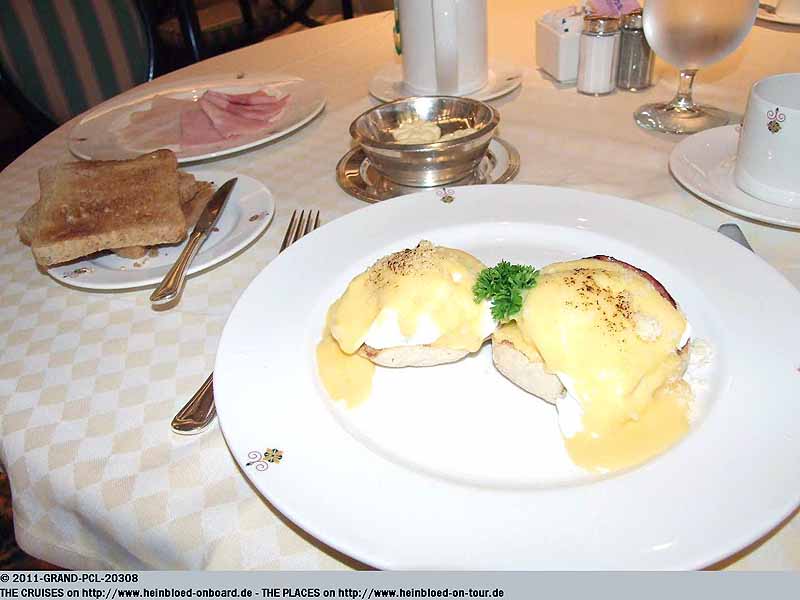 Ich bekomme mein Egg Benedicts. Aber nicht auf Lachs. Aber ich hatte nicht danach gefragt, weil sie mir eh nur bei NCL schmecken. Sie hätten mir bestimmt den Wunsch erfüllt. Leider beschränkt sich das Brotangebot auf Toast in zwei Formen. Aber es ist nun einmal eine Englisch-Amerikanische Gesellschaft.
Wir gucken uns weiter auf dem Schiff um.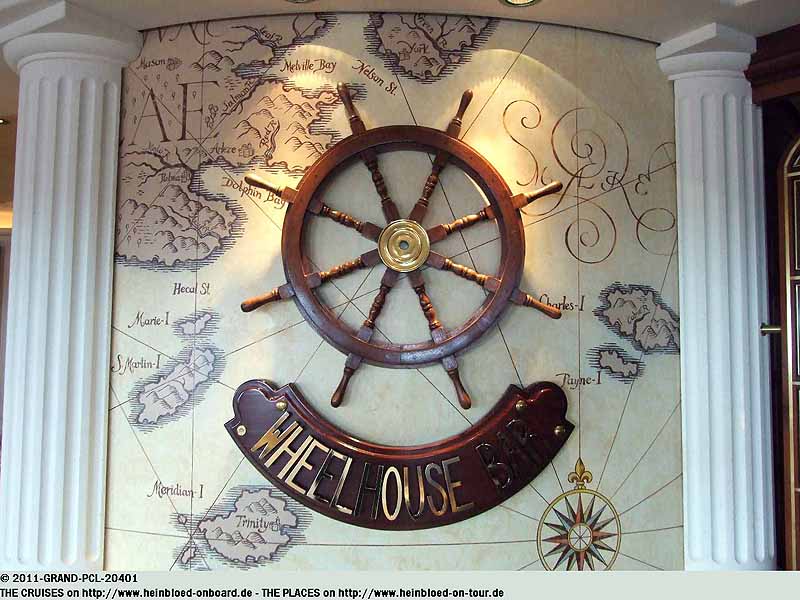 We continued to look around on the ship.

Here we should have the meetings of the Friends of Dorothy.

Hier hätten abends die Treffen von den Friends of Dorothy stattgefunden.
Aber da haben wir es nicht einmal geschafft vorbeizugucken. Wir hatten es anfänglich im Programm auch nicht gefunden, weil es als LGBT-Treffen im Programm stand. Mal gucken, wer hier noch als Neugieriger aufgetaucht ist, weil er auch nichts mit der Abkürzung anfangen konnte.

But we never made it to just go by. At the beginning of the cruise, we did not find it because it was declared as LGBT-meeting. Let's see who will show up here because he was curious and did not know the meaning of the acronym.

That is the left-over of the casino.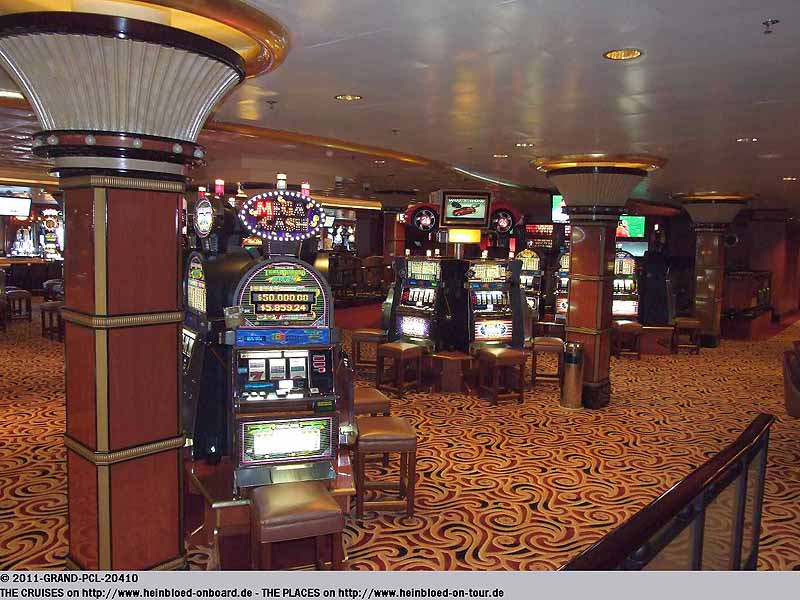 Das ist der Rest, der vom Casino übriggeblieben ist.
Leider war es für The Sanctuary zu windig und zu kalt.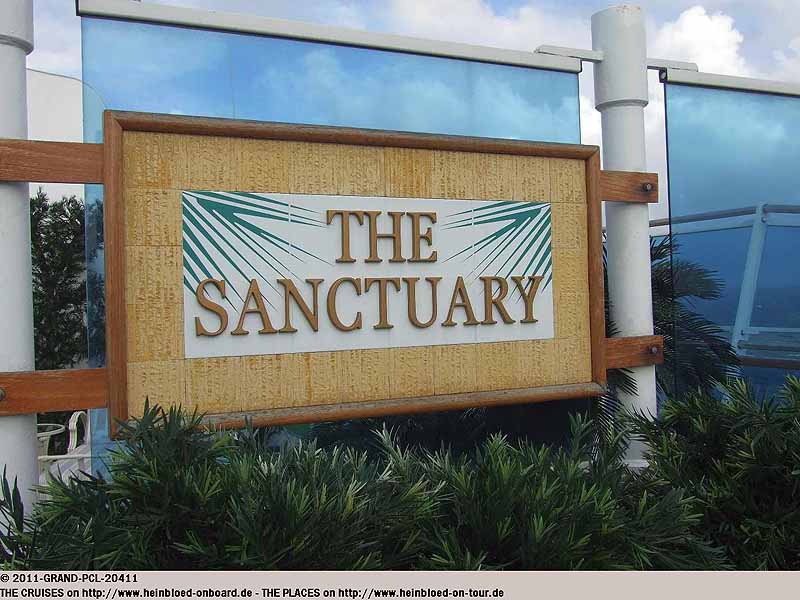 To stay at The Sanctuary it was too breezy and too cold.

We would love to spend 10 USD for a half day.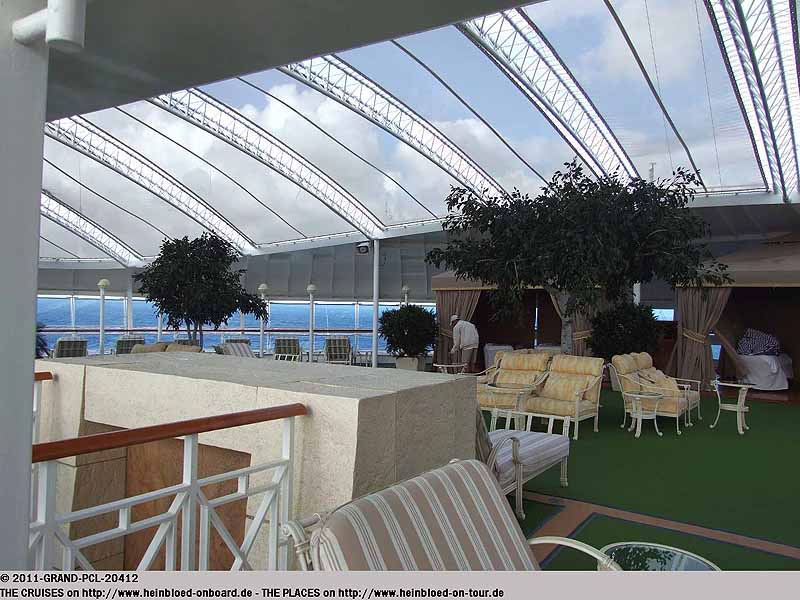 Gerne hätten wir 10 USD für den halben Tag bezahlt.
Die zwei Stewards taten einem Leid, weil sie nur alles am sichern waren. Sogar die Cabanas wären denen beinahme um die Ohren geflogen.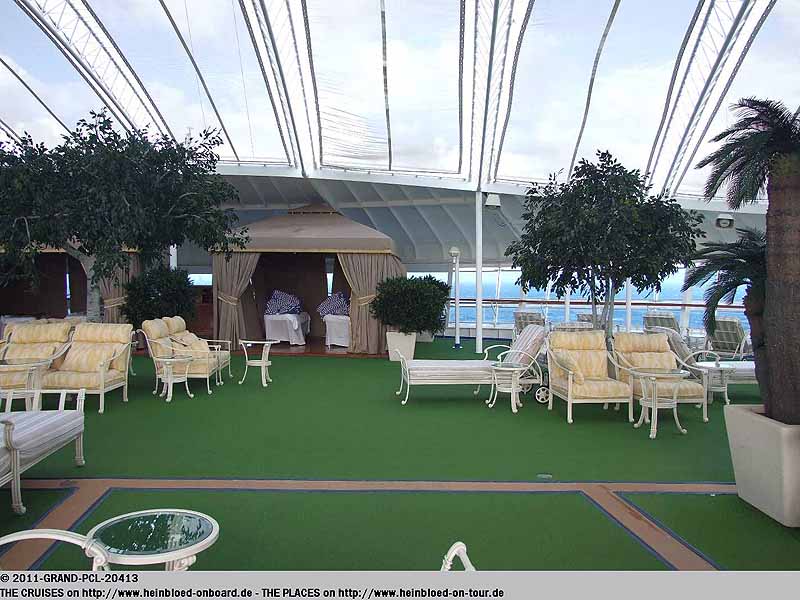 I felt sorry for the two stewards who was securing all the time. Even the cabanas were blowing around.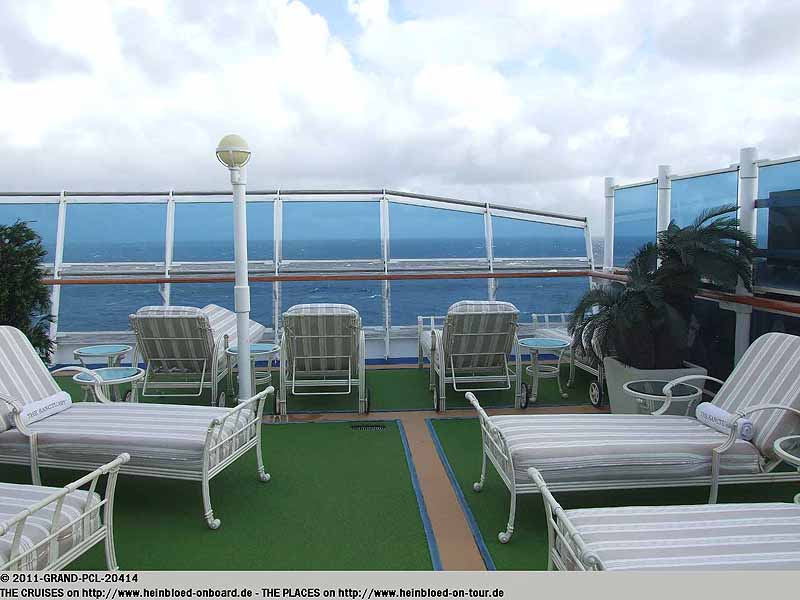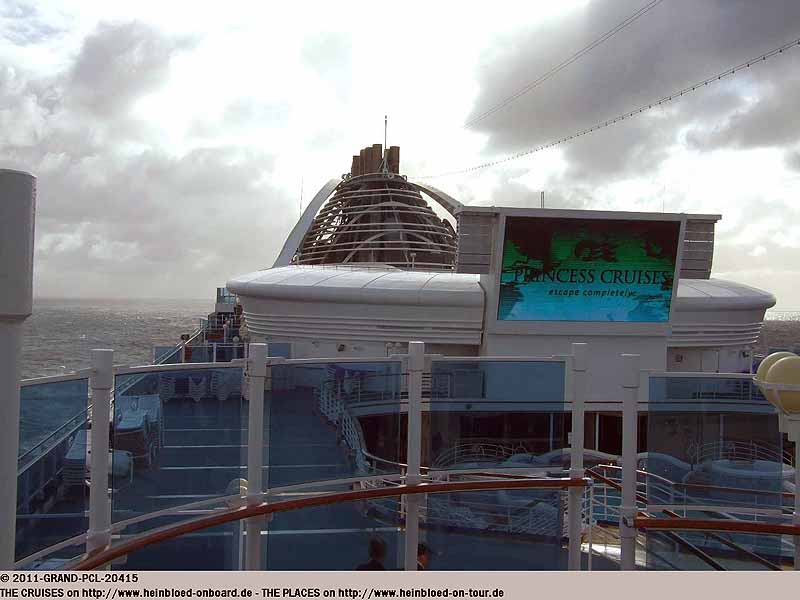 GRAND PRINCESS has the quality to become one of my most favorite ships.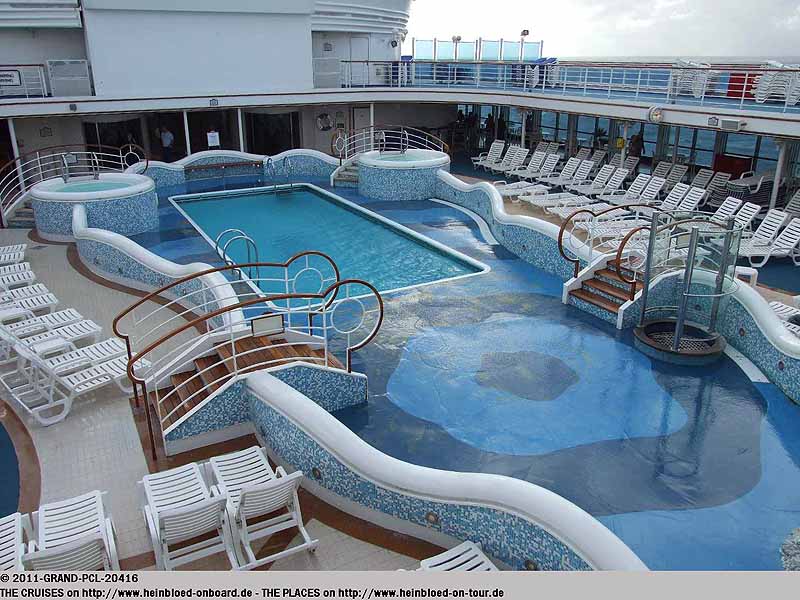 Die GRAND PRINCESS hat wirklich die Qualität zu einem meiner Lieblingsschiffe aufzusteigen.
Sogar das Modell wurde beschnitten und angepasst. Ob sie das auch in der Trockenwerft in Freeport auf Bahamas gemacht haben???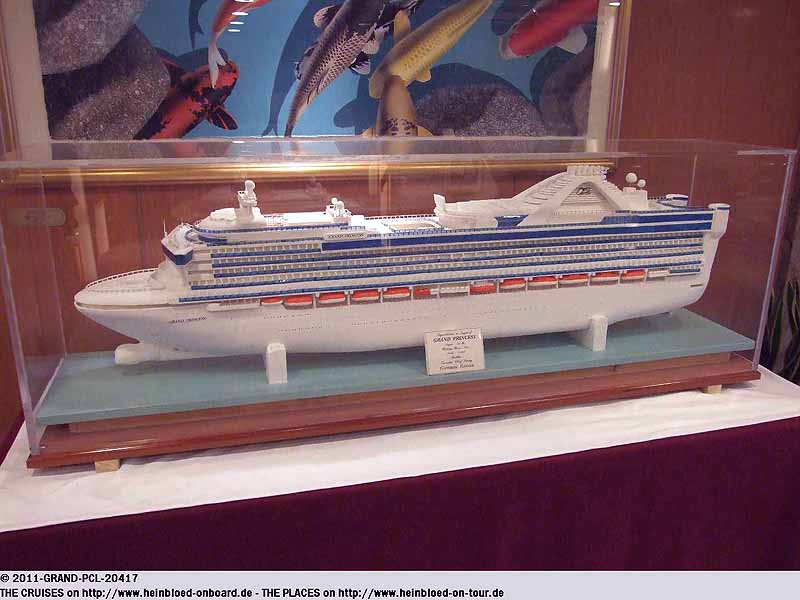 Even the ship's model was cut and adjusted. I was wondering they did this in the drydock in Freeport Bahamas as well???

I liked this: You always know which side of the Horizon Court buffet-restaurant was open without looking around.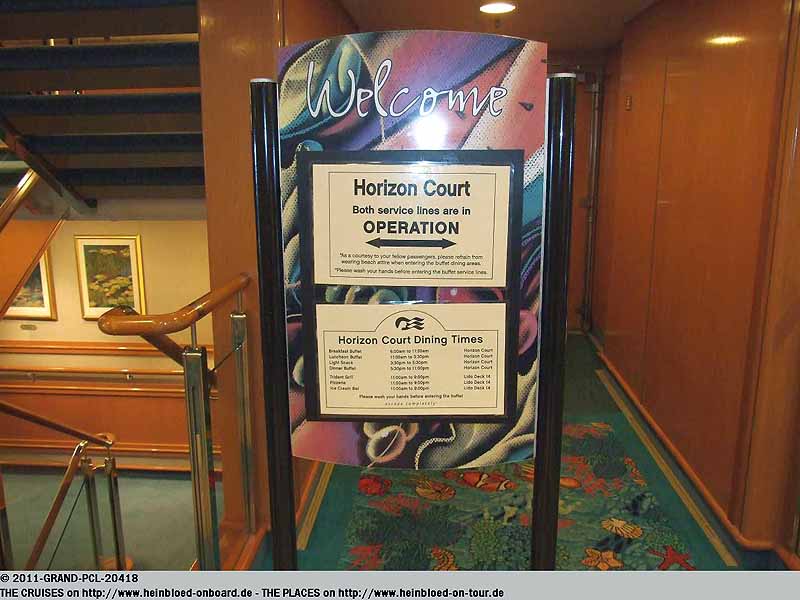 Das fand ich gut: man musste immer schon, welche Seite des SB-Restaurants Horizon Court geöffnet war, ohne dass man suchen musste.
Die Fahrstühle waren so ziemlich das Einzige, was nicht so 100%ig richtig lief, aber ansonsten war es überall fast wie auf einem nagelneuen Schiff. Natürlich kenne ich keine alten Kabinen.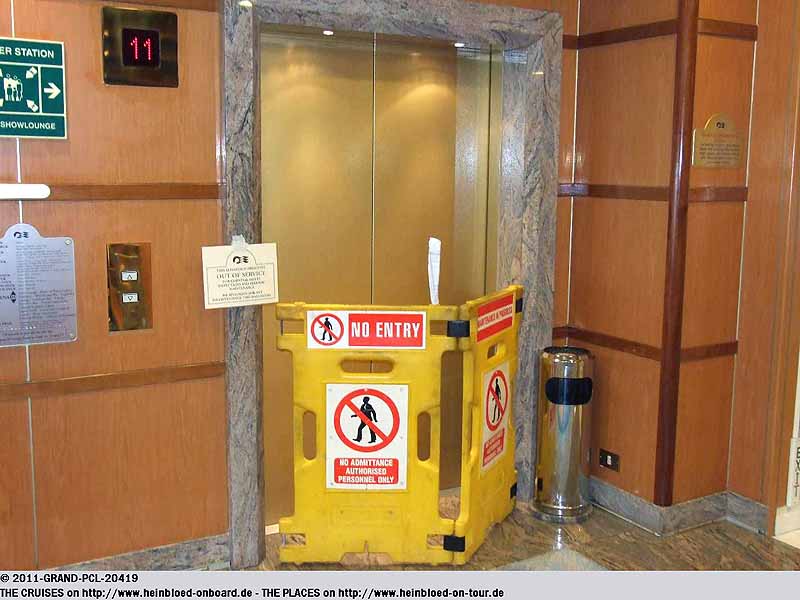 Only the elevators were not running for 100% but anywhere else you had the impression to be a brand new ship. But I need to say that I do not know any old cabins so far.

As none could go ashore for a Sunday service they offered service here on the ship.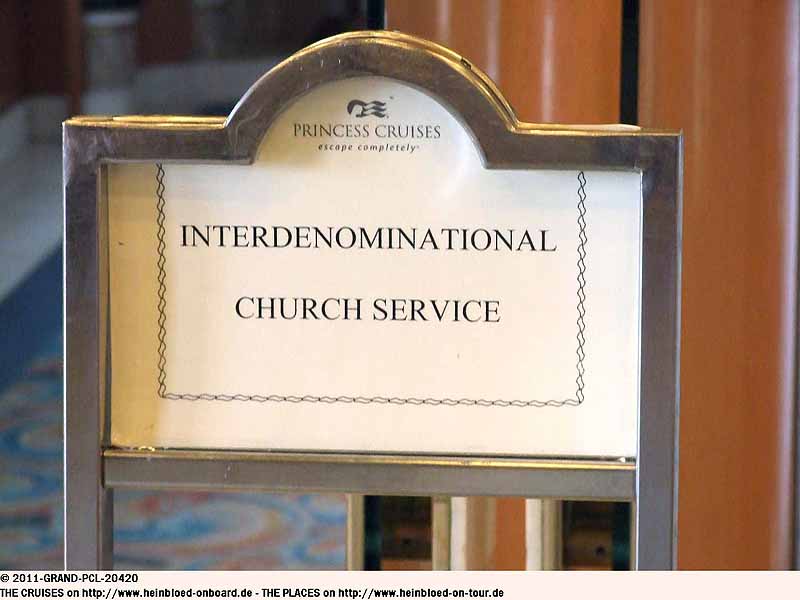 Da ja keiner nun an Land in die Kirche gehen konnte, fand ein Gottesdienst an Bord statt.
Am nächsten Tag haben wir erfahren, dass auch Teespezialitäten mit der Kaffeekarte bezahlt werden können. Allerdings ist nur dann kostenlos, wenn gleichzeitig ein Kaffee über die Karte bestellt wird. Bestellt man sich nur Tee, wird ein Feld entwertet.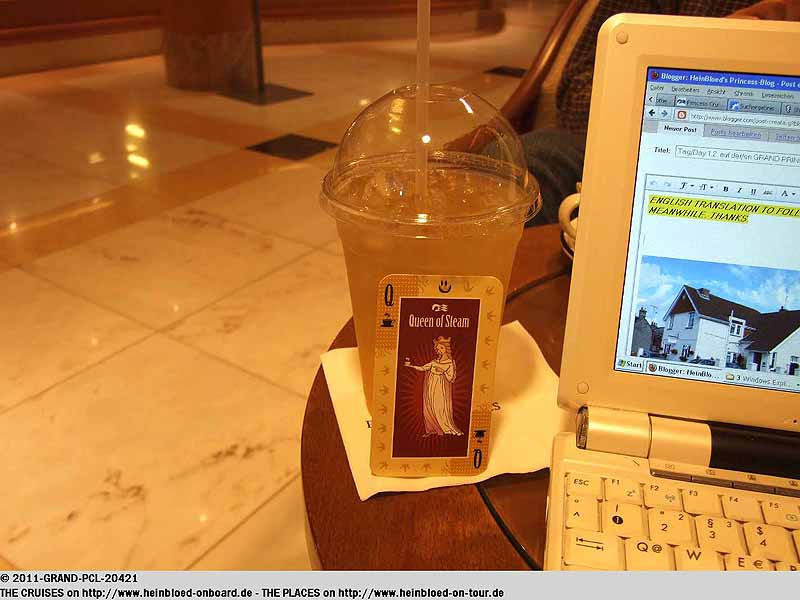 The next day we learned that we also can pay our tea specialities with the coffee card. But it's only free if we buy a coffee at the same time. If you order just tea, they will cancel one of the marks.

Unfortunately, our camera did not work correctly when the shot with Martyn was taken. As I had ACCIDENTALLY my HAL-shirt on I was comfortable to be identified as the writer of the notice. He apologized for the last night's experience. He promised that tonight it will be better when they will show the British Invasions which we should not miss.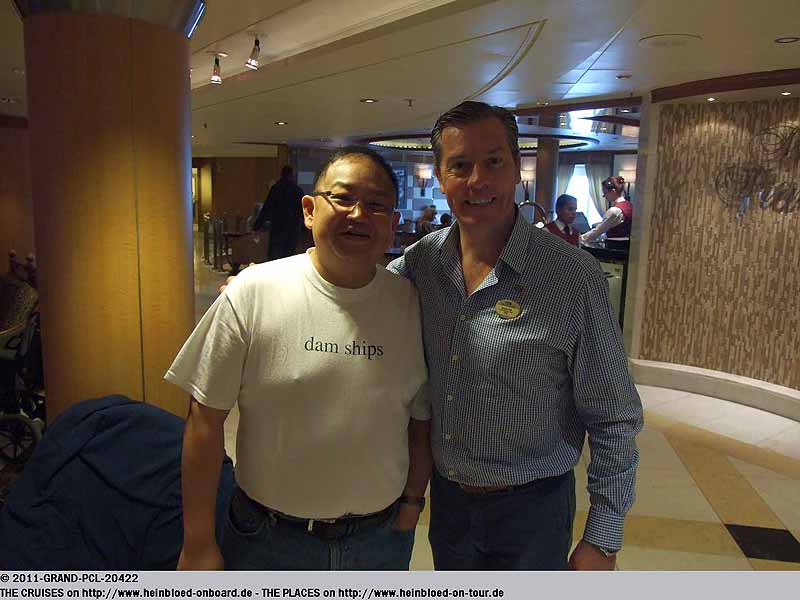 Leider spann unsere Kamera als das Bild mit Kreuzfahrtdirektor Martyn entstand. Da ich ZUFÄLLIG das HAL-Hemd anhatte, konnte er mich schnell als Verfasser des Briefes identifizieren und entschuldigt sich für den gestrigen Vorfall. Er verspricht für heute Besserung, wenn die Shows British Invasions läuft, die wir keinesfalls verpassen sollten.
Da wir auf dem ganzen Schiff bis zum Vorabend der Ausschiffung kostenlos surfen dürfen, haben wir stets unsere iPhones dabei und surfen damit fleißig.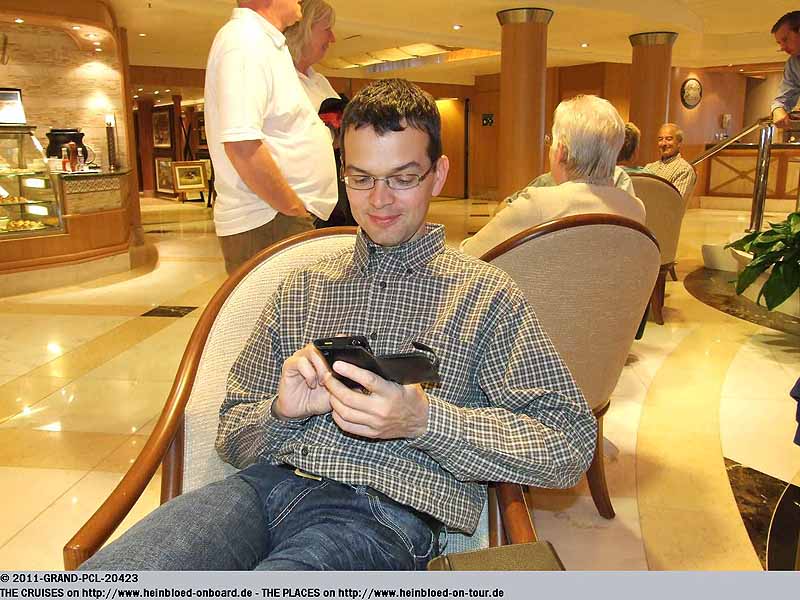 As we can browse on the whole ship until the night before debarkation we always had our iPhones with us and were browsing.


One of the spontaneously organized activities was the carving of vegetables.

Zu den spontanen Programmpunkten zählte die Demonstration des Gemüseschnitzens.
Uns wird es zu voll und wir verschwinden.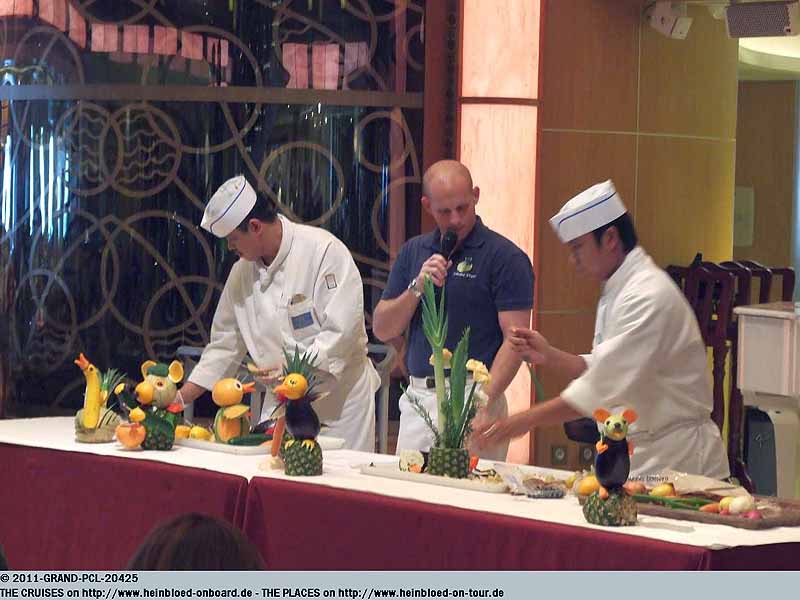 It became to crowded and we disappeared.

For all late-risers: You have this breakfast offer until the very late morning.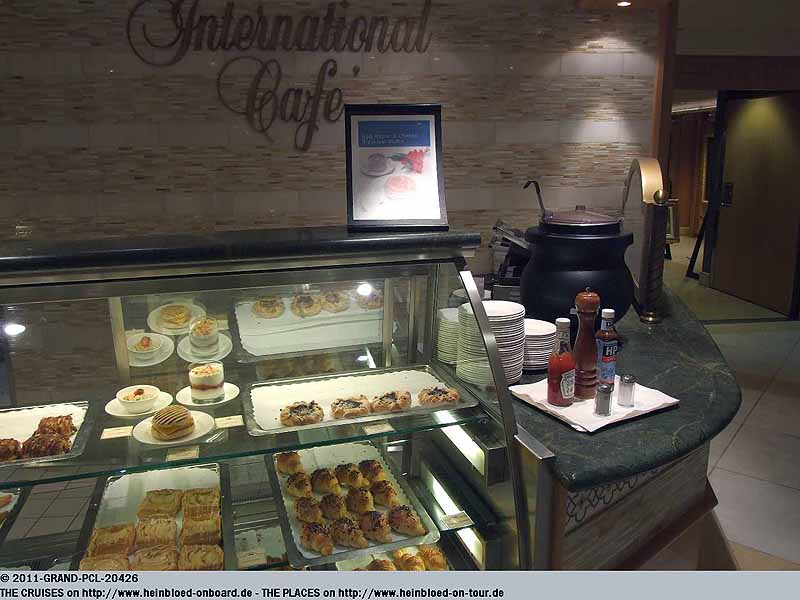 Für alle Spätaufsteher: Das Frühstücksangebot bleibt den ganzen Vormittag bestehen.
Die anderen Reisen in diesem Blog/
The other voyages in this blog: