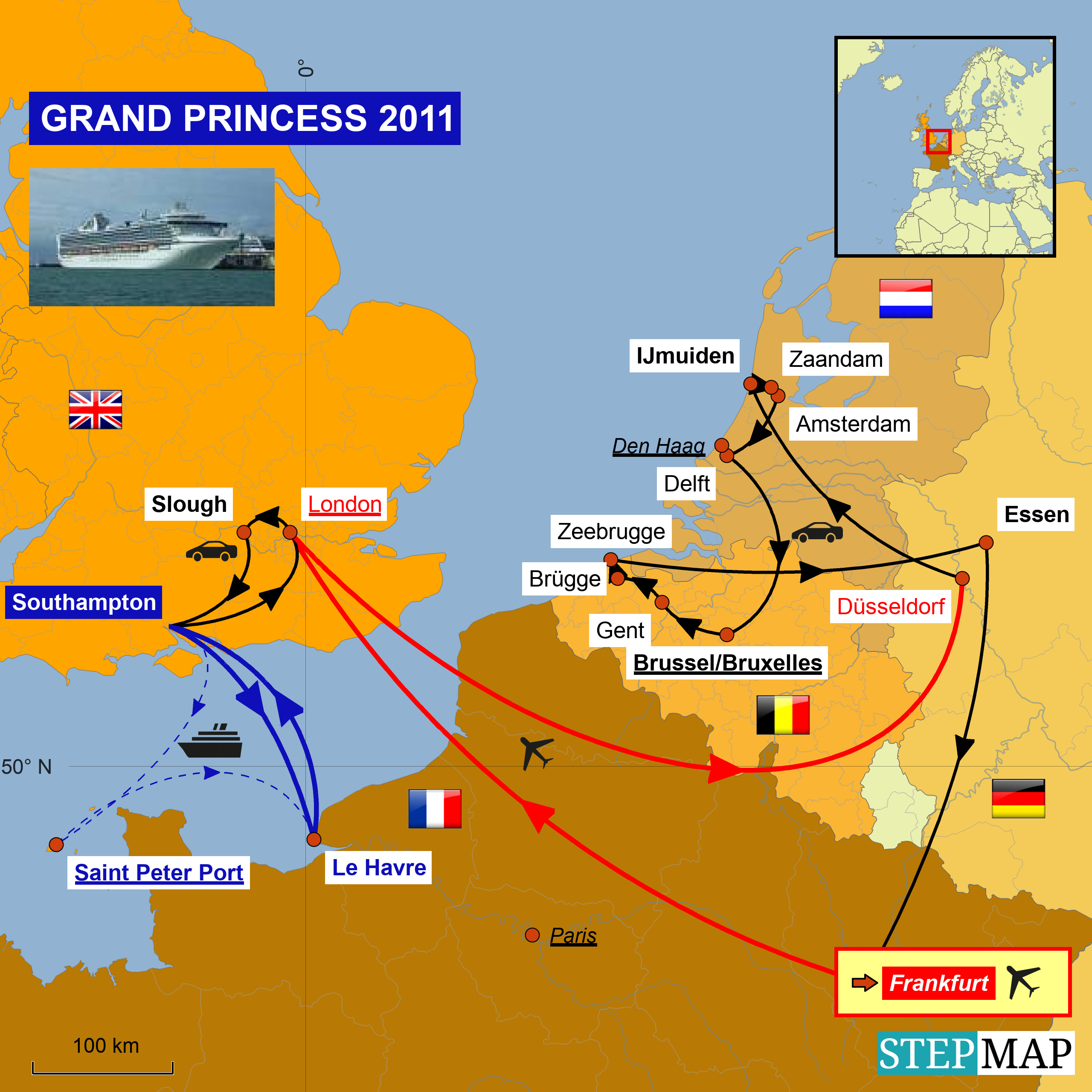 Während ich bei der Massage bin, geht Bruno zu der Attraktion bei Princess: Die Befüllung der Sektpyramide, wobei hier noch der Aufbau stattfindet.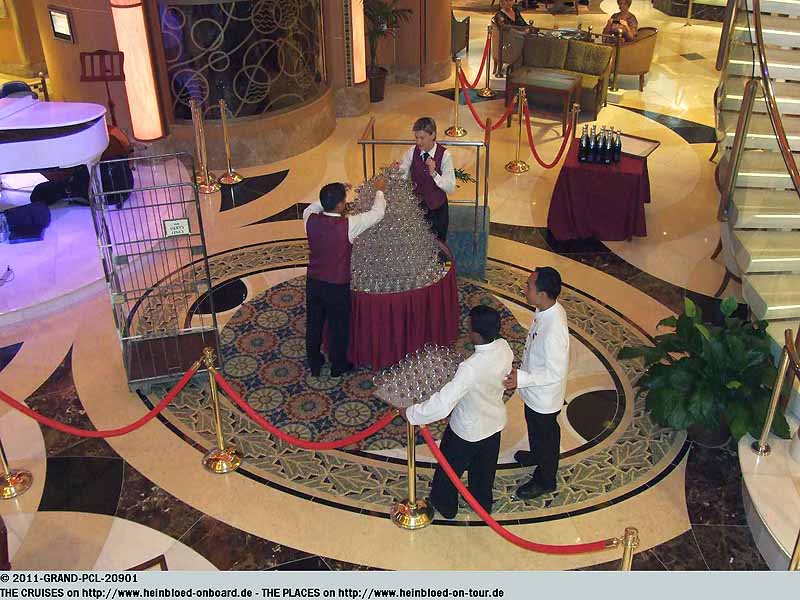 While I was with my massage Bruno went to the attraction of Princess: The filling of the champagne pyramid but currently they were at the erection.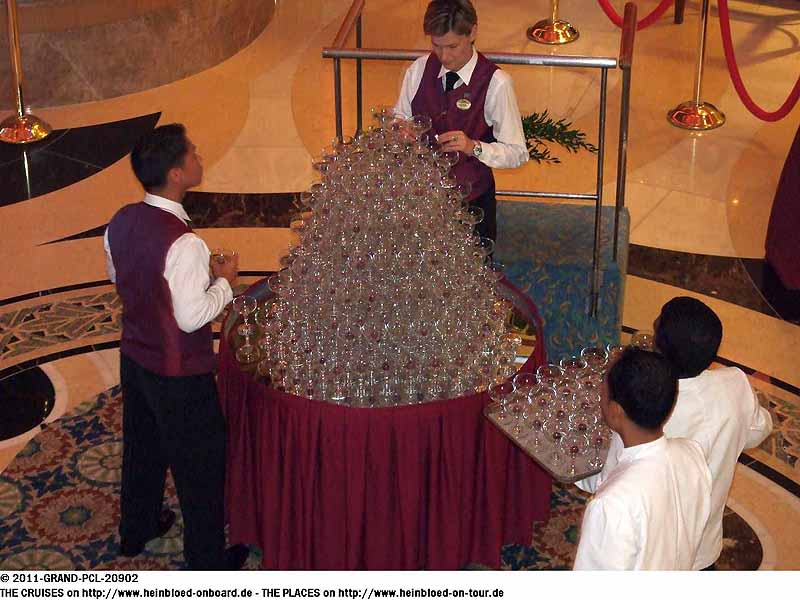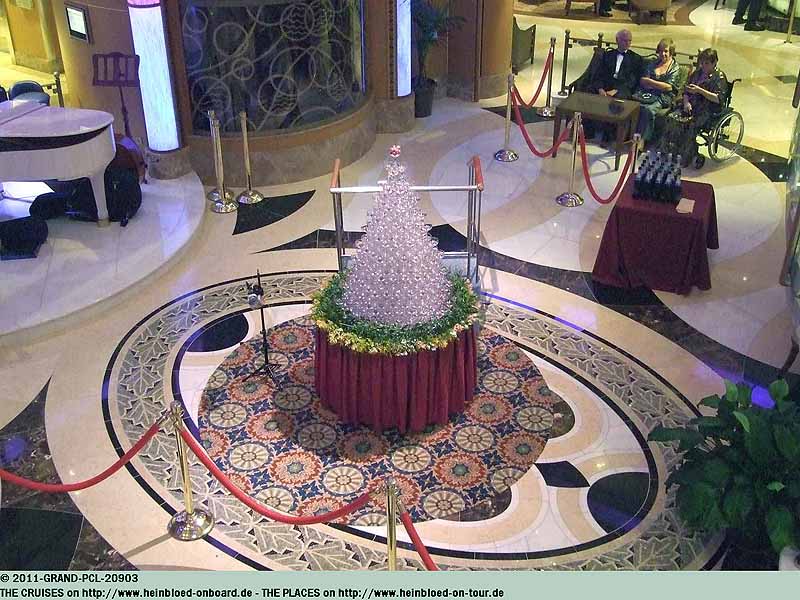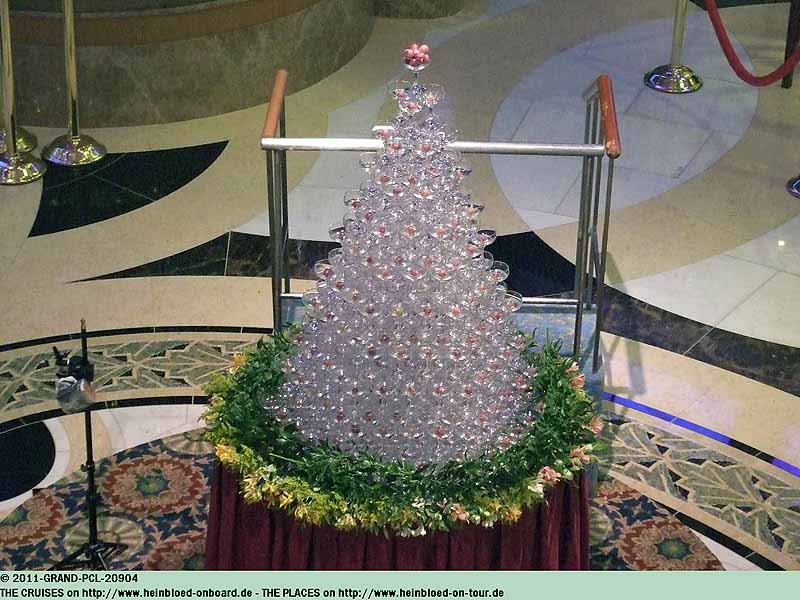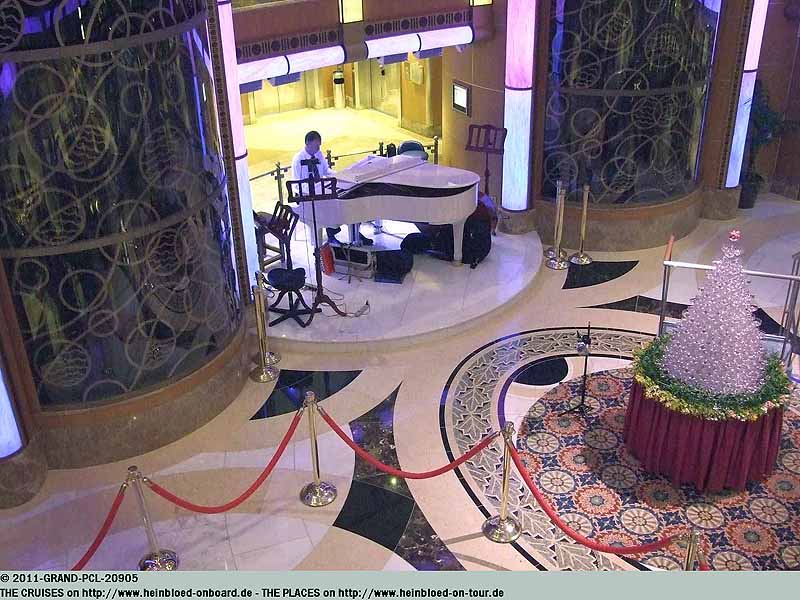 But later the pyramide was finished. No idea what was inside. Bruno thought it might be a fruit.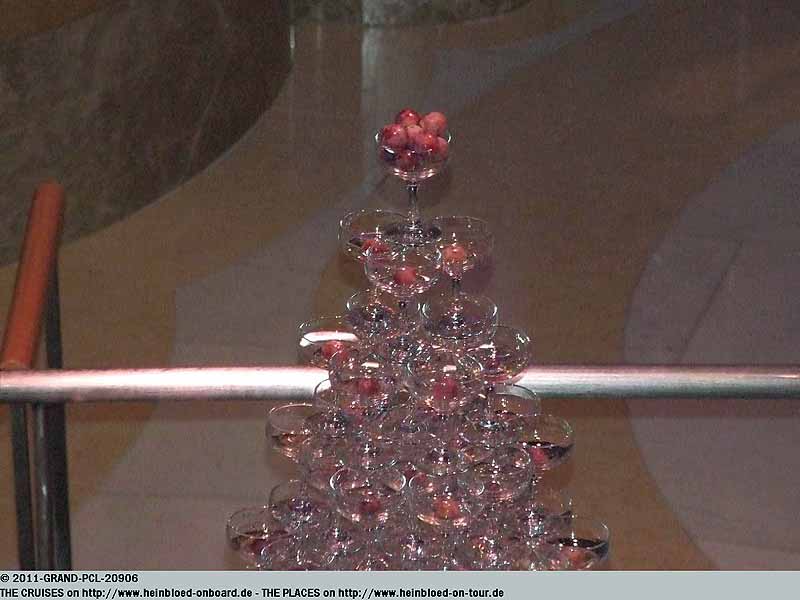 Aber irgendwann steht sie. Keine Ahnung was drin ist. Bruno meint, dass es eine Frucht war.
Martyn eröffnet die Veranstaltung.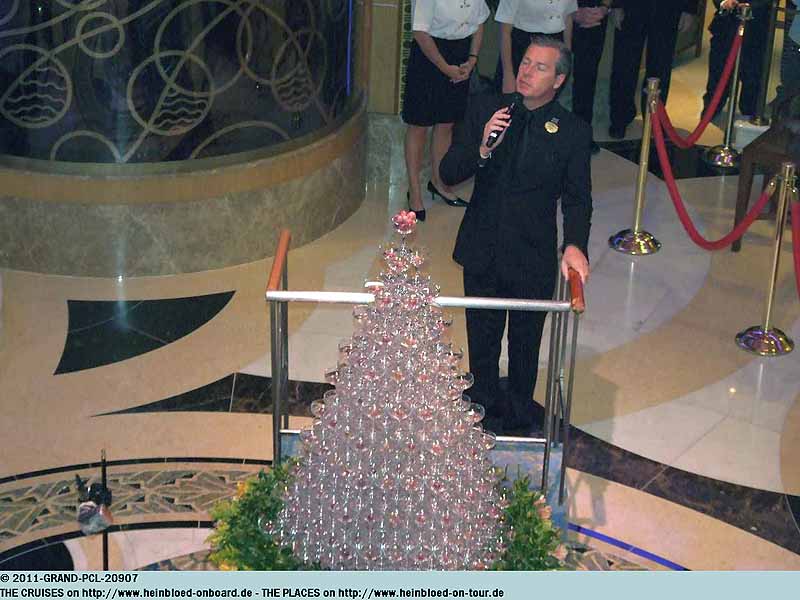 Martyn opened the event.

And the Maître and the Captain started to fill up.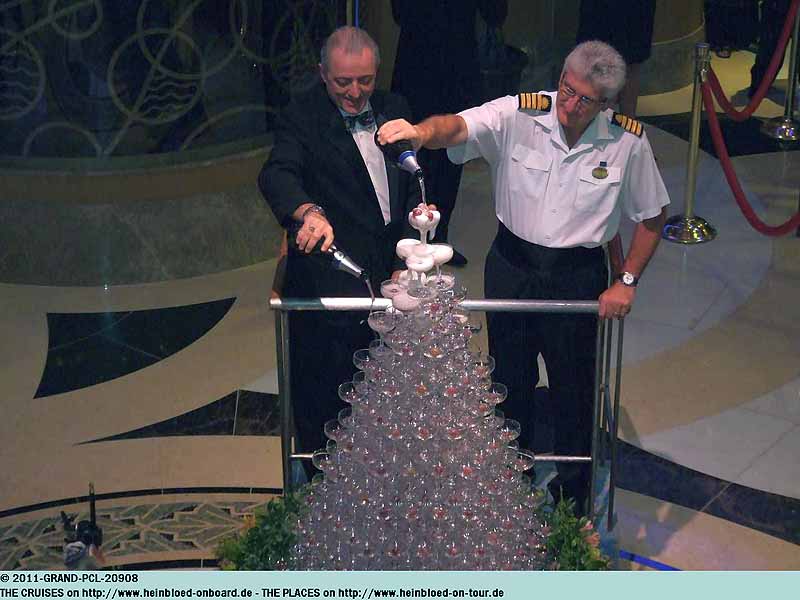 Vom Maître und vom Kapitän wurde die Befüllung eröffnet.
Könnten das Trauben sein???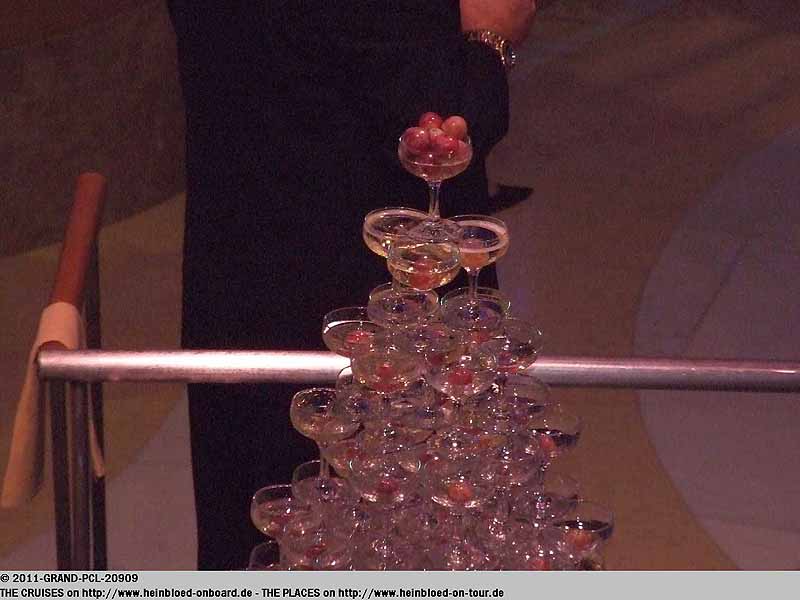 Looks like grapes.

But anyhow it is the attraction.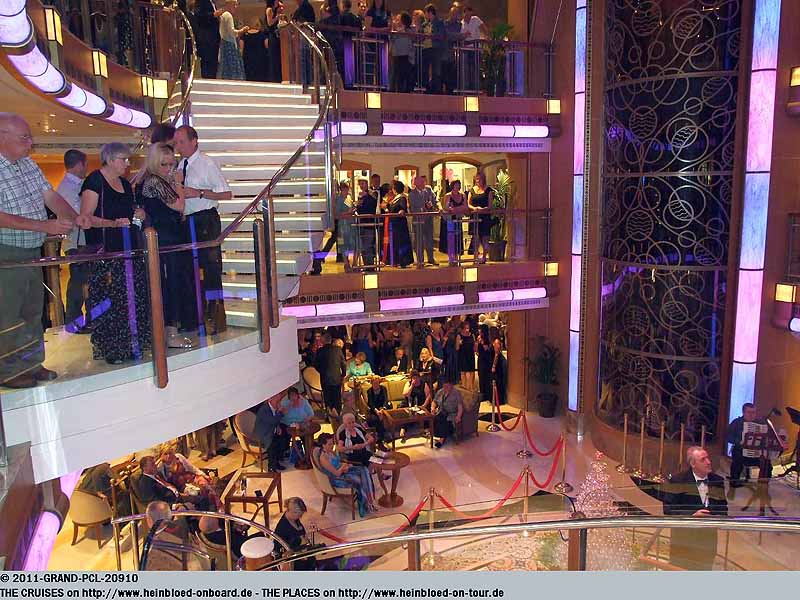 Auf jeden Fall ist es die Attraktion.
Man konnte sich hier dabei fotografieren lassen.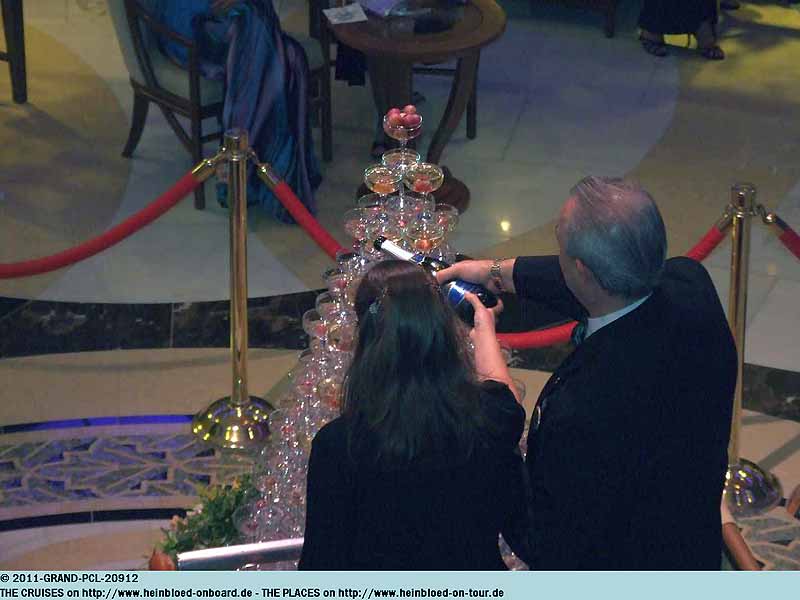 So it was possible to let them take pictures of you.

Fabio is an Italian Maître who was lucky not such one we knew from MSC FANTASIA. We tried to book a table at the Crown Grill but already on the day of embarkation all tables were reserved for 15:30 hrs. He promised to put us on the waiting list. What was very helpful: he greeted every guest in a friendly way and not just the Italian guests like we learned on MSC FANTASIA.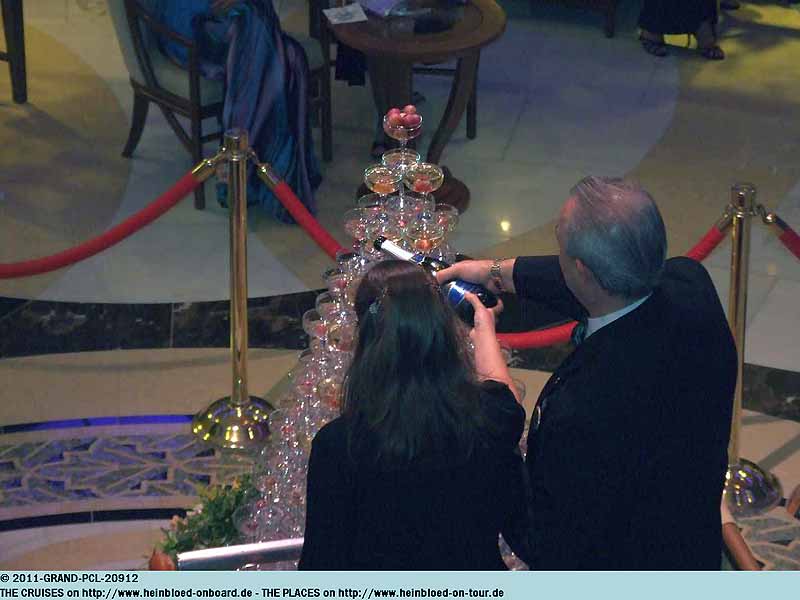 Fabio ist ein italienischer Maître der zum Glück nicht so ist, wie wir es von der MSC FANTASIA her kennen. Wir hatten versucht noch einen Tisch im Crown Grill zu buchen, aber bereits am Einschiffungstag um 15:30 Uhr waren alle Termine vergeben. Er versprach uns auf die Warteliste zu setzen. Was sehr schön: er hat jeden Gast immer freundlich gegrüßt und nicht nur die italienischen Gäste, wie wir es von der MSC FANTASIA her kannten.
Ob man sich mit dem Kapitän fotografieren lassen konnte, konnte man von oben nicht sehen. Aber wie man sieht: keine Gala-Uniform an. Das war einer der wenigen Sachen, die Princess in Valencia "verbockt" hatte. Es fand nämlich gar kein formeller Abend statt. Unsere Smokings haben wir daher vergeblich mitgenommen. Wenn wir hätten 60 EUR für die Transporte eines zusätzlichen Koffers hin und zurück extra bezahlen müssen, hätte es an Bord vermutlich Ärger gegeben.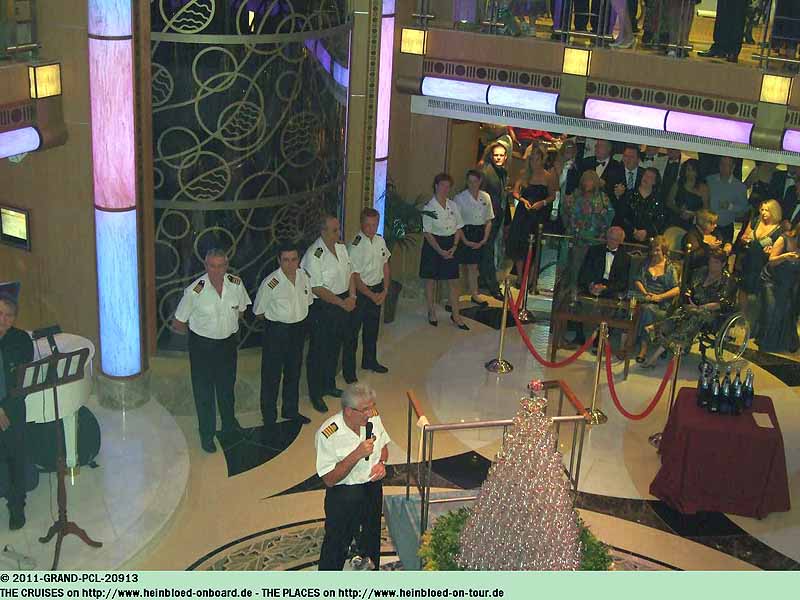 It was impossible to see from upstairs if pictures with the Captain were taken. But as we could see: no Gala-Uniforms. This was one of the few mistakes Princess in Valencia made: There was no formal night. So we carried our tuxedos for nothing. Guess we would have to pay 60 EUR extra for the check-in of the additional suitcase they would have gotten a lot of trouble with me onboard.

So the Captain introduced his team. But I had only twice a short touch with the Hotel Director.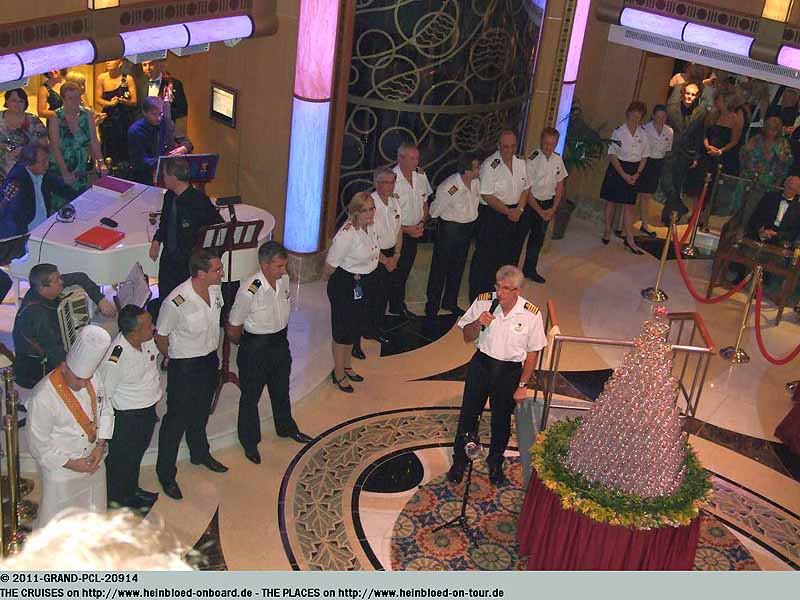 So stellt der Kapitän seine Mannschaft vor. Aber ich hatte nur mal kurz mit dem Hoteldirektor zweimal Kontakt gehabt.
Leider zu spät erst entdeckt: wir hätten gar nicht jedes Mal zur Rezeption laufen müssen, um zu sehen, wo wir sind. In der Kabine hätten wir es auch haben sollen. Bloß haben wir es nicht gefunden und auch nicht den Kanal mit den Ansagen von der Brücke.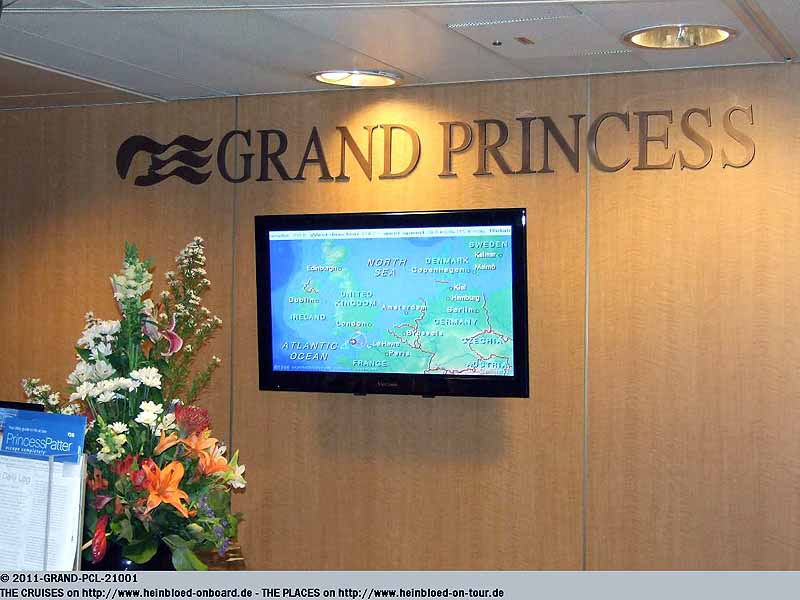 We discovered too late: I did not need to walk to the reception desk to see where we are. We could have this program in the cabin also. But we could not find it and could hear the announcements from the bridge either.

As usual, we got our program for the next day.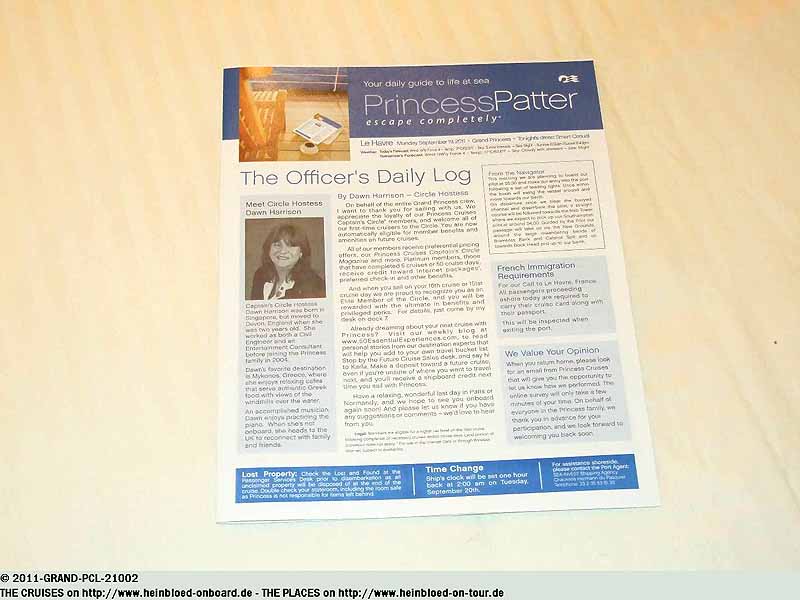 Abends gab es dann wieder das Programm für morgen.
Andere Schokolade und der Hinweis die Uhren umzustellen.

Another type of chocolate and the information for adjust the time.

So when got flowers and had the effort to carry our tuxedos: we need to wear them.

Wenn wir schon die Blumen bekommen und den Smoking mitgeschleppt haben, müssen wir ihn auch anziehen.
Ich wollte mal eine andere Kombination ausprobieren, nach dem ich in einem Smoking-Laden in Detroit dieses schwarze Smoking-Hemd entdeckt hatte.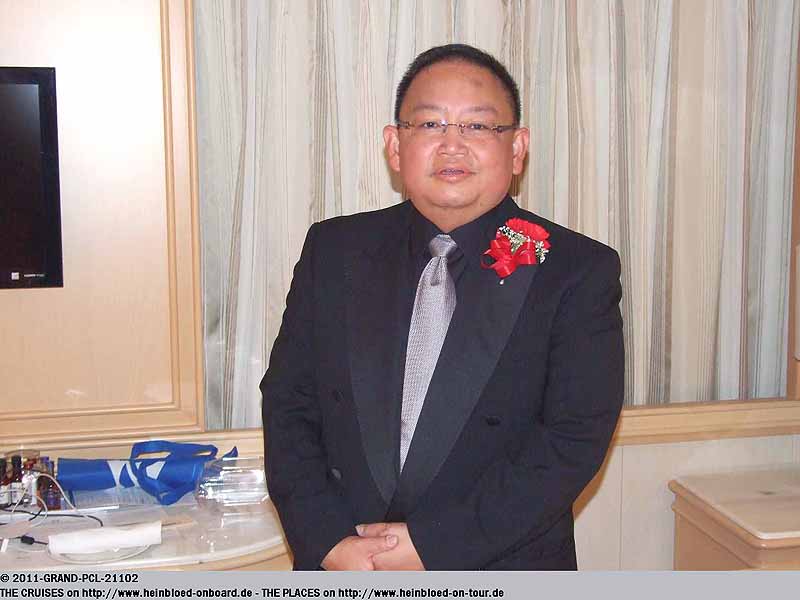 I just wanted to try a different combination after I found this black tuxedo shirt in a store in Detroit.

As I arrived back from my massage just before 20:00 hrs, we need to wait until 20:15 hrs in a queue before we got a pager. The only problem: there were not so many pagers available, and that was why you always had a line. Two more registrations and the pagers ran out. Unfortunately, the pagers do not entitle you to have 2-for-1 cocktails like with NCL. That why many people with NCL love to wait for a pager. And there is no overview of how the situation is at Michelangelo. It took until 20:50 hrs before we were paged to show up with our table.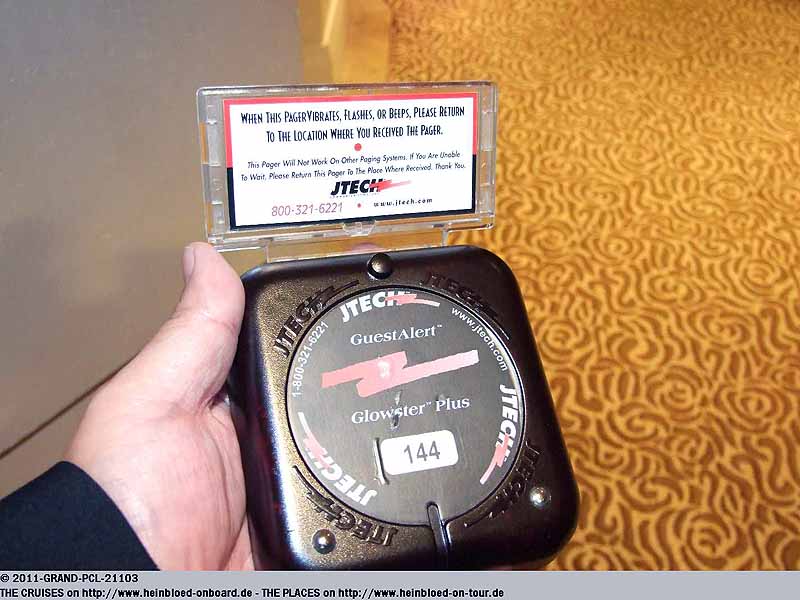 Da ich erst kurz vor 20:00 Uhr wieder angezogen von der Massage zurückkam, mussten wir zunächst bis 20:15 Uhr in der Schlange warten, bevor wir einen Pager bekommen haben. Das Problem war bloß: es gab nicht genügend Pager, weswegen es immer eine Schlange gibt. Weitere zwei Anmeldungen nach uns und die Pager waren alle. Leider nicht wie NCL die Berechtigung 2 für 1-Cocktails zu bestellen. Deswegen macht es vielen bei NCL auch nichts aus, dass man einen Pager bekommt. Und leider auch keine Übersicht, wie die Situation ein Deck tiefer im Michelangelo ist. Insgesamt warten wir aber noch bis ca. 20:50 Uhr bevor der Pager uns den freien Tisch meldet.
Leider haben wir einen etwas blöden Tisch bekommen: 1. Unsere Stühle haben keine Lehnen - alle anderen ja - als ob es ein Nottisch war und 2. lt. dem
Videoblog von Martyn
wurde ja alles neu überzogen, aber nicht neu gepolstert: man sitzt ganz schön tief durch.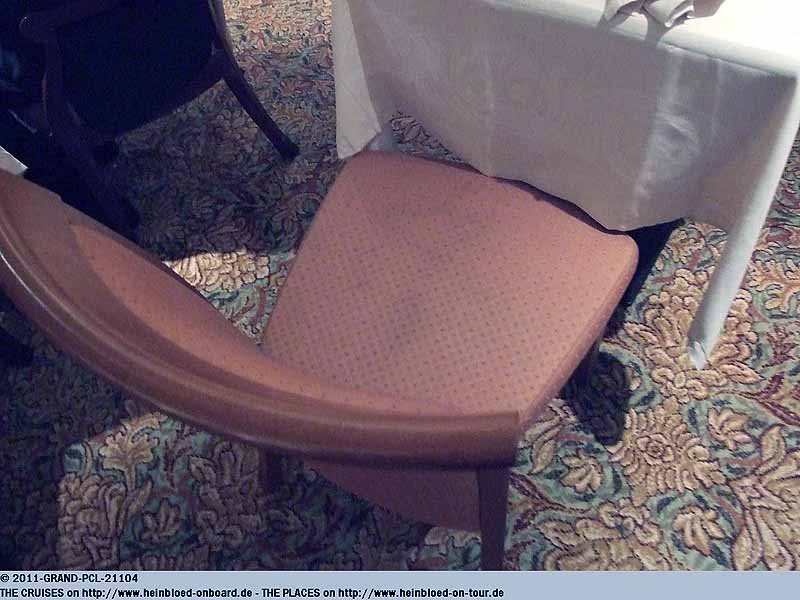 Unfortunately we got a somehow stupid table again: 1. our chairs do not have any armrests while all others had so you had always the impression it was an emergency solution and 2. according to Martyn's Videoblog everything chair was newly covered but not upholstered: you sit very low through somehow.

We had a great team again. The glasses ran out.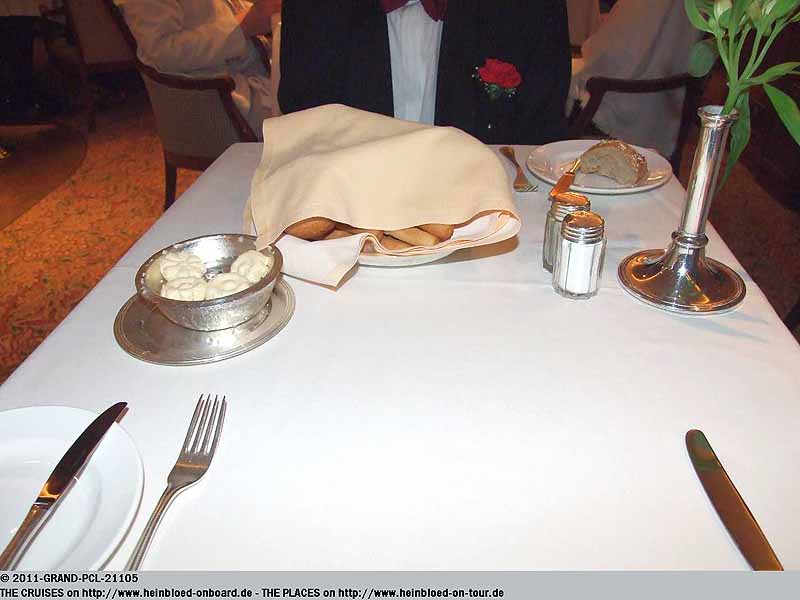 Wir hatten ein klasse Team. Die Gläser sind denen ausgegangen.
Und bevor wir reklamieren konnten, dass wir gar nichts zu trinken bekommen haben, stehen schon die Gläser auf dem Tisch.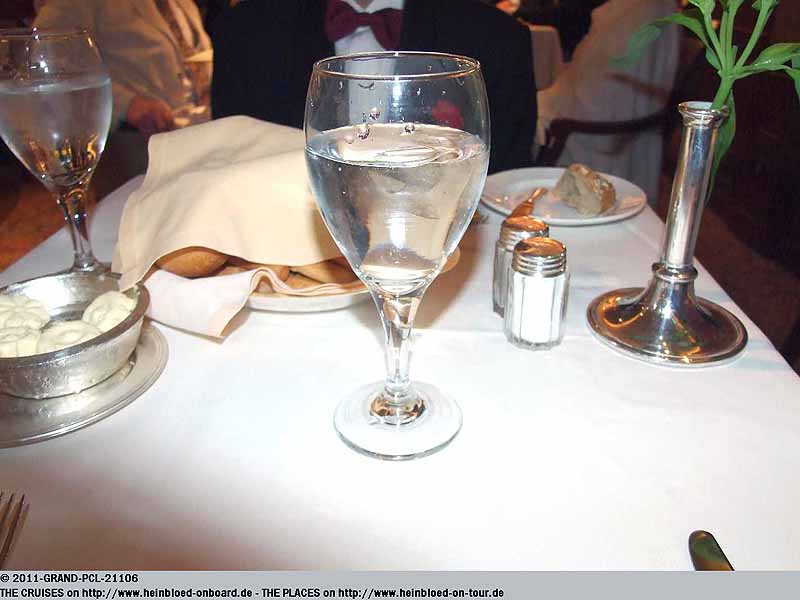 Before we had a chance to say anything that we did not get any water so far we got glasses on the table.

The wild mushroom soup was delicious.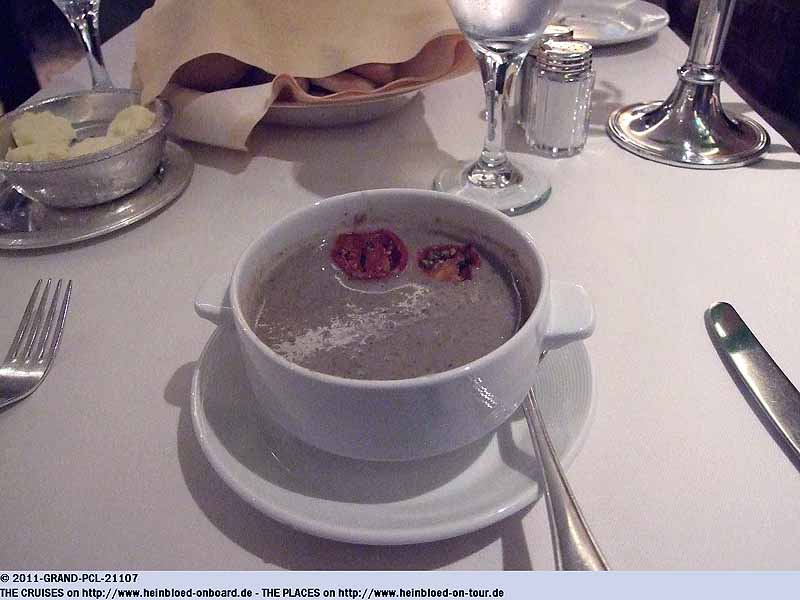 Die Wildpilze-Suppe war gut.
Genauso wie der überbackene Ziegenkäse.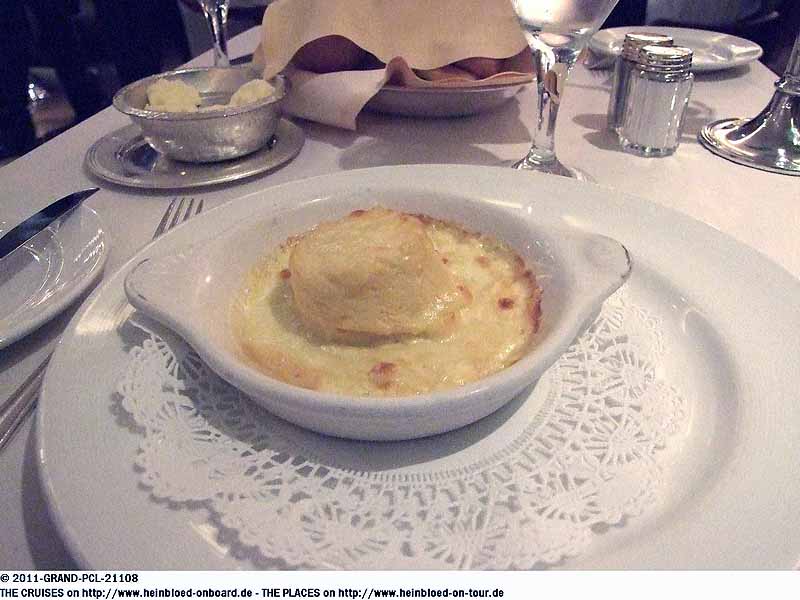 Same with the baked goat cheese.

A sherbet to neutralize your taste pores. Like with the Chef's table which was not available on this cruise.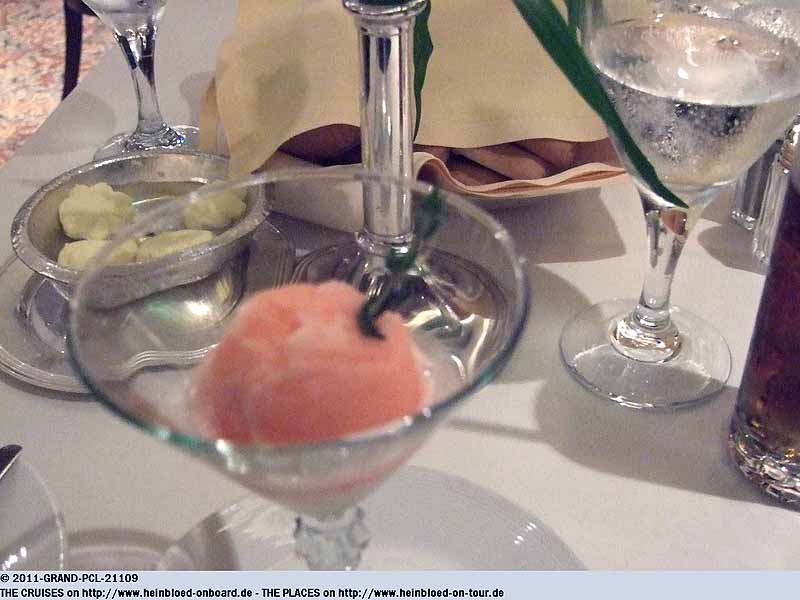 Ein Sorbet, um die Geschmacksporen zu neutralsieren. Wie beim Chef's Table, den es ja leider nicht gab.
Meine Jacobsmuscheln waren gut. Und sogar in einer mir bekannten Größe...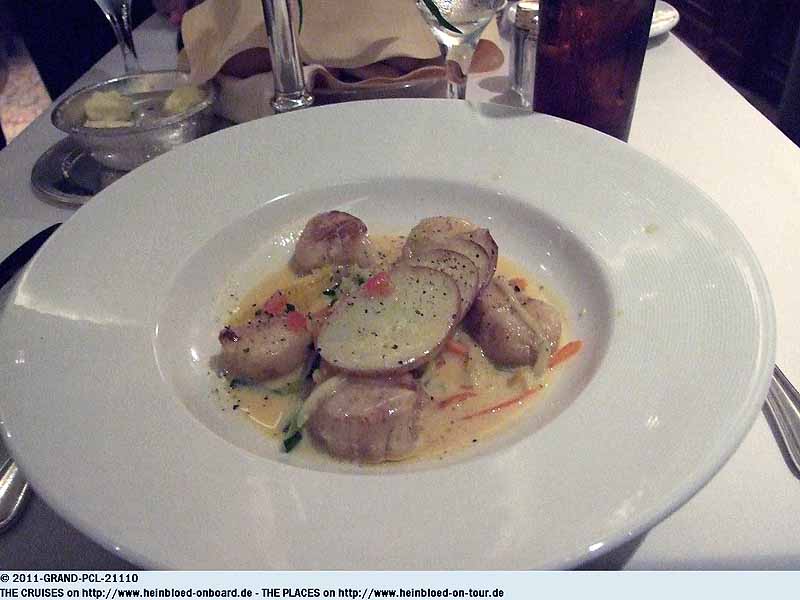 My scallops were very good. Even in a size I knew them normally...

Here it made fun to be pampered by Jimmy.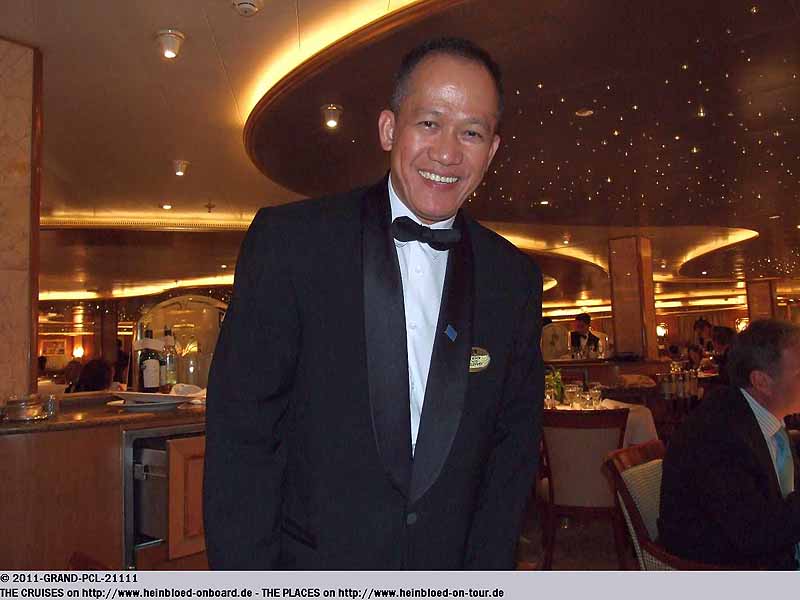 Hier hat es wieder richtig Spaß gemacht, sich verwöhnen zu lassen: Jimmy.
Sein Assistent Diego.

His assistant Diego.

Diego offered us to take a picture of us too.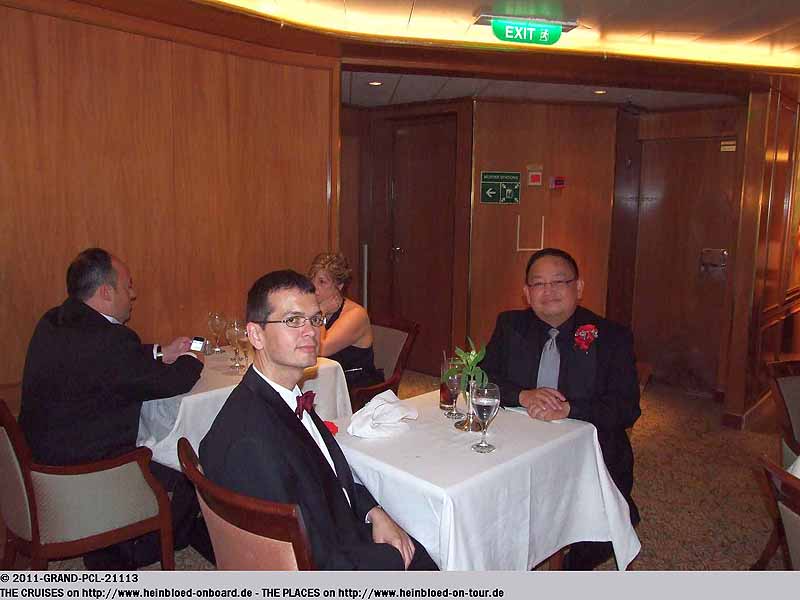 Diego hat es sich nicht nehmen lassen, von uns beiden auch ein Bild zu machen.
Während der Wartezeit waren wir Horizon Court und haben uns mal das Angebot zum Galaabend angeguckt: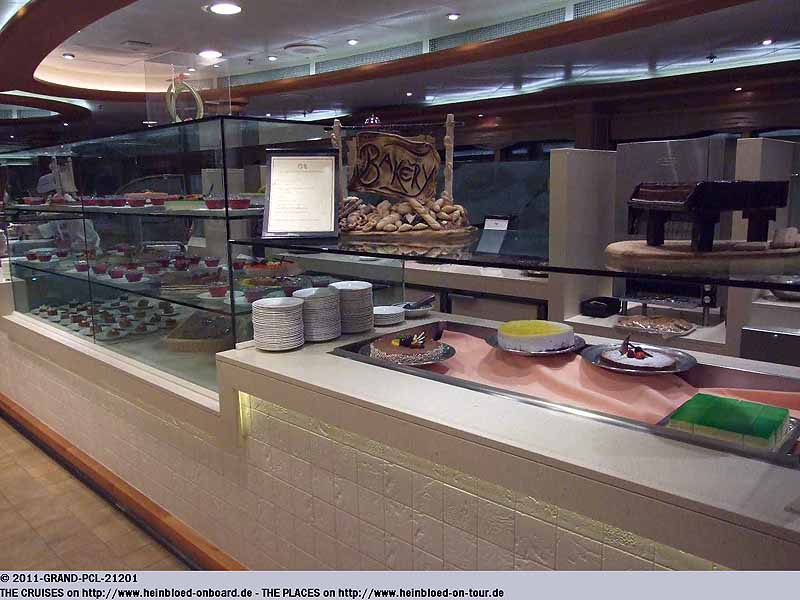 While we had to wait for our table we went to the Horizon Court to see their offer for formal nights.

Everything that makes you full.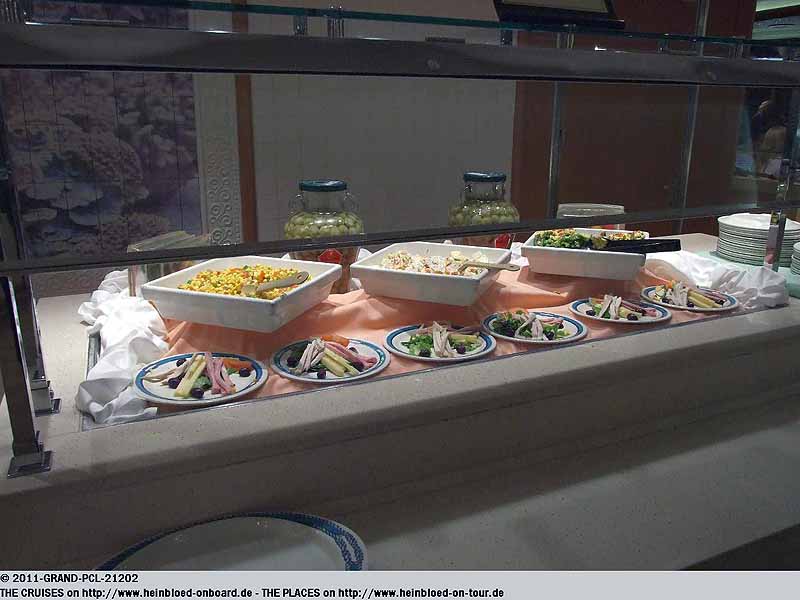 Alles, was satt macht.
Aber wir haben jetzt nichts Besonderes gesehen, was zu einem Gala-Dinner passt.

But we could not find anything special which fit to a gala-night.

This was the only area we were requested to sanitize our hands before we enter the buffet area.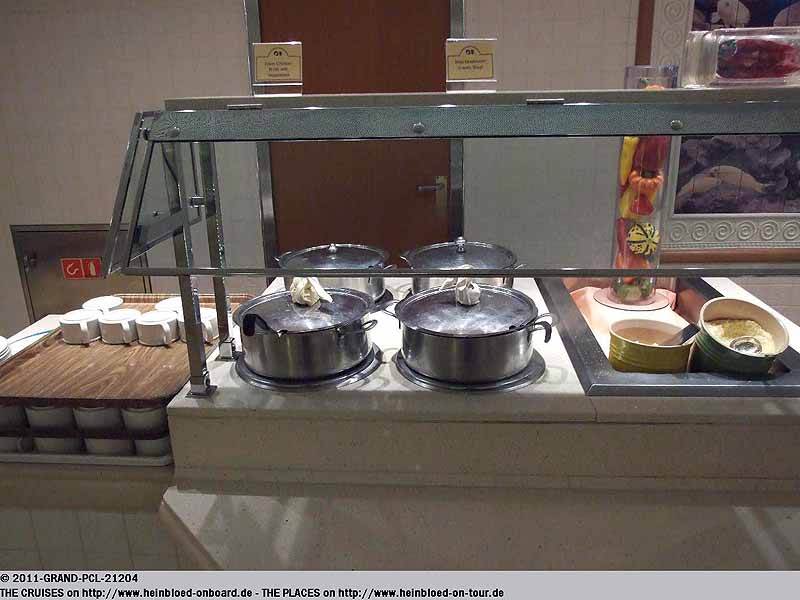 Hier war übrigens der einzige Bereich, in dem wir aufgefordert wurden, uns die Hände vor Betreten zu desinfizieren.
Im Grunde genommen kann man es aber sich hier auch gutgehen lassen.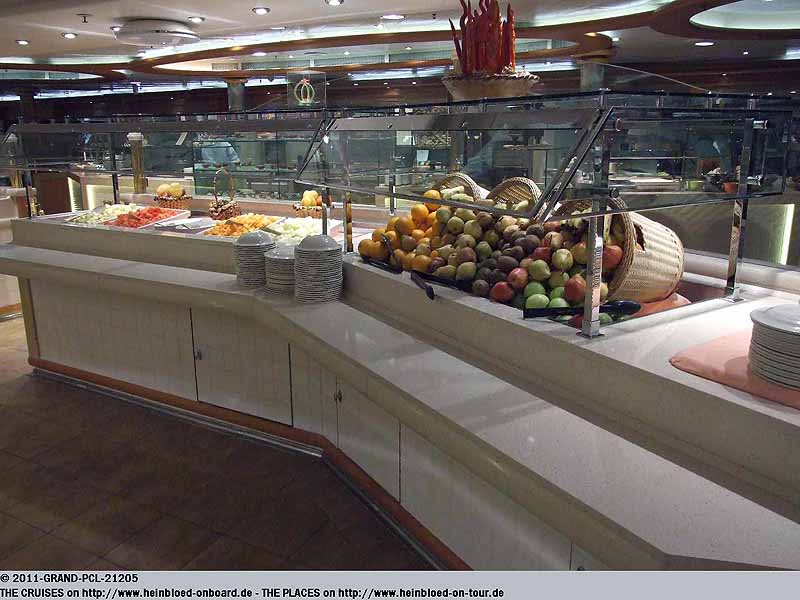 But generally it was a good place to have a good time too.

Bruno thought that for salad lovers it was an exciting place.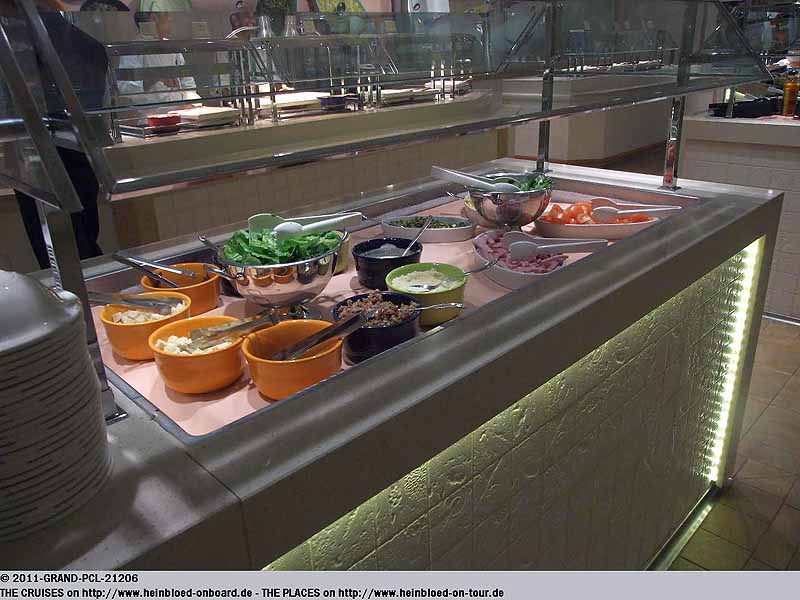 Bruno meint, dass es besonders interessant für Salatesser sei.
Hier wäre das Angebot doch grüßer als im Bedienrestaurant.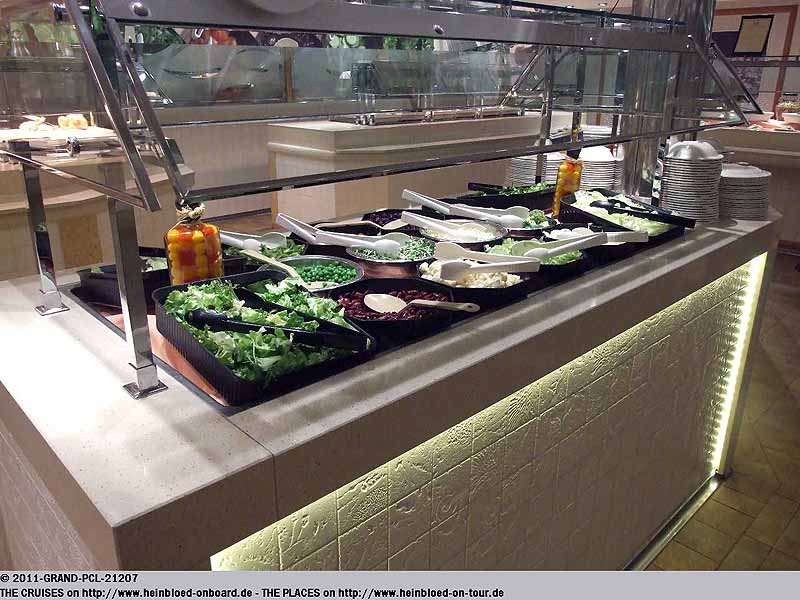 The offer here is much wider than in the serviced restuarants.

Very lovely: the pants of the cooks...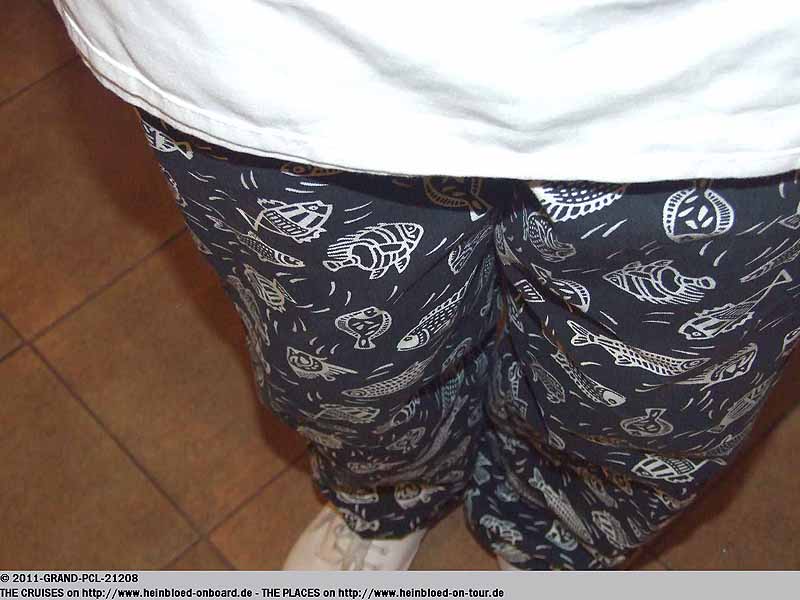 Absolut klasse: Die Hosen der Köche...
Und draußen war trotz des Windes: Movie under the Stars.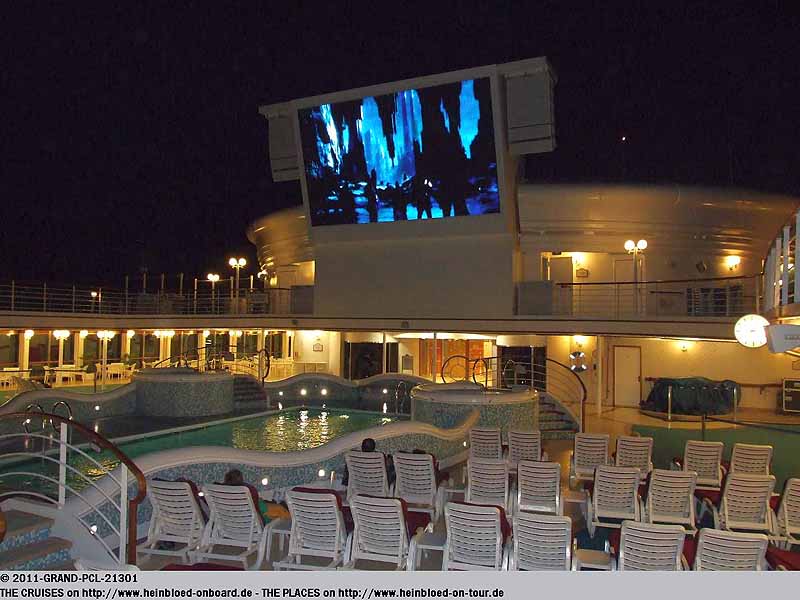 And outside they offered even it was windy: Movie under the Stars.

No idea what they showed.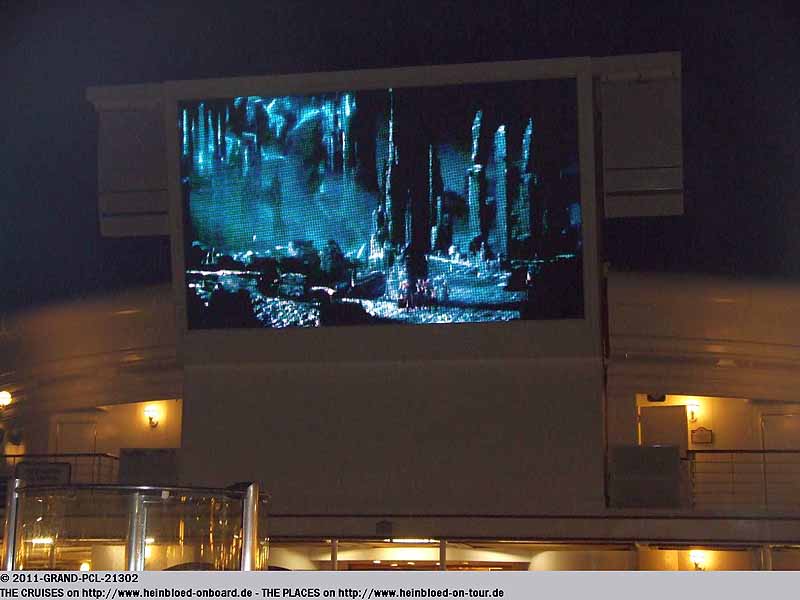 Was so genau lief, weiß ich gar nicht.
Aber es lagen Wolldecken bereit, um sich einzulümmeln.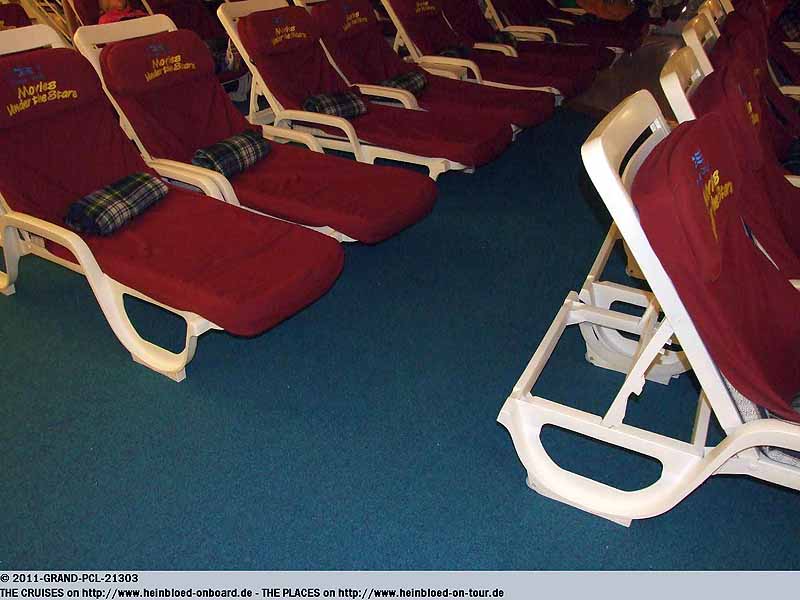 But there were wool blankets to make yourself comfy.

It was easy to identify the soft-ice stand.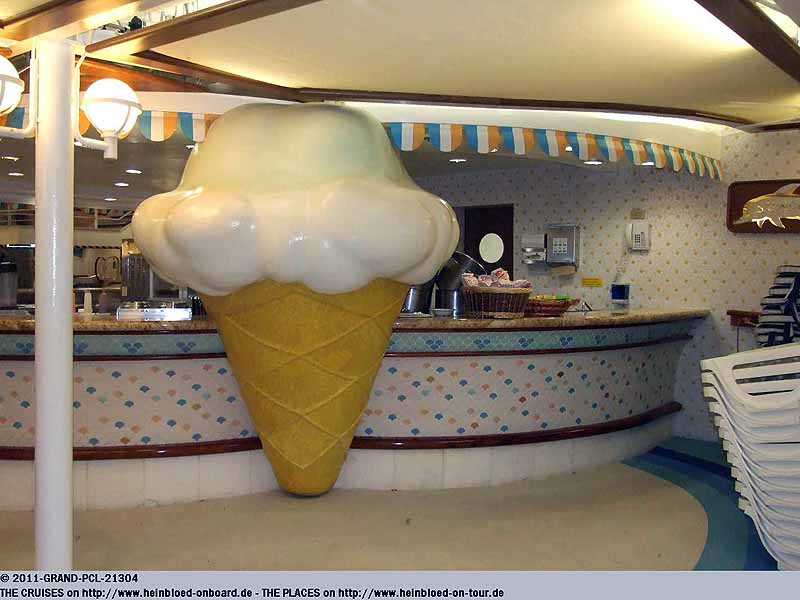 Der Softeisstand war gut zu erkennen.
Und hier bekam man Popkorn und konnte sonst so Sachen kaufen, wie im Kino zu Hause.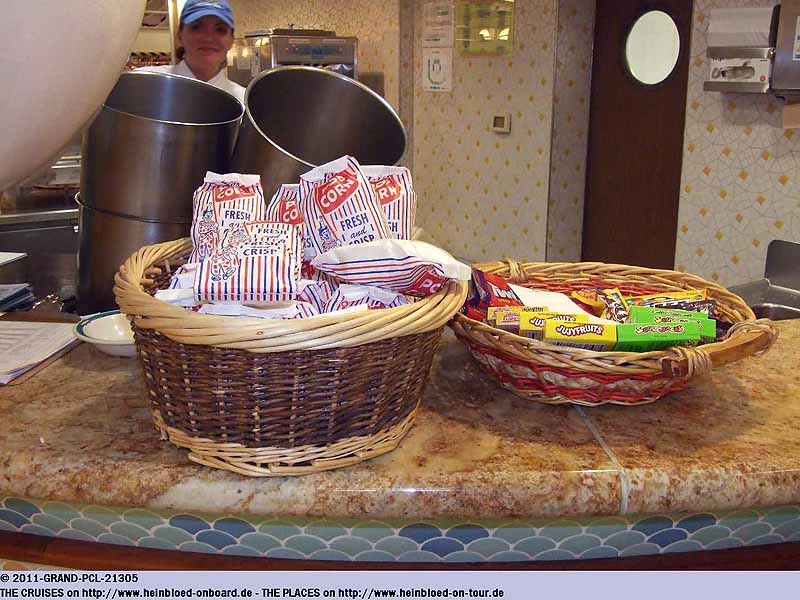 And here you get also your popcorn, and you could purchase what you would also need for your movie theater home.

The ship offers a lot of things, and from my point of view it's "sexy".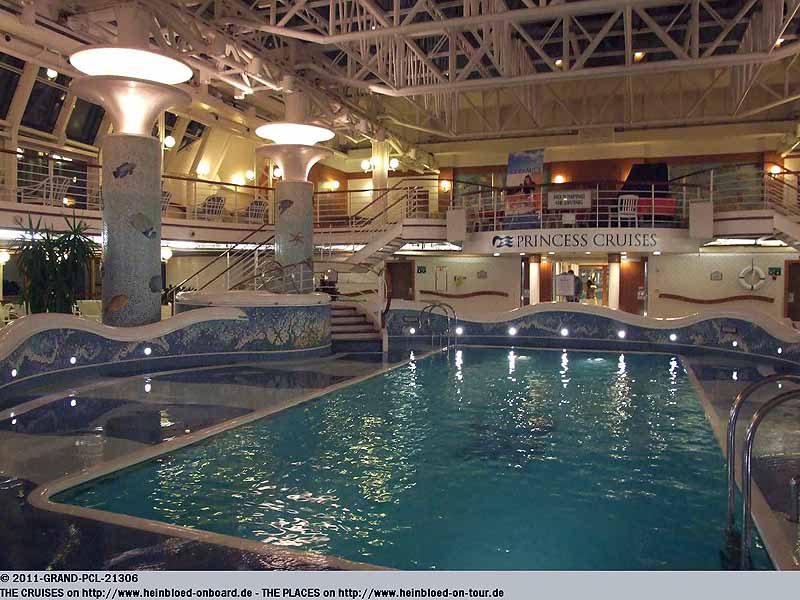 Das Schiff hat schon einiges zu bieten und ist in meinen Augen "sexy".
Die anderen Reisen in diesem Blog/
The other voyages in this blog: