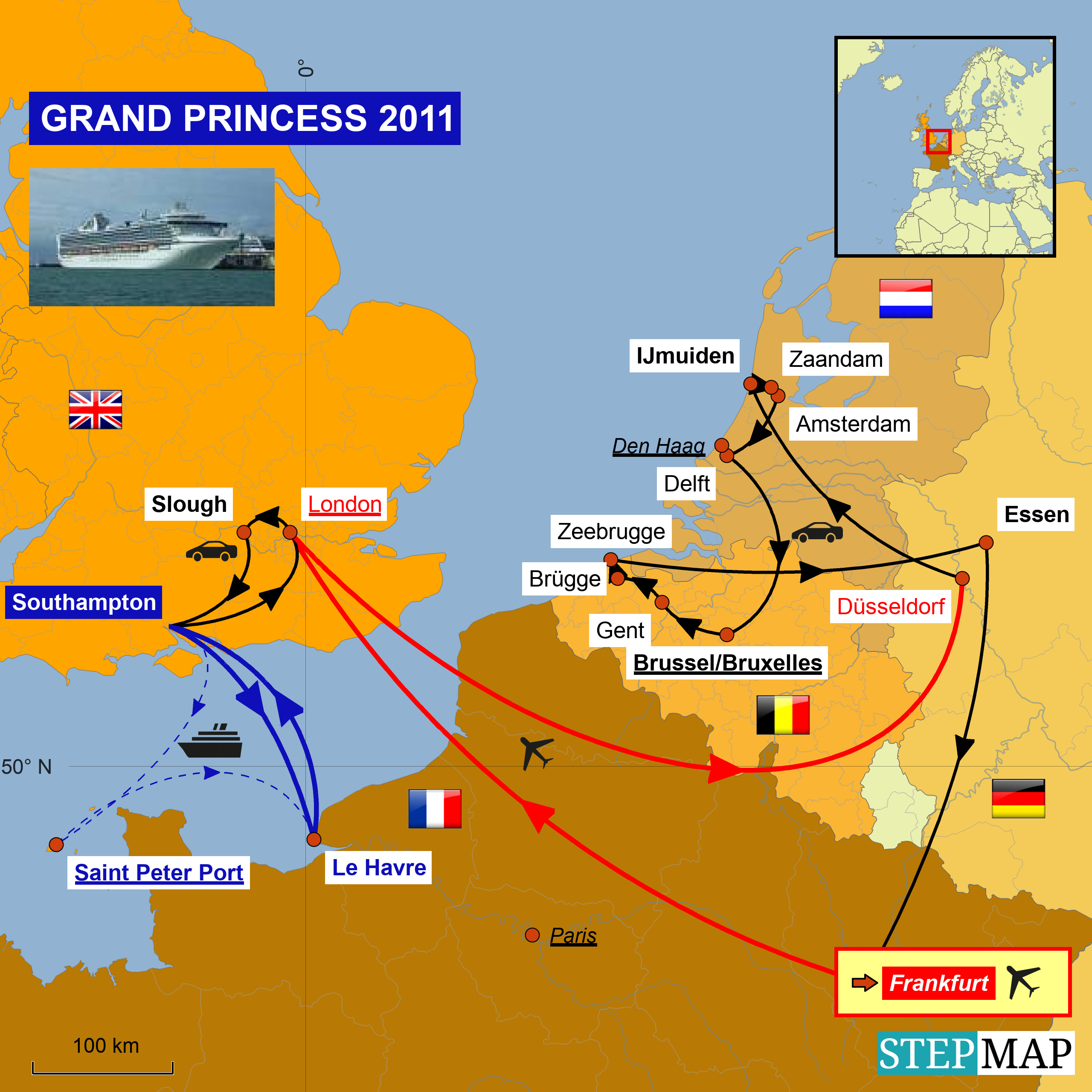 Als nächstes kommt die MEIN SCHIFF 2 in den Hafen.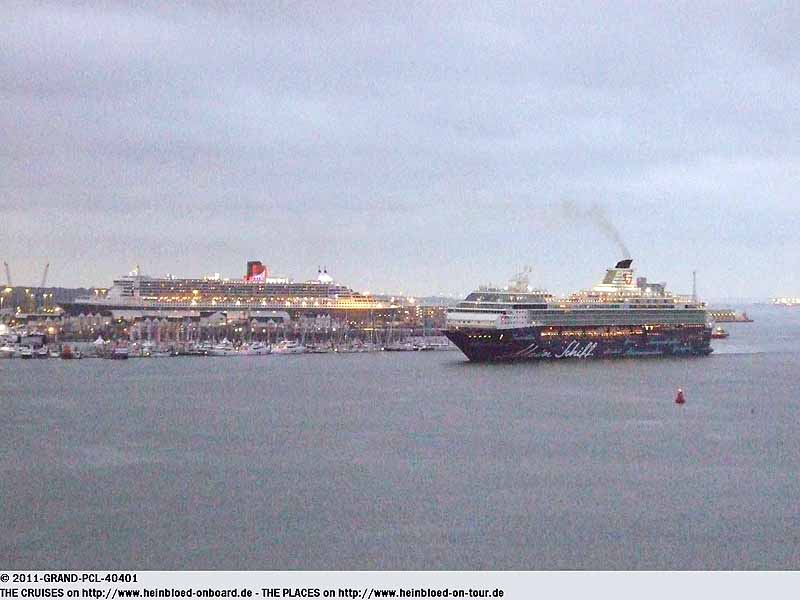 Next MEIN SCHIFF 2 entered the port.

We will make her acquaintance Ascension 2012 subject TUI Cruises will be able to send the booking confirmation we are waiting for since April 2011.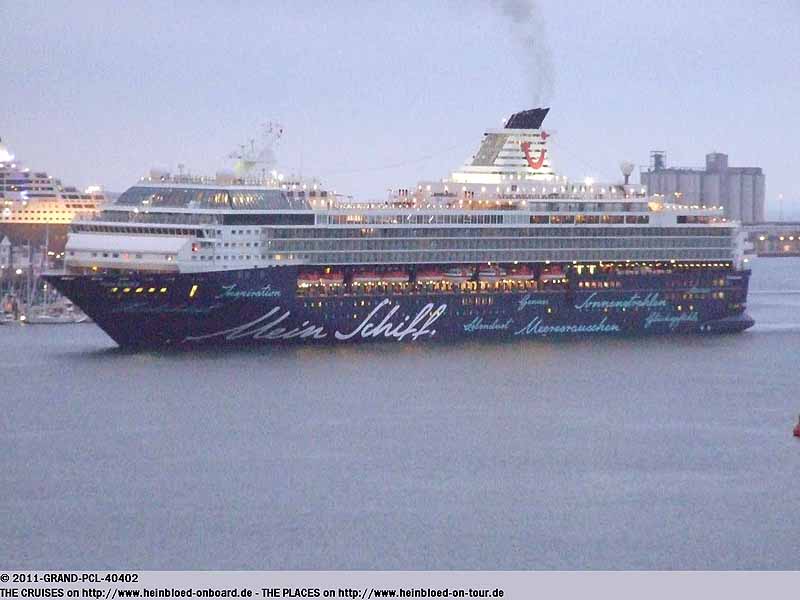 Wir werden sie voraussichtlich Himmelfahrt 2012 kennenlernen, falls es TUI Cruises gelingt, bis dahin die Bestätigungen zu verschicken, auf die wir seit April 2011 warten.
Leider haben wir Pech, weil sie nicht bis zum Hafenende fährt und dort wendet. Diese persönlichen Enttäuschungen hätten alle vermieden werden können, wenn unser Kapitän als letzter in Portsmouth reingefahren wäre, statt als erster. Alternativ hätte ich noch akzeptiert, dass wir am Queen Elizabeth Terminal angelegt hätten. Dann wären die anderen beiden an uns vorbeigefahren. Aber ansonsten muss man ja sagen, dass der Kapitän nach zwei Stunden bereits meinen Douglas Ward signiert und retourniert hat. Das ist fast Weltrekord.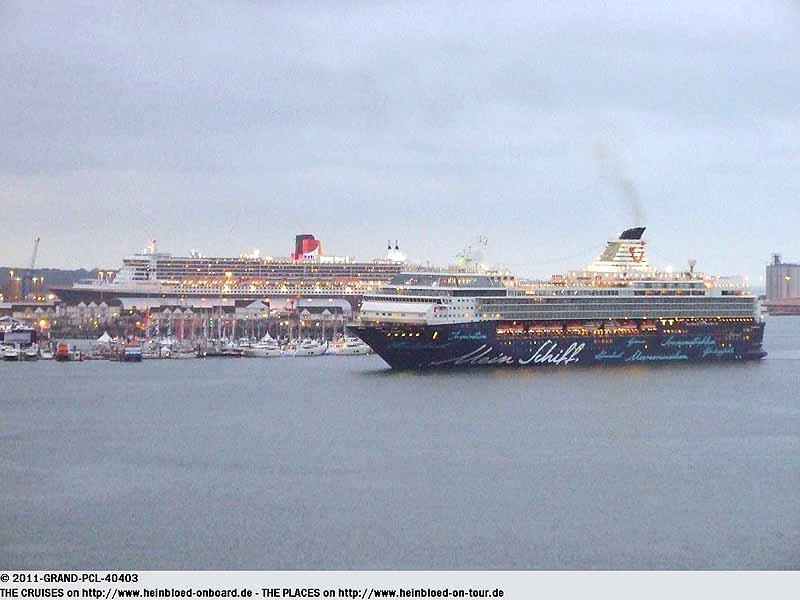 Somehow we were unlucky that she did not sail to the end of the port and made the U-turn there. All my personal disappointments could be avoided if our Captain would not go as first in Portsmouth. Then we could pass both other ships. But I also need to say that the Captain signed and returned my Douglas Ward after two hours. A new world record.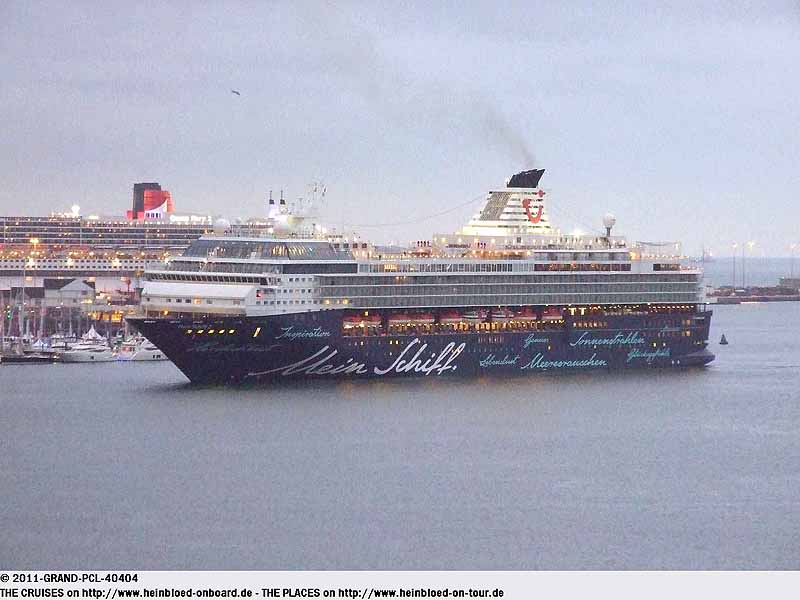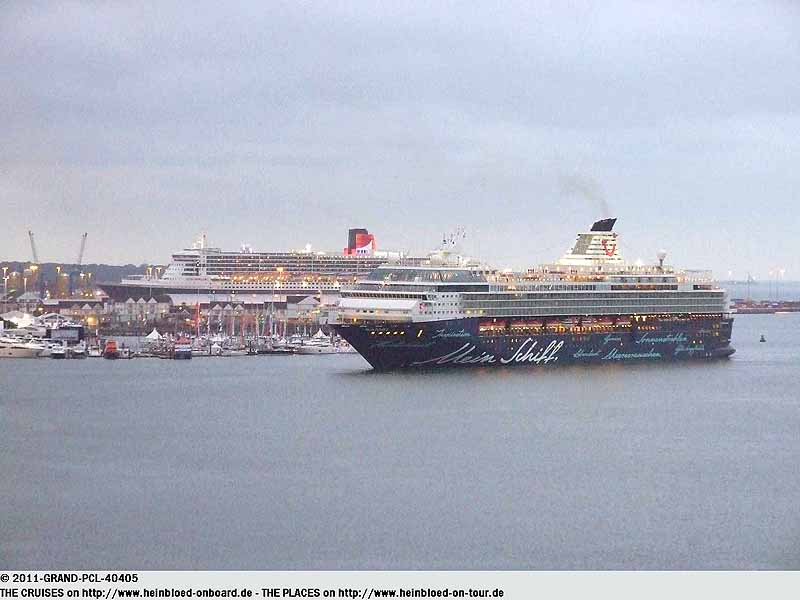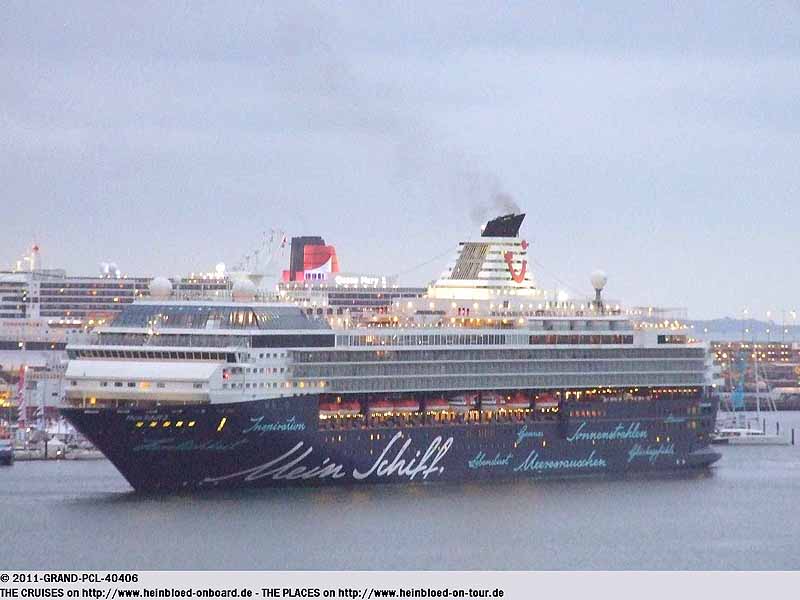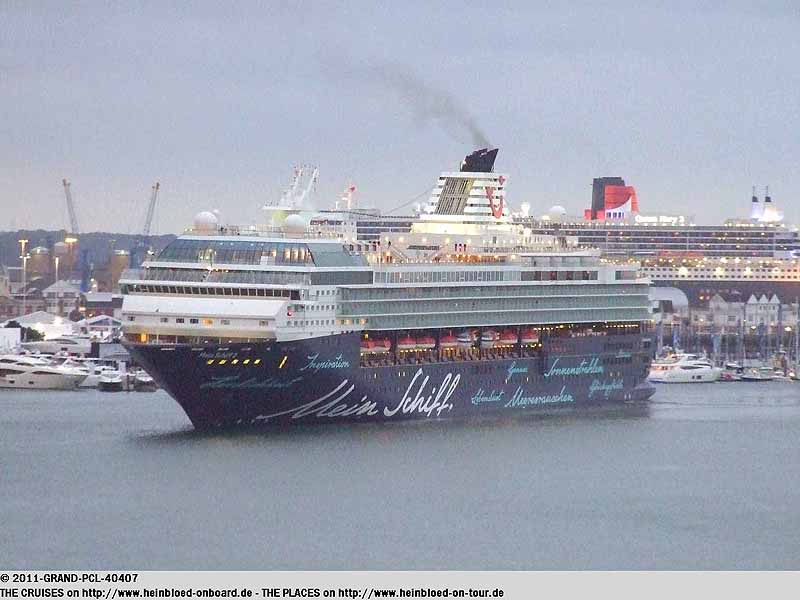 Hope it will be not the same with the breakfast on the day of debarkation once we are going with them..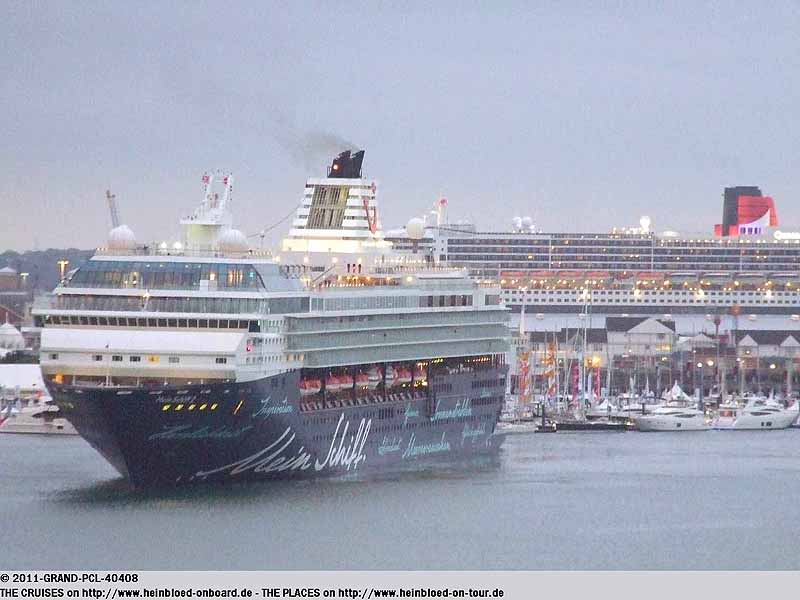 Hoffentlich wird es am Ausschiffungstag beim Frühstück nicht genauso wenn wir mit ihr unterwegs sind..
Ein Frühstück im Sabatinis wird nicht angeboten. Dafür nur im Boticelli, das abends den Gästen mit fester Tischzeit vorbehalten ist. Leider gibt es keine 2-er Tische. Und wir bekommen auch keinen 4-er Tisch für uns alleine. Man besteht darauf, dass wir teilen müssen. Zum Glück ist das englische Paar genauso wortkarg, wie wir im Moment. Warum kann man einen Gast nicht glücklich machen bis zum Ende, sondern lässt ihn jetzt spüren, dass man ihn loswerden will??? Wenn ich einen Tisch teilen will, fahre ich Royal Caribbean.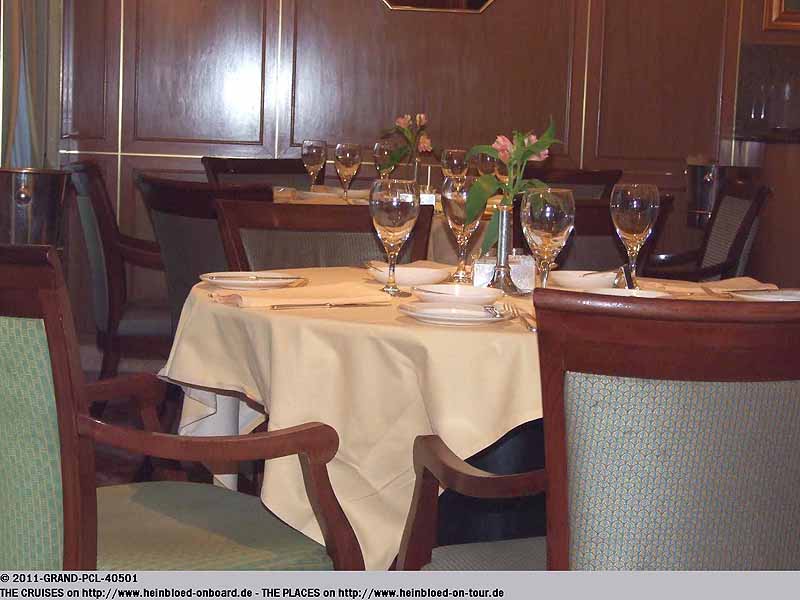 There was no breakfast offer anymore in Sabatini's. Just in Botticelli which accommodate during dinner all traditional seatings. There was not any table for 2. So we could not even get a table for 4 just for us, and they insisted that we had to share. We were lucky as the English couple was as silent as us at that time. Why cannot you make a guest happy until the end but let them know that you want to have them from the ship??? If I want to share a table, I will go to Royal Caribbean.

The offer was not as lovely as in Sabatini. I did not understand why today there was no offer.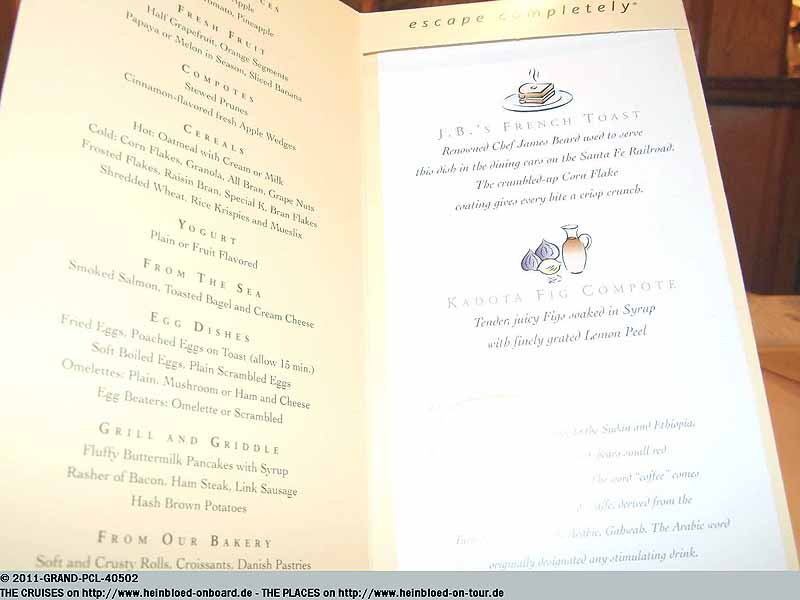 Das Angebot ist leider nicht so schön, wie im Sabatini. Eigentlich unverständlich, dass man es heute nicht mehr anbietet. Warum eigentlich nicht???
Witzig: die Muffins sind hier viel größer als im Sabinitis.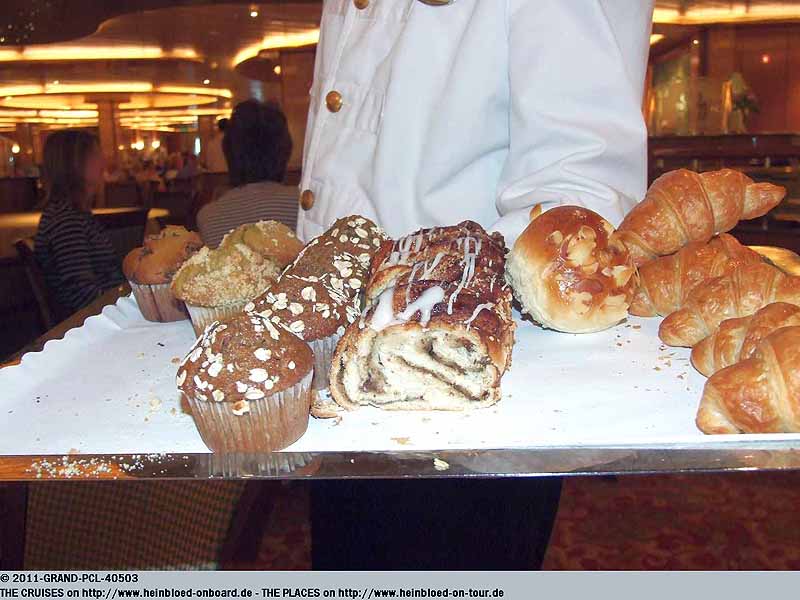 Funny: the muffins were much more larger than in Sabatini's.

Here you got Cranberry Juice as well. Not just for Premium-guests but for all.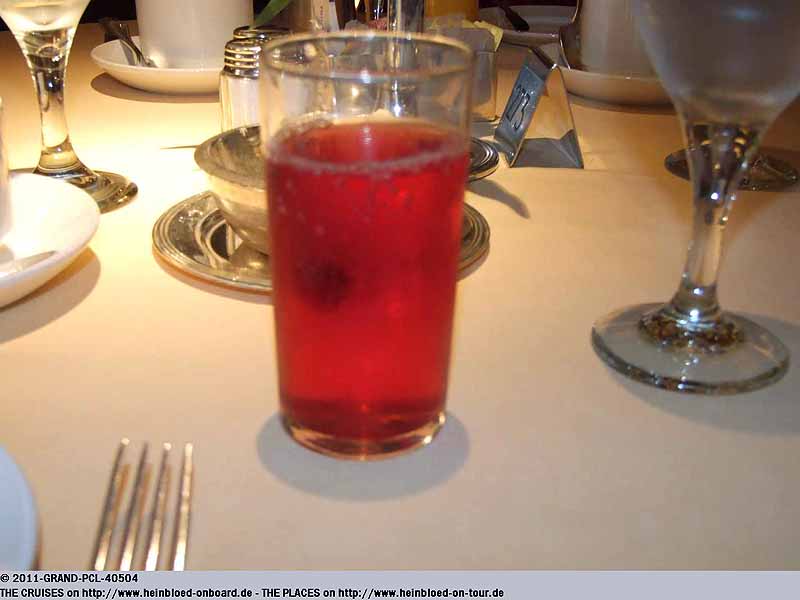 Aber auch hier gibt es Cranberry Juice. Also nicht nur für Premium-Gäste, sondern für alle.
Der Melonenteller hier, sieht schon etwas schlichter aus.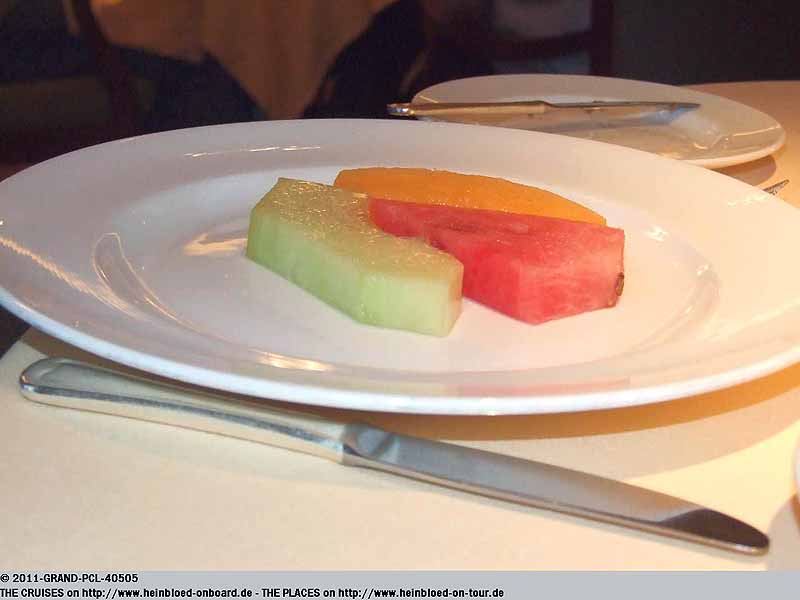 The melon plate here looked more plain.

I asked for an omelet with some herbs, but there was a misunderstanding when I explained that I wanted to have something green in my omelet. So I got spinach...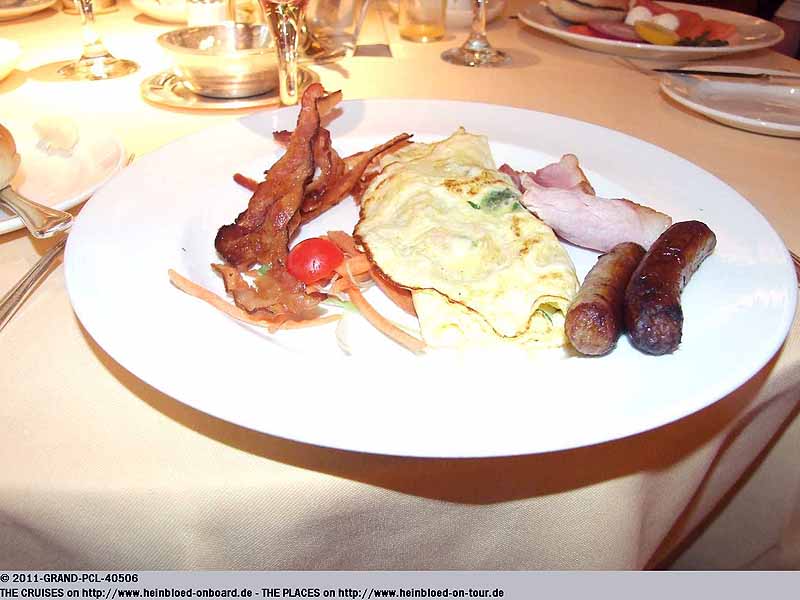 Ich wollte ein Omelette mit Kräuter, aber das wurde missverstanden, als ich versuchte zu erklären, dass ich etwas Grünes in mein Omelette will. Es gab dann Spinat...
Softbrötchen... Brioche-Brötchen - davon musste ich natürlich mehr haben... Sollte ich vielleicht fragen, ob sie ein paar bei der NORWEGIAN JADE abgeben können...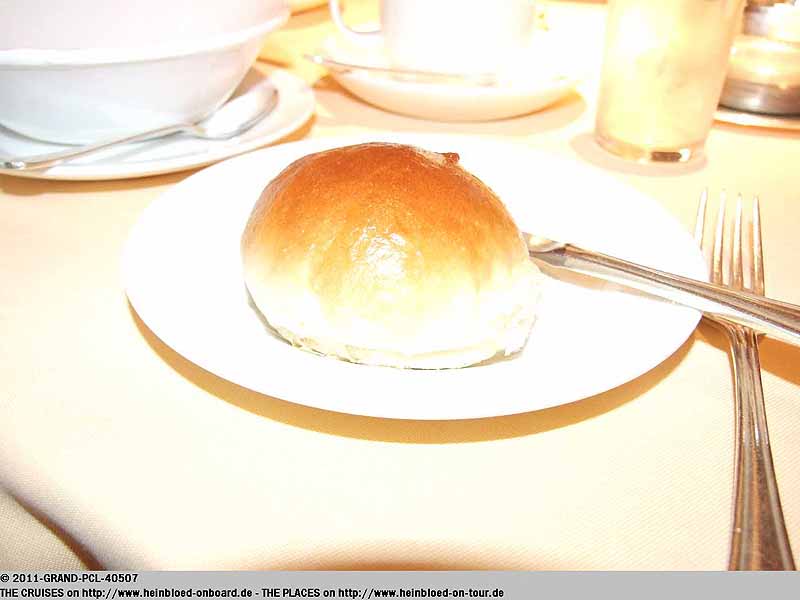 Soft rolls... Brioche-rolls - so we need to have more... Maybe I should ask them to deliver a few to NORWEGIAN JADE.

Around 09:45 hrs we left the ship. Our baggage waited for us.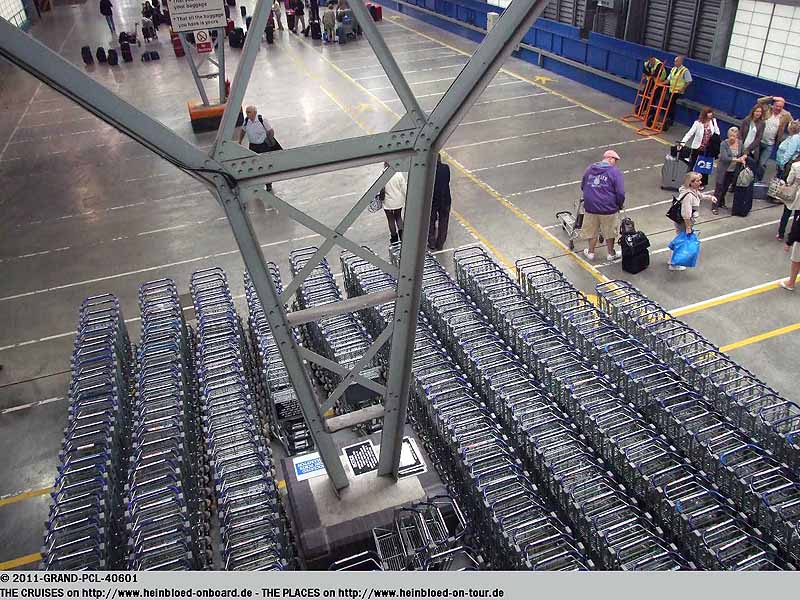 Gegen 09:45 Uhr verlassen wir das Schiff. Unser Gepäck wartet schon auf uns.
Da wir wieder unseren Wagen vorbestellt haben, müssen wir dann rechts zum "Car Pick-Up".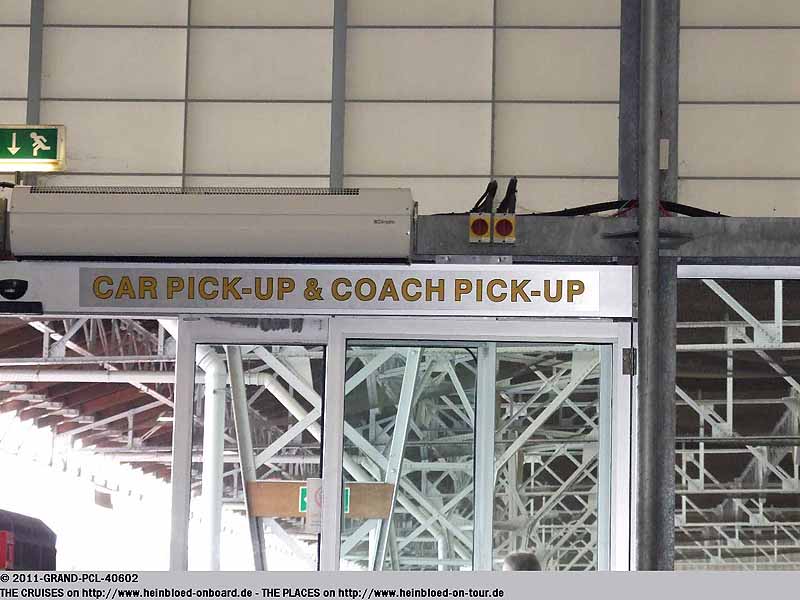 As we pre-booked our car we need to exit to the right towards "Car Pick-Up".

And as usual West Quay Cars was punctual and liable.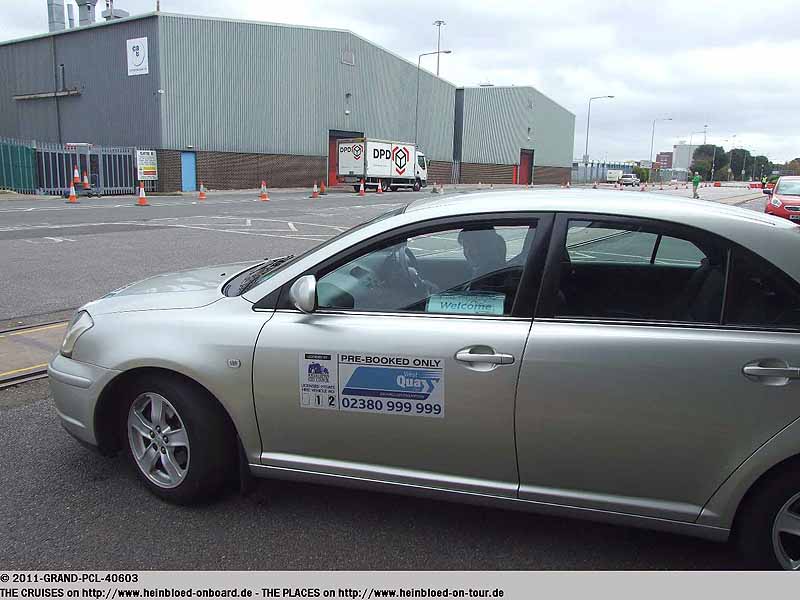 Und wie immer zuverlässig und pünktlich
West Quay Cars
.
Für ca. 5 GBP fahren sie uns zu Europcar. Kaum zu glauben, wieviel Gepäck wir mithatten für drei Nächte an Bord der GRAND PRINCESS.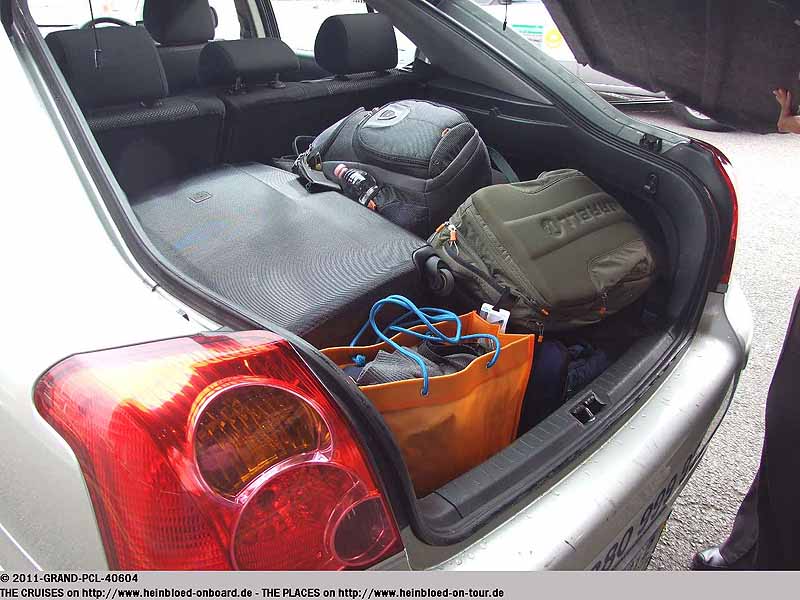 For about 5 GBP they got us to Europcar. Unbelieveable how much baggage we had for three nights on GRAND PRINCESS.

As the queue was quite long and even my Privilege status did not help I need to consider to use Hertz. Looked like it was calm there. Maybe next time.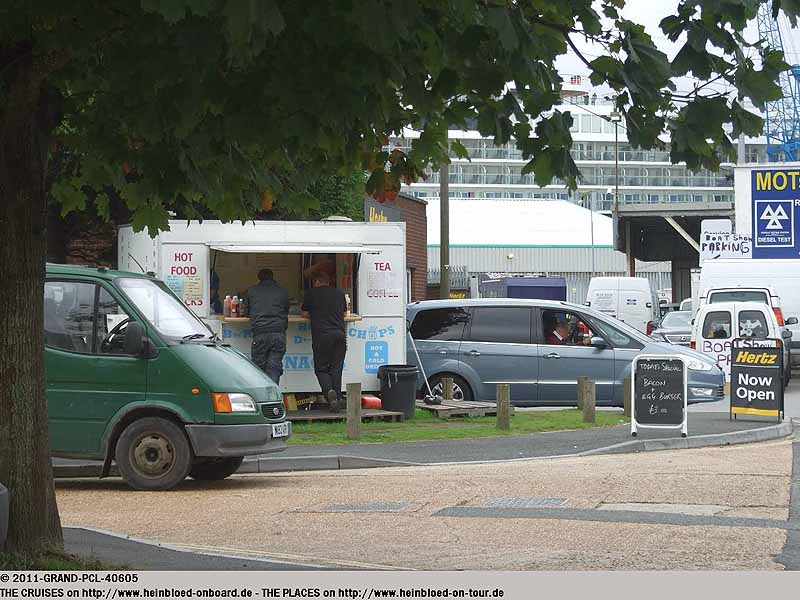 Da die Schlange ziemlich lang ist und mir auch mein Privilege Status nichts nützt, überlege ich mir, ob ich nicht bei Hertz fragen soll. Dort scheint nichts los zu sein. Vielleicht beim nächsten Mal.
Als wir am Ocean Terminal 46 ankommen, trifft der erste Bus aus Heathrow ein. Aber kein millis glashaus.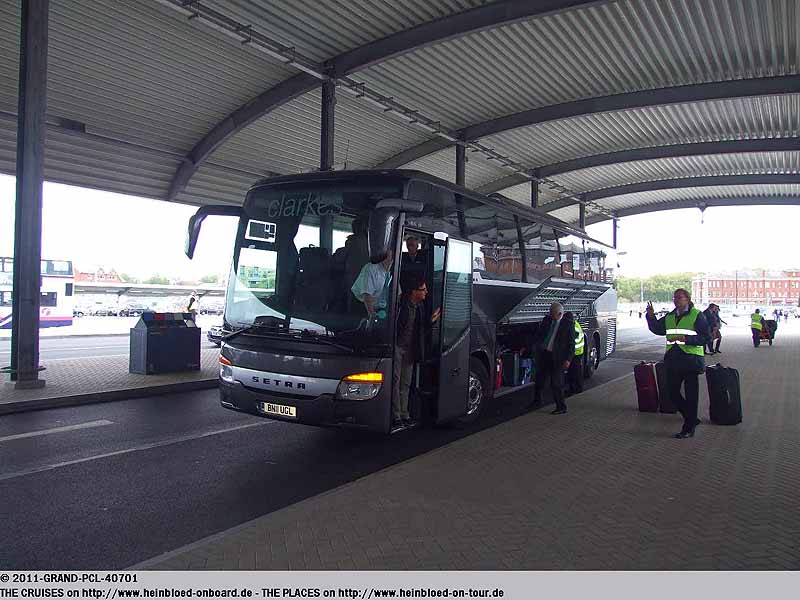 Just at the moment when we arrived at Ocean Terminal 46 the first transfer from Heathrow arrived. But no millis glashaus.

We need to find out for the next time where the bus is going.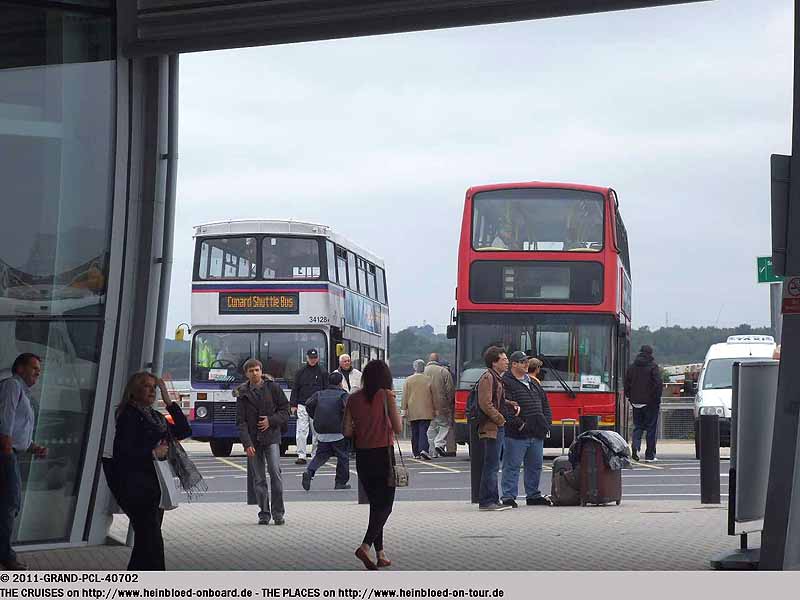 Wir müssen wirklich für das nächste Mal herausbekommen, wohin der Bus fährt.
Als wir ankommen, hat der Check-In noch nicht angefangen.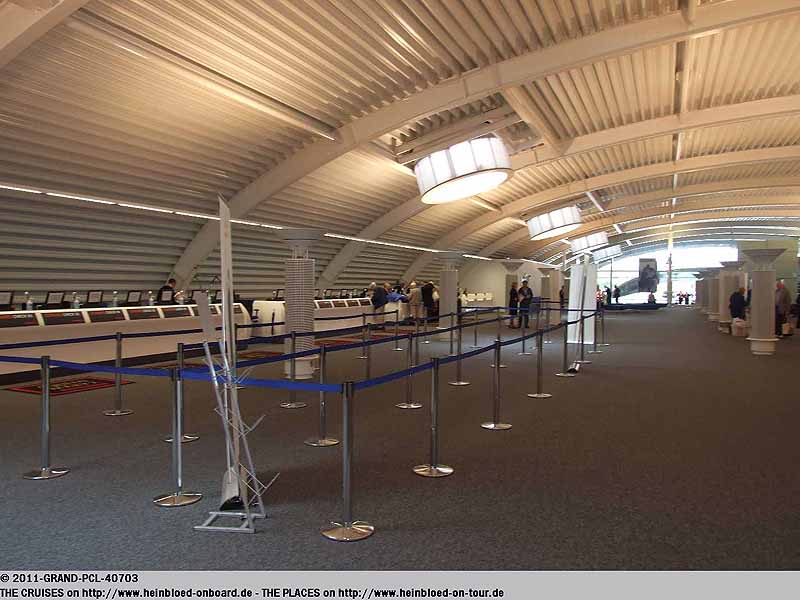 When we arrived they did not start to register the guests.

Around noon we decided not to wait for any longer because we had other plans.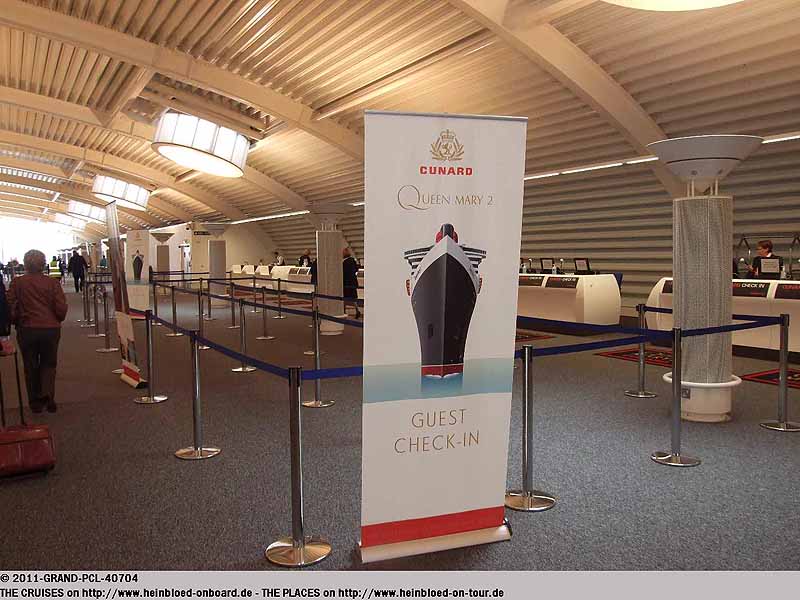 Gegen 12.00 Uhr entschließen wir uns jedoch, nicht mehr länger zu warten, weil wir noch anderes vorhaben.
Wir fahren zur Mall am West Quay und parken dort unser Auto. Der Besucheransturm zur Boat Show hält sich in Grenzen. So kommen wir überall gut durch. Zum Restaurant laufen wir aber zu Fuß.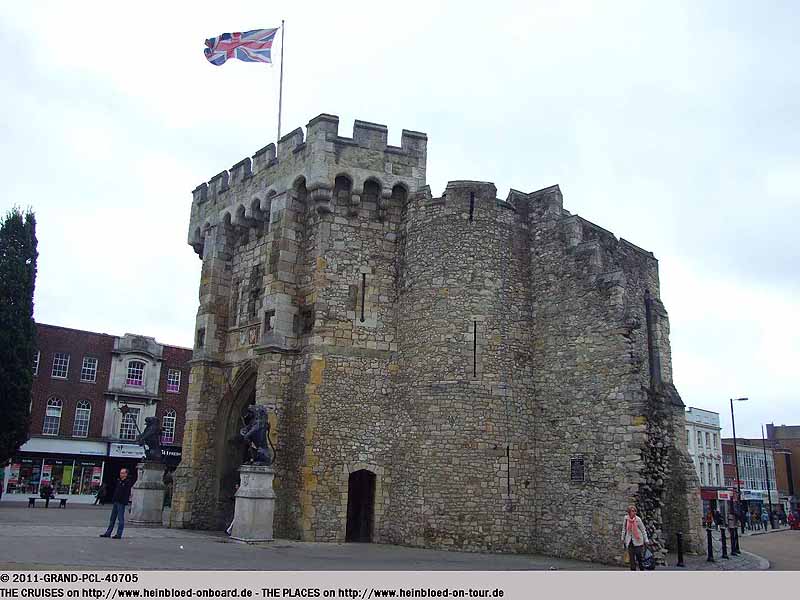 We drove to the mall at West Quay and parked there our car. The run of the visitors was somehow limited. So we had no problem to move around. But at our restaurant, we walked.

For lunch we went again to Coriander Lounge.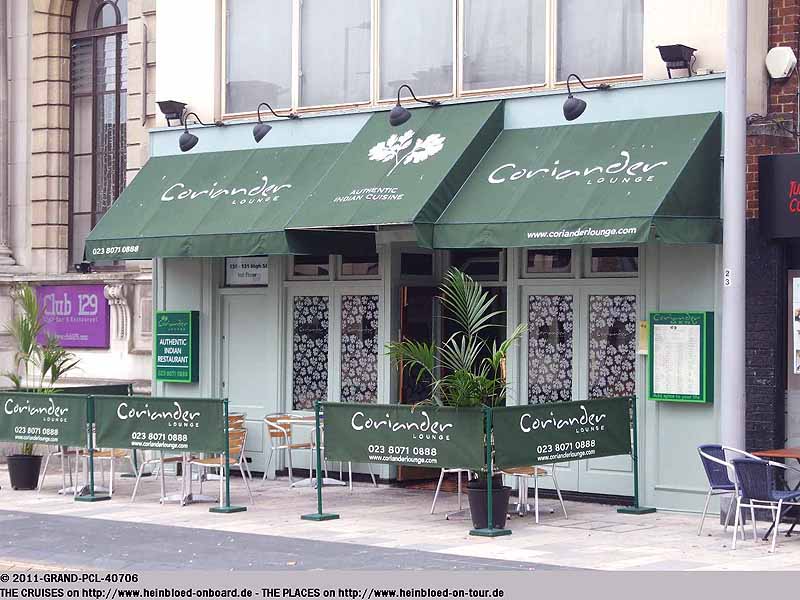 Wieder gehen wir in die
Coriander Lounge
.
Es gibt dort mittags ein tolles Mittagsbüffet. Sofort decke ich mich mit den ganzen Saucen und Chutneys ein.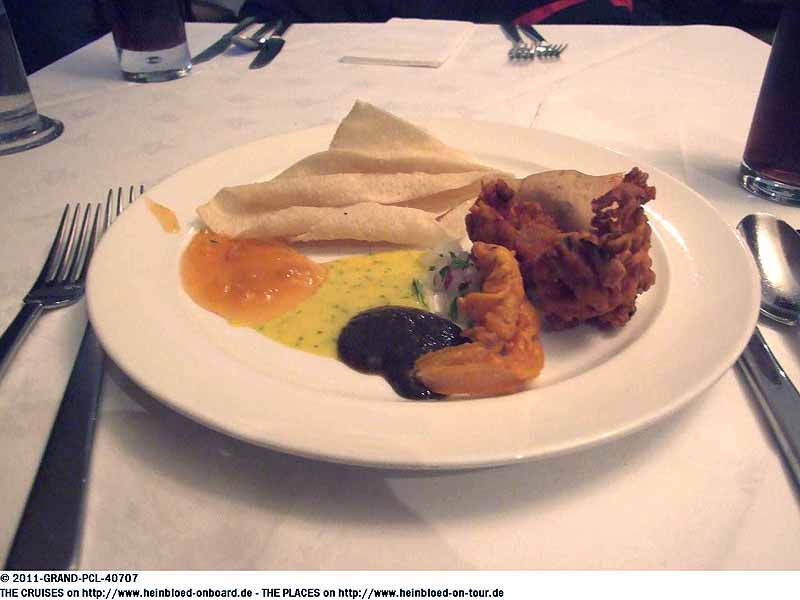 There they had a great lunch buffet. The first thing I did was taking all their sauces and chutneys.

Sorry that millis glashaus did not want to join us when I make the suggestion. They are long enough on QUEEN MARY 2.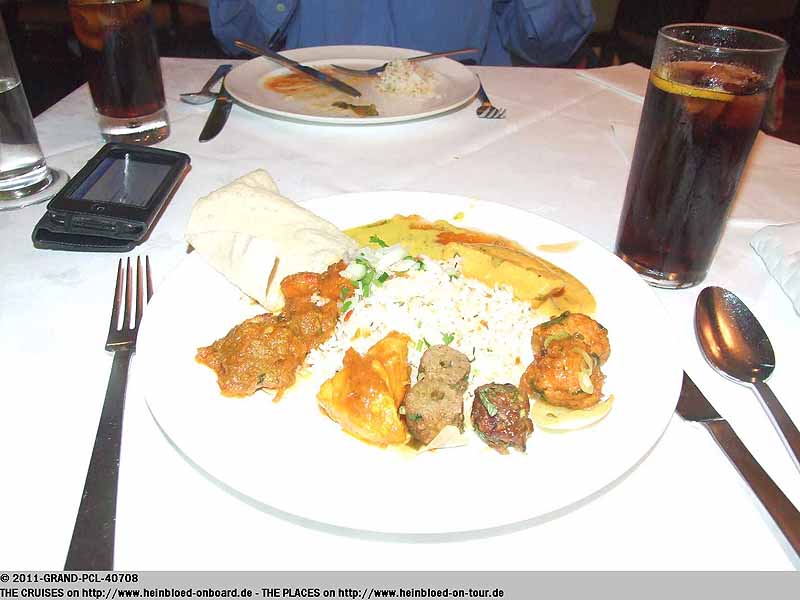 Schade, dass millis glashaus nicht mitwollten, als ich denen das vorgeschlagen habe. Sie sind ja noch lange genug auf der QUEEN MARY 2.
Endlich sehe ich mal einen Bus von
Greyhound
, der auch günstige Dienste nach London Victoria (leider nicht zu den Flughäfen) anbietet.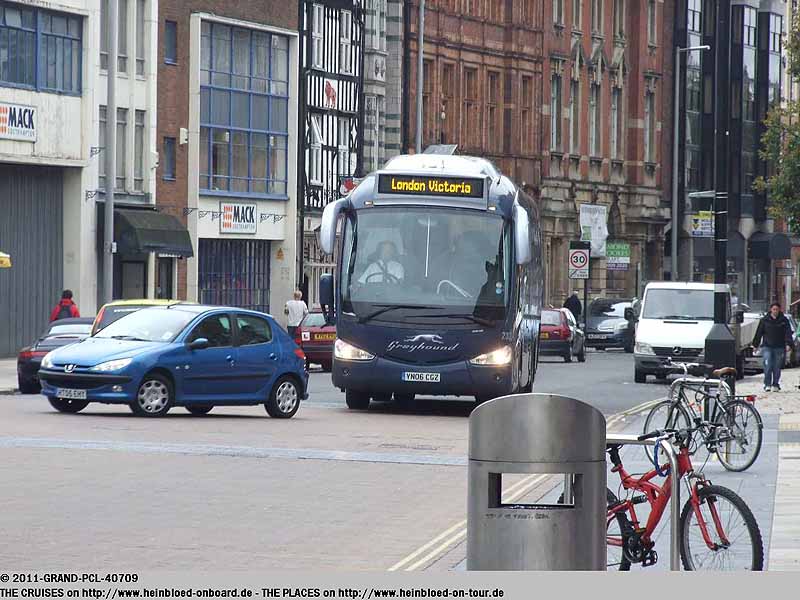 The first time I finally saw a bus of Greyhound which offers very cheap services to London Victoria (but not to the airport).

We went to Marks and Spencer for some shopping. There you get normally quite cheap tuxedo-shirts and tuxedos. We wanted to use the chance to buy something for Bruno as he needs to have new equipment. As both of us were very tired, we did not go to the other side to take further pictures of MEIN SCHIFF 2 and to see the sail away of QUEEN MARY 2 or GRAND PRINCESS. So headed to Slough again to our Holiday Inn Express. For our followers: see you tomorrow. For ship-spotters: see you again on day 6!!! And all others who were only interested in GRAND PRINCESS: See you again on NORWEGIAN JADE on October 08, 2011.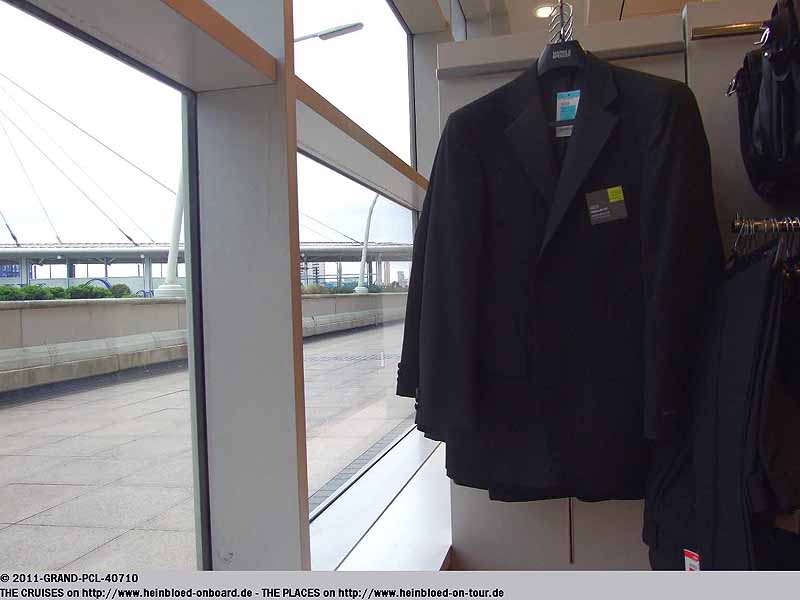 Wir gehen noch zu
Marks und Spencer
einkaufen. Dort bekommt man auch günstige Smoking-Hemden und Smokings, was wir ausnutzen, weil Bruno alles zu groß geraten ist. Da wir ziemlich müde sind, verzichten wir auf die Fahrt wieder rüber um die MEIN SCHIFF 2 zu sehen oder auch die Ausfahrt der QUEEN MARY 2 bzw. GRAND PRINCESS. Es geht wieder direkt nach Slough ins Holiday Inn Express. Alle, die uns weiterfolgen wollen: bis Morgen!!! Alle, die sich bloß für Schiffe interessieren: bis zum Tag 6!!! Und alle diejenigen, die sich bloß für die GRAND PRINCESS interessiert haben: Tschüß bis zur NORWEGIAN JADE am 08.10.2011.
Die anderen Reisen in diesem Blog/
The other voyages in this blog: