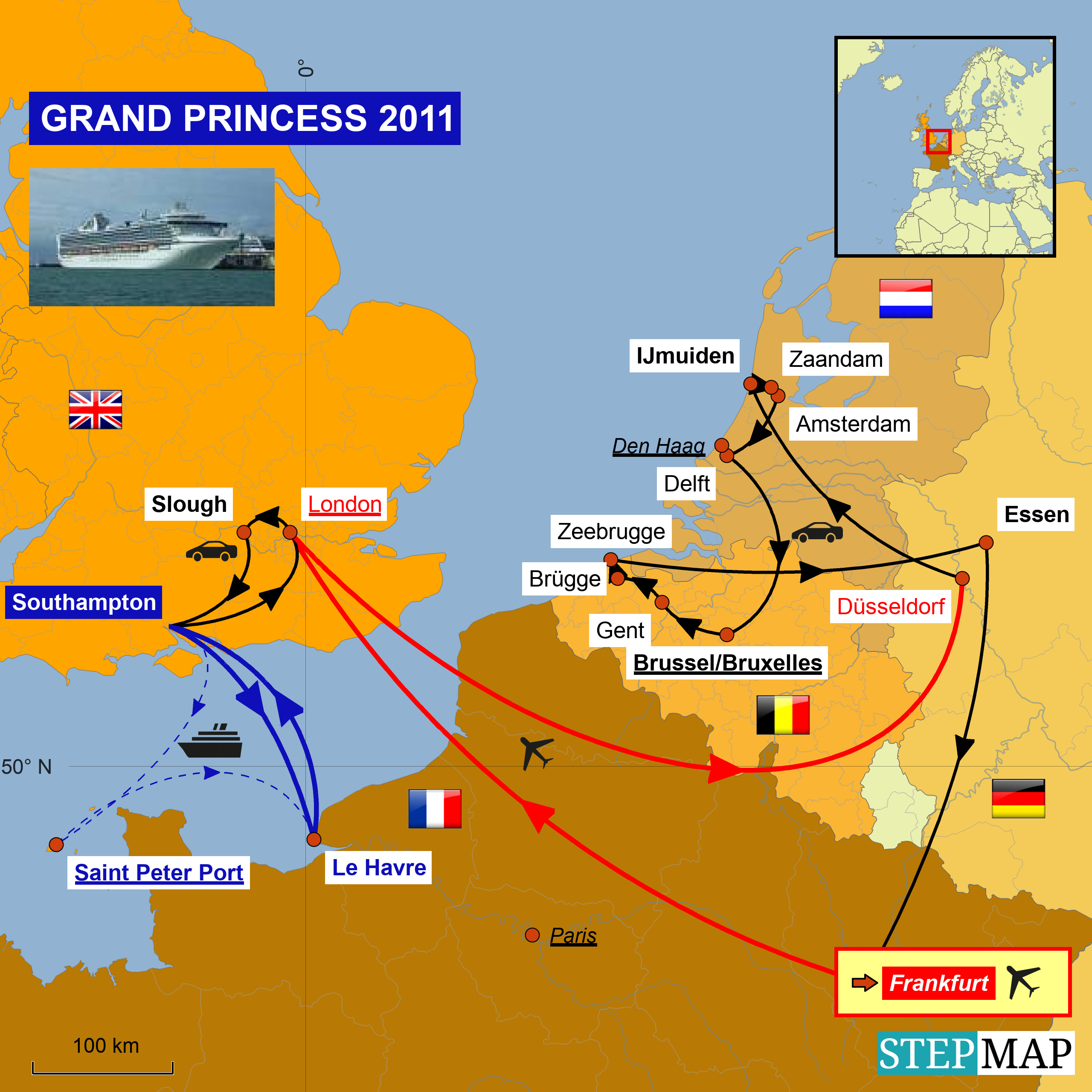 Geht es wirklich heute Abend nach Southampton zurück? Hatte Martyn nicht versprochen, dass er meinen Chef angerufen hat und ihn informiert hat, dass wir erst in drei Monaten statt in drei Tagen zurück sind???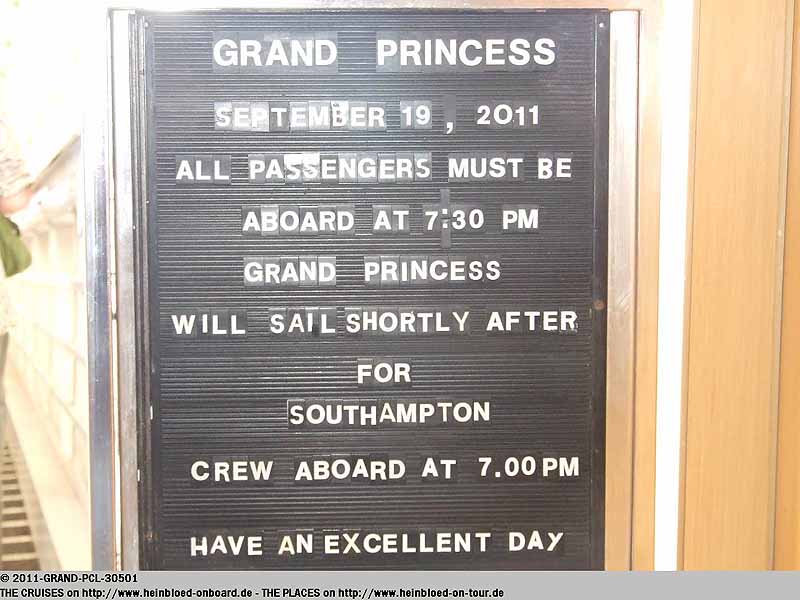 Do we really return tonight to Southampton? Did not Martyn promised that he called my boss and told him I will be back in three months instead of three days in the office???

Although we were getting off the ship, we could already buy souvenirs.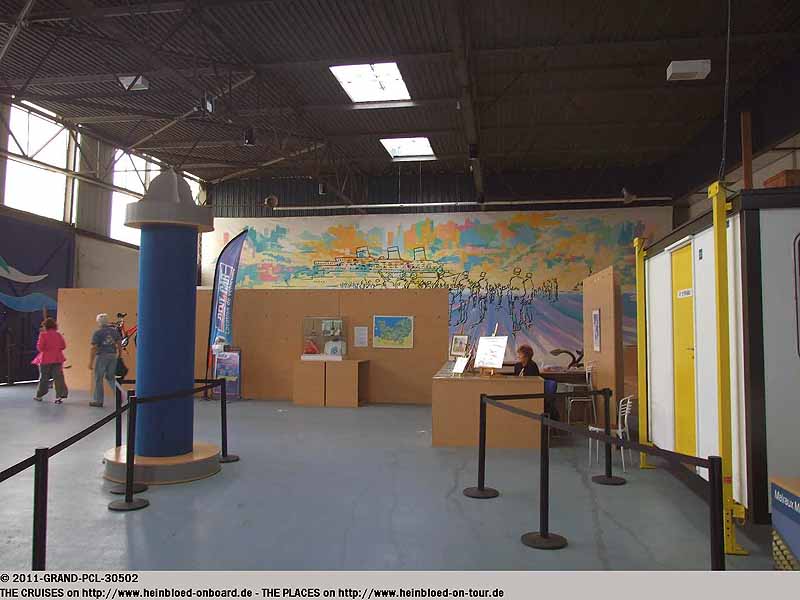 Obwohl wir erst aussteigen, können wir bereits Souvenirs kaufen.
Auch auf unsere Autovermietung
France Cars
von der NORWEGIAN JADE wird aufmerksam gemacht. Damals sind wir nach Giverny (Monets Garten) - Rouen und Honfleur gefahren.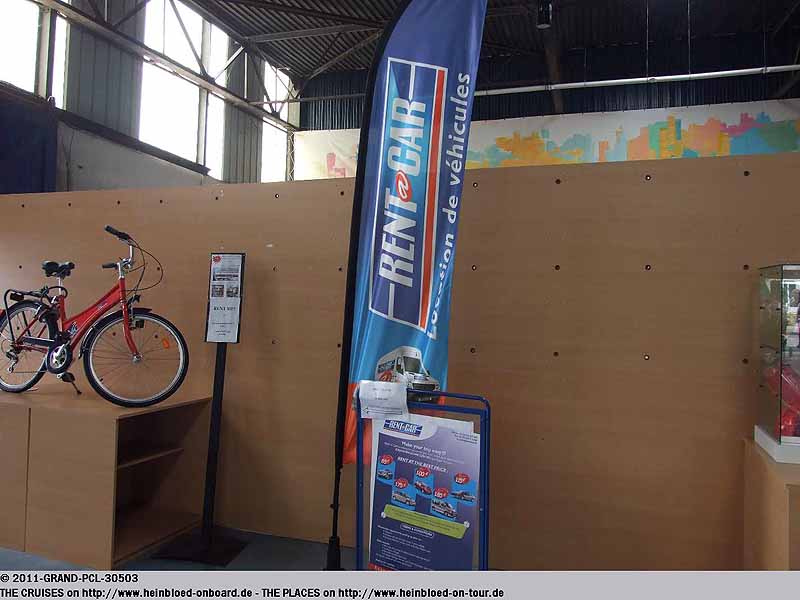 The attracted our attention to the car rental France Cars which we already knew from NORWEGIAN JADE. There we had a great tour to Giverny (Monet's Garden) - Rouen and Honfleur.

As we did not plan a more extensive tour, we ignore them this time.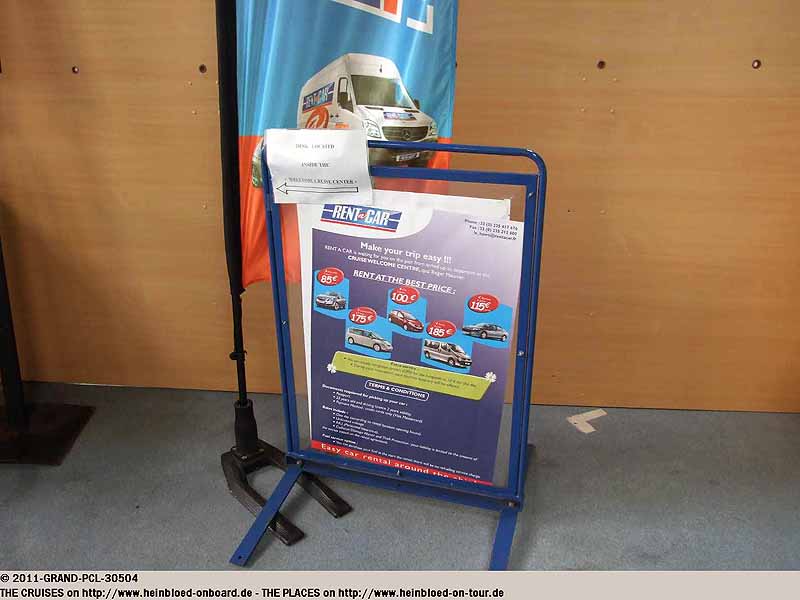 Nur da wir keine größere Fahrt geplant haben, lassen wir es.
Damals als wir mit der NORWEGIAN JADE hier waren, standen sehr viele Taxen vor dem Schiff, die Touren angeboten haben. Heute steht kein einziges Taxi da und eine Schlange der Gäste von der AIDAblu (2) und GRAND PRINCESS hat sich bereits gebildet.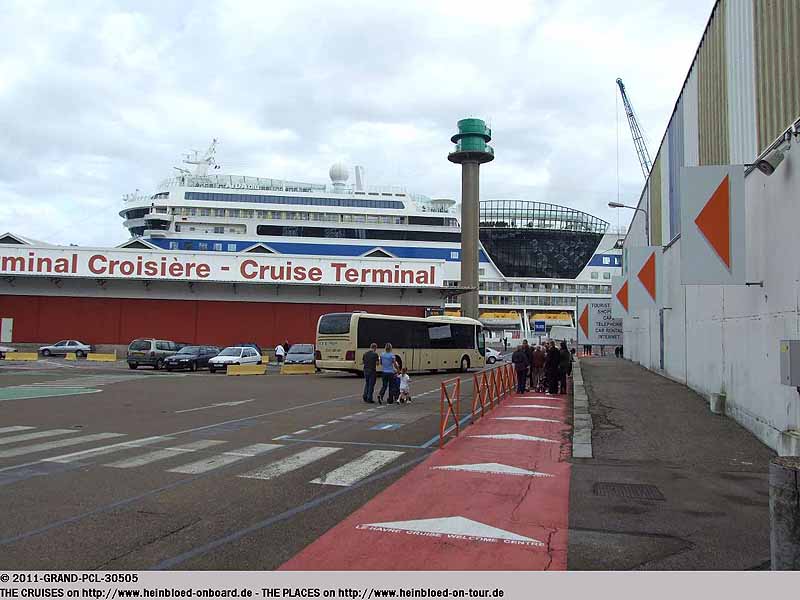 When we were here by NORWEGIAN JADE there were many taxis around who offered tours. Today there was no taxi around, and a queue already had formed of the guests from AIDAblu (2) and GRAND PRINCESS.

Our car rental station moved around in the building, but it was unattended.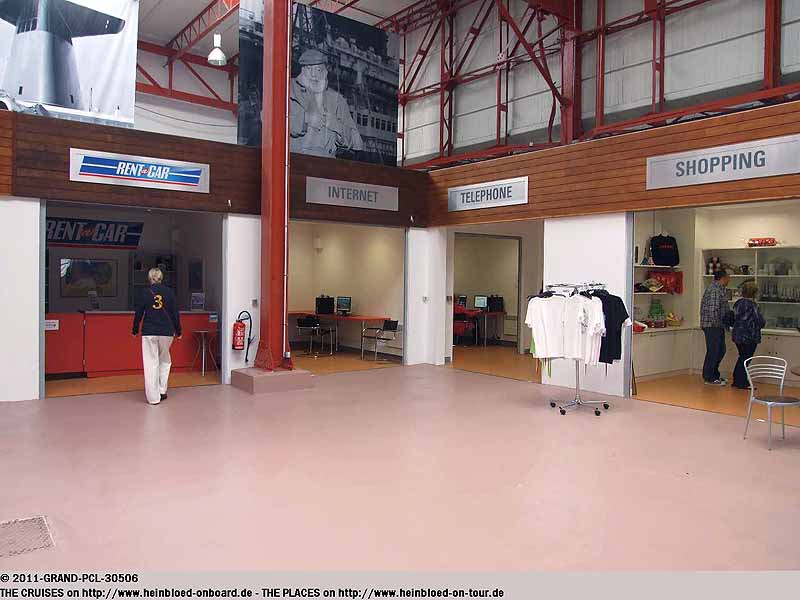 Unsere Mietwagenstation ist umgezogen. Allerdings auch unbesetzt.
Wir überlegen uns, ob wir nicht Fahrräder mieten, aber da keiner von uns beiden, Regenhaut mithaben, macht es keinen Sinn. Wir lassen es.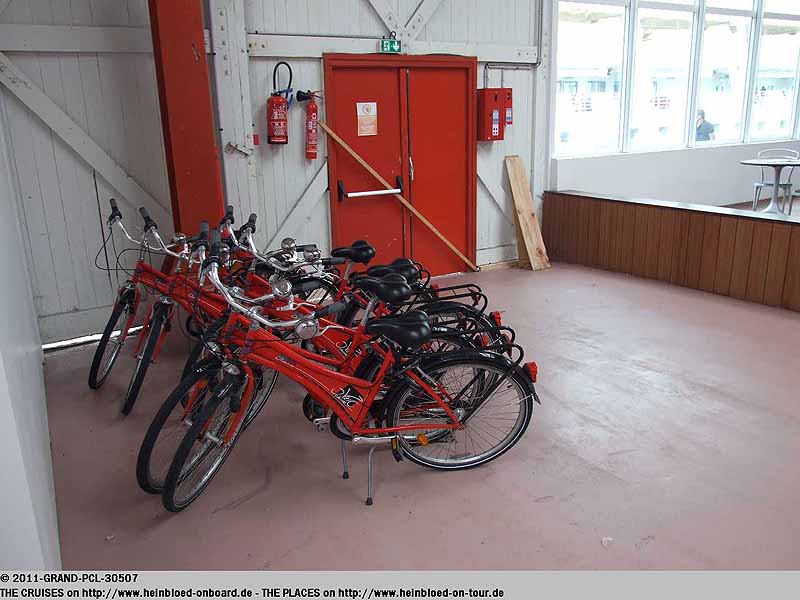 We considered to rent bikes, but none of us had any rain equipment with us we did not do it as it did not make too much sense.

There is no public transport in the port.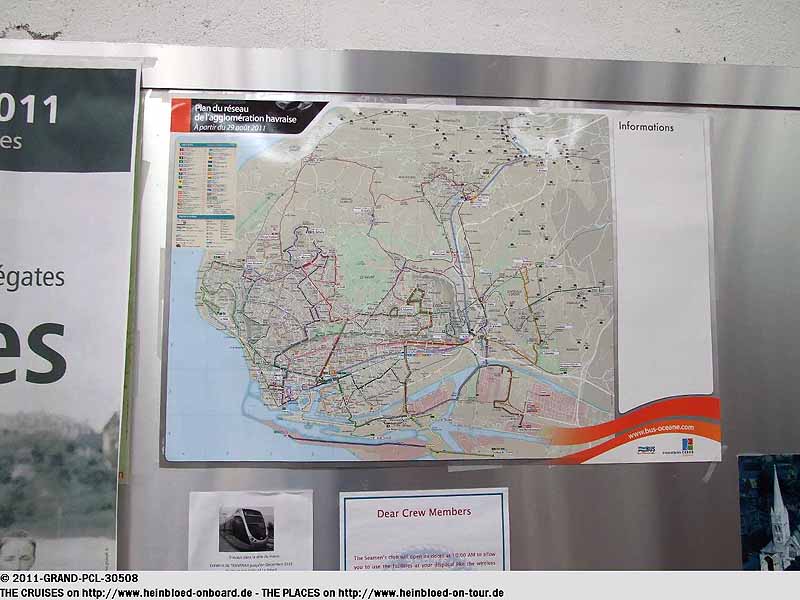 Öffentliche Verkehrsmittel gibt es in den Hafen nicht.
Nur für die Crewmitglieder gibt es einen Shuttle zum Seamen's Club. Ich bin übrigens eh wieder für ein Crewmitglied gehalten worden. Ich musste mich nicht für ein Foto in Le Havre anstellen und wurde sofort durchgewunken. Selbst Schuld. Gute Arbeit haben sie schon geleistet. Denn das Bild von Bruno und mir vom gestrigen Abend habe ich gekauft.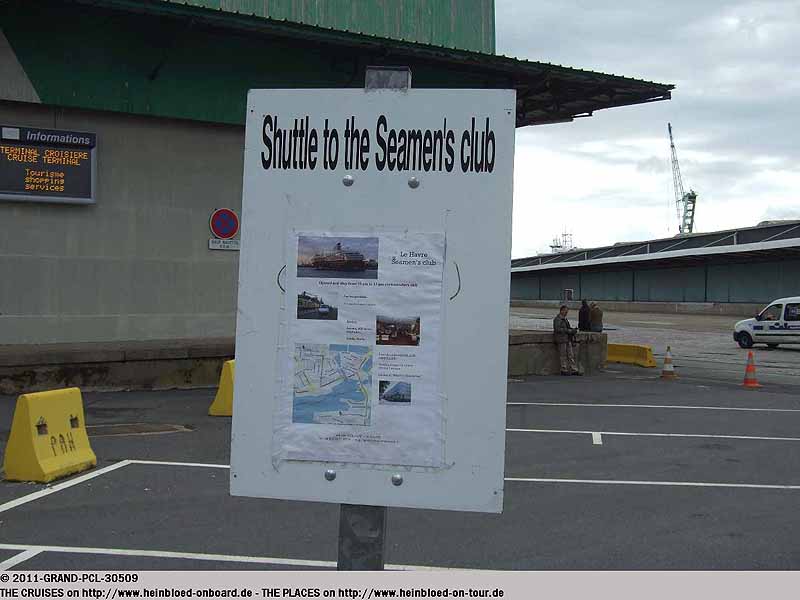 Only for crew members there was a shuttle to the seamen's club. By the way, they thought I was a crew member again. I was not asked to take a picture for Le Havre and was directed immediately to the exit. Sorry for them. They did a great job. I bought the picture they made last night of Bruno and me.

We just follow the signposts to get to town.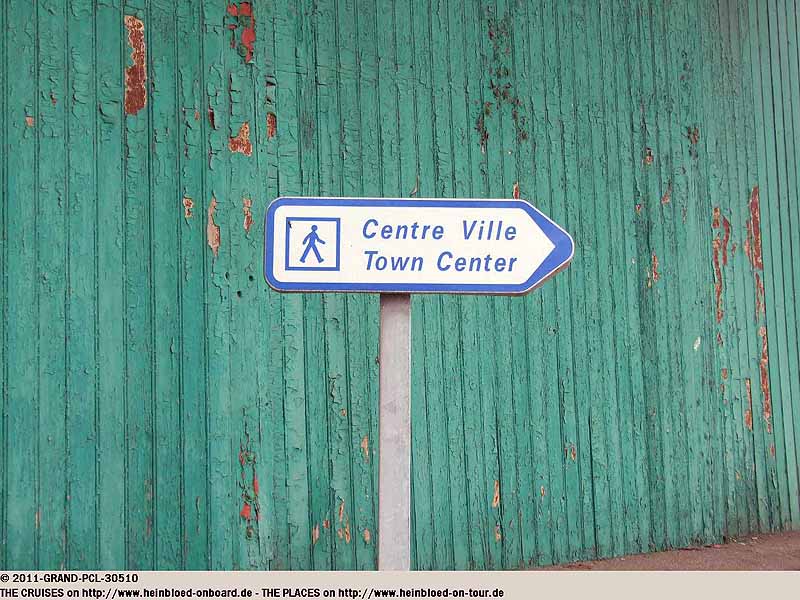 So folgen wir einfach den Schildern, um in die Stadt zu gelangen.
Von weitem sehen wir schon die Stationen von Europcar und Avis, die ihre Autos nicht im Hafen zustellen dürfen.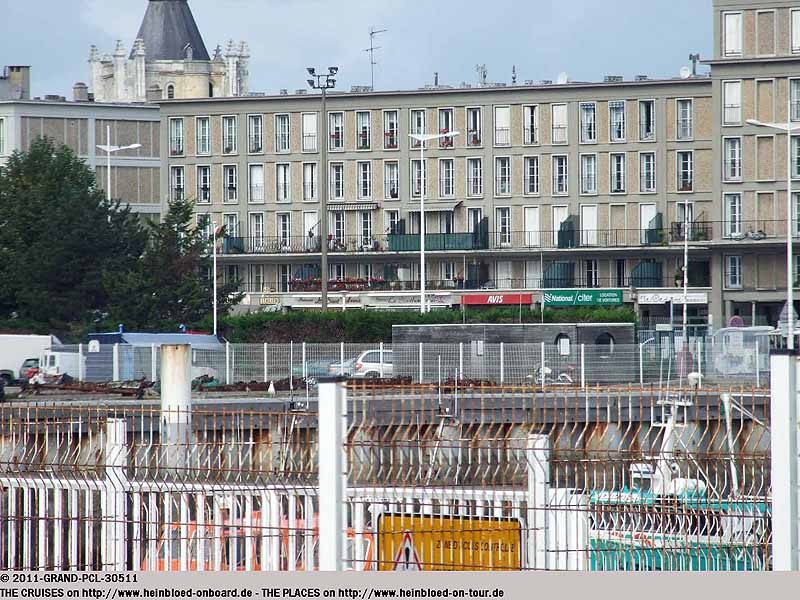 From the distance we could see the locations of Europcar and Avis who are not allowed to deliver their cars to the port.

After about 15-25 minutes (varies to your own speed) you reach the end of the port. To the stations (coach and train) you walk another 12-18 minutes, to the beach and to the tourist information another 25-35 minutes. So who always say everything is close by may pace himself.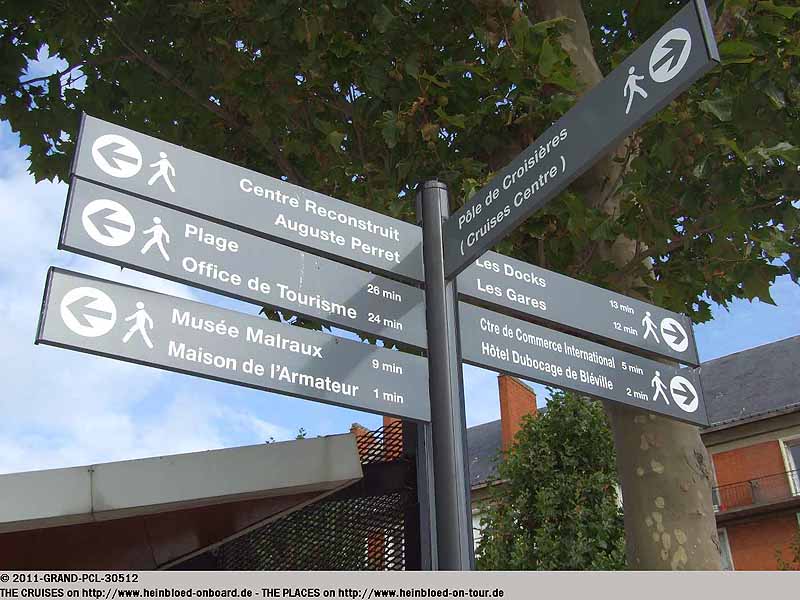 Nach etwa 15-25 Minuten (je nach eigener Geschwindigkeit) erreicht man diesen Wegweiser am Ende des Hafens. Zu den Bahnhöfen (Bahn und Bus) läuft man von hier nochmals ca. 12-18 Minuten, zum Strand und zur Touristeninformation nochmals 25-35 Minuten. Wer also meint, dass das nah liegt, der kann es ja selbst laufen.
Wir laufen Richtung Touristeninformation, weil ich für den Nachmittag eine Hafenrundfahrt gebucht habe und es dort in der Nähe abgeht.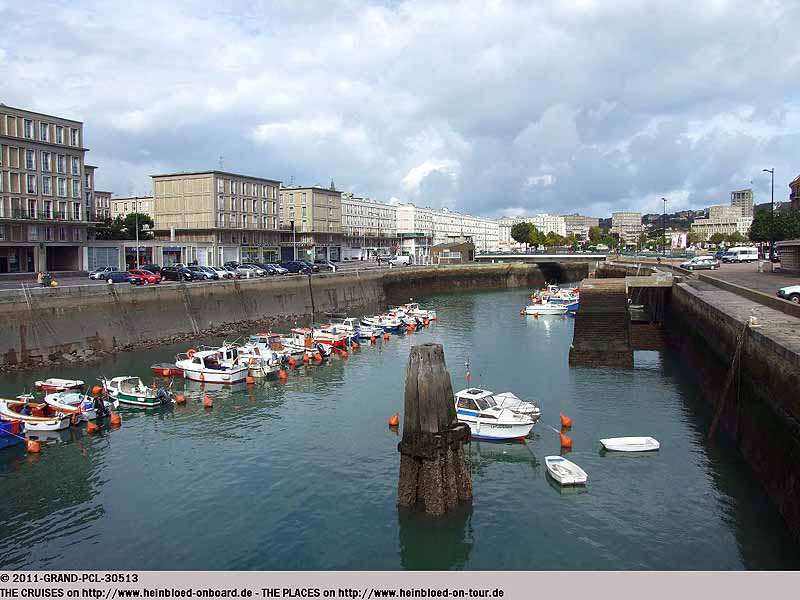 We walk towards the tourist information because I booked for the afternoon a port cruise and it should leave from their around.

Until this time we were interested in learning more about Le Havre's history.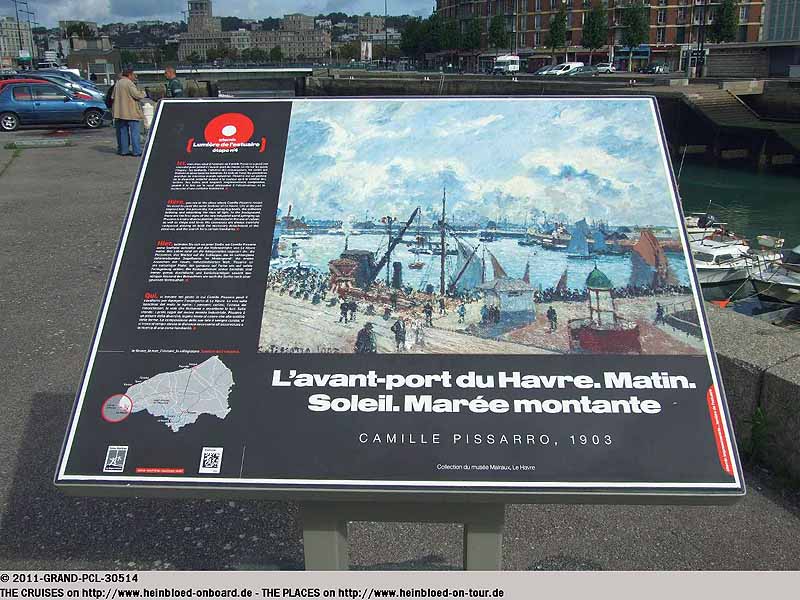 Bis dahin befassen wir uns mit der Geschichte von Le Havre.
Beim näheren Hinsehen stelle ich fest, dass es gar nicht Avis und Europcar war, sondern National. Aber das ist nicht weiter schlimm: Europcar ist nochmals ein paar Meter weiter.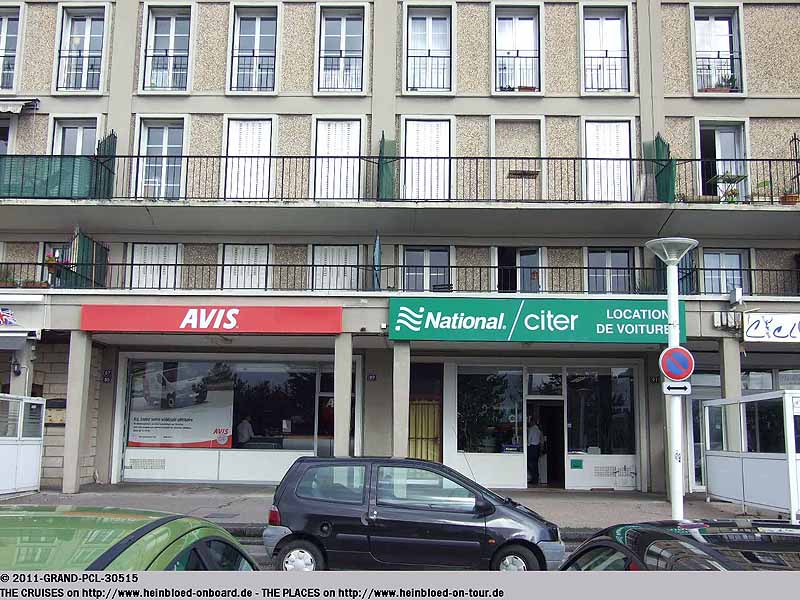 When we come closer we saw that it was not Avis and Europcar but National. But that was not too bad as Europcar is just a few feet further.

We went shipspotting in the parking of the car rental companies and for RVs.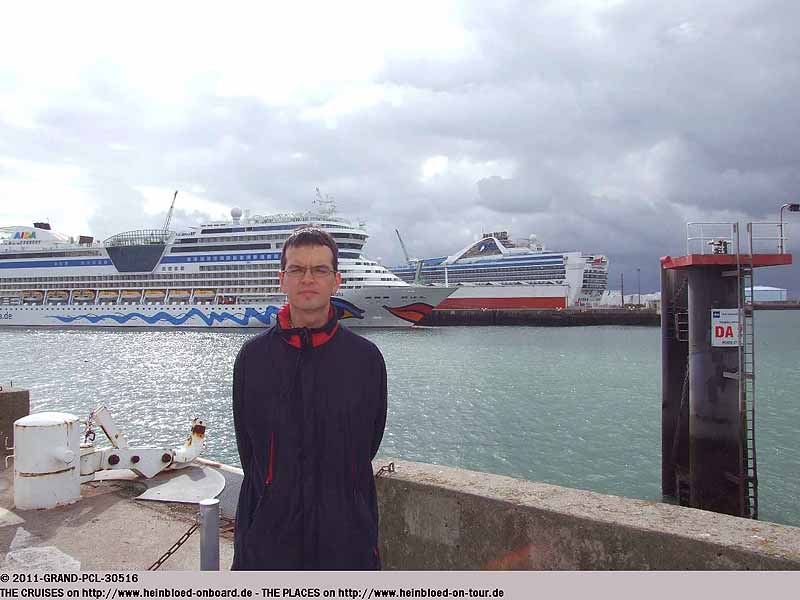 Wir gehen ein wenig Shipspotten auf dem Parkplatz der Autovermieter und der Campingmobile.
Aber warum konnte bloß nicht die GRAND PRINCESS vorne liegen und die AIDAblu (2) hinten???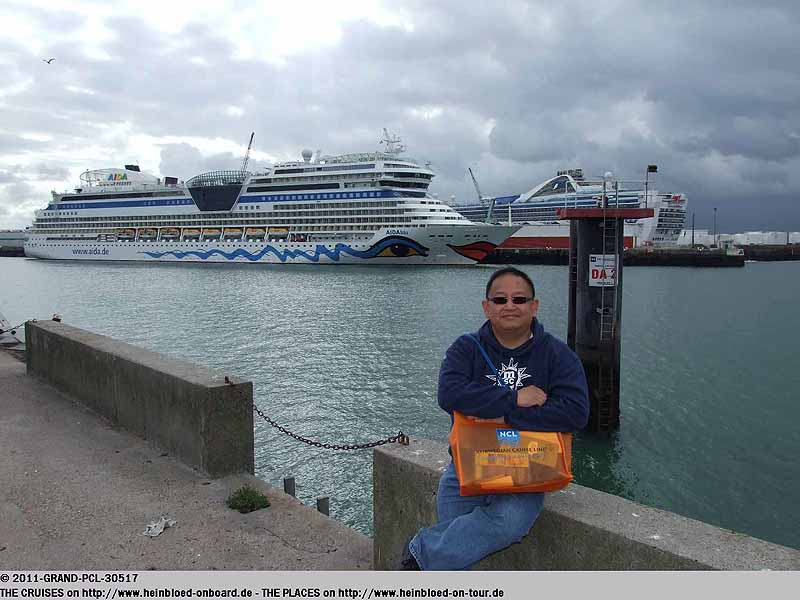 Why could not GRAND PRINCESS be in the front and AIDAblu (2) in the back???

But you could see that it became darker and darker.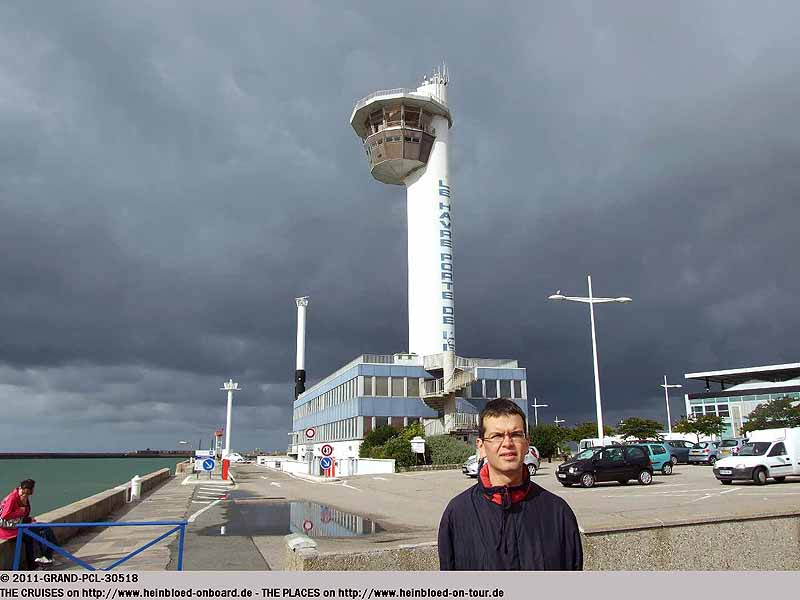 Irgendwie sieht man im Hintergrund, dass es immer dunkler wird.
Es wird also Zeit für ein Mittagessen im Trockenen. Wir gehen einfach in das
Museum Malraux
, das ein wunderschönes Café hat, das sogar in meinem Dumont-Führer und in der frazösichen Elle Erwähnung findet, weil es so einen schönen Ausblick zum Hafen hat.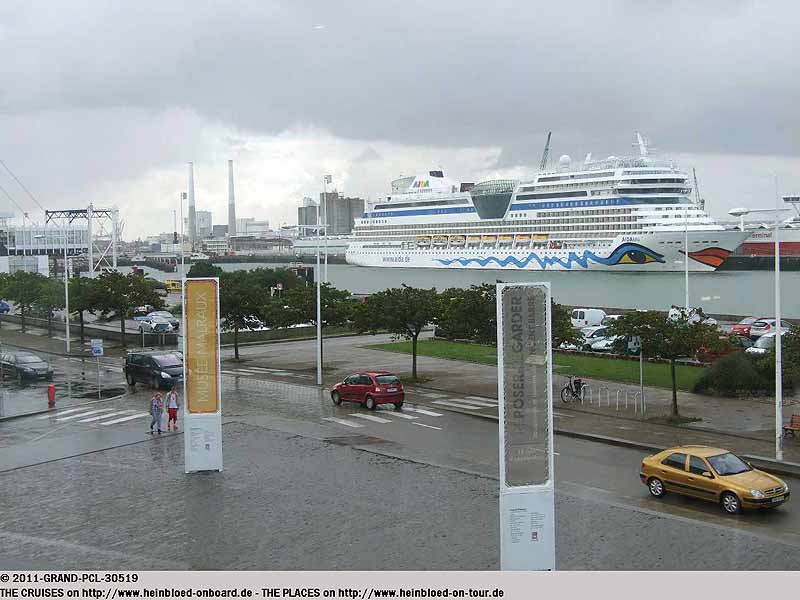 So time for a lunch in a dry surrounding. We just went to the Museum Malraux which a wonderful Café inside. Even it was mentioned in my Dumont guidebook and in the French Magazine Elle: because of the great view, you have from here to the port.

The chicken sandwich Bruno had was not bad regarding the quantity as only wanted a small snack for lunch.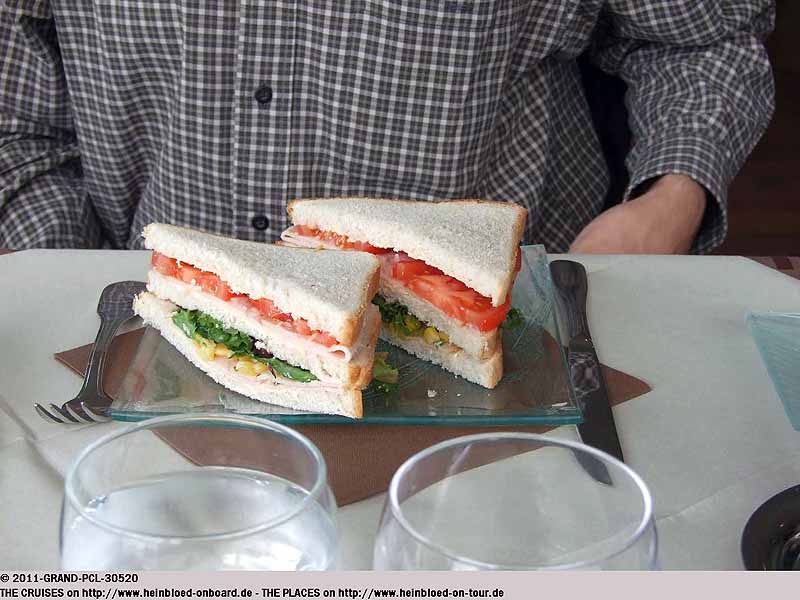 Das Sandwich mit Hühnchen war wohl nicht von schlechten Eltern, meinte Bruno, der nur ein kleines Mittagessen wollte.
Und ich wollte schon seit Monaten (seit dem Film "Wenn Liebe so einfach wäre" mit Meryl Streep, Alec Baldwin, Steve Martin) endlich in Frankreich ein Croque Monsieur essen, das auch wirklich lecker war. Aber hinterher ärgern wir uns, dass wir nicht Salat gegessen haben, denn sie sahen richtig toll aus. Ich wollte schon Bilder von unsere Tischnachbarin machen... So gut sah der aus.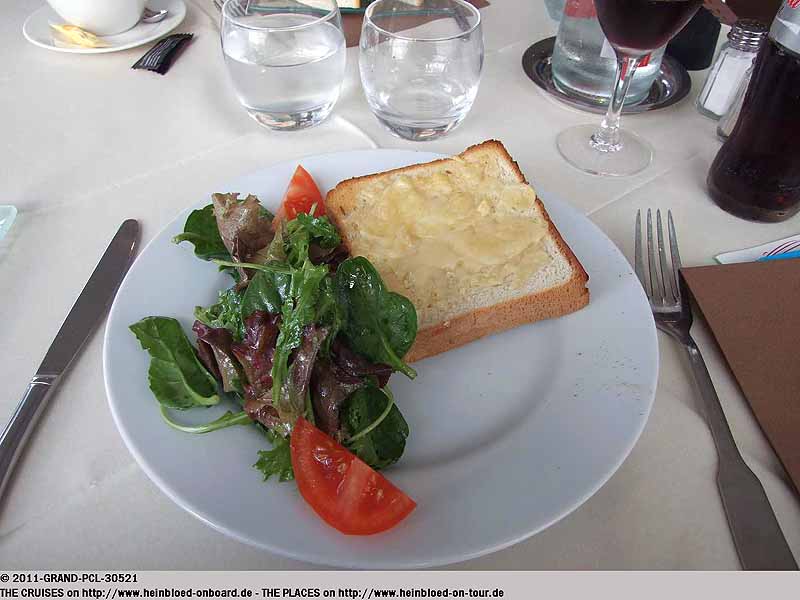 And I wanted to have for months (since I watched the movie "It's complicated" with Maryl Streep, Alec Baldwin, Steve Martin) a Croque Monsieur in France which was really good. But later we were angry at ourselves that we did not order the salad which looked really fantastic. I wanted to take pictures from the lady next to us... it seemed so high.

It was like a perfect match: When GRAND PRINCESS appeared again in the sunshine, our lunch was finished. And only for a little money.

Es passte wie die Faust auf das Auge. Als die GRAND PRINCESS wieder in der Sonne lag, war unser Mittagessen auch schon zu Ende. Und das wirklich für ein Appel und ein Ei.
Dass es sonnig war, bedeutete nicht, dass es windstill war.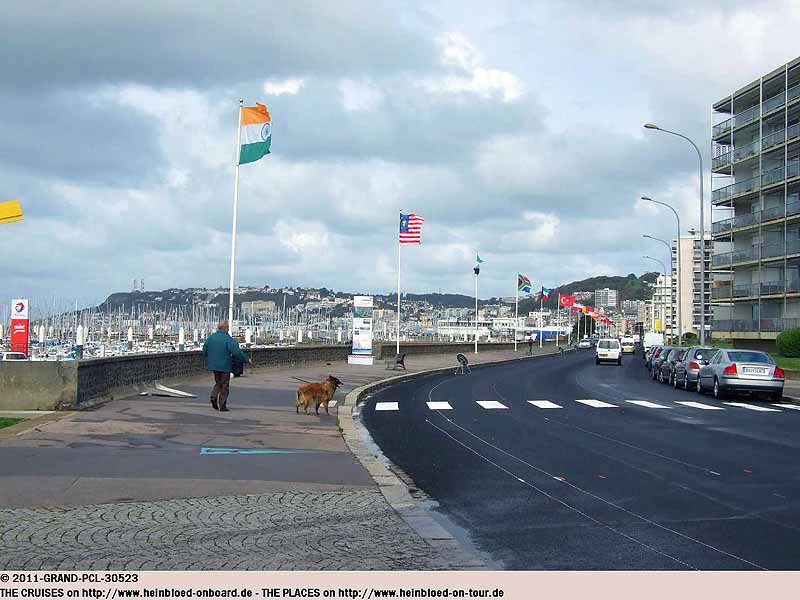 The sunshine did not mean that it was not windy.


So we could see the flags in the wind of the countries with major global ports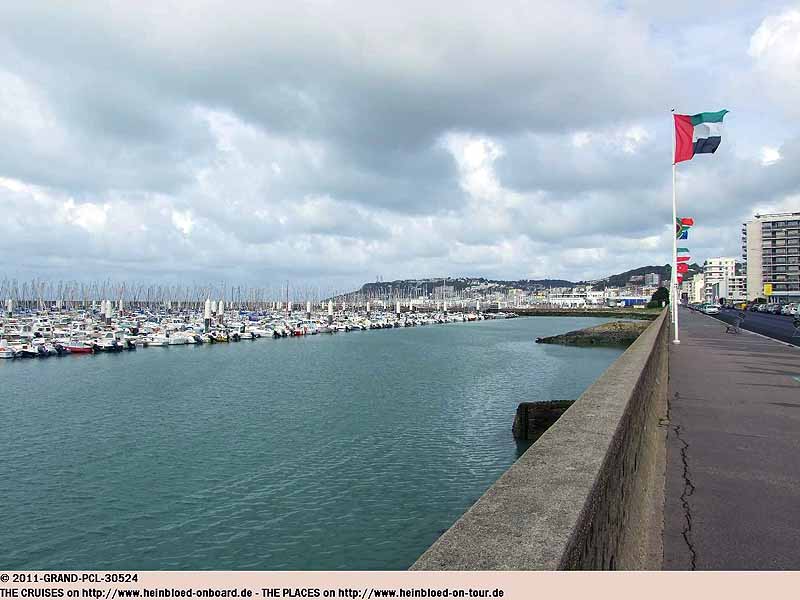 So konnten wir sehen, wie die Flaggen der Länder mit großen Hafenstädten der Welt ziemlich im Wind standen.
Und natürlich werden wir an unsere Fahrt mit der ZAANDAM im März 2012 erinnert.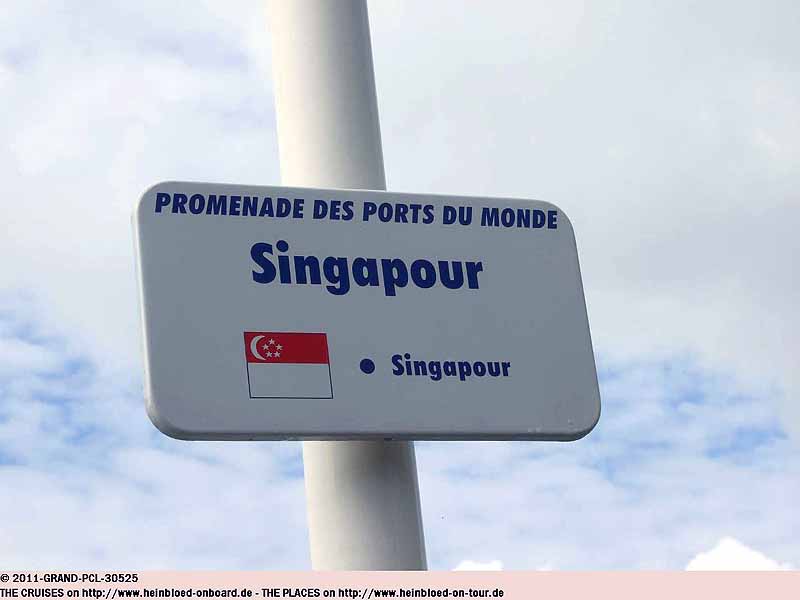 And of course we were reminded to our cruise on ZAANDAM in March 2012.

To be sure we looked already for the departure point for our port cruise. But we could not find any office. Only the information that you should continue to walk.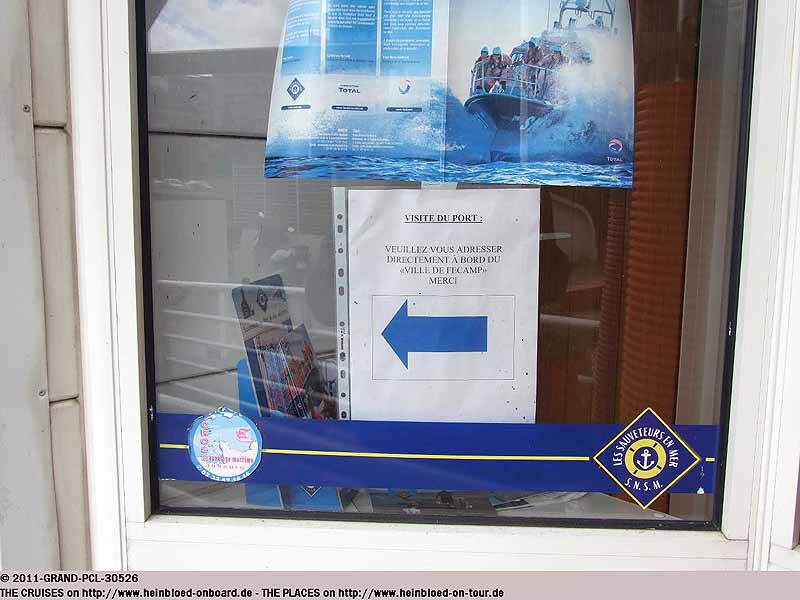 Wir wollen sicherheitshalber mal die Abfahrtsstelle für die Hafenrundfahrt suchen. Aber ein Büro finden wir nicht. Nur den Hinweis, dass man selbst weiterlaufen soll.
Hier wiederum aber der Hinweis, dass wir wieder nicht weiterlaufen sollen. Was denn nun???

But then you find any information that you should not walk. What should we do???

But it looked that we are correct here with Tourisme & Loisirs Maritimes.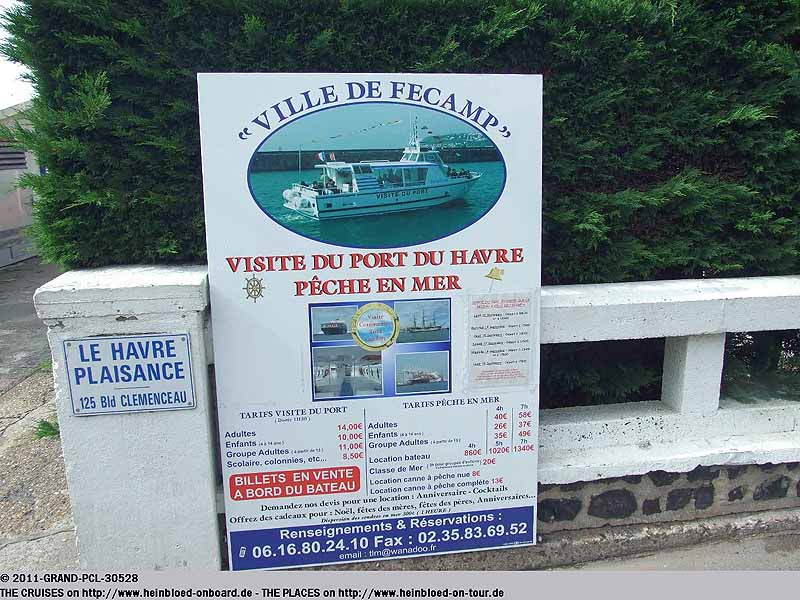 Aber richtig sind wir anscheinend hier bei
Tourisme & Loisirs Maritimes
.
Wir sehen, dass wir nicht so weit von Saint-Joseph entfernt sind und wollen die Wartezeit nutzen, um die Kirche noch besuchen.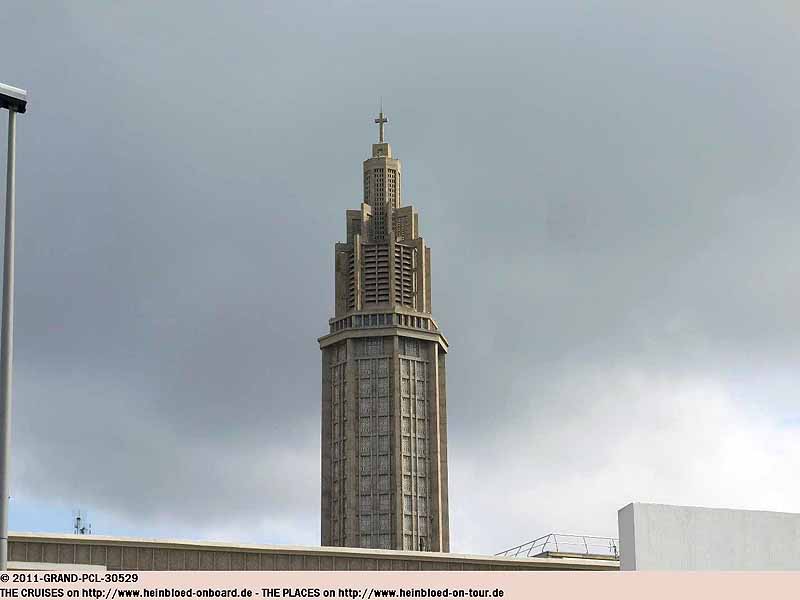 We could see that we were not so far away from St. Joseph and wanted to use the waiting time to see the church.

Outside it was so windy even the signs collapsed. So nothing to stay a long time out.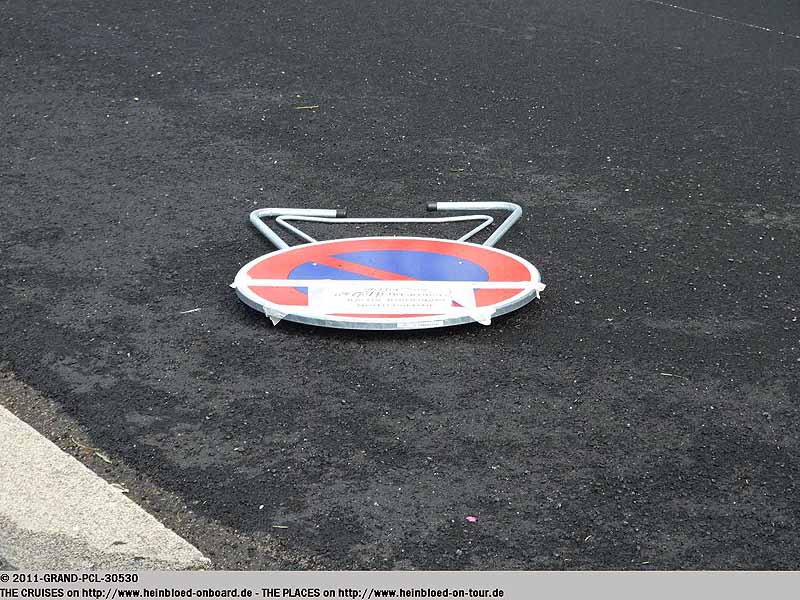 Draußen ist es so windig, dass sogar die Straßenschilder umkippen. Also nichts um lange draußen zu verweilen.
Die anderen Reisen in diesem Blog/
The other voyages in this blog: