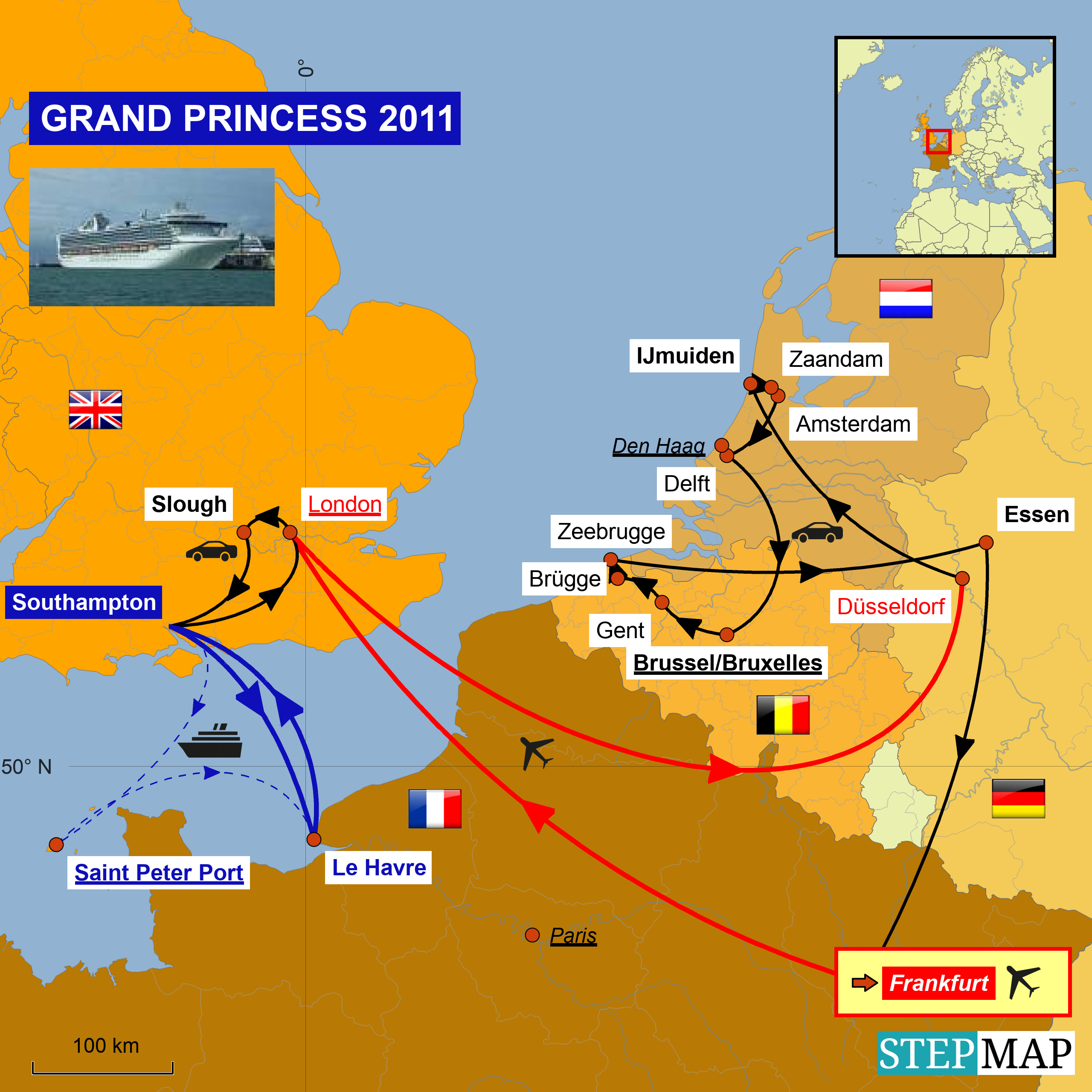 Meinen üblichen Nachtrundgang verlege ich auf den nächsten Morgen.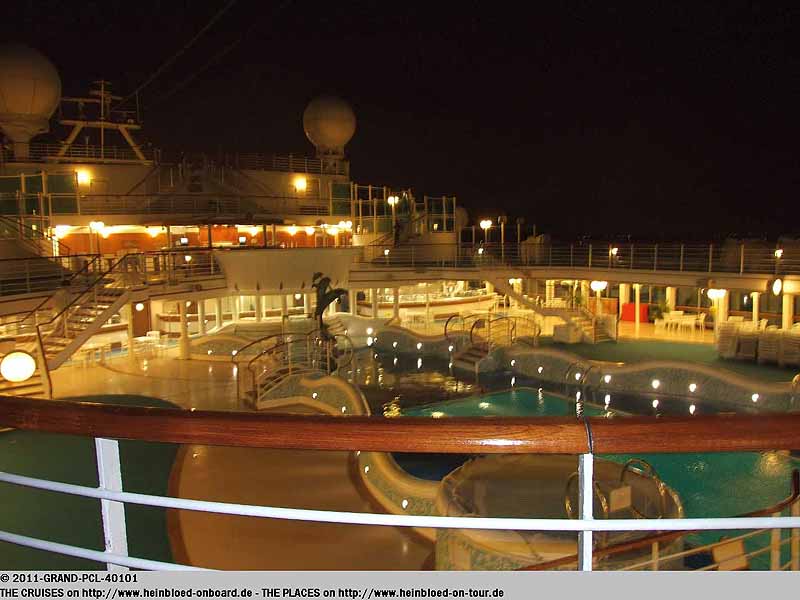 My usual night walk I post poned to the early morning.

My GRAND PRINCESS had a certain elegant brilliance.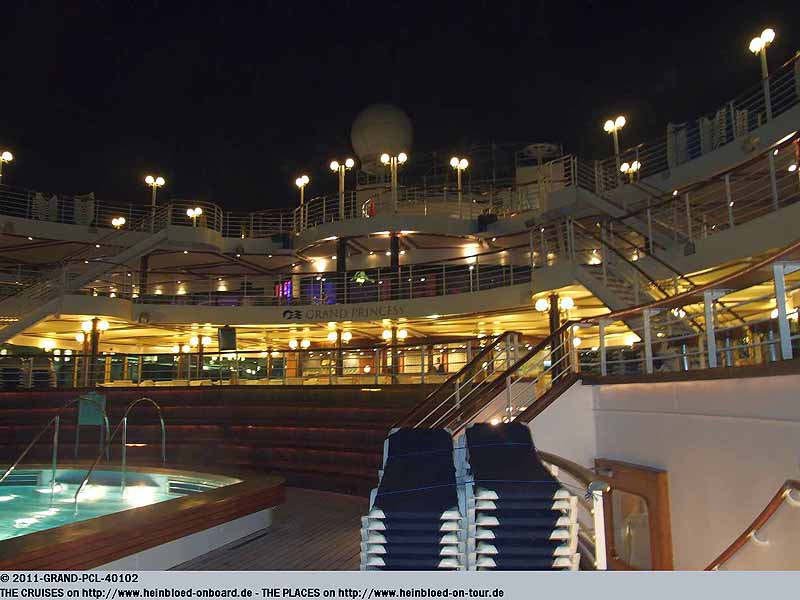 Meine GRAND PRINCESS strahlt schon eine gewisse Eleganz aus.
Auch wenn man es ihr von außen nicht unbedingt ansieht.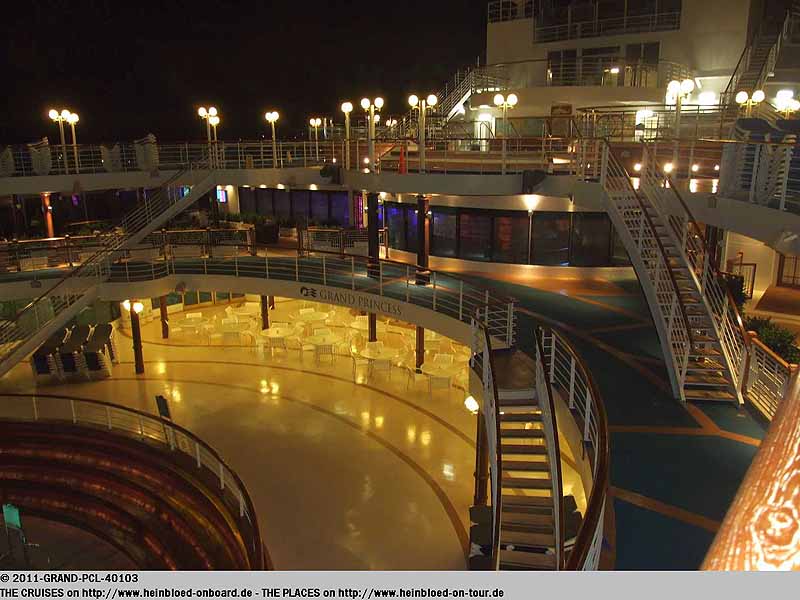 Even you cannot see it from outside the ship.

So I wanted to have a picture in a great pose.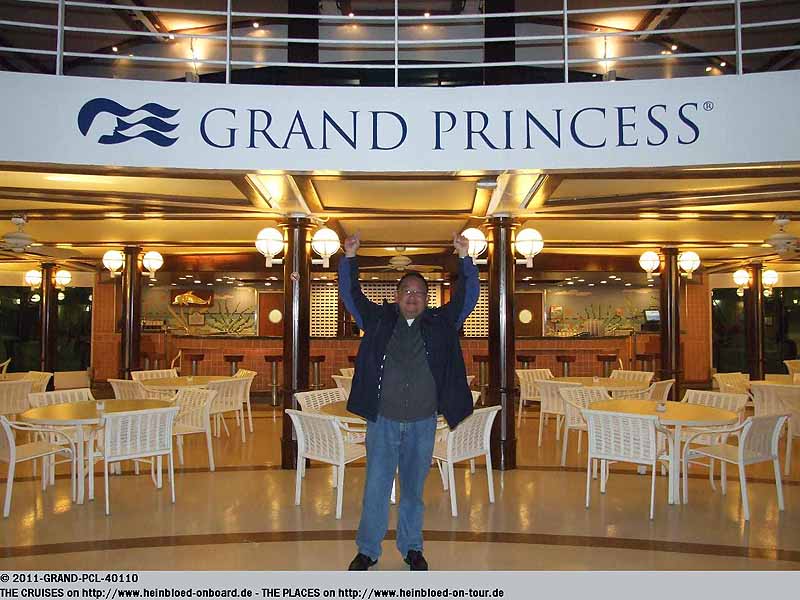 So lasse ich es mir nicht nehmen, mich doch mal in Pose zu stellen.
Mir hat es BIS JETZT auf der GRAND PRINCESS sehr gut gefallen, aber das wird sich im Laufe des Morgens etwas ändern.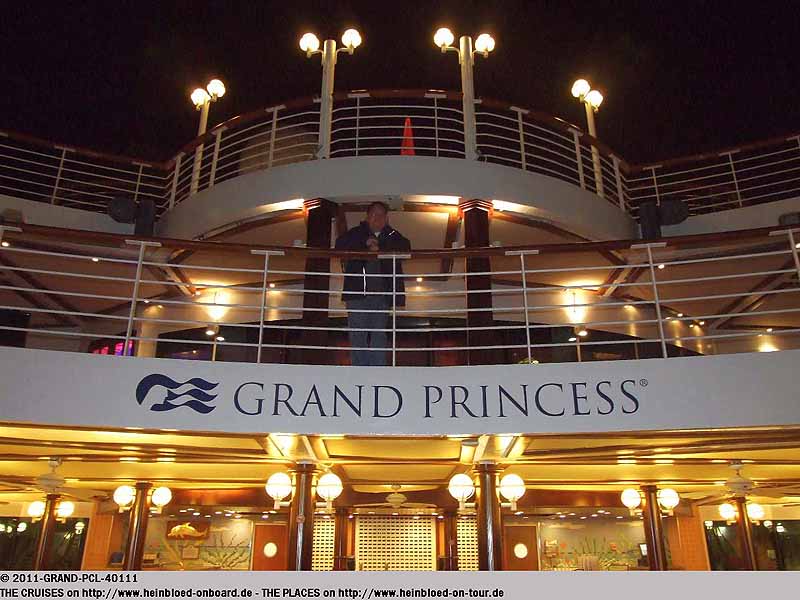 I liked it very much until NOW on GRAND PRINCESS but that will change during this morning.

The left-over of the former Skywalker Nightclub.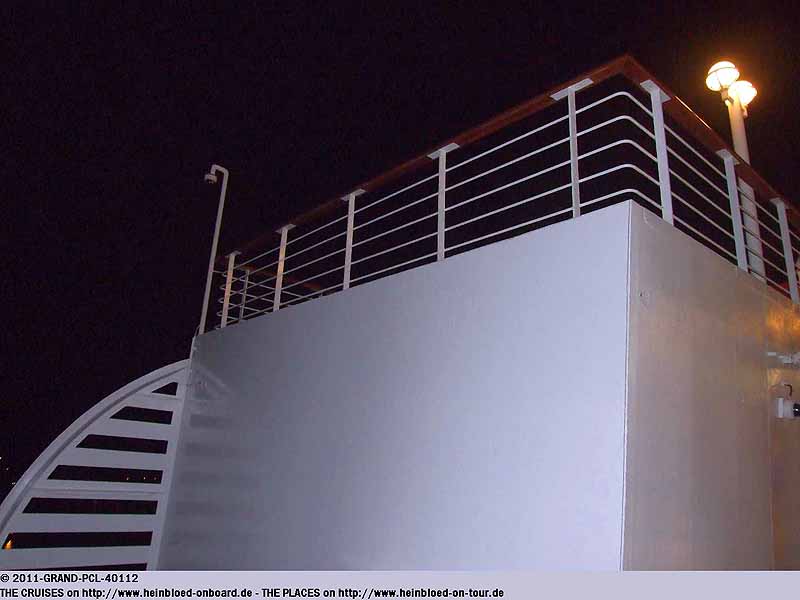 Der Rest vom ehemaligen Nachtclub Skywalker.
Natürlich wird wieder pünktlich die Flagge aufgezogen.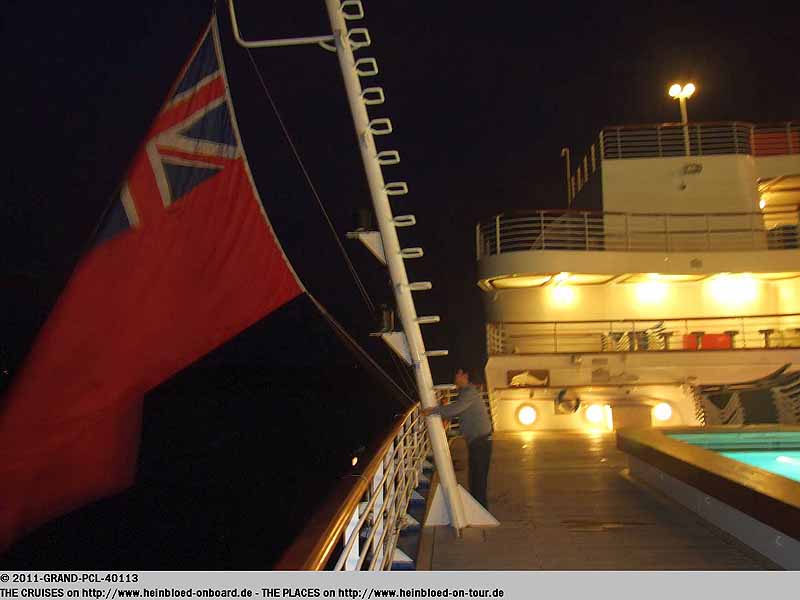 Of course they raised the flag right on time.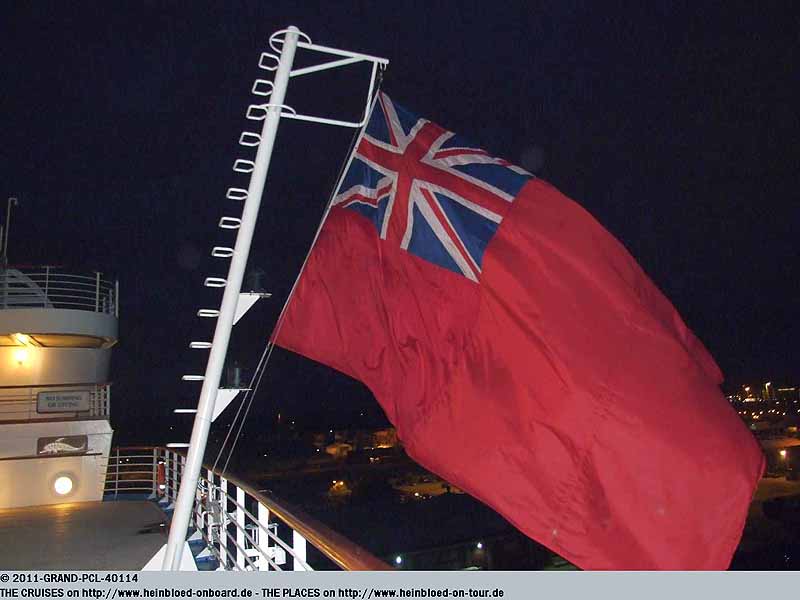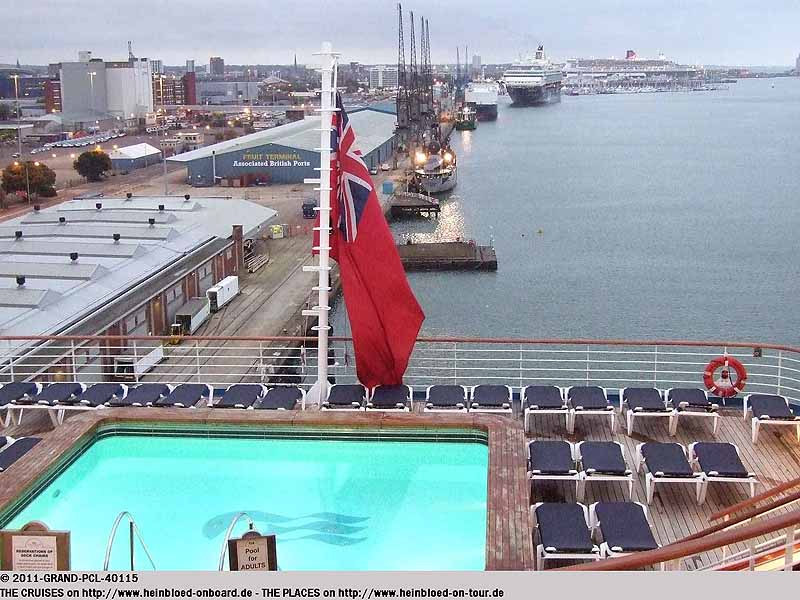 In this lounge you may stay until debarkation as Suite-Guests and Platinum-repeater and higher. You need to leave your cabin already at 08.00 hrs.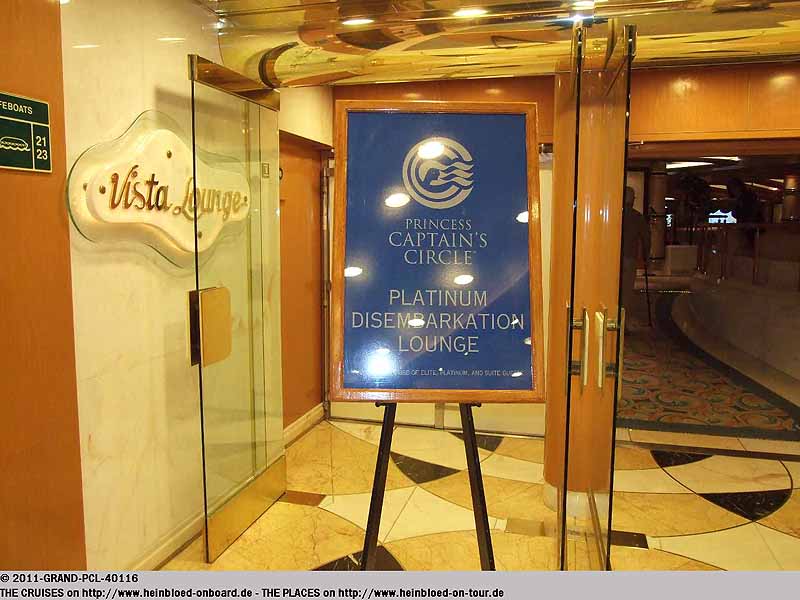 In dieser Lounge dürfen wir als Suiten-Gäste und Platinum-Wiederholer und aufwärts bis zur Ausschiffung warten. Man muss nämlich bereits um 08.00 Uhr die Kabine räumen.
Es gibt ein paar Frühstücksteilchen und ein wenig Saft, Wasser, Tee und Kaffee.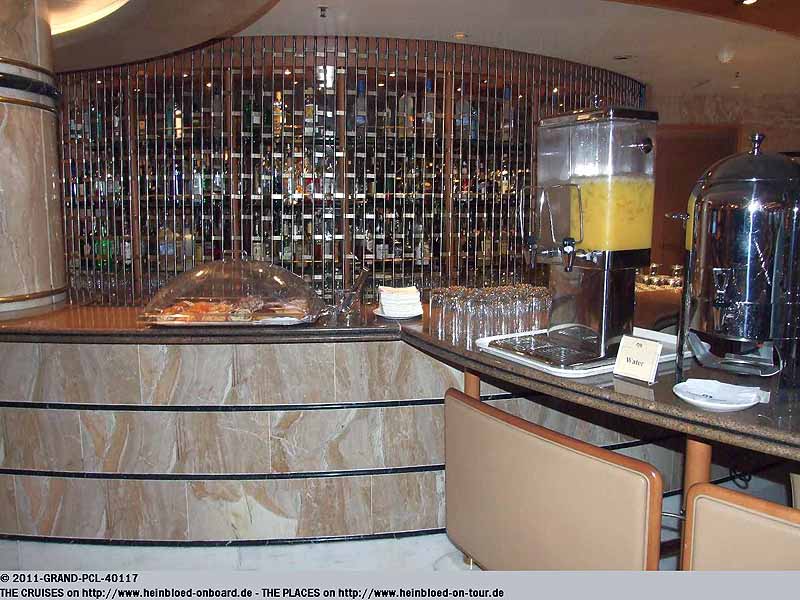 You had few pastries and some juice, water, tea and coffee.

In the background, you have the news from BBC, and you get some newspaper.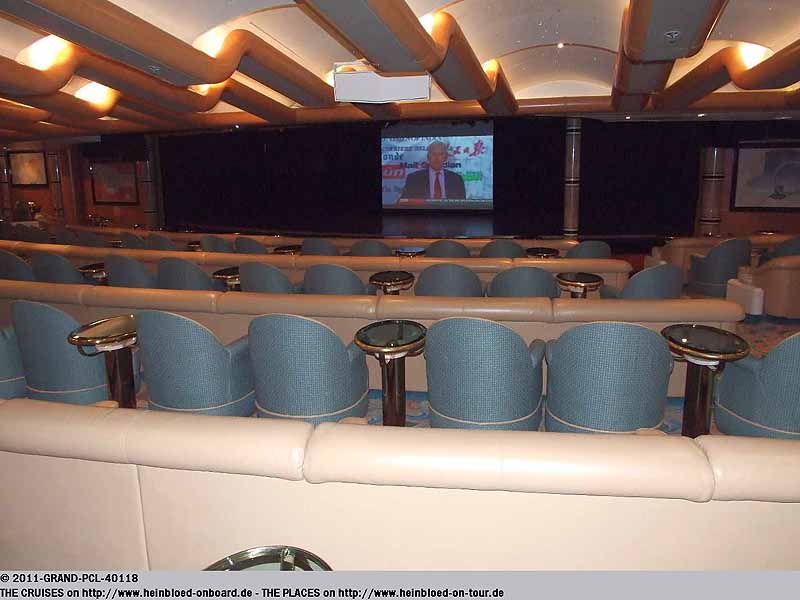 Ferner läuft der Fernseher mit BBC-Nachrichten und es gab noch Zeitungen.
Unsere Rechnung kommt. Wir waren bis 22.00 Uhr am Vorabend an der Rezeption. Die Kreditkarte konnten wir ändern, aber wir durften angeblich nicht mehr ändern, dass wir am Currency Conversion Programm teilnehmen (wollten wir mit der alten Karte nicht). Als wir das ablehnen, wird unser Änderungsformular zerrissen. Trotzdem wird auf der neuen Kreditkarte abgebucht, aber in Euro, was wir nicht wollten. Sie nehmen 3% für die Umrechnung und unsere Kreditkartengesellschaft nur 1%. Und je nach dem in welchem Land der Beleg eingereicht wird, haut unsere Bank dann doch nochmals einen Auslandseinsatz drauf, obwohl in Euro abgebucht wurde. Angeblich sind zwar nur Änderungen der Kreditkarte möglich, aber wir dürfen nicht mehr aussuchen, ob sie in USD oder in EUR abrechnen.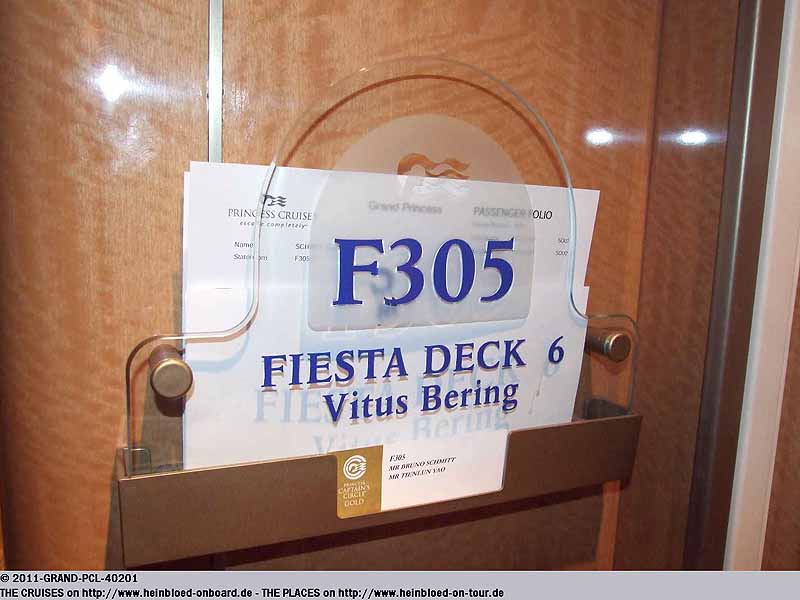 Our invoice arrived. We went until 22.00 hrs at the reception desk. We could change the credit card, but it was not allowed anymore to choose if you want to participate at the Currency Conversion Program or not (we did not want when we pre-registered the first card). When we denied they erased the paper form with the changes. But anyhow they took from the new credit card but in Euro what we did not want. They take 3% for conversion. Our bank just 1%. Depending on which country they used for the Euro payment we still need to pay for foreign transactions although it was Euro. They told us we can change any credit card we want but we cannot change selected anymore to be charged in USD or in EUR.

Everyone was around with their suitcases.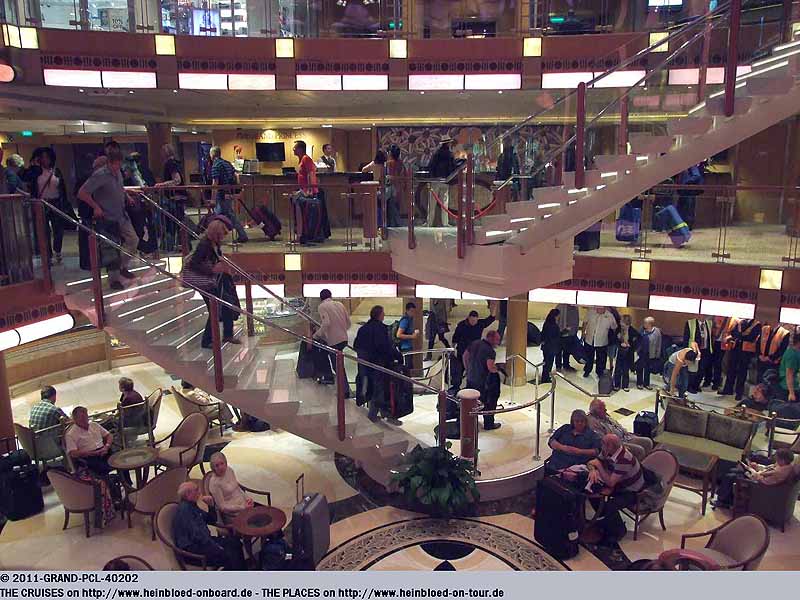 Alles mit Koffern unterwegs.
Zum Glück hatten wir noch diese Tasche gekauft. Und auch hier die Coupons taugten alle überhaupt nichts, weil es zu viele Ausschlüsse gab.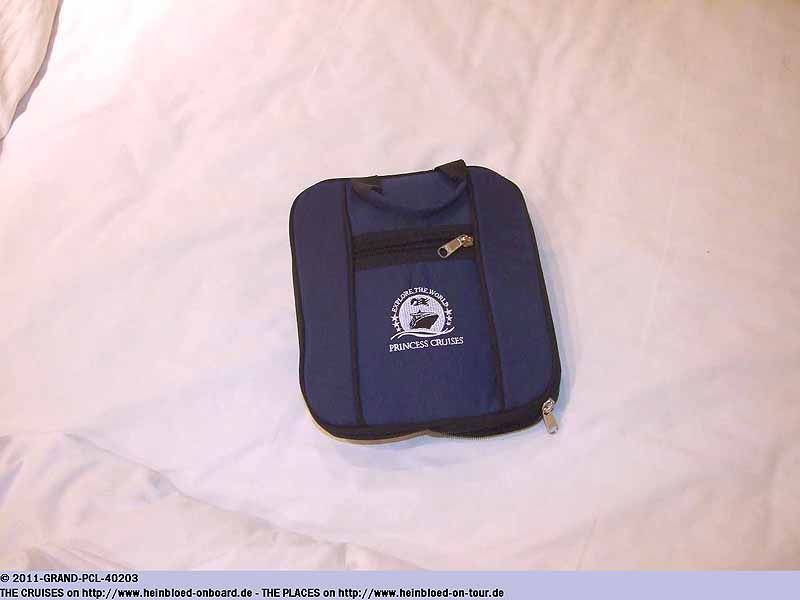 We were lucky to buy this bag. And here again: the coupons were not worth for anything because there were too many restrictions and exclusions.

Nice and flat.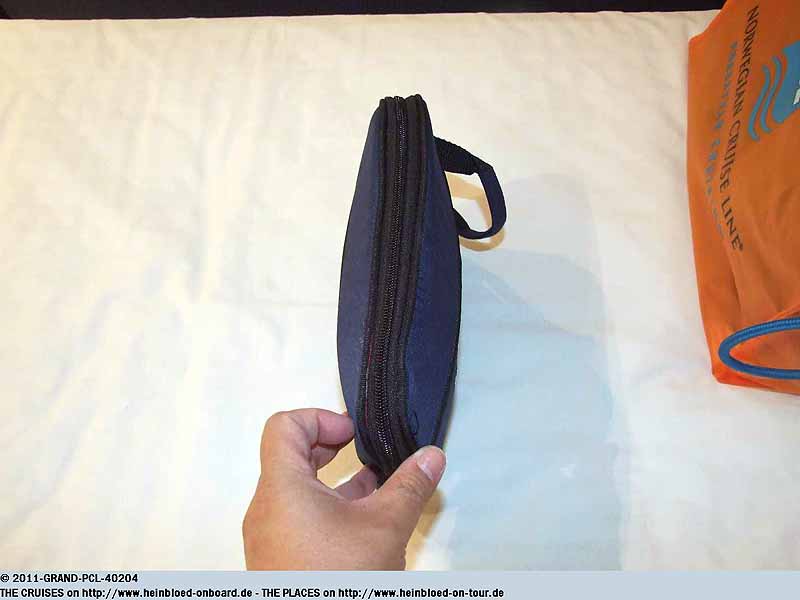 Schön flach.
Und daraus wird noch eine Reisetasche.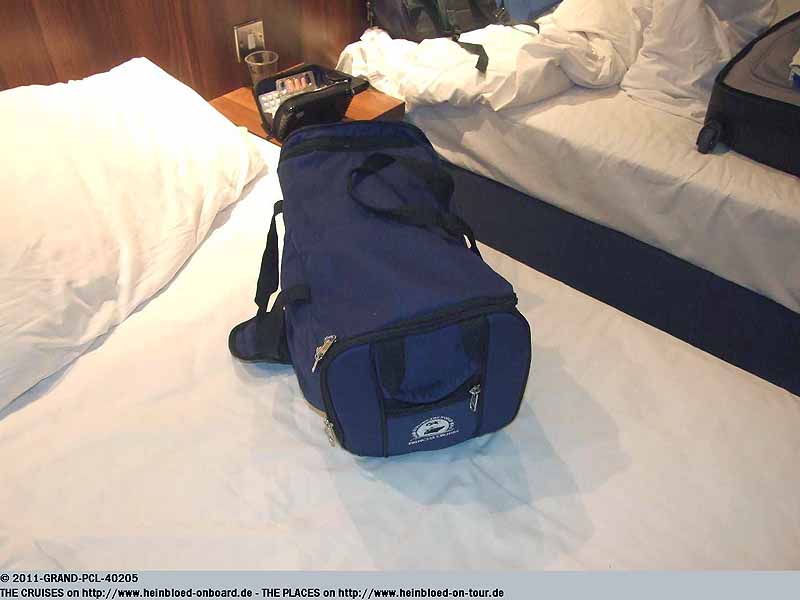 And so we had a travel bag.

Just us need to be the first of three ships entering in Portsmouth towards Southampton. Could not our Captain be excellent to come as the last one? Then I could have better pictures of QUEEN MARY 2.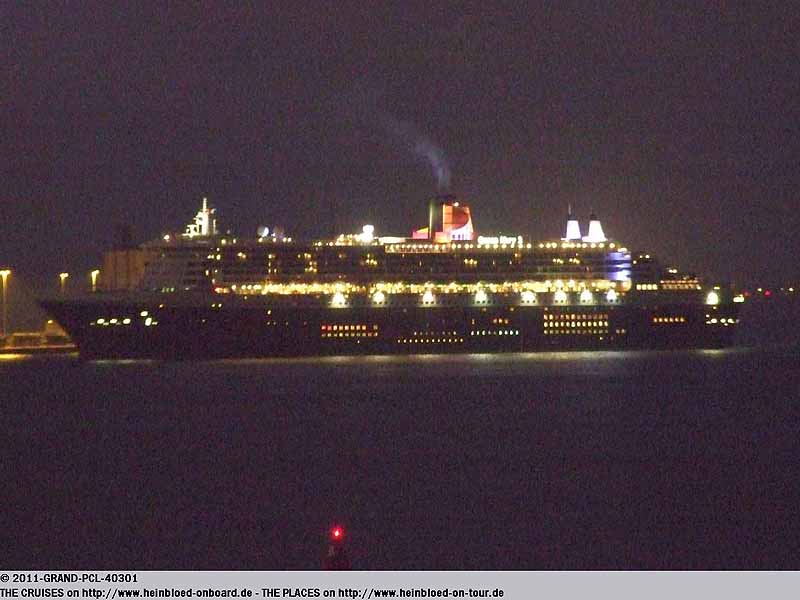 Ausgerechnet wir mussten als erstes von drei Schiffen in Portsmouth rein Richtung Southampton. Hätte unser Kapitän nicht so nett sein können, als letzter reinzufahren, dann hätte ich bessere Bilder von der QUEEN MARY 2 machen können.
In Amsterdam sind wir mit Aad und Nicoline verabredet, die die Seite
https://www.cruisefans.nl
betreiben. Später erfahren wir aus Facebook, dass sie auf Deck 7 die vergleichbaren Bilder machen, während ich auf Deck 12 bin.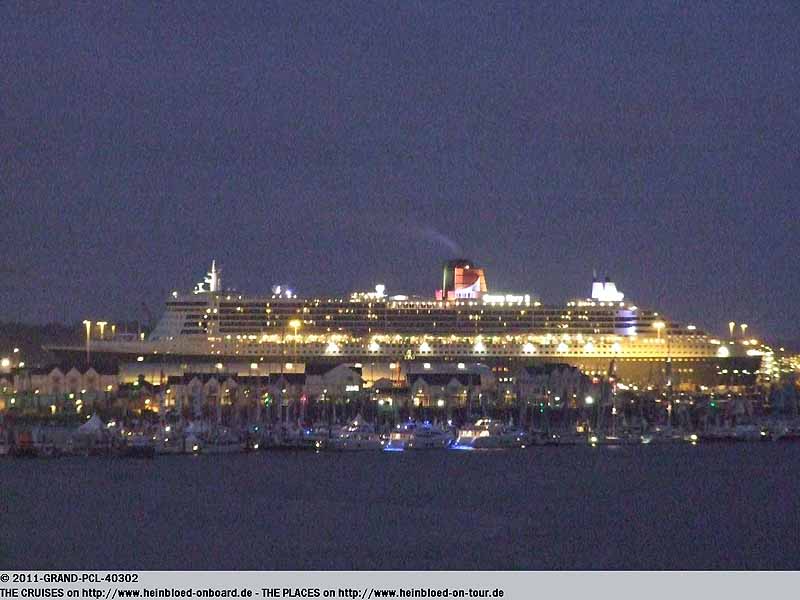 In Amsterdam we had an appointment with Aad and Nicoline who run the website https://www.cruisefans.nl. Later we learned from Facebook that they were on Deck 7 to make the similiar pictures while I was on Deck 12

We knew millis glashaus from a German cruiser's board, and they arrived that day in Southampton to get on QUEEN MARY 2 for their voyage to New York and New-England and back.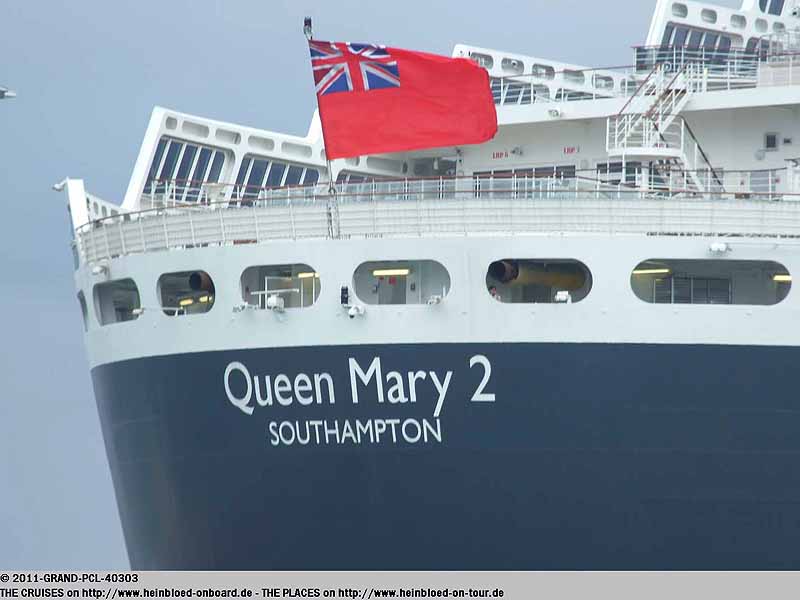 millis glashaus aus dem
https://www.kreuzfahrten-treff.de
-Forum (Camilla und Thomas) reisen heute nach Southampton an, um auf die QUEEN MARY 2 zu gehen. Ihre Reise nach Neu-England und zurück kann auf ihrem
Blog
verfolgen.
Deswegen verabreden wir uns locker am Pier 46. Leider verfahren wir uns bei dem Kreisverkehr... und kommen stattdessen am Pier 45 an, wo wir an dieser Stelle wenden müssen. Nur ausgerechnet hier komme ich mal wieder nicht mit dem englischen Getriebe klar und ich würge den Motor ab. Deswegen muss ich an dieser Stelle aussteigen und nachgucken, was am Motor nicht in Ordnung ist. Irgendwie habe ich aber vergessen die Kamera im Auto zu lassen...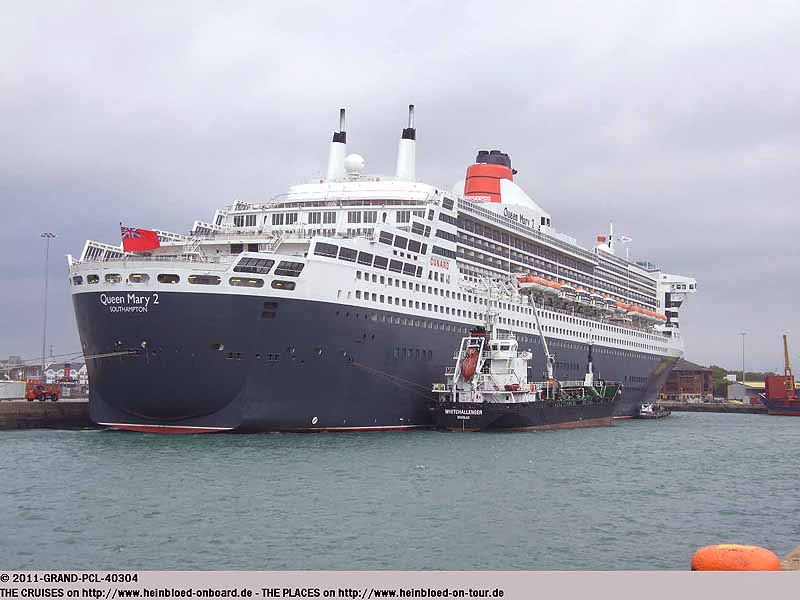 That was why we had an informal possible meeting at pier 46. But we took the wrong exit at the rotary/roundabout... so we arrived by mistake at pier 45 so that we had to turn around. But exactly where I had problems to control an English car engine, and it stopped. So I had to leave the car and check what was wrong with the engine. And I forgot to leave the camera in the car...

But as you can see around Ocean Terminal 46, it was somehow stupid to take pictures.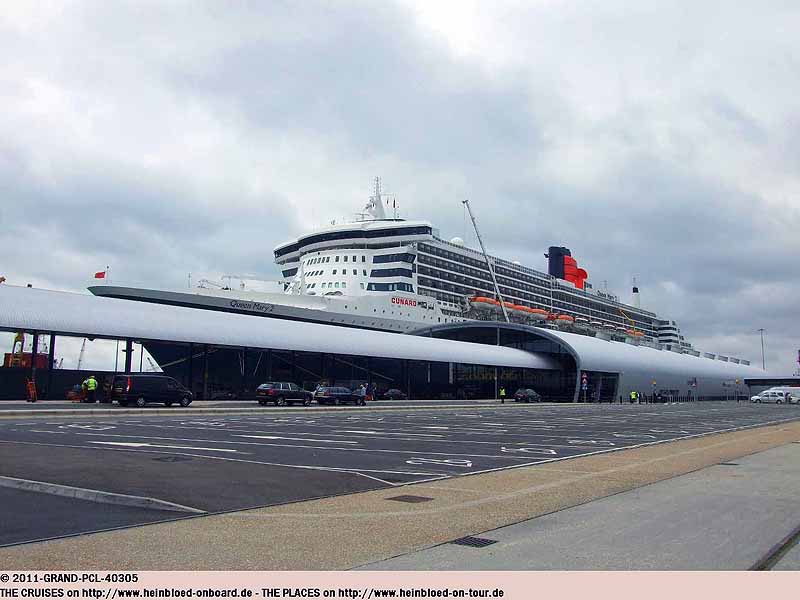 Denn am Ocean Terminal 46 ist es etwas blöd zum Fotografieren.
Wir machen es trotzdem.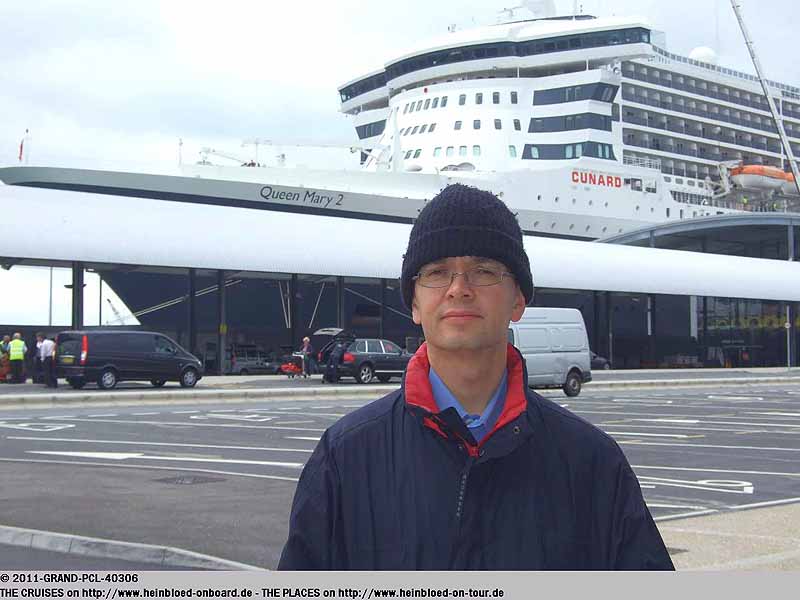 However we did it.

Sometimes we will come back but not now.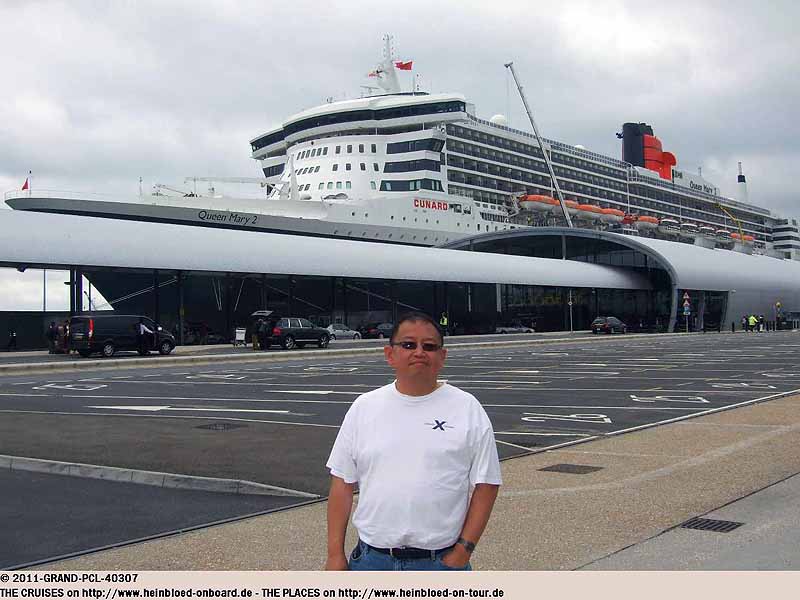 Irgendwann kommen wir bestimmt wieder. Aber nicht jetzt.
Während wir auf millis glashaus warten, entdecken wir ein weiteres Loch zum Fotografieren.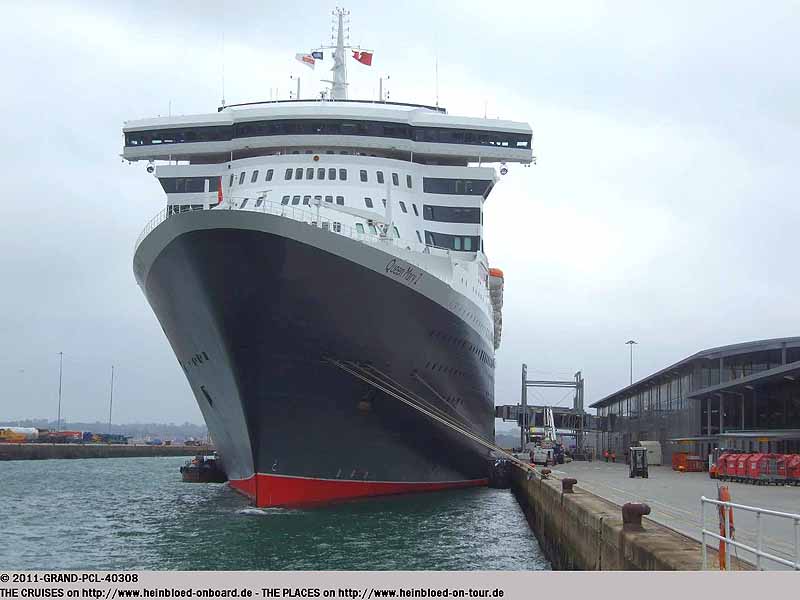 While we were waiting for millis glashaus we discovered another gap to take pictures from.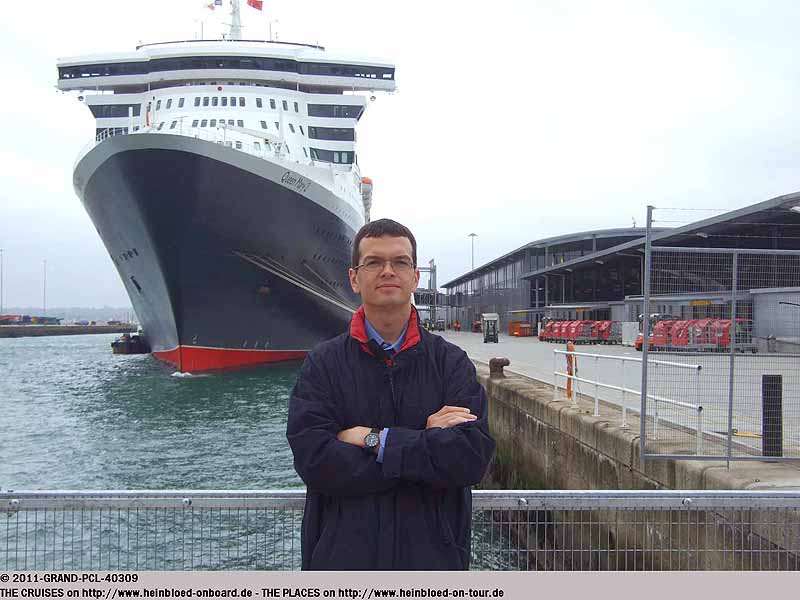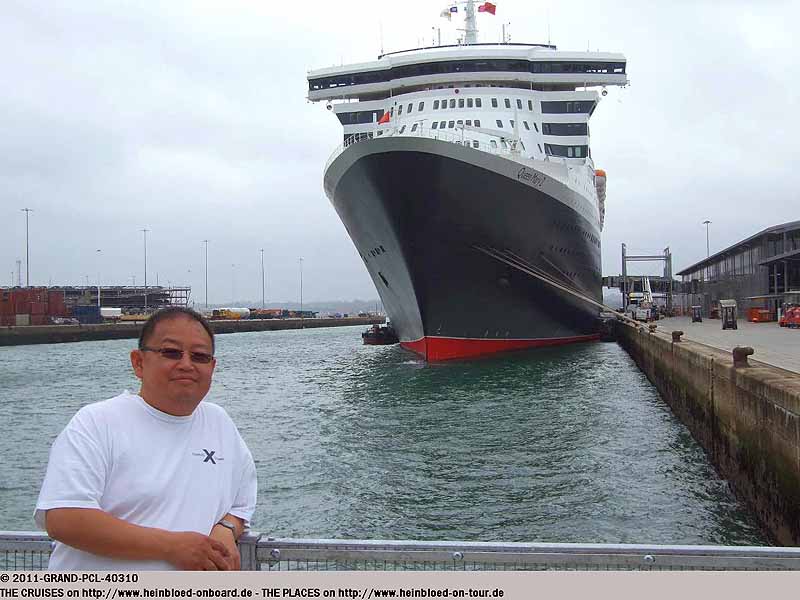 Die anderen Reisen in diesem Blog/
The other voyages in this blog: