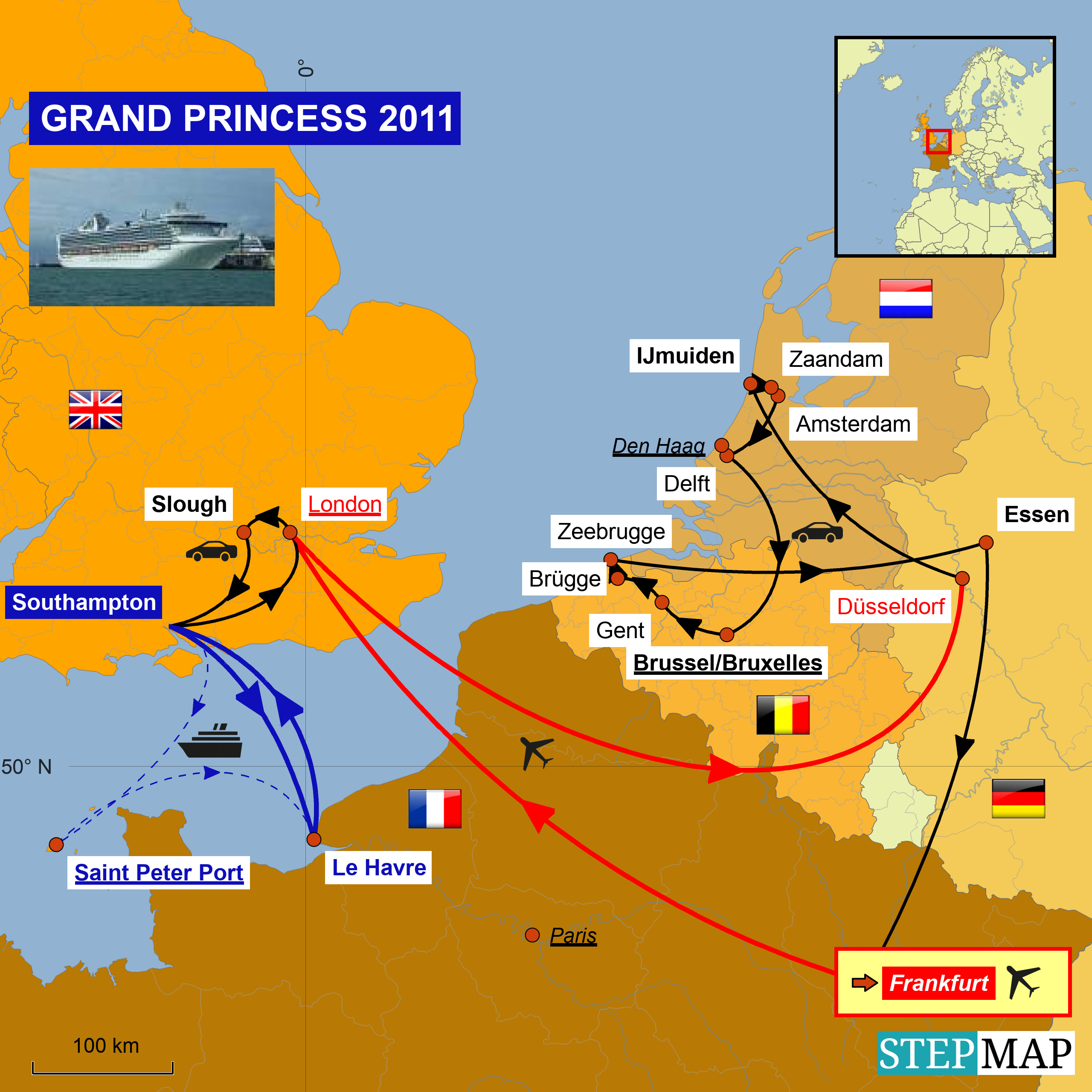 Zum Abendessen geht es ins DaVinci-Restaurant, das für die Gäste mit flexibler Tischzeit vorbehalten ist. Gleiches gilt für das Michelangelo-Restaurant, das ein Deck tiefer liegt und das gleiche Angebot hat. Das Botticelli-Restaurant dagegen ist den Gästen mit fester Tischzeit vorbehalten. Wir sollten als Suitengäste das Privileg haben, dass wir reservieren dürfen. Aber mann will uns nur 18:00 Uhr oder ggfls. noch 20:45 Uhr (= Zeit für die 2. Tischzeit) zugestehen. Sonst gilt die Reihenfolge des Erscheinens. Hierfür bekommt man einen Pager, falls nicht sofort ein Tisch zur Verfügung steht.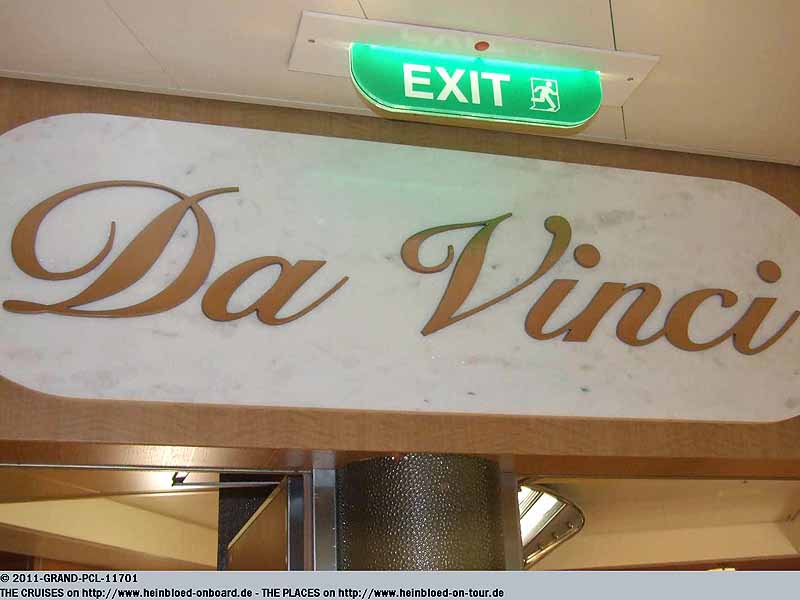 We went to DaVinci-Restaurant for dinner which was reserved for guests with flexible dining. Same with Michelangelo-restaurant which is just one deck lower and had the same offer. The Botticelli-Restaurant was reserved for guests with fixed dining. We should have the privilege to as Suite-guests to reserve. But they only wanted to limit it for 18:00 hrs or maybe for 20:45 hrs (= same time like 2nd sitting). All other times need to show up in the order of the appearance. Here you can get a pager if there is no table immediately available.

We got a table for 2 who can also sell at a table for 4 if there is a request. About 3 inches were separating us from the next table. When they came, we thought that we should greet, but they ignored it. So we really love more true tables for 2 just for us but squeezed somewhere in between. Hurray to NCL who know how to place tables for 2.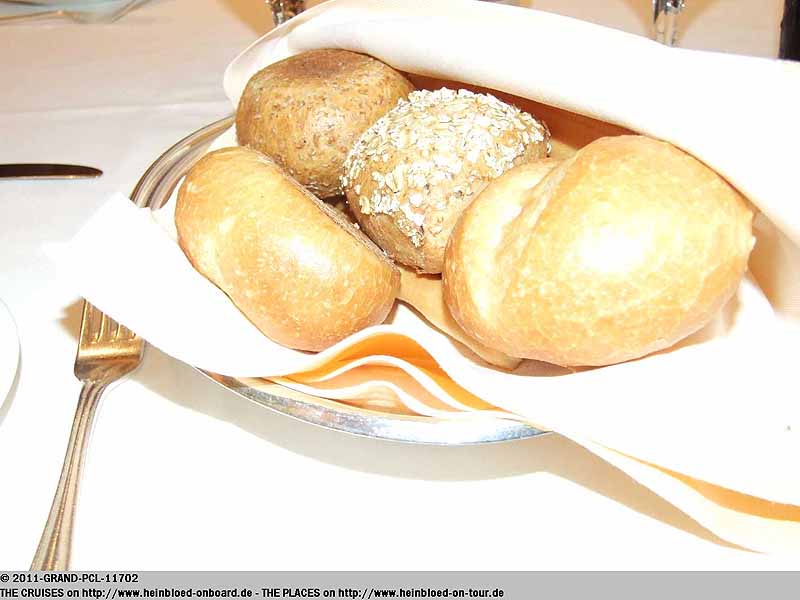 Wir bekommen einen 2-er Tisch, der wohl auch als 4-er Tisch verkauft werden kann, wenn Nachfrage besteht. 8 cm trennen uns vom Nachbartisch. Als sie kommen, grüßen wir, aber der Gruß wird nicht erwidert. Dann doch lieber echte 2-er-Tische für uns alleine, als doch irgendwie dazugepfercht werden. Hoch lebe NCL, die wissen, wie man 2-er Tische anordnet.
Die Lachs-Meeresfrüchte-Paté war nicht so meins. Um es vorwegzugreifen: vielleicht weil die Kreuzfahrt ab Southampton mit britischer Mehrheit geht, etwas schwächer als normal gewürzt. Das galt für alle Speisen bislang.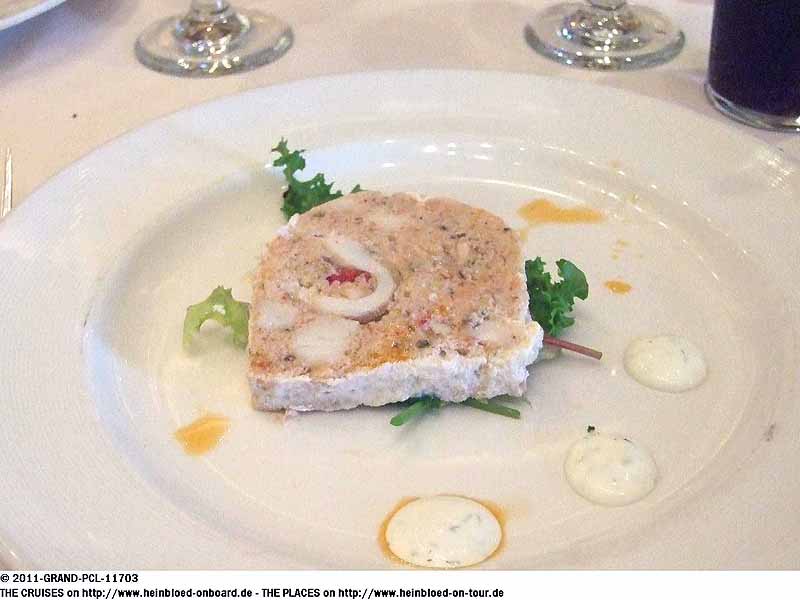 The Salmon-Seafood-Paté was not really mine. To say it before all other things: maybe it was because the cruise originated in Southampton with a British majority on board: I had the impression all dishes were seasoned much weaker.

The chilled soup was served in a glass. As the pieces of pineapple occurred congestion in the straw, I would really prefer a cup.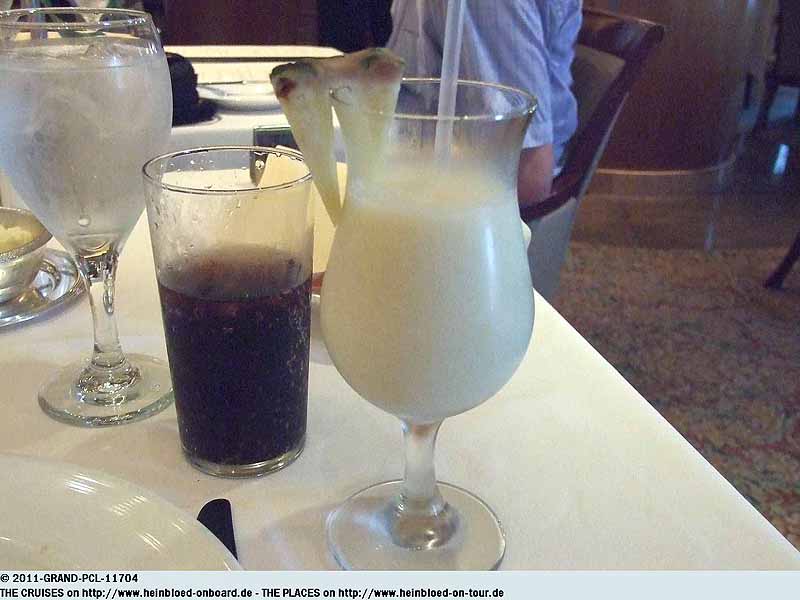 Die Kaltschale wurde im Glas serviert. Nur durch die Ananasstücke war der Strohhalm immer die ganze Zeit verstopft. Eine Tasse wäre mir lieber gewesen.
Der Salat. Es werden mehr Dressings angeboten, als nur die zwei, die auf der Karte stehen.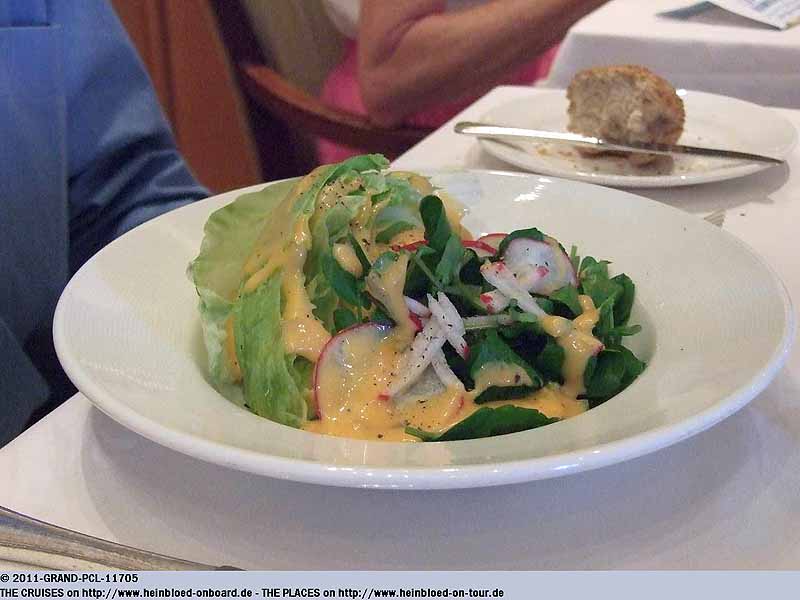 The salad. It was offered much more dressing but the two which were mentioned on the menu.


I took the salad with House-Dressing: Tonight: honey-mustard.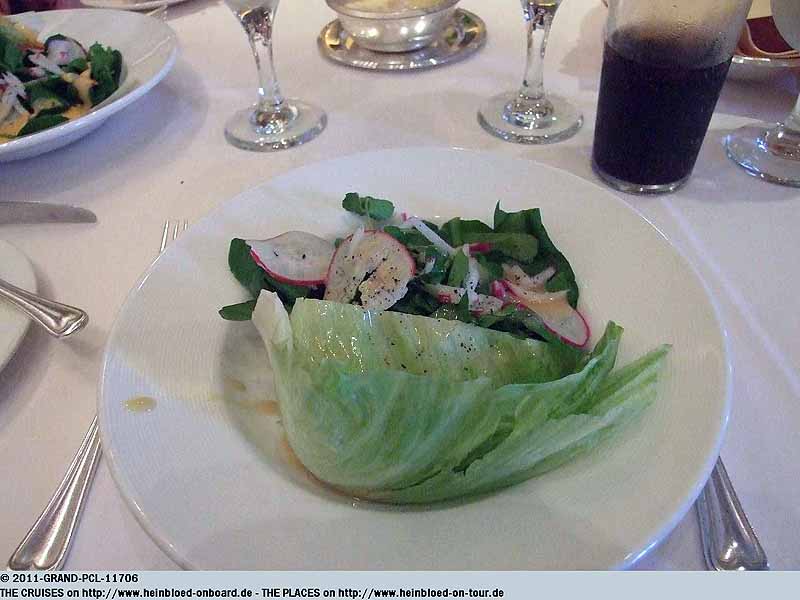 Ich nehme den Salat mit House-Dressing. Heute: Honig-Senf.
"Meine Frau hatte wie immer den Fisch und der war wie immer gut" - Immer noch bekannt von der MSC MUSICA damals... und auch heute wieder...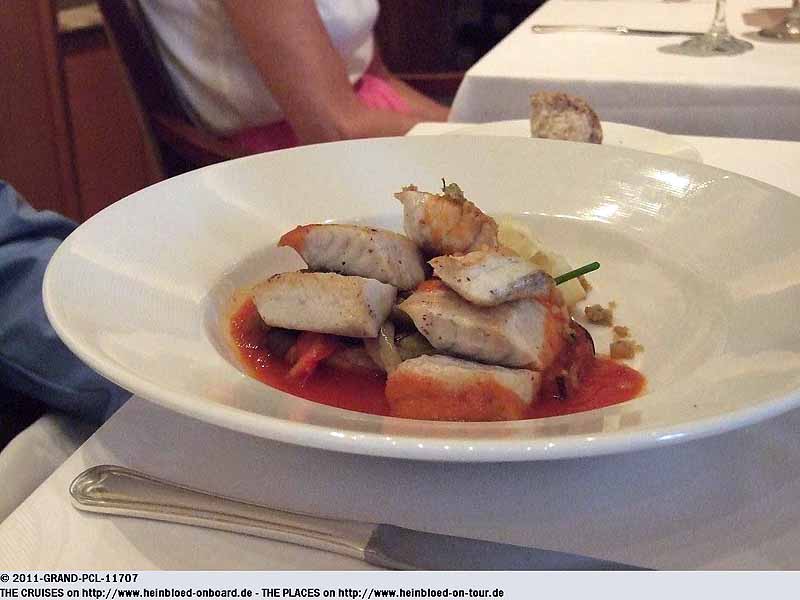 "My wife had as usually the fish, and it was good as usual" - still well known and actual from a German review we read from MSC MUSICA... and today again.


In remembrance of Hawai'i I took the Luau-Pork... but it was not boiled to tenderness that it felt to pieces. It was tasty but not like a Luau-Pork from Big Island or Oahu... Problem: There are opinions that Kalua Pork (what we always had on Hawai'i) is the same and others said no.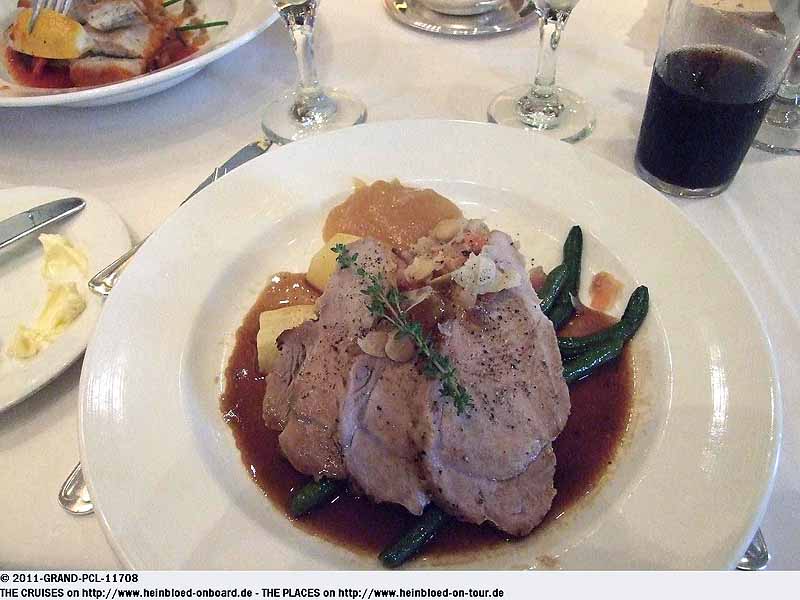 In Erinnerung an das Luau-Schwein auf Hawaii nehme ich es... aber sie haben es vergessen so weich zu kochen, dass es auseinder fällt. Es schmeckt, aber eben nicht wie ein Luau-Schwein von Big Island oder Oahu... Problem: es gibt Meinungen, dass Kalua Schwein (was wir auf Hawai'i hatten) das gleiche sei und andere meinen nein.
Unsere Betten haben wir nicht auseinderstellen lassen, aber um zwei Decken gebeten.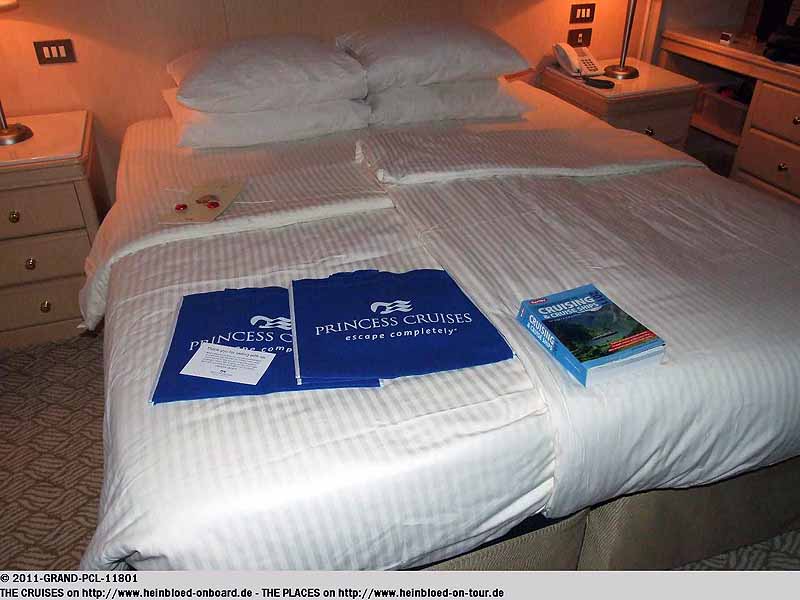 We did not ask for seperation of the beds but we asked for two single blankets.

I just gave my Douglas-Ward-guide for signing by the Captain two hours ahead to the front desk, and it was already back.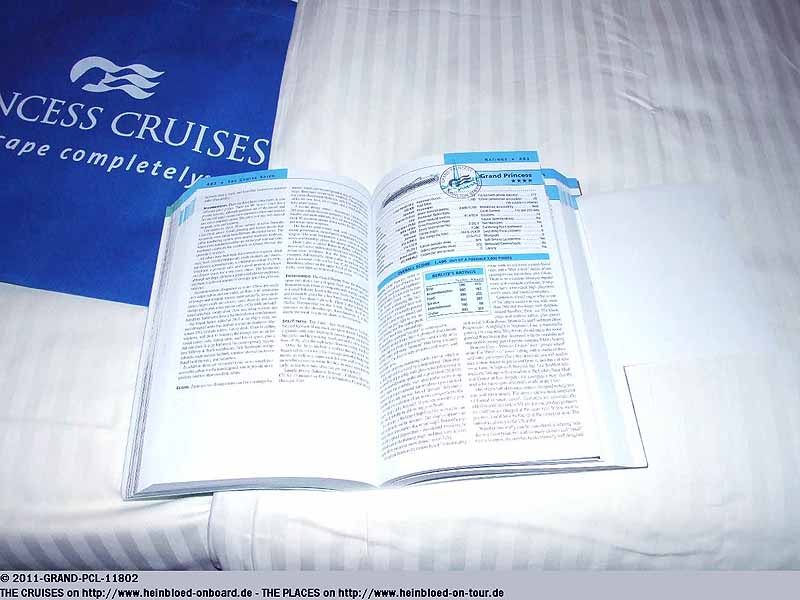 Mein Douglas-Ward-Führer zum Unterschreiben habe ich erst vor zwei Stunden bei der Rezeption abgegeben und schon ist es zurück.
Ist das nicht herzlich???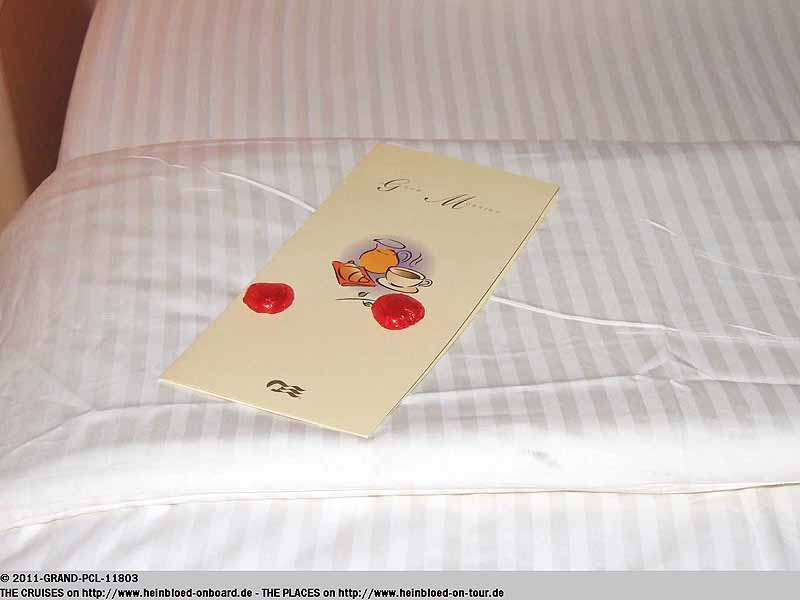 Is not that hearty???


We were attracted to the extended breakfast-offer for Suite-guests, but we wanted to see what we can expect in the Sabatini as Suite-guests.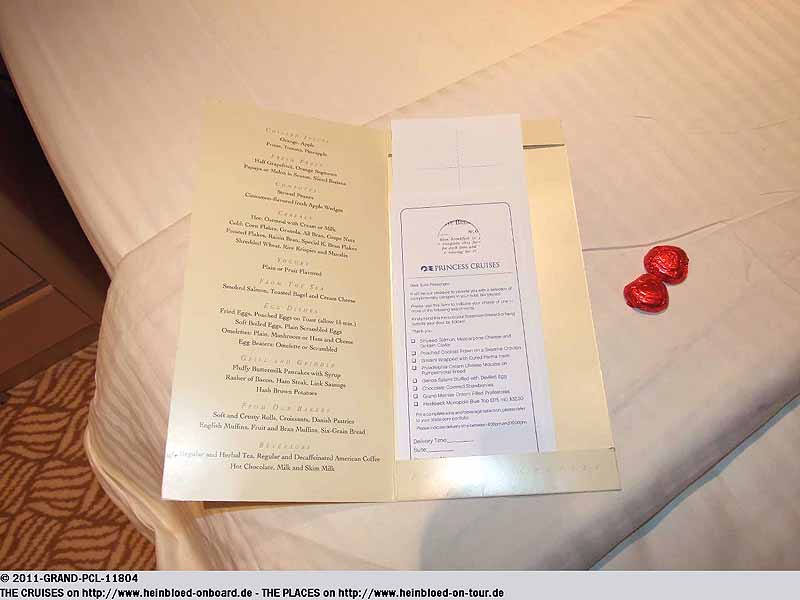 Wir werden auf das erweiterte Suiten-Frühstücksangebot aufmerksam gemacht, aber wir wollen lieber im Sabatinis zunächst frühstücken gehen und sehen, was uns dort als Suiten-Gäste erwartet.
In der Nacht bekommen wir aber doch wieder unerwartet Probleme mit der Klimaanlage. Sie bläst leider so stark, dass die Raumtemperatur auf 22°C runtergekühlt wird, obwohl 27°C eingestellt ist. Wir vermuten mal, dass die Leistung der Klimaanlage hier in diesem Bereich noch an die des Casinos angepasst ist. Und dort muss sie stark sein, wegen der Raucher.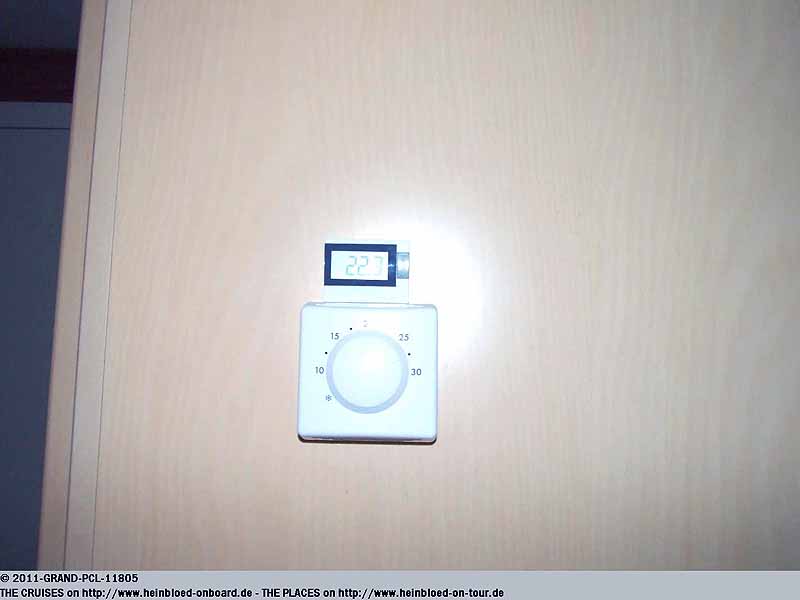 In the night we got unexpectedly problems with the air-condition. The air flow was so strong that the temperature in the cabin was 22° although it was set at 27°. We guess that it might be because of the location of the stateroom and the air condition might be still connected to the Casino which needed to work there very strong because of the smokers.

At 20.30 hrs we went to the Vista-Lounge to see a production show. In the Princess Theater, you had an appearance by a Comedians. As we do not like so many British Comedians, we went directly to the Vista-Lounge.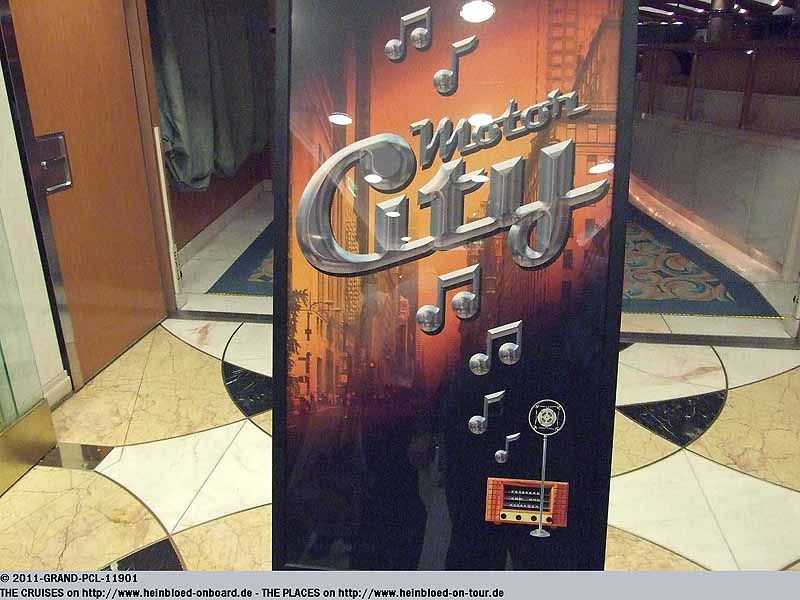 Um 20.30 Uhr geht es in die Vista Lounge zur Produktionsshow. Im Princess Theater findet parallel eine Vorstellung eines Comedians statt. Aber da wir es nicht so mit British Comedians haben, gehen wir direkt zur Vista Lounge.
Es gibt nette Barstewards die bringen einem eine Barkarte und man kann sich auch etwas aussuchen... und andere, die haben keine Lust eine Barkarte zu bringen und die bekommen als alkoholfreien Cocktail immer den Fruchtpunsch aufgeschwatzt. Und wie man sieht: wir hatten einen Barsteward, der nett war und uns die Barkarte brachte.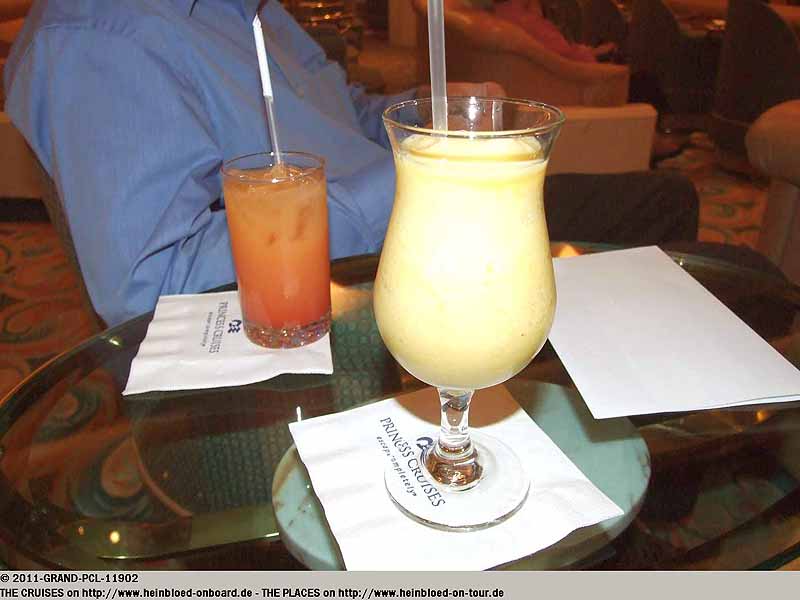 There were very lovely bar stewards who bring the bar menu, and you can choose yourself... and others who did like to bring you a bar menu and when you asked for a non-alcohol cocktail you ended up with a fruit punch. And as you can see we had a friendly bartender who got us a bar menu.

A lot of space so nobody must stand up to let someone pass.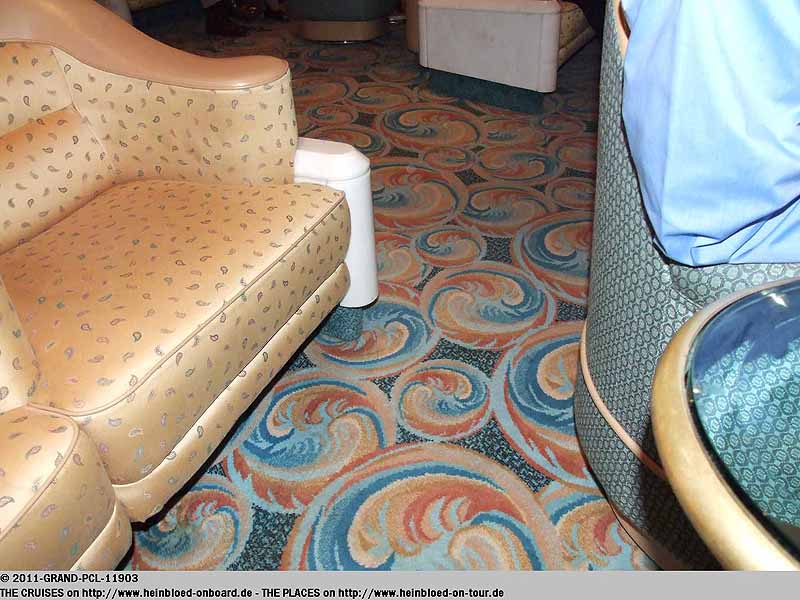 Sehr schön viel Platz, so dass niemand aufstehen muss, um jemanden durchzulassen.
Erinnert mehr an die Showlounge auf der OCEAN PRINCESS. Ob das was gibt???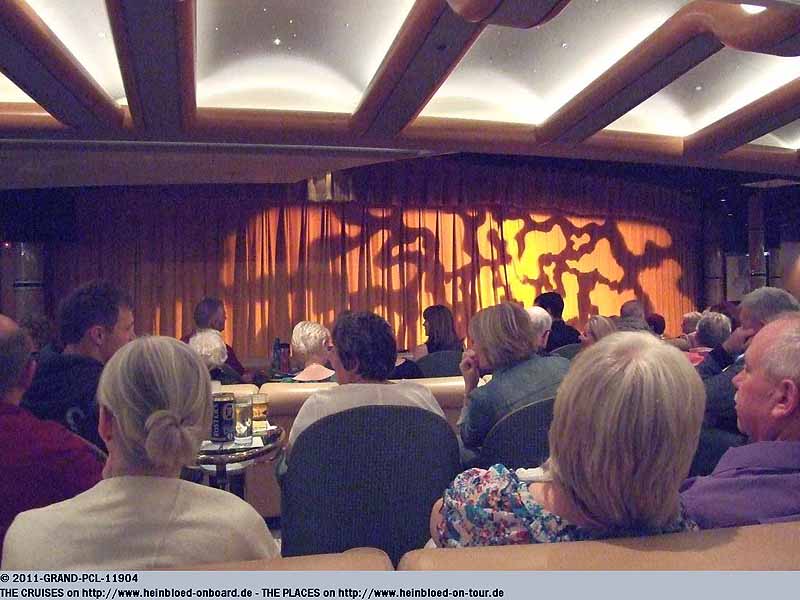 Reminded more to the show lounge on OCEAN PRINCESS. Curious to know if they can provide something successfully.


Motor City stands of course for Detroit.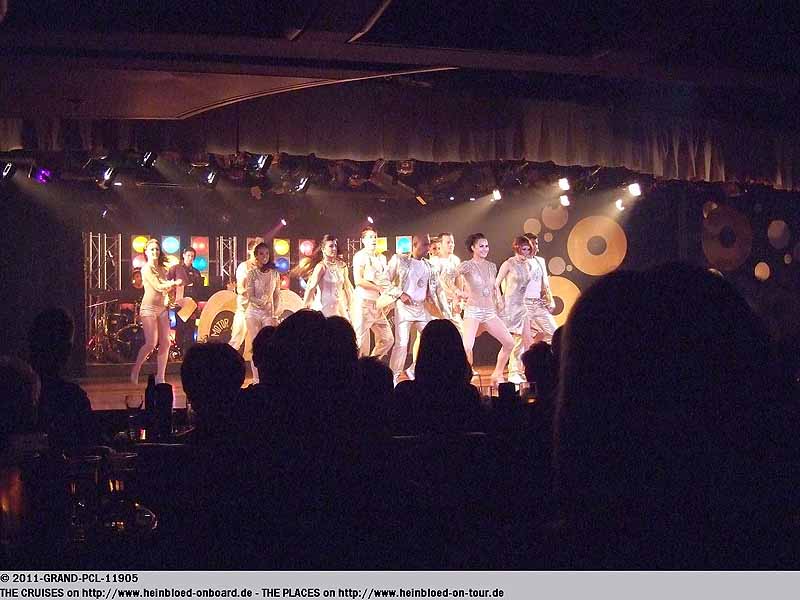 Motor City steht natürlich für Detroit.
Detroit steht für die Hits von Motown.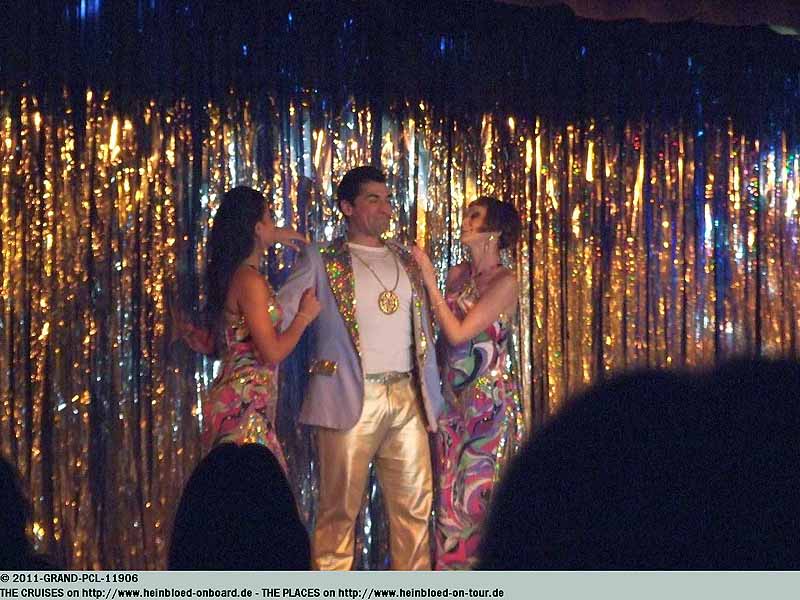 Detroit stands for the hits of Motown.

Charlotte from Sweden (and I thought that I won the pot for the farthest voyage to the cruise... With Fred Olsen, I always win the cup...) was taken from the 1st row on the stage.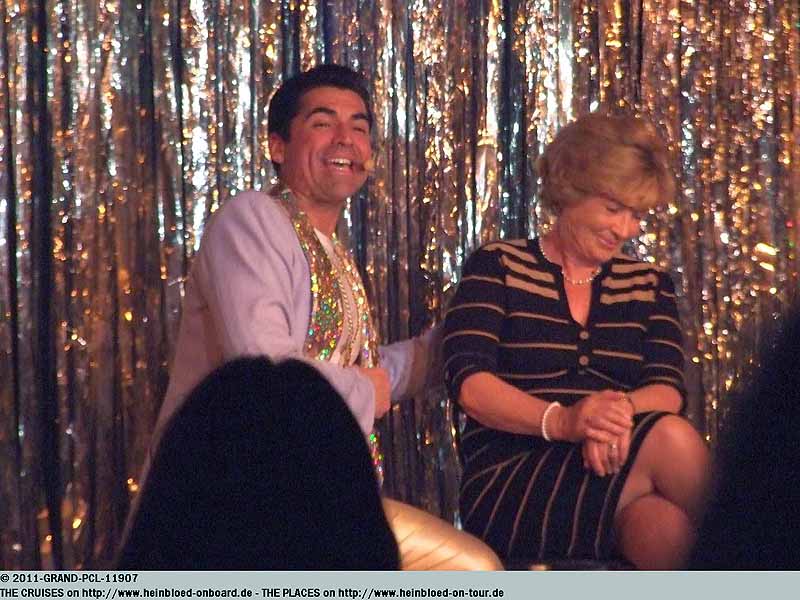 Charlotte aus Schweden (und ich dachte immer, dass wir die weiteste Anreise für die Cruise hatten... Bei Fred Olsen gewinne ich diesen Pott jedes Mal...) wird auf die Bühne aus der 1. Reihe geholt...
Und wird vom Sänger auf der Bühne umworben... Ich weiss noch wie ich mich auf der QUEEN ELIZABETH 2 fühlte, als mir auf einmal die Sängerin auf dem Schoss saß und man im Rampenlicht stand... Seitdem sitze ich nie wieder 1. Reihe.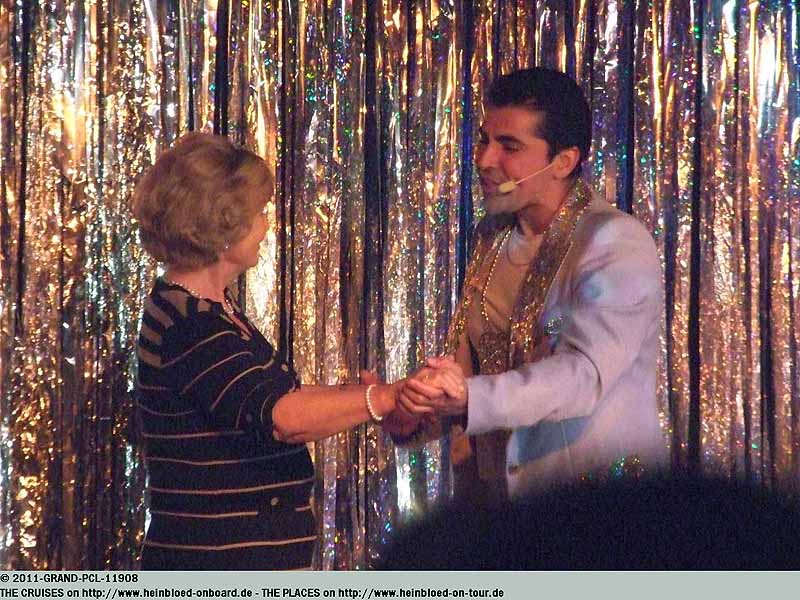 She was wooed by the singer on the stage... I remember very well when I was on QUEEN ELIZABETH 2 how I felt when the female vocalist sat on my lap and the spotlight is on you... Since then I never have sit 1st row again.

Two fantastic male vocalists.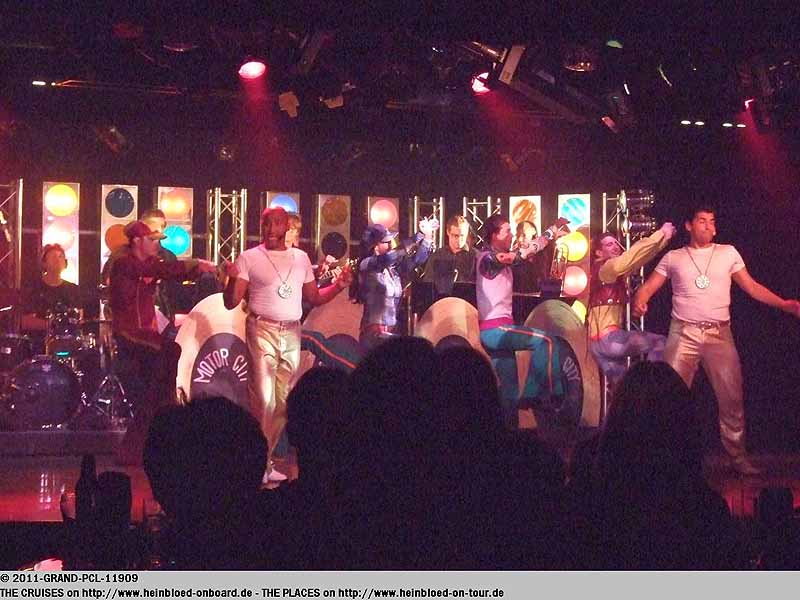 2 fantasische Sänger,
2 fantastische Sängerinnen - leider eine davon kam nicht so gut rüber, weil die Technik nicht mitspielte und erst so nach einem Drittel der Vorstellung bemerkt wurde, dass das Mikrofon nicht richtig ging.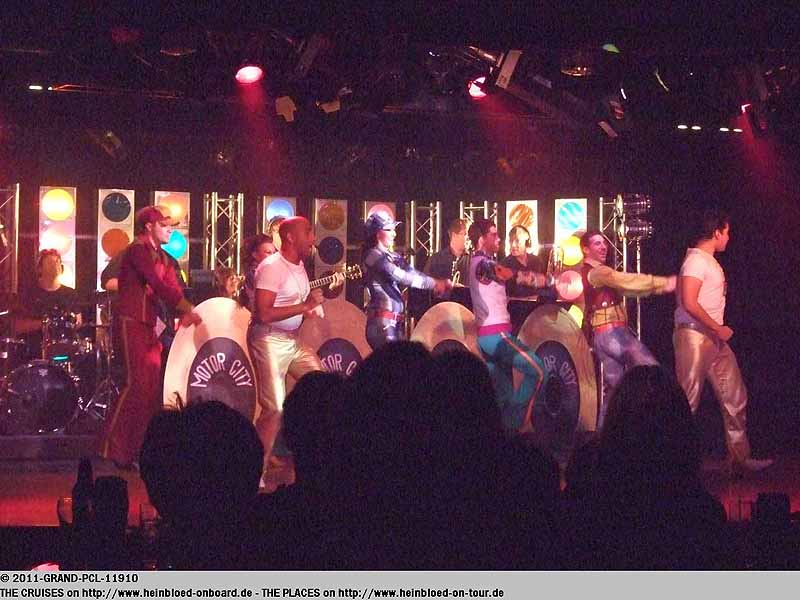 Two fantastic female vocalists - unfortunately one did not come through very well due to technical reason, and it was noted after about 1/3 of the show that her mike did not work correctly.

All all the hits from The Supremes.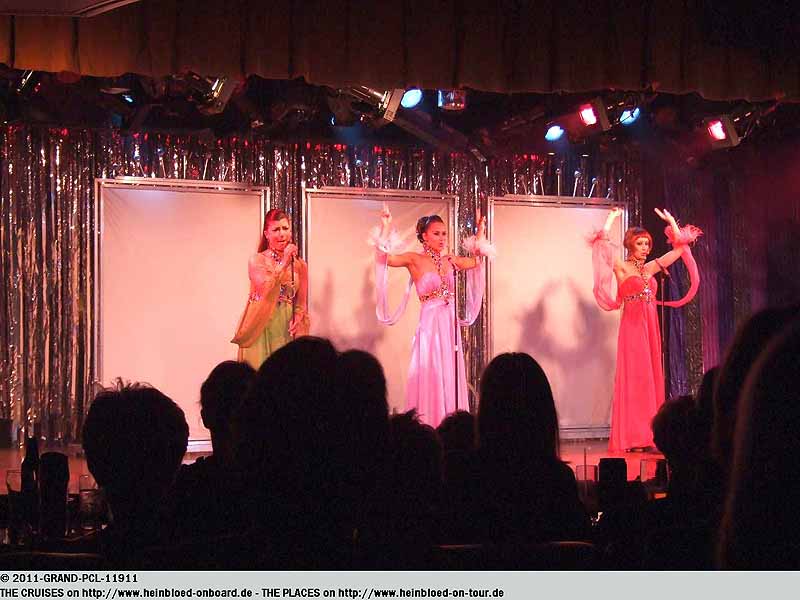 Und natürlich fast alle Hits von den Surpremes.
Nur You can't hurry Love wurde von einem Mann gesungen, so wie von Phil Collins auch.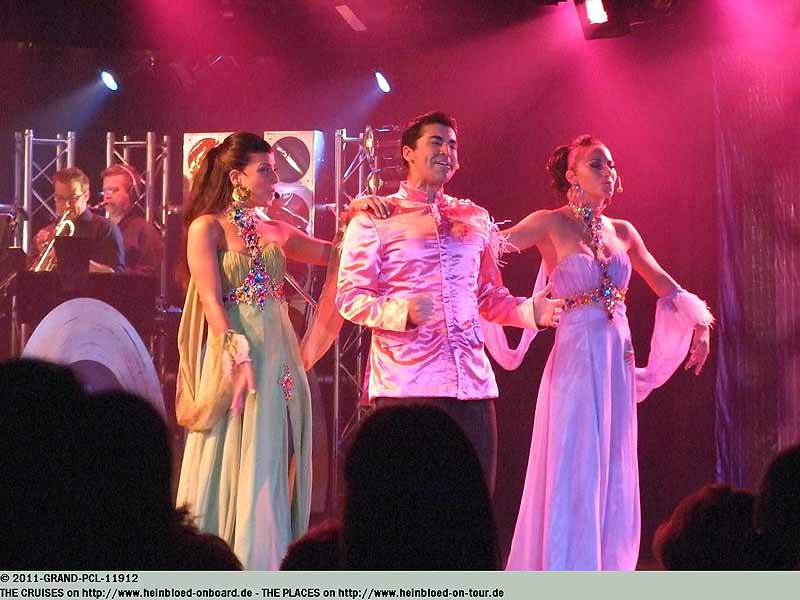 But only You Can't Hurry Love was sung by a man as Phil Collins did.

With Endless Love, they had some ballet dancers on the stage, but you could see due to the ceiling: he could not lift her as high as he might want to lift.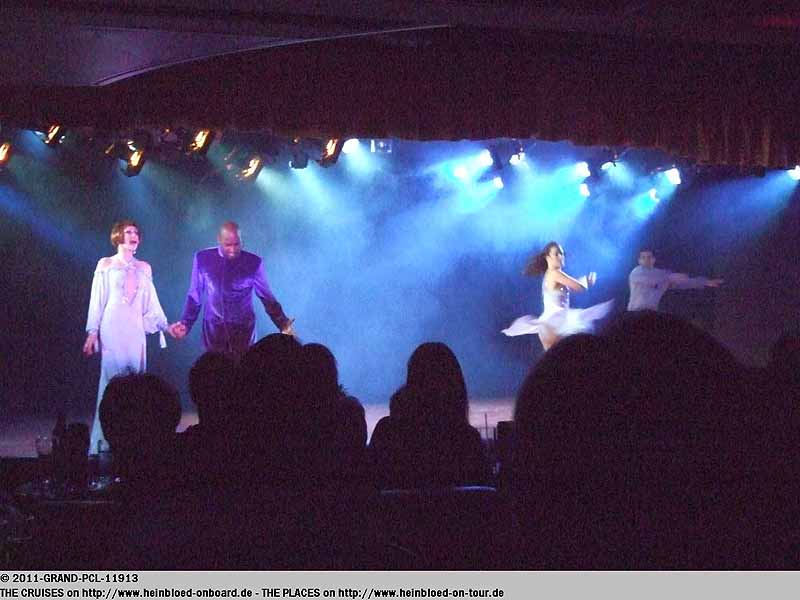 Bei Endless Love tanzte noch ein Pärchen auf der Bühne, aber bei den Hebefiguren sah man, dass sie nicht so hoch hinauskonnten, wie sie wollten.
Mit sechs Tänzerinnen und vier Tänzern standen bis zu 14 Personen auf der Bühne.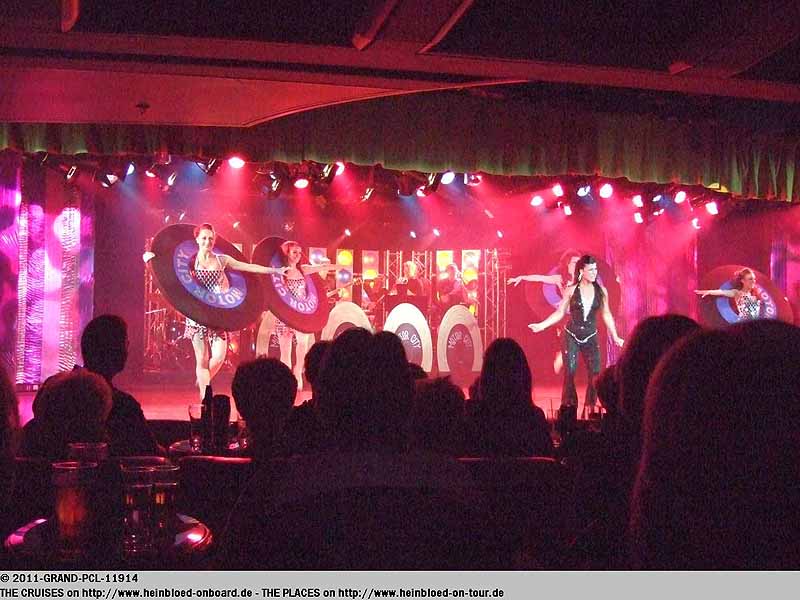 There were upto 14 persons on the stage including six female dancers and four male dancers.


Plus Live-Orchestra. A woman as band-leader. I think we had on OCEAN PRINCESS a woman as well. Maybe she was it. I need to double check once I am at home.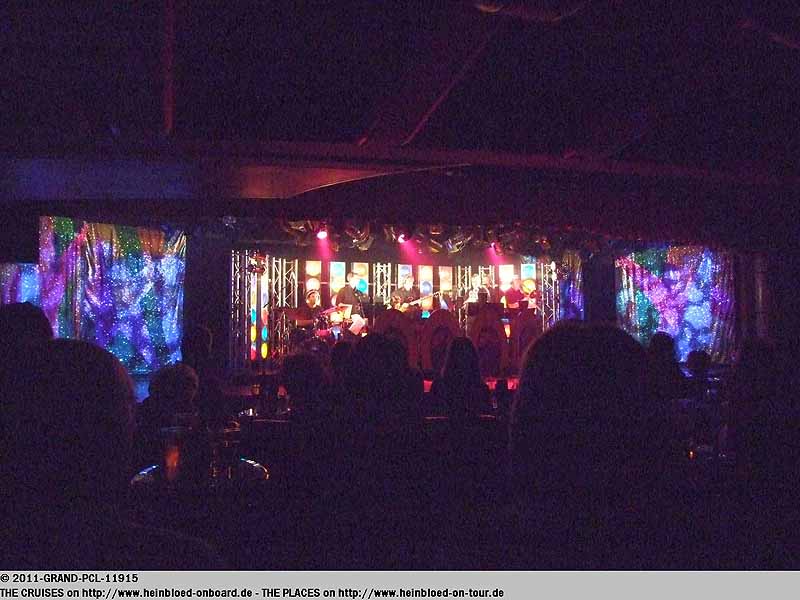 Plus Live-Orchester. Eine Frau war die Leiterin. Ich meine, dass damals auf der OCEAN PRINCESS es auch eine Frau war. Könnte sie es gewesen sein. Muss ich mal zu Hause nachgucken.
Die Show zählte zu den Top 3 oder 5 aller Shows, die ich von den Schiffen her kenne.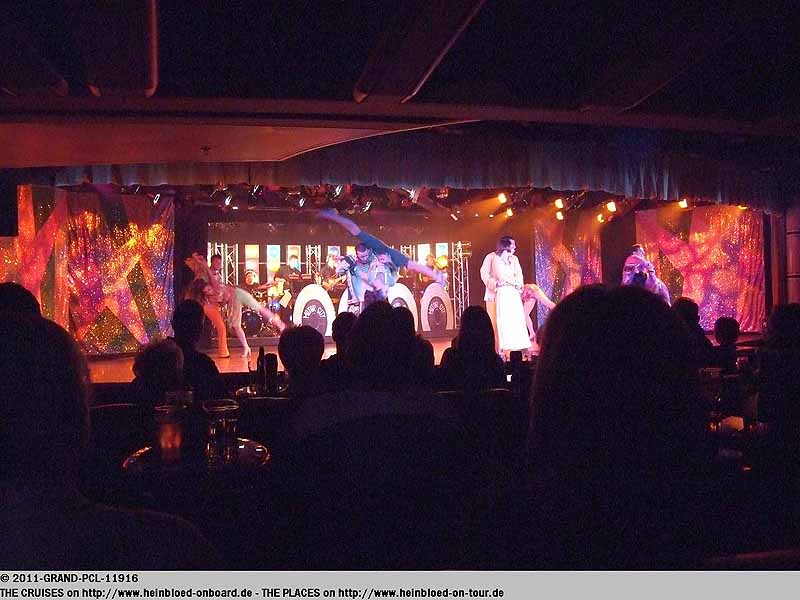 This show belongs to my list of my Top 3 or 5 shows which I knew from any ship.

Unfortunately, I was unable to enjoy it very much. Even in row 6, it was so loud that I thought that Holland America sponsored the show. They had the best infrastructure for hair impaired. Even they spent their most effort: none from the audience was participating.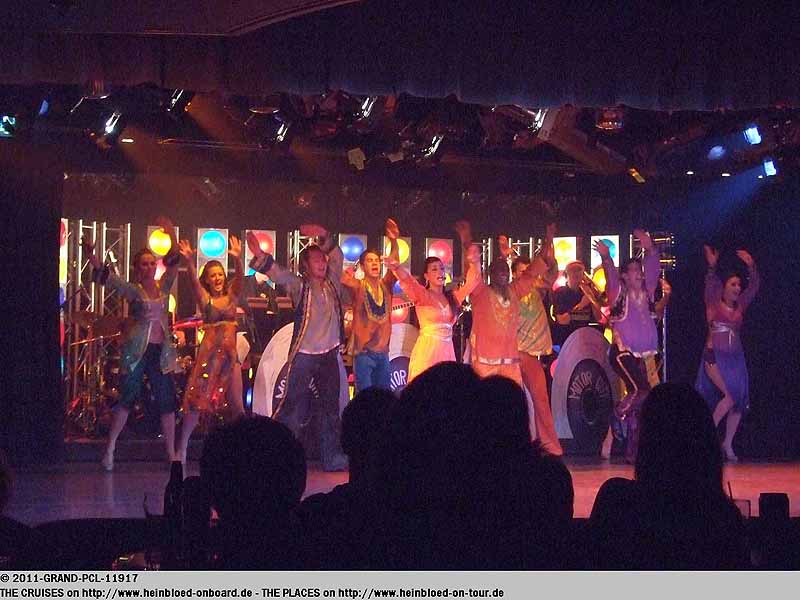 Leider konnte ich es bloß nicht richtig genießen. Selbst in Reihe 6 war es so laut, dass ich dachte, dass die Show von Holland America gesponsort worden wäre. Nur die haben ja eigentlich die Infrastruktur für Hörgeschädigte. Trotz toller Bemühungen. Es machte leider kaum einer im Publikum mit.
Auch habe ich selten so toll Supersticious von Stevie Wonder interpretiert gesehen, mit den selbstleuchtenden Figuren.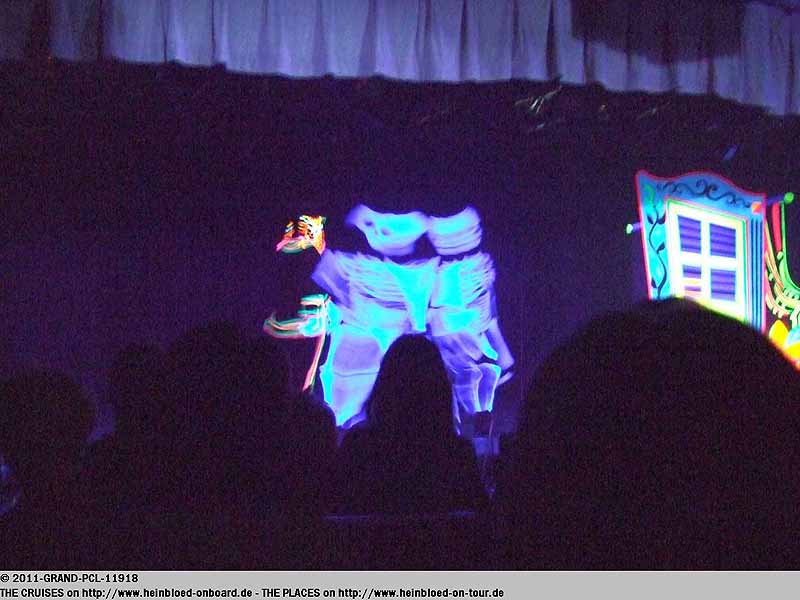 Never I saw a better interpretation of Stevie Wonder's Supersticious like this with self-luminous bodies.

As said: one of the very best shows on sea...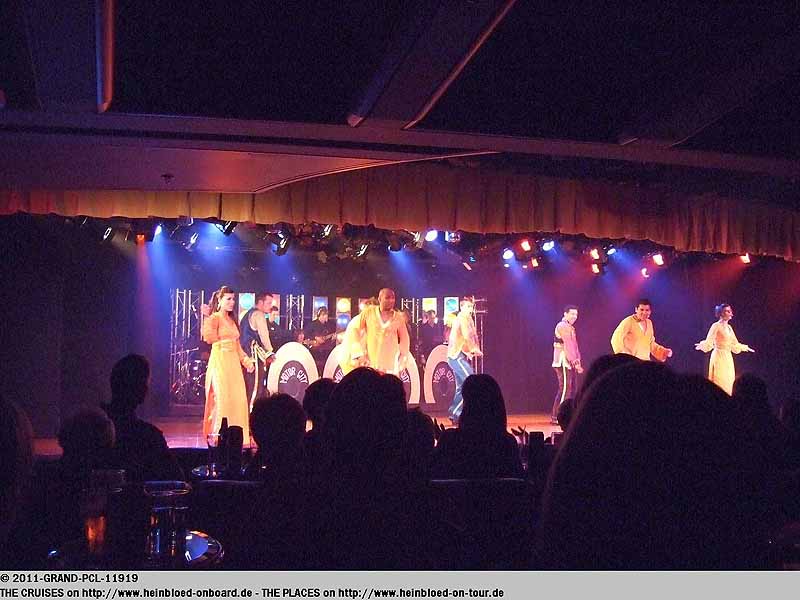 Wie gesagt: einer besten Shows auf See,
wenn sie nicht so laut gewesen wäre und das Mikrofon der besten Sängerin keine Störung gehabt hätte.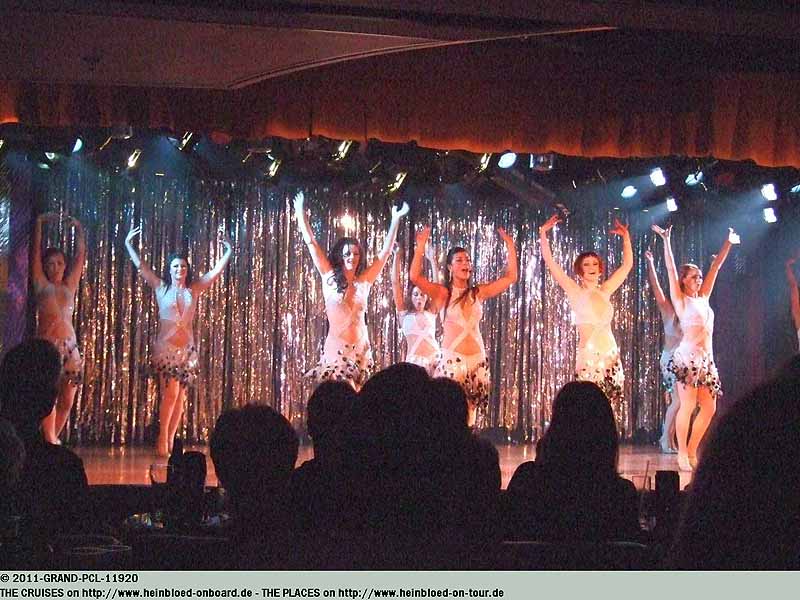 ... if it was not so loud and the microphone of one of the best female singers would have worked properly.


I asked myself: why must the people with the weakest blister need to sit in the center of the 1st row to stand up every few minutes to have the longest way to the restrooms???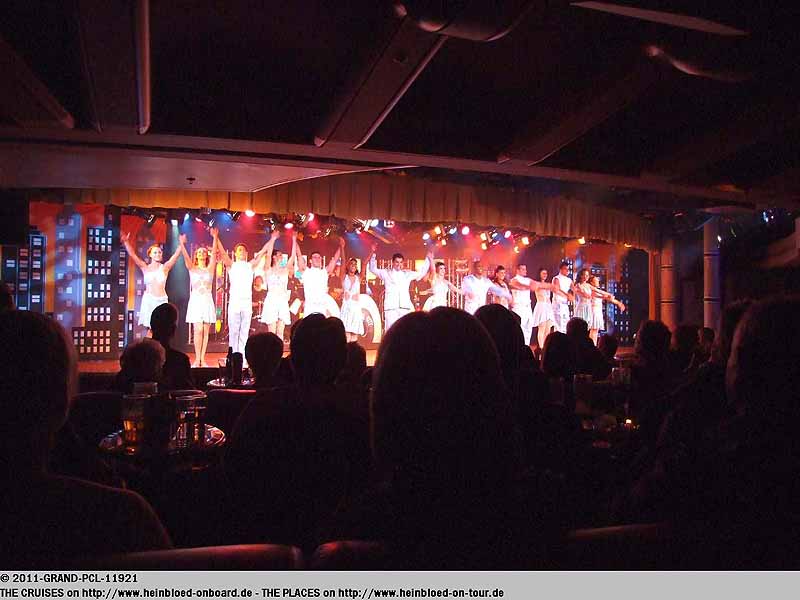 Eins frage mich jedoch: warum müssen eigentlich die Leute mit der schwächsten Blase sich die Plätze in der 1. Reihe aussuchen, um so ständig aufzustehen und durchzulaufen und sich den weitesten Weg zur Toilette zu suchen???
Übrigens Martyn Moss, unser Kreuzfahrtdirektor. Macht seine Sache sehr gut. Nur ärgerlich, dass er jetzt erst verkündet, dass doch keine formelle Nacht ist und jeder der Lust hat, seinen Smoking anziehen kann. Dann hätten wir ihn doch zu Hause lassen können. Im Restaurant fiel uns schon auf, dass schon viele das Smart Casual schon gar nicht kennen und eher angezogen waren, wie am Pool-Büffet zwischen zwei Runden Schwimmen...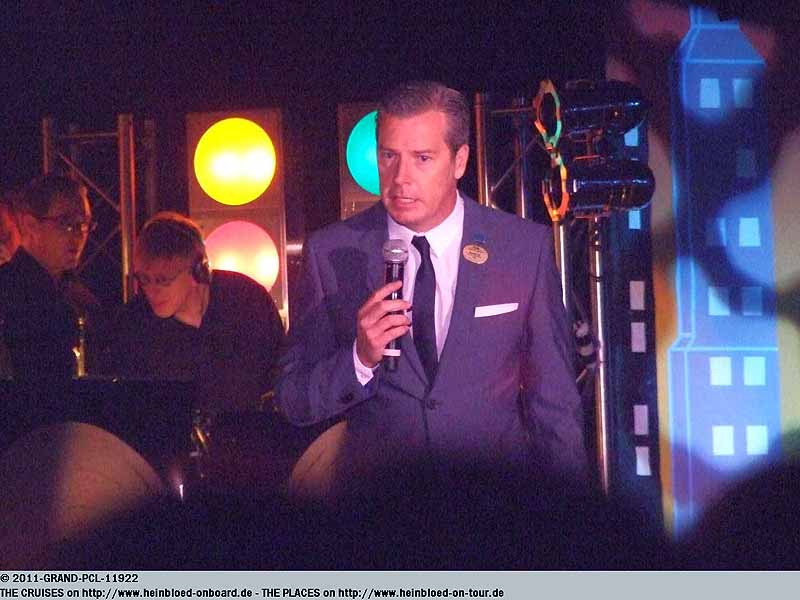 By the way: Martyn Moss, our Cruise Director, did a great job. But it was somehow angry that he announced at this time that there will be no formal night and who likes to wear his tuxedo may do so. We could have left the tuxedo at home. We saw already in the restaurant that even smart casual was very unknown and some were dressed up like they are at the pool buffet between two rounds in the pool.
Die anderen Reisen in diesem Blog/
The other voyages in this blog: