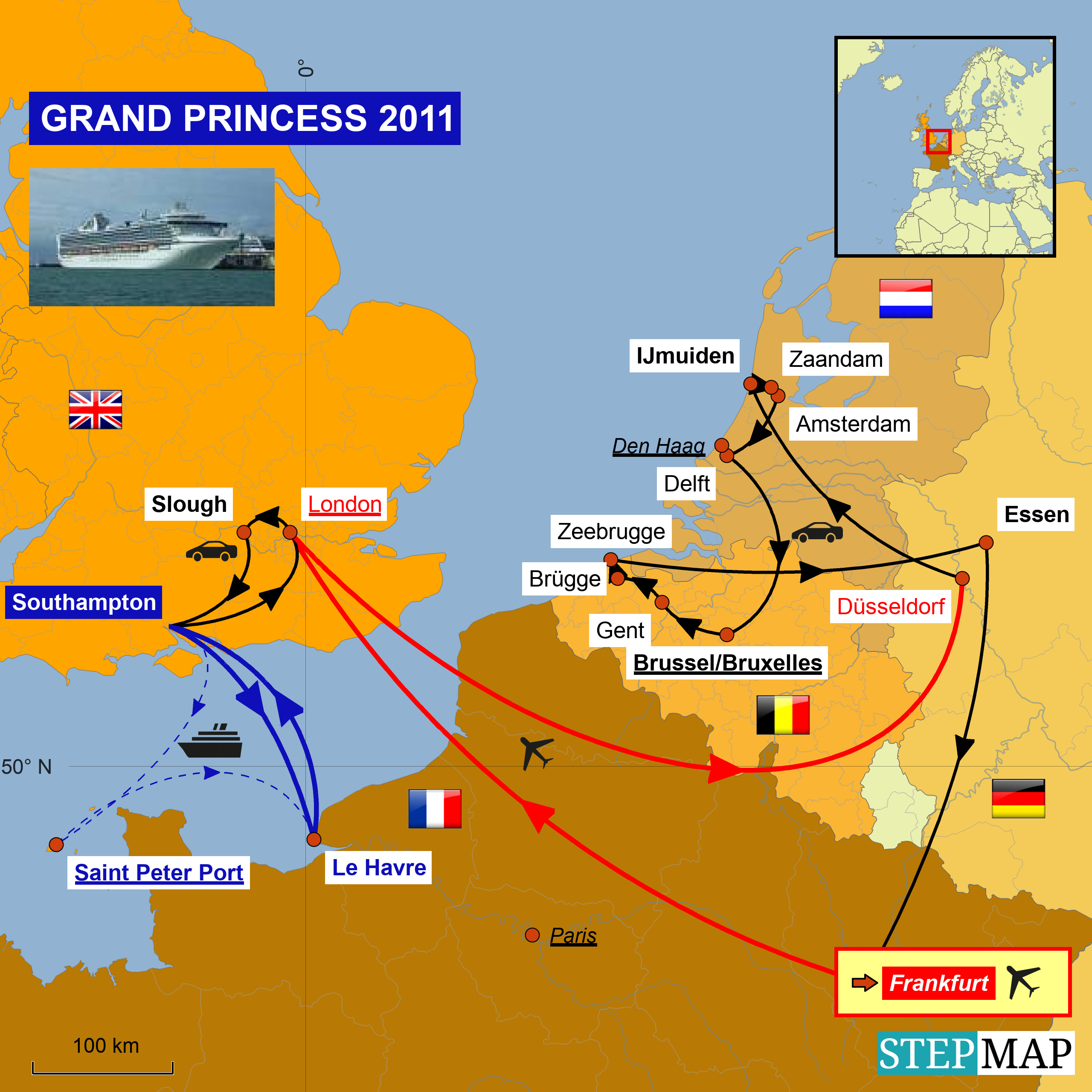 Durch die Hilfe von Aad und Nicoline bekam ich einen Kontakt beim Passenger Terminal Amsterdam. Nun wusste ich, dass um 03:00 Uhr bereits der Lotse an Bord geht und gegen 04:00 Uhr die NORWEGIAN SUN in den Nordseekanal fährt. Also nichts mit länger schlafen. Es ist jedoch so windig, dass ich fast befürchte, dass sie vielleicht gar nicht nach Amsterdam reinfährt. Deswegen machte mir die Position auf der
Marinetraffic
-Seite ernsthaft Sorge.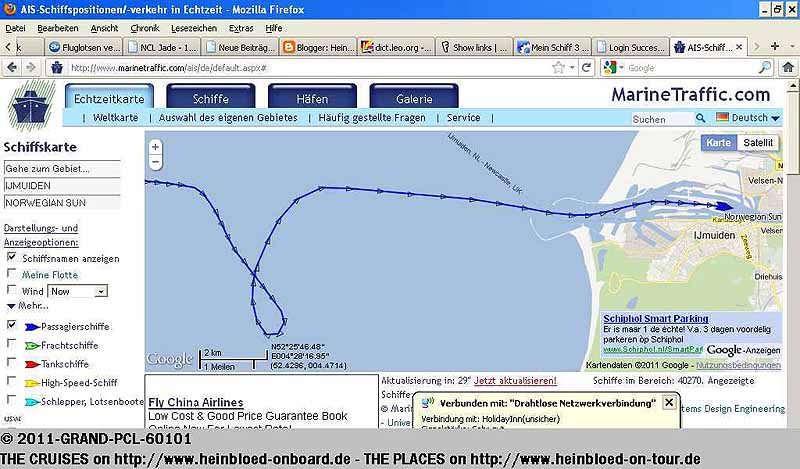 With the help of Aad and Nicoline I got a contact with the Passenger Terminal Amsterdam. So I knew that the pilot was ordered for 03:00 hrs and NORWEGIAN SUN sun enter North-Sea-Canal at 04:00 hrs. It was so windy that I was afraid that she might not enter the locks to reach Amsterdam. So watching Marinetraffic-website made me seriously worried.

You could take the following pictures from our balcony.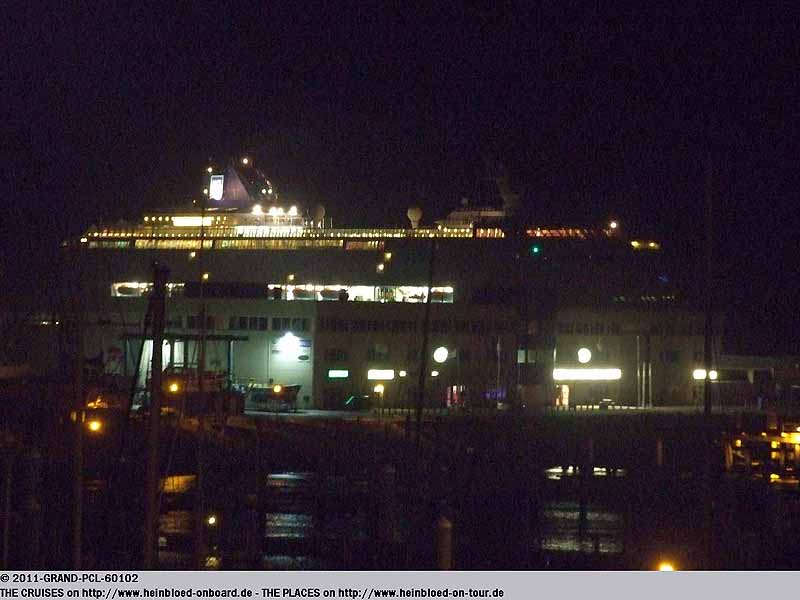 Von unserem Balkon kann man folgende Bilder machen.
Wir waren schon mal in diesem
Holiday Inn
, aber damals haben wir nicht gewusst, welchen Vorteil die Lage des Hotels für Shipspotter hat.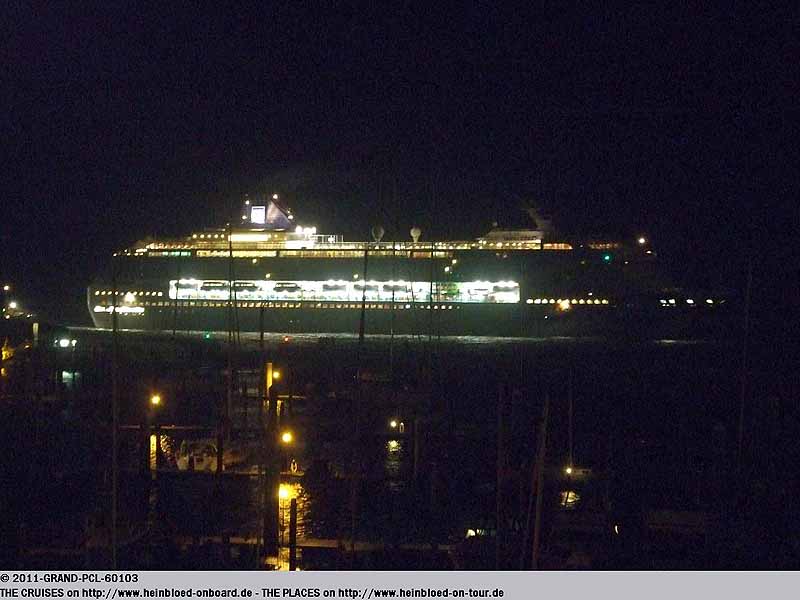 We have stayed here in this Holiday Inn before but then we did not know which advantage this hotel offers for shipspotters.

Our friends paiagirl from cruisecritic.com-Forum (Frances and her DH Eddie from California) were on board from Copenhagen to Port Canaveral. We wanted to meet them in Amsterdam.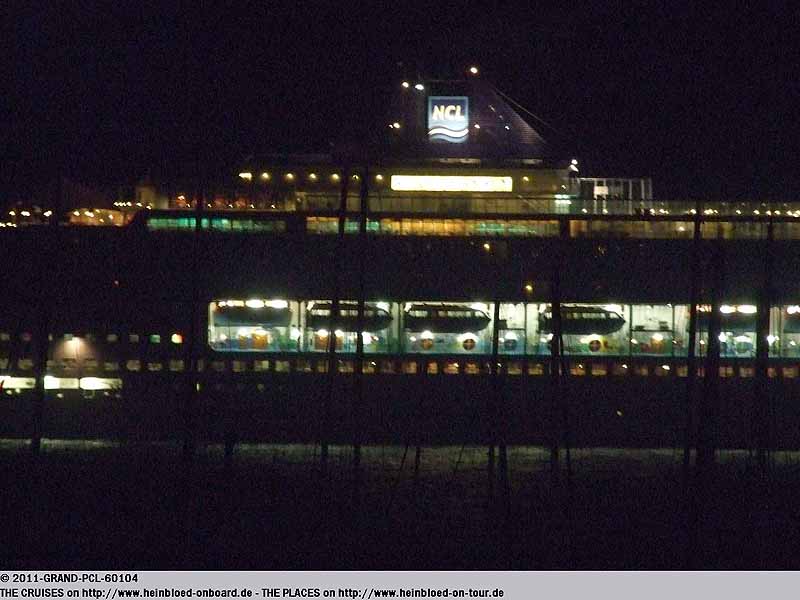 Unsere Freunde paiagirl aus dem
cruisecritic.com
-Forum (Frances und ihr Mann Eddie aus Kalifornien) sind an Bord von Kopenhagen nach Port Canaveral. Wir wollen sie in Amsterdam treffen.
Wenige Minuten vom Hotel liegt die Schleuse in IJmuiden.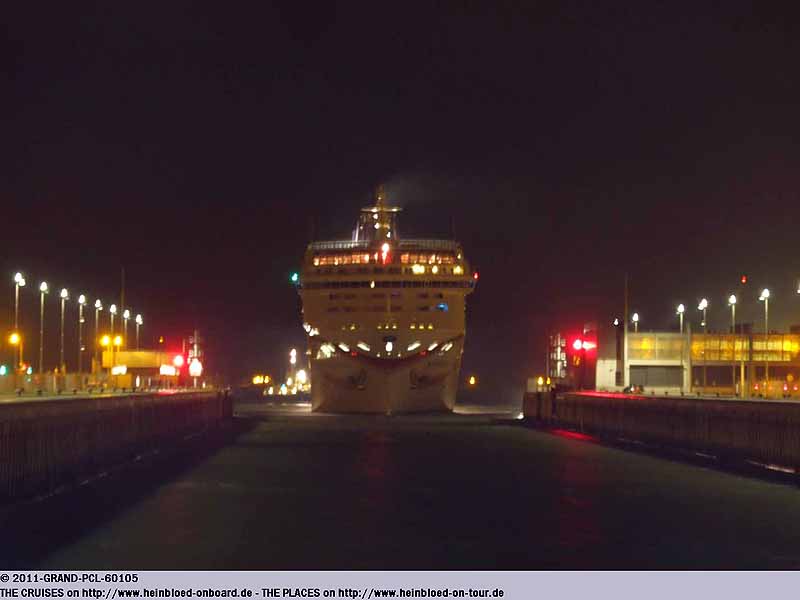 Few minutes from the hotel away are the locks in IJmuiden.

Our friends seemed to sleep yet. All was dark in their cabin.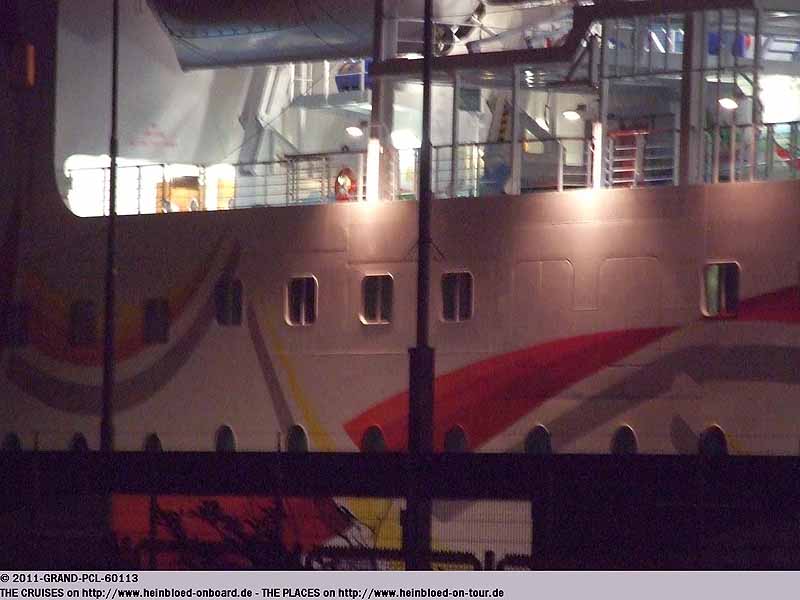 Unsere Freunde scheinen noch zu schlafen. Alles dunkel in deren Kabine.
Mit meinem Auto schrecke ich viele Hasen auf, als ich an der Schleuse ankomme. Am Hotel erwartet mich ein Fuchs, der am liebsten mit ins Hotel möchte.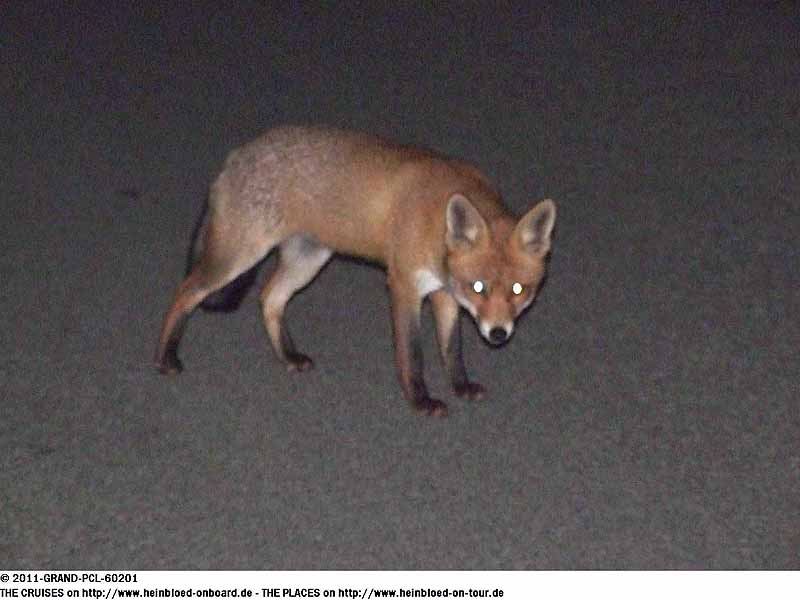 By using the car I waked up many rabbits around the locks. At the hotel, a fox was waiting for me who wanted to enter the hotel with me together.

By the way that was the view from our room during daylight.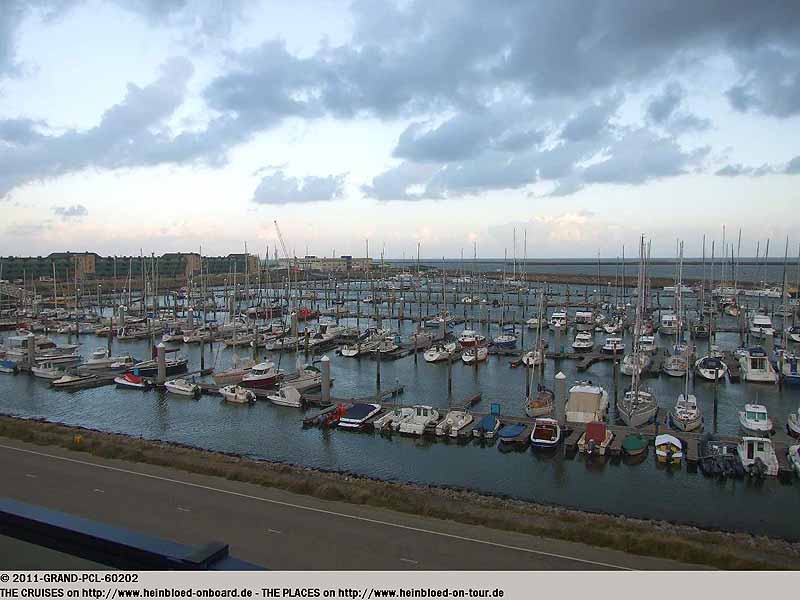 Übrigens sieht im Hellen der Ausblick vom Balkon so aus.
Das Wetter sieht sehr wechselhaft aus. Am Vormittag hat paiagirl eine Tour wieder bei Marius von
Dagtoertaxi
gebucht. Sie wollte die gleiche
Tour
buchen, die wir damals gemacht haben, als wir mit der NORWEGIAN JEWEL in Amsterdam machen.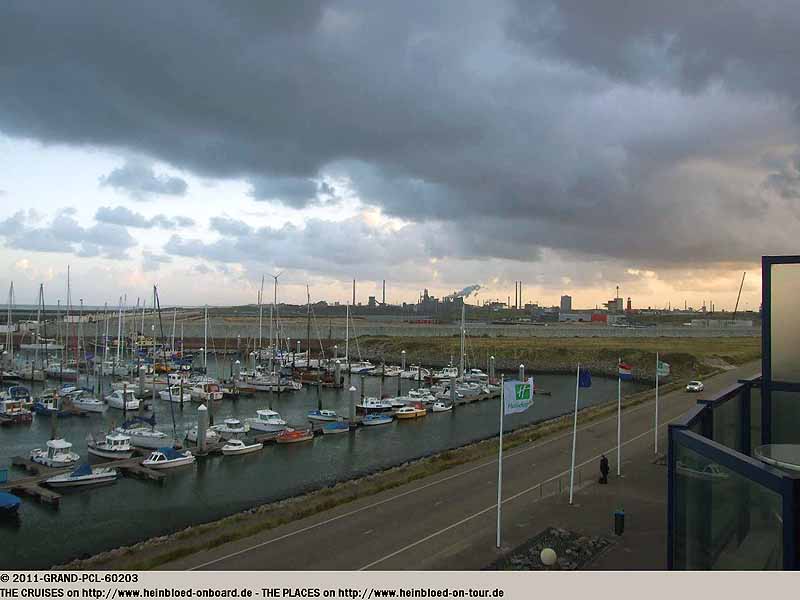 The weather looked very unsettled. For the morning paiagirl booked a tour with Marius from Dagtoertaxi. She wanted to do the same tour (in German but you may use Google Translator) like we did with our call by NORWEGIAN JEWEL in Amsterdam.

As we booked anyway without breakfast, we had an excellent occasion to have breakfast outside the hotel.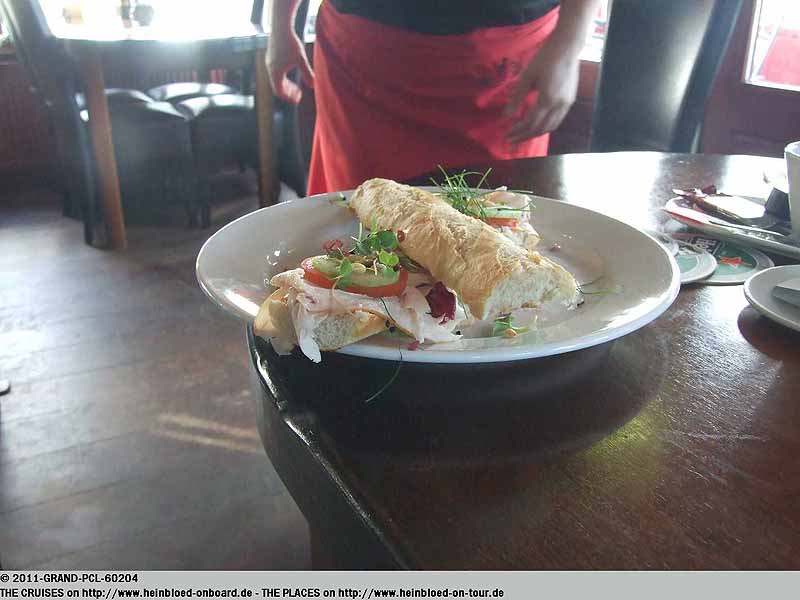 Da wir eh ohne Frühstück gebucht haben, bot sich die Gelegenheit an, dass wir außerhalb des Hotels frühstücken.
Gut sind dann immer Tipps von Einheimischen, die uns in das Lokal
De Krokodil
zwischen IJmuiden und Amsterdam gelotst haben. Ich gönne mir einen sog. Uitsmijters Krokodil (auf Deutsch: Rausschmeißer). Der hätte für eine vierköpfige Familie gereicht.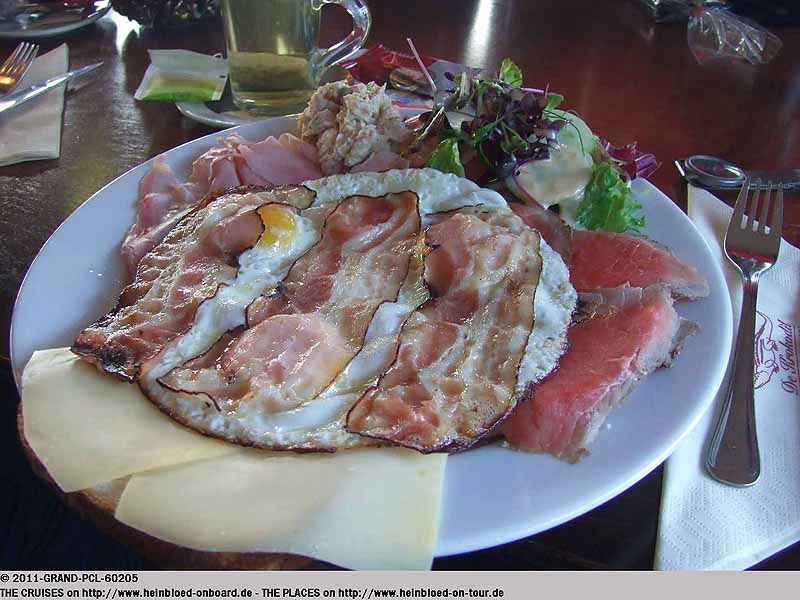 Always good are recommendations of locals who recommended us De Krokodil between IJmuiden and Amsterdam. I took a so-called Uitsmijters Krokodil (in English: bouncer). It would be enough for a family of four.

By the way, I need to introduce Ine (from cruisecritic.com-Forum). We went together on the same sailing of EURODAM but never met us personally. So it was very nice to make her acquaintance personally. Her husband runs a website with many pictures of ships in the North-Sea-Canal. And also very interesting and good to know for our future plannings: Her daughter can organize private tours for all Mexican ports with her company Superior Tours Vallarta.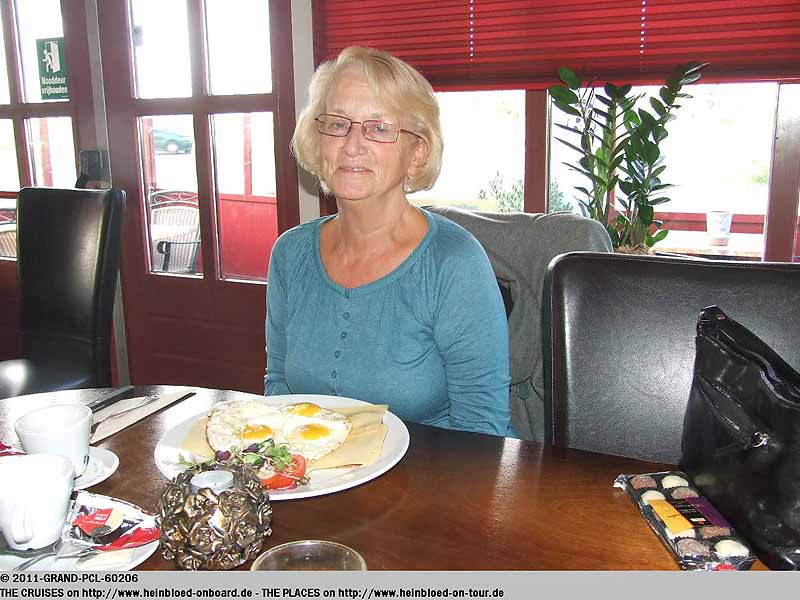 Übrigens muss ich noch Ine (aus dem cruisecritic.com-Forum) vorstellen. Wir waren mal gemeinsam auf der EURODAM, aber sind uns leider nie persönlich begegnet. Nun freuen wir uns darüber, dass wir uns doch mal treffen. Ihr Mann hat hier eine
Seite
mit vielen Bildern vom Nordseekanal. Und auch sehr interessant und gut zu wissen für weitere Planungen: ihre Tochter kann Privattouren in allen mexikanischen Häfen über ihre Firma
Superior Tours Vallarta
organisieren.
Da durch die Seeluft unser Wagen komplett weiß ist, waschen wir ihn bevor wir uns mit paiagirl treffen.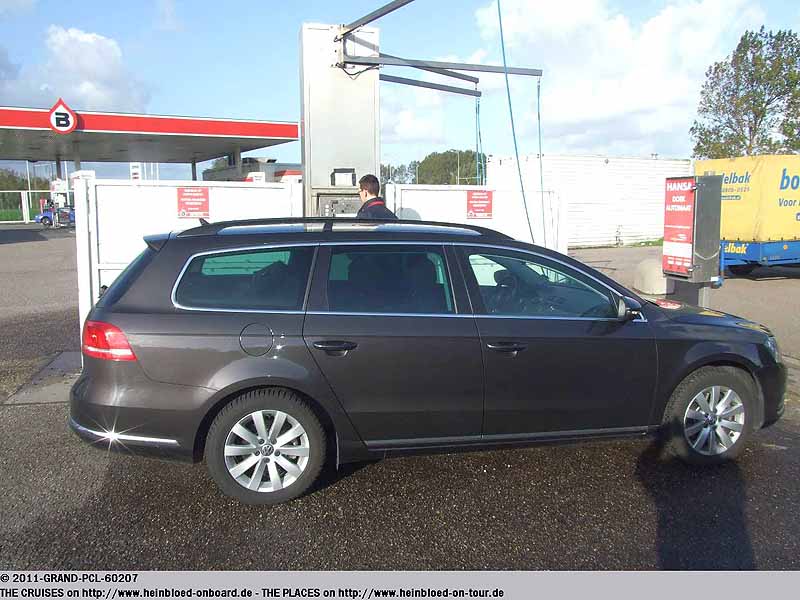 Due to the seawind our car was utterly white, so we washed it before we meet paiagirl.

We went quickly to Zaandam to look around the town to see the city which is named after our ship: ZAANDAM. March 2012 from Singapore to Hong Kong.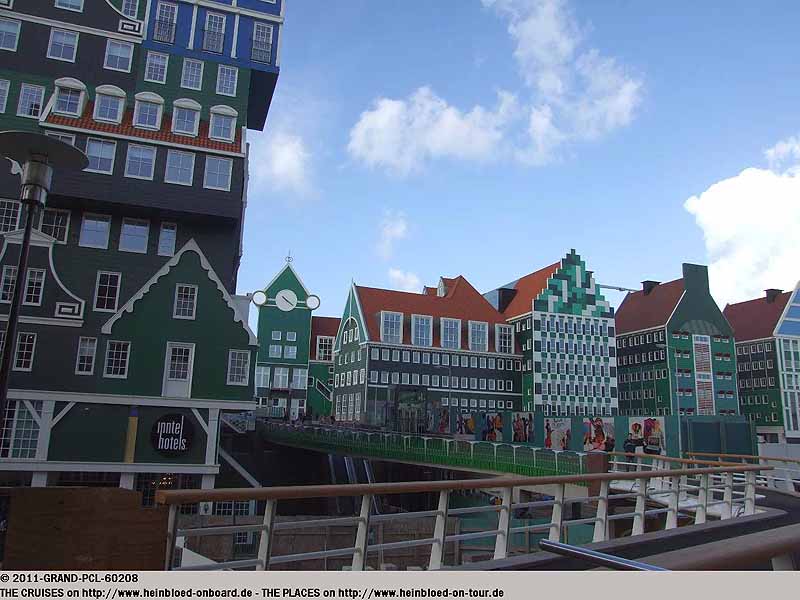 Wir fahren aber noch schnell in Zaandam vorbei, um uns mal die Stadt anzusehen, die nach unserem Schiff benannt wurde: ZAANDAM. März 2012 von Singapur nach Hongkong.
Vielleicht sollten wir das nächste Mal hier übernachten.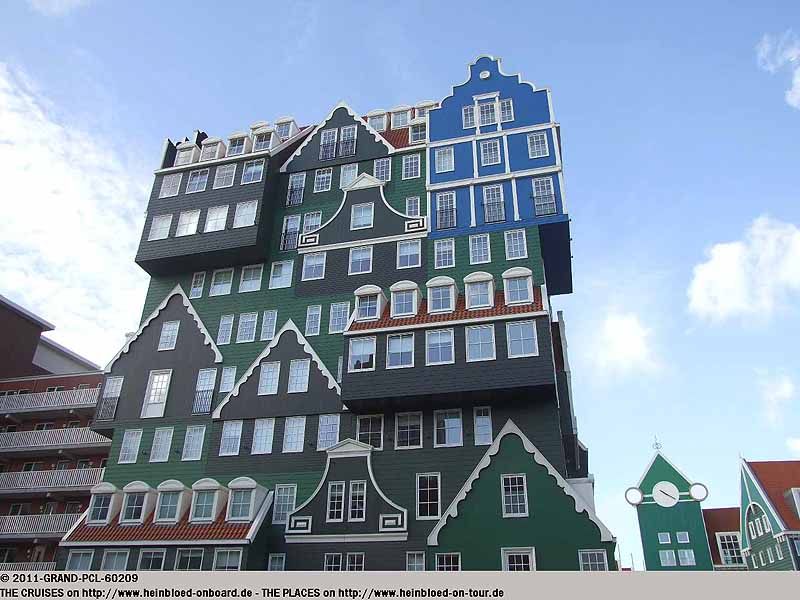 Maybe we should stay overnight here.

It was brand new but Ine said that it was constructed after historical drafts.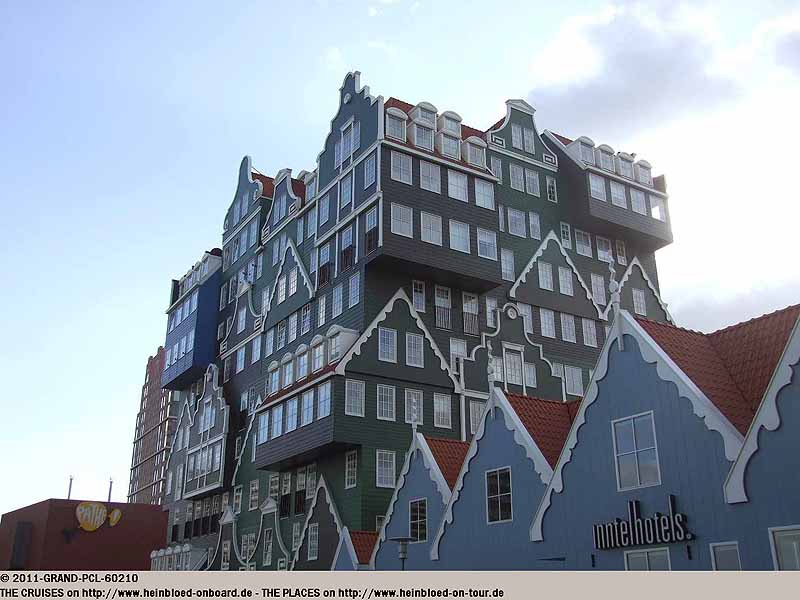 Es ist zwar alles neu, aber Ine sagt, dass es nach historischem Vorbild erfolgt ist.
Wir fotografieren uns mal vor dem Schild Zaandam.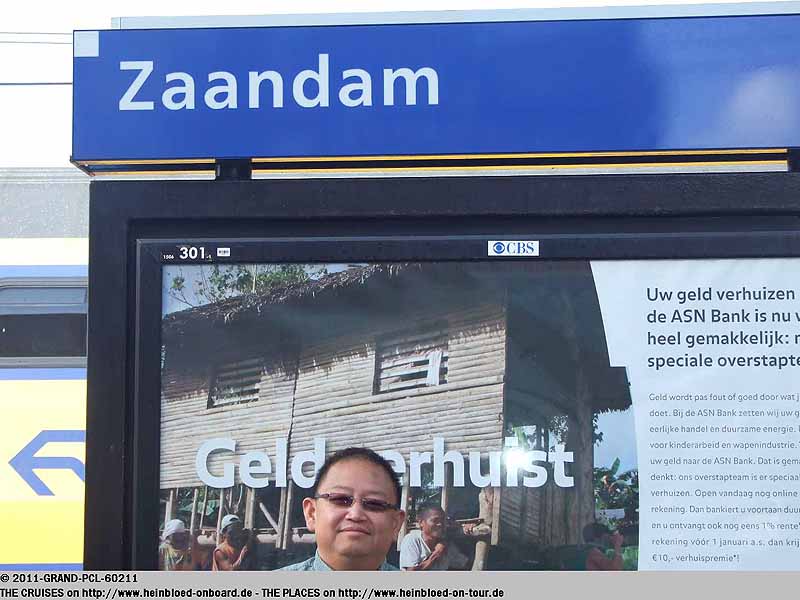 So we took pictures in front of the sign Zaandam.

Some preperations for 2012...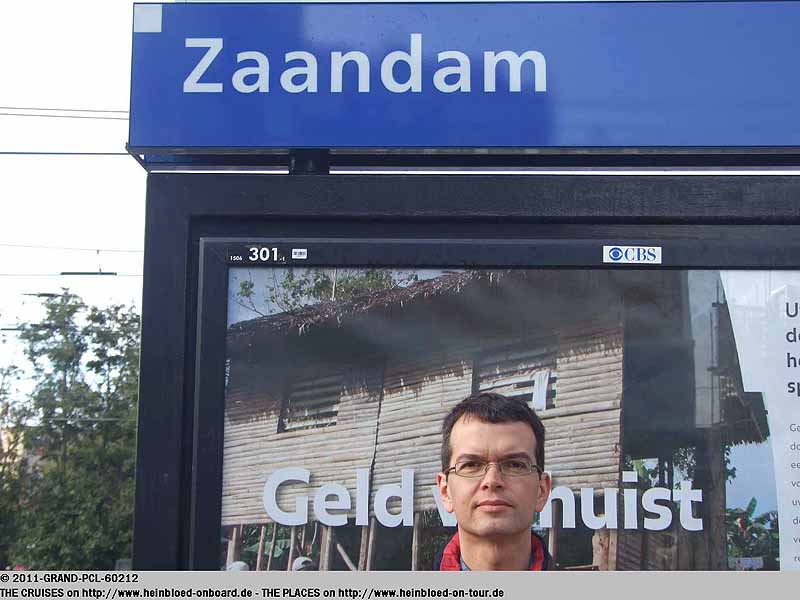 So ein wenig als Vorbereitung für 2012...
Weiter geht es zum Passenger Terminal in Amsterdam. Dort stellen wir das Auto ab.

Let's head to the Passenger Terminal in Amsterdam. There we parked our car.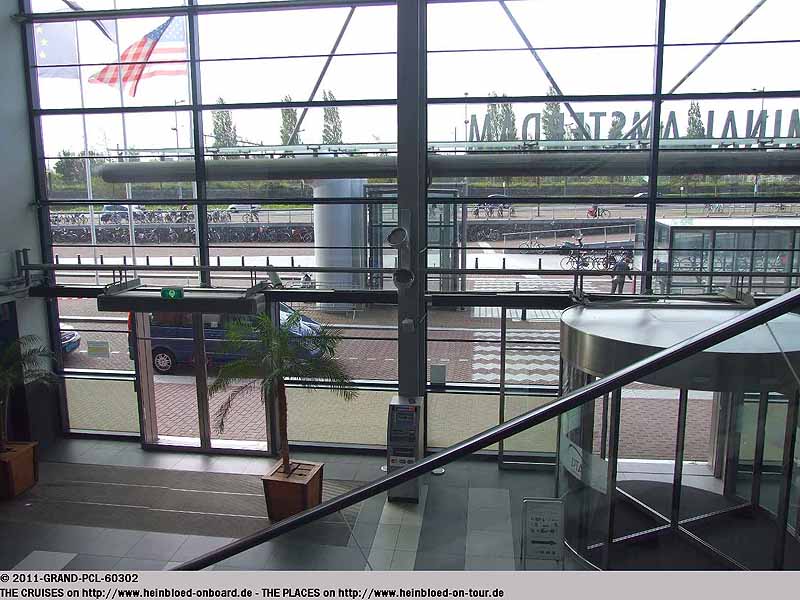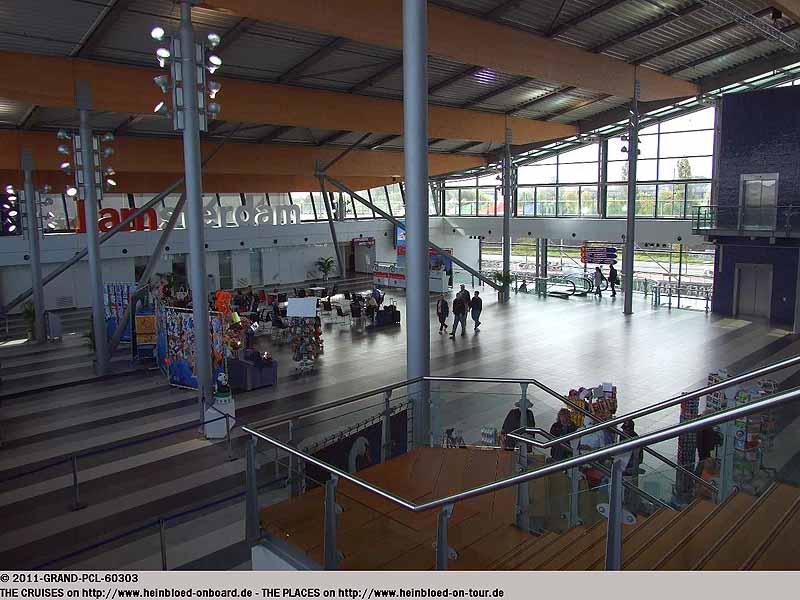 We did not used these offers as we only need the tram.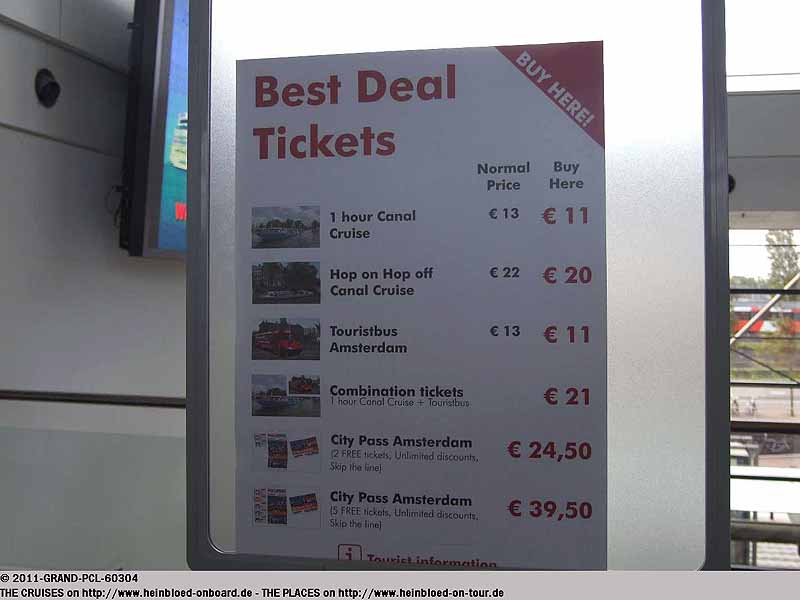 Die Angebote nutzen wir nicht, weil wir nur die Straßenbahn brauchen.
An den Geldautomaten kann ich mich gar nicht erinnern. Ist er neu???.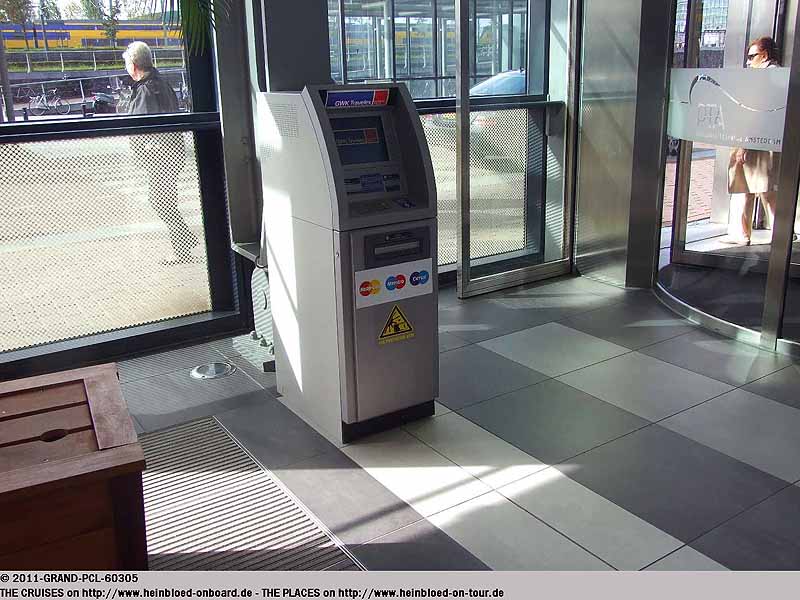 I could not remember this ATM here. Is this new???

We need to catch our tram and ran to the stop.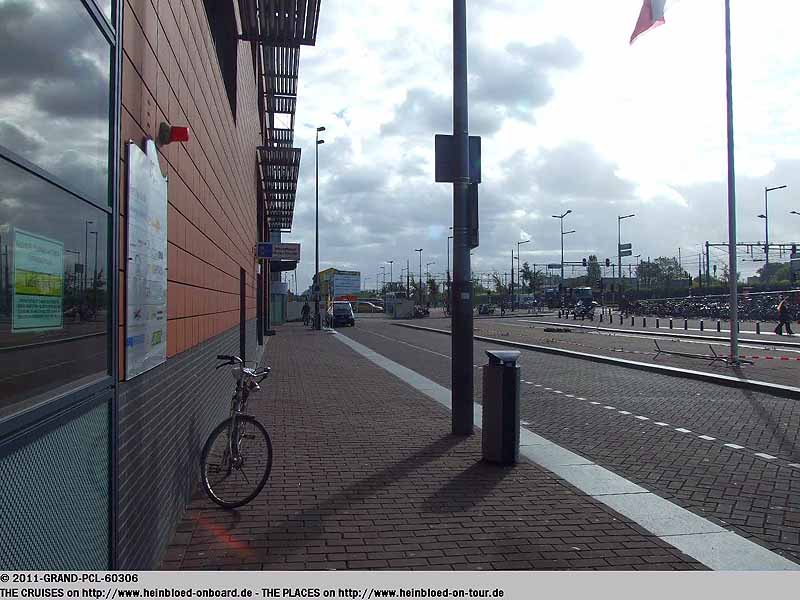 Wir müssen unsere Straßenbahn bekommen und laufen zur Haltestelle.
Wir sehen noch die NORWEGIAN SUN, aber zum Fotografieren bleibt keine Zeit.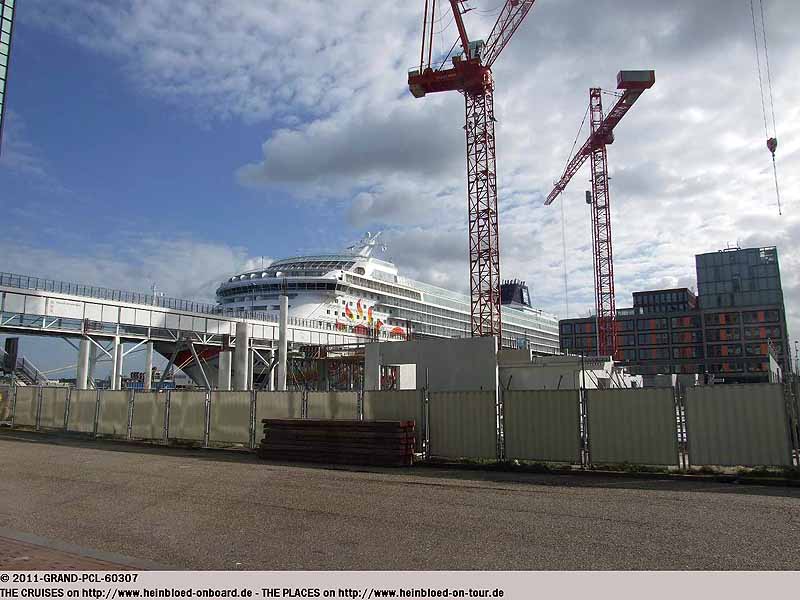 Now we saw NORWEGIAN SUN but there was no time left to take further pictures.

25 was already ready to go.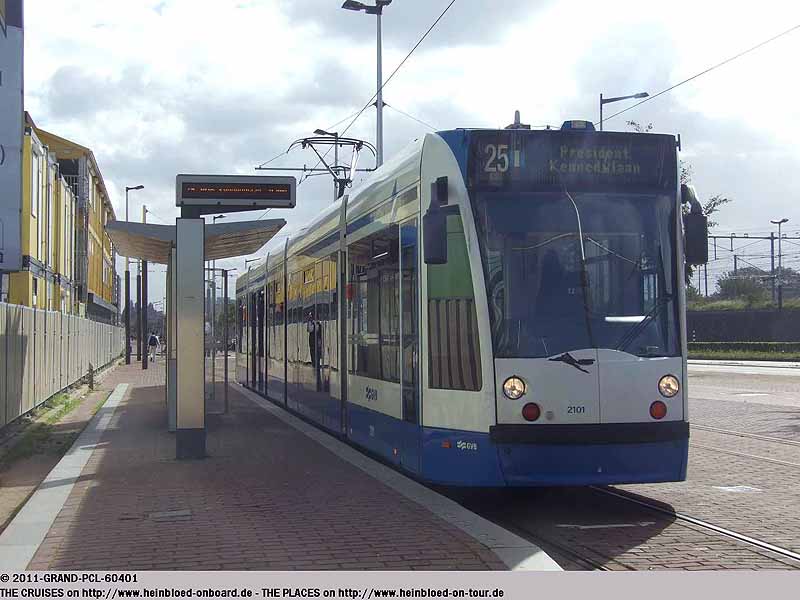 Die 25 wartet schon abfahrtbereit.
Zunächst fahren wir zwei Haltestellen bis zum Hauptbahnhof. Die einfache Fahrt kostet 2,60 EUR mitlerweile (2011).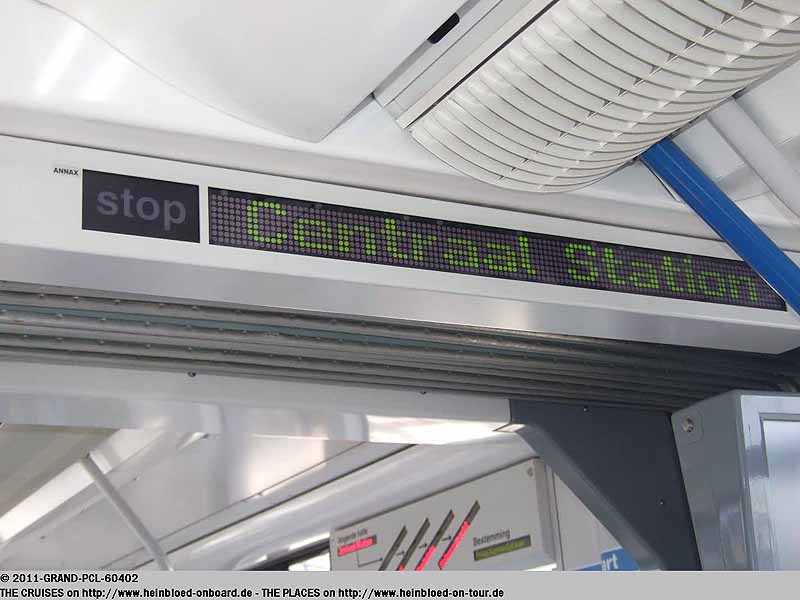 First we went two to stps to Central Station. Meanwhile the tickets are 2,60 EUR for a single ride (2011).

25 arrived on the left side of the train station. Our connection left from the right side of the station.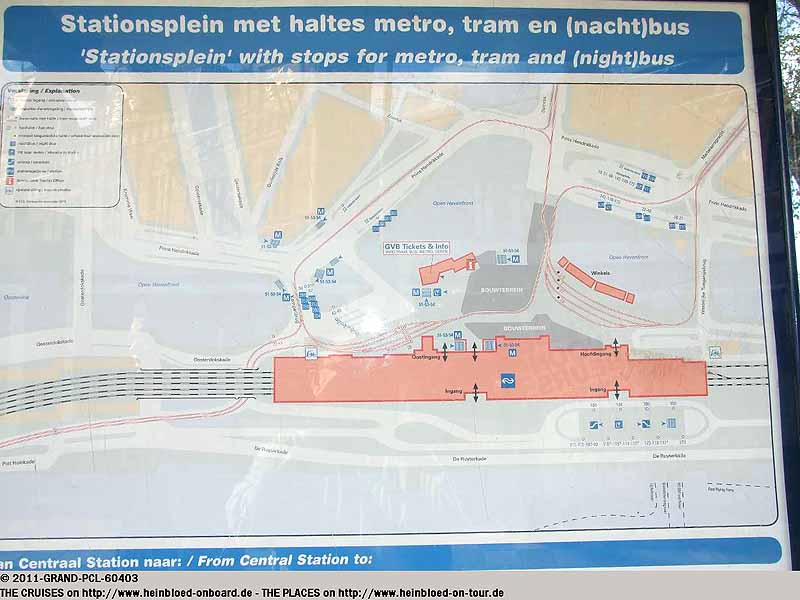 Die 25 kommt links vom Bahnhof an. Und unser Anschluss geht rechts vom Bahnhof.
So müssen wir erst mal rüberlaufen.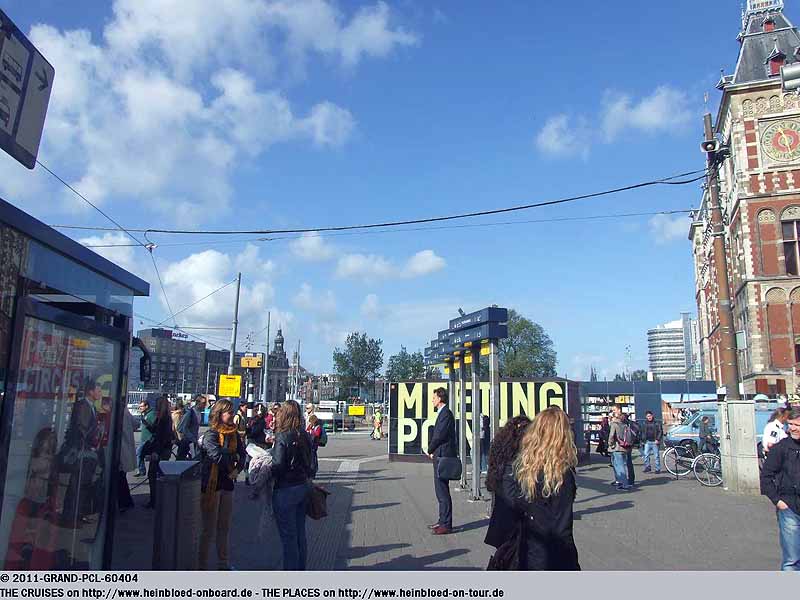 So you need to walk over.

Here the trams 13 and 17 starts which we can use for our ride to Westermarket.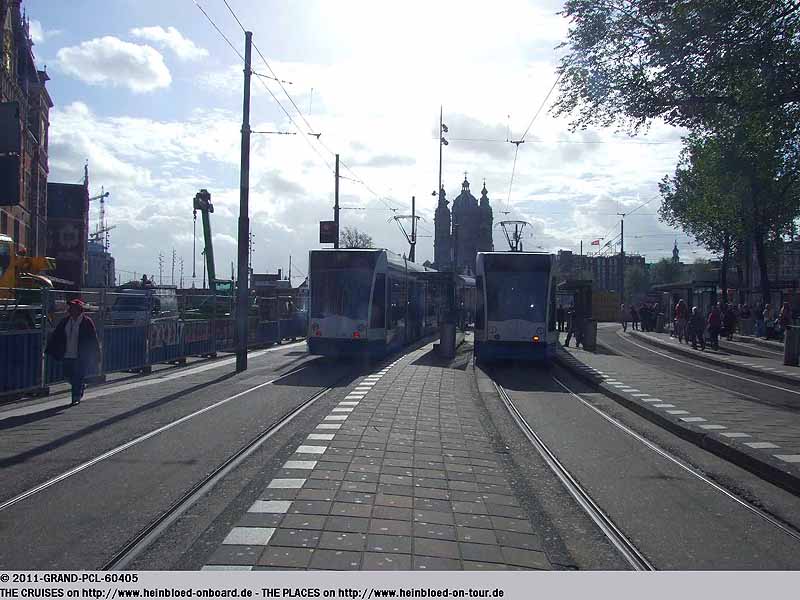 Hier fahren die Straßenbahnen 13 und 17, die wir für unsere Fahrt zur Westermarkt nutzen können.
Die 13 steht abfahrtbereit.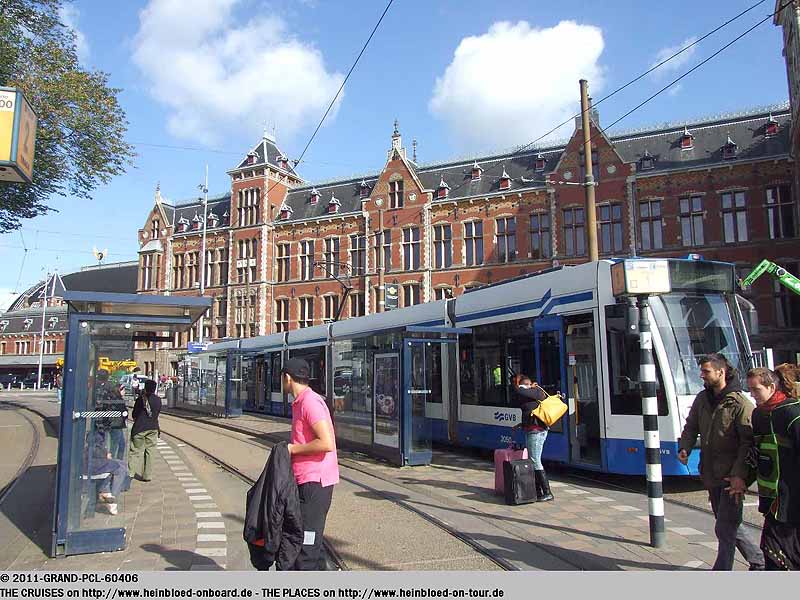 13 was ready to go.

Just a quick view over to the left side of the station.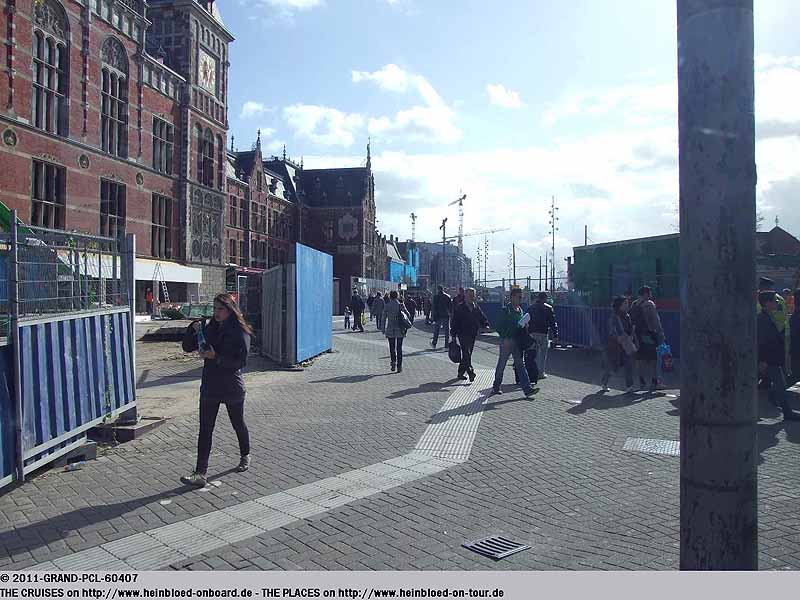 Noch mal ein Blick rüber zur linken Seite des Bahnhofs.
Am Westermarkt steigen wir aus.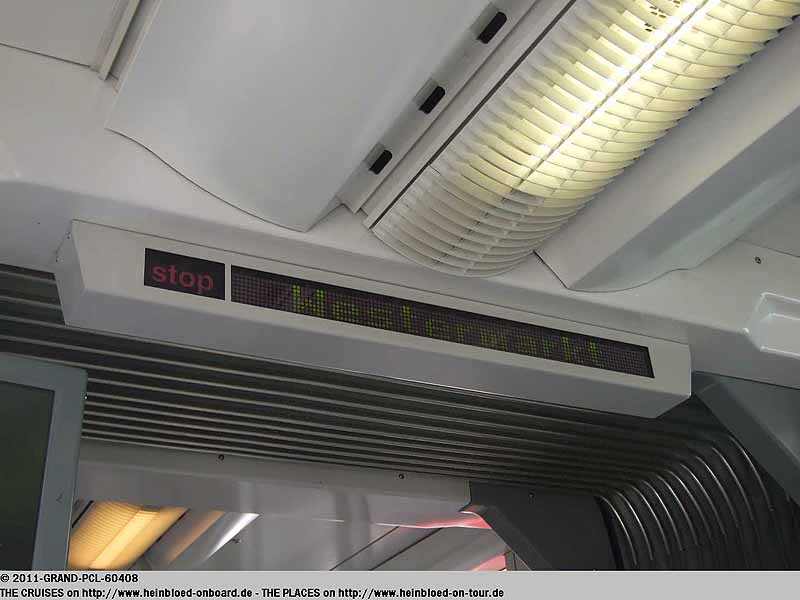 We got off at Westermarket.

And so we stood just in front of the Westerkerk.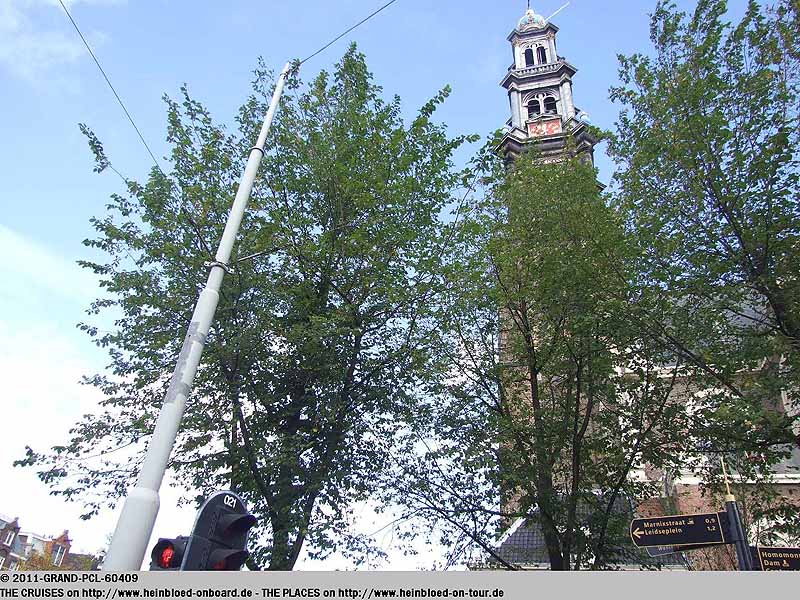 Wir stehen direkt vor der Westerkerk.
Von hier aus ist man in wenigen Minuten am
Anne Frank Haus
.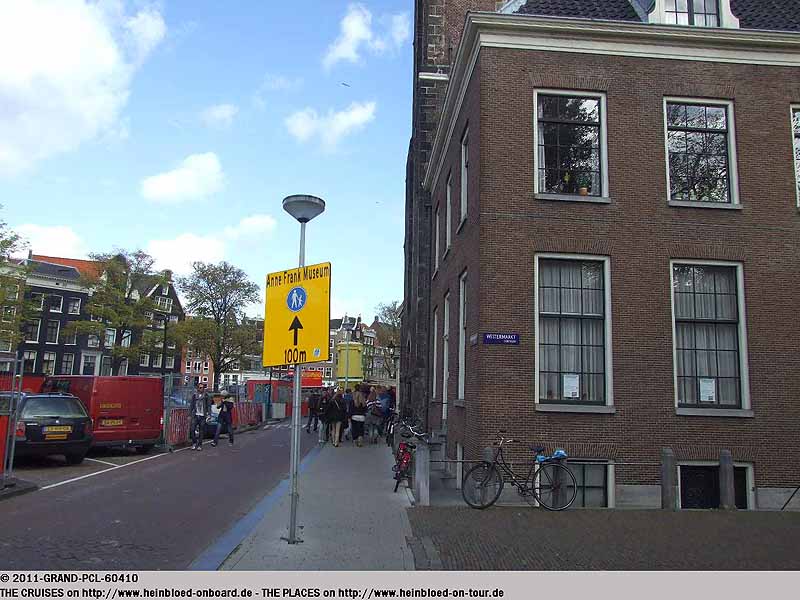 From here it is a short walk to Anne Frank House.

As usual a long queue.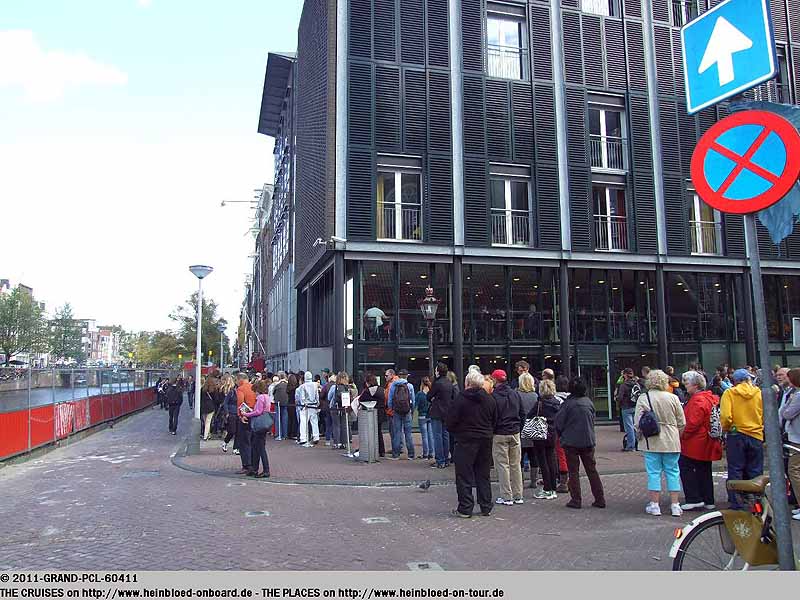 Wie üblich steht eine lange Schlange.
Ein paar Meter weiter findet sich jedoch der Eingang für Online-Ticket-Inhaber.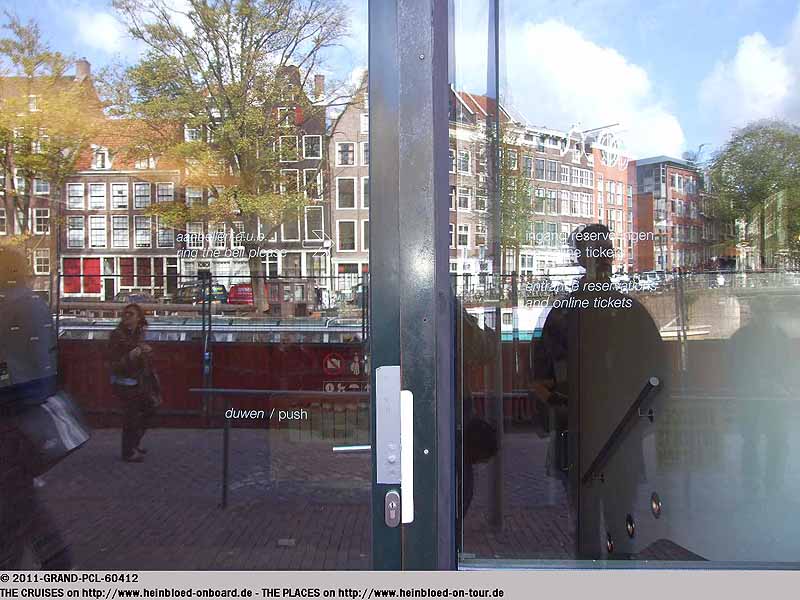 Few yards more you find the entrane for Online-Ticket-Holders.

It was good that we did not need to line up. But we need to show up within a timeframe of 30 minutes.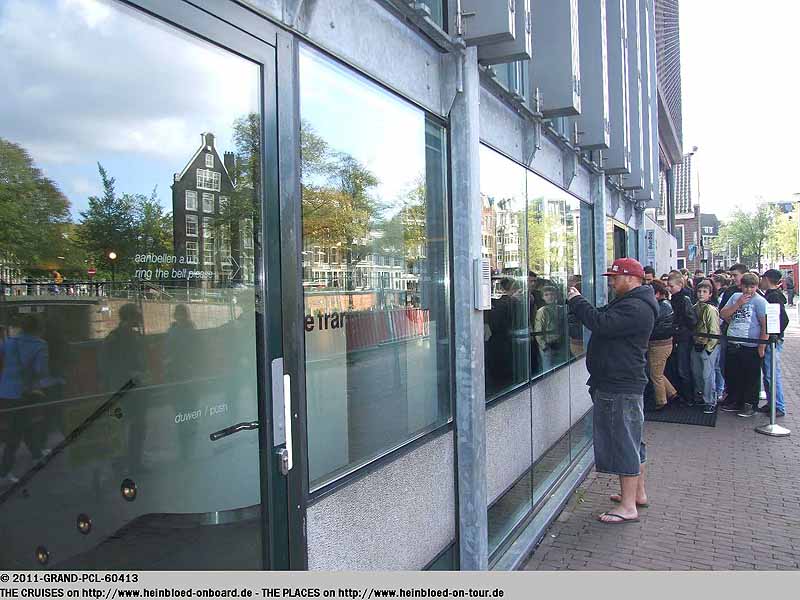 Das tut gut, dass wir nicht anstehen müssen. Aber wir müssen innerhalb eines Zeitfensters von 30 Minuten erscheinen.
Einfach klingeln.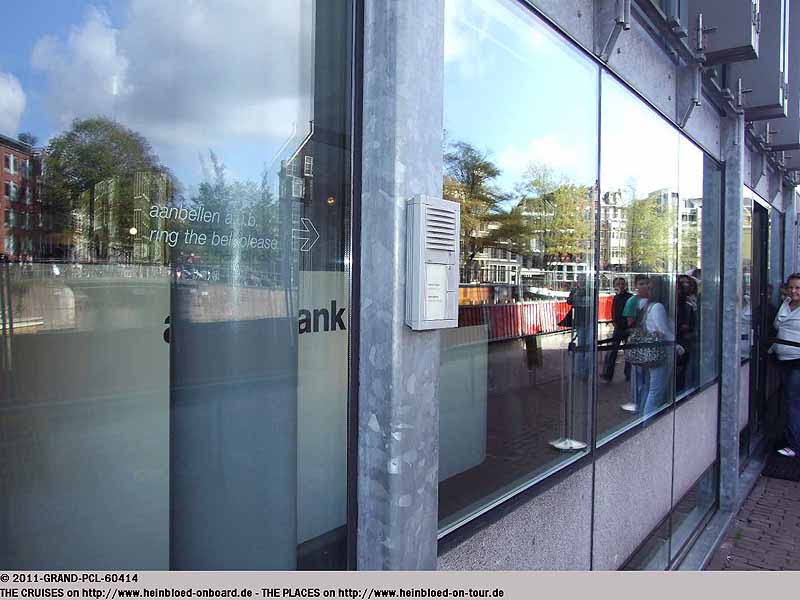 Just ring the bell.

And show your Online-Tickets which we ordered on their website. In the museum, photography is strictly forbidden. So we have no pictures from the inside. But it is worth to see. Important: part of the exhibition is narrow and steep. You should plan at least 1 - 1 1/2 hours for your visit.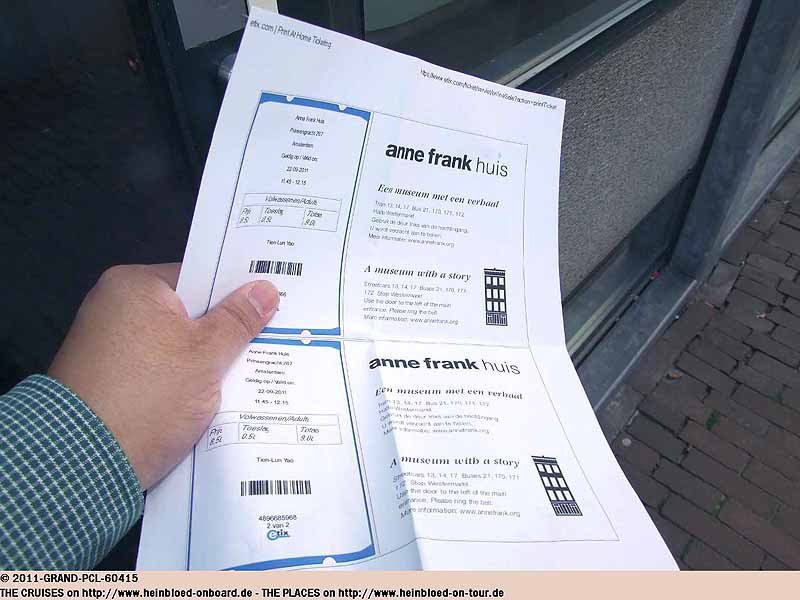 Und unsere Online-Tickets vorzeigen, die wir auf der Webseite bestellt haben. Im Museum ist das Fotografieren verboten. Daher gibt es keine Bilder. Der Besuch lohnt sich. Wichtig: es ist z. T. eng und steil. Man sollte mindestens 1 - 1 1/2 Stunden mit einplanen.
Wir machen eine kurze Kaffeepause im Museumscafé.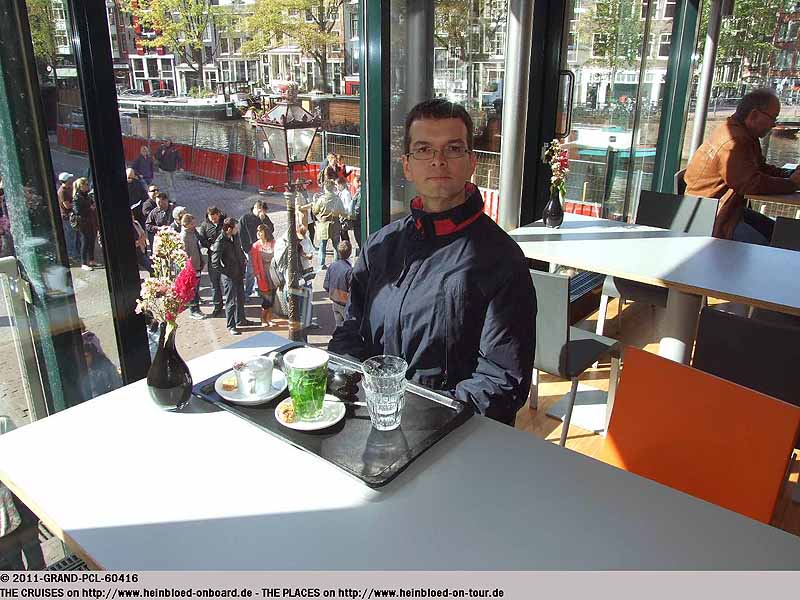 We did a short coffeebreak in the museum's coffee shop.

But I waited and had my tea.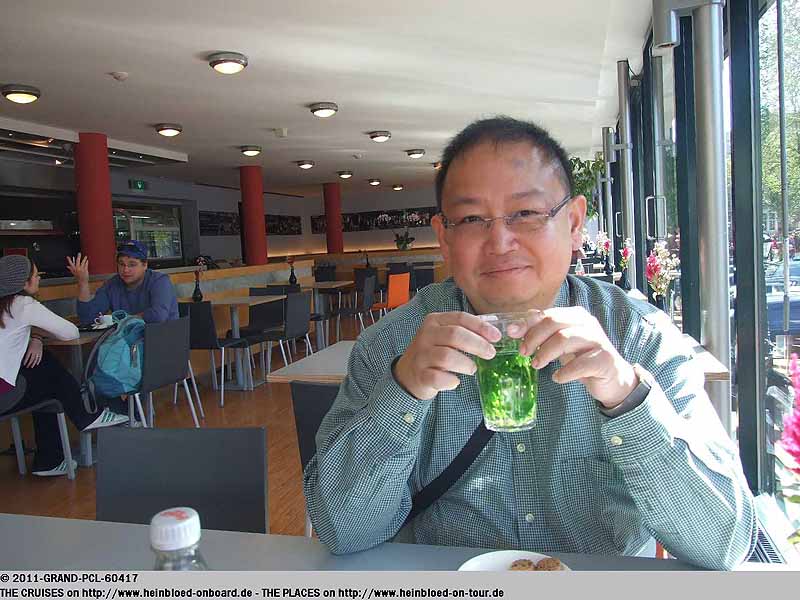 Abwarten und Teetrinken.
Der Minztee tat echt gut.

The fresh mint tea was really good.

Especially if you see the queue outside.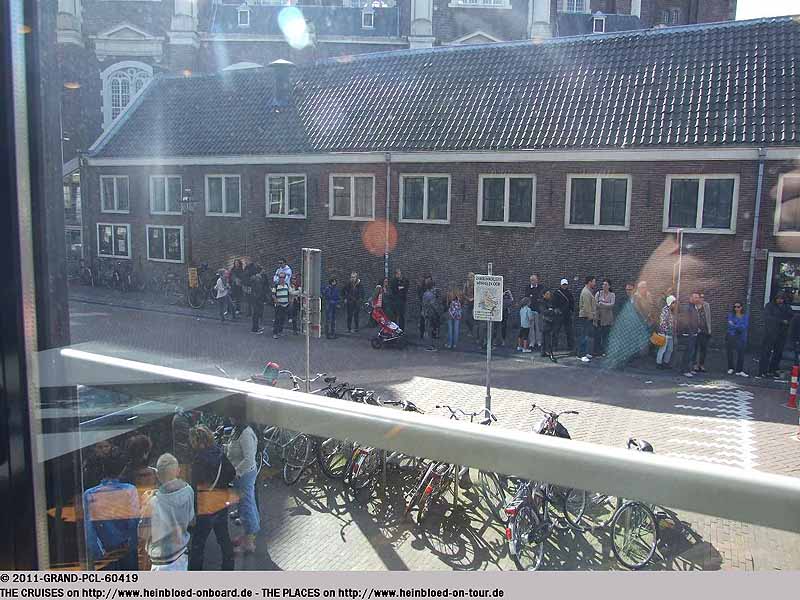 Insbesondere, wenn man die Schlange draußen sieht.
Die anderen Reisen in diesem Blog/
The other voyages in this blog: