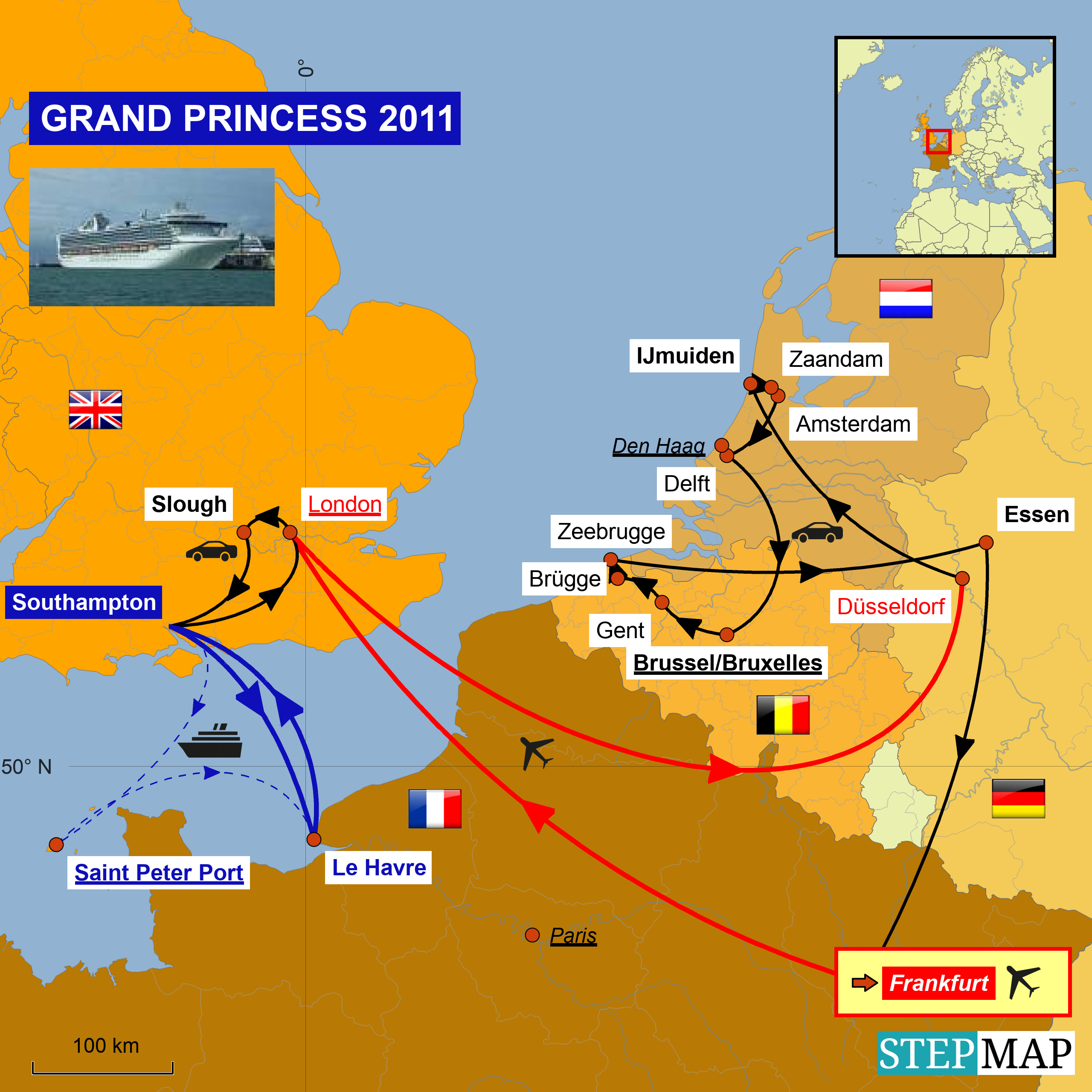 Ein besonderes Angebot zum Mittagessen besteht für Suitengäste nicht wie bei NCL. Wir gehen daher ins Da Vinci zum normalen Mittagessen. Nun haben wir auch gelernt, dass Mazza-Balls in Deutsch Grießklößchen sind.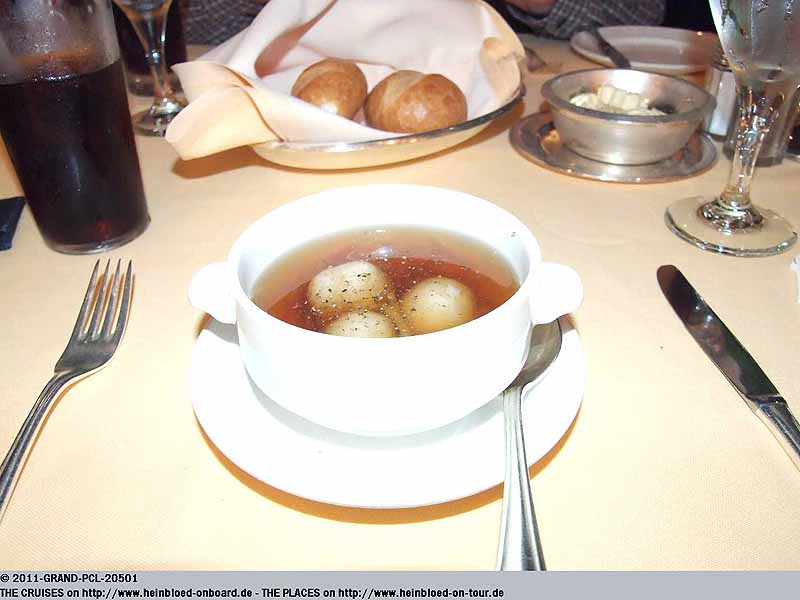 A special offer for lunch was not existing for Suite-Guests like with NCL. So we went to Da Vinci for the regular lunch. Now we learned that Mazza-Balls are little balls made of semolina.

What is always right on ships with English heritage: Curry for lunch which you can create individually.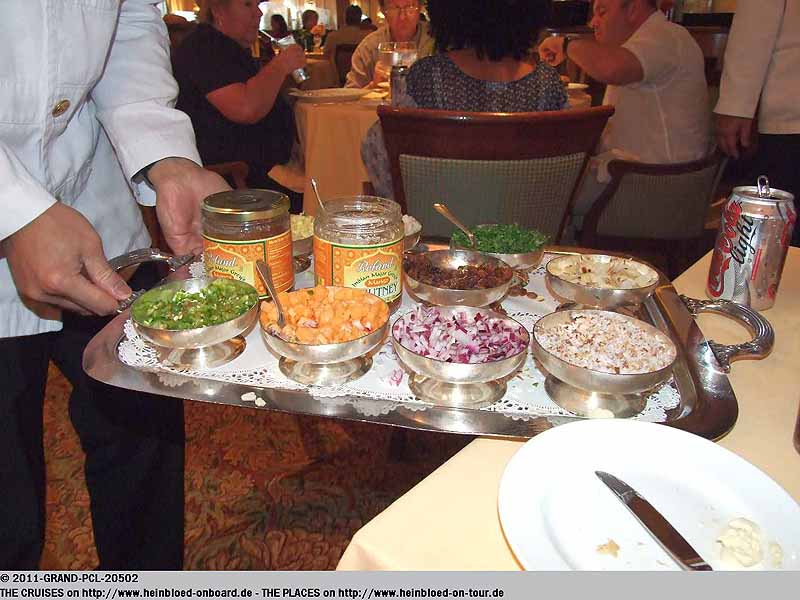 Was auf Schiffen mit englischen Wurzeln gut ist: Curry zum Mittagessen, das aber richtig individualisiert werden kann.
Leider war diese Portion sehr klein. Es war richtig lecker. Aber wir wollten ja noch die Tea-Time ausprobieren...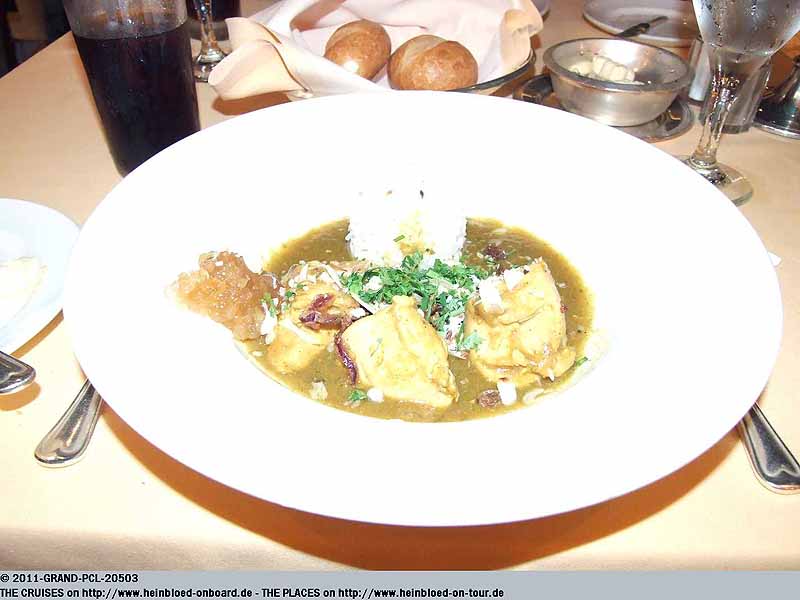 The portion was quite small but very very yummy. But as we planned to have tea-time...

I was curious to try the Philly Cheesesteak which was available as half portion. But I think that I like the one in Philadelphia much better.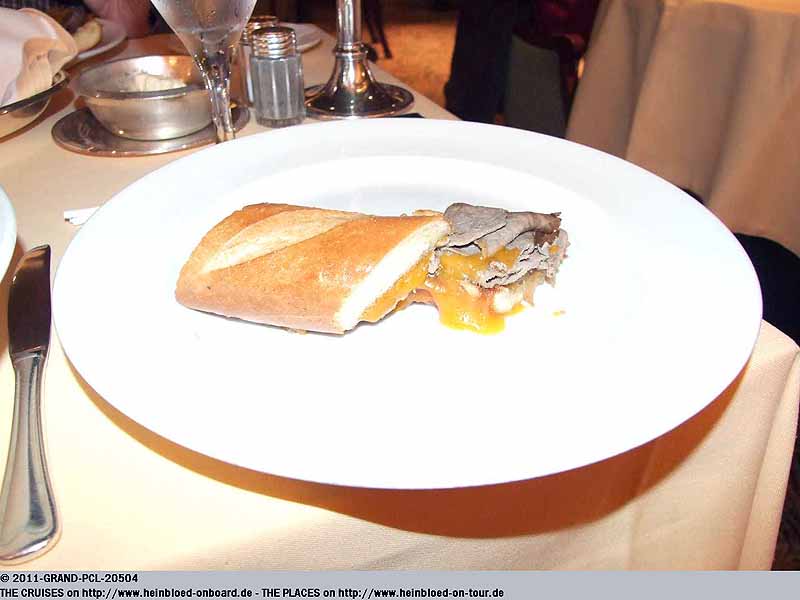 Ich war allerdings noch auf das Philly Cheesesteak neugierig, das es als halbe Portion gab. Das war allerdings nicht so gut, wie in Philadelphia selbst.
Wer sich musikalisch an Bord nicht angesprochen fühlte, war selbst Schuld. Es waren alle Musikrichtungen vertreten.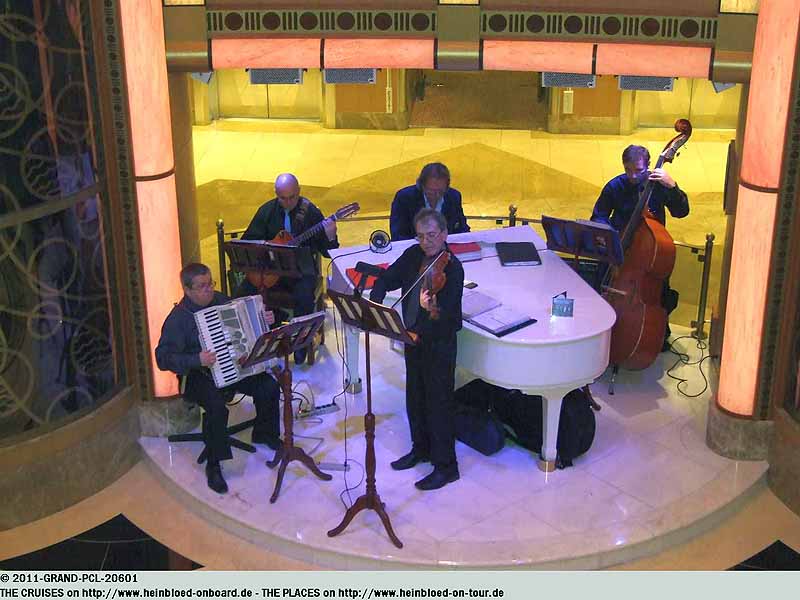 Who was not touched by the musical offer on board had really a problem. All styles of music were represented.

We might also have English lunch in Crown Grill, but we could save this experience for our 23 nights in 2013.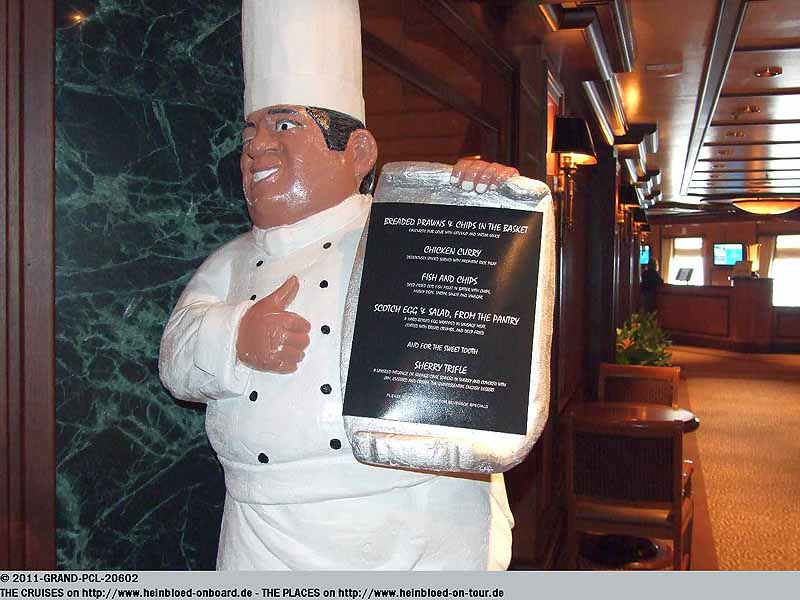 Wir hätten auch wieder englisches Mittagessen im Crown Grill haben können, aber das können wir uns mal für die 23 Nächte in 2013 aufheben.
In der Bibliothek ist auch Leaves untergebracht. Toll war, dass wir erst mal schnuppern konnten, bevor wir den Tee bestellen konnten.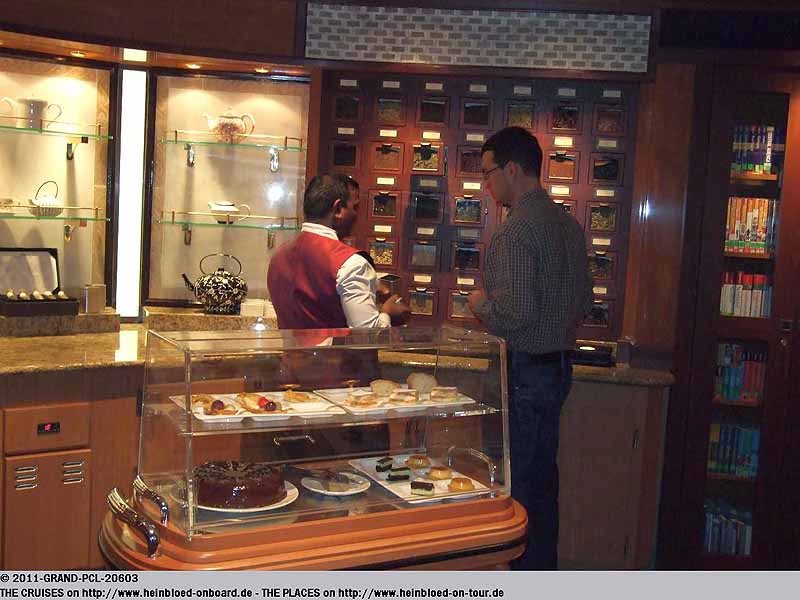 In the library they also located Leaves. We liked it that we could smell first the tea leaves before we ordered the tea.

We had no dessert, and now we still did not want anything. Even nothing from the Sacher Cake which really smiled to us.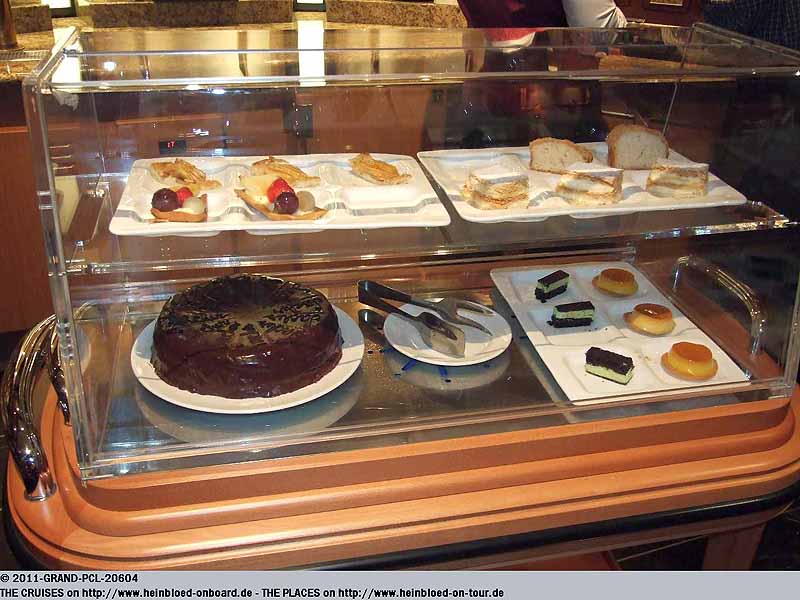 Wir hatten schon kein Dessert und jetzt wollten wir immer noch nichts. Auch nichts von der Sacher Torte, die einen anlachte.
Der Brühvorgang wird Hilfe der Eieruhren überwacht. Nach drei Minuten kam unser Steward wieder und entschied, dass der Tee noch eine Minute braucht.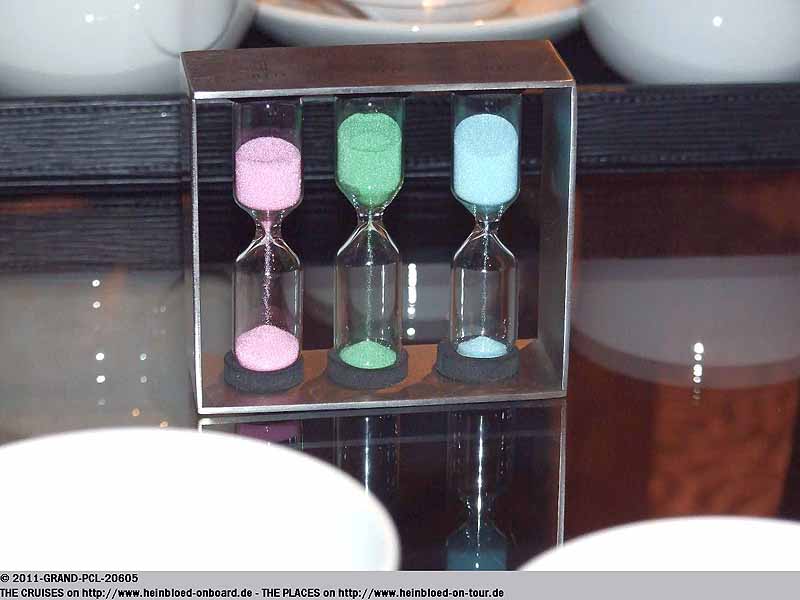 The brewing process was monitored with the help of the egg timers. After three minutes our steward returned and decided that the tea need another minute.

As we liked it very much, we made a deposit for another cruise with Princess. You get an on-board-credit of different amounts depending on your booked category and the length of the cruise. And Dawn who took care of the repeating guests maintained Bruno's account, so all P&O Cruises were now in his cruise history. So we both start as Platinum members from Tianjin to Vancouver.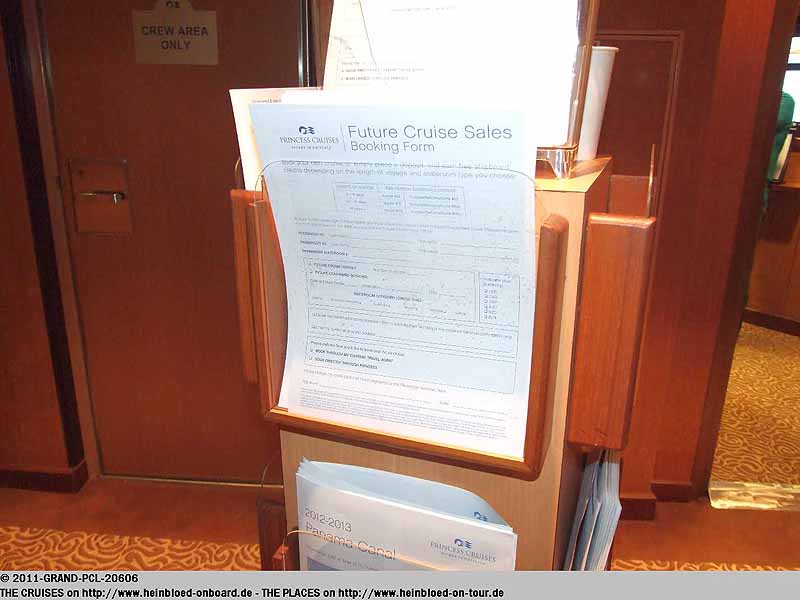 Da es uns sehr gut soweit gefällt, leisten wir eine Anzahlung für eine weitere Kreuzfahrt mit Princess. Man bekommt dann Bordguthaben in unterschiedlicher Höhe: je nach Länge der Kreuzfahrt und gebuchter Kategorie. Gleichzeitig wird von Dawn, die die Wiederholer betreut, Brunos Konto geklärt, so dass die P&O-Fahrten auch angerechnet werden. So starten wir beide als Platinum-Mitlgieder von Tianjin nach Vancouver.
Was ein wenig blöd war: es gab zwar zwei Lifte bis zum Deck 15 zum One5 Nachtclub, aber die konnte man nicht speziell anfordern. So dass man ggfls. nur bis Deck 14 fahren konnte.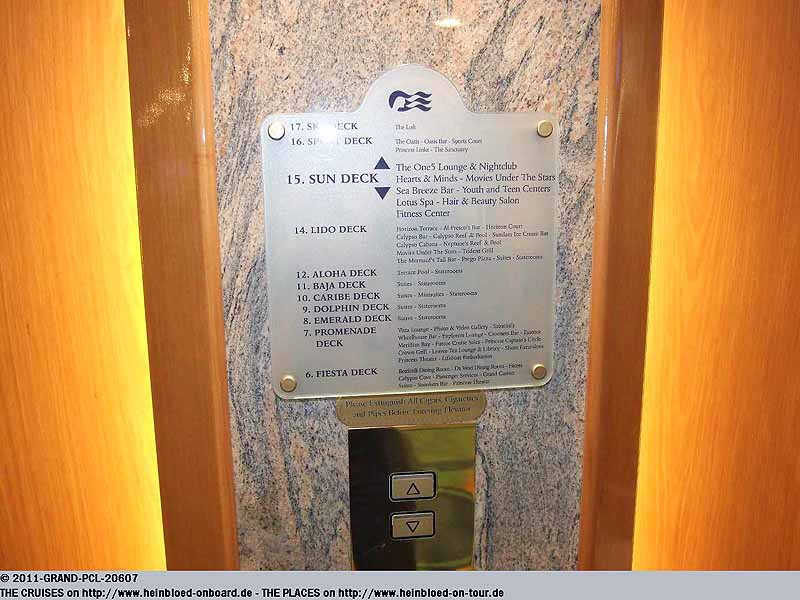 Somehow it was a little stupid that only two elevators go to Deck 15 to the One5 Nightclub, but you cannot request them. So occasionally you arrive only on Deck 14

To stay here, it was definitely too cold.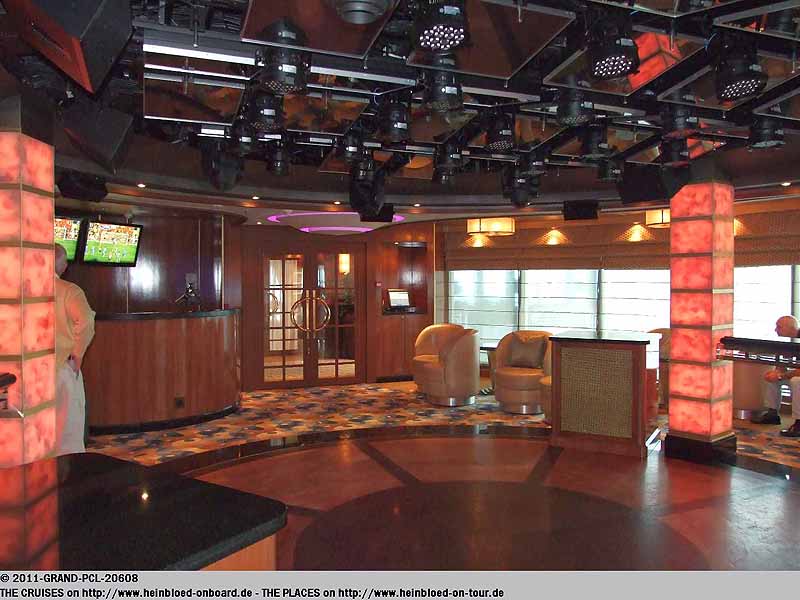 Zum Verbleib war es jedoch viel zu kalt.
Also probiere ich nur mal das Tartar.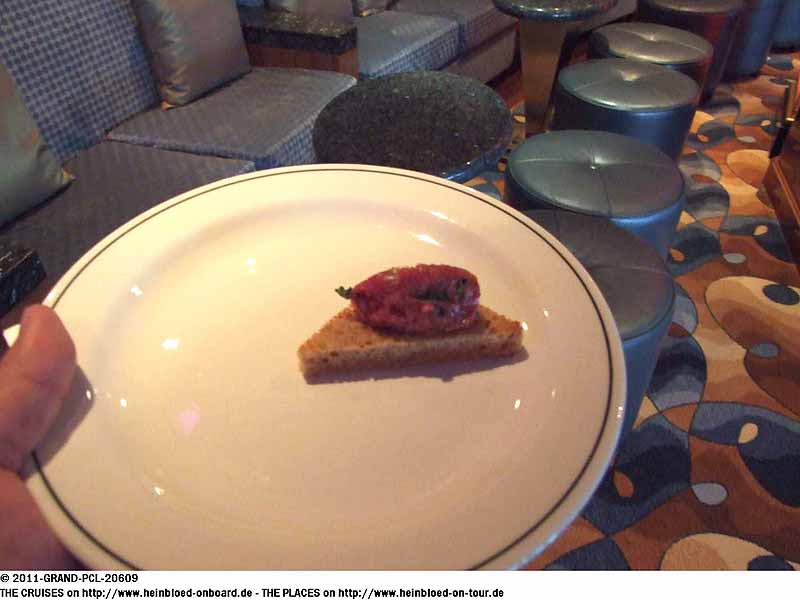 So I only tried the Beef Tartare.

By the way: who says all sunbeds are same - no matter with whom you are sailing check these sunbeds here... For those, you like to pay a little more.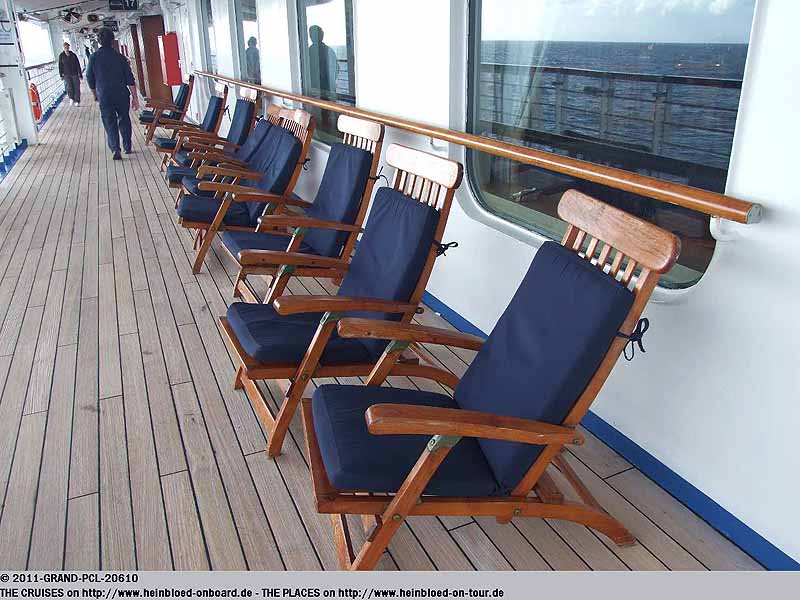 Übrigens, wer immer behauptet, dass ja alle Liegen gleich sind, egal mit wem man fährt, achte mal auf diese Liegen... dafür zahlt man doch gerne etwas mehr.
Nun haben wir die Außentasche entdeckt: Die Kaffeekarte passt doch rein.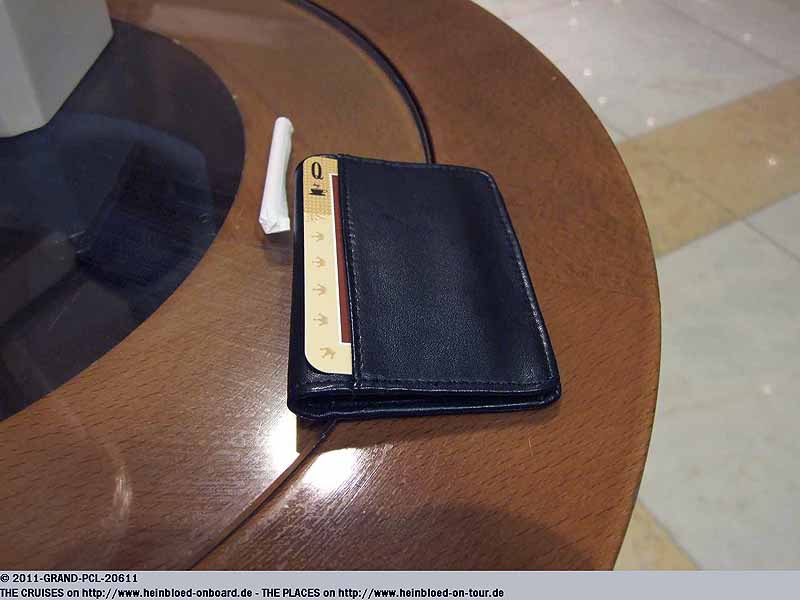 Now we discovered the outside pocket: The coffee card fits perfectly.

As there is no board at the International Café like with Carnival or Holland America you had few small communication problems: I wanted to have an Iced Coffee and got a Frappé.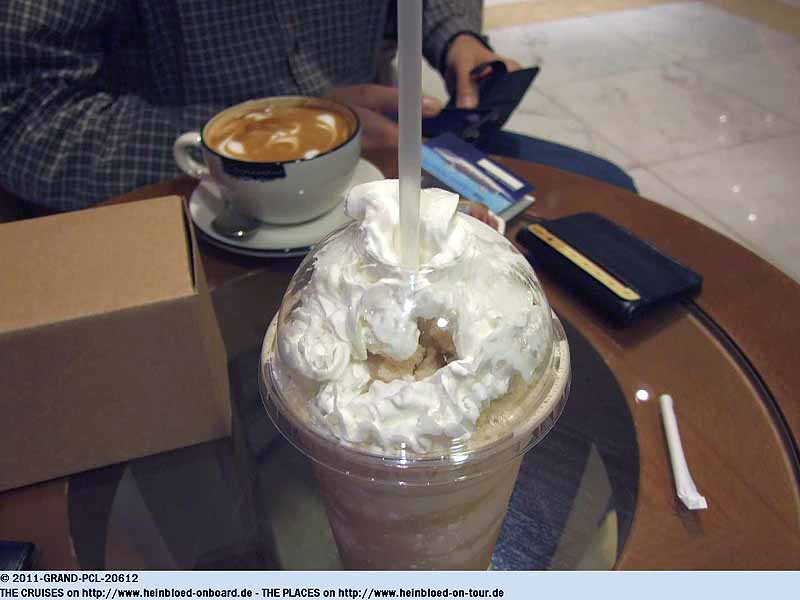 Da leider am International Café keine große Tafel hängt, wie beispielsweise bei Carnival oder Holland America, gibt es immer wieder mal kleine Kommunikationsprobleme: Ich wollte einen Iced Coffee und bekam ein Frappé...
Als Suitegäste dürfen wir die Tea-Time auch in der Kabine einnehmen. Wir wollten eine kleine Auswahl, die wir uns teilen können. Auch wollten wir bloß ein Stück pro Teil maximal haben... Uff...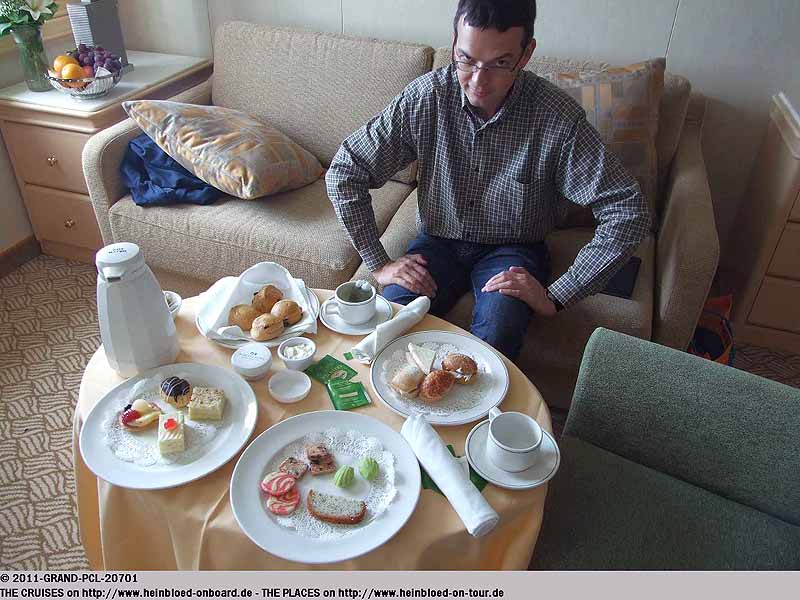 As Suite-guests we could also have our tea-time in our cabin. We asked for a small selection which we can share. So we asked for a maximum of one bite for two... Uff...

Due to the strong airflow, I had tension problems at my shoulder and necks. But also for Suite-guests, the reality is totally different. I was unable to use the privilege of preferred reservations. Earliest appointment was 18:45 hrs. I accepted it.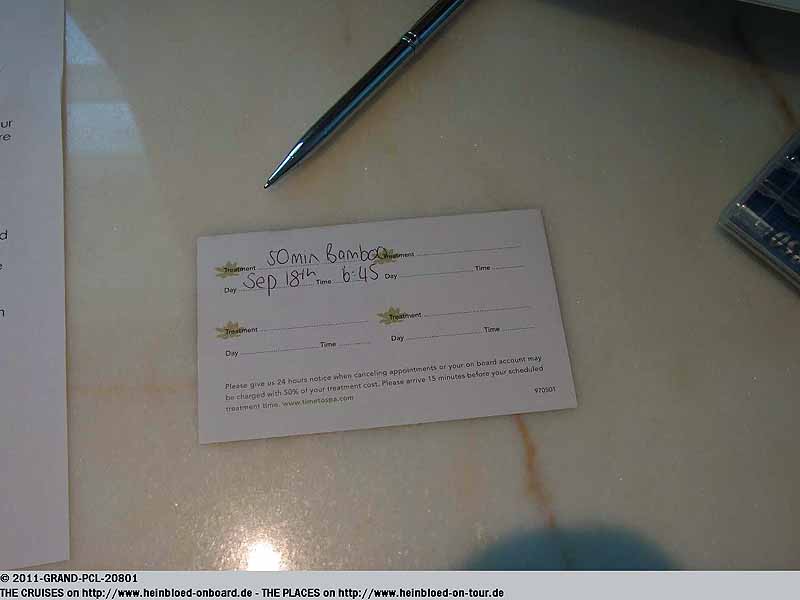 Durch den starken Luftzug hatte ich ziemliche Verspannungen an Schulter und Nacken. Aber auch für Suiten-Gäste sieht die Realität anders aus. Das Privileg der bevorzugten Reservierung kann ich nicht nutzen. Frühester Termin 18:45 Uhr. Ich nehme ihn trotzdem.
Für 159,00 USD für 50 Minuten Bambus-Massage kann man schon erwarten, dass man nicht noch 1,00 GBP für das Schließfach dabei haben muss... Brauchte man auch nicht, da man gegen Vorlage der Cruisecard auch einen Schlüssel bekam. Mich würde mal interessieren, was in der Winter-Karibik-Saison hier steht.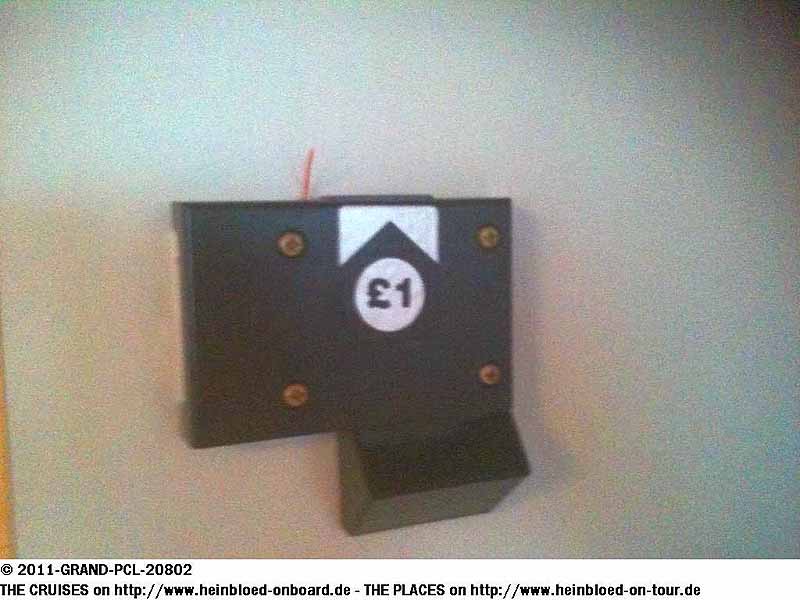 For 159.00 USD for a 50-minutes bamboo-massage you can expect that you must not have a 1 GBP-coin with you for the locker...But honestly, you did not need it as you could get against presentation of your cruise card a key. I was curious to see what might be written here in the Winter season when the ship is in the Caribbean.

For 159.00 USD you can expect to have slippers. You will get a lot of trouble if I am home with athlete's feet because I had to walk barefoot around. If they would tell before I could have taken my slippers from my cabin. No pictures from the massage: 1. No camera with me, 2. I could not take photos of myself, 3. None of you really wants to see it. I had luck because Ana gave me excellent treatment and she is from Dubrovnik. So she gave me many tips for our trip to Croatia in two weeks on NORWEGIAN JADE.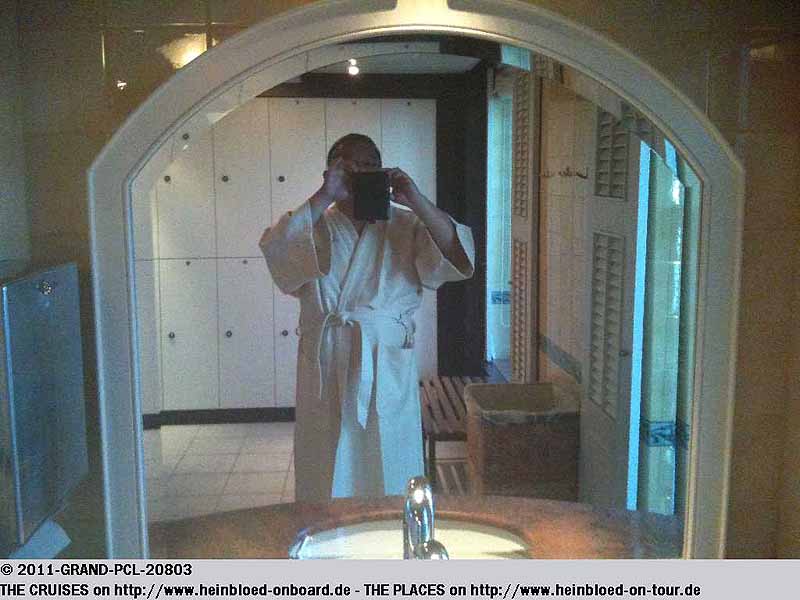 Für 159,00 USD kann man schon erwarten, dass es Slippers gibt. Wehe ich komme mit Fußpilz nach Hause, weil ich hier barfuß herumlaufen musste. Hätten sie vorher Bescheid gesagt, hätte ich auch die Slippers aus unserer Kabine mitnehmen können. Bilder von der Massage gibt es nicht: 1. Keine Kamera dabei, 2. Ich kann mich ja schlecht selbst fotografieren, 3. Das will eh keiner sehen. Ich habe Glück, dass Ana aus Dubrovnik kommt und gut massiert. Sie gibt für unsere Fahrt auf der NORWEGIAN JADE in zwei Wochen sehr viele Tipps, was wir in Kroatien unternehmen können.
Die anderen Reisen in diesem Blog/
The other voyages in this blog: