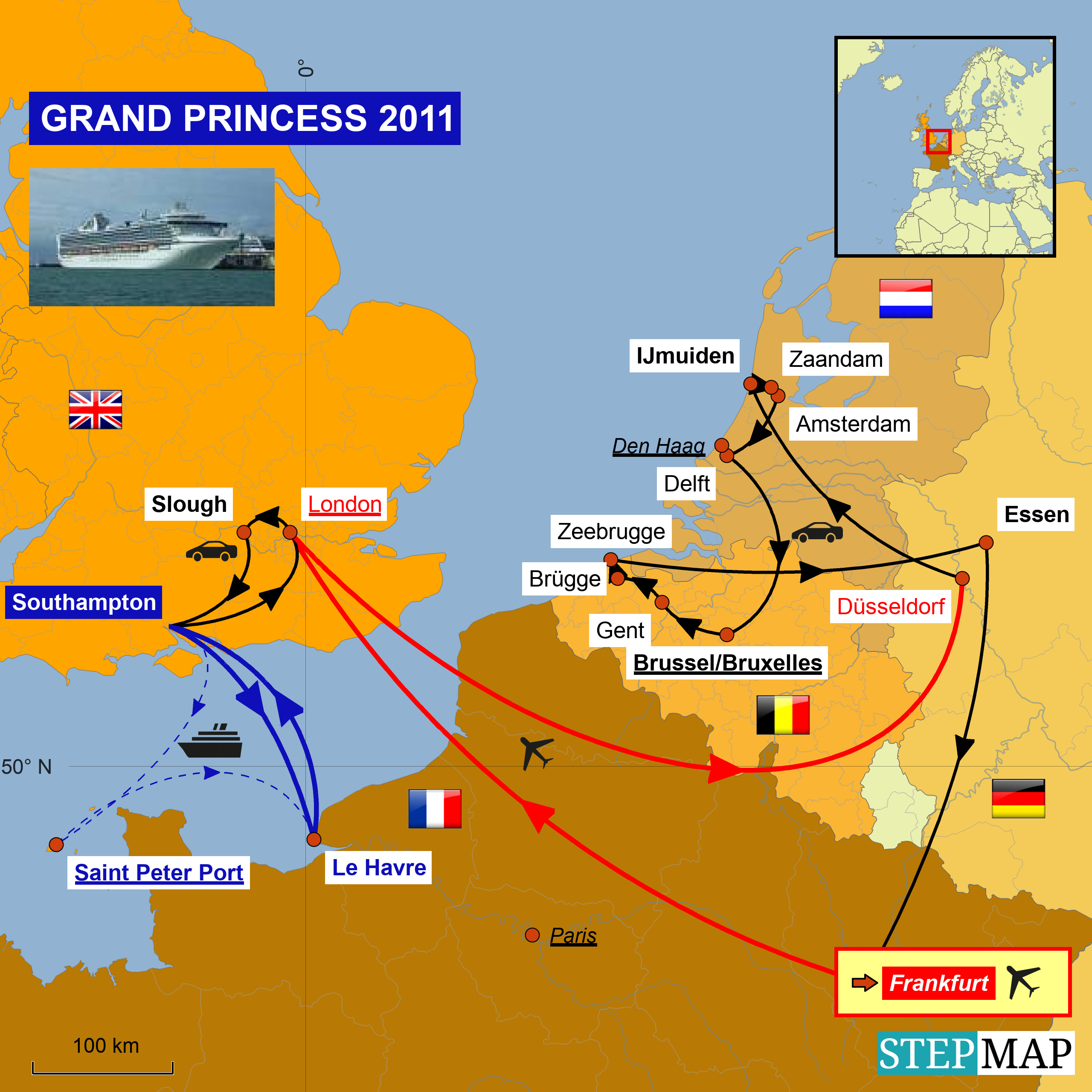 Es gibt wieder Frühstück. Leider gibt es heute keine englischen Frühstückswürstchen. Unsere Tankstelle gegenüber hat leider wegen Umbau geschlossen. Trotzdem schaffen wir es rechtzeitig den Wagen zu Europcar zurückzubringen. Als wir wieder zum Terminal 5 gebracht werden, werden die Schlangen immer länger.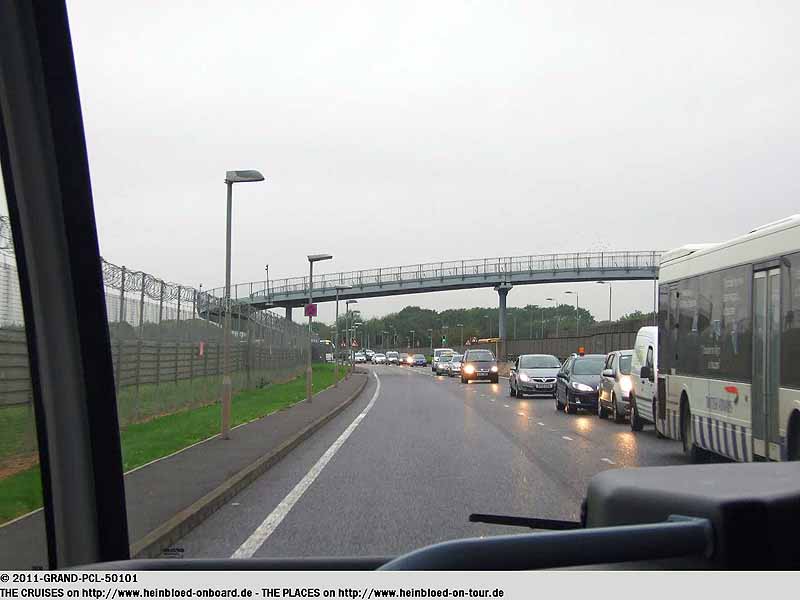 Breakfast again. But today we had no English sausages. Our gas station opposite was closed due to reconstruction. Somehow we made it right on time to Europcar. When they shuttled us to Terminal 5, the queues became longer and longer.

It was easy to navigate at Terminal 5.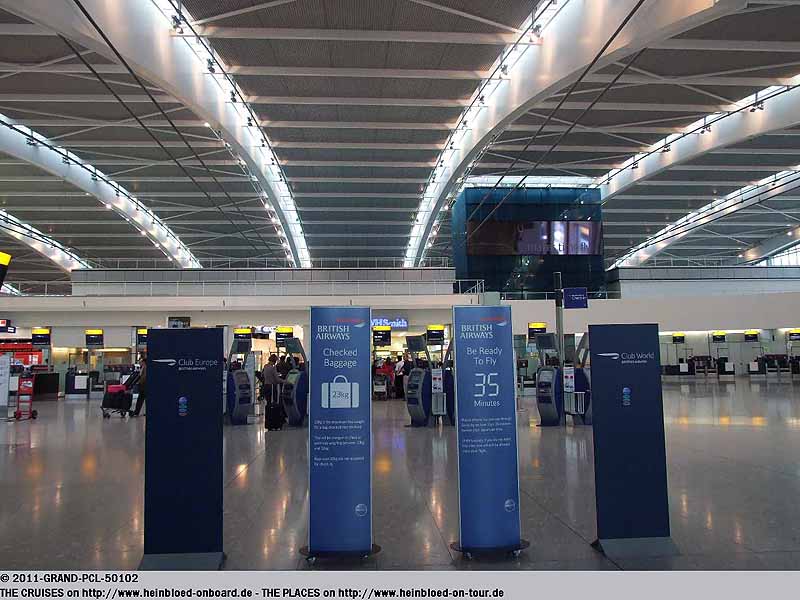 Im Terminal 5 findet man sich schnell zurecht.
Einfach an diesen Anzeigen informieren.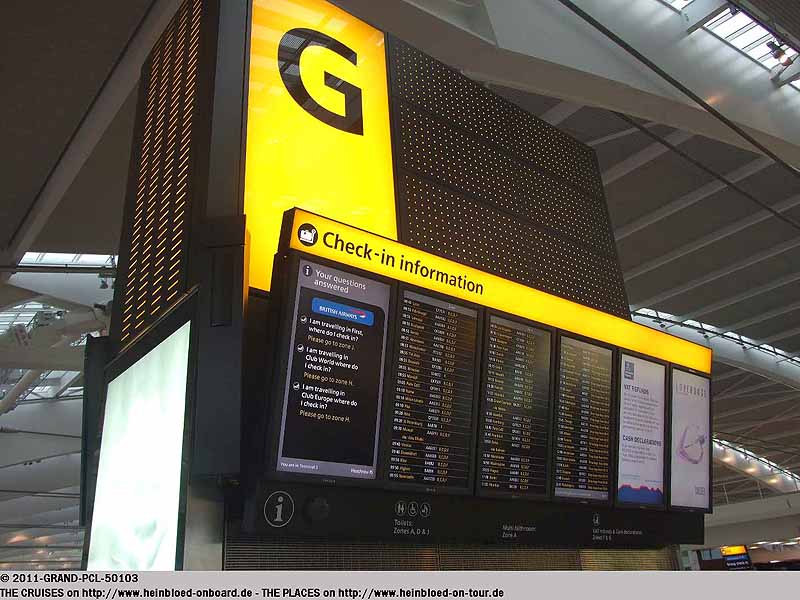 Every information you need are displayed.

And checking in the baggage.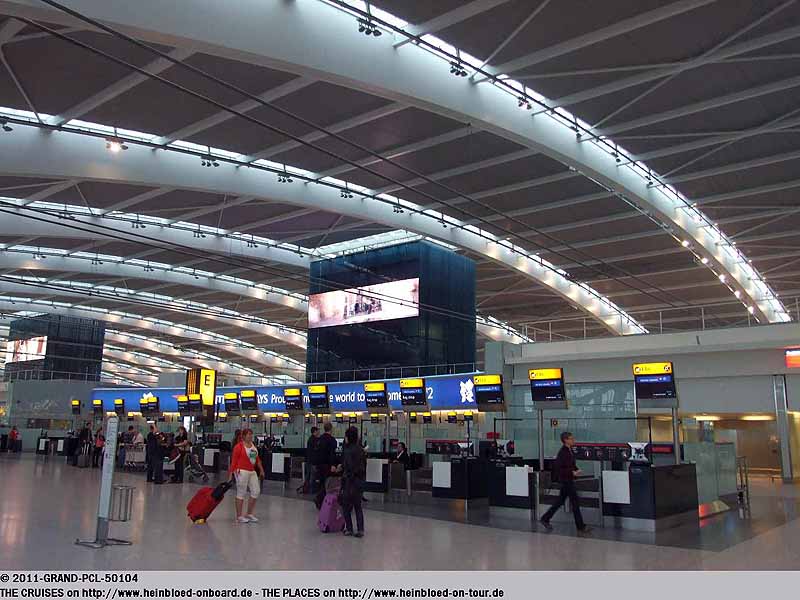 Und das Gepäck aufgeben.
Weil wir ja auf dem Hinflug nichts mehr zu essen bekommen haben, kaufen wir etwas bei
Gordon Ramsay
. In Deutschland kennt man ihn aus RTL 2. Dort ist er die Hauptperson bei "Teufels Küche", der versucht Restaurants, die schlecht laufen, zu retten.

As we did not get any food on the outward journey we bought something with Gordon Ramsay. I know him from "Hell's Kitchen"

For 11.95 GBP you get a nice cooling box.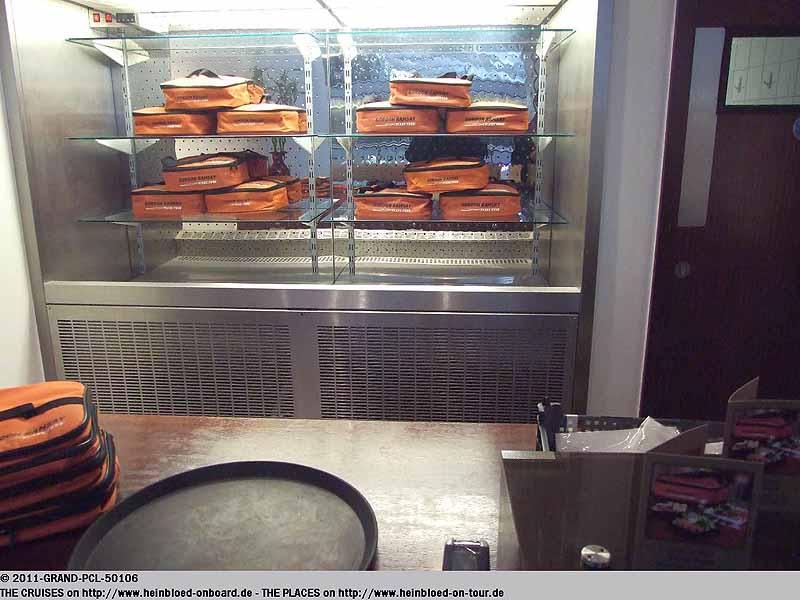 Für 11,95 GBP bekommt man ein hübsche Kühltasche
und man sucht sich sein 3-Gang-Menü selbst aus.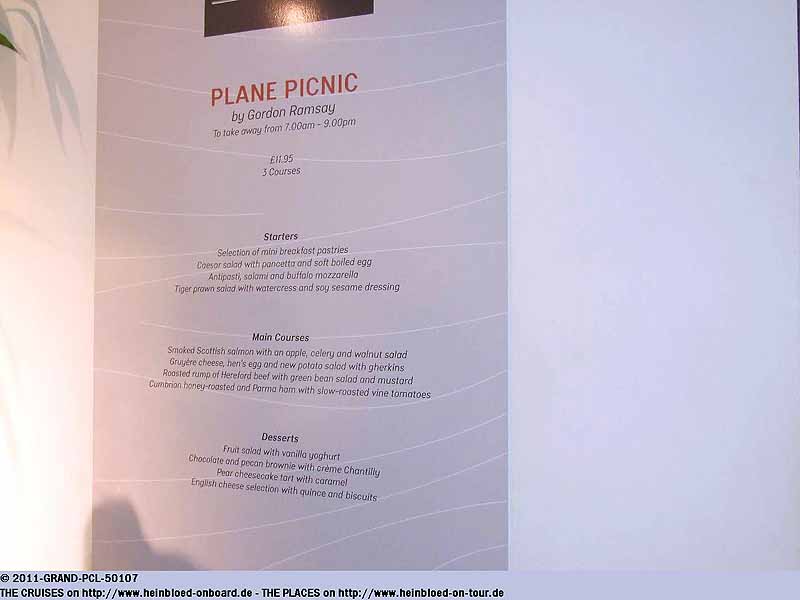 and you select your own 3-course-menu.

It was delicious.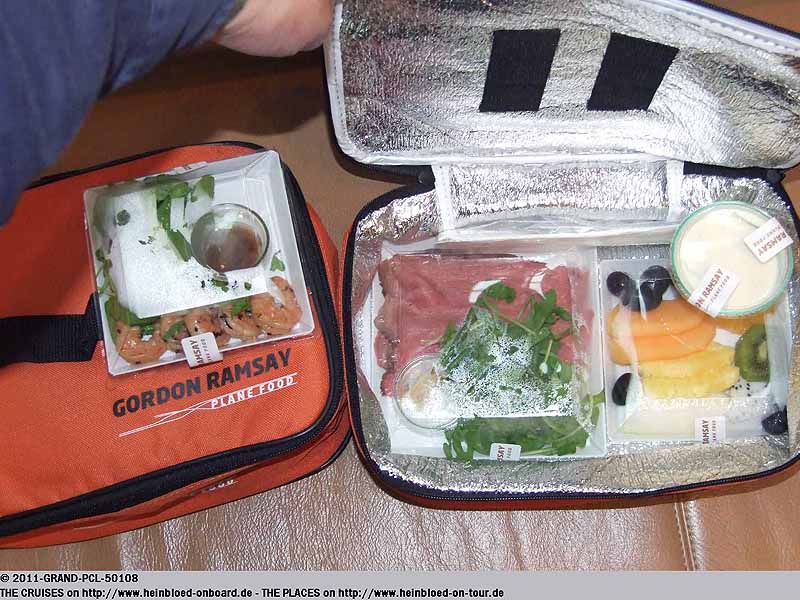 Echt klasse.
Terminal 5 ist schon klasse, weil es dort sehr schöne Einkaufsmöglichkeiten gibt.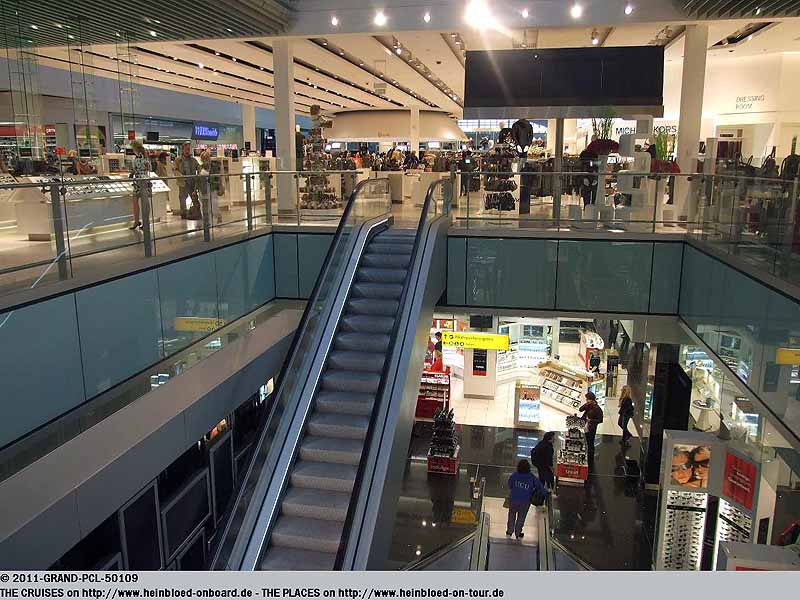 Terminal 5 is brilliant because there are many great shopping venues.

And of course we took the chance to shop again with Molton Brown.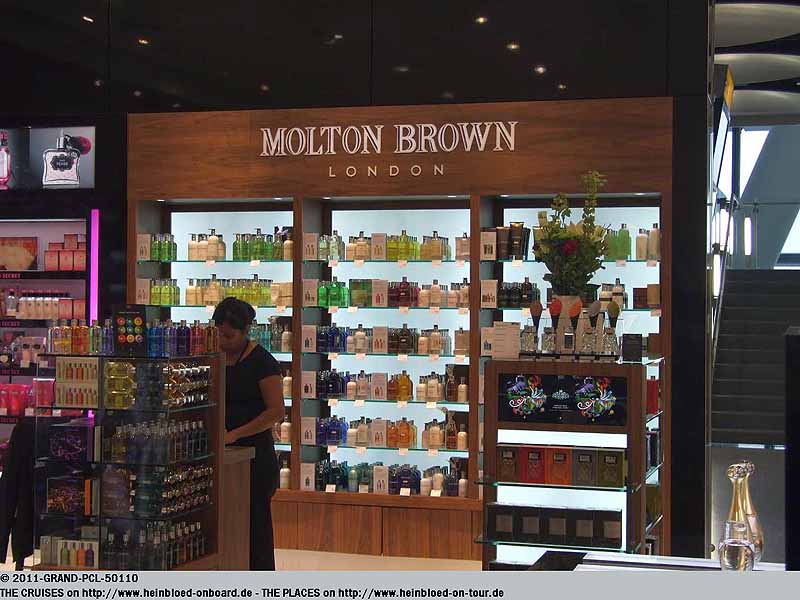 Und natürlich nutzen wir die Chance uns wieder bei
Molton Brown
einzudecken.
Gegen 09.00 Uhr wird endlich bekanntgegeben, von welchem Gate unser Abflug stattfindet. So hält man die Leute möglichst lange im Ladenbereich.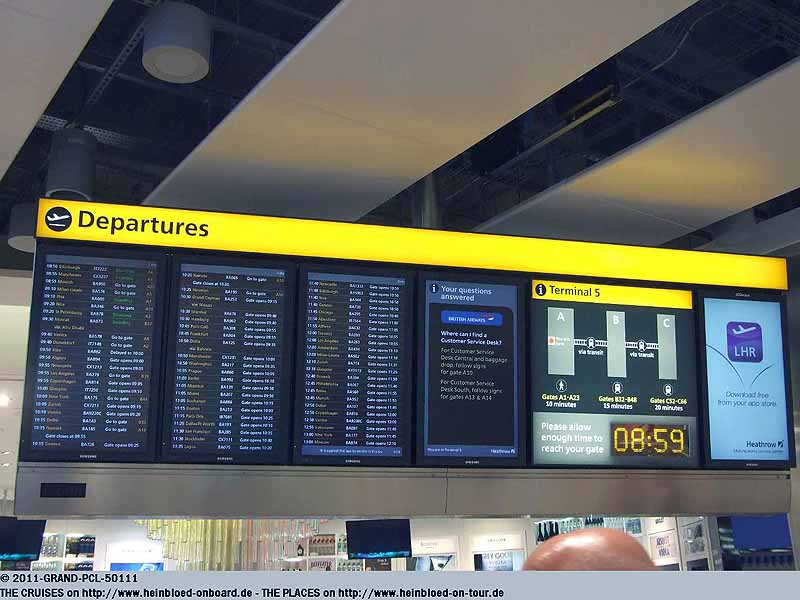 Around 09.00 hrs they announce the gate for our departure. So you keep all guests as long as possible in the shopping area.

We flew to Düsseldorf to see my parents and to prepare them for our voyage on NORWEGIAN JADE.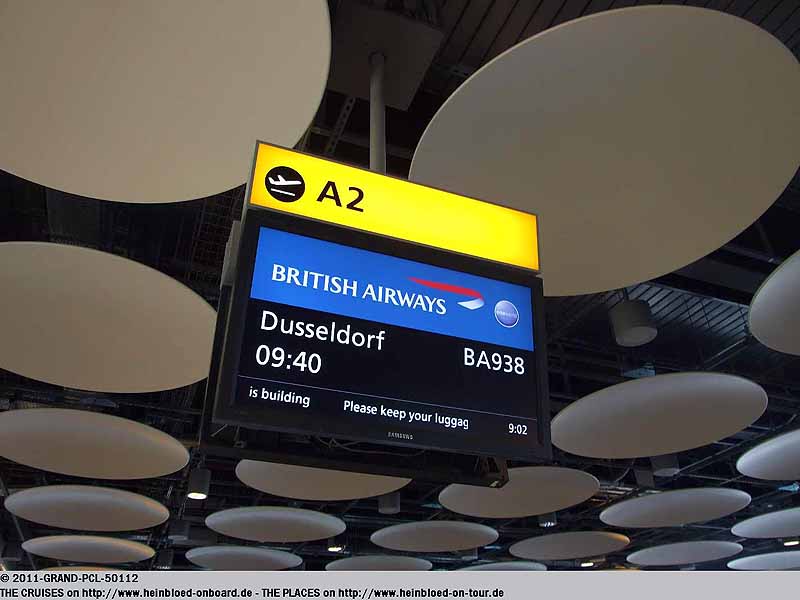 Wir fliegen nach Düsseldorf, um kurz bei meinen Eltern vorbeizugucken und um sie auf die Fahrt auf der NORWEGIAN JADE vorzubereiten.
Unsere Maschine ist schon da.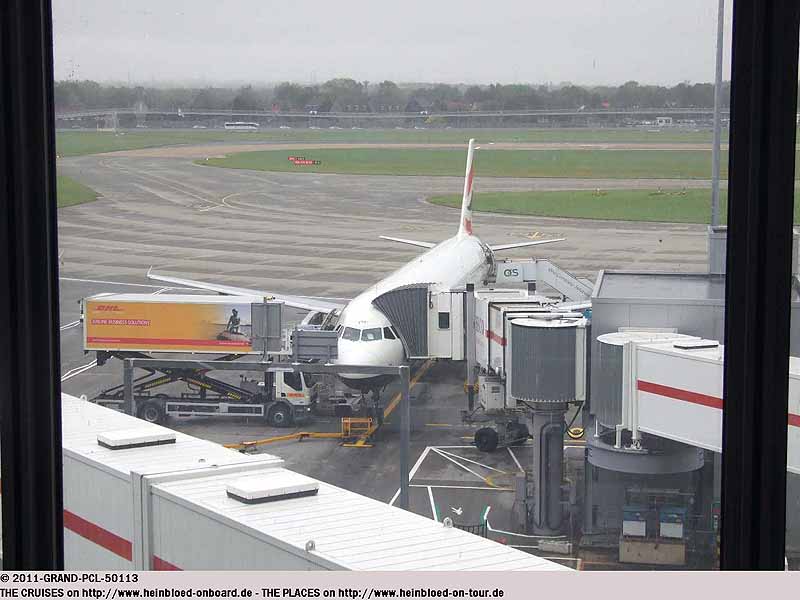 Our aircraft was ready.

For 10.00 GBP/15.00 USD, we could book one of the emergency exit rows in advance.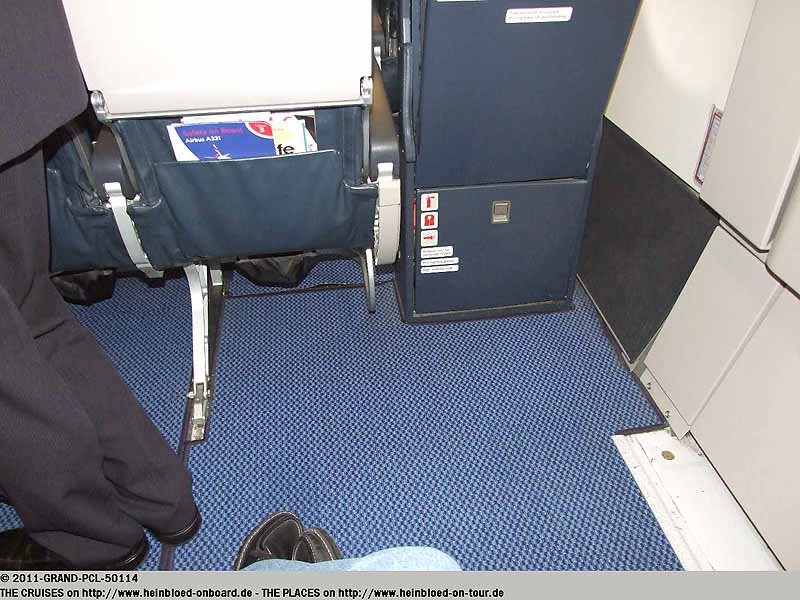 Für 12,00 EUR konnten wir schon die Notausgangreihen vorab buchen.
Das war genial, zumal eine 2-er-Reihe verfügbar ist.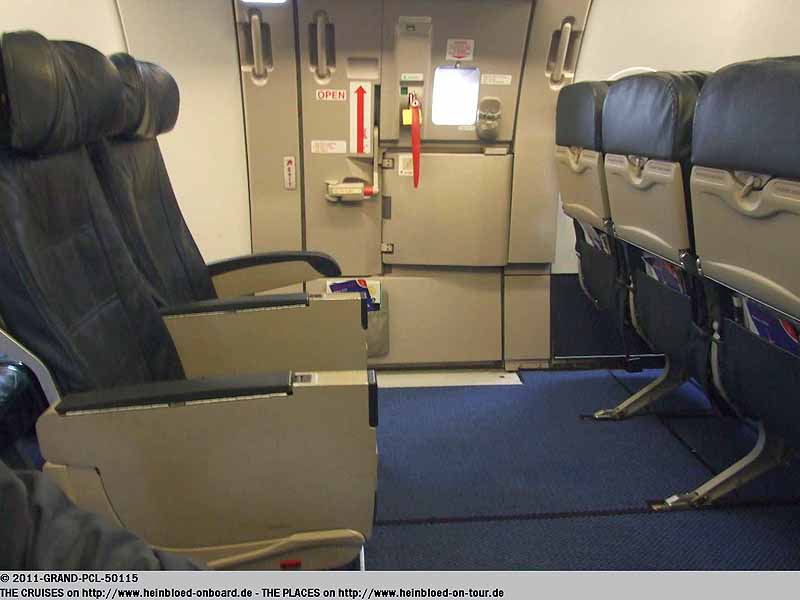 This was brilliant as we had a row for 2 for us.

When we unpacked our picknick, we got some food from British Airways. The only reason why we did not get anything on our outward journey was that it was after 22:00 hrs. But the rolls became smaller and smaller.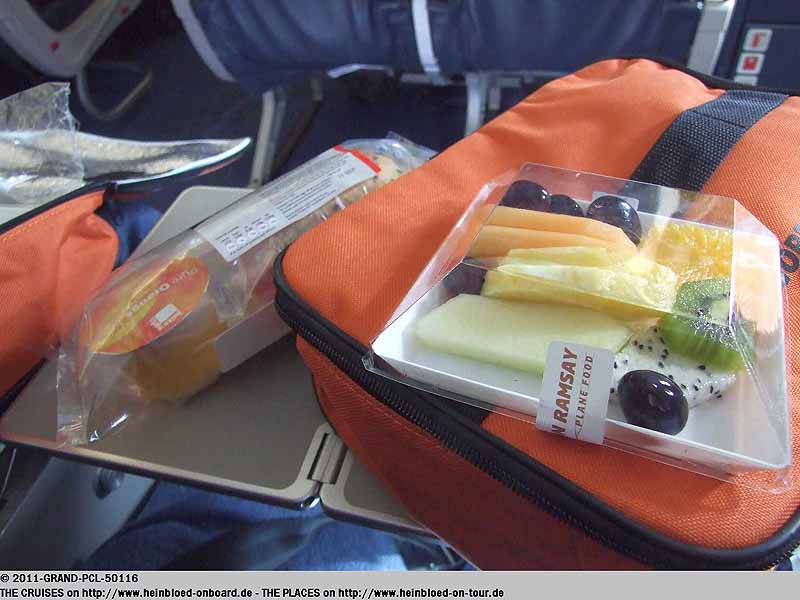 Nun als wir unseren Picknick auspacken bekommen wir von British Airways auch etwas zu essen. Es gab bloß nichts mehr auf dem Hinflug weil es nach 22:00 Uhr war. Aber die Brötchen werden immer kleiner.
Eigentlich müssten wir hier in Amsterdam aussteigen.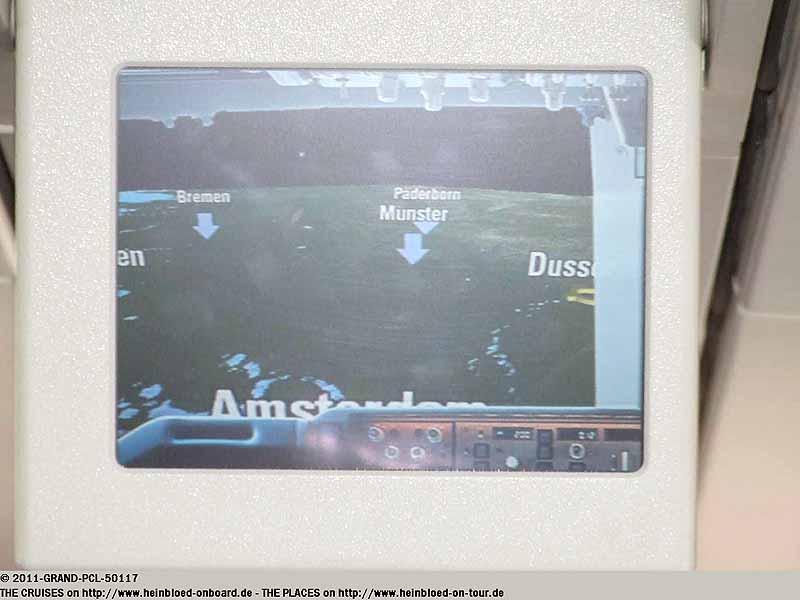 We need to get off for Amsterdam.

Could not they stop for a moment so that we can store our bags.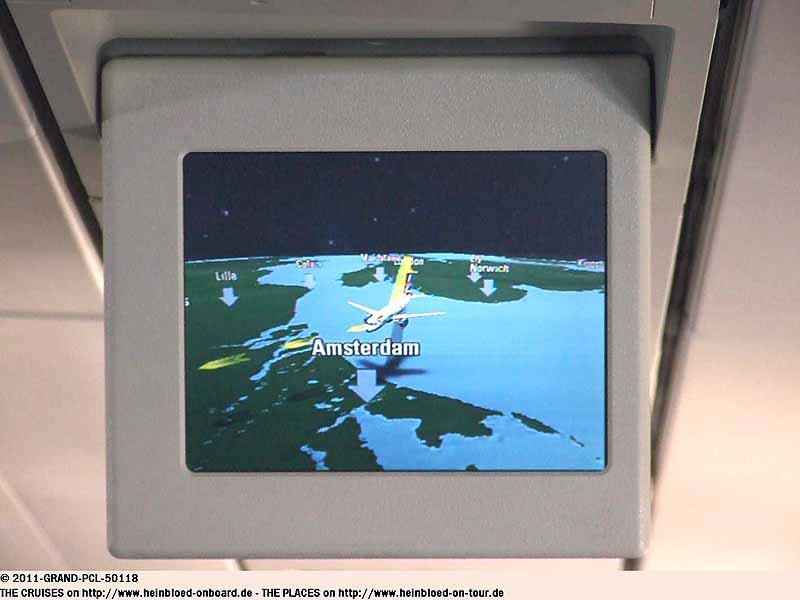 Können wir nicht zumindest mal kurz anhalten, um unser Gepäck schon mal einzuschließen???
Am Flughafen Düsseldorf komme ich überhaupt nicht klar. Auf Deck 30 sollen die Mietwagen parken. Aber da ist nichts.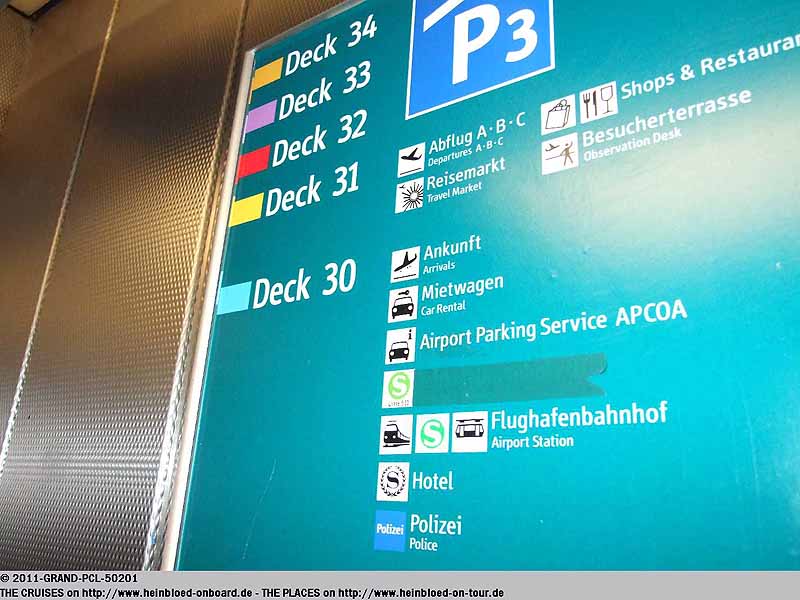 It was not easy for me at Düsseldorf Airport. On deck 30 there should be the cars. But there was not anything.

No information on where to find deck 30 in the elevator.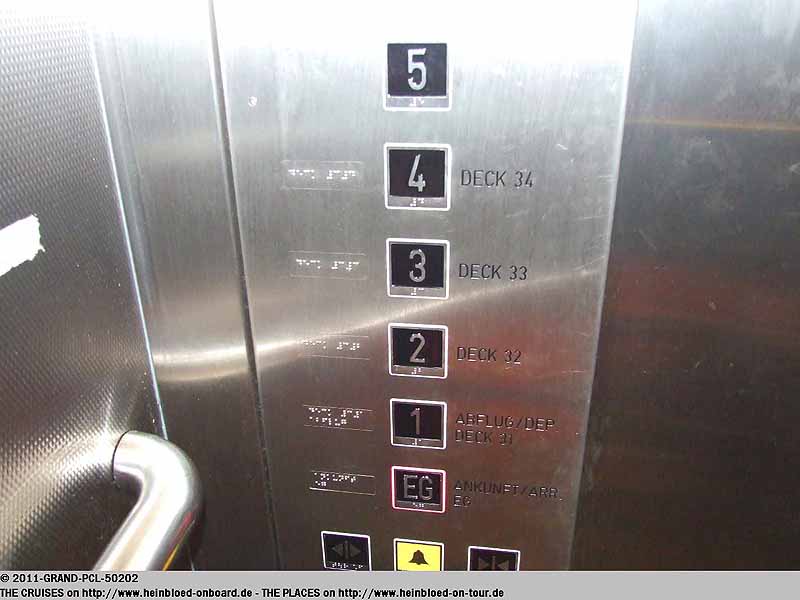 Auch im Fahrstuhl kein Hinweis auf Deck 30.
Später erfahren wir, dass das Mietwagenzentrum umgezogen ist, aber die Beschilderung noch nicht so richtig umgestellt wurde.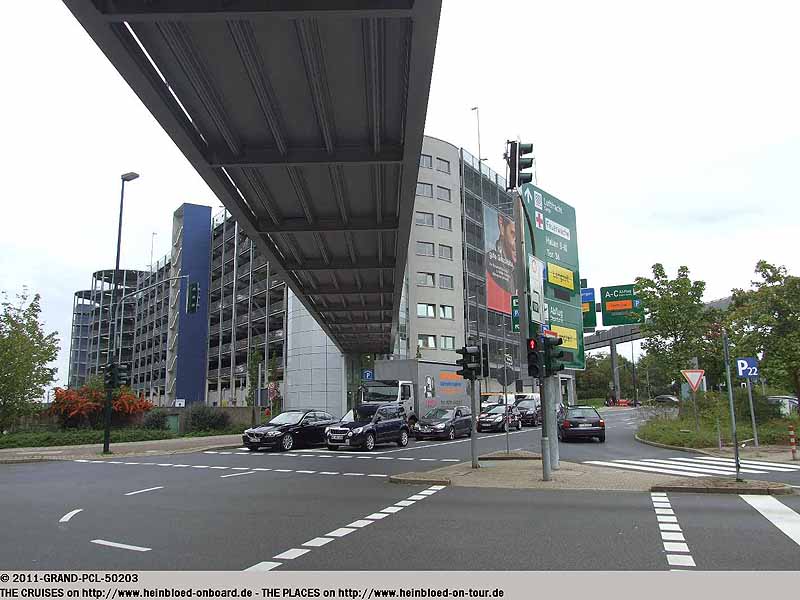 Later we learned that the car rental center moved and they forgot to correct the signposts accordingly.

Only solace: our Volkswagen Passat in a station wagon version. A real man's toy. After visiting my parents, we also visited another co-worker who was in a hospital.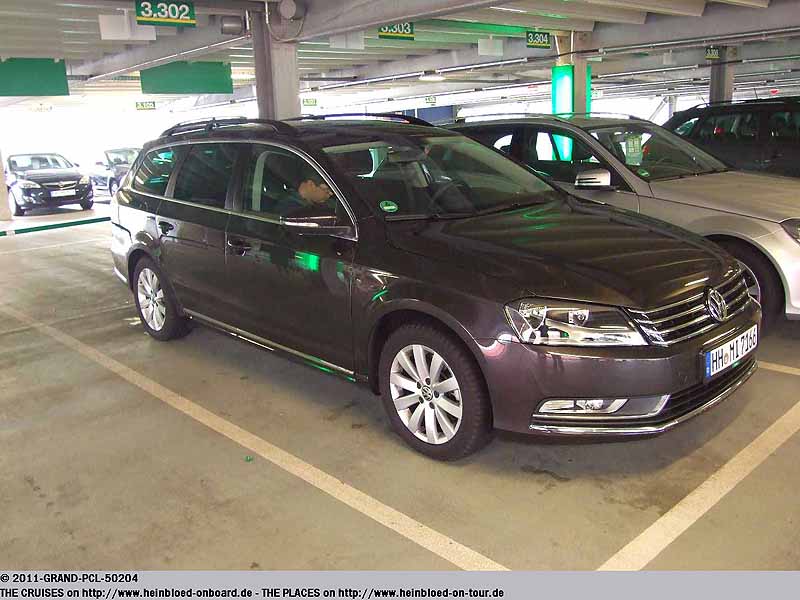 Einziger Trost: unser Passat Variant, den wir bekommen. Ein richtig schönes Männerspielzeug. Nach meinen Eltern besuchen wir noch einen Arbeitskollegen in Aachen, der sich in einer Rehamaßnahme dort befindet.
Abends übernachten wir im Holiday Inn in IJmuiden.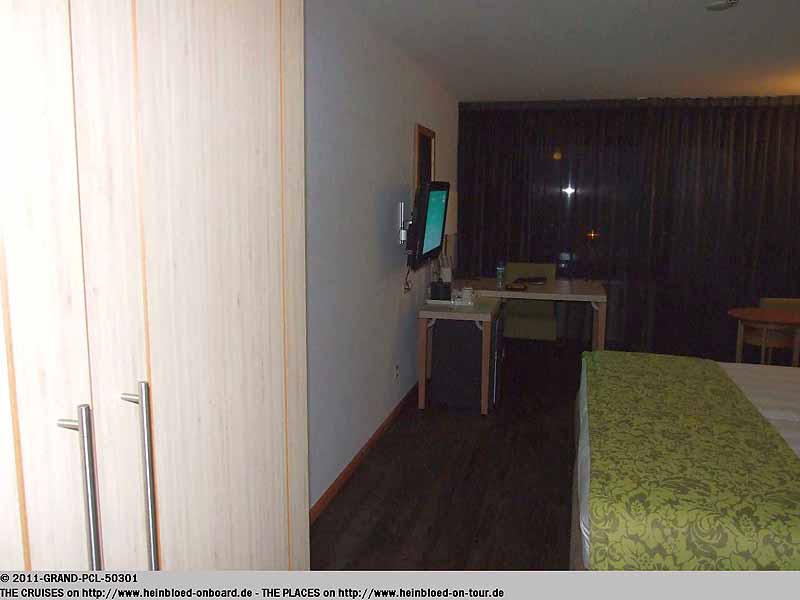 The night we stayed at Holiday Inn in IJmuiden in the Netherlands.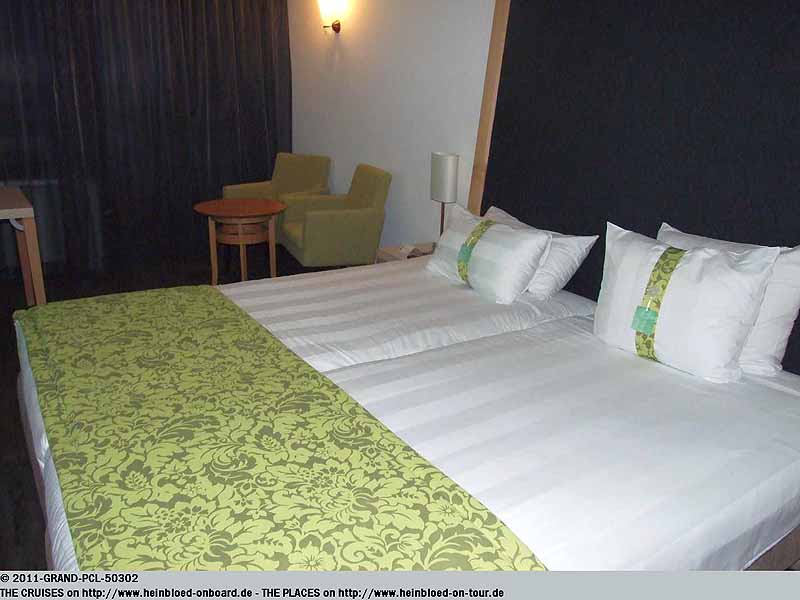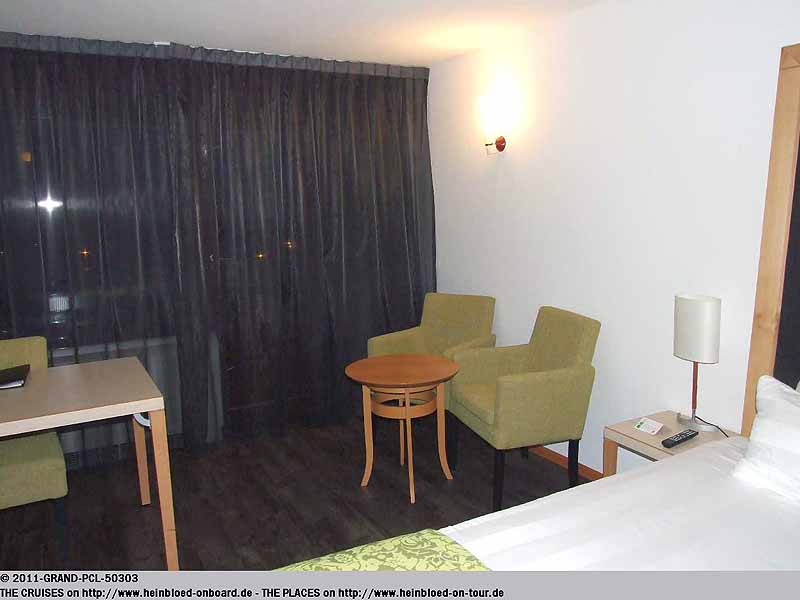 As I am Priority Platinum-Member I was allowed to use internet for free.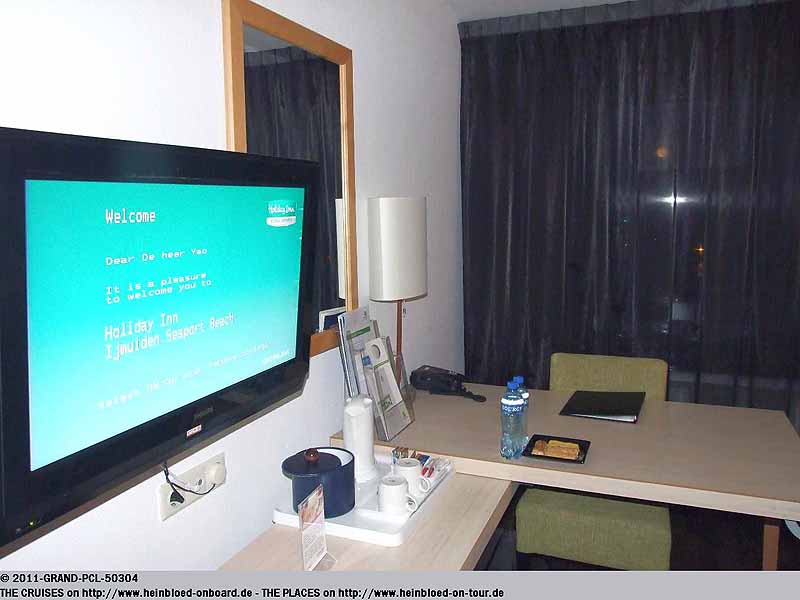 Als Priority Platinum-Mitglied kann ich das Internet kostenlos nutzen.
Und ich bekomme Wasser und Käsegebäck als kleine Aufmerksamkeit.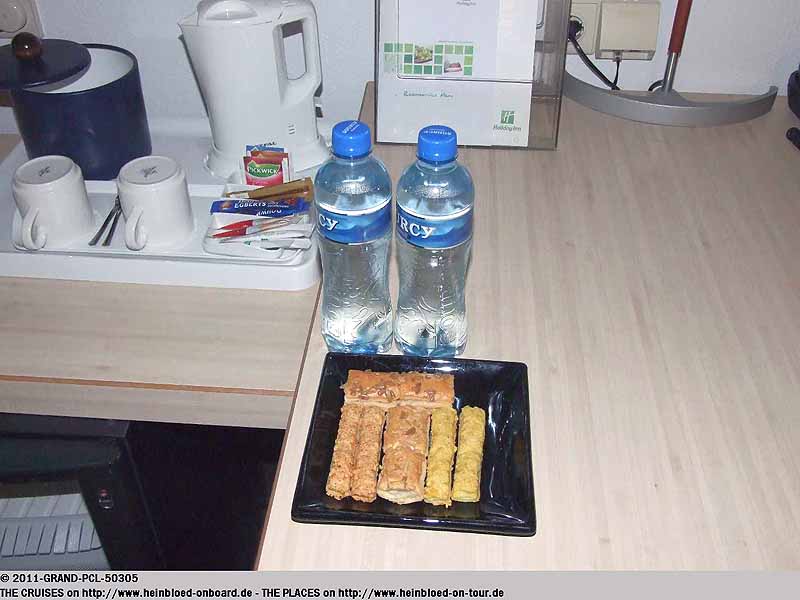 And I got some water and some cheese biscuits as courtesy.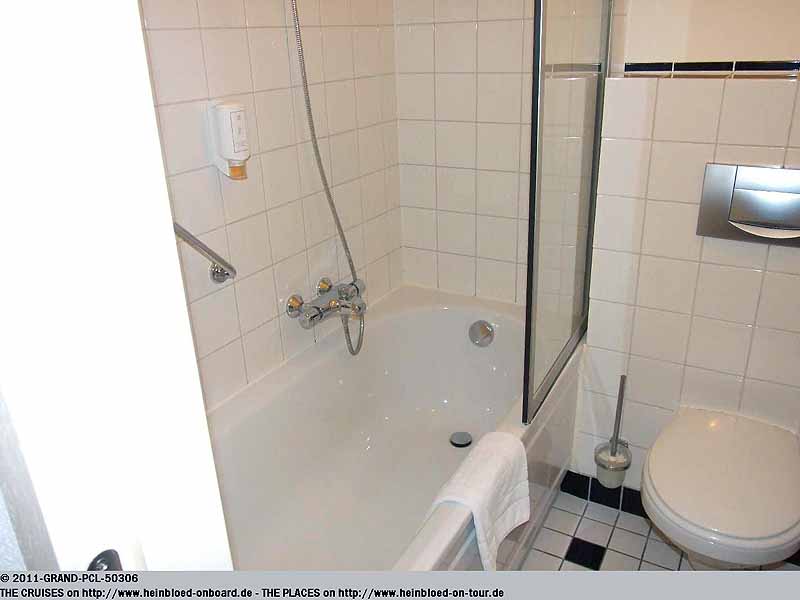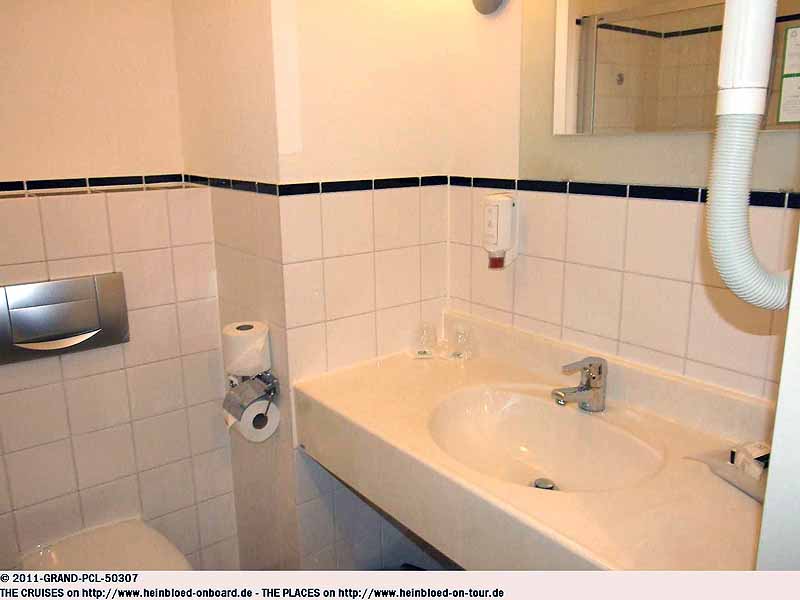 Die anderen Reisen in diesem Blog/
The other voyages in this blog: