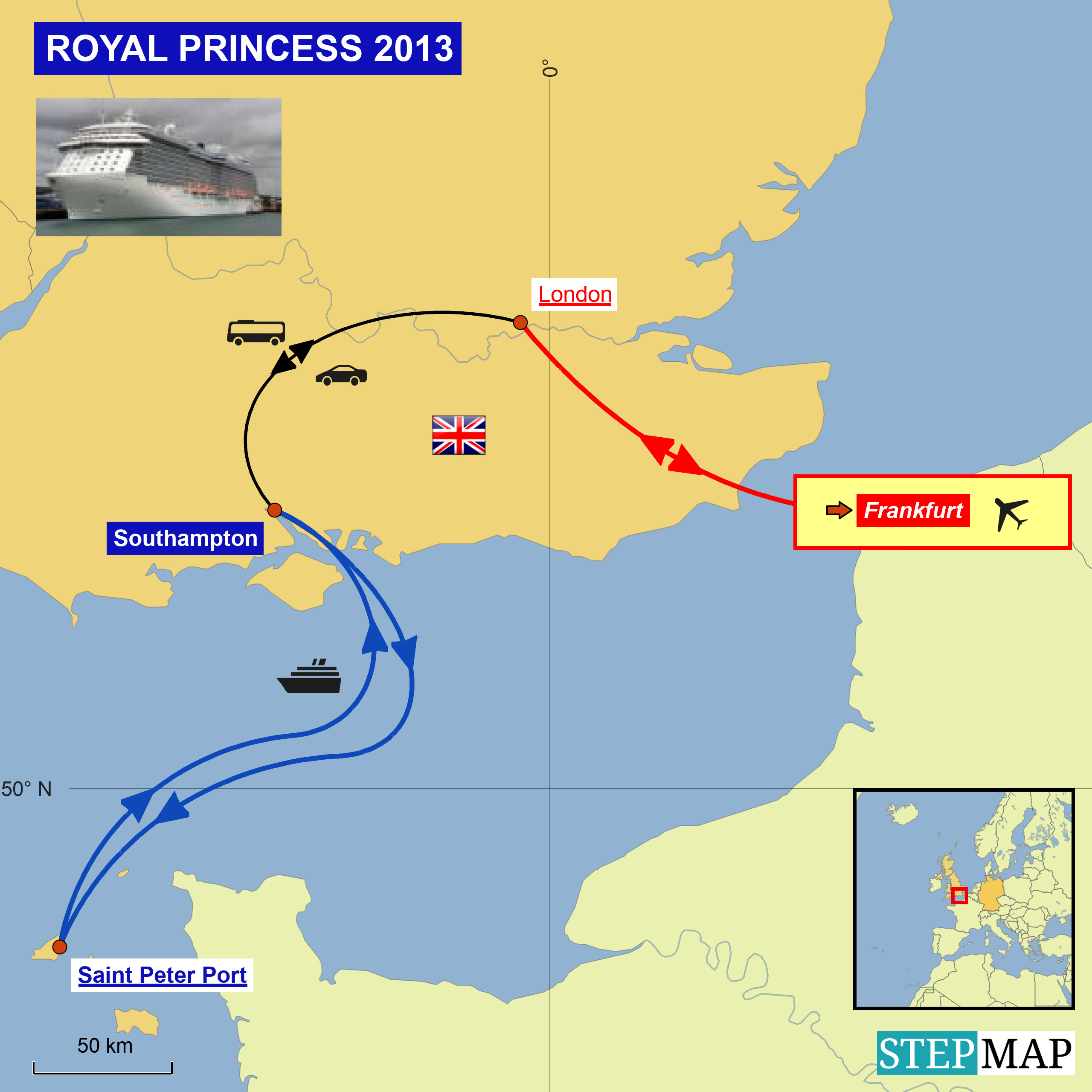 Unsere Kabine R 712.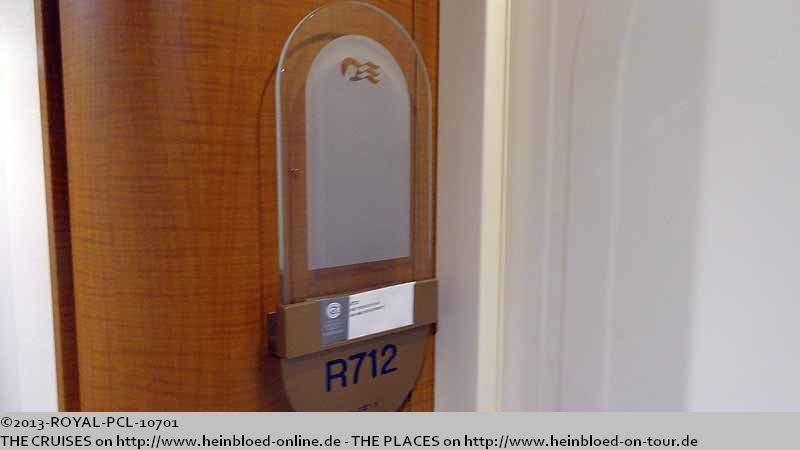 Our cabin R 712.

Looked nice...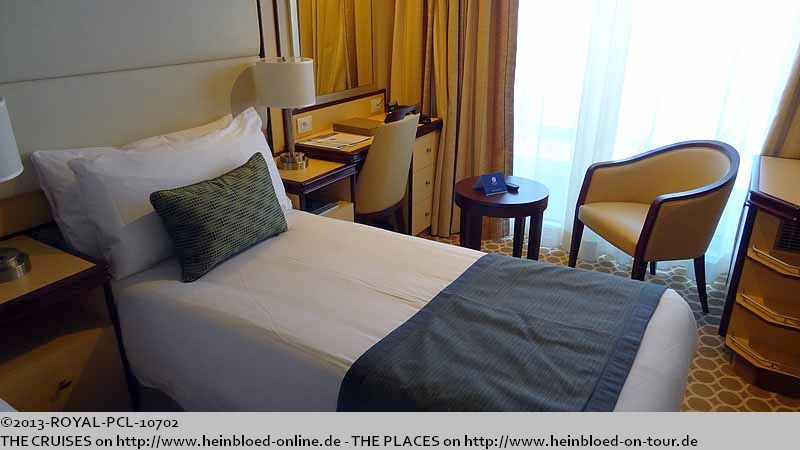 Sehr schön...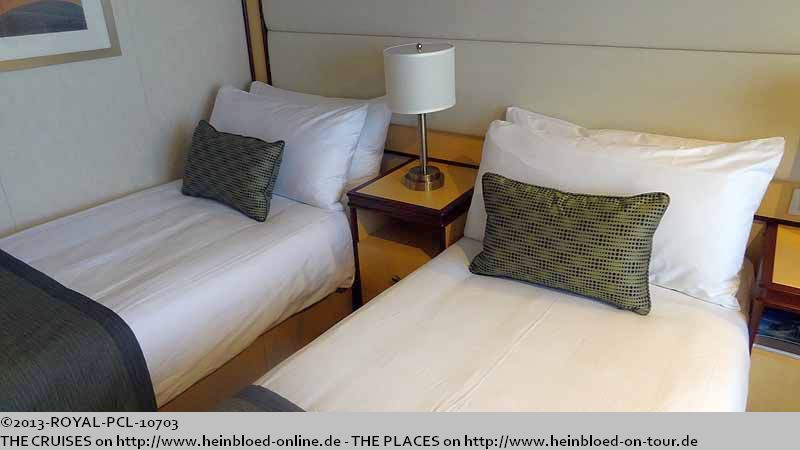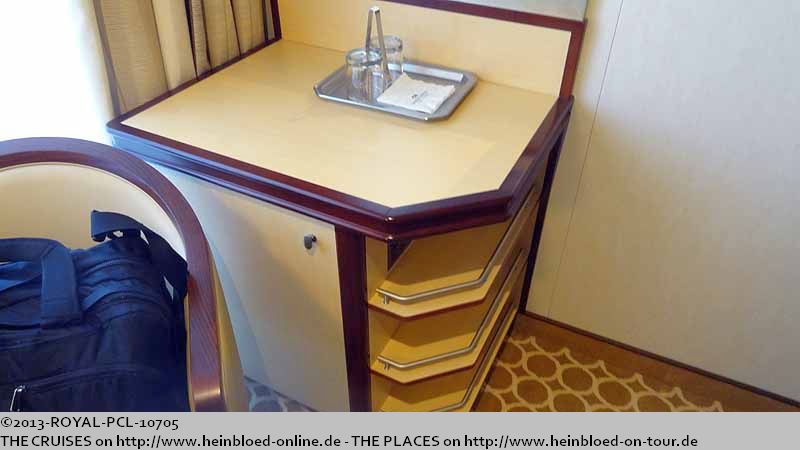 This was very practical.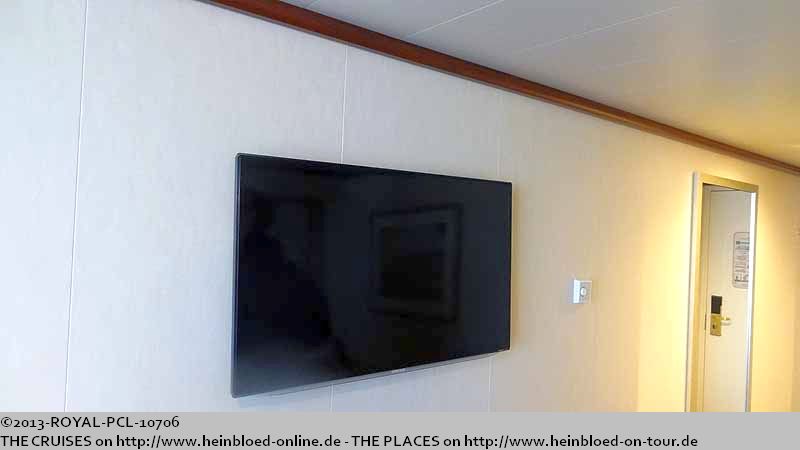 Das war sehr praktisch.
Klimaanlage...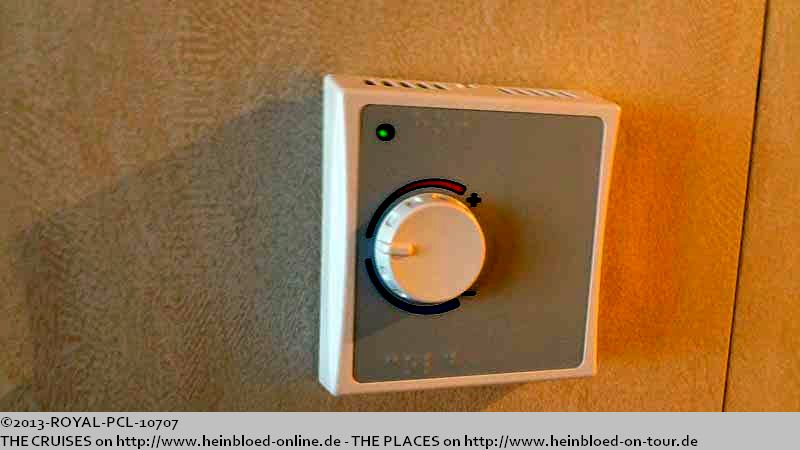 Air condition.

But it was the stupid one which we knew already...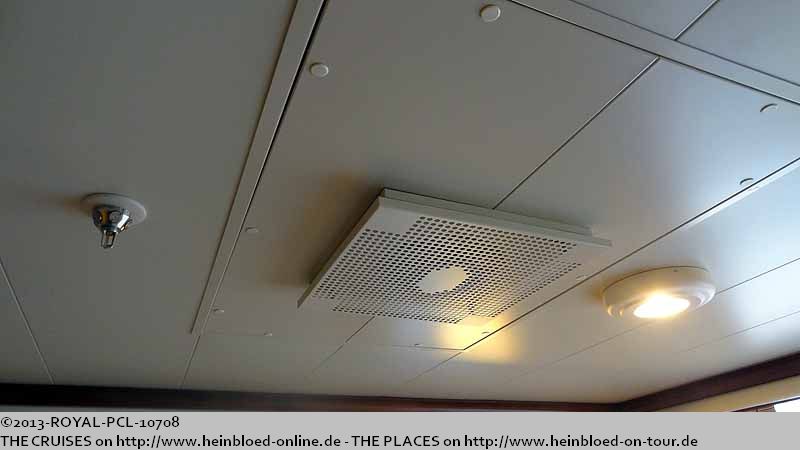 Aber das blöde Ding, das wir schon kennen...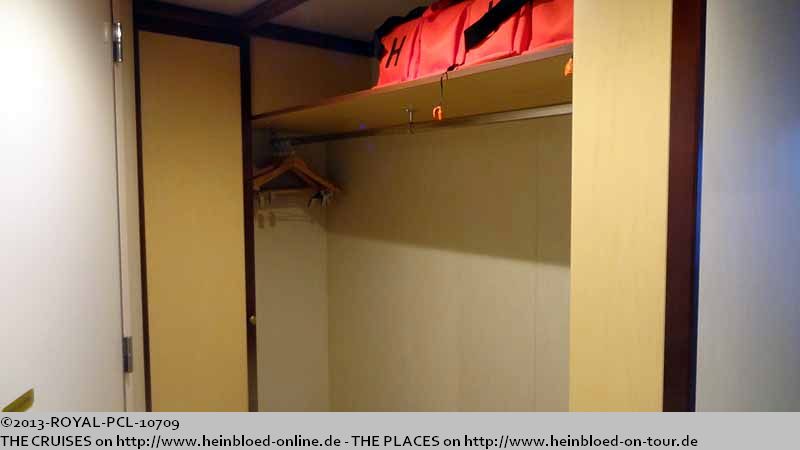 Our bags already arrived.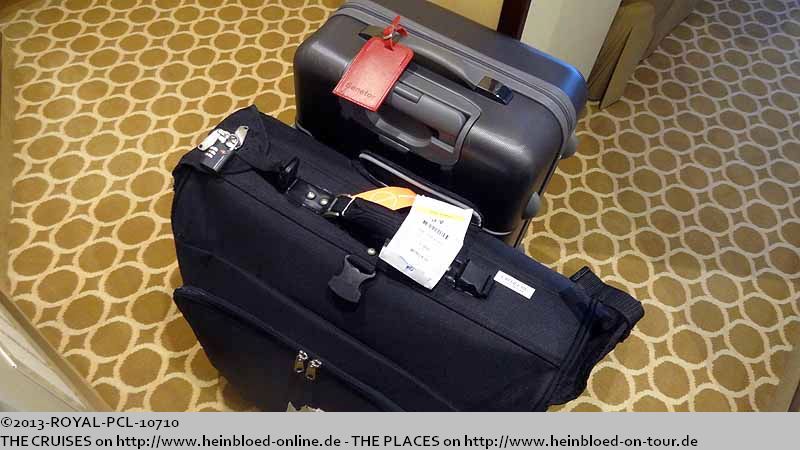 Unsere Koffer sind schon da.
Der Tresor ist zum Glück nur mit Zahlencode steuerbar.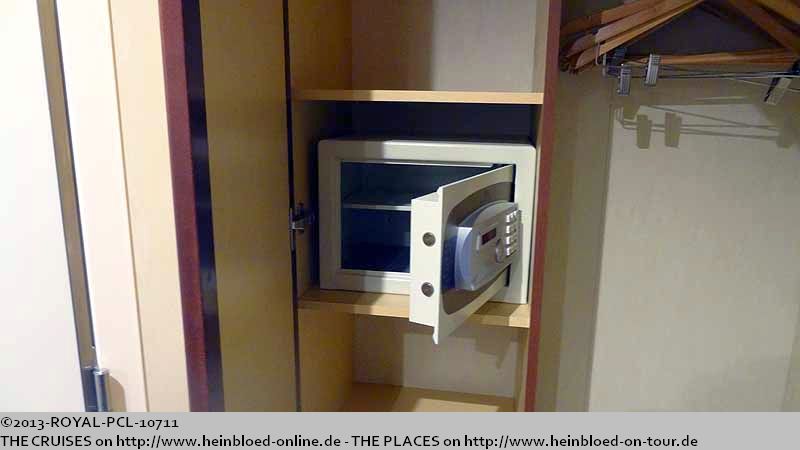 The safe was luckily only number-code-controlled.

Why again a shower curtain?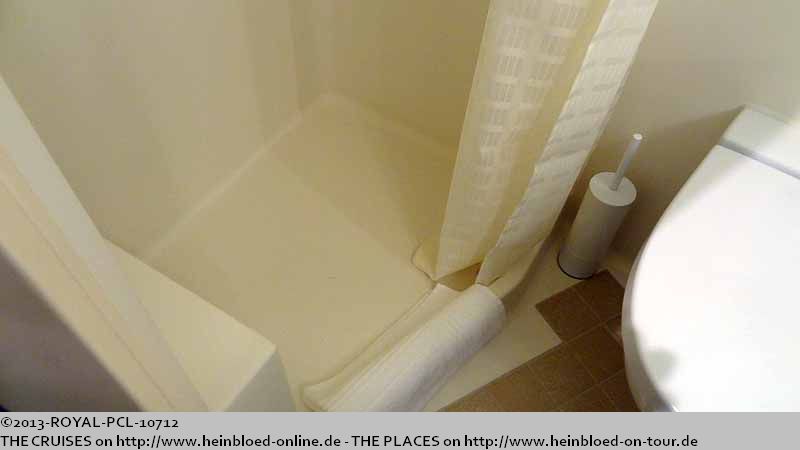 Warum eigentlich wieder einen Duschvorhang?
Dafür endlich keinen festen Duschkopf.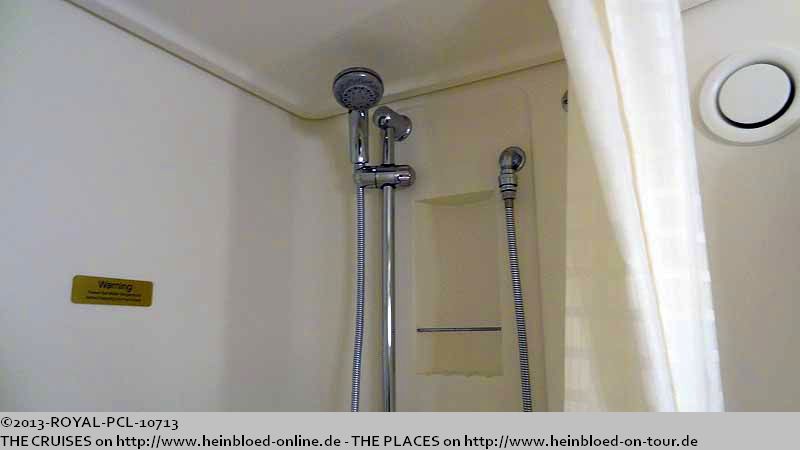 But we had no fixed shower head anymore.

Shower gel from the dispenser... Perfect.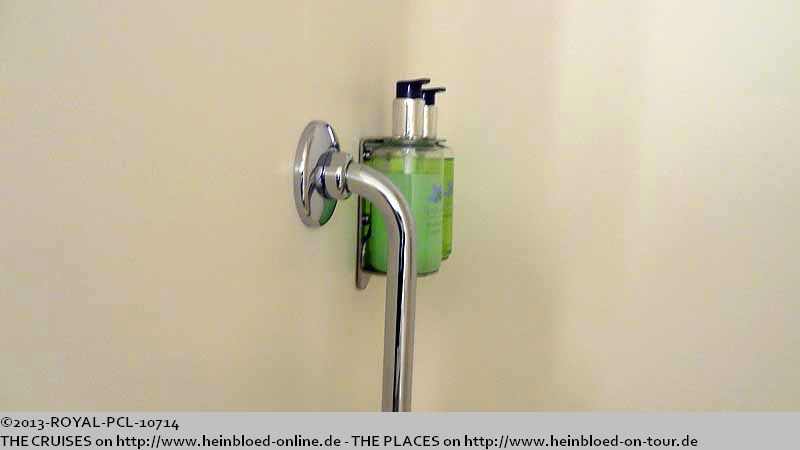 Duschgel vom Spender... Perfekt.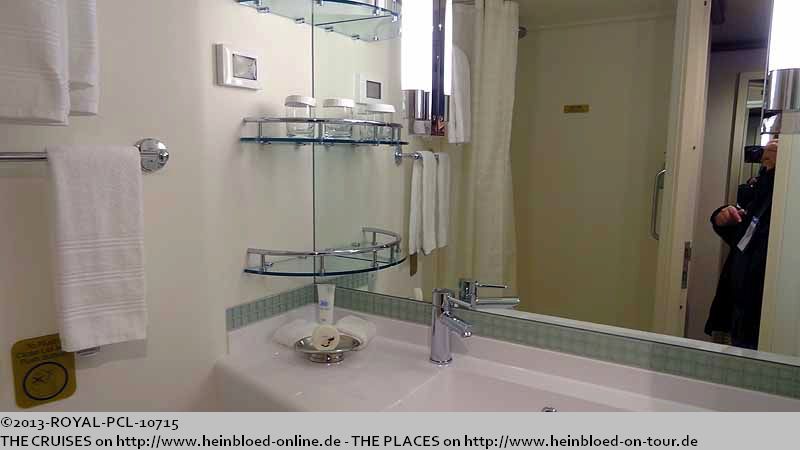 We had now body lotion.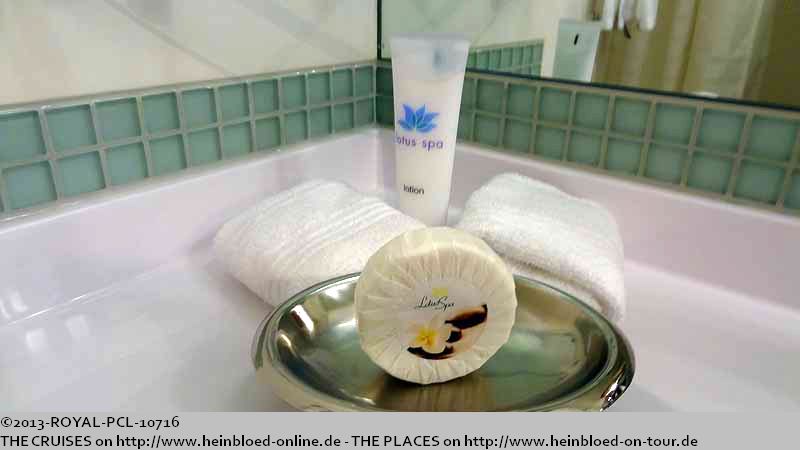 Es gibt jetzt sogar Körperlotion.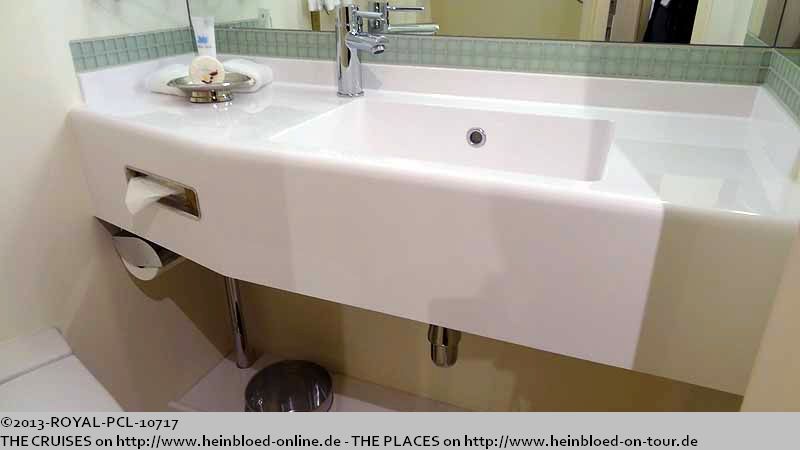 A nice book of the ship but we were not allowed to take it with us.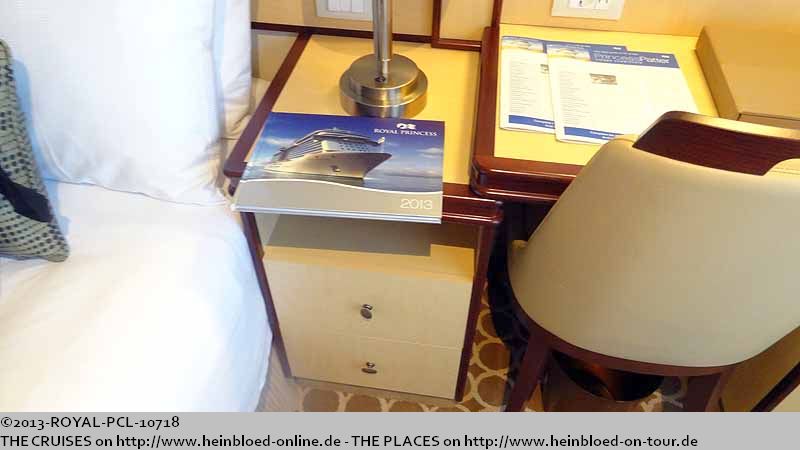 Ein schönes Buch über das Schiff, das wir jedoch nicht mitnehmen dürfen.
Alle Informationen sind in dieser Box.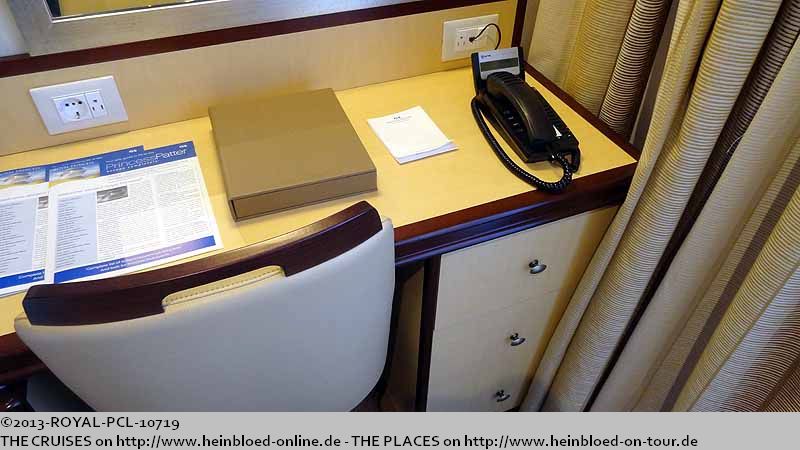 All information were in this box.

A nice box.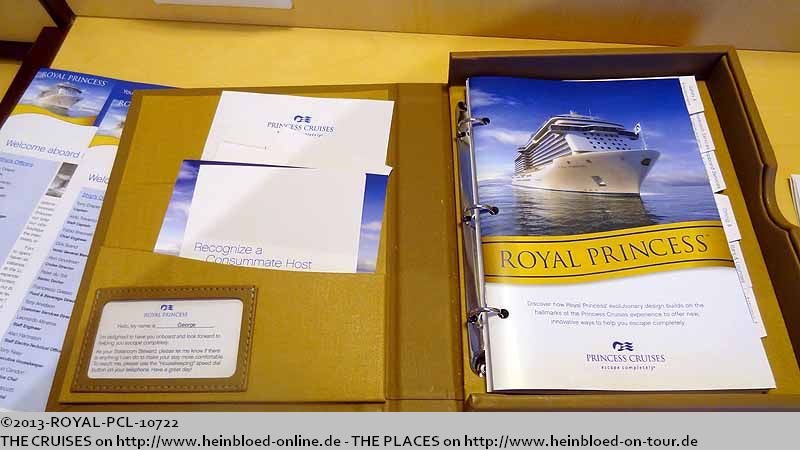 Eine schöne Box.
Und hier finden wir den Namen unseres Stewards.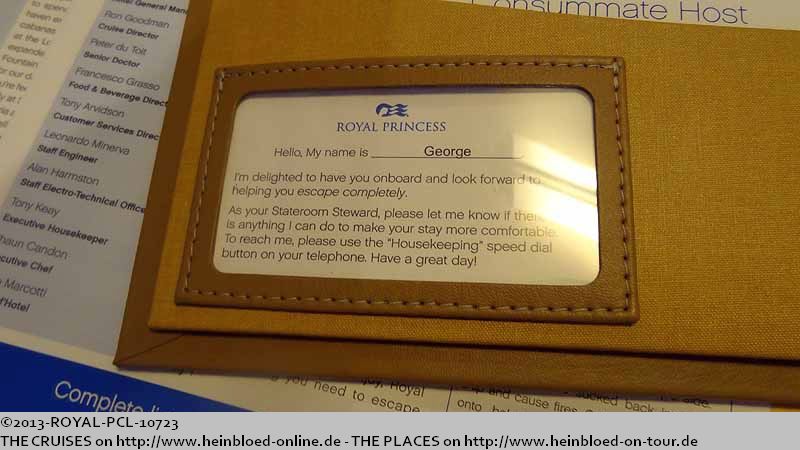 And her we found the name of our steward.

We had luck as we had a European power outlet too.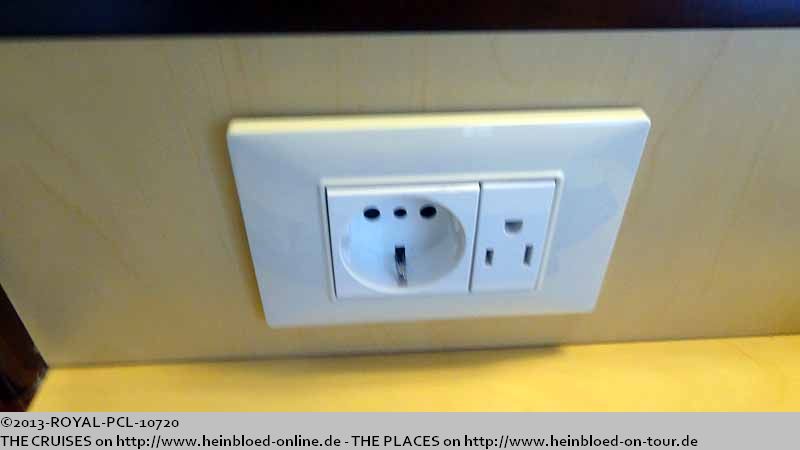 Zum Glück auch eine europäischer Schutzkontaktsteckdose.
Und rechts gibt es noch eine zusätzliche US-Steckdose.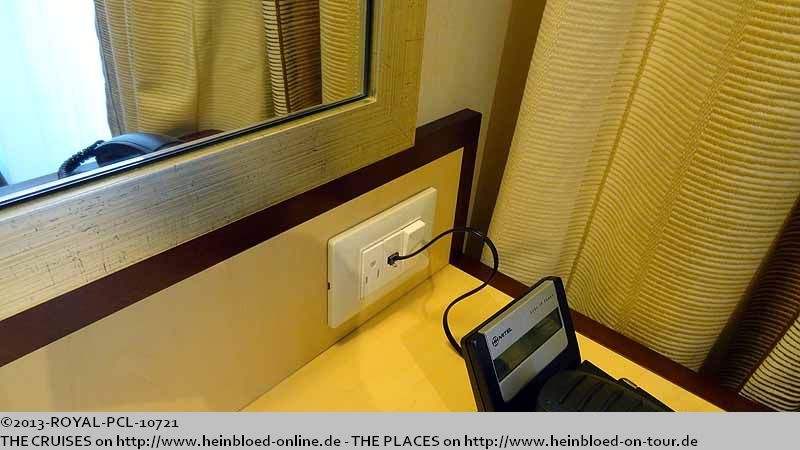 And to the right we had US-power outlet again.

I got immediately my box my needles when I called.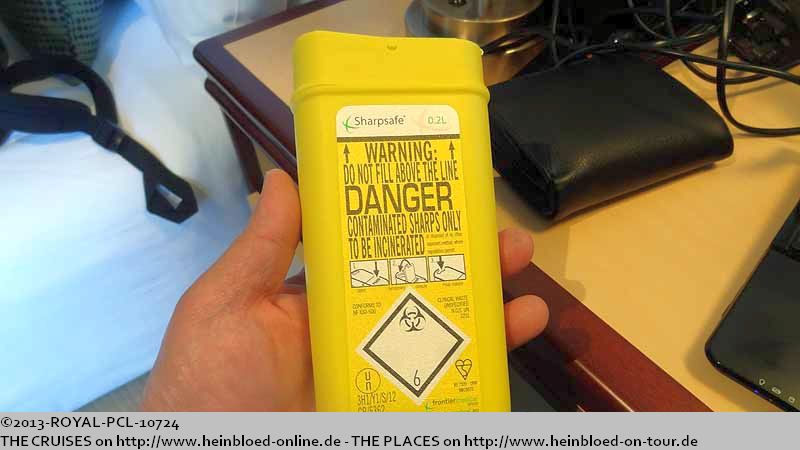 Ich bekomme sofort eine Dose für meine Nadeln, als ich anrufe.
Das beste: wir rufen bei der Rezeption an, damit sie uns mit Carolyn, Editor-in-Chief von
cruisecritic.com
verbindet. Wie es sich für ein gutes Hotel gehört: "Wir dürfen Ihnen die Kabinennummer nicht nennen, aber wir verbinden sie gerne". Die Telefonanlage kennt diese Policy nicht. Kaum legt die Rezeption auf, schon sehen wir Carolyns Kabinennummer auf der Anzeige.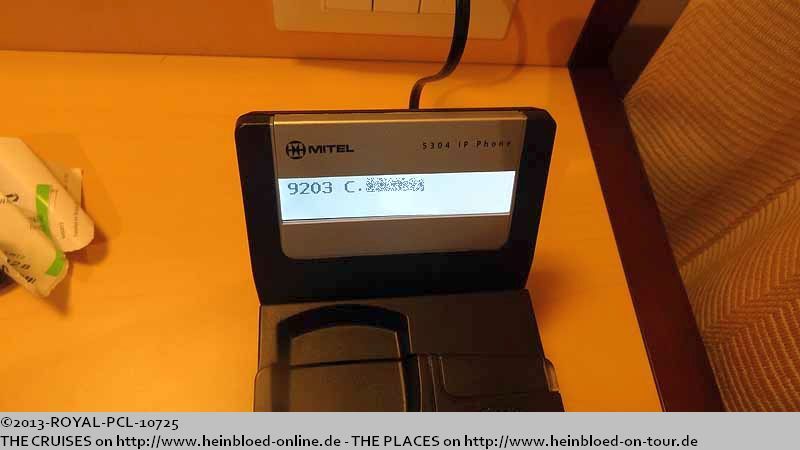 The best: we called the front desk to let them connect us to Carolyn, Editor-in-Chief of cruisecritic.com. Like in a good hotel we were told: "We cannot tell you the cabin number, but we can connect you". But the phone system did not know the policy. Once the front desk agent hangs up, we could read Carolyn's cabin number on display.

Then we tried to call with Heike and Dieter whom we knew from Facebook and the German cruiser's internet forum kreuzfahrten-treff.de. As the name looked strange to me, I hang up immediately. When I called the front desk, they confirmed the cabin number as correct. Gaven MacLeod was Captain Stubing in "Love Boat". Is Sheila maybe his wife and I called their cabin? Or just the Scottish writer? But finally, I reached Heike and Dieter on the phone.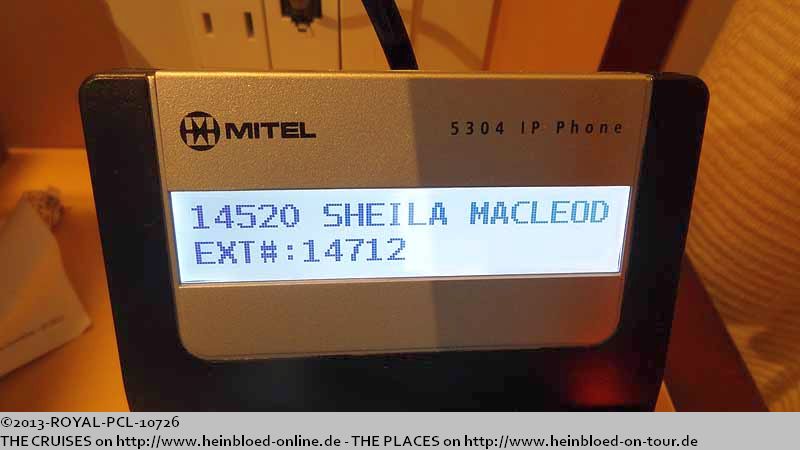 Dann versuchen wir bei Heike und Dieter anzurufen, die wir von Facebook und
kreuzfahrten-treff.de
her kennen. Da der Name mich irritiert, lege ich sofort auf. Als ich bei der Rezeption anrufe, wird mir allerdings die Kabinennummer bestätigt. Gavin MacLeod ist doch Captain Stubing von "Love Boat". Ist
Sheila
vielleicht seine Frau und ich habe dessen Kabine erwischt? Oder ist es die schottische Autorin? Aber am Telefon melden sich Heike und Dieter.
Uns gelingt es nicht etwas unter das Bett zu schieben.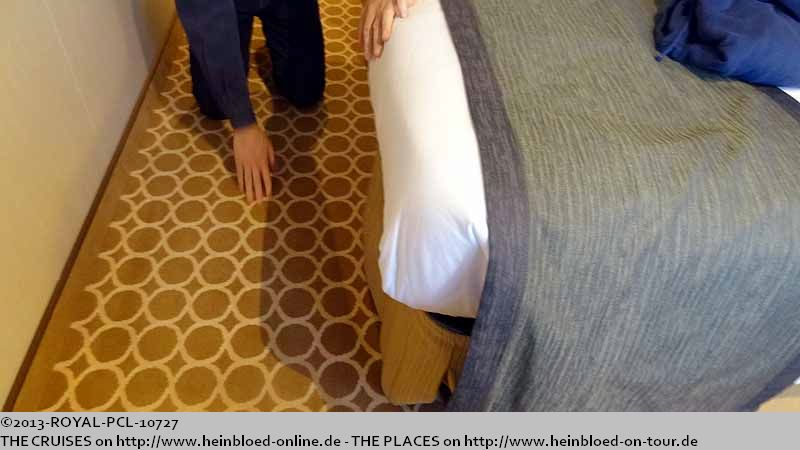 We had no chance to store something under the bed.

So we had to check...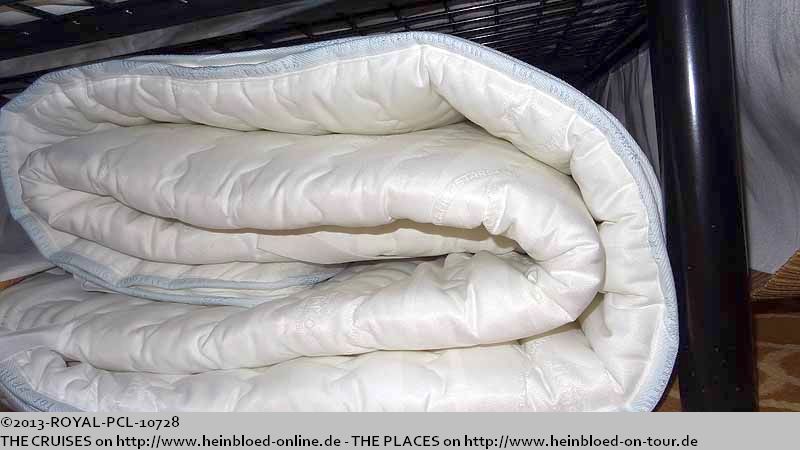 Wir gucken nach...
Souvenirs für die Erstkunden, damit wir uns zu Hause so fühlen können, wie an Bord??? Auf der EURODAM gab es ein Geschenk für alle, anlässlich der ersten Reise.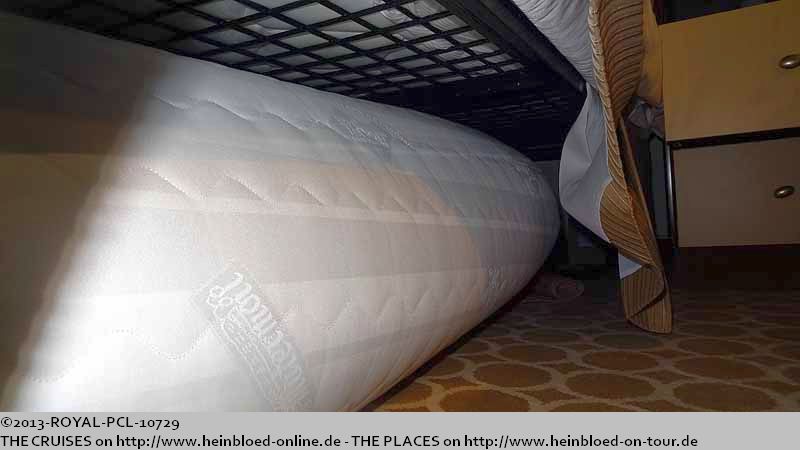 Maybe souvenirs for the first guests which we can take home to feel like onboard??? On EURODAM we got a gift for all due to the very first sailing.

Somehow the cut of the cabin was terrible. Everything was so narrow that you cannot get right to the balcony without moving furniture around.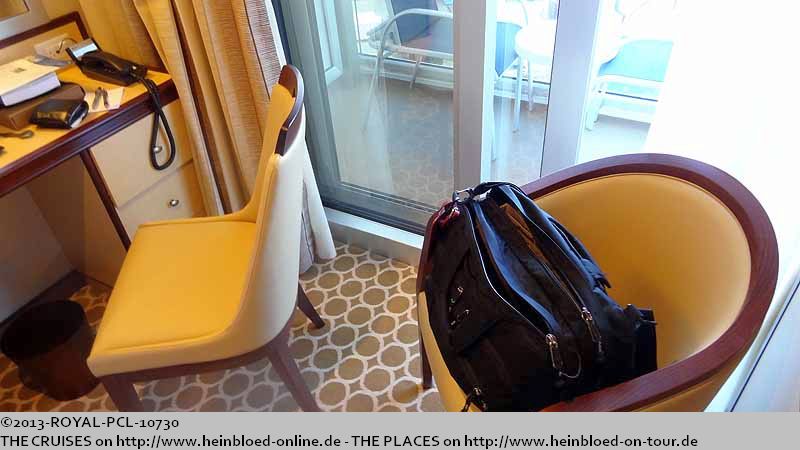 Furchtbar ist der Schnitt der Kabine. Alles steht so eng, dass man ohne Möbelrücken nicht bis zum Balkon kommt.
Und draußen gibt es nur einen Mini-Tisch für ein paar Getränke. Wie soll man hier eigentlich das Dinner auf dem Balkon machen?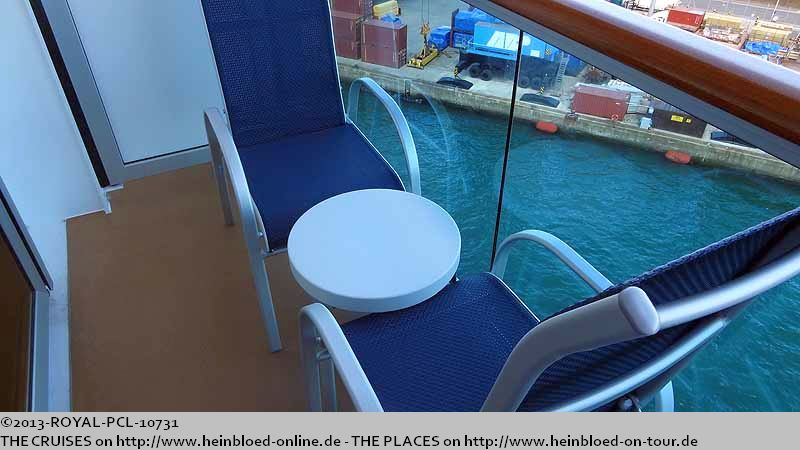 Outside we only had a mini-table which fit only for some beverages. How do you have your Balcony Dinner here?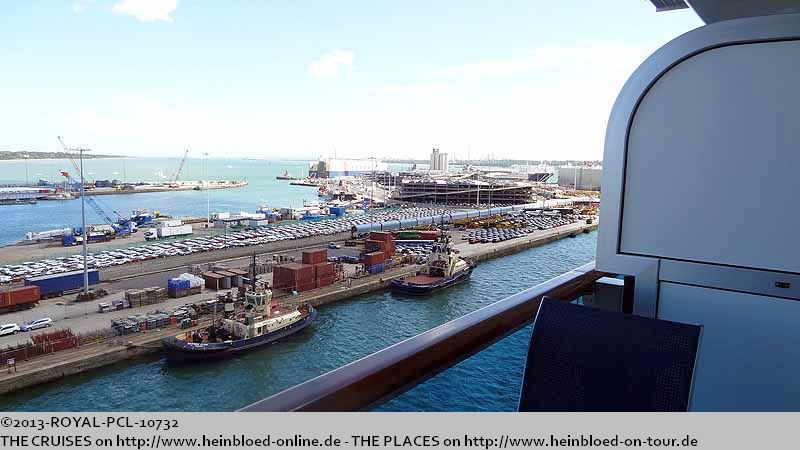 Die anderen Reisen in diesem Blog/
The other voyages in this blog: