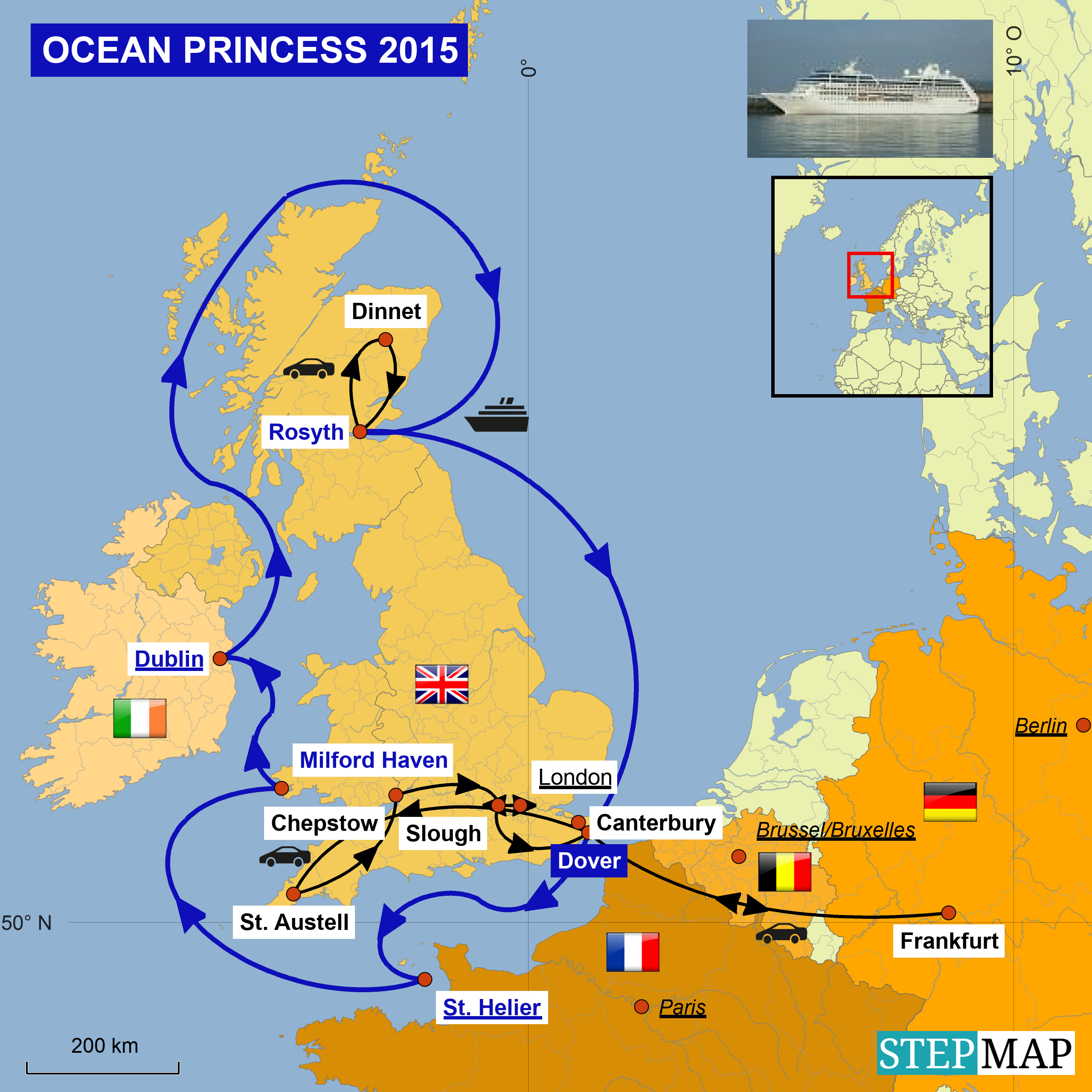 Leider kommen wir auch schon an.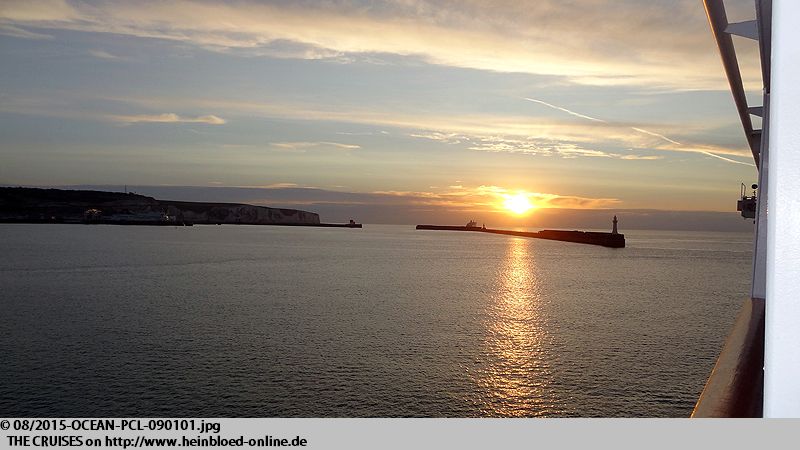 Unfortunately, we arrived already.

My hope that the Captain might use a wrong way and we might have an additional day at sea was destroyed at this moment, I saw the White Cliffs of Dover, England.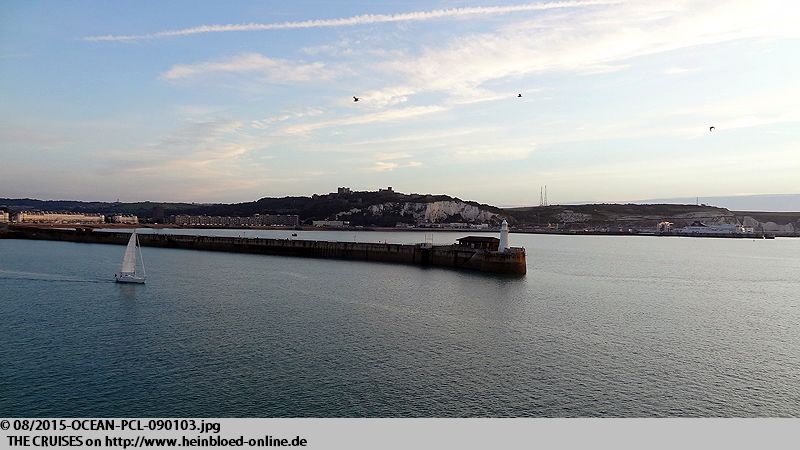 Meine Hoffnung, dass der Kapitän sich verfahren hat und wir einen zusätzlichen Seetag haben, wird leider jäh durch den Anblick der Kreidefelsen zerstört.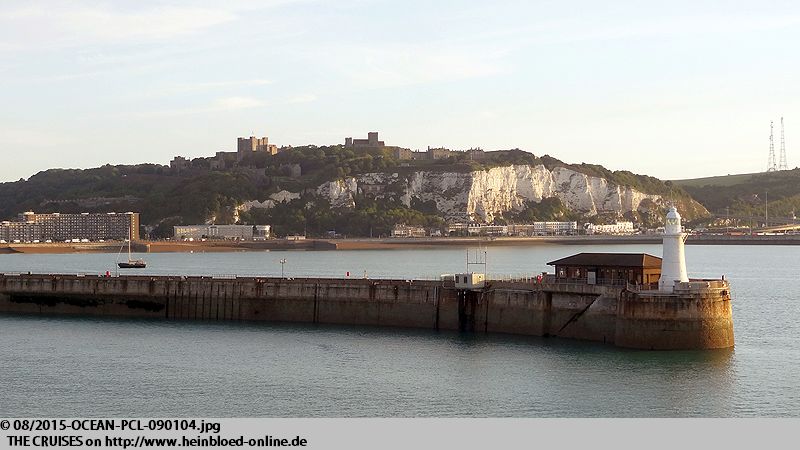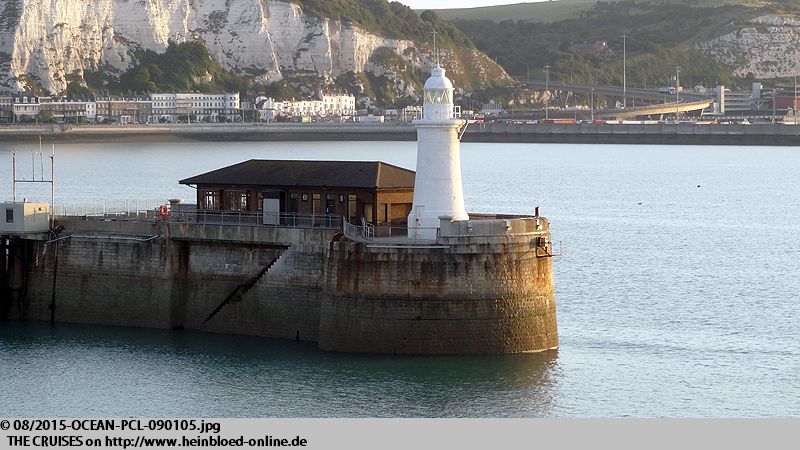 Auf zum letzten Frühstück.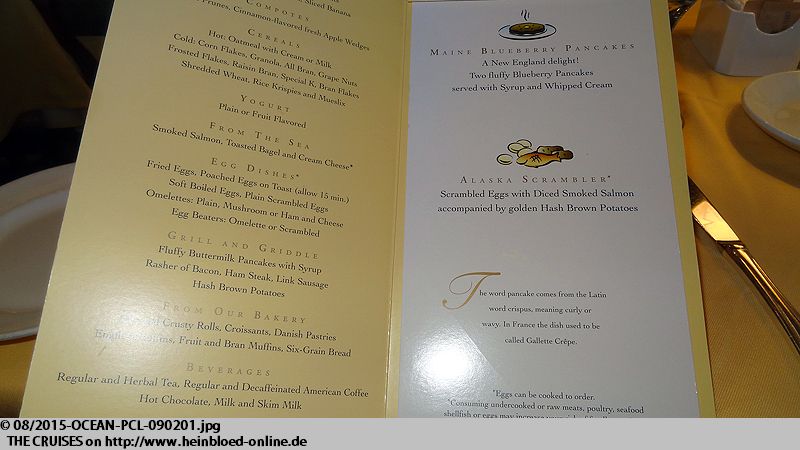 Heading for the last breakfast.

Would we get ever again such lovely prepared fruits?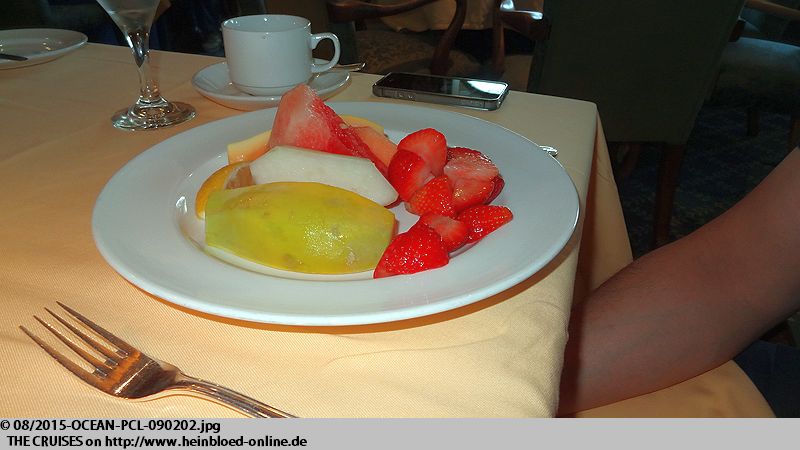 Bekommen wir je wieder so schön angerichtete Früchte?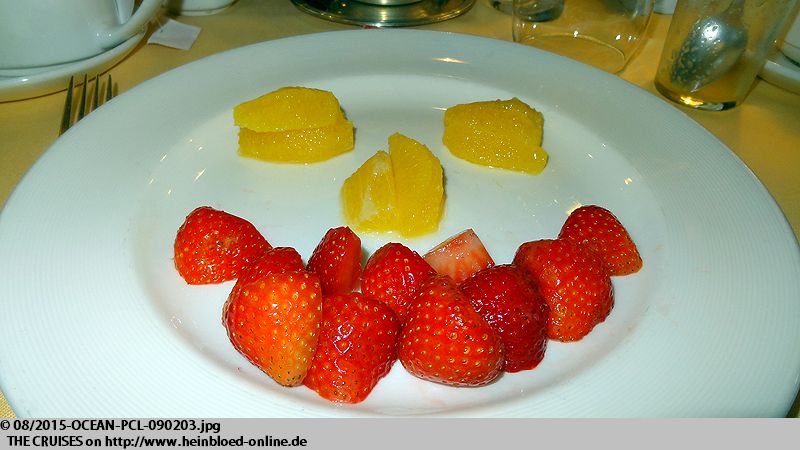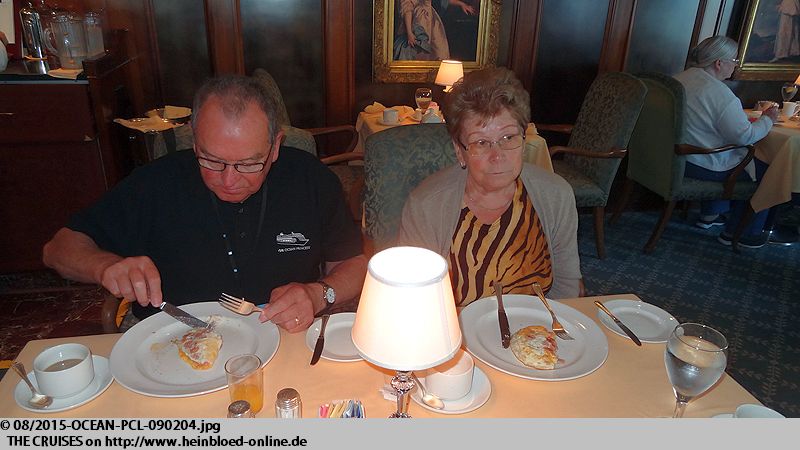 Jetzt muss ich wieder zu meiner Mutter fahren, um Congee zu bekommen...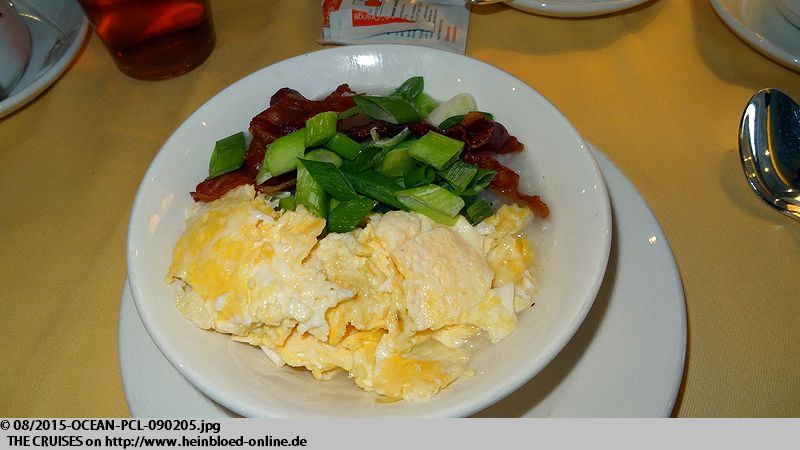 Now I needed to go to my mother again to get some Congee...

That was our hostess Iana who welcomed us friendly every morning and took us to the table.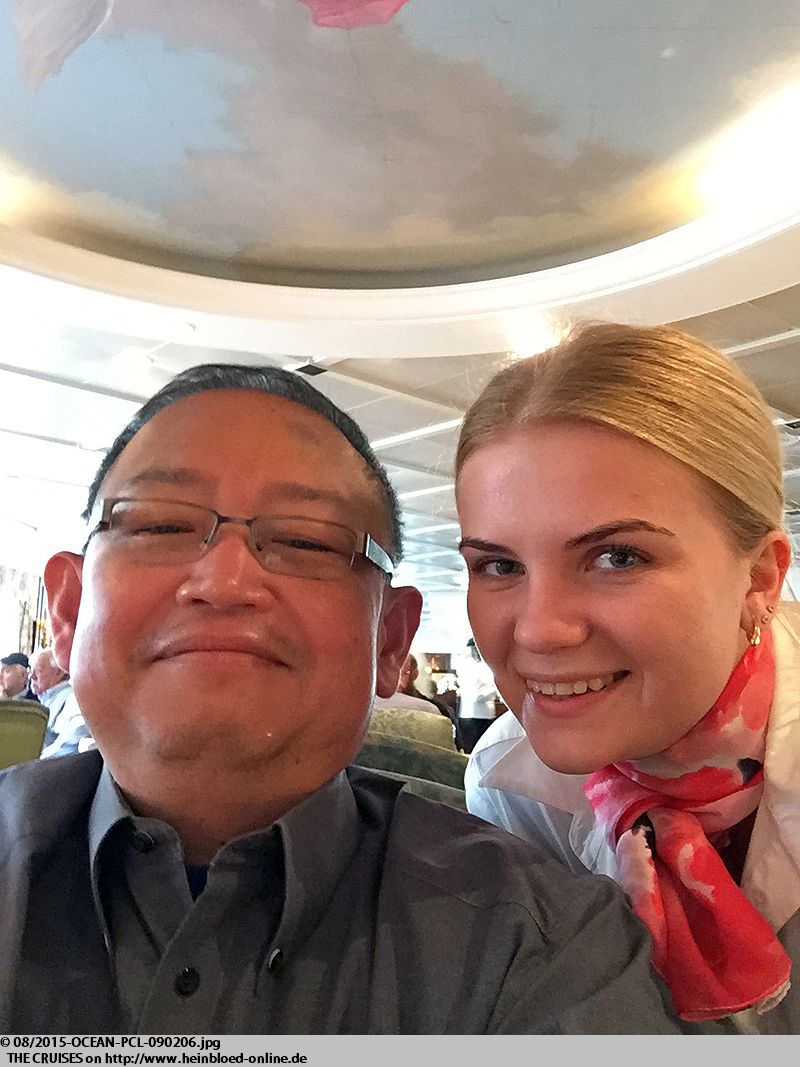 Das ist unsere Hostess Iana, die uns jeden Morgen immer freundlich begrüßte und zum Tisch führte.
Wir gehen in die Platinum Disembarkation Lounge.

We went to the Platinum Disembarkation Lounge.

Here you get always some small bites to bridge the time until disembarkation.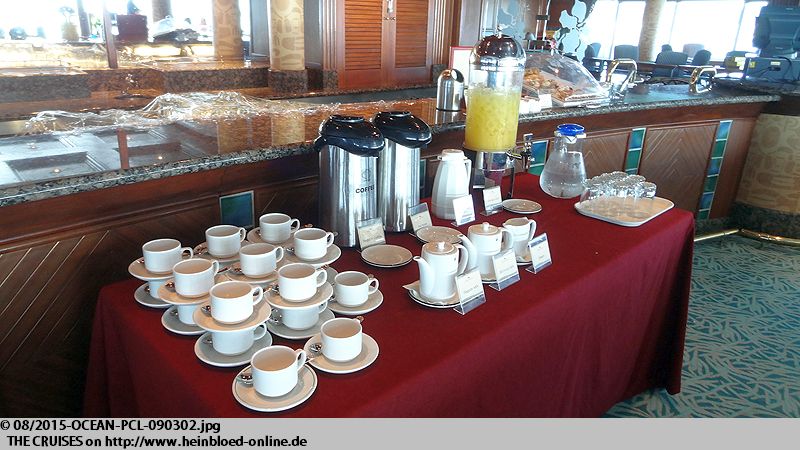 Hier gibt es immer ein paar Kleinigkeiten, um die Zeit bis zur Ausschiffung zu überbrücken.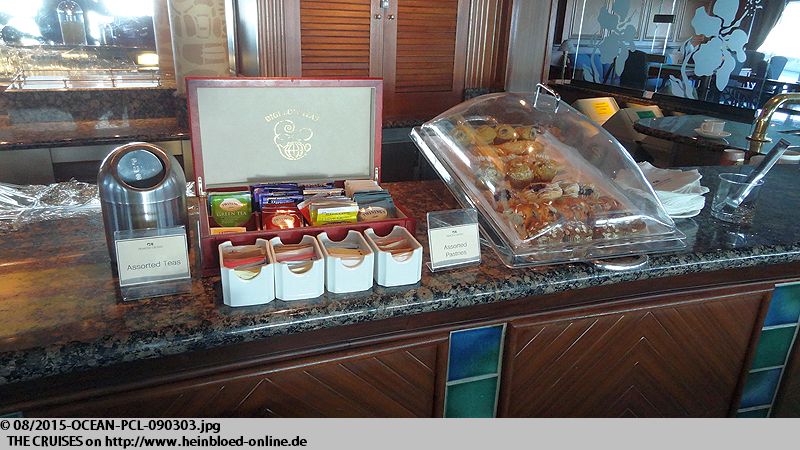 Thanks again to Karina who said to Bruno that of course, his parents could wait here together with him for disembarkation.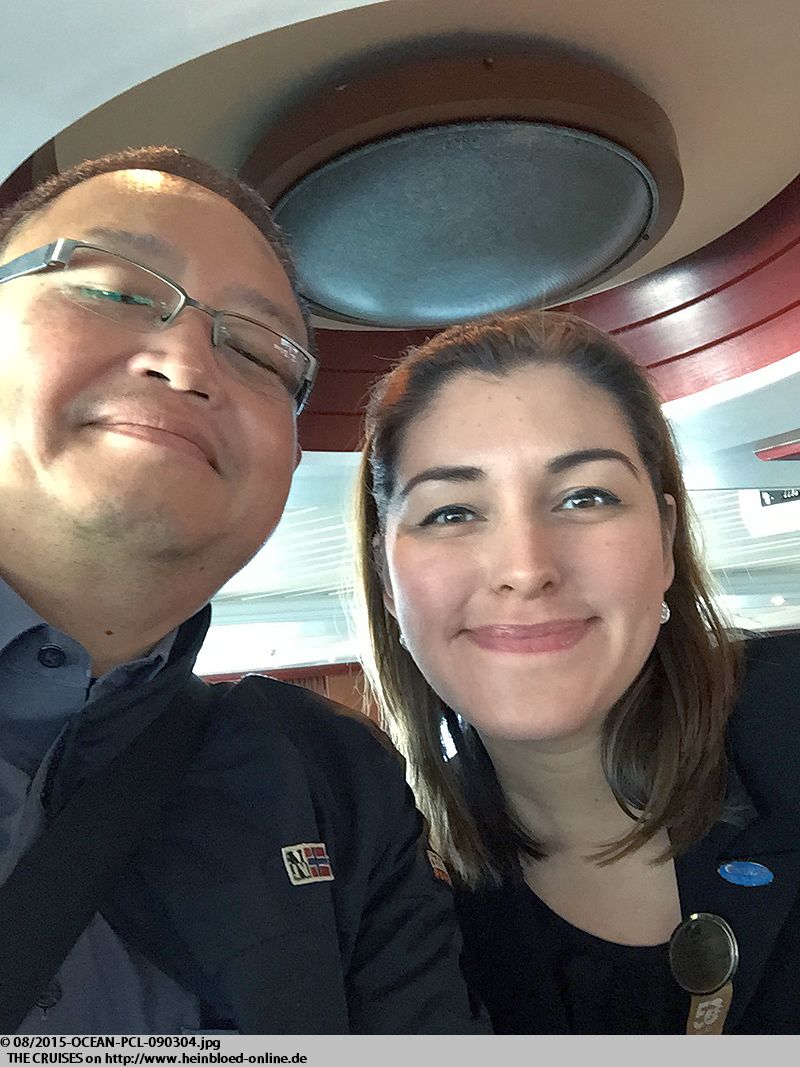 Vielen Dank nochmals an Karina, die auch jetzt Bruno gesagt hat, dass seine Eltern selbstverständlich mit ihm gemeinsam hier auf die Ausschiffung warten können.
Hier trennen sich die Wege von uns. Ich verlasse alleine das Schiff, weil ich zunächst zur Autovermietung muss. Für ein Taxi ist die Entfernung zu nah.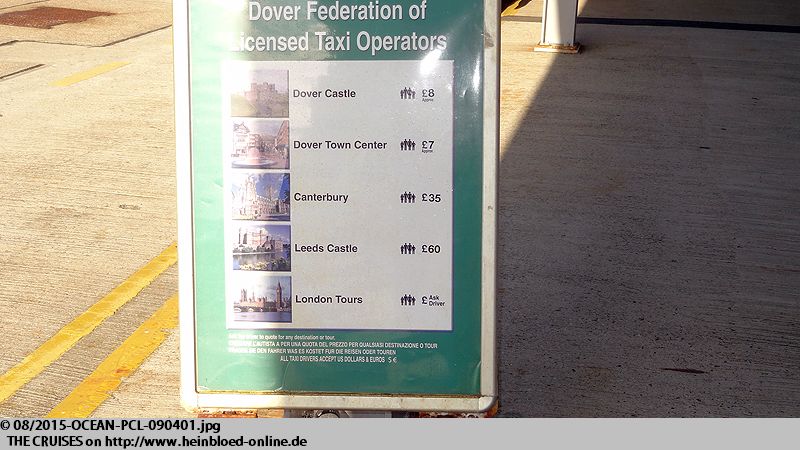 Here our ways were separated. I left the ship as I need first go to the car rental. For a ride by taxi, the distance was too close.

I walked because the weather was beautiful. You came along the former station Dover Harbour of the London Chatham & Dover Railway.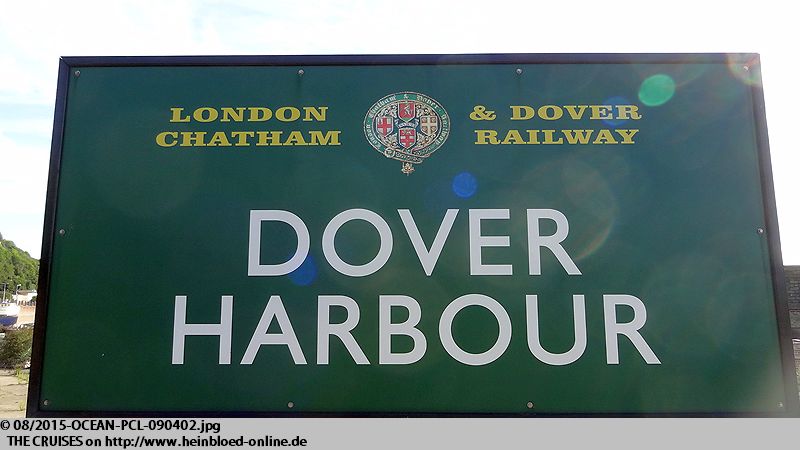 Ich laufe zu Fuß, weil das Wetter schön ist. Man kommt am ehemaligen Bahnhof Dover Harbour der London Chatham & Dover Railway vorbei.
Bereits seit 1914 kann man hier nicht mehr in Züge steigen. Sonst wäre es sehr praktisch für London-Ausflüge.

Already since 1914 you could not board here any trains. Otherwise, it would be effortless for getting to your London tours.

We were again on the parking around Prince of Wales Pier.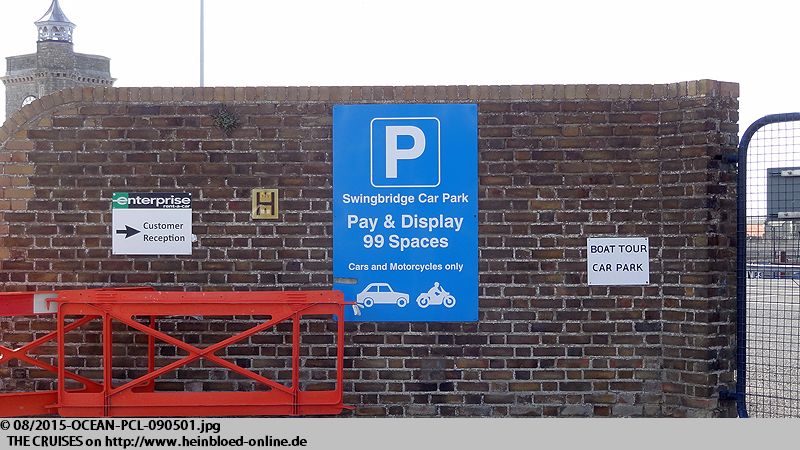 Wir sind wieder am Parkplatz beim Prince of Wales Pier.
Hier ist die Vermietstation von
Enterprise
. Gut für Kreuzfahrer: Sie haben sonntags geöfffnet. Wir bekommen wieder einen 7-Sitzer Vauxhall (Opel) Zafira. Mit dem hole das Gepäck ab. Brunos Eltern und Frances und Eddie nutzen den Shuttle vom Parkplatz-Betreiber. Man muss allerdings denen sehr genau sagen, ob man am Kreuzfahrt- oder Fährterminal steht, weil es sonst Missverständnisse geben könnte. Unser Kreuzfahrtgepäck tauschen wir gegen Gepäck für das Nacharrangement. Und Frances großes Gepäck wird schon Richtung London vorgeschickt.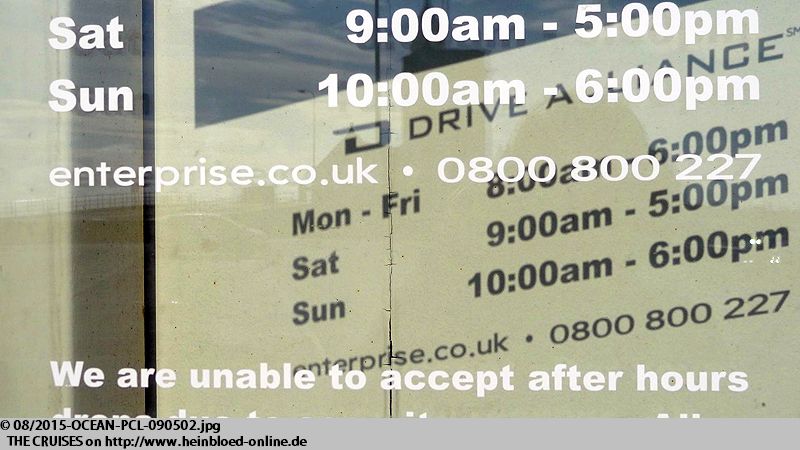 Here was the rental office of Enterprise. Good for cruisers: They had also open on Sundays. We got a 7-seater Vauxhall (Opel) Zafira again. I used it to collect our bags. Bruno's parents and Frances and Eddie used the shuttle the parking-provider. You need to tell them exactly if you were actually at the Cruise or the Ferry Terminal because otherwise, you might occur problems. We exchanged our cruise baggage against the baggage for the post-cruise-arrangements. And Frances large bags was sent already towards London.

We had only one problem: the roads were bustling, so we would reach our destination quite late. But that did not change anything in a pleasant atmosphere in the car.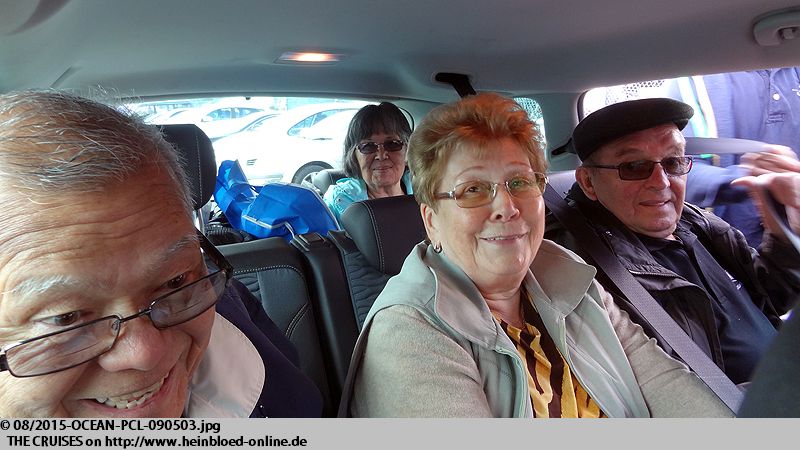 Wir haben ein Problem: unterwegs ist es ziemlich voll, so werden wir unser Ziel erst sehr spät erreichen. Aber das ändert nicht an der guten Laune im Auto.
Unterwegs halten wir kurz an einem
Harry Ramsden's
an der Raststätte
Fleet
an der M3. So bekannt wie bei uns in Deutschland Nordsee. Selbstverständlich gibt es Fisch und Chips.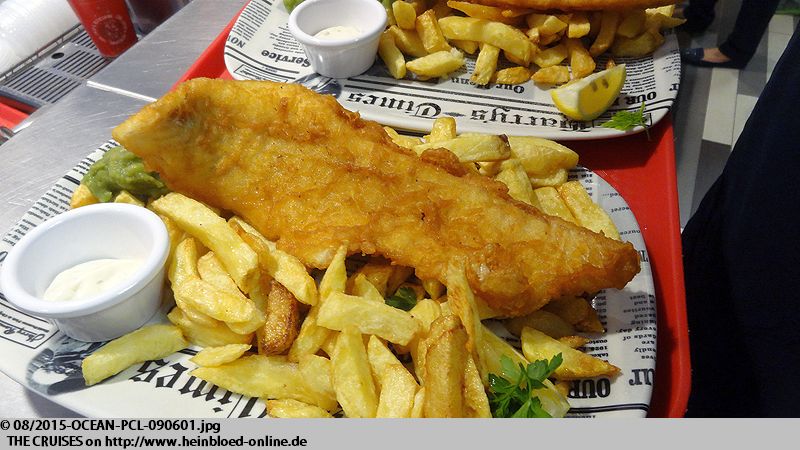 We made a brief stop with Harry Ramsden's at the service station Fleet at M3. So popular in the US like Long John Silver's. Certainly we had Fish and Chips.

It was always right.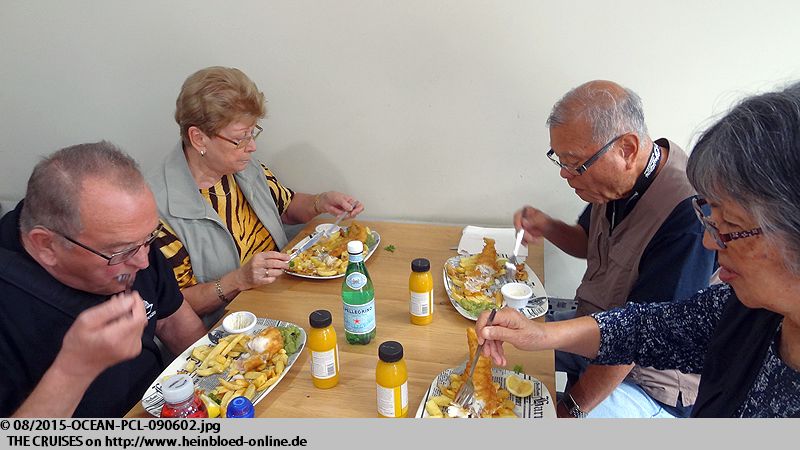 Ist auch immer gut.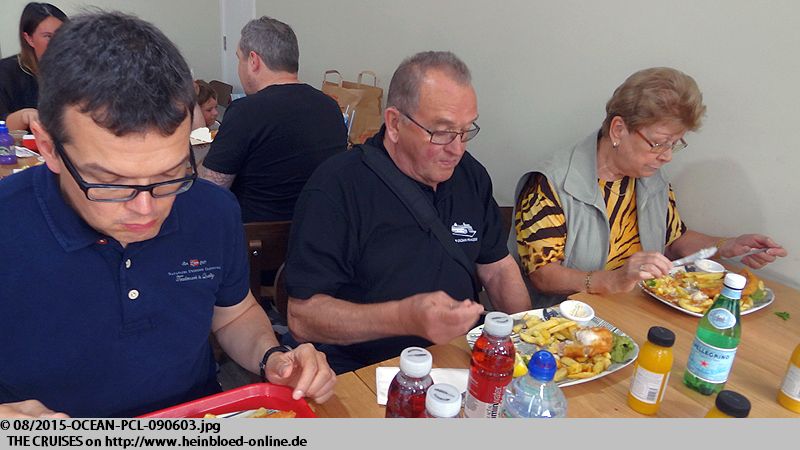 We continued to Stonehenge. You need to pre-book tickets. As an owner of the Overseas-Visitor-Pass you can pre-order tickets as members, and you can use the queue for them. After this visit, the pass was already paid. We were told that it was only important to have the day booked. Even you were coming later. We really had luck: TomTom took us side roads off the congestions.

Wir fahren weiter nach
Stonehenge
. Man muss neuerdings im Voraus Tickets bestellen. Als Inhaber des Overseas-Visitor-Passes durfte man sich Tickets als Mitglied bestellen und auch die Schlange für diese nutzen. Nach dem Besuch hat sich unser Pass bereits amortisiert. Verkehrsbedingt sind wir zu spät. Aber man sagte uns, dass es nur wichtig sei, dass man für den Tag gebucht hat. Auch wenn man später kommt. Wobei wir noch Glück hatten: TomTom hat uns abseits der Staus auf Nebenstraßen gelotst.
Noch ein paar Selfies.

Few more selfies.

Due to a severe traffic accident, we need to turn around.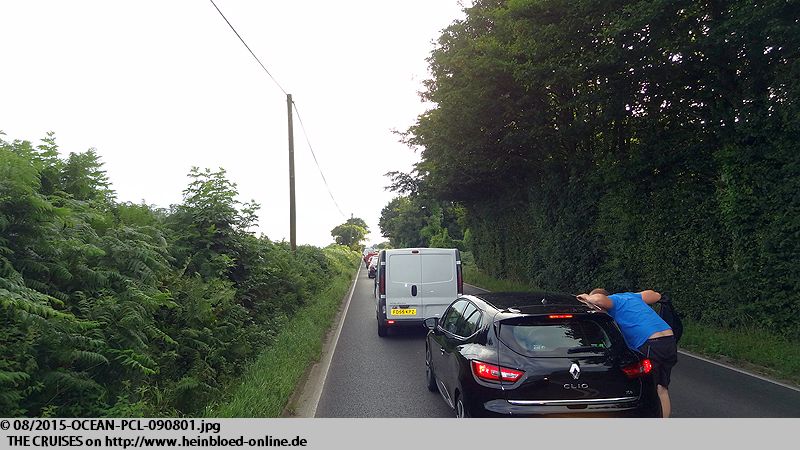 Wegen eines schweren Verkehrsunfalls müssen wir umdrehen.
Die Umleitung von TomTom führt uns über folgende Wege. Z. T. geht es auch rückwärts in die nächste Lücke. Auf jeden Fall sind wir froh, dass wir wieder 0 Selbstbeteiligung gebucht haben, weil wir an jeder Brombeerhecke vorbeischrammen.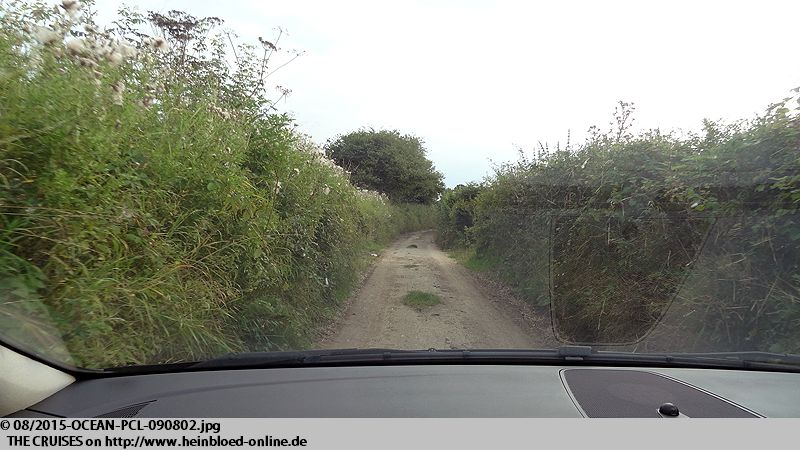 The deviation of TomTom took us through the following ways. Partly backward to the last gap. Anyhow, we were happy to book again with 0 excess fees because we hit and scratch every brambly hedge.

Actually, we wanted to eat at the destination, but the traffic delayed our ride for about two hours. So we stopped in Exter to dine at the Gipsy Hill Hotel.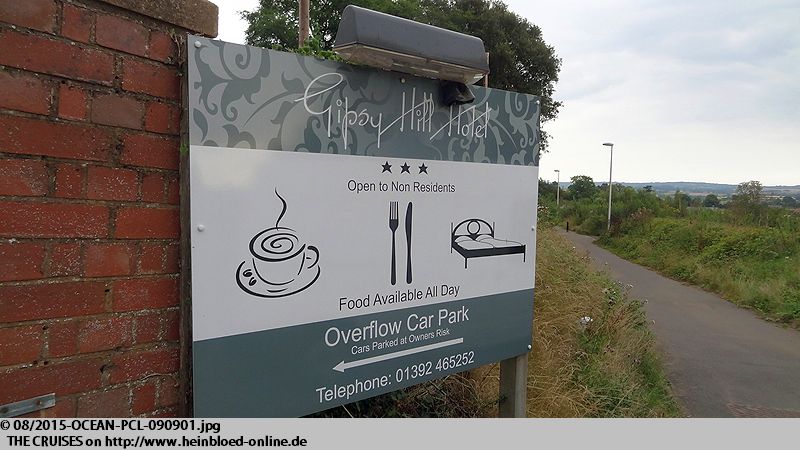 Eigentlich wollten wir am Zielort essen, aber der Verkehr hat leider alles um etwa zwei Stunden verzögert. So halten wir unterwegs in Exeter um im
Gipsy Hill Hotel
zu essen.
Netter Garten.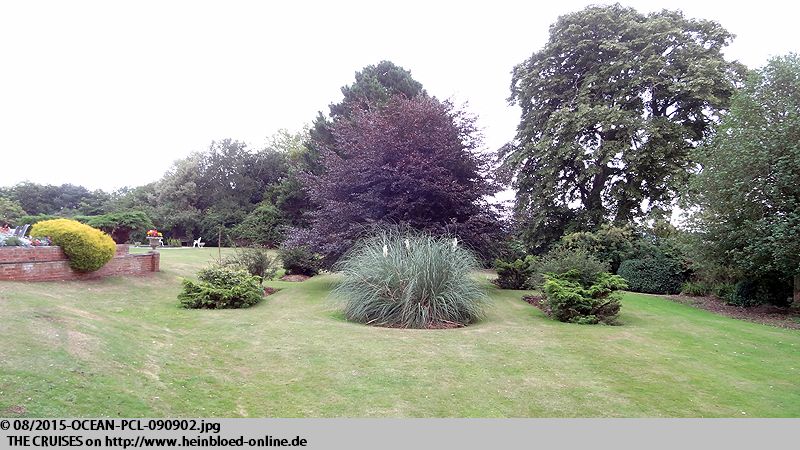 Nice garden.

I only wanted to have soup.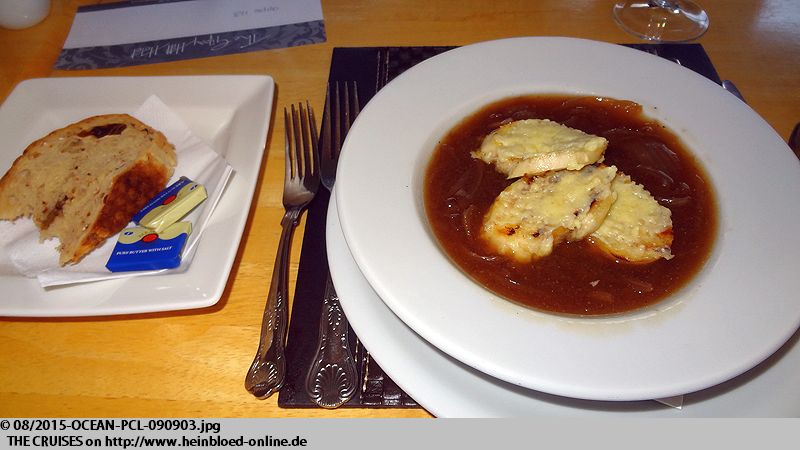 Ich wollte bloß Suppe.
Und ich stelle mir eine Vospeisenplatte zusammen.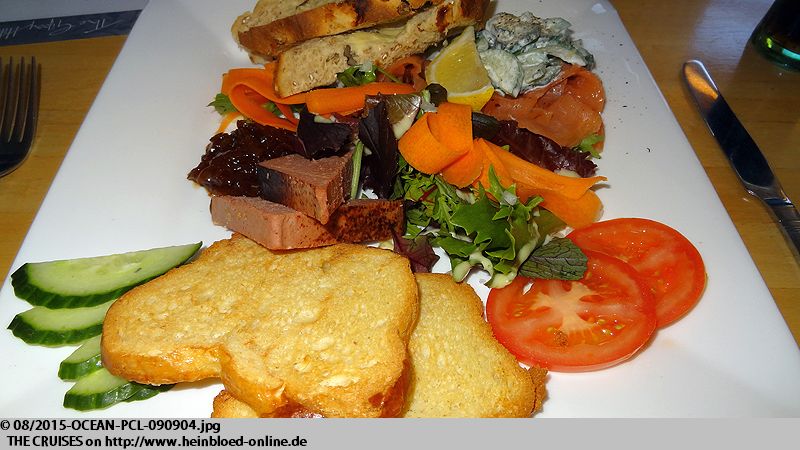 And I composed a starters plate.

Finally we arrived at our destination: St. Austell in Cornwall, England. Our accomodation was waiting: Trevelyan Bed & Breakfast.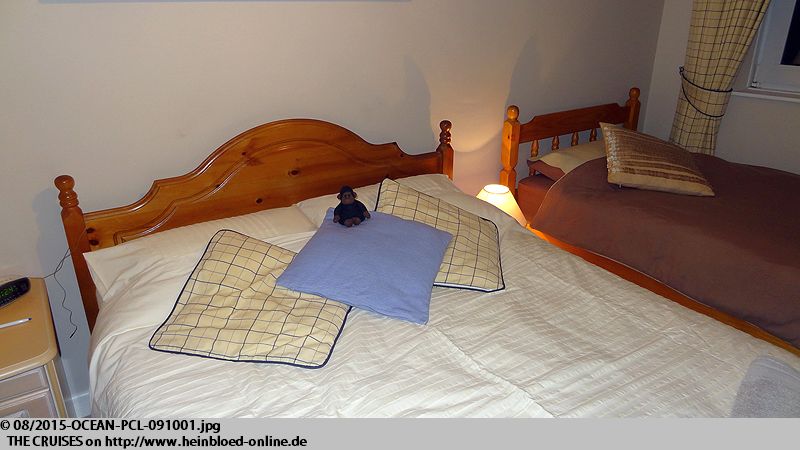 Endlich erreichen wir unser Ziel: St. Austell in Cornwall. Unsere Unterkunft wartet:
Trevelyan Bed & Breakfast
.
Große Absprachen brauchten wir nicht wegen unserer verspäteten Ankunft: Es gibt nämlich nur drei Zimmer.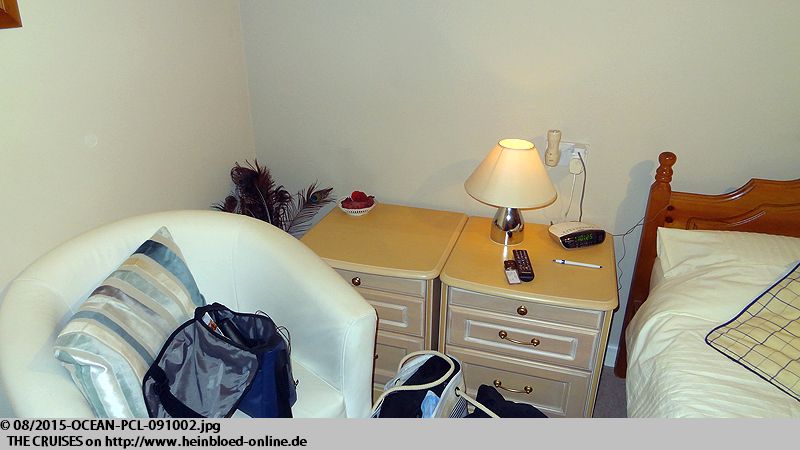 We did not neep any coordination for our late arrival. It had only three rooms.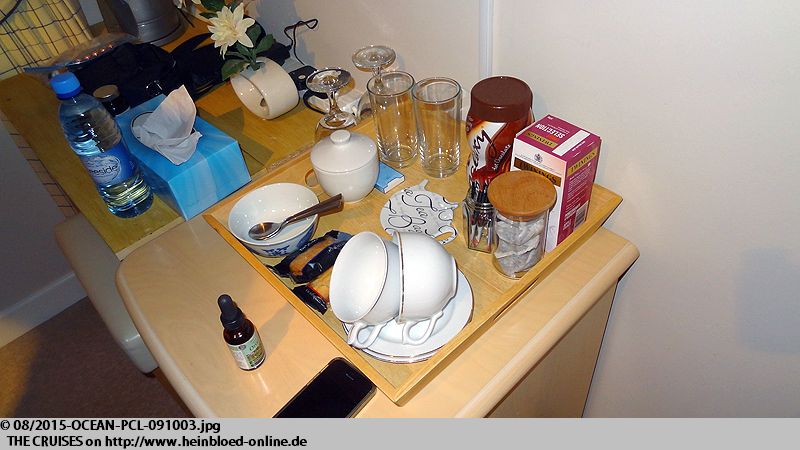 Leider müssen zwei Zimmer sich ein Bad teilen.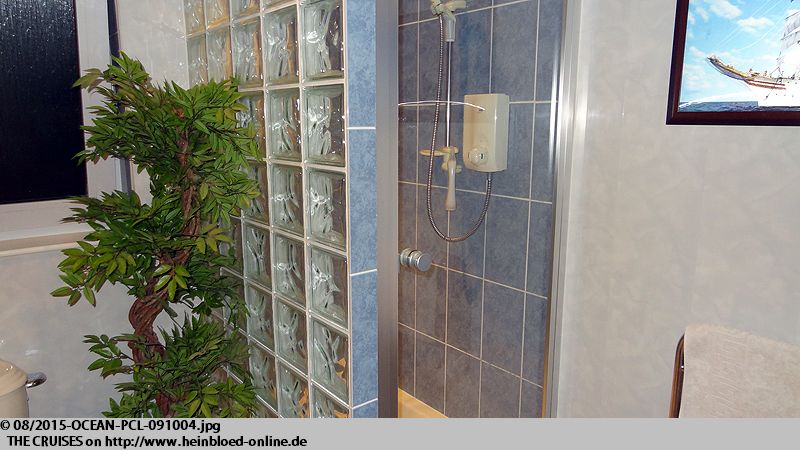 Unfortunately two rooms need to share one bathroom.

But we stayed here only for two nights. This would work somehow.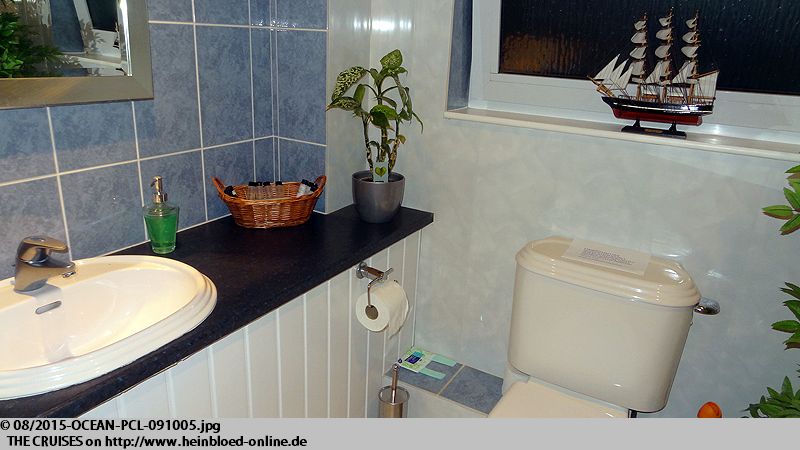 Aber wir verbringen hier nur zwei Nächte. Das wird irgendwie schon gehen.
Die anderen Reisen in diesem Blog/
The other voyages in this blog: