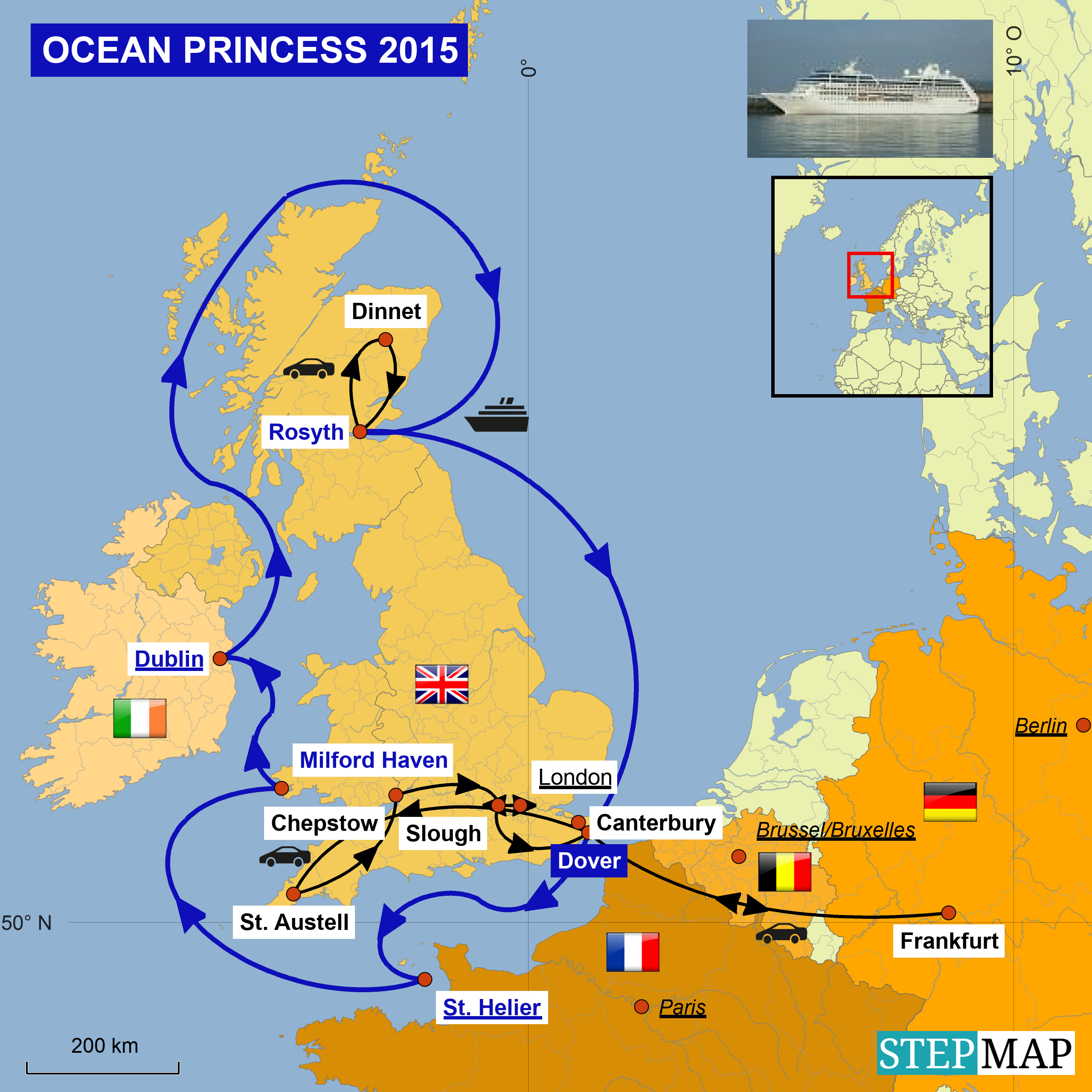 Der Tag beginnt genauso schön, wie der Abend gestern geendet ist.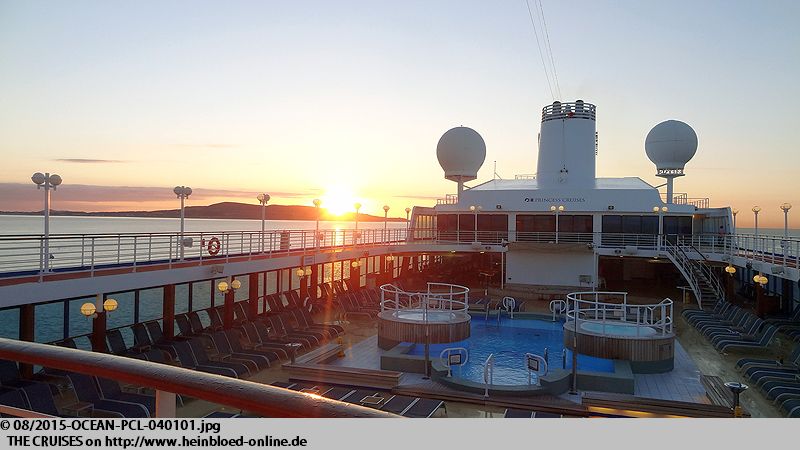 The day started as beautiful as the evening before ended.

One later round the weather was so bad that they could not call Milford Haven, Wales.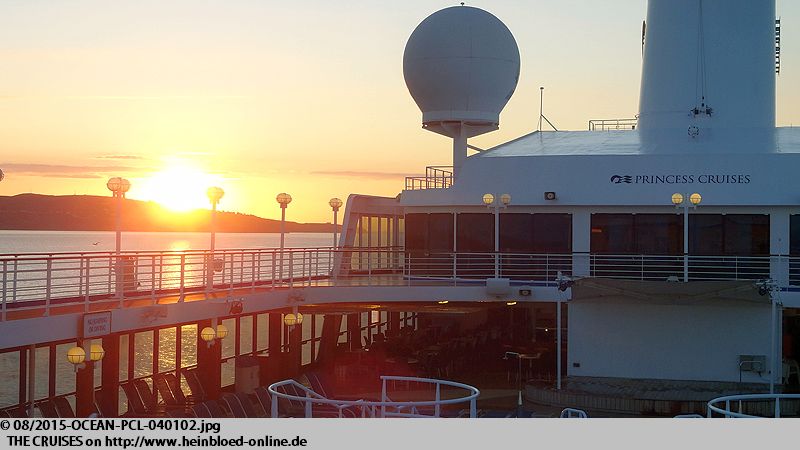 Eine Runde später war ja das Wetter so schlecht, dass Milford Haven nicht angelaufen werden konnte.
Wenn Engel reisen...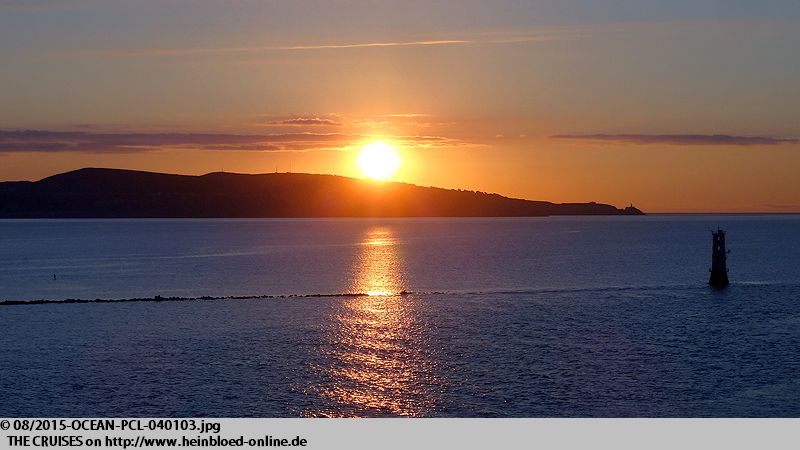 When angels were traveling.

And again to listen to German singer/songwriter when I did Walk a Mile: "And again the sun will rise..."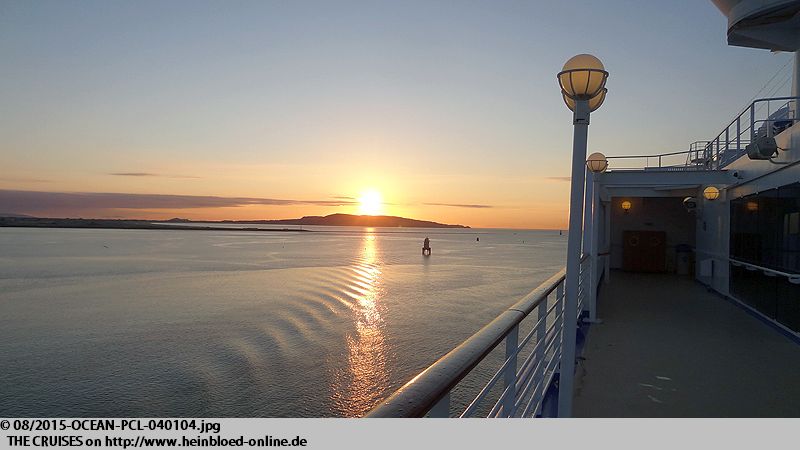 Wieder Grund Udo Jürgens zu hören beim Walk a Mile: "Und immer wieder geht die Sonne auf...".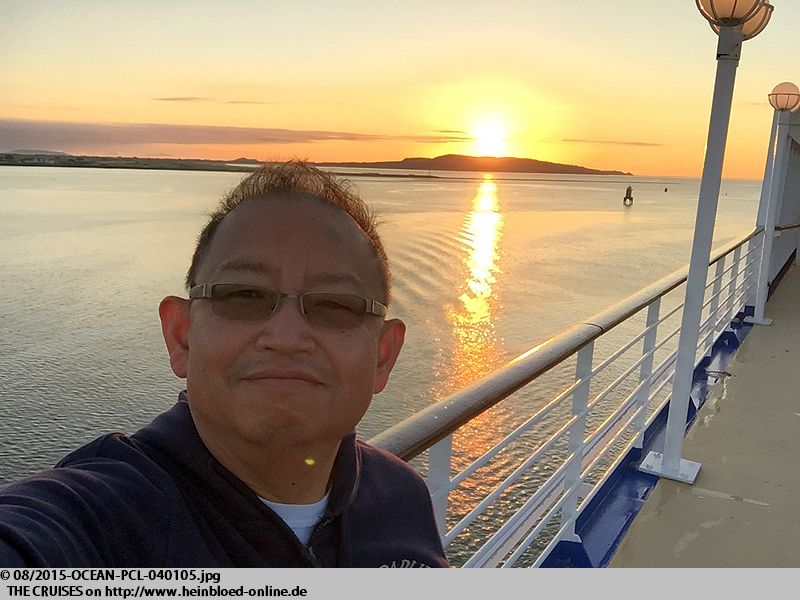 Even Frances came to walk at this time but I just finished and escaped.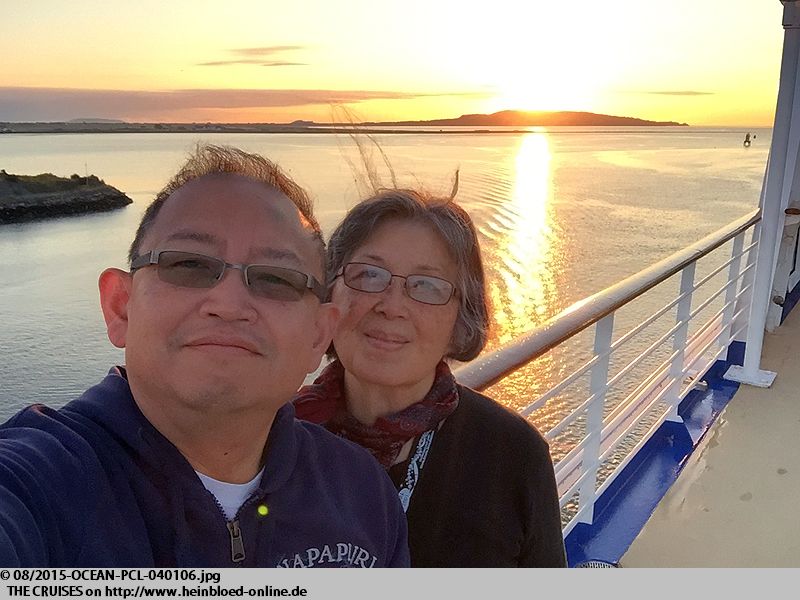 Sogar Frances kommt um diese Zeit zum Laufen, aber ich bin schon fertig und verschwinde.
Was wird hier eigentlich alles geflaggt?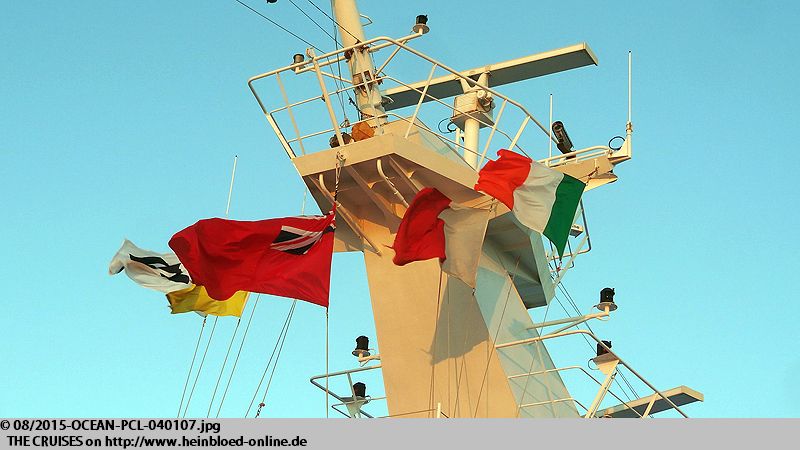 I was wondering what they had flags on.


How much I will miss
MY
OCEAN PRINCESS?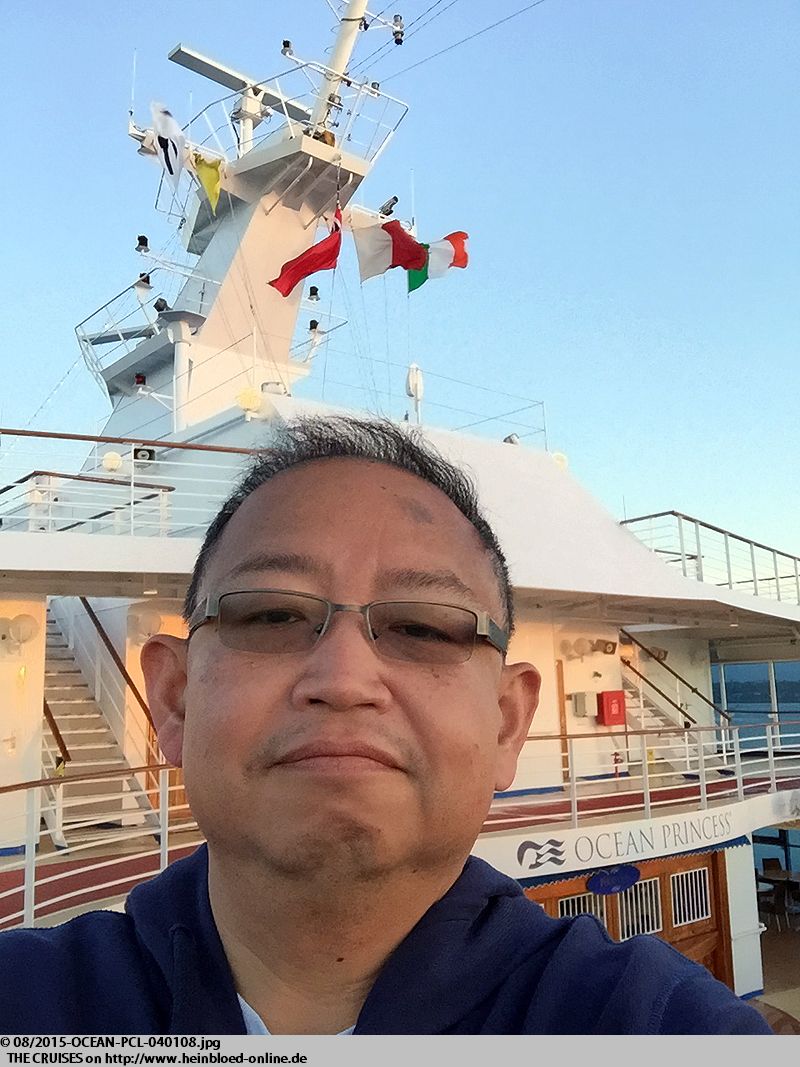 Was werde ich
MEINE
OCEAN PRINCESS vermissen?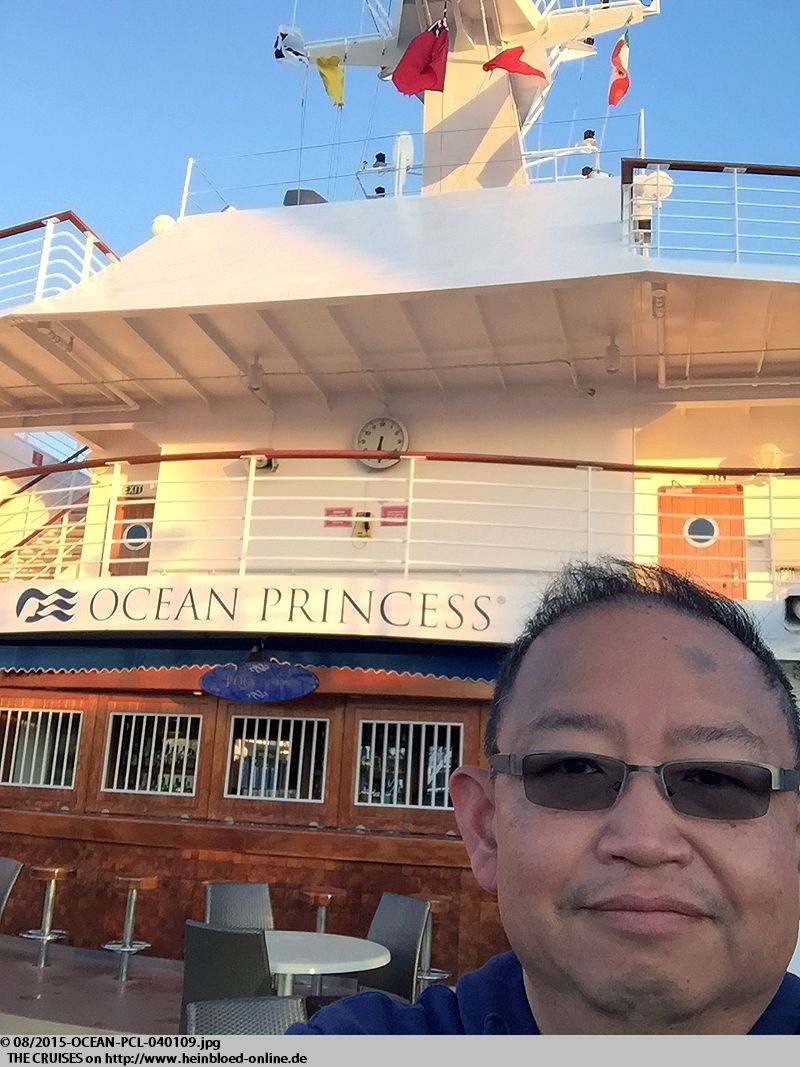 I was wondering if your could be the lifebelt as souvenir?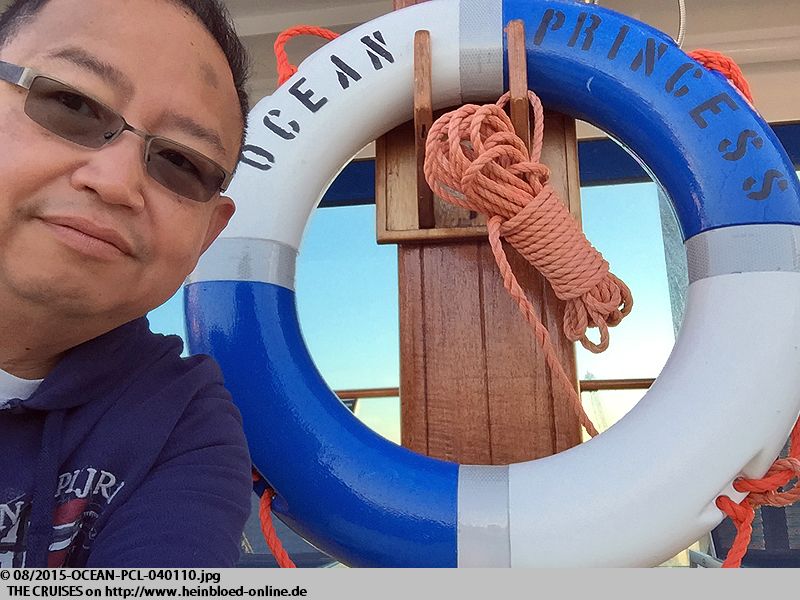 Ob man den Rettungsring als Souvenir kaufen kann?
Ich wurde auf Facebook gefragt, ob das Telefon nun mit der Uhr verbunden sei und die Zeitansage darstellt. Nein - ich muss auf meine eigene Uhr gucken.

I was asked on Facebook if the phone was connected to the clock and was installed as time announcement. No - I had to check my own watch.

Arriving in Dublin, Ireland. And promptly I was remembered for my work. Or was that a sign that I should try to integrate the Guinness-bulk-container into our fleet. I was sure that my co-workers would be more than happy if I would bring the container to Switzerland.

Ankunft in Dublin. Und prompt werde ich an meine Arbeit erinnert. Oder ist das ein Zeichen, dass ich versuchen soll, die Guiness-Straßentankzüge in unseren Fuhrpark einzugliedern. Darüber würden sich bestimmt meine Kollegen freuen, wenn ich den Straßentankzug mit in die Schweiz nehme.
Es geht zum Frühstück. Nur irgendwie fehlt mir das Rye-Bread (Kümmel-Roggenbrot), aber auf dieser Fahrt gibt es das gar nicht. Schade. Aber Arvie und Josell bedienen uns aber so toll, dass ich bequem darauf verzichten kann. Sie richtet alles sehr liebevoll auf der Servicestation an, bevor sie uns serviert. Ich bekomme sogar frische Minzblätter für meinen Tee. Wir hätten gerne statt Toastbrot ein paar Brötchen. Gar kein Problem für Arvie. Sie besorgt uns welche. Wir gucken uns die schöne Deckenmalerei während des Wartens an. Mein Congee wird perfekt serviert inkl. Rührei aus frischem Ei.

We went for breakfast. But somehow there was no rye bread available, but on this voyage, there was not any onboard. Sad. But Arvie and Josell served us in such a great way that we did not miss it. They prepared everything at the service station before they served us. I even got fresh mint leaves for my tea. We asked for some dinner roll but toast. No problem at all for Arvie. She got us some. We watched the nice drawings on the ceiling while we were waiting. My congee was served in a perfect way incl. scrambled eggs made of a fresh egg.

When we went here on BLACK PRINCE 2008 they had a complimentary shuttle bus which was supplied and financed by the Tourist Information Dublin. But now the shuttle was 8 USD (2015). Onboard the Tourist-Information Dublin had a little booth onboard when we left the ship.

Als wir damals mit der
BLACK PRINCE 2008
da waren, gab es noch einen kostenlosen Shuttle Bus, der von der
Touristen-Information Dublin
finanziert wurde. Aber jetzt kostet der Shuttle 8 USD (2015). An Bord hat aber die Touristen-Information Dublin einen kleinen Stand aufgebaut und verteilt Stadtpläne.
Auf Facebook muss ich ein paar nette Worte über Barrie bei Princess posten. Irgendwie ist das nämlich anders: Keiner da, der uns einen schönen Tag wüsncht, als wir das Schiff verlassen.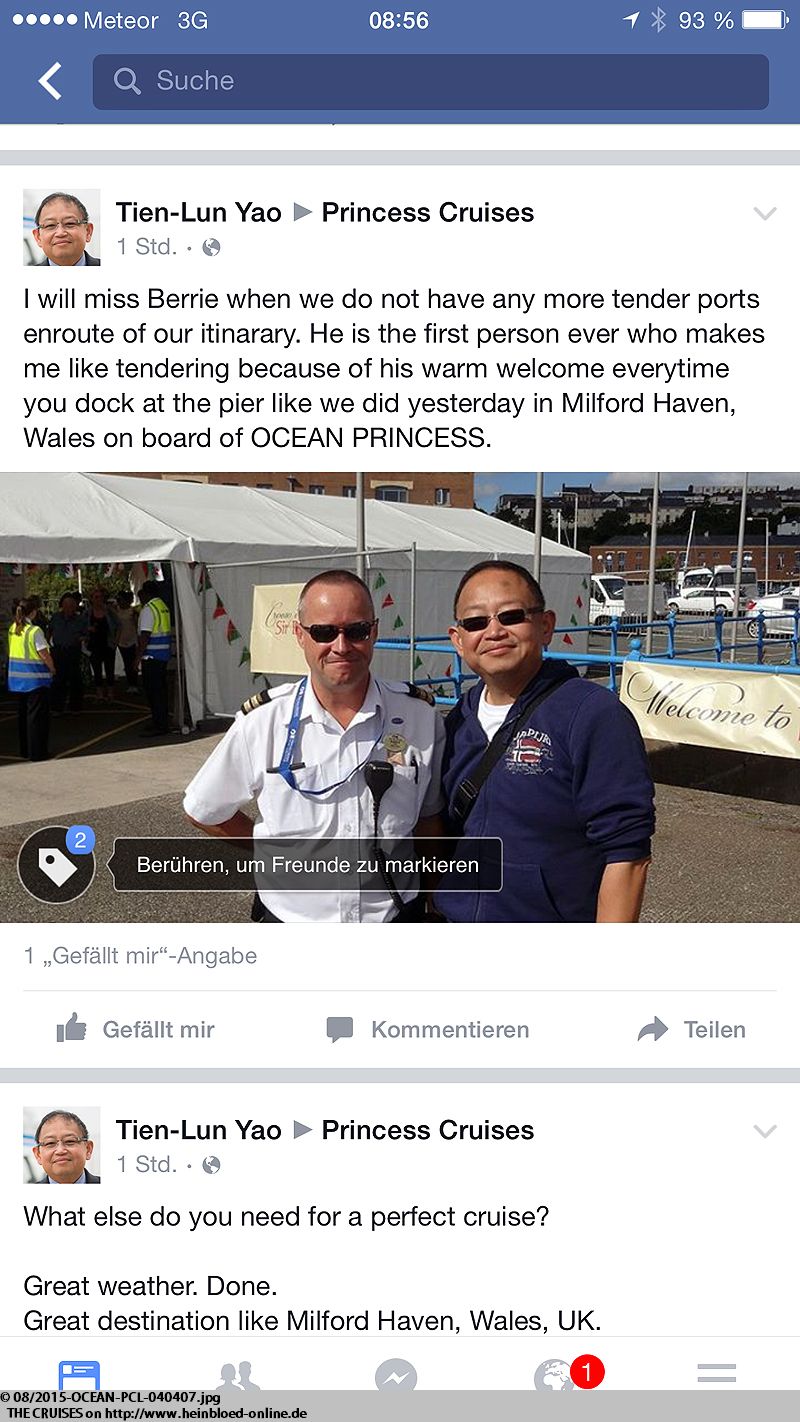 On Facebook I had to put some nice words on Barrie with Princess. Somehow it was totally different: none was there to wish us a great day when we left the ship.

Obviously, Frances and Eddie found already our driver Nicholas. We knew him from our NORWEGIAN SUN 2012-voyage. In the blog you can read what we made then.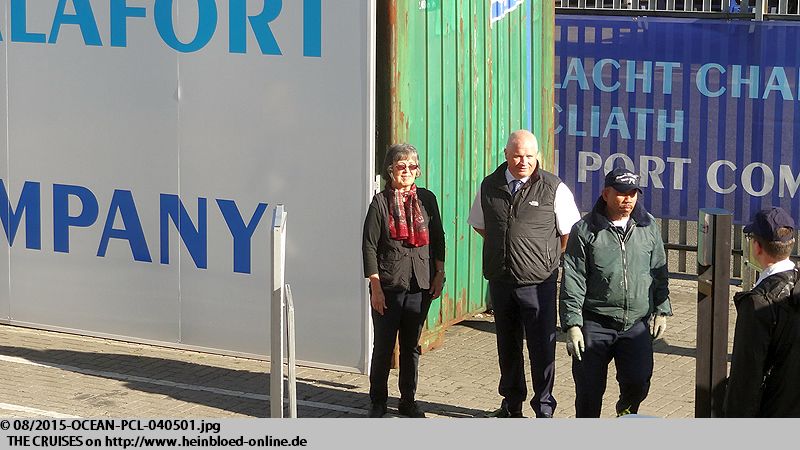 Offensichtlich haben Frances und Eddie unseren Fahrer
Nicholas
schon gefunden. Wir kennen ihn von unserer
NORWEGIAN SUN 2012
-Reise. Im Blog> kann man nachlesen, was wir damals gemacht haben.
Ein nagelneuer Mercedes-Bus wartet direkt vor der OCEAN PRINCESS. Ich komme mir vor, wie ein VIP.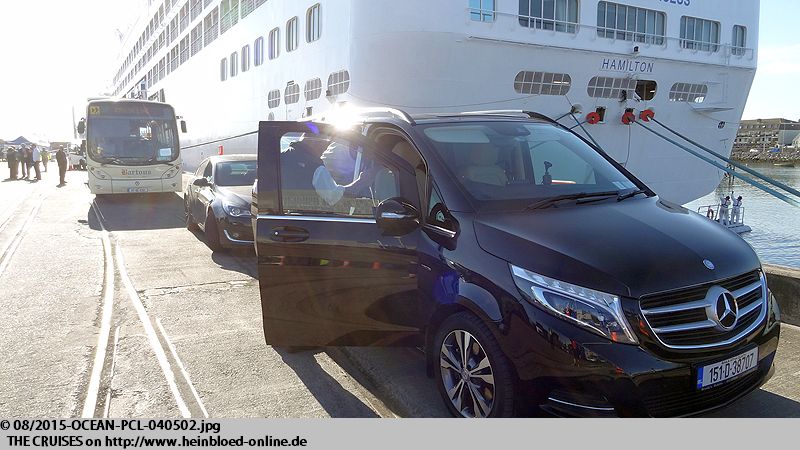 A brandnew Mercedes-van was waiting just in front of OCEAN PRINCESS. I felt like a VIP.

When we were just in front of the ship we need to make a mutual selfie.

Wenn wir schon direkt vor dem Schiff stehen, müssen wir ja gemeinsames Selfie machen.
VIP-Lederausstattung: wir mögen es!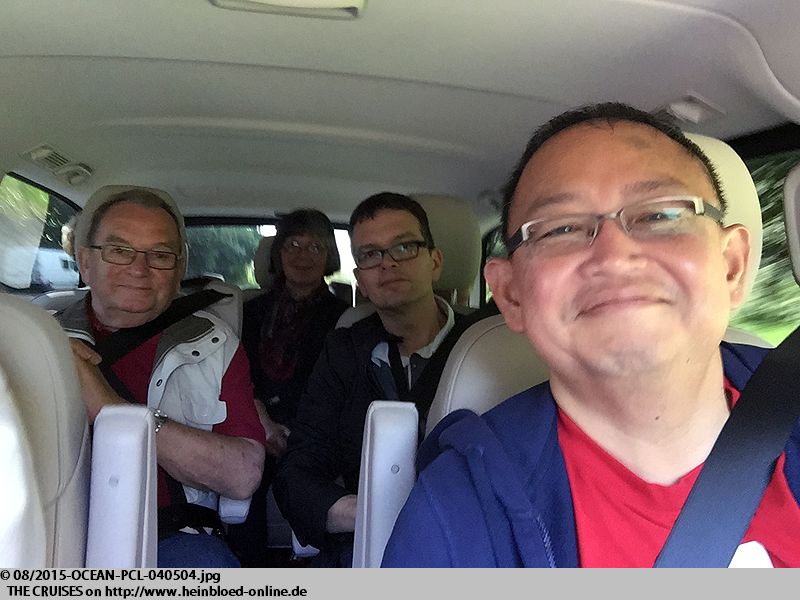 VIP-leather equipment: we liked it!

Nicholas was "set". For Dublin, Ireland there was nobody else whom we would hire as our driver.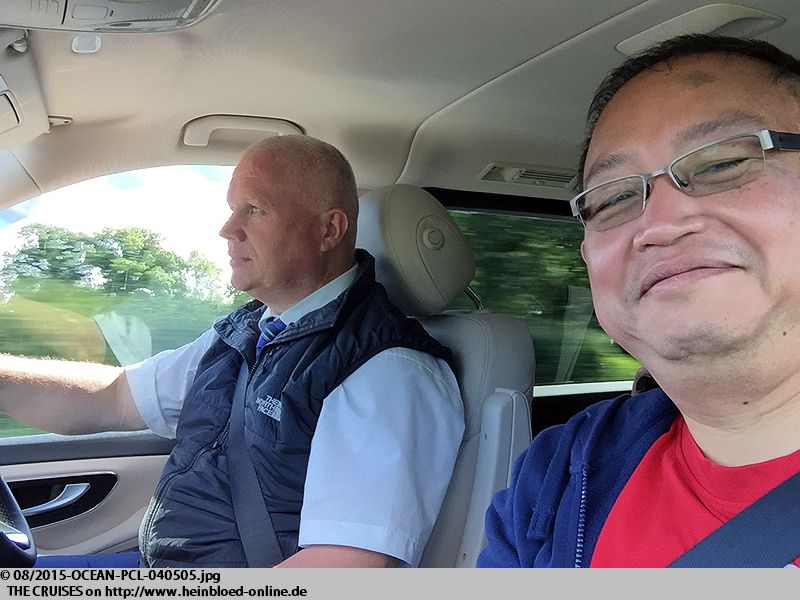 Nicholas ist "gesetzt". Für Dublin gibt es niemand anders, den wir als Fahrer engagieren.
Mit Interesse verfolge ich das "Programm" des Fahrtrekorders.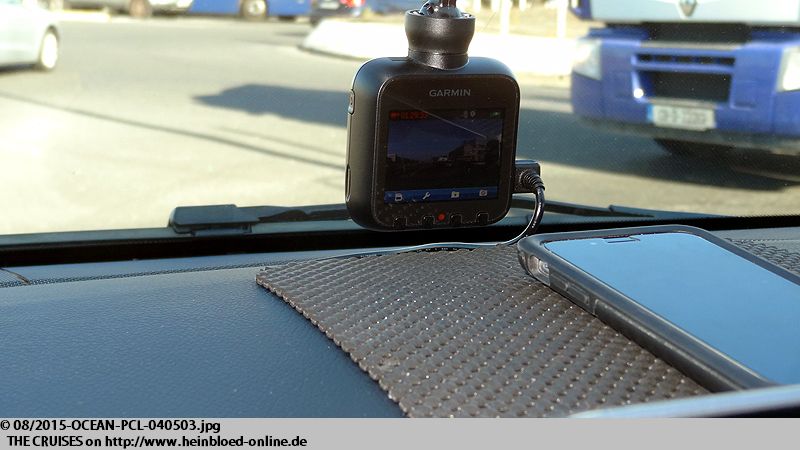 With great interests I followed the "programme" of the dash-cam.

We went about 30 miles Northbound.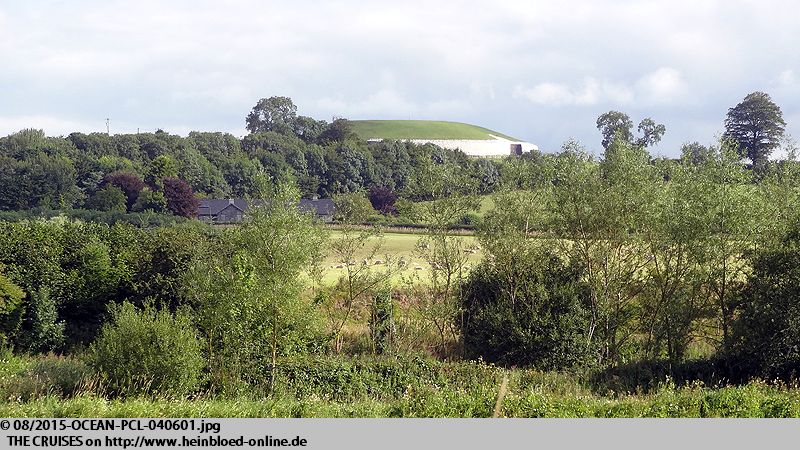 Es geht 50 km Richtung Norden.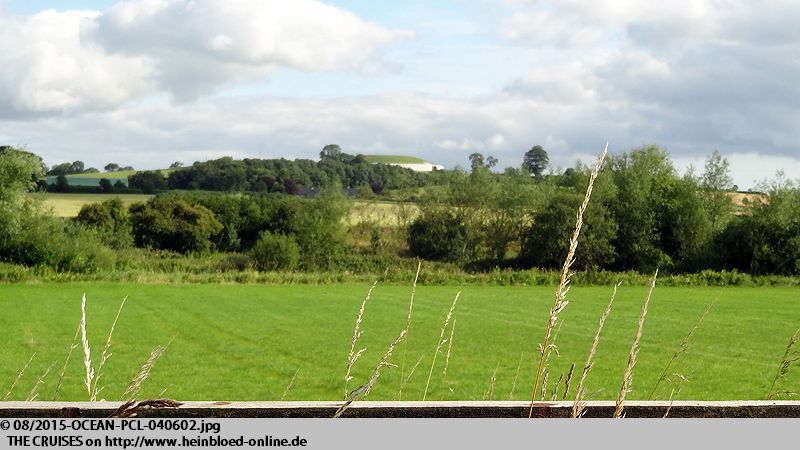 To Bru na Boinee - or better known as UNESCO Welterbe Newgrange: Grave sites of the year 3220 BC. And especially it was on the special light effects when it you could watch winter solstice.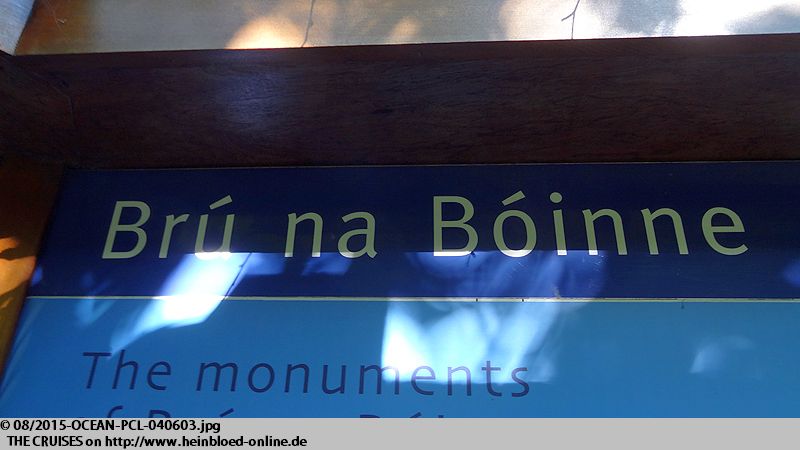 Nach Bru na Boinne - oder besser bekannt als
UNESCO Welterbe Newgrange
: Grabstellen aus dem Jahre 3220 vor Chr.. Und insbesondere geht es um die Lage, bei der besonderen Lichteffekte bei der Wintersonnenwende zu sehen sind.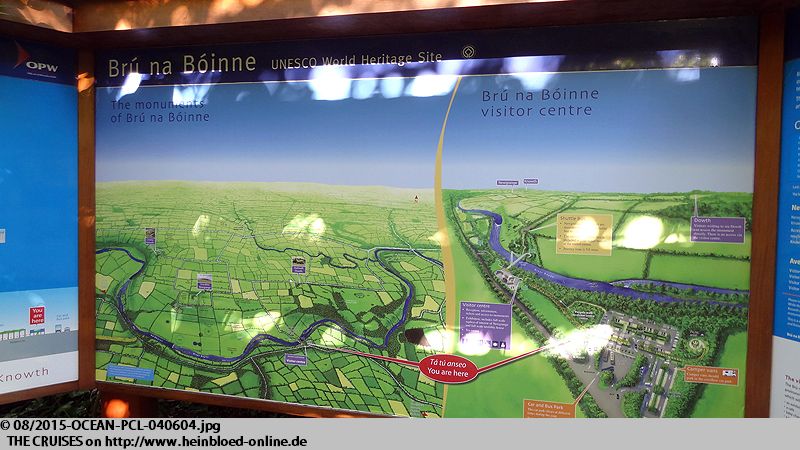 Wir kommen am Besucherzentrum an und müssen doch ein paar Schritte noch vom Parkplatz dorthin laufen. Leider bekommen wir zeitnah keine Eintrittskarten. Nicholas bietet uns Alternativen an, aber wir beschließen einfach uns ein wenig zu stärken und zunächst die Ausstellung zu besuchen. So kann ich mal wieder ein
Vit-Hit
trinken, Ich kenne es von der letzten Reise und leider kann man es in Deutschland noch nicht kaufen. Außerdem können wir dort noch ein wenig einkaufen, was wir so brauchen: neue T-Shirts und Hoodies. Daher: Alles gut!

We arrived at the visitor center and we need to make few steps from the parking. Unfortunately, we could not get any short-notice time slots. Nicholas offered us alternatives, but we decided simply to freshen up and to visit the exhibition. So I could have a Vit-Hit again. I knew it from my last voyage, but you still could not buy it in Germany. Furthermore, we could buy a few things what we need: new t-shirts and hoodies. So everything was fine.

For German-speaking guests, they kept some explanations in German ready, so we could read while we visited the exhibition. Furthermore, they presented us a video in German. So we knew very well what we should expect in the future. As we were not allowed later to take pictures inside the tomb, they rebuilt the interior of a tomb here indoor where you were allowed to take some pictures here. The most important: the split rock.

Für deutschsprachige Gäste hat man uns zuvor schon mal alle Erläuterungen auf deutsch mitgegeben, so dass wir die Ausstellung schon mal mitlesen können. Außerdem hat man das Video in deutsch für uns laufen lassen. Daher wissen wir schon sehr gut, was uns später erwartet. Da man später nicht in der Grabkammer fotografieren darf und Teile des Innenlebens der Grabkammer nachgebaut wurde, kann man hier in Ruhe ein paar Bilder aufnehmen. Das wichtigste ist der gespaltene Stein.
Auch muss man wieder einige Minuten bis zur Bushaltestelle laufen. Man darf nämlich nicht selbst zu dem Grabhügel fahren, sondern man muss den Bus nehmen. Der Weg zur Haltestelle ist jedoch ganz schön, so dass hier auch viele Selfies entstehen. Man wird nach den Zeiten auf den Eintrittskarten in die Busse gelassen. Es nützt daher nichts sehr viel früher hier zu sein.

You must also walk few minutes to the bus stop. You were not allowed to drive by yourself to the tombs, but you had to take the bus. The way to the bus stop was very nice, so we made some selfies. They allowed the access to the buses according to the time slot on the tickets. So it did not make any sense to show up earlier.

When we arrived, a tour guide was waiting for us who gave us first few explanations and right after we still need to wait until we were taken into the tomb. Strictly forbidden: taking pictures and who had a backpack need to have it in the front.

Als wir ankommen werden wir von einer Führerin erwartet, die uns vor der Grabkammer Erläuterungen gibt und anschließend müssen wir noch ein wenig warten, bis dass wir in die Grabkammer geführt werden. Striktes Fotografier-Verbot und auch Rucksackträger müssen diesen auf der Brust tragen.
So entsteht auch ein Panoramabild. Undendlich grüne Weite.


So I could take this panorama picture. Unendless green wideness.

While we were waiting for the admission, they checked the stability of the tombs.

Während wir auf den Einlass warten, wird die Stabilität der Grabanlage geprüft.
Und ich nutze die Wartezeit für Selfies. Bilder vom inneren der Grabkammer gibt es leider nicht. Über das iPhone ermitteln wir unsere GPS-Position und bitten Nicholas uns direkt hier abzuholen. Nach dem Besuch der Grabkammer muss man nicht mit dem nächsten Bus fahren und so entstehen auch mal Wartezeiten, weil jeder beliebig lang noch bleiben darf.

I used the waiting time for some selfies. No pictures from the interior of the tombs were allowed. On the iPhone, I checked for our GPS-location and asked Nicholas to pick-up our group right here. After the bus, you must not use the next bus, and so we had a little waiting time because everyone was allowed to stay as long as someone wanted.

On the way back to Dublin, Ireland we stopped in Drogheda and had lunch in Black Bull Inn. Nicholas booked us a table and wanted to eat in the pub section. The table did not allow just to add a chair, and we did not want to let Nicholas eating by himself, so we all went to the pub-section of the restaurant. We had a great lunch there too. Unfortunately, they did not have the real Corned Beef. Nothing like we knew from the cans. During our last voyage on NORWEGIAN SUN 2012 Nicholas took us to great restaurant (The Wicklow Heather) where they offered Corned Beef. We never had such great food before. But we were North of Dublin, and the other restaurant was South of Dublin. So one more reason to come back to Dublin and to book Nicholas again that he can take us to a Corned-Beef-Dish.

Auf dem Weg zurück nach Dublin halten wir in Drogheda und essen im
Black Bull Inn
. Nicholas hatte uns einen Tisch reserviert und wollte im Pub-Teil essen. Der Tisch ließ es nicht zu, dass wir einfach einen Stuhl dazustellen, aber wir wollten Nicholas nicht alleine essen lassen, so dass wir kurzerhand alle in den Pub-Teil des Restaurants umgezogen sind. Wir haben dort sehr gut gegessen. Bloß gab es leider kein echtes Corned Beef. Hat nichts mit dem Corned Beef aus der Dose zu tun. Während der letzten Reise auf der
NORWEGIAN SUN 2012
führte uns Nicholas in ein ganz tolles Restaurant, (
The Wicklow Heather
), bei dem es Corned Beef gab. So etwas tolles hatten wir noch nie zuvor gegessen. Nur waren wir jetzt nördlich von Dublin und das andere Lokal lag südlich von Dublin. Also wieder ein Grund wieder nach Dublin zu kommen und Nicholas wieder zu buchen, damit er uns wieder zum Corned Beef-Essen führt.
Der Innenraum ist mit vielen Labeln von Whiskey-Flaschen dekoriert.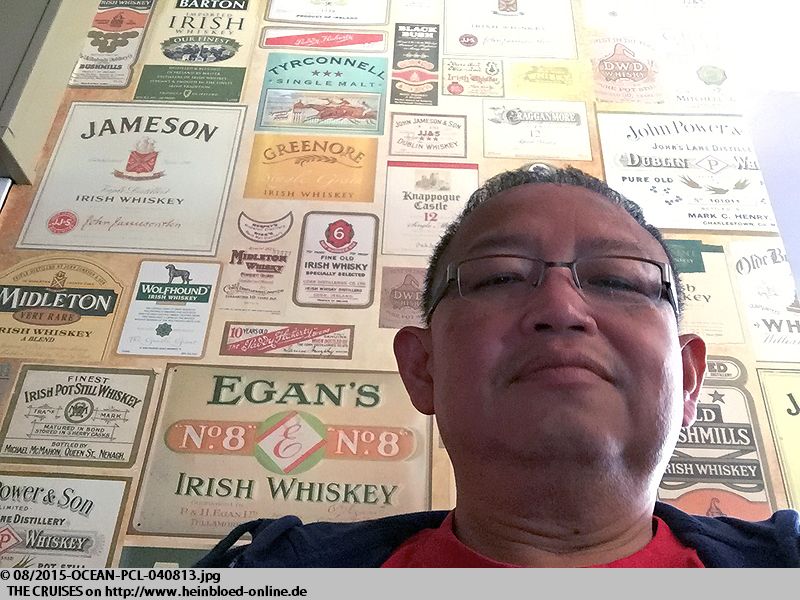 The interior was decorated with many lables of Whiskey-Bottles.

So we let us explained which Whiskey was cheap and good. He recommended us to buy some Jameson. We noticed for a future purchase.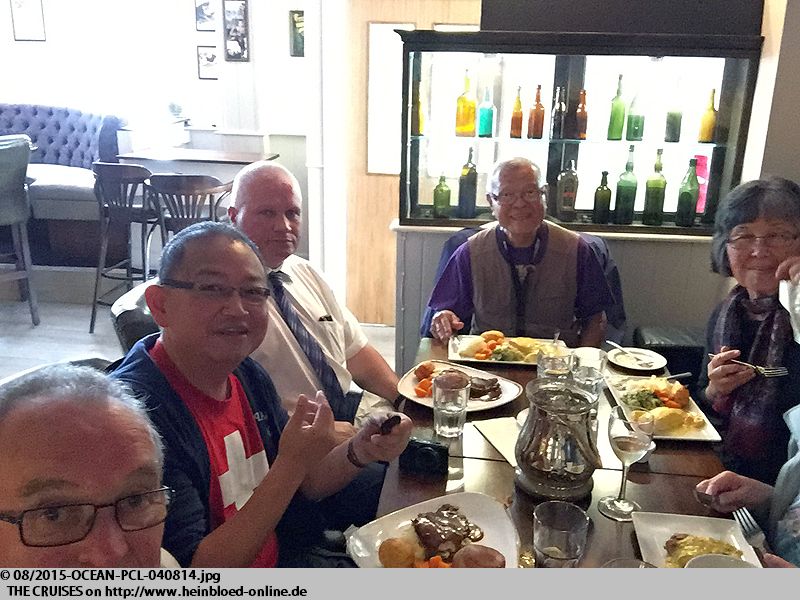 So lassen wir uns einen Tipp geben, welcher Whiskey günstig und gut ist. Er empfiehlt uns
Jameson
. Wir merken uns das für einen späteren Einkauf.
Auf dem Weg zurück zum Schiff halten wir noch kurz bei den
Malahide Schloss und Gärten
.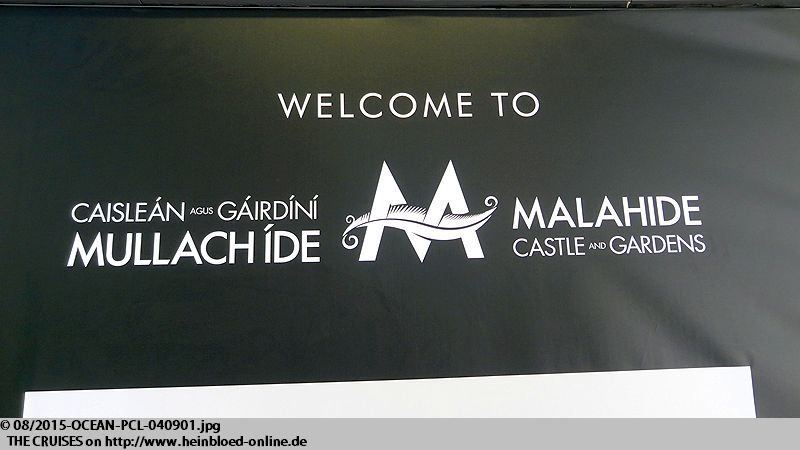 On the way back to the ship we stopped by at Malahide Castle and Gardens.

It was adorable there.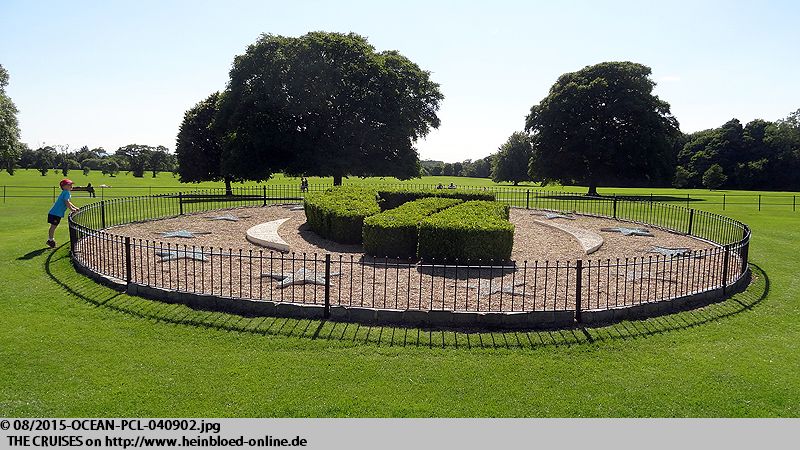 Ist echt schön hier.
Rein gehen wir nicht. Wir genießen das schöne Wetter und laufen ein wenig durch den Park.

We did not go in. We enjoyed the nice weather and walked a little through the park.

It was charming here. We add it to our list for the next time.

Es ist echt schön hier. Es steht schon für das nächste Mal auf der Liste.
Außerdem nutzen wir die Chance schön einzukaufen. Im Besucherzentrum gibt eine schöne Auswahl, wie zuvor in Newgrange auch.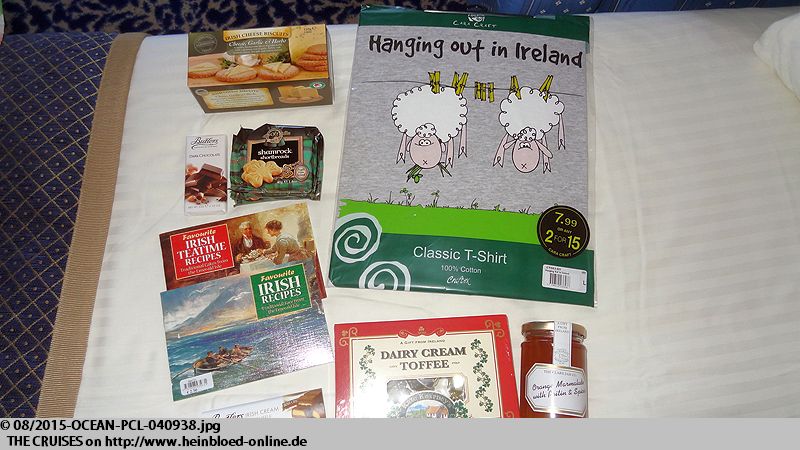 Furthermore we used to chance to make some nice purchases. In the visitor center, they had a nice selection, like before in Newgrange.

We went along the coastal road back to the port.

Es geht entlang der Küstenstraße zurück zum Hafen.
Noch ein letztes Bild vor
MEINER
OCEAN PRINCESS: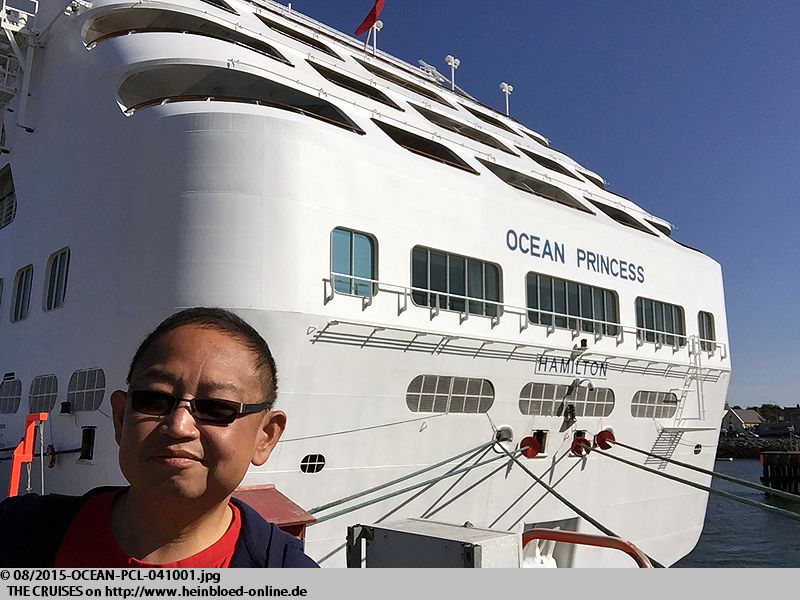 One more last picture of MY OCEAN PRINCESS.

We enjoyed the set sail from Dublin.

Wir genießen die Ausfahrt aus Dublin.
Zum Glück haben wir die 2. Tischzeit gebucht. Sonst müssten wir jetzt schon im Restaurant sitzen.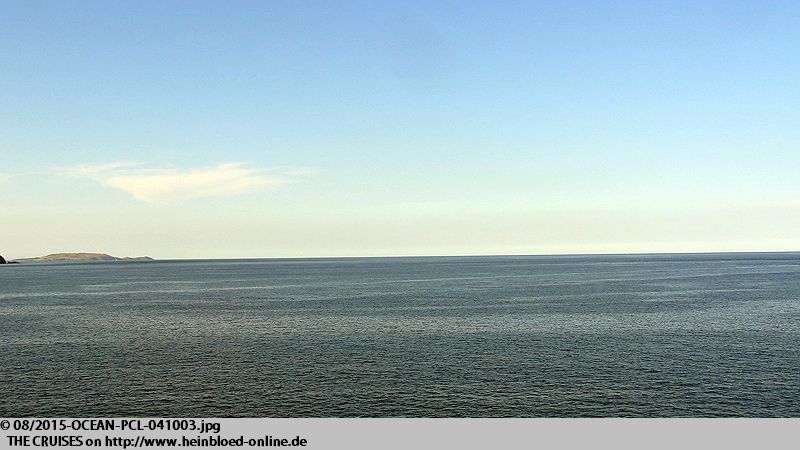 Luckily, we booked the 2nd seating. Otherwise, we had to sit in the restaurant now.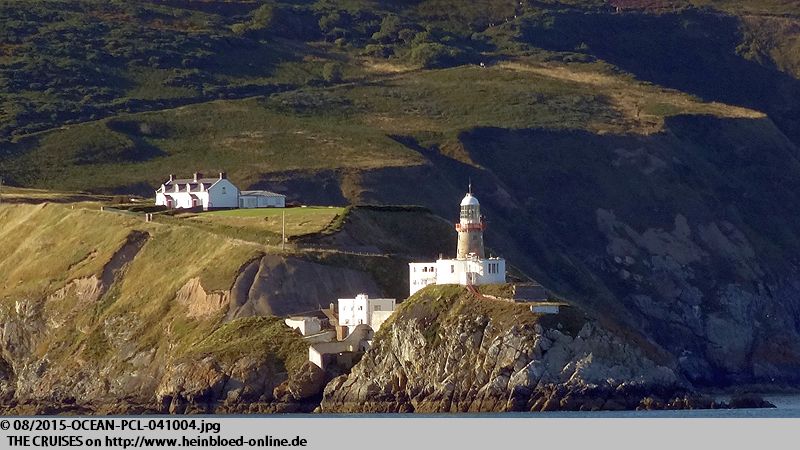 So können wir bei diesem schönen Wetter in aller Ruhe die Landschaft genießen.

So we could simply enjoy the wonderful scenery and the wonderful weather.

We were happy to be guests again with Chester and Marielito in the Club Restaurant. We experienced the service we hardly missed the night before. The chilled coconut soup was served unusually, and the Indian dish was served in a very authentic way. On request, Bruno got a full plate full of exotic fruits. The decision was correct not to have more experiments with the Chef's Table and with Sabatini.

Wir freuen uns wieder Gäste bei Chester und Marielito im Club Restaurant zu sein. Wir erleben den Service, den wir am Abend zuvor schmerzlich vermisst haben. Die Kokusnuss-Kaltschale wird etwas ungewöhnlich serviert und das indische Essen wird schon sehr autentisch serviert. Bruno bekommt auf Anfrage einen ganzen Teller voll exotischer Früchte. Die Entscheidung auf weitere Experimente beim Chef's Table und bei Sabatinis ist richtig.
Zur guten Nacht gibt es wieder "Schoggi" (Ich arbeite ja jetzt in der Schweiz).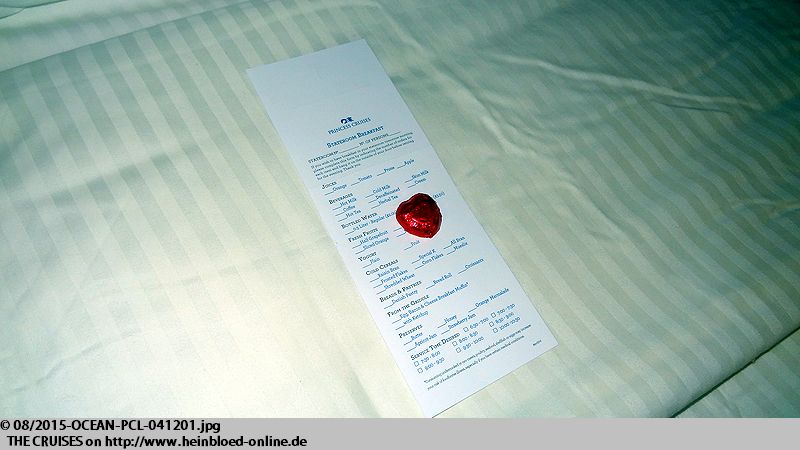 For good night we got again some chocolate.

I kept myself busy the whole day with one question: Did Frances wanted from MY Gandhi also a hug?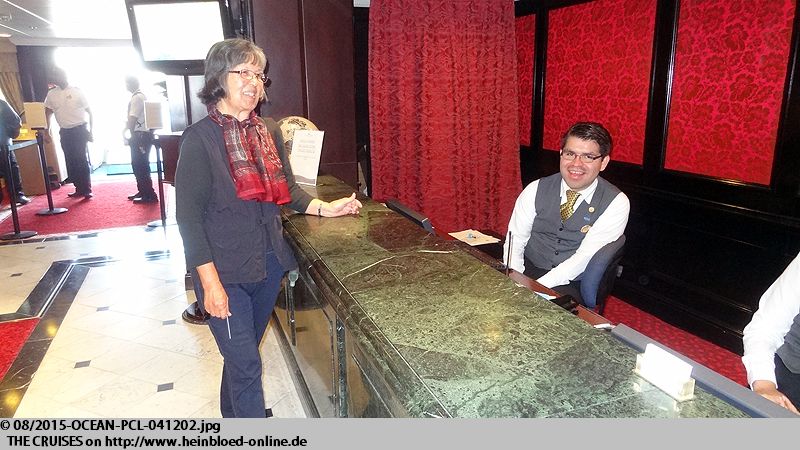 Eine Frage beschäftigt mich den ganzen Tag: Will Frances etwa von
MEINEM
Gandhi auch eine Umarmung???
Die anderen Reisen in diesem Blog/
The other voyages in this blog: