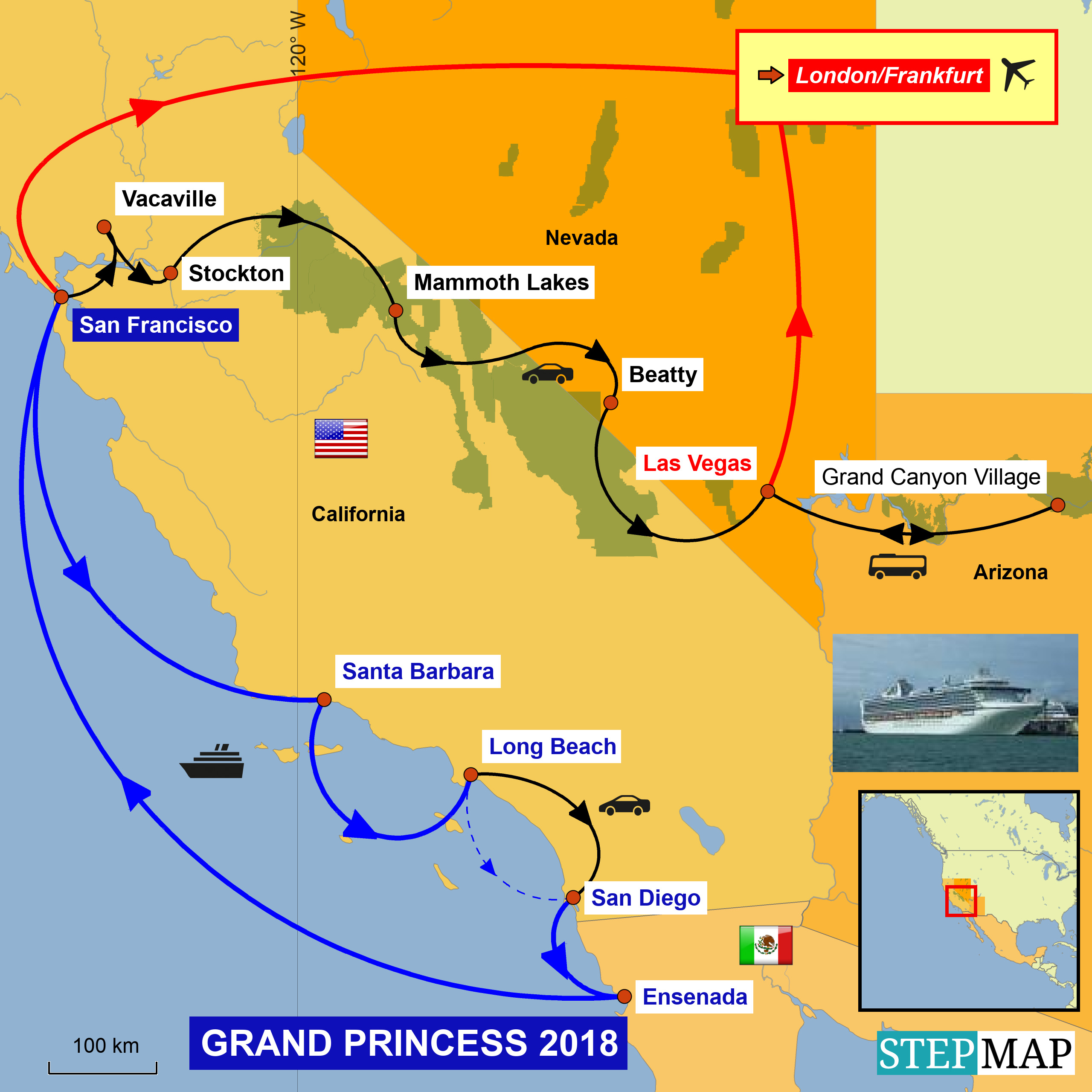 Täglich wechselt eine Seite der Frühstückskarte.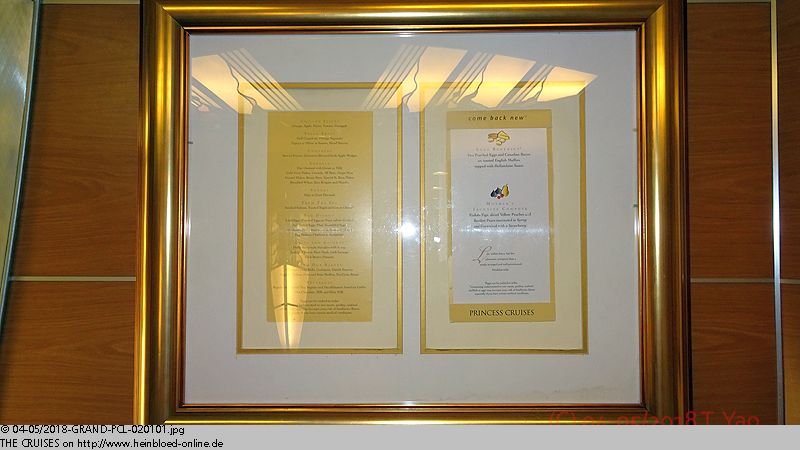 Daily they change one page of the breakfast menu.

That did not mean that you would not get the same daily menu was offered again.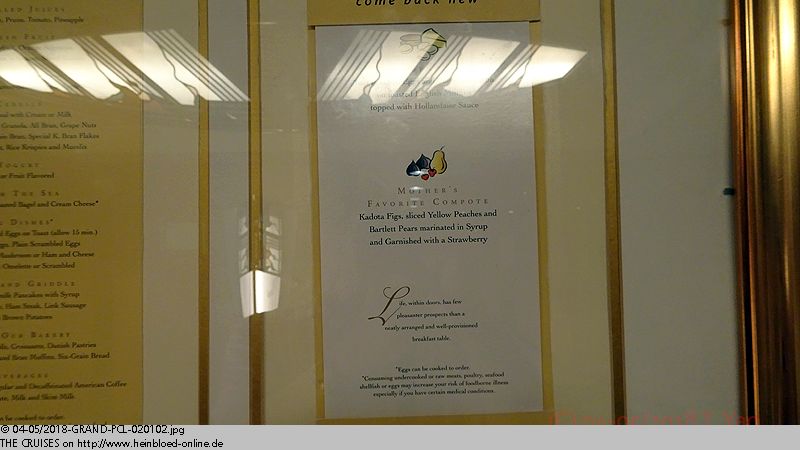 Das bedeutet aber nicht, dass man nach einigen Tagen die selbe Tageskarte wieder im Angebot hat.
Ich will wie üblich keine Heißgetränke zum Frühstück.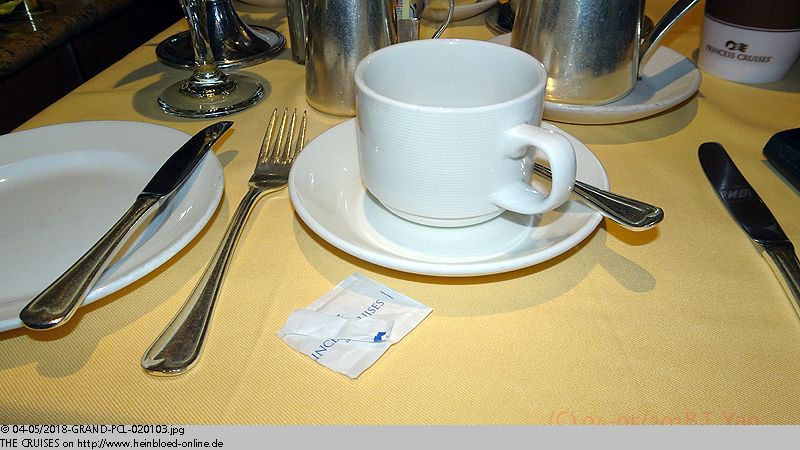 As usually I did not like any hot beverage for breakfast.

Bruno got his boiled egg.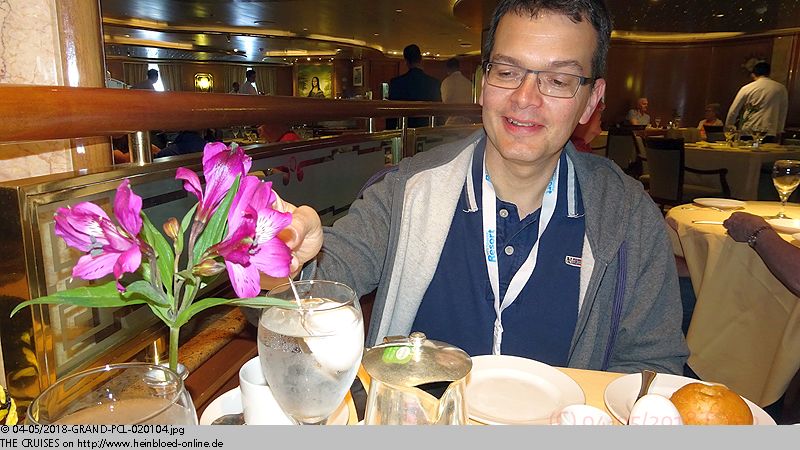 Bruno bekommt sein gekochtes Ei.
Wie üblich wieder viel zu heiß und viel zu weich. Sechs Minuten, die er genannt hat, sind zu kurz. Er behält immer das Eiswasser zum Abschrecken.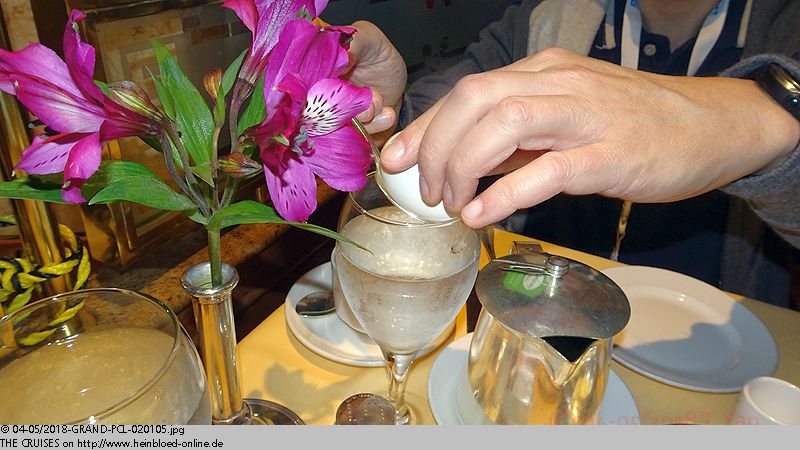 As usually it was again too hot and too soft. He ordered six minutes, but obviously, it was too short. He always kept the ice water to shrink the egg in cold water.

The breakfast offer in Horizon Court was not bad either. Here they even had a corner with some Asian food. Right to make me happy: we met again Edgar whom we knew from OCEAN PRINCESS 2015. A part of the Horizon Court would be transferred to Crab Shack (on fee) for dinner.

Das Frühstücksangebot im Horizon Court ist auch nicht schlecht. Hier gibt es sogar eine Ecke mit asiatischem Angebot. Zu meiner großen Freude: wir treffen Edgar wieder, den wir von der
OCEAN PRINCESS 2015
kennen. Abends wird ein Teil des Horizon Courts zu Crab Shack (Meeresfrüchte - zuzahlungspflichtig).
Wir gehen zum
Meet & Greet von cruisecritic.com
- Ich hatte am 24.03.2018 eine E-Mail-Antwort auf meine Anfrage von Princess erhalten, dass man bereits ein Meet & Greet angesetzt hatte. Bezüglich der Zeiten sollte ich mich an die Veröffentlichungen in cruisecritic.com halten. Dort wurde aber immer herumgeiert, wenn man konkret nach einer offziellen Veranstaltung der Schiffsleitung gefragt hatte. Es wurde behauptet, dass es morgens um 09:00 Uhr stattifnden würde. Ich habe noch nicht auf einer Reise erlebt, dass dieses Meeting um 09:00 Uhr morgens angesetzt wurde. Leider haben sich sehr wenige eingefunden: z. B. Marc und Lisa, und Sue und Steve und einige wenige andere.

We went to the Meet & Greet of cruisecritic.com - I got an reply on March 24, 2018 to my request to Princess if a Meet & Greet was set up. Regarding the time and place, I should check the boards on cruisecritic.com. There were some who never gave a direct answer to a direct question when you asked for the official one hosted by the ship's management. They said that it would be held at 09:00 hrs. I have never experienced on any of my cruise that such a meeting was set up for 09:00 hrs. So not very many showed up: like Marc and Lisa, and Sue and Steve and a few others.

After the meeting, I called the Group Event Coordinator by phone, and I was told that I could not reach him by phone and need to show up personally at the front desk if I would like to talk with him. When I arrived, I was told to come back when he would be back and told me an estimated time.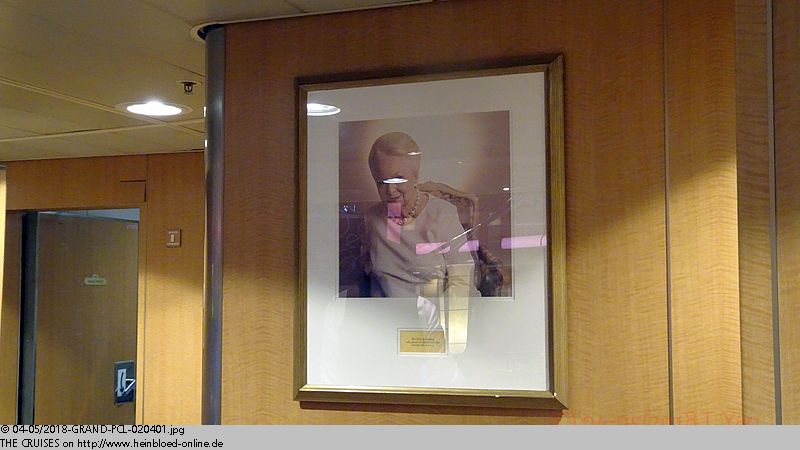 Nach dem Meeting rufe ich den Group Event Coordinator an und man teilt mir mit, dass er telefonisch nicht erreichbar sei und ich an der Rezeption vorsprechen müsse, wenn ich ihn sprechen will. Dort teilt man mir mit, dass ich bitte wiederkommen solle, wenn er wieder da ist und gibt eine geschätzte Zeit mit.
Das einzige, das ich daher herausbekomme ist, dass Olivia de Havilland (tatsächlich diejenige aus "Vom Winde verweht" (1939)) die Taufpatin der GRAND PRINCESS ist.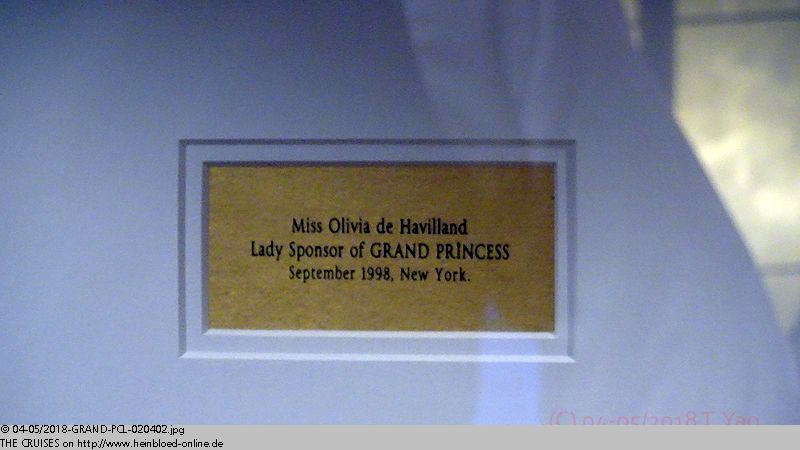 The only thing I found out was that Olivia de Havilland (indeed from "Gone with the Wind" (1939)) was the godmother of GRAND PRINCESS.

I came back at the time I was told to come, and I was told again to come back since he was not there. I should come again as often as necessary until I finally meet him. I did not find it was amusing and so I wanted to speak with the Guest Service Manager. They refused to have a word with the Hotel General Manager or Guest Service Manager. They could not help me I was told. How do I get a sofa in front of the front desk where I could continue to sleep? I did not see any other option to attract the attention to me. I should follow the protocol. Who am I: the Queen of England? Am I the Federal President of Germany? I was a passenger on vacation, and I was not allowed to claim on the front desk? Later I received a call from the Group Event Coordinator. The meeting of cruisecritic.com was set up as a private event, and the next day it was arranged an early tender for cruisecritic.com-members. If I would be interested, I could join. I was a little speechless that someone used the brand cruisecritic.com to get personal benefit onboard and excluded other cruisecritic.com-members from perks of the ship. I would be astonished that Princess in Valencia, CA and cruisecritic.com would support and accept such kind of taking personal advantages. It would become later subject of a letter to the board of Princess and cruisecritic.com.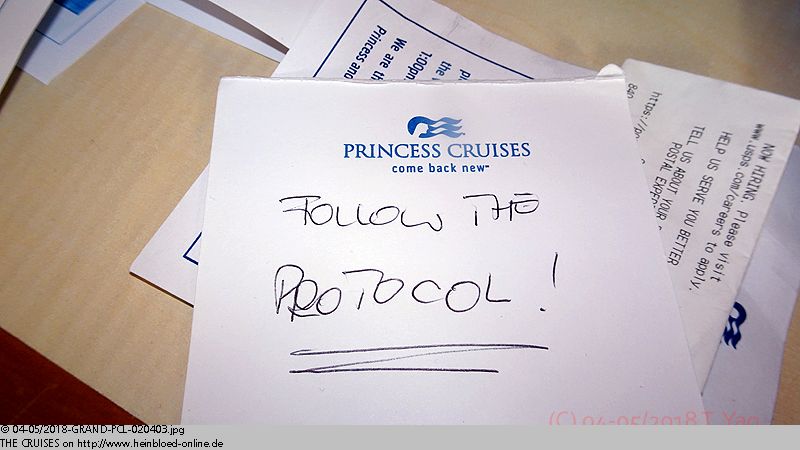 Ich komme daher zur angebenen Zeit wieder und ich soll wiederkommen, da er nicht da ist. Ich soll also erneut wiederkommen, bis dass er da ist. Das finde ich jetzt weniger komisch und ich möchte die Leiterin von Guest Services sprechen. Eine Möglichkeit sich darüber mal mit dem Hotel General Manager oder Guest Service Manager auszutauschen wird verweigert. Sie können einem angeblich nicht weiterhelfen. Wie bekomme ich ein Sofa vor die Rezeption, so dass ich mich davor schlafen legen kann? Eine andere Möglichkeit mir Gehör zu verschaffen sehe ich kaum. Ich solle dem Protokoll folgen. Wer bin ich: bin ich die Königin von England? Bin ich der Bundespräsident? Ich bin ein Passagier im Urlaub und darf mich nicht über die Rezeption beschweren? Später bekomme ich einen Anruf vom Group Event Coordinator. Das Treffen von cruisecritic.com hat in einem nicht-öffentlichen privaten Rahmen stattgefunden und morgen würde man einen frühen Tender den cruisecritic.com-Mitgliedern ermöglichen. Wenn ich Interesse hätte, könnte ich mich anschließen. Ich bin ein wenig sprachlos, dass wohl manche die Marke cruisecritic.com verwenden, um sich private Vorteile an Bord zu erschleichen und bewusst andere von cruisecritic.com ausschließen. Ich bin verwundert, dass allerdings Princess in Valencia, CA und cruisecritic.com solche Praxis unterstützen bzw. dulden. Es wird bestimmt noch Gegenstand eines Schreibens an den Vorstand von Princess und cruisecritic.com.
Im Tagesprogramm lesen wir, dass es u. U. Probleme mit dem Zoll oder der Einwanderungsbehörde geben könnte, wenn wir übernacht nicht an Bord zurückkommen. Durch die Änderung der Abfahrtszeiten in Long Beach und San Diego können wir möglicherweise unsere Pläne nicht so durchführen. Also frage ich üblich nach: ich soll wiederkommen, wenn der Immigration Officer Dienst hat. Einblick in den Dienstplan habe man allerdings nicht: ich soll es einfach immer wieder versuchen. Nach wie vor darf ich mich nicht darüber beschweren, dass ich den Umgang der Rezeption mit Gästen nicht komisch finde.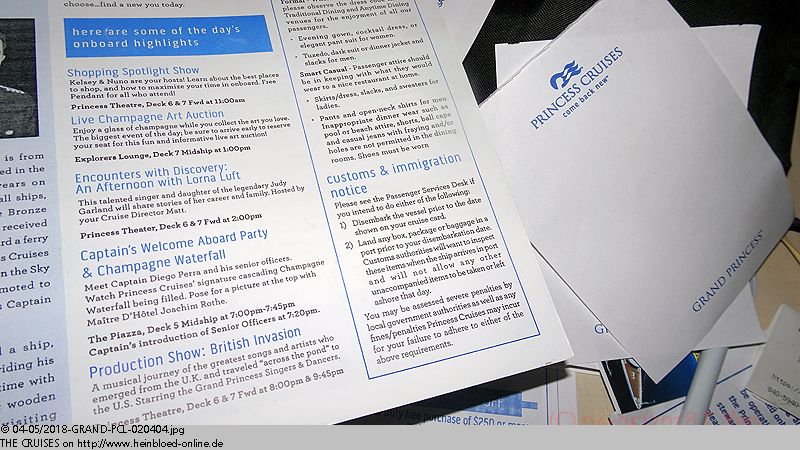 In the daily programme we read that you might get problems with the customs or immigration when we would not return overnight. Due to the changes in set sail time in Long Beach, CA and San Diego, CA, we might not experience all we planned. So I asked as usual: I should come back when the Immigration Officer would be on duty. They had no schedule to her working schedule: I should try it again. Still, I was not allowed to complain about the way they treated the guests at the Front Desk, and I did not find it was funny.

But there was also something perfect on GRAND PRINCESS: like the International Café.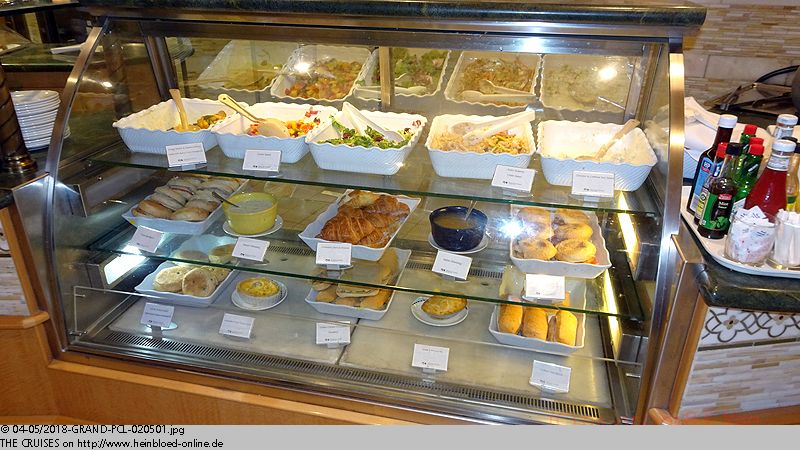 Es gibt auch sehr gutes an Bord der GRAND PRINCESS: z. B. das International Café.
Hier gibt es rund um die Uhr immer eine Kleinigkeit zu essen.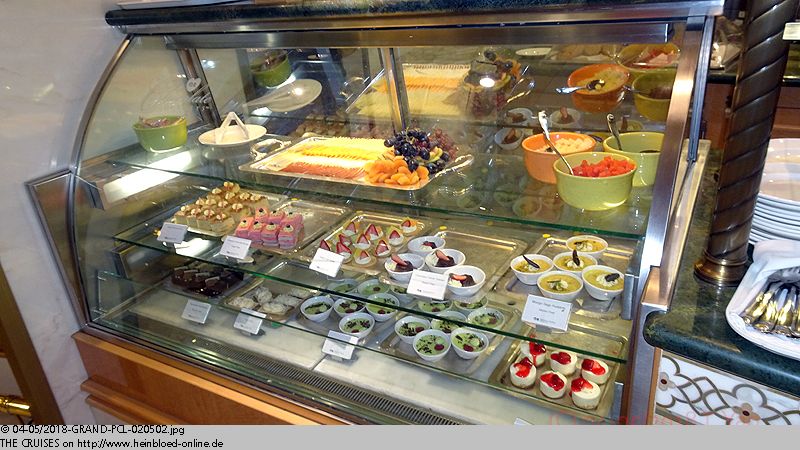 Here you always had some small bites around the clock.

And here they also had Cappucino which I did not like because it was too strong for me.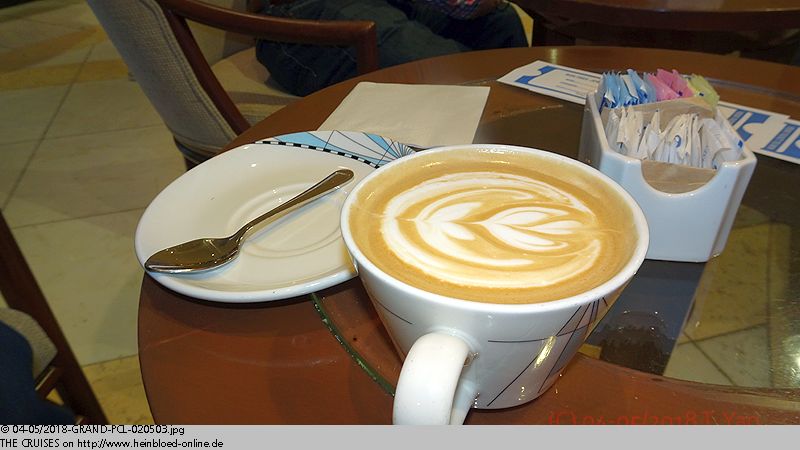 Und hier gibt es auch immer Cappucino, den ich allerdings nicht mag, weil er mir zu stark ist.
Und auch leckeren Tee.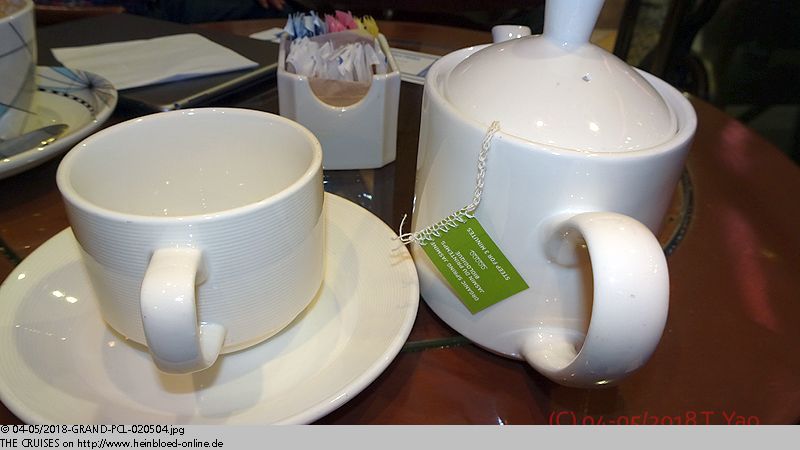 But they had also nice tea.

The tea was from Mightly Leaf.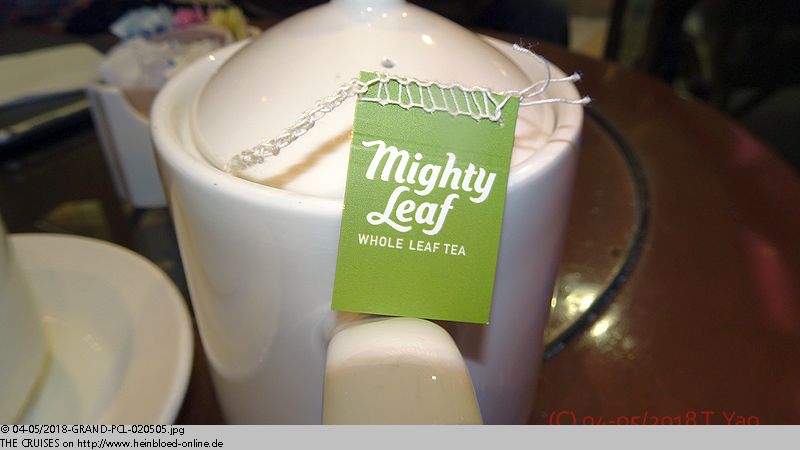 Der Tee ist von
Mightly Leaf
.
Ich versuche mal den Kabinenservice und ich freue mich über die Grüße von Raffaele. Wir bekommen die fertig ausgefüllten Unterlagen für eine erneute Anzahlung, die wir problemlos zurückbekommen, wenn wir zwei Jahre sie nicht nutzen (Daran sollten sich andere mal ein Vorbild nehmen, die nur eine 30-Tage-Geld-zurück-Garantie haben). Christian ist unser Kabinensteward, mit dem wir hochzufrieden sind.

I tried the cabin service and was happy to get some greetings from Raffaele. We got forms which was already prepared to sign and order new future cruise deposits and which you can easily get a refund after two years (Others who offered only a 30-days-back-guarantee should take them as an example. Christian was our cabin steward, and we were delighted with him.

We went for tea-time.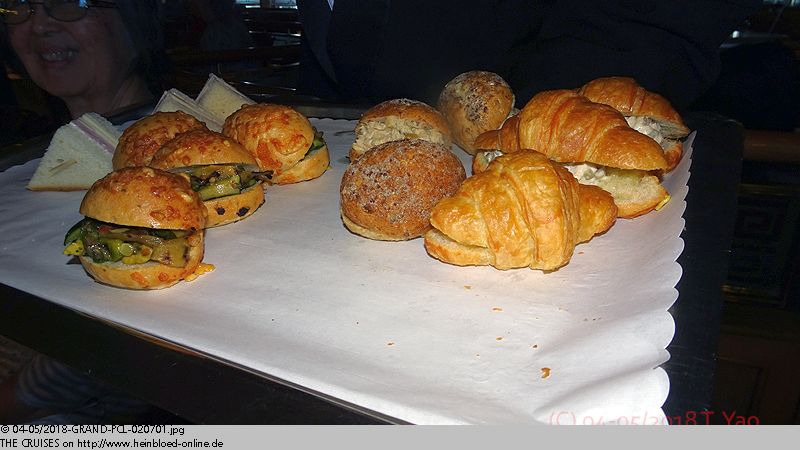 Wir gehen zur Tea-Time.
Hier ist alles beim alten.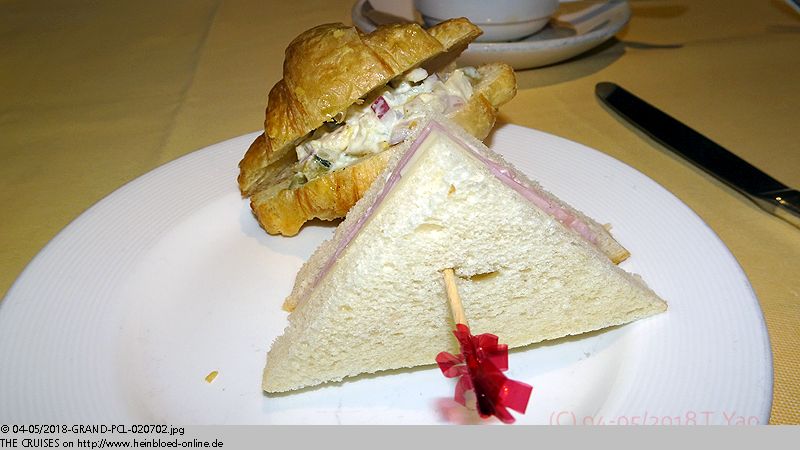 Nothing changed.

The selection was good. The waiters were somehow annoyed.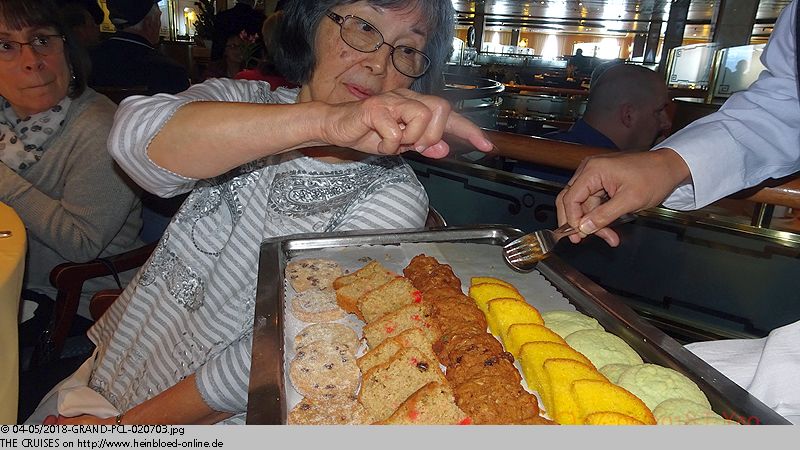 Die Auswahl ist gut. Die Kellner sind etwas genervt.
Ein Scone muss sein.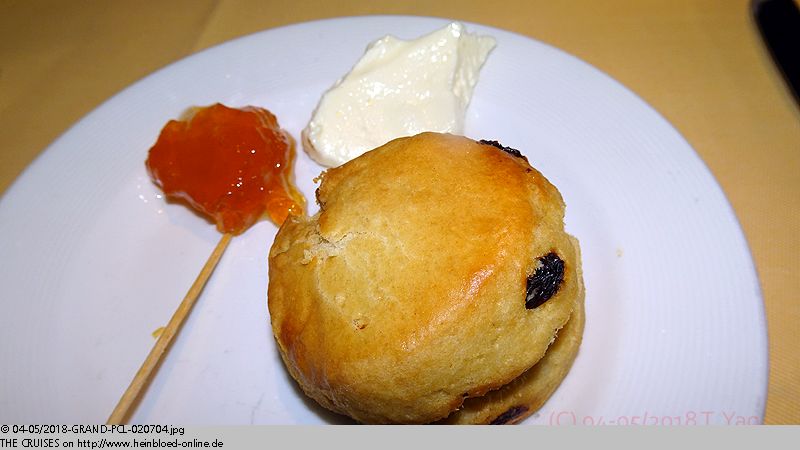 One scone was a must.

One time Cornwall and one time Devon. We learned it now so far!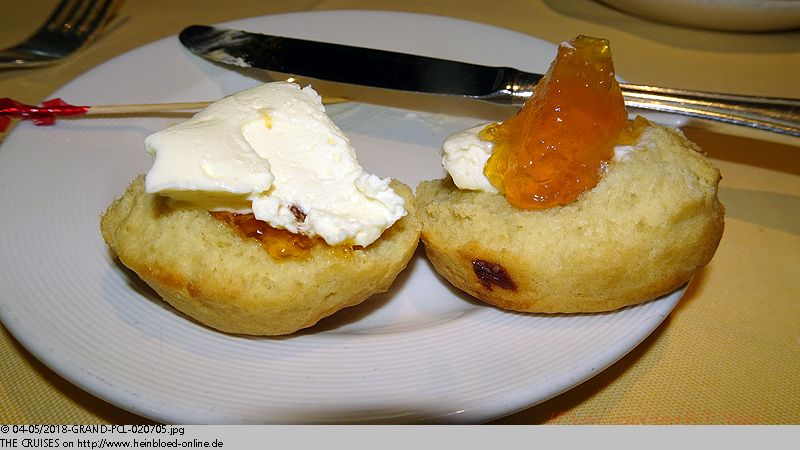 Einmal Cornwall und einmal Devon. Wir haben es ja jetzt ja gelernt!
Ich gehe nochmals die Jungs vom Sabatini besuchen, weil ich sie fotografieren möchte.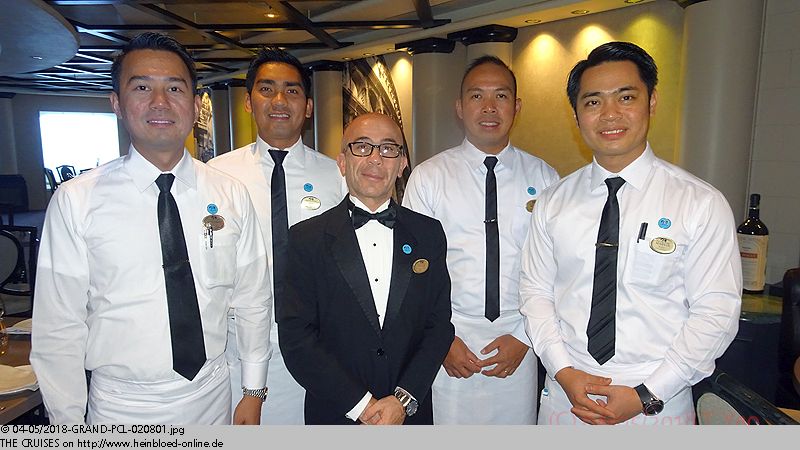 I went again to see the guys from Sabatini because I would like to take a picture of them.

So I had the chance to join an express-lesson how to curse in Italian.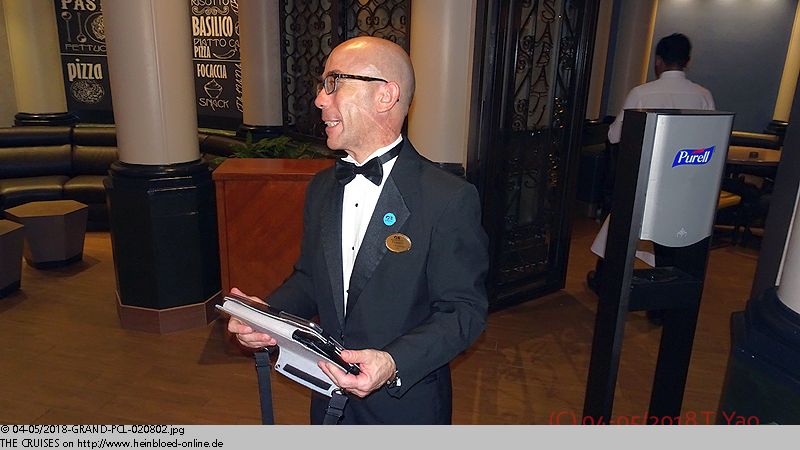 Und bei der Gelegenheit bekomme ich einen Schnellkurs im Fluchen auf Italienisch...
Die Welt ist klein dank Facebook: Judie, die wir von der
OCEAN PRINCESS 2010
kennen, sieht dass wir aktuell auf der GRAND PRINCESS sind und die Bekanntschaft mit Franco gemacht haben, schickt mir ein paar Bilder, die ich Franco zeigen soll...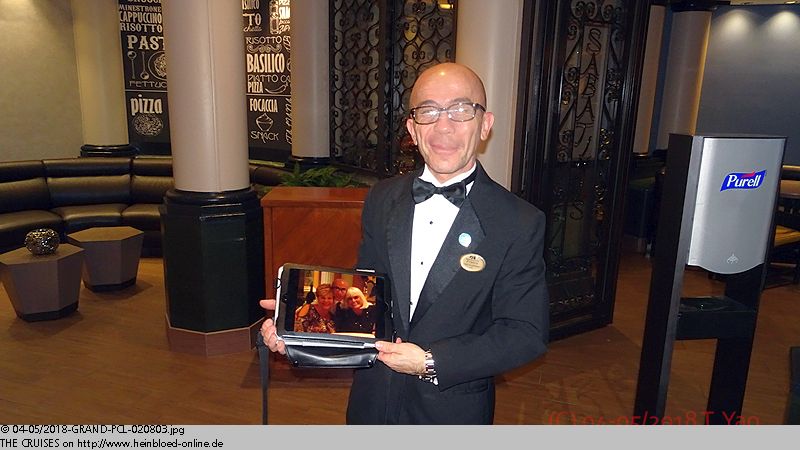 The world was small thanks to Facebook: Judie, whom we knew from OCEAN PRINCESS 2010 saw that we were on GRAND PRINCESS actually and made acquaintance with Franco and she sent me some pictures I should show Franco...

But not all pictures were family safe... and I knew now how to curse in Italian language.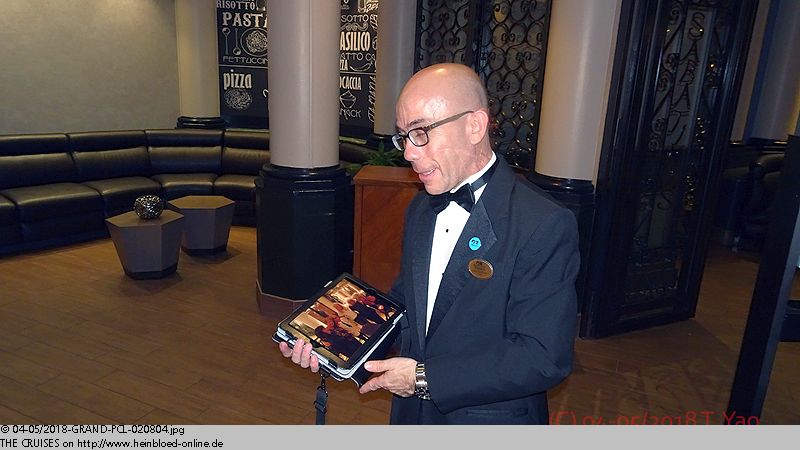 Nun nicht alle Bilder sind jugendfrei... und ich weiß nun wie man auf italienisch flucht...
Ein Problem ist allerdings das Internet. Selbst auf Seiten wie Facebook kommt man nicht.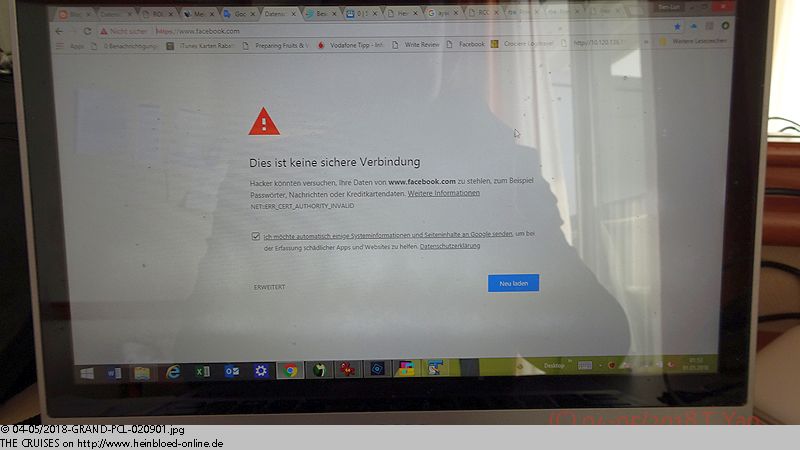 There was a problem with the internet. You even had no chance to browse the Facebook site.

On the ship, we also met Greg and Ray whom we knew from cruisecritic.com and whom we met on the ship from time to time and exchanged few words.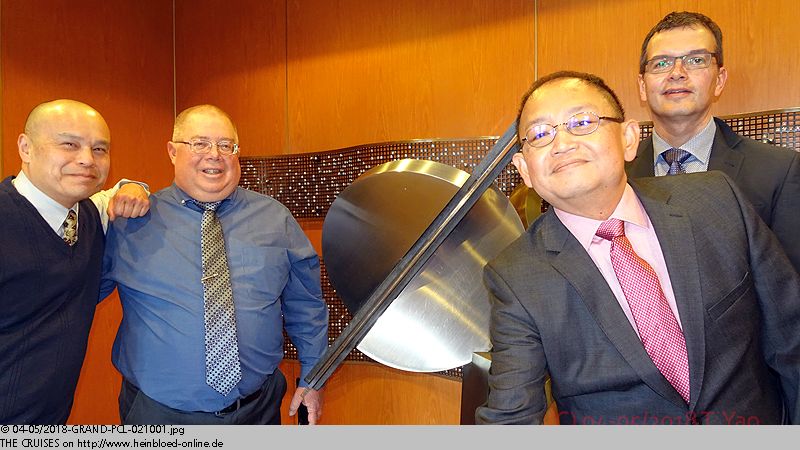 Auf dem Schiff lernen wir auch Greg and Ray aus cruisecritic.com kennen and die wir auch so gelegentlich auf dem Schiff treffen und uns austauschen.
Im Restaurant Da Vinci treffen wir Edgar an, der einen schönen Tisch mit zwei netten Kellnern für uns hat: David und Robin. Carlos bereitet den Nachtisch an der Kochstelle zu und Frances führt eine Hygiene- und Gesundheitskontrolle durch, ob alles in Ordnung ist. Das Essen ist echt toll.

In Da Vinci Restaurant we met Edgar who a nice table with two waiters for us: David and Robin. Carlos prepared some dessert at the mobile cooking station, and Frances conducted a hygiene and health inspection if everything was all right. The food was very great.

We went to Horizon Court to see what they had for dinner.

Wir gucken auch mal, was der Horizon Court zum Abendessen zu bieten hat.
Abschließend geht es noch in die Show British Invasion. Sie trifft voll meinen Geschmack.

Thereafter we went to the show British Invasion. It met totally my taste.

We walked a little around. Like above on the pool deck.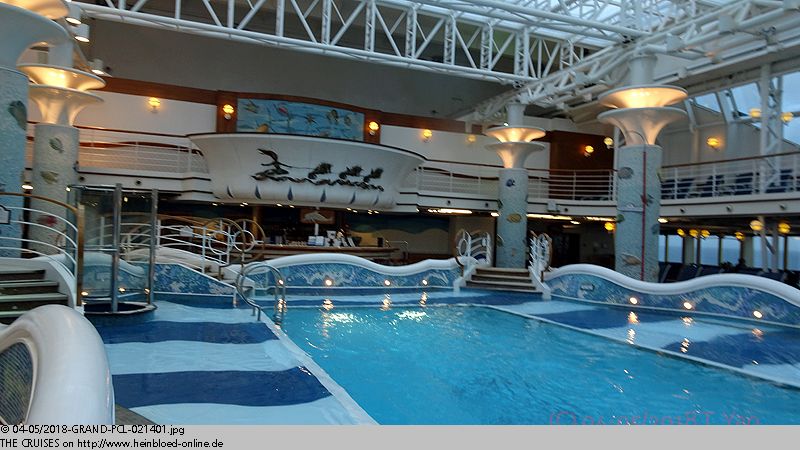 Wir laufen noch ein wenig rum. Oben am Pooldeck.
Im Atrium findet die Champagner-Pyramide statt. Dort hätte ich sicherlich Hotel General Manager, Guest Service Manager, Group Event Coordinator. Aber egal, wie verärgert man ist: es gehört sich nicht, solche Anlässe zu nutzen, um seinen Ärger Luft zu machen... Da wäre ich lieber im Pyjama aufgetaucht, um mich auf einem Sofa schlafen zu legen...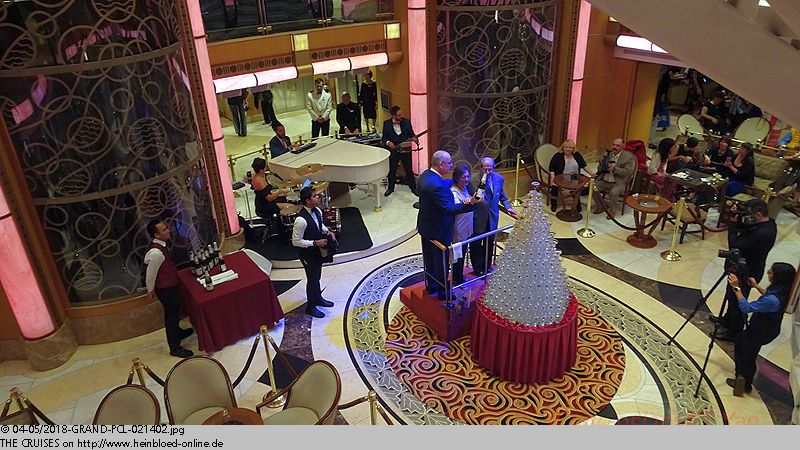 In the atrium they had the Champagne-Pyramid. There I had a chance to meet the Hotel General Manager, Guest Service Manager, Group Event Coordinator. But no matter how angry you were: you never use such events to present your anger... I preferred to show up with my pajamas and to sleep on a sofa...

And everywhere you had good music or comedy. But I was tired and went to bed.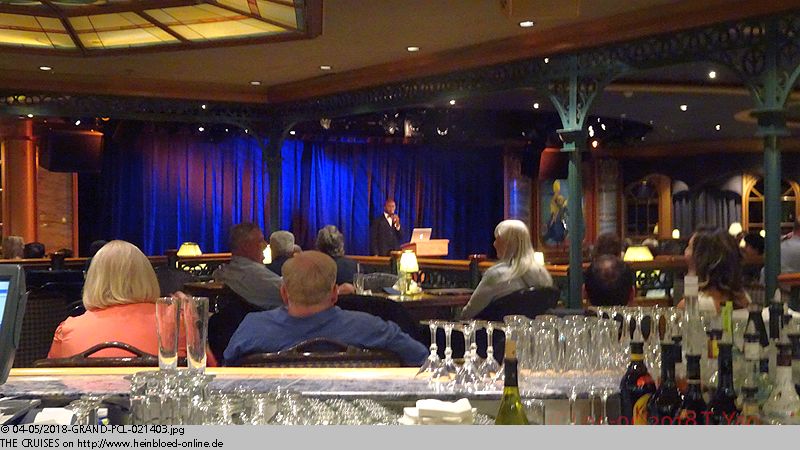 Und überall findet noch gute Musik oder Comedy statt. Aber ich bin müde und gehe ins Bett.
Die anderen Reisen in diesem Blog/
The other voyages in this blog: