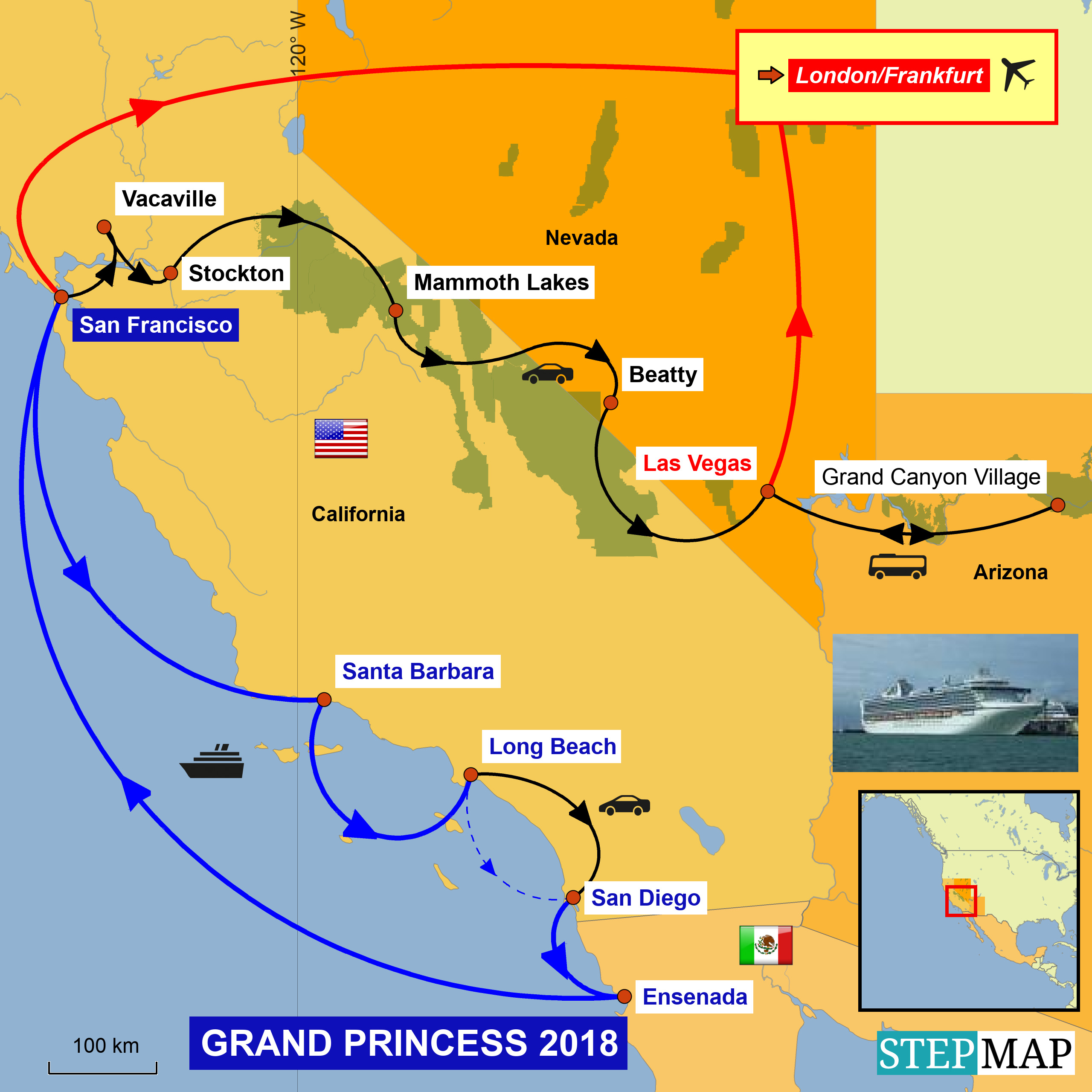 Vorbereitungen einer Kreuzfahrt sind von mehreren Komponenten geprägt: Informationen, Vorfreude und das Gefühl günstige Angebote erwischt zu haben. Zur Rubrik Vorfreude und Informationen zählt es auch, dass man über
Marine Traffic
sich ansieht, an welchen Orten genau die Schiffe angelegt haben und zu welchen Uhrzeiten bestimmte Punkte angelaufen werden. So ist für mich schon mal wichtig: Die Golden Gate Bridge wird anscheinend um 06:00 Uhr passiert, wenn die Ankunftszeit im Hafen für 07:00 Uhr angezeigt wird. Da ich dafür bezahlt habe, dass ich nur wenige Minuten Verzögerung habe, weiß ich für meinen morgenlichen Ausflug am Sonntag Bescheid. Auch für die Landgänge möchte ich schon vorher wissen, wo die einzelnen Liegestellen sind, speziell wenn Häfen keine nützlichen Informationen für Kreuzfahrer bereithalten, wie z. B. Long Beach, CA (das kannte ich allerdings) oder Ensenada, Mexiko. Man kann zwar auch in bestimmten Foren nachlesen, aber ich bin ehrlich: ich hatte keine Lust und keine Zeit dazu und außerdem muss ich nicht immer das machen, was alle anderen in dem Ort gemacht haben. Ich leiste mir den Luxus, dass ich irgendwie schon selbst am Besten weiß, was für mich am Besten ist. Interessant ist hier, wie Santa Barbara, CA angefahren wird: eine riesige Umrundung des Channel Island National Parks.

Preperation for a cruise were impacted by multiple components: information, anticipation and the feeling of having great bargains. For anticipation and information, you need to count that you check on Marine Traffic where exactly the ship would berth and which time certain points would be called. For now, it was important to me: The Golden Gate Bridge would be passed obviously at 06:00 hrs when arrival in the port was announced for 07:00 hrs. As I paid for the service to have it only with few minutes delay, I knew now for my morning tour on Sunday. Also for the shore tours, you need to know before arrival where you had the single piers especially when the ports do not provide helpful information for cruisers like in Long Beach, CA (which I knew) or Ensenada, Mexico. You could also check in certain forums but honestly: I did not like to read or had the time, and furthermore I must do the same in the ports like all others did in the place. I could afford to have the luxury to know best what was the best for me. It was interesting to see how the ship arrived in Santa Barbara, CA: a giant loop around the Channel Island National Park.

Accidentially I was in Fribourg, Switzerland when I posted something of Ovomaltine. I did not like it. But many others and some became curious. Accidentially their factory store was just on my way home. So I made some purchases there. In the next days also friends of Läderach-Chocolate and Rösti (Swiss version of hash-browns made of boiled potatoes with an egg inside) reported their wish to have some.

Zufällig bin ich in Fribourg, als ich auf Facebook über
Ovomaltine
poste. Ich mag sie nicht. Aber anscheinend viele andere und manche werden neugierig. Zufällig stelle ich fest, dass der Werksverkauf auf dem Weg zurück liegt. So kaufe ich einiges dort ein. In den nächsten Tagen melden sich noch Fans der
Läderach
-Schokolade und Rösti.
Zum Glück ist da mein Seemanns-Duffel, in den eine Isolier-Box hineingeht. Ich habe Angst davor, dass wir in den USA später Mousse au Chocolat verteilen.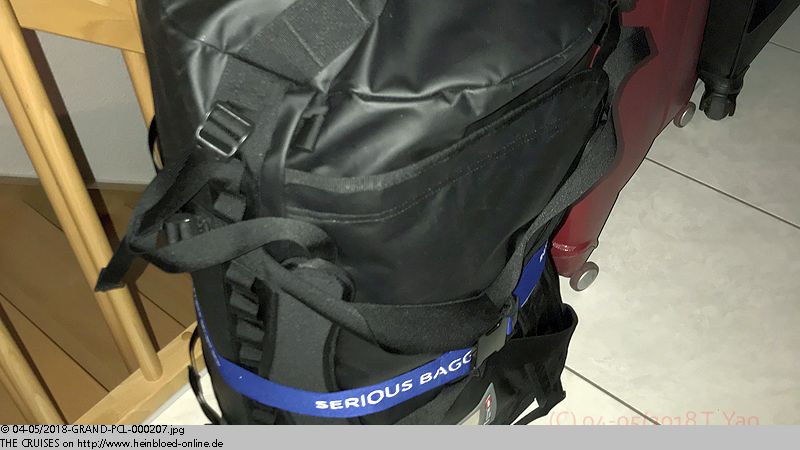 Luckily I had a seaman-duffel which fit for a isolation-box. I was afraid that we had later Mousse au Chocolat to deliver.

When we left Germany, it was 37 F.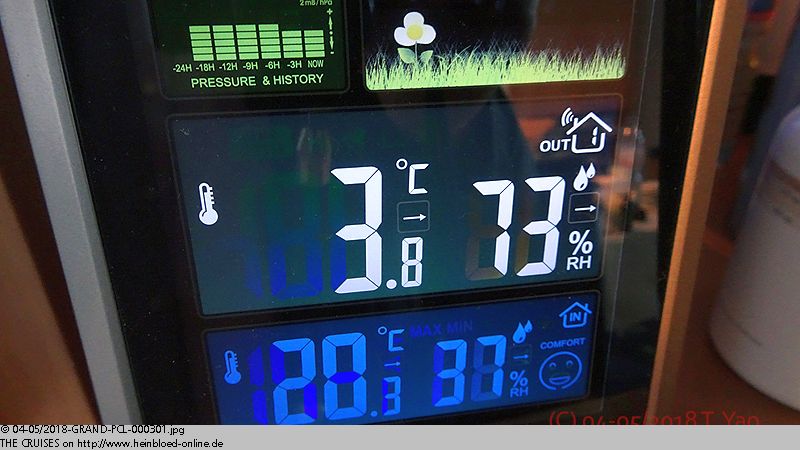 Als wir Deutschland verlassen ist es draußen 3°C.
So gar die Scheiben meines Autos sind beschlagen.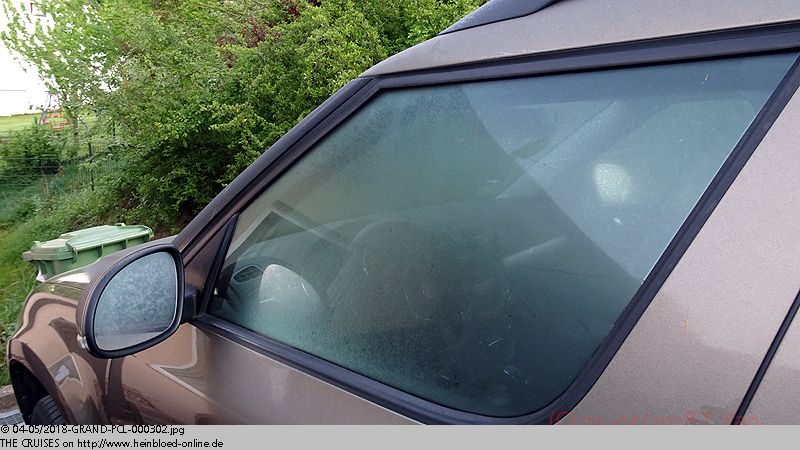 Even the windows were steamed up.

We were testing for our voyage on VENTURA 2018. So for safety reason, we ordered a roof-top-tox to stow all the smaller bags.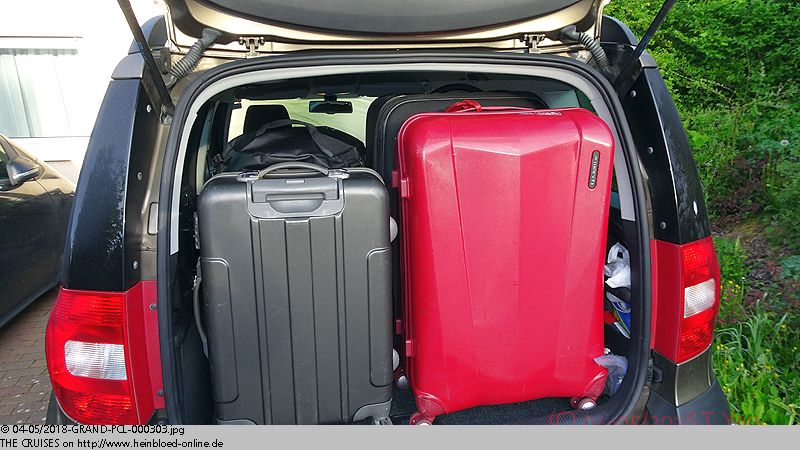 Wir testen schon mal für die Fahrt mit der VENTURA 2018. Sicherheitshalber bestellen wir doch eine Dachbox, um die kleinen Taschen unter zu bringen.
Den Parkplatz haben wir nach mit dem Fiasko mit dem Valetparking wieder bei
Fraport
bestellt. Kaum habe ich meinen Wagen eingeparkt, bekomme ich sofort eine Mail, in welcher Reihe und auf welchem Parkdeck ich mein Auto wiederfinde. Es geht zu
British Airways
im Terminal 2. Bei
Mosch Mosch
essen wir noch schnell etwas zu Mittag. Aber die Nudelsuppe schmeckt irgendwie nicht richtig, weil die Bedienung alleine ist und alles nicht mehr so richtig heiß ist. Zeit für Reklamation ist nicht mehr. Denn die Sicherheitskontrolle liegt noch vor uns und das könnte sich ja auch hinziehen. Im Terminal 2 ist sie nämlich dezentral.

After the disaster with the valet-parking we booked again a parking with Fraport (Frankfurt Airport) in terminal 2. Just shortly after my car was parked, I received a mail on which deck in which row I could find my car when I am back. We went for British Airways at Terminal 2. With Mosch Mosch we had a quick lunch. But the noodle soup did not taste well because the waitress was alone by herself and so it was not hot. It was no more time for a claim. The security check was ahead of us before we reach the gates and it might be time-consuming. In Terminal 2 it was organized decentrally.

It was always interesting how some saw my points of view. I developed for myself a strategy which allows me to spend most of my vacation on board a cruise ship without the need to win in a lottery. It only works when I knew which time would be the best to book my cruises and my flights. As usual, I am reserving my cruises up to two years in advance I could always check the prices of airlines tickets and to develop an appropriate strategy. I paid for two tickets Frankfurt, Germany - San Francisco, CA and back from Las Vegas, NV in Premium Economy (with British Airways World Traveller Plus) 2,111.26 EUR. So cheap I never have a chance again to book them. Only a few days later the price increased to 3,029.26 EUR. Even those who were working for a travel agent and commented my strategy contrary might celebrate with me my bargain. I would not book anyway with them. I only like travel agents who spend a lot of effort to have the best for their customers.

Es ist immer wieder interessant, wie ich manche meine Standpunkte sehen. Ich habe für mich eine Strategie entwickelt, die es mir erlaubt, möglichst viele Tage meines Urlaubs auf Kreuzfahrten zu sein, ohne dass ich im Lotto gewinnen muss. Das funktioniert nur, wenn ich weiß, wann ich wie meine Kreuzfahrten und Flüge buche. Da ich meistens ja bis zu zwei Jahren im Voraus buche, kann ich immer ganz gut im Vergleichszeitraum des Vorjahres die Preise der Flüge beobachten und meine entsprechende Strategie entwickeln. Ich habe für zwei Tickets Frankfurt - San Francisco und zurück ab Las Vegas in der Premium Economy (bei British Airways World Traveller Plus) 2.1111,26 EUR bezahlt. So billig habe ich sie nie wieder bekommen. Nur wenige Tage später gab es die Flüge nur noch für 3.029,26 EUR. Also kann sich derjenige, der deswegen gerne in seinem Reisebüro über meine Äußerungen herzieht, gerne sich mit mir über mein Schnäppchen freuen. Denn buchen würde ich eh nicht bei ihm. Ich mag nur Reisebüros, die sich für ihre Kunden einsetzen und das beste für ihren Kunden wollen...
Auf jeden Fall fängt der Flug schon sehr gut an: mit dem
Sicherheitsvideo
: u. a. mit Gordon Ramsey, Thandie Newton, Jim Broadbent, Ian McKellen, Warwick Davis und natürlich Rowan Atkinson. Ist einfach klasse gemacht. Ein echter Hingucker. Die meisten kenne ich nicht. Bruno, der ein Fan von Harry Potter ist kann mir direkt sagen, wer in welchem Film in welcher Rolle mitgespielt hat.

Anyhow the flight started in a very funny way: The safety video: like with Gordon Ramsey, Thandie Newton, Kim Broadbent, Ian McKellen, Warwick Davis and certainly Rowan Atkinson. It was just made in a great way. Attracted your attention. Most of them I did not know. Bruno who was a Fan of Harry Potter could tell me immediately who was acting in which volume.

Although we just had a quick bite before we just bought something. Everything came from Marks and Spencer. Big Tom was a little spicy. As it was drunk also by the Royal Court, I had to drink it too. And the Portobello Mushroom Sandwich did not look so yummy like on the cover. As it was for Emmental cheese... it was cheese from Switzerland... It was interesting to read what kind of ingredients they had all in their products. Much clearer indicated but in Germany. And the little pigs (Globetrotting Percy) came from Germany... and were pumped full of glucose syrup.

Obwohl wir zwar gerade erst etwas gegessen haben, kaufen wir uns trotzdem etwas. Kommt alles von
Marks and Spencer
.
Big Tom
ist doch ein wenig scharf. Da er jedoch auch am königlichen Hof getrunken wird, trinke ich ihn auch. Und das Portobello Pilz Sandwich sieht doch nicht so lecker aus, wie auf der Abbildung. Zumal es Emmentaler Käse ist... etwas aus der Schweiz... Interessant ist aber, was alles an Zutaten in den Produkten ist. Vor allem viel klarer angegeben, als in Deutschland. Und die kleinen Schweinchen (
Globetrotting Percy
) kommen aus Deutschland... und sind voll mit Glucosesirup vollgepumpt.
Als wir in London ankommen, läuft uns das kleine Einhörnchen vor die Füße. Das wäre vielleicht das richtige für Bruno, falls ihm auf dem Flug auch kalt sein sollte. Gordon Ramsey im Sicherheitsvideo macht Appetit auf Gorden Ramsay. Zum Glück sind wir im Terminal 5. Hier gibt es das
Plane Food
Restaurant von ihm. Wir bestellen Salat. Ich möchte es lieber mit knusprigem Schweinebauch statt gesundem Hühnerbrust und ich bekomme es. Vielleicht sollten wir für den Rückflug vorbestellen und das an Bord mitnehmen. Zu unserem Flug müssen wir mit der Bahn zum Ausgang fahren.

When we arrived in London, a little unicorn crossed our ways. That might be the right for Bruno in case the flight might be too breezy for him. Gordon Ramsey created appetite to have Gorden Ramsay. Luckily we were in Terminal 5. Here he had the Plane Food. We ordered a salad. I better liked to have the crispy pork belly, but the healthy chicken breast and I got it. Maybe we should prebook for the return flight and take it onboard of our flight. To get to our flight we need to take the train.

We had the luck that we had an Airbus A380 with the new seats of Premium Economy in the upper deck. As it started to rain in London, England: time to get away. We had unluck: because there were some technical problems in some rows in front of us they reset the entertainment system. After that half of our flight, it did not run either with us. First the movies stopped to work. So I had to see the end of Three Billboards Outside Ebbing Missouri on my return journey. I was listening to the gig fo Coldplay. But that started to stop later too. The songs remained on the tracklist I used to hear on my iPhone. But each of us got compensation of 3,000-Avios Points.

Eigentlich haben wir Glück, da wir mit dem Airbus A380 oben mit neuer Premium Economy Bestuhlung fliegen. Da es in London regnet: höchste Zeit auch hier wegzukommen. Wir haben Pech: weil es eine technische Störung einige Reihen vor uns gibt, wird das Unterhaltungssystem zurückgesetzt. Danach geht bei uns für die Länge des halben Fluges auch nichts mehr. Zunächst funktionieren die Filme nicht mehr. Die letzten zehn Minuten von Three Billboards Outside Ebbing Missouri muss ich daher auf dem Rückflug gucken. Ich höre dann das Konzert von Coldplay. Aber das geht dann irgendwann auch nicht mehr. Die restlichen Lieder des Konzertes höre ich mir kurzerhand auf meinem iPhone an. Dafür bekommen wir als Entschädigung jeder 3.000 Avios-Punkte gutgeschrieben.
Das Essen ist eine Mischung aus Business Class und Economy Class. Wir konnten vor Abflug bereits unser Essen im Internet aussuchen. Das klappt auch. Es wird wie eine Sondermahlzeit behandelt und früh ausgeliefert. Eis am Stiel im Flugzeug ist blöd, weil man sich bloß bekleckert. Die Snackbox für die Filme ist gut. Auf dem Rückflug gibt es hiervon nichts. Vor Ankunft in San Francisco gibt es eine Pizza.

The food was a mixture of Business Class and Economy Class. We could make already our selection ahead of the departure on the internet. It worked pretty well. It was handled like a special meal and it was delivered quite early. I think serving ice cream as popsicle might be a stupid idea since it is so easy to stain yourself. What we got for the movies was great. Something like that we did not get on the return flight. Before we arrived in San Francisco we got a piece of pizza.

Arrival in San Francisco, CA. A little earlier and we could get quickly through since we were participating with Global Entry-Program (see QUEEN MARY 2 2017). Indeed it would work faster, but the officer in charge was gone, and so a long queue formed who need to be handled additionally at the line for the crew members. No more arrival stamps. We booked with Go Lorries and paid it in advance: I did that before I started to use Uber (To all taxi driver friends: where I know taxi drivers personally who treated me always great I have no reason to change to Uber. Here in Basle, Switzerland taxi driver could be very rude. So no reasons not to try to use Uber). Nowadays I would only call by Uber in San Francisco. But I am only using Uber X - which have about the same standard as a taxi. We should wait 45 minutes for a certain vehicled (they all had numbers) and should move ourselves to the central traffic island. We went earlier out of the terminal because outside the sun was shining and it was warmer than inside the terminal. One scrap heap of Go Lorries arrived but it was much earlier, and it was not our number. The driver did not take any effort to find his guests. The time we were advised nothing showed up. We called and were told that our vehicle had a breakdown and we should take the other one which was just minutes before here. He would wait at a different terminal and we should move with all our bags to the other terminal. Certainly, we did not do. So they offered us to take a cab and we should get a refund. Certainly, they did not react to any mails or calls. Some days later I caught the general manager. I got the verbal and written confirmation again to get the refund but nothing happened so far.

Ankunft in San Francisco. Etwas früher und wir können schnell durch, weil wir ja seit 2017 am
Global Entry-Programm
(Siehe
QUEEN MARY 2 2017
) teilnehmen. In der Tat würde es schneller gehen, wenn nicht die zuständige Beamtin weg gewesen wäre, und sich daher eine längere Schlange während ihrer Abwesenheit gebildet hätte, weil wir mit in der Crew Schlange abgefertigt werden. Man bekommt keinen Stempel mehr rein. Wir haben bei Go Lorries gebucht und bezahlt: das war aber leider, bevor ich
Uber
nutze. (An alle Taxifahrer-Freunde: dort wo ich Taxifahrer persönlich kenne, die mich bislang gut behandelt haben, habe ich keinen Grund zu Uber zu wechseln - Hier in Basel sind die Taxifahrer z. T. sehr rüde. Daher kein Grund hier nicht Uber zu nutzen.). Heute würde ich nur noch über Uber in San Francisco bestellen. Allerdings nutze ich nur Uber X - hier gelten vergleichbare Standards wie für Taxis. Wir sollten 45 Minuten auf einen bestimmten Wagen (die sind alle nummeriert) warten und uns auf die Mittelinsel begeben. Wir gehen schon früher raus, weil draußen die Sonne scheint und es wärmer ist, als drinnen im Terminal. Es kommt ein anderer Schrotthaufen von Go Lorries, aber eben sehr viel früher und nicht unsere Nummer. Der Fahrer macht keine Anstalten, nach seinen Gästen zu suchen. Zu der angegebenen Zeit kommt nichts. Wir rufen an und fragen nach und uns wird mitgeteilt, dass unser Fahrzeug eine Panne hat und wir den anderen hätten nehmen sollen, der weg ist. Er würde am anderen Terminal auf uns warten und wir sollten doch mit unserem Gepäck zum anderen Terminal gehen. Wir tun es nicht. Darauf hin bietet man uns an, dass wir ein Taxi nehmen sollen, und wir die Kosten erstattet bekommen. Natürlich reagieren sie auf E-Mails und Anrufe nicht. Irgendwann erwische ich doch den Geschäftsführer. Ich bekomme wieder die mündliche und schriftliche Zusage der Kostenerstattung, aber da passiert leider nichts.
Wir kommen am
InterContinental Mark Hopkins
an.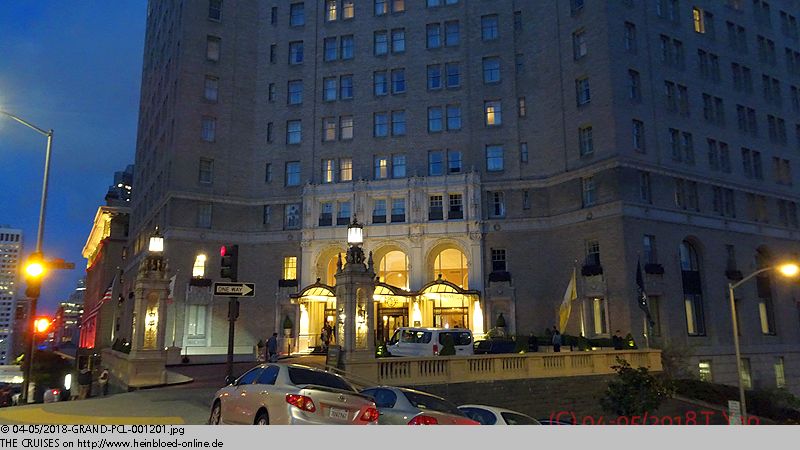 We arrived at InterContinental Mark Hopkins.


A very nice old traditional hotel in San Francisco. It was then the tallest building of the town and is member of
Historic Hotels of America
and also part of the program
National Trust for Historic Preservation
.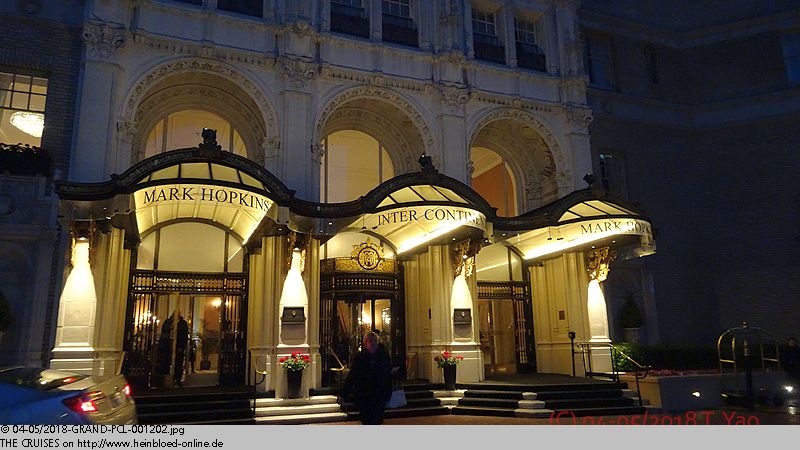 Ein sehr schönes altes Traditionshotel in San Francisco. Es war mal das höchste Gebäude der Stadt und ist Mitglied der
Historic Hotels of America
sowie Teil des Programms
National Trust for Historic Preservation
.
Leider keine
fünf Diamanten von AAA
wie im Ocean's 13, sondern "nur" vier.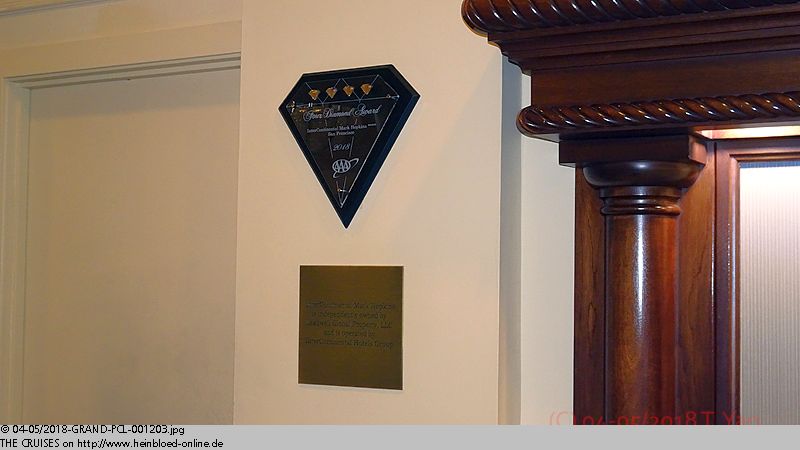 Unfortunately no five diamonds of AAA like in Ocean's 13 but "only" four.

From the past times: a Cutler Mail Chute System which was used as mail box for sending letters.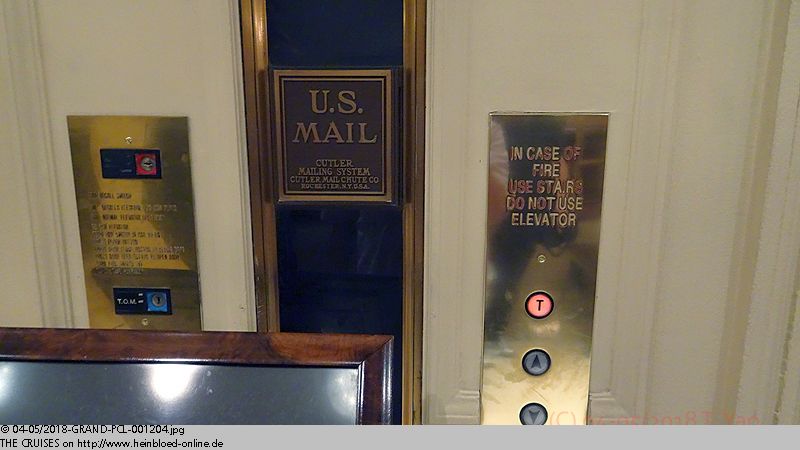 Aus vergangenen Zeiten: ein Rohrpostsystem von Cutler, das direkt als Briefkasten zum Versenden diente.
Von unserem Zimmer haben wir einen tollen Ausblick. Wir sehen zwischen den Hochhäuser direkt auf die
Golden Gate Brücke
, auf die
Insel Alcatraz
(leider nur die Spitzen), auf die
Transamerica-Pyramide
und auf die Haltestelle der
Cable Car
vor unserem Hotel.

From our room we had a great view. We could see between the skyscrapeers to the Golden Gate Bridge, to Alcatraz Island (only the ends) and to the Transamerica-Pyramid and the stop of the Cable Car in front of our hotel.

We did not have the Mark Hopkins Suite.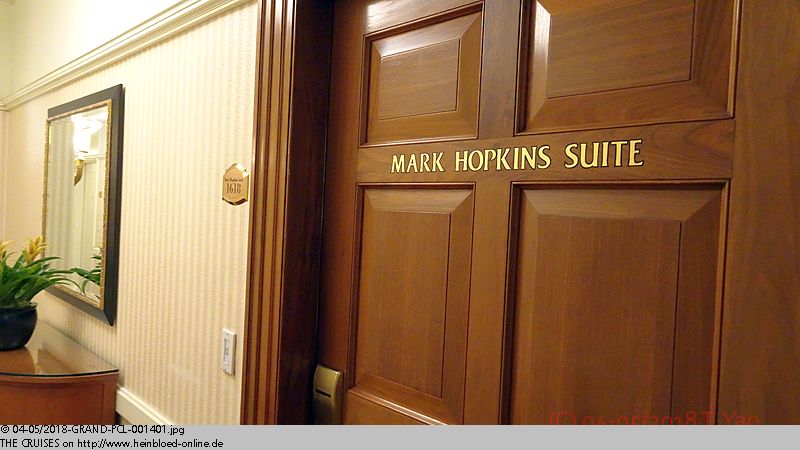 Die Mark Hopkins Suite haben wir nicht.
Sondern direkt daneben.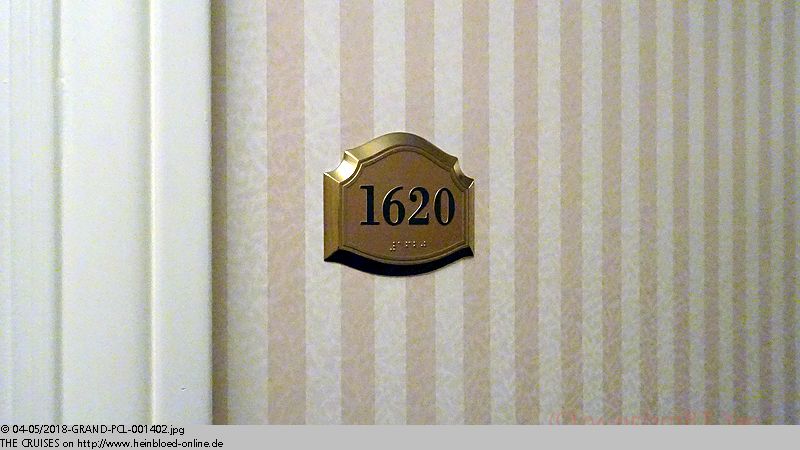 But just next to it.

It was very nice... but this would become my sleeping place the night.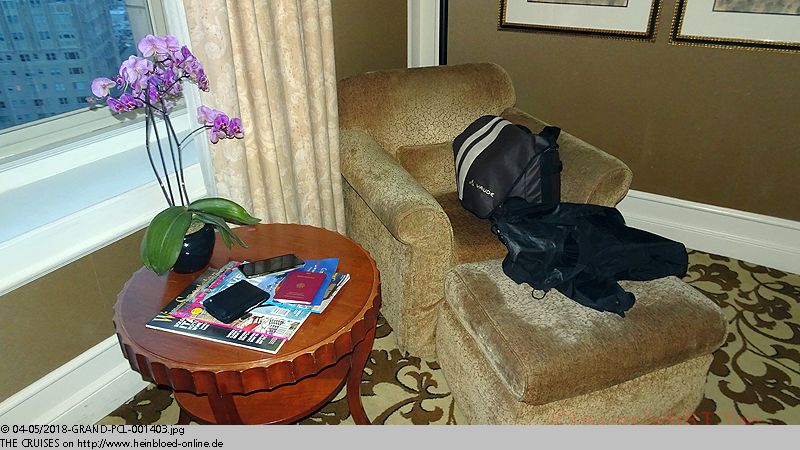 Ist aber sehr schön... und es wird heute Nacht mein Schlafplatz.
Denn mit einer Decke auf einer Matratze kommen wir nicht klar...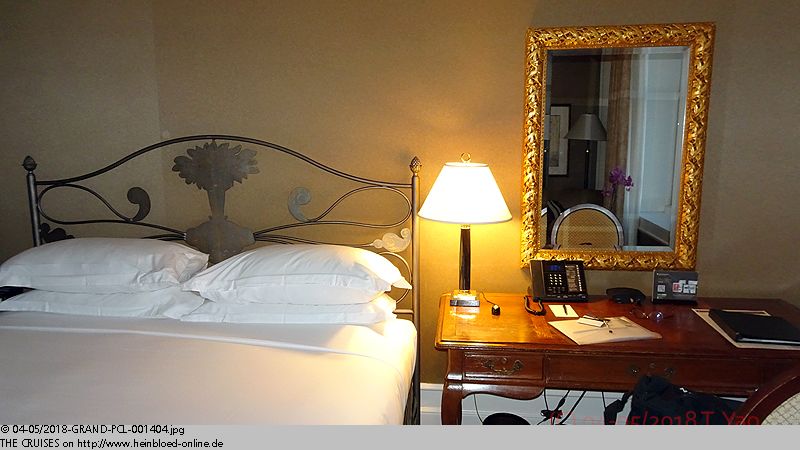 We could not stand with one single blanket on one matress...

Apart of that, we loved what we got.

Ansonsten gefällt uns das Angebot.
Und das schöne Bad.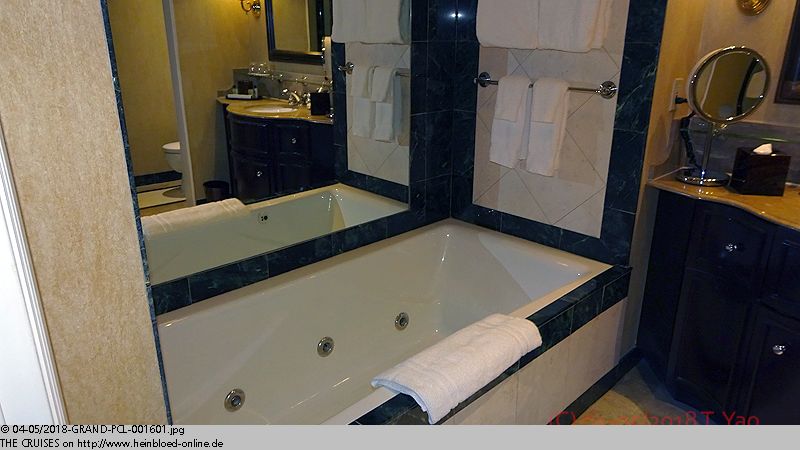 And the nice bathroom.

A very nice closet.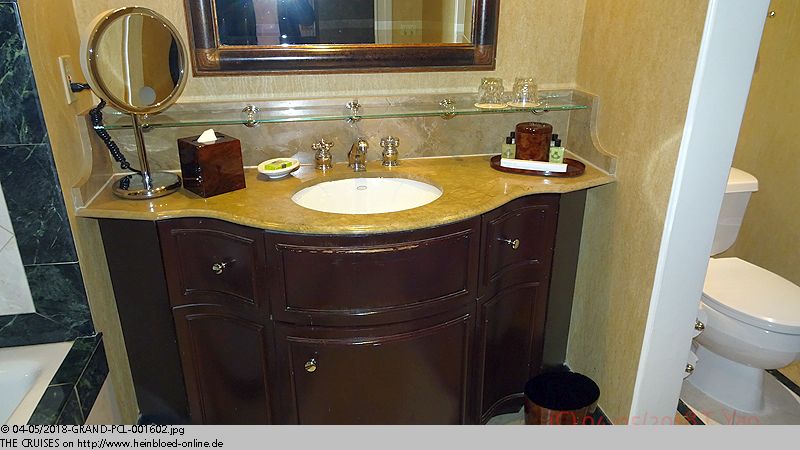 Sehr schöner Schrank.
Etwas abetment: Das WC.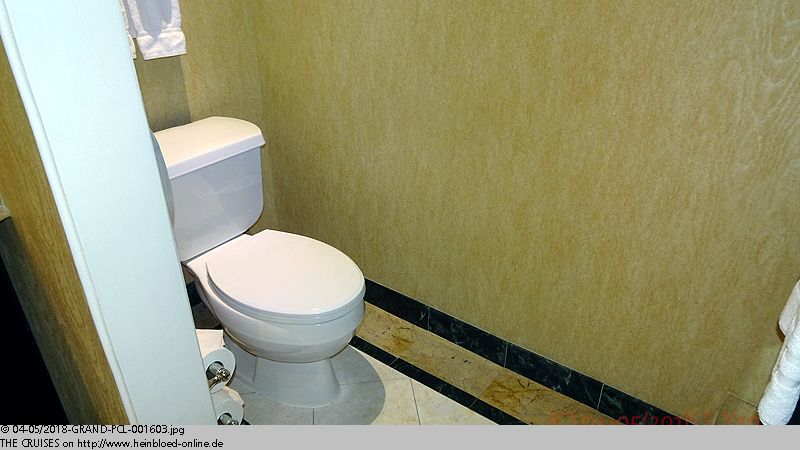 A little separated: the toilet.

But somehow they had no shower-heads which were not fixed at the wall.

Nur irgendwie gibt es keine Duschköpfe, die nicht fest montiert sind.
Der nächste Morgen beginnt sehr schön. Direkt um die Ecke gibt es Kirschbäume. Einzelne - nicht wie in Japan - schade - leider. Quasi gegenüber vom Hotel ist die
Grace Kathedrale
. Die Bemalung der Treppe beeindruckt. Da wir auf dem Nob Hill sind, können wir auch fast in allen Richtungen runtergucken.

The next morning started very nice. Just around the corner, there were some cherry trees. Single - not like in Japan - so sad. More or less just opposite of the hotel there was Grace Cathedrale. The painting on the steps were impressive. As we were on Nob Hill, we could view towards all directions.

We used again our weekend certificate voucher and paid for one night and stayed two. So we booked a Club Room again, so we had breakfast included. For the American standard, the breakfast was just fantastic. When Bruno asked for a natural yogurt, they ran immediately and got him one. And his berries: more than enough! They had congee and dim sum and so I was also very satisfied. Here something different: Club Guests just eat "normal".

Wir nutzen wieder unseren Wochenendgutschein und bezahlen eine Nacht und bleiben zwei. So buchen wir wieder ein Clubzimmer, so dass wir das Frühstück kostenlos dabei. Das Frühstücksbüffet ist für amerikanische Verhältnisse einfach klasse. Als Bruno nach einem Naturjoghurt fragt, laufen sie sofort los und besorgen ihm eins. Und seine Beeren: mehr als genug! Es gibt Congee und Dim Sum und so bin ich auch sehr zufrieden. Hier etwas anders: Club Gäste frühstücken hier "normal" mit.
James Brolin und Connie Sellecca 1983 in Arthur Hailey's "Hotel" - im St. Gregory. Direkt gegenüber... besser bekannt als
Fairmont
. Ich muss dort hinein und tue so, als ob ich mich verirre und den UPS Store suche. Aber der Versand ist viel zu teuer, so dass ich doch ein Postamt später aufsuche. Und hier ist Tony Bennett in Bronze verewigt dank seines Liedes "I left my Heart (in San Francisco)".

James Brolin and Connie Sellecca 1983 in Arthur Hailey's "Hotel" - in the St. Gregory. Just opposite... better known as Fairmont. I need to go there and tried to be someone there by mistake which was looking for the UPS Store. But sending something was too expensive, and so I need to find a Post Office. And here they honored Tony Bennet in bronze due to his song "I left my Heart (in San Francisco)".

We went a few blocks to China-Town. And here I felt comfortable immediately. They had here yellow and red dragon fruits, which we need to buy immediately. One street ended as a dead end while below the street entered into a tunnel. They advertised for a Peanuts exhibition which we had no chance to see - Later I found out: the exhibition was just right the advertising boxes: Peanuts Global Artists Collective. And for my next visit: The Charles M. Schulz-Museum is just one hour away from San Francisco in Santa Rosa, CA.

Es geht ein paar Blocks weiter ins China-Town. Und hier fühle ich mich auf Anhieb wohl. Es gibt hier gelbe und rote Drachenfrüchte, die wir sofort kaufen müssen. Eine Straße endet als Sackgasse, weil unten drunter eine Straße in einen Tunnel führt. Es wird eine Peanuts-Ausstellung beworben, die wir leider nicht schaffen, uns anzusehen - Später stelle ich fest: die Ausstellung findet genau in diesen Werbekästen statt:
Peanuts Global Artists Collective
. Für meinen nächsten Besuch: Das
Charles M. Schulz-Museum
ist nur eine Stunde von San Francisco entfernt in Santa Rosa.
Cable Car Fahren ist ganz schön teuer: 7,00 USD (2018) für eine Einzelfahrkarte. Ich kaufe sicherheitshalber mit der App eine Tageskarte für 22,00 USD (2018). Die App der BVB Basler Verkehrs-Betriebe kann mir leider nicht sagen, wann die nächste Cable Car kommt. Es ist schon etwas komplizierter der App von
MUNI
beizubringen, dass man nicht an zwei Tagen hintereinander fahren will, sondern zu zweit an einem Tag. So nutzen wir die Chance, weil diese Linie nicht nach Fishermen's Wharf führt, die California Street-Linie einmal rauf und runter zu fahren. Eine Schlange gibt es eigentlich nur an der Endstelle in der Innenstadt Market Street. Aber da wollten wir eh aussteigen.

Riding Cable Car was quite expensive: 7.00 USD (2018) for a single ride. To be safe, I bought with the app a day pass for 22.00 USD (2018). The App of the local Swiss transport company could not tell when the next Cable Car would be there. It was a little more complicated to teach the app of MUNI that you did not want to go two consecetive days but a party of two to go on one day. So we used the chance to go one journey the California-Street-Line and back since this line did not take us to Fishermen's Wharf. Only a queue was at the terminal in downtown around Market Street. But there we wanted to get off anyway.

My new tariff with the Swiss provider Sunrise had a rate which should allow me to use 1 GB in the US and shotted Canada but it did not work having as I expected originally.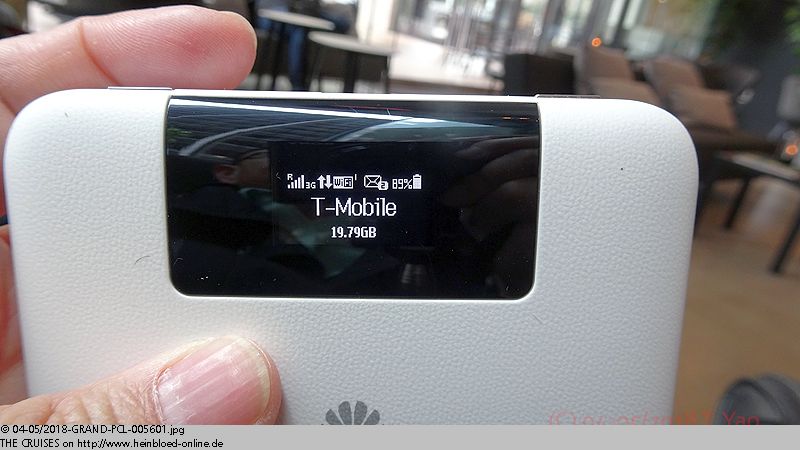 Mein neuer Tarif mit der schweizerischen
Sunrise
sollte es mir ermöglichen, dass ich 1 GB im Monat auch in den USA und Kanada Internet nutzen kann, aber irgendwie funktioniert es nicht so, wie ich es mir wünsche.
So kaufen wir doch bei T-Mobile USA eine
Tourist Plan
für 30 USD (2018). Er gilt 30 Tage für inneramerikanische Gespräche (1.000 Minuten), unbegrenzte SMS und 2 GB Internet.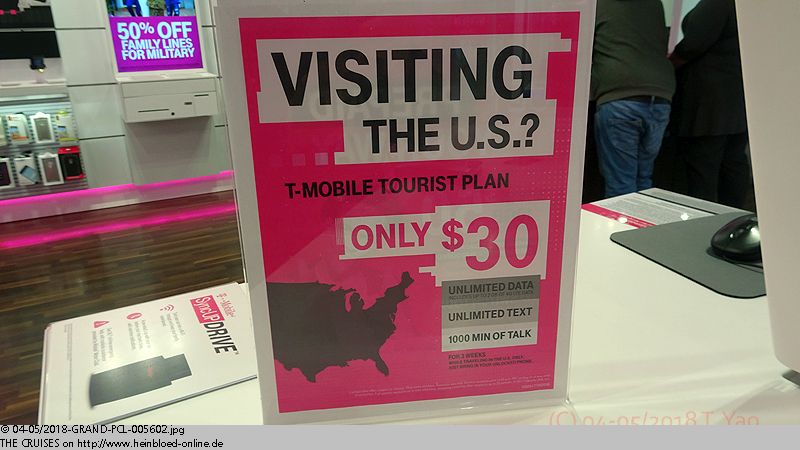 So we bought with T-Mobile USA a Tourist Plan for 30 USD (2018). It was valid for 30 days for domestic US-calls (1,000 minutes), unlimited text messages and 2 GB internet.

As they told me it should only work in the iPhone we removed the German SIM-card and diverted the calls to our mailbox home.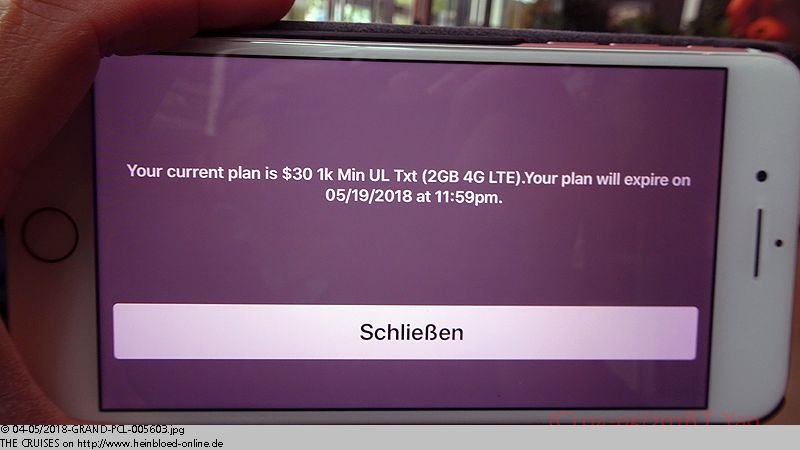 Da er angeblich nur im iPhone funktioniert, nehmen wir kurzerhand die deutsche Karte raus und leiten die Gespräche auf die Mailbox zu Hause um.
Aus Kopenhagen kennen wir bereits
Joe and the Juice
.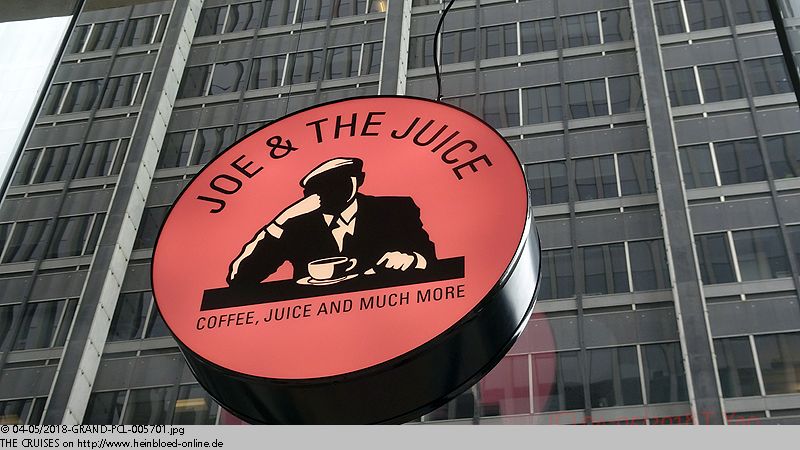 From Copenhagen, Denmark we knew already Joe and the Juice.

Juice and coffee.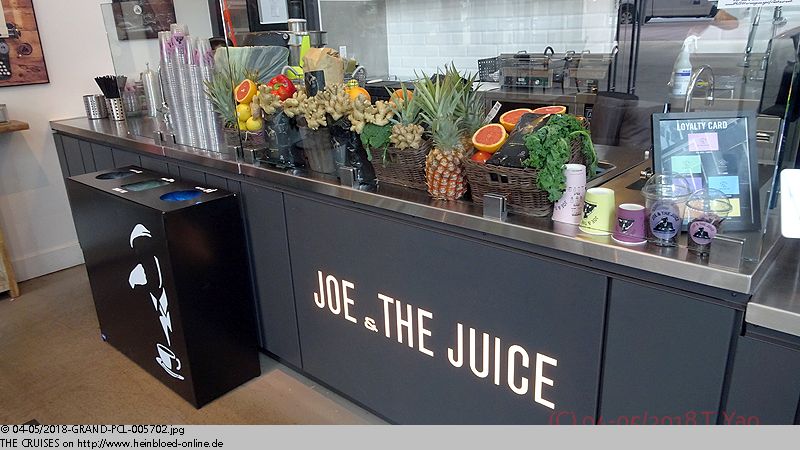 Saft und Kaffee.
Bruno freut sich. Ich finde den Saft nicht besonders gelungen.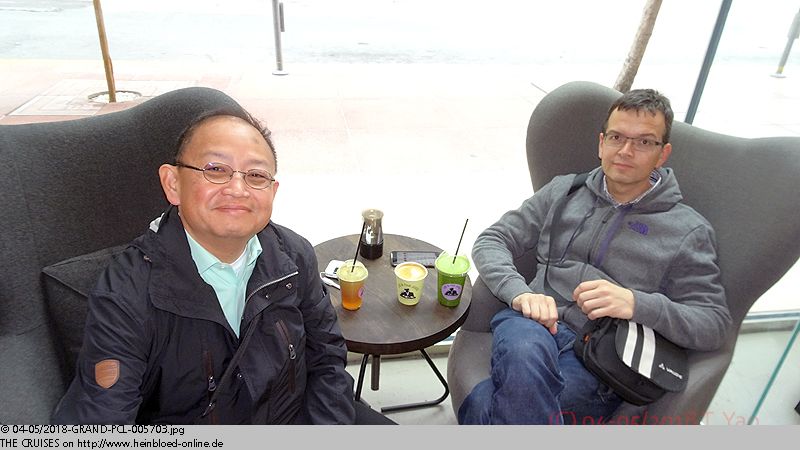 Bruno was looking forward. I did not find that the juice was made well.

We headed further for China-Town. I found my Chinese Q-Tips and was overjoyed. We pampered ourselves with a massage in the Top Therapy Academy. I was surprised by the techniques of a Chiropractial, and I felt just incredible after the treatment.

Weiter geht wieder ins China-Town. Ich finde meine chinesischen Q-Tips und bin überglücklich. Wir gönnen uns eine Massage in der Top Therapy Academy. Ich werde mit Techniken eines Chiropraktikers überrascht und die Behandlung tut mir sehr gut.
Aus dem Keller von
Chef's Hung's Restaurant
kommen vertraute Töne eines guten China-Restaurants für Chinesen. Und ich habe Recht: zu diesem Zeitpunkt nur Chinesen, die allerdings alle schnell nach dem Essen gehen und durch Nicht-Chinesen nach und nach abgelöst werden.

From the basement of Chef's Hung's Restaurant I could hear the familiar sound of a Chinese Restaurant for Chinese. And I was right: when we entered only Chinese which went all quickly away after they finished their meals and were replaced by and by Non-Chinese.

We need urgently to return to the hotel because Frances and Eddie should appear soon and would deliver to us our fresh laundry and ironed Humuhumu nukunuku apua'a-T-Shirts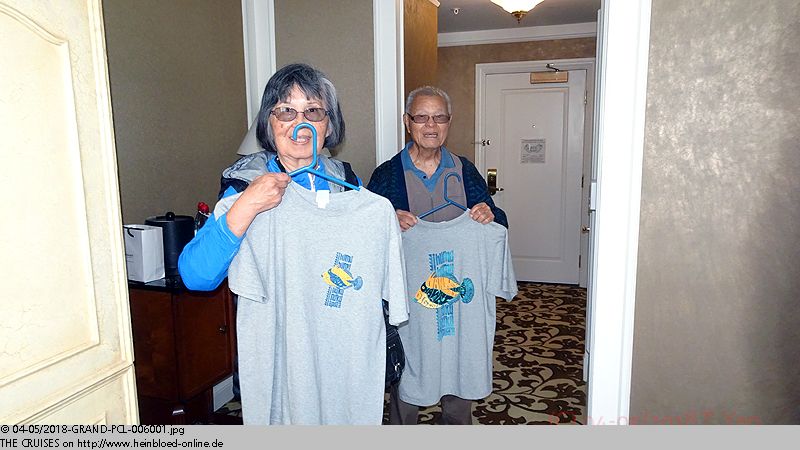 Wir müssen dringendst ins Hotel zurück, weil Frances und Eddie bald kommen und uns unsere frisch gewaschenen und gebügelten Humuhumu nukunuku apua'a-T-Shirts vorbeibringen.
Sie kommen wieder mit, nach dem wir uns zuletzt auf der
DIAMOND PRINCESS 2016
zuletzt gesehen haben.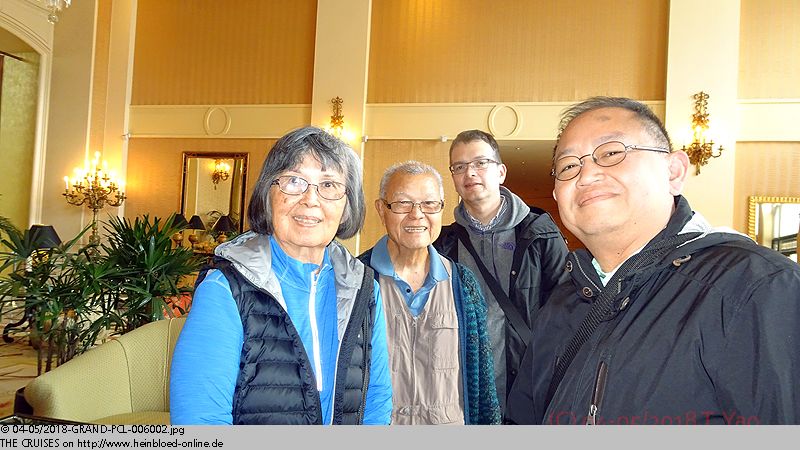 They joined s again after we met them last time on DIAMOND PRINCESS 2016.

We first need to try to get some space for our dinner.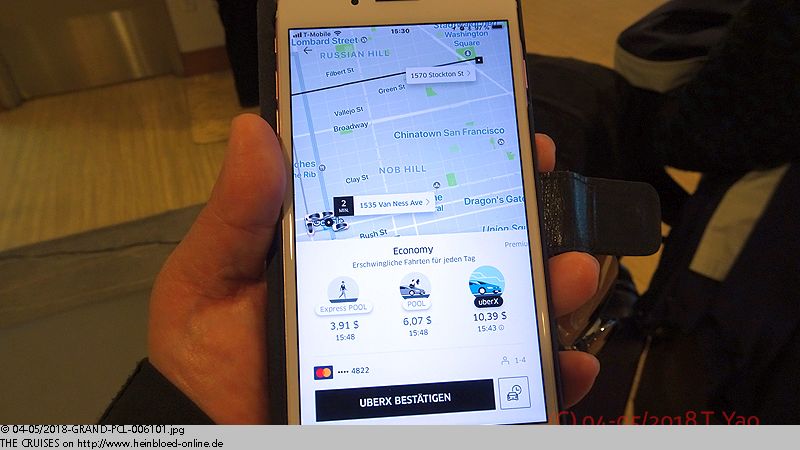 Wir müssen zunächst versuchen einen Platz für das Abendessen zu ergattern.
Da wir nicht sofort einen Platz bekommen, fahren wir mit Uber kurz zum Coit-Tower. Ich bin überrascht, mit welchen Autos man manchmal von Uber abgeholt wird.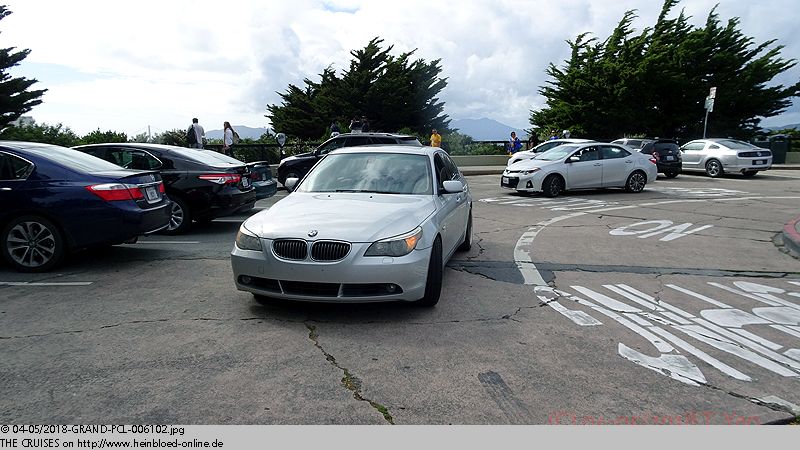 As we could not get immediately a table we decided to go to Coit Tower spontaneously. I was astonished by which kind of cars Uber drivers come to take you.

Unfortunately, the queue in front of the Coit Tower was too long as we need to be back within five minutes after you get the text message that your table is available otherwise your table would be handed over to the next. So we had only the time for some few shots outside.

Leider ist die Schlange vor dem Coit Tower zu lang, da wir nach Rückmeldung durch das Restaurant innerhalb von fünf Minuten uns melden müssen, weil sonst der Tisch weitergegeben wird. So bleibt nur die Zeit für ein paar Fotos draußen.
Wir kommen rechtzeitig zurück. Nur wenige Minuten, nach dem wir die Parkbank gegenüber vom Restaurant
Tony's Pizza Napoletana
eingenommen haben, kommt auch schon die SMS, dass unser Tisch bereit ist. Zuletzt haben wir es anlässlich unserer Reise auf der
CARNIVAL SPIRIT 2011
es probiert, aber hatten kein Glück, einen Tisch zu bekommen. Damals hatte er frisch die Pizza-Weltmeisterschaft gewonnen. Dafür verlangt er auch stolze 24 USD für eine Pizza Margharita plus Steuern und Trinkgelder. NIE WIEDER werde ich über die Pizza-Preise in Basel meckern. Dort zahle ich für eine Margharita nur 2/3 von dem Preis in San Francisco. Da fahre ich doch lieber zu
Da Michele
in Neapel, wie zuletzt bei der
ALLURE OF THE SEAS 2015
. Seine Eigenkreation Di Lucca mit den frischen Kirschtomaten ist jedoch spitzenmäßig. Auch bietet er statt der amerikanischen Coca Cola mit High Fructose Corn Syrup mexikanische Coca Cola mit Rohrzucker an.

We came back right on time. Only a few minutes after we occupied the bench in the park opposite of the Tony's Pizza Napoletana Restaurant the text message came that our table was ready. Lat time we tried it while we were on our voyage on CARNIVAL SPIRIT 2011 but we had to luck to catch a table then. Then he won the Pizza world championship. So he forced 24 USD for a Pizza Margharita plus tax and tips. NEVER AGAIN I would say something against the pizza-prices in Basle, Switzerland. There I would pay only 2/3 of the price for a Margharita in San Francisco. I would better go to Naples, Italy to Da Michele like we did last time on ALLURE OF THE SEAS 2015. His own creation Di Lucca with fresh cherry tomatoes was excellent. And he offered to have instead of the US Coke with High Fructose Corn Syrup the Mexican Coke with Cane Sugar.

We headed to Alcatraz Landing - from here the ships of Alcatraz Cruises started: we have tickets for the evening tour to Alcatraz Island. Not just a former prison island but a bird protection area. Some of cruisecritic.com did not recommend to go but the tour took us once around the island. The day tours used the direct route.

Es geht weiter nach Alcatraz Landing - von hier starten die Schiffe der
Alcatraz Cruises
: wir haben Tickets für die Abendtour zur Insel Alcatraz gebucht. Nicht nur ehemaliges Gefängnis sondern auch ein Naturschutzgebiet für Vögel. Die Abendtour von dem uns ein paar aus
cruisecritic.com
abgeraten hat, führt uns allerdings einmal um die Insel herum. Die Tagestour benutzen immer die direkten Routen.
Auf der Insel werden wir in Gruppen aufgeteilt und von den Rangern der
Nationalpark Verwaltung
auf unseren Besuch eingestimmt und instruiert. Alles ist sehr gut organisiert. Auf dem Weg zum Gefängnistrakt bekommen wir weitergehende Erläuterungen.

On the island we were allocated into groups and were escorted by the rangers of the National Park Services who were tuning and instructing us for our visit. Everything was well organized. On the way to the cell block sections, we got further explainations.

In the price of the night tour (44.25 USD - 2018) was the audio-guide included. But I did not have the impression that the German version daytime so I stopped to listen. You could find some rangers to answer your questions from time to time. Partly also in historical uniforms. So cell block A was opened for the night which was usually closed during the day time and they had special program offers. I finally bought a shirt of the prisoner's shirt. But the agent made me mad and only because I started to run I could catch the first sailing back to the mainland.

Im Preis der
Abendtour
(44,25 USD - 2018) ist der Audio-Führer enthalten. Allerdings halte ich die deutsche Fassung nicht für besonders gelungen, so dass ich bald nicht mehr zuhöre. Zwischendurch stehen auch die Ranger für Fragen bereit. Z. T. auch in historischen Uniformen. Auch wird Zellentrakt A abends aufgeschlossen, die tagsüber nicht zugänglich sind und es gibt besondere Programmangebote. Ich kaufe mir am Schluss noch ein Gefangenen-Hemd. Aber die Verkäuferinnen machen mich fast wahnsinnig und nur mit Laufen bekomme ich noch die erste Abfahrt zurück auf das Festland.
Derjenige, der uns von der Abendtour abgeraten hat, hatte wohl bislang nur Pech gehabt, dass er es nur bei bewölktem Himmel und Regen erlebt hat. Wir haben Glück: vor uns sehen wir das Lichtermeer der Skyline von San Francisco.

Those who dissuaded us to go on the night tour obviously had so far the unluck to experience with cloudy sky and rain. We had luck: we saw in front of us the bright lights of the city of San Francisco.

Back in the hotel, we were looking forward to have now two duvets.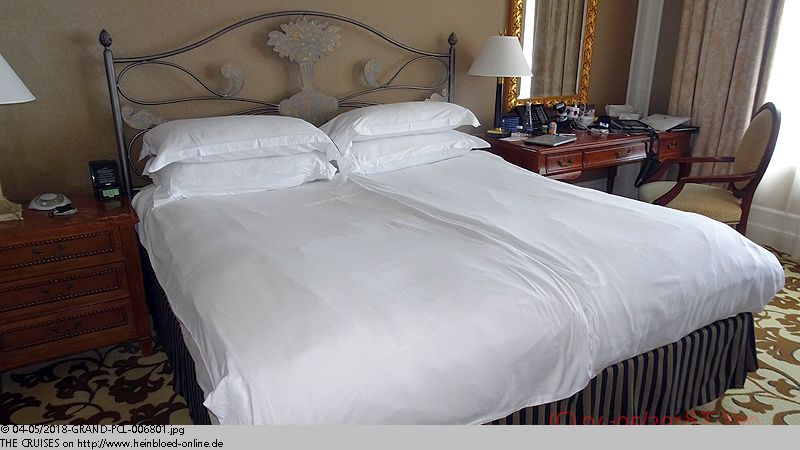 Zurück im Hotel freuen wir uns darüber, dass wir jetzt zwei Decken haben.
Und exotische Schokolade zur Guten Nacht.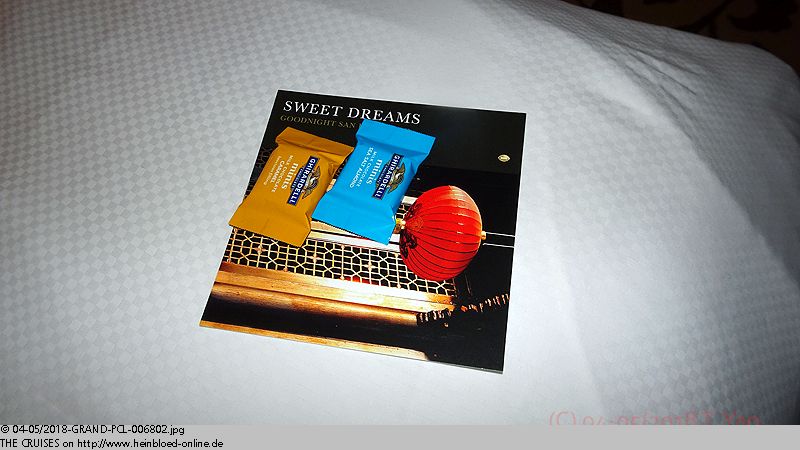 And exotic chocolate for Good Night.
Die anderen Reisen in diesem Blog/
The other voyages in this blog: