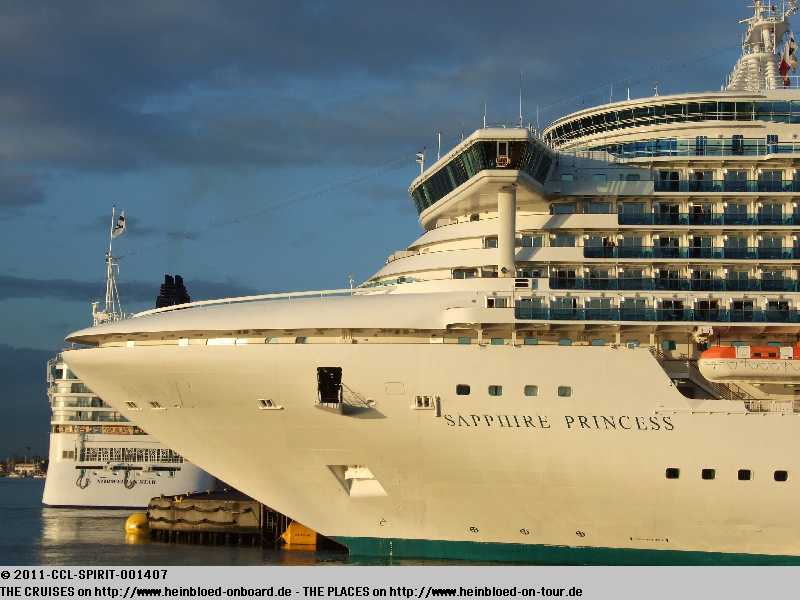 Ich weiss, dass das die SAPPHIRE PRINCESS ist - aber sie ist die Schwester der DIAMOND PRINCESS und ich kann jetzt schlecht extra nach Alaska fliegen, um ein paar Bilder zu machen...
Holland America hat uns ganz schön geärgert, in dem für die ZAANDAM 2012 viele Asien-Routen geändert wurden: Man wollte Japan wegen des Erdbebens 2011 und die Folgen nicht anlaufen.
Bei der Suche nach Alternativen sind wir über die Transpazifik auf der DIAMOND PRINCESS 2012 gestolpert. Irgendwie nicht so schön, weil der Teil in Alaska so "verstümmelt" angeboten wurde - Alaska Express. Dabei haben wir gelernt, dass auch
Princess Deutschland
gar nicht mal so eine schlechte Beratungsqualität anbietet.
Und dann ein Blick auf den Kalender 2013:
Mittwoch, den 01.05.2013 = Maifeiertag
Donnerstag, den 09.05.2013 = Christi Himmelfahrt
Montag, den 20.05.2013 = Pfingstmontag
Die Reise fängt am 03.05.2013. D. h. wir könnten am 01.05.2013 in Deutschland losfliegen und wären am 02.05.2013 in Beijing.
Die Reise endet am Samstag, 25.05.2011 in Vancouver. So sind wir am Sonntag, den 26.05.2013 zurück und könnten am Montag, den 27.05.2013 wieder zur Arbeit...
Das wären 15 Urlaubstage für eine 24-tägige (23 Nächte) Reise... wieso 23, wenn es vom 03.-25. geht - das sind doch nur 22 Nächte... Tja, aber wir überqueren die Internationale Datumslinie von West nach Ost und d. h. wir haben einen Tag mehr, denn wir verlassen Asien um Mitternacht und erleben den gleichen Tag mit Beginn der Mitternacht in Amerika wieder.
Die Reise führt über Dalian, Busan, Osaka, Yokohama und endet in Whittier, Alaska. Wir hängen aber direkt eine einwöchige Fahrt über Skagway, Juneau, Ketchikan nach Vancouver. Also kein Alaska Express wie 2012.
Zwischen Osaka und Yokohama liegt ein Seetag, den man nutzen kann, um über Land noch Hakone und den Fuji zu besuchen.
Es ist weit weg bis 2013. Träumen kann man. Bei nur 200 USD Anzahlung ein geringes Risiko. Und für ca. 100 EUR/Nacht auf einem Balkon ein schöner Traum, den man sich leisten kann. In Deutschland wird diese Fahrt bis zu diesem Zeitpunkt noch nicht angeboten - Nur Laem Chabang - Tianjin - Whittier. Schade - man könnte es so schön mit den Feiertagen bewerben.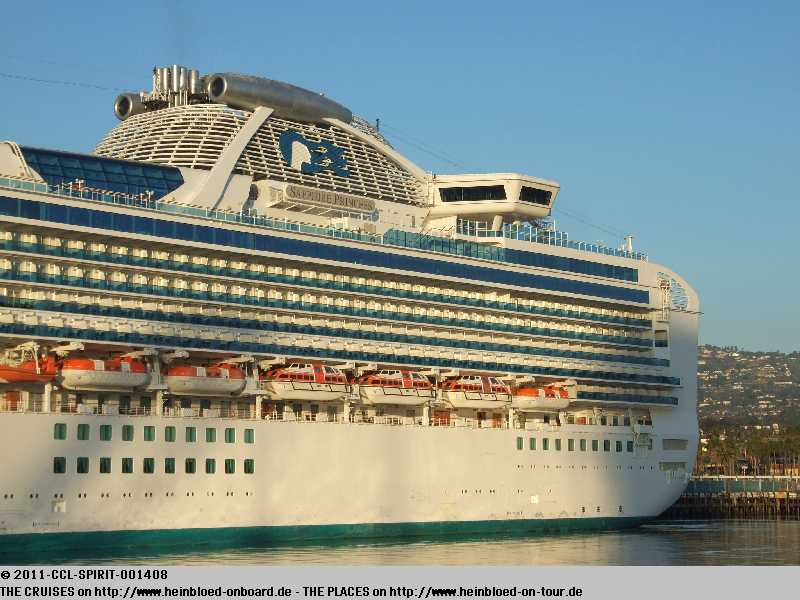 I know that this is SAPPHIRE PRINCESS - but she is the sister of DIAMOND PRINCESS, and I cannot go extra to Alaska just to take few pictures...

Holland America occurred a lot of anger by changing many Asia-itineraries for ZAANDAM 2012: They did not want to call Japan because of the earthquake in 2011 and the consequences.

When we looked for alternatives, we found the Transpacific on DIAMOND PRINCESS 2012. But not so lovely as Alaska was so "short-cut" - Alaska Express. So we learned that Princess in Germany was not so evil regarding their quality of consultancy.

Then have a look at the calendar 2013:

Wednesday, May 01, 2013 = Labour Day (Public Holiday in Germany)
Thursday, May 09, 2013 = Ascension Day (Public Holiday in Germany)
Monday, May 20, 2013 = Boxing Day to Whitsun/Pentecost (Public Holiday in Germany)

The voyage starts on May 03, 2013. I. e. we could leave on May 01, 2013 in Germany and would be May 02, 2013 in Beijing.

The voyage terminates on Saturday, May 25, 2011, in Vancouver. So we could be back on Sunday, May 26, 2013, and could resume for work on Monday, May 27, 2013...

Should be 15 working days off for a 23-night-voyage... why 23 if it is from the 3rd to the 25th - that should be only 22 nights... Yeah, we cross the International Date Line from West to East and i. e. we have one more night as we leave Asia at Midnight to experience the same day again beginning at Midnight in America.

The voyage takes us via Dalian, Busan, Osaka, Yokohama and ends in Whittier, AK. But we add a 7-night-voyage via Skagway, Juneau, Ketchikan to Vancouver. So no Alaska Express like 2012.

Between Osaka and Yokohama, there is one day at sea which we can use to do an overland tour to Hakone and Mt. Fuji.

It was far away in 2013. You can dream. For 200 USD deposit, it is only a minimal risk. And for about 150 USD/night in a balcony a lovely dream which you can afford. In Germany they do not offer this cruise so far - only Laem Chabang - Tianjin - Whittier. What a shame - you could advertise so well with all the public holidays.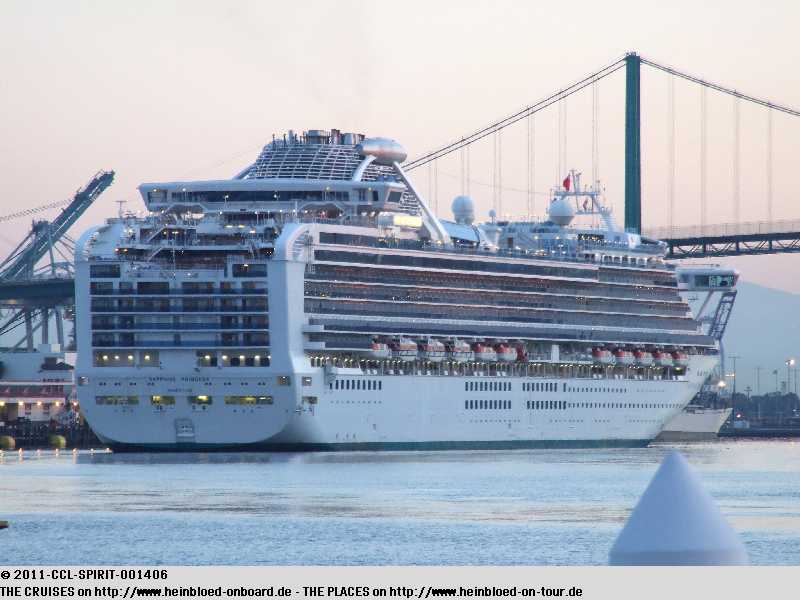 Die anderen Reisen in diesem Blog/
The other voyages in this blog: